Every one of us has a favorite saying or a mantra we recite to ourselves to help us stay grounded and motivated. You may jot down some notes on this quotation in your diary, write it on your refrigerator, or even put it on a keychain. But what about taking it a step further and getting it tattooed onto your flesh so it stays there permanently?
The significant advantage of getting a quotation tattoo and the fact that it will make you appear beautiful is that you can experiment with the typeface to create something exclusive to you. If you like the look of old manuscripts, you may have yours printed in a font that is reminiscent of feather quills, and if you prefer the sight of typewriters, you can have yours printed in a look that is reminiscent of key-print. When it comes to fonts, the options are practically endless, and you may take as much time as you like to select the typeface that best complements the spirit of the phrase you are using.
Think about getting a permanent tattoo if you want to be sure that you will get the benefits of seeing your favorite motto every day etched on your body and if you want to guarantee that you will do so. In addition, if you are seeking inspiration, you have arrived at the appropriate location. You'll find a ton of inspiration for your next daring ink; look further below.
Quote Tattoo Inspiration Guide
Song Lyrics Tattoos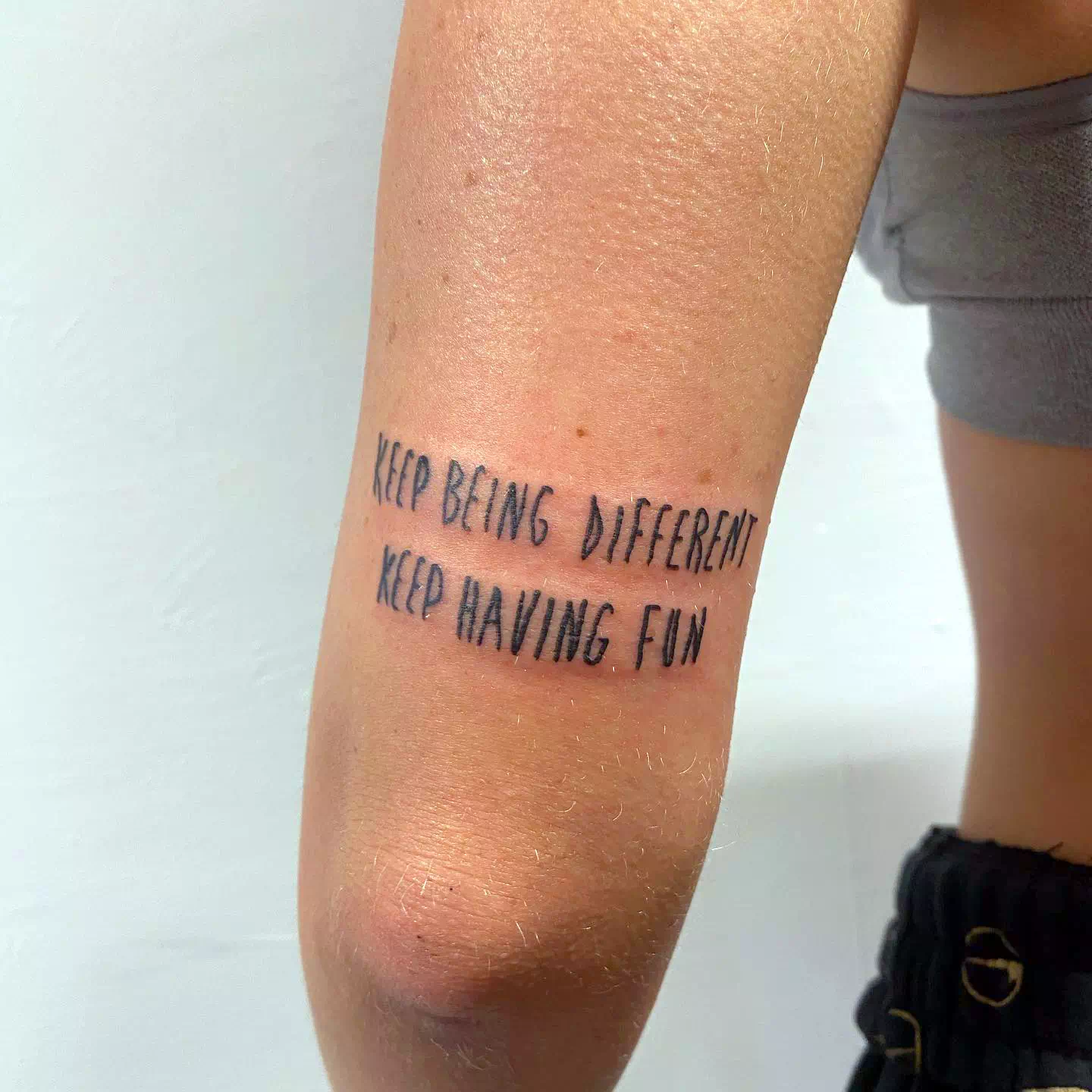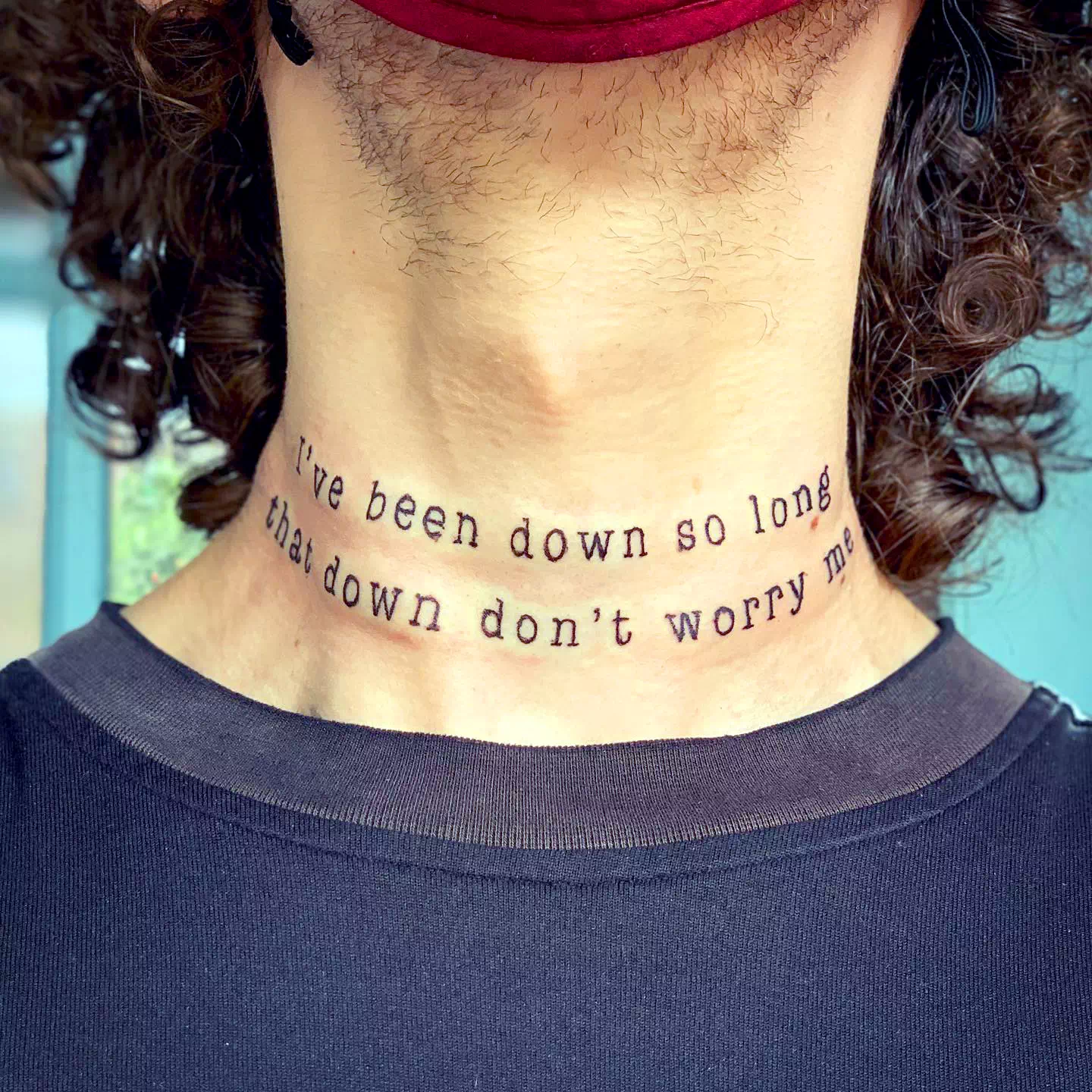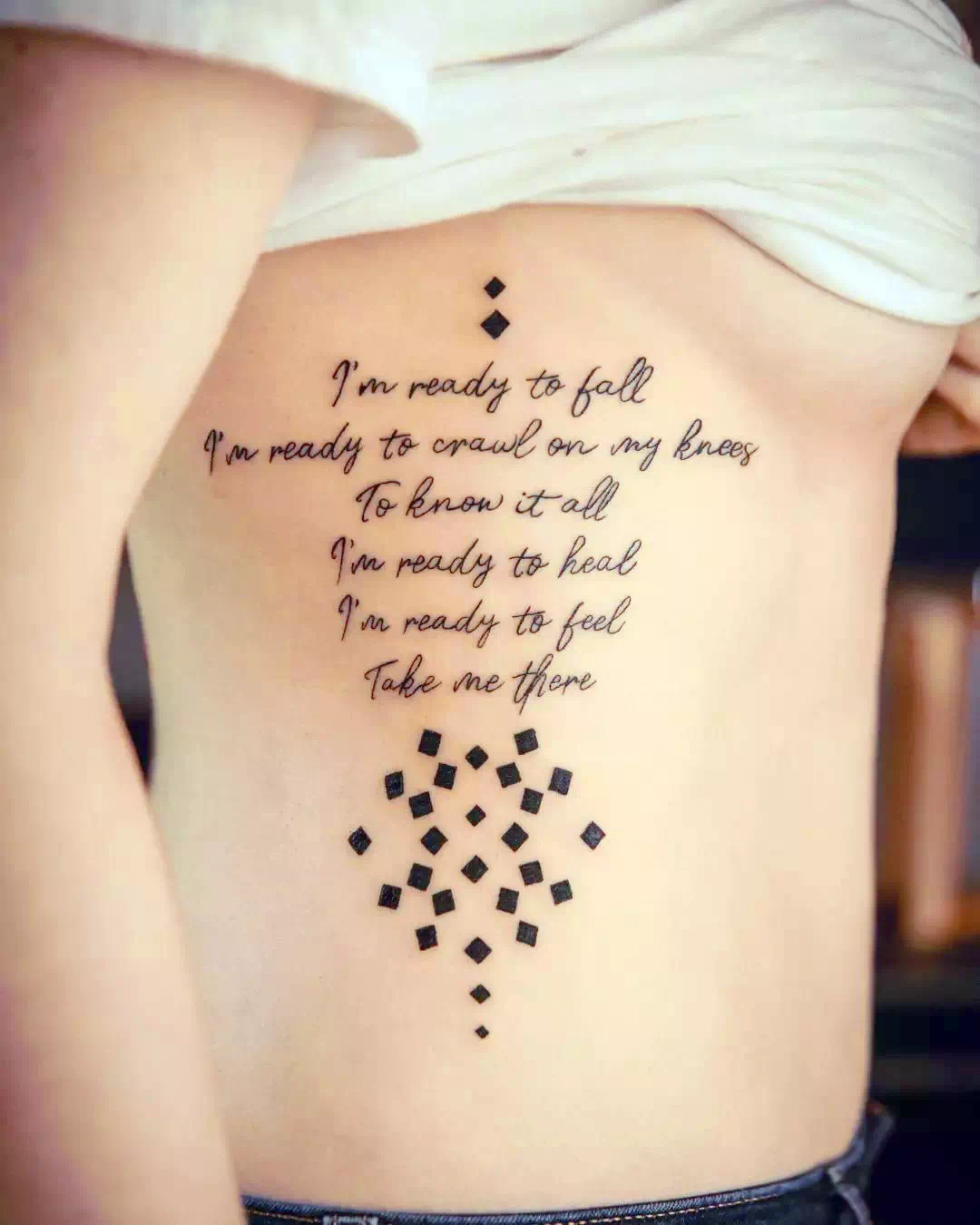 If there is a line from one of your favorite songs to which you have a solid connection, you might want to think about getting that line inked on your body as a quote tattoo. The lyrical content in music frequently carries a potent message, and songs that stick in our heads can bring back memories of specific times and places in our lives. If you recall having an emotional connection to a piece by Amy Winehouse or a record by Guns and Roses, then think about which line resonated with you the most, and then go ahead and make an appointment to get a tattoo of that line!
Tattoos with Bible Verses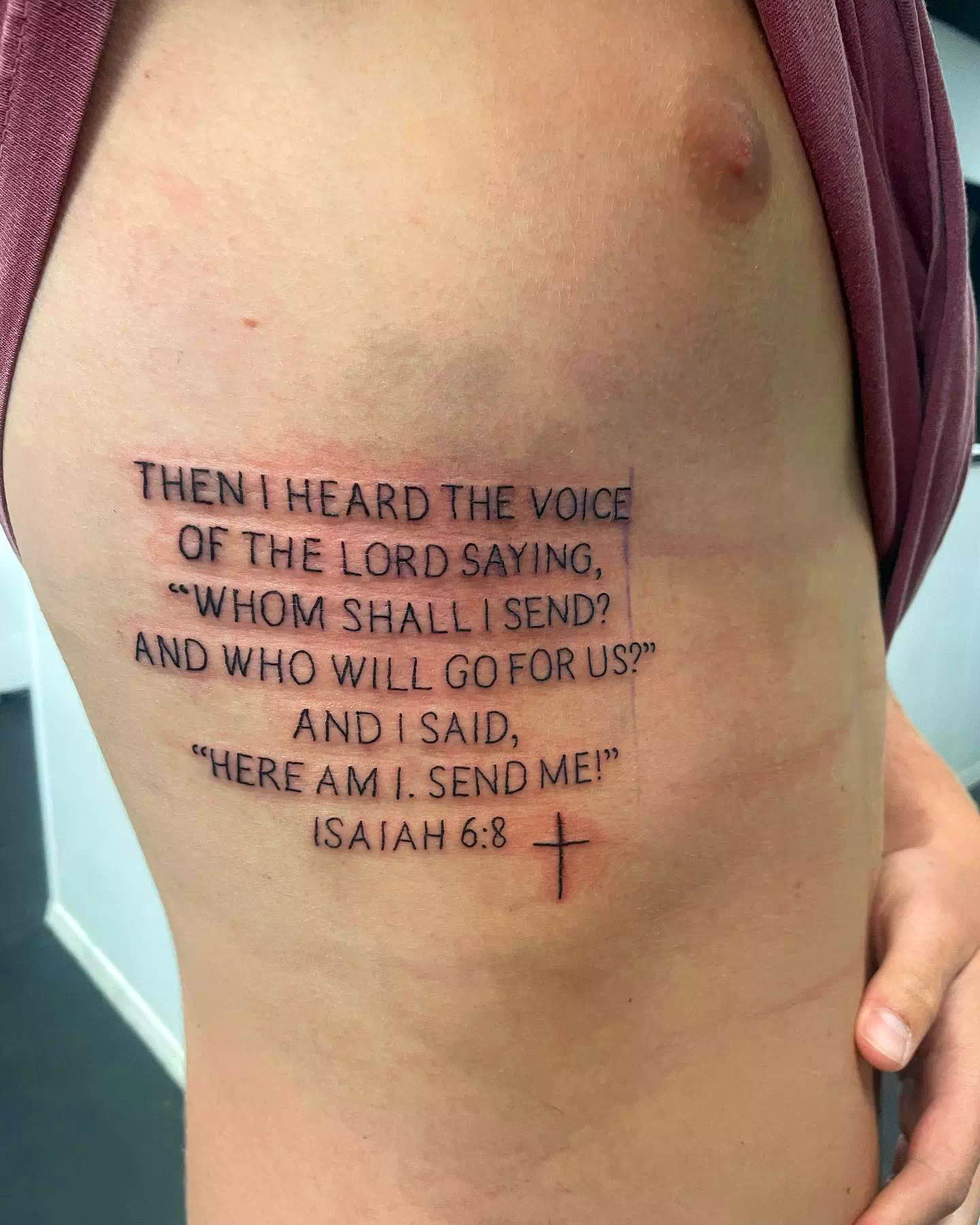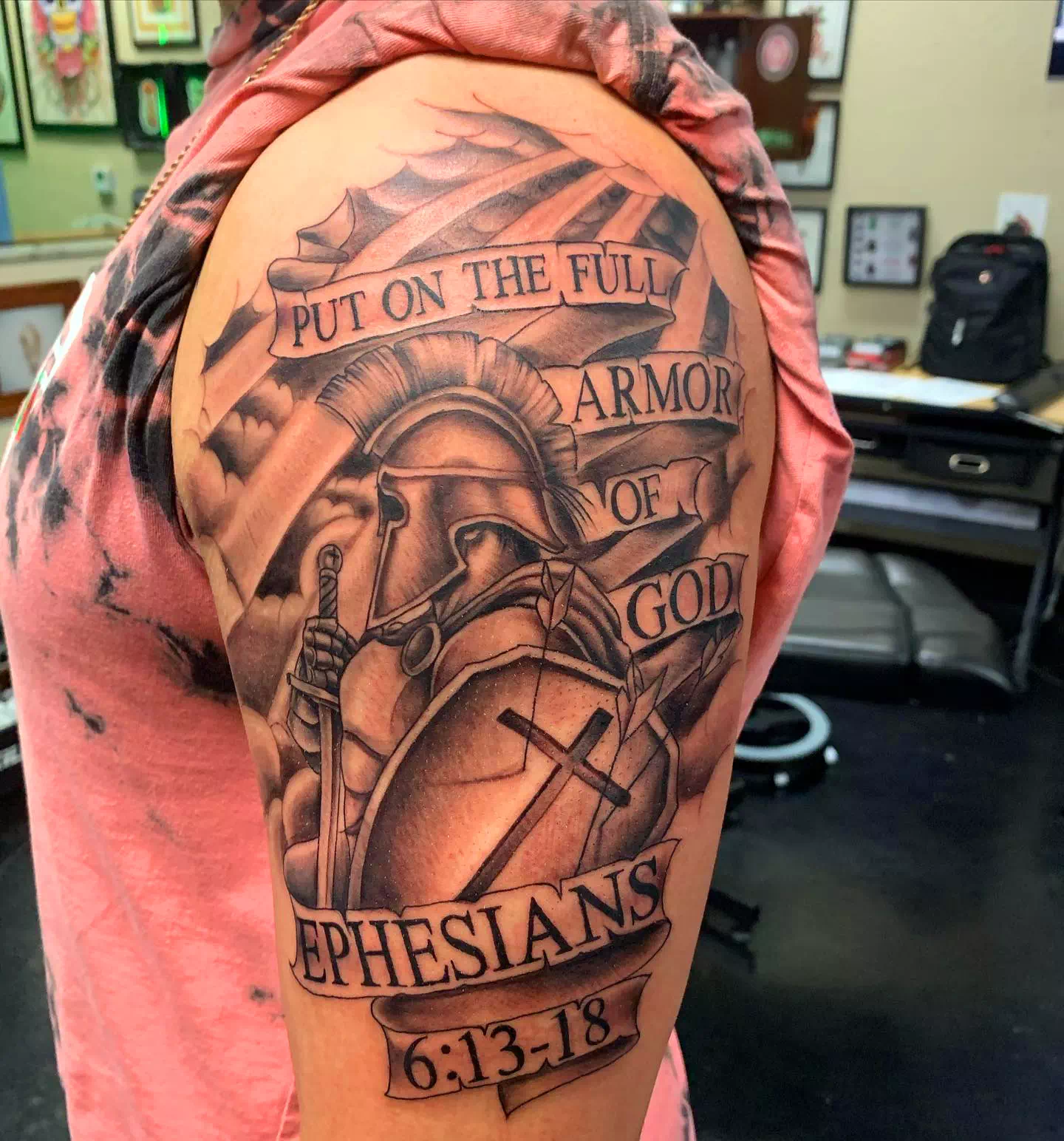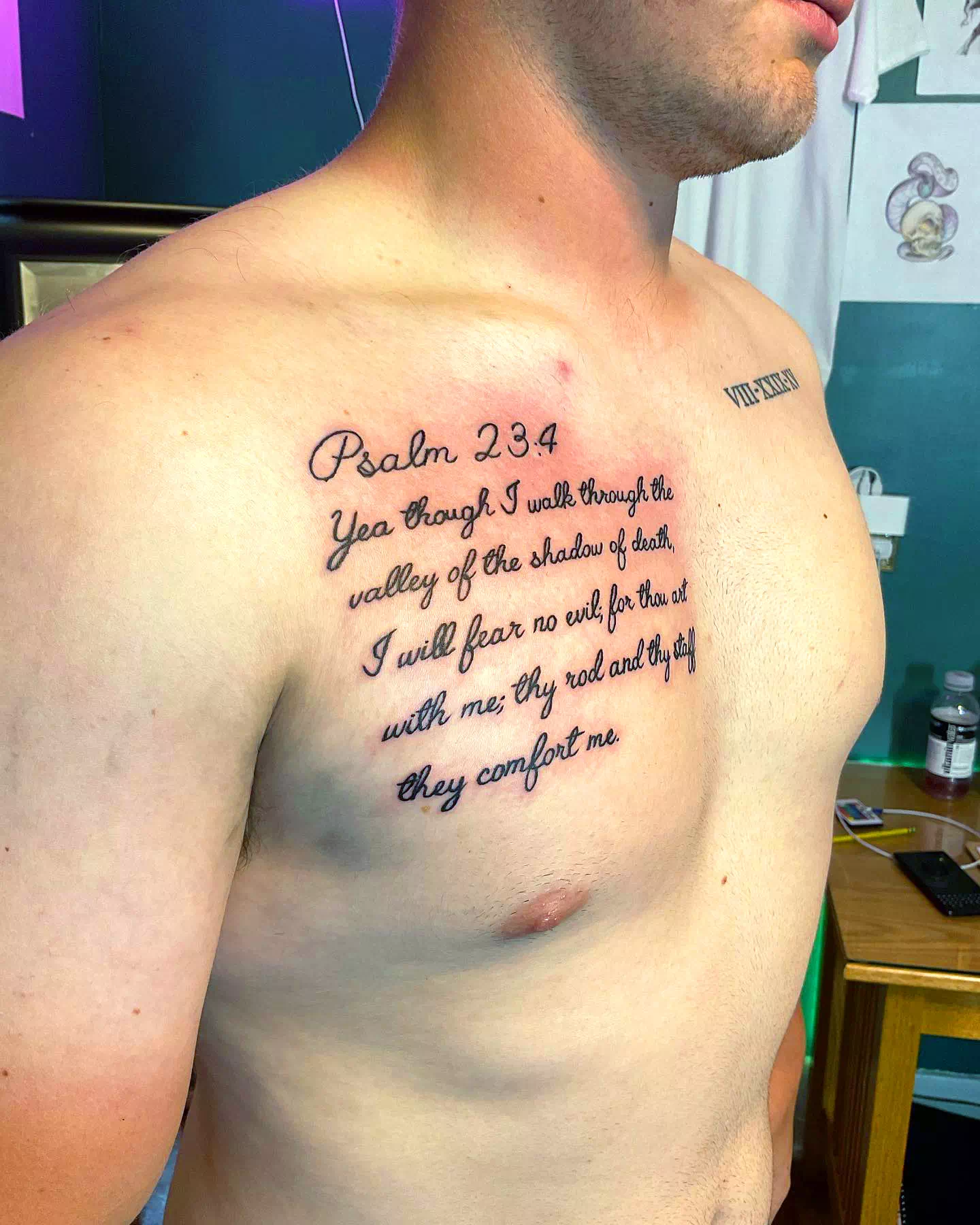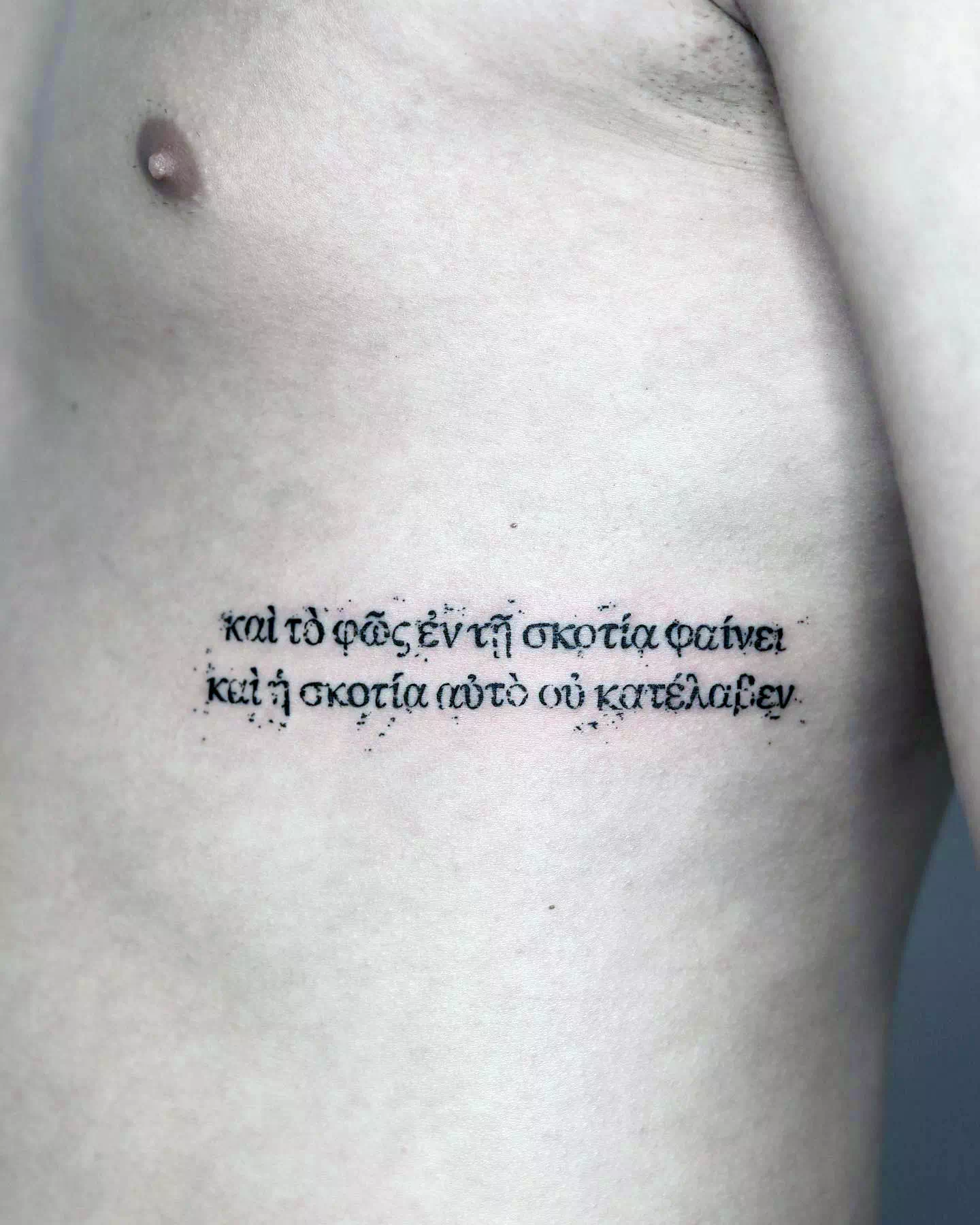 There are a lot of lovely Bible verses that each have their own unique and profound significance. If you are a spiritual person, you may wish to consult the sacred book for inspiration for your next tattoo or simply enjoy the poetic poetry found throughout the Bible.
Reading Bible passages can help us feel more grounded, humble, and aware of our place in the world. If you find this reassuring, I encourage you to read the Bible and note the passages that stand out to you.
The following are examples of classics:
"Even though I walk through the valley of the shadow of death, I will fear no evil for you are with me"
— Psalms 23:2
"Let all that you do be done in love"
— 1 Corinthians 16:4
"Above all else, guard your heart, for everything you do flows from it."
– Proverbs 4:23
"Above all, love each other deeply, because love covers over a multitude of sins."
– 1 Peter 4:8
Love quote tattoo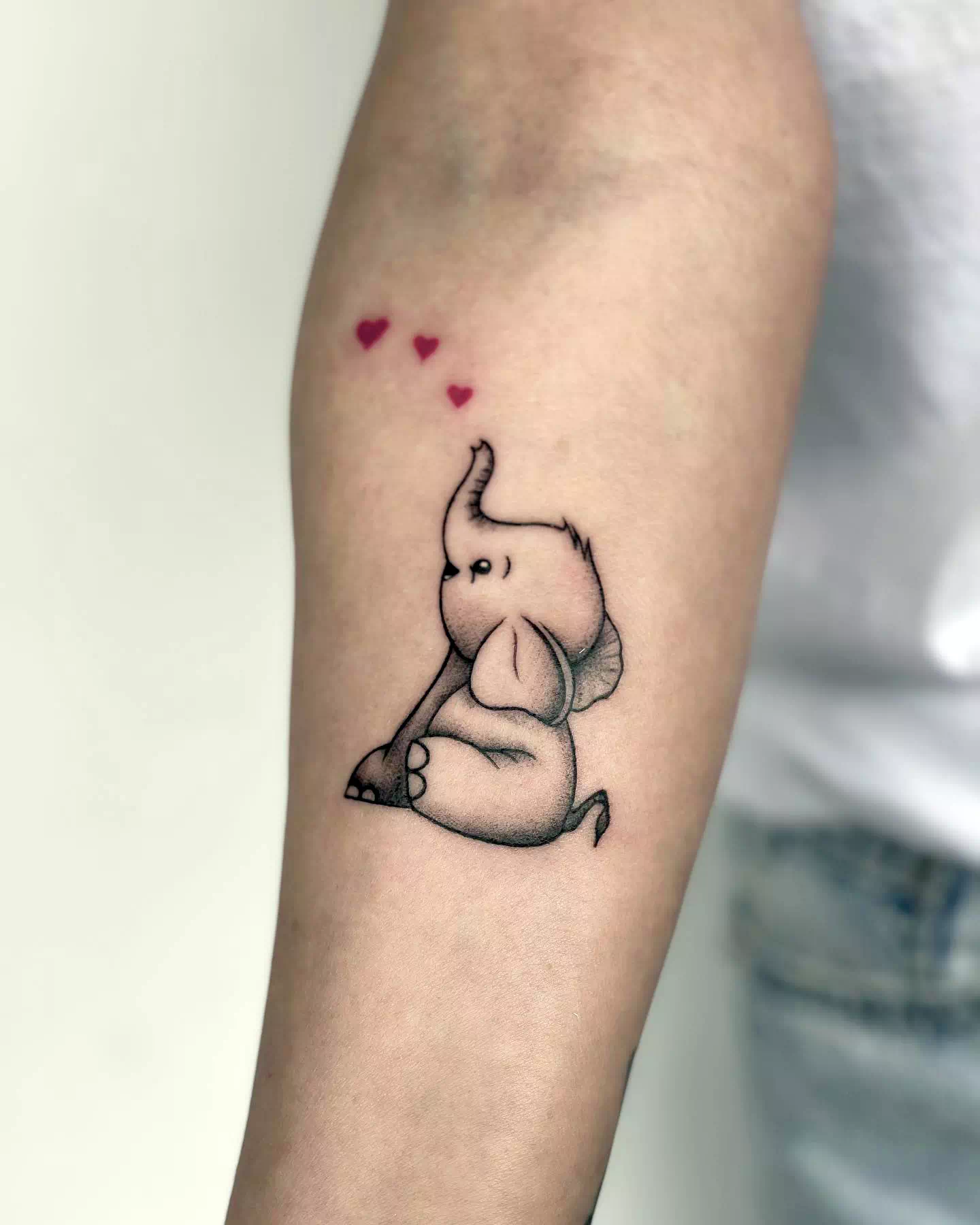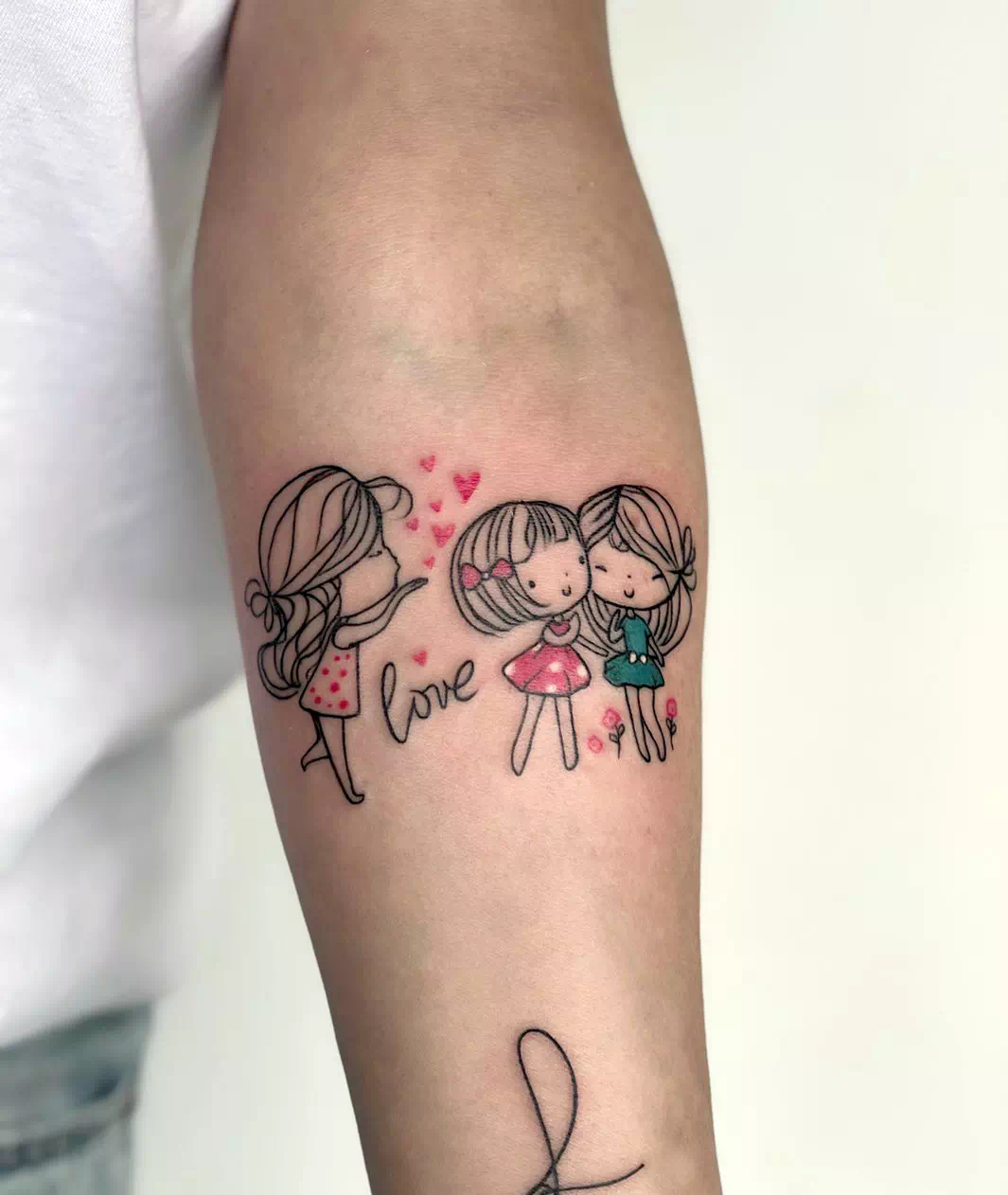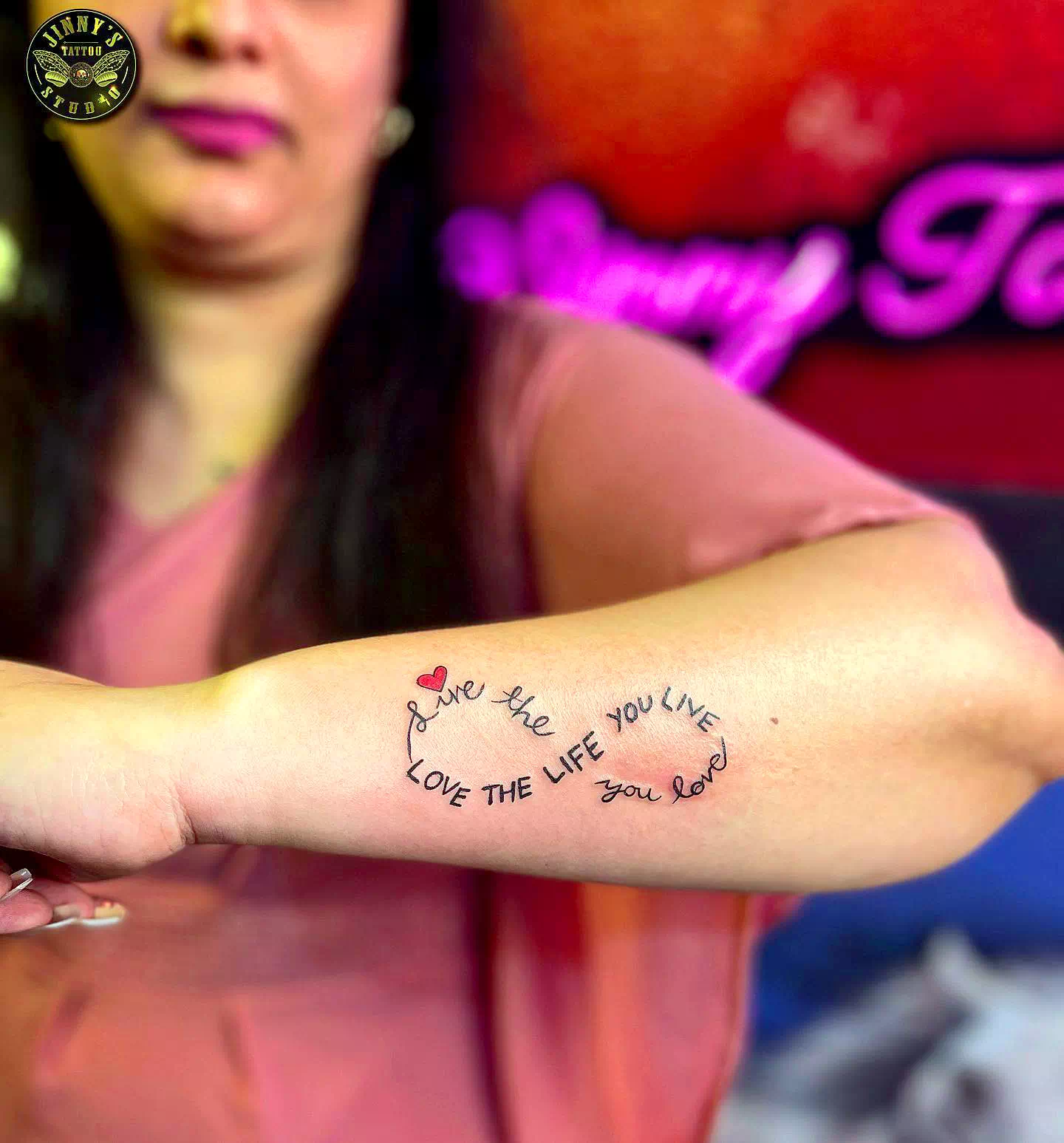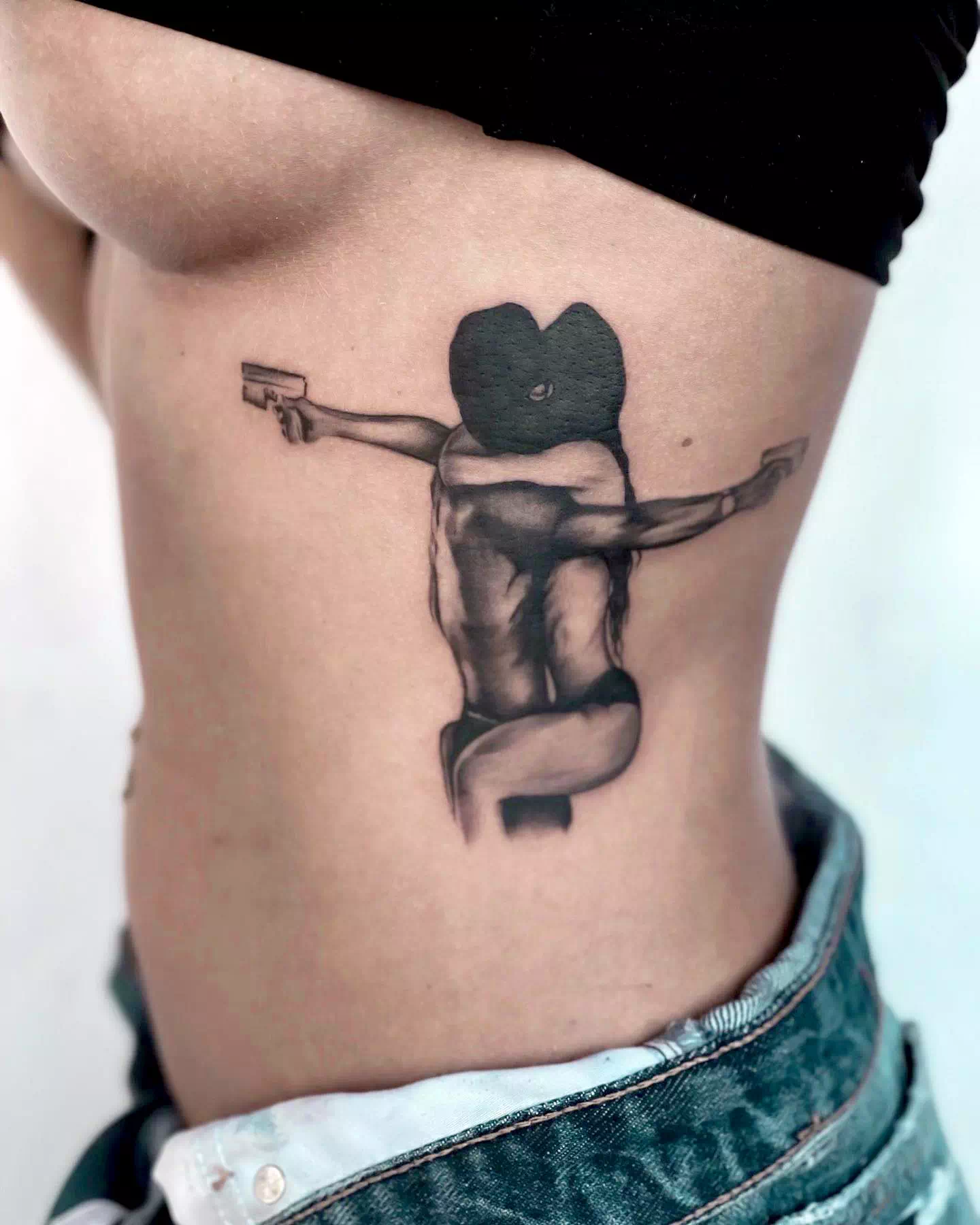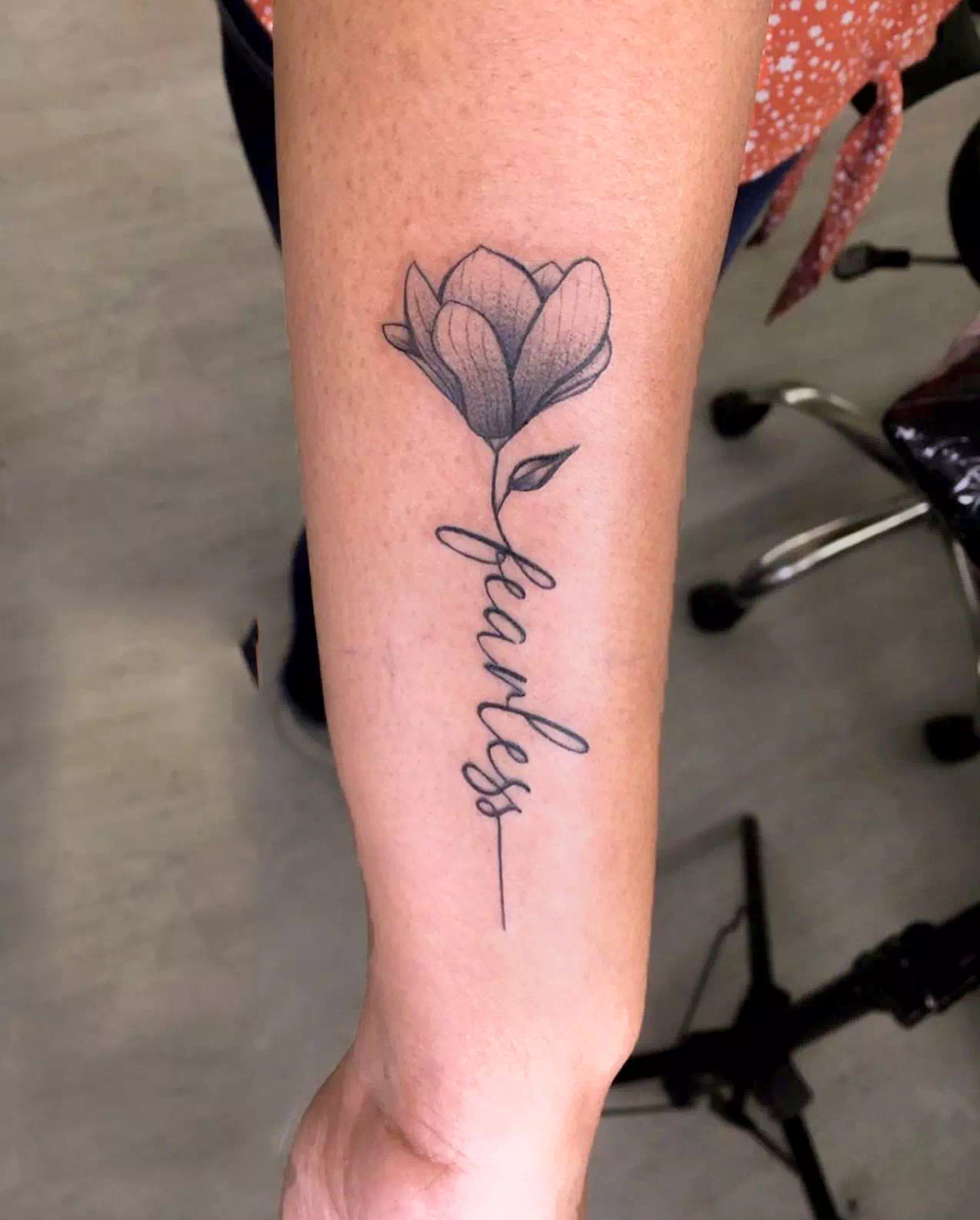 Love is the force that keeps the world spinning, and love quotes inked on people's bodies are some of the most stunning examples of written tattoo art.
Consider having a permanent tattoo of a meaningful word for you and your significant other. This way, the expression will always be with you, and it will remind you of the special connection you have.
There is no requirement that love be of the romantic variety. If there was a phrase that your grandfather frequently used to say, and it still brings a smile to your face when you hear it now, then it would be an excellent option for a tattoo. It might also be a joke that you and your mother like to tell each other, or it could be a term that you and your siblings frequently use. If there is a particular quotation that speaks to you about love on a personal level, considering getting that quotation permanently inked on your body as a quote tattoo is an excellent idea.
Novel quote tattoo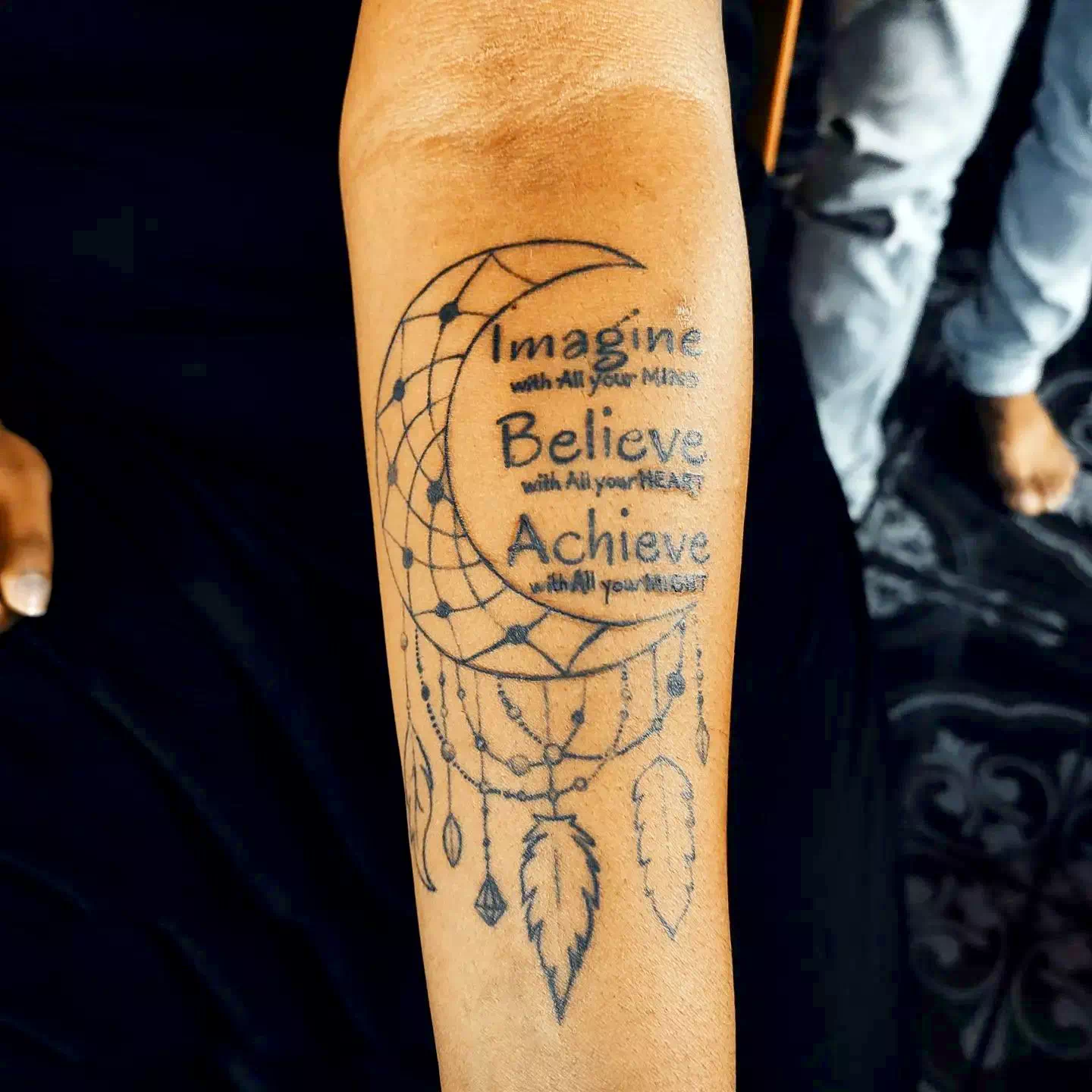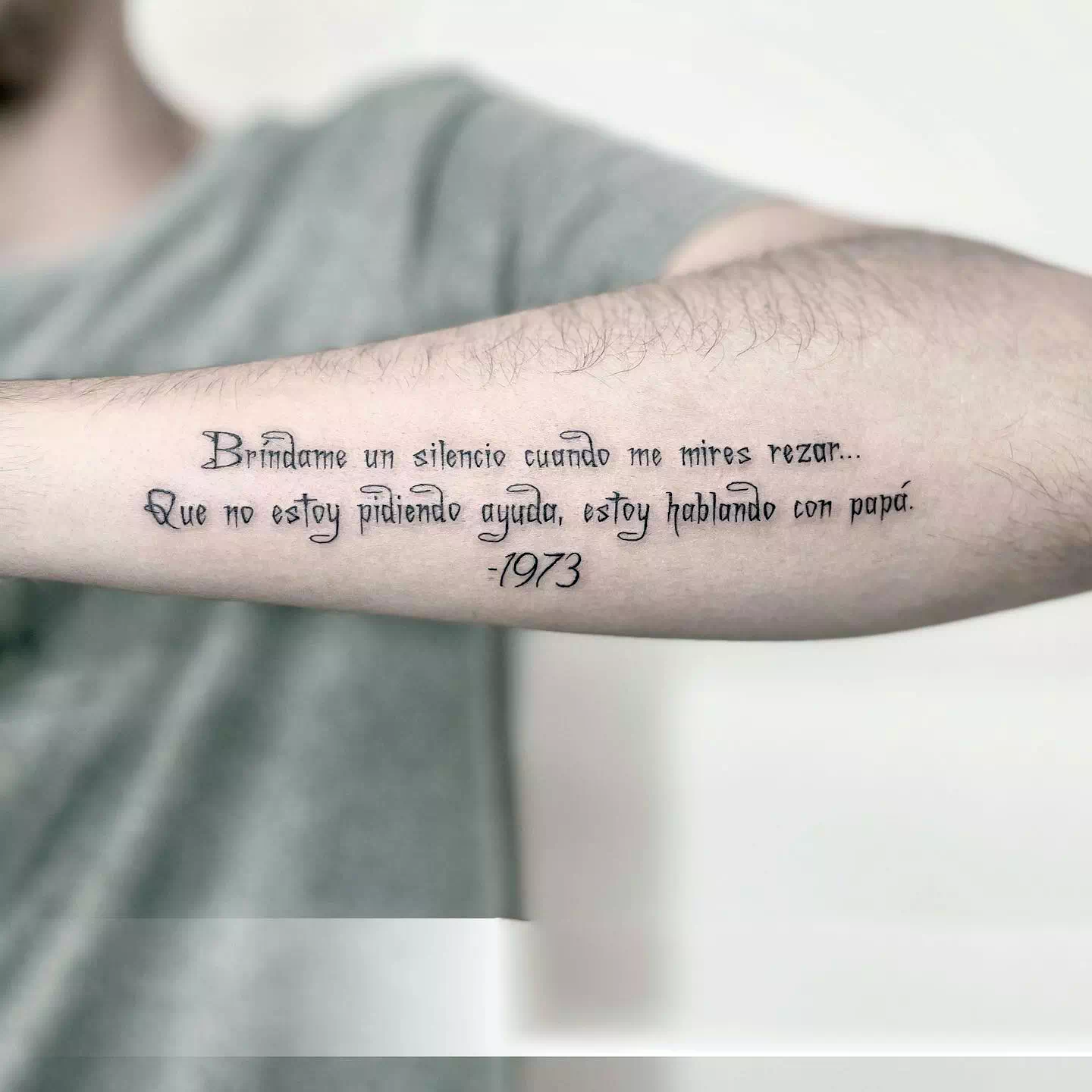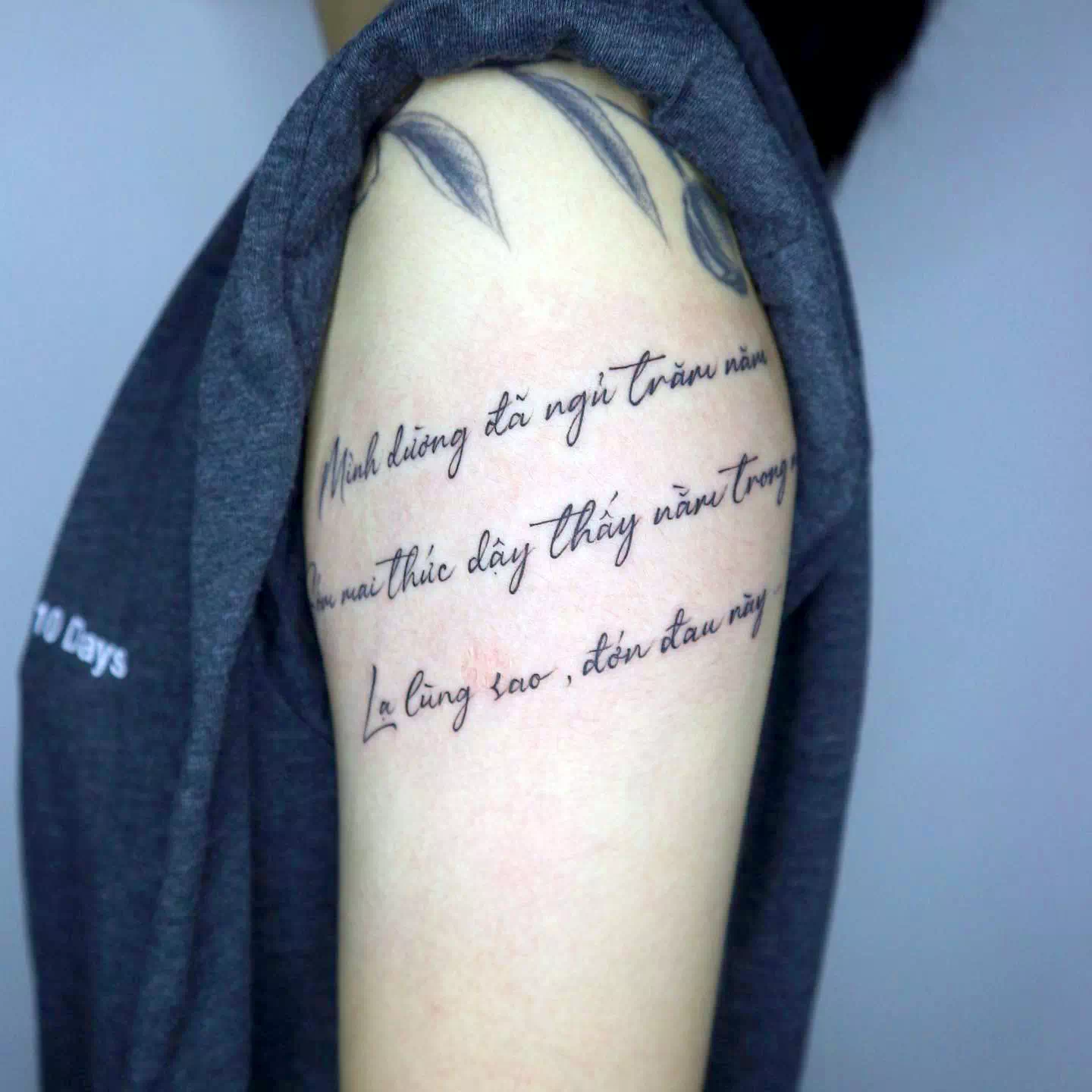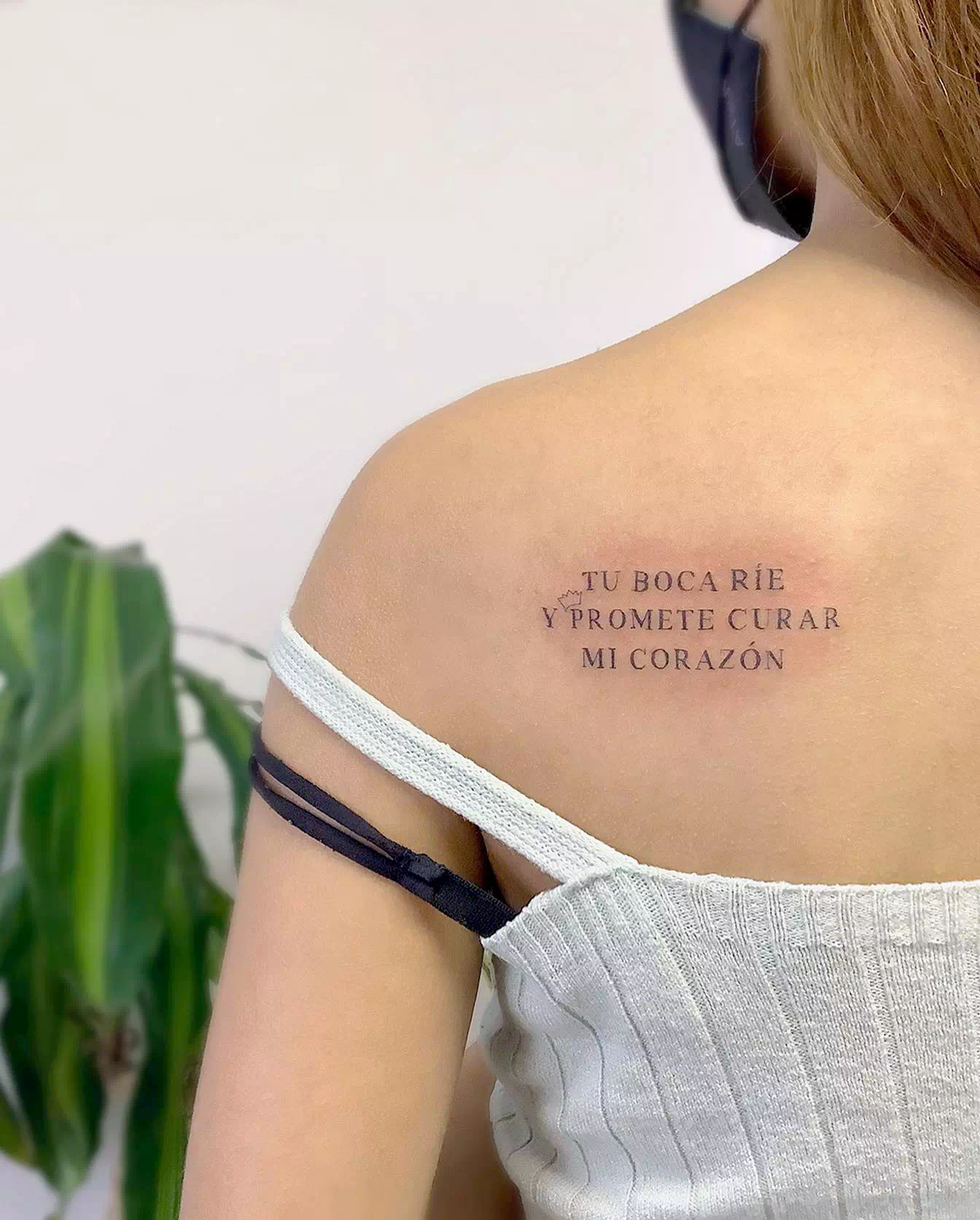 Each of us has a book that stands out as our favorite. Inspiring quotations for tattoos may be found in many classic children's novels, such as "Alice in Wonderland" and "Winnie the Pooh," which are filled with witty one-liners and are excellent sources for quote tattoos. Perhaps well-known works of literature, such as "To Kill a Mockingbird," contain outstanding passages suitable for tattooing as mature tattoos.If you have a go-to book that speaks to you personally, the excerpts from that book might provide excellent material for a quote tattoo.
Here are some lovely quotations from some of literature's most enduring works:
"The things that make me different are the things that make me, me."
—A.A Milne, Winnie the Pooh
"You're braver than you believe, stronger than you seem and smarter than you think."
—A.A Milne, Winnie the Pooh
"Why, sometimes I've believed as many as six impossible things before breakfast."
—Alice in Wonderland
"It's no use going back to yesterday, because I was a different person then."
— Lewis Caroll, Alice in Wonderland
"Real courage is when you know you're licked before you begin, but you begin anyway and see it through no matter what."
― Harper Lee, To Kill a Mockingbird
Poetry Quote Tattoo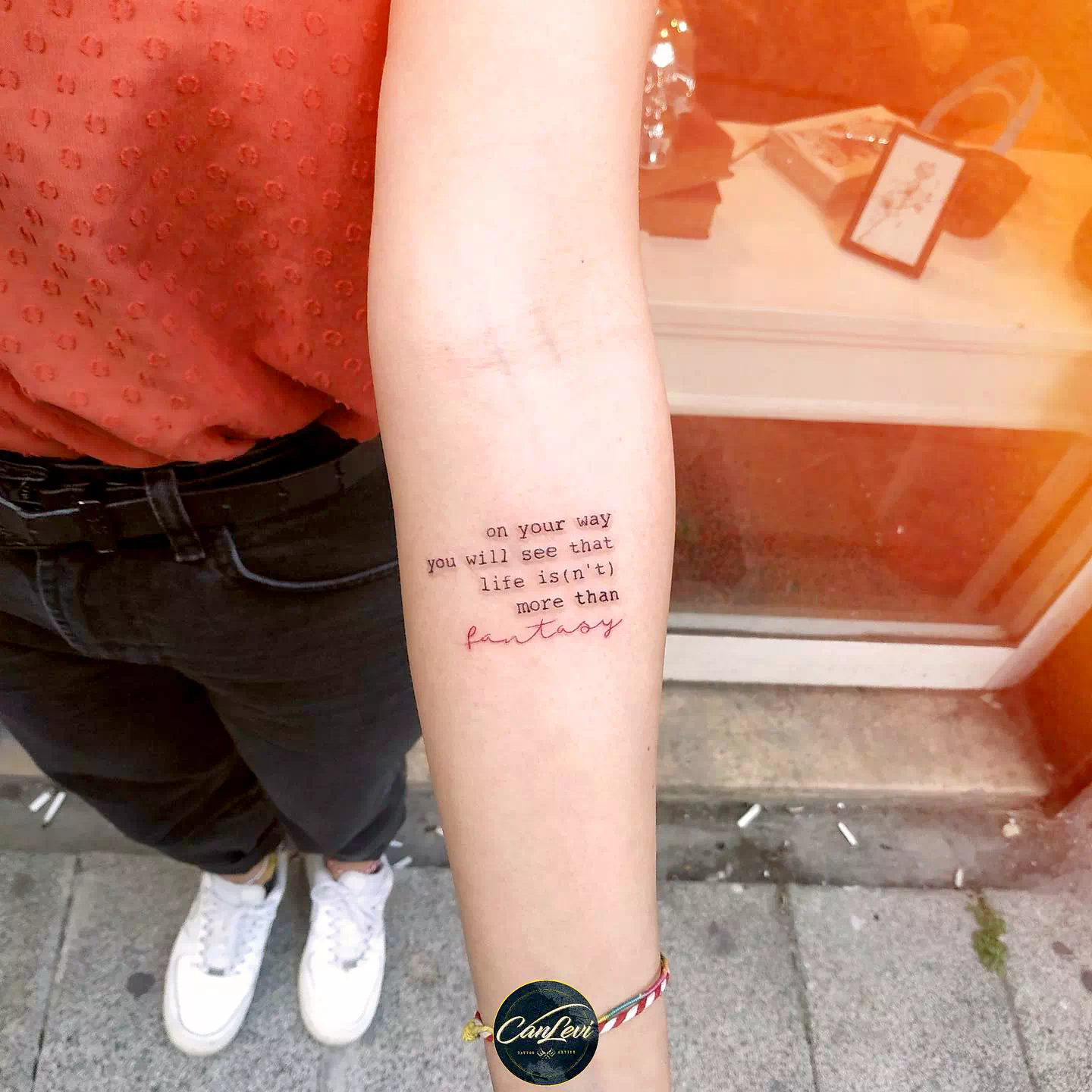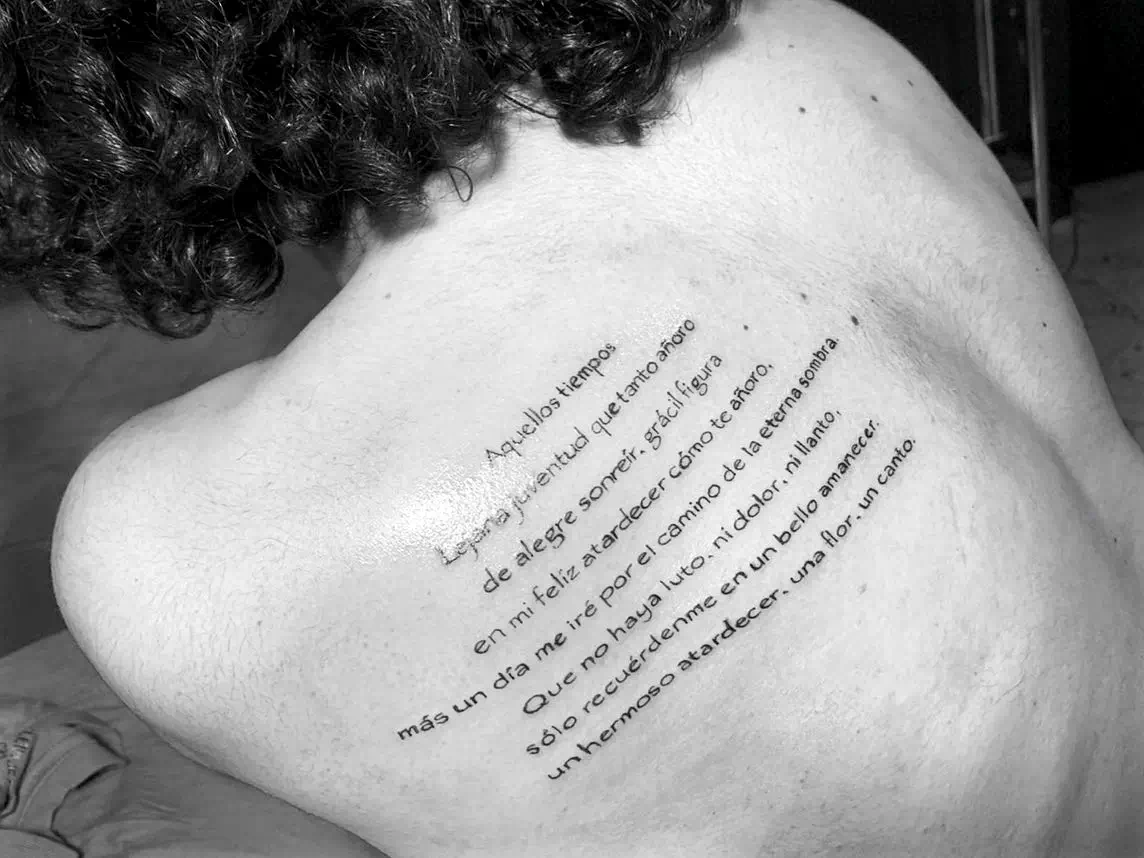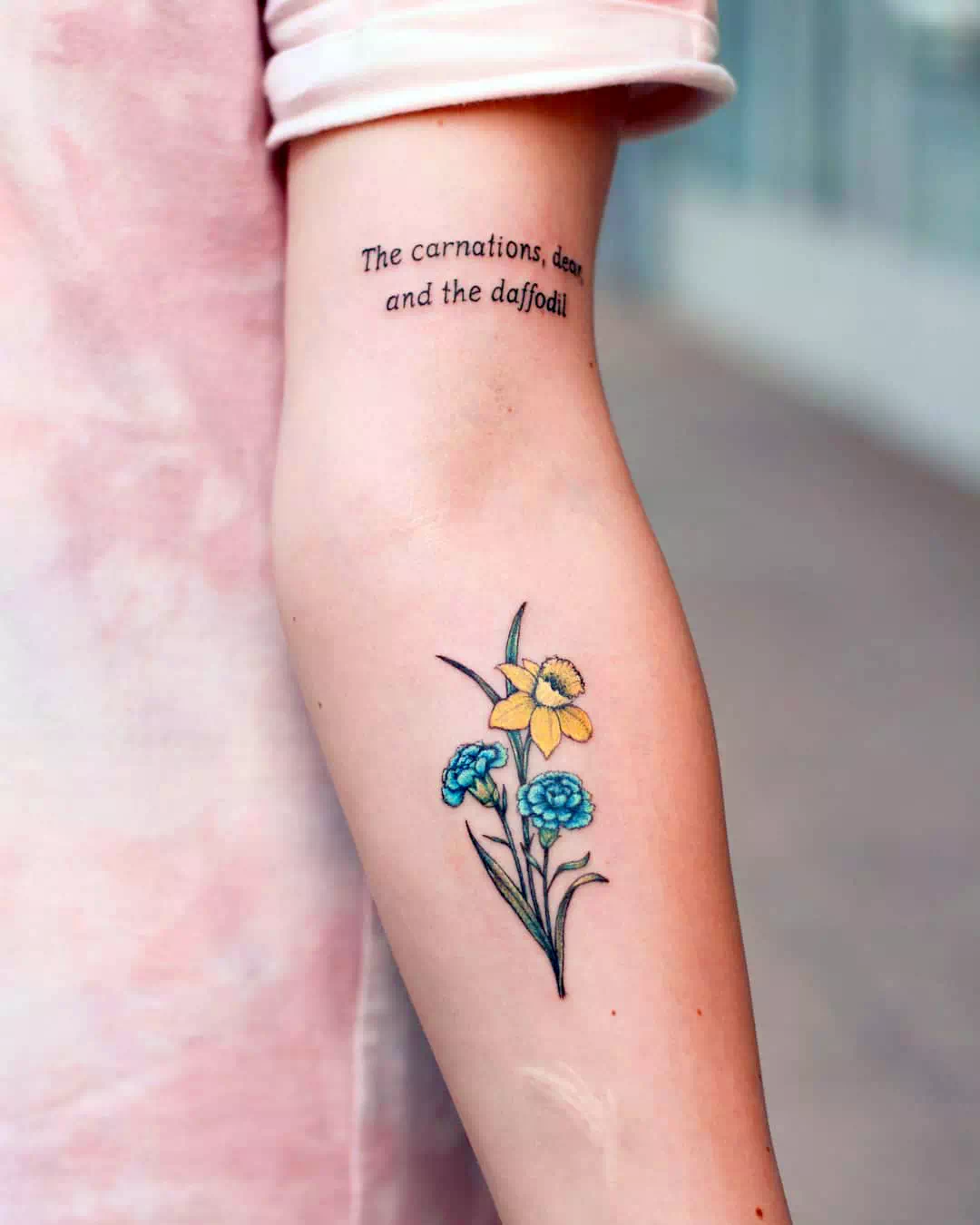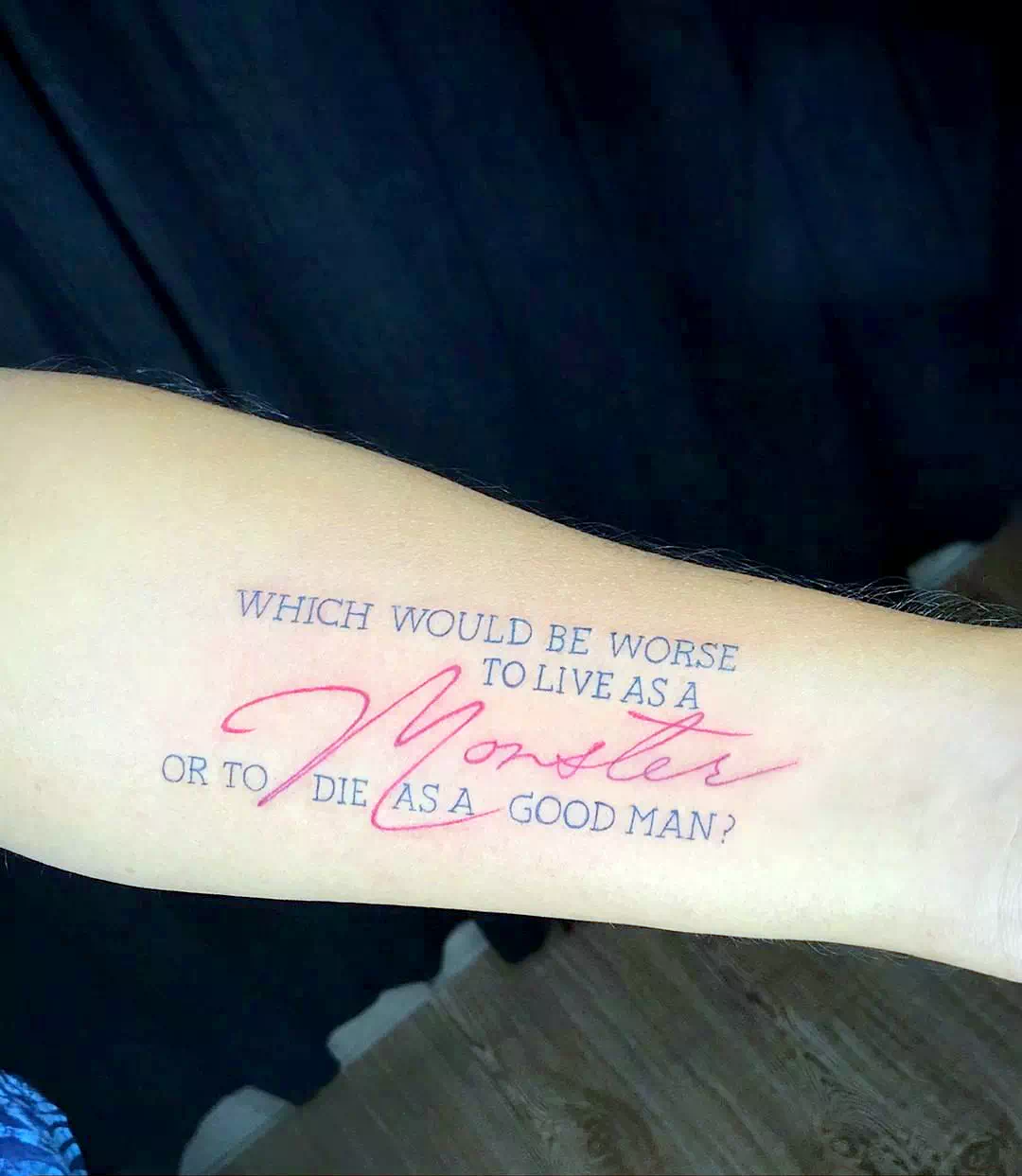 Inscriptions of poetic verse look stunning when done in permanent ink on the skin. You might already have your favorite poem in mind. Still, if you don't, you can always go for something timeless like a Shakespearean sonnet, or you can do some research on contemporary writers and choose your favorite lines from their works.
If you're at a loss for what to write, consider the following suggestions:
"In black ink my love may still shine bright."
― William Shakespeare, Shakespeare's Sonnets
"To be lit up from within, vein by vein"
—Margaret Atwood
Traveller Quote Tattoos
If you have a passion for the open road and prefer to think of yourself as a free spirit, then it may be time to put that desire into a permanently etched quotation on your skin. You could get a tattoo of a single word that describes your love of travel, like "adventure" or "explore," or you could go one step further and get a phrase that sums up why you travel.
Here are some of the most famous travel quotations ever written; you just might be persuaded to get them tattooed on your body:
"Not all those who wander are lost"
— J.R.R. Tolkien
"Life is either a daring adventure or nothing at all"
— Helen Keller
"Live with no excuses and travel with no regrets"
— Oscar Wilde
Tattoo Quotes with Images
It is recommended that you incorporate an accompanying image with the quotation that you provide. This not only serves to illustrate the words but also has the potential to produce a more striking appearance. If you want something a little more interesting and eye-catching, you could get a drawing to go with the quote you choose.
If the words of your quotation do not lend themselves readily to imagery, you can always acquire something straightforward like flowers, a love heart, or a pen while you write down the phrase. This can be done in place of illustrating the statement.
Single Word Tattoo
Some believe a single word can convey more meaning than a complete statement. Why not get it permanently tattooed on your body if you have that one word that sums up everything? In recent years, the minimalist look has been increasingly fashionable, and the simplicity of using only one word has a beautiful aesthetic. In addition, the cost will be lower, and it will take a lot less time to tattoo than a complete quotation.
Ideas for the Placement of Quote Tattoos
After selecting the ideal phrase to be inked on your body, the next step is to think about where you want to get your new tattoo. The location of a tattoo significantly impacts how it is perceived by the viewer.
For instance, if you choose to get a tattoo on your forearm or wrist, it will be seen regularly by others. Although this is a great way to show off your tattoos, it may be considered inappropriate in some professional settings.
If you have a job with a more conservative appearance policy, it may be wiser for you to have your quote tattoo in a somewhat more sensitive place, such as on your back or upper thigh. For example, if you have a job that has a more conservative appearance policy, This way, it will be concealed when you are at work, and you will be able to flaunt it during your leisure time by going to the beach or wearing a dress without a back.
The area of your body that receives the tattoo will also play a role in the overall amount of discomfort that you go through during the process. If you have a lower tolerance for pain, there are some places in the body that you should focus on more than others. In the paragraphs that follow, we will talk about the pros and cons of different positions.
Quote Tattoo on Wrist
If you want a quotation tattoo, the best place to get it is on your wrist since it will always be visible, even when wearing long-sleeved clothing. The wrist is the ideal location for a new tattoo, particularly one you want to draw attention to.
It is also the one that is most obvious to you personally, since you will be able to see it whenever you extend your arm because it will be there. It may be pretty reassuring to see your quotation and repeat it to yourself several times a day, especially if it is uplifting and has a personal meaning for you. Reading it to yourself can also help you focus on the positive aspects of your life.
Some people get their wrist tattoos written horizontally, an excellent format for little phrases. However, the impression of a somewhat more extended portion traveling vertically up your arm may also provide a beautiful aesthetic that complements your arm's natural tendons and veins. This can be a very effective aesthetic.
The most important thing to remember with wrist tattoos is that the area may be somewhat painful to tattoo due to the thin skin in the area and the proximity of the veins to the surface of the skin. You should also be warned that the ink might fade fast because the wrists are more frequently exposed to the sun than other body regions. Because of this, you may need to schedule touch-ups every year or two to keep your tattoo looking its best.
Quote Tattoo on Forearm
Forearm tattoos, just like wrist tattoos, are eye-catching and draw attention to themselves as a kind of body art. Because there is a large amount of smooth and flat area, it makes for a perfect canvas for a quotation. Because the skin in this area is lighter than the surrounding skin, the tattoo will be significantly more noticeable if it is placed here. This is the ideal location for getting a tattoo for a little lengthier statement.
As a general rule, the degree of discomfort you may anticipate experiencing during getting a tattoo will rise as the needle travels further down the forearm or wrist. If your threshold for pain is not very high, it is in your best interest to choose a location higher up.
When you go out in the sun, you should also be sure to protect your tattoo by applying sunscreen to it. Though tattoos on the hand and wrist are more likely to fade than those on the forearm, you still need to take extra care of them if you want them to look their best for as long as possible.
Quote Tattoo on Upper Arm
If you want your quote tattoo to be less prominent but still visible when you wear certain clothes, the best place to have it is on the upper arm. This is because the tattoo will still be visible no matter what you wear. It is also a traditional place to get a tattoo, and there is plenty of room available for you to have a quote that is on the longer side if that is something you want.
Because the skin is thicker and typically more fat and muscle in this location, which acts as a cushion for the needle, getting a tattoo in this region is not as painful as it could be in other parts of the body. If you have a lower threshold for discomfort than most people, you should consider this placement more than others.
One further benefit associated with the upper arm is that it is often protected from the sun unless you want to expose it by going sleeveless. Because of this, the tattoo will maintain its vivid color for a more extended period of time, and it is unlikely that you will require any touch-ups in the years following the initial inking.
Quote Tattoo on Back
Quote tattoos on the back are becoming increasingly popular since the back is an ideal location for displaying inspirational words. You can get your statement tattooed on the back of your ribs or the small of your back, but more extended quotes appear more stunning when they run down the spine of the person getting the tattoo. This is the ideal location for a more complete quotation since there is wiggle room regarding the sentence length.
Naturally, the pain might be a bit higher in this area so you'll need to brace yourself for that, as well as the fact that it might take longer to carry out the tattooing process. The second piece of advice is to be aware that getting to the region for aftercare might be difficult. Because of this, you should ensure that you have a friend or family member available to help you clean and moisturize the area after you receive a tattoo.
Also Read: Top 30 Cool Ideas for Bracelet Tattoos (2022 Updated)
Quote Tattoo on Leg
Leg tattoos are becoming increasingly popular as a result of the versatility offered by their placement, which enables the tattoo to be readily concealed when desired yet proudly shown at other times. In addition, you have a lot of areas to play with, and you can choose whether the text will be horizontal or vertical.
Because there is more fat in the thighs and calves than in other body regions, getting a tattoo on those parts is one of the least painful ways to decorate your body. The tattooing procedure tends to get more uncomfortable as it moves closer to the ankle and down the shins.
Conclusion
There are an unlimited number of different quotations from which to pick. With any luck, this article has provided some food for thought as you choose where and what sort of phrase you would like to get tattooed on your body. Whatever you choose, make it personal and meaningful to you because you will most likely be reading it every day for the rest of your life.
Sharing is caring!