Are you looking for a burst of creative energy? This is your first time getting a new and unique tattoo, so make it count. This unique approach and method of tattooing and placing different kinds of prints all over your body while adhering to the same color pattern and color wave is known as the trash polka tattoo design. Are you interested in learning a little more about this? This tattoo style is suitable for both men and women, so look no further for your ideal tattoo!
What You Need to Know About Trash Polka Tattoos
What Is a Trash Polka Tattoo Design?
In Germany, two tattoo artists came up with the idea of trash polka, a unique tattoo style and a beautiful approach to tattooing. Simone Pfaff and Volker Merschky developed this look. Its prints are divided into two categories based on their system and type: unrealistic and photorealistic. You can get any tattoo you want, including symbols, numbers, and portraits, as long as it is what you want. On the other hand, the color scheme is always the same: black and red.
Where should they be placed on the body when it comes to Trash Polka Tattoos?
You are free to choose any position that is most comfortable for you, your body, and your beliefs!But because these colors are so loud and vibrant, you may want to flaunt them in public, so you should consider getting a visible tattoo and putting it on your body.
When it comes to men, what does a Trash Polka tattoo represent?
Trash polka tattoo designs for men are typically associated with feelings of anger and fear. This color wave and pattern are frequently used to represent these two emotions in visual representations. With this tattoo design, you can show your problems, your trust, your anger, or any other strong and clear feeling.
What Does a Trash Polka Tattoo Mean for a Female Individual?
Women generally appreciate this tattoo and its color combination because it screams honesty, romance, and passion in their hearts. If you're having trouble putting your thoughts into words, a tattoo can help you express yourself to the rest of the world.
6 Leg Trash Polka Tattoo Designs
1. Unique Trash Polka Tattoo Designs Over Leg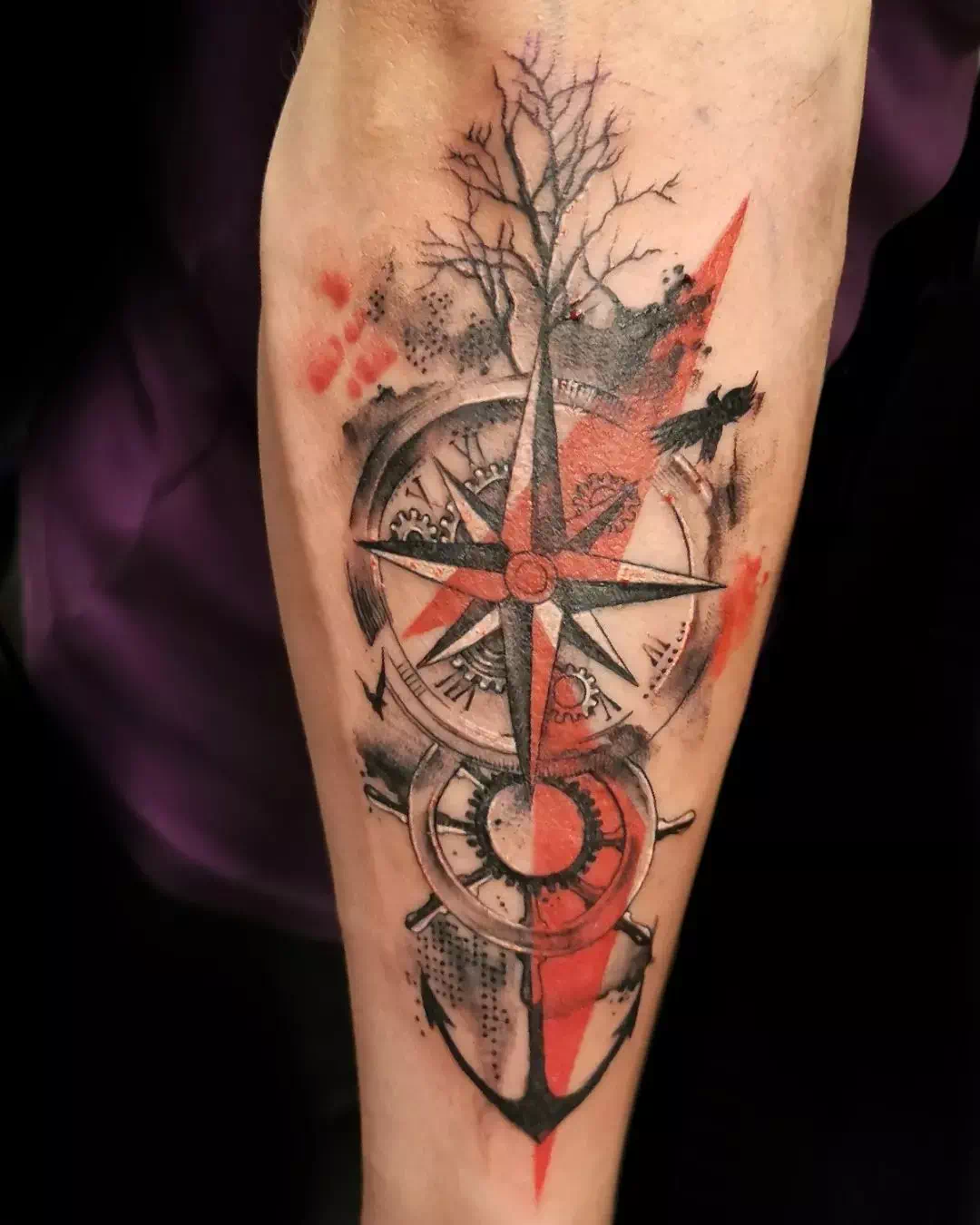 What do you think about getting a tattoo inspired by the cherry blossom? A stunning black and a red tattoo that you will appreciate if you are a fan of nature and spirituality will be found in this collection.
This tattoo can represent and stand for the different layers of your personality and personal development. So, how far have you come, and what do you hope to accomplish with your emotional and spiritual growth in the long run? Take pride in your body with a tattoo like this one!
2. Raven Trash Polka Tattoo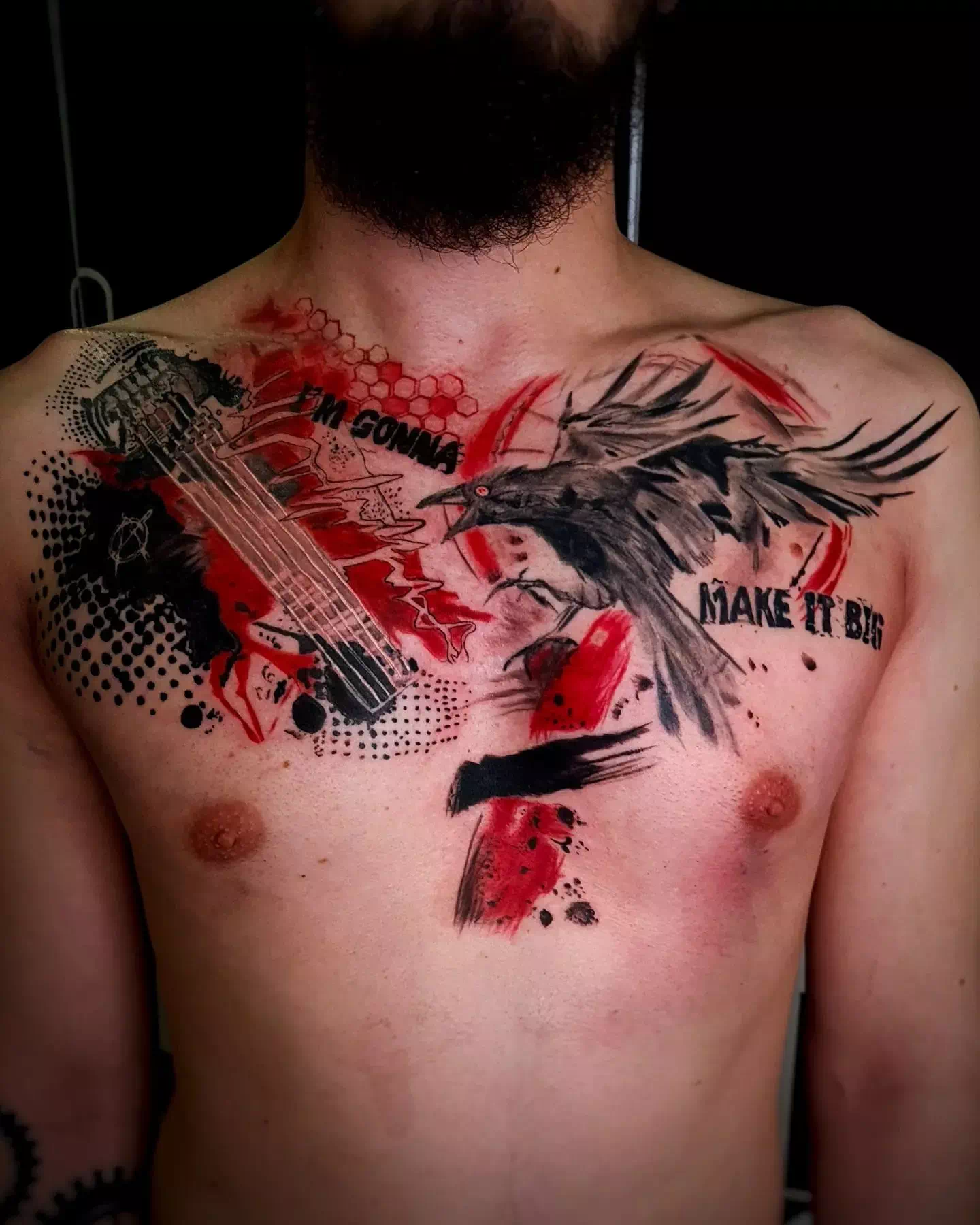 Are you a fan of the birds? Is it possible that you are someone who appreciates the beauty of nature? Get this black and red tattoo and have it placed right over your calf; it's a great piece of tattoo design inspiration.
It will serve as a symbol of your journey and your positive vibes. It can also show that you want to see the world and spread your wings as you try to fly away and explore.
3. Anime Trash Polka Tattoo Ideas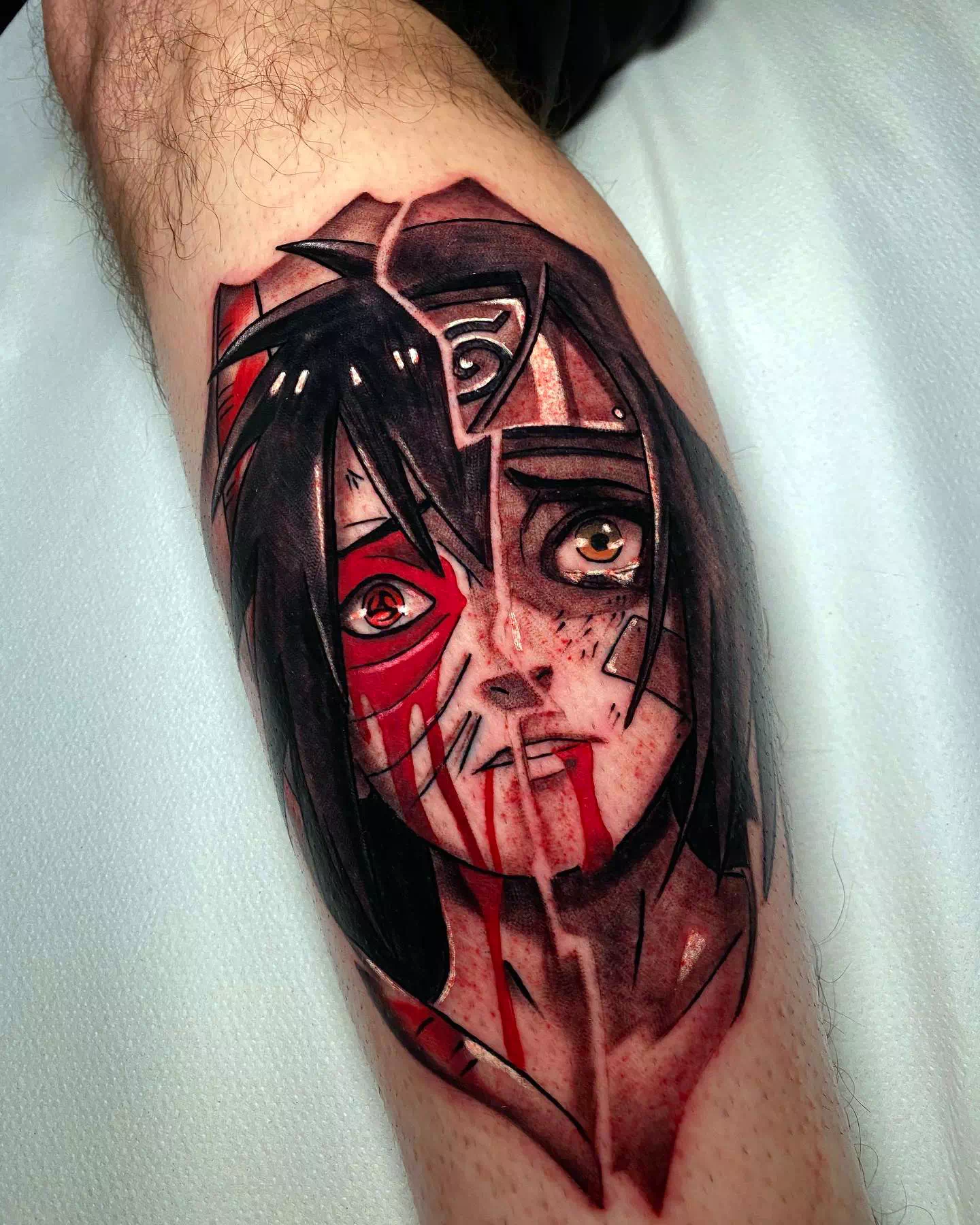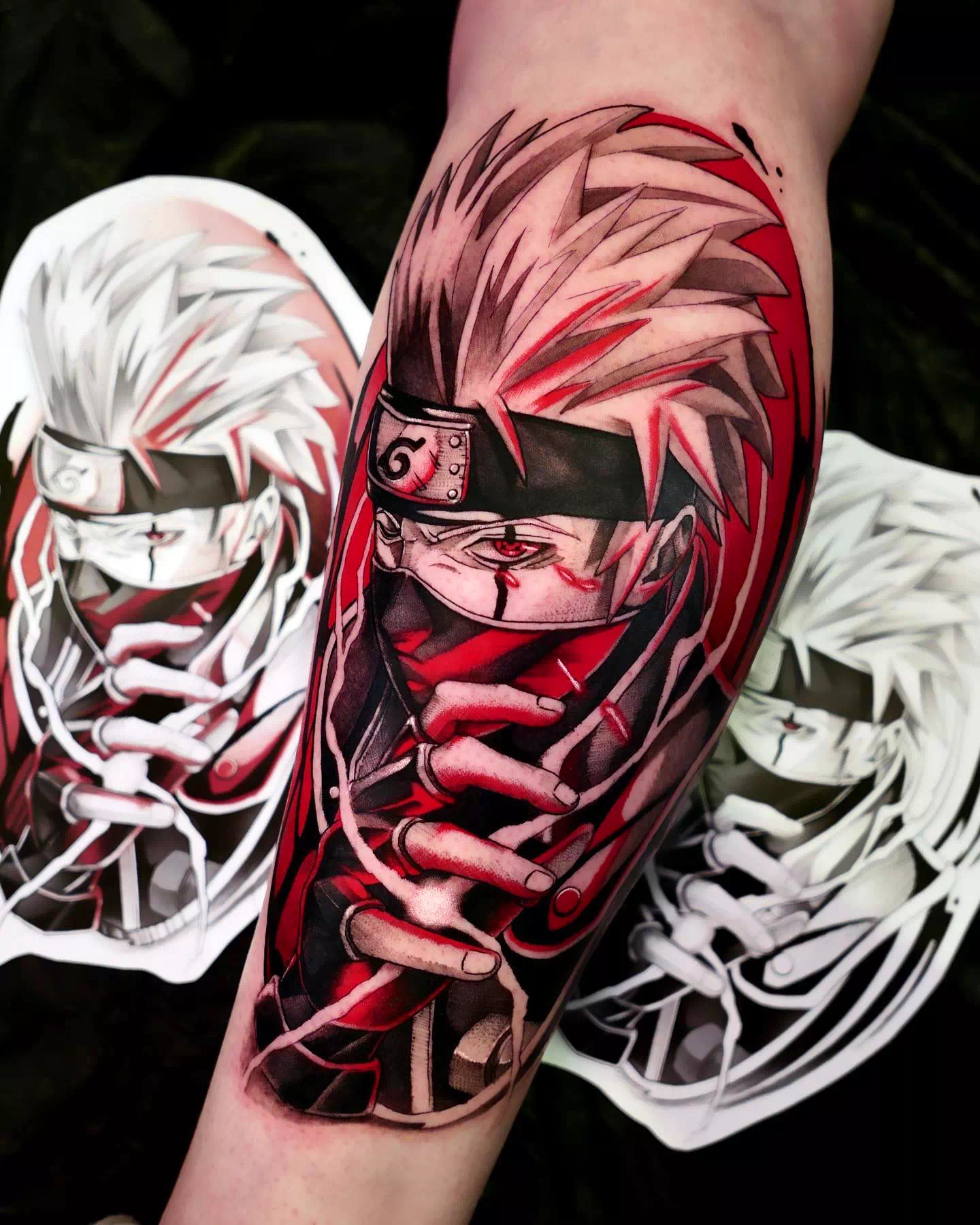 Are you a fan of Naruto's cartoons and the character himself? You might be a fan of the old-school anime style of tattooing. This piece is intended for men who enjoy bloody and frightening body parts. It could take you up to three hours to complete this tattoo design. The final product will be an image that represents your creative side.
You can use any character from the saga to decorate your body, regardless of which one you prefer. Allow your tattoo to express your passion for anime and the fact that you are still young at heart.
4. Samurai Trash Polka Tattoo Style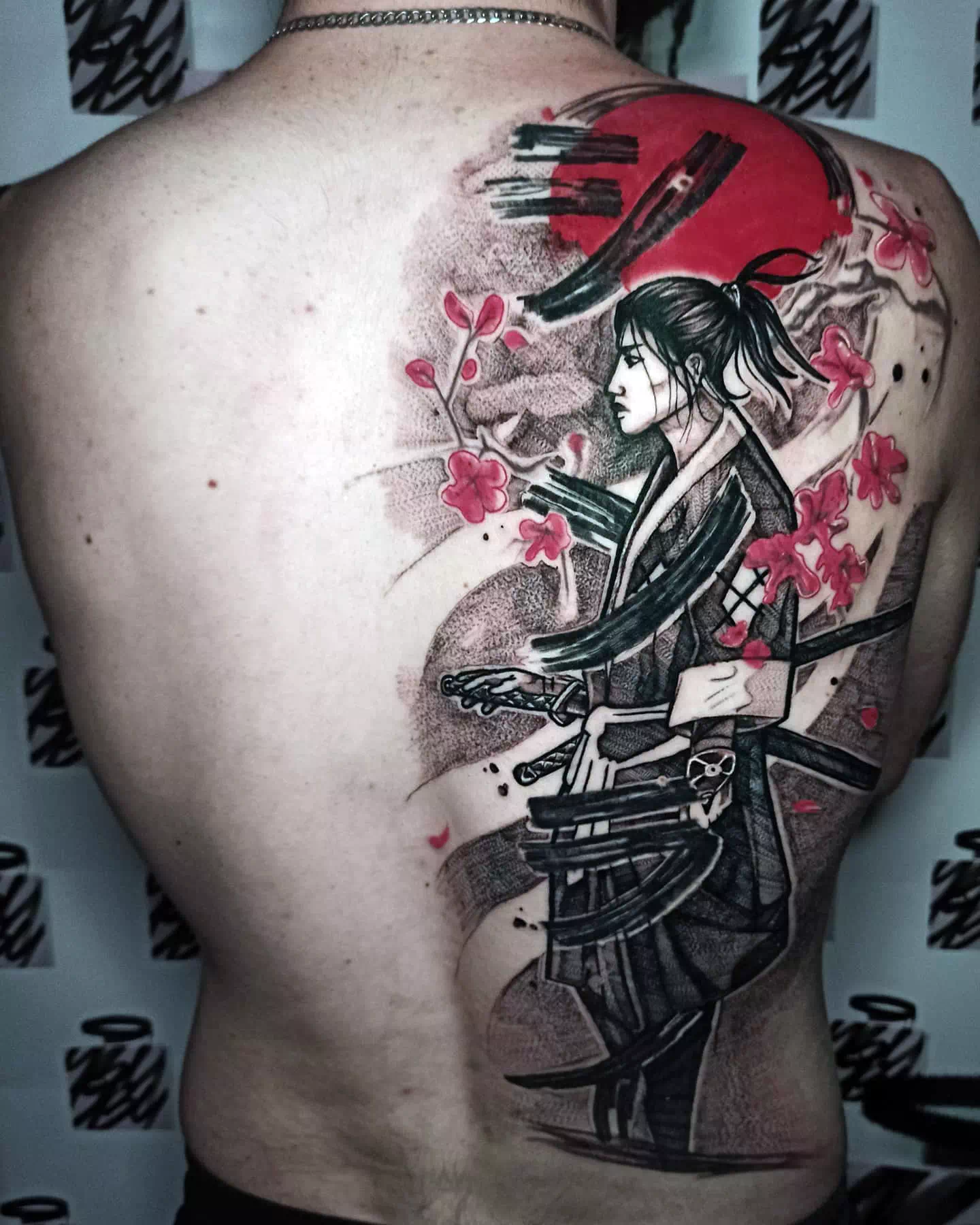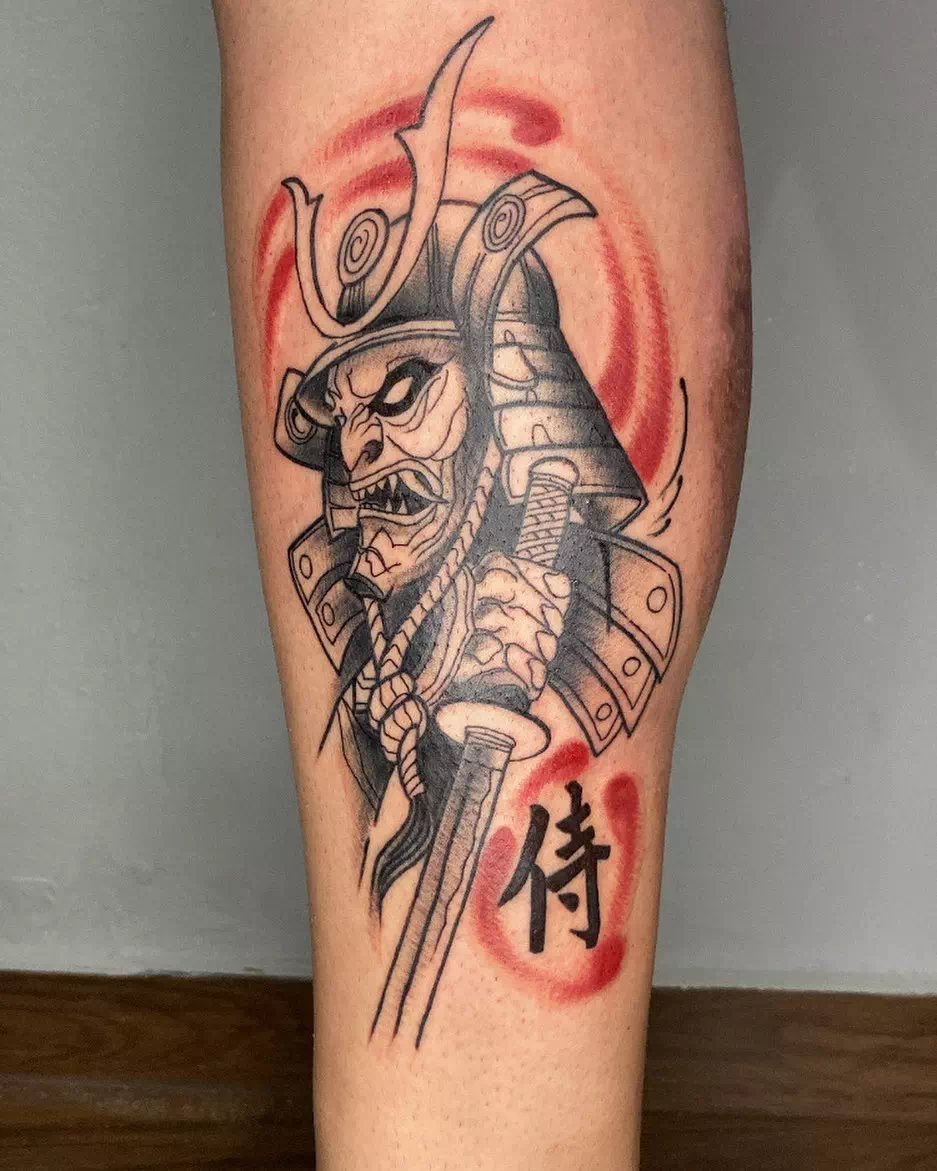 A calf tattoo may be right up your alley. Do you prefer something noticeable and prominent? Many men who exercise enjoy standing out and displaying their masculine features by getting a tattoo that complements their physique. This one is for true warriors and those who admire Samurai culture and tradition.
A samurai is a symbol of tenacity and willpower in Japan. It is based on the idea of patience and is a great choice for people who are patient and want to build their character while staying at home.
Also Read: 99+ Magical Harry Potter Tattoo Ideas
5. Artsy Trash Polka Tattoo Designs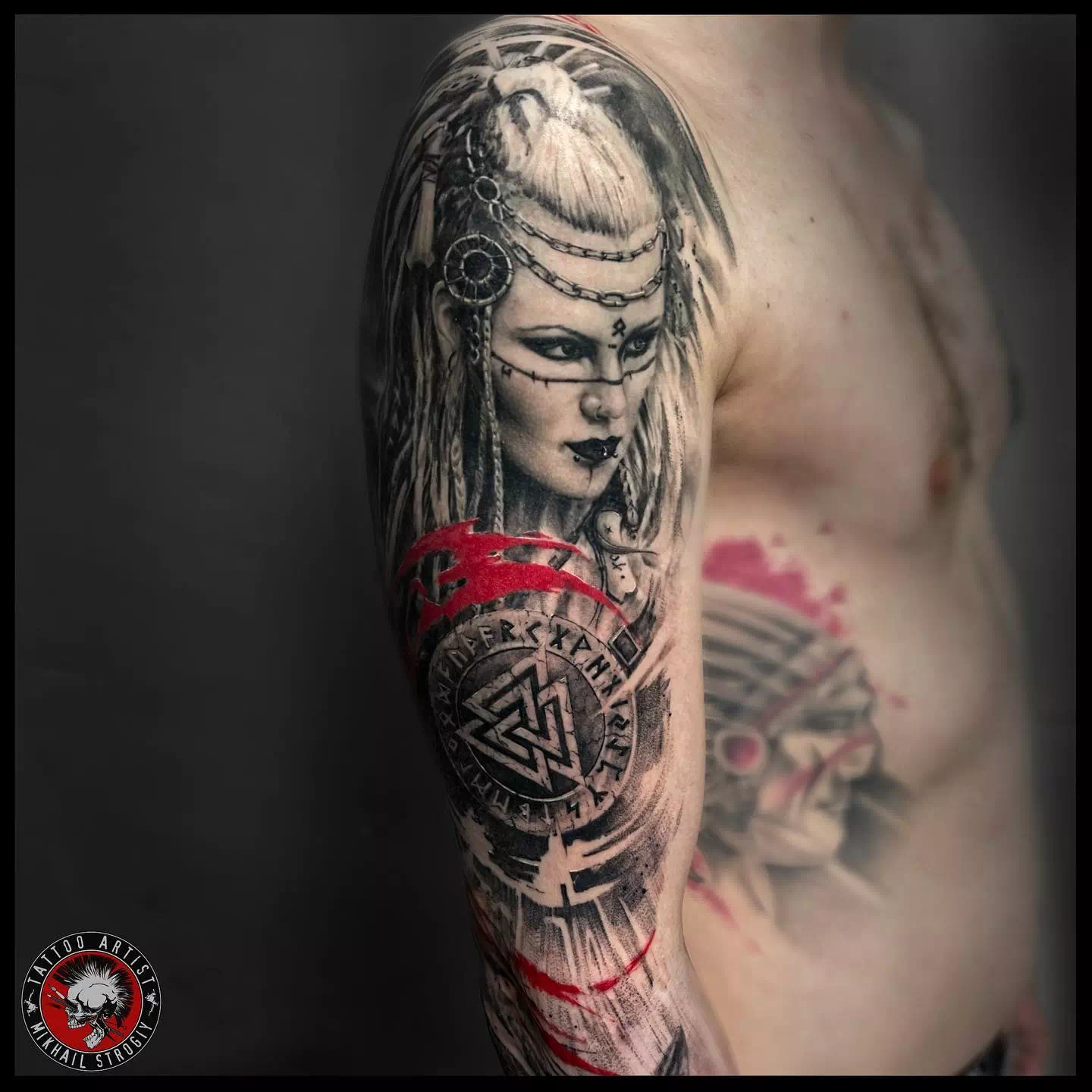 Do you enjoy sporting tattoos that are both brave and bold? You might be someone who appreciates this color combination, but you're also trying to stay on the right track. These tattoos are for men with masculine legs who are not afraid of getting larger tattoos on their thighs and calves. Please keep in mind that it may take you 4-5 hours to complete this design.
This fighting character is for those who enjoy anime, PSP, Xbox games, and fighting games. With this huge tattoo, you can show how playful you are, how much you love games, and how close you are to your inner child.
6. Calf & Compass Trash Polka Tattoo Style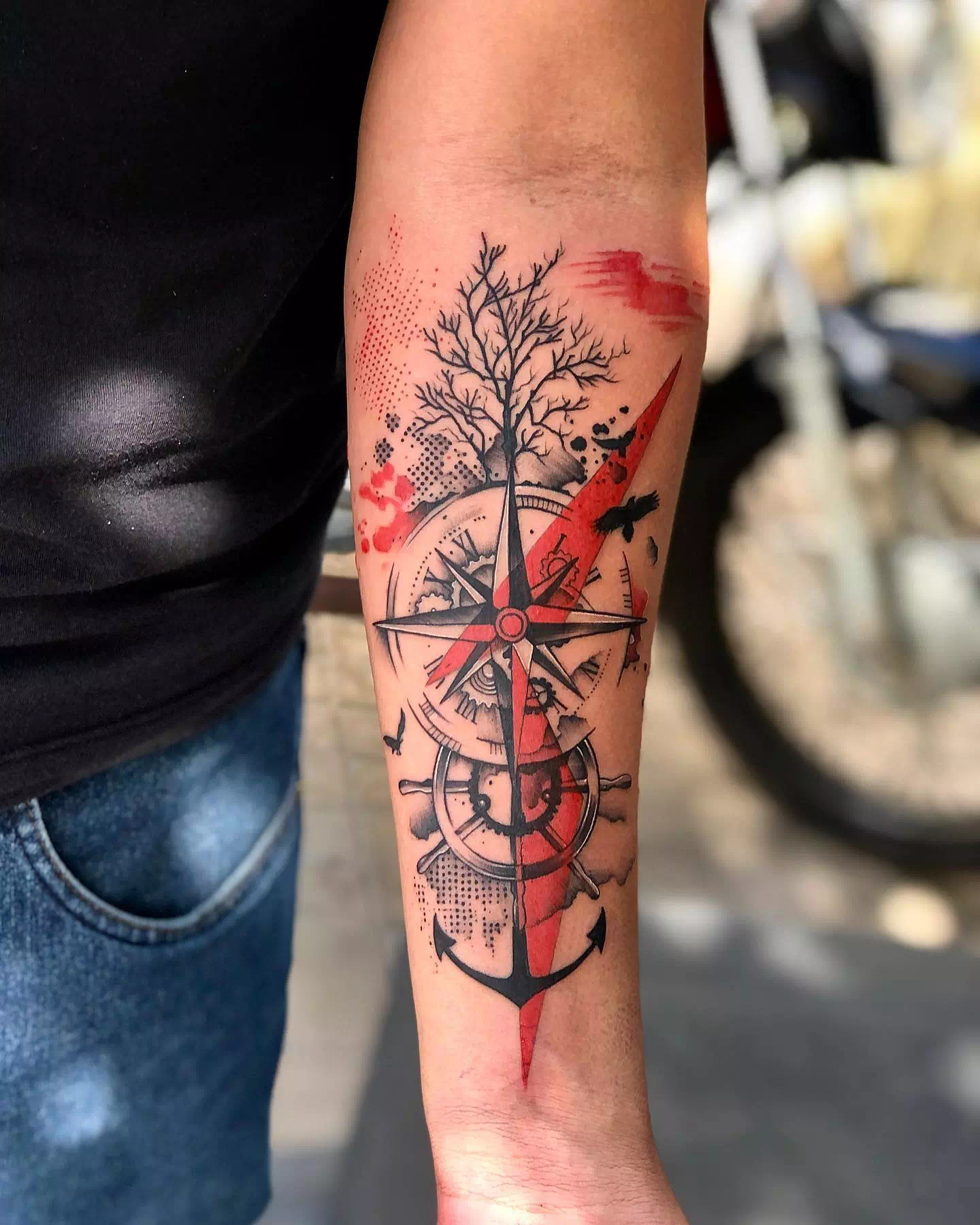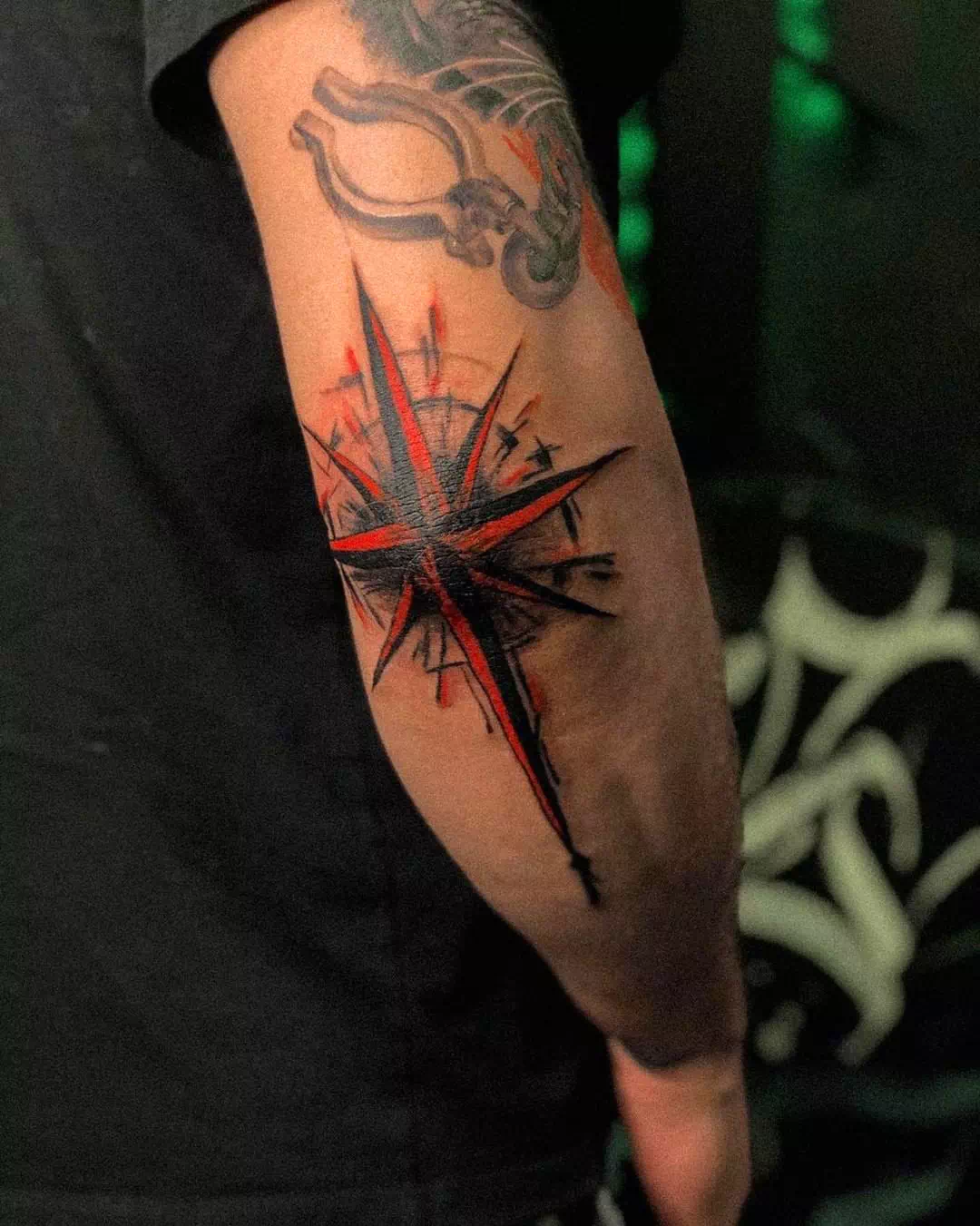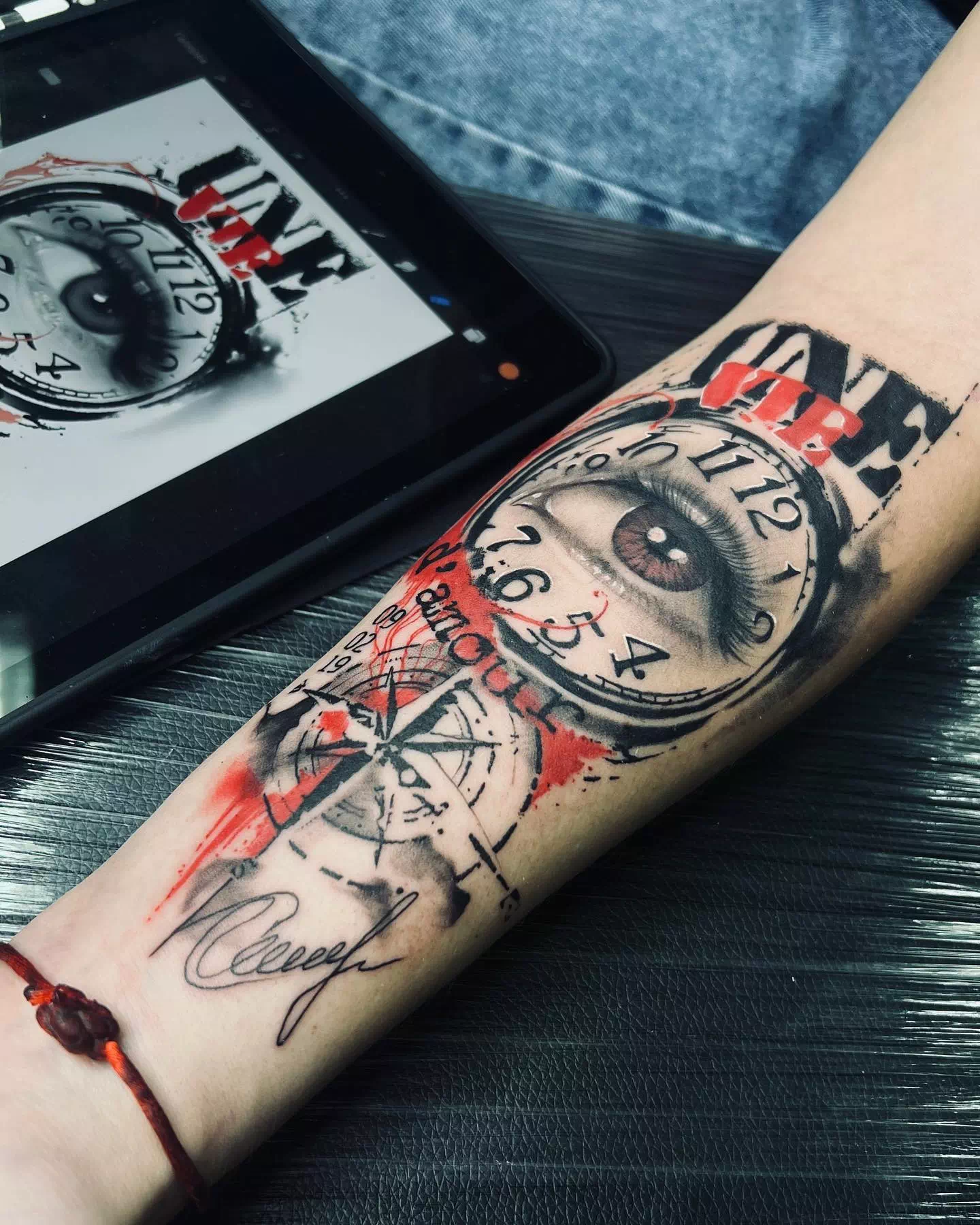 Do you enjoy traveling the world and getting large tattoos? If so, this article is for you. Perhaps you're experiencing a sense of being stuck in your life right now? If this is the case, you should consider getting a stunning compass tattoo.
It will represent your difficulties and perceptions of those around you. For those who have struggled with commitment or staying true to themselves, remember that it is never too late to rediscover yourself and begin your journey again! This compass shows how life is always going up and down and full of trials and mistakes.
6 Arm Trash Polka Tattoos
1. Mysterious & Ancient Trash Polka Tattoo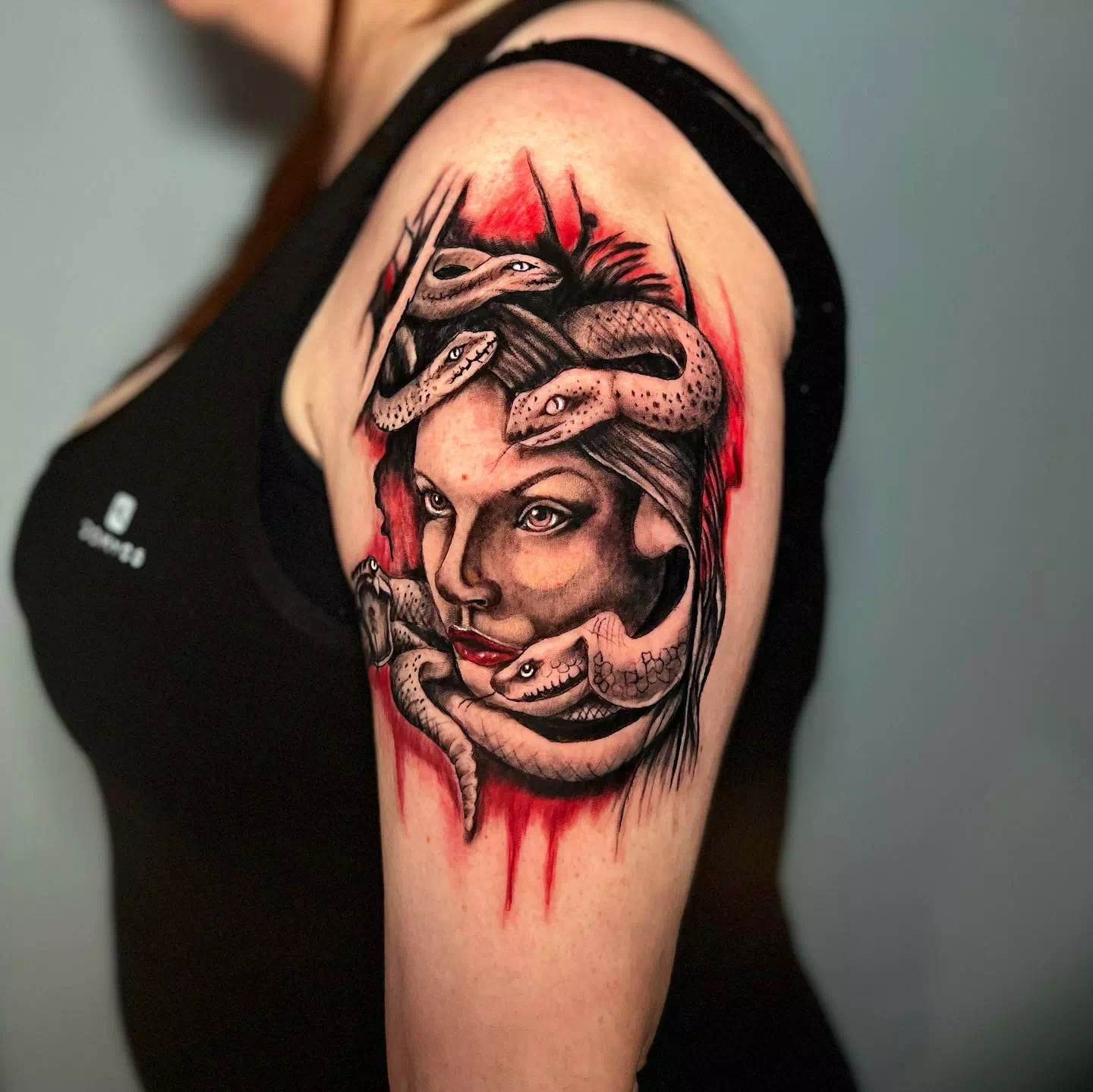 Shoulder tattoos are trendy among men with muscular arms and a larger frame. In every short-sleeve T-shirt, they are easy to spot and distinguish. By getting this unique and artistic tattoo, you can show off your masculine side while drawing attention to your body.
This tattoo will demonstrate your interest in ancient times and mythology. It will also let others know that you can deal with most situations in a philosophical manner, which will impress them.
2. Small Trash Polka Tattoo Mechanic Inspired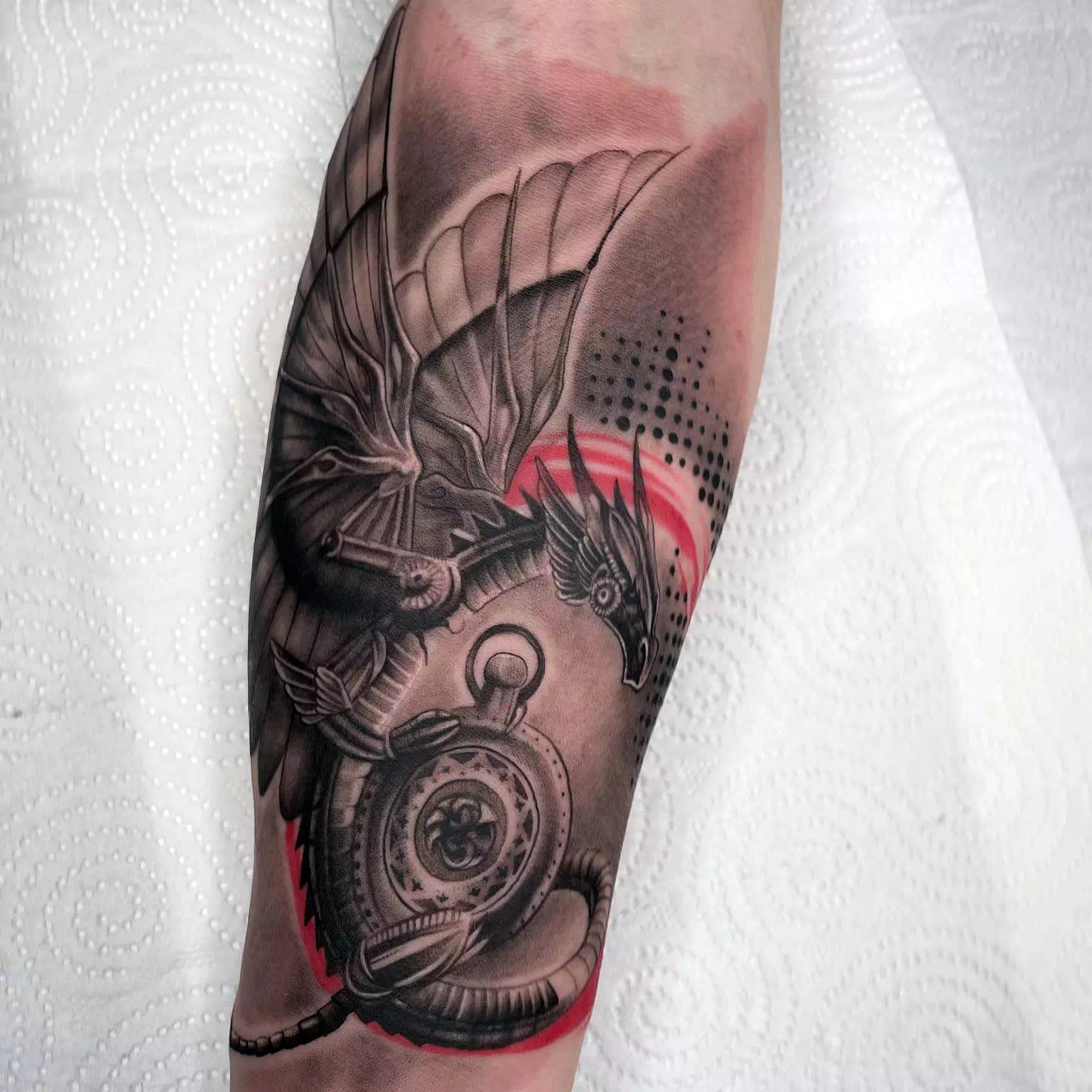 Are you a handyman or a handywoman? Another possibility is that you are just someone who enjoys doing chores around the house because you find them both thrilling and relaxing to do. While this may be an unusual design, it has been a complete hit with some people!
Demonstrate your positive workaholic side and let others know that you enjoy making things better. This tattoo will also demonstrate your self-sufficient, assertive, and skilled side.
3. Shoulder Trash Polka Tattoo Raven Ink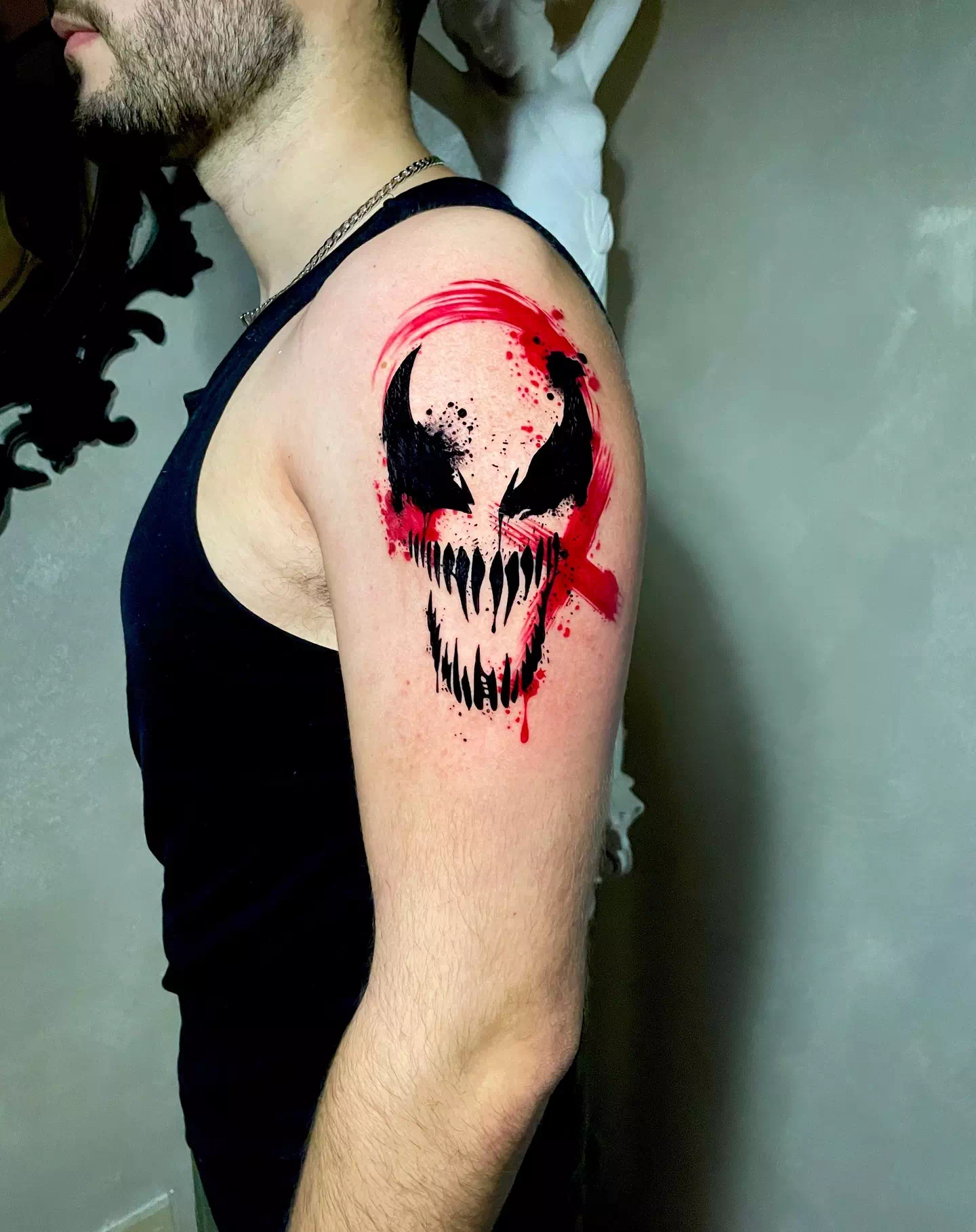 Are you a hunter who enjoys the outdoors? Is it rewarding or fulfilling in any way for you in any way? This bird target tattoo is perfect for men who know exactly what they want and when they want it. Shoulder placement may be the most appropriate option in your situation!
This tattoo will communicate to others that you understand when it is appropriate to search for answers and when it is not. This tattoo is also a great choice for anyone who has clear goals and isn't afraid to show them to others.
4. Dramatic & Artsy Trash Polka Tattoo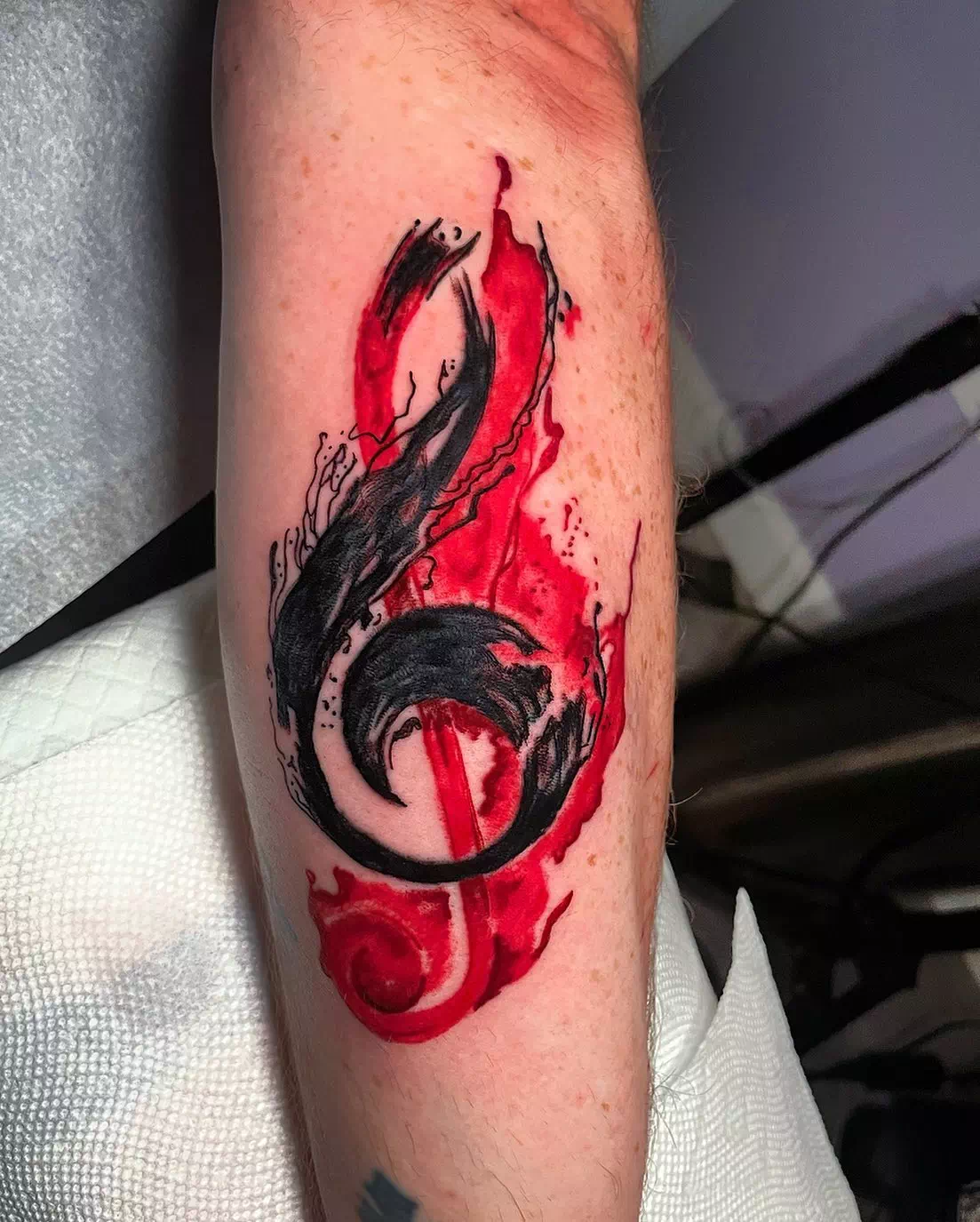 This tattoo in black and red ink is for those who believe in different stories! It's not always possible to express our thoughts or beliefs, so many prefer larger tattoos. This one is time-consuming, but it is perfect for anyone who wants to stand out from the crowd.
This armpiece has the words "ride or die" on it, which can serve as an excellent metaphor for your life. It means you are always trying to solve the problem and get through it on your own, or you will die trying.
5. Medusa & Ancient Inspired Trash Polka Tattoo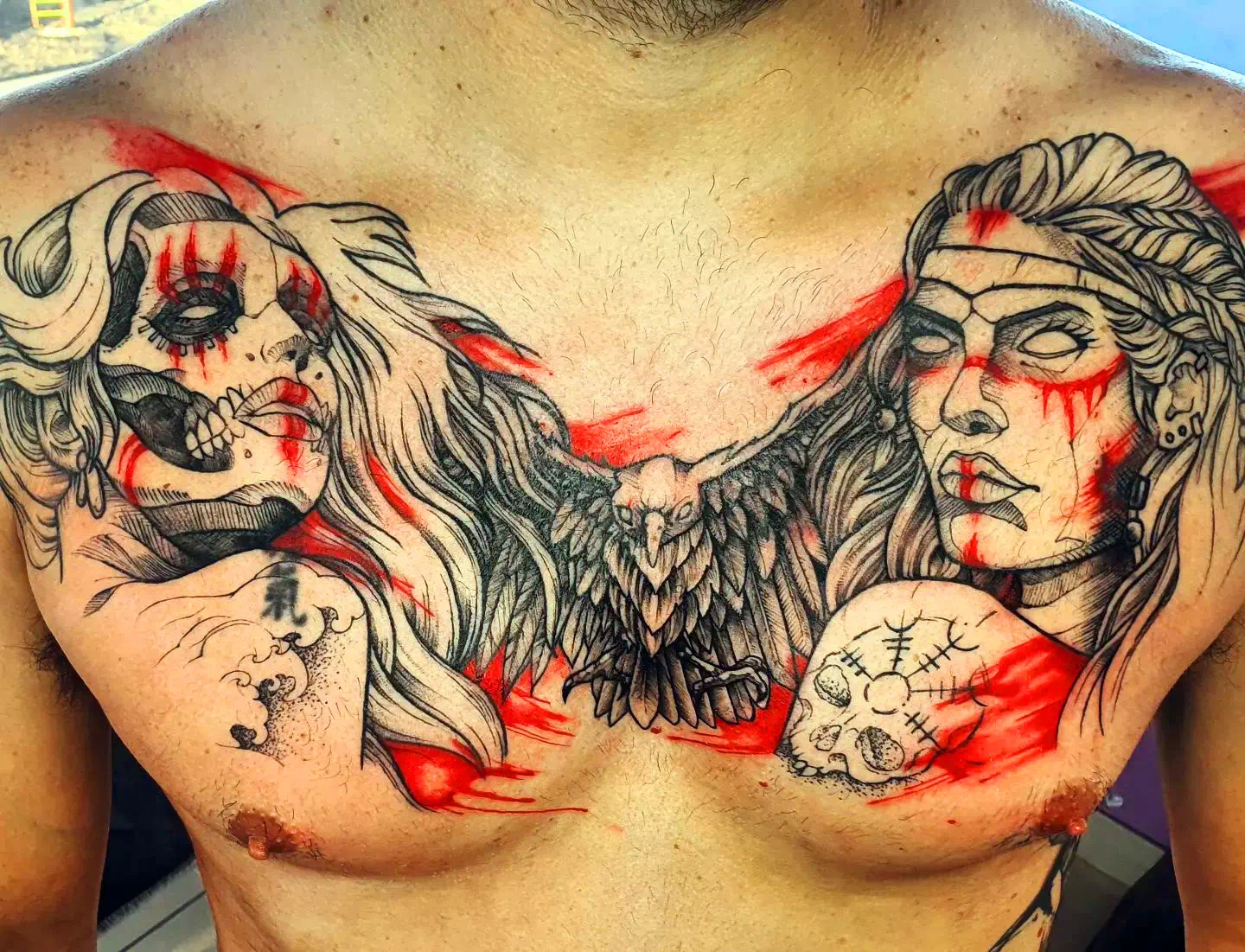 Are you interested in becoming an artist? Do you enjoy the art and know-how to decorate and apply it correctly to your skin? Aside from that, are you an admirer of Greek mythology as well? This tattoo can look fantastic on your forearm, especially if you like to stand out from the crowd at every opportunity!
This tattoo will symbolize your admiration for Greek statues and your artistic side. If you read or draw a lot, you can use this tattoo to express your love of reading and drawing.
6. Trash Polka Tattoo Ideas Motor Style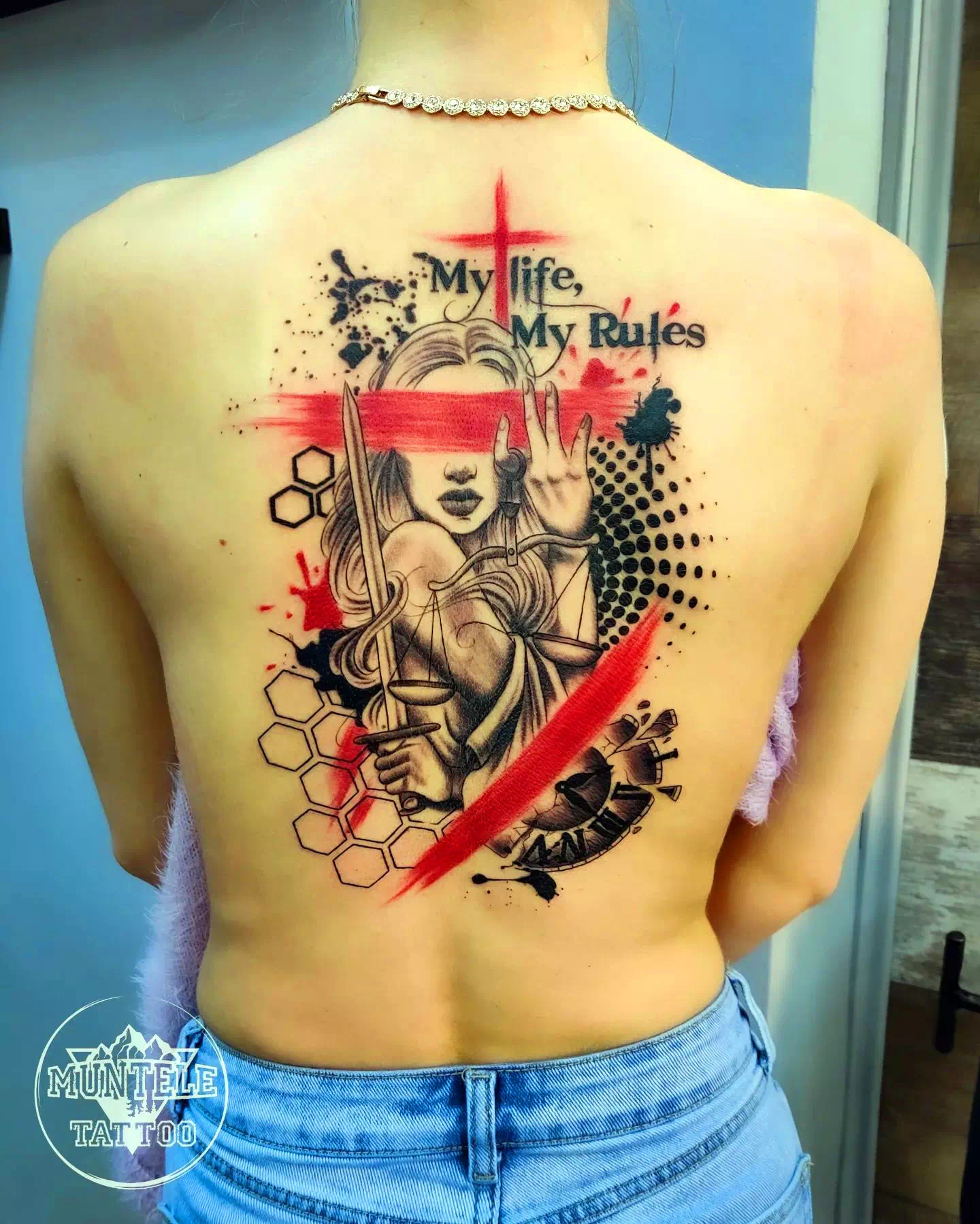 Do you enjoy esoteric prints and outlandish tattoos? Perhaps you are a racer or someone who wants to have a good time while participating in extreme sports. This tattoo is perfect for true adrenaline junkies of any age, and it looks great on people of all ages!
This tattoo demonstrates your attention to detail and passion. It also communicates to the rest of the world that you are someone who understands when enough is enough and when to take a break! It is ideal for those who are brave and determined and who have a long journey ahead of them.
6 Sleeve Trash Polka Tattoo
1. Trash Polka Tattoo Sleeve Rose Ink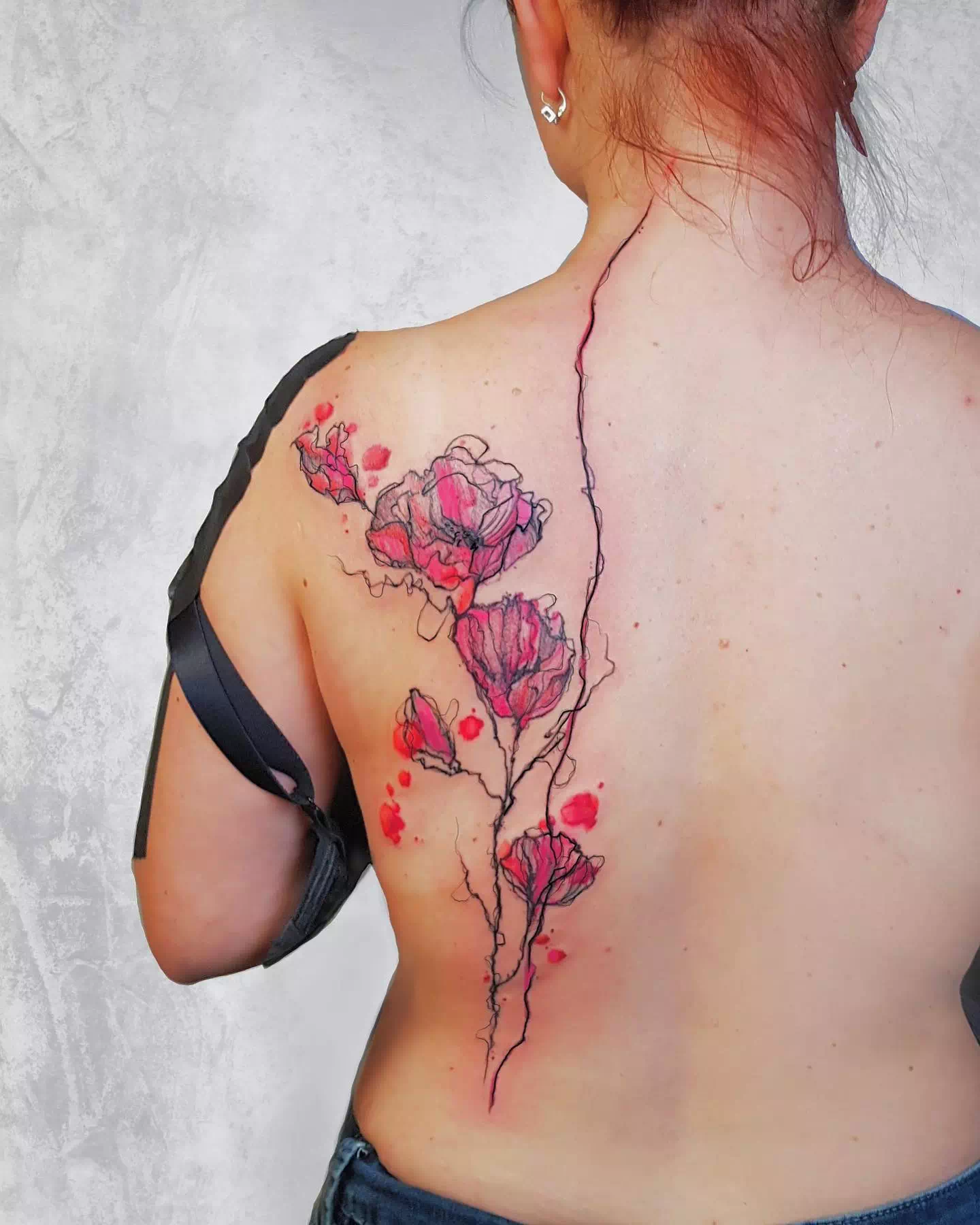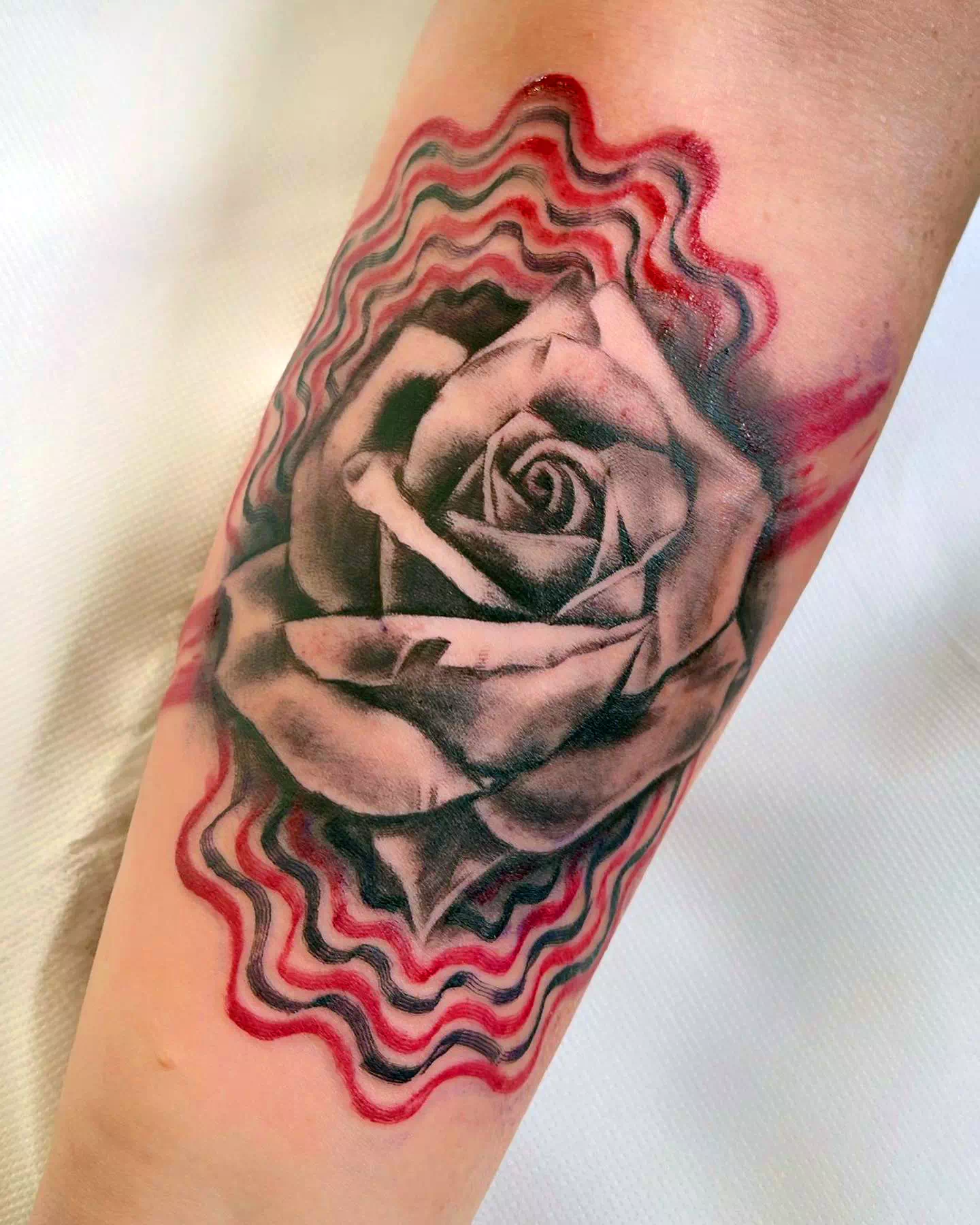 Are you a fan of the rose tattoo designs that have been created? Do you have a general preference for flowers? With this massive shoulder tattoo, you can powerfully express your passion and femininity. Colorful and unusual, it is ideal for those who enjoy mixing and matching.
This tattoo signifies that you have a soft side and that you are someone who enjoys assisting and caring for others. It can be both feminine and spiritual if you know how to wear it and to whom to dedicate it.
2. Scary & Horror Inspired Trash Polka Tattoo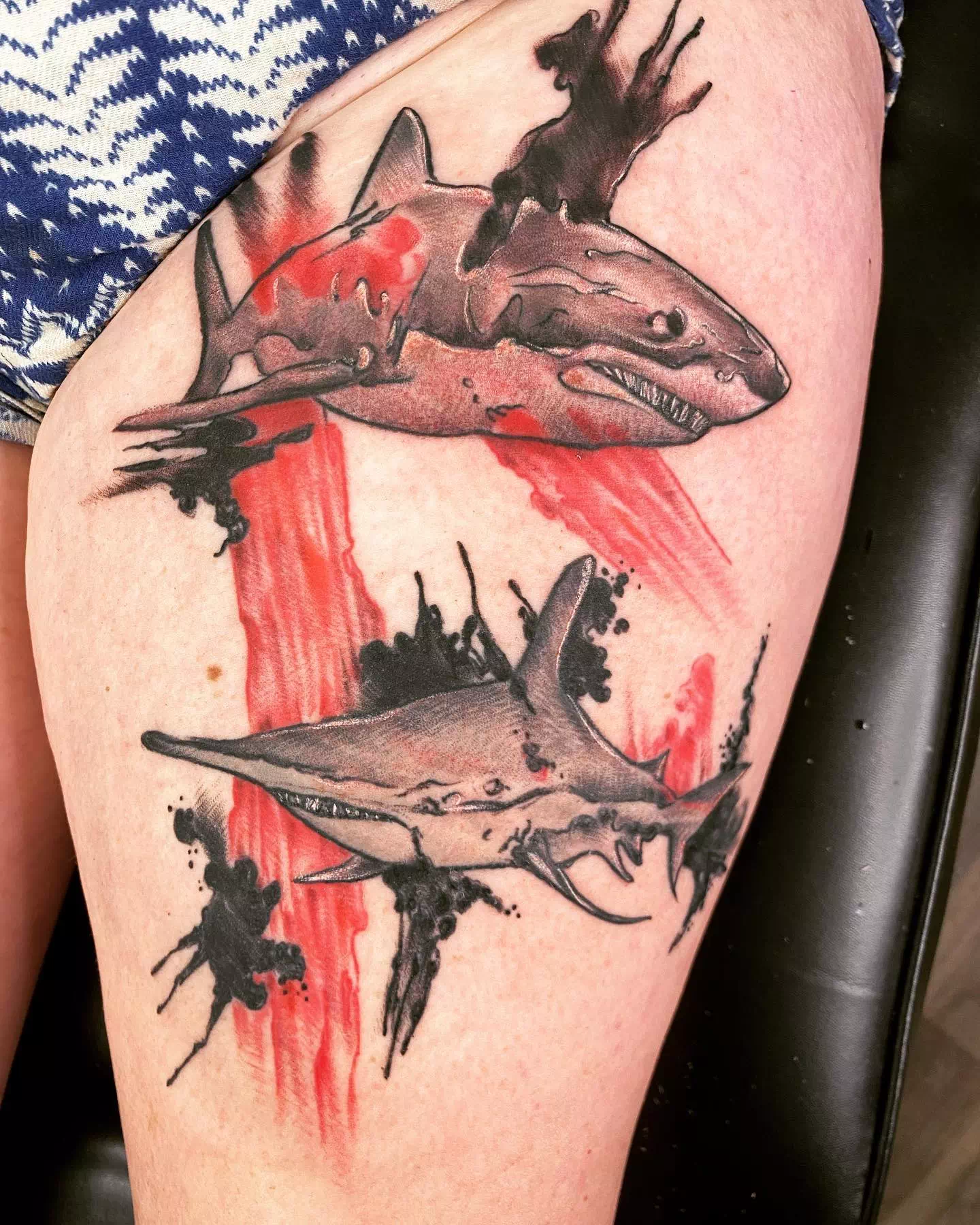 What type of movies do you enjoy watching? Do you remember Chucky as being one of your favorite characters as well? If you're someone who appreciates a good scary movie and believes that nothing can get you as quickly as a good scare, you can show it off with this tattoo.
This one symbolizes your mysterious and dark side. It also shows your reckless behavior, conveying the message to others that nothing can intimidate you.
3. Skull Trash Polka Tattoo Design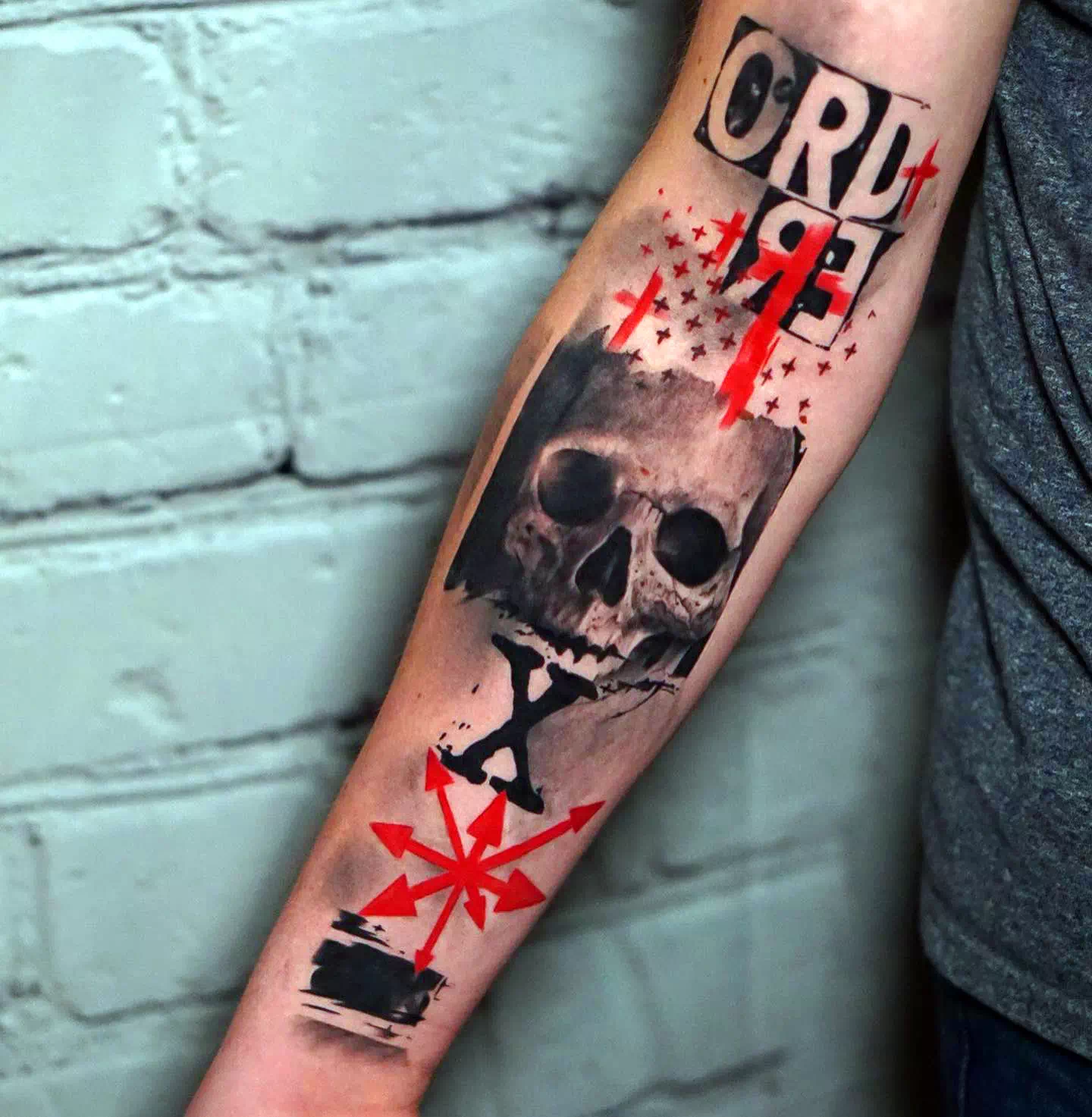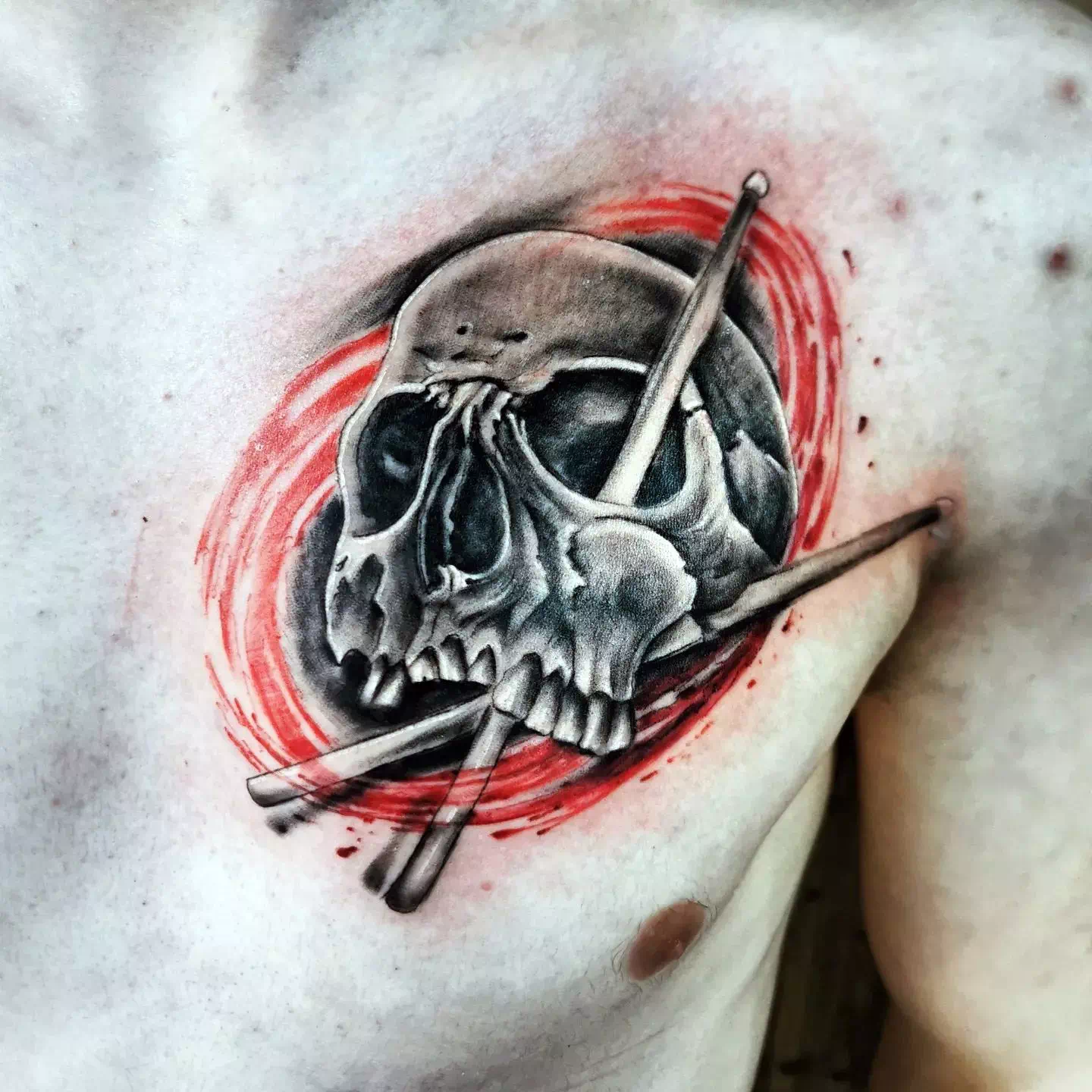 Do you enjoy a little drama and many colors? Are you the type of person who finds beauty and inspiration in the most unusual objects? This forearm tattoo is for anyone who wants to stand out from the crowd and feel indestructible.
Skulls can represent the loss of a loved one and the process of grieving their passing. This tattoo can be changed to fit your style and to honor a special person in your life.
4. Warrior Trash Polka Tattoo Half Sleeve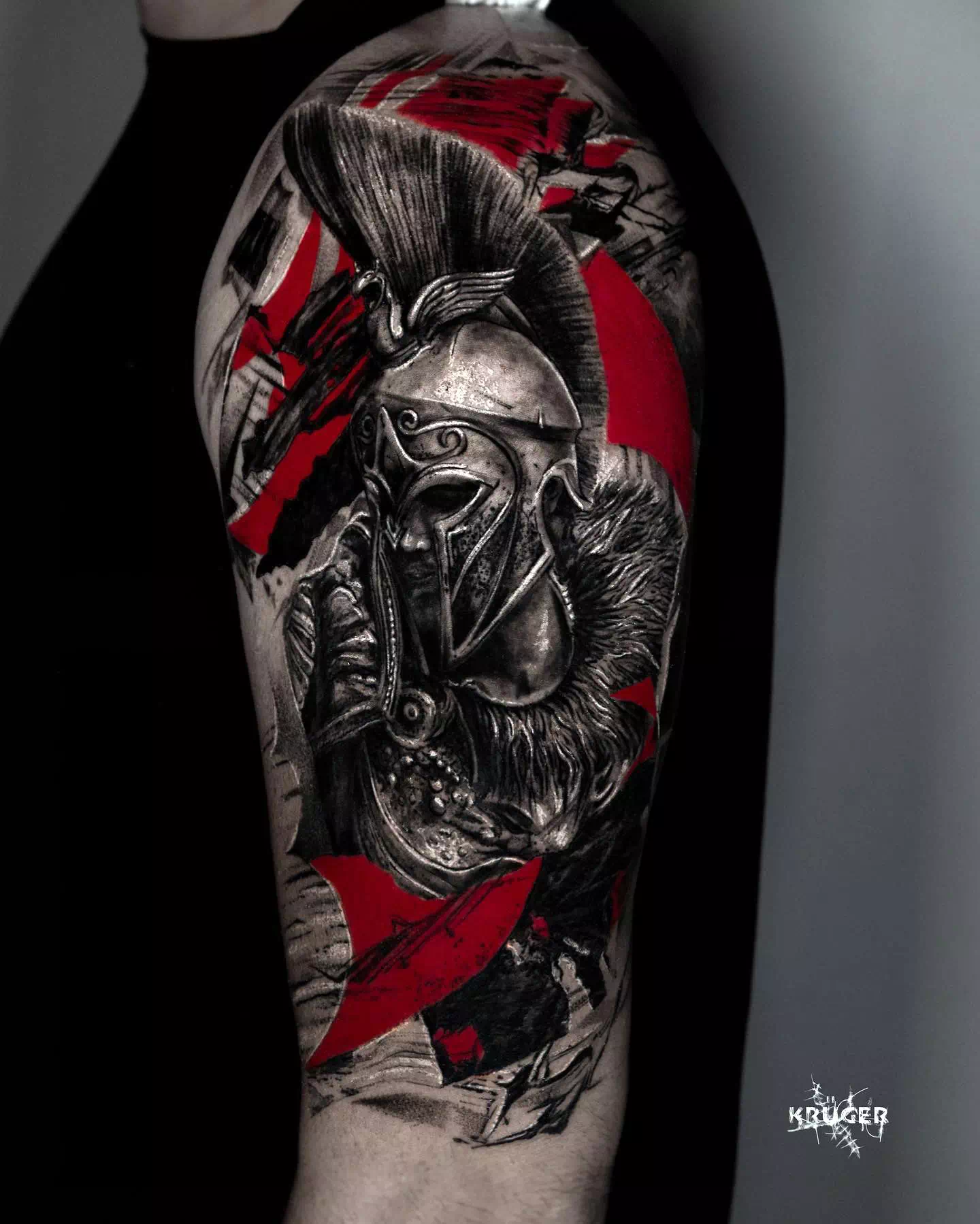 Are you someone who enjoys large tattoos and designs on the shoulders? Through this beautiful and colorful design, you can express various emotions and layers of your personality. It is a lovely and necessary tattoo for men and women who prefer something easy to notice.
It will symbolize your faith, path, and arduous journey if you have a samurai over your shoulder. This is a great choice if you can come out of any journey a stronger person and want to show the ups and downs of your journey with a single tattoo.
5. Flower Inspired Trash Polka Tattoo For Women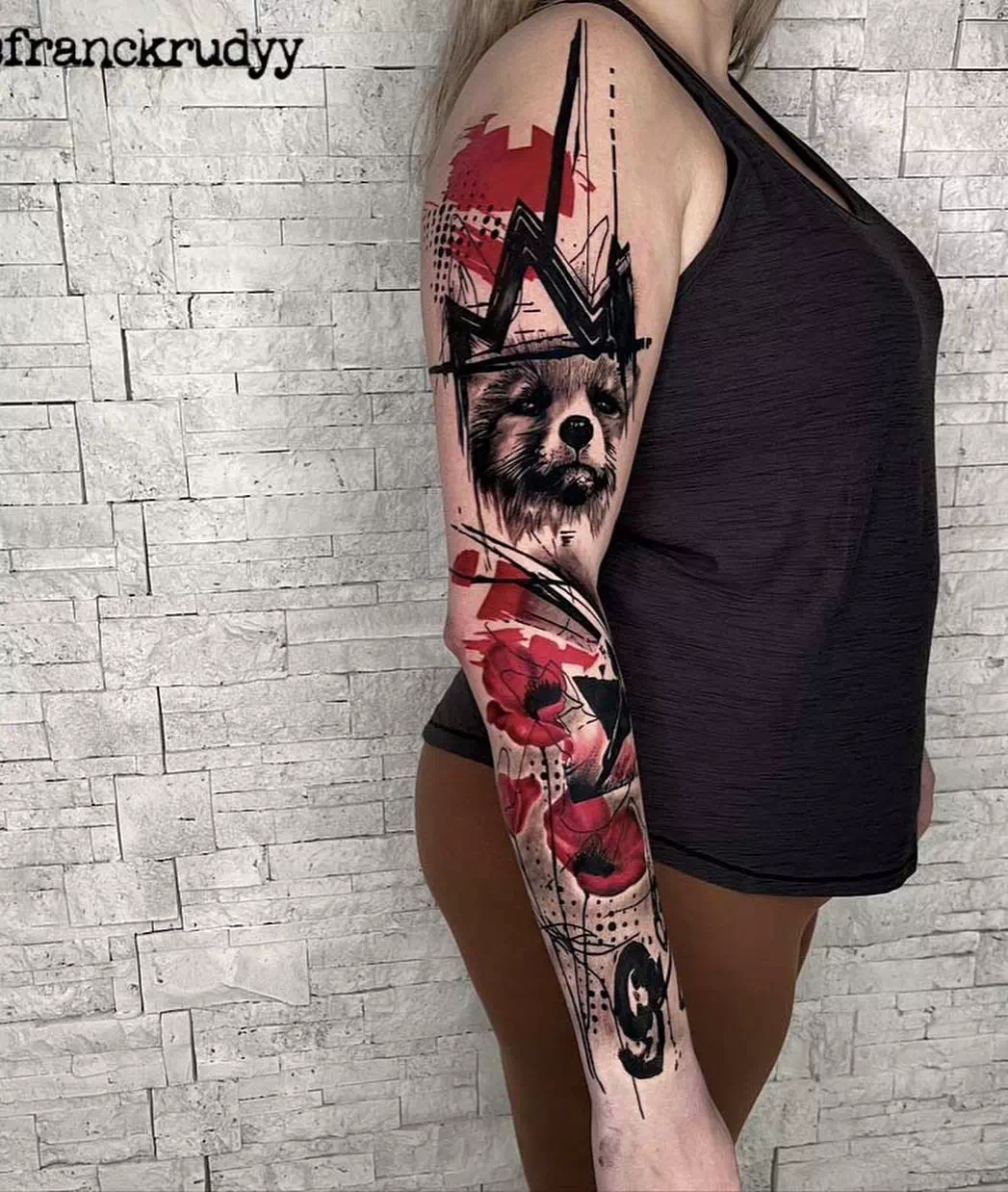 Do you prefer tattoos on your forearms and arms? Are you on the lookout for something a little more feminine and fun? If you have a sensitive soul and enjoy bright colors, flowers, and statement pieces, this is your type. Women who are fashionable and feminine can flaunt their good looks by getting this tattoo.
This ink represents the bright and girly side of ourselves that we all possess. With this romantic tattoo, you can express your religious beliefs and your femininity. This tattoo is ideal for younger women who enjoy getting cute and mysterious tattoos.
6. Chinese Art Trash Polka Tattoo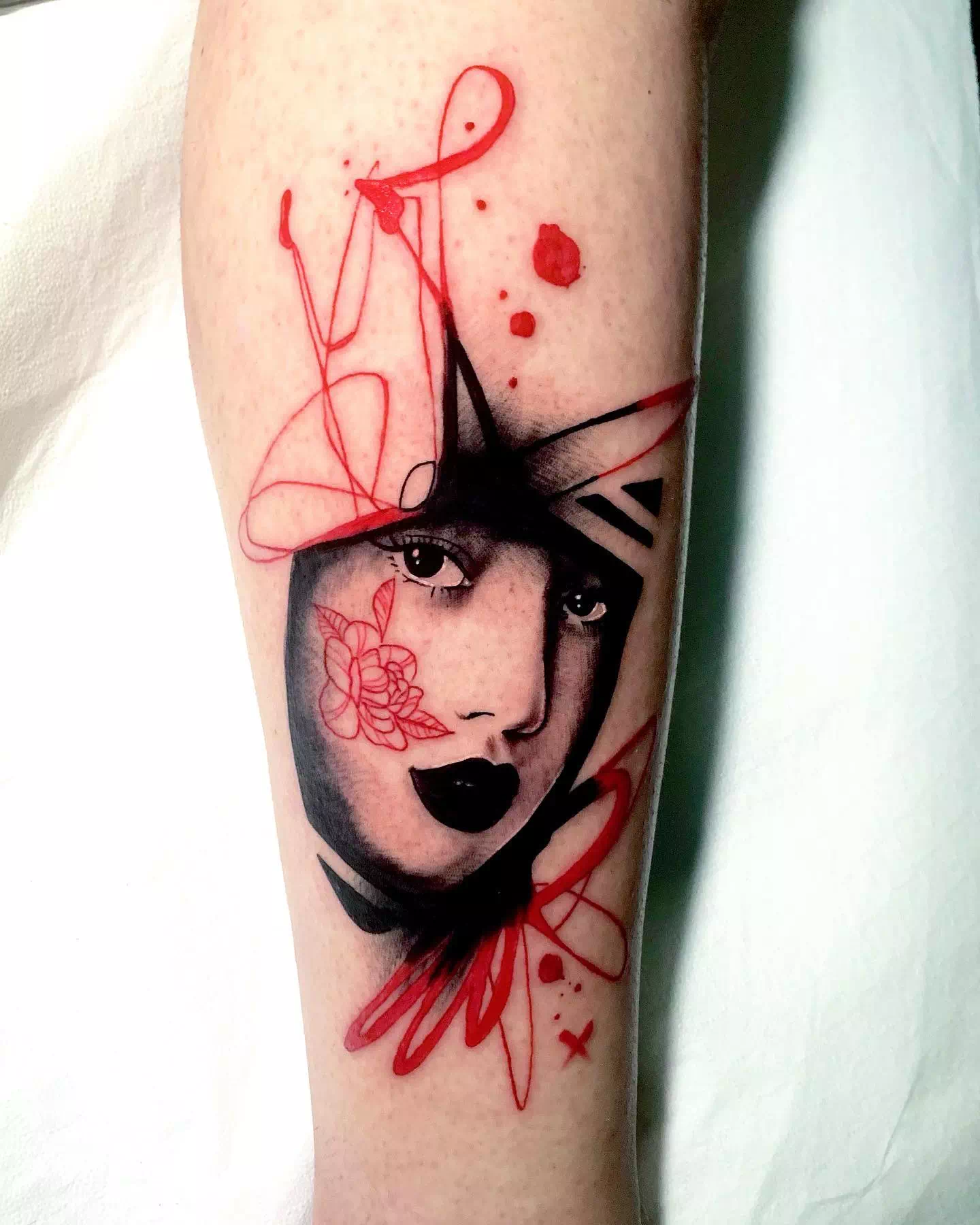 Tattoos in black and red, such as this one, can be frightening, mysterious, and intense when done well. Are you the type of person who enjoys being noticed for their tattoo choices? Are you a fan of ferocious trash polka tattoos? This one will look great on you if you're not afraid of time-consuming designs when it comes to tattoos and significant pieces.
A dejected Chinese woman can be a powerful advocate for her inner feelings and lost soul. Do you ever have the feeling that you don't know how to deal with negativity in your life? This type of tattoo is popular among people who want to express their loss of temper and grief.
6 Small Trash Polka Tattoo
1. Small & Red Chess Piece Trash Polka Tattoo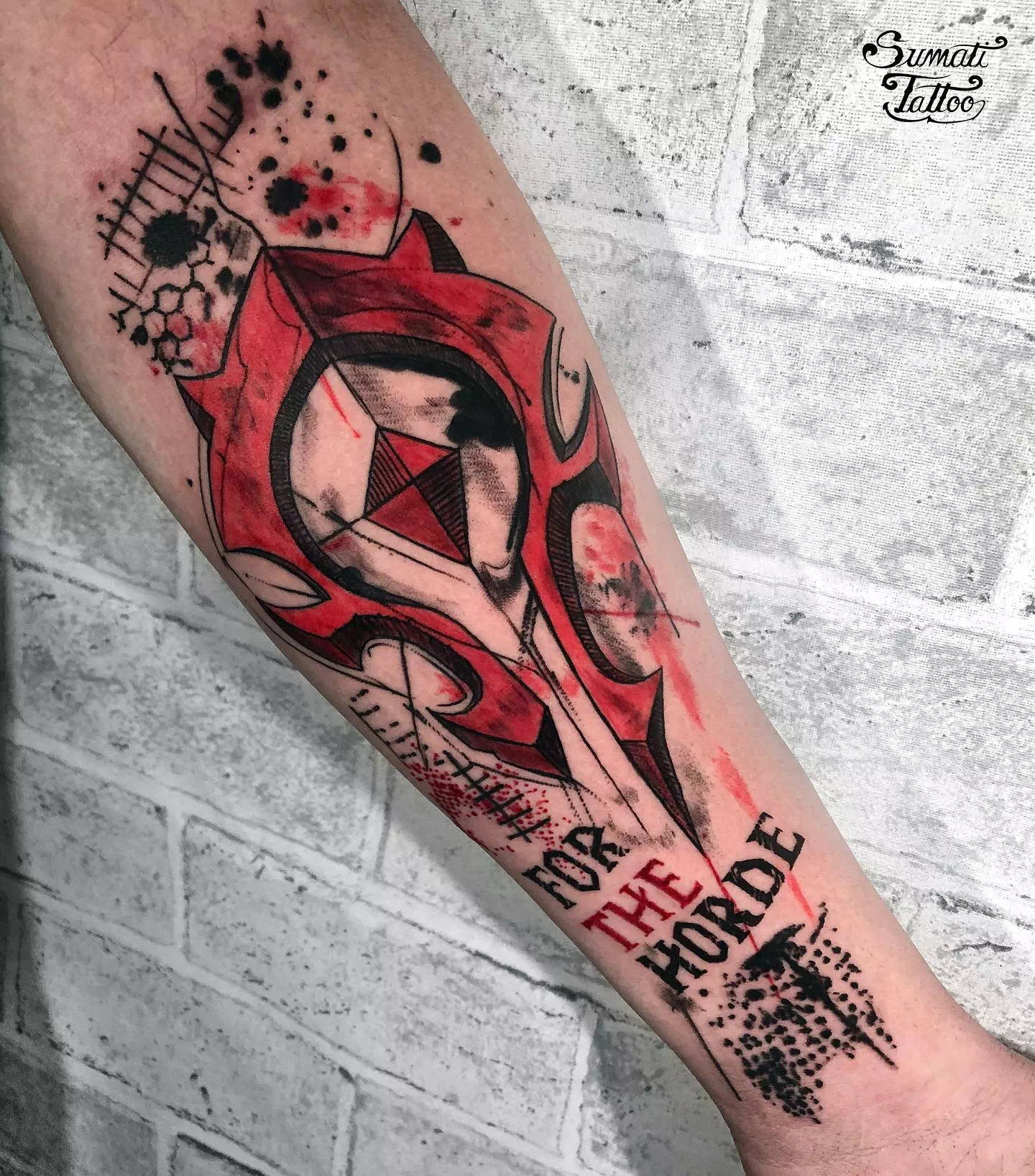 Are you a chess enthusiast? Do you enjoy using a tattoo to express your more developed and optimistic side? This stunning black and red tattoo will look great on anyone, regardless of gender. This design is ideal for those who prefer smaller and more intricate pieces.
With this tattoo, you will be able to express your enthusiasm and determination. It will show how you see the world, how you think about your opponents, and how you approach a problem strategically.
2. Scary Skull Trash Polka Tattoo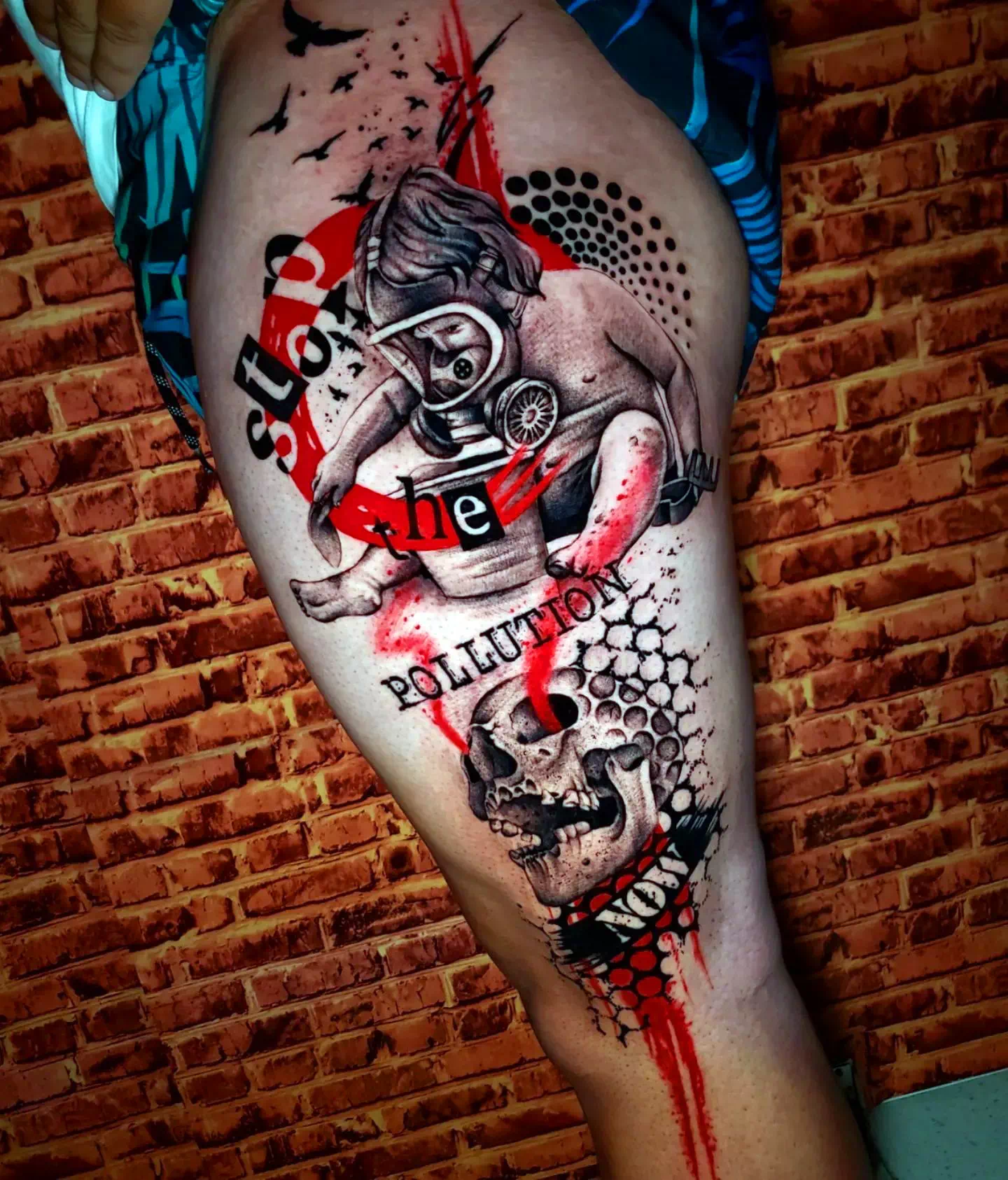 A skull tattoo in black and red that is worn over a workout shirt can look fantastic. This particular skull is ideal for those who appreciate finely detailed artwork and aesthetically pleasing masculine tattoos. It would help if you had at least 2 hours when getting this tattoo.
It represents the fire that burns within you and any loss or grieving process that you may be going through at the time. This is an ideal tattoo for spiritual men; it will display your past experiences while also letting others know how you perceive changes in your environment.
3. Stomach Piece Raven Trash Polka Tattoo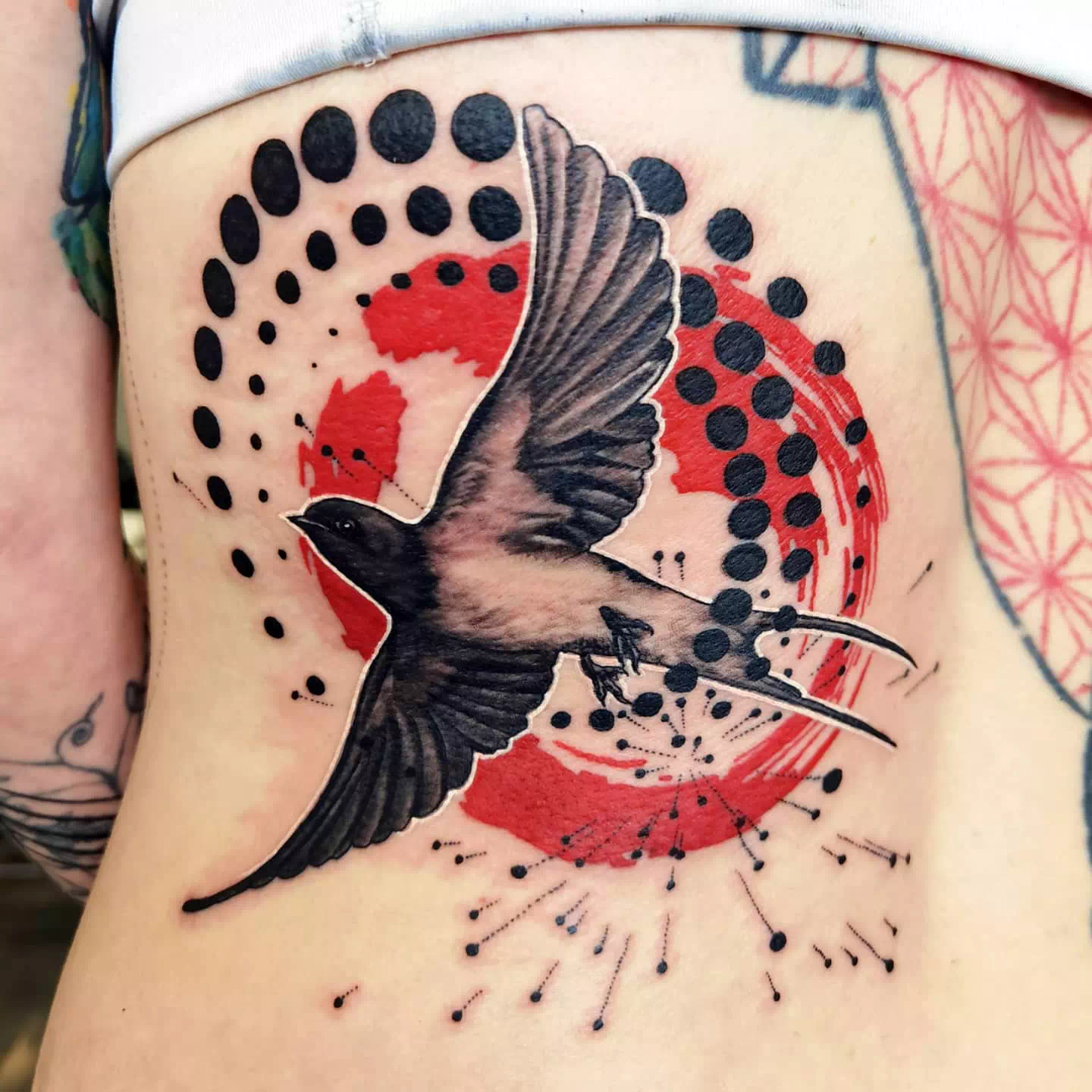 This is a stunning stomach-piece tattoo that not everyone can rock and pull off in the same amount of time as you. Males are the primary performers and rockers, as are those who prefer frightening pieces inspired by nature. This tattoo features birds and will appeal to anyone who enjoys birds.
It represents your determination and ability to get yourself out of a difficult situation. You are also likely to be someone who understands when it is appropriate to spread your wings and fly away!
4. Anime & Cartoon Inspired Trash Polka Tattoo Ideas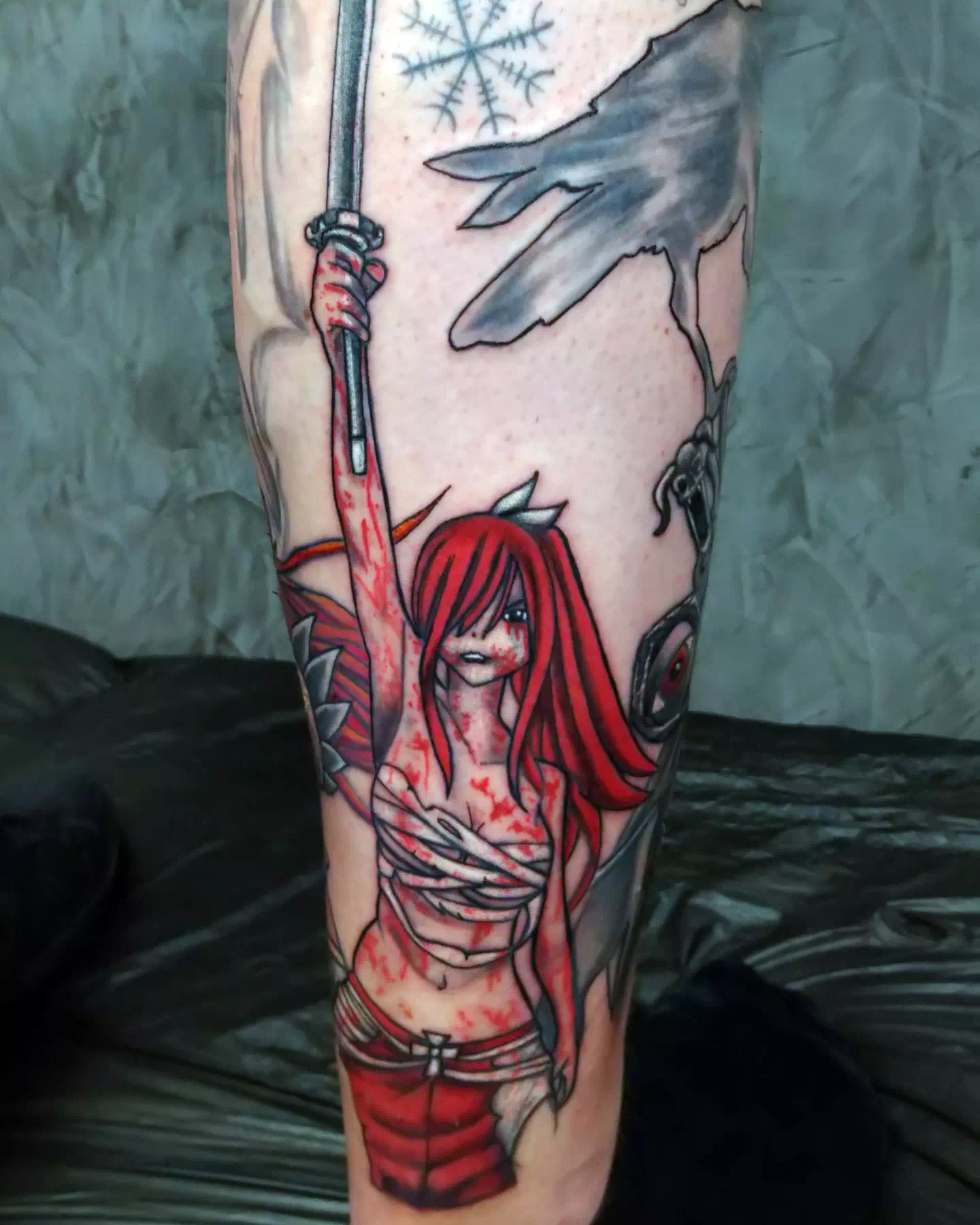 What do you think about anime and pop art? This unusual and out-of-the-ordinary color ink is a combination of black and red. This design will look fantastic on both men and women who enjoy unique and artistic tattoos. Make sure that you are comfortable with the forearm placement because it can be uncomfortable.
This tattoo represents your playful and childish side even today-it's an excellent choice for people who enjoy virtual games, comic books, and abstract art, among other things.
5. Lion Inspired Trash Polka Tattoos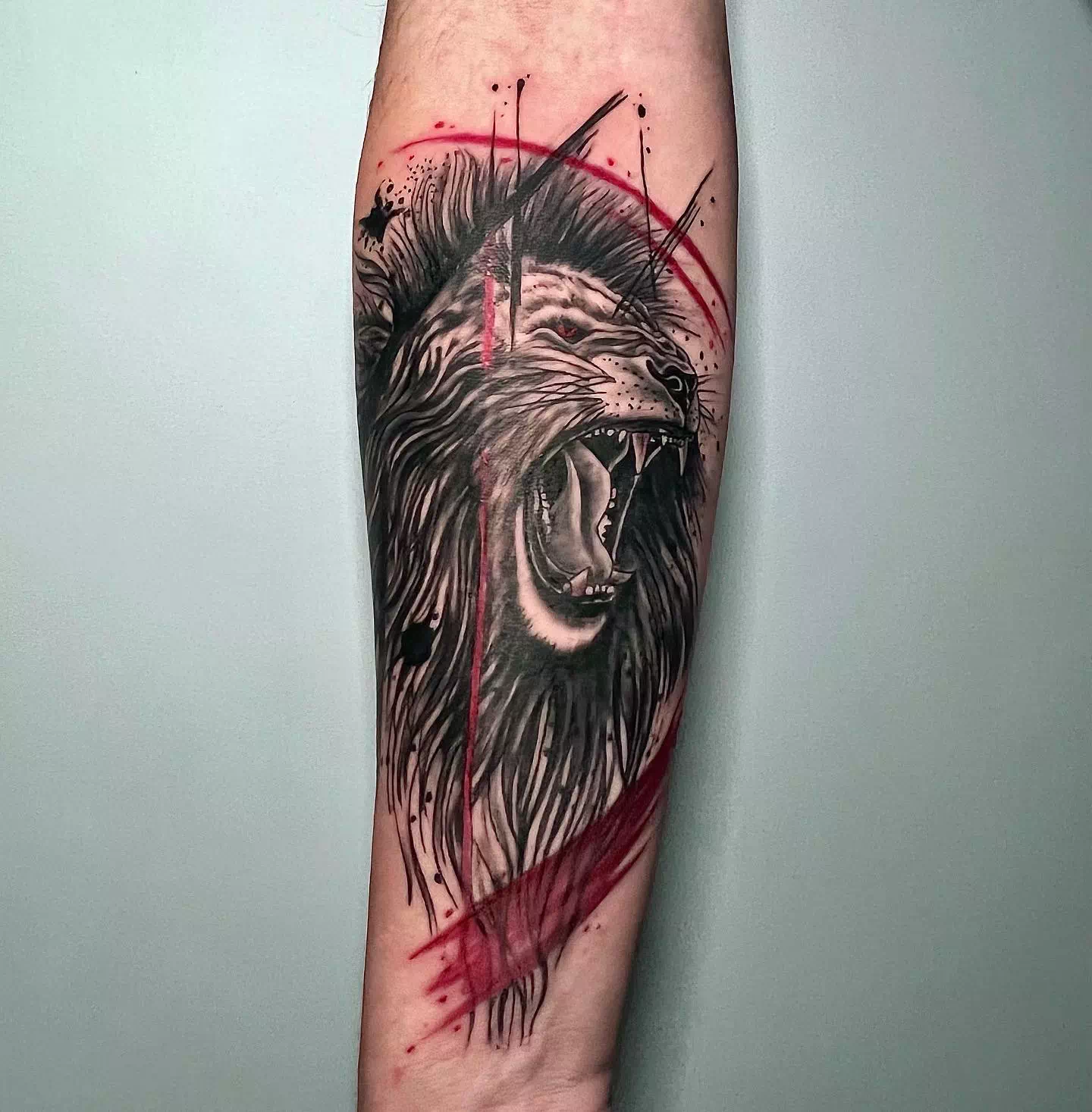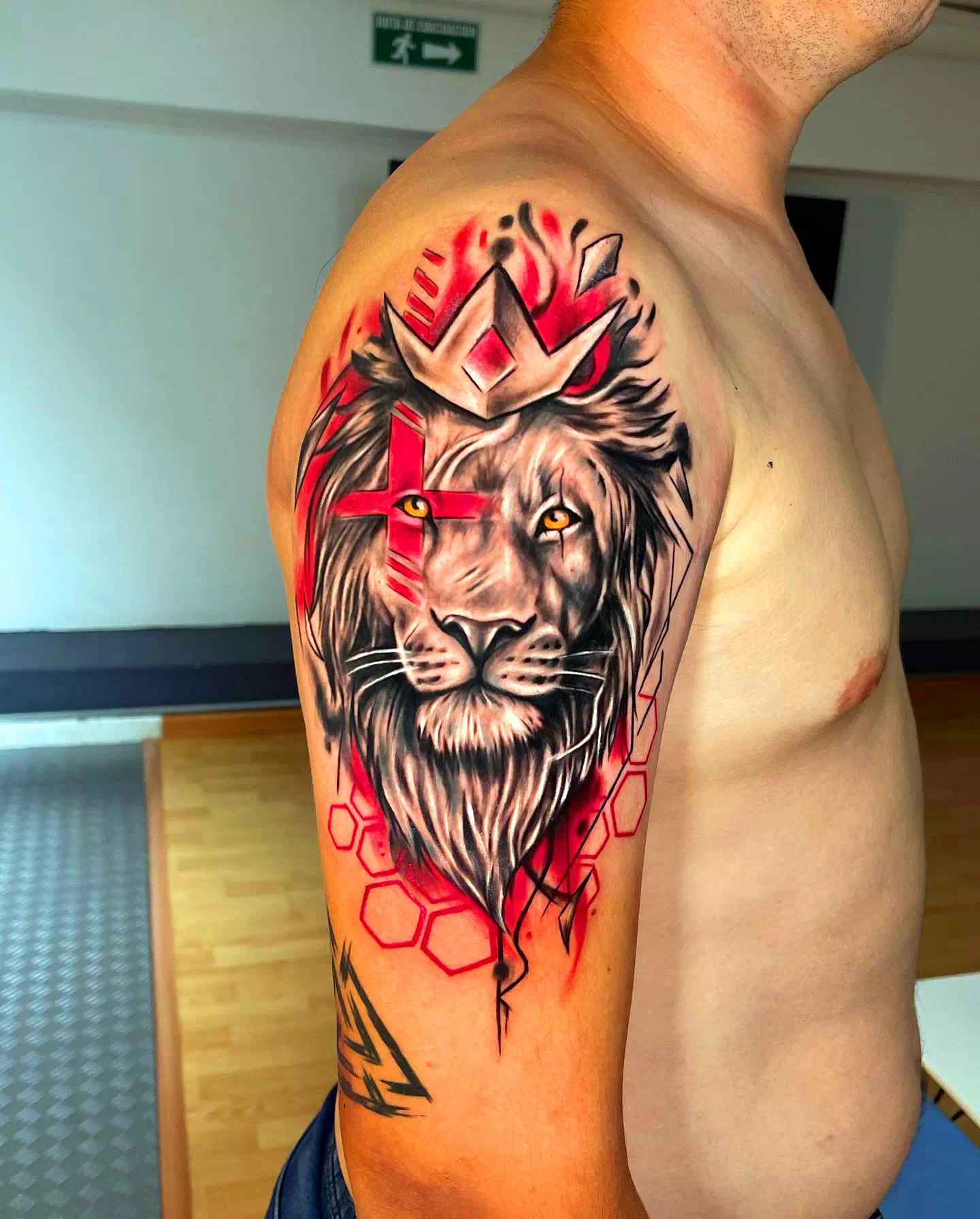 Do you have a soft spot for animals? Perhaps you are a fan of wildlife in general and lions in particular. This tattoo is also ideal for those who enjoy the zodiac signs! If you are a Leo, you can flaunt it with this massive tattoo.
Lions represent determination, power, and strength, as well as dominance. Is this something that describes your personality? With your trash polka tattoo, you can let the world know that you are, in fact, a beast. Show it off!
6. Scary Woman Trash Polka Tattoo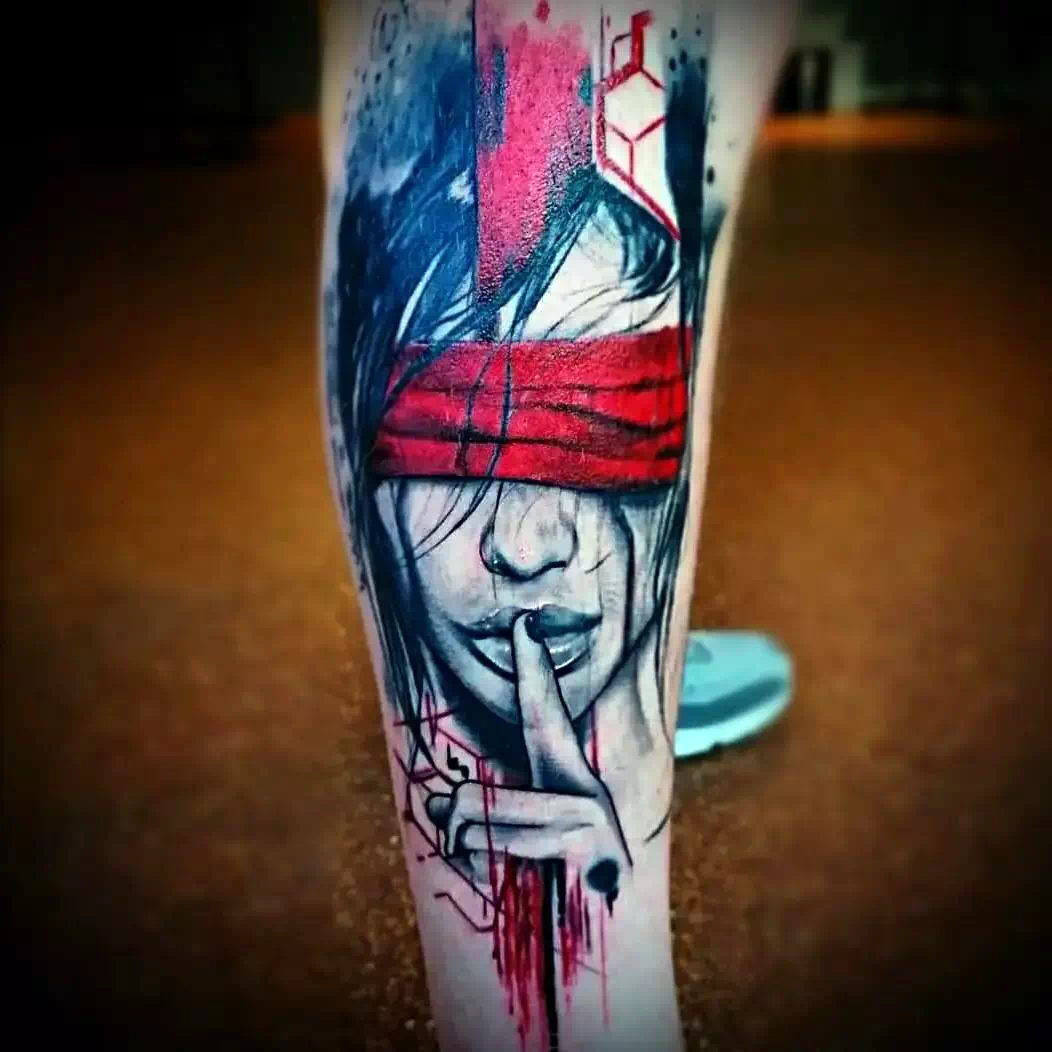 Do you have a thing for leg and calf tattoos? Is it essential for you to be noticed when rocking your new tattoos? This one will take you 3–4 hours to apply to your skin, making it an excellent choice for guys who want to dedicate this print to someone special.
This design will depict your paths as well as your unyielding wildness. You will also demonstrate your affection for the other person, who may feel like a prisoner in your eyes or in your heart from time to time.
6 Unique Trash Polka Tattoo
1. Chest Piece Skull Design Trash Polka Tattoo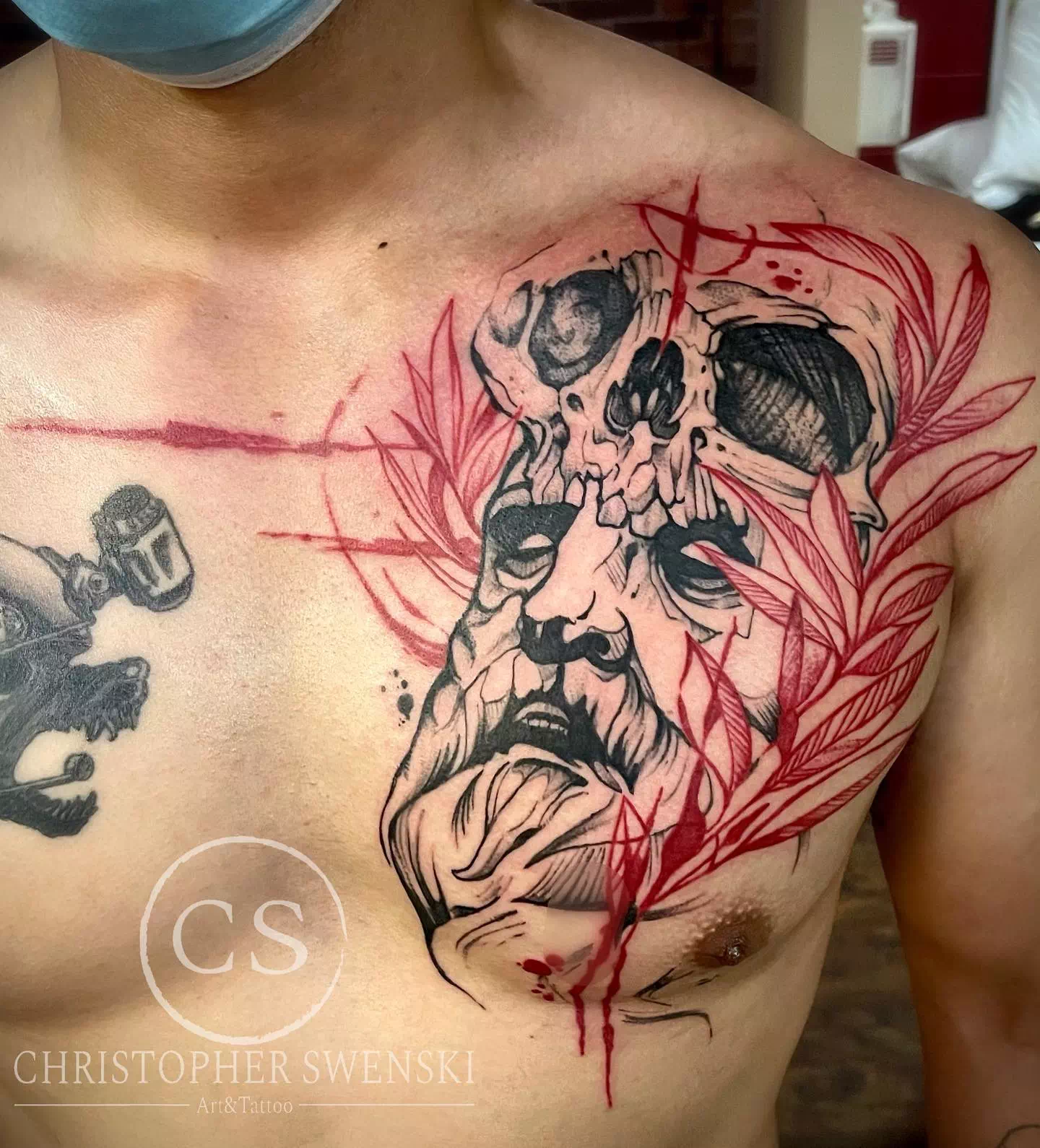 Do you adore chests and other large furniture pieces? Are you a fan of something that stands out and is bright? Similar tattoos are popular among men who work out at the gym. This is scary and masculine, making it a great choice for people who want to look like they are carrying a lot.
This skull represents your inner beliefs and fiery personality, which means you. If you are frequently in mourning but remain harsh and unyielding, you can display your emotions with this trash polka tattoo. It is suitable for men of any age group!
2. Dramatic Red Ink Trash Polka Tattoo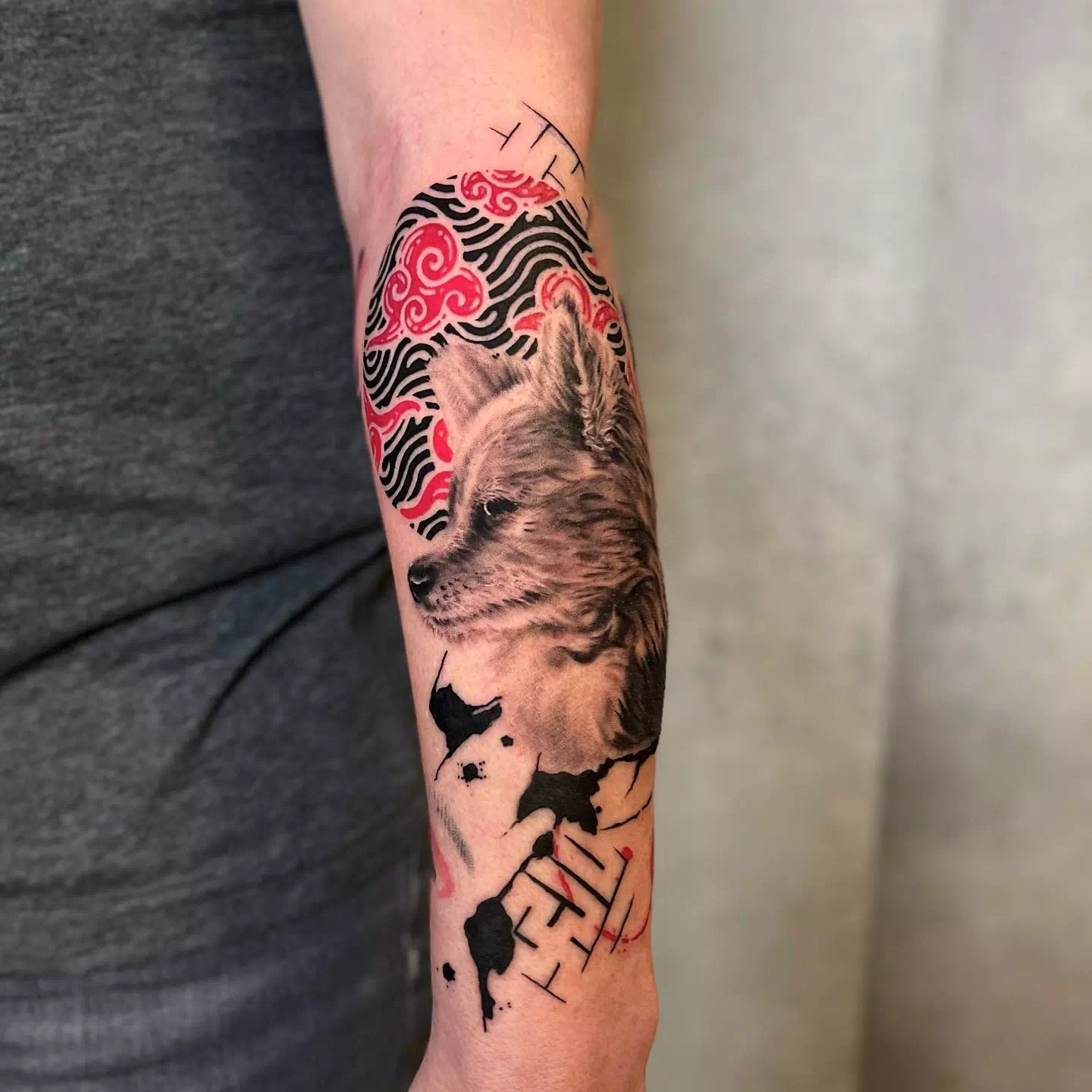 Do you enjoy tattoos with a lot of drama? Do you like the look of forearm tattoos? What do you think about some half-sleeve ideas? This is a creative and great solution for men who always want to stand out and look dramatic.
This tattoo design, inspired by singing, will demonstrate your dedication and determination. It is particularly suited to younger men who are going through a difficult time or trying to discover their spiritual selves.
3. Artsy & Feminine Trash Polka Tattoo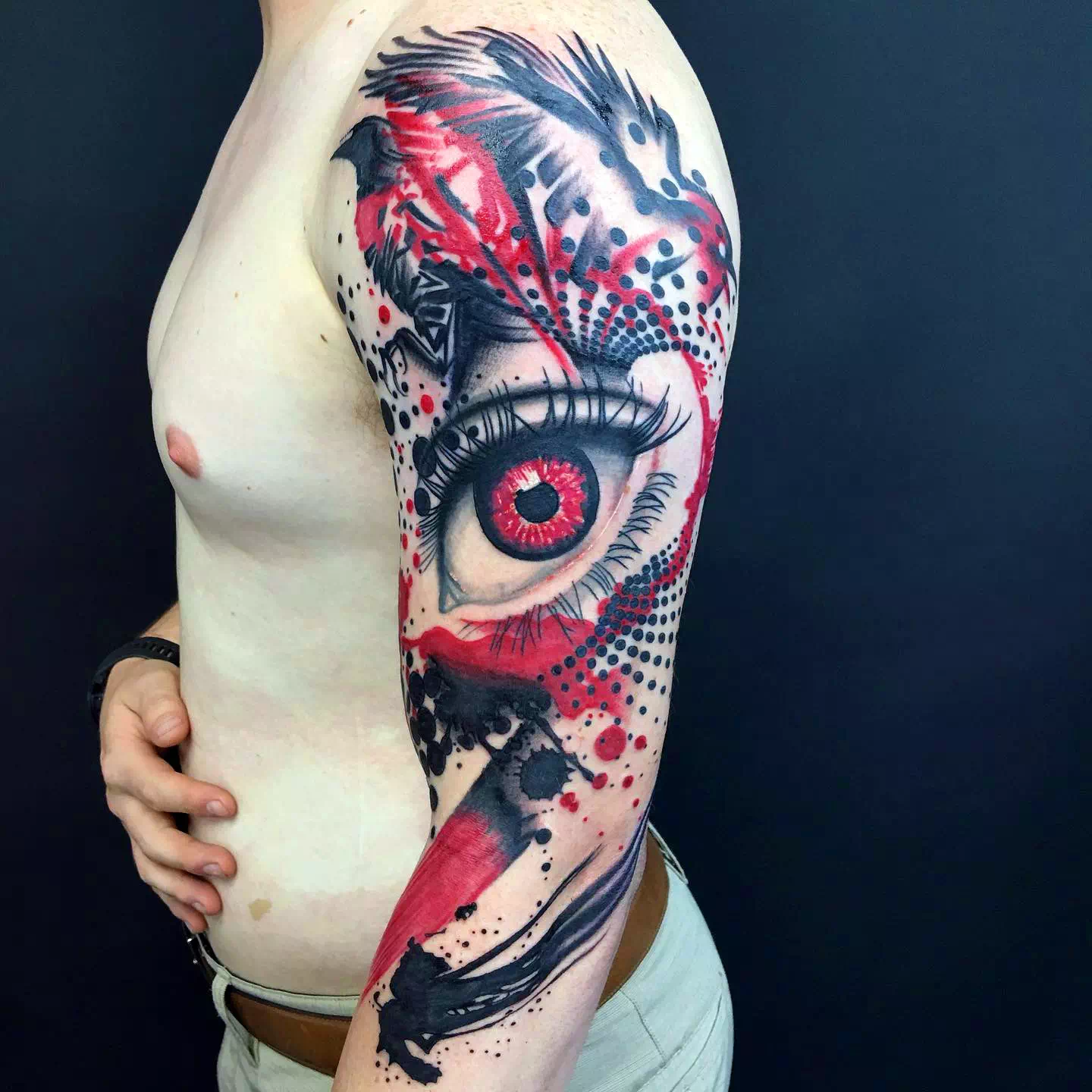 This ancient method of tattooing is highly artistic and well-executed. You will be able to appreciate this tattoo as long as you can locate a fantastic tattoo artist. Even though this style isn't well-known, it is a complete strike when done over the leg or arm of the opponent.
This tattoo represents your rocky road and how you see life right now. To embrace positive change, remember that you can always "float like a butterfly" and "fly away like a butterfly."
4. Giant Back Trash Polka Tattoo Idea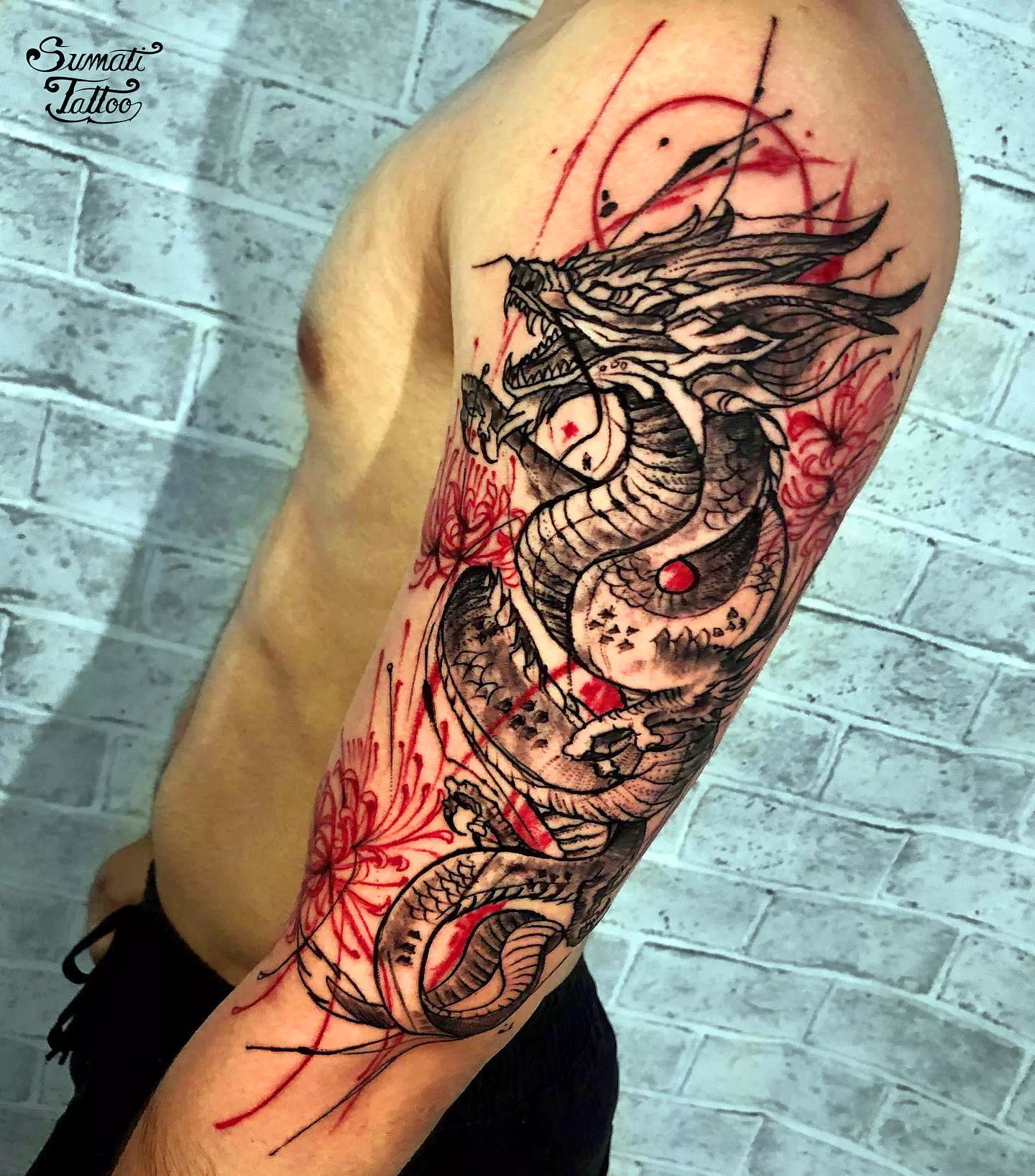 Returning toTattoos for men are often extremely painful, but they are a popular choice for many people. If you enjoy artistic, one-of-a-kind, and authentic tattoos, this one might interest you. Take care to ensure that you are someone who wants large, prominent tattoos before committing to something such as this.
It will demonstrate your appreciation for different cultures and your appreciation for historical sites. This piece is ideal for those who are proud of their heritage and who wish to stand out from the crowd with their choice.
5. History Inspired Trash Polka Tattoo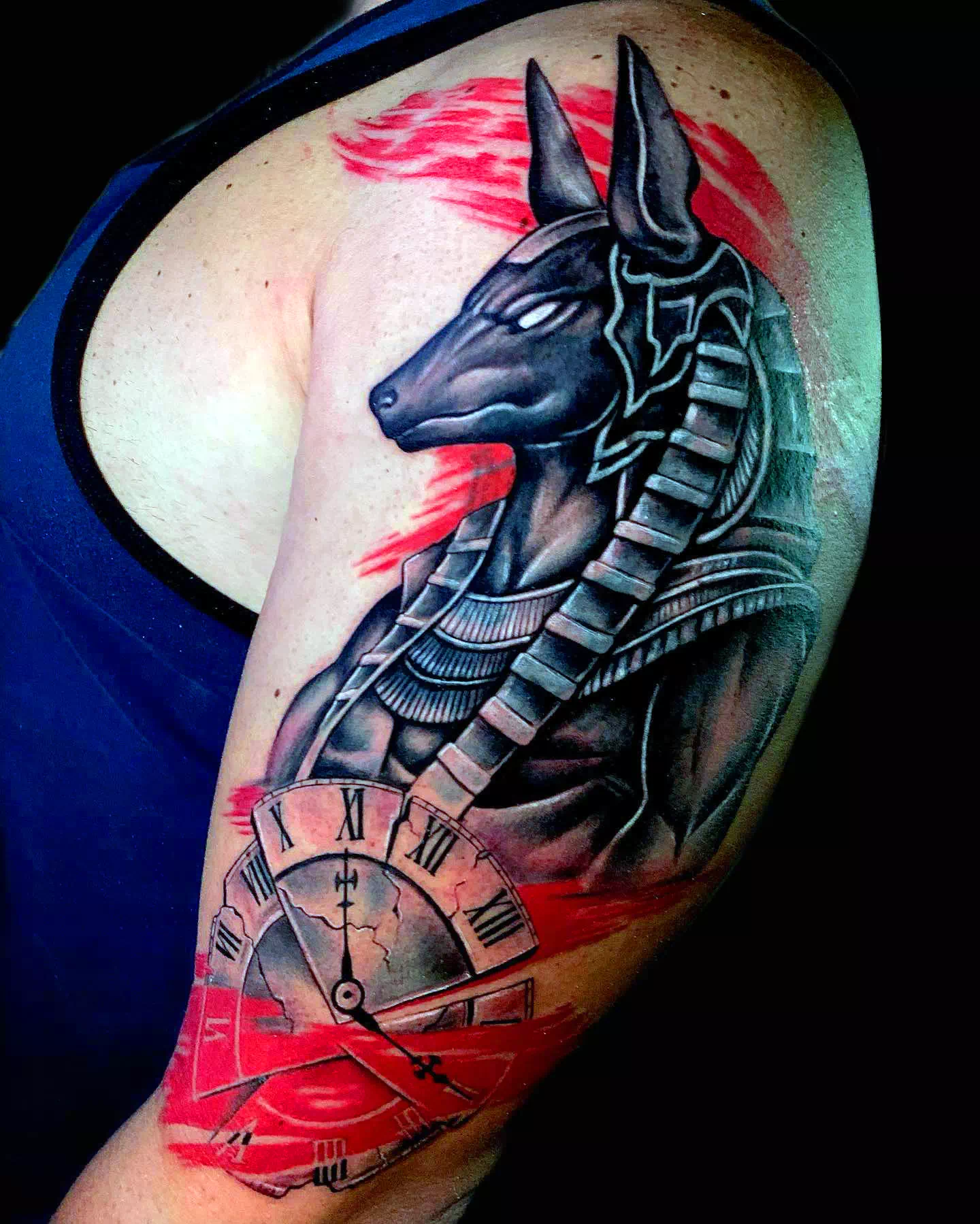 Have you ever been fascinated by ancient and historical Egypt? Was history a hobby and a nerd for you when you were younger?Not everyone can pull off something like this as successfully. If you enjoy tattoos and chest pieces inspired by animals, this will be of interest to you.
It's the perfect way to demonstrate your appreciation for antiques and historical elements. You should only purchase this chest piece if you are someone who understands how to live for art while also imparting a valuable history lesson!
6. Chess Pieces Trash Polka Tattoo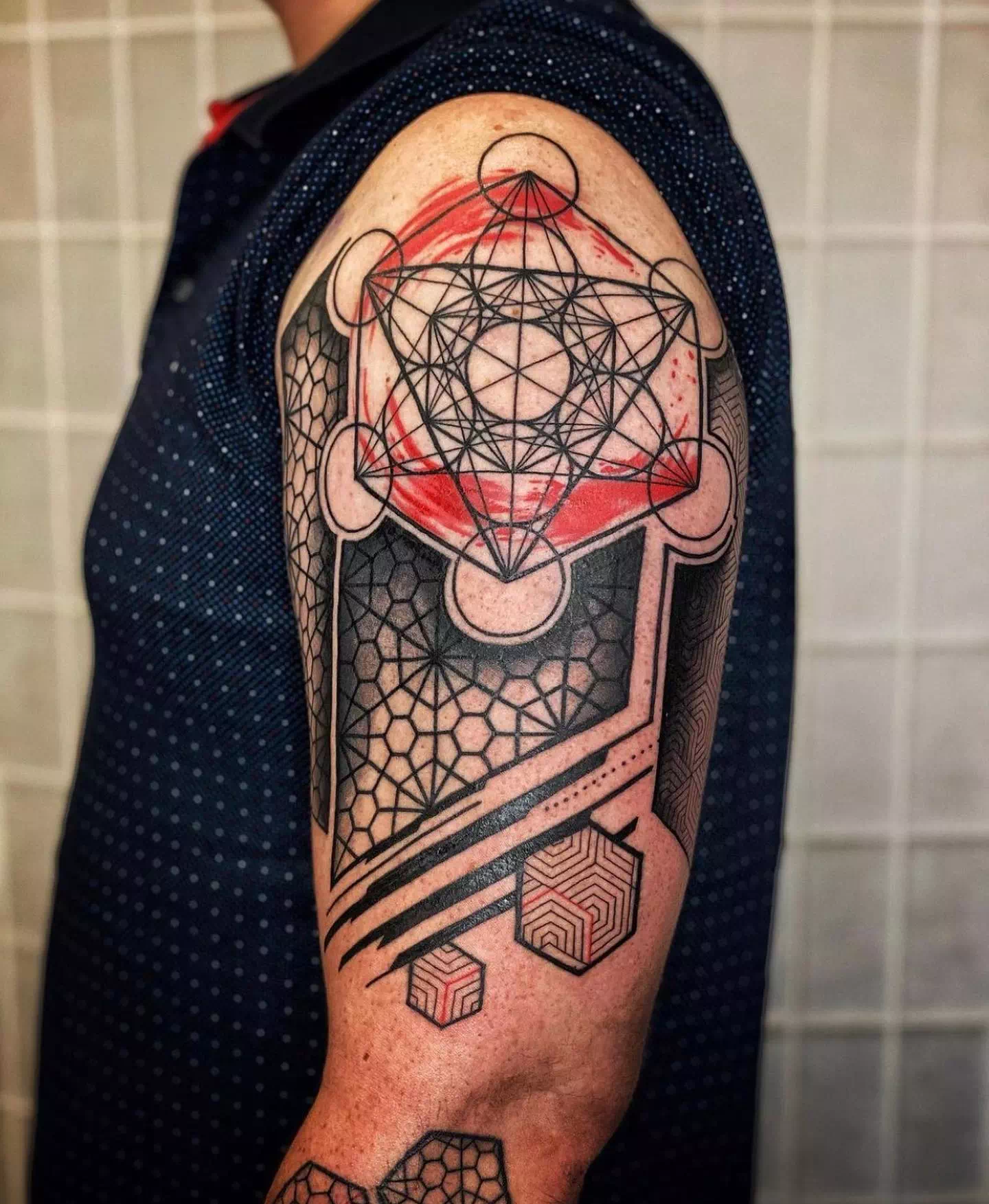 Last but not least, this massive back tattoo inspired by playing cards is for men who have at least 6 hours to spare. This trash polka tattoo in black and red will draw attention to your intentions and your feisty side.
The use of card-inspired elements frequently demonstrates how fortunate and skilled you are. If you need a little help in your life and believe that you are missing out on some essential aspects of luck or happiness, you can use this image to bring them back into your life.
Other Trash Polka Tattoo Design Ideas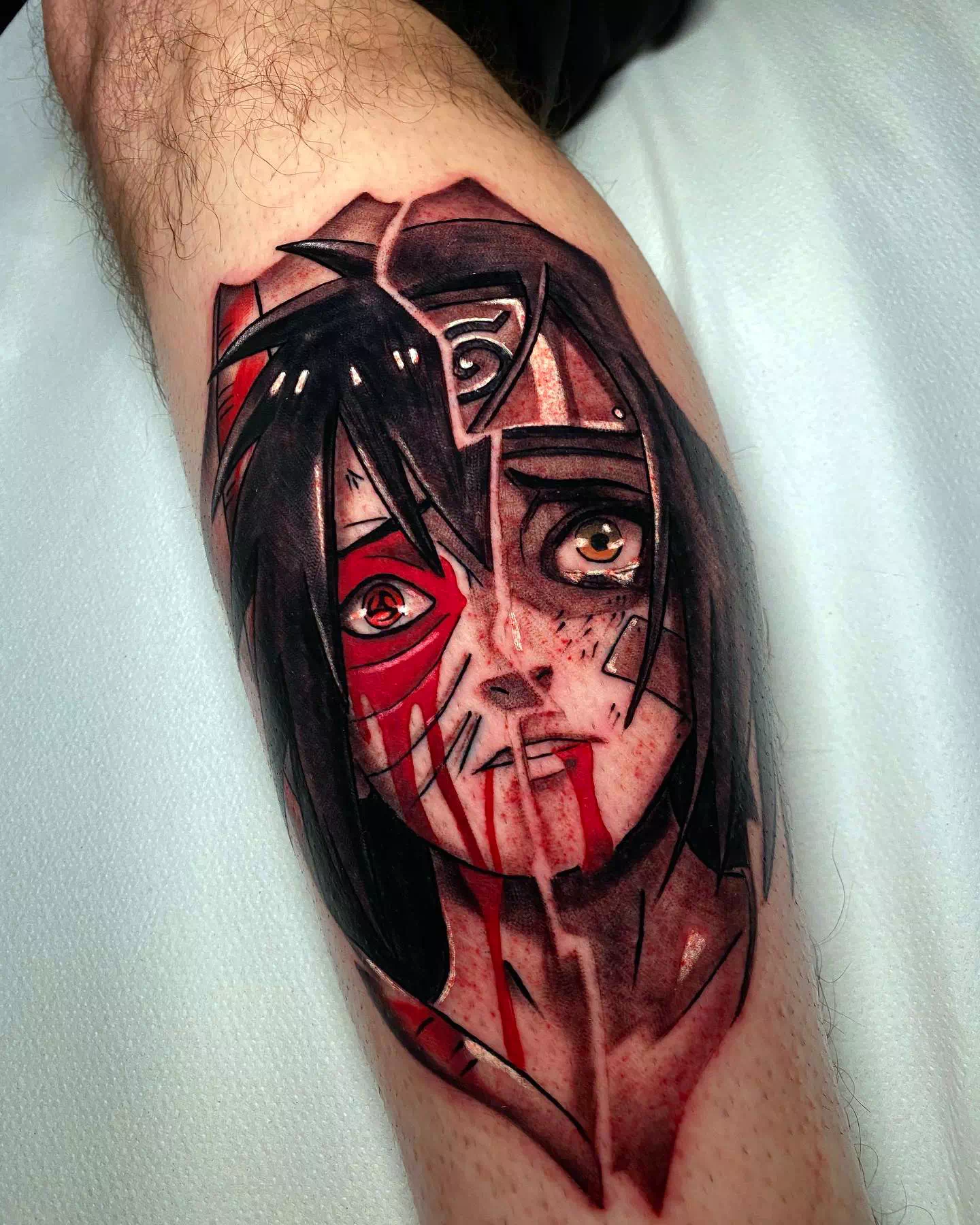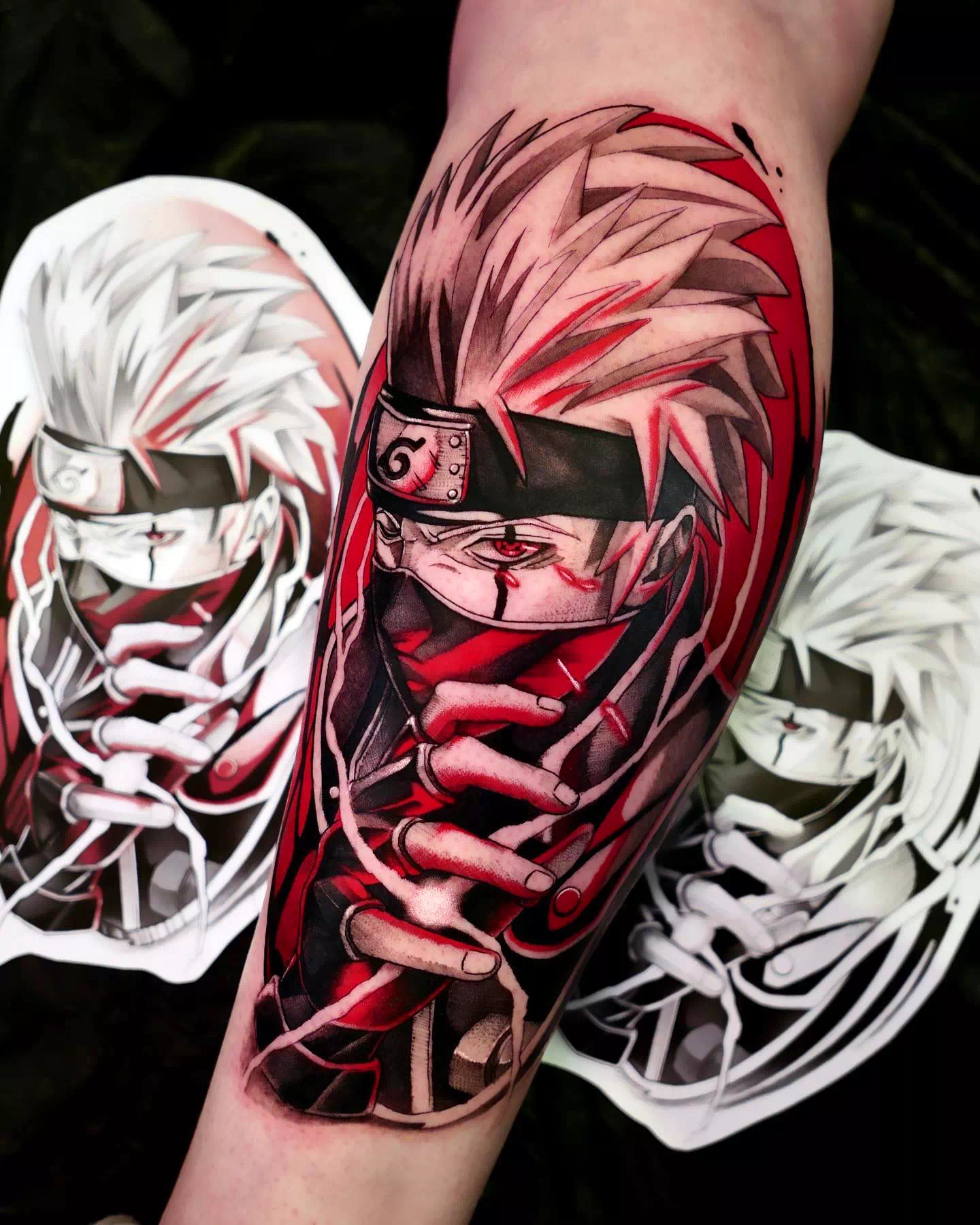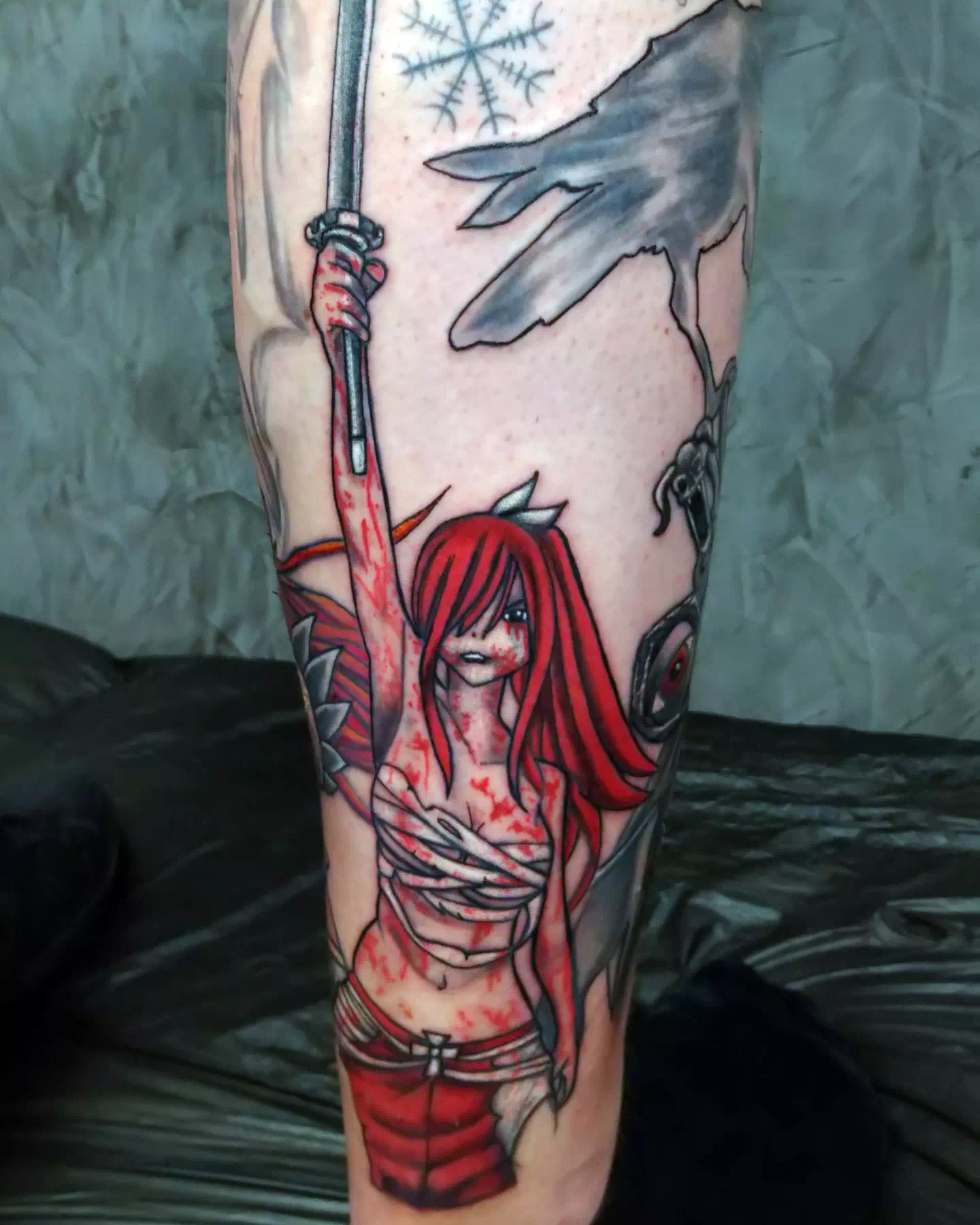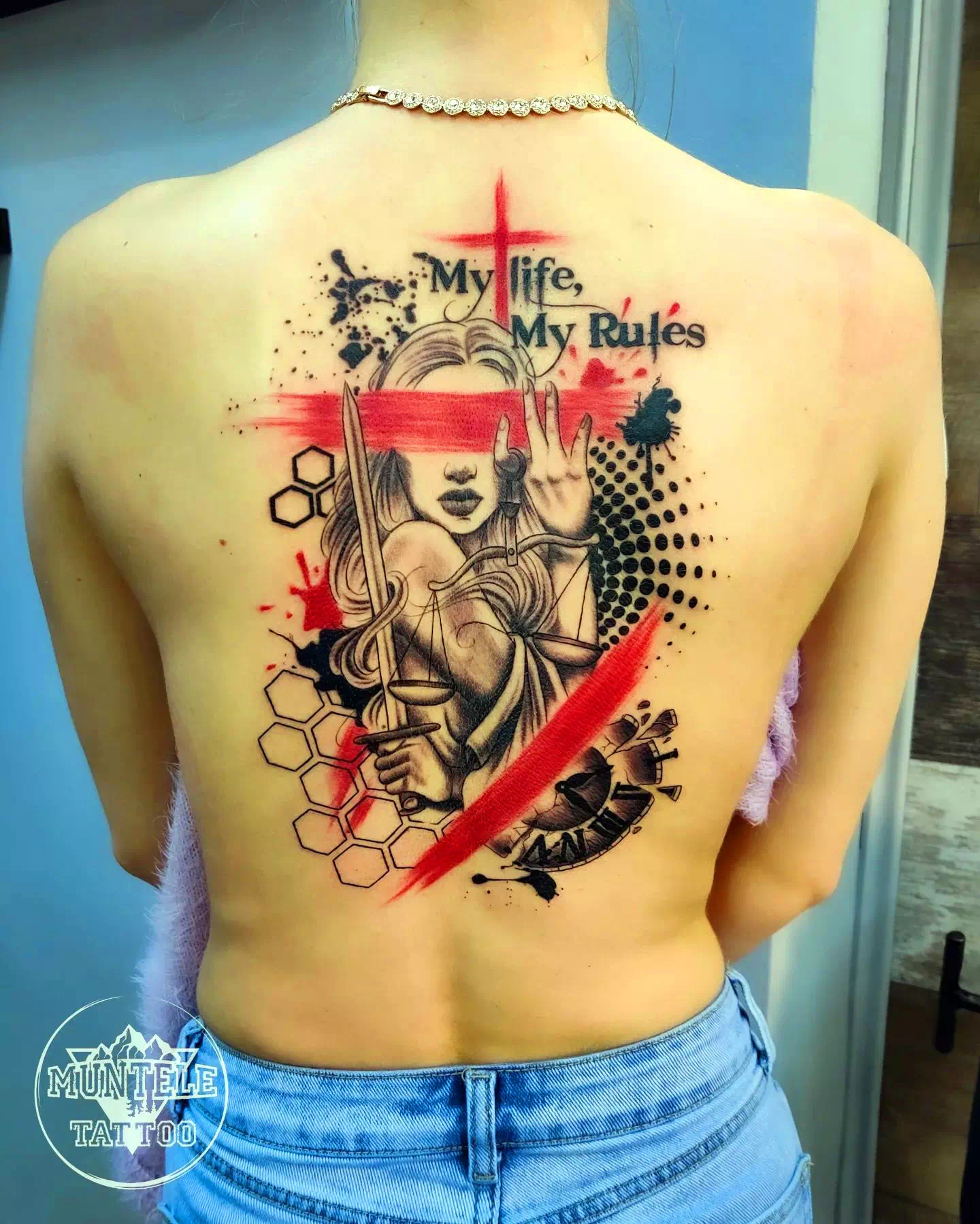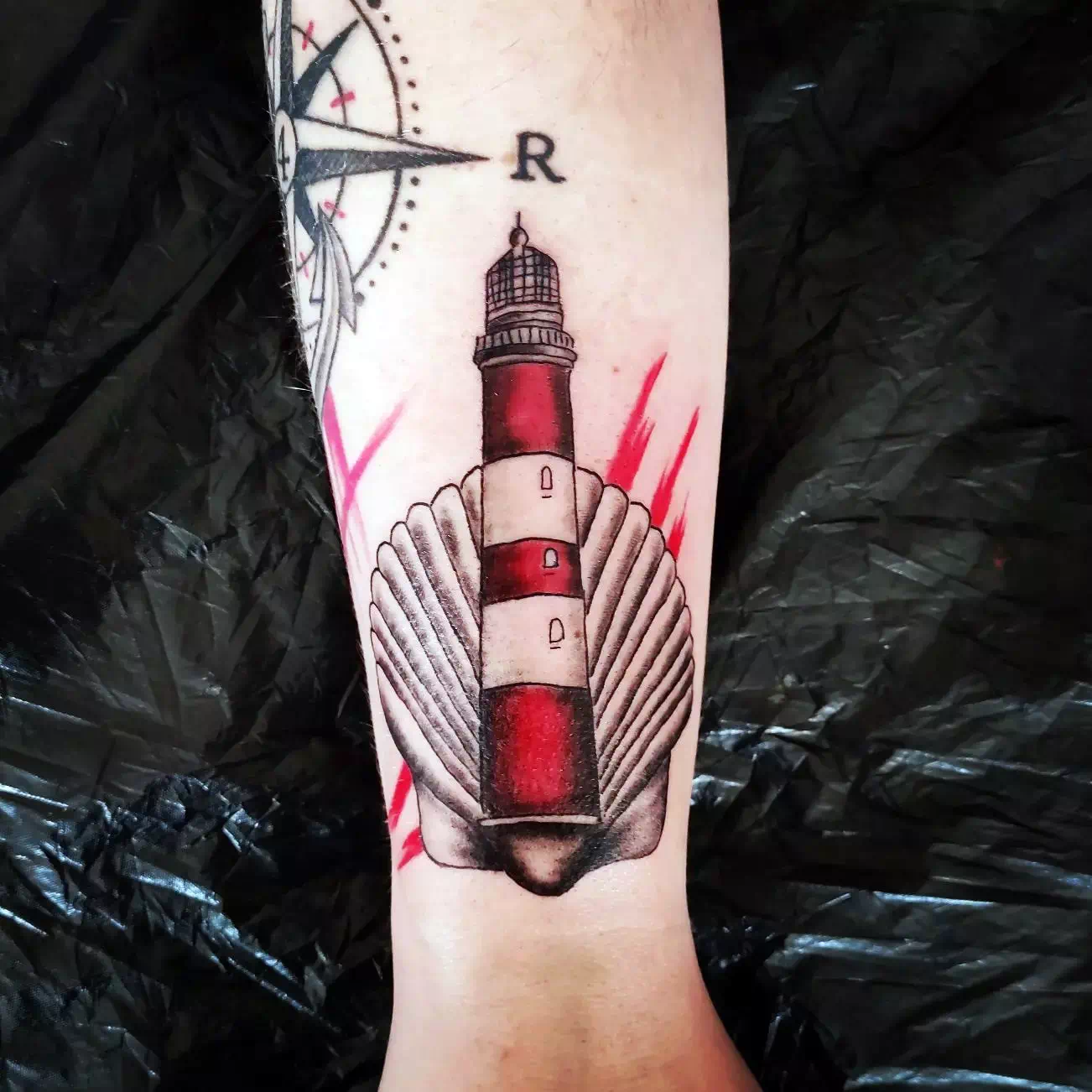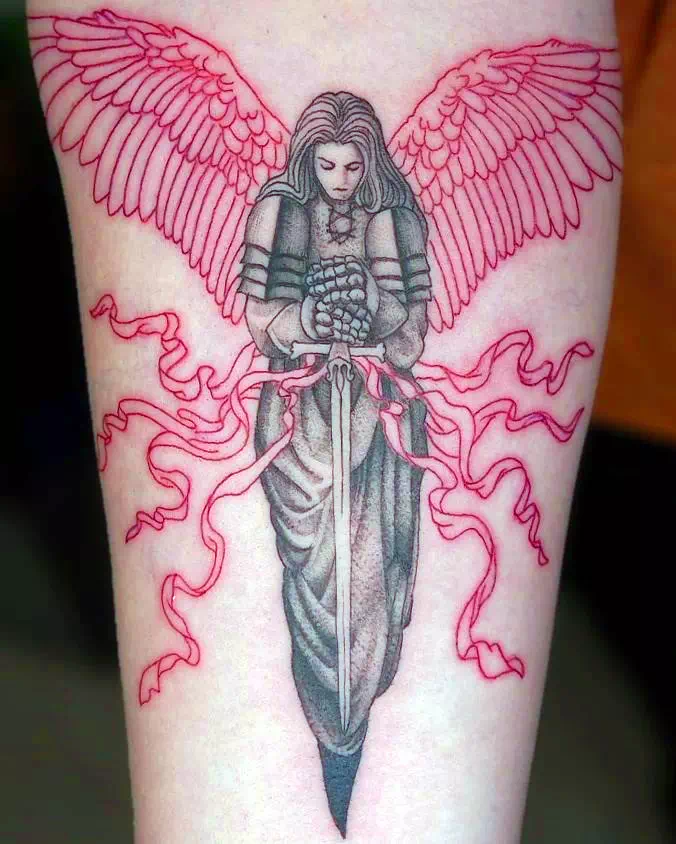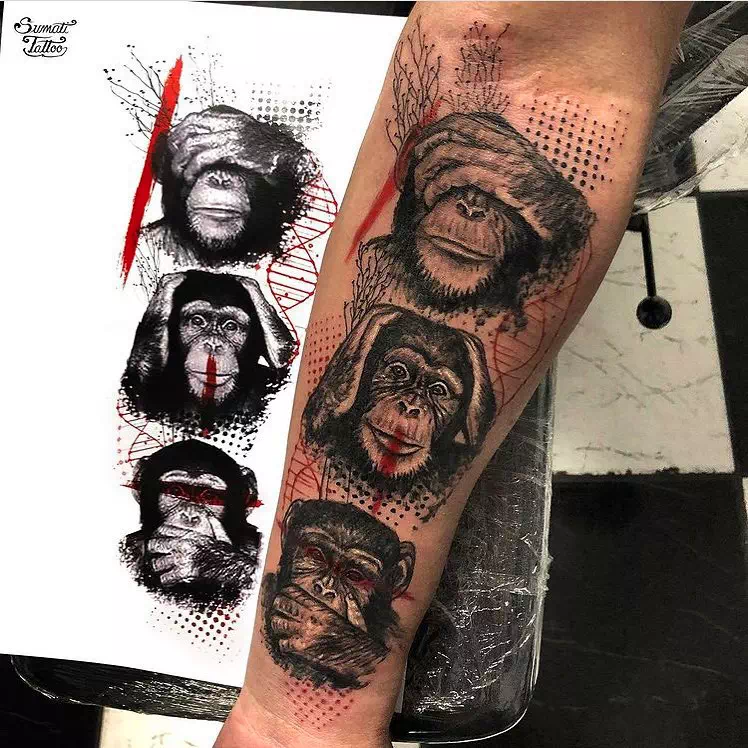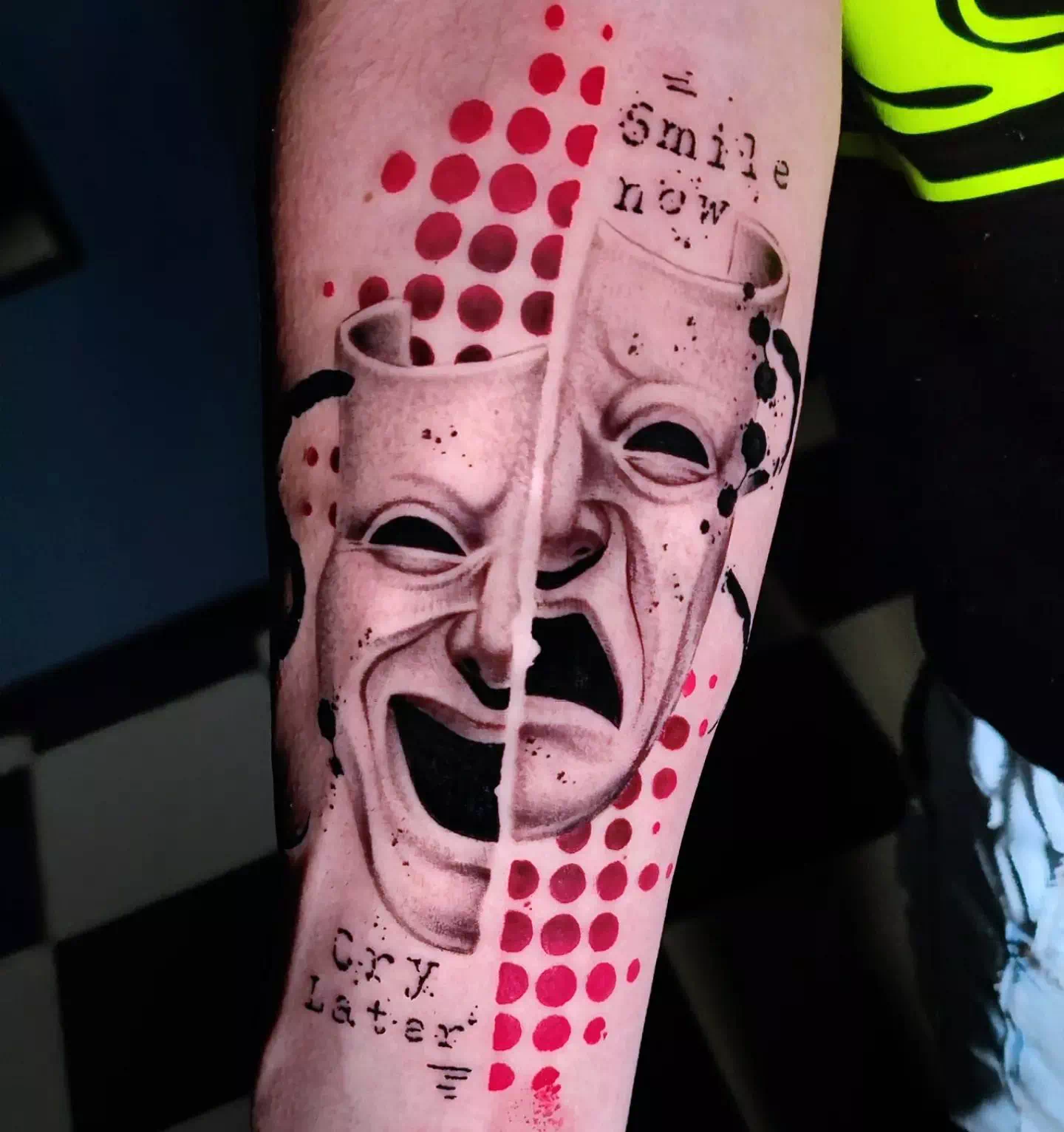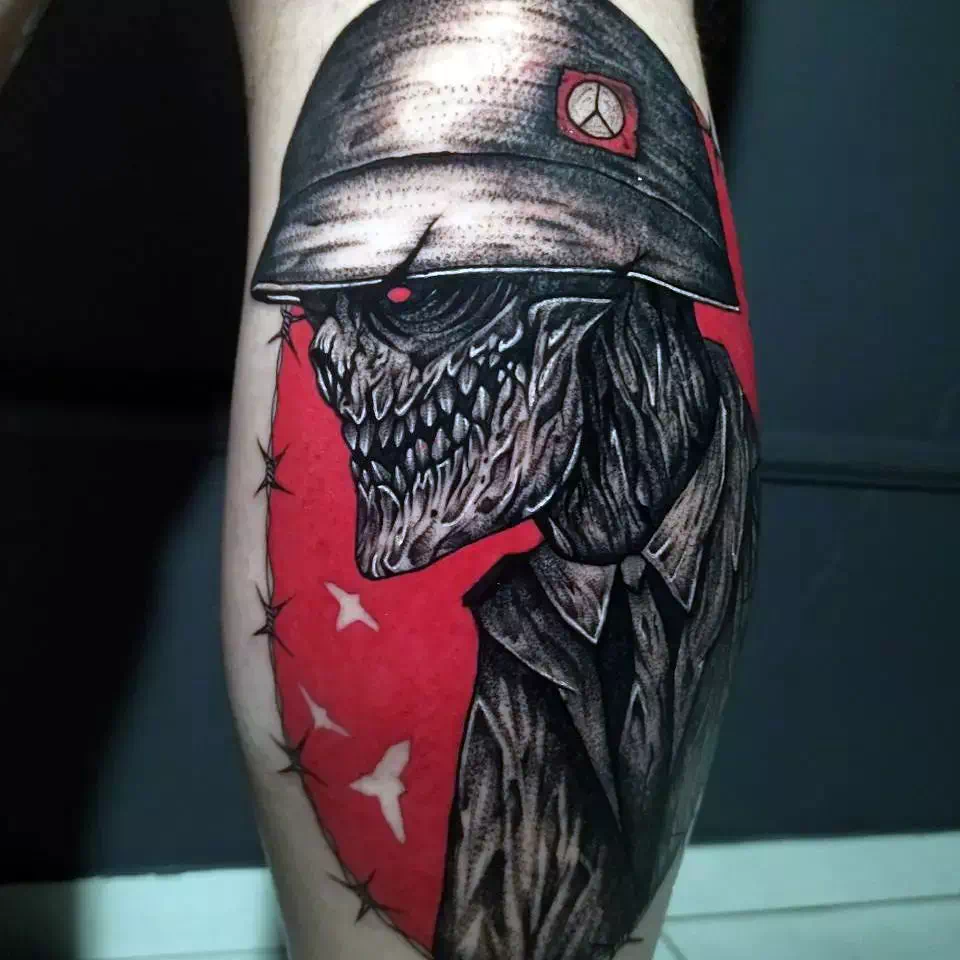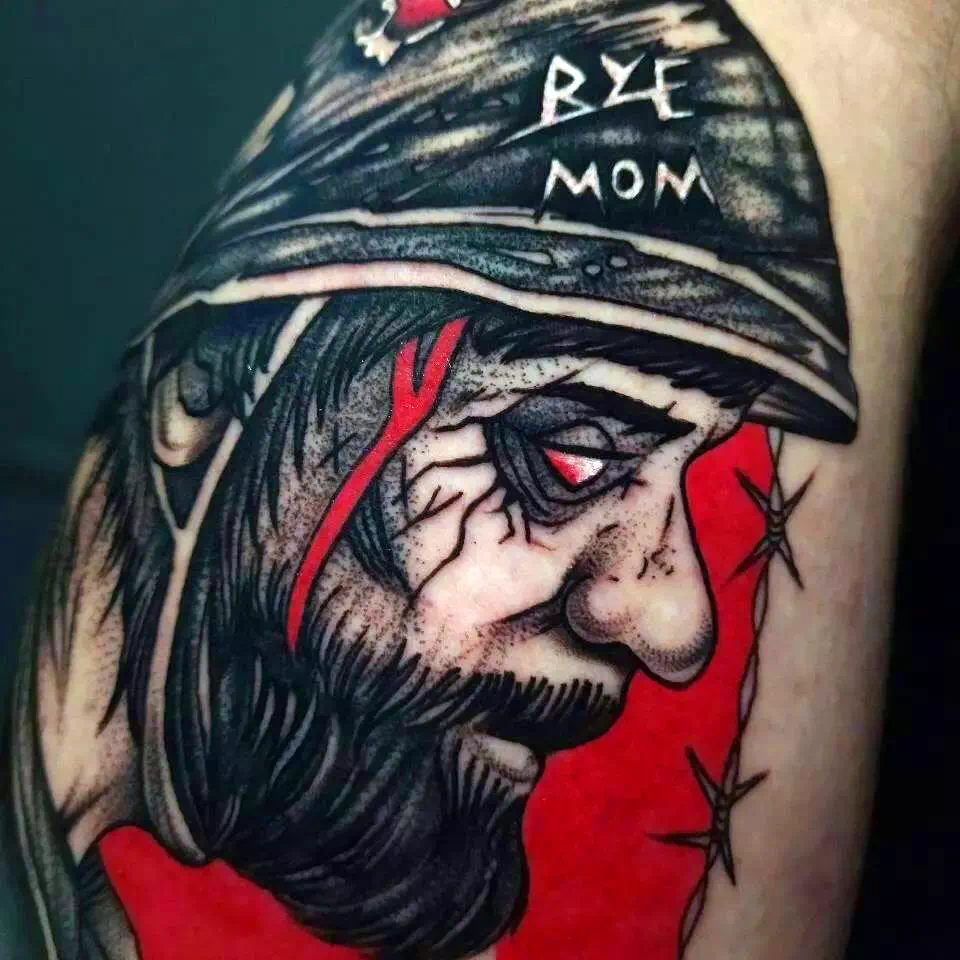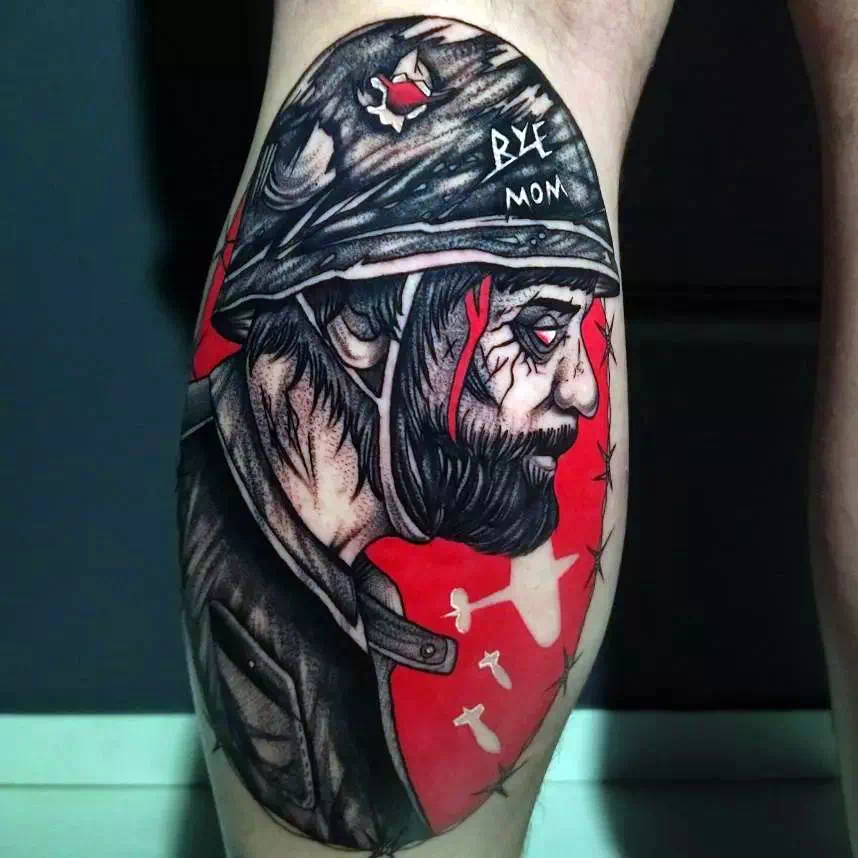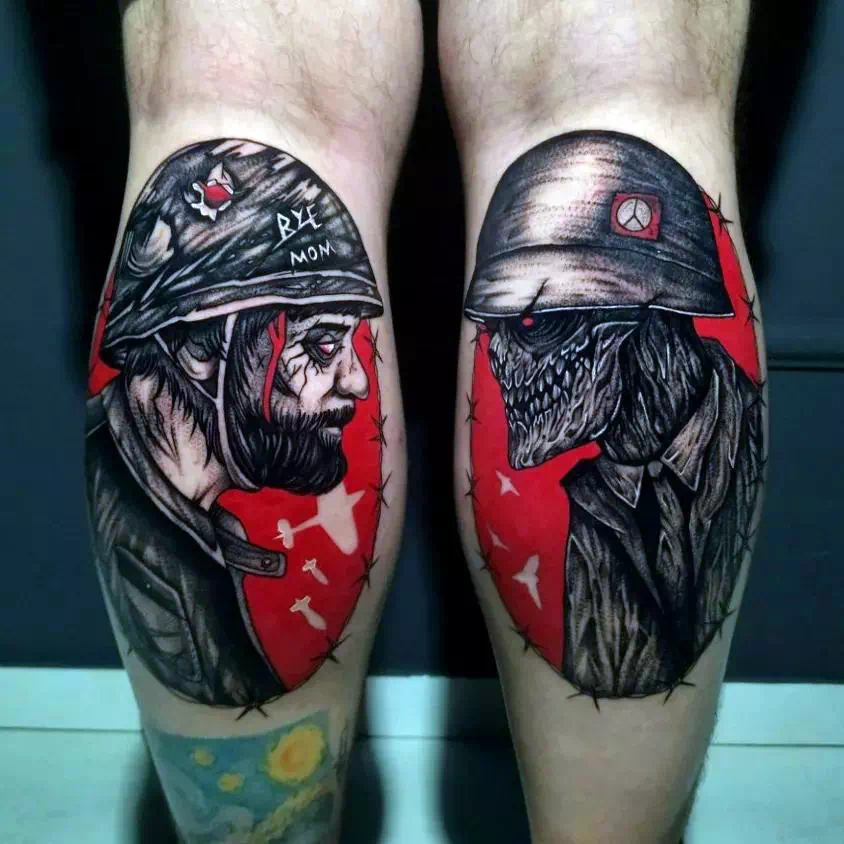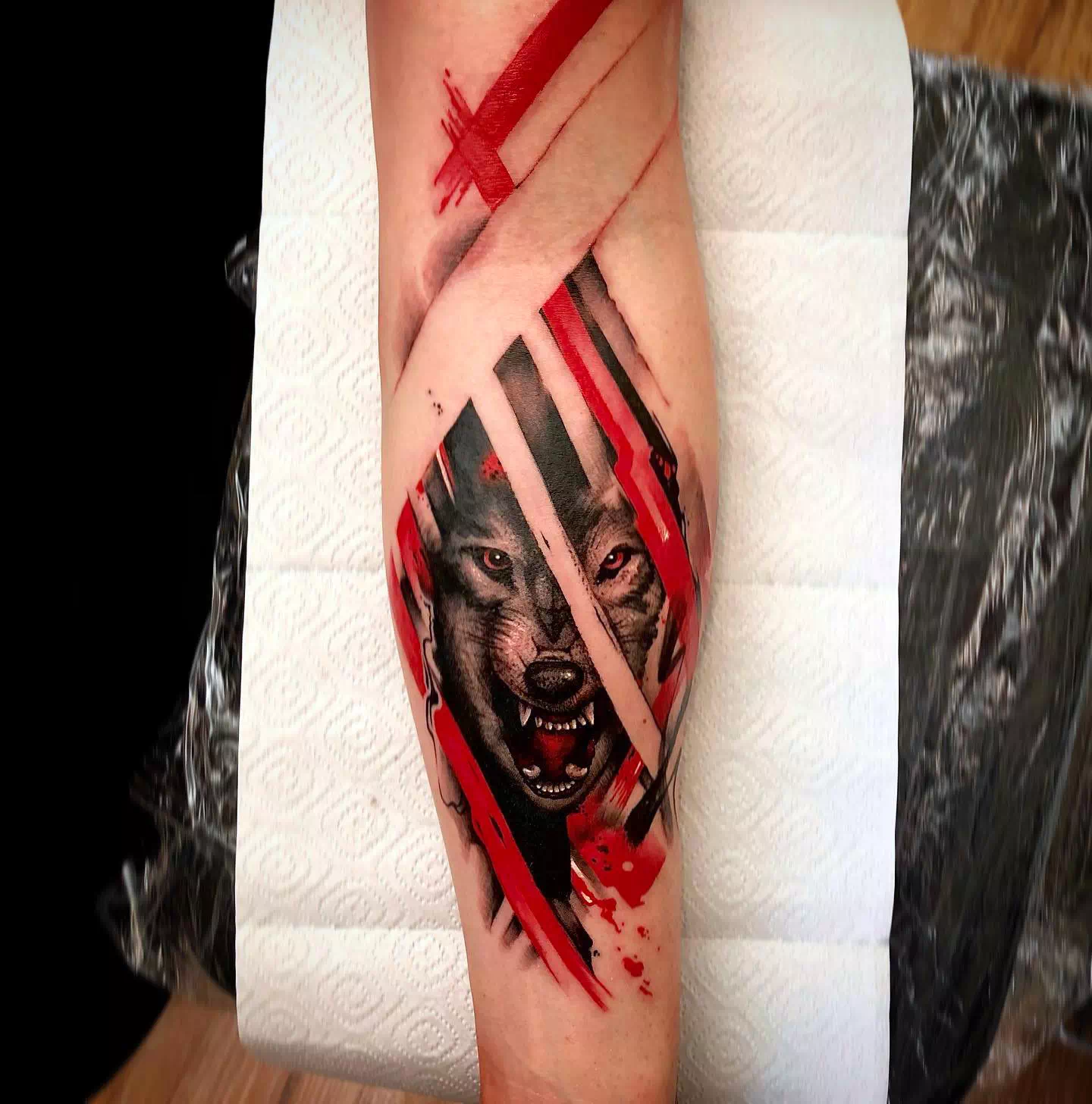 It is better to give than to receive!