Making life-altering decisions at the start of a new year is ideal for getting things started. One of those options may be the addition of a new thigh tattoo to your collection. Thigh tattoos are highly appealing to women, and that is only one of the many compelling reasons why having one or two is a good investment of time and money.
A thigh tattoo may be made to appear beautiful in various settings. Additionally, because there is enough area to mix different styles of tattoos, you will be able to customize the size and shape of the tattoo.
We wrote this post to compile a list of some of the most intricate and sexiest thigh tattoos that we could find on the internet. Given that the thighs are often a popular area for females, selecting the appropriate design may be difficult and time-consuming.
By providing this post, we aim to help you narrow down your search for the most excellent thigh tattoo and select the design that will look the most flattering on your body. We also hope that this will make choosing a tattoo design easier and that you will be inspired by these designs to create your own unique tattoo design.
What Are the Benefits of Getting a Thigh Tattoo?
If you're still on the fence about whether or not having a thigh tattoo is a brilliant idea, here are a few reasons you should go ahead and get one.
It's Extremely Attractive
Thigh tattoos are among the most beautiful places to get inked for women. This is because sports models who have tattoos on their thighs, with butterflies being the most popular design, often appear in lingerie ads.
Depending on the occasion, it blends in nicely and may be worn with several clothes. It also adds a lot of sparkle and emphasis to your flashes and makes your contours stand out more.
They are not very noticeable
Unless you're wearing a short skirt or swimsuit, no one will see your thigh tattoo unless you're standing out due to the widespread opposition to tattoos among businesses and employers, particularly in the healthcare and legal sectors.
If you decide to have a tattoo on your thigh of a butterfly, dream catcher, heart, or wings, you won't have an issue with people recognizing your tattoos as long as your uniform doesn't disclose them. Because of this, it is a win-win situation.
Perfect for a day at the beach
As previously said, thigh tattoos are popular among women who are either interested in mystery or want to enhance their thighs' appearance. With that in mind, the thigh tattoo is very stunning.
In addition to lingerie and swimwear, shorts and skirts are all excellent choices for this item. Remember to be cautious and dress in loose, open clothing while the tattoo heals. If the tattoo is more visible, it will take longer to heal and require more breathing and open space.
Behind Thigh Tattoos: Symbolism and Interpretation
Women who get thigh tattoos are either trying to be secretive about something or want to mark a certain quality in their bodies. With this in mind, different thigh tattoos can be placed on different leg sections to emphasize a specific theme.
Aside from that, the simple connotation behind the thigh tattoos depends on the specific emblem employed. So, in the next parts, we'll also talk about the significance of different thigh tattoos so that you can choose the best one for you.
Mystery: Many young women tattoo various symbols on their thighs to indicate that they are mysterious. As previously said, the thigh is not the most prominent part of the body for a tattoo. Nonetheless, it can retain a great deal of sentimentality.
Strength: The thighs constitute a substantial portion of the leg, which requires a great deal of strength to carry our bodies. The placement of a tattoo on the thighs might represent the meaning of power and strength. With tattoos on their thighs, these ladies may be confident and courageous no matter what life throws their way.
Confidence: While thigh tattoos might evoke a sense of mystery in a woman, they can also instill feelings of trust and courage in her. Females don't need to expose themselves or share all of their secrets to feel solid and secure. When you combine the aspects of thigh tattoos that represent strength and confidence, you get powerful and independent ladies who aren't scared to confront their difficulties.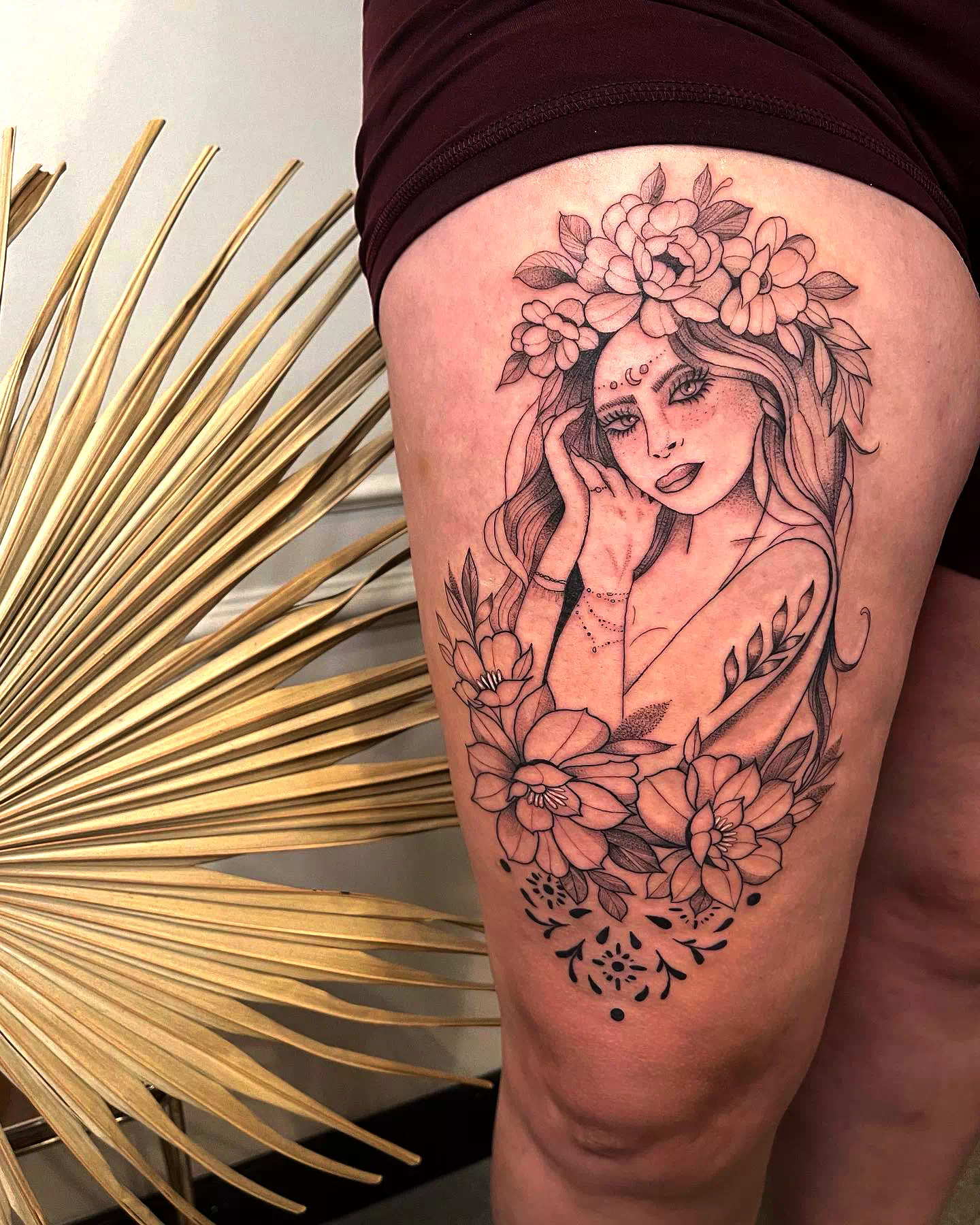 30+ Best Thigh Tattoo Design for Girls
If these meanings behind thigh tattoos gave you the courage to get a thigh tattoo, we hope you will consider getting one. To assist you in embarking on your next journey in the life of having a thigh tattoo, we'll offer you some of the most fantastic thigh tattoo ideas that appear bold, confident, and gorgeous on a female figure. So go through them and get inspiration from some of them for your own design.
Simple Rose Tattoo on Thigh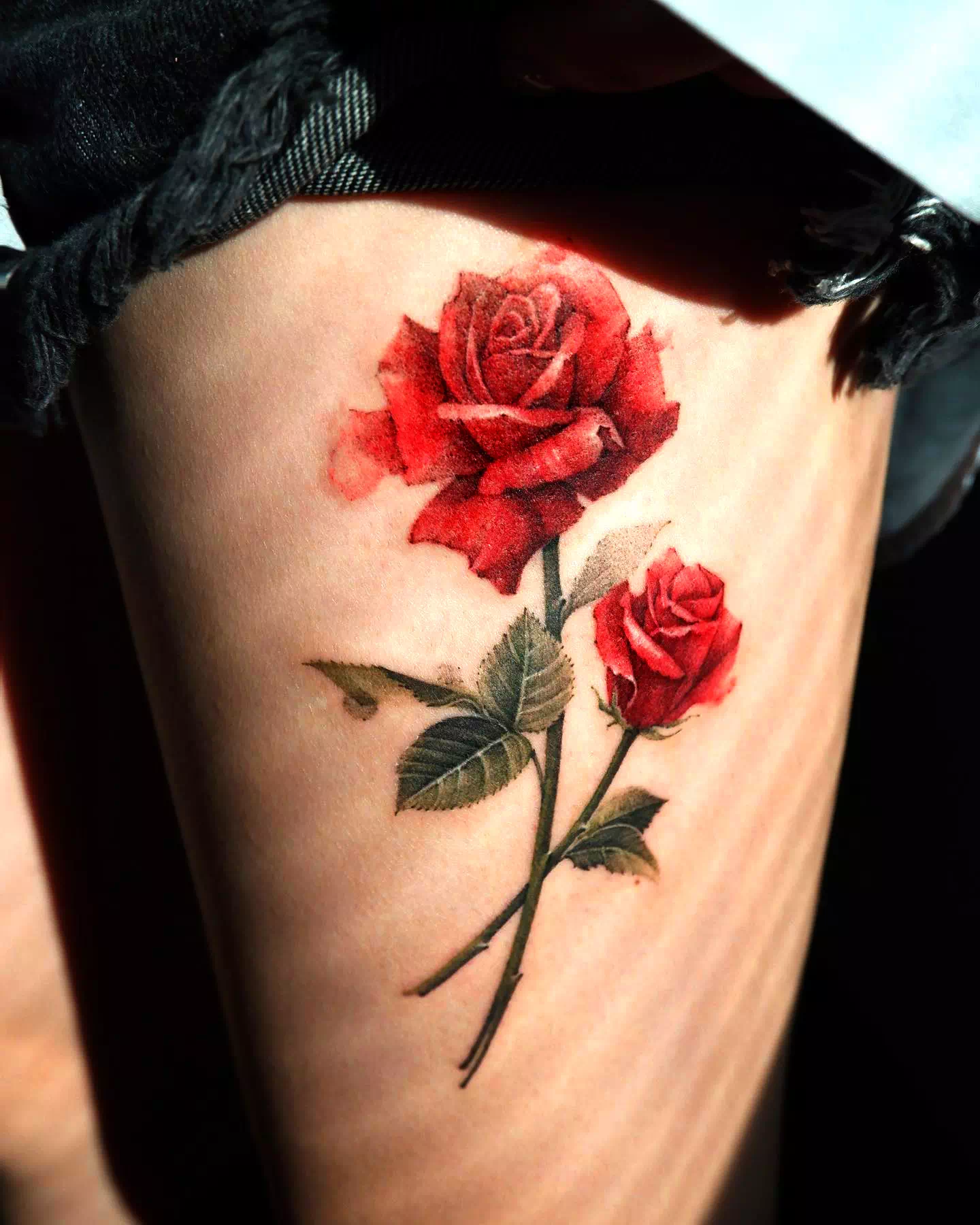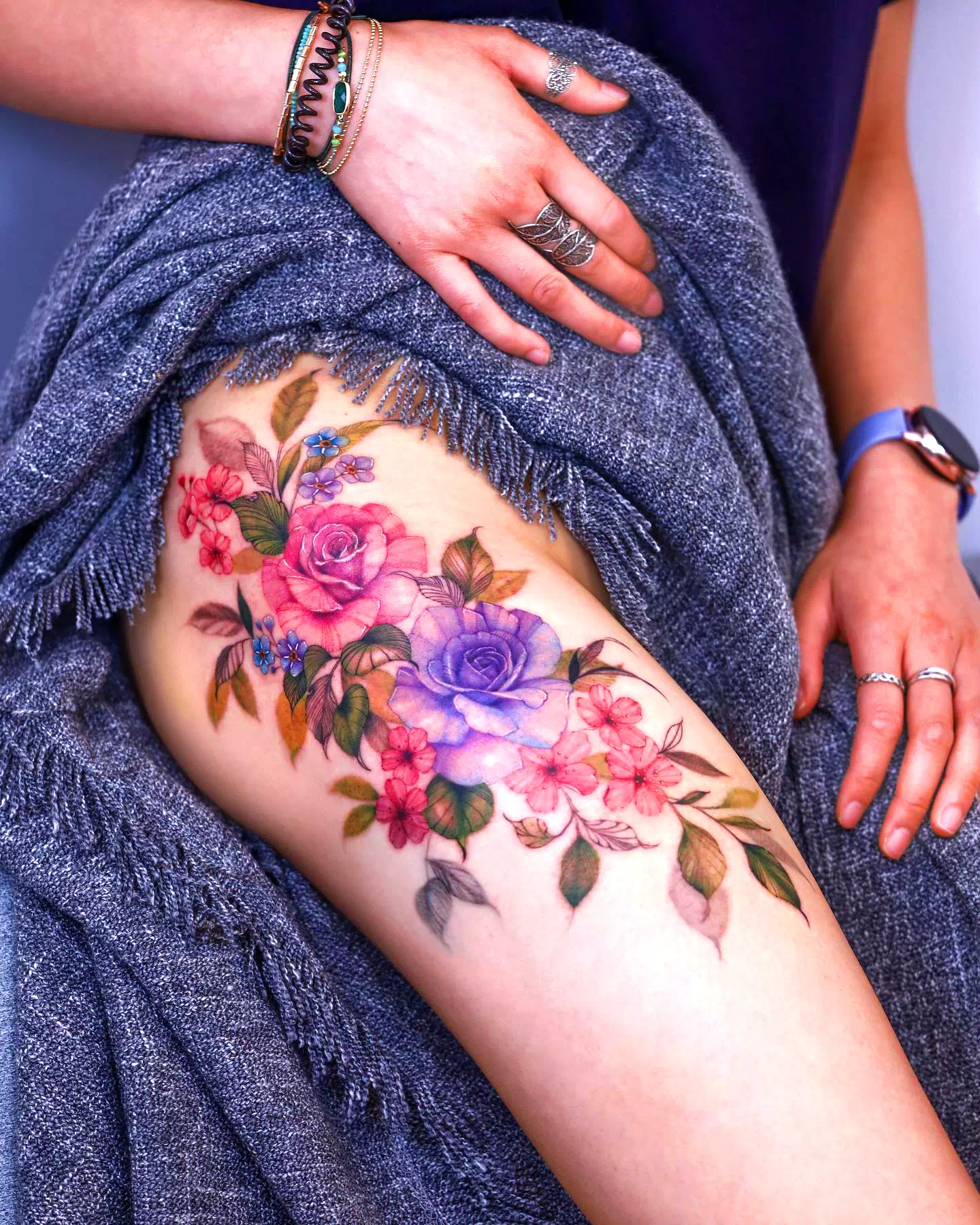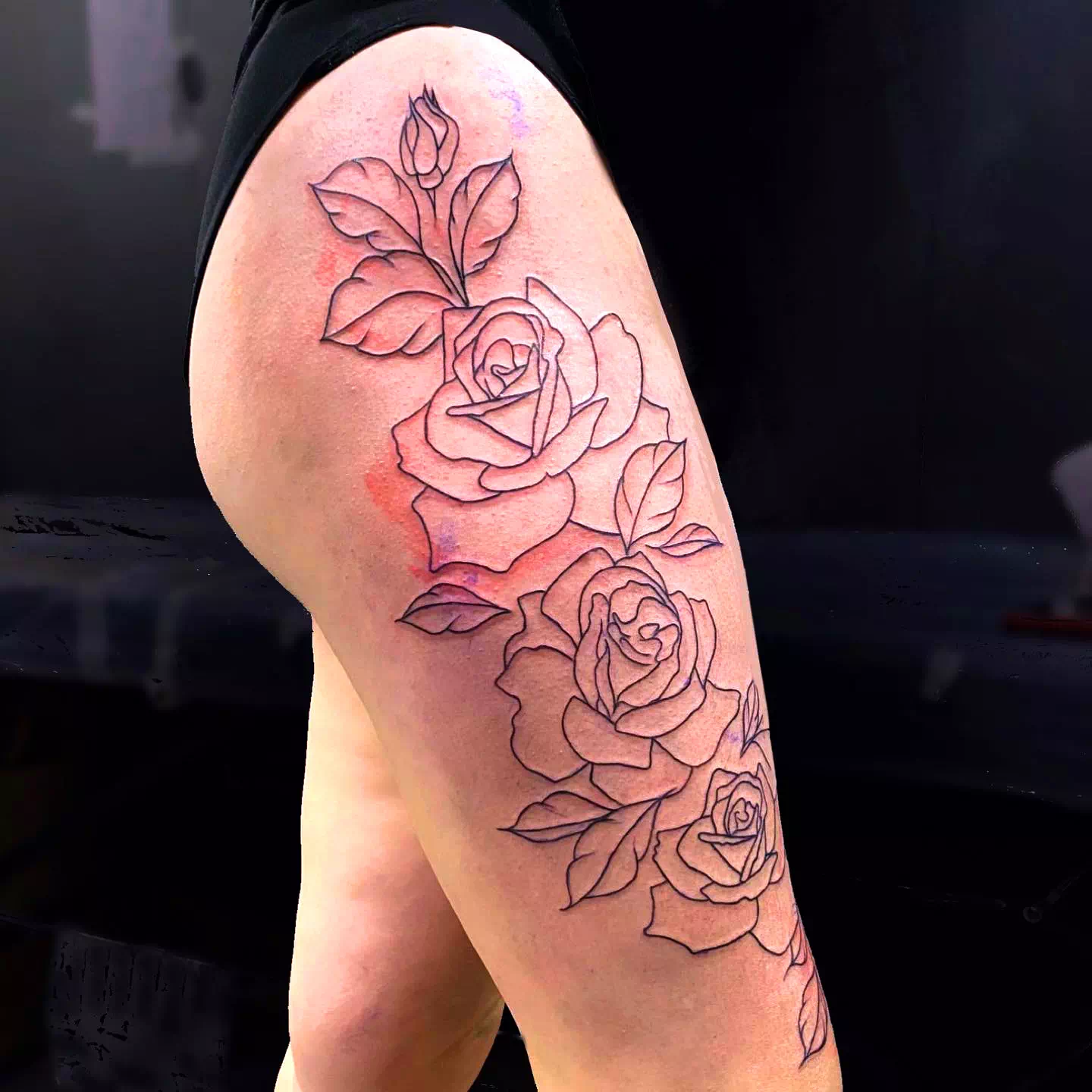 Sometimes a tattoo is as essential as a rose design, but this simplicity draws attention to your thighs. Given that this rose is intended to belong and span across the thigh, we believe that this design would look best on tall women. You may, however, adjust the length of the rose to make it more or less appropriate for your height. This design appears to be essential and minimalistic in appearance, yet it is also bold and aggressive. Roses are delicate and fragile, but don't forget that they have thorns.
Wolf Thigh Tattoos on Thigh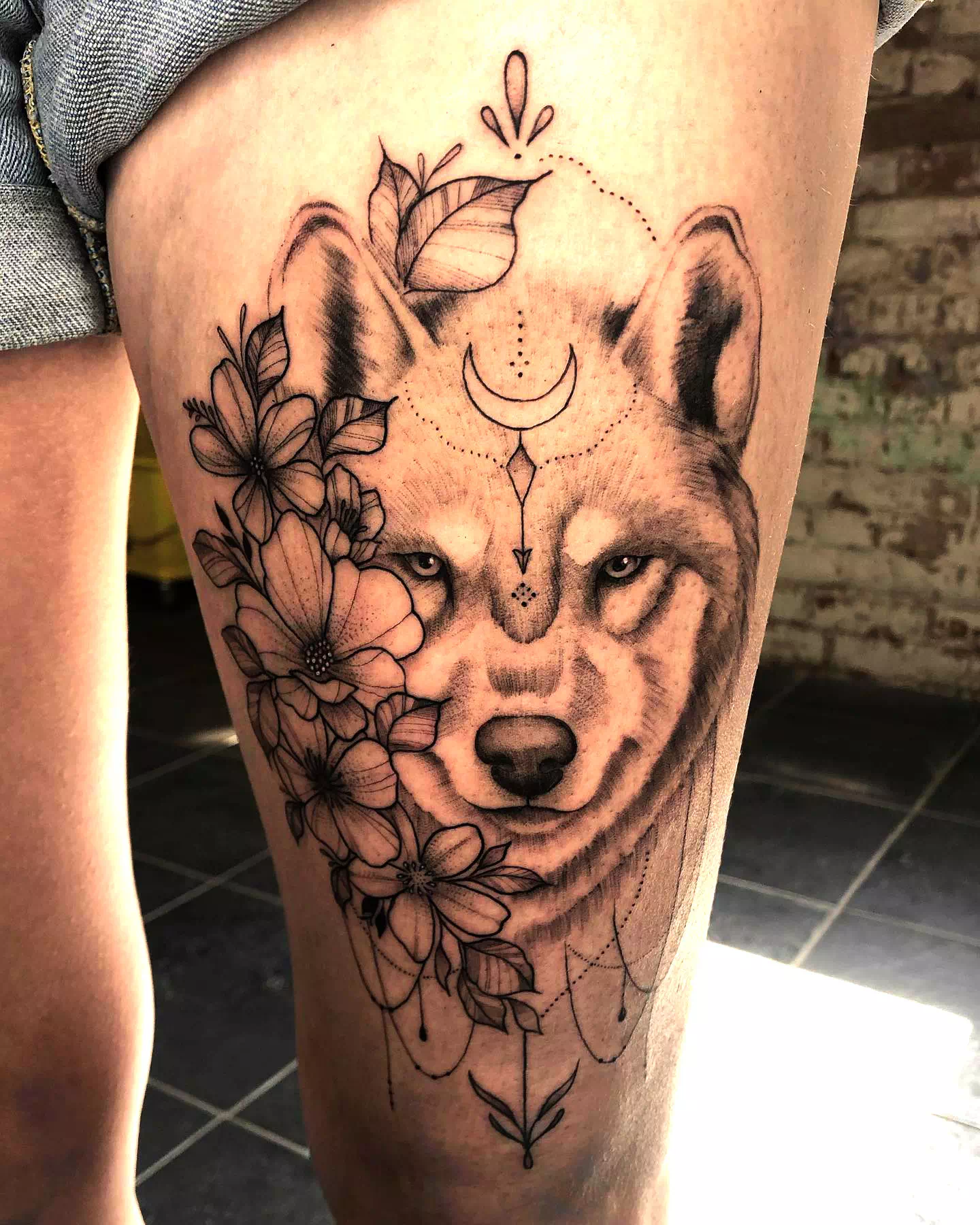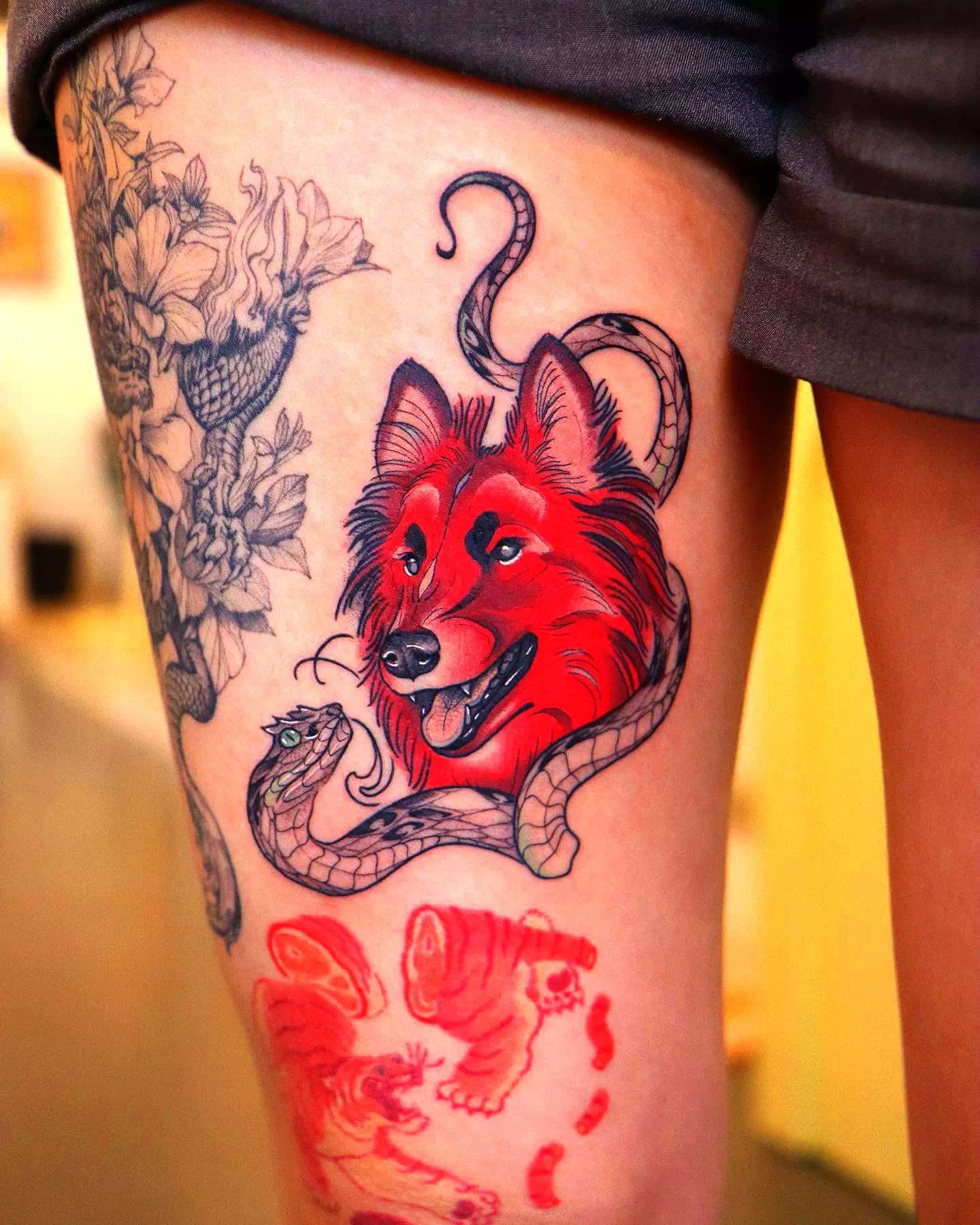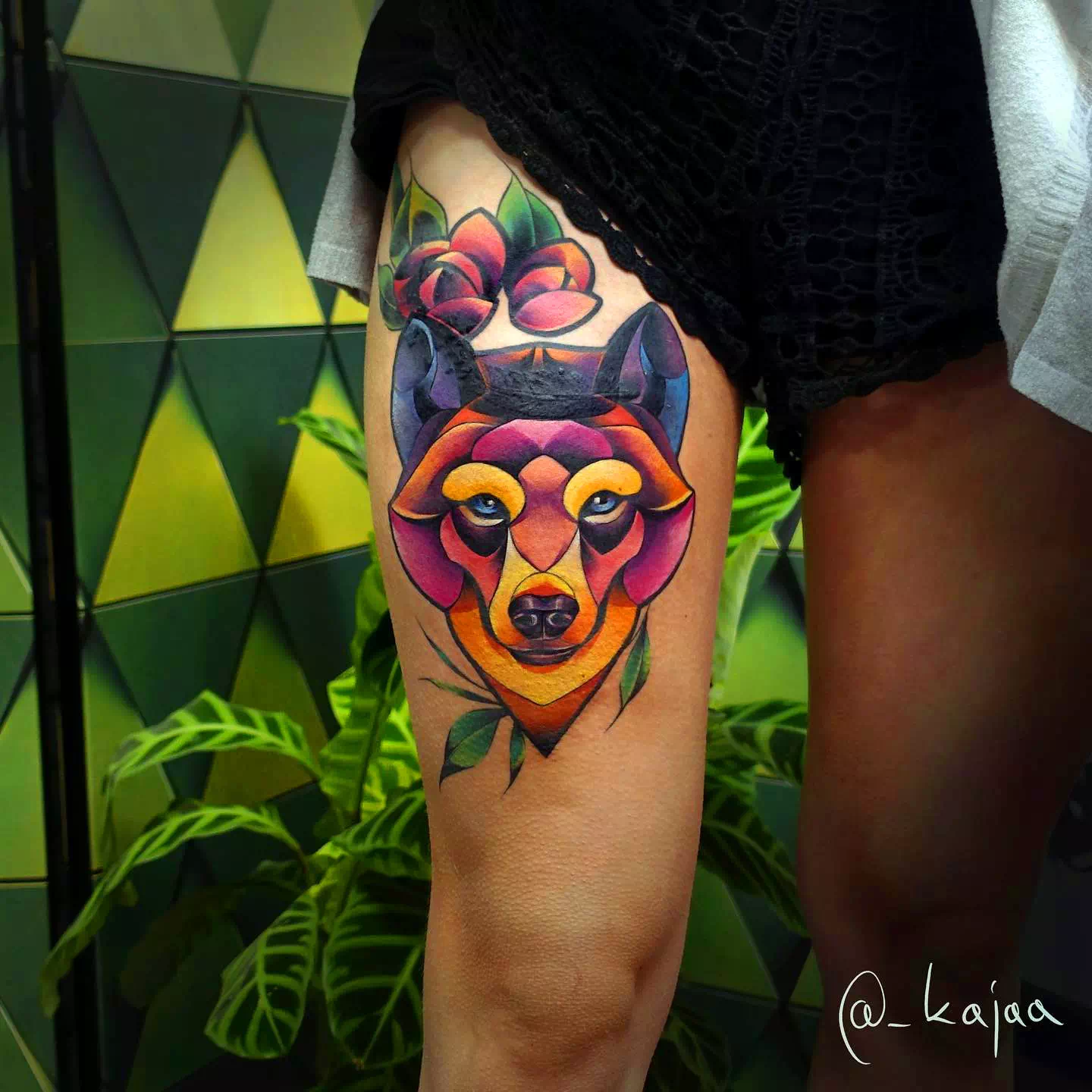 Wolves can be lonely, but it's important to remember that they are also powerful, fearless, and self-sufficient. In addition, they're unstoppable when they're in a group because they're natural leaders. Flowers complement a wide variety of thigh tattoos, regardless of their nature. As a group, we like how this tattoo design looks because it shows both cruel and brutal monsters like wolves, but it also shows delicate and fragile things like flowers.
Forest Flowers on Thigh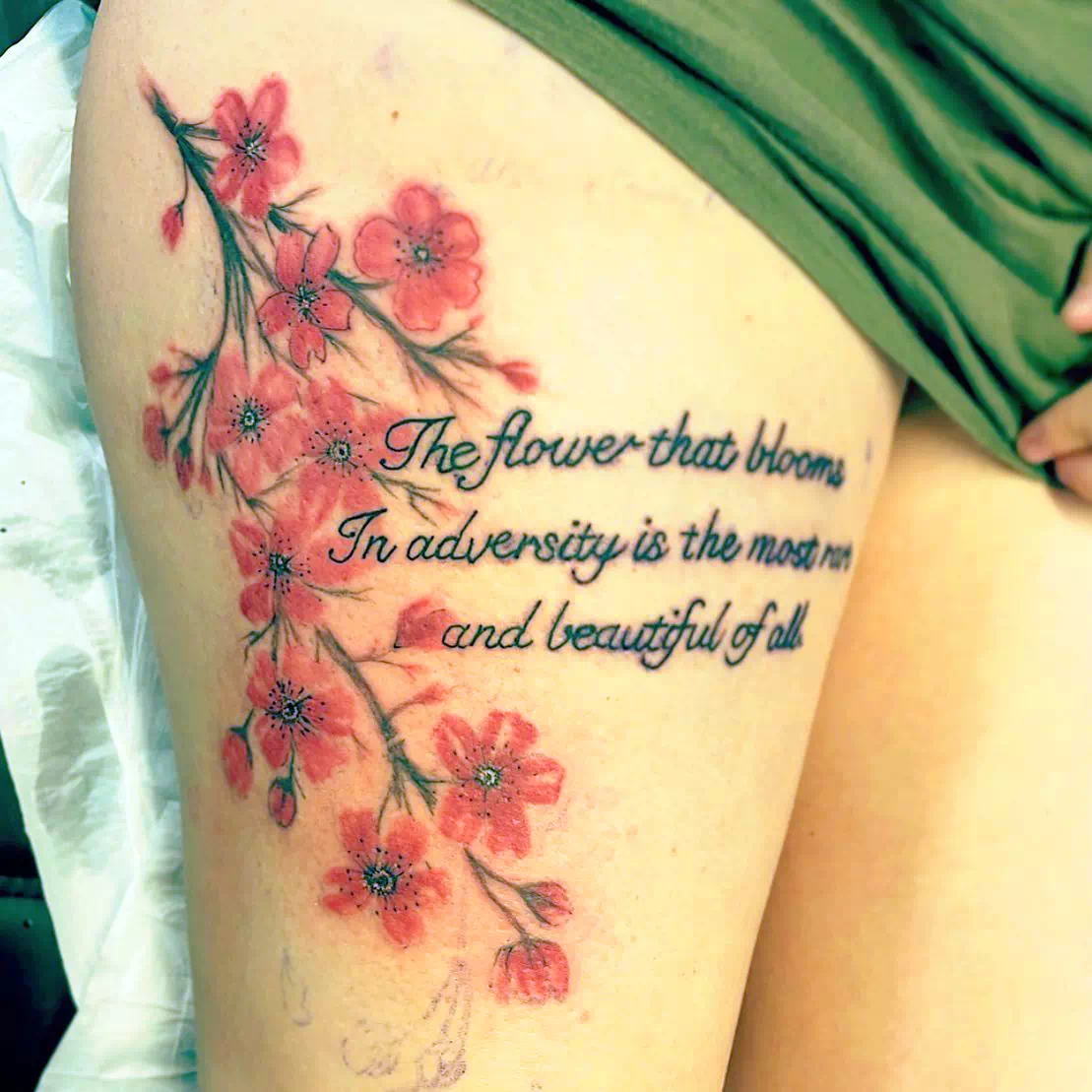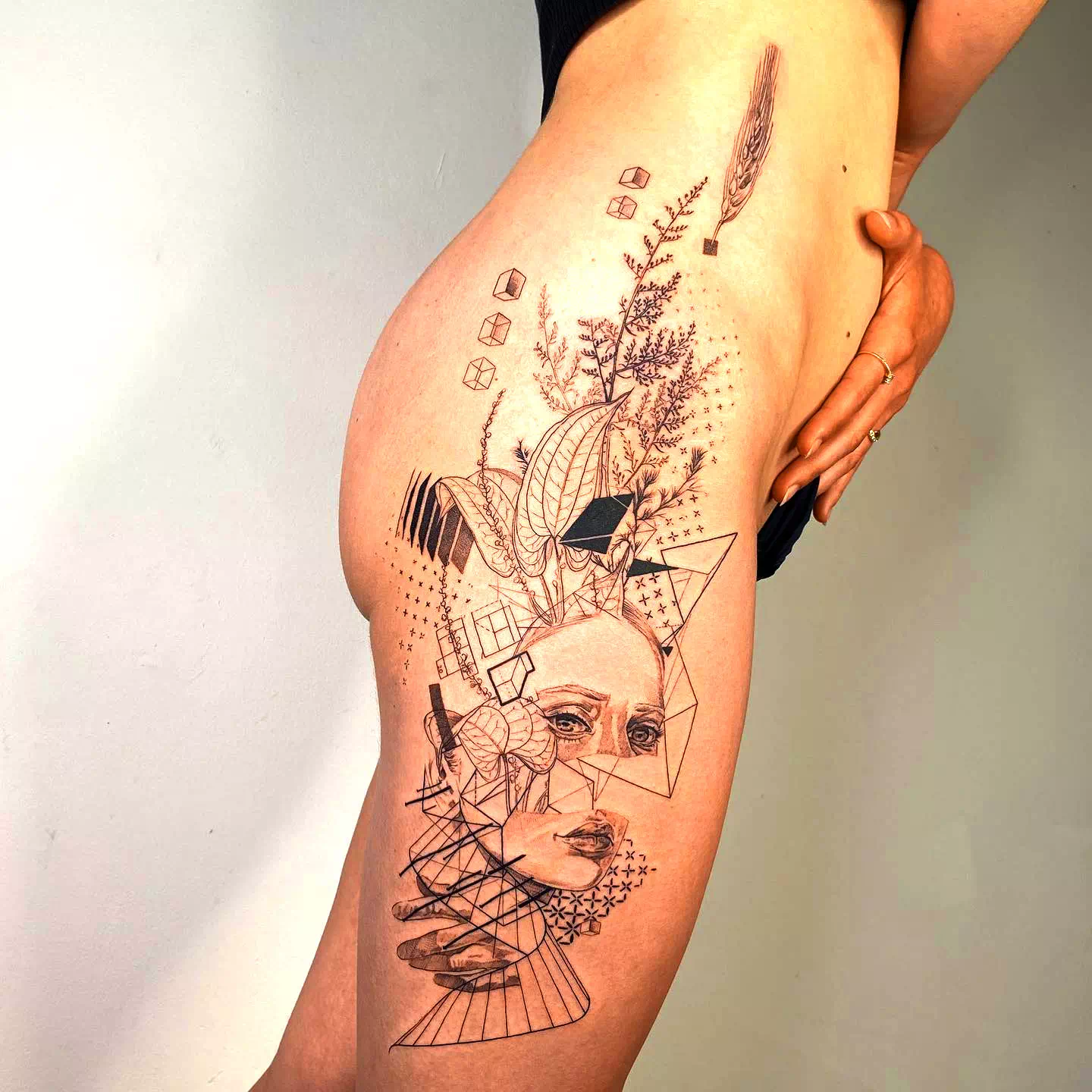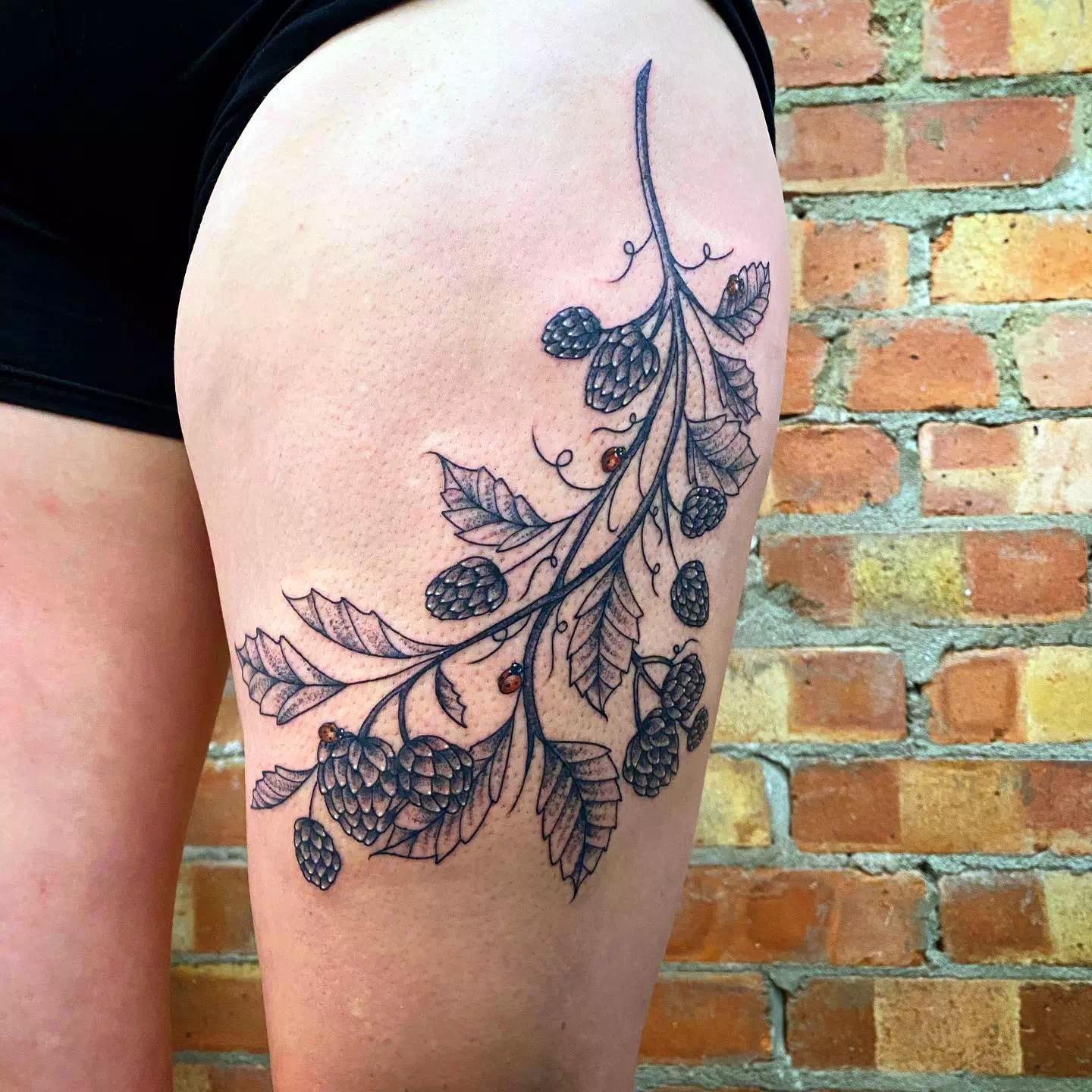 The large surface area of the thigh allows you and your tattoo artist to be as creative as you want with a wide range of designs that describe what you want and make you feel most comfortable. This tattoo of wildflowers appears natural, deep, and intricately designed. The hues are easily visible to the naked eye and appear beautiful.
This tattoo will look fantastic on whatever region of the body to which it is applied. Even better, you can enhance this tattoo design by including additional elements such as trees and woodland creatures.
Butterfly Thigh Tattoo on Thigh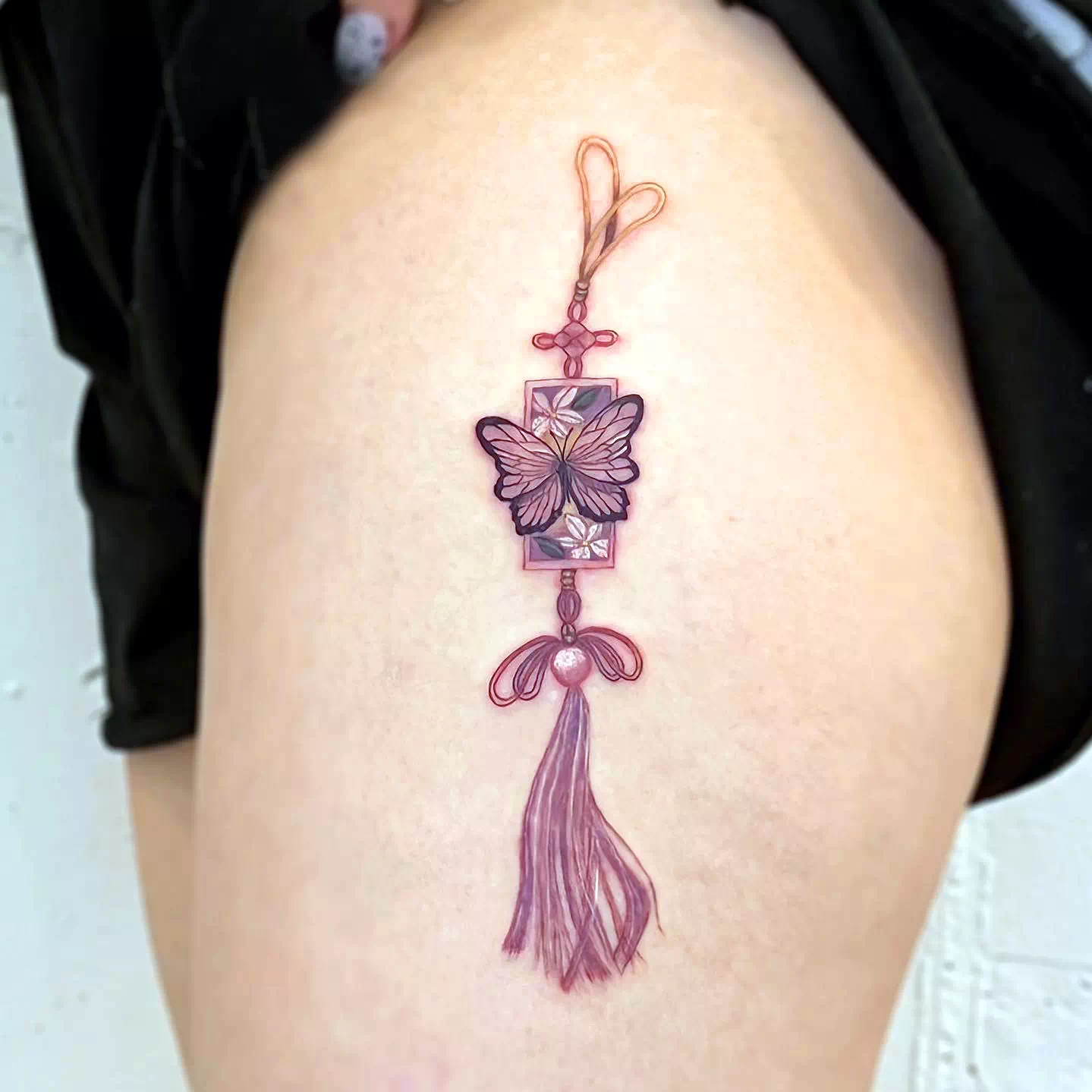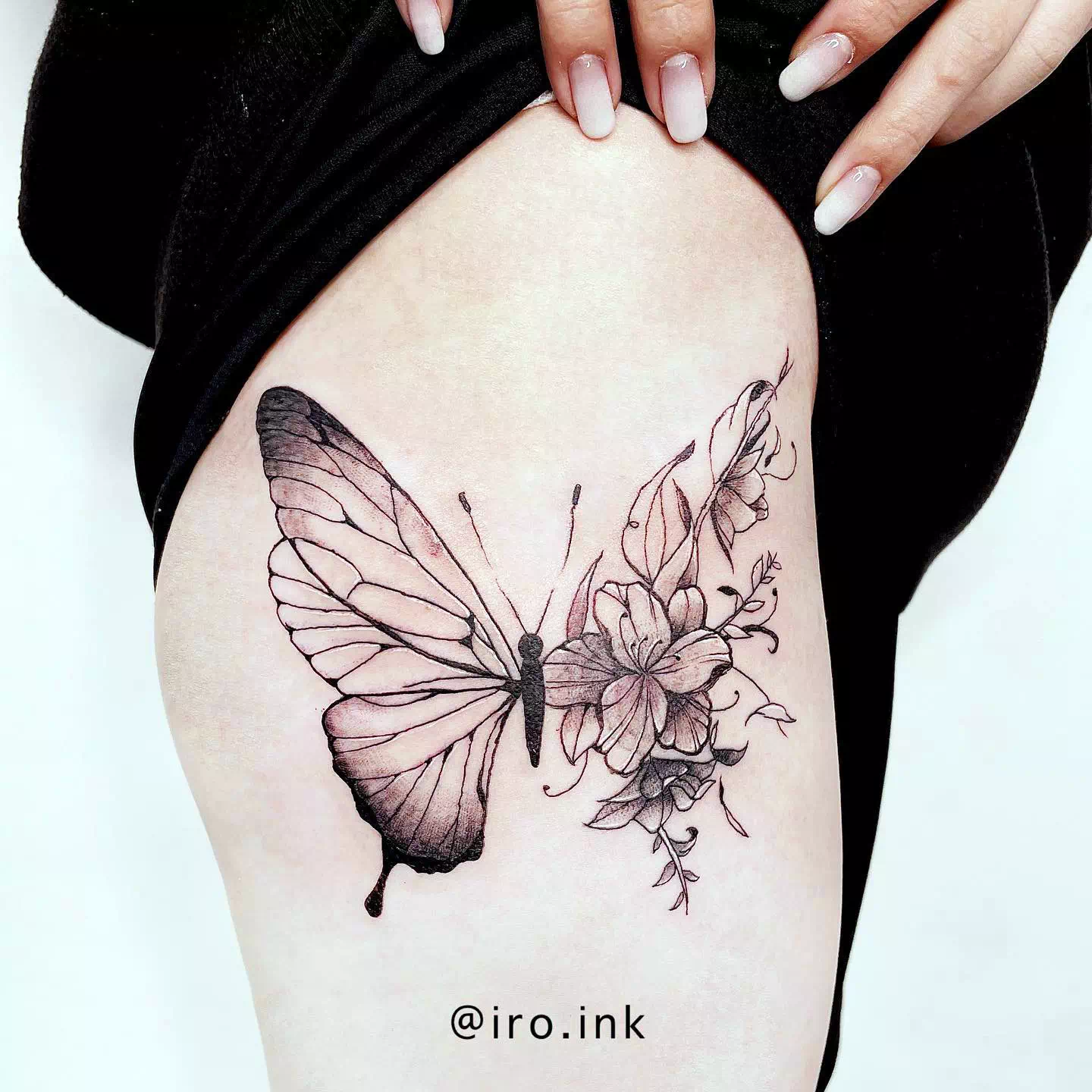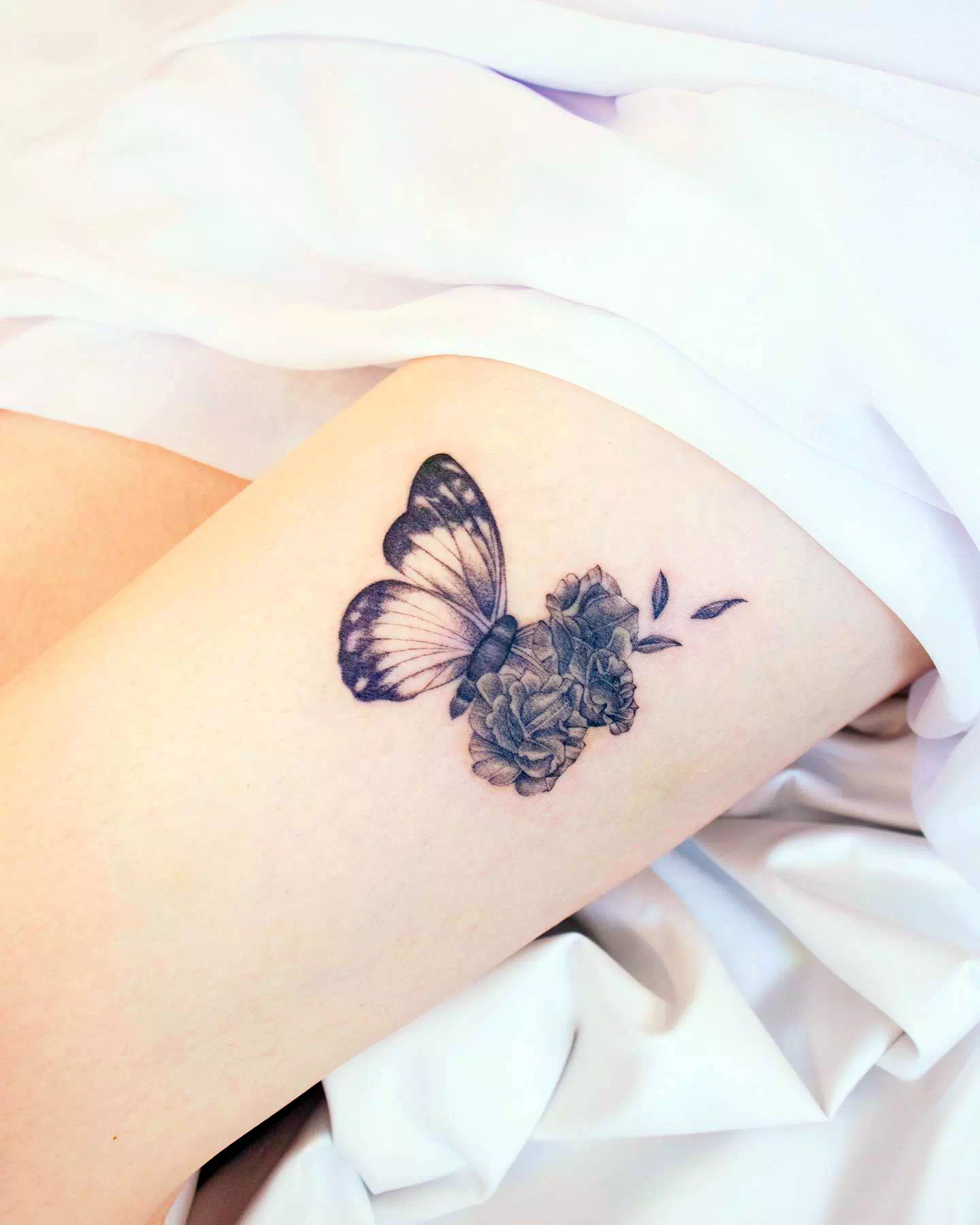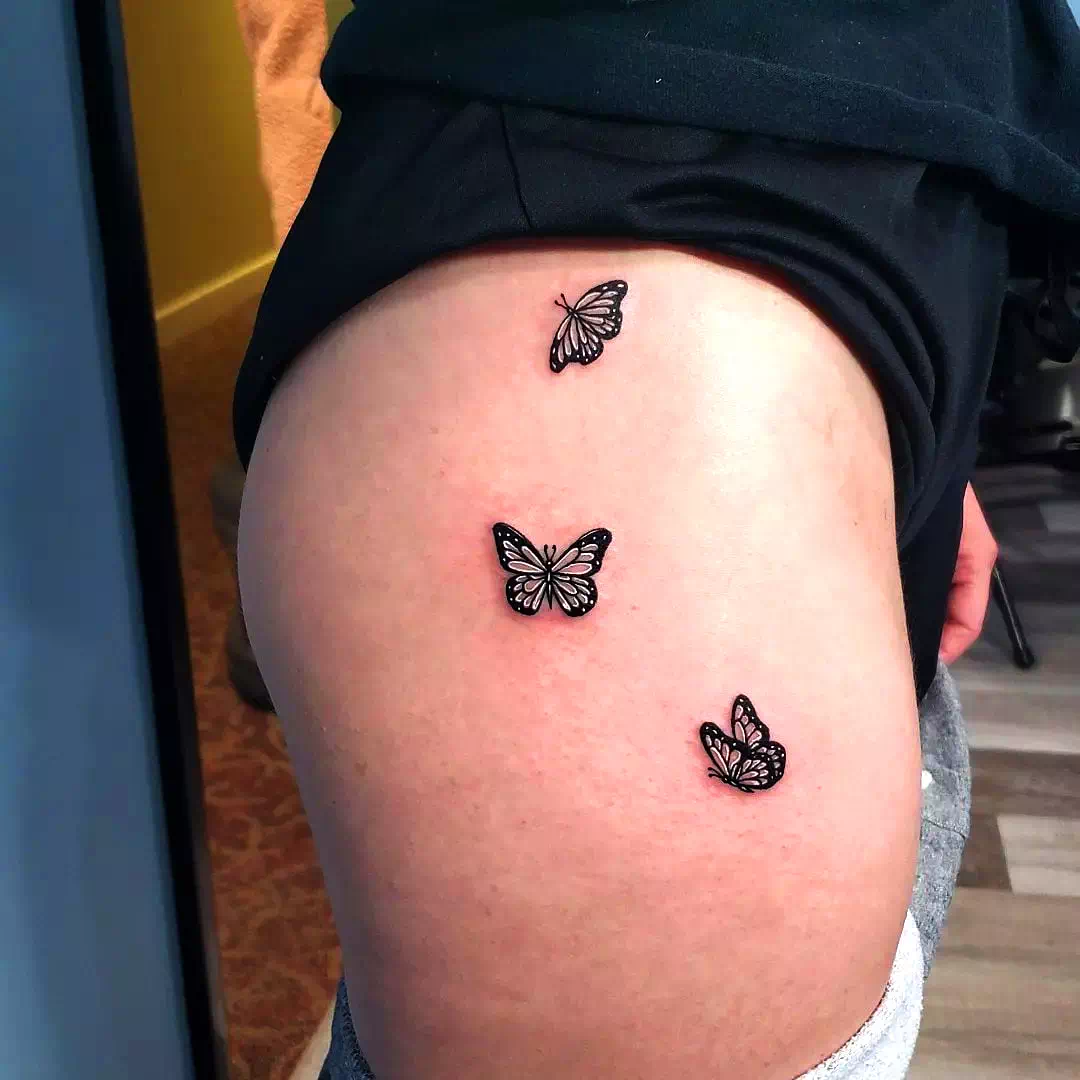 Tattoo designs with butterflies are famous for thigh tattoos, especially for individuals who wish to have a double butterfly tattoo with one on each leg. Insects with long wings, like the butterfly, can fit in the thighs because they are densely packed with skin and big enough.
Furthermore, because butterflies represent mystery, innocence, and rebirth, many females who have experienced various difficulties such as heartbreak can feel powerful and reborn due to the butterfly tattoos on their bodies.
Spring Flowers on Thigh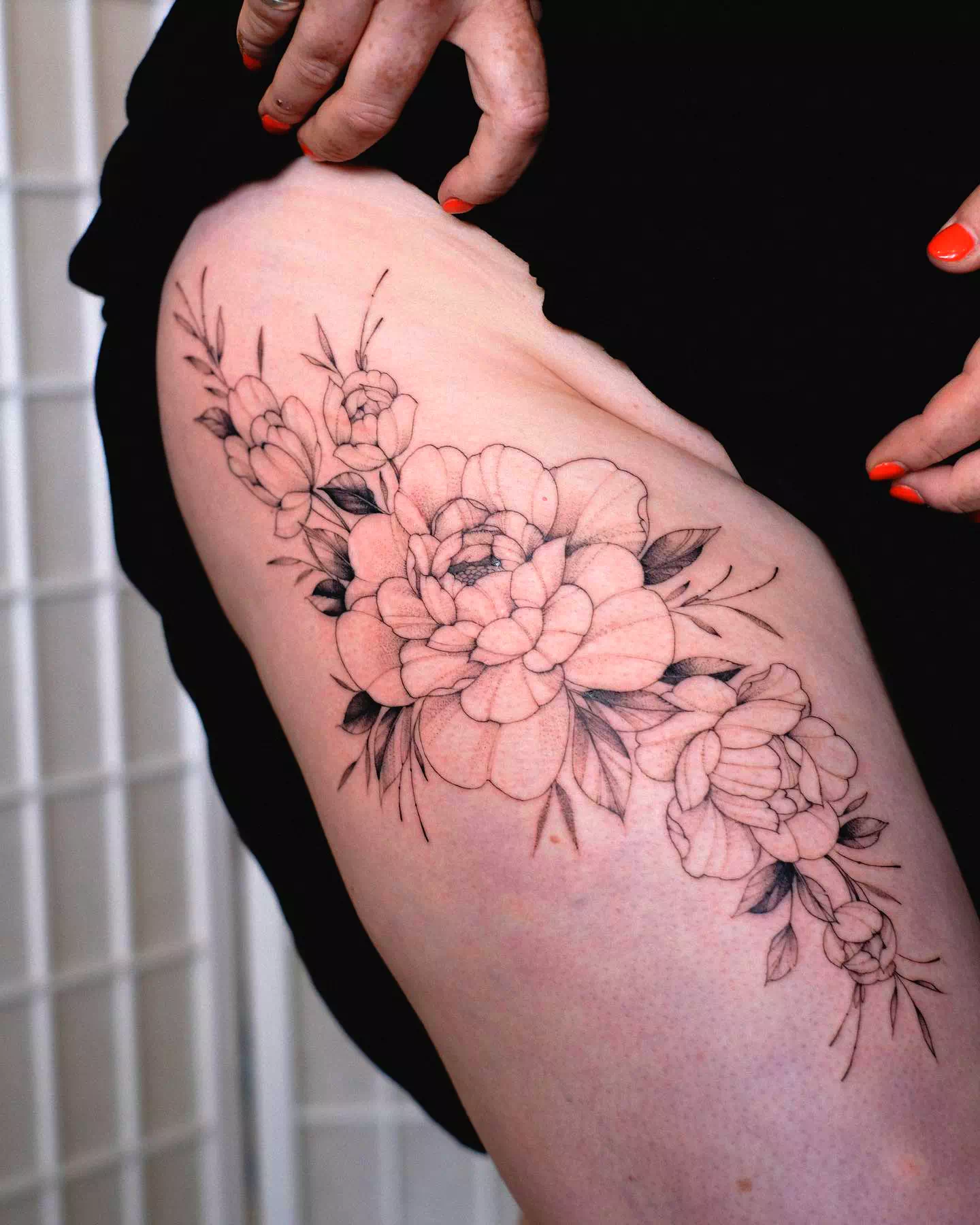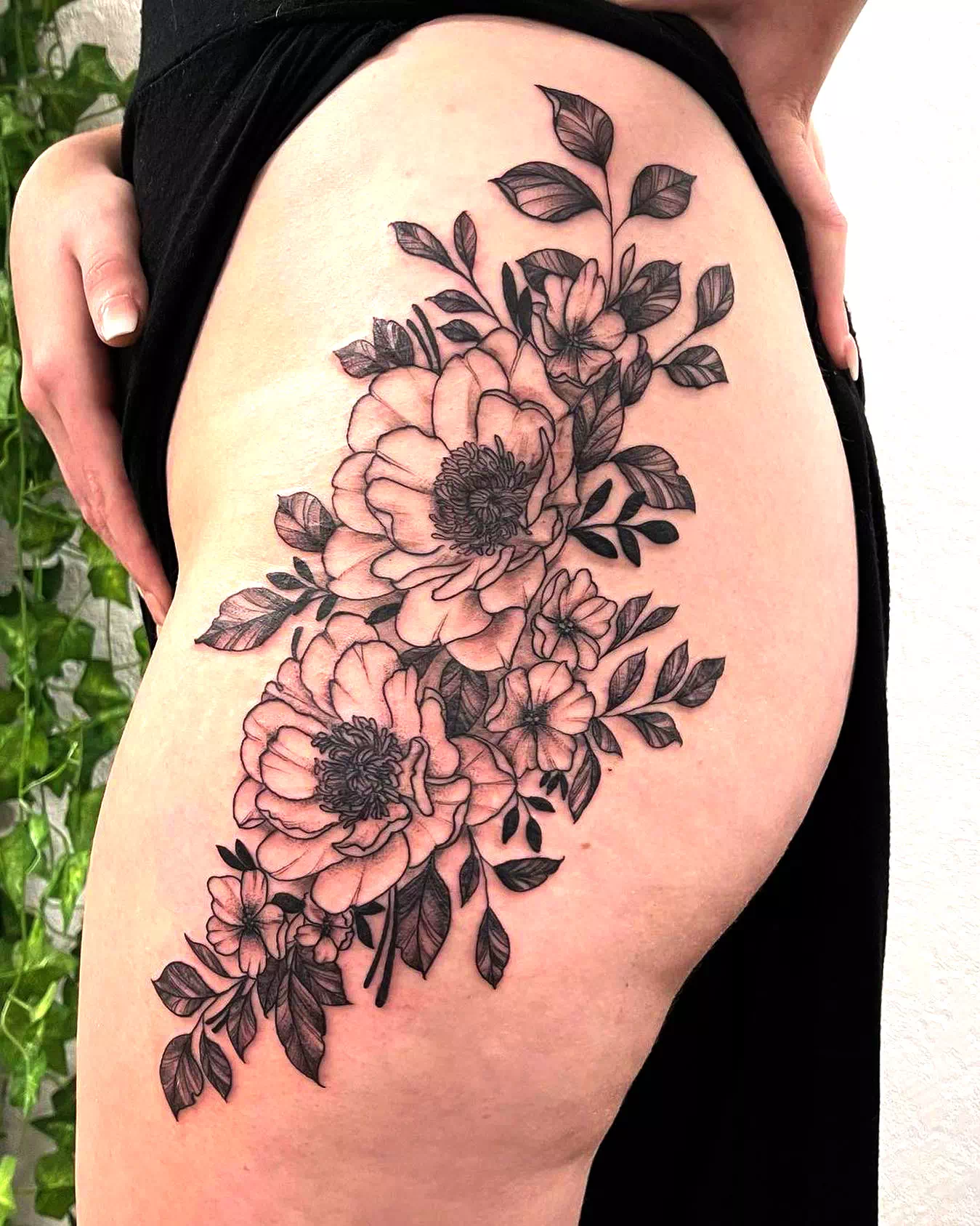 Flowery motifs on the thighs are unquestionably popular, albeit not quite as prevalent as butterflies and bow ties. This flower design caught our eye because it looks sensitive, delicate, gentle, fragile but strong, and intricate, among other things.
The use of a similar design to accentuate the depth of your emotions and personality is highly suggested by experts. We're pleased with how it turned out. Nonetheless, it will take a great deal of time and work to accomplish, as will the healing process itself.
Dream Catcher Tattoo on Thigh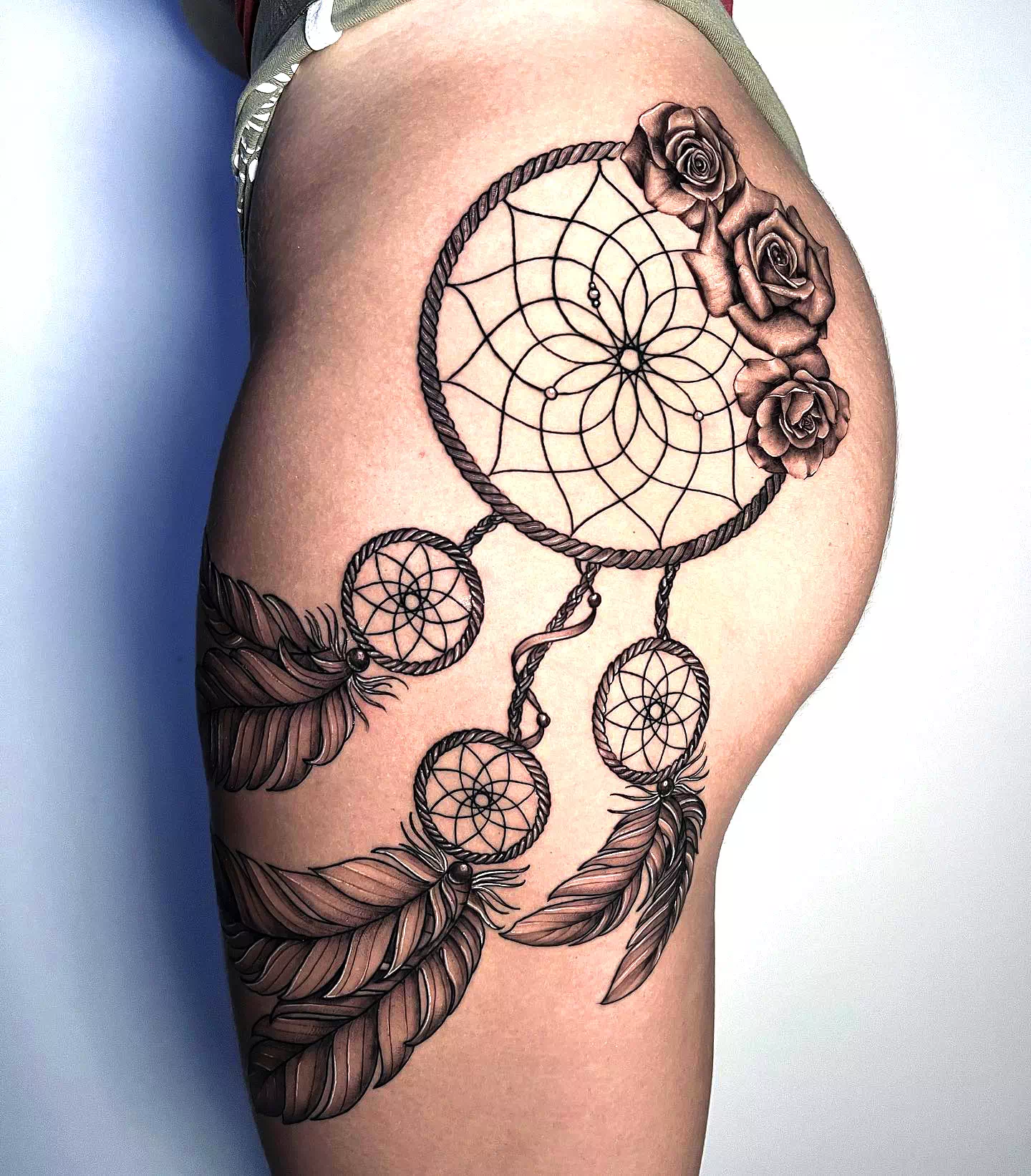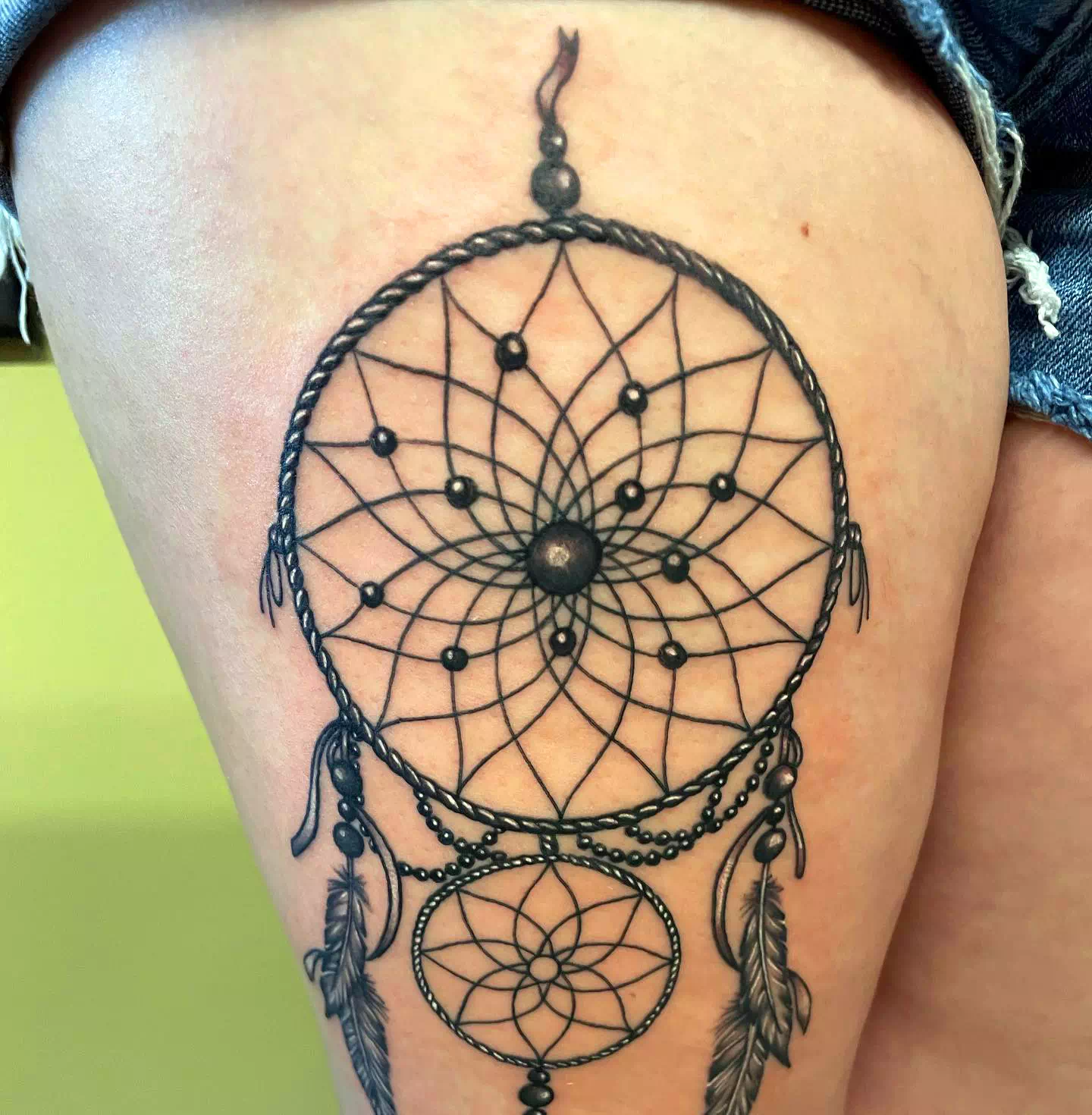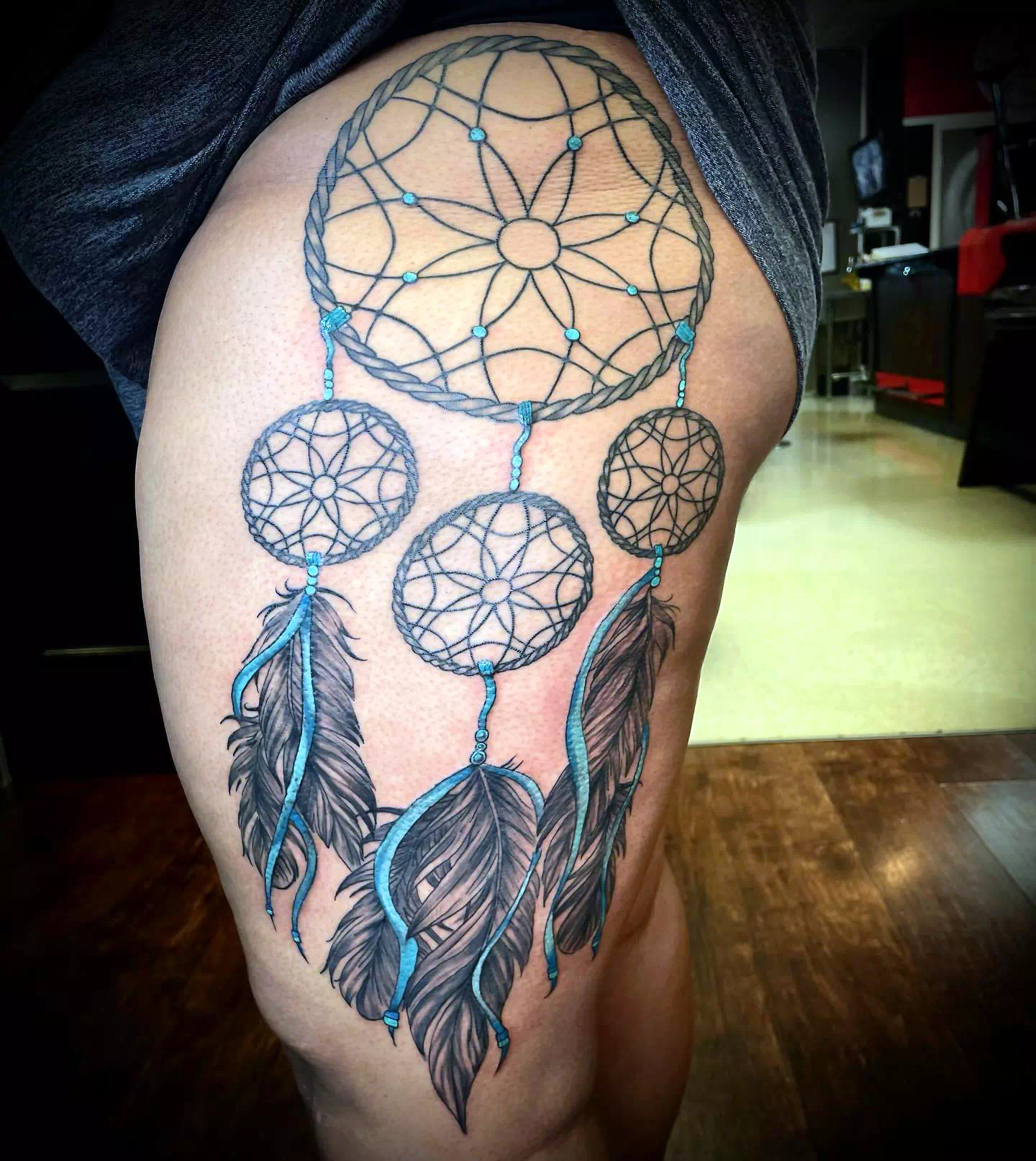 It was the Native Americans who devised the Dream Catcher to catch all of their children's unpleasant nightmares and ensure that they would enjoy tranquil sleep and night rest. Dream catchers are rings filled with spider webs that can capture unpleasant dreams, night terrors, and other harmful ideas and energies that may be present in the environment.
As a result, the dream catcher is one of the most popular tattoo designs. Tattoos of this design are frequently seen on the wrists, forearms, chests, flanks, and backs of people. On the other hand, we are pleased with how the thigh tattoo turned out. A floral arrangement adds more details to the tattoo design and makes it look more feminine, so it goes well with the design.
Read More: 15 Types of Tattoos: An In-Depth Guide (2022 Updated)
Lion Tattoo on Thigh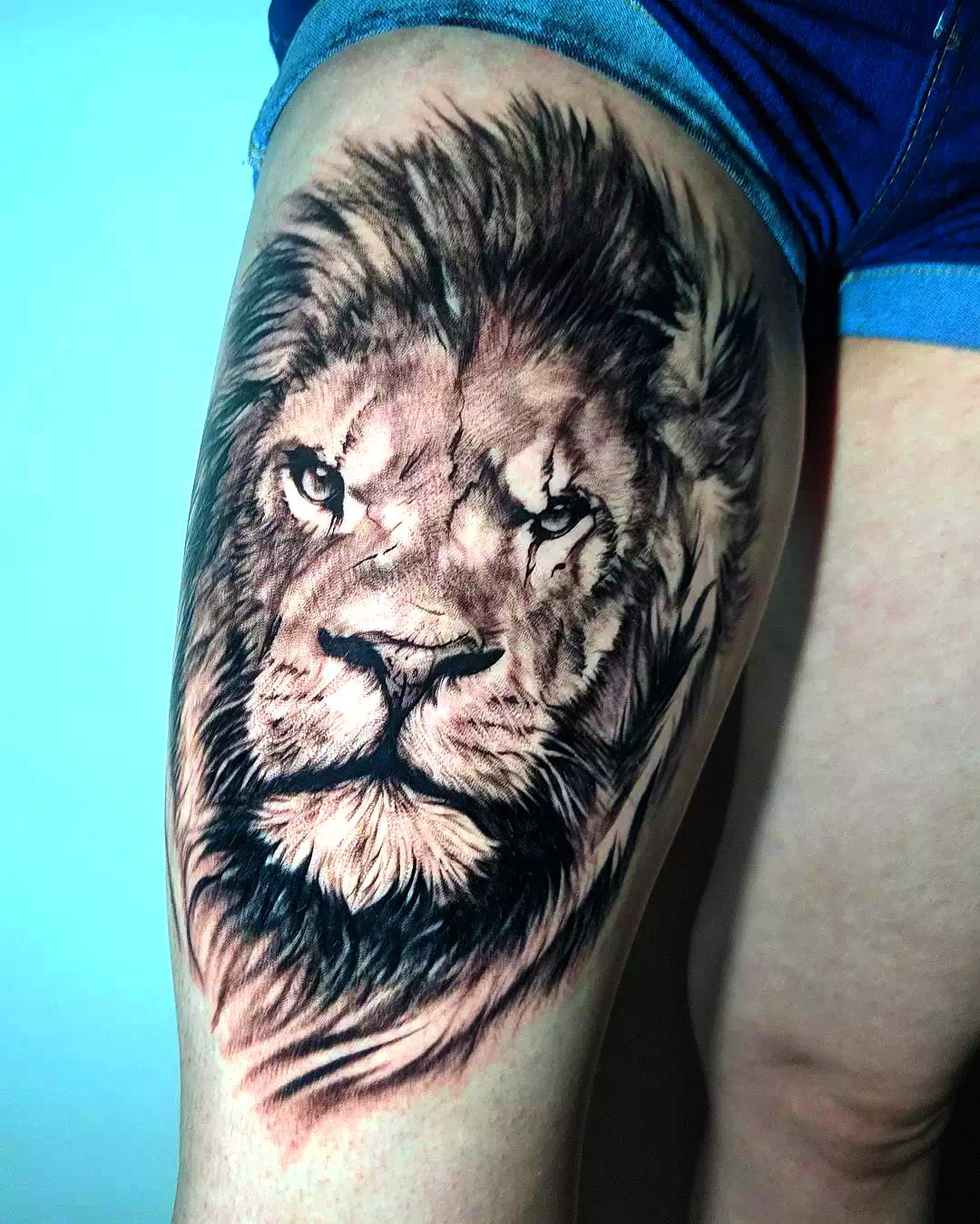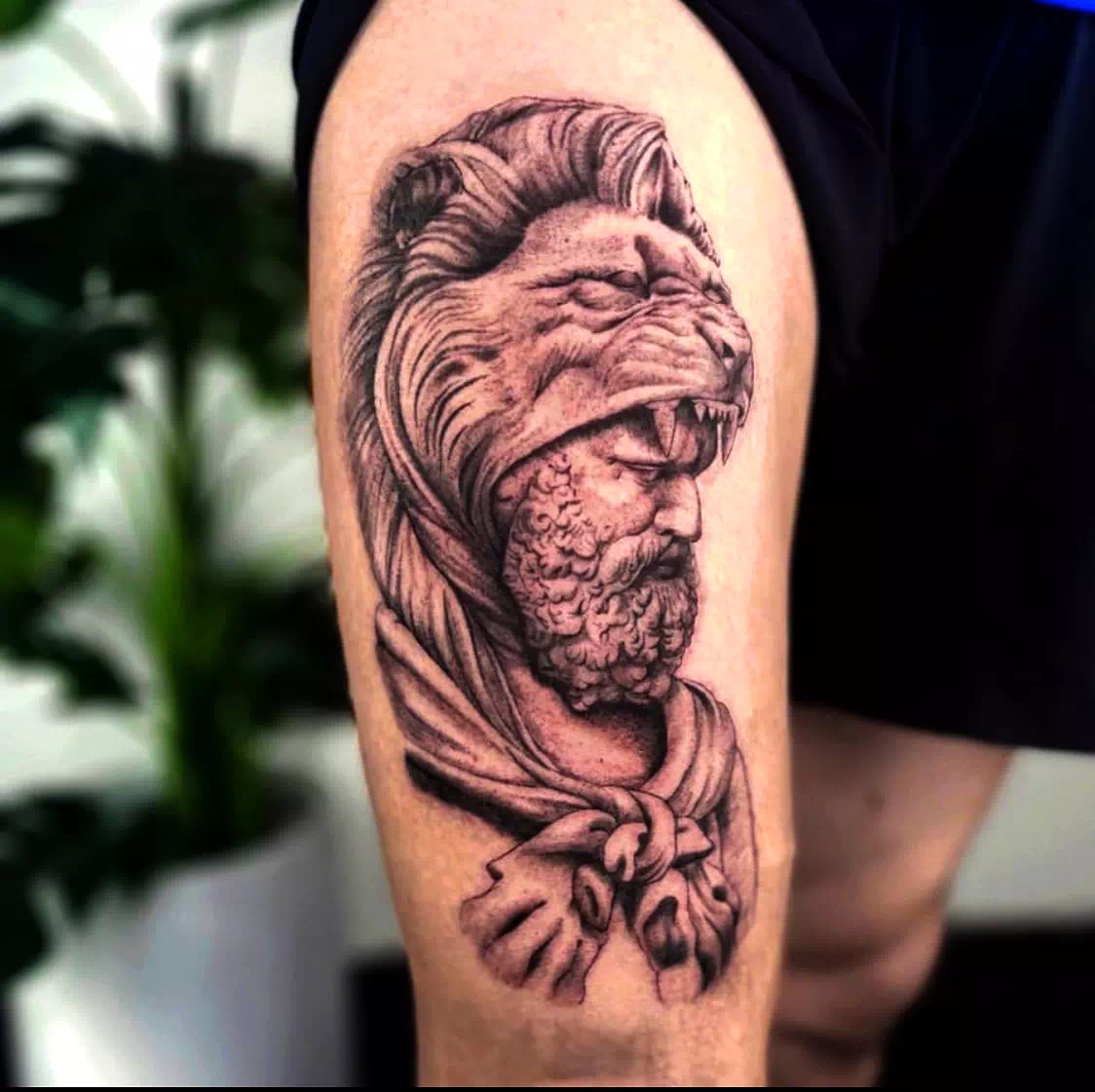 Another popular thigh tattoo design is the lion tattoo, particularly the lion head design, which is striking. It is well known how courageous lions are. They defend their tribes, but they are hostile and hazardous to the rest of humanity. So it is not without justification that it is said to be the "King of the Animals."
This particular tattoo, in particular, demonstrates a smooth transition between different ink colors and indicates that a lion can be used as a tattoo for ladies, owing to the floral elements at the bottom of the tattoo.In addition, we appreciate the way the tattoo appears and how it spans the entire leg, which is a plus.
Astronaut Tattoo on Thigh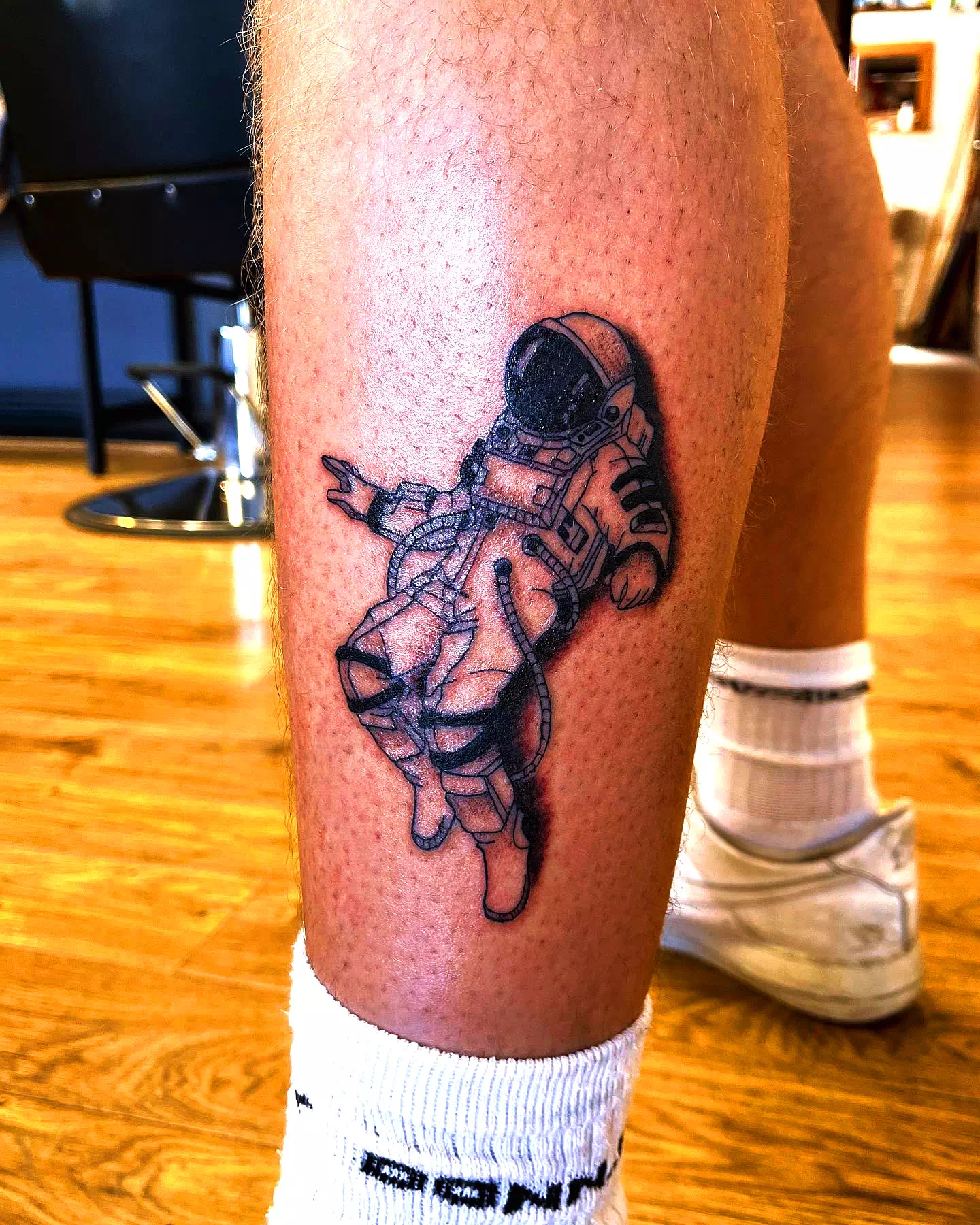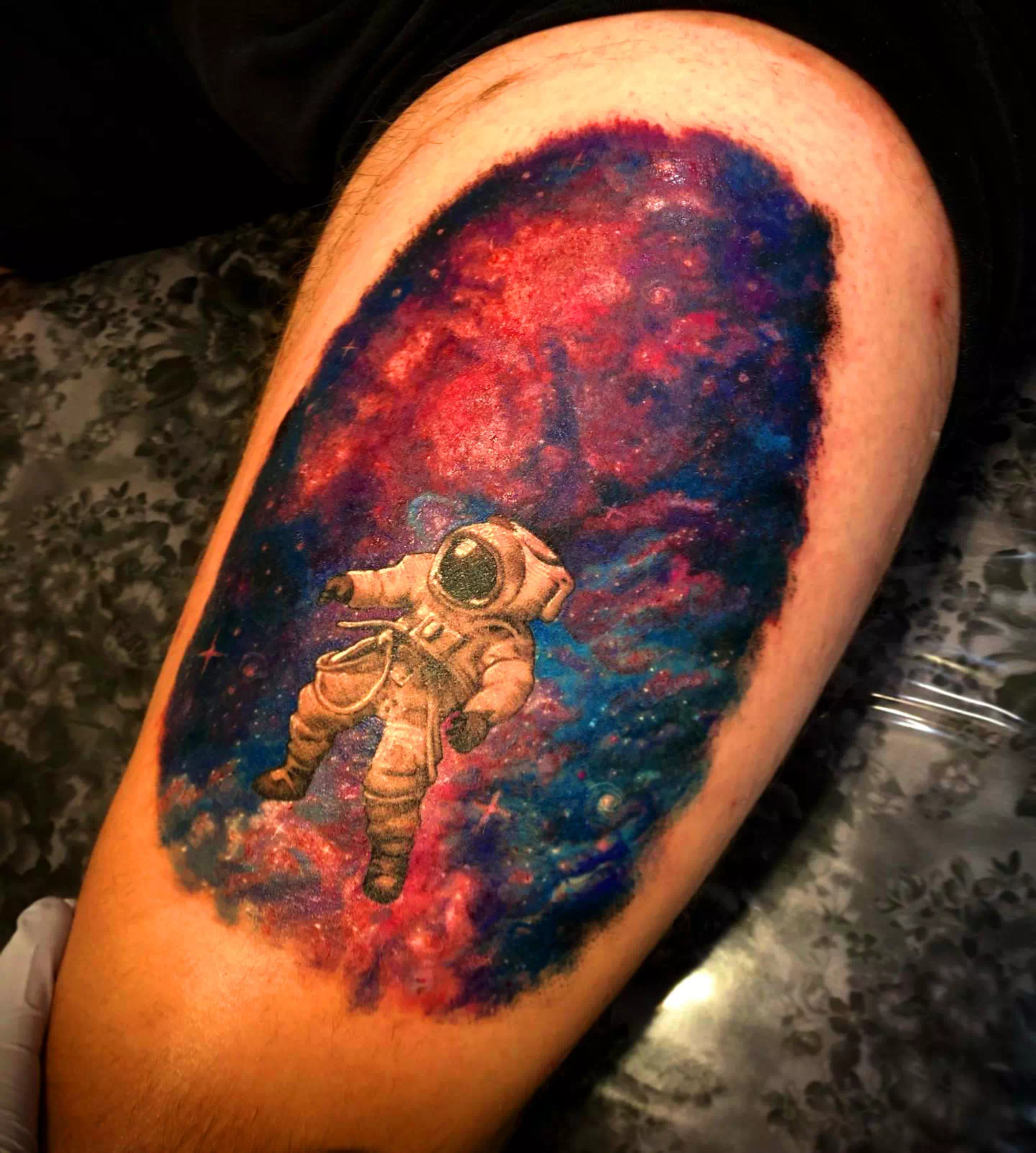 Many young women like being creative with their tattoo designs, and they often choose designs that are related to their personal hobbies. Even though we haven't seen a tattoo like this before, we are impressed by how intricate and curious it appears to be.
It depicts an astronaut who is sitting on the surface of the moon. In the same manner that humanity has always tried to reach the stars, this astronaut is wondering about the various celestial places that they may perhaps visit. It's a fantastic tattoo concept that is both original and one-of-a-kind. For those interested in space and astronomy, this tattoo may serve as an idea for their own design.
Tiger Tattoo on Thigh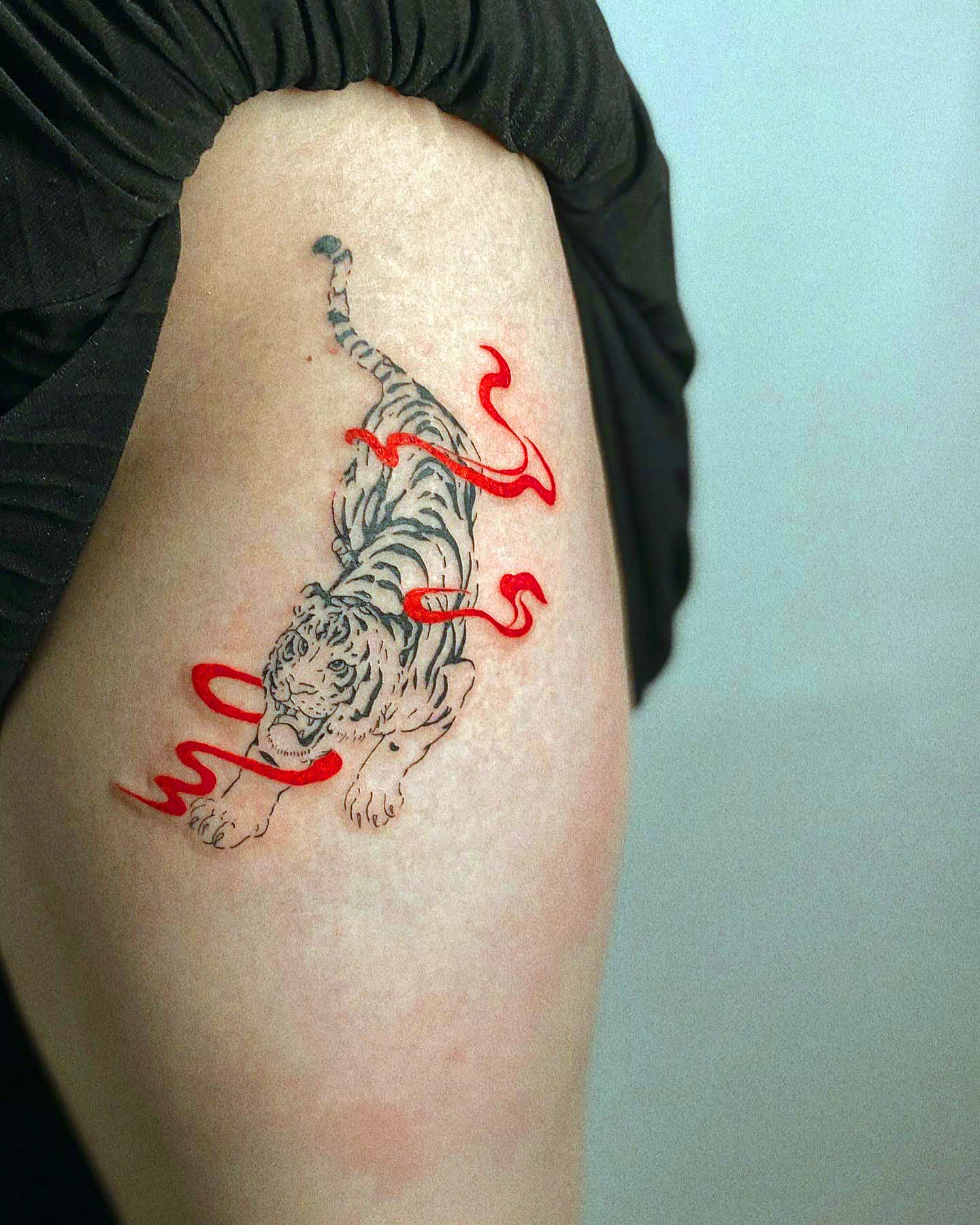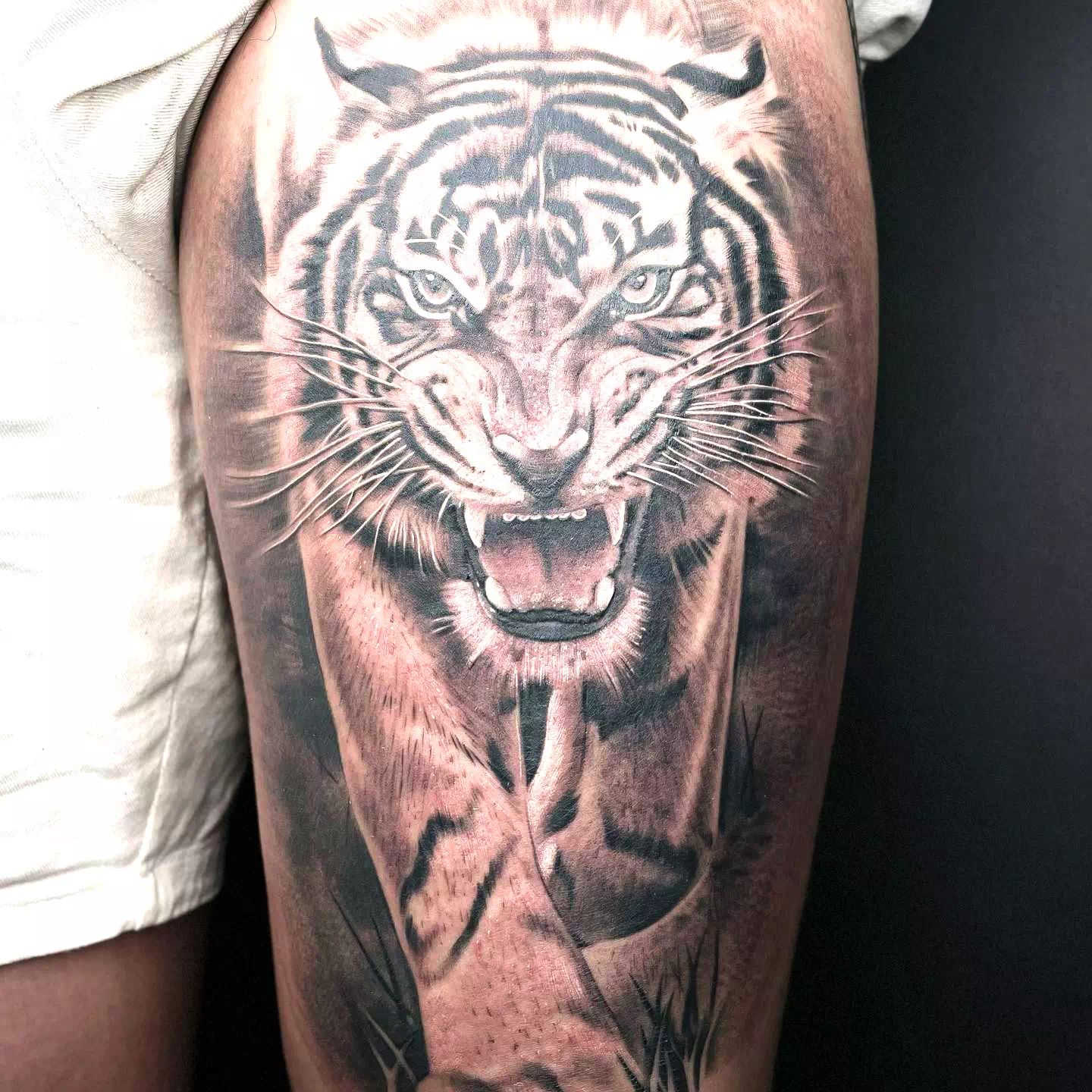 Tiger tattoos are trendy, regardless of where they are placed on the body. Chinese and Japanese influences can be seen in this design. The floral pattern makes it look more elegant, refined, and sophisticated.
Tigers may be just as courageous as lions, yet they're also more self-sufficient than lions. While hunting on their own, they can climb trees and manage their own time well. They're brave and bold, and they make the rest of the jungle dread them due to this. If you believe that this is an essential aspect of your personality, this is a fantastic tattoo idea.
Fox Tattoo on Thigh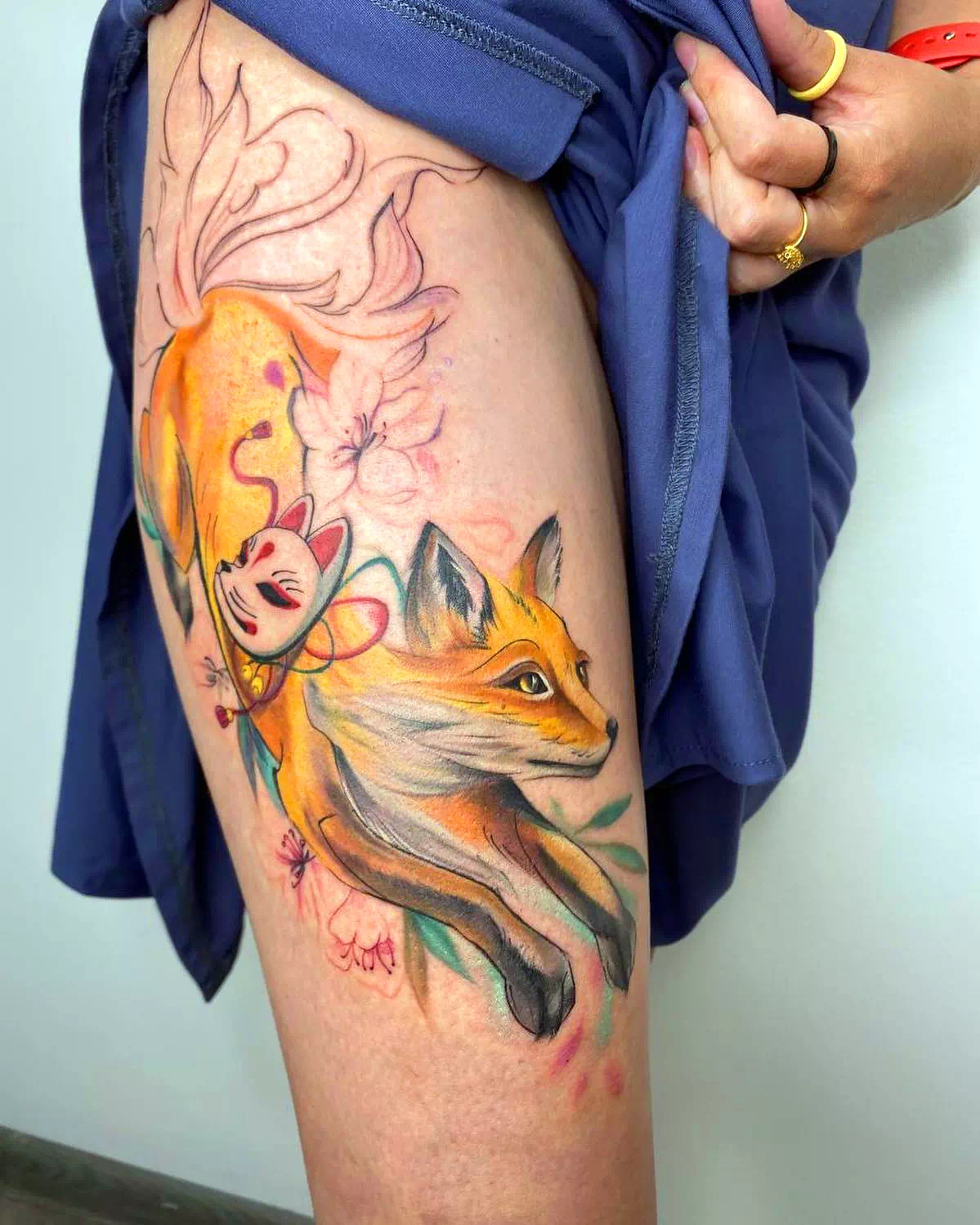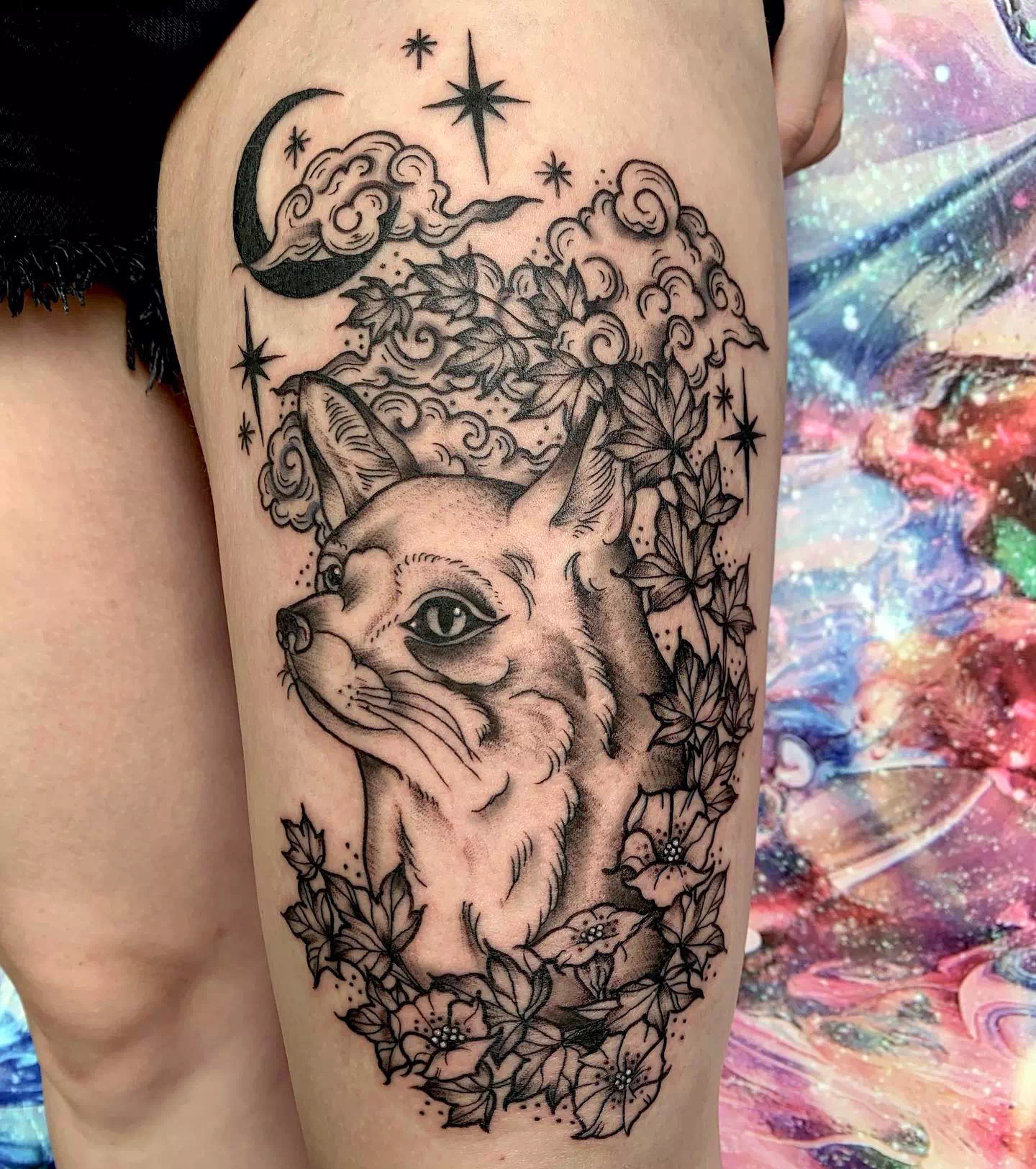 Fox tattoos are exquisite and sophisticated tattoos that are more typically found on the feminine body than the male body because of their sophistication and elegance. However, this tattoo design may not be right for everyone because of the way it was inked.
A fox tattoo on the thigh, on the other hand, is a beautiful choice for this area of the body. Foxes are intelligent and cunning creatures that are capable of outwitting anyone. They're also courageous, self-assured, and outstanding hunters. This is a fantastic tattoo if you have a solid connection to foxes.
Sunflower Tattoo on Thigh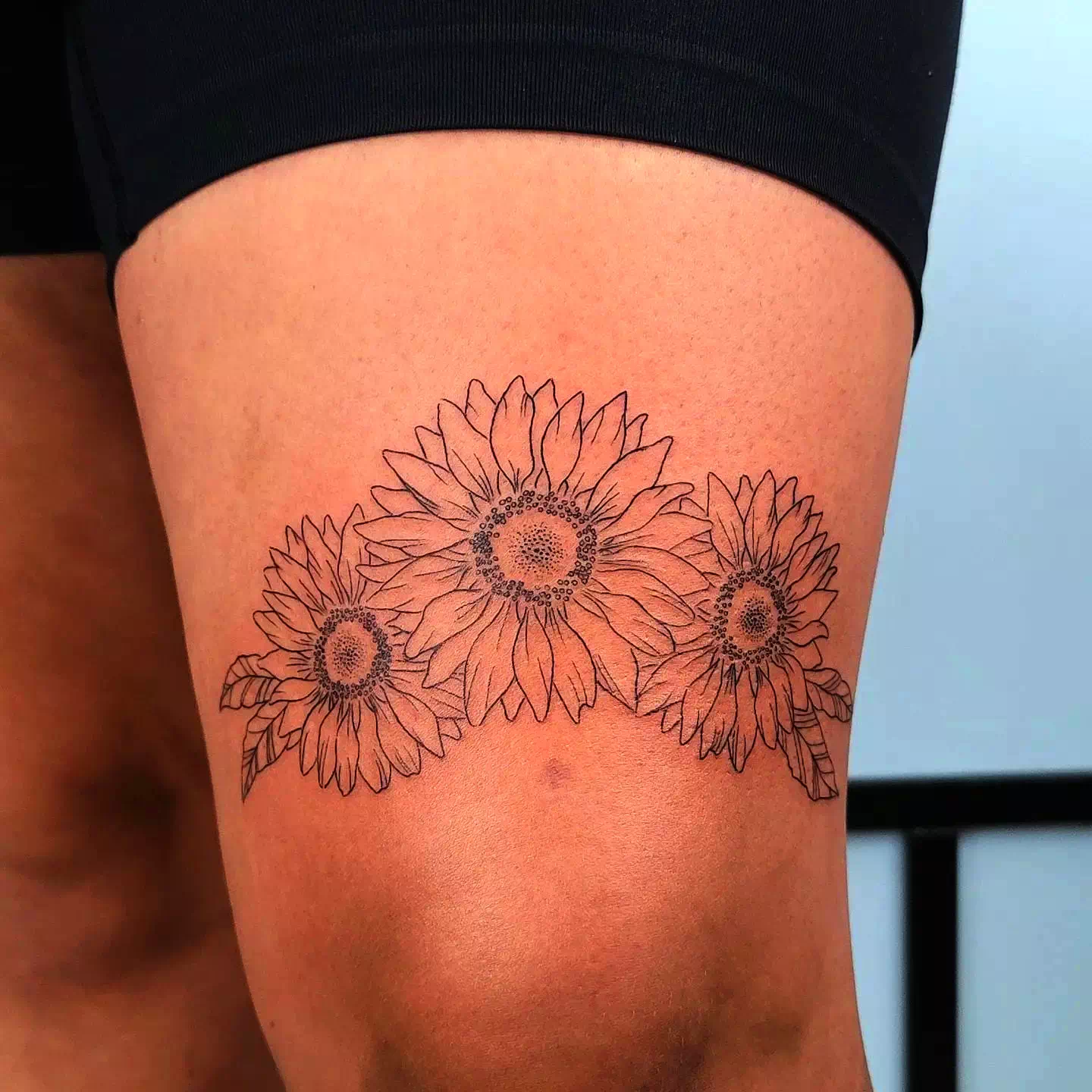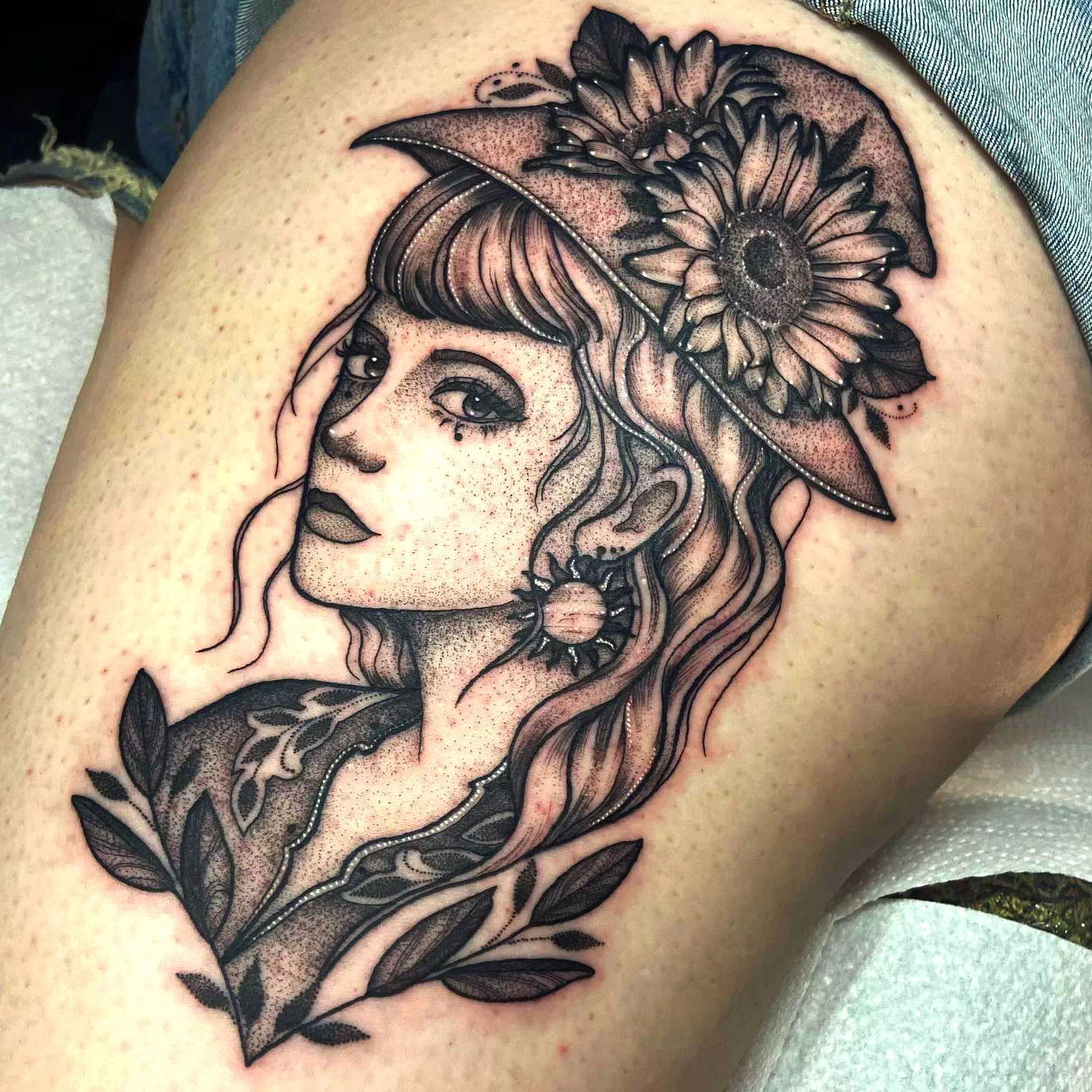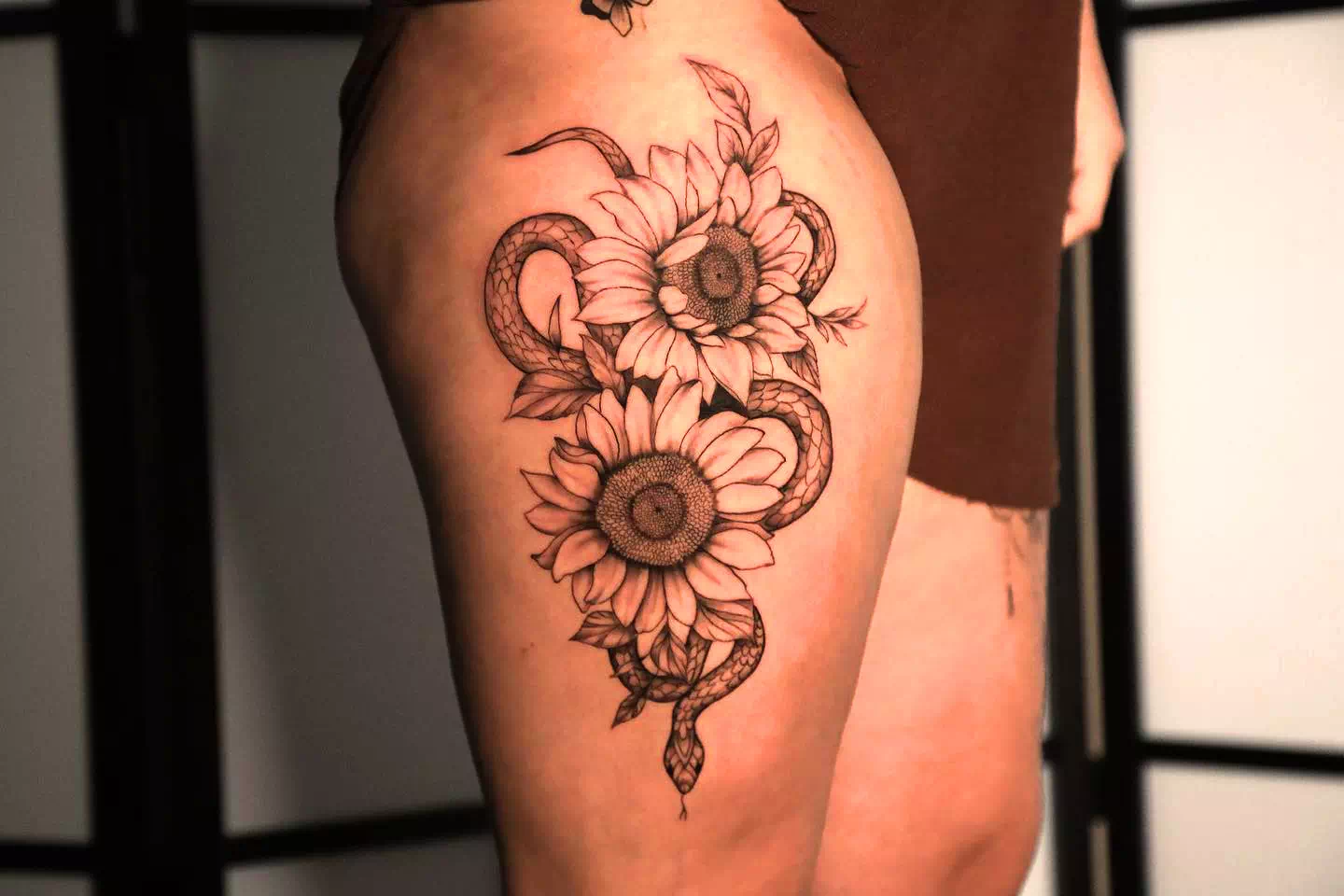 Sunflowers are frequently depicted in tattoo designs. However, they are only created by skilled and professional tattoo artists because they demand a great deal of care and dedication. The tattoo artist who made the design above went above and beyond to make it look perfect. It has a sunflower inside a row of rhomboid frames.
It appears to be detailed, and the rhomboid frame adds depth to the composition. It also adds to the elegance of the woman who wears it, and it may be done as both minor and significant tattoos on her body. Some of the other sunflower tattoos are also quite beautiful.
Bowtie Tattoo on Thigh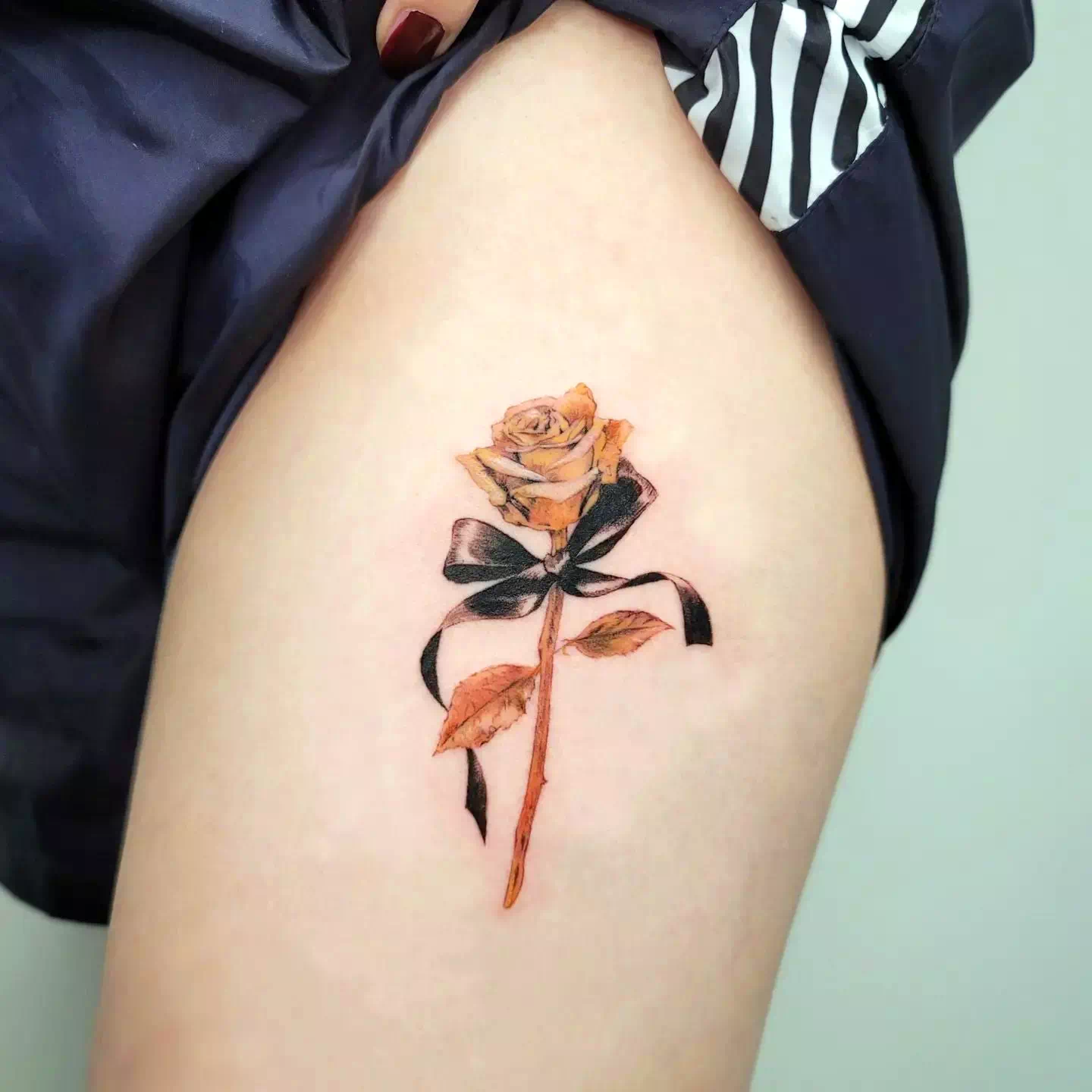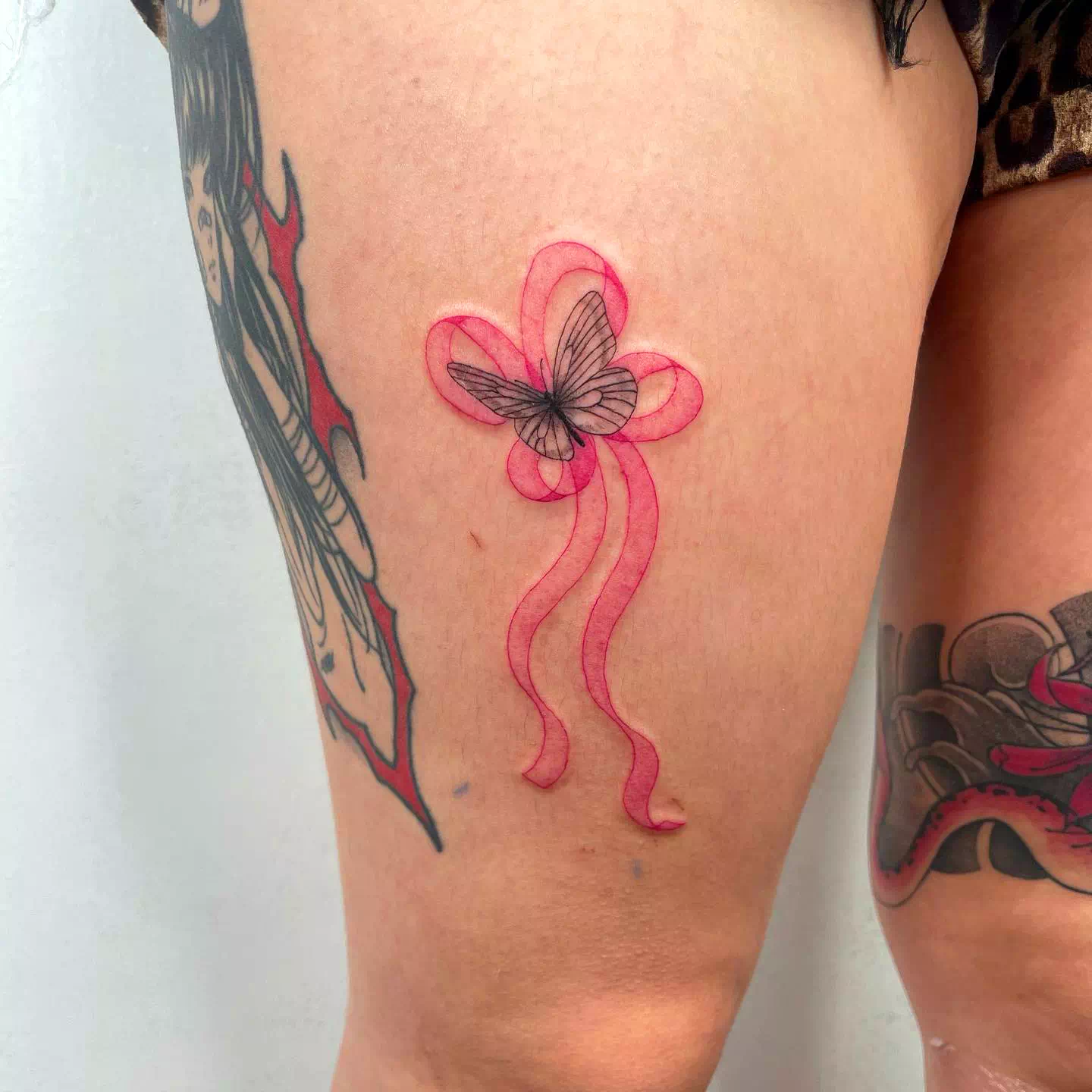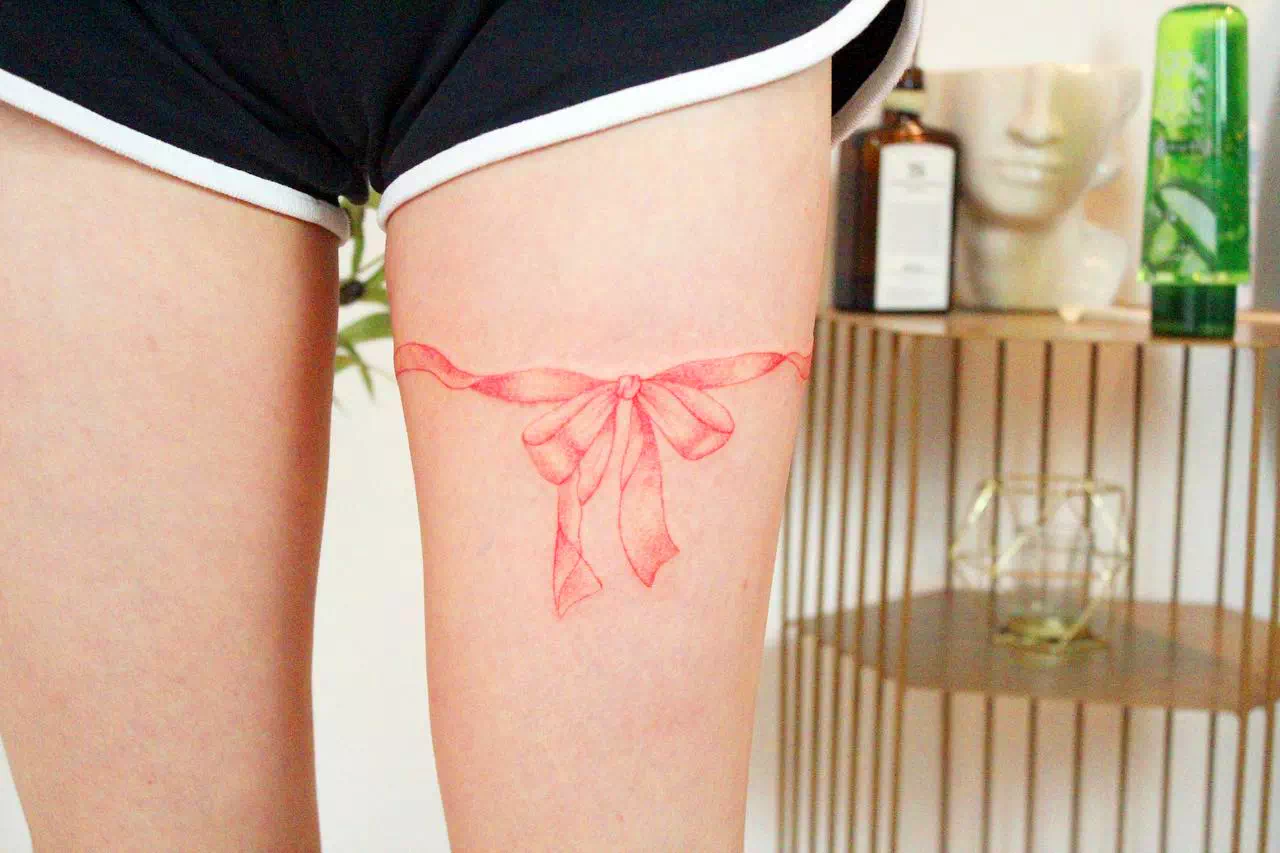 For ladies, bow ties are the most popular and sexiest thigh tattoos for women, second only to butterflies in popularity and sexiness. They're in high demand in all tattoo studios, and they're trendy among young women who wish to enhance the elegance of their thighs and legs. They may be tattooed on both the front and back of the body.
Girls usually desire patterns, and they frequently request bows on all four portions of their bodies. Bubbles provide elegance and sex appeal to a girl's appearance, especially when dressed in more relaxed attire.
What Are the Most Common Questions Regarding Thigh Tattoos for Women?
The FAQ section can help you decide if you want to have an appealing and sensual thigh tattoo that will complement your body type. Perhaps you'll come upon the solution you've been seeking.
Are thigh tattoos a common choice for female tattoo locations?
A: Thigh tattoos aren't often a popular tattoo choice for ladies who prefer to have tattoos on their arms, wrists, or shoulders rather than on their thighs. Thigh tattoos, on the other hand, assist in enhancing the appearance of feminine curves and can even make them appear taller. As a result, thigh tattoos are becoming increasingly popular among women, and they are becoming more of a standard tattoo site than an unusual one.
Is it painful to get a thigh tattoo?
A: Let's get one thing out of the way first. Making tattoos is difficult, especially if they are large or overly complex, and it is incredibly uncomfortable in the evening. On the other hand, tattoo pain on the thighs for women may be easily classified as mild to moderate, which makes it a less painful site to tattoo than other regions of the body.
Will the appearance of a thigh tattoo change if I lose weight?
When we lose weight, we see changes throughout our bodies. It is possible that the skin could become loose, and the size and placement of your tattoo will vary. However, after some time, the skin begins to tighten again. As a result, there will be a change, but it won't be very big, and it will only happen if someone loses a lot of weight.
What should I wear if I want to get a thigh tattoo?
To properly heal your skin after receiving a thigh tattoo, it's essential to dress in loose, breathable garments that enable your skin to breathe and heal. It might take up to six weeks for tattoos to heal completely. If you are getting a thigh tattoo, you should also wear clothing that will allow you to pull up your sleeves and expose the thigh throughout the procedure. Dresses or broad, breathable skirts are the most appropriate attire in most situations.
How long does it take to get thigh tattoos?
A: Thigh tattoos can take anywhere from 3 to 5 hours to complete, depending on the size and shape you like. They can even take longer in some cases, and if the tattoo is huge, you may need to divide the operation into many appointments.
It is better to give than to receive!