Sometimes, depression may be genuine. During their lifetimes, many men and young women will suffer from at least one kind of depression. On the other hand, who you are as a person will be determined by how you emerge from it.
Throughout your life, you will experience a wide range of emotions, and it is critical that you be able to respond appropriately to each one. Here are some things that might motivate you and assist you in getting through difficult situations.
What Do Depression Tattoos Symbolize?
A lot may be learned about a person through their depression tattoos. You will be able to expose a more vulnerable aspect of yourself to them, and others will know that you have been going through a challenging period. Depression is relatively common.
As you read this, more than ten percent of people in the United States are suffering from depression.You might learn to deal with problems better if you get a tattoo with a design that fits your personality. We'll talk more about this in the next section.
Ideas for Women's Depression  Related Tattoos
Minimalist Depression Tattoo Design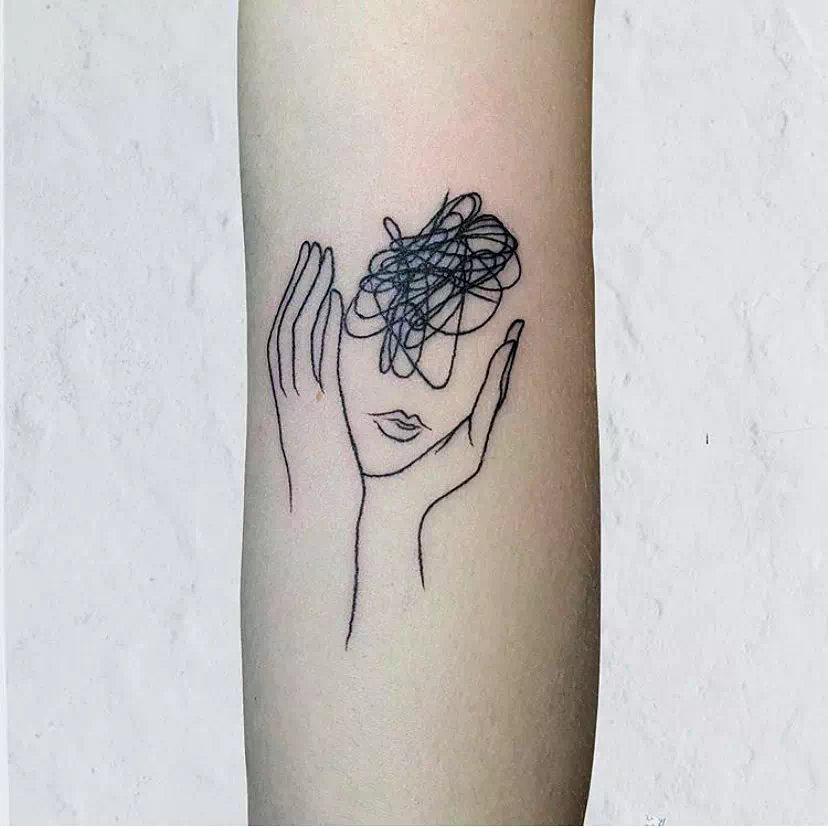 Your forearm will be the perfect place for depression-themed tattoos. If you want something attractive to wear on top of your body, this pattern is ideal for ladies who have been struggling with depression for a long time, and it will also work for you if you fit that description.
Without the rain, there would be no flowers. It is pretty accurate and will look great on anyone who has been working on getting stronger despite their circumstances. This tattoo reminds me that to appreciate the beautiful things in life, you must first make it through the difficult times.
Depression Semicolon Tattoo Design With Woman Print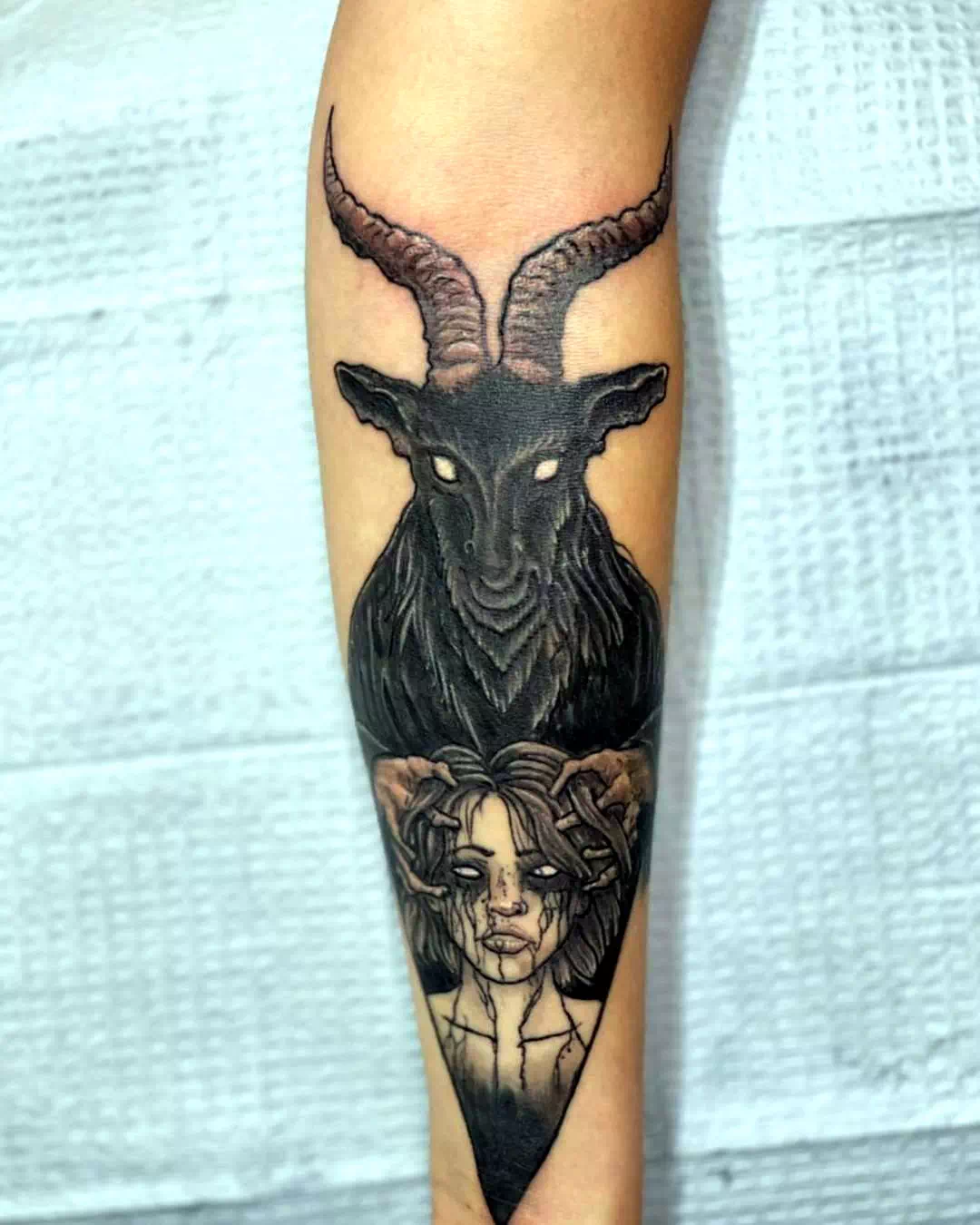 The design of your tattoo can look fantastic if it is a print of a woman who plays a vital role in your life and is essential to you. If you deal with sadness and want to devote your tattoo to the memory of someone you care about, this is the one for you.
This pattern represents the affection and feelings that you have for the other person. Consider getting this tattoo if you are the type of person who wants to convey their sentiments to another person permanently.
Depression Tattoo Small Flower Design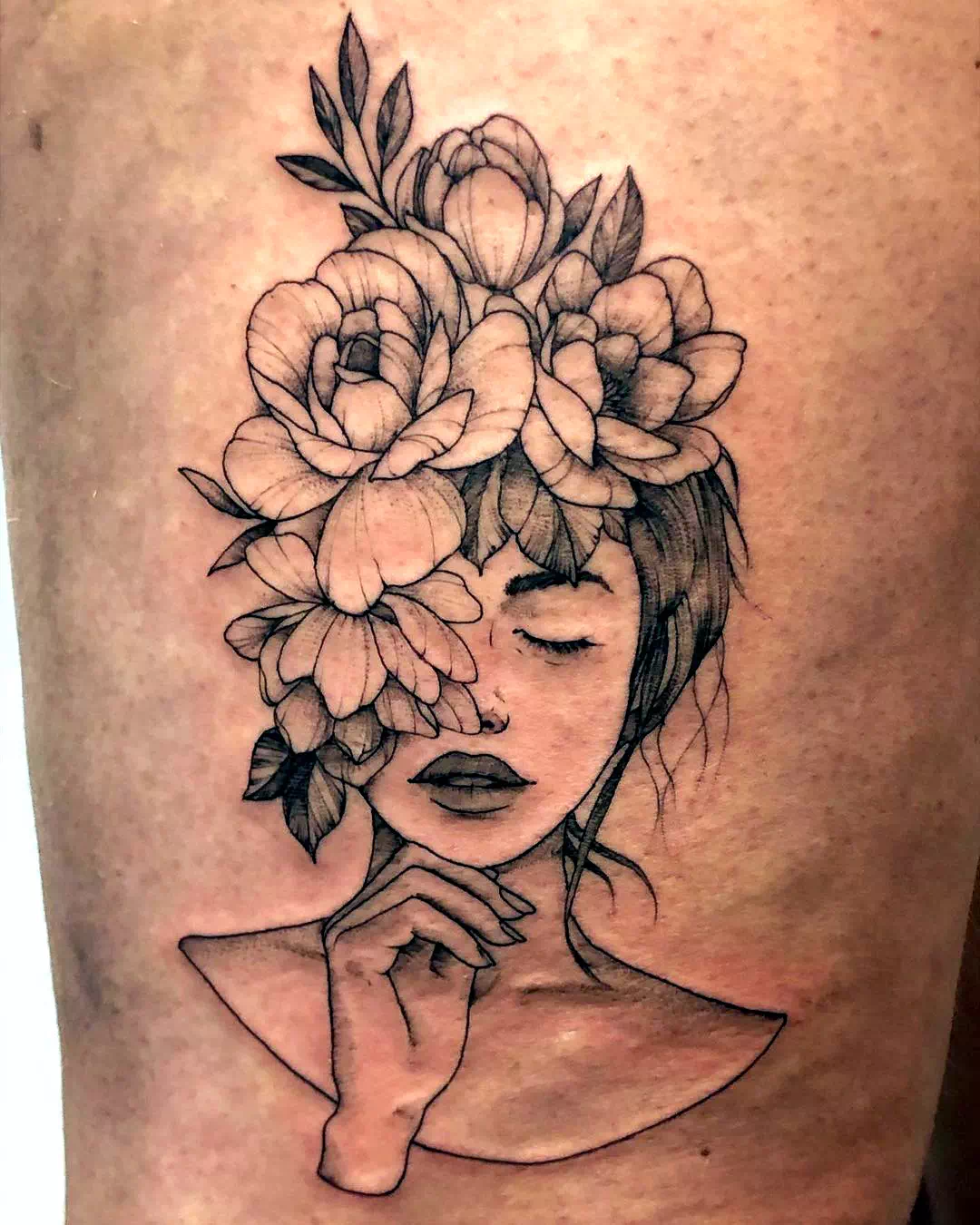 You shouldn't give up and should constantly keep battling! It is essential to fight against giving up in life. This floral pattern will look beautiful on a woman's arm or forearm and has a feminine design that women will adore.
Getting through your despair will be easier with this tattoo. It will also state that you are powerful and engaged in continual combat, which is fantastic if you are a warrior who has experienced all there is to share.
Depression And Anxiety Tattoo With Black Woman Ink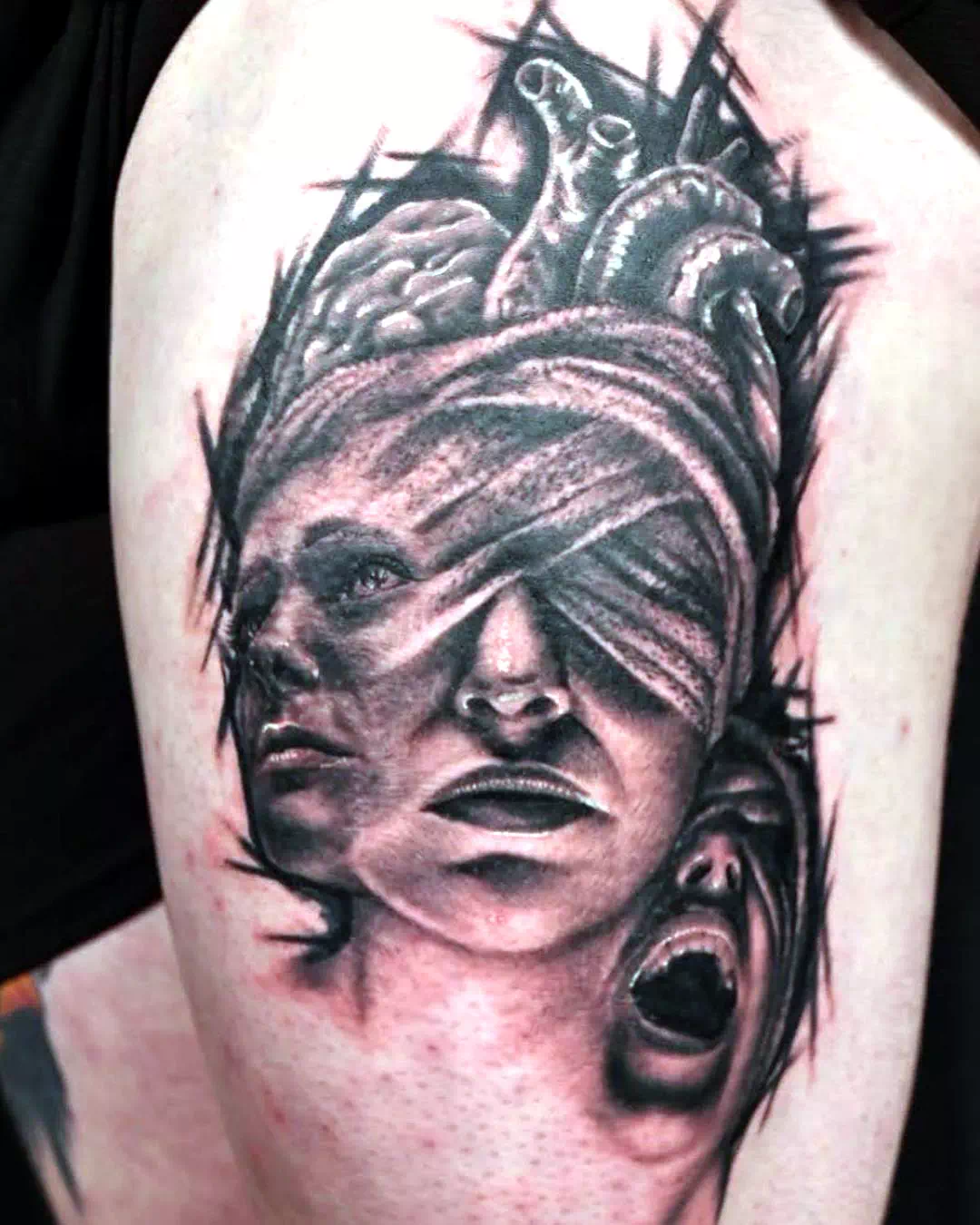 Be warned that getting this particular tattoo design will be excruciatingly painful. Tattoos on the stomach are notoriously unpleasant to get done, but they almost always turn out looking amazing. This one is intricate, and it is ideal for anyone interested in tattoos that have a mysterious and sinister feel to them.
This lady's sign will let others know that you admire courageous people who have overcome adversity in their lives. There is nothing so dreadful that it can't bring you down.
Depression Tattoo Featuring the Word "Choke"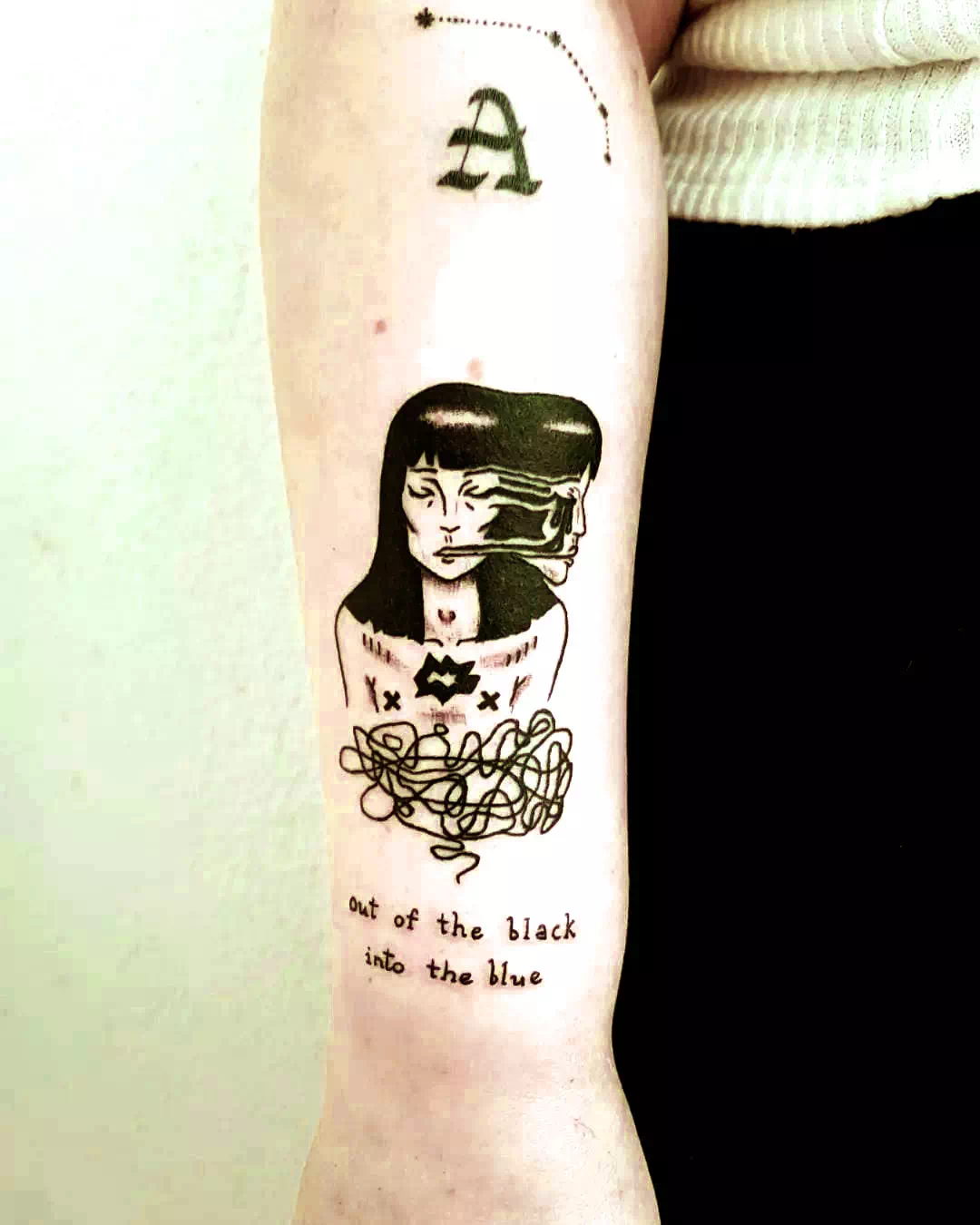 This tattoo design is not overly complicated, and it is ideal for ladies who want to draw attention to themselves while also making their points heard loud and clear. The application of this tattoo all over your arm will take between three and four hours.
This phrase and sign, "choke," is highly unusual, and it will symbolize you as someone who has been through a lot. It will convey that you have been through a lot. It happens to the best of us, especially when we're crying, but how you recover from these moments matters the most.
Depression Tattoo Ideas For Guys
Black Skull Inspired Depression Tattoo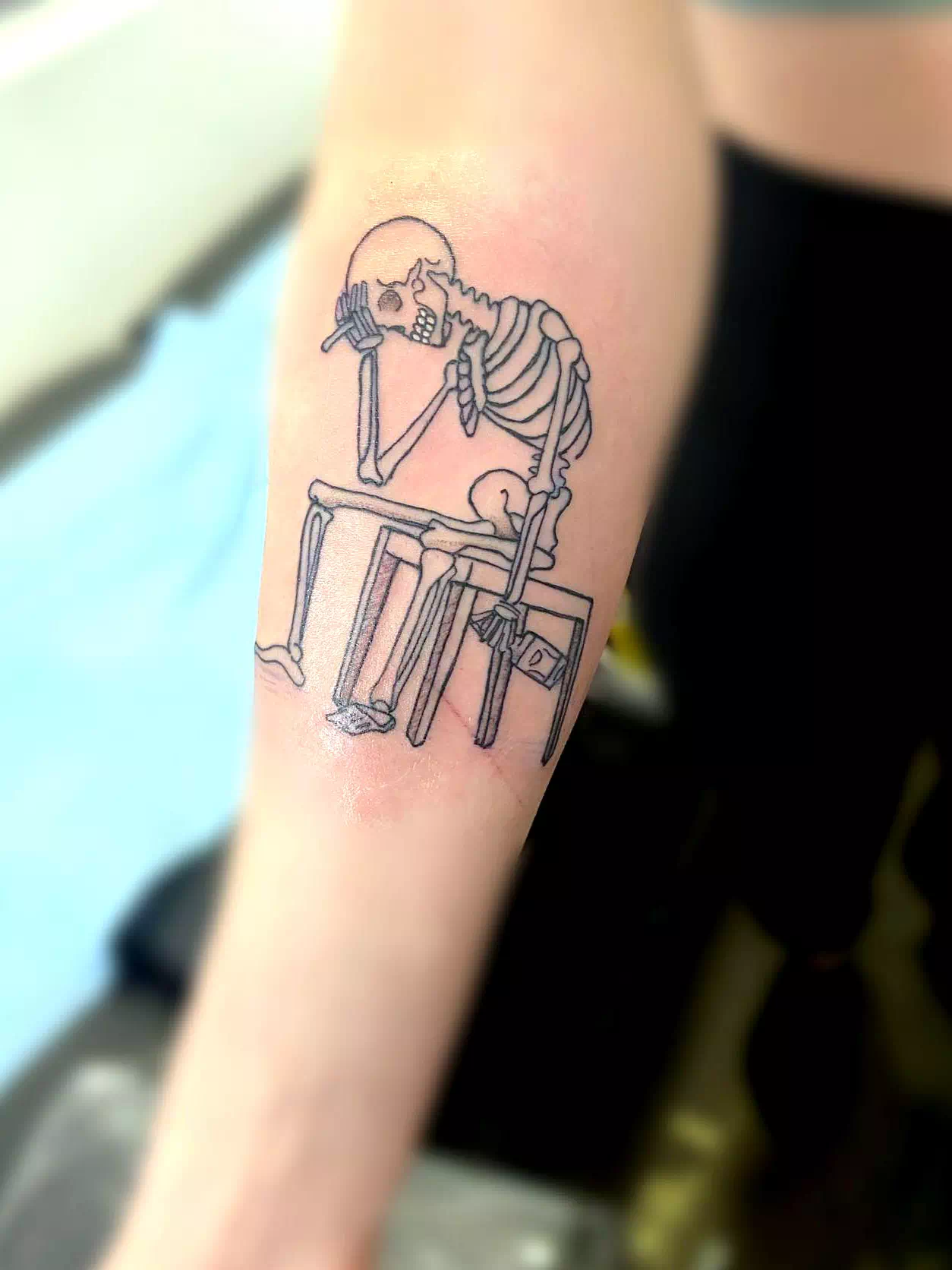 Do you have a fear of passing away? Skeletons and other images associated with death are common choices for men seeking frightening tattoos that convey a sense of manliness and have a history behind them. Your ankle will look incredibly decorated with this pattern.
Death tattoos like this one will demonstrate that you are not terrified of seeing your maker in the hereafter. You may have gone through this situation in the past during your existence; therefore, why don't you embrace your powerful side and show everyone that you are no longer frightened of death?
Depression Tattoo Meaning With Red Symbols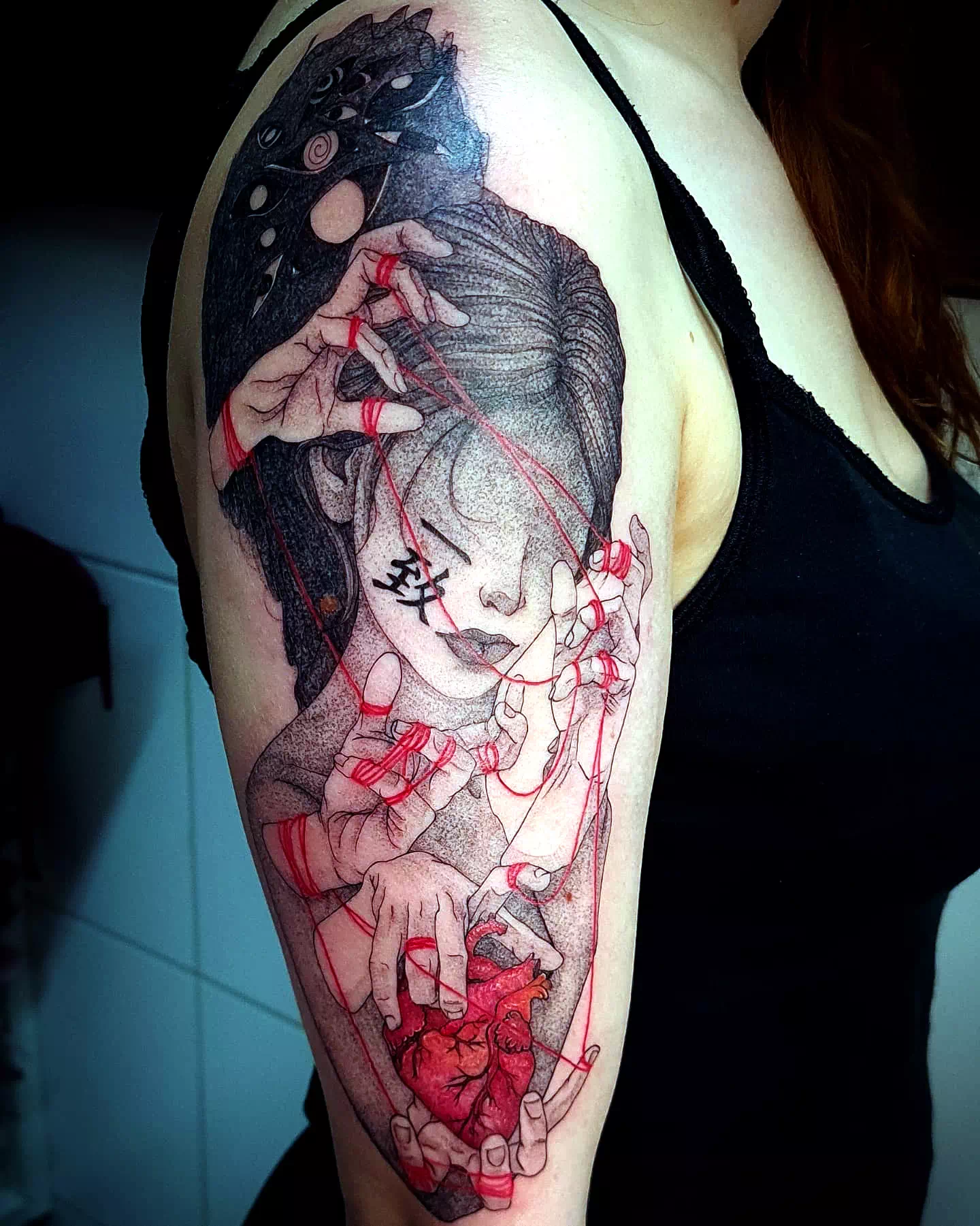 Are you a supporter of specific colored inks? Are you considering getting something terrifying and obvious placed on your skin? Anyone into risky things will be a good candidate for this bright red tattoo. Wrapping this masterpiece around your leg or ankle will take you three to four hours.
How linked were you to the issue of your depression, and how passionate were you about it? The color red is commonly understood to represent love and ardor. If it significantly influences you, consider getting a tattoo inspired by this young kid who may be struggling but has made it through everything.
Small Depression Tattoo Over Forearm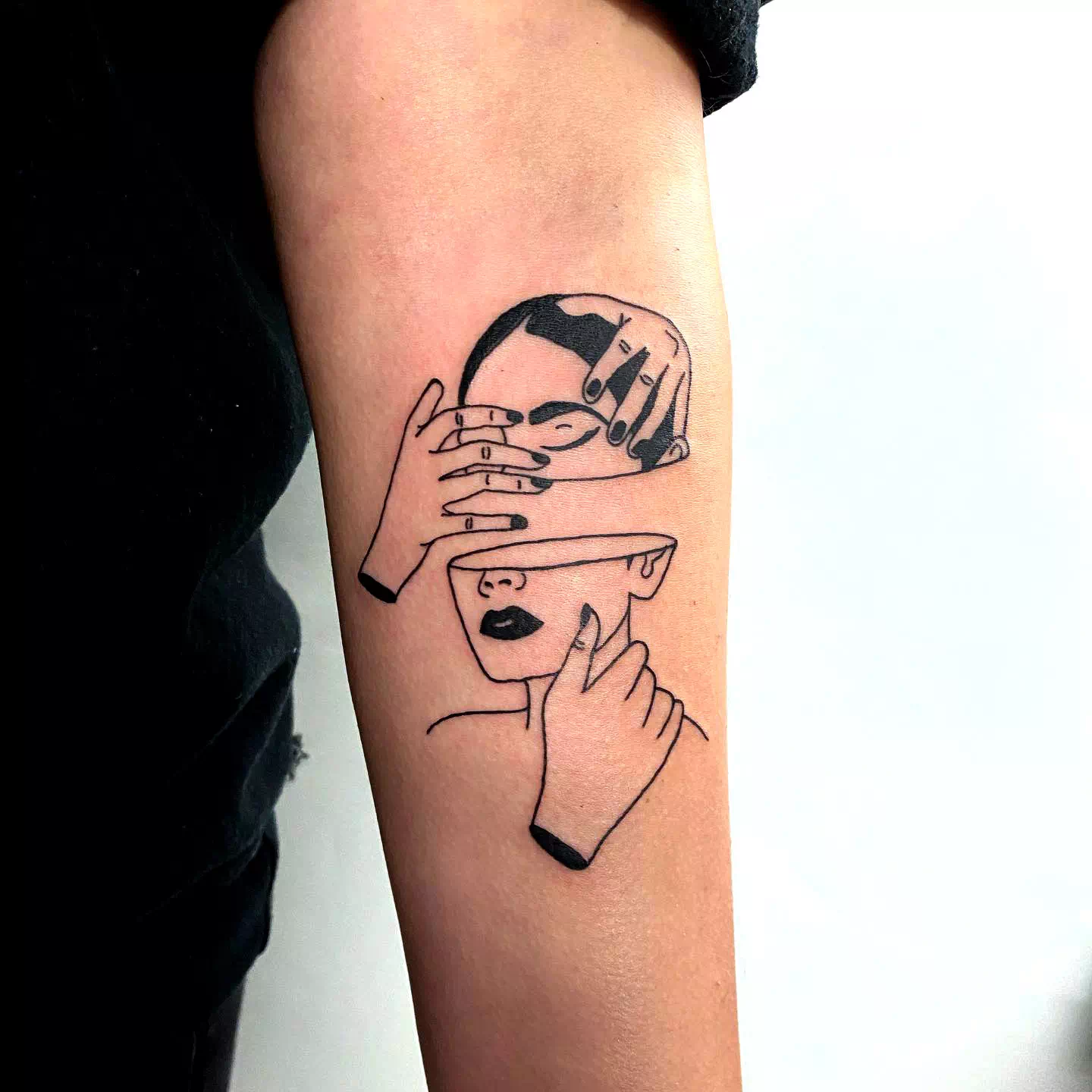 Do you enjoy scary tattoo designs? This one is going to look amazing draped over your forearm. This skeleton tattoo has the word "depression" printed in large, bold letters over its chest. Because it is uncomplicated and unobtrusive, there won't be a problem.
Are you a lover of clever tattoo designs and are you looking for something original and simple to customize? Take this skeleton! This humorously ironic tattoo of the word "depression" begs for assistance in various ways.
Overcoming Depression Tattoo With Red Symbol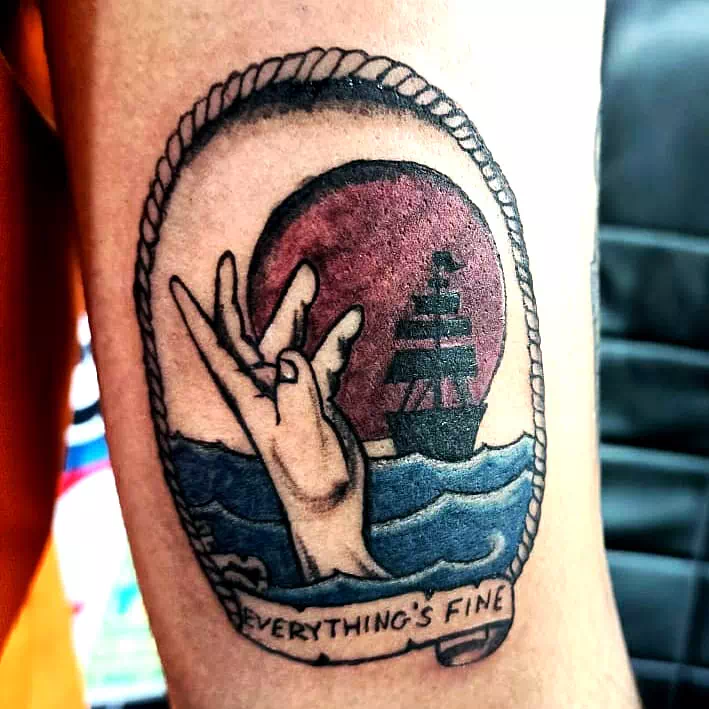 Artistic tattoos have the potential to appear distinctive and, in their way, reflect despair and your concealed goals and passions. Your arm or forearm will look fantastic with this depression-themed tattoo covering it. It is most suited for males who train out and anyone else who wants to draw attention to themselves by doing something theatrical.
Get this depression tattoo if you've been through some tough times and still have trouble adjusting to modern life. This piece of artwork represents the pathways that you have taken. It is pretty simple to maintain, including many new components. You may even go for a whole sleeve, which would look fantastic with this tattoo. You will appreciate it more and more as the years pass and you will continue to add to it.
Scary Devil Inspired Depression Tattoo Symbol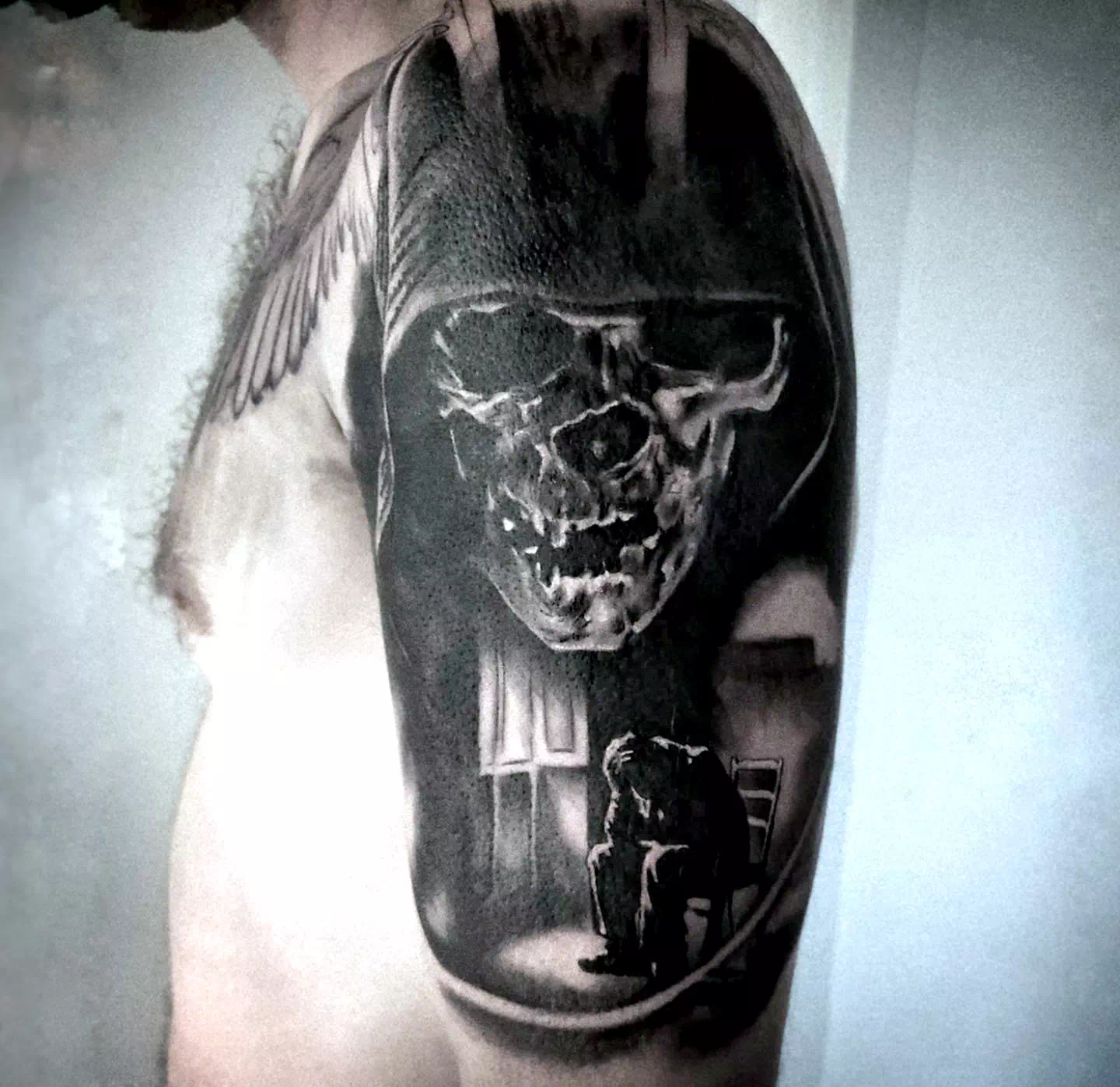 Do you want a frightening tattoo that has horns? This work of art is unique and stunning; it will look amazing either way, if you wear it on your shoulder or your thighs. Adding a splash of color will please anyone who likes their tattoos to have a balance of symmetry and contrast.
This artwork has the potential to symbolize the devil himself! If you've been having trouble or coping with anything for a while now and you know whom to blame, position that person over the portions of your body that are readily obvious.
Wrist Depression Tattoos
Not Today Depression Tattoo Ideas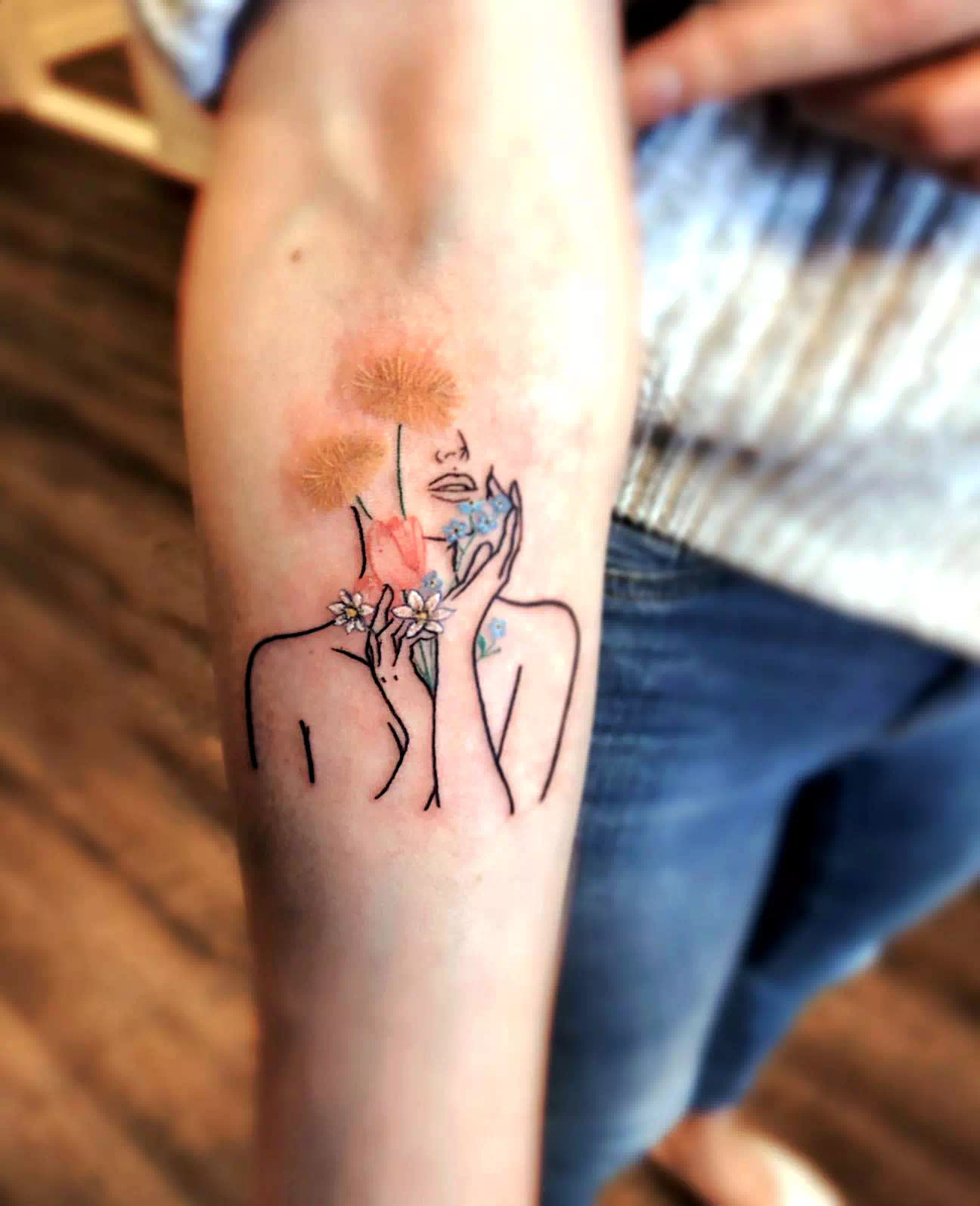 Do you want to let other people know that they can't approach you in the same way they feel they should or have in the past? This is the ideal tattoo for someone like you. It will look fantastic draped over your wrist, and you will take great pleasure in displaying it wherever you go.
The phrase "Not today" will represent your determination and the course of action you are ready to follow to steer clear of any feelings of despair.
I'm Fine Depression Sign Tattoo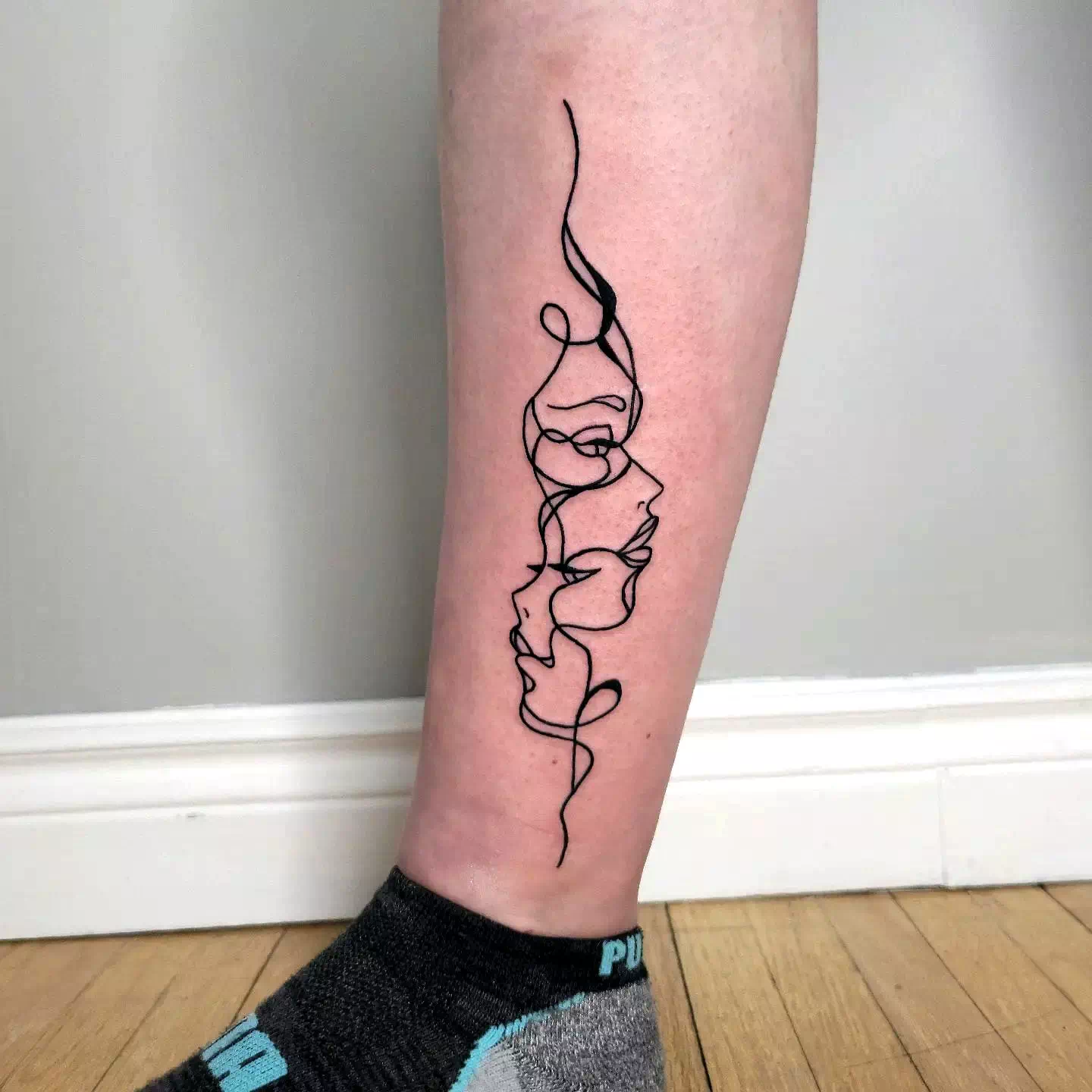 Your despair can be overcome with the help of a vibrant and eye-catching tattoo. This one is great for anyone who likes color, and the color green will represent your strength and the positive aspects of your personality.
Stay far away from me, depression! The design for this tattoo is not very complicated. You will reassure others around you that you are healthy and that, while you have experienced a lot in your lifetime, you have emerged as a true fighter.
Wrist Depression Tattoo Small Pictures Inspo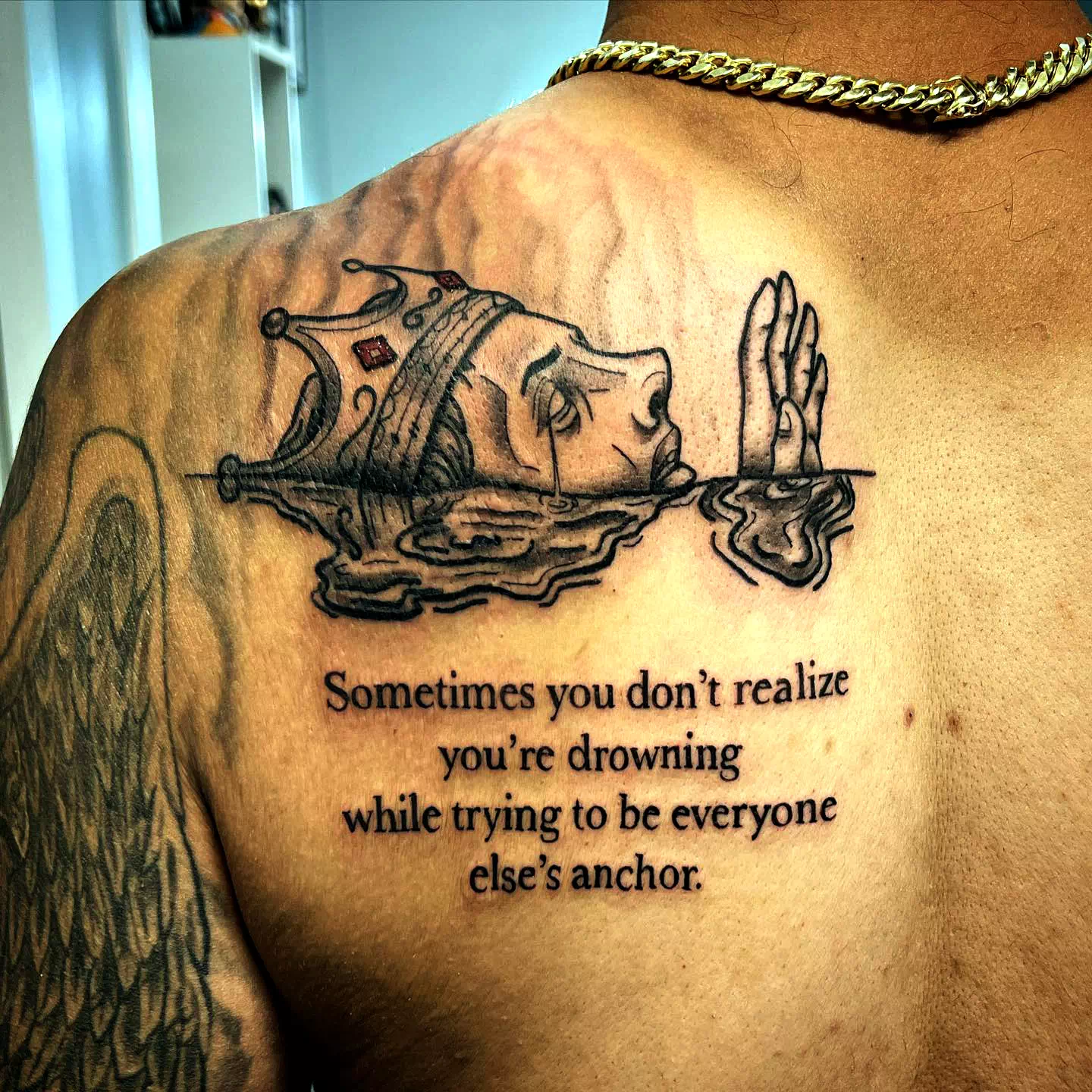 Do you ever feel like you want to scream for someone to assist you? If that's the case, then you should get this tattoo. It is possible to do it on your wrist because everyone will get the message, and you will be able to let them know what is going on with you.
Do you feel like you need to put some money away? Some people are too embarrassed to confess how they genuinely feel. If, on the other hand, you are not one of them and you want to plead for assistance in the most precise possible way, you should get this tattoo.
This Too Shall Pass Depression Tattoo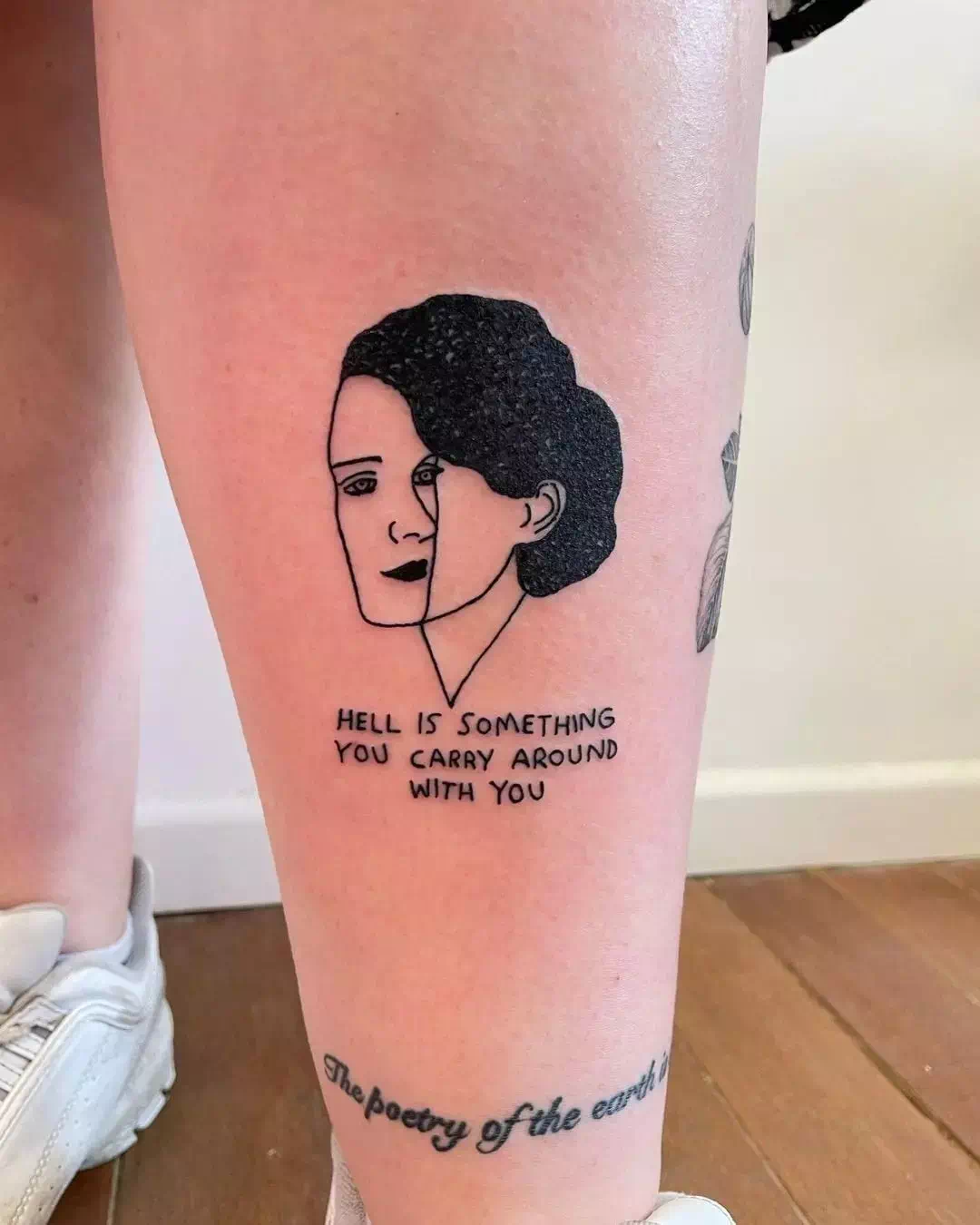 People in every part of the world are constantly battling with something they don't want others to know about. Remind yourself that this too shall pass; there is a solution to every problem. This wrist tattoo will look great on you if its message is clear and you are a straightforward person.
This, too, must pass, but it serves as a reminder that you will ultimately emerge stronger from each conflict as a warrior, whatever the challenges you face. Take it easy and try not to be so harsh on yourself right now; time is the best medicine for you in this situation, so give it some time.
Depression Survivor Tattoo With A Date Over Wrist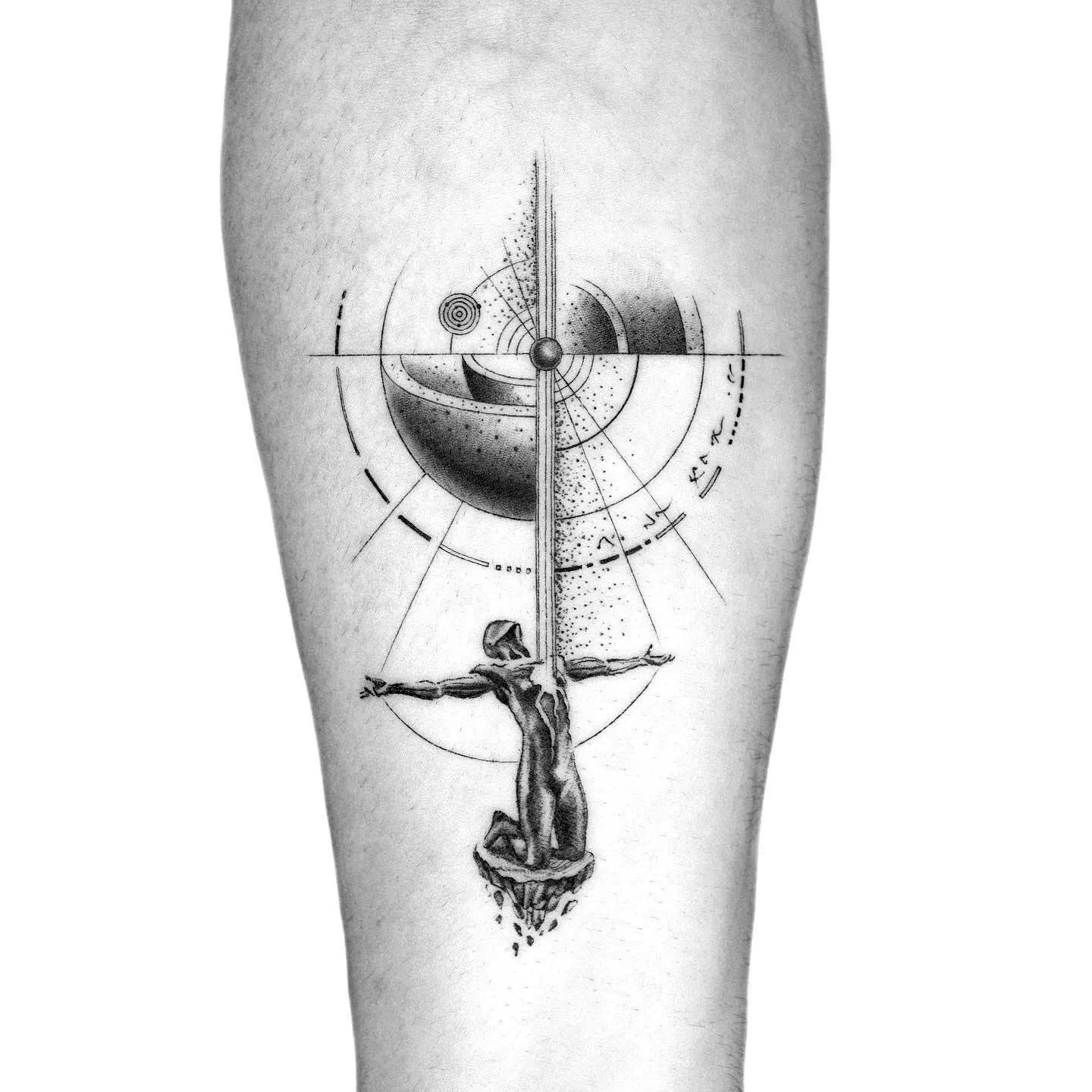 Do you remember a particular day that had a significant influence on your life? Because it will represent the struggles you've faced in life, this tattoo design is the perfect choice for you to have.
Bring to mind the experiences and influences that have molded you. You should have this tattoo on your wrist, but before you do, you should ensure that the design you pick has some significance for you and that the date you choose to ink into it is firm and unmovable.
Depression Tattoos Over Arm & Shoulder
Black Ink Depression Tattoo Woman With Umbrella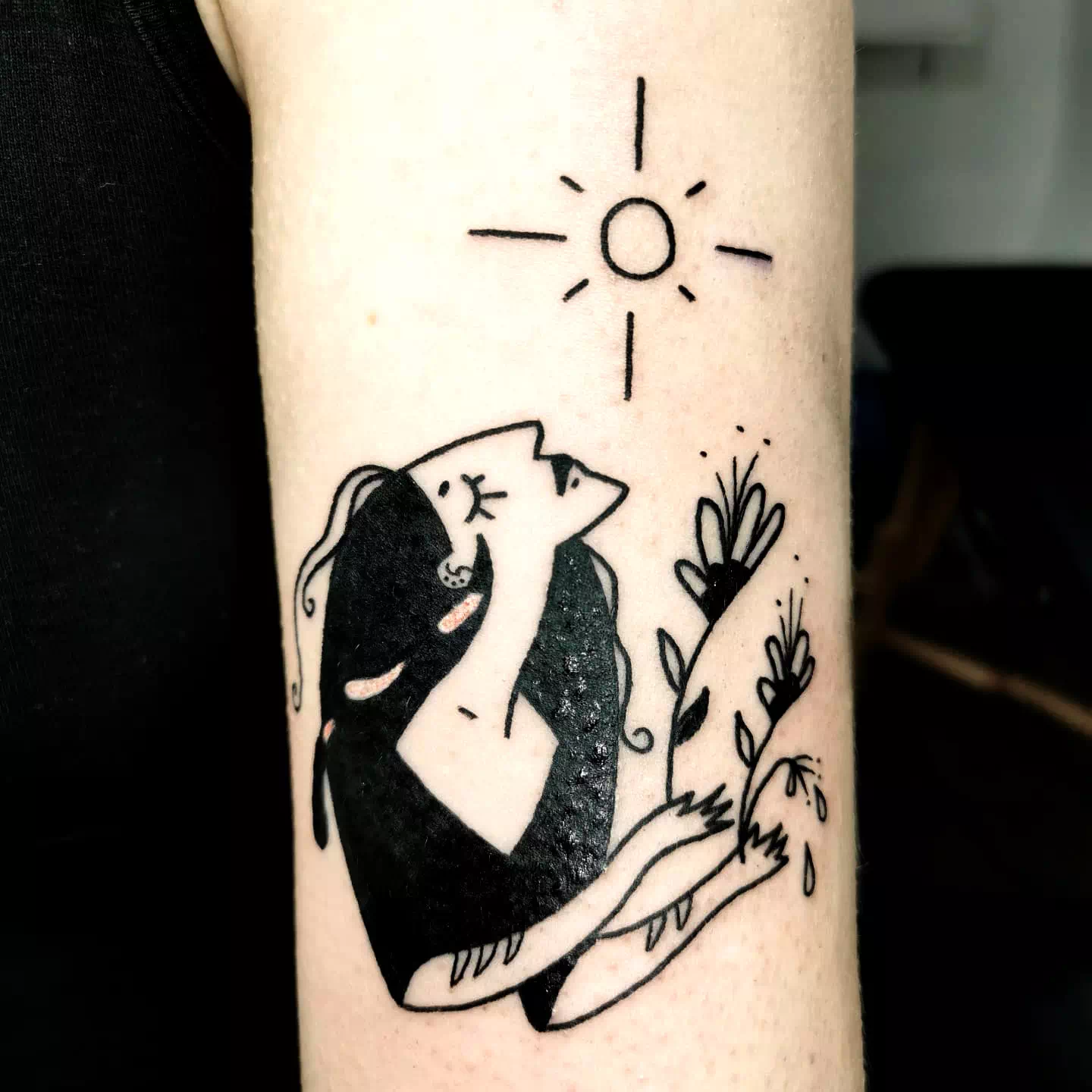 Men into physical fitness will look good with dramatic pieces and large shoulder tattoos. With the help of this tattoo design inspired by the devil, you may be able to beat your depression by facing it head-on and fighting it in the best way possible.
This black ink shoulder tattoo with some rain droplets will remind everyone that although everyone goes through their unique struggles, it is necessary to keep oneself shielded, secure, and sound! Having anything that can protect you from dangerous situations will always be helpful.
Sinking Ship Depression Tattoo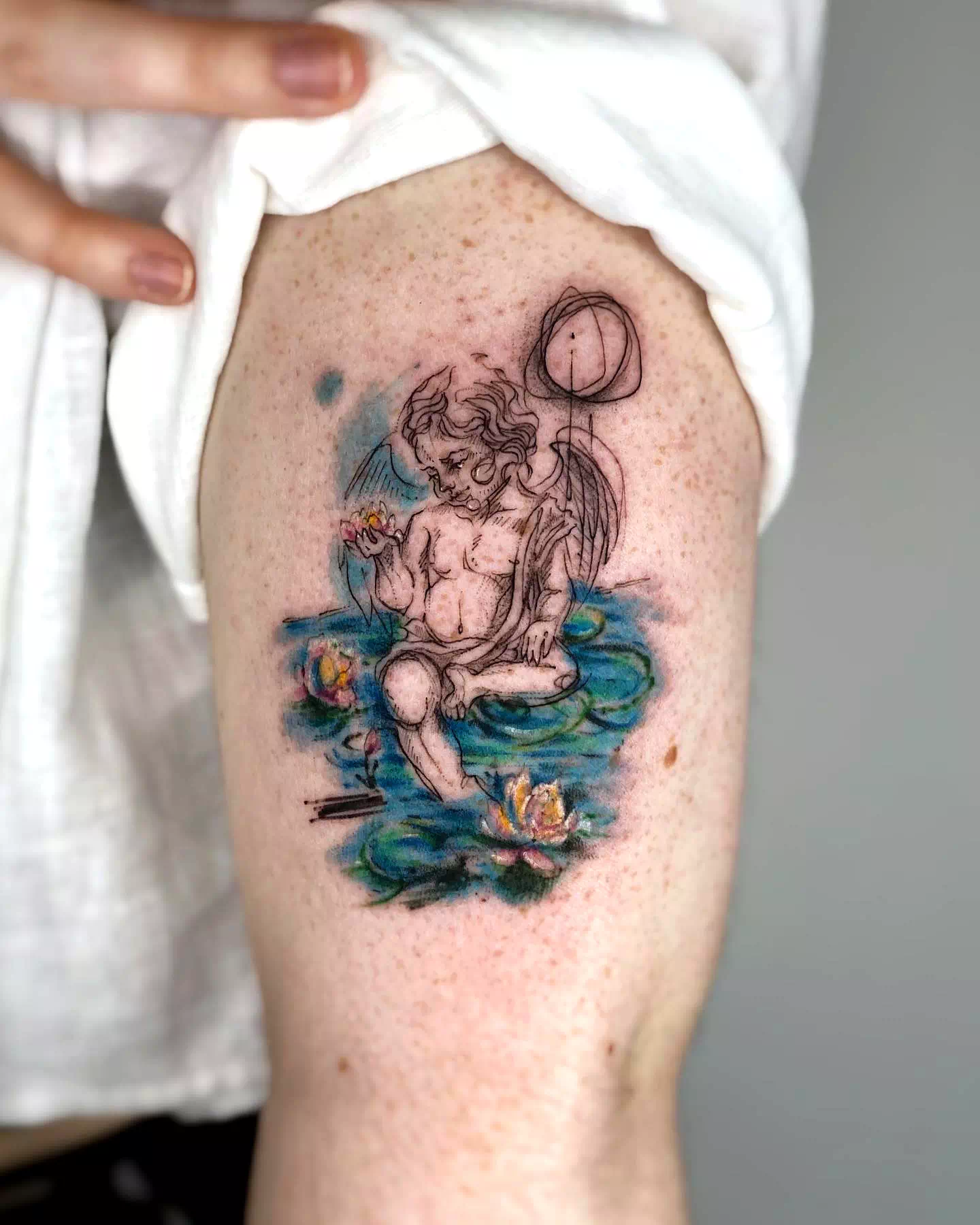 Are you a supporter of getting more extensive tattoos? Shoulder placements are attention-seeking and ideal for anyone attempting to exhibit their true colors and more natural side. However, other people could prefer different types of posts.
Put this saying over a picture of a sinking ship to reassure yourself that everything will be all right. Because of this, other people will know that you are a powerful person who has come out of everything as a fighter and as someone who always puts in effort.
Fragile Handle With Care Depression Tattoo Ideas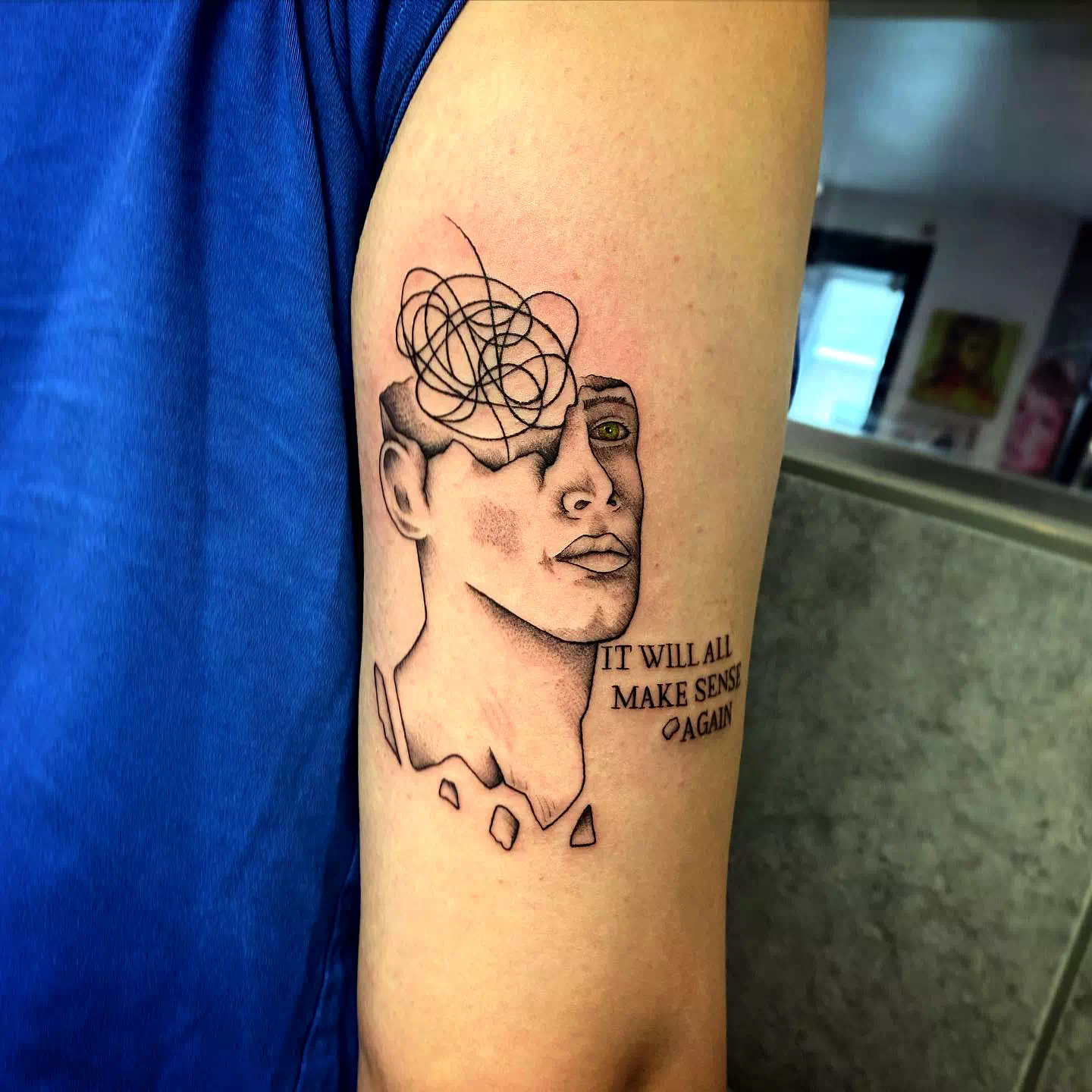 Do you feel like you're fragile at times? It's not a big deal because we all have terrible days sometimes. Both men and women can benefit from this dark red ink that features some details.
It's not uncommon for people who have suffered from numerous things to carry the phrase "fragile – handle with care" with them. This tattoo will constantly remind you to keep your muscles strong, even when you're feeling down.
Minimalist Depression Tattoo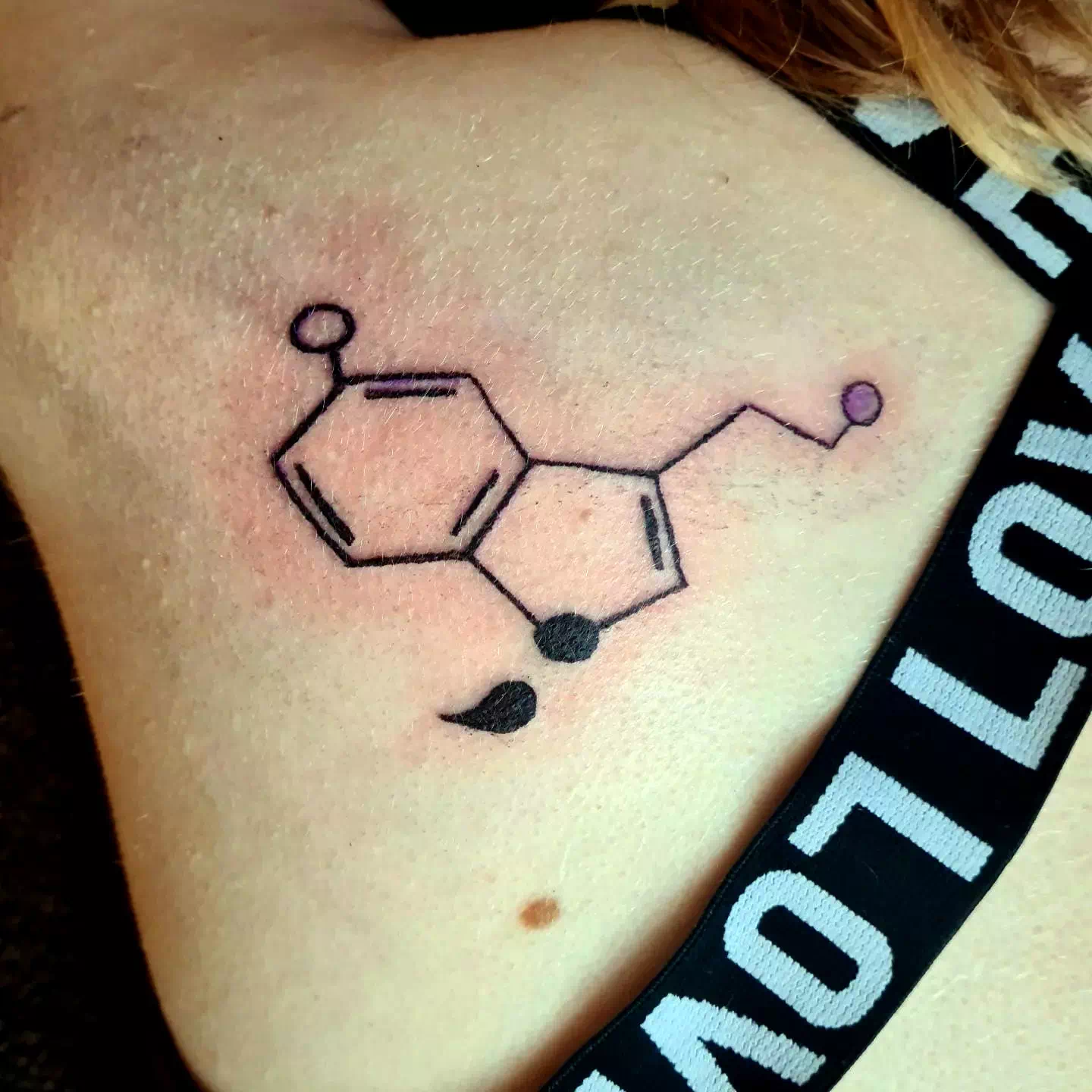 Are you a chemist? Or perhaps you are someone who takes great pride in displaying your passion and admiration for chemical tattoos and other related symbols? This design is perfect for those who like their tattoos to be on the smaller side. If you want things to be simple, you'll appreciate how this design turned out.
It may display the chemical process in your brain that occurs when someone is sad. It will also represent a long battle with something toxic; thus, use this tattoo to show that you are stronger than your opponent!
Clock Inspired Depression Survivor Tattoo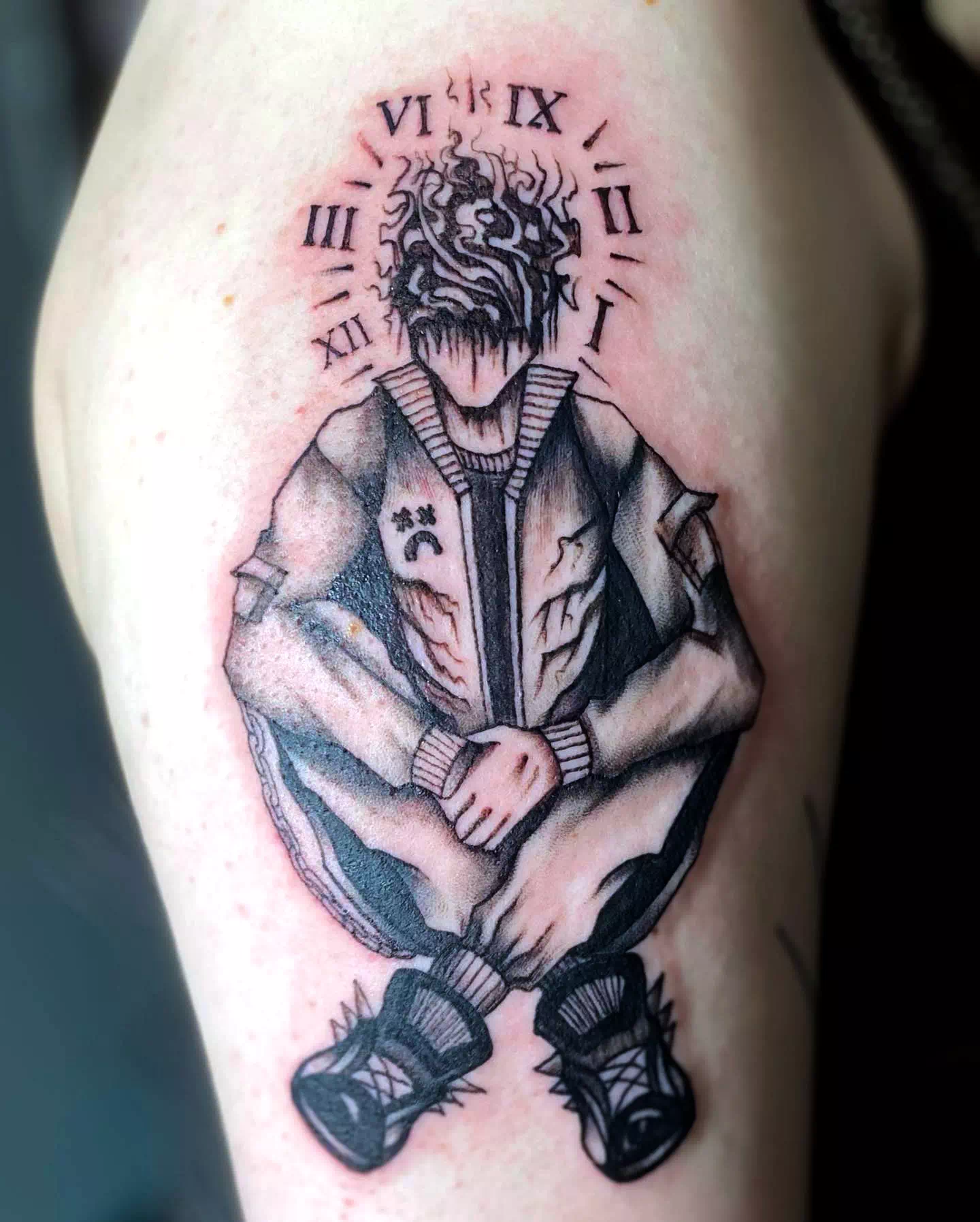 Remind yourself that you have been and will continue to be strong. This compass tattoo is perfect for males and men who prefer smaller tattoos that pack a lot of detail into the design.
No matter what challenges life throws at you, this black compass tattoo will remind you to keep your head up and keep moving forward.
Depression Sayings Tattoo Ideas
I Refuse To Sink Depression Tattoo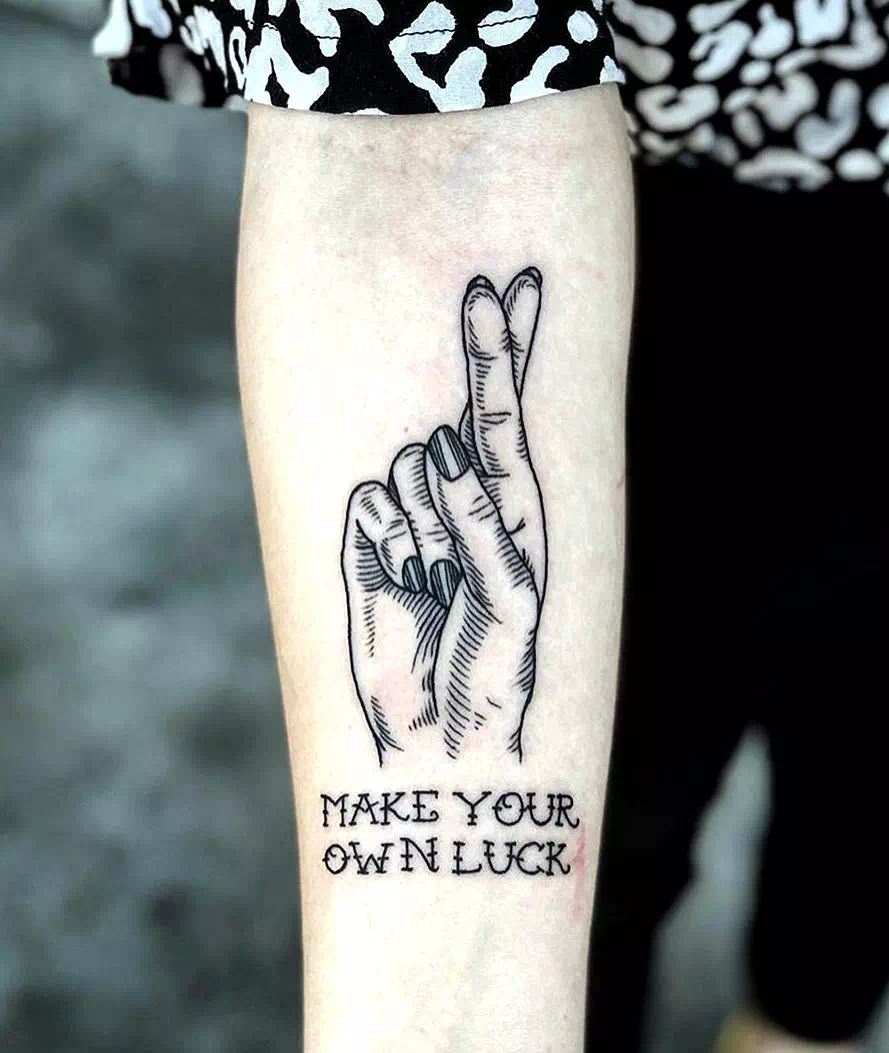 This little anchor tattoo is done entirely in black ink, and it only consists of a few lines. If you are nervous about getting larger tattoos and would rather have something simple, consider getting this design across your arm or leg.
I refuse to give up and admit that you are always attempting to cling to something and do well in every circumstance. You can clean things up if they get nasty! Keep in mind that you have a lot of power, and choose an anchor that can represent your trip.
Latin Inspired Depression Tattoo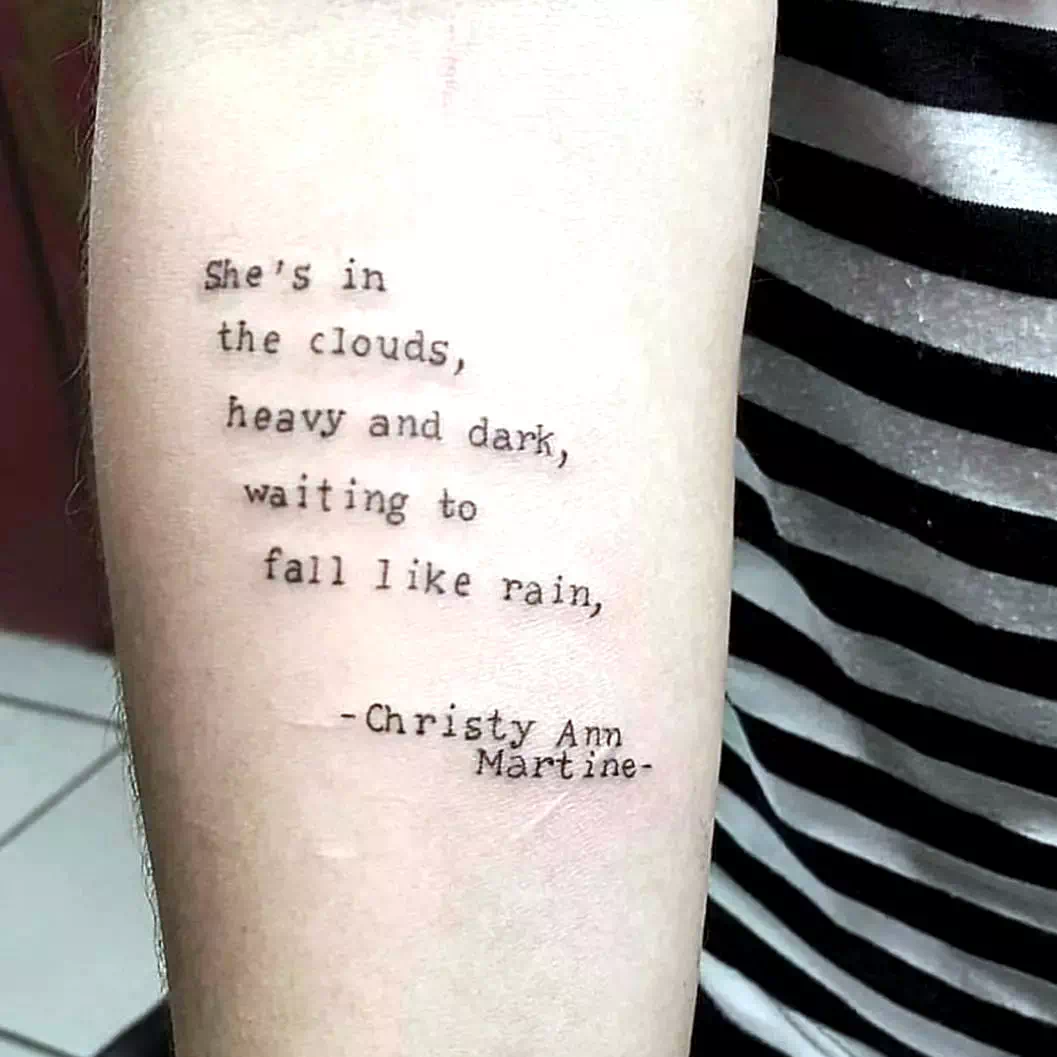 Latin may be a dead language, but it may still make for an excellent tattoo design for those who want something elegant but don't want others to understand immediately.
"Dead calm, large mirror of my misery" is the meaning of this tattoo. If you like profound and emotional tattoos, you will like this song by Charles Baudelaire since it is a significant piece of music that you will enjoy.
Date Depression Tattoo For Men And Women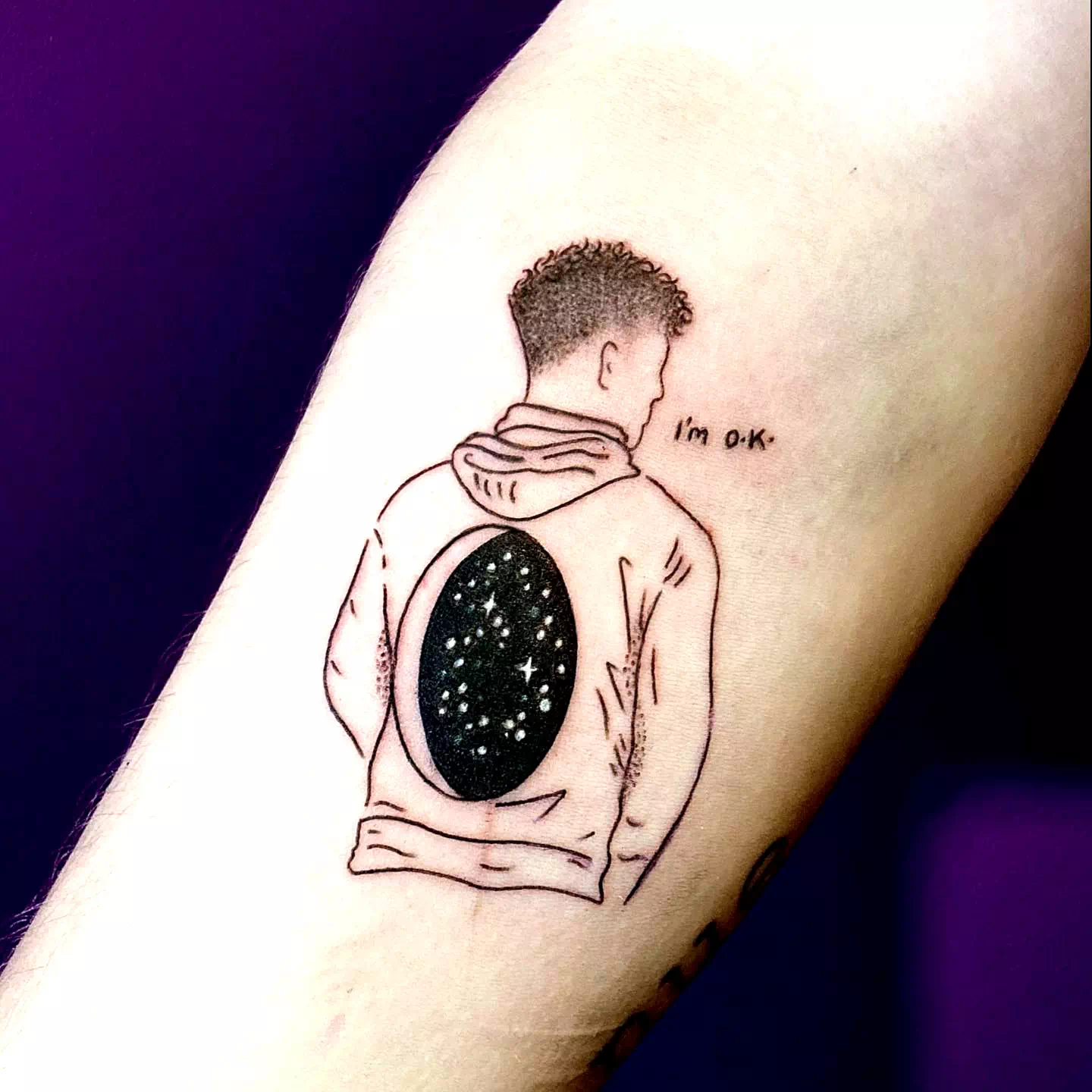 This tattoo, inspired by the Great Depression, will take you three hours to complete. This style is appropriate for someone lamenting a loss or going through a difficult time. You may acquire a customized phrase and place it over your forearm or arm.
This artwork is a lovely rendition of the statement that "a portion of my heart resides in paradise." If you have suffered a loss of any type, you will find it beneficial to you. It's possible to experience grief at the loss of a child, a spouse, a friend, or even your parents. Something so heartfelt and meaningful will look beautiful on anyone struggling and working hard to move on after experiencing a loss.
Let God Depression Tattoo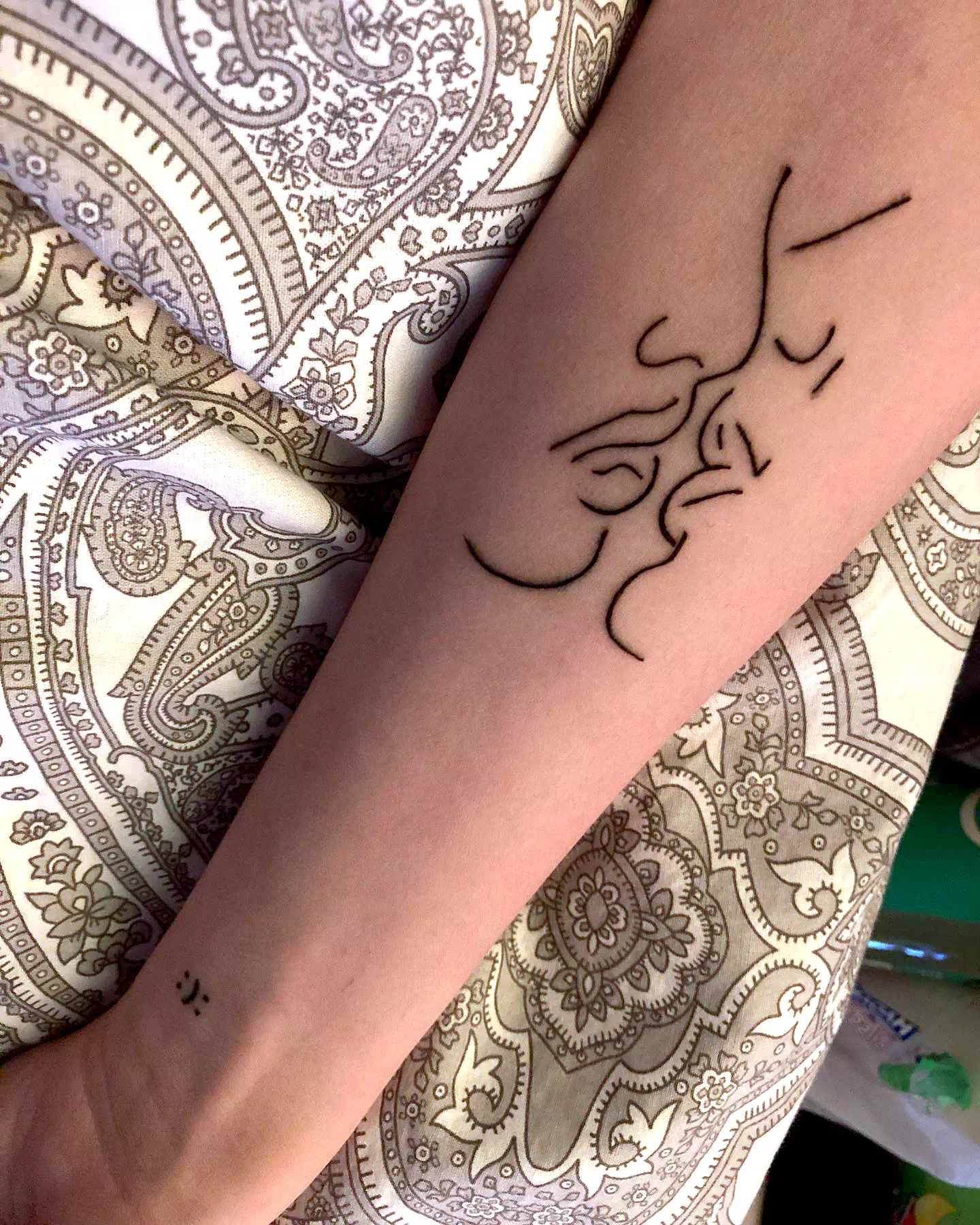 Are you prepared to take a chance and introduce something new into your life? Would you like something more powerful and robust to assist you in getting through some difficult times? If you are deeply religious, this tattoo is perfect for you!
Allow God to intervene in your life and allow Him to transform you by submitting to His will. A little amount of faith is required of us at times to make it through some very terrible moments.
Broken Crayons Still Color Depression Tattoo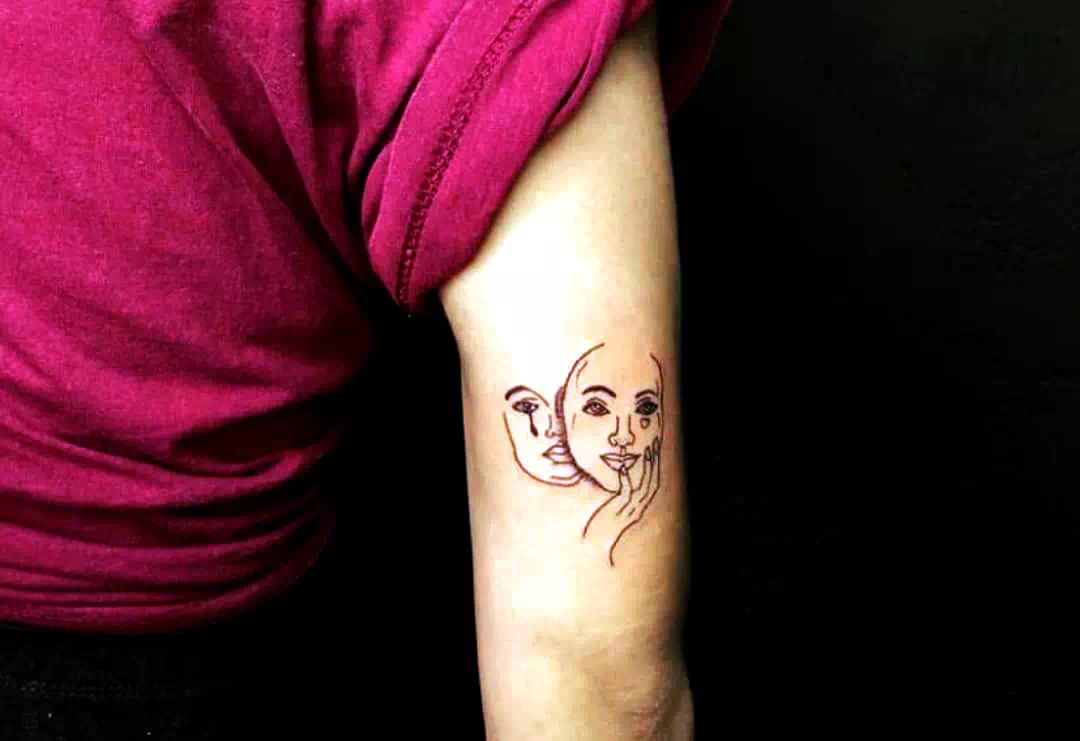 Lastly, but most importantly, do you want this tattoo on your forearm? It is the ideal component for the specific link, the assembly of which will take between two and three hours. It will look perfect on adults of any gender and adolescents who have triumphed over substantial adversity at some point in their lives.
Isn't this an interesting fact? Broken crayons can still produce color. Everyone will love having something meaningful and heartfelt tattooed on their arm, and there is so much power that can be contained in just one statement. Even when you are at your worst, you are still loved very much, cherished very much, and secure and sound.
Also Read:
Are You Prepared to Get Your New Tattoo?
So, which of your tattoos is your primary source of motivation? Which pattern are you particularly excited about draping all over your body? It is entirely up to you and the story you want to tell as to how romantic and meaningful each tattoo is; it all comes down to personal preference. Please share with us the design that is your absolute favorite and must-have!
It's more fun to share!