When it comes to matching couples' tattoos, they must be beautiful both on their own and paired with your spouse. That is an absolute essential. Because of this, it is necessary to come up with a brilliant design. This is the type of tattoo that demands a great deal of thinking and preparation on your part.
To get your creative juices flowing, we've compiled a list of 70 of the most innovative couple tattoo ideas that will be totally hot in 2022 to inspire you. They'll even wow the tattoo artist you've selected to work with you!
Oh, and let us just take a minute to express our gratitude for laser tattoo removal. Don't worry if your relationship doesn't continue as long as the tattoo — getting it removed in 2022 will be relatively simple.
5 Best Matching Couple Tattoo Ideas
These five suggestions are the greatest masterpieces in their respective fields. So here is the place to begin for those interested in getting a timeless matching couple tattoo.
Gained Strength from My Weakness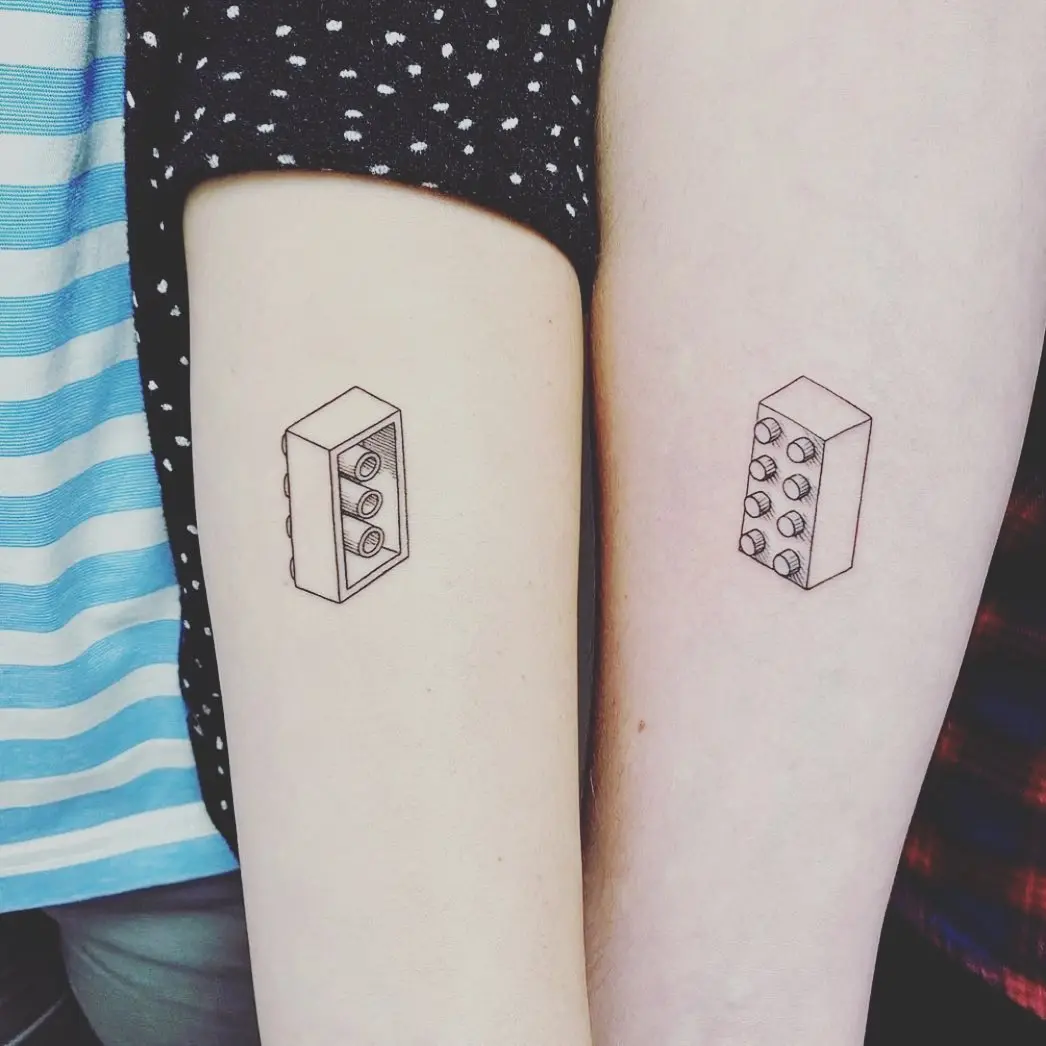 Although you may not fall in love with the design, you will undoubtedly appreciate the sentiment behind this matching tattoo idea. You are strong in areas where the other person is weak-this is a natural element of being in a relationship.
A Scene That Means Everything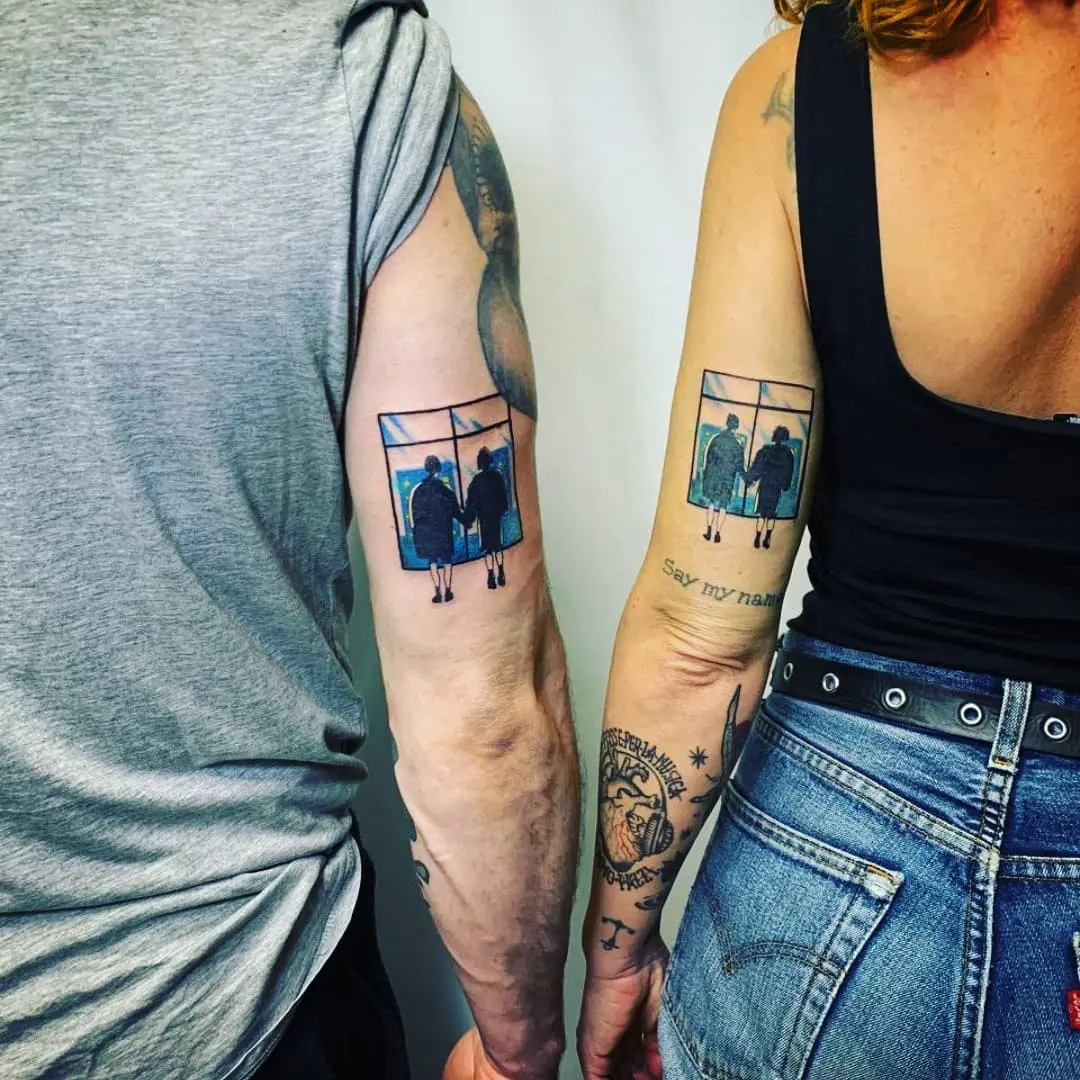 Every couple has a favorite movie, song, or television show that they enjoy together. Hence, why not have a tattoo of a scene that represents something essential to you inked on your body? For example, the legendary Fight Club conclusion is a good illustration.
Two Halves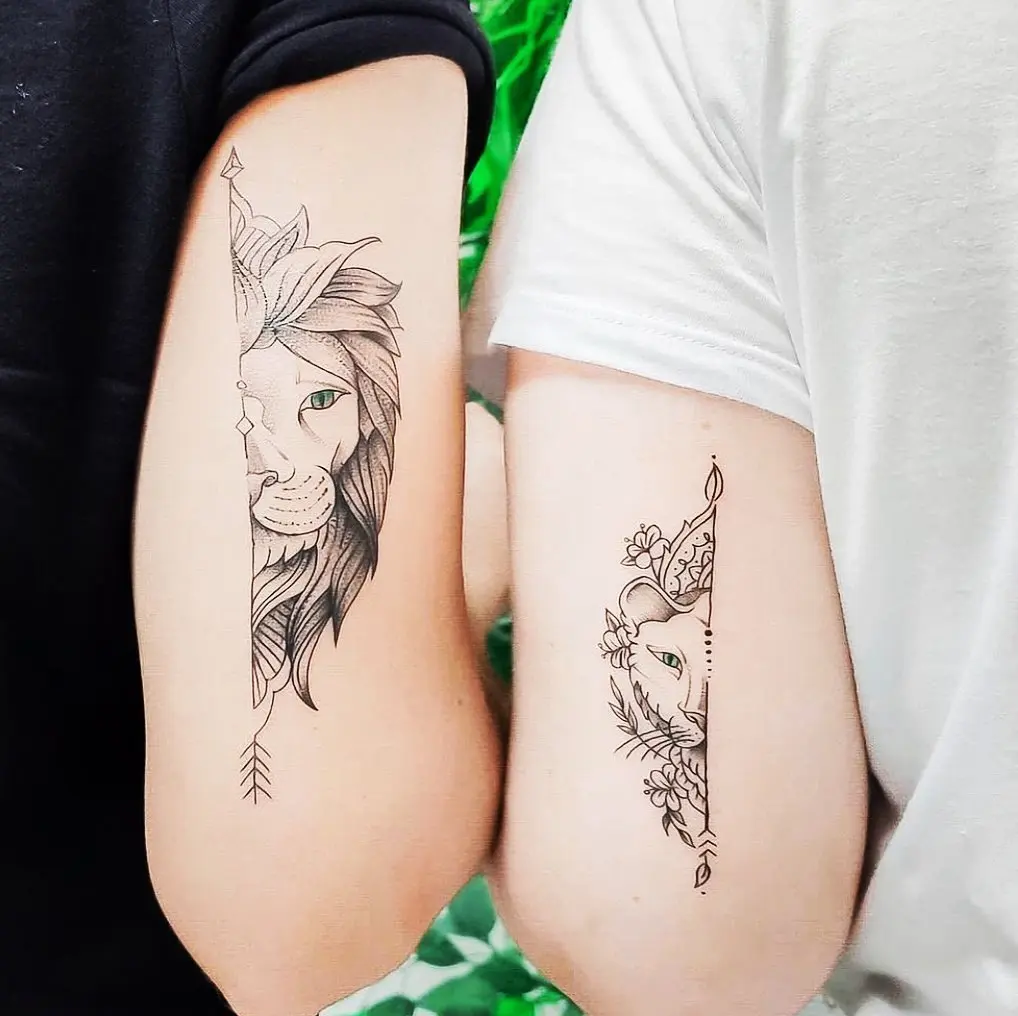 You have the classic matching tattoo with one side of a heart divided in half and the other side tattooed on your arm and your partner's arm. However, adding lions to the design gives the half-and-half concept a new lease on life.
Simple Design, x2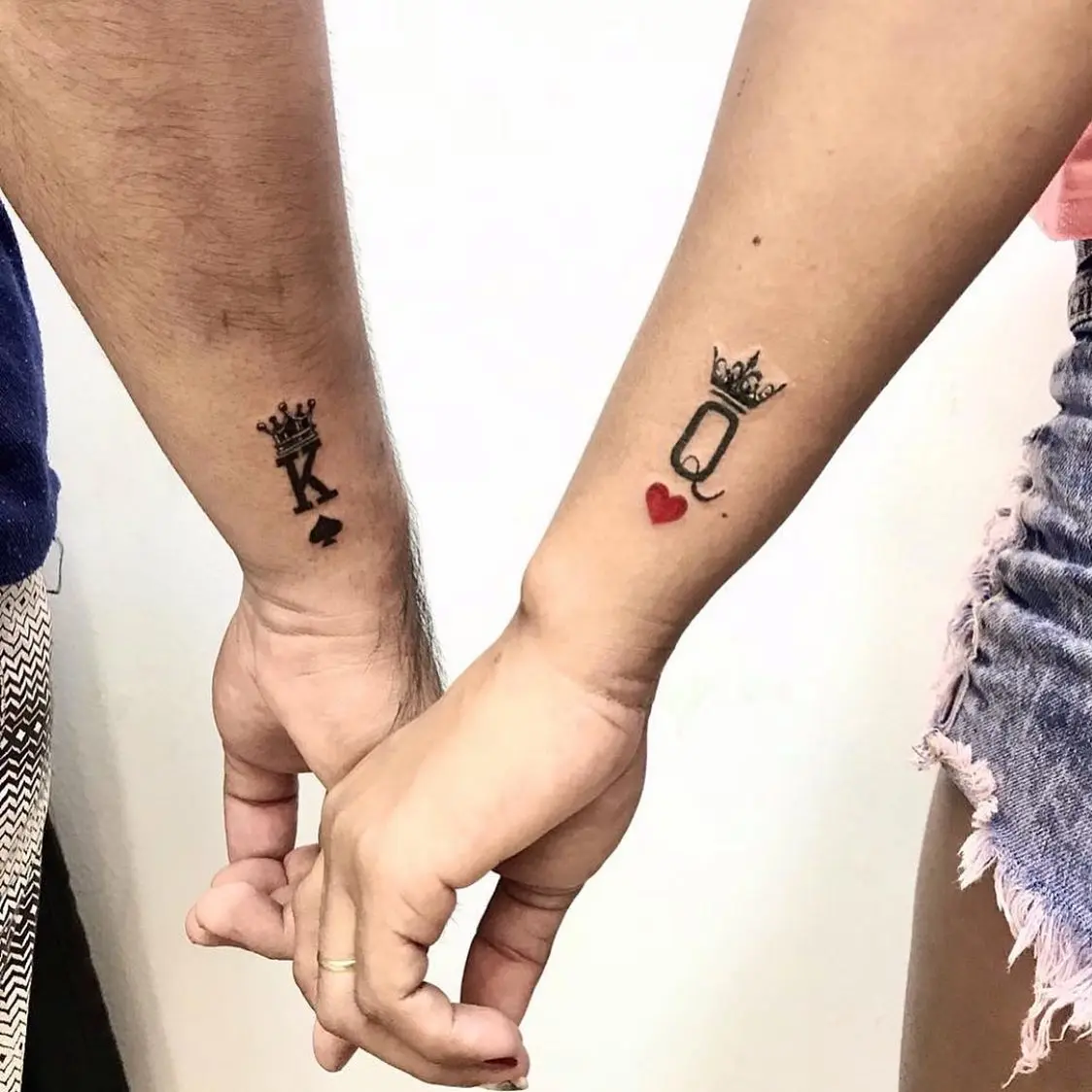 This is fantastic! The tattoo is on the front of the guy's thigh, and the girl's is on the rear of her leg, as shown in the photo. You can see the tattoos when they're all together because they're standing together. Cute
Yin and Yang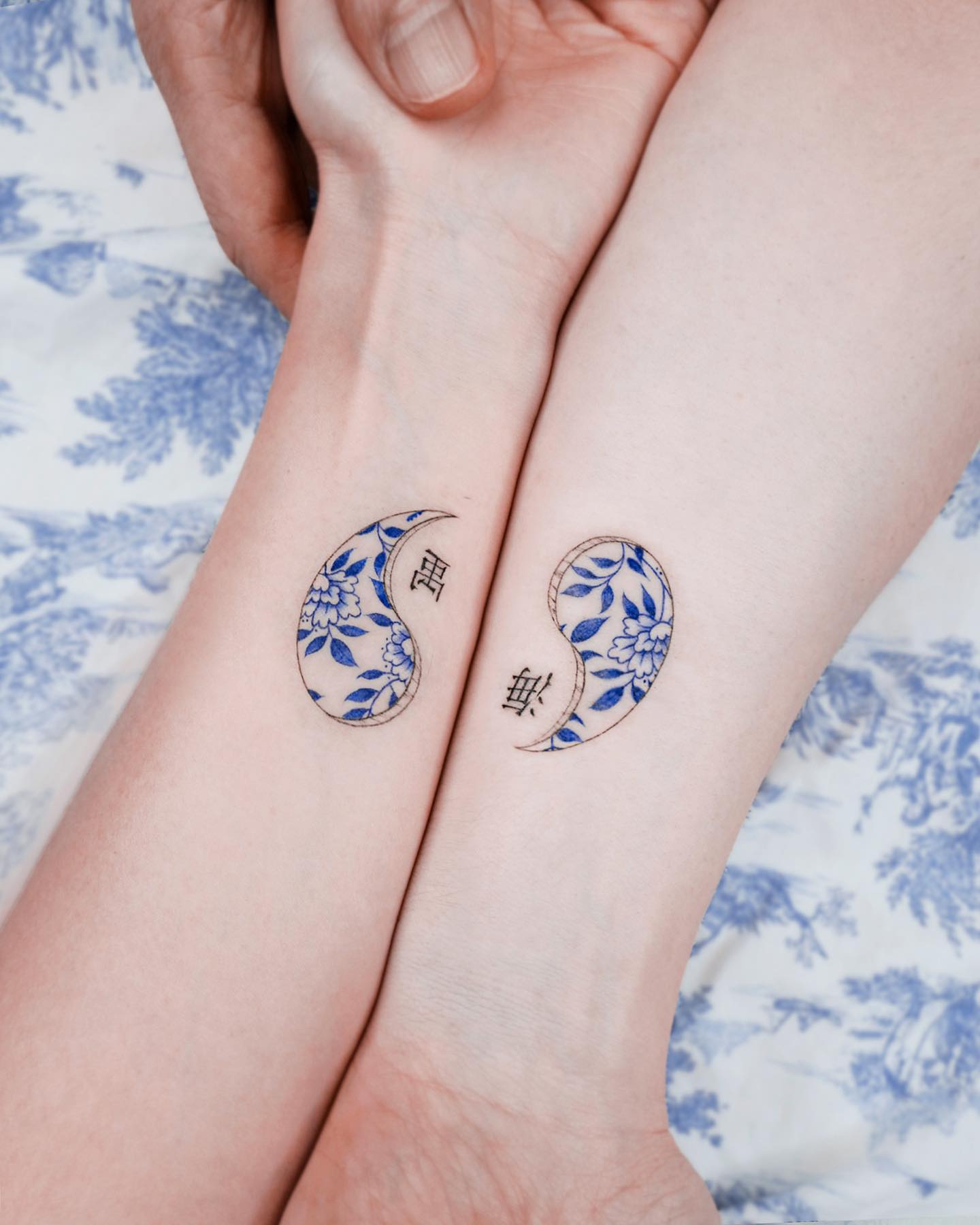 Being in a partnership, being a pair, necessitates a sense of balance, compromise, and equitable treatment for both partners. That's what the yin and yang symbols stand for. You and your partner are two parts of the same whole. What a sweet and charming gesture! This tattoo looks fantastic on the fingers.
Read More: 99+ Magical Harry Potter Tattoo Ideas
10 Couple Tattoo Ideas Small
A tiny tattoo may be completed in a short amount of time and is entirely personal. However, you are under no need to show it to the rest of the world… and, of course, it's simple to make amends if things don't come out as intended!
Tiny Symbols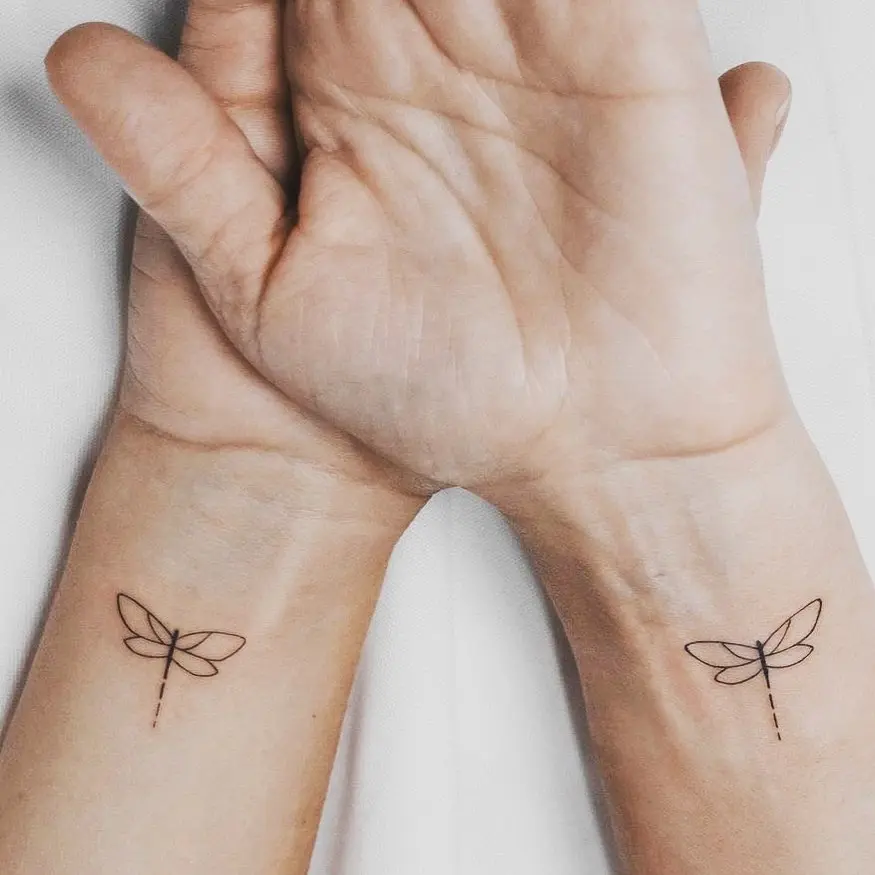 When you hold hands, these straightforward symbols instantly match up. Tattoo newbies who don't want a complicated, painful tattoo will enjoy this one because it's lovely and easy to accomplish. There are many different ways to personalize this. The possibilities are endless: stars, stars and moon, hearts…
Sun and Moon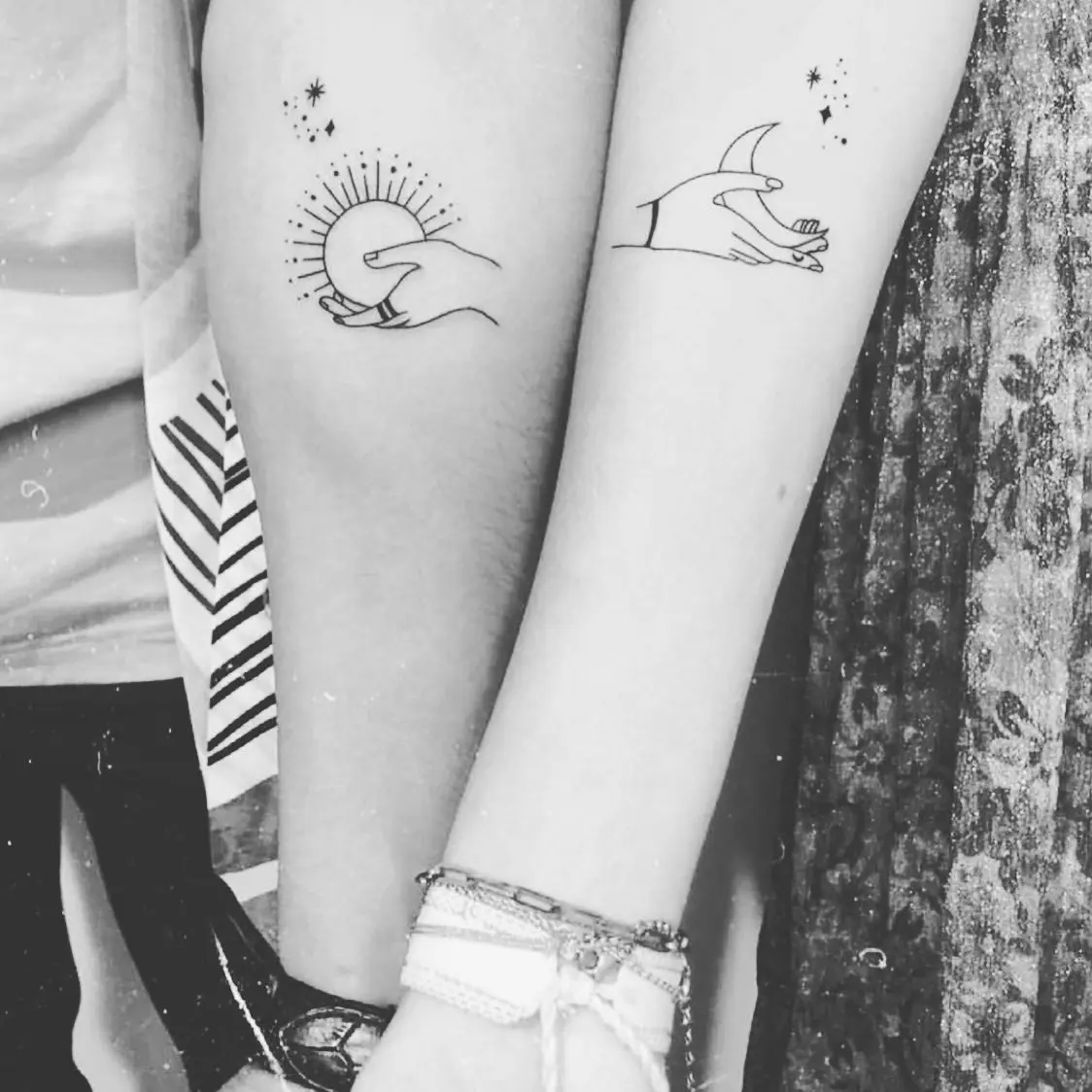 Who is the sun in your relationship, and who is the moon in your partnership? AA tattoo employs a fresh approach to bring this old and popular matching tattoo to life while maintaining its traditional appearance. Ankle, wrist, and collarbone tattoos are excellent choices for tiny tattoos.
Also Read: Man Neck Tattoos: 100+ Coolest Designs
Eternal Love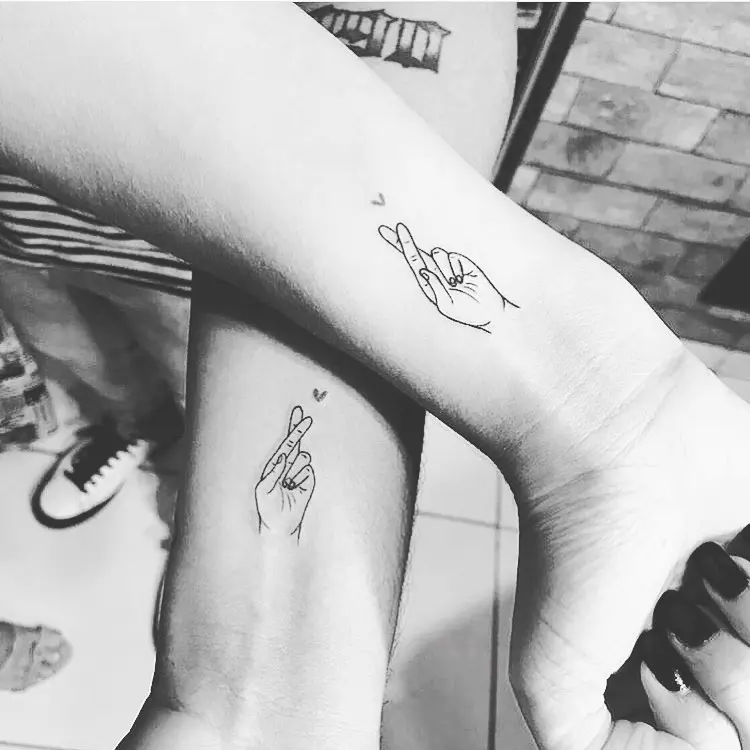 We adore the use of symbolism! For example, the figure of eight, which represents eternity, is intertwined with a simple love heart in this design. But, of course, it's ideal if you genuinely mean it when you say "I love you" and are convinced that you'll be together for the rest of your life.
I Love You 3000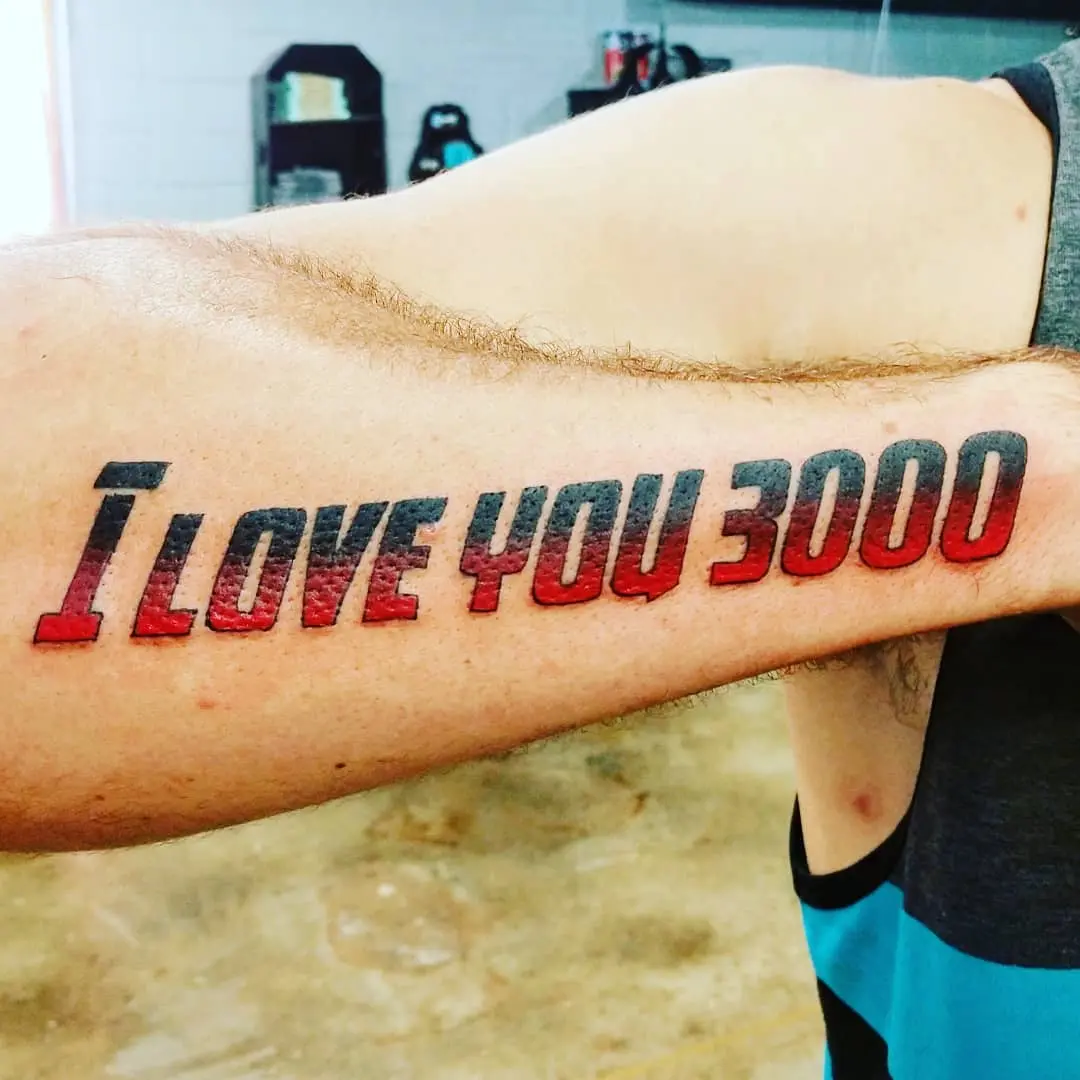 This tattoo has us feeling all kinds of emotions. It's beautiful and romantic, but it also says a lot. This short sentence from Avengers: Endgame captures everything: loss, sacrifice, love, and the importance of working together. 3000 is a favorite of ours.
For Cat Lovers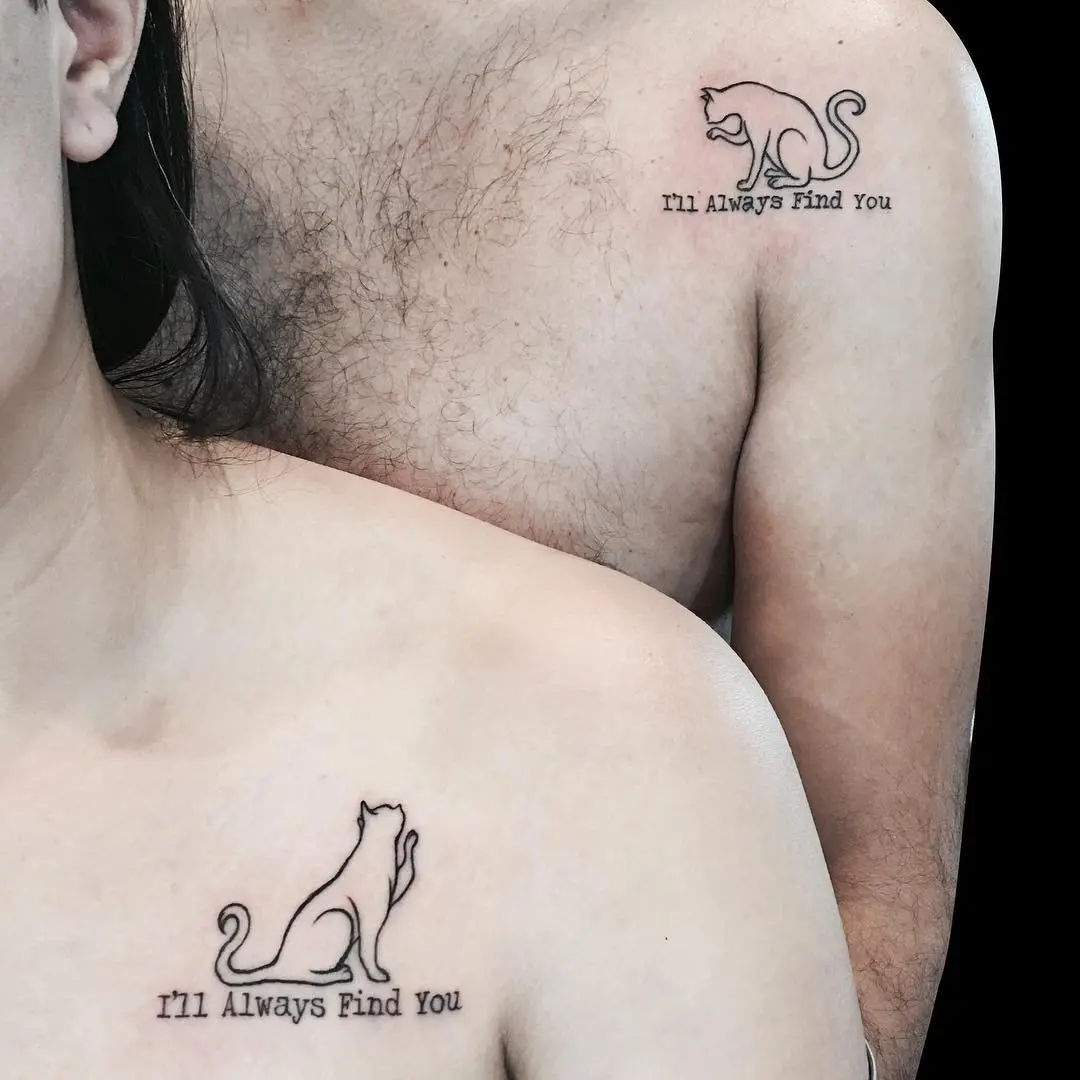 Did you see the love-heart shape that emerges between the cats sitting side by side? The cat tattoo above is a cute design that you may have with your spouse, especially if you both like cats! Adapt it to work for dogs as well!
Bananas!
Maybe it's a symbol of an inside joke, or perhaps it was a banana split that they enjoyed on their initial date. Unfortunately, no one else but the couple is aware of the significance of the matching banana tattoos on their arms. The beauty of their intimate relationship makes us envious!
Line Art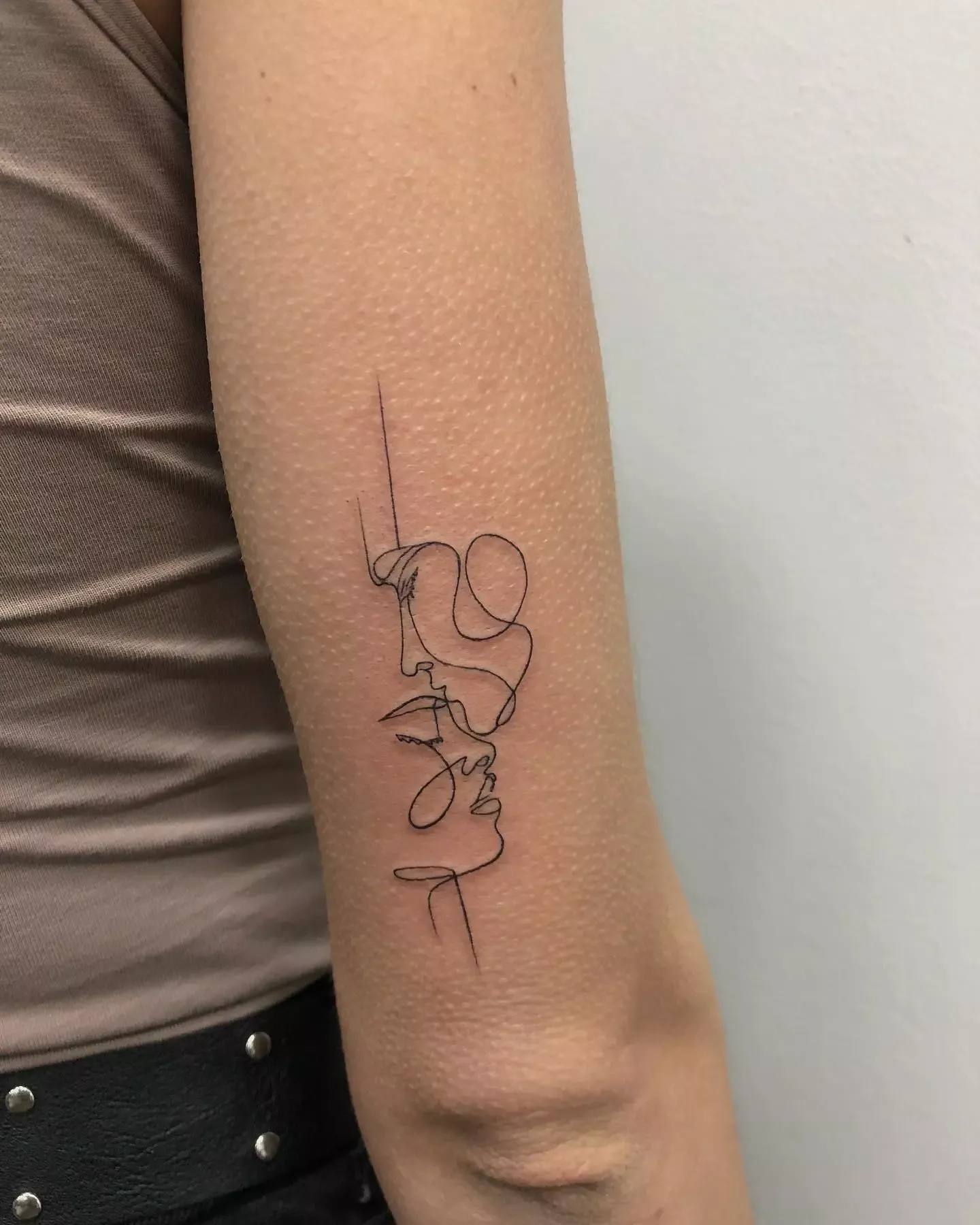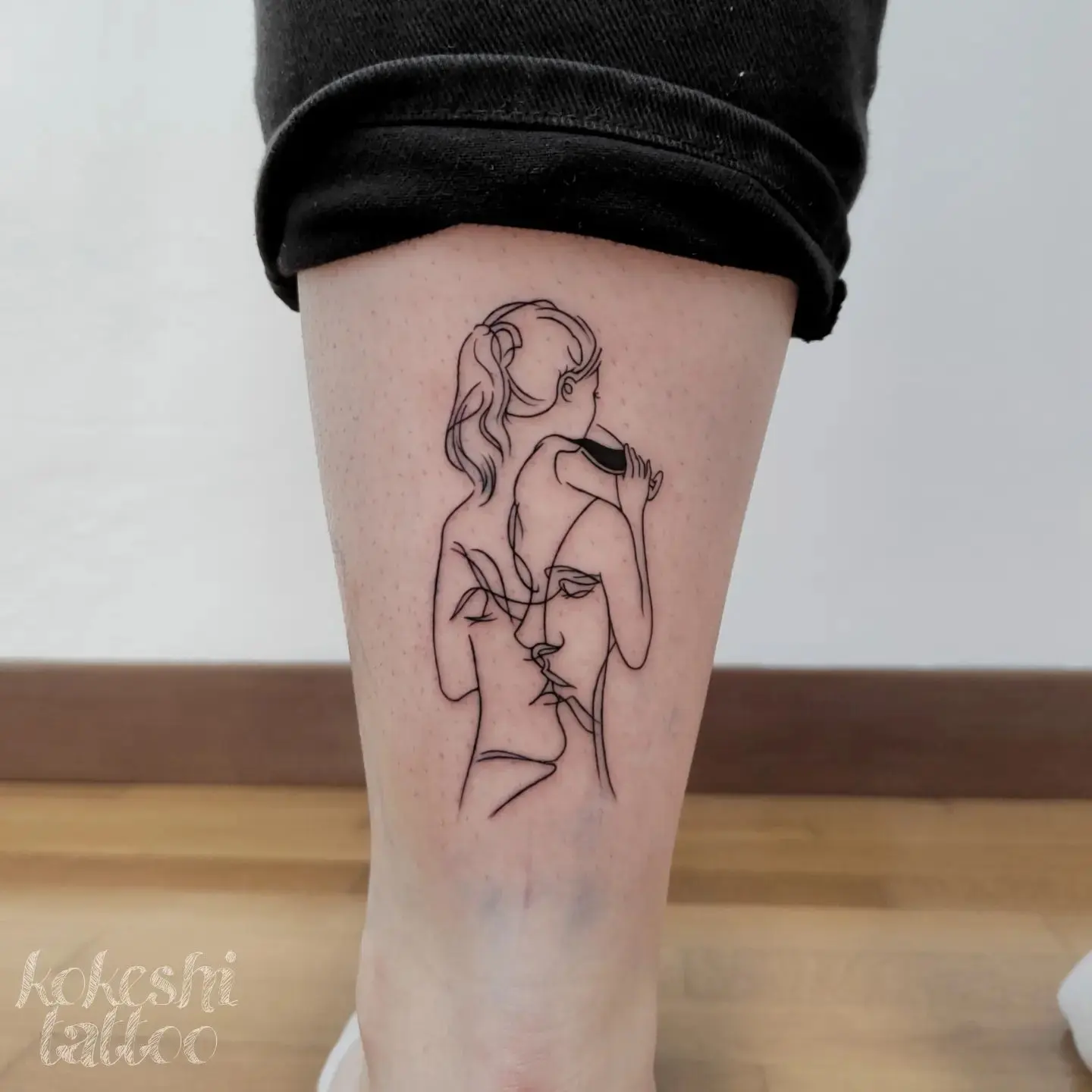 Matching pair tattoos are a common design choice for matching pair tattoos since they are simple. It's particularly well suited for little symbols like these, as well as short scripts. As a bonus, you can play around with different line colors. Black and red are a traditional and romantic combination.
Constellations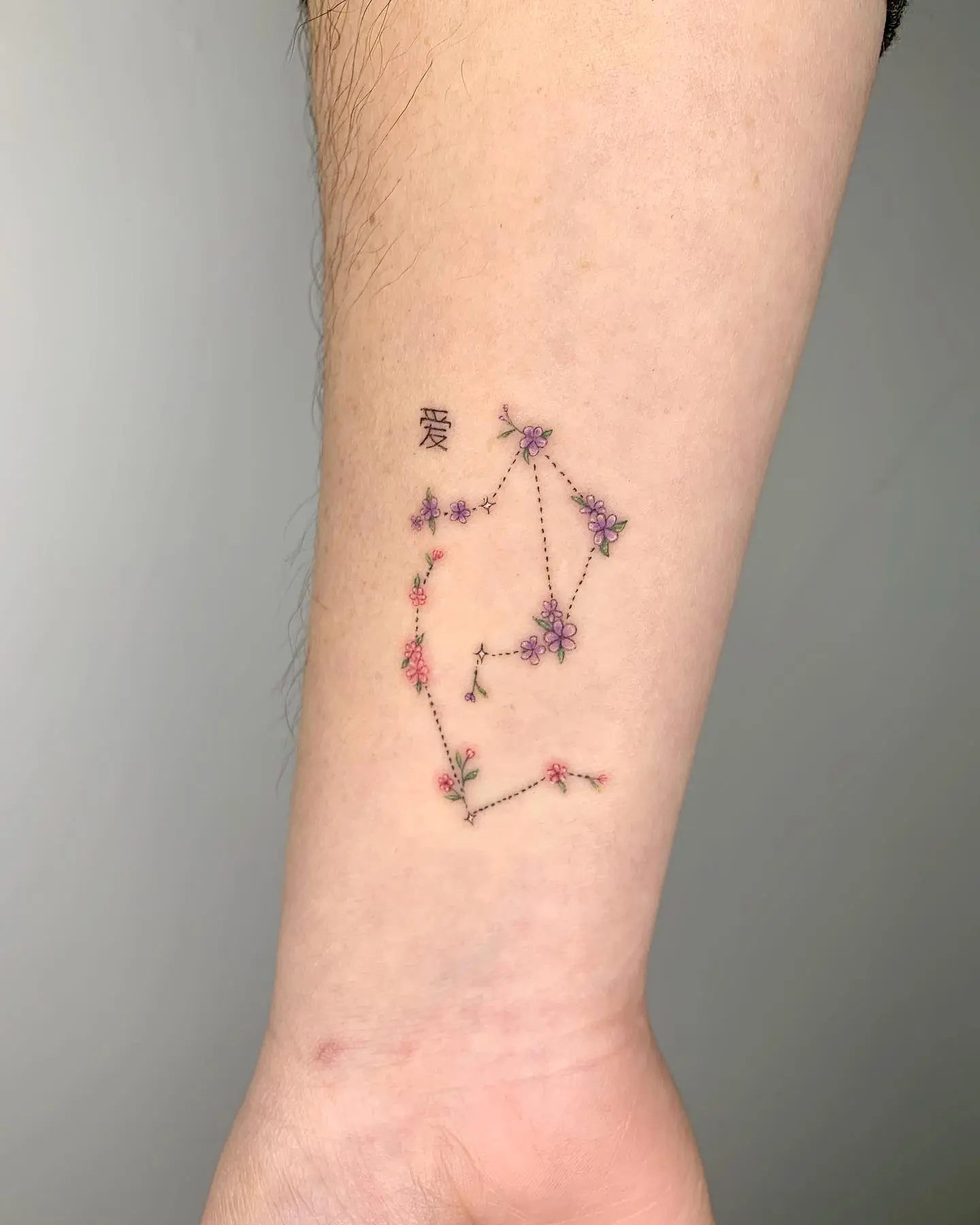 This is a beautiful concept. For example, you might get the star sign of your lover tattooed on your body, or you and your partner may get a constellation tattoo that corresponds to the day you first met one another. It's a fantastic, simplistic aesthetic to experiment with.
Her Beloved, His Beloved
The "his and her" design trend is fantastic for interior design, but what about matching tattoos for couples on their bodies? Again, we enjoy the concept, especially when it is subtle and clear, as it is in this instance. In addition, the wrist positioning is quite good.
We Finish Each Other's Sentences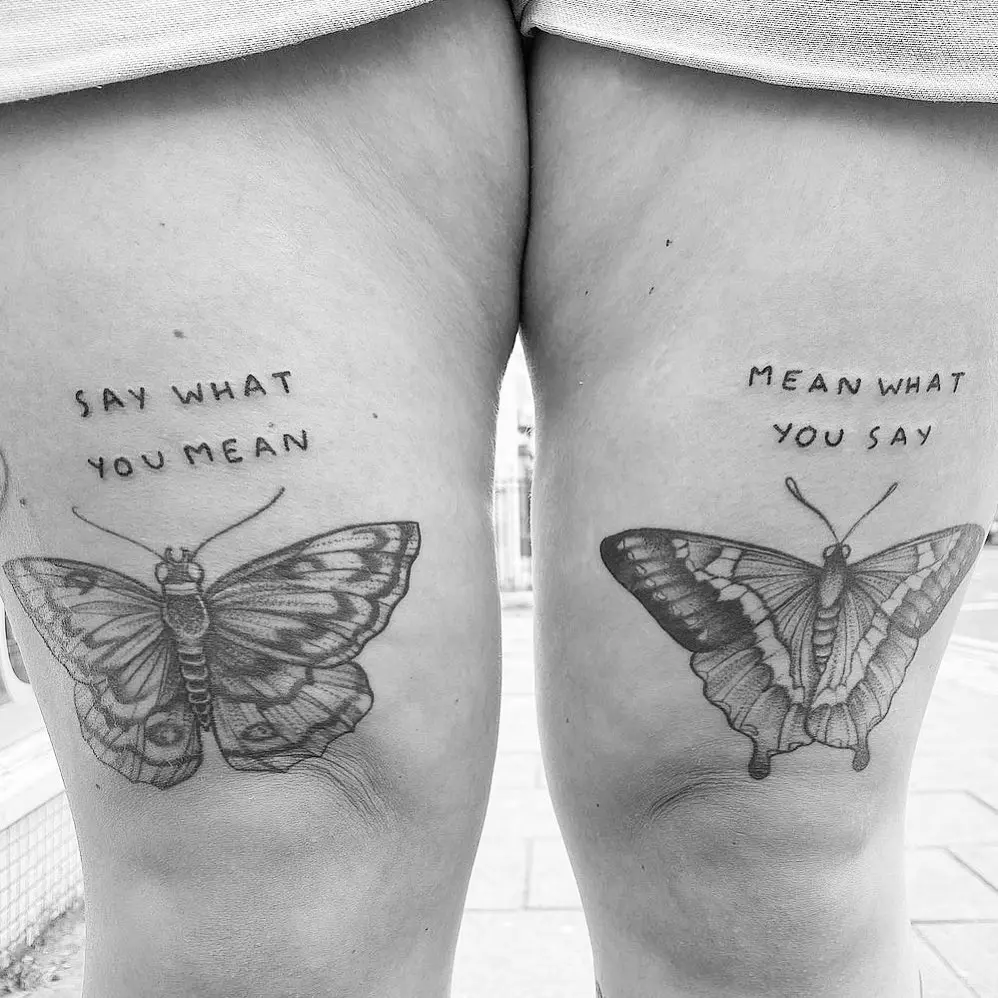 This is a tattoo that has a lot of meaning. A sweet reminder to the couple that they are one whole when they are together, this is a modest but mighty piece of jewelry. They are a terrific group of people. The font style that was selected was ideal.
10 Cute Couple Tattoo Ideas
Why not get a wonderfully attractive tattoo to remind you that the good moments are worth it even if there are hard times?
Cartoon Creatures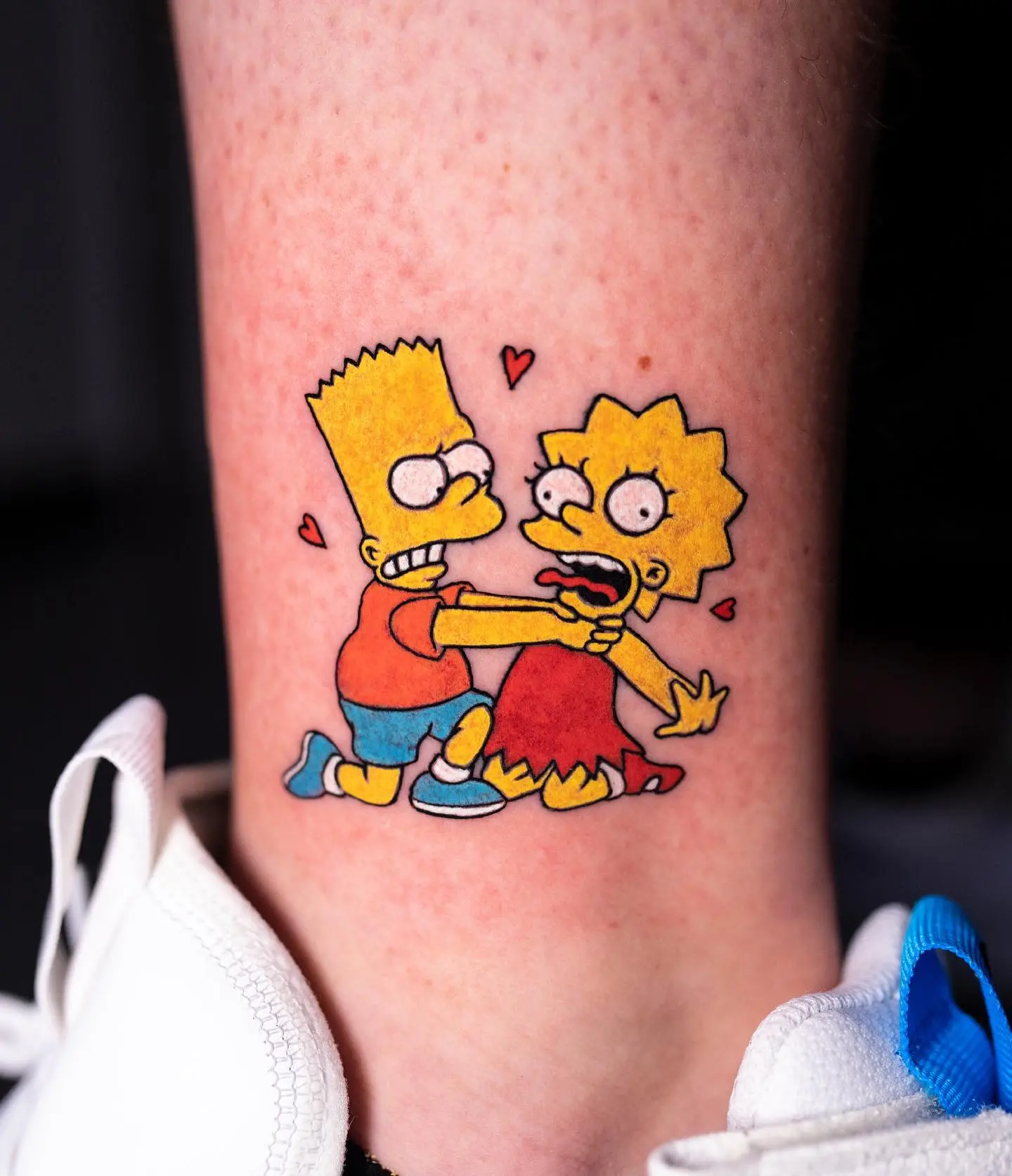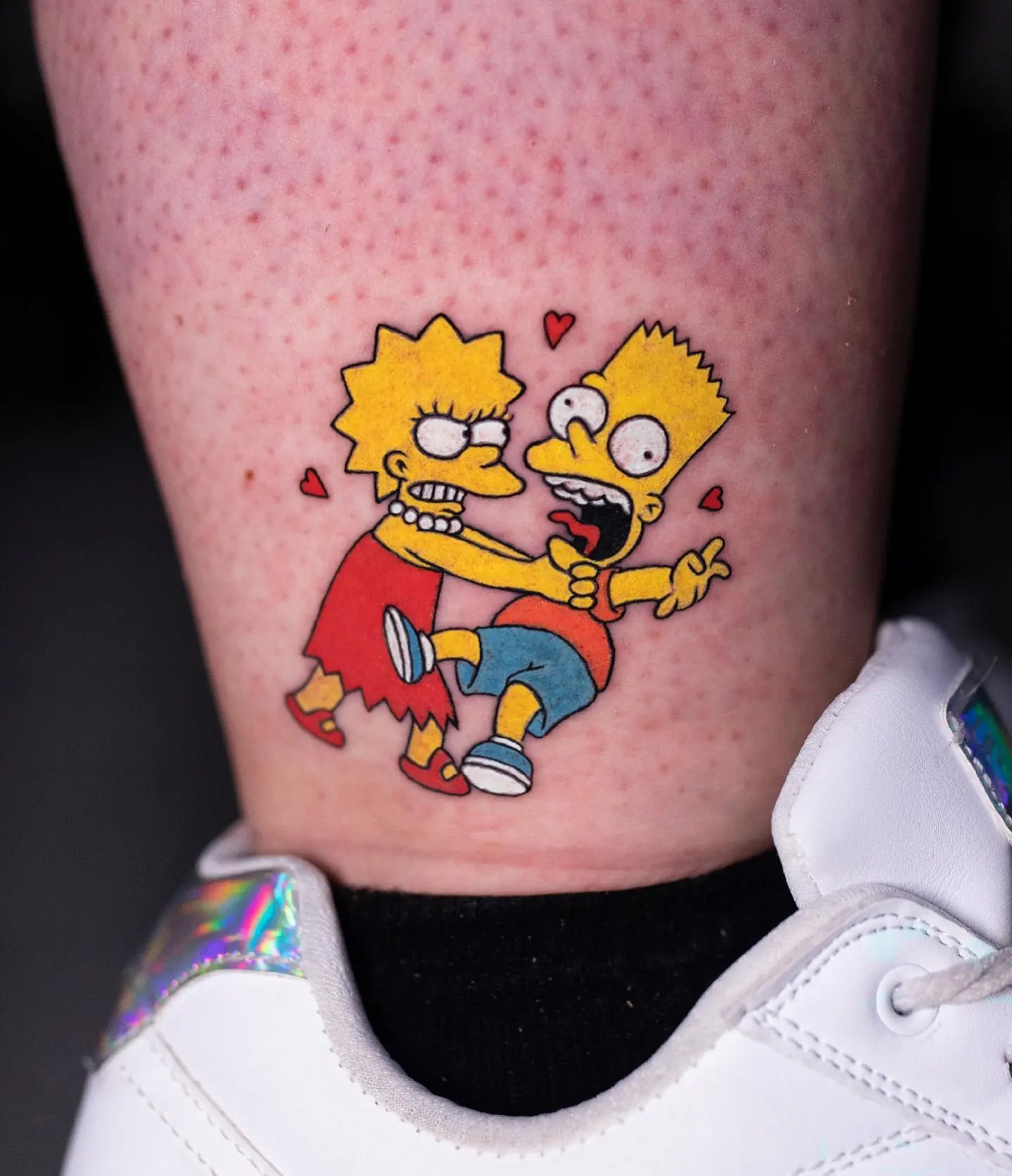 They have a strong desire to move it! This is a beautiful concept. Choose a pair of characters from your favorite movies and have them tattooed on your arms to match while you're together and are still lovely when you're separated.
The Dip to Your Chip
Chips aren't complete without a dipping sauce. Is it a good summary of your relationship? This is a beautiful idea for any couple, whether friends or in a romantic relationship. Kawaii's fashion sense is gorgeous. The use of vibrant colors is vital.
Rock N' Roll, Man!
This tattoo is adorable without being too "My Little Pony" in its appeal. When you and your spouse have similar musical tastes, the worldwide symbol for rock 'n' roll makes for a fantastic matching tattoo. Keep it up!
Rocket to Saturn
Another excellent concept that does not include the use of similar tattoos is this one. They're designed to complement each other, but in a subtle way. If your spouse has rocked your world to the point that you've drifted into space, this is a fantastic tattoo idea to explore for yourself.
Cowgirl Hats
Although they are both tattoos of hats, the designs are somewhat different. Isn't that a perfect summary of a relationship? You're both alike, yet you're also distinct individuals. This adorable tattoo, which features a fantastic design, exemplifies this nicely.
A Precious Memory
Getting meaningful memories tattooed on each other, such as this little polaroid snapshot of a couple kissing, may be a great way to commemorate your relationship. It might be the same shot angle or even the same event from two distinct perspectives in each case.
Paper Airplanes
This is a beautiful concept. Paper airplanes are innocent, uncomplicated, uncluttered, and absolutely lovely. Their wings soar through the air, just like your heart does when you see their grin, which is breathtaking. It's perfect for your fingers, toes, and ankles.
Match Up Arm Tattoos
Wow! This tattoo concept is just fantastic. It starts on the woman's arm and flows into the man's arm… but only while they're holding hands together, of course. Oh, and each tattoo looks fantastic when seen individually. It's beautiful in every way.
Live Like Jack and Sally
The Nightmare Before Christmas or Blink-182 (or both) are two of the most popular movies of all time, and this charming tattoo design is perfect for you and your spouse. But, of course, you'll need a skilled tattoo artist to create a tattoo that looks like them.
I Am Groot
If there was ever a time when you needed to utilize the heart eyes emoji, this is the time! This is a cute tattoo design for a pair that match each other. You are not required to use Groot; you can use any other chosen character.
5 Married Couple Tattoo Ideas
Getting married is an incredible experience. Consider getting a tattoo to commemorate your wedding, which may be the most fantastic moment of your life (and if it isn't, we hope your honeymoon is!).
I Love You, Honey
"I Love You, Honey" is the charming red word on this page. Instead, why not get a little phrase from your wedding vows tattooed on your forearm or wrist? The process of getting matching couple tattoos after your wedding is quite incredible.
Symbol and Numbers Tattoo
What if you used the same general style as this design but added a romantic symbol and your wedding date beneath it? To create your story, you may pick the day you first met or any other noteworthy occasion, such as an anniversary.
Married with Kids
Incorporate your children into the design of your couple's tattoo. A tattoo design with a heartbeat and a memorable occasion date is perfect for the whole family to enjoy together! Our favorite part about this tattoo is how heartfelt and pure it is.
No Matter What
Getting married is equivalent to making a "no matter what" promise to someone. You'll remain together through good and bad times alike. And that's exactly what this tattoo may stand for! It's a fantastic way to keep yourself reminded of the important things in life.
Mismatched Fonts
A beautiful design that looks incredibly tattooed on the wrists or ankles of a person. He considers her to be the one woman he truly loves. In her opinion, he's the one she's been longing for. It's an incredibly romantic expression of their feelings for one another.
5 Couple Name Tattoo Ideas
Anyone, regardless of gender, can get a heart tattooed on their shoulder…However, getting your partner's name tattooed on your body is not recommended. That is the ultimate demonstration of commitment.
Heart Initials
The most exemplary ideas are sometimes the most simple ones, like in the case of these matching tattoos. With their tattoo design, which has the first initial of their names inside a heart, they have quickly established a relationship and a pledge with one another. It's a beautiful and romantic sign.
Script Initials
Get your spouse's initials tattooed on your arm, and then have your partner get his or hers done on your arm as well. This is a sweet couple's tattoo, and we really like the small red heart inserted in the center. It's a sweet and beautiful song.
Forearm Matching Name Tattoos
Our favorite thing about these tattoos is the lettering and how smoothly they flow into the heartbeat and cross. A matching couple's tattoo is also a terrific idea if you're a married couple. Of course, you may also include the date of your wedding in the design.
Big and Bold Font
When you are madly in love with someone, you will want to shout it from the rooftops. But, unfortunately, the COVID limits have made that difficult… [Read more…] However, you may still get their name prominently tattooed on your body.
Extra Symbolism
Aside from the name, there are other chances to decorate your new ink with beautiful graphics. For example, this tattoo incorporates feathers and birds into the everlasting symbol to create a beautiful design. What characters are you planning to use?
10 Couple Finger Tattoo Ideas
Tiny tattoos on your fingers are a great way to express your feelings for someone. Every time you hold hands, there is a potential for your matching tattoos to come into alignment.
The Perfect Shape for Fingers
Although this pair has rose tattoos on their arms, the size and style of this design are ideal for placing on your fingers instead. And what more significant symbol of love is there than the traditional rose?
Join Together
If you can fit one half of a pattern onto one of your fingers, your partner will receive the other half. Only when you are together will you be able to view the entire tattoo! Simple symbols such as love hearts and stars work well in this context.
Fine Line Hearts
Because it will not be seen readily, the location on the inside of the finger is critical if keeping your relationship covert is a priority. Oh, and the hearts are pretty lovely as well.
XOXO
Warm embraces and kisses are headed your way! When it comes to finger tattoos, it's essential to keep them brief and sweet. It doesn't get any better than this in terms of speed. The X for kisses and the O for embraces are also good symbols.
The Place He Proposed
In addition to serving as a symbol of Paris, the city of love and romance, the Eiffel Tower was also where this gentleman proposed to his girlfriend, as shown below! So that's a beautiful finger tattoo for lovers to remember each other by.
Romance? No Thanks.
We like this tattoo because it is not a rose and a heart, which is what we usually associate with matched couples. Instead, these matching skulls represent a new type of love that is more profound and darker. And that's something we truly appreciate! so one-of-a-kind.
Overlapped Hearts
Three hearts that overlap one another is a clever technique to make the cliché heart tattoo stand out. Although the location on the finger is practical, this would also look good in a bigger size, such as on the wrist or ankle.
Congruent Tattoos
Congruence is defined as the act of agreeing, coinciding, and flexing to be the same as someone else. So what could be a more appropriate emblem for a relationship? When this is inked, we believe it will look incredibly cool. In this finger tattoo placement, you may also use star symbols.
Koi Fish
In comparison to fingers, Koi fish thumbs are not as well known for matching tattoos. However, as this matching koi fish couple's tattoo demonstrates, it can still be a fantastic location to get inked with your partner. The koi fish are also quite attractive.
Finger Initials
A single letter can convey a great deal of significance! This is an exceptionally well-done tattoo. When you're tattooing a single note on your skin, the typeface you use is the most crucial decision. Artists are excellent sources of guidance!
5 Gay Couple Tattoo Ideas
One of the most appealing aspects of tattoos is that they are accessible to anybody. Tattoos don't matter what your age or sexual orientation is. You don't have to get a tattoo to show how much you love someone with ink.
Four Leaf Clover
Did you know that the four-leaf clover represents the protection of LGBT rights in Uruguay? A stunning matching tattoo for you and your lover to get together! Take note of the initials that have been placed around the clovers as well. It's lovely.
For The Women
This tattoo is very appealing to women. It is a celebration of femininity and love. The linework is both delicate and robust at the same time. It's a beautiful matching tattoo idea for commemorating your lesbian love with your best friend. But, of course, we'd appreciate it much more if it were the other way around.
Always
This homosexual couple tattooed the word "always" on each other's bodies to symbolize their commitment. It's pretty sweet and demonstrates their devotion to one another. We adore it and wish them the best of luck as they embark on their long and fruitful life together.
Masculine Beauty
This tattoo is just beautiful. We appreciate how the strong line art draws attention to the beauty of masculinity. An ideal matching tattoo to commemorate your homosexual love for each other has been proposed to you. Rainbows might be created by using watercolor splashes.
Love Hearts
Proving that love is, in fact, love!Various forms of teams (or triads, or… the list is limitless) sport this tattoo, including homosexual couples, heterosexual couples, and all other types of groups. The love heart is a global sign that may be found in every culture.
5 Couple Tattoo Ideas King and Queen
The notion of a king and queen tattoo is a timeless one. He gets the tattoo of the monarch, while she gets the tattoo of the queen. Your love is supreme when you're together! Take a look at these five suggestions.
The King and Queen of Hearts
A stylized heart is crowned with simple crowns. When they match, it is simple, yet the message is self-evident since they are the same. Treat the person you care about with this tattoo to demonstrate that they have won your affection.
Sketched Crowns
A Q is placed under one crown, while a K is placed under the other. This is a fantastic king and queen tattoo design for couples to consider! The hip, wrist, ankle, and thigh are excellent places to put your hands. Of course, you could also color it in if you wanted to.
Names and Crowns
This is a creative concept. Perhaps you could get your partner's name tattooed on your body with a crown above it? In tone and content, it still has the idea of the king and queen.
Different Placements
Even though the tattoos are the same, the location of the tattoos does not necessarily have to be the same. We appreciate that this king and queen style matching tattoo set works so well, even though they are placed significantly apart on each other's bodies.
Classic King and Queen
Let's bring this section of our couple tattoo idealists to a close with a timeless classic. Crowns are our favorite tattoo designs, and we adore how gracefully they've been inked. However, if you missed the message, the king and queen are inked under the surface.
10 Couple Tattoo Ideas Minimalist
There is no going back to the minimalist tattoo trend, and it makes for a beautiful aesthetic for couples' tattoo ideas. Here are ten of our favorite looks to get your creative juices flowing.
Love Birds
These adorable puffin tattoos are in honor of many happy years of marriage together! We appreciate the simplicity of the design and the use of neutral colors. We also believe the positioning is fantastic — the same point on both arms is precisely the same, making for a perfect match.
Simple Shapes
These beautiful and straightforward triangles convey a great deal of information. Did you know that a triangle is the shape with the most significant muscle mass? A lot can be deduced about their relationship from this!They are in excellent condition and are perfectly positioned on the rear leg.
Read More: Heart Tattoos: What They Mean And 35 Design Ideas
Symbolic Lettering
999 signifies taking whatever hell, whatever awful scenario, or whatever difficulty you're going through and turning it into something great, "says the caption of this tattoo image uploaded on Instagram. It's the polar opposite of the terrible number 666!
Geometric Stags
Two stags (male deer) are tattooed together in this adorable geometric design, creating an awesome minimalist relationship tattoo! Our favorite part about these matching stag tattoos is the small nuances and similarities that make them noticeable to a romantic pair.
Simple Line Art
In addition to being perfect for siblings and couples, this tattoo has a more friend-like feel than a romantic one. On the other hand, we think the style is laid-back. It's preferable to getting a portrait of their face painted!
Superman and Wonder Woman
They are an iconic couple and a fantastic concept for a tattoo for a couple's tattoo. Of course, you might choose to have the symbols larger and colored, but we think this minimalist logo design is much more comfortable and lovely than the alternative approach. So choose from any legendary pair!
Long Distance Relationship Tattoo
This tattoo will always serve as a tie that binds you together no matter where life takes you. A long-distance relationship or making memories that will last on your first vacation together are great reasons to get a tattoo.
Sunset or Sunrise?
It is charming when a tattoo of this minimalist pair is designed to seem like a beautiful sunset or a symbolic sunrise. This pattern is versatile and will look good in various settings, making it a perfect choice for being inked on.
Matching Arm Bands
It's the same as wearing a matched set of jewelry. This is an excellent option for couples because it does not have a romantic atmosphere or images of lovey-dovey hearts. Instead, this shows that you and your partner are truly in love with each other.
Heart-Shaped Grenades
Two tattooed lovers, each with a matching tattoo, It's just lovely! This is a tattoo design you'll want to acquire if your love for each other is so strong that it threatens to blow up in your face.
Also, don't forget to browse through our tattoo instructions on Hero Tattoo for even more ideas!
It is better to give than to receive!