Do you have a fascination with scorpions? Do you find it amazing and terrifying all at the same time to look at them? Because it reveals both their sensual and forceful sides, a tattoo inspired by the Scorpio zodiac sign is a popular choice among many women.
Do you consider yourself to be one of those women as well? In such a case, continue reading, and you will find a huge variety of tattoo designs below! On the other hand, we will also present some scorpion tattoos for boys and girls who would prefer to flaunt something not zodiac-inspired yet that shows off the beauty of a real scorpion.
These tattoos will be shared in this section. Find your ideal companion on the list down below!
What Does A Scorpio Symbolize?
Your whole being will be symbolized by this sign and these corresponding symbols. The characteristics of a scorpion are typically described as being aggressive, domineering, and protective. Aside from being a sign of rebirth, your tattoo could also be seen as a sign of passion.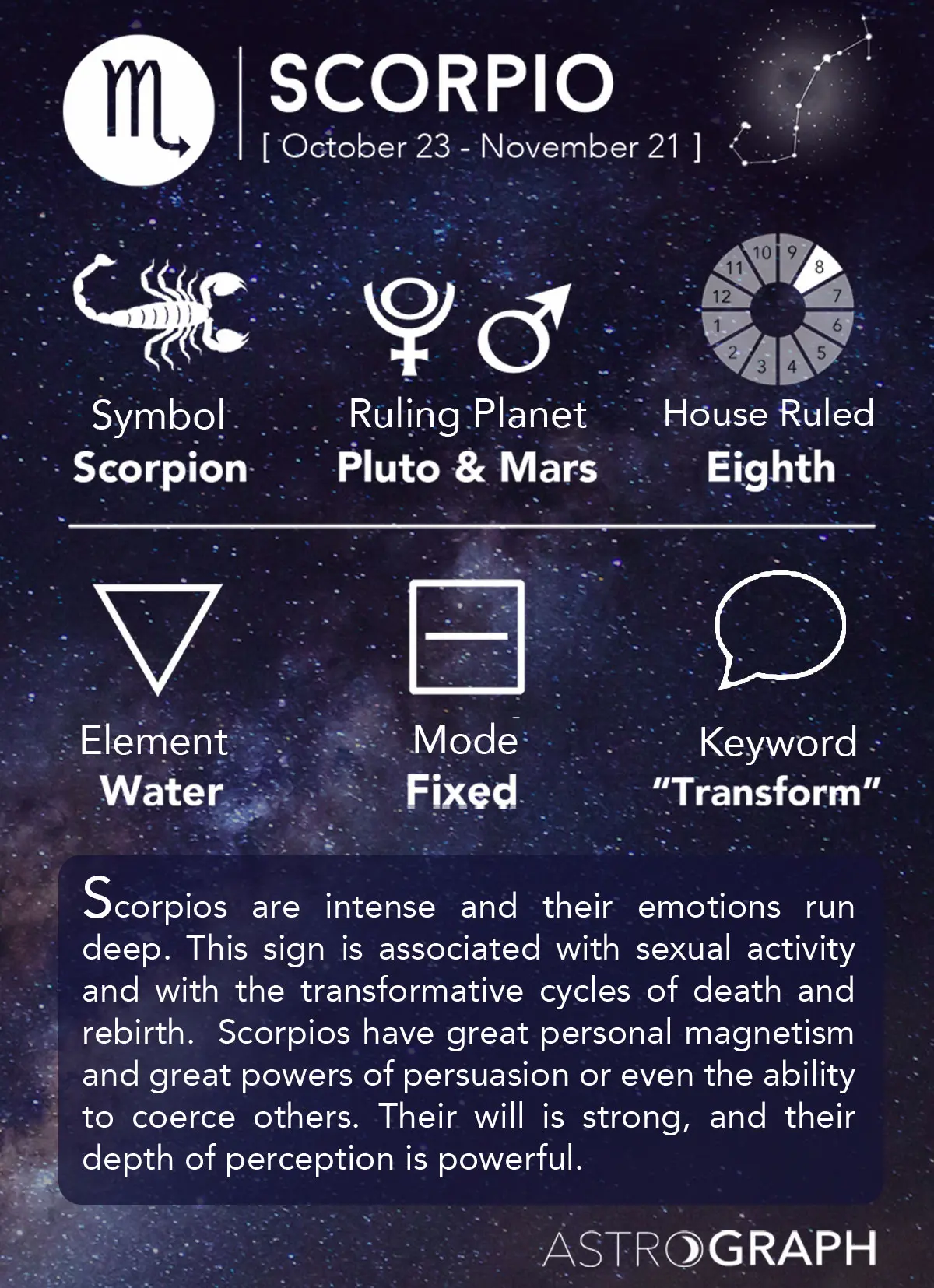 For Whom Is a Scorpio Tattoo Appropriate?
A Scorpio or a tattoo that is inspired by a scorpion will appeal to those that are passionate, fiery, and sexual. This tattoo is perfect for you if you have a soft spot in your heart for critters. Be sure that you are outgoing and confident and that you have the desire for others to learn about who you are via the beautiful design of your tattoo.
Colorful Scorpio Tattoos
1. Scorpio Tattoo On Hand Colorful Print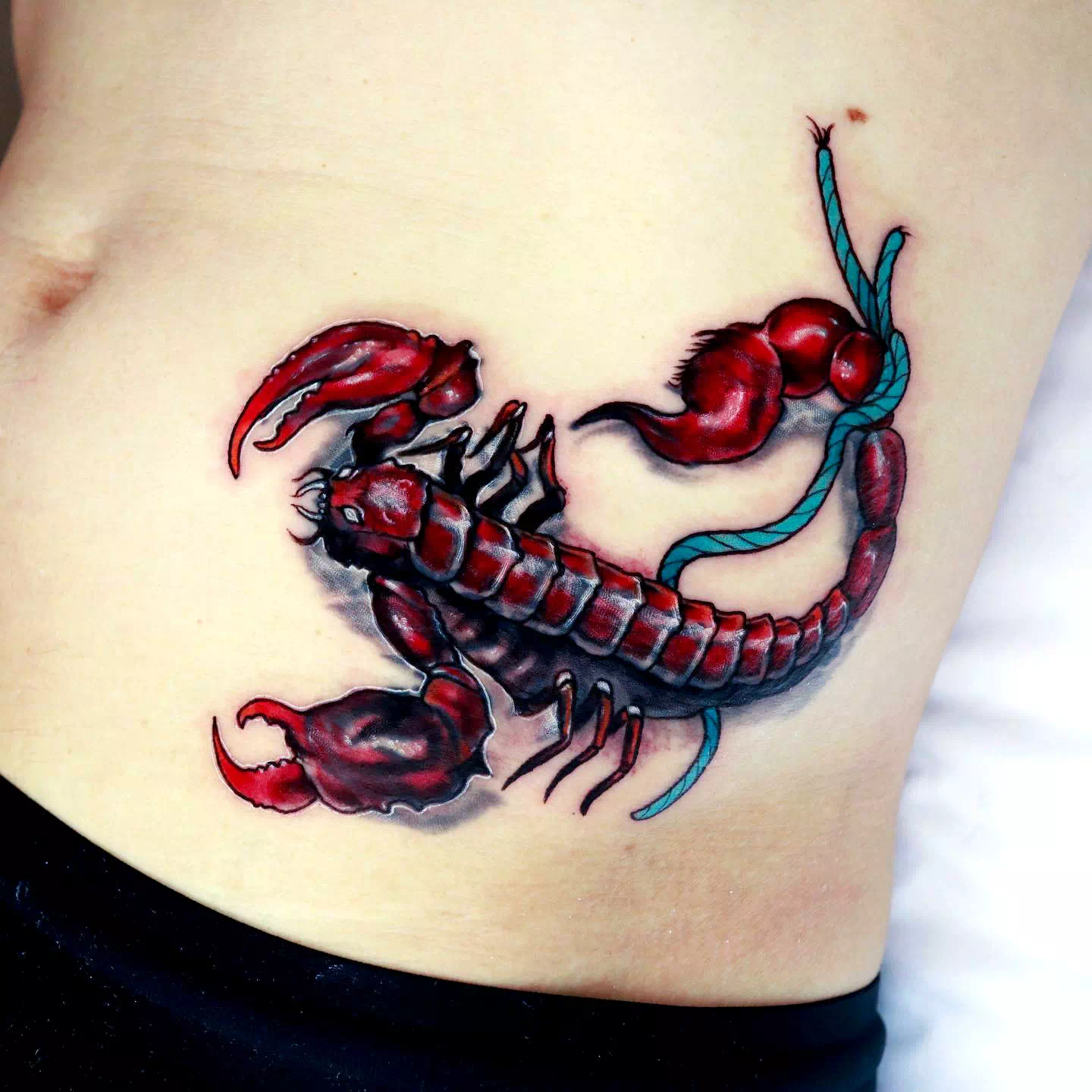 Are you a vibrant individual? Do you appreciate tattoos that are bold and easily visible? You will look absolutely stunning in this bold ink.
It is a symbol not only of strength but also of domination. You will have a lot of fun demonstrating its dynamism and the many distinct but colorful personalities that we all possess and adore showing off.
2. Cool Scorpio Tattoos Colorful Design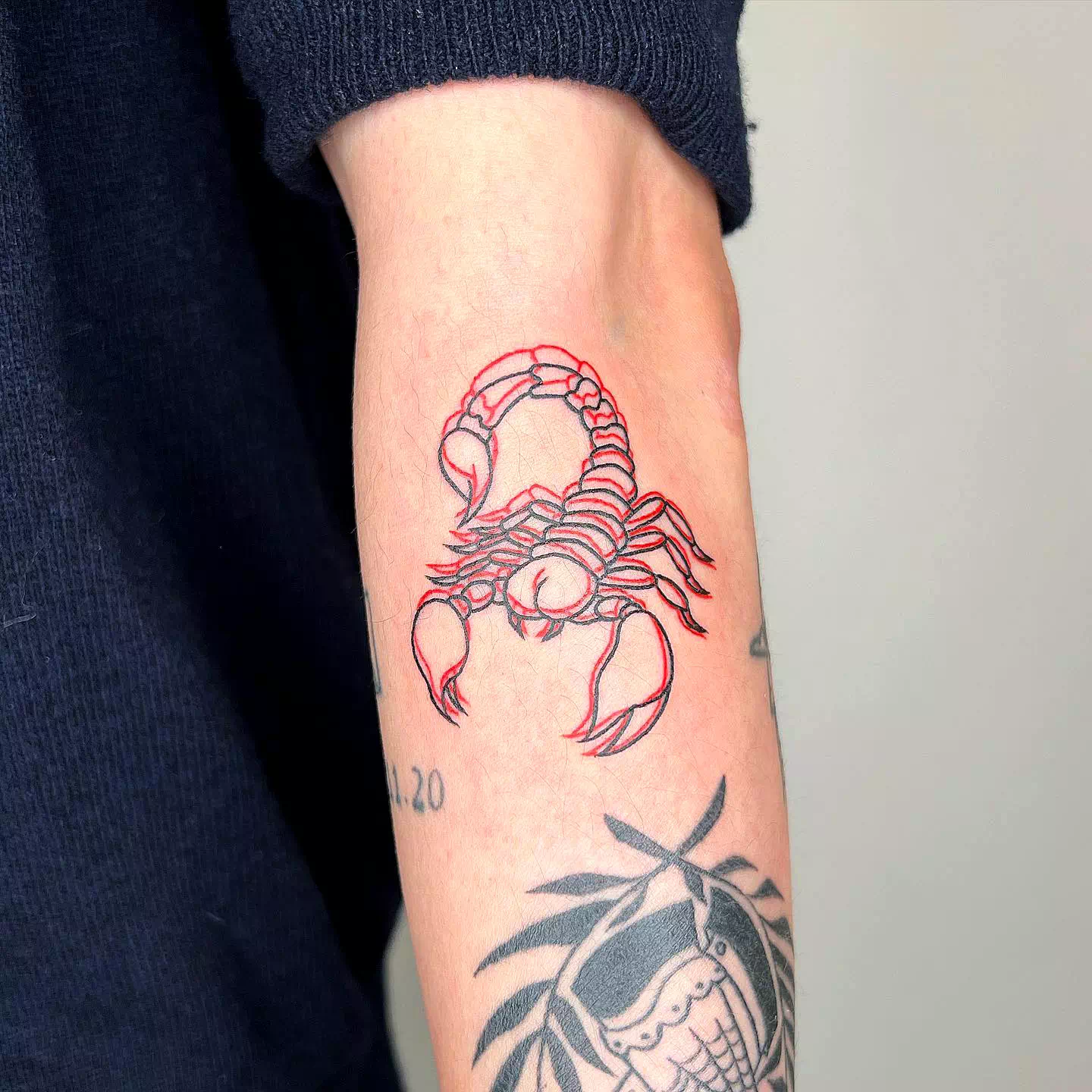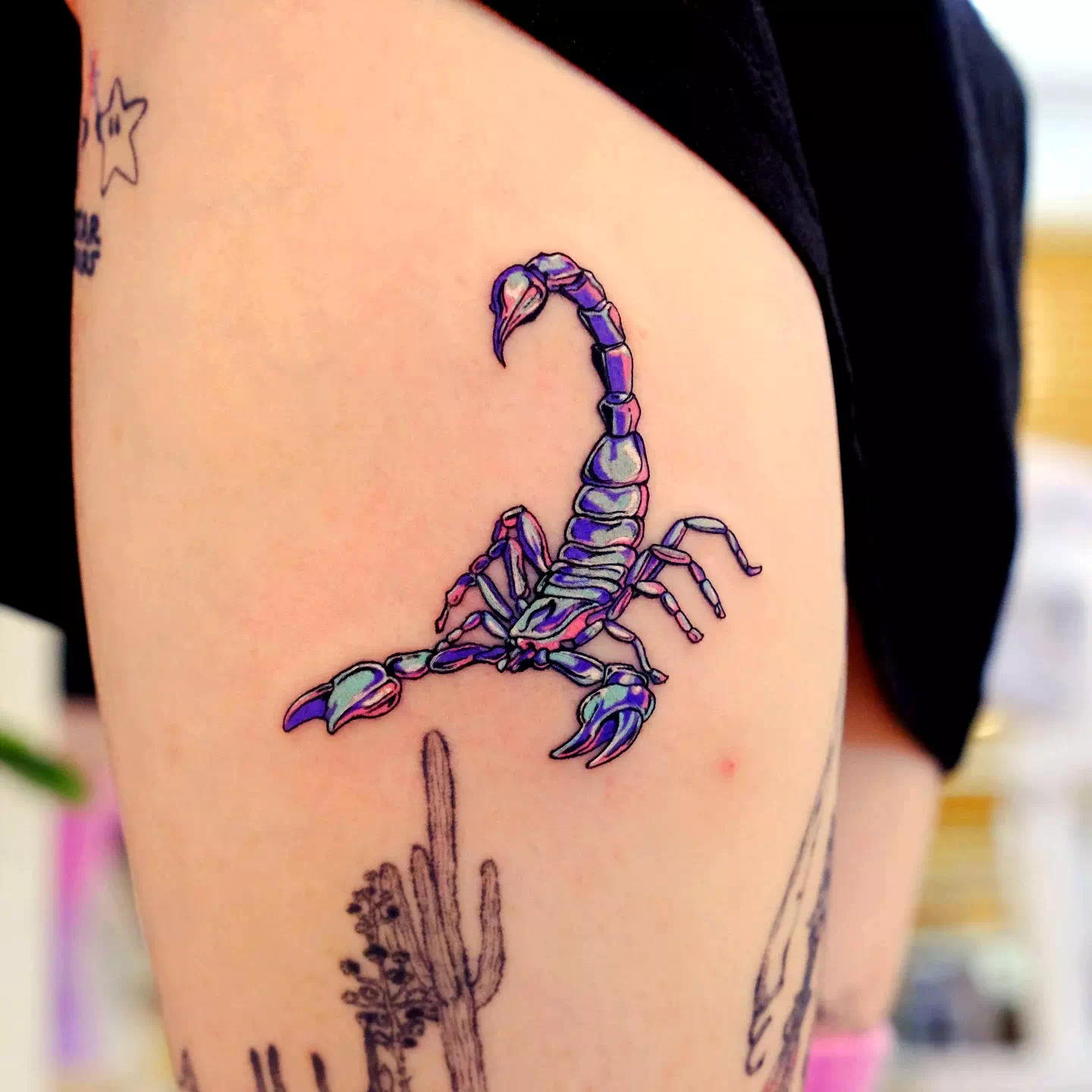 Are you in the mood for some colorful tattoos that take inspiration from cartoons? This design is good for younger men and women of either gender, as well as anyone who likes brightly colored and intricately patterned scorpions.
This one will represent the youngster that still resides inside you. It will show how determined you can be and also how complex your personality is.
Fun fact: Did you know that scorpions actually give birth to live young? These are significantly larger than the eggs that other species generally lay in their nests.
3. Scorpion Tattoos Images Over Arm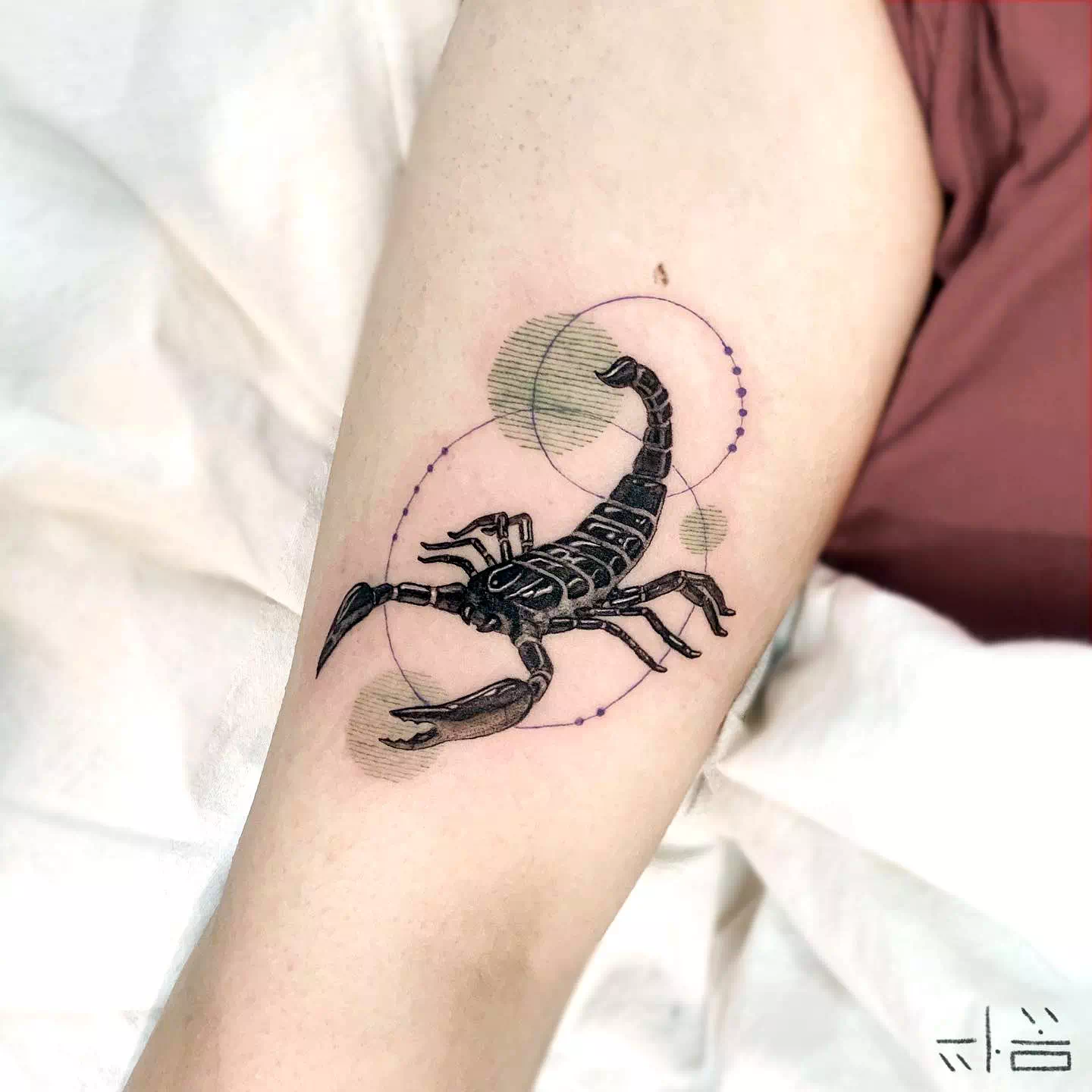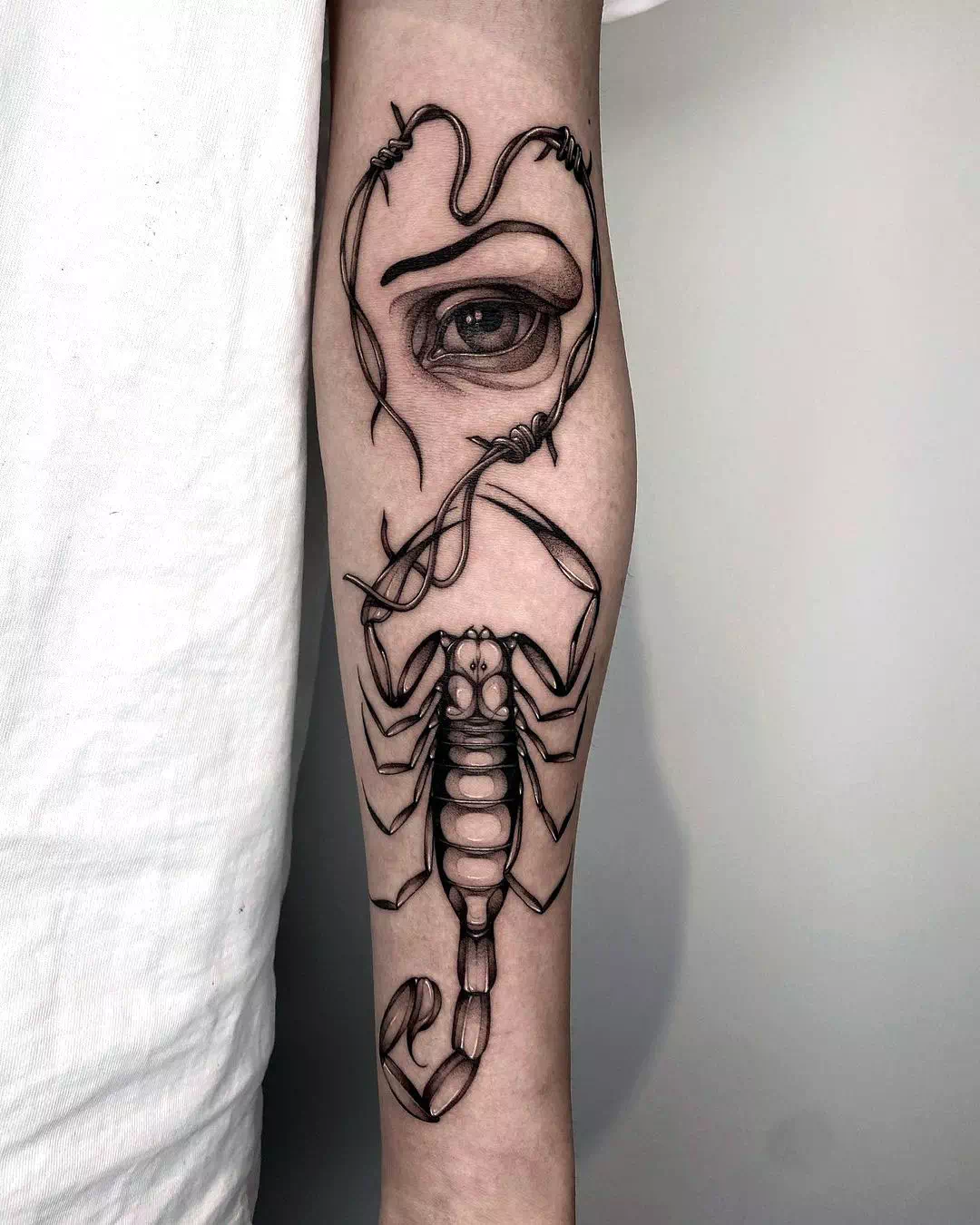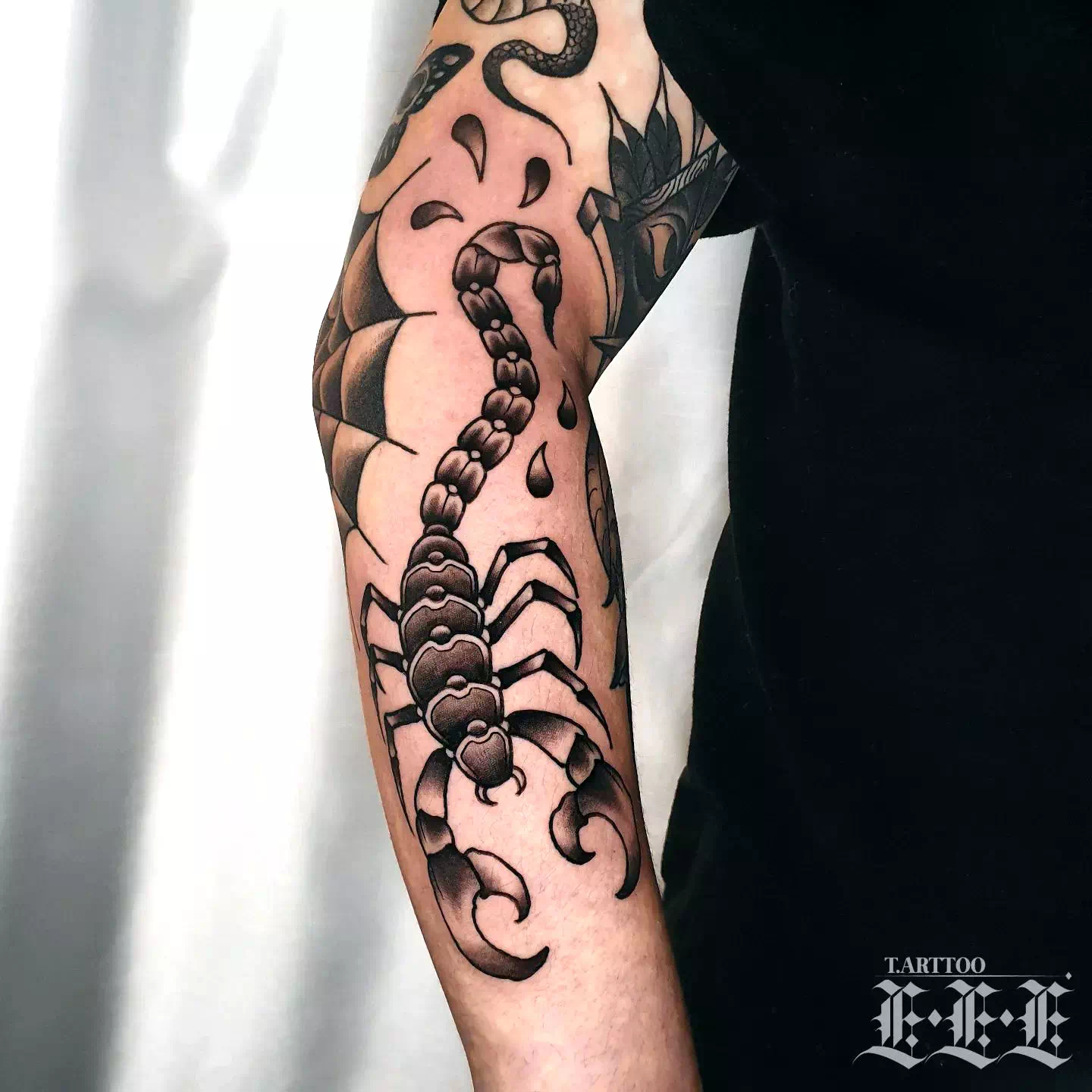 This scorpion design is just ideal for a macho tattoo. It has a combination of colors that is both soothing and unique, which makes it a great choice and makes it look beautiful when draped over your forearm.
Your protective nature will become more apparent with this Scorpio. You are also a wonderful spirit who can discover and delight in oneself in a variety of ways, both through your everyday experiences and in other contexts.
4. Scary And Dramatic Cool Scorpio Tattoos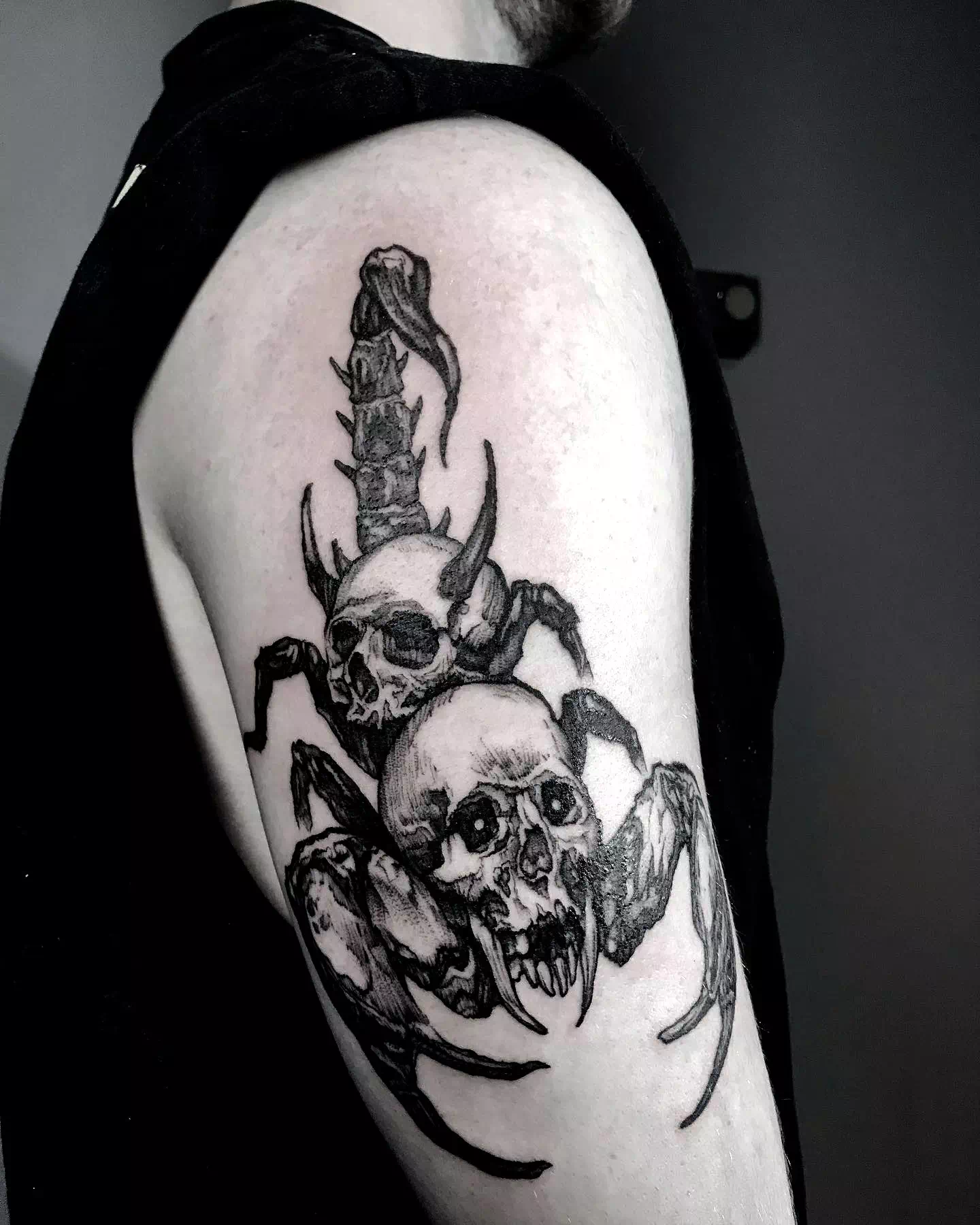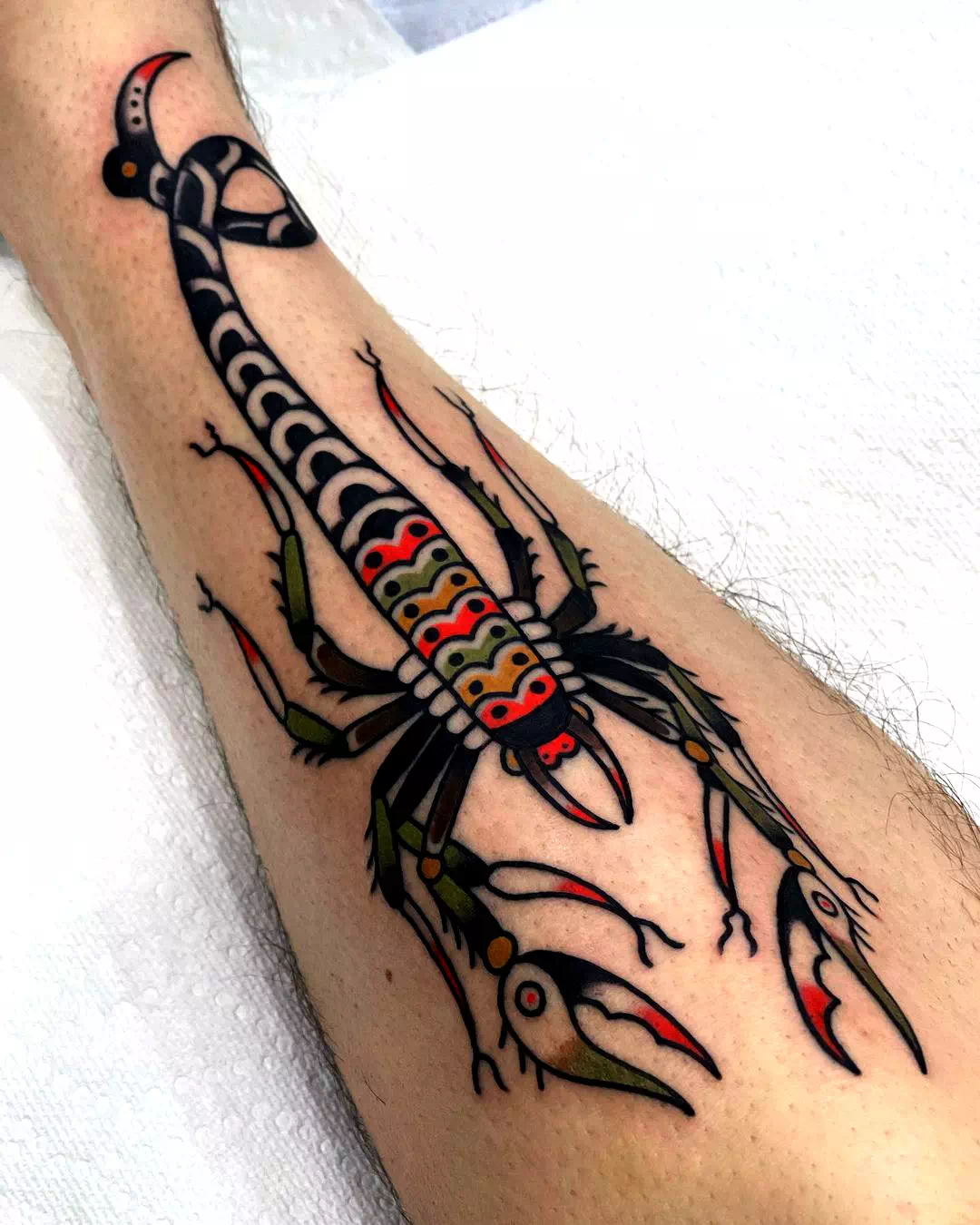 Are you a supporter of tattoos that have a sinister appearance? Is the horror genre your go-to when it comes to watching movies? If that's the case, you'll love how this mysterious Scorpio tattoo turned out.
This Scorpio tattoo is a representation of a dark and terrifying past. Through this link, you will have the pleasure of revealing your sentimental side and all of the events from your history.
5. Scorpion Tattoo Mortal Kombat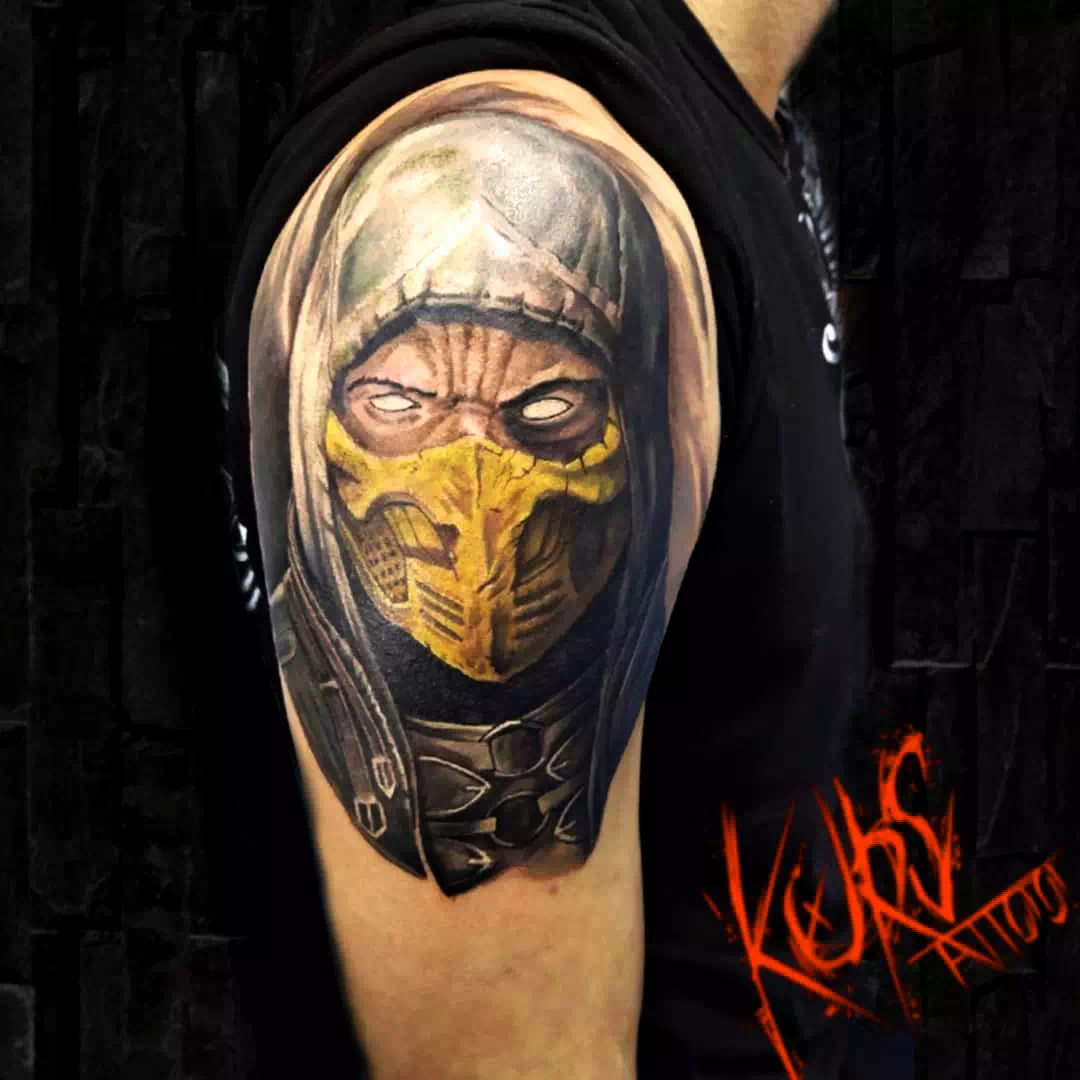 Shoulder tattoos are fantastic and are an absolute must if you engage in physical activity. If you have broad shoulders, gaining them will be fun for you. This brilliant blue ink will serve as a sign of both your strength and your faithfulness.
This Scorpio is for strong gentlemen and individuals who enjoy displaying their more manly side. This print may tell many different tales, and you will love sharing yours with everyone around you as you do so with the help of this ink.
Did you know that the sign Scorpio is one of the Zodiacs? Those born between the 23rd of October and the 21st of November are included in this group.
6. Colorful Scorpion Tattoo Forearm Ink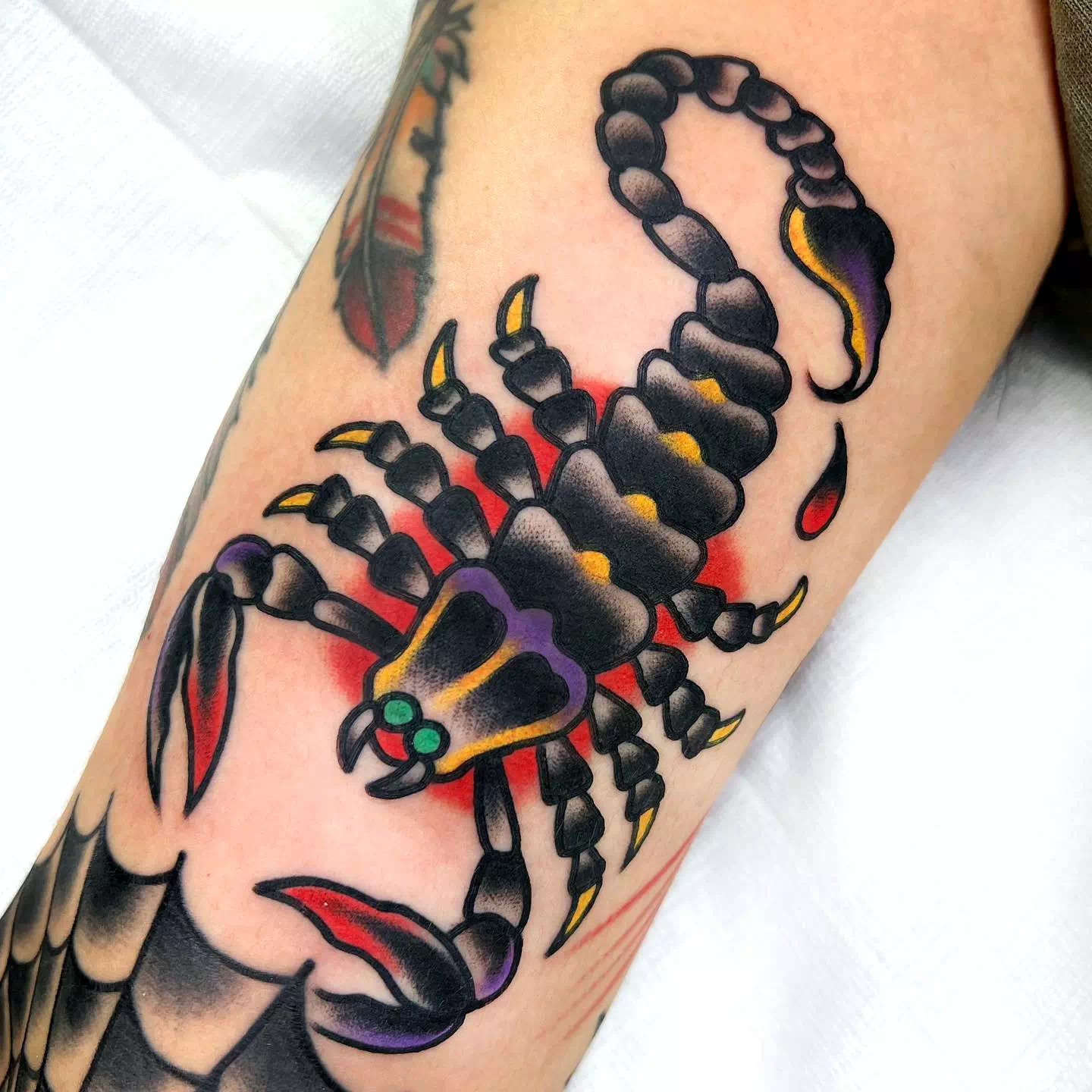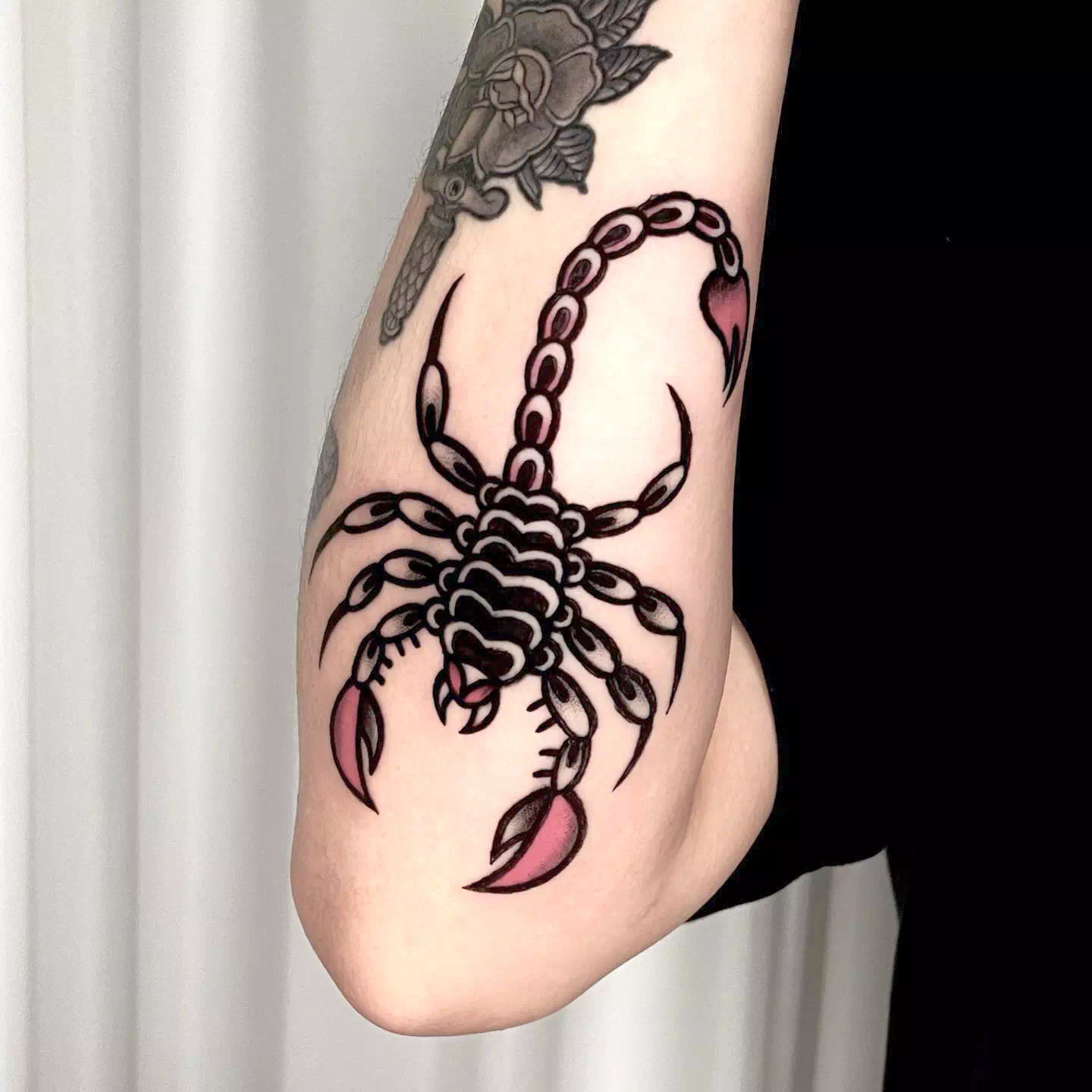 Do you enjoy an unexpected splash of color? Perhaps this tattoo of a red-and-blue Scorpio will look good on you. It may be worn over either your knee or your forearm if you like. In addition to being of a great grade, it is also quite detailed.
This color scheme is a representation of authority and integrity. Are you a lover who is devoted yet also passionate? Make your natural colors shine through with this color combination, and allow your resolute side to take center stage.
Small Scorpio Tattoos
1. Small Scorpio Tattoo Red Ink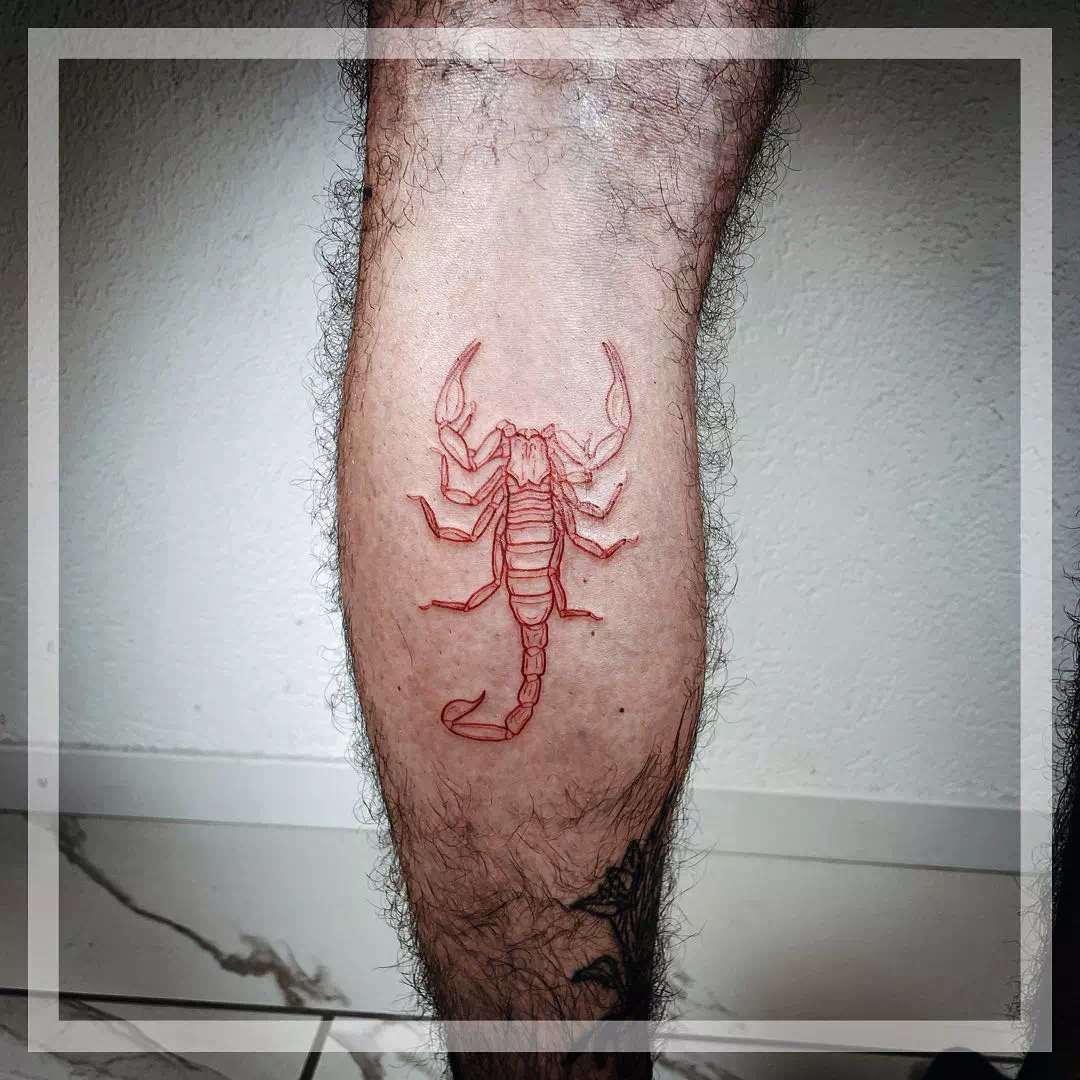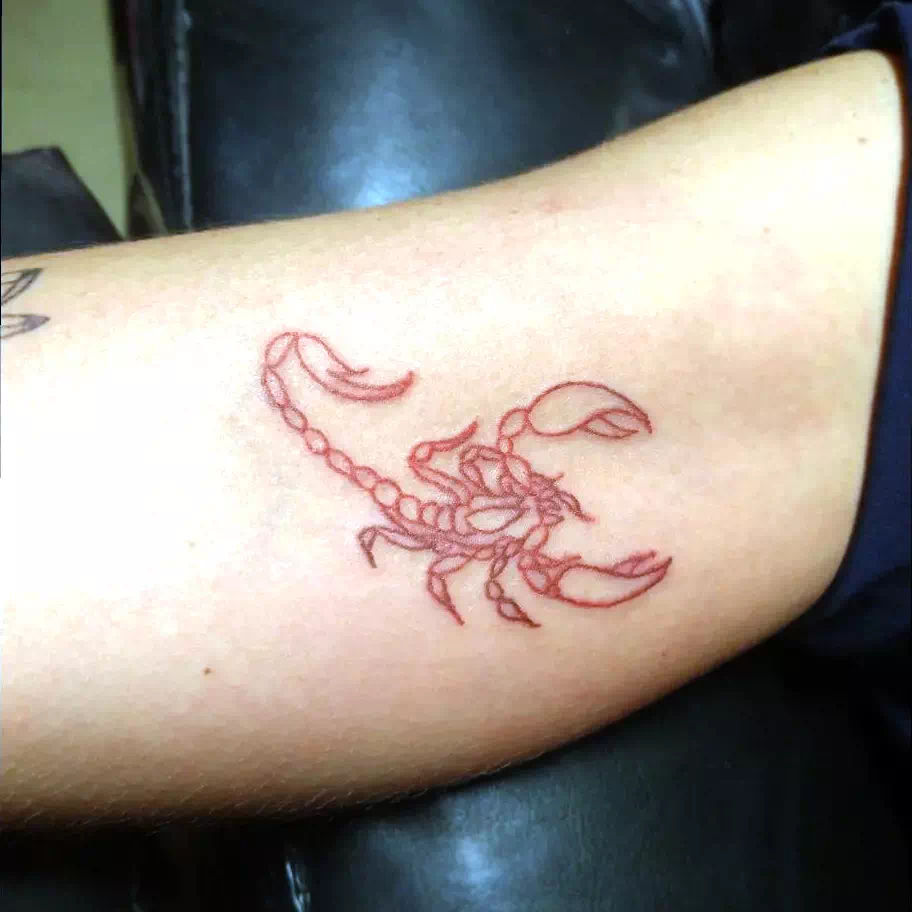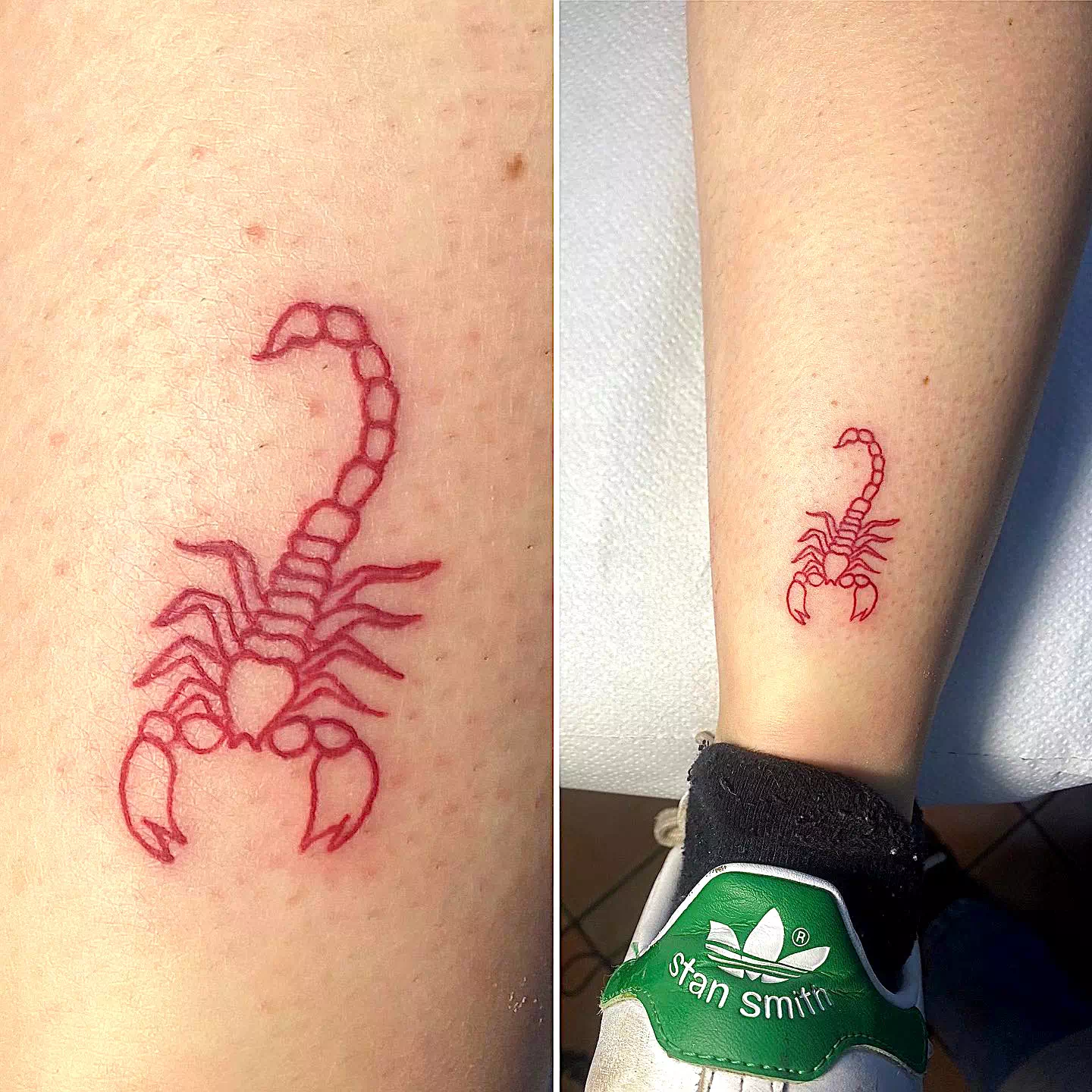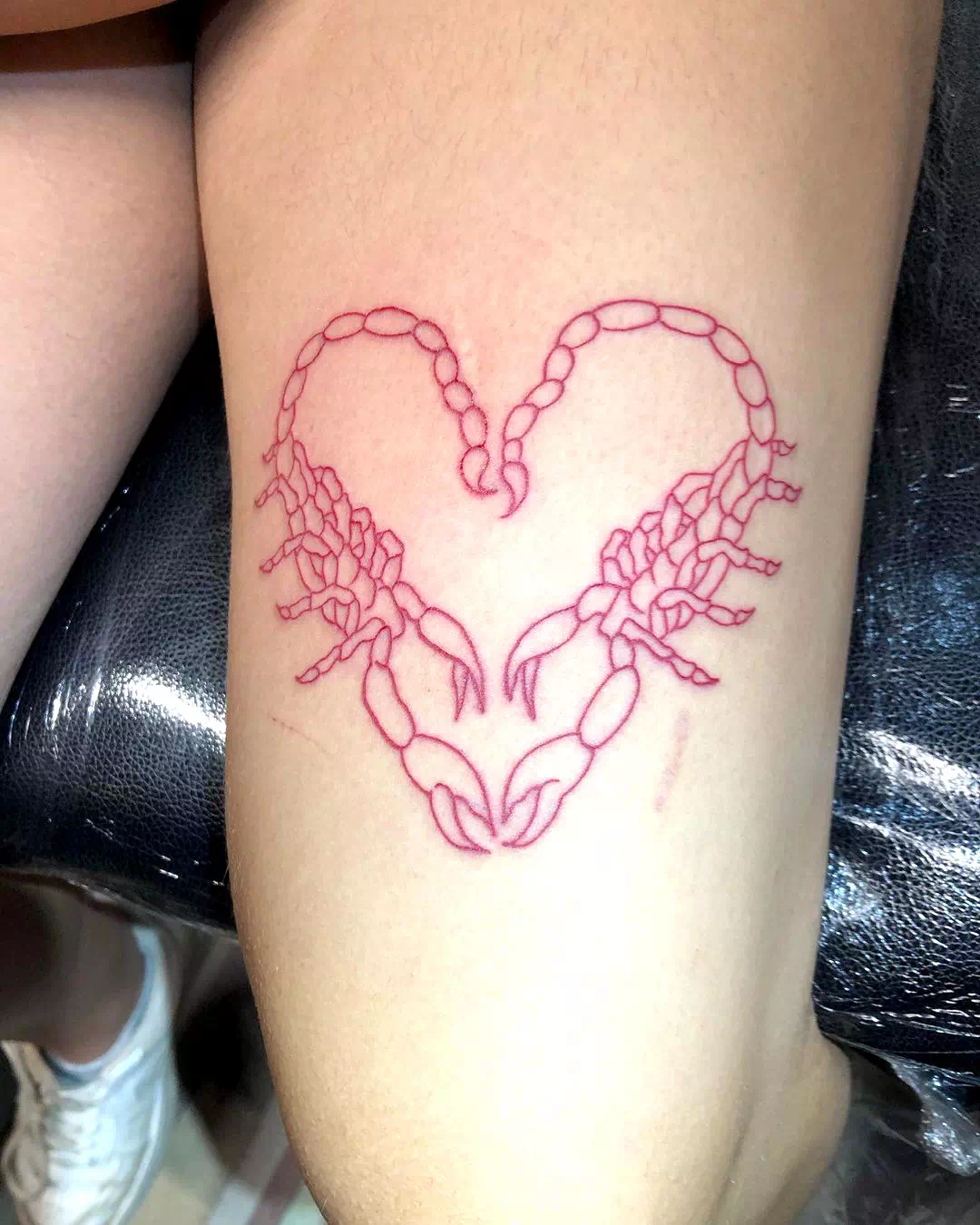 What about a little Scorpio tattoo that's nice and delicate? This design is ideal for ladies who are uncomfortable with needles and do not want to experience a great deal of discomfort when getting their tattoos done.
The color red is associated with majesty, love, and ardor. If you want a tattoo that takes less than two hours to do and looks great on your forearm, consider getting this Scorpio design instead. You won't be disappointed.
2. Black Small Scorpion Tattoo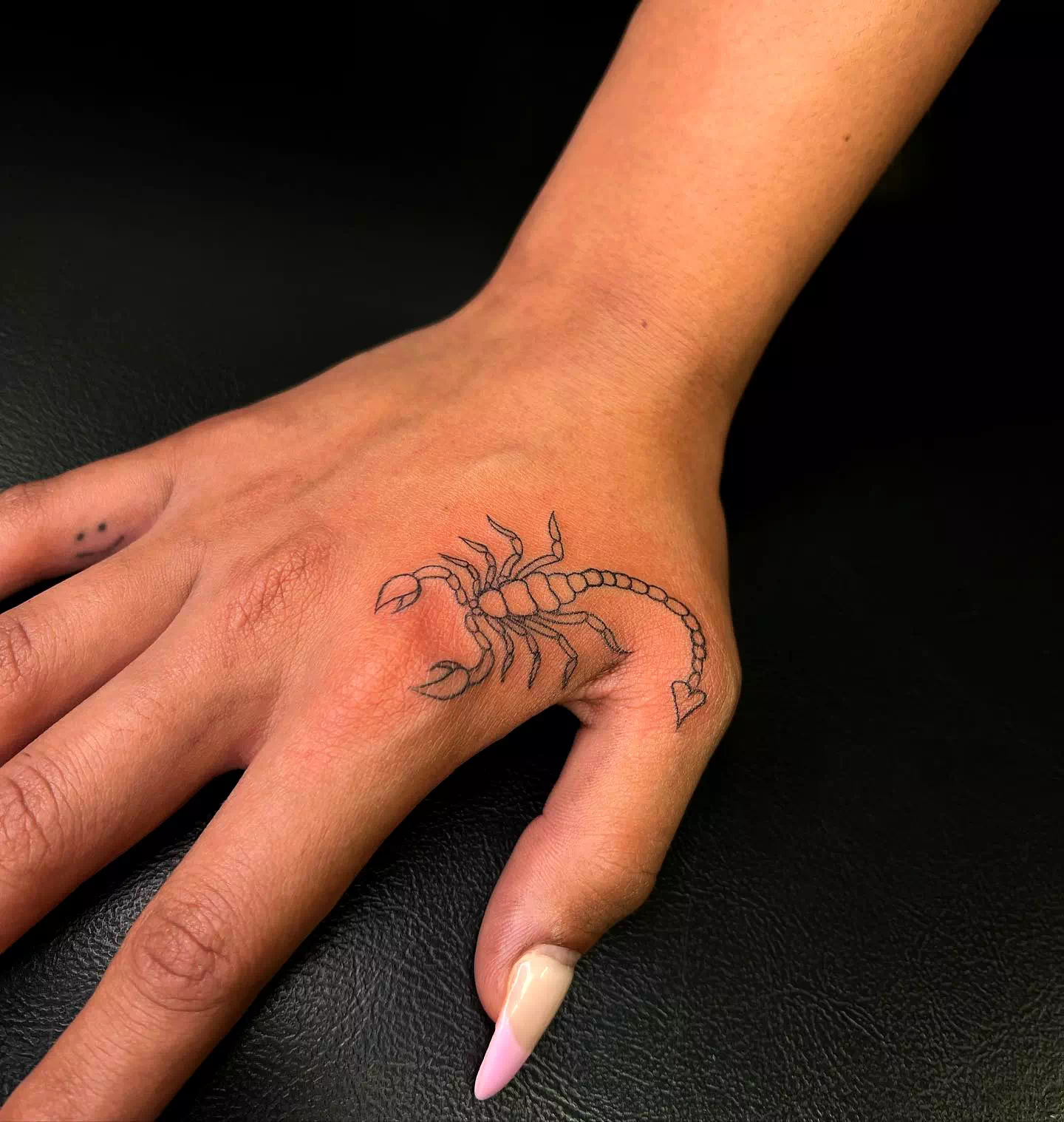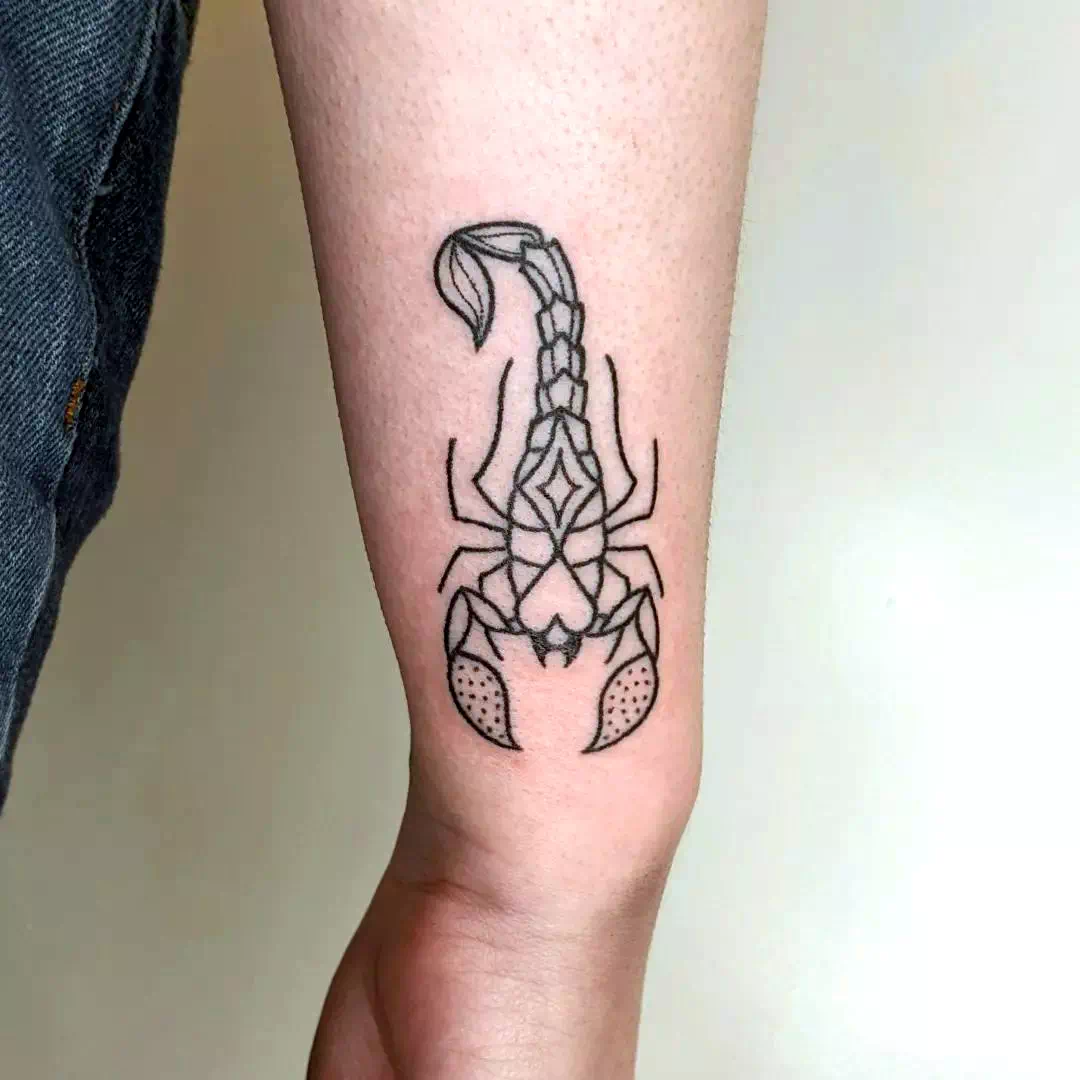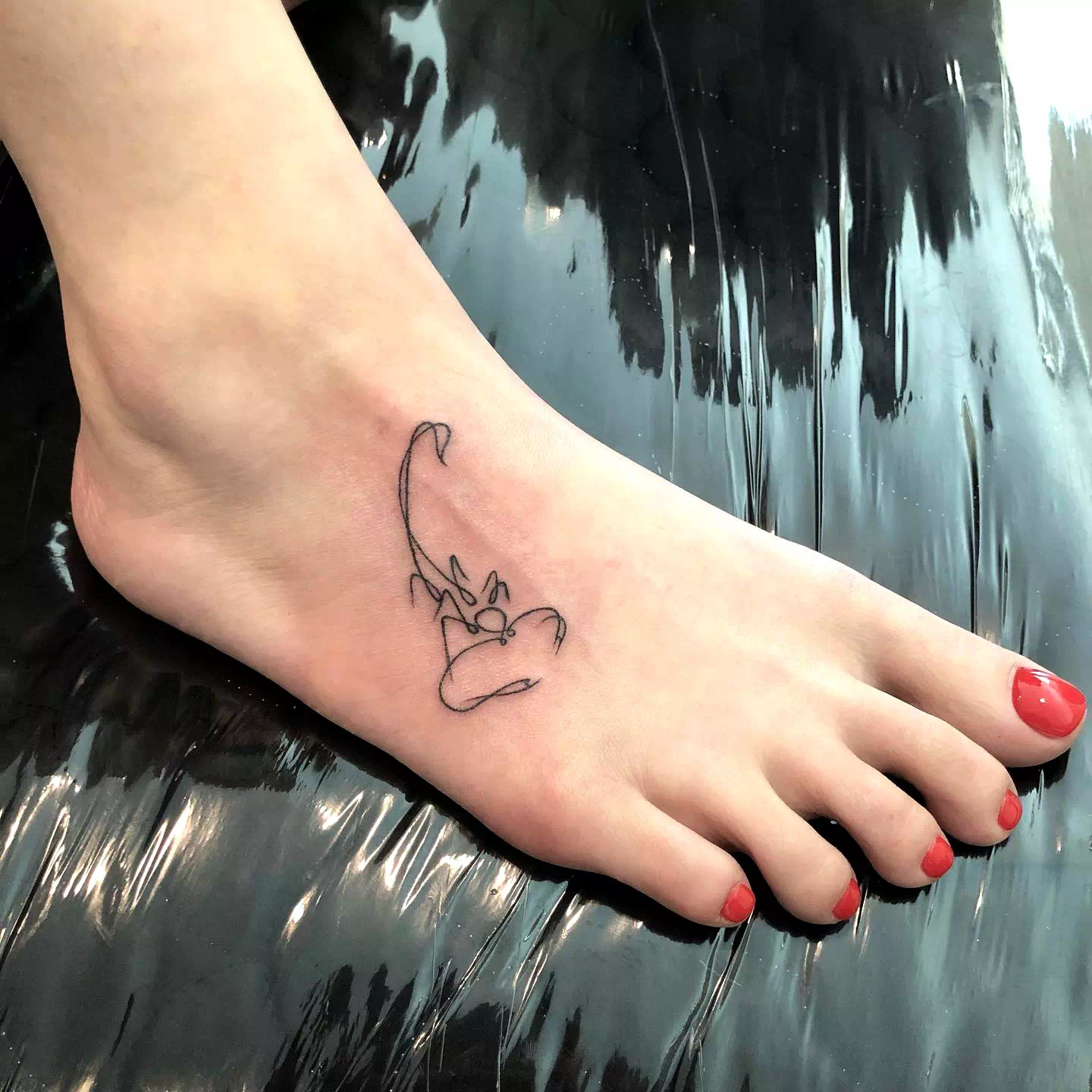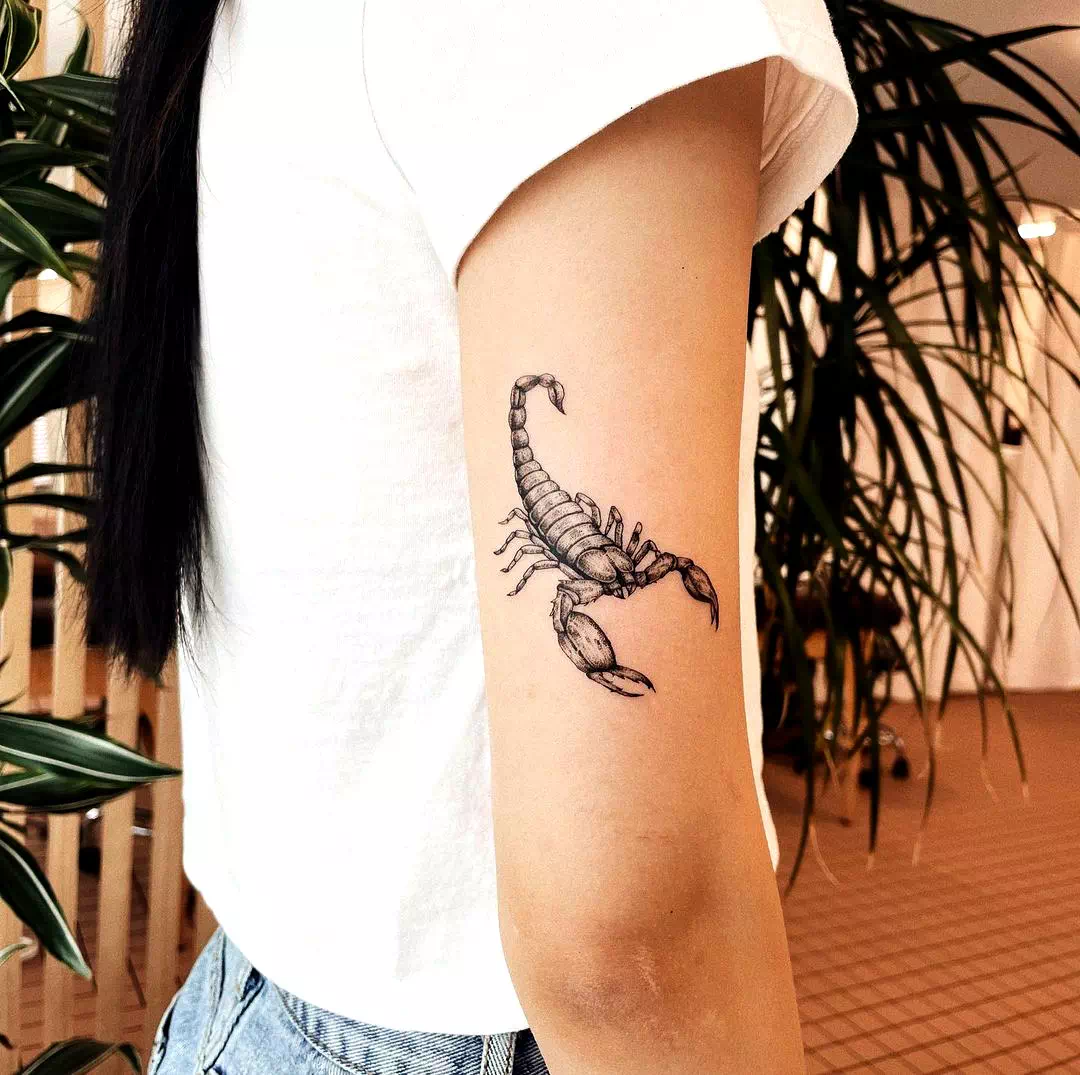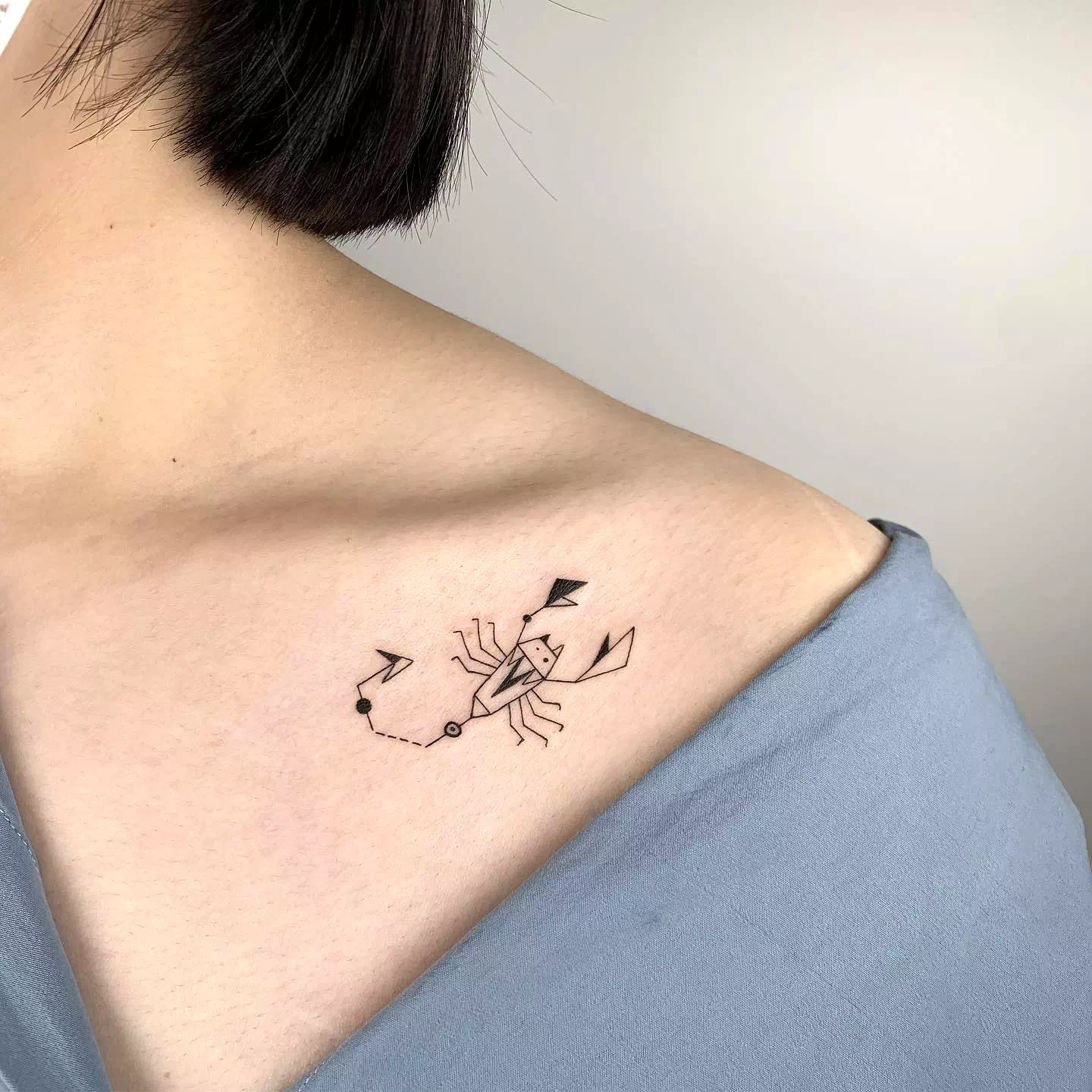 The design of this black Scorpio tattoo is just stunning. It is embellished with shapes that resemble stars. If you are interested in the zodiac, the galaxy, and astrology, this will be the best fit for you.
This tattoo represents genuine feelings, profound intentions, and an intense love for one another. If you are a person who values simplicity above all else and has a kind heart, you will adore this ink.
Fun fact: Scorpions have been known to live for up to 25 years, an interesting statistic.
3. Scorpio Zodiac Tattoos Over Wrist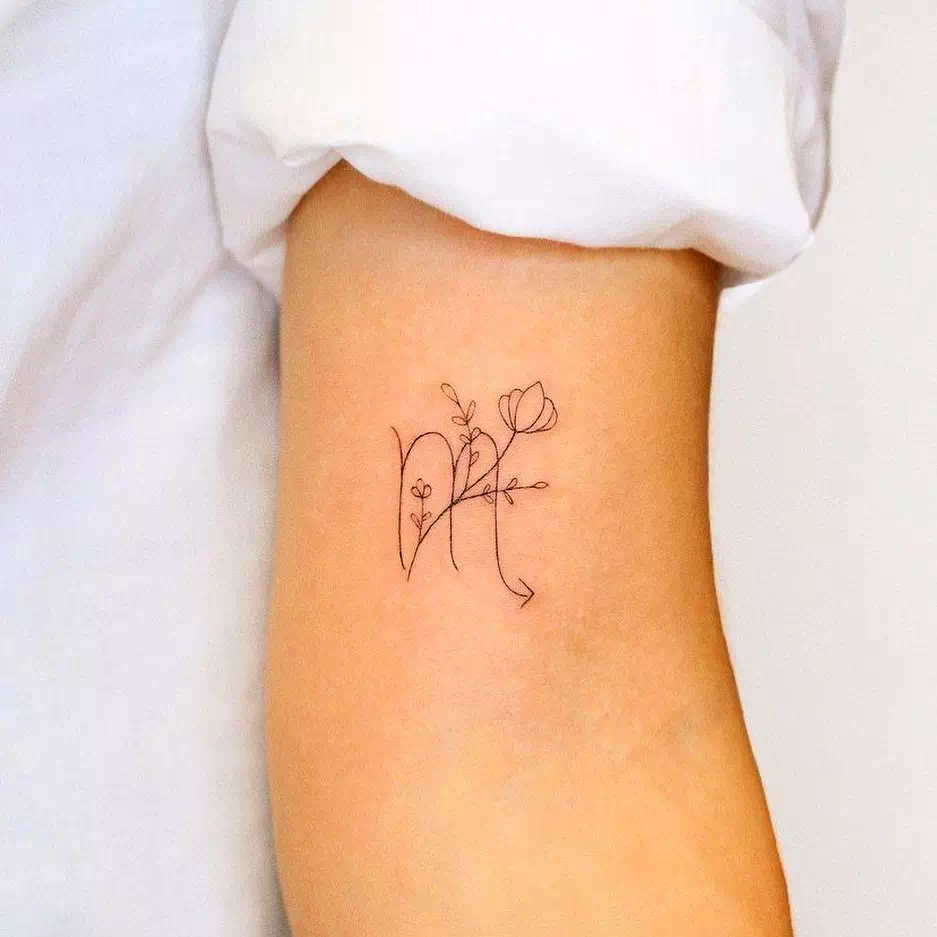 Whether you're a man or a woman, if you believe in astrology and the zodiac, this Scorpio-themed tattoo is the ideal option for you. It is a rather inconsequential item that can be obtained in significantly less than an hour!
Are you afraid of the sharp object?This tattoo is going to look great on you! It reveals that you are fascinated by horoscopes and have faith in the influence that may be exerted by the constellations.
5. Traditional Scorpion Tattoo with Detailed Work on the Forearm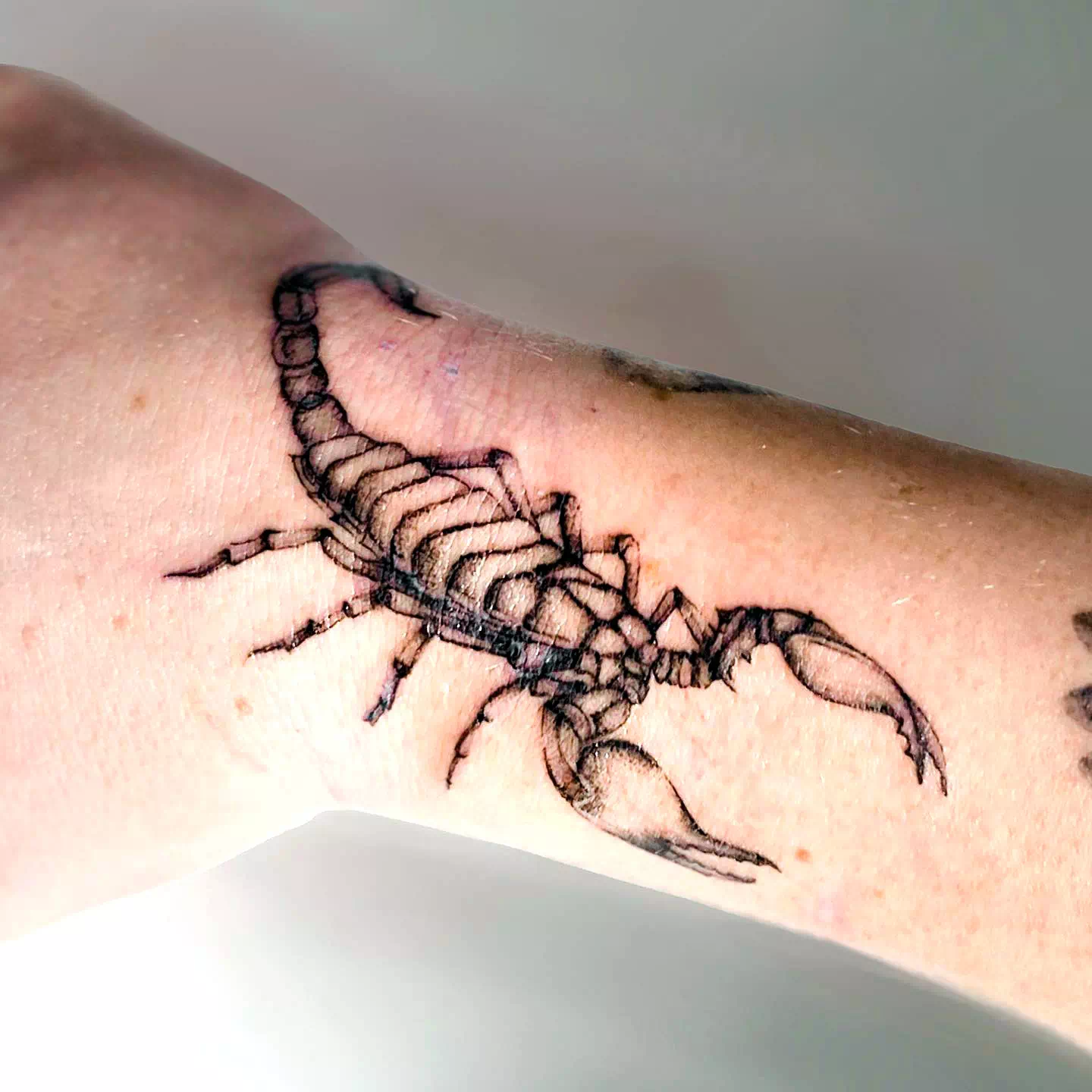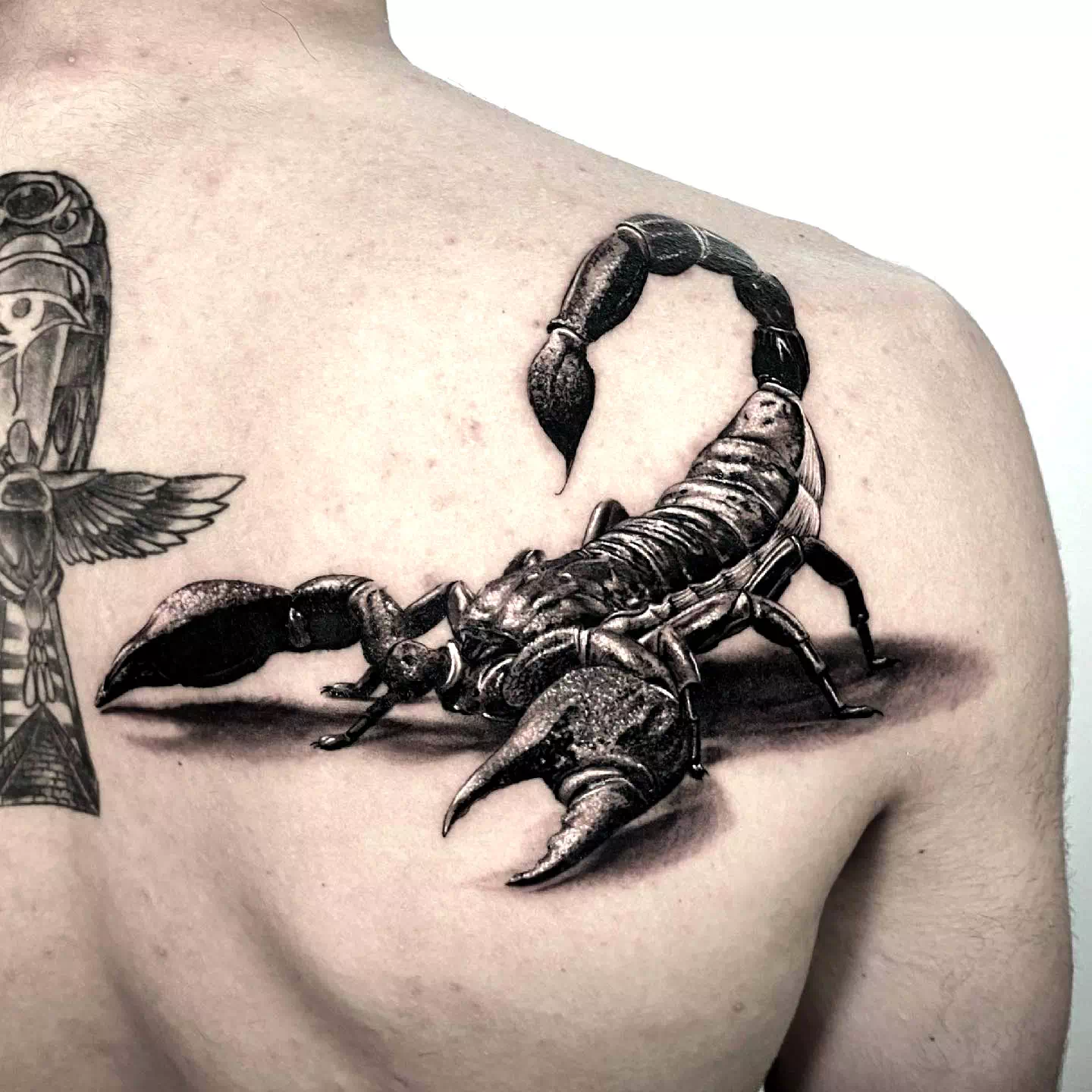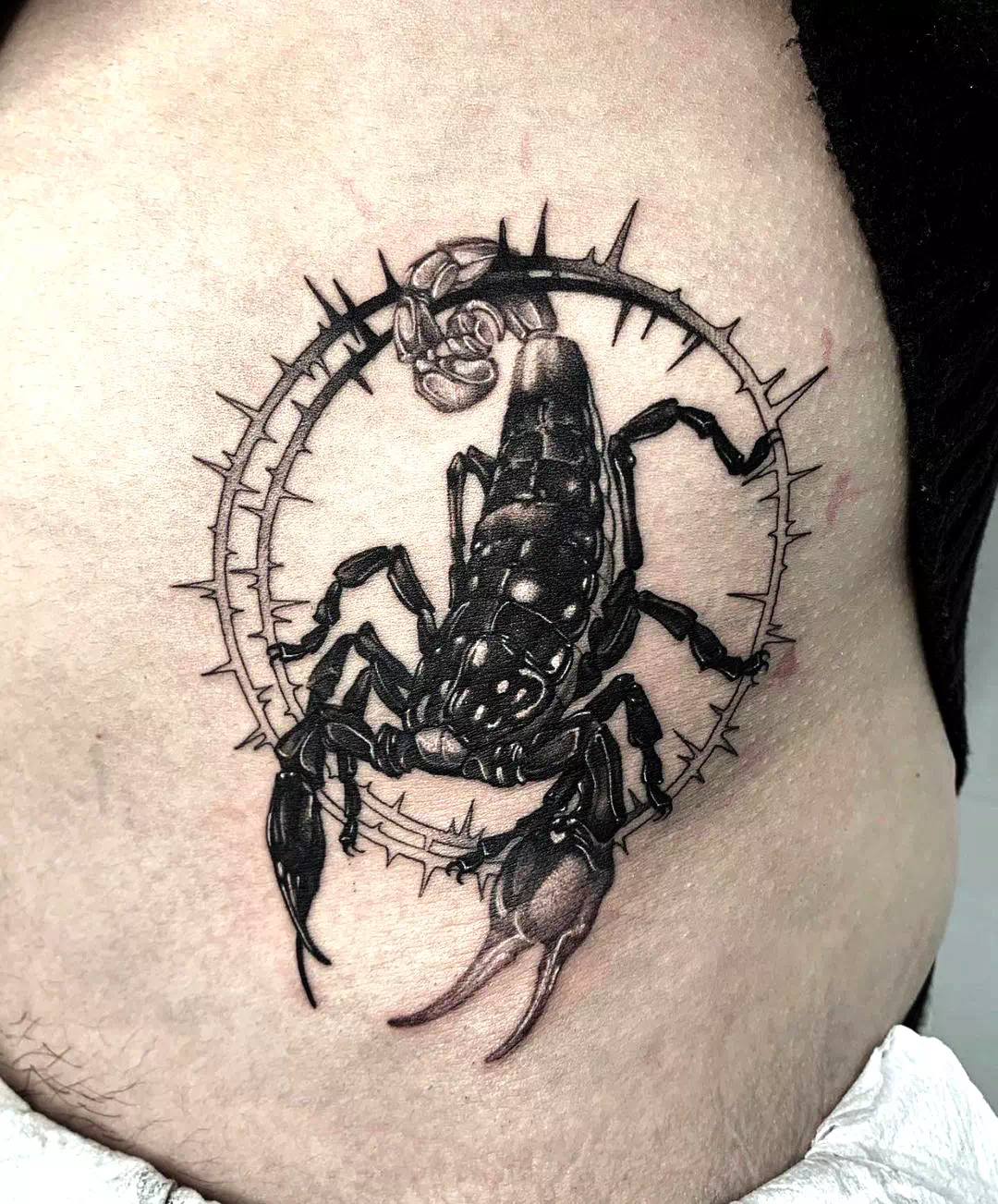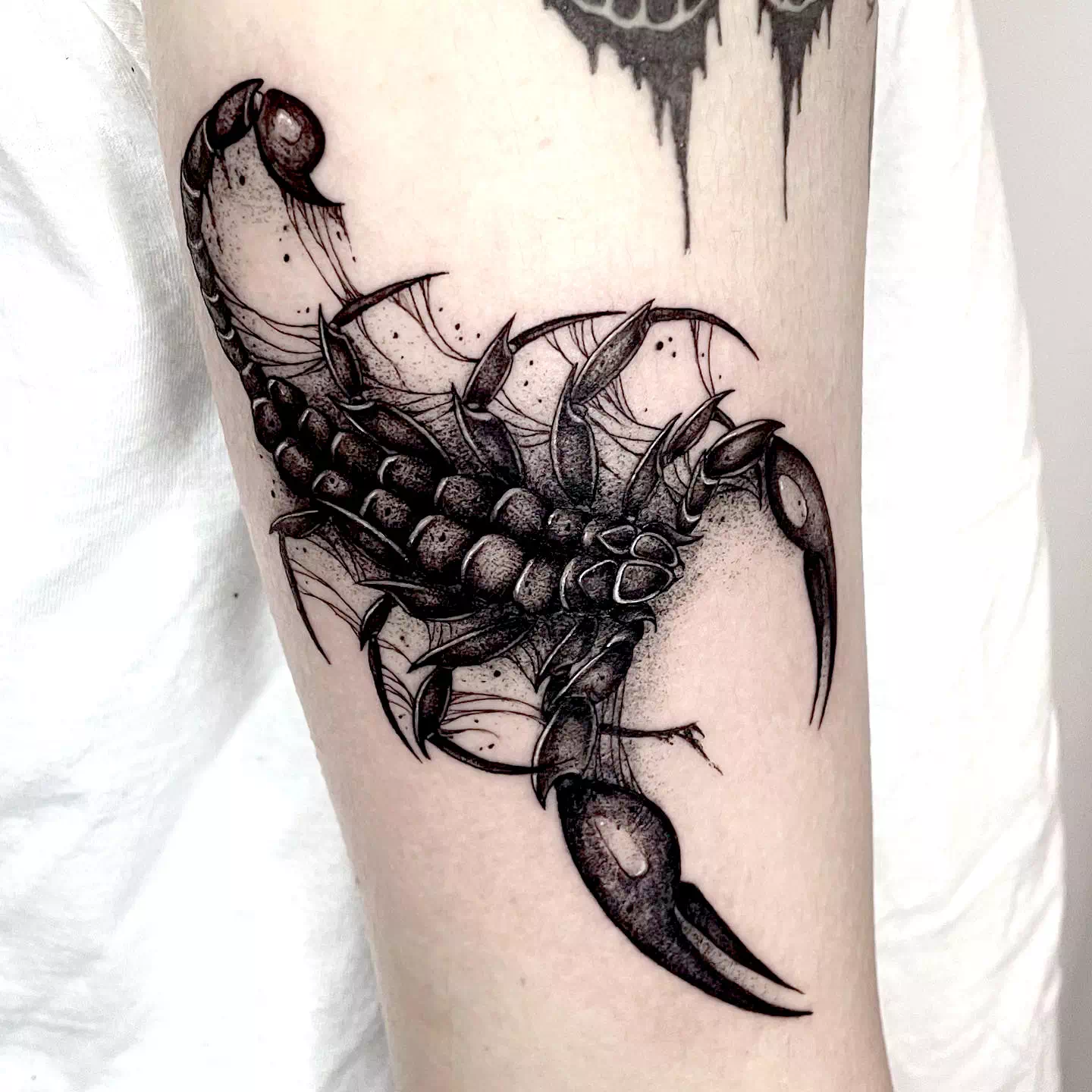 Do you have a deep and abiding passion for dark tattoos and genuine ink? This Scorpio is one of a kind, and the placement that brings off its greatest features is on the forearm.
Allow the beauty of this tattoo to shine through at all times, and make sure that everyone notices it. Anyone who values precision should go with this option instead of any other. Are you someone who strives for perfection? Do you love to dominate? If that's the case, you'll love its sturdy design!
Did you realize that they've been around for the past three hundred million years?
6. Feminine Scorpio Tattoos With A Rose Print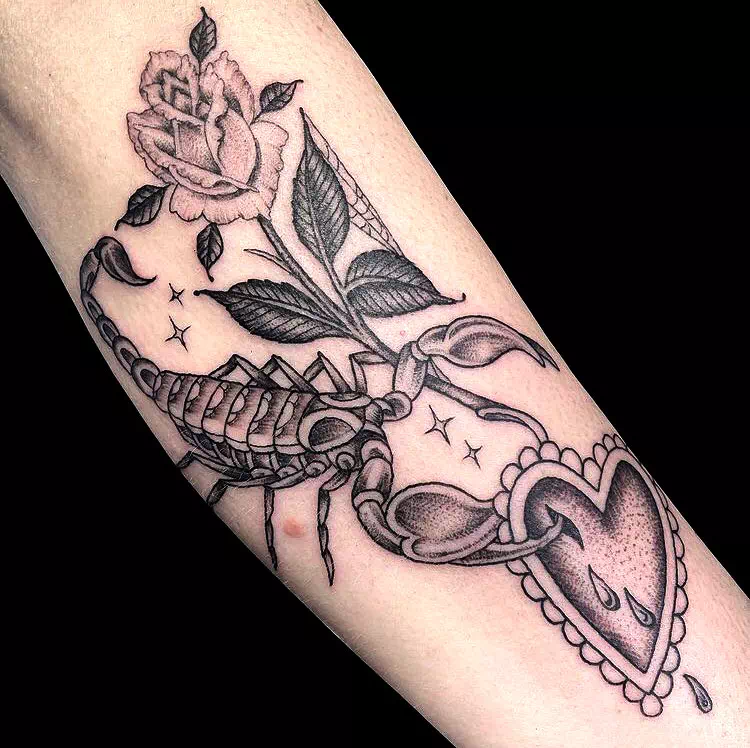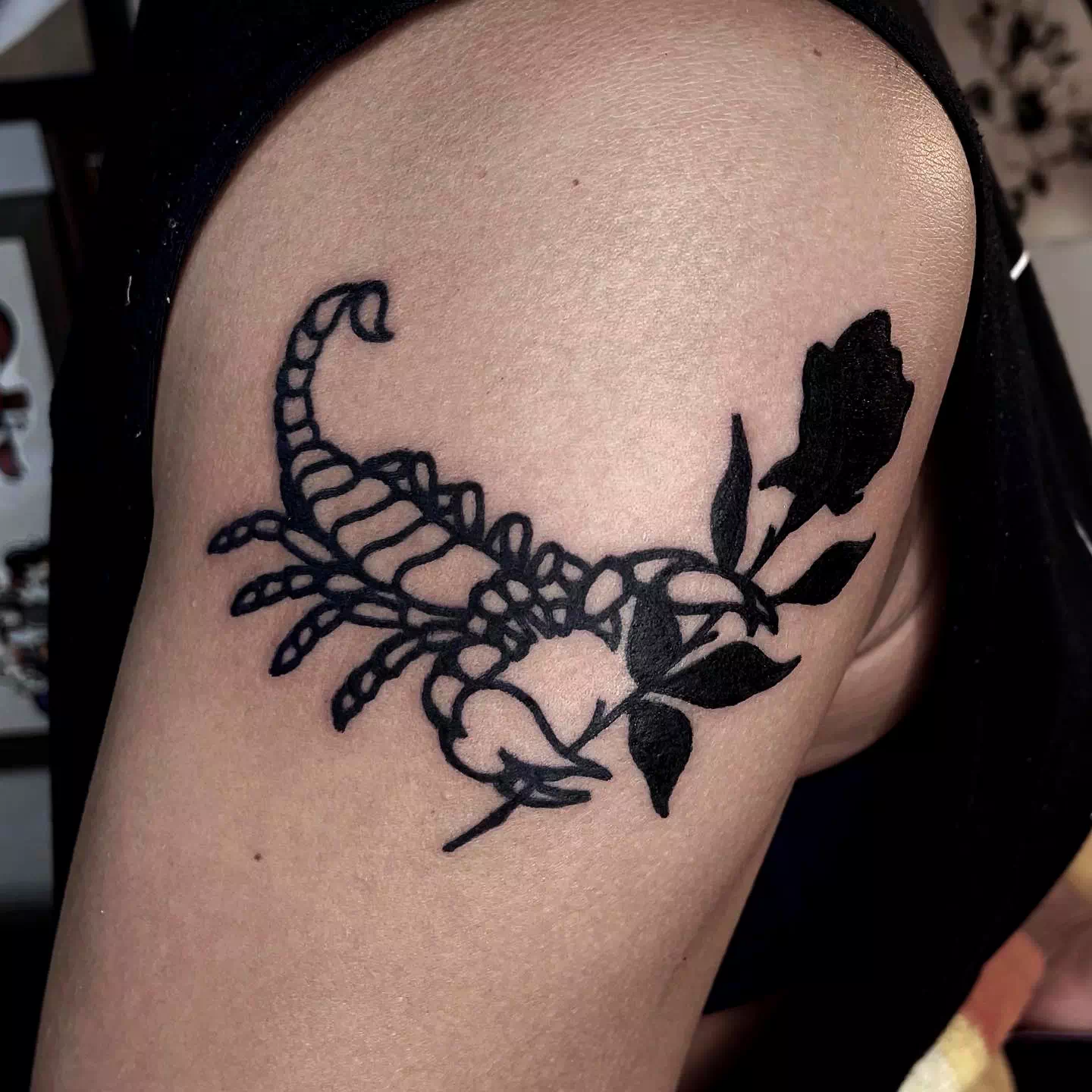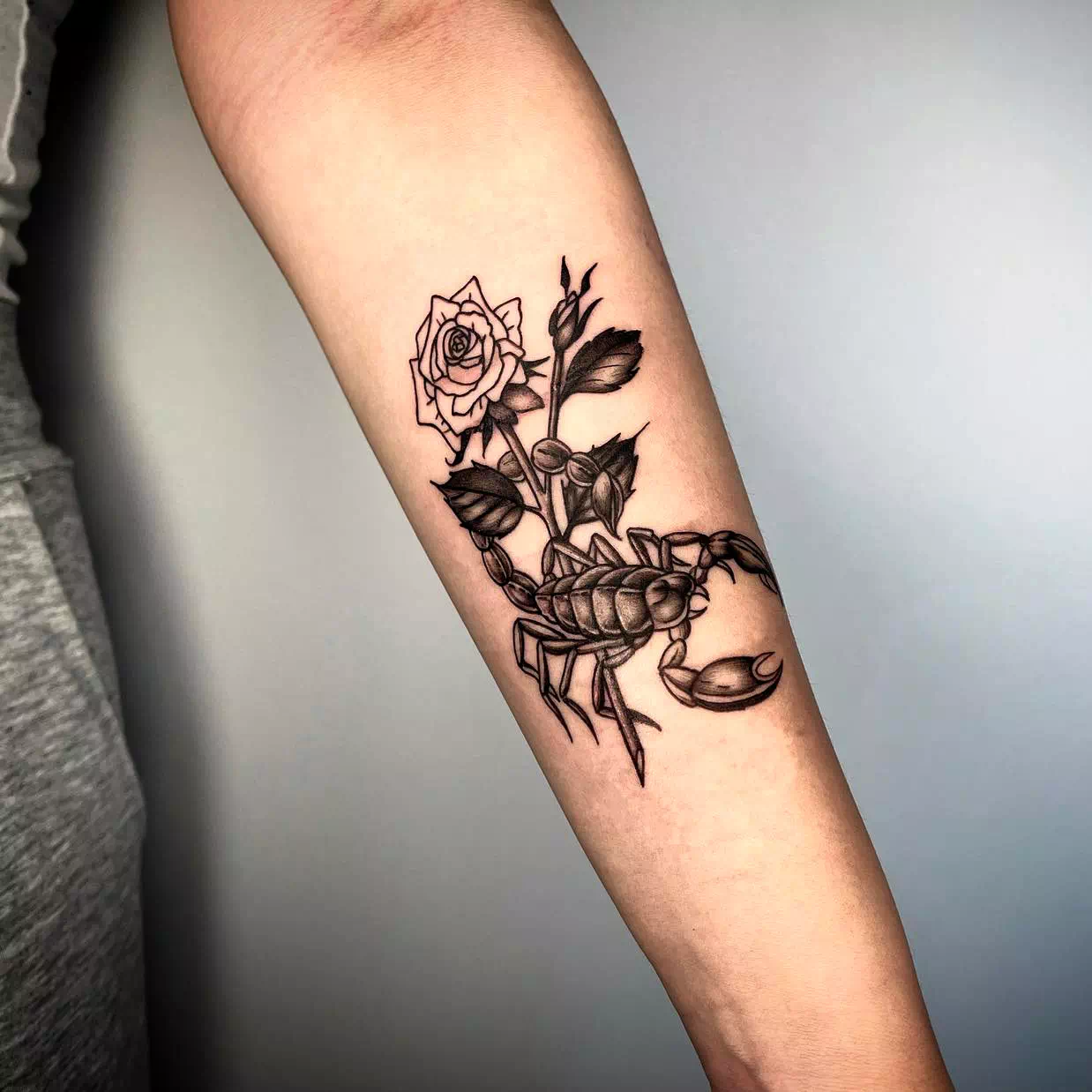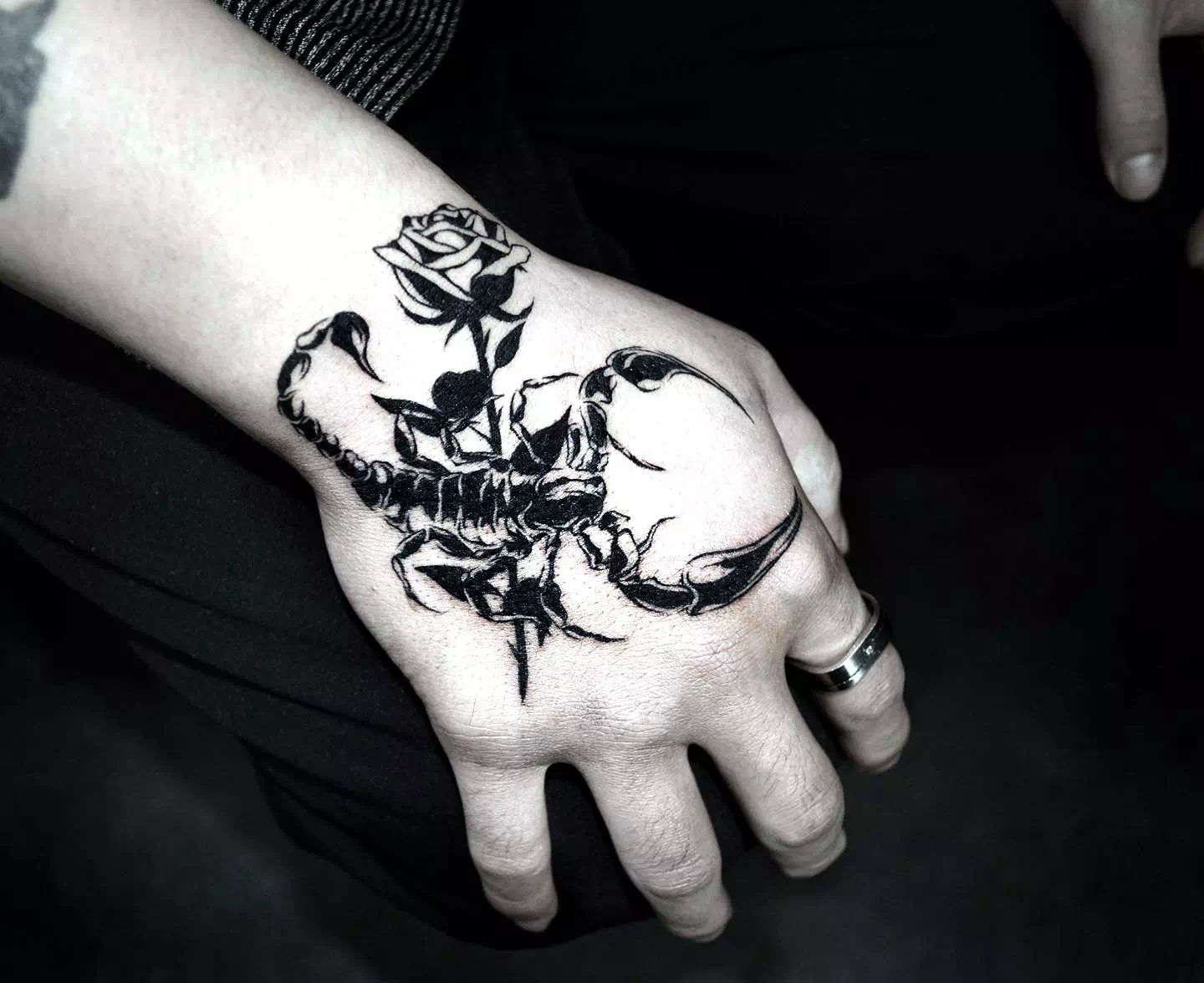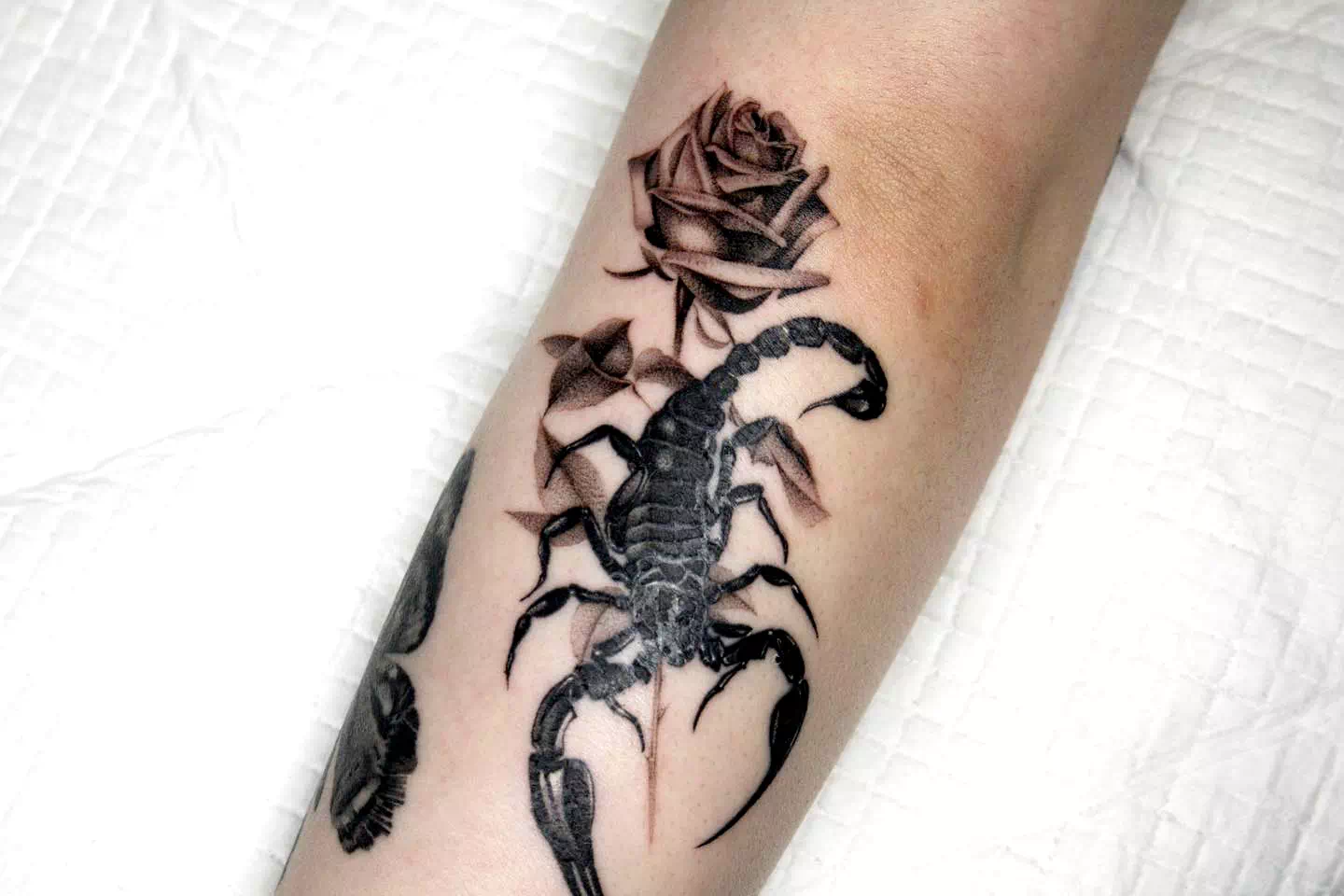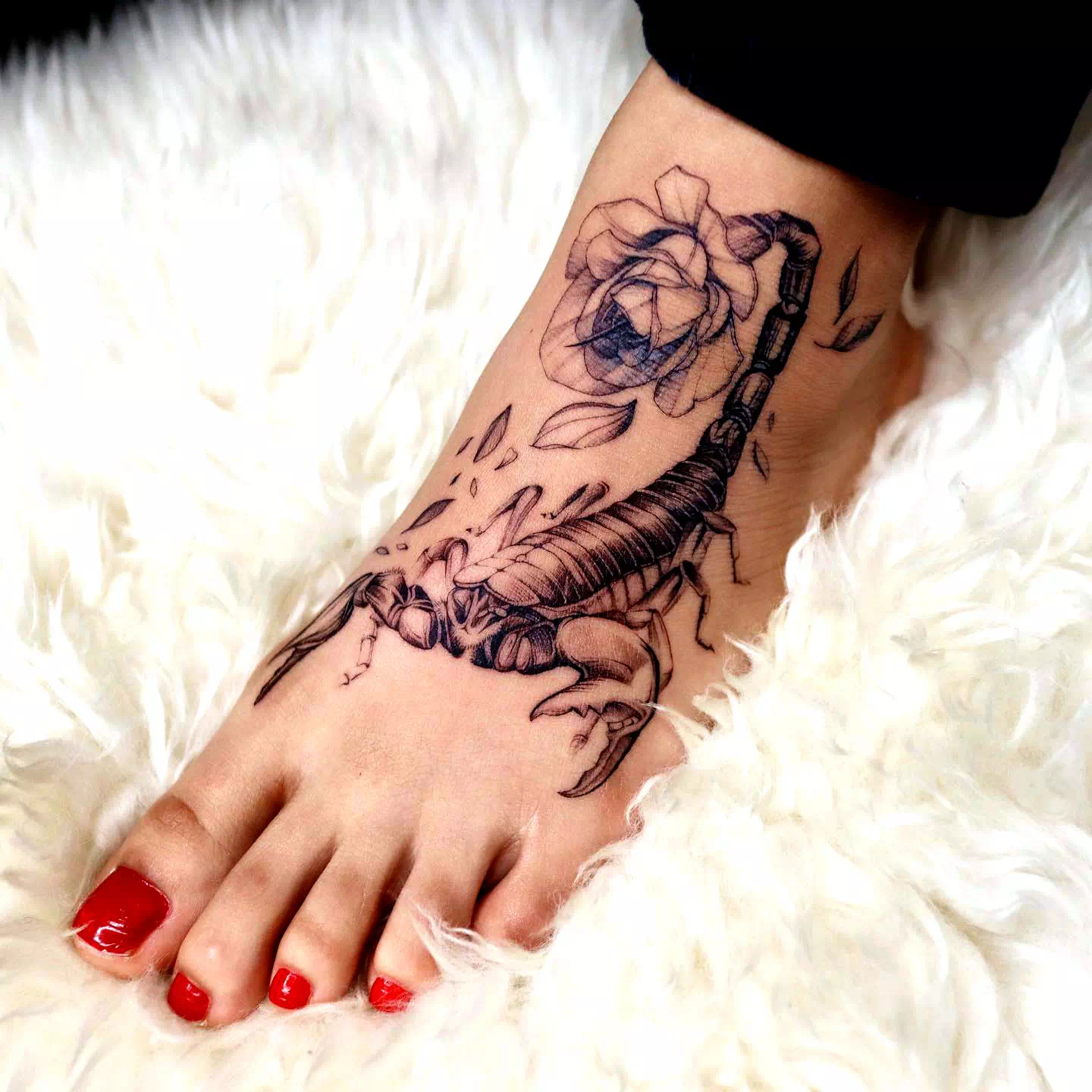 A Scorpio tattoo that features a rose is unique in its ability to be both dramatic and beautiful. Because it has such an emotional and delicate pattern, it will appear best when worn by a woman.
If you're a lover of warm and fuzzy designs, by all means, go for it. It is a sign of strength, beauty, love, and an authentic connection between two people. You will appreciate it if you're a passionate person. You may also make this tattoo a dedication to the one you love and the person you have a true and profound relationship with.
Scorpio Tattoos on the Arm
1. Black Scorpio Tattoo Over Forearm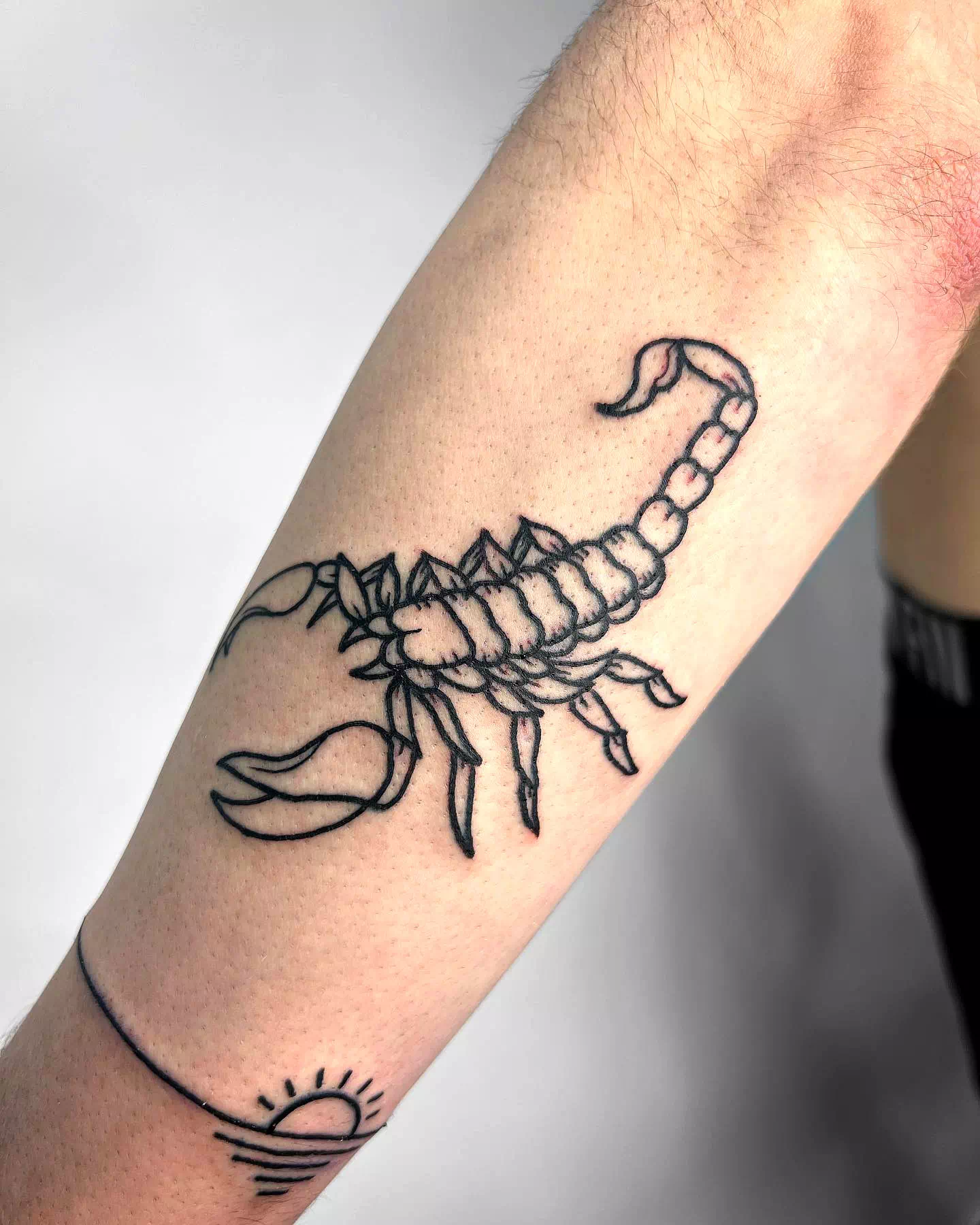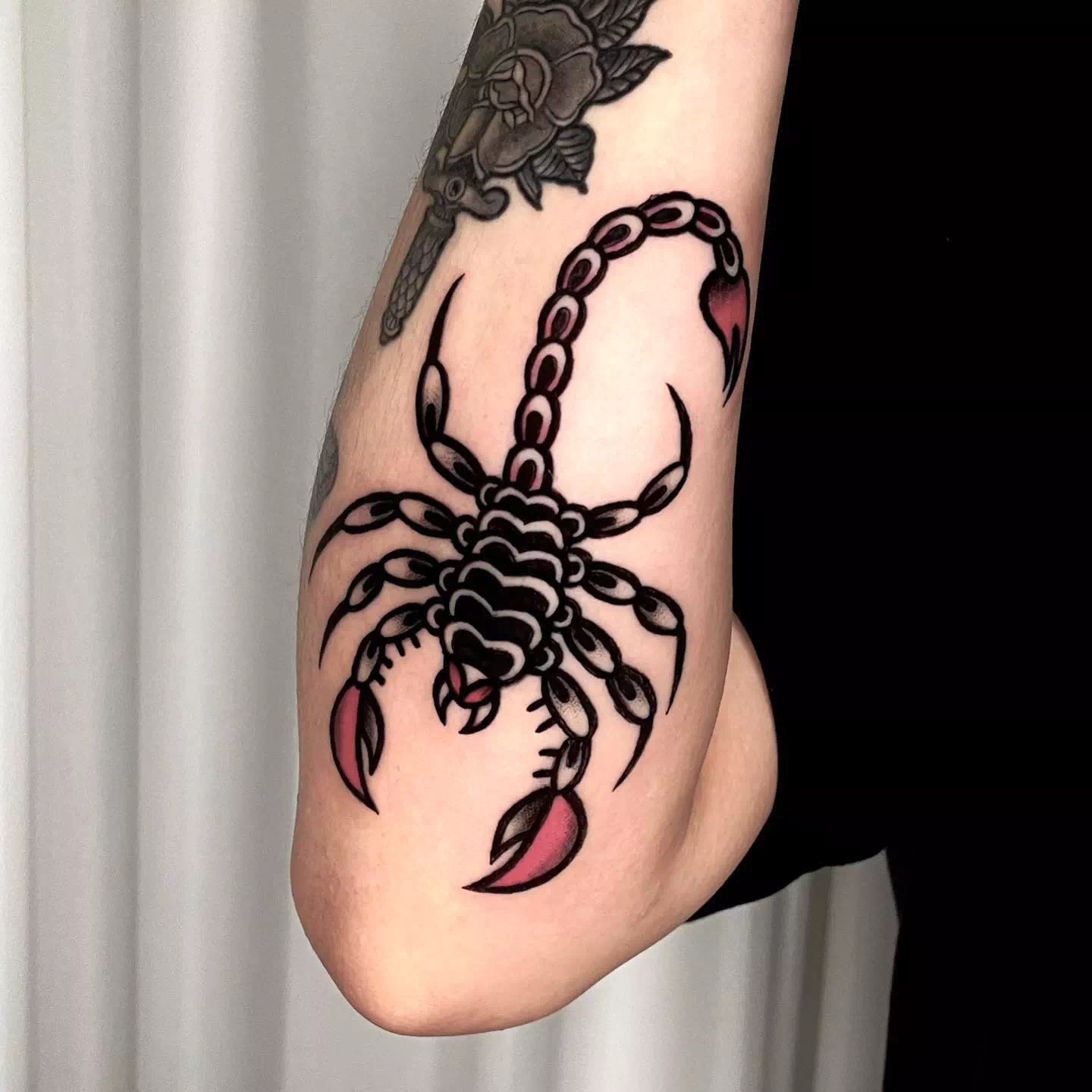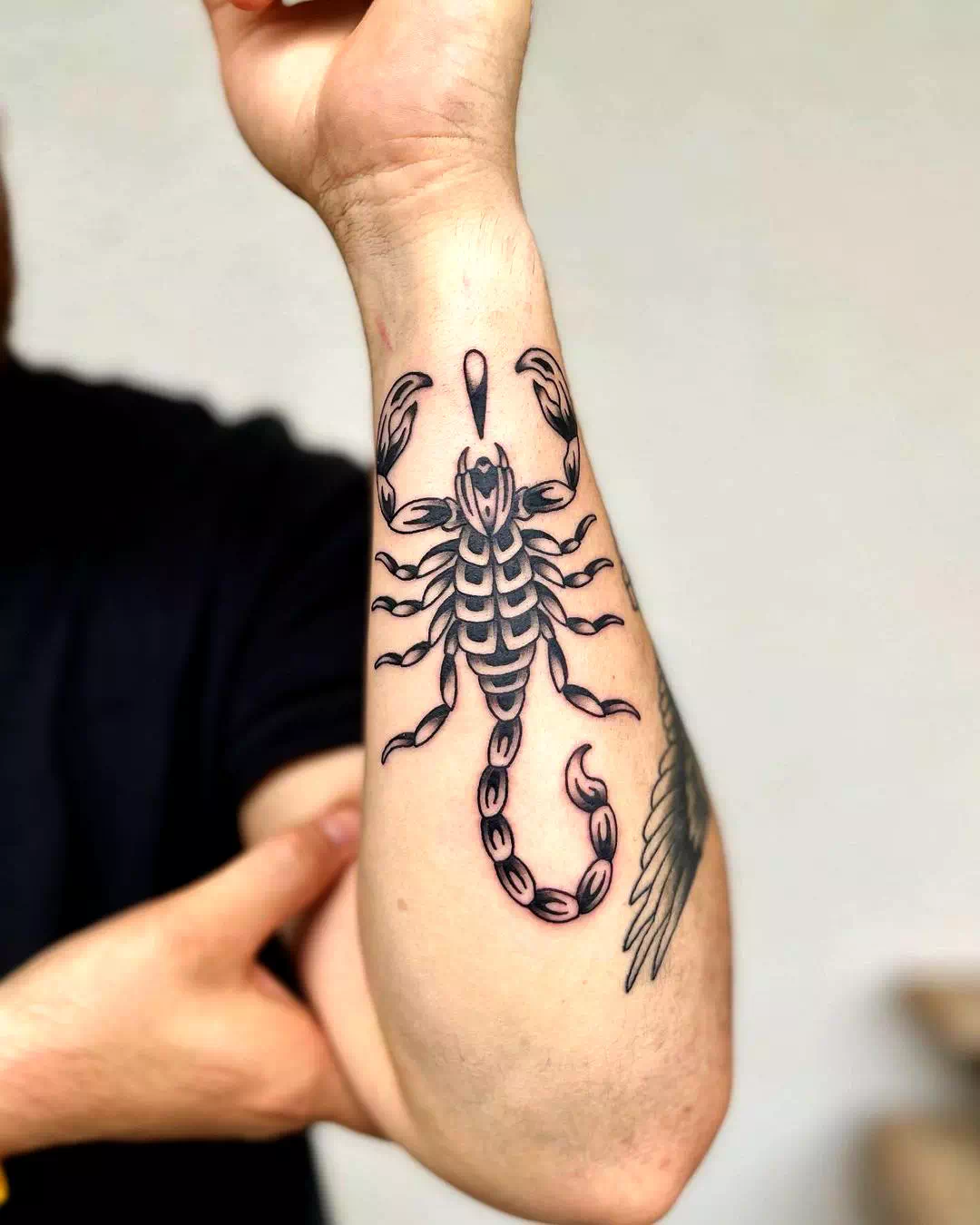 What about a tattoo that's not only big and bold but also rugged and manly? Suppose you are the type of person who enjoys drawing attention to yourself. In that case, you will find great satisfaction in wearing this stunning and dramatic outfit.
This tattoo is meant to represent change and one's own personal development. Choose this black and red color combination if you have high aesthetic standards and are the type who thrives on being the center of attention.
2. Scorpion Tattoo Simple Piece Over Forearm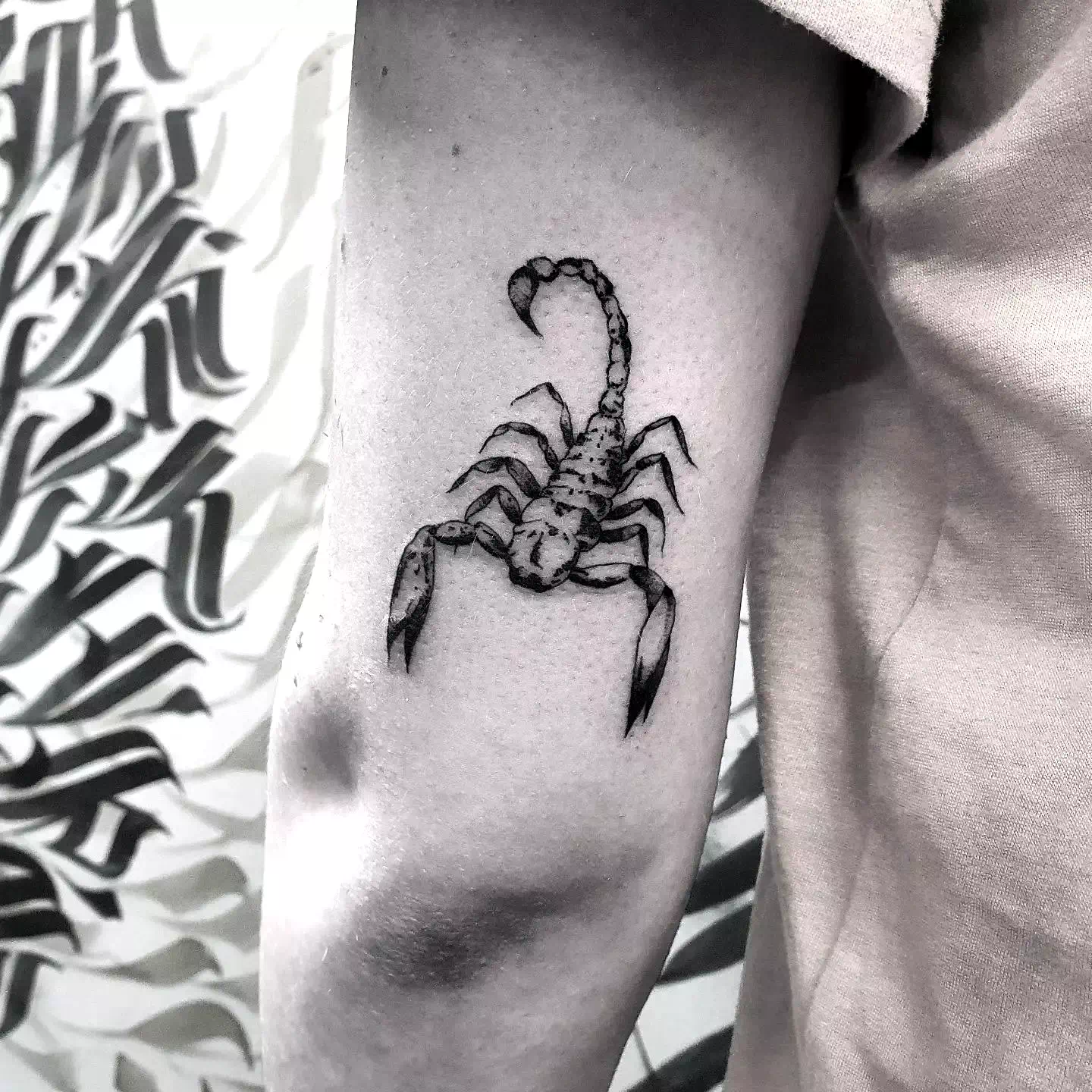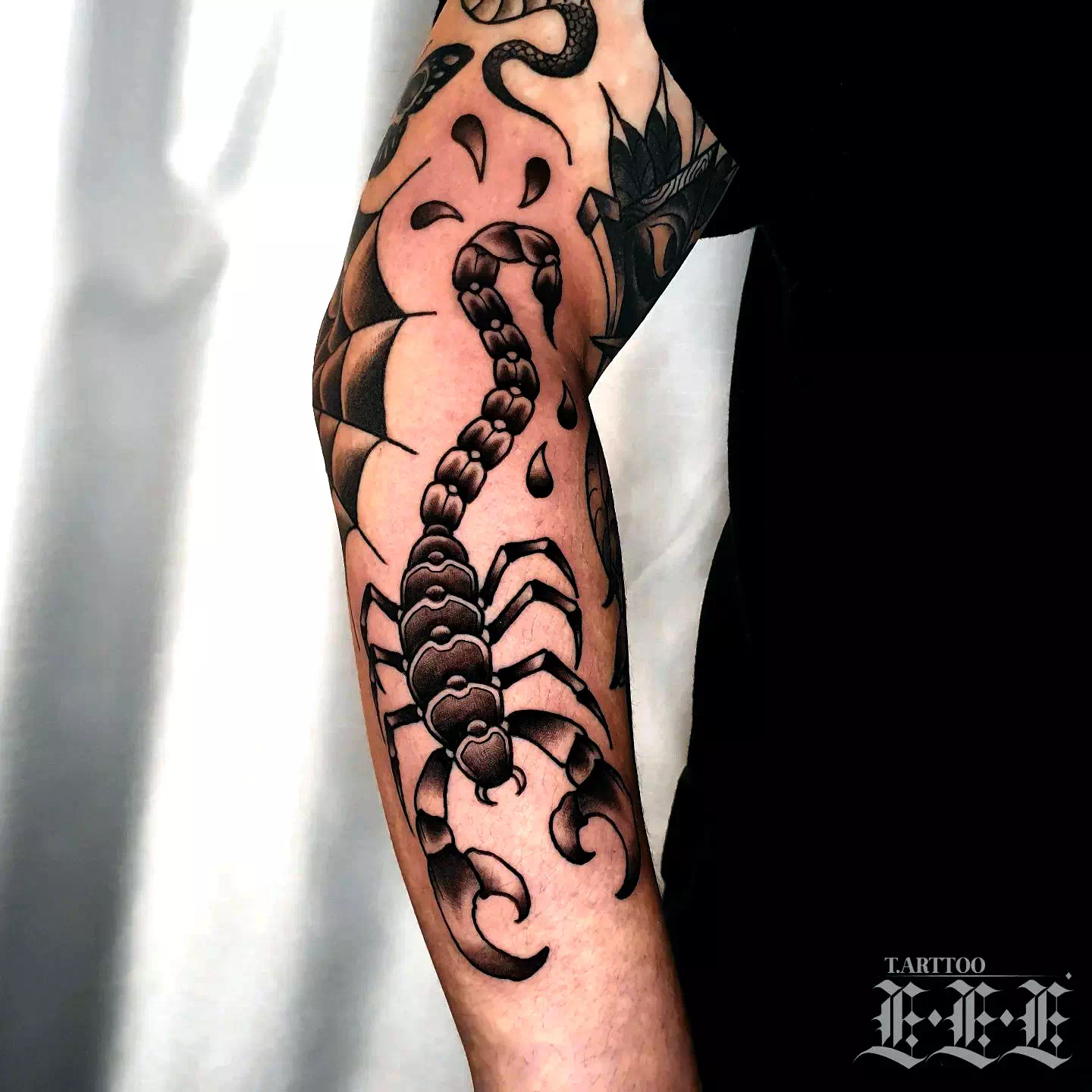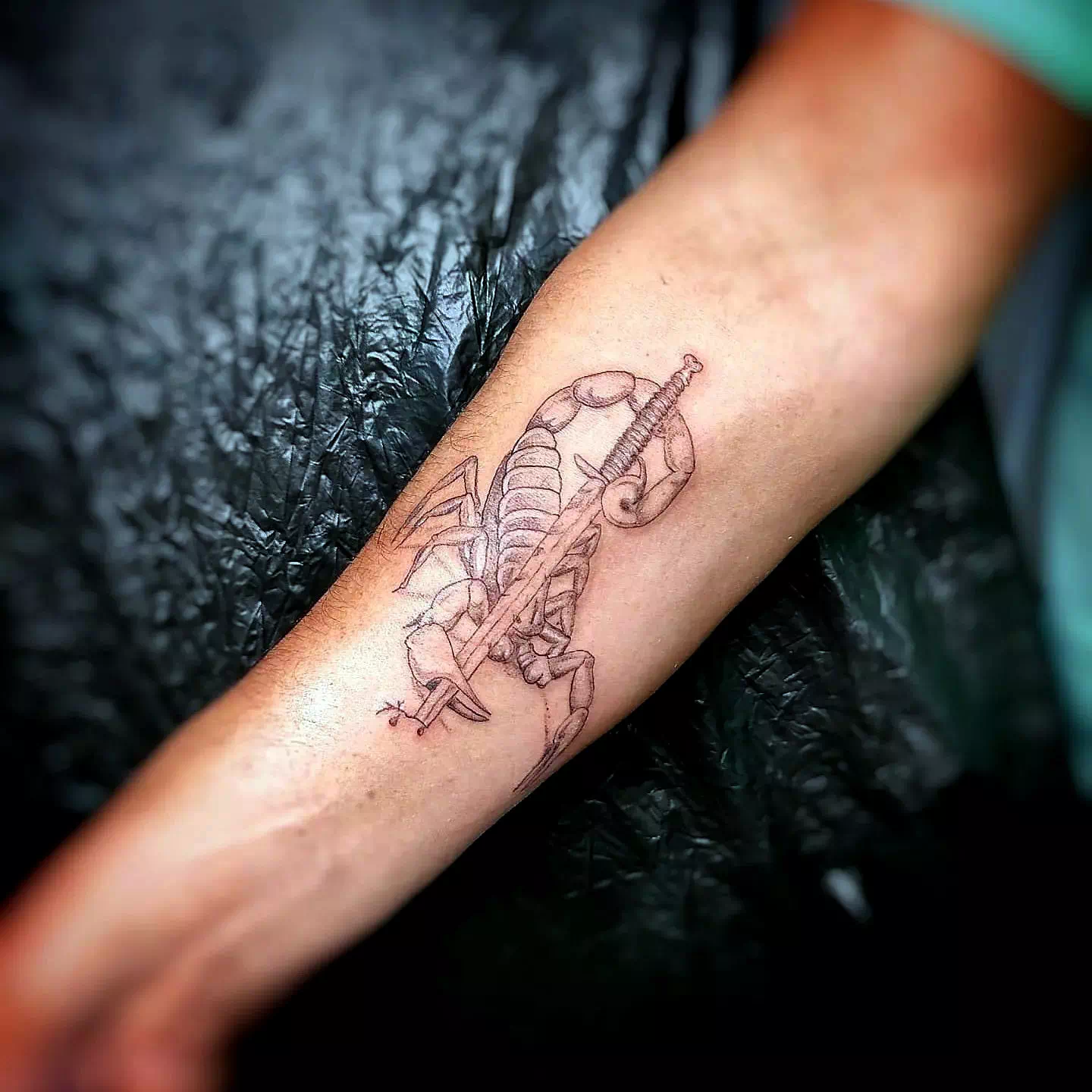 People who are nervous about being tattooed often have designs on their forearms or arms. On top of your body, you will apply this specific black ink. This tattoo was professionally done in fewer than three hours.
This dark Scorpio represents expansion, the mystical part of your personality, and metamorphosis. If you are a strong and committed person, you should enjoy this ink.
Fun fact: They can hold out against any challenge! They are not affected by temperatures that are either too high or too low.
3. Dramatic & Detailed Scorpio Tattoo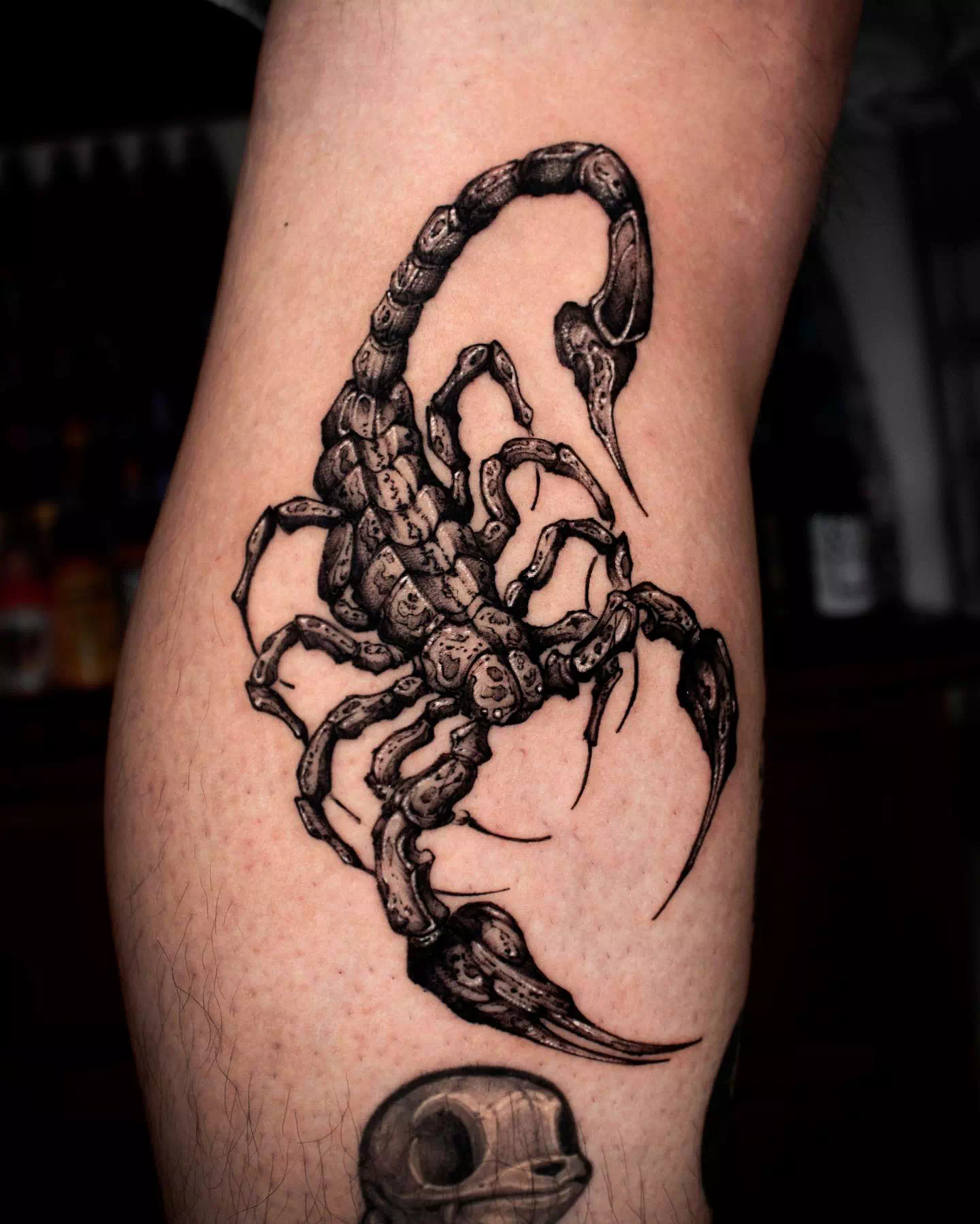 This intricate and daring tattoo was designed for men with a dark and mysterious aspect to their personalities. This black ink can be achieved in fewer than four hours, and it is an excellent choice for males who are physically active and have an emotional side.
Represent your flamboyant side and your inner dominance. Using this dark tattoo, you may show the world your authentic self and your genuine side to them.
4. Shoulder Scorpio Tattoo Black Ink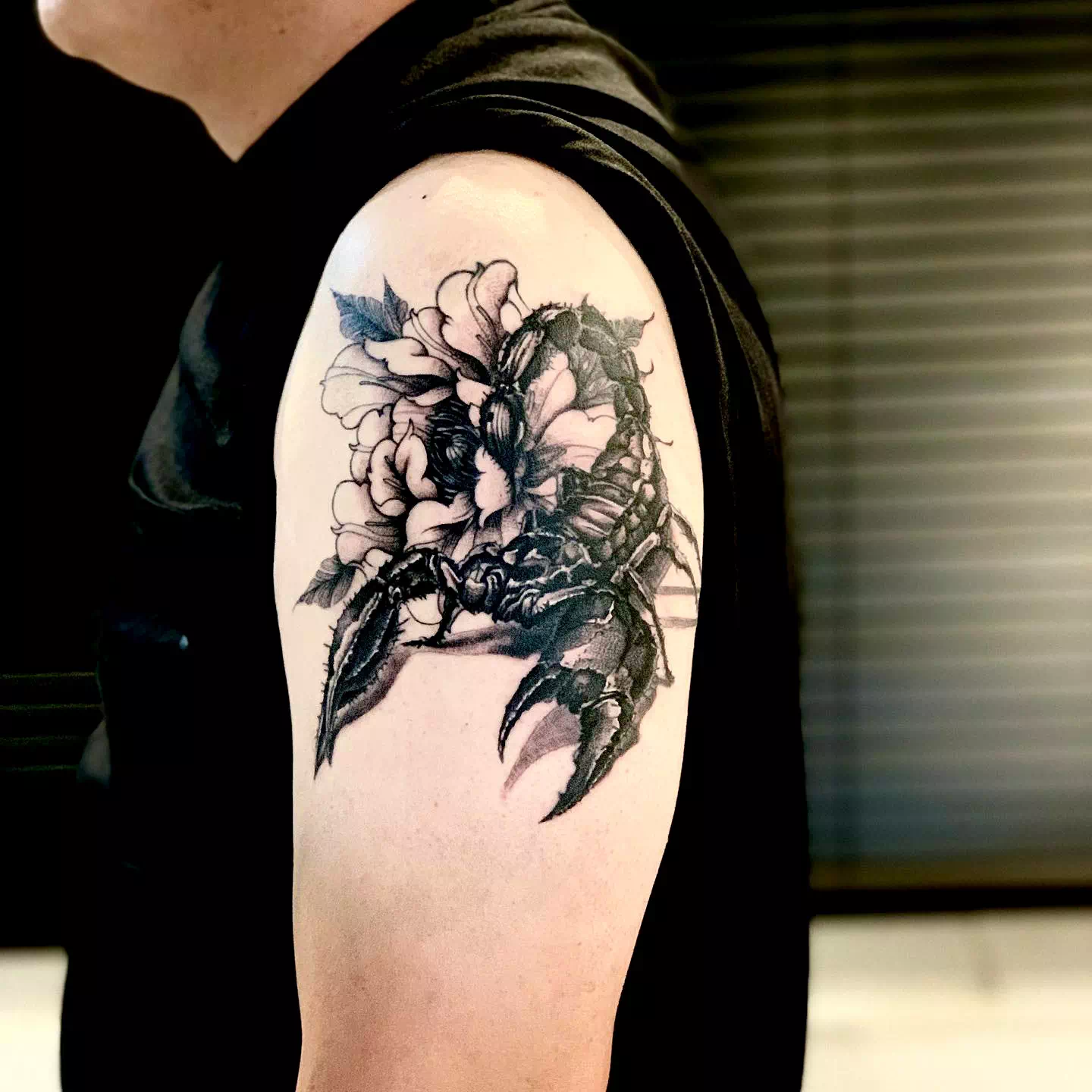 How about a tattoo on your shoulder? This stunning and enormous pattern will look its very best on ruggedly handsome men. Spend three to four hours at a tattoo parlor, and everyone will see the actual warrior that you are.
It does not cause a lot of discomfort to receive it either. This dark Scorpion indicates that you are a sensitive and feeling person. You most likely have a commanding presence and a sense of safety in every facet of your life, don't you?
Did you know that their metabolic rates are modest and that they only require a tenth as much oxygen in comparison to those of other insects?
5. Scorpion Tattoo Traditional Sleeve Black Design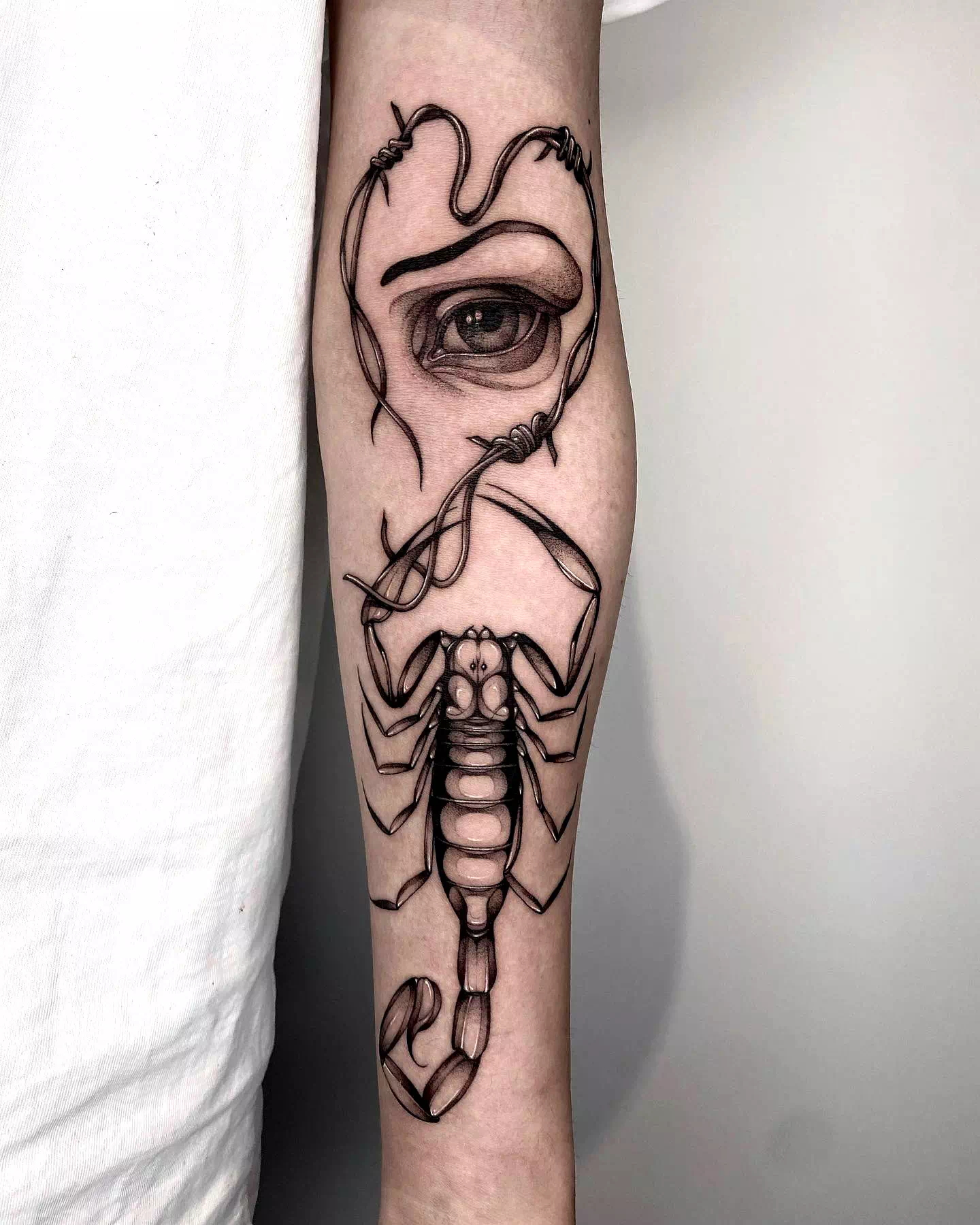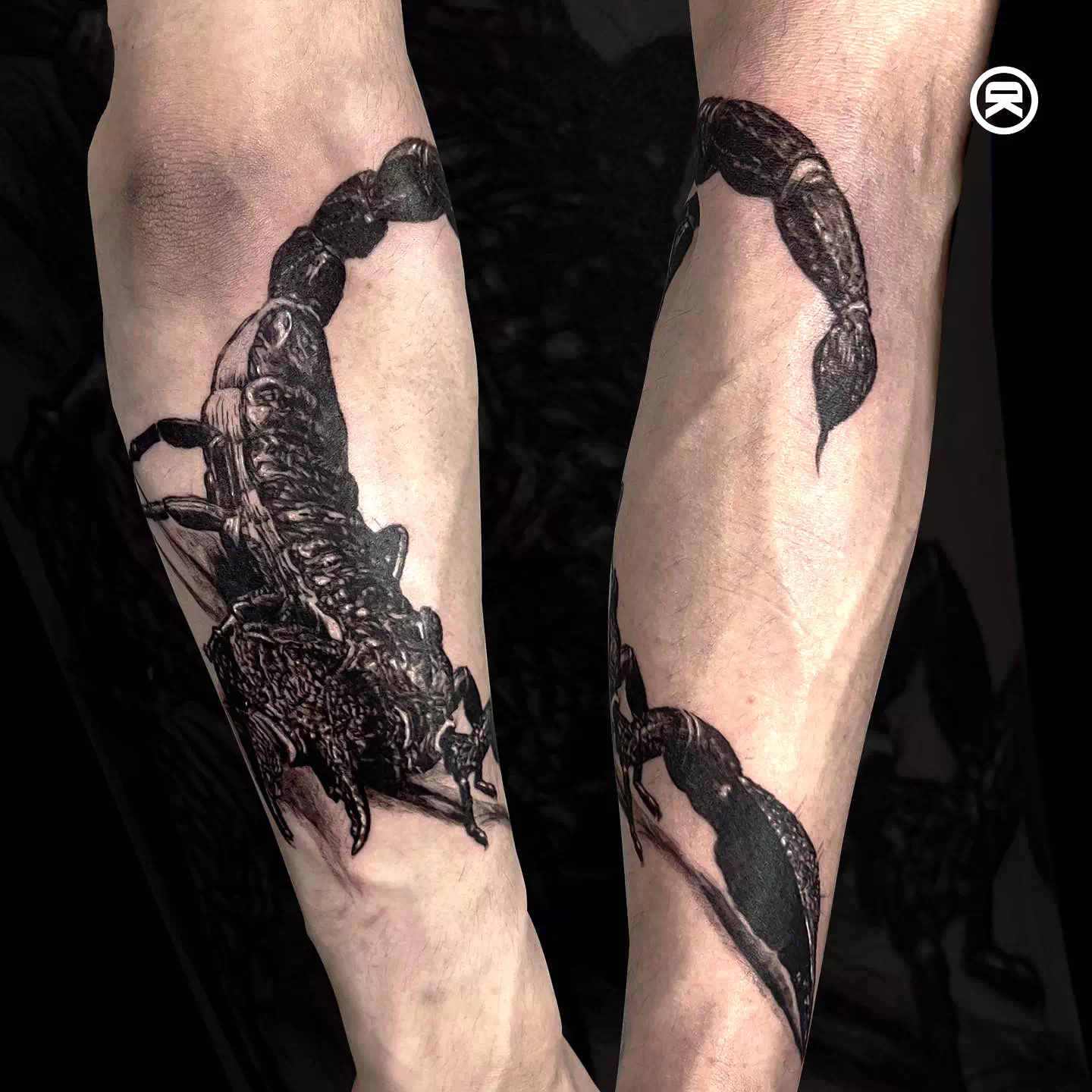 With all of its intricate details, this magnificent Scorpio is a wonderful work. Both men and women will look absolutely stunning in it. Do you get pleasure from reading things written in black ink?
This is a fantastic tattoo, and only perfectionists and genuine warriors should have it. Allow this tattoo to showcase your independent spirit. Men who like to always stand out from the crowd might consider this decision since it is dominating, daring, and bold.
6. Scorpion Tattoo Simple Black Design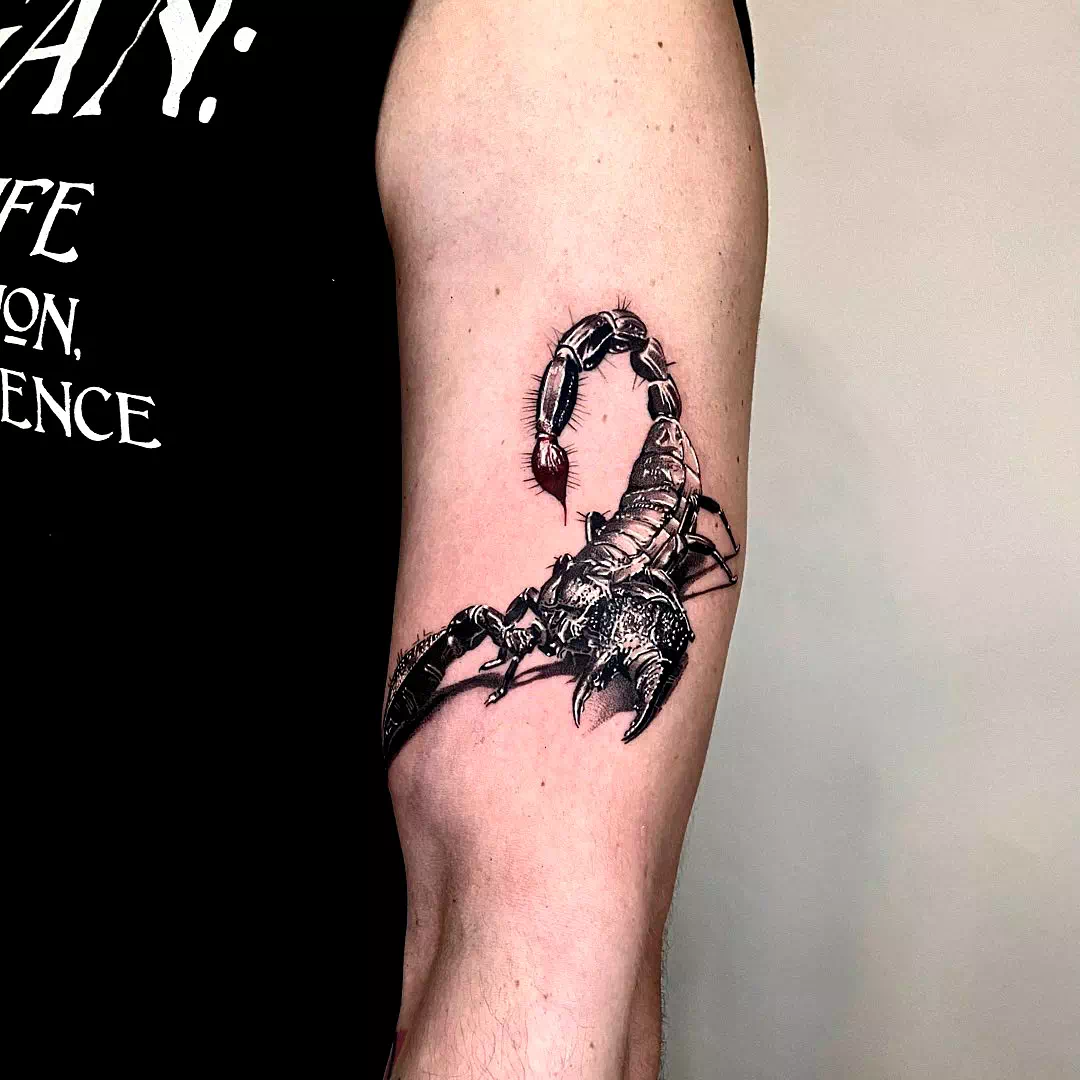 Most men and women would look good with a Scorpio in black and a small size. Position it so that it is over either your arm or your leg. It's not meant to be a tattoo that takes a lot of time, but it should look both charming and dramatic at the same time.
You'll be able to show that you're a lovely person and someone who appreciates attention, thanks to the fact that your Scorpio is dark and small. Show the world the solemn aspect of your personality.
Fun fact: An interesting fact is that before they mate, male and female scorpions perform a ritual that looks like a dance.
Men Scorpio Tattoos
1. Small Scorpio Tattoo Over Neck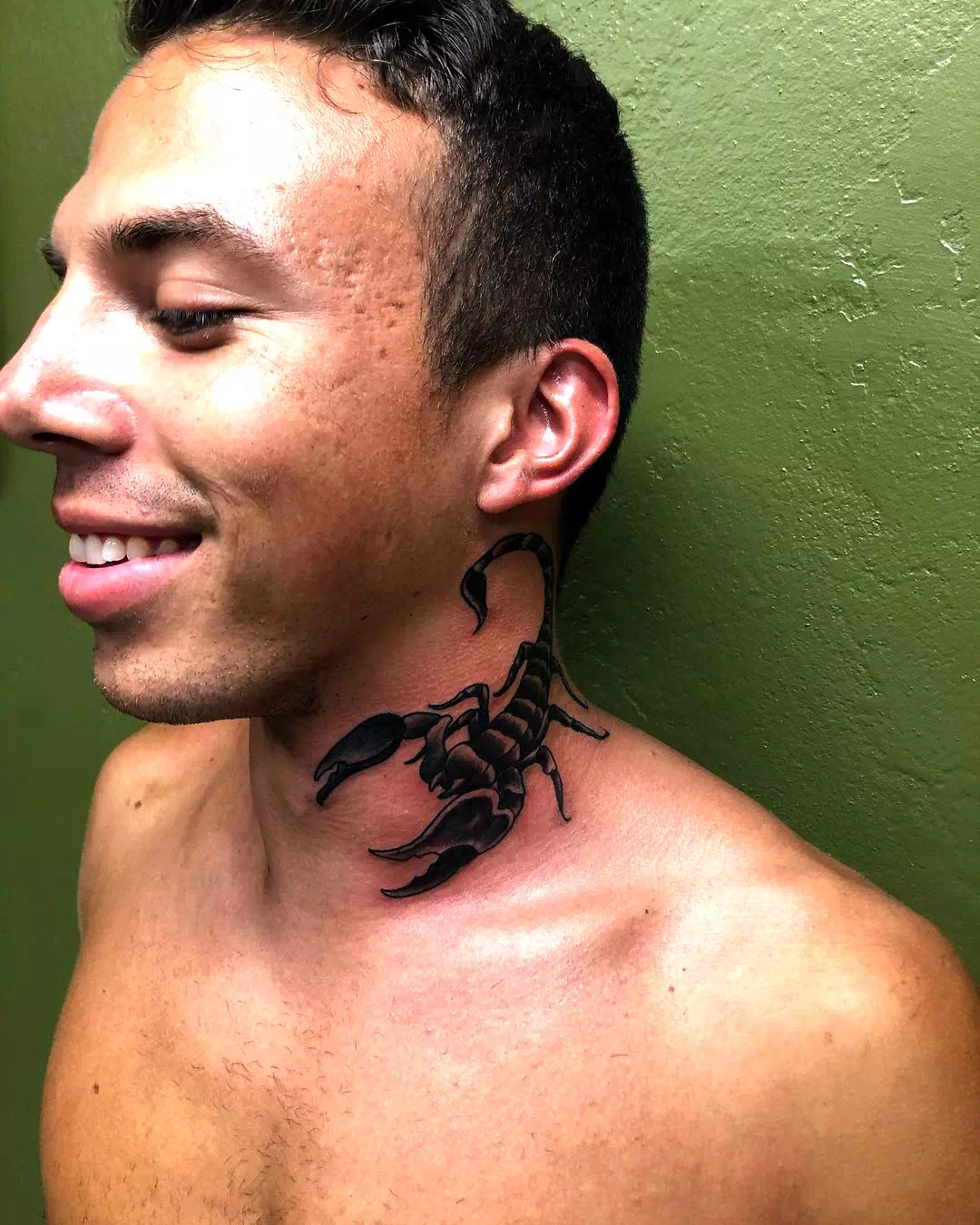 How about a daring tattoo on your neck? Those who enjoy taking chances would feel most at home in this black Scorpio of average size. It is a daring move, but it also happens to be the ideal tattoo for someone who enjoys making daring moves.
This Scorpio will reveal to others that you are both an emotional and a dominant person at the same time. Those who were born under this zodiac will also have an appreciation for this frightful and skillfully colored tattoo.
2. Scorpio Tattoo On Chest Side Piece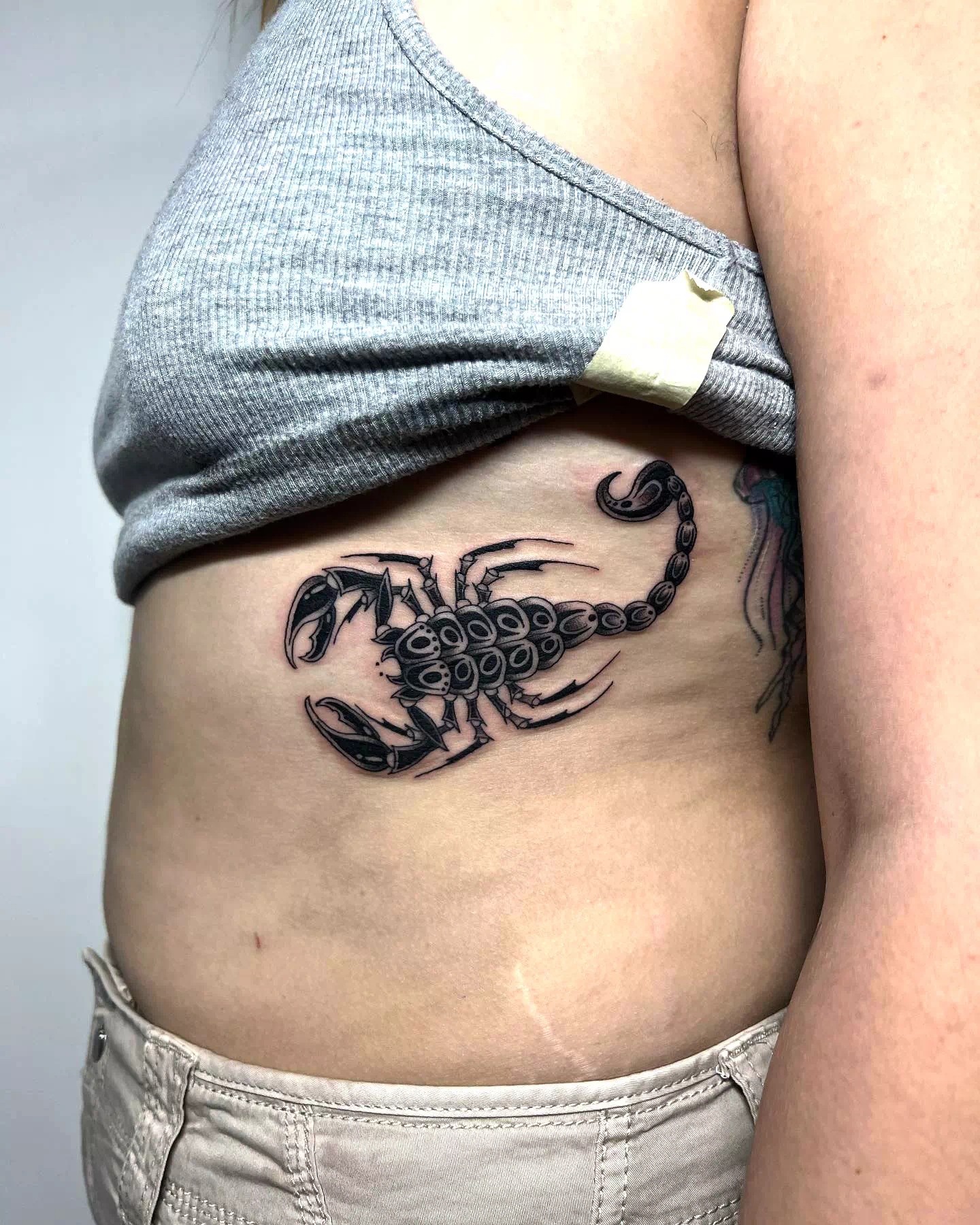 Warning: getting this side piece tattoo is going to be really painful! Any placement that puts pressure on your ribs will be really unpleasant. However, once it is completed and inked, it will attract people's attention wherever you go. Roses are a great symbol to get inked next to your Scorpio tattoo.
Men who aren't afraid to show their emotions will appear particularly striking. If you are the kind of passionate lover who likes to give your feelings to other people, this will be a good fit for your personality.
3. Dramatic & Detailed Scorpion Tattoo On Back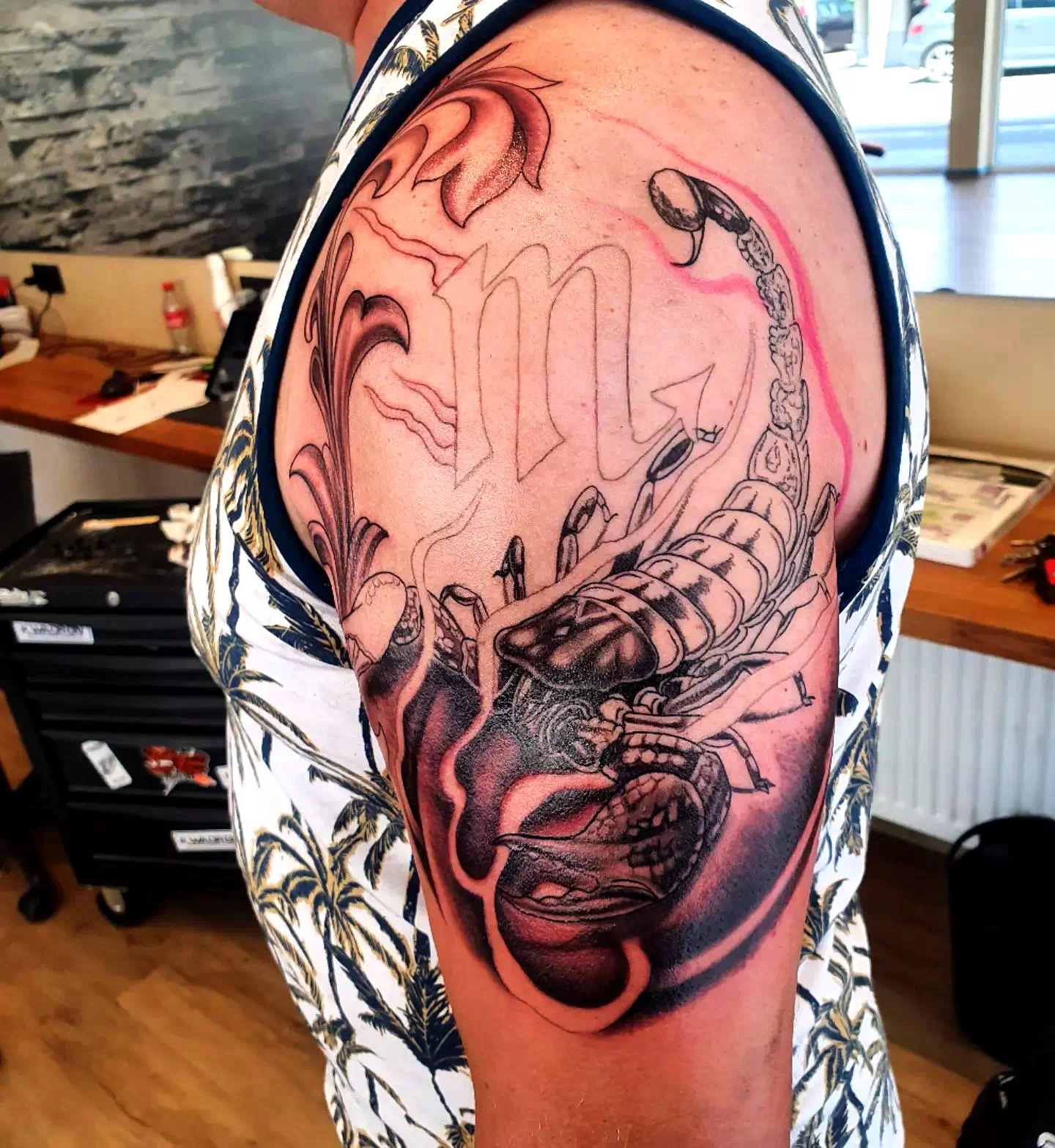 How about we try something that's a little out of the ordinary and dramatic? If you are not afraid of vivid and spectacular tattoos, this enormous multicolored ink will be perfect. This is perfect for those who want to put themselves out there!
Use this link to symbolize your profound feelings and how you really feel. It is a frightening design that will let others know about your problems and whatever sufferings you have had in your lifetime, so don't be scared to open up about what you've been going through.
Have you heard that scorpions have the ability to shine in the dark?
4. Black Scorpio Tattoo On Stomach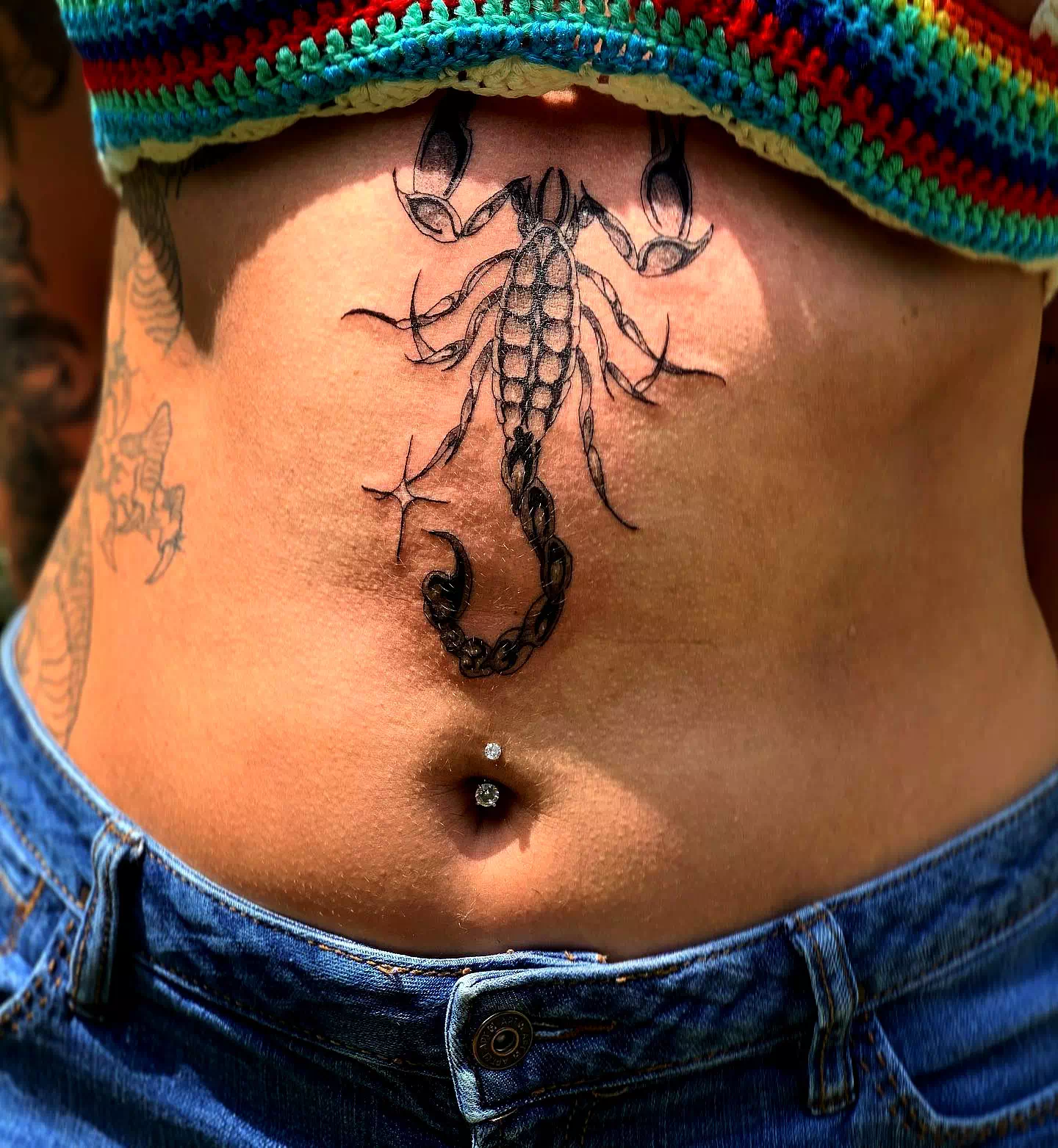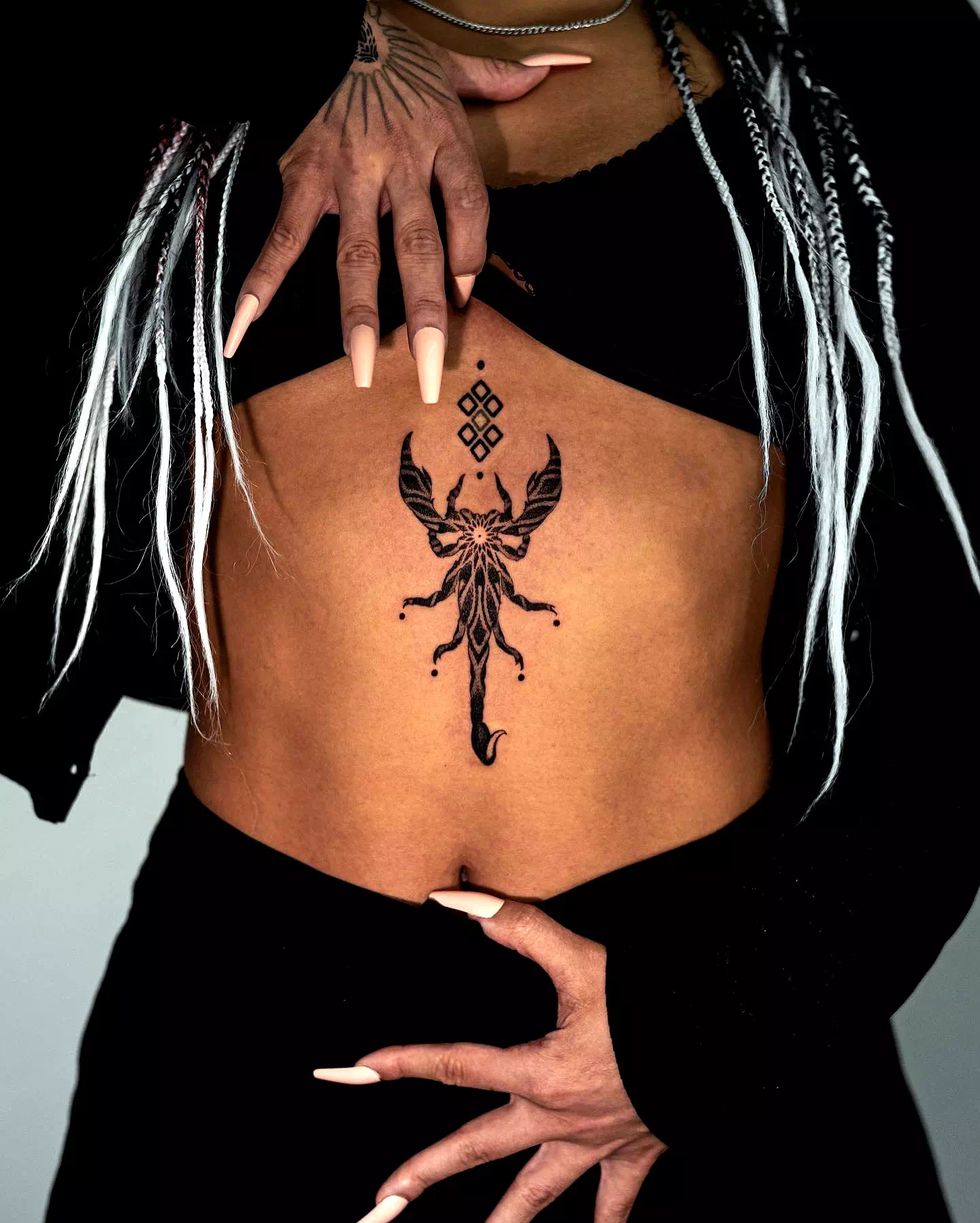 How about something sinister, like a little tattoo? If you're a naughty boy, this tattoo inspired by the rebel movement will appeal to you. The position on your stomach may feel a little awkward, so be warned. On the other hand, it is necessary for everyone who wants to be noticed.
You may demonstrate that you have a naughty, rebellious streak in you by getting this tattoo. Do you consider yourself to be a determined and wicked person? You should use this ink so that everyone can see your true colors.
5. Scorpio Tattoo Over Neck & Chest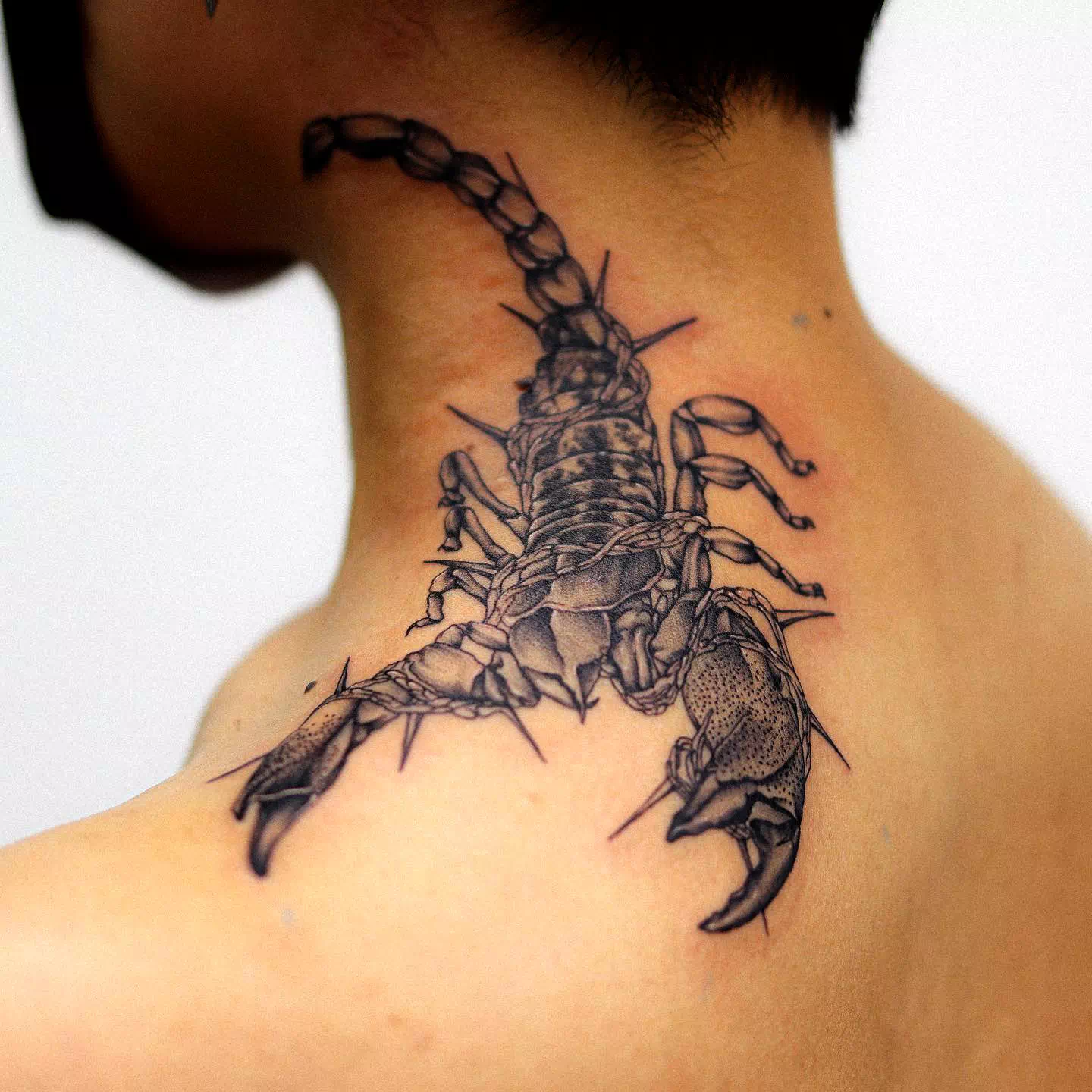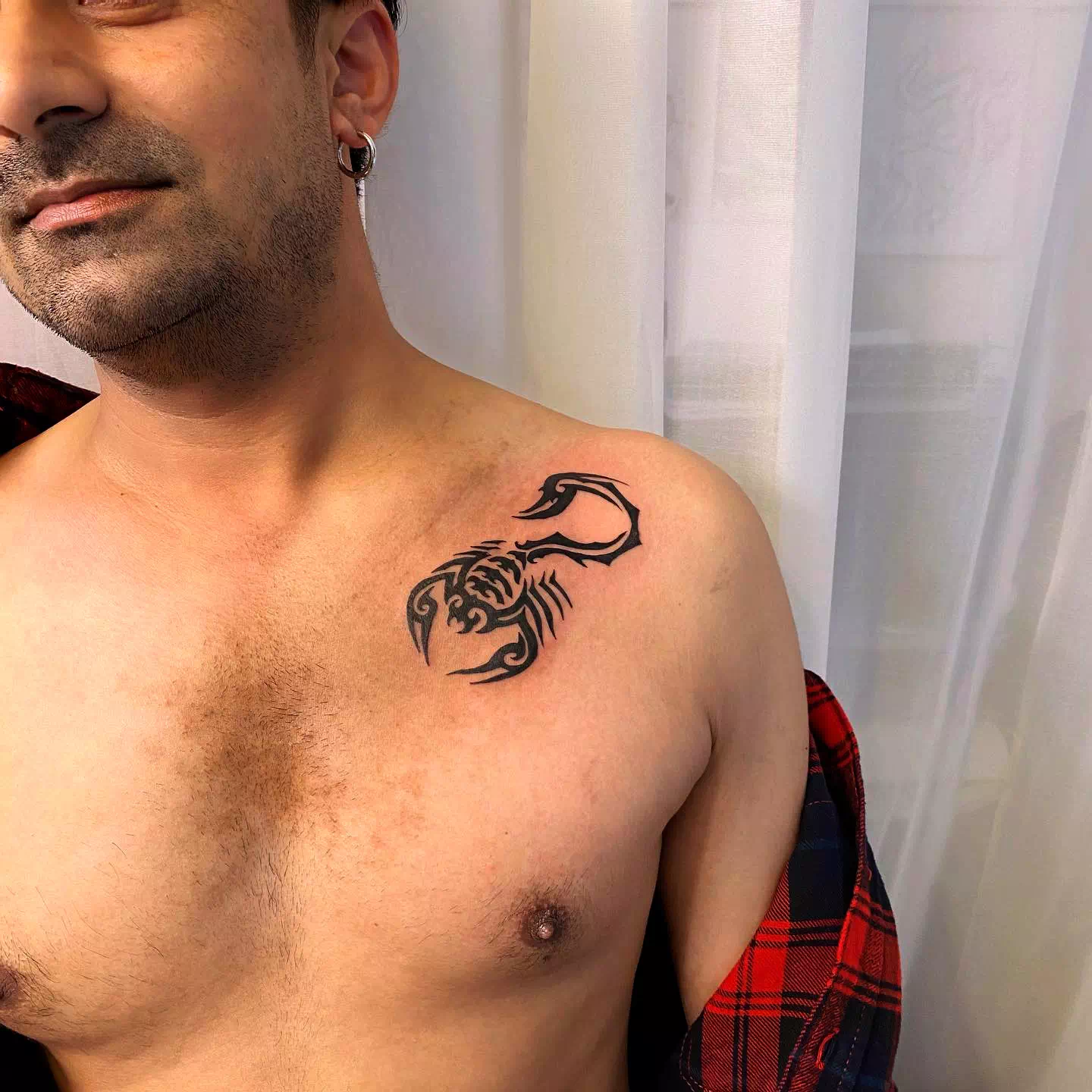 This is another design for men to consider getting tattooed on their necks if they are strong-willed and want to convey their dominance. Do you consider yourself a manly guy or someone who works out regularly?
Show the world how powerful your individuality is by donning a design that is as striking as this one. It is a symbol of power as well as genuine and profound emotions. You have a strong connection to the most personal aspects of who you are, and you do not shy away from allowing others to see those sides of you.
6. Scorpion Tattoo Simple Arm Design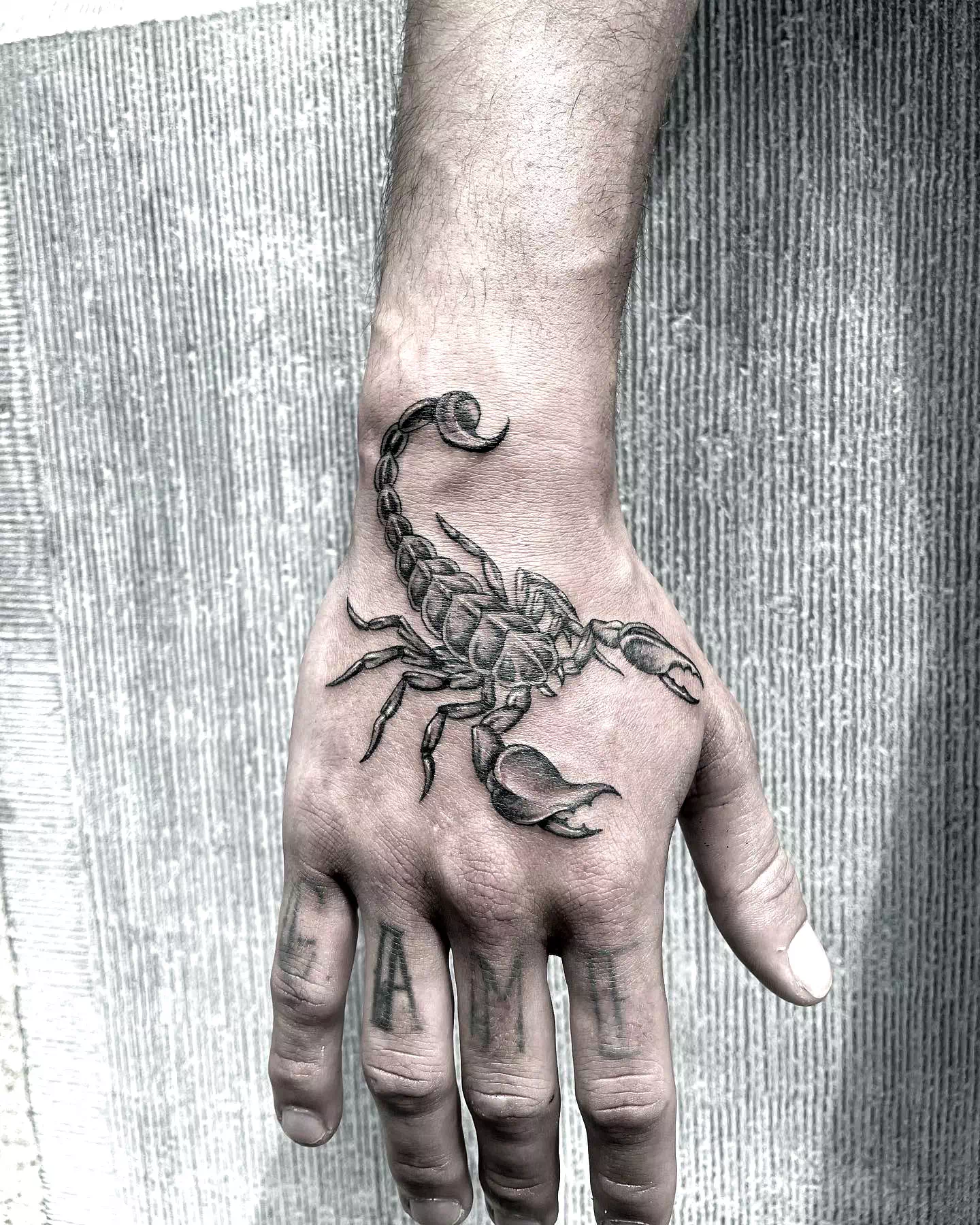 The tattoo on your arm will hurt, so make sure you are mentally prepared for the procedure before getting it done. Because of its proximity to your bone, you may experience some discomfort throughout the procedure. Nevertheless, the ultimate result will be well worth it. It will take some effort and time to acquire a good Scorpio tattoo.
This one represents your doggedness and the passion that burns deep inside you. Do you consider yourself someone who likes strong ink and enjoys displaying their egotistical side? That's all there is for you!
Fun fact: that they will consume almost anything. When there are no other food sources available, a hungry scorpion mother may consume her young.
Women Scorpio Tattoo
1. Black Scorpion Tattoo On Thigh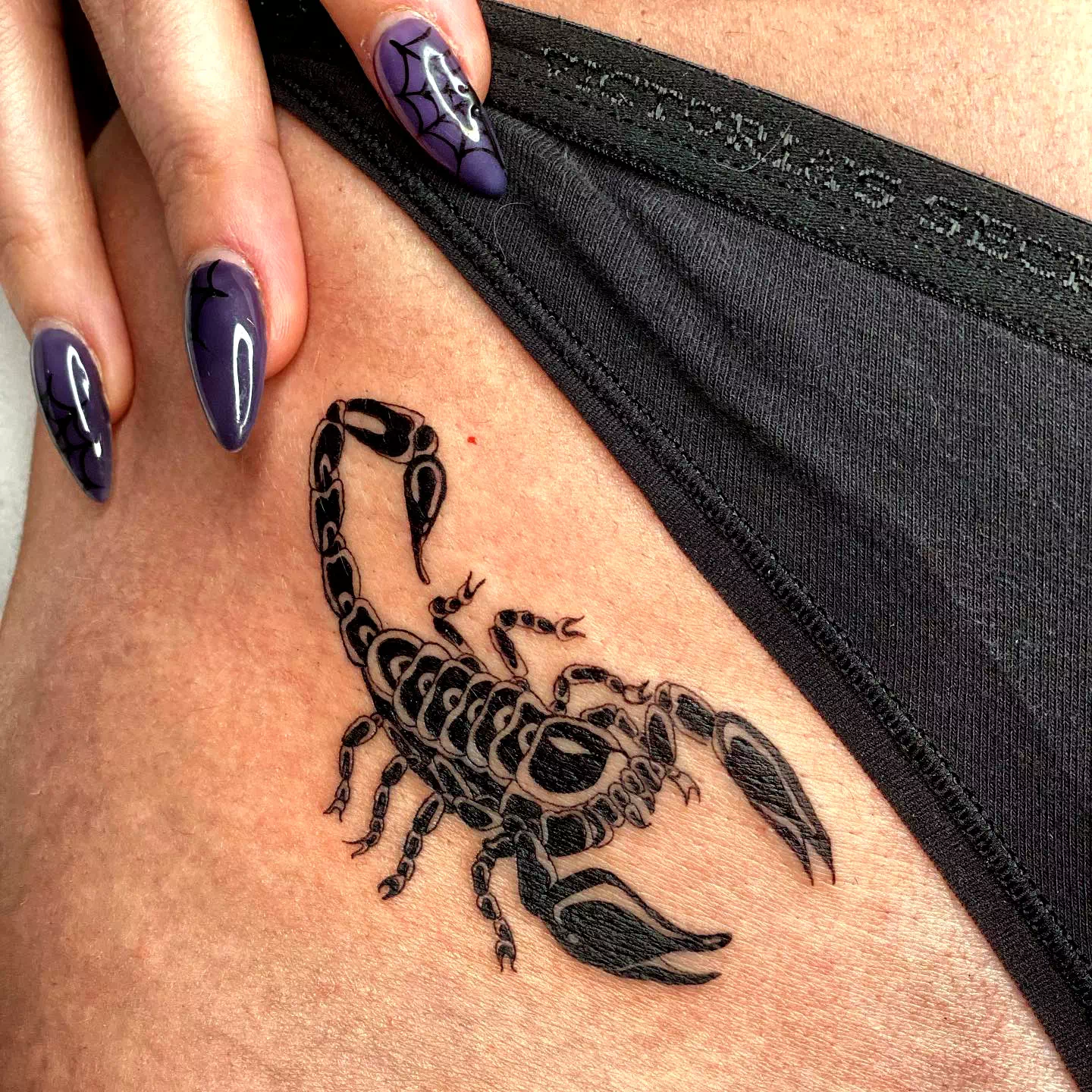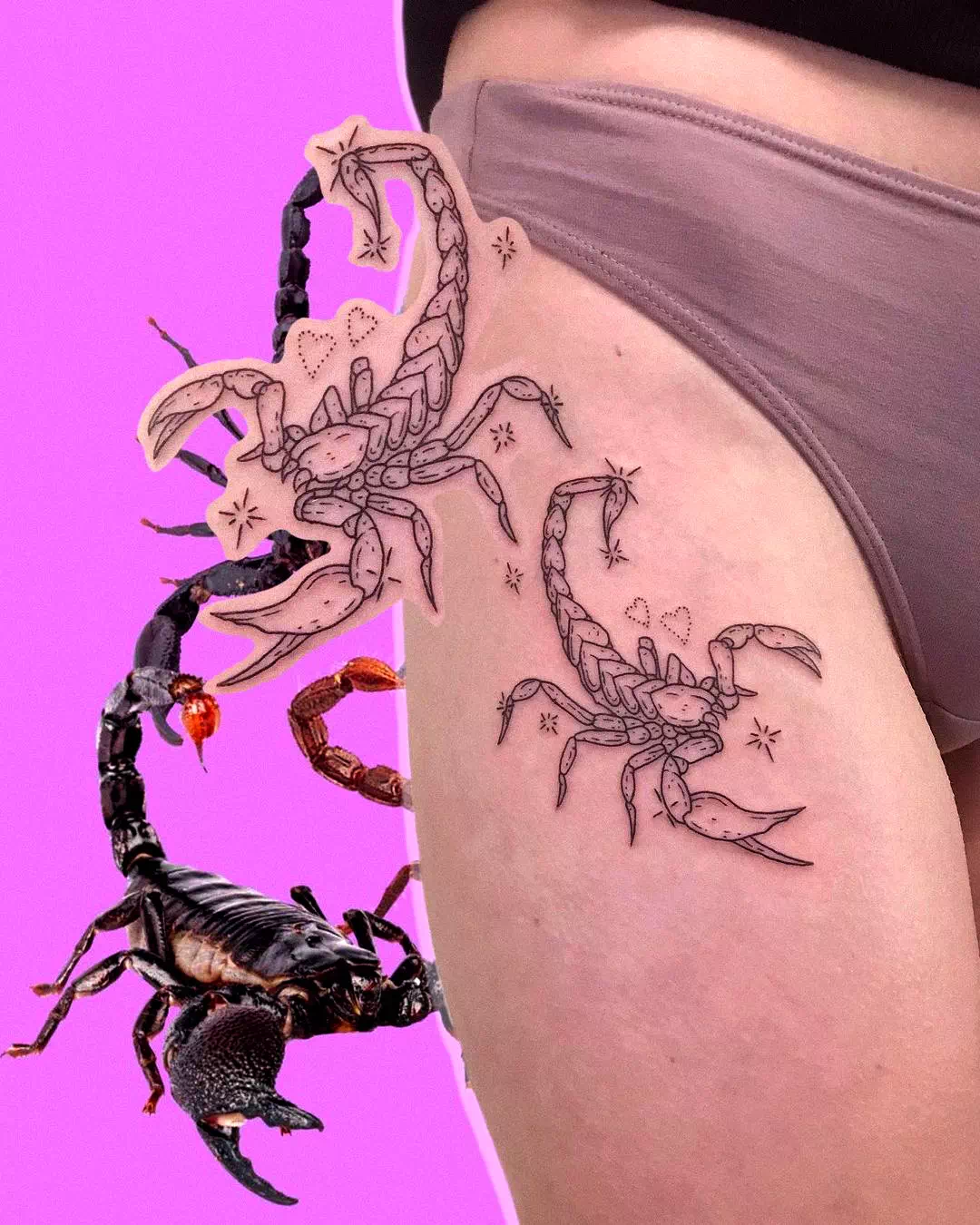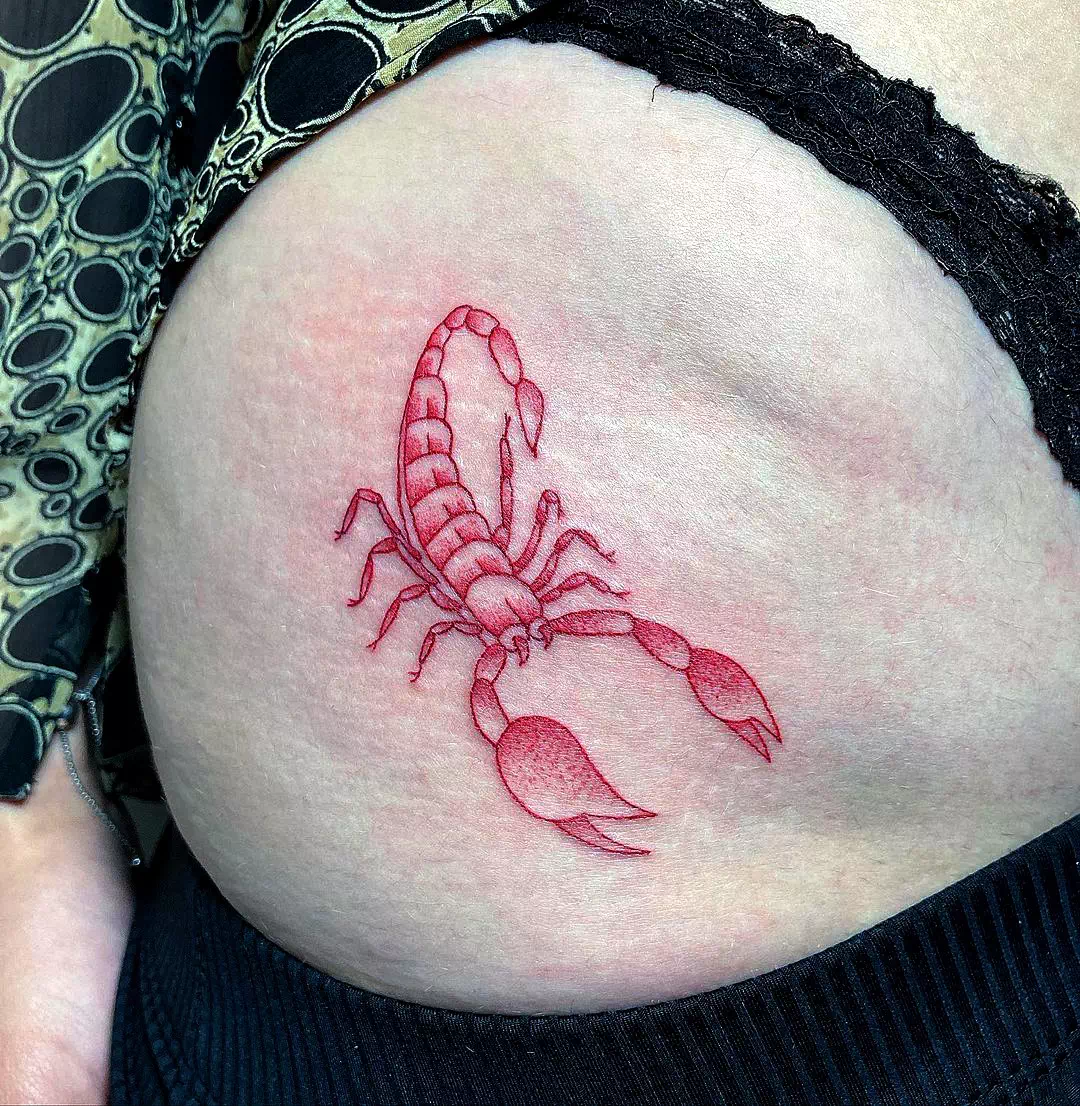 This design is perfect for women who wish to show off their femininity via their tattoos. Women frequently get placements on their thighs, and this design is both flirtatious and seductive at the same time.
This seductive ink alludes to both the dominant and submissive sides of your personality. You will like it if you are looking for something adorable and stunning all at the same time, and it has a hint of sexy pedigree.
2. Scorpio Tattoos For Females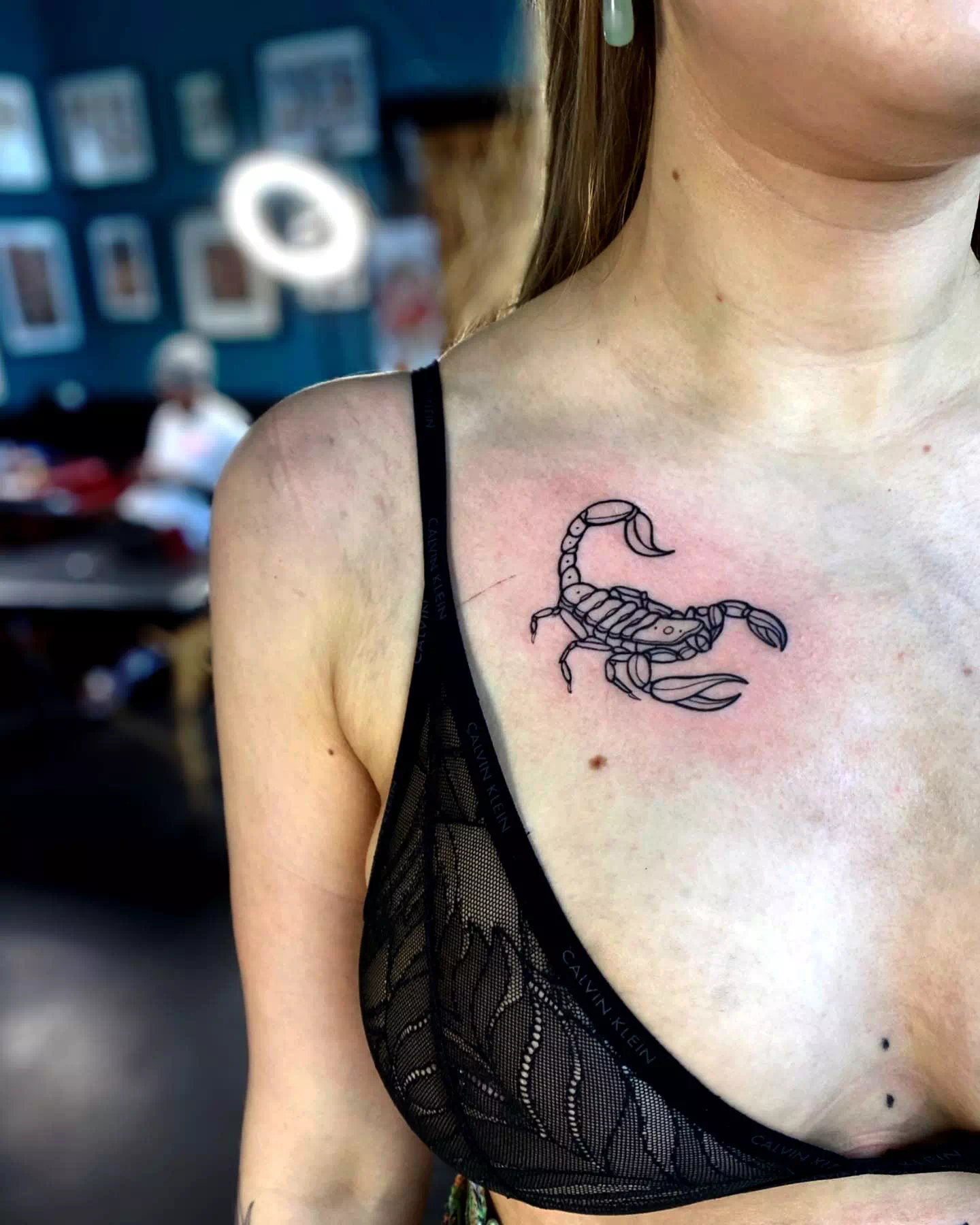 How about a tattoo on your stomach? Perhaps something eccentric that takes place above your ovaries? These two scorpions will demonstrate to everyone that you are a person who is in charge and a queen of fun.
With these two tattoos, you can reveal your authentic self and the path you've traveled in life. They can represent your past and the changes that are yet to come, so make sure it's worth your while!
Have you ever considered the fact that scorpions are poisonous? They can produce the venom at any time they choose.
3. Female Leg Scorpion Tattoo Design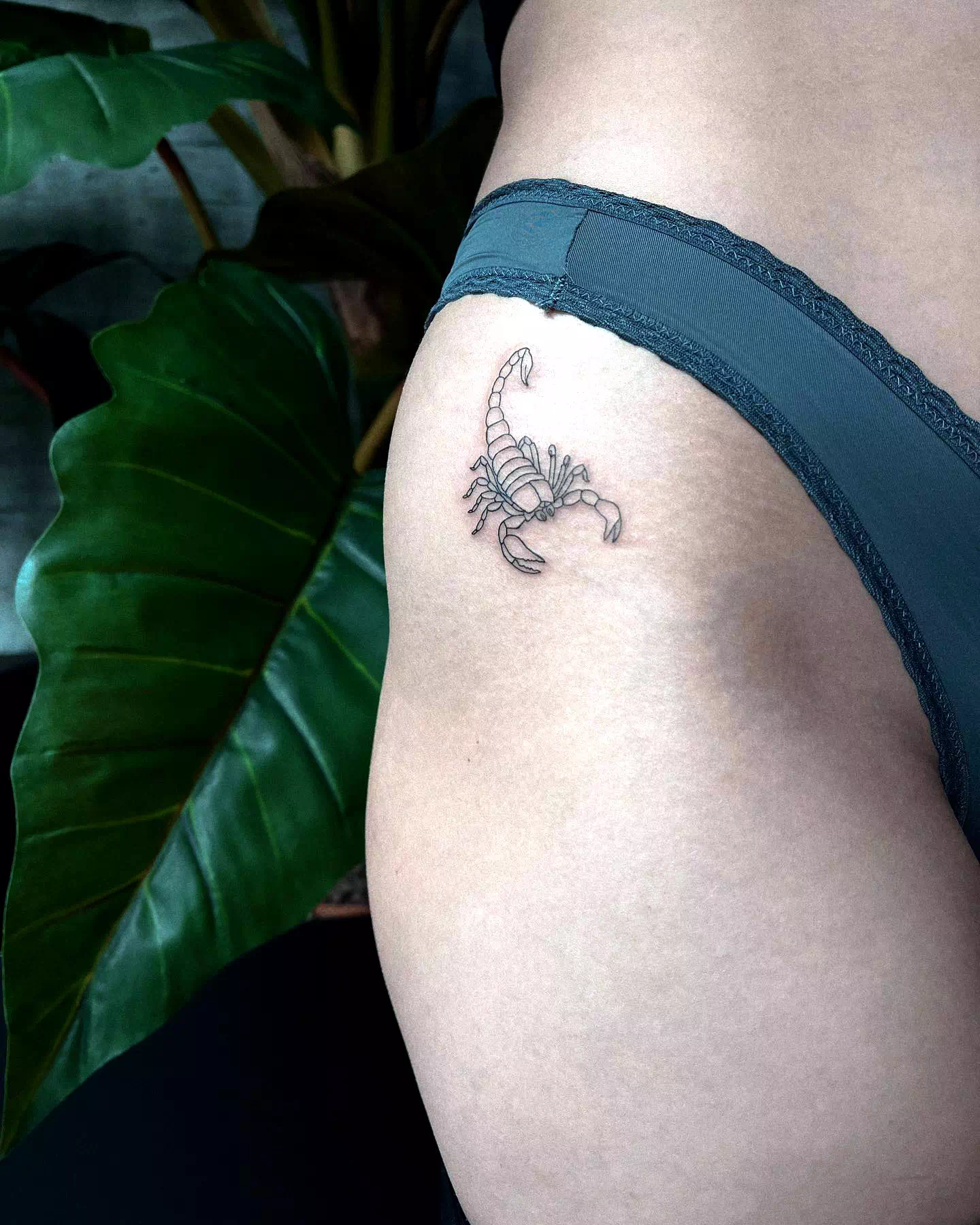 Another cheeky and seductive tattoo on the thigh! You will adore it because acquiring it won't put you through any agony. Because there is a significant amount of meat and skin in this placement and the surrounding area, the process will be acceptable. As well as being suitable for people of any age group,
With this piece, you can demonstrate both your interest in astronomy and your passion for the spiritual path you're on. It will also demonstrate that you are a courageous and powerful woman who never stops considering her options.
4. Girly Scorpion Tattoos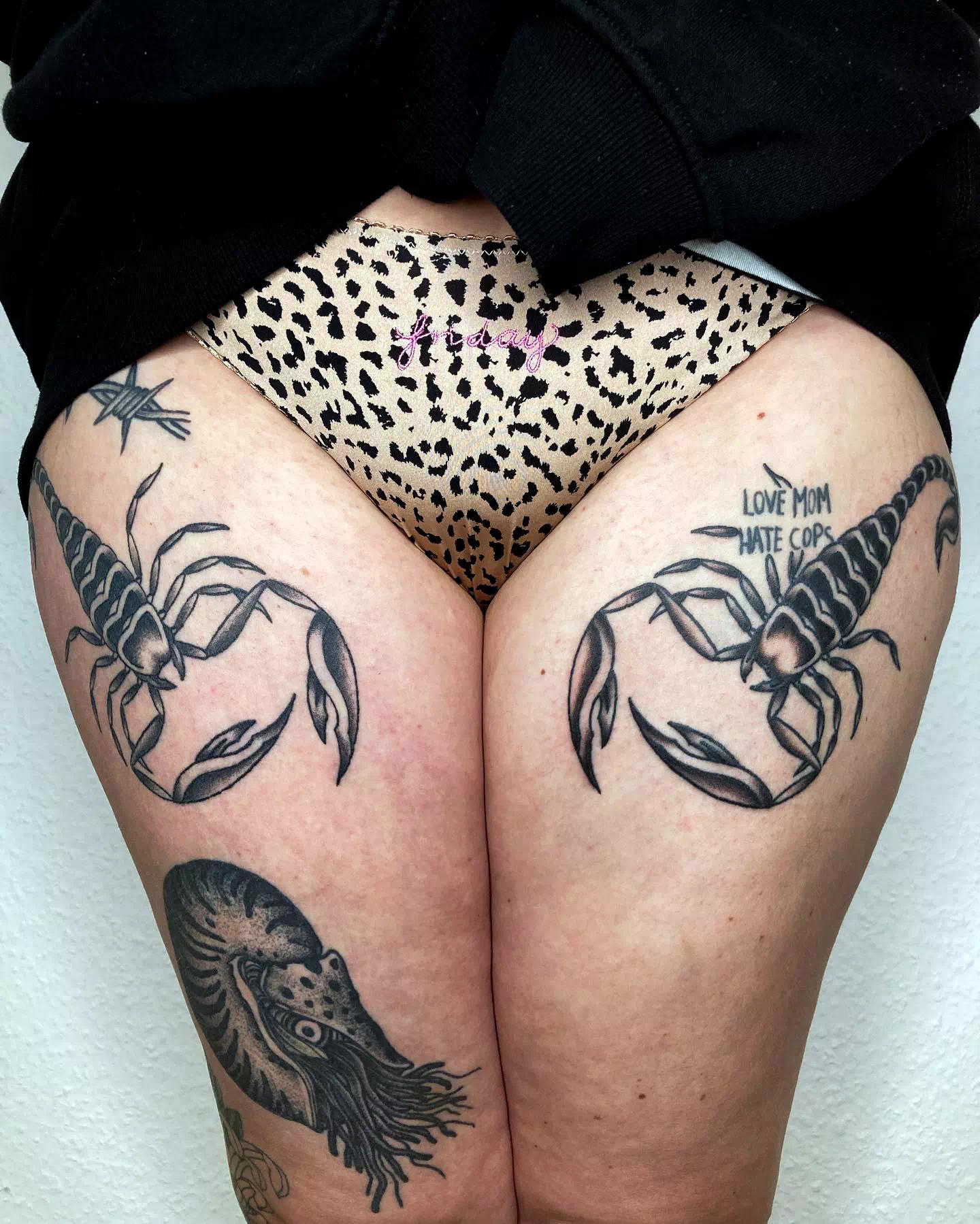 Looking for a position that requires some risk? Are you a woman with a satanic nature? If you aren't afraid of taking chances, having a Scorpio so close to your genitalia will be fun, but only if you have an adventurous spirit.
This reveals the sexual and dominant side of you. If you like bold artwork, the only person for whom this tattoo is appropriate is you. It is also a symbol of your authentic self.
5. Feminine Floral Scorpio Tattoo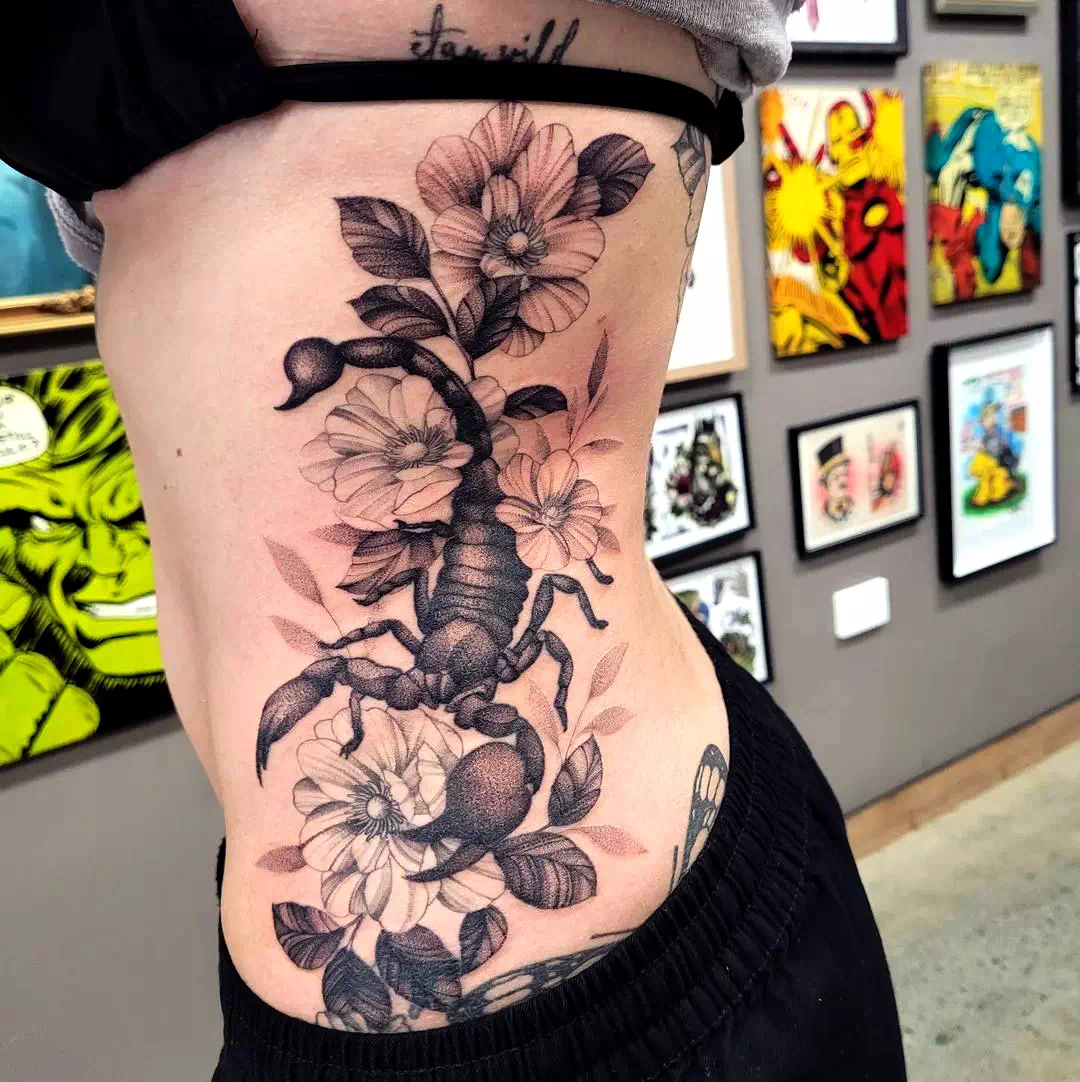 A splash of color will look incredible on women who already have a lot of color in their tattoos. This scorpion manages to be both adorable and dramatic all at once. It is an easy way to show people who you are, and you will enjoy the one-of-a-kind print it has.
This flower and this Scorpio can represent the more feminine side of your personality. Flowers will bring out the sweet and innocent side of you, while a scorpion will show others that you know how to have a good time!
A fun fact about people is that scorpions do not pose a significant threat to them. Out of the 2,000 known species, only 25 of them are venomous. Venomous species are extremely rare.
6. Black Scorpio Tattoo With Rose Detail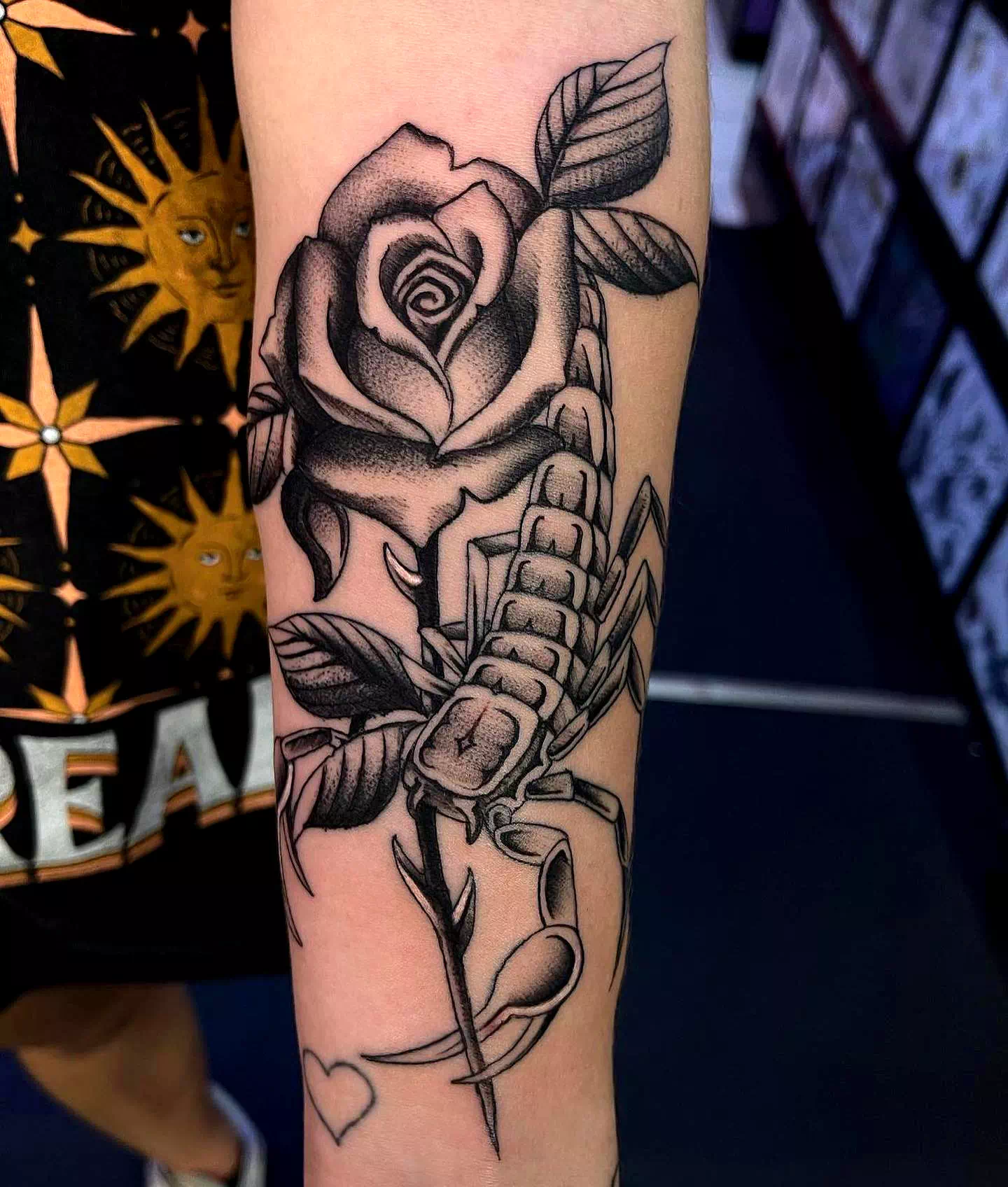 Black ink A beautiful and respectful piece of body art, a scorpion tattoo with a rose symbol. It will reveal both the sentimental and sensual sides of your personality. You can make a promise to someone you care about by devoting this ink to them, so why not do it?
If you are in love and want to demonstrate your love and commitment to the other person, the symbolism of this item is ideal for you to use. It is going to work best for couples.
It's more fun to share!