It doesn't matter if you're getting a tattoo on the spur of the moment or have been planning your complete chest piece for the past decade, you'll need to set aside some substantial cash for the tattoo artist. Tattoos are not inexpensive, and you will be asked to tip your tattoo artist after the session.
In this article, we'll go over the factors that influence the price of your tattoo, how to estimate the cost, and how to identify whether your tattoo artist is taking advantage of you. As a result, let's look at how much tattoos cost, what elements influence the pricing, and which designs will set you back a few hundred dollars more than others.
Chart of Tattoo Prices (2022 Update)
Our price chart will give you an idea of the average price range for your tattoo based on the size and placement of your tattoo. Even though these two factors are the most important, the tattoo artist's level of skill is just as important.
Read the section below under "Factors That Influence Tattoo Prices" or call the tattoo parlors on your shortlist for additional information on what might make a tattoo expensive.
Compared to a detailed photorealistic image, a simple triangular sign on the forearm will be faster and cheaper. The price range and turnaround time could be very different.
Tattoo Placement
Size
Average Time (Spread Over Multiple Sessions)
Average Price Range
Full Body Tattoo
Everywhere!
30+ hours
$100,000+
Arm Tattoo
Full Sleeve
11 hours
$2,000 – $7,000
Half Sleeve
5 hours
$800 – $2,000
Upper Arm
3-5 hours
$600 – $1,300
Forearm
2-5 hours
$300 – $1,300
Back Tattoo
Full Back
40-60 hours
$7,000 – $9,000
Half Back
20-40 hours
$2,500 – $5,000
Medium Size
5 hours
$300 – $700
Small Size
2-3 hours
$100 – $450
Chest Tattoo
Full Chest
10-20 hours
$600 – $2,000
Half Chest
8-12 hours
$450 – $1,200
Medium Size
7-9 hours
$250 – $600
Small Size
2-3 hours
$100 – $300
Shoulder Tattoo
Back of Shoulder
7-9 hours
$1,000 – $1,700
Shoulder Cap
4-5 hours
$800 – $1,500
Hip Tattoo
Hip to Thigh
7-9 hours
$500 – $2,500
Large Outer Hip
5-6 hours
$800 – $2,200
Medium Size
4-5 hours
$250 – $700
Small Inner Hipbone
2-3 hours
$100 – $300
Face Tattoo
Full Face
5-6 hours
$500 – $1,000
Small Size
2-3 hours
$200 – $800
Miniscule Size
Up to 30 minutes
$40 – $80
Bespoke (lip, eyeball, etc.)
Up to 1 hour
Unknown
Hand Tattoo
Medium Size
3-4 hours
$100 – $250
Finger Tattoo
Up to 1 hour
$50 – $100
Small Size
2-3 hours
$40 – $80
Foot Tattoo
Medium Foot Tattoo
3-4 hours
$100 – $200
Medium Ankle Size
4-5 hours
$50 – $300
Small Toe Size
Up to 1 hour
$40 – $100
Rib Tattoo
Full Side Body
6 – 7 hours
$1,000 – $2,000
Medium Size
5 – 6 hours
$600 – $1,000
Small Size
2-3 hours
$250 – $500
Leg Tattoo
Thigh
5-6 hours
$500 – $1,000
Lower Leg
5-6 hours
$500 – $1,200
Tattoo Prices in Different Countries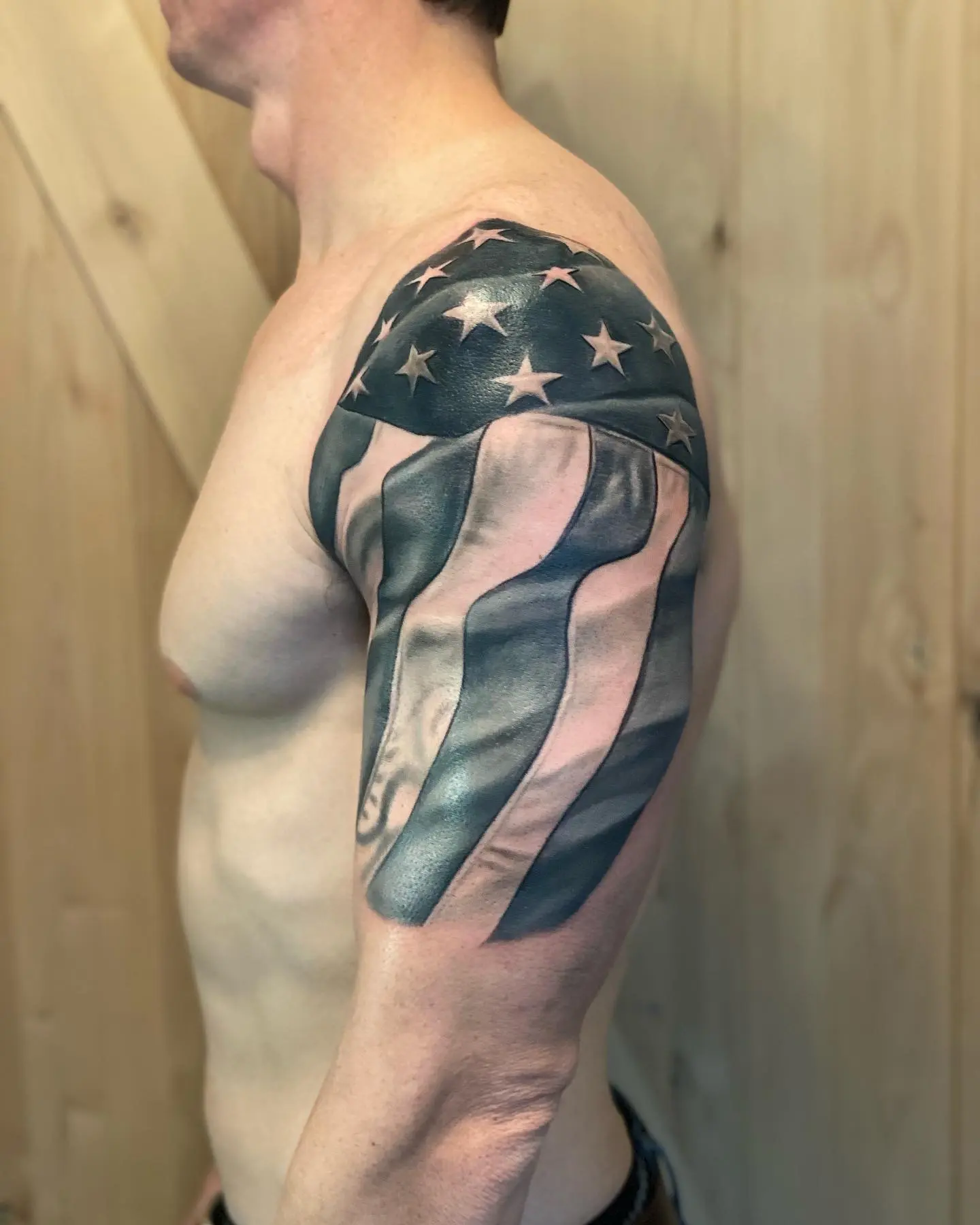 From California to Omaha, there are some fantastic tattoo shops in the United States. It is sometimes as simple as ringing them up or visiting their website to determine what they charge for their services. What if you want to get a tattoo while you're on vacation, though?
A list of some of the most popular places to get a tattoo, how the prices will be shown, and how they compare to prices in the United States are below.
UK
Tattoos in the United Kingdom will be charged in GBP, or pounds sterling. In general, costs are higher in London, the country's central city, for practically everything. There are several reasons for this, including higher tattoo shop rent fees and more expertise; it's safe to say that the most significant British tattoo artists can typically be found in and around London. Tattoo shops in other parts of the country may be less expensive.
Tattoo prices in the United Kingdom are somewhat lower than those in the United States. The average cost of a tattoo in the United Kingdom is usually reported to be £130, which is about the same as $170 at today's currency rate. According to Cost Evaluation, the average tattoo price in the United States is $245, but this might be because Brits like smaller tattoos!
Ireland
The euro is the currency that will be required in Ireland. Like in American tattoo businesses, an introductory rate of €50 is typically charged to cover equipment costs, sterilization of the workspace, etc. It is quite common for visitors to Dublin to have tattoos of Celtic symbols such as the harp or shamrock; as a result, you may encounter increased costs for tourists while there.
Interestingly, there is no minimum age requirement in Ireland, but most tattoo artists will request parental consent if you appear to be too young.
New Zealand
Tattoo parlors may be found in abundance across New Zealand, particularly in Auckland City. Most tattoo shops may take a deposit or charge a flat fee for tattoos, which is often approximately $100, depending on the size and style of the tattoo and the location. There are usually some great tattoo artists who specialize in Mori and Japanese methods if you look hard enough. You'll have to pay a lot more for their work, though.
When searching for tattoo pricing in New Zealand on the internet, you may notice the dollar symbol. However, this typically refers to the New Zealand dollar (NZD) rather than the United States dollar (USD). In the United States, one New Zealand dollar equals approximately 70 cents.
Australia
Dollar pricing in Australia, like in New Zealand, is likely to be expressed in Australian dollars rather than US dollars; bear this in mind when requesting quotations and conducting internet research. The most costly (but also the most accomplished) tattoo artists may be found in big cities and metropolitan regions. For example, in the following cities:
Melbourne
Prices for tattoos are typically calculated hourly rather than at a set cost, with the minimum payment being approximately $100. According to our findings, the number of tattoos in Melbourne appears to be slightly more significant than in the other Australian cities—this may be because Melbourne is a highly varied city that draws a large number of young people. The area has a lot of different cultures, music festivals, and art-related events.
Melbourne is a city where you may discover inherent talent.
Perth
Given that Perth is a rural city, finding a cheaper tattoo shop in the next town is not a simple task! Due to the city's laid-back atmosphere and beautiful sunny environment, it is a favorite destination for tattoo enthusiasts. As a result, tattoos are trendy in the city. Tattoo parlors are available in various price ranges to suit every need and budget.
We've received quotations for $250 an hour, and others are prepared to start at less than $100 an hour.
Sydney
Although Sydney is not Australia's capital city (that honor belongs to Canberra), it is often the most popular tourist destination and the best spot to go if you want to get a tattoo. At the Australian Tattoo Expo, held every year in Sydney, you may expect to pay a lot of money for a tattoo.
Pricing is based on an hourly rate of $200, with initial pricing (even for tiny tattoos) starting at $100.
Canada
In Canadian cities (particularly Toronto), prices for tiny tattoos begin at around $100, but tattoos from parlors in rural regions will cost far less. According to our study, tattoos are just as popular in Canada as they are in the United States and the United Kingdom, so there's no reason why you shouldn't be able to get a tattoo there.
Traditional tattoos produced by indigenous tattoo artists in Canada are experiencing a resurgence in popularity. When you're thinking about getting a tattoo for your road trip through Canada, you might think about this.
Factors Influencing the Cost of Tattoos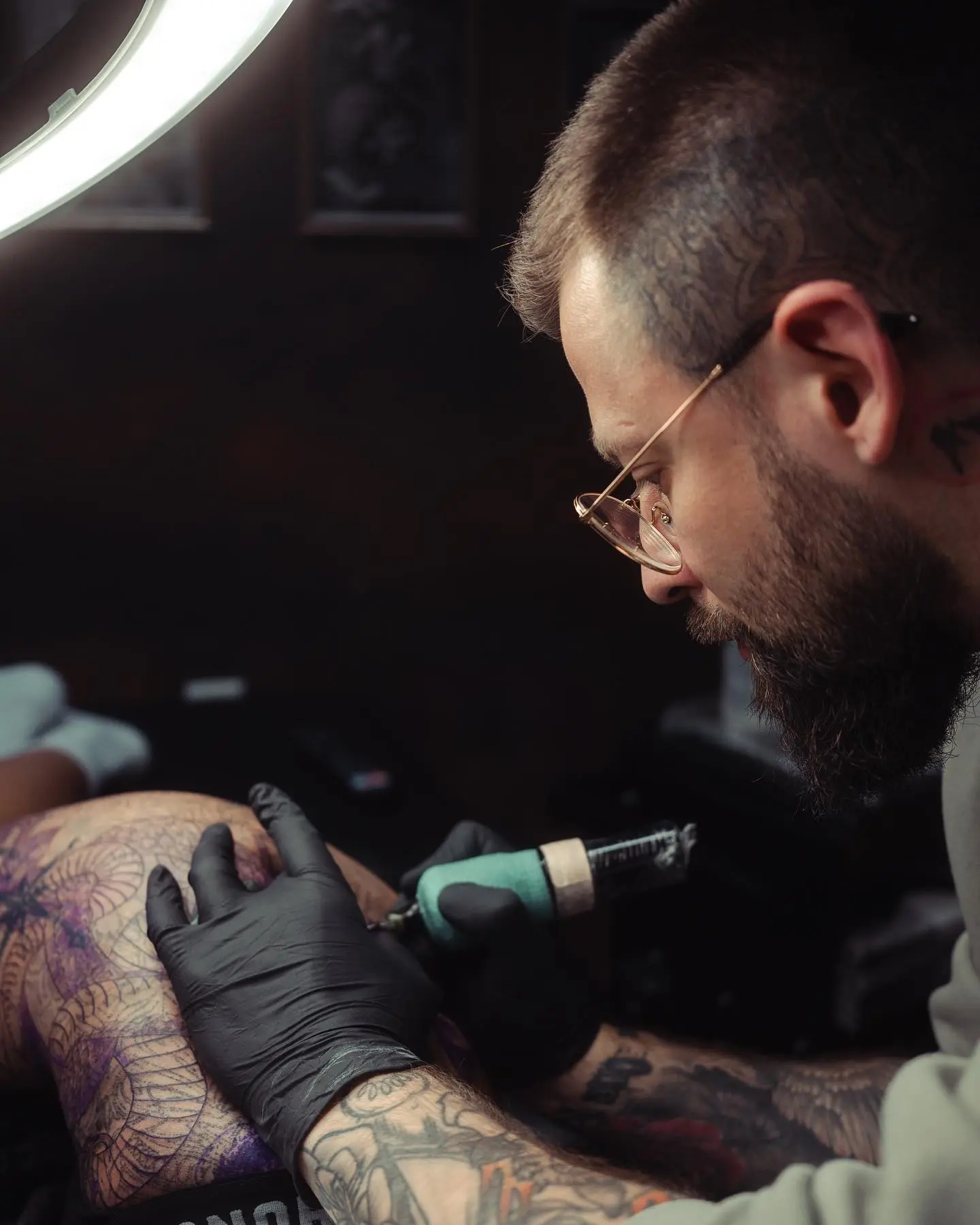 Tattoo artists don't just pick a fee at random and call it a day. The cost of a tattoo is determined by a variety of factors. Above all things, the tattoo artist must be financially successful in continuing to work. This implies that they will charge a starting or minimum rate that is sufficient to cover the cost of their time and equipment costs.
This is what you should do if the tattoo artist says they won't lower their prices below a certain point in time.
Additionally, the tattoo's design and size and the introductory rate might influence the cost. In addition, you are paying for the artist's abilities. What it will cost, however, will increase in direct proportion to their ability level.
For example, a tattoo by Ryan Ashley Malarkey will cost you a minimum of $200.
Artist Expertise and Experience
The price of a tattoo increases in direct proportion to the tattoo artist's level of talent and experience! That appears to be the standard operating procedure in virtually every respectable tattoo studio. Those of you who believe that tattooing is an unnecessary expense should remember that your tattoo artist is responsible for creating a lasting piece of body art on your skin.
In such a case, they should charge you for it because they will be excellent in their field.
Checking a tattoo artist's social media accounts and website is a simple method to determine whether or not they are overcharging. If the tattoos displayed on their profiles and websites are fantastic, you can be confident that the high price is warranted.
This is also one of the reasons why getting a tattoo from an apprentice or new tattoo artist is less expensive. If you go to a tattoo shop with an inexperienced tattoo artist, you run the risk of getting an unsatisfactory tattoo.
Tattoo Gun Prices and Start-Up Costs
So far, we've talked about base rates and equipment prices a few times. To give you a better sense of how much it would cost, the typical tattoo artist will cover the following expenses:
Tattoo gun – a high-quality tattoo gun costs around $500, plus additional costs to learn how to use it.
Inks – When it comes to ink, the more colors you desire, the more ink you will need to purchase or open.
Needles: There will be a need for new needles as well as needles of various sizes and shapes.
Gloves and masks – Due to the necessity for sanitary conditions, each session will require a new set of gloves and masks.
Cleaning equipment – Surfaces must be sanitized, and the workspace must be kept clean (you don't want a tattoo artist to scrimp on this aspect of their job).
Rent and upkeep costs-  Keeping the tattoo business operating and the energy running isn't cheap, and the rent and upkeep cost money.
Aside from these fees, the tattoo artist must also generate enough money to cover the cost of their own home and provide enough food to feed their family.
The Location of the Tattoo Shop
The cost of a tattoo in New York City might be as much as five times more than in a smaller town or rural area for the same type of tattoo. This is because the cost of living and parlor rental in major cities is higher than in small communities.
Furthermore, high-end tattoo artists are more likely to work in large-city tattoo shops, which impacts the initial price of a tattoo as well. The number of tattoo artists who share a location might affect the pricing because the rent is split when many tattoo artists share a space.
Design Complexity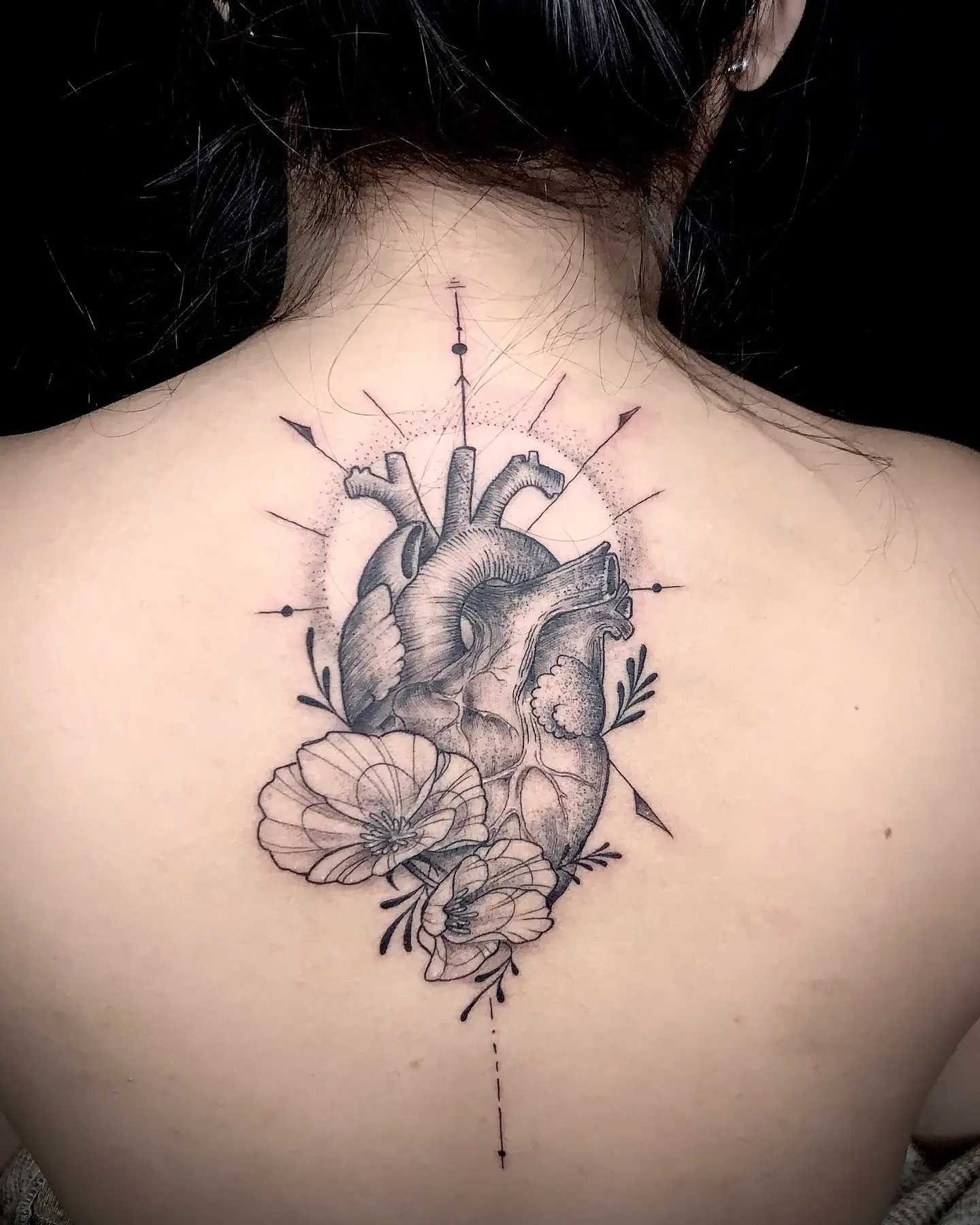 Getting a tattoo with a sophisticated design with many details, shading, and a complicated color scheme will be far more expensive than you think. The size of the tattoo and where it is placed also affect the final cost, so if you want to save money, get a tattoo in a smaller area (like your forearm).
This is not because it takes more time to design a complicated tattoo. Colors that are out of the ordinary might be challenging to find, and changing needle sizes regularly can result in longer and more frequent sessions. Furthermore, if the tattoo is so intricate that it necessitates numerous sessions, keep in mind that the tattoo artist will be subjected to the washing and sterilizing procedure (and equipment). All of this adds to the expense.
Colors
The most affordable tattoos are those that are merely black and white in color. Consider the following scenario: The starting price for a tattoo is $100. It is possible to pay twice or treble the initial cost of a colorful tattoo if it is the same as a black and white tattoo.
Tattoo ink is not a cheap commodity. Typically, a tattoo parlor will have a variety of inks available for the artists to choose from. When a specific hue is depleted, more is ordered. If you want a color that is not currently available in the usual selection, they may need to special order it for you. The ink will be wasted if there is no guarantee that they will be able to find another customer who needs that same hue in the future.
Size
Tattoos that are more comprehensive need the tattoo artist to put in significantly more effort. They are time-consuming and require the complete dedication of the artist. Because you're paying for the tattoo and the artist's time and talent, they tend to be significantly more expensive. The greater the amount of ink that must be applied, the greater the amount of ink consumed.
After all, time is a valuable commodity.
As a general rule of thumb:
Less than 2 inches – $50-$100
Diameter 2 to 4 inches – $100 to $250
4–6 inches – $250–700 per foot
6 inches or greater – $700 or greater
Positioning of the Body
The more complex the tattoo placement is, the greater the price; this is the fundamental formula for determining the cost of any tattooing procedure. If a specific body part or location necessitates greater attention and abilities, the tattoo artist will require further training and experience, which will cost money. Getting ankle, wrist, breast, nipple, face, lip, or tattoos in private locations can be pretty expensive, mainly owing to the sensitivity of the areas and the style or size of the tattoo, which are all critical factors.
Furthermore, not every tattoo artist is interested in spending the entire day tattooing your slobber. Expect that not every tattoo artist will ink your private parts without hesitation; those who are eager to do so may charge you more than you are willing to pay for their services.
Tattoo Price Estimate by Placement
You can quickly determine the cost of your tattoo by referring to our tattoo pricing chart, which is located on this page. However, if you want a more in-depth explanation of why tattoos in specific locations are more expensive, then choose your chosen tattoo region from the list below.
For those who already have a tattoo design in mind, it is recommended that you consult with a professional tattoo artist on which body part would be the best fit for it. They will be able to tell you where the best place is for your design and what size is possible for the format you want.
When you are still deciding where you want your design to be placed on your body, you may speak with several tattoo artists. Some artists who have been working for a long time may have a different point of view than others. They may be able to give you more options at an extra cost.
Full Body Tattoo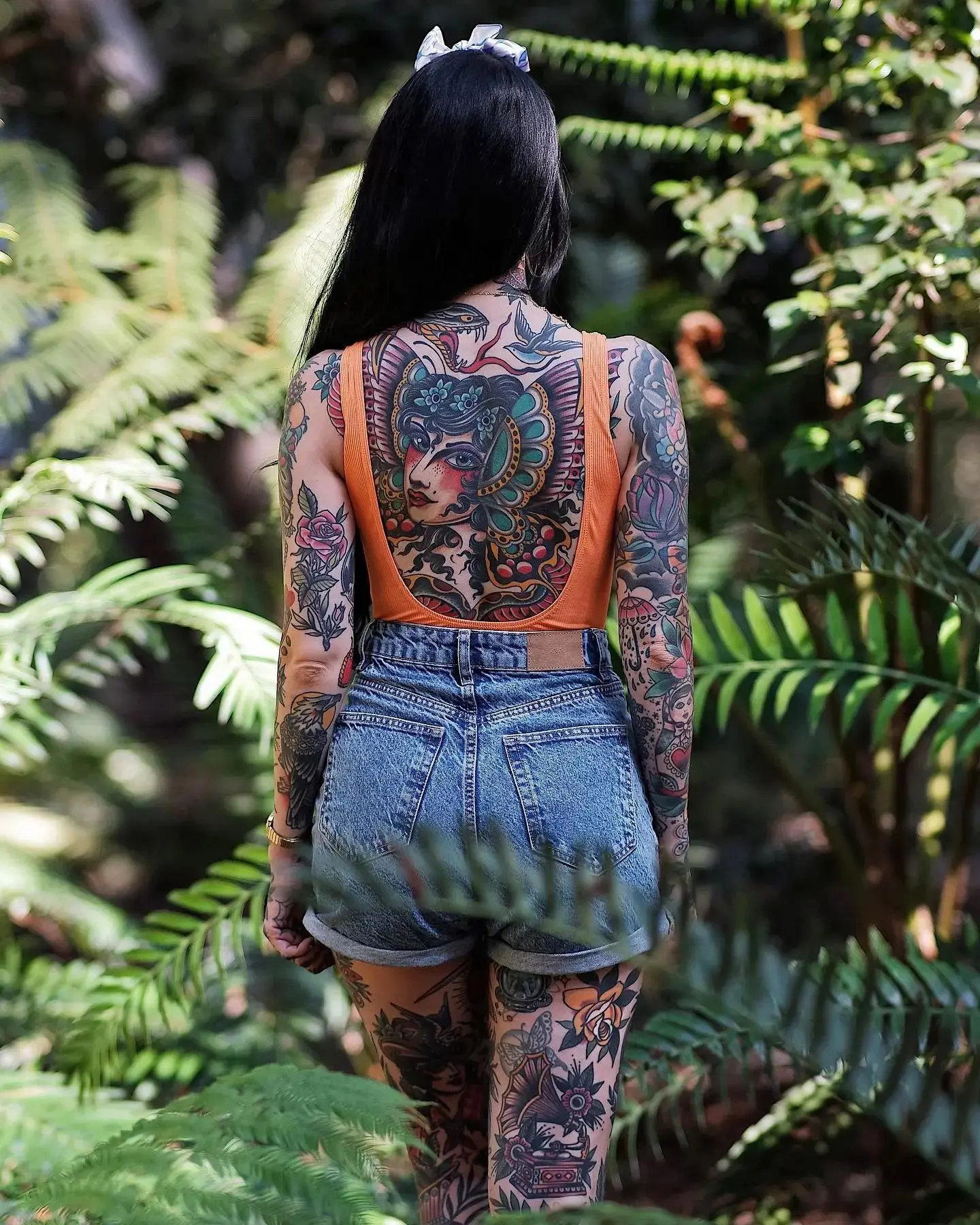 If you want a full-body tattoo, you must be wholly dedicated and prepared to pay the price. If that is the case, be prepared to spend upwards of $100,000, depending on the style and color of the tattoo you choose. The time and labor intensity of the procedure are factored into the pricing. Keep in mind that the tattoo artist(s) will receive a gratuity ranging from 10% to 30% of the total tattoo fee.
As is true of all tattoos, the more intricate the design, the longer it will take the artist to complete it in its entirety. Many tattoo artists will charge an hourly rate when it comes to really huge tattoos. An hourly rate (paid across numerous sessions) will be charged instead of a predetermined payment in advance.
This allows them to make changes to your tattoo and eventually turn it into a full-body piece of art without having to pay extra.
Arm Tattoo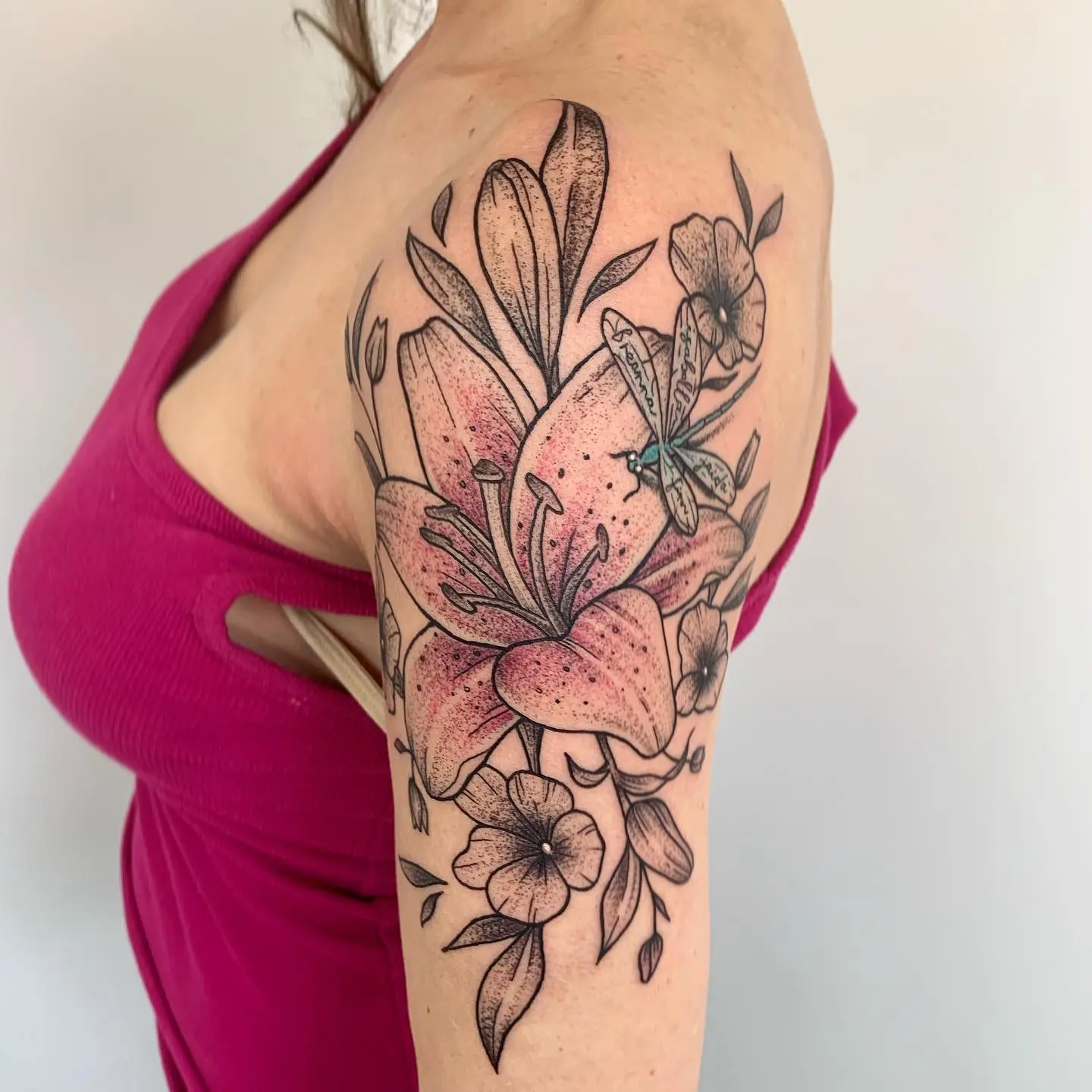 Arm tattoos are often divided into sleeves and medium or small tattoos. The sleeve covers your entire arm (or half), or a tiny tattoo covers only a portion of your arm, depending on your preference.
Sleeve Tattoos
The outline of a complete arm sleeve can cost you anything between $2,000 and $4,000, depending on your location. For example, a simple black and white geometric design with no shading or complicated parts might work well in this case.
In contrast, if you want your tattoo to include more details, shading, or even new colors, you could expect to spend anywhere between $6,000 and $7,000. The high cost of sleeve tattoos is due to their time and labor-intensive nature.Most of the time, they need a lot of sessions, and it could take days or even weeks for a tattoo artist to finish the job.
Half-sleeve tattoos will cost less money, but they are not necessarily half the cost of a full-sleeve tattoo. This is because, whether you get a full sleeve or a half sleeve, you are still responsible for the cost of the equipment and ink colors. Rates for a half-sleeve typically range from $800 for a plain (one color, no shading) tattoo to $2,000 for a really intricate design that wraps around your upper arm or forearm, depending on the artist.
Forearm Tattoo
A forearm tattoo is one of the most common tattoos globally, and it can be found on people all over the world. Tattoos on the forearms look fantastic, regardless of their style or size, and they are frequently more creative than tattoos on other parts of the body. Unfortunately, an excellent forearm tattoo will cost you anywhere from $300 to $1,300, depending on the size, color, details, overall design, and other factors. However, you should expect to pay less for a simple tattoo on your forearm that is outlined or written.
Upper Arm Tattoo
Generally speaking, the upper arm provides a considerably larger canvas for your tattoo artist to work with than the lower arm. While the forearm links to the wrist, where only modest tattoos may be accommodated, the upper arm connects to the shoulder area, where larger tattoos can be accommodated.
Therefore, upper arm tattoos can range from $600 to $1,300 or more, depending on the design and how close the sleeve is to the tattoo artist's vision.
Full Back Tattoo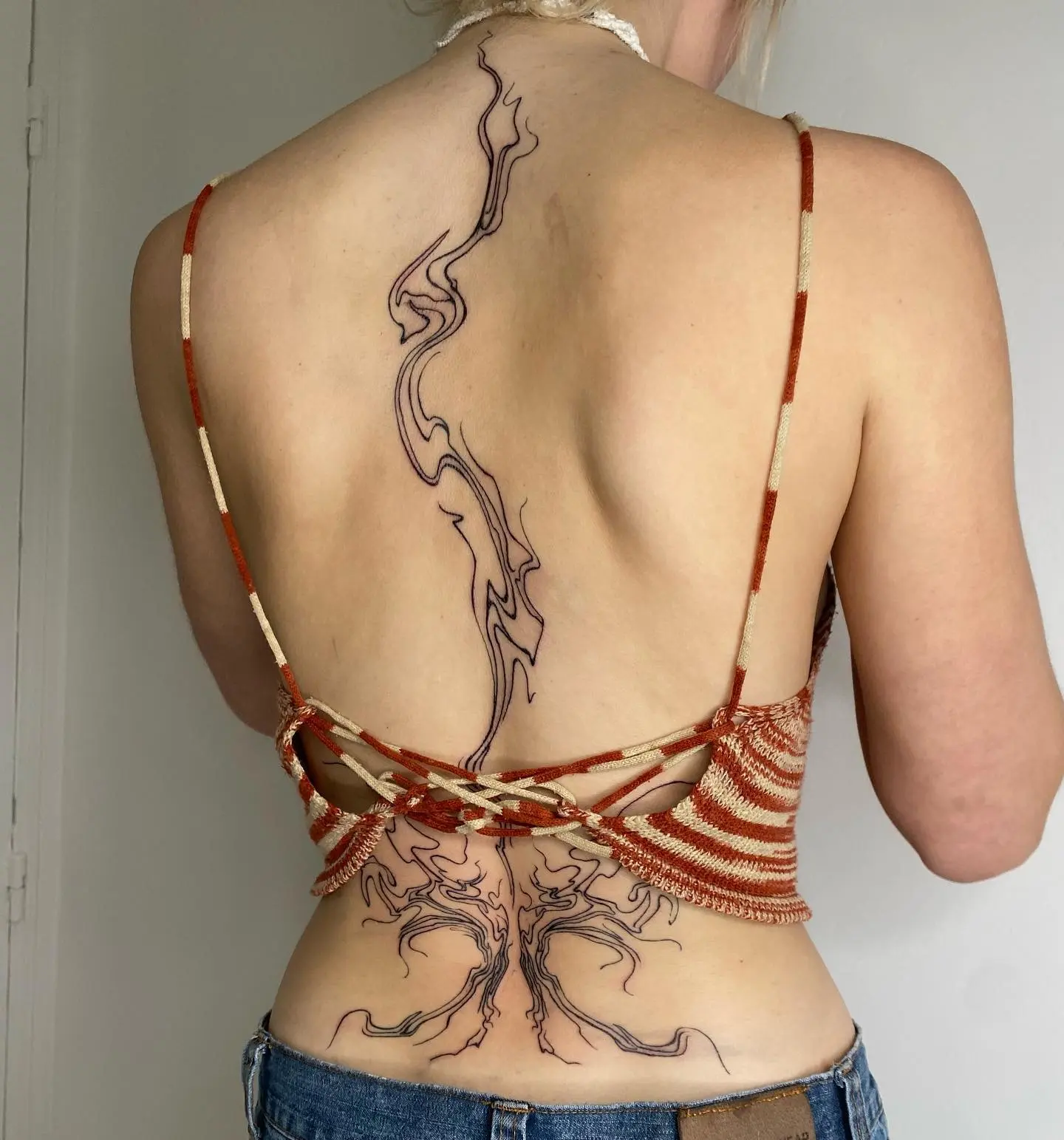 A full-back tattoo will cost you anything from $2,500 to $5,000 for the outline alone – or half of a full-back tattoo – depending on the size of the design. However, keep in mind that a full-back tattoo does not encompass the entire back. It is limited to the area between the bottom of the neck and the waistline alone. To have the tattoo reach over the lower back, shoulders, and ribs, you will have to spend several hundred dollars extra.
Depending on the amount of complexity, shading, and coloring you want in your back tattoo, and if it continues over the lower back, you might spend up to $7,000 to $8,000 on a complete back tattoo. Your tattoo artist may work on it for several days, usually between 40 and 60 hours, depending on the design's complexity and detail as well as the colors used. This means that there is a fee for this service.
Medium & Small Back Tattoos
Because it is a flat area, the back of your body is generally an excellent canvas for your tattoo artist. People who are very bone-heavy might not like getting a tattoo across their shoulder blades, spine, and ribs because it can be painful. Instead, they might need to go to a tattoo parlor for several shorter sessions instead of a long one.
A medium-sized tattoo, such as a portrait on one shoulder blade or a design covering the "tramp stamp" region, will cost between $300 and $700 and require a 5-hour session.
Smaller tattoos on the back are less frequent than larger tattoos on the back because it looks weird to have a tiny tattoo on such a large section of the body. It creates the illusion that the tattoo is floating in space! On the other hand, a simple back tattoo can cost anywhere from $100 to $450.
Chest Piece Tattoo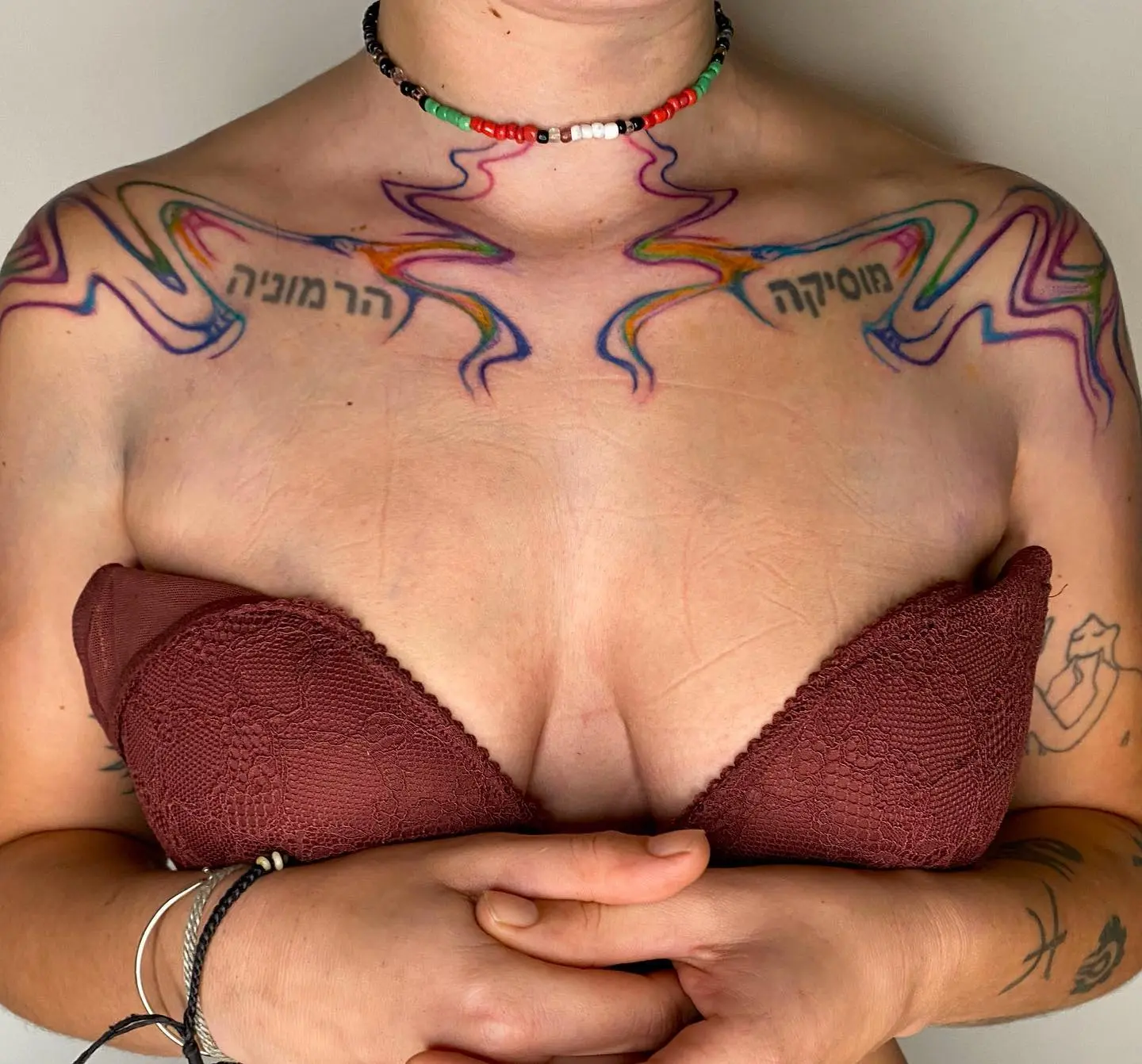 Getting tattoos on the chest is a common choice for many people. Tattoos in this area of the body generally cover the breast/pec area of the chest. Those interested in a tattoo on their ribcage or below this location (such as Rihanna's Isis tattoo by her solar plexus) should go to the section titled "Rib Tattoos."
Medium & Small Chest Tattoos
Because a chest tattoo needs fewer hours of labor and less experience than the previous two places, a chest tattoo may be much less expensive than the other two. Getting a little rose tattooed near your heart, for example, may cost anywhere from $100 to $300. A medium-sized tattoo that necessitates further work will cost between $250 and $600.
Half Chest Tattoo
Half of your chest will be totally covered with ink by the time you reach the half chest. This may even encompass the nipple if it is there. You're definitely looking at the upper end of the price spectrum for more extensive tattoos of this nature. The budget is $450 to $1,200 for a simple design and more than $1,200 for a complicated one.
Full Chest Tattoo
The cost of a complete chest tattoo outline alone will range between $600 and $1000 per square inch. For a full chest tattoo that includes everything from details to shading to coloration, the ultimate tattoo cost might be $2,000 (plus additional fees). This tattoo style will totally cover the chest area of the wearer.
Shoulder Tattoo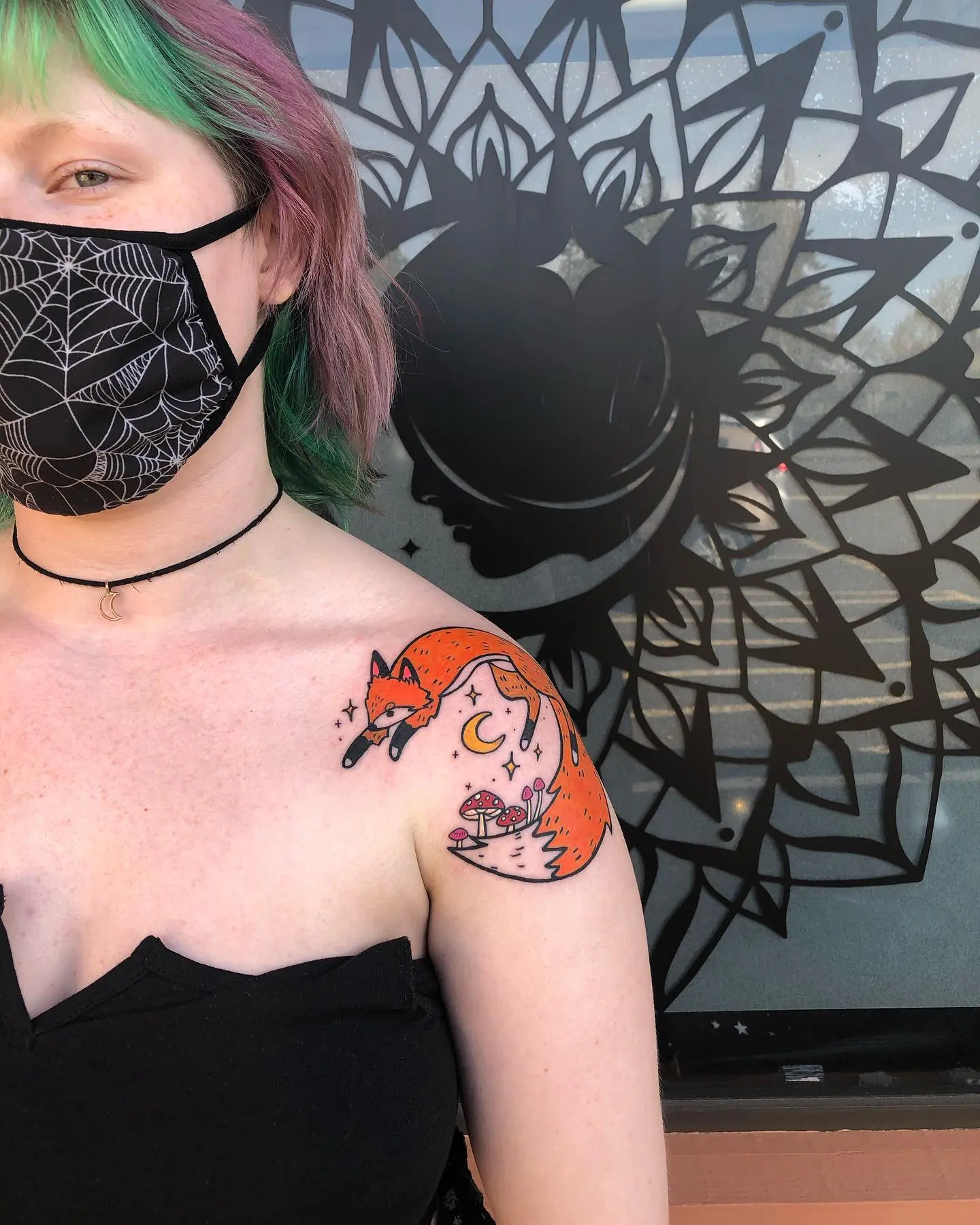 Your tattoo artist does not deserve to be treated disrespectfully! Here's an idea of what to expect in terms of price.
Back of Shoulder Tattoo
This body area, which includes the top and rear of your shoulder blade, is quite sensitive, so it may require a few more sessions than intended. The cost of a basic yet huge tattoo in this location will range between $1,000 and $1,700.
Shoulder Cap Tattoo
Consider getting a shoulder cap tattoo if you're thinking about getting a great tattoo but don't want to spend hundreds of dollars on it. Tattooing the shoulder cap (or the circular area of the shoulder) starts at $800 for an outline and can cost several hundred dollars more for further details and coloration. Therefore, a vast, intricately detailed, and colorful shoulder tattoo may cost $1,500.
Hip Tattoo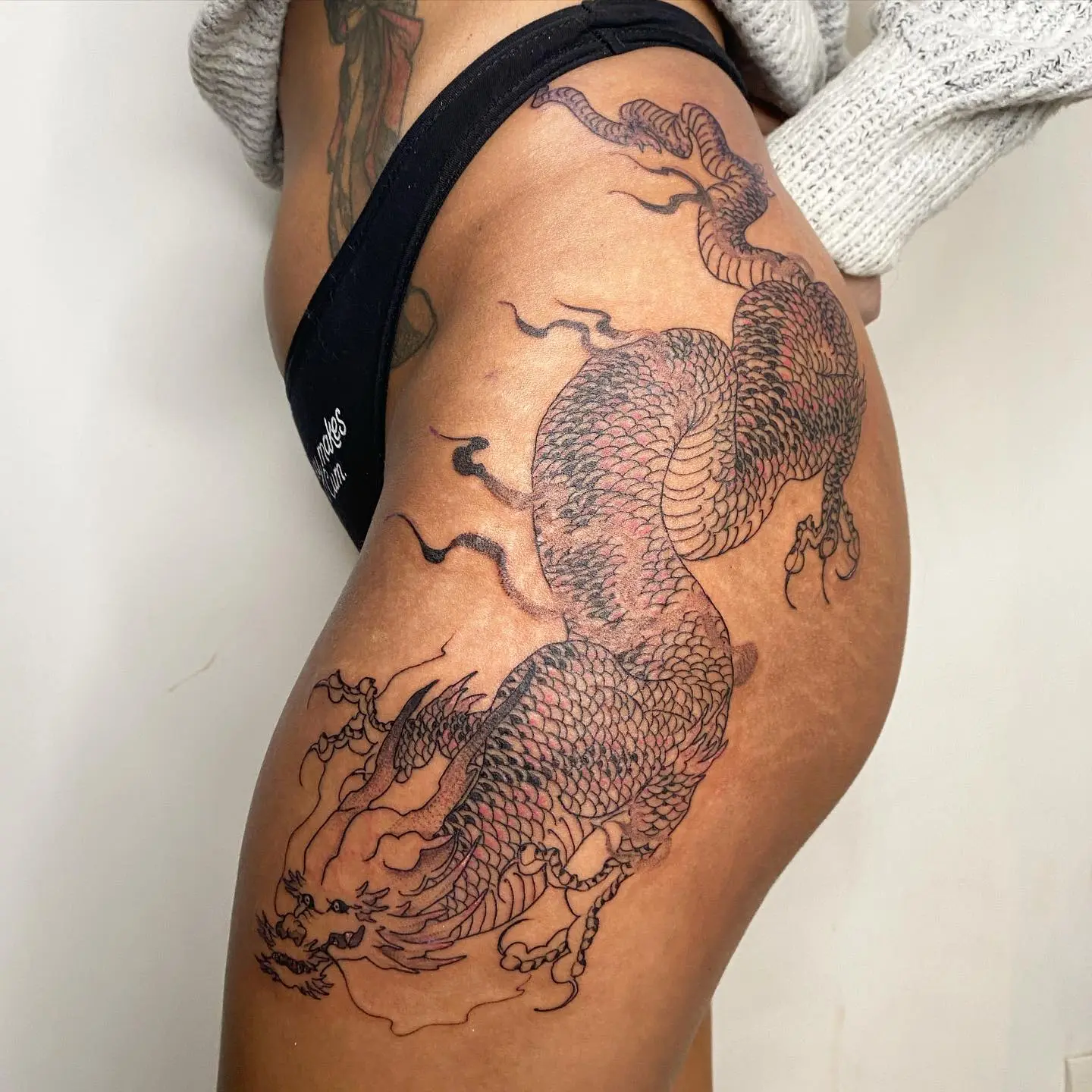 There are many different placements for hip tattoos, from close to your groin to on the very outer border of your hip, and they may extend down to your thigh or even all the way into your rib cage.
Hip to Thigh
If you merely want the outlining of your hip and upper thigh tattoos, it will cost you anywhere between $500 and $1,000 (depending on size, of course). An average hip and thigh tattoo may cost about $2,500, depending on the level of intricacy and coloration you choose.
Large Outer Hip
A tattoo covering your hip will set you back a significant sum of money from your back to your front. The cost of such a tattoo might vary based on the level of competence of the tattoo artist and the complexity of the tattoo design in question.
According to our study, a simple outline tatt will range between $800 and $2,200, while a full-color tatt will cost between $2,200 and $3,000.
Medium Size
Like the medium-sized chest and back tattoos, the hip is an excellent canvas since it's generally rather meaty and has a smooth surface to paint on—as long as you stay away from the hip bone. A medium-sized tattoo on your hip will be applied in the range of $250 to $700.
Small Inner Hipbone
The area on the inside of your hipbone that is soft and popular for small tattoos is the area along the line of your underpants or pants. A ladybug or other little emblem looks adorable in this location and will cost you between $100 and $300, depending on the complexity and colors used in the design.
Face Tattoos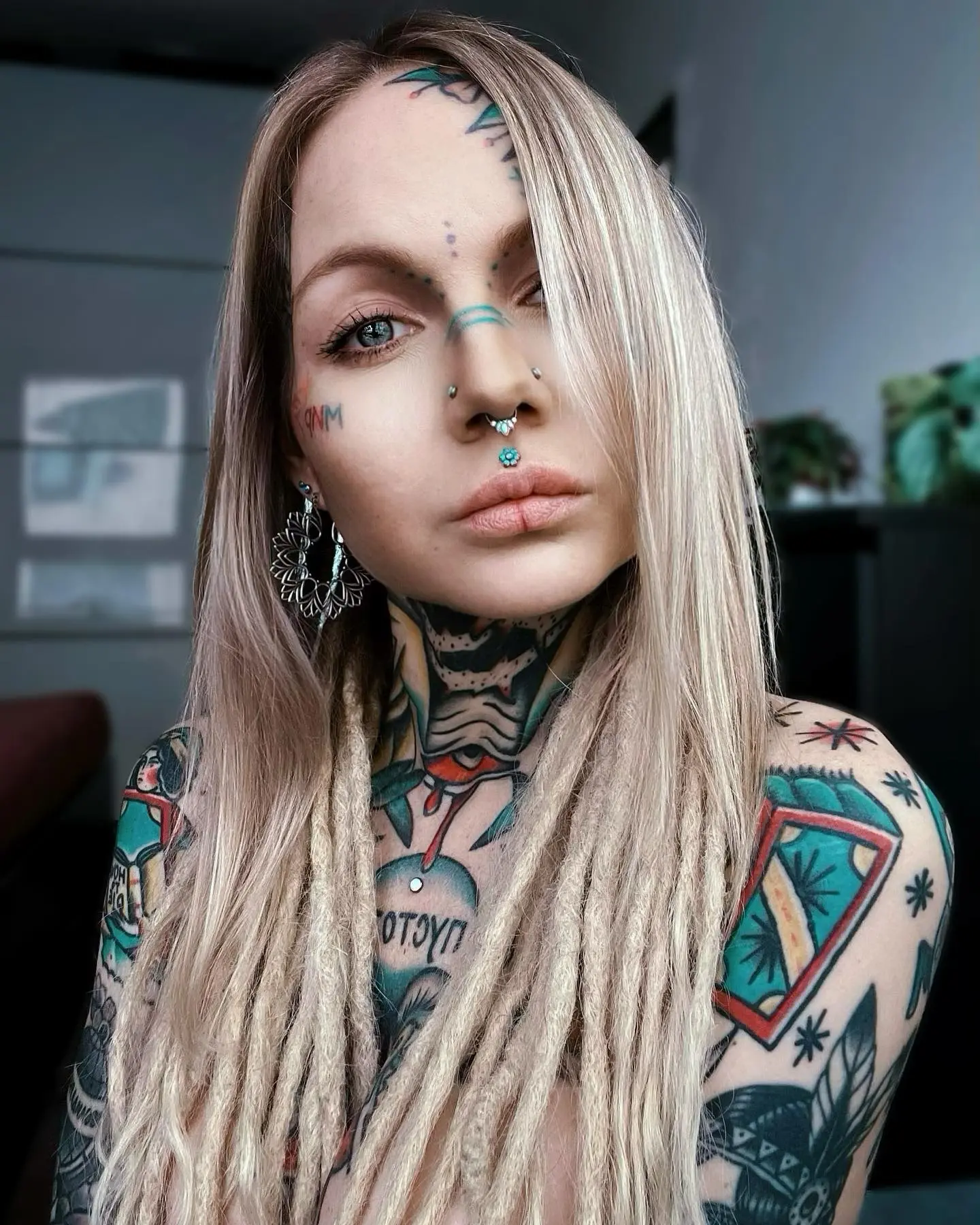 Face tattoos are usually reserved for the most serious tattoo fans, but that doesn't mean they have to cost a fortune.
Full Face Tattoo
Depending on the design's difficulty, a tattoo that covers your entire face can cost anywhere from $500 to $1,000. Because getting your face tattooed is a time-consuming process, you may need to spread it out across several appointments. Furthermore, some tattoo artists might not be comfortable tattooing your entire appearance!
Small Face Tattoo
If you're weary of having to put on or draw your brows every day, try obtaining a permanent version of your brows, eyeliner, and lip liner. Small tattoos on the face and lips, as well as cosmetic tattoos, are often priced in the same range. Permanent makeup artists estimate that such tattoos can cost anywhere from $200 to $800 per process, depending on the customer's wants and requirements and the artist's level of experience.
Miniscule Face Tattoo
A dot between your brows, a faux beauty mark, or a teardrop in a single color are all examples of small and quick tattoos that an artist may make. Most of the time, the prices for these tattoos are close to the basic fee, which includes the cost of getting the equipment ready and the cost of however many ink colors you desire. For tiny tattoos like these, the price ranges between $40 and $80.
Bespoke Face Tattoos
Crazy facial tattoos, such as being inked on the white of your eyeball or getting tattooed inside your mouth, may have been mentioned or seen in movies or television. Because not every tattoo artist will be willing to perform this kind of tattoo – which may even be harmful to your eyesight – determining an average cost for these types of tattoos is difficult.
For a wacky, unique tattoo such as an eyeball tattoo, you must first locate an artist capable of doing it; otherwise, you may not be able to bargain for the cost of the tattoo.
Finger and Hand Tattoo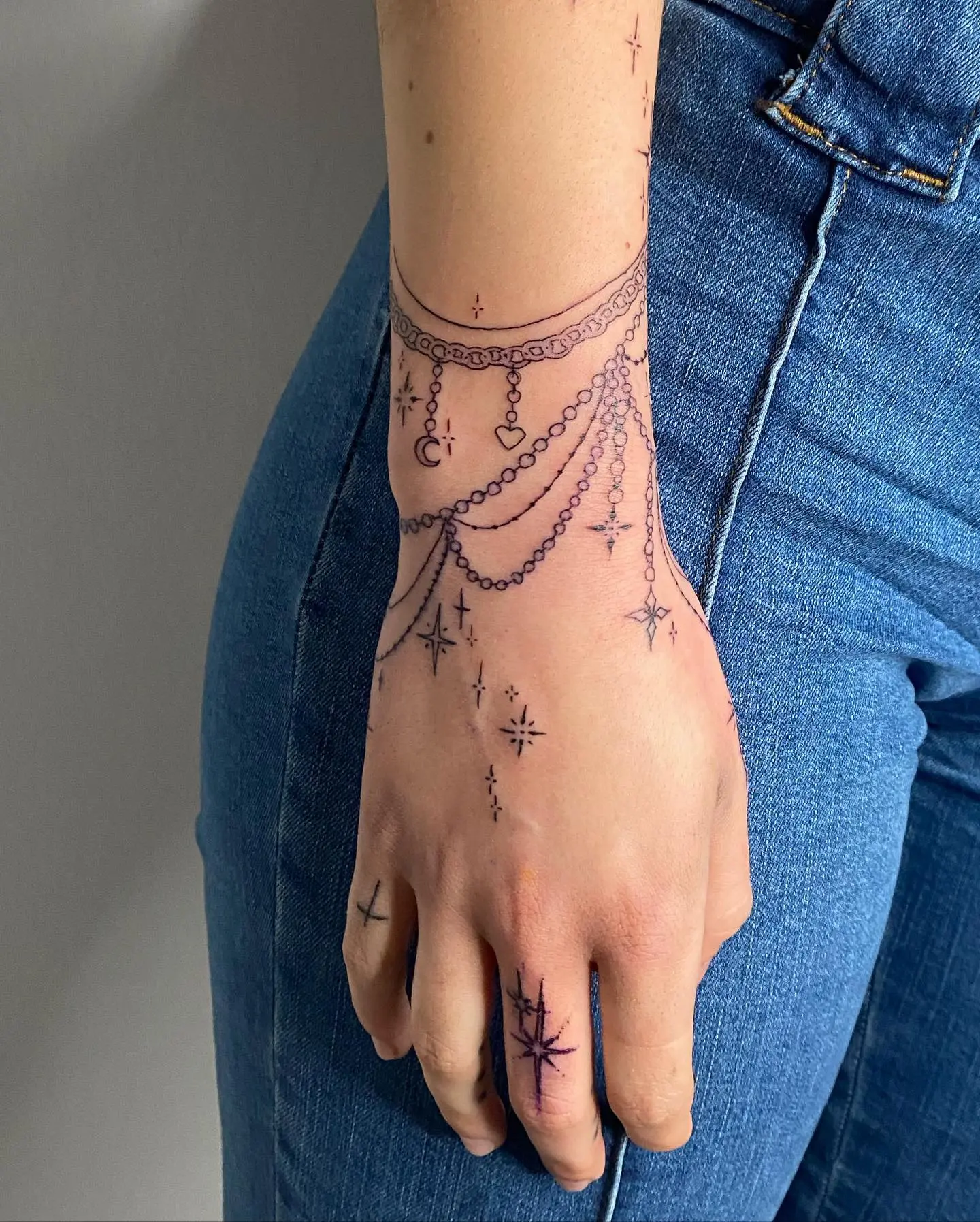 If you are willing to put up with the discomfort of getting a finger or hand tattoo, you will undoubtedly save money. Generally speaking, the prices for these tattoos are pretty low.
Medium Size
Tattoos of medium size are often placed over the back of the hand and toward the wrist. Hand tattoos may cost anywhere from $50 to $250, depending on the style, size, and color used in the tattoo. Painful tattooing of this highly bony part of the body is a possibility.
Finger Tattoo
Typical finger tattoos range in price from $50 to $100 and can include anything from a message or symbol along the side of one finger to an initial on each finger. Tattoos on the fingers and hands are always entertaining and relaxing, and they are becoming more socially accepted, particularly among employers. So, like we previously stated, if you think you can bear the agony, go for it.
Small Size
On the other hand, an additional dot below each nail, on the other hand, is unlikely to cost much and will not consume a lot of your time. You should anticipate paying between $40 and $80, which is comparable to the cost of the tiny facial tattoo.
Foot and Ankle Tattoos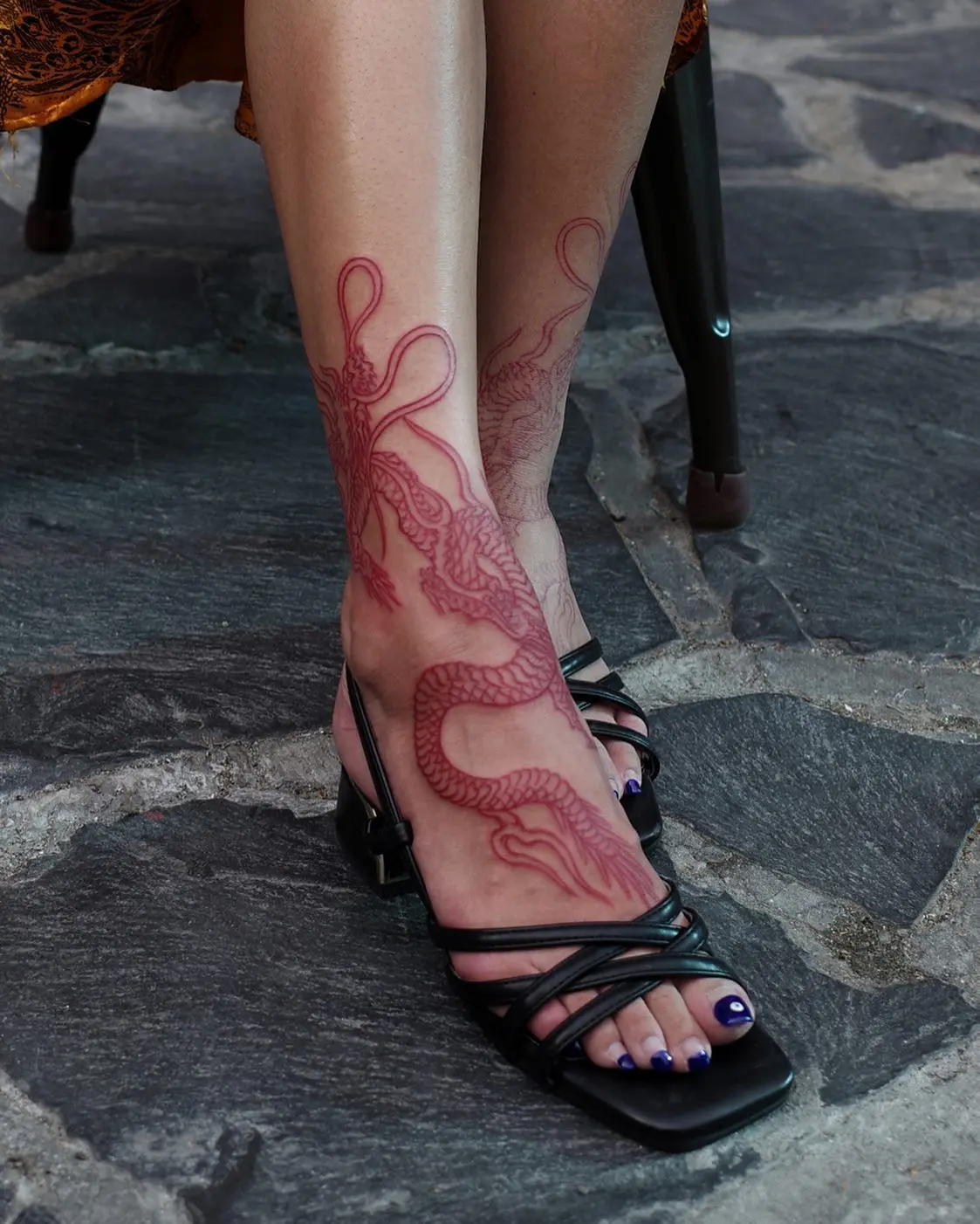 Tattoos on the feet and ankles are trendy and one of the most affordable tattoo placements because they are close to the skin.
Medium Foot Tattoo
Because the area on the sole or top of your foot is limited, the most noticeable tattoo you can receive here is "medium-sized," which is only a bit larger than the tattoo you could get on the back of your hand if you wanted something more significant. It can be somewhat painful because the region is bony, but tattoo artists can generally complete a medium-sized foot tattoo in one or two sittings. The average cost of a foot tattoo is between $100 and $200.
Ankle Tattoo
An ankle tattoo is one of the most affordable tattoos you can acquire. An ankle tattoo does not require much effort and may be purchased for anywhere from $50 to $300, depending on the size, design, and color chosen for the tattoo. Keep in mind, however, that ankle tattoos may be quite painful because of the prominent bones, thin skin, and numerous nerve endings on the lower leg. However, if you can manage the discomfort, you may be able to save money by using an ankle piece.
Toe Tattoo
In terms of time and money, getting a tiny tattoo on your toe, whether it's a happy face on the pad of your big toe or a mandala-esque design beneath each nailbed, isn't going to break the bank. A minuscule toe tattoo, like tiny facial tattoos and finger tattoos, will typically cost between $40 and $100.
Rib/Side Tattoo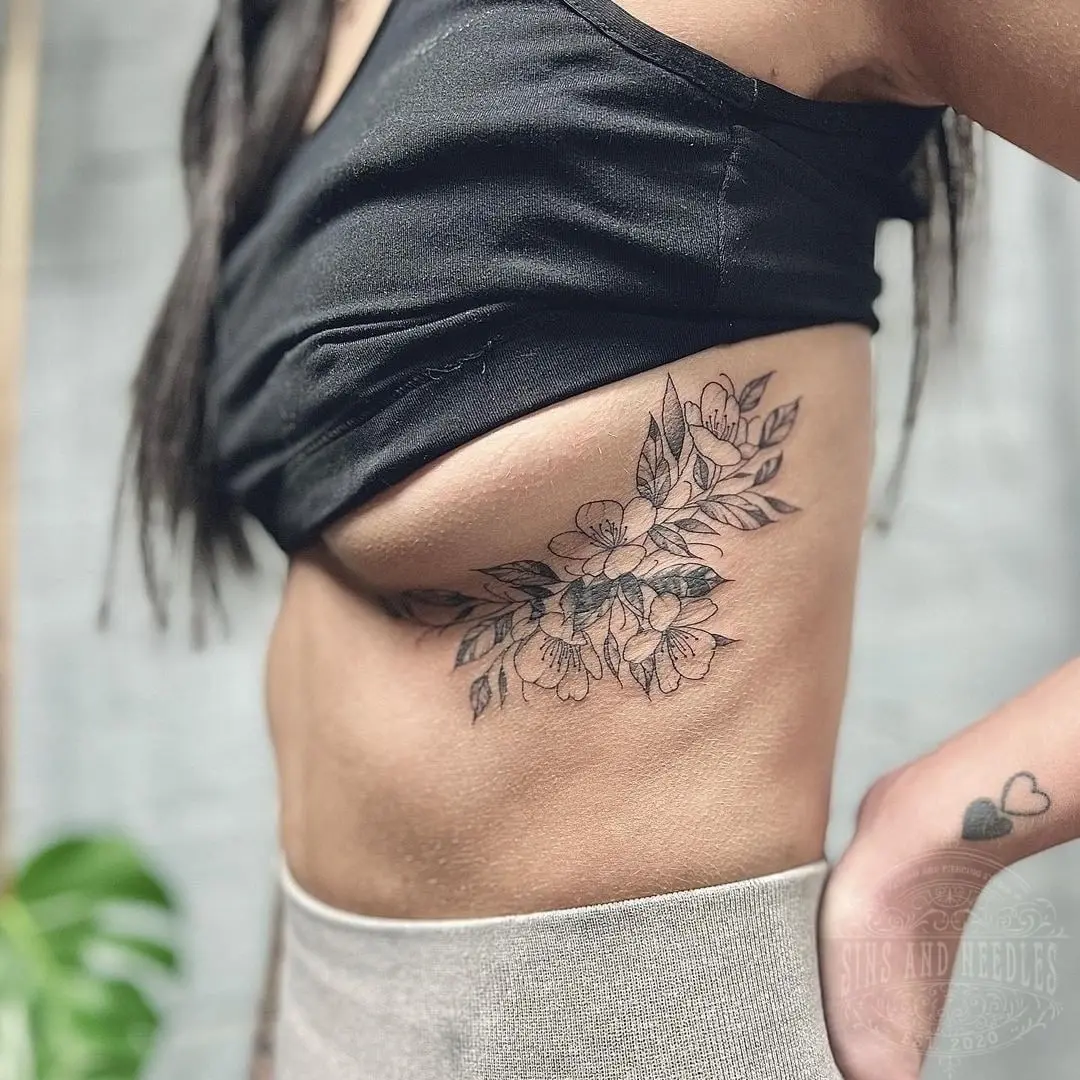 Getting a rib or side tattoo is painful; we felt you should know this before looking at the pricing.
Full Side Body Rib Tattoo
A tattoo that covers the whole ribcage on one side of your body is unpleasant to be inked and extremely expensive to get done. If it's really detailed and carefully colored, you should expect to pay $1,000 to $2,000. Tattoos that are plainer in nature will be less expensive.
Medium-Sized Rib Tattoo
For an average-sized rib tattoo, you should expect to pay between $600 and $1,000. When we include the amount of time spent on details and coloring, the price might rise by as much as $500 if the design is unique and takes more talent.
Small-Sized Rib Tattoo
A tiny rib tattoo 2-5 inches in size will be significantly less expensive than a medium or large rib tattoo. You should expect to pay between $250 and $500 for a tattoo design, depending on the size and complexity of the design.
Leg Tattoo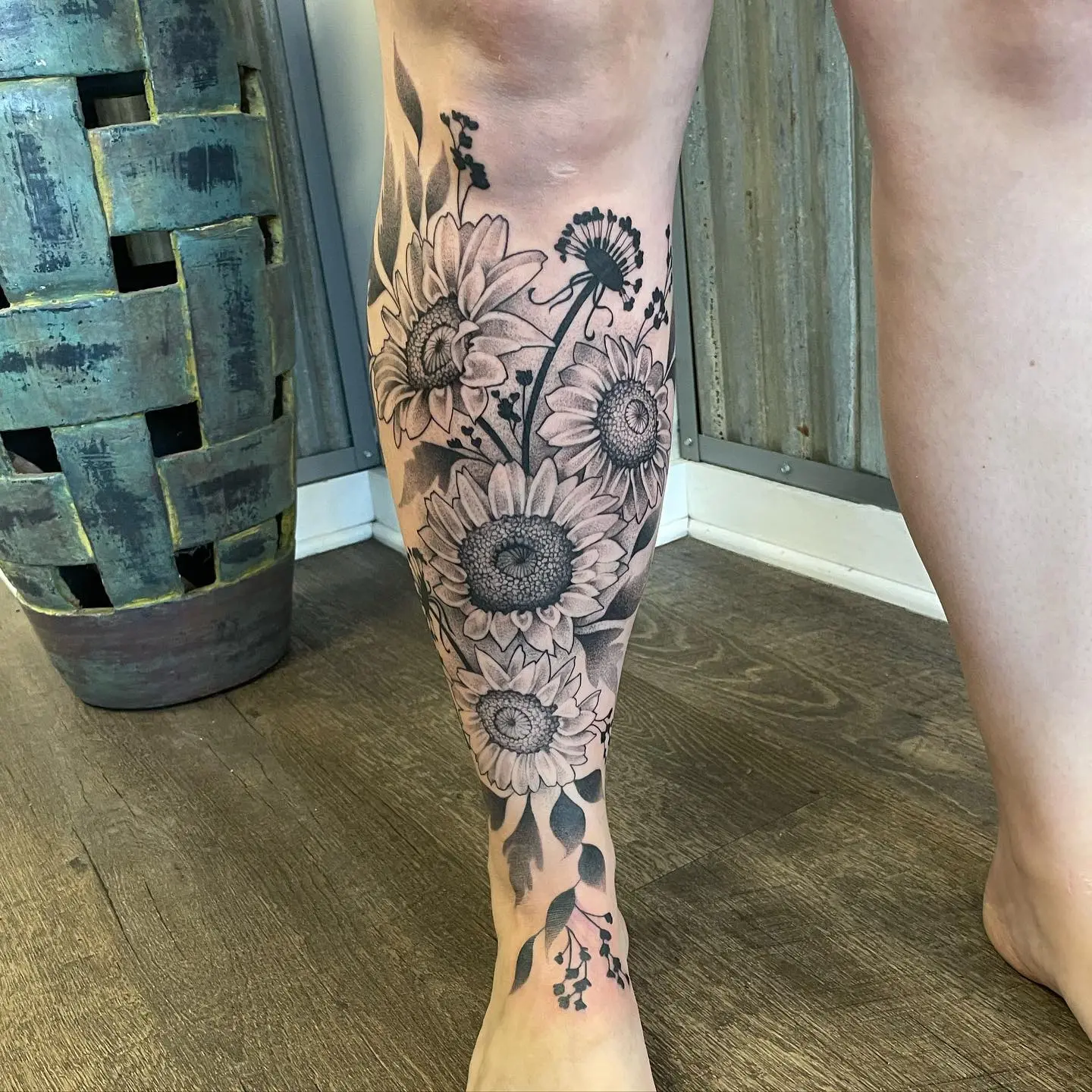 Leg tattoos are pretty popular among both men and women. The rates below are for a big tattoo covering most of your leg (either the front or back), so if you want a smaller tattoo, go to the price guidelines for the upper arm and forearm above—the pricing is quite comparable for legs!
Thigh Tattoo
A tattoo on the thigh is an excellent choice for several reasons. Because the meat here is relatively thick and fatty, it should not be too painful to cut into it. This allows the tattoo artist to complete a large amount of work in a single session, lowering the overall cost. The typical price of a thigh tattoo ranges from $500 to $1,000.
Lower Leg Tattoo
The lower leg, especially over the shin, can be pretty bony. This frequently results in more sessions, mainly if the tattoo is on the ankle or lower leg. As a result, the average cost of a complete lower-leg tattoo ranges from $500 to $1,200. If you want a leg sleeve, you'll have to pay even more money.
5 Pointers to Help You Determine the Appropriate Tattoo Price
In addition to the fees listed above, you'll be expected to tip your tattoo artist. Consequently, it makes sense to shop around for the best deal on your ink. Here are five suggestions to assist you in accomplishing your goal.
1. Do Your Research
Ask around; talk to your friends and family members to find out who they would recommend. Check with them to see if they are satisfied with the quality and price of their tattoos.
2. Find Affordable Yet Skilled Artists
Consult with tattoo artists new to the industry; most new tattoo artists are willing to provide discounts to gain experience. Check out their previous work to see if they'll be able to provide you with a quality tattoo.
3. Negotiate a Flat Rate
Look for a tattoo artist who will offer you a flat rate and not charge you additional fees for each extra hour of the session.
4. Become Accustomed to the Pain!
If you can bear the pain, try to get all of your tattoos done at once. Purchasing tattoos in bulk may allow you to save money because tattoo shops often offer discounts to customers who buy large quantities of tattoos.
5. Ask for a Discount
Negotiate the price of the tattoo with the tattoo artist before getting it done. Consider using the fact that you're getting a Spartan tattoo or that this is your first tattoo as an advantage and ask for a small discount.
Last but not least, if you want to get a fantastic tattoo, you should be aware that it will be costly. Because it is something that will remain on your body for the rest of your life, don't waste time trying to save money for the tattoo. Consult with a tattoo artist to determine how much it will cost you, and then start saving!
Tattoo Removal Prices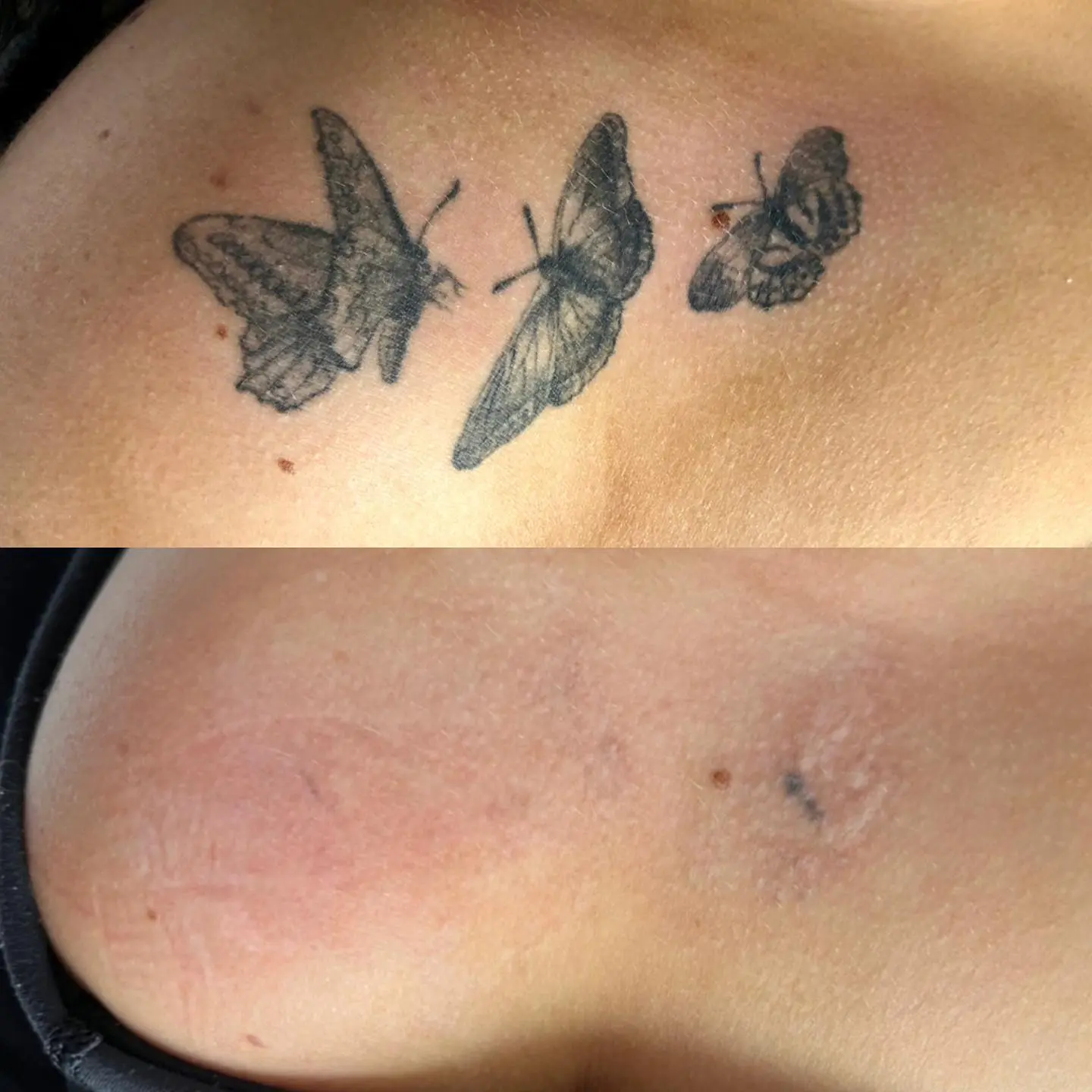 Don't be alarmed if you start to have second thoughts about your tattoo one day. You have a couple of choices. The first option is to cover your tattoo with another tattoo; there are tattoo artists who specialize in cover-ups, and their prices are typically a little higher than the prices listed previously. You can expect to pay $10 to $100 more than the original tattoo cost (plus inflation if it has been a long time since the tattoo was done).
The other option is to have a laser tattoo removal procedure performed. This will cost a minimum of $7,500 to complete. It will take several sessions to entirely remove the tattoo, which will cost between $500 and $1,000. For those who have difficulty eliminating tattoo ink or simply have a large tattoo they wish to have removed, the procedure will be more expensive and take even longer. You could be looking at a total of $15,000 for this project.
FAQs
What Are the Starting Prices for Regular Tattoos in the United States?
There is a set price for every type of tattoo shop for a particular tattoo. Start-up costs are determined by the tattoo shop's reputation and the quality of its offerings. As a result, you can expect to pay between $50 and $150 for a basic tattoo as a starting point for your experience. Of course, the cost of a tattoo is determined by the size and location of the tattoo and the level of detail.
Because the price is determined by the tattoo artist, you should expect to pay even less, at a startling rate. However, the higher the starting price is, the more experienced the tattoo artist is, and vice versa. Some tattoo artists will also charge you by the hour, which is something to be prepared for.
Approximately how much do simple tattoos cost, to begin with?
When it comes to simple and small tattoos (such as a simple outline), the starting price can range anywhere between $60 and $100, depending on the artist. The price is based on the number of lines for small, simple outline tattoos that include only the black color and perhaps some shading or a few details. For example, for a starting price of $100, you can get a heart tattoo, a star, or a small "name" or "word" tattoo, among other things.
What Are the Most Expensive Tattoos?
Sleeve tattoos are among the most expensive and time-consuming tattoos available. Full back, whole leg, and full arm tattoos are all terms used to refer to these tattoos, depending on which part of the body they are placed on. These tattoos can take several months to complete, and if they include color and shading, the cost of the tattoo may even increase. Of course, keep in mind that a tip for the tattoo artist is included in the final price of a full-sleeve tattoo, typically between 15 percent and 30 percent of the total cost. On the other hand, a full-body tattoo is the most expensive tattoo one can get. The cost of such an endeavor can easily exceed $100,000, not including gratuity for the tattoo artists themselves, if they are successful.
What is the Starting Price for Letter Tattoos?
If you're wondering whether a letter tattoo will be less expensive than a regular tattoo, keep in mind that a short word tattoo will cost you anywhere from $50 to $200, depending on the size of the letters and the overall color design. The price of a lettering tattoo isn't usually based on the number of letters in the tattoo, but rather on the size of the tattoo or the length of the word that it is.
What is the cost of a small tattoo?
A tiny tattoo that is 2 inches or less in size can cost anywhere from $50 to $100, depending on the artist. It is dependent on the design's level of complexity. Regardless of how small or large your tattoo is, the tattoo artist must still pay for the time it takes to set up their workstation, use fresh needles, sterilize the workplace, etc. As a result, costs are rarely less than $40 to $50 per hour.
What is the cost of a tattoo sleeve?
Our research discovered that a full tattoo sleeve can cost up to $7,000. If you have a simple design with only one color of ink or if you only want a half-sleeve, the cost may be less than you think.
It is better to give than to receive!