Airplane tattoos are relatively common among travelers, bloggers, and men and women of all ages. A sleek and modern airplane tattoo may be the perfect choice for you. Are you thinking of creating a fashion statement with your body? Explore your selections and take inspiration from the various colorful and monochromatic plane tattoo designs shown here!
4 Things You Need To Know Before Getting An Airplane Tattoo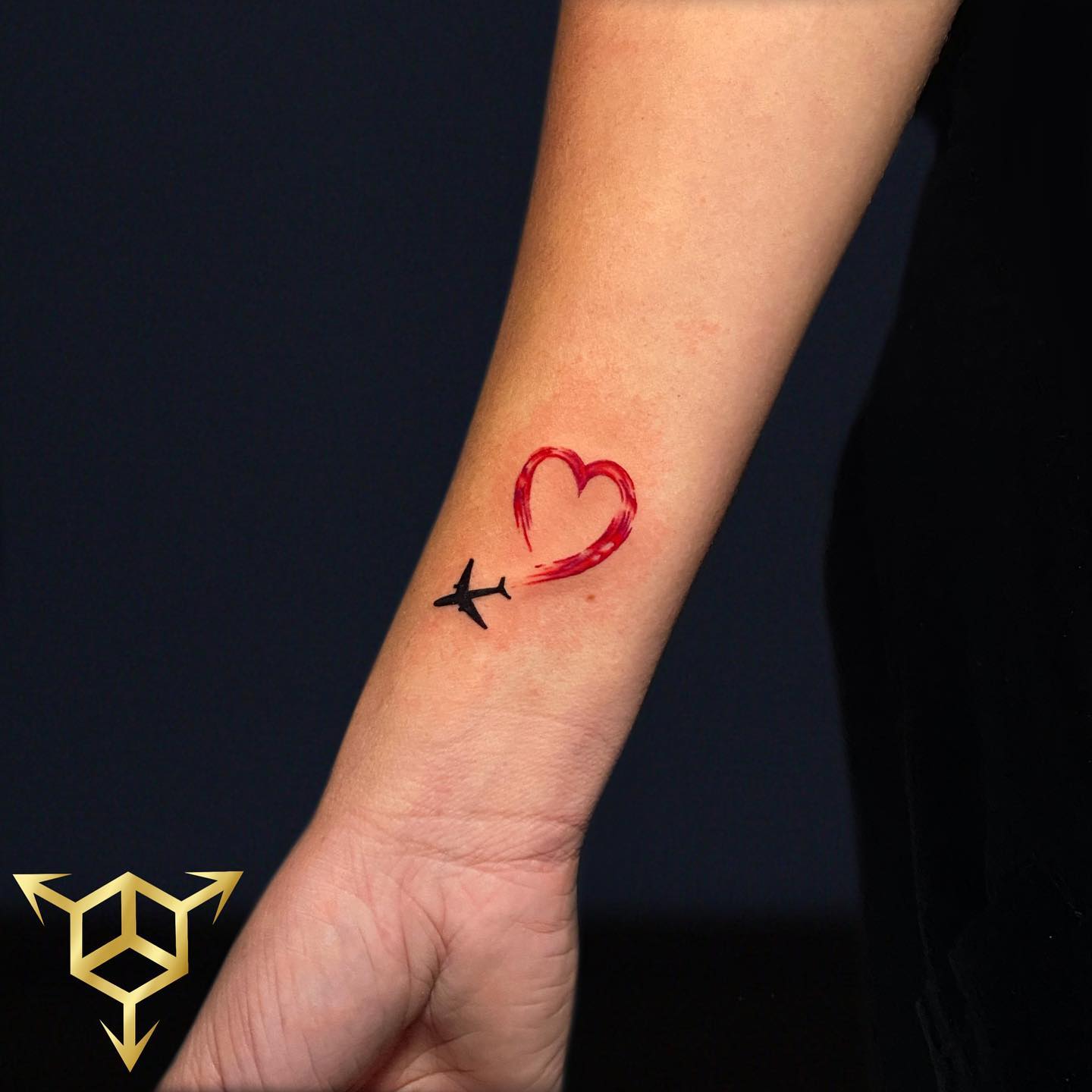 What Is the Symbolism of an Airplane?
Planes represent many aspects of your life's path through it. It may convey your tumultuous condition and the various people and feelings you are experiencing or dealing with at the time. If you are dealing with unsolved troubles, you will want an aircraft picture tattooed all over your body!
Which Body Part Is the Best Place for an Airplane Tattoo?
Although this might vary from person to person, most tattoo artists and experts agree that your forearm, collarbone, or even your finger is the best go-to site! This pattern is delicate and elegant. Most people prefer smaller tattoos over massive tattoo ideas since they are more manageable.
What Is the Average Cost of an Airplane Tattoo?
From $50 to $250 is what you should anticipate paying. In terms of ultimate pricing, the positioning, colors utilized, and size all have a significant impact. Your tattoo artist's name and reputation can also make a significant difference.
The Meanings Behind the Different Types of Airplane Tattoos
The image of a white airplane is connected with both entering and departing from heaven.
Black planes are often military planes that represent a particular war or campaign.
Two airplanes might express your complicated personality and the various travels ahead of you.
The paper airplane symbolize the act of beginning again or "flinging yourself" into the future, respectively, in the present.
Using a lively airplane and bright and colorful airplane, you may depict your enthusiastic, constantly changing, and adaptable, fresh personality.
It is a plane windows through which your soul might journey and represents your feelings of bewilderment and disorientation.
8 Black & White Airplane Tattoos
1. Tattoo Design for a Paper Plane in Black and White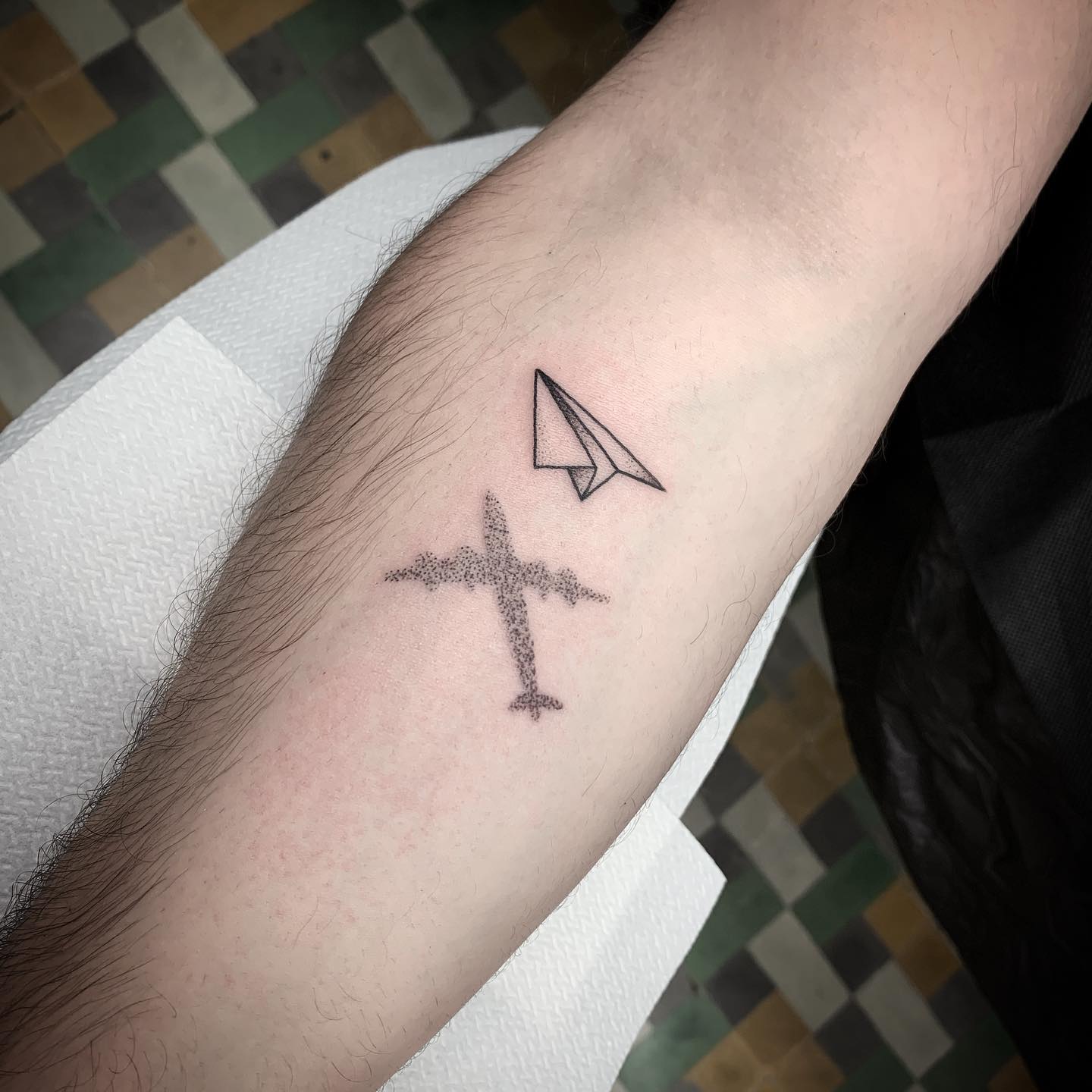 You will like this simple black and white tattoo design if you are a fan of black and white images in general. Enjoy and accept the forearm placement, and don't be afraid to show it off regardless of your gender or age.
This little plane represents your inner tranquility and unique identity. With this simple concept, you may demonstrate your personality and attachment to others in your immediate vicinity.
2. Tattoo Design for the Forearm with a Small Plane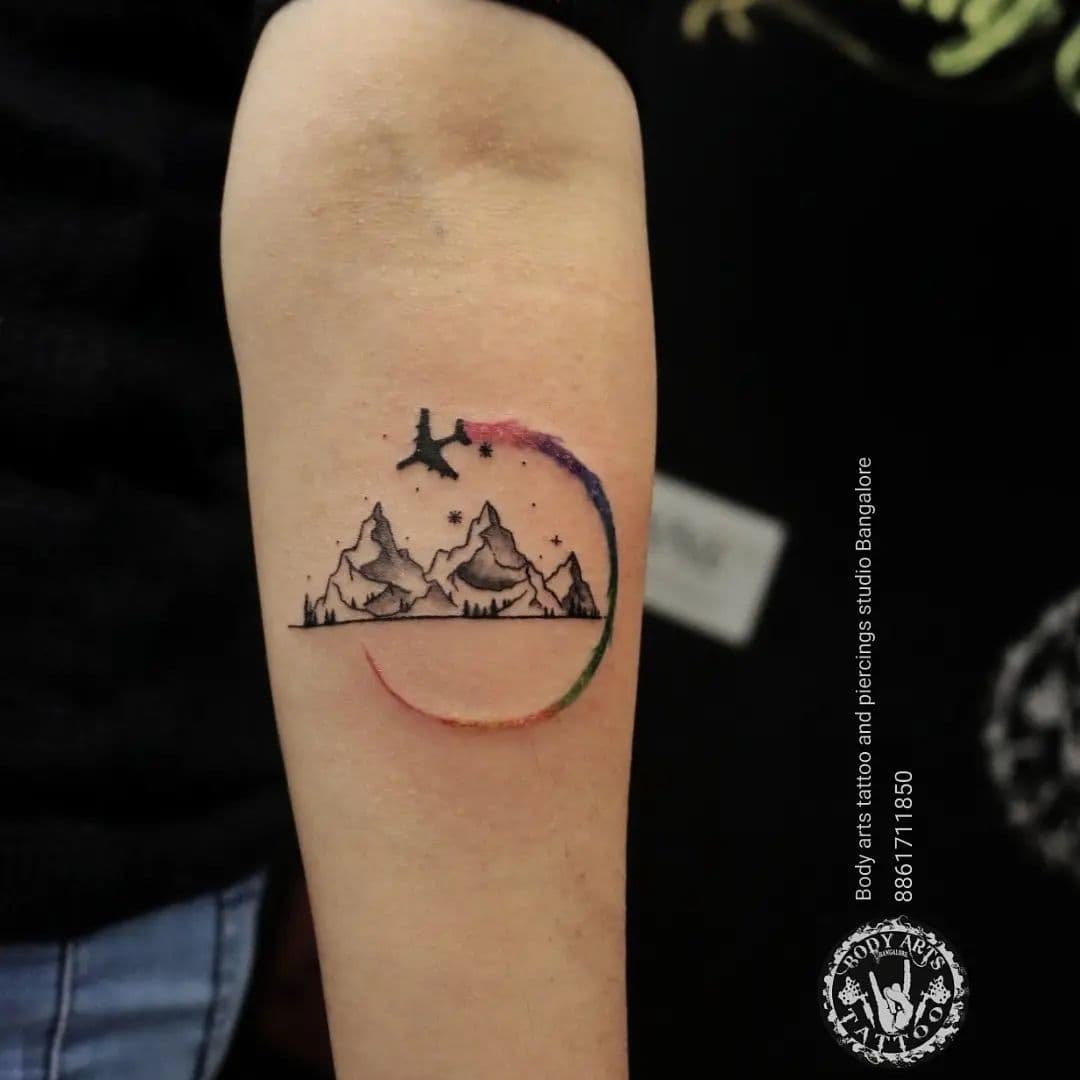 Are you looking for something a little more substantial and distinctive? You're not afraid of getting tattooed, are you? If that's the case, you'll like this realistic airplane design concept.
Having a large tattoo on your body represents your hopes and aspirations, as well as your commitment to touring the globe and discovering new roads and routes along the way.
3. Tattoo of a Small Airplane in Black and White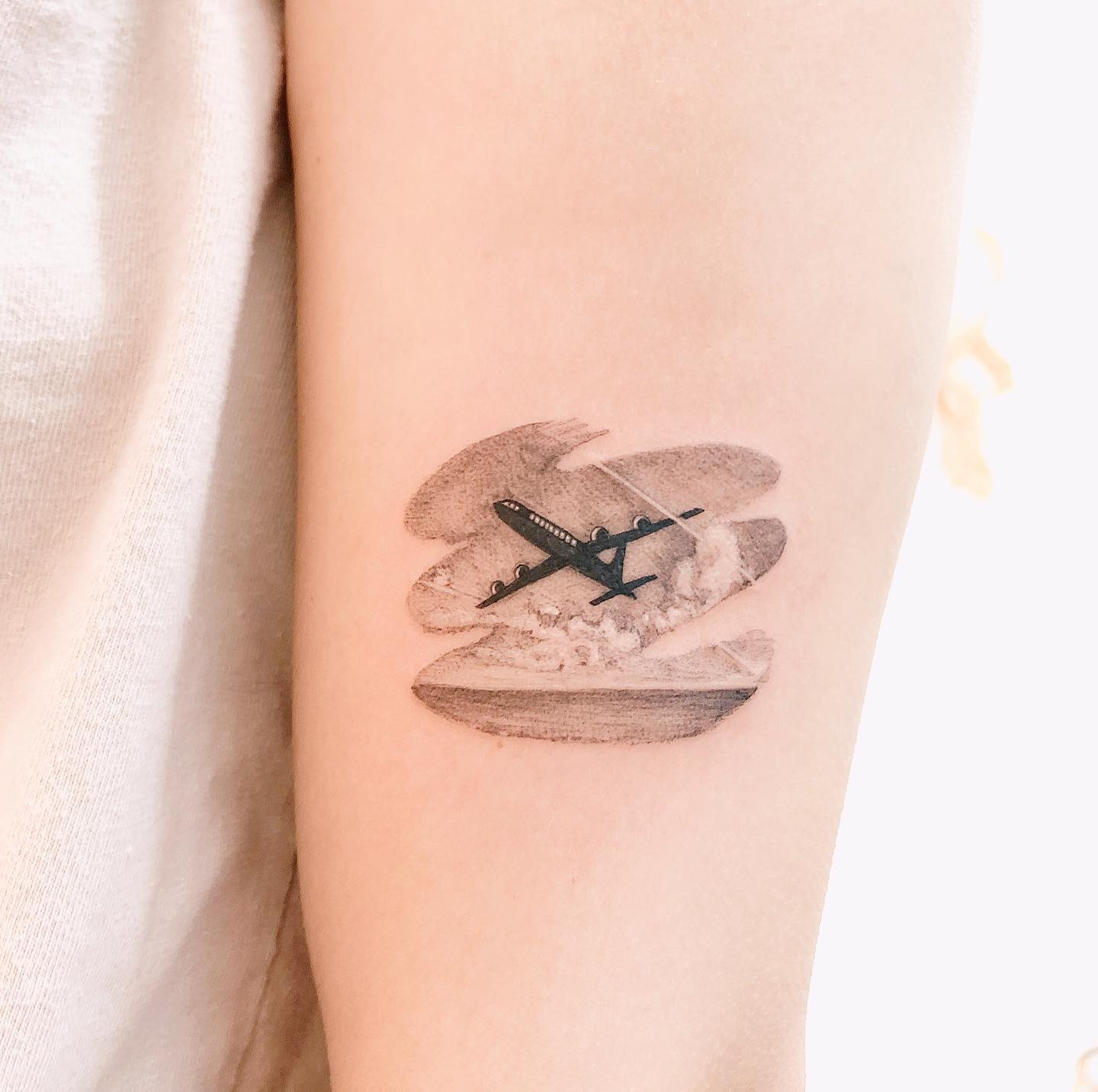 This is yet another forearm design idea that you will like using. It is ideal for men who engage in physical activity and naturally possess more muscular and manly physiques.
With a moon symbol, you may see and feel your desires, objectives, and aspirations represented and symbolized at this level. Do you consider them practical, or do you think they are something you continue to fantasize about?
4. Tattoo of a Calf An airplane on the calf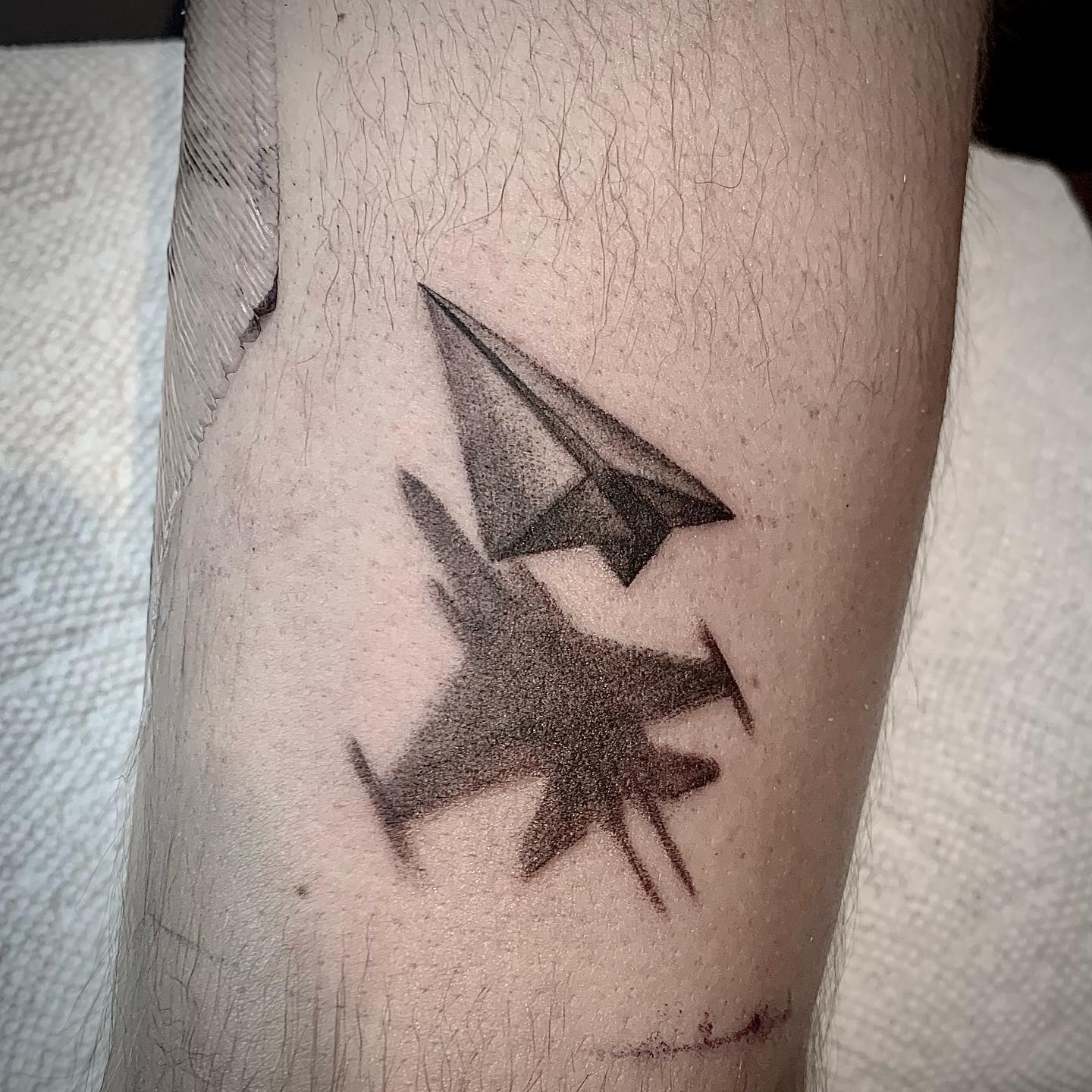 Do you take pleasure in displaying your calf muscles? When it comes to your physical appearance, do you consider yourself manly and self-assured? This type of body positioning is quite common among guys. Are you interested in giving it a shot?
There are two distinct types of planes seen in this illustration. They can represent different aspects of your personality and different paths you might choose in life. Which one do you think you'll be more likely to follow?
5. Airplane Tattoo Ideas Over Back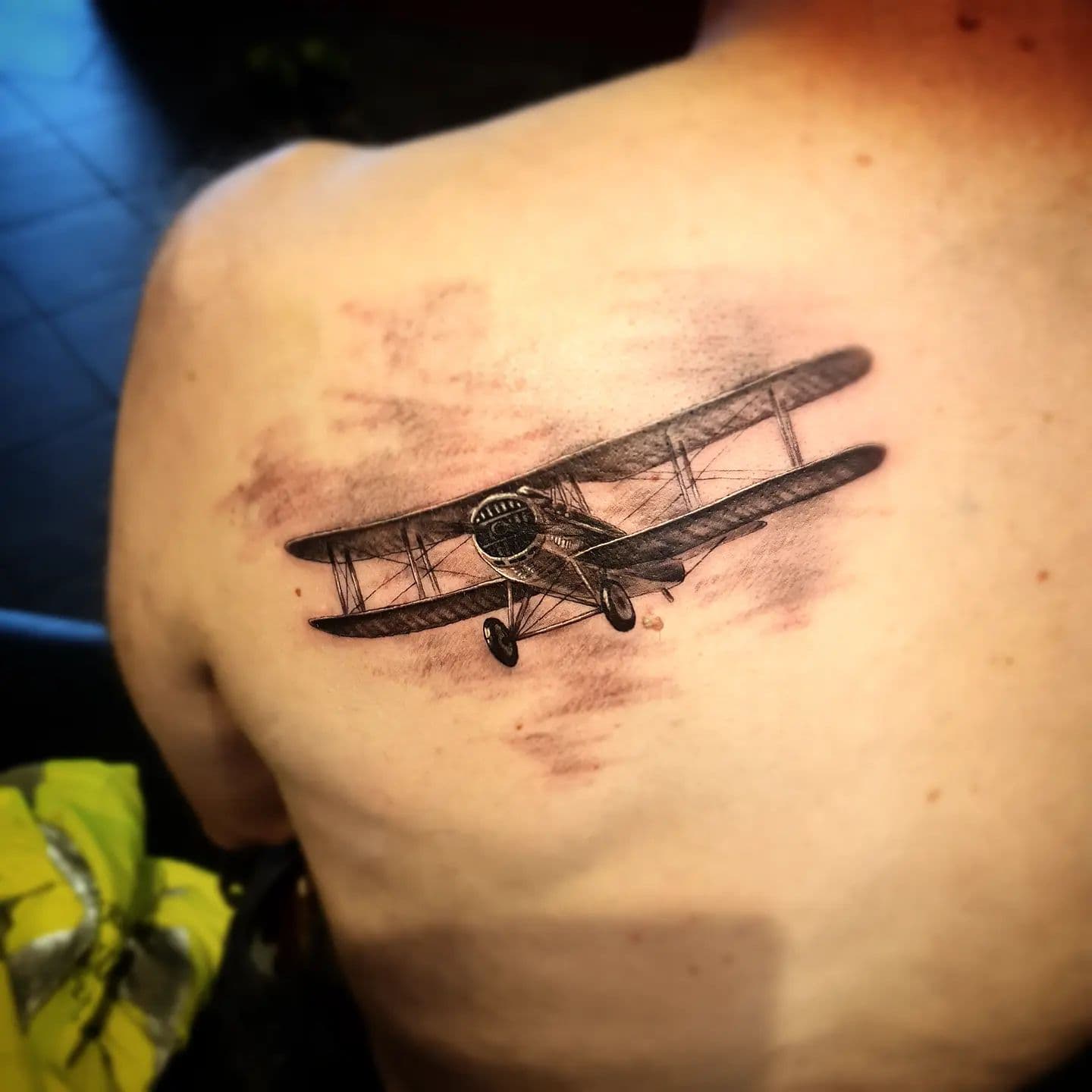 What about a tattoo on your back or neck? This airplane design is perfect for anyone who likes something charming and whimsical. This location is popular among ladies and people who want to display their creations straightforwardly.
This trip plan may reflect your desire to conquer the world as well as your method of doing it. This ink will suit you if you understand how to creatively and effectively convey your thoughts and travel personality.
6. The idea of an airplane tattoo on the forearm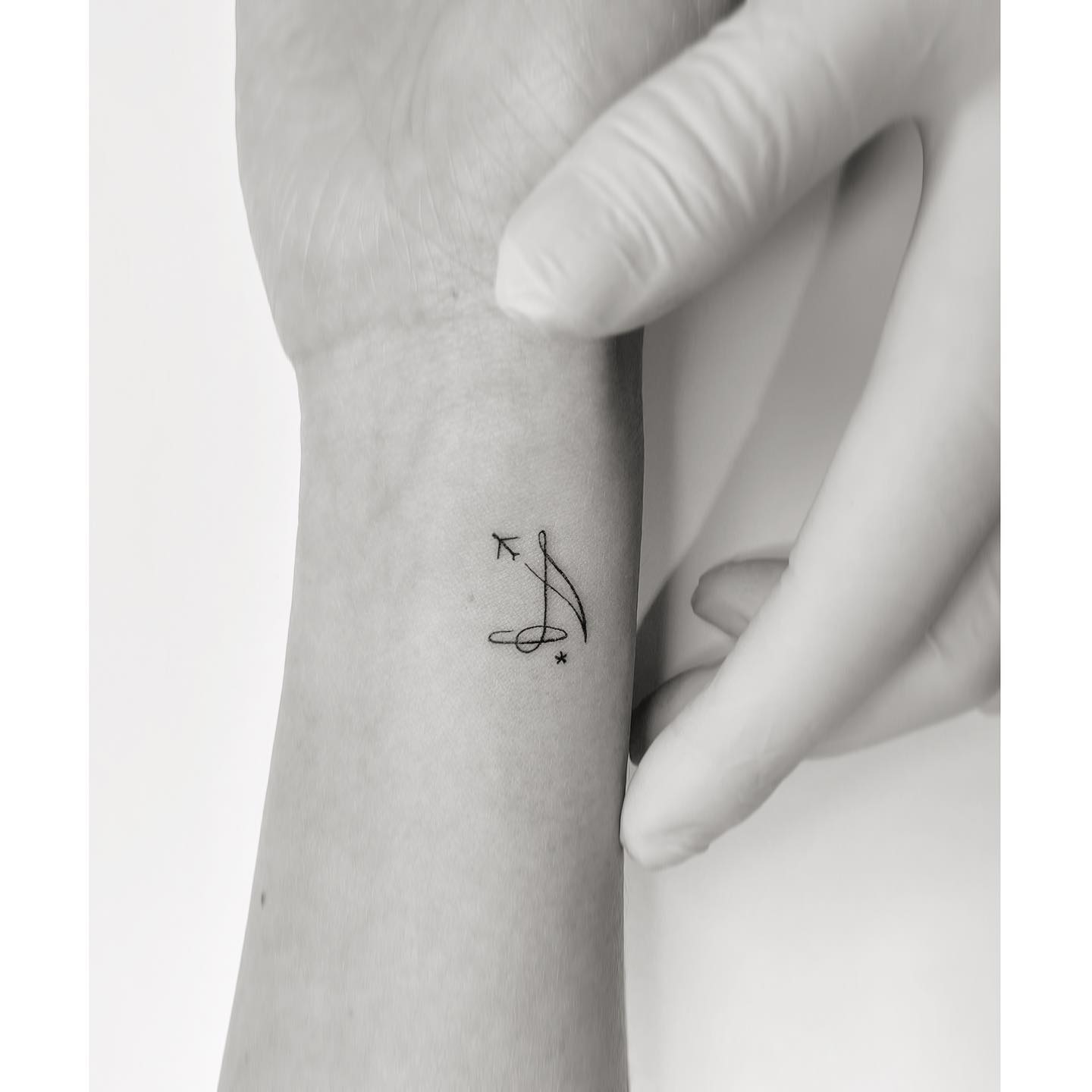 Instead of the actual thing, why not fly a paper plane instead? There is a little picture on the forearm that is both charming and intriguing in its way. The process of putting it over your body will take you three hours.
This symbol represents peace, as well as your inner and outer selves. Make a statement about your position and how highly you regard yourself by getting this black and white tattoo done.
7. A Tattoo of a Flying Plane on the Body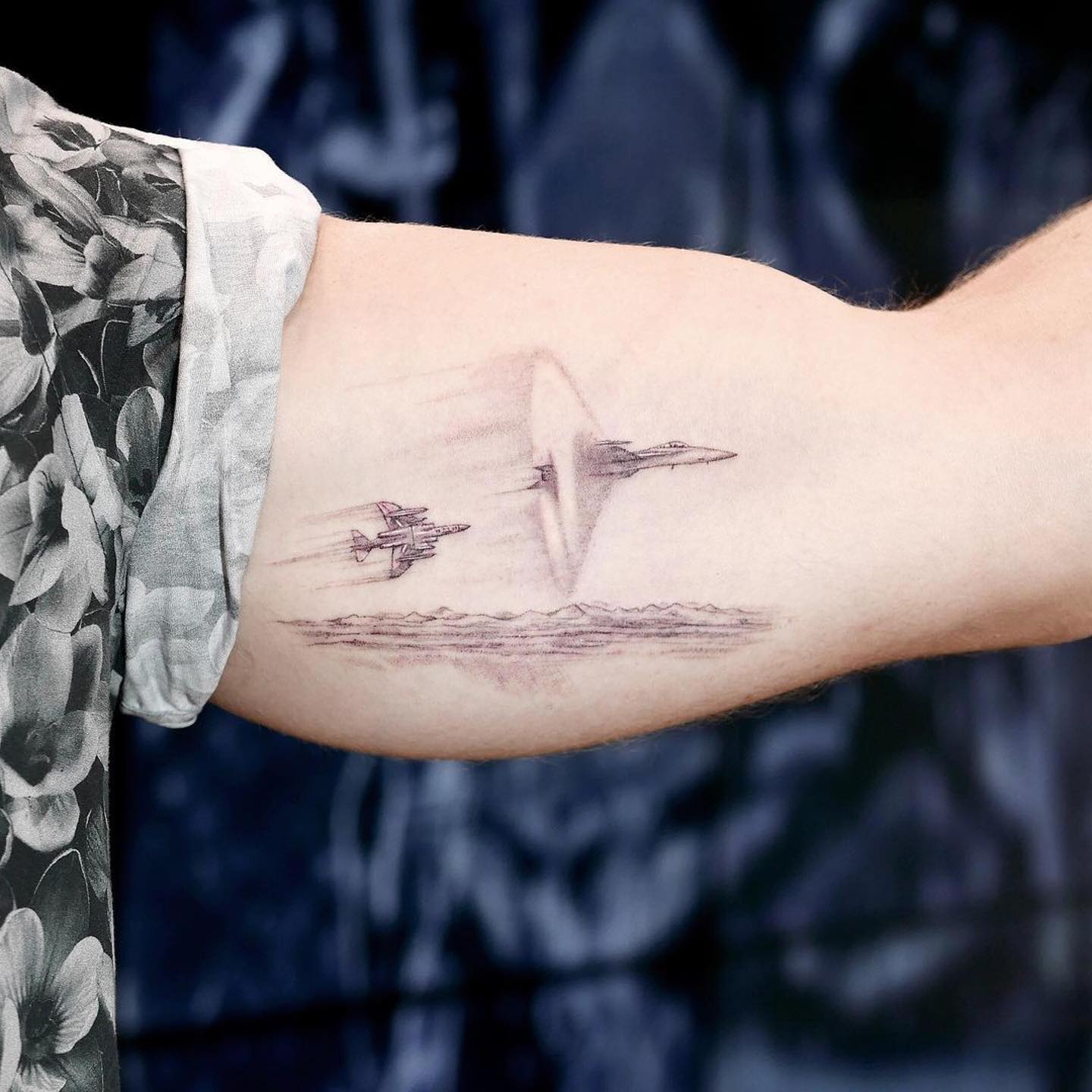 What do you think of a battle airplane tattoo design? If you like dramatic and warrior-inspired tattoos, this is an exceptional result that you should consider getting. This one is war-themed and is perfect for males who enjoy virtual reality games or hunting simulations.
You may use it to represent and stand for your combat side. Suppose you're someone who understands how to deal with difficult situations and emerges from them looking like a warrior at all times. In that case, you should consider getting this tattoo. It will demonstrate to people that you never give up and can deal with anything significant that comes your way.
8. Unique Original Airplane Tattoo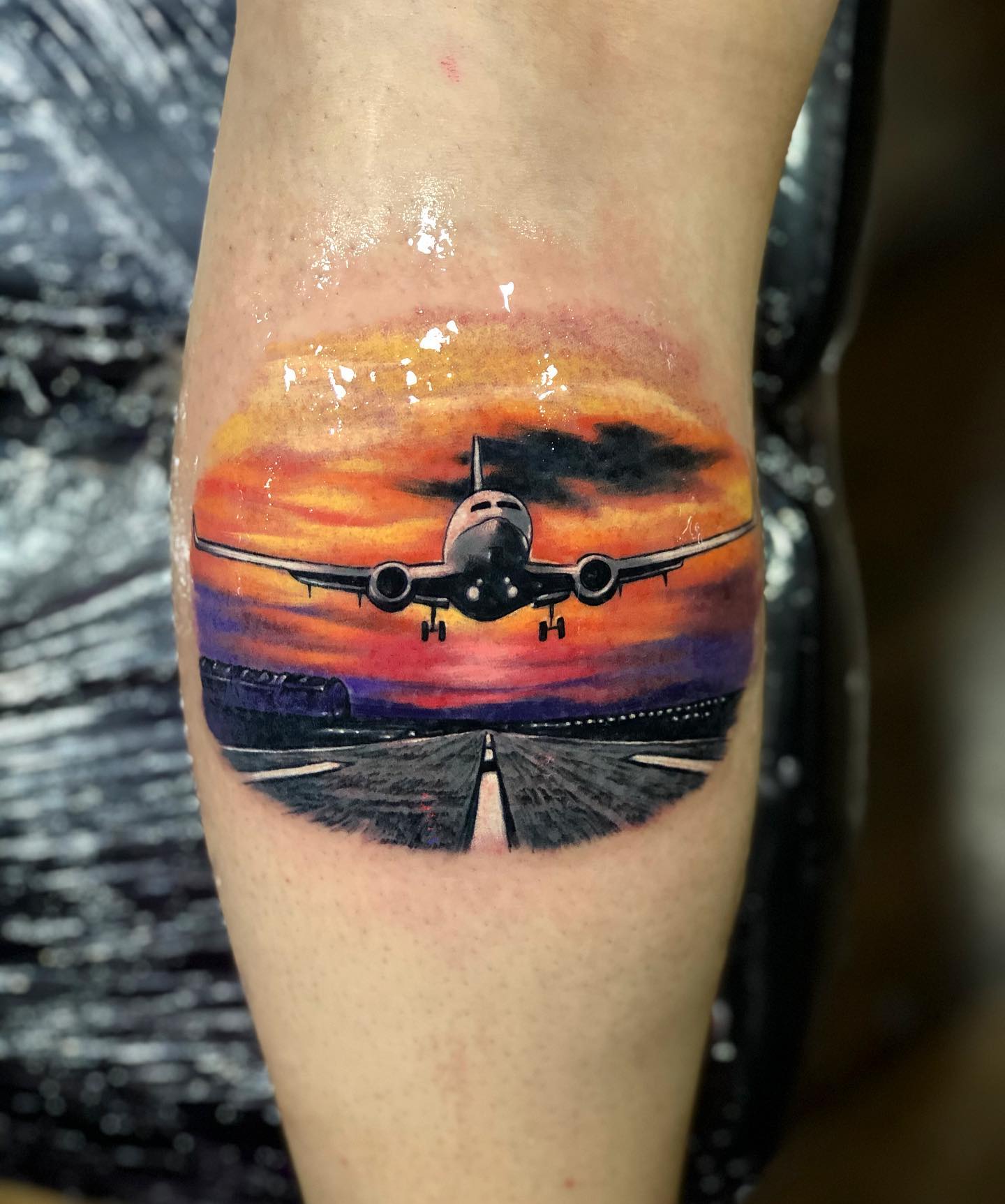 Realistic tattoos generally look their finest on people who are realists in their appearance. There is no need to demonstrate your optimistic or pessimistic side with this one; it's perfect for when you're in the middle of things.
Suppose you're someone who appreciates short and simple excursions, and you want to have a lot of fun along the way. In that case, this inspiration will help you demonstrate that to the rest of the world. Getting something comparable tattooed will take you less than three hours to complete the process.
8 Colorful Airplane Tattoos
1. Side Stomach Colorful Airplane Tattoo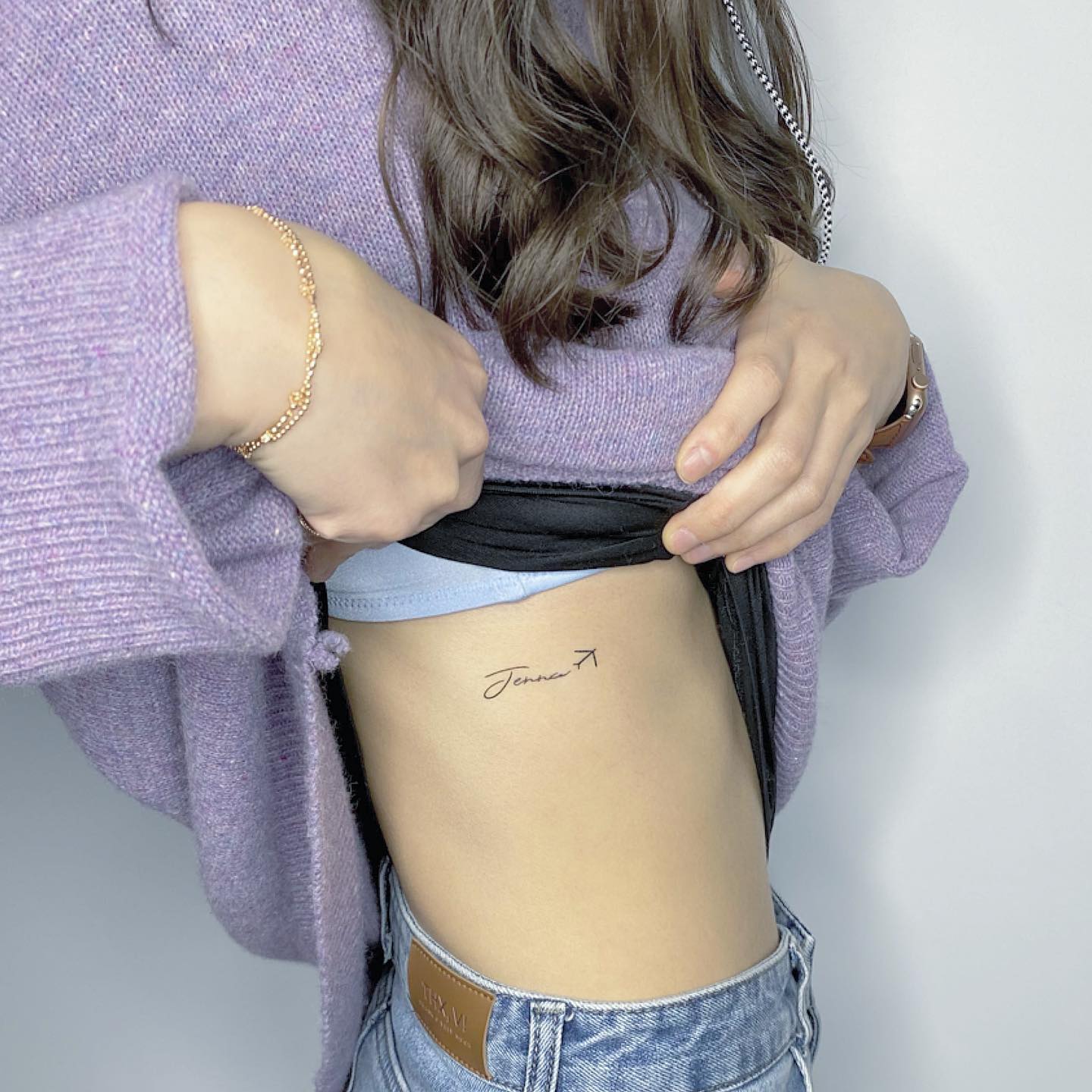 What do you think of a bright blue tattoo on your stomach? This one is a little out of the ordinary and unpleasant to apply, so keep that in mind before you commit to these sorts of tattoos. While this tattoo will hurt, it will be appreciated by ladies that adore adorable tattoos and feminine locations.
This particular blue-flowered aircraft, which represents pleasure and progress, is adorned with flowers in blue and white. Blue is a luxury hue that is great for anyone who wants to flaunt their excellent and regal mood in a fun and unique way while remaining classy.
2. Artsy & Colorful Airplane Tattoo On Arm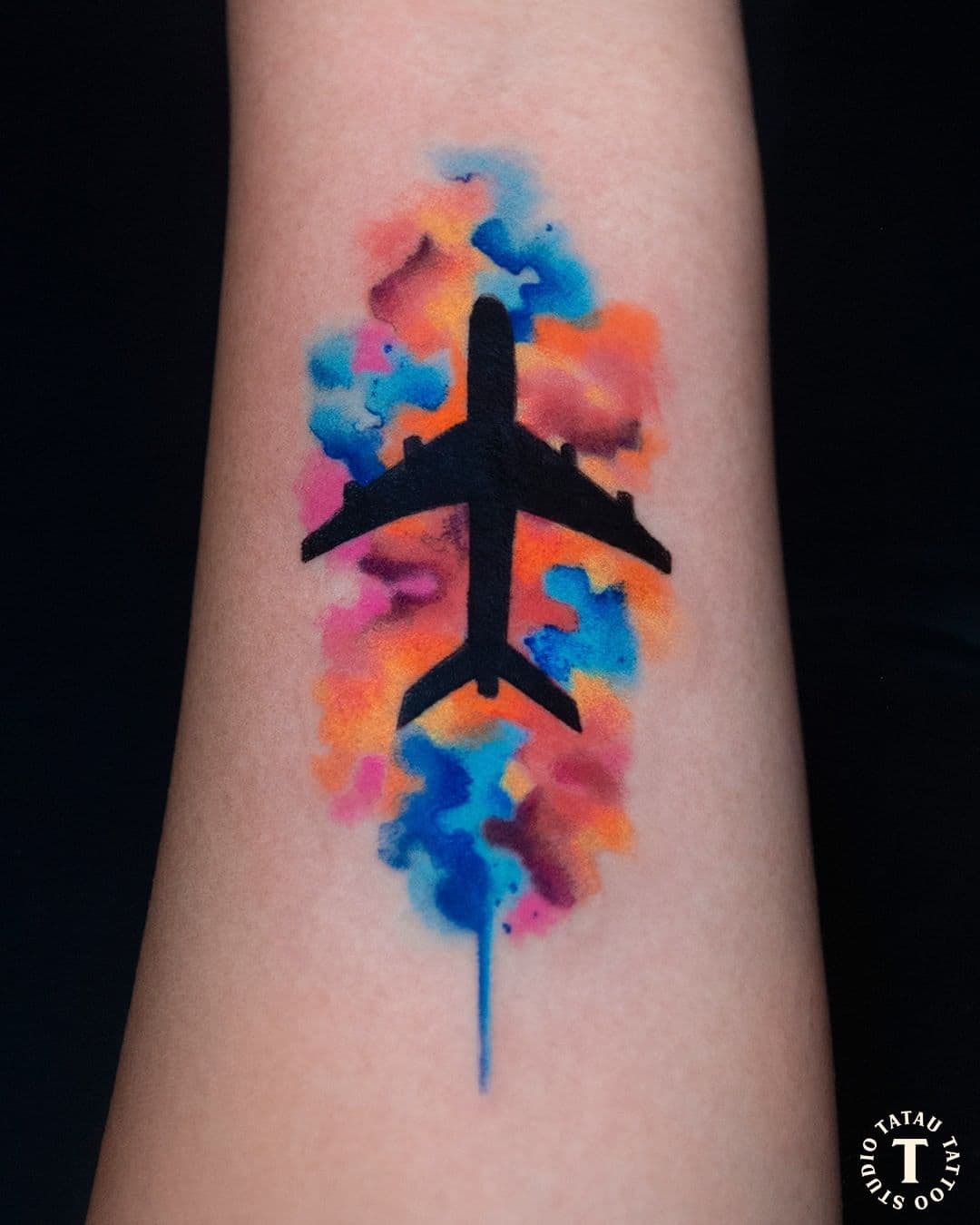 Tattoo designs with a splash of color and some watercolor elements are ideal for those who appreciate bold and bright tattoo designs. Are you a member of this group as well? This tattoo will be regarded as a colorful masterpiece by many men and women alike. Would you agree with what they've said?
This tattoo design and placement may represent your indecisive attitude. Everyone should know where you stand, your actual colors (literally), and the trip you are taking with this idea.
3. Bright Airplane Tattoo With Compass Idea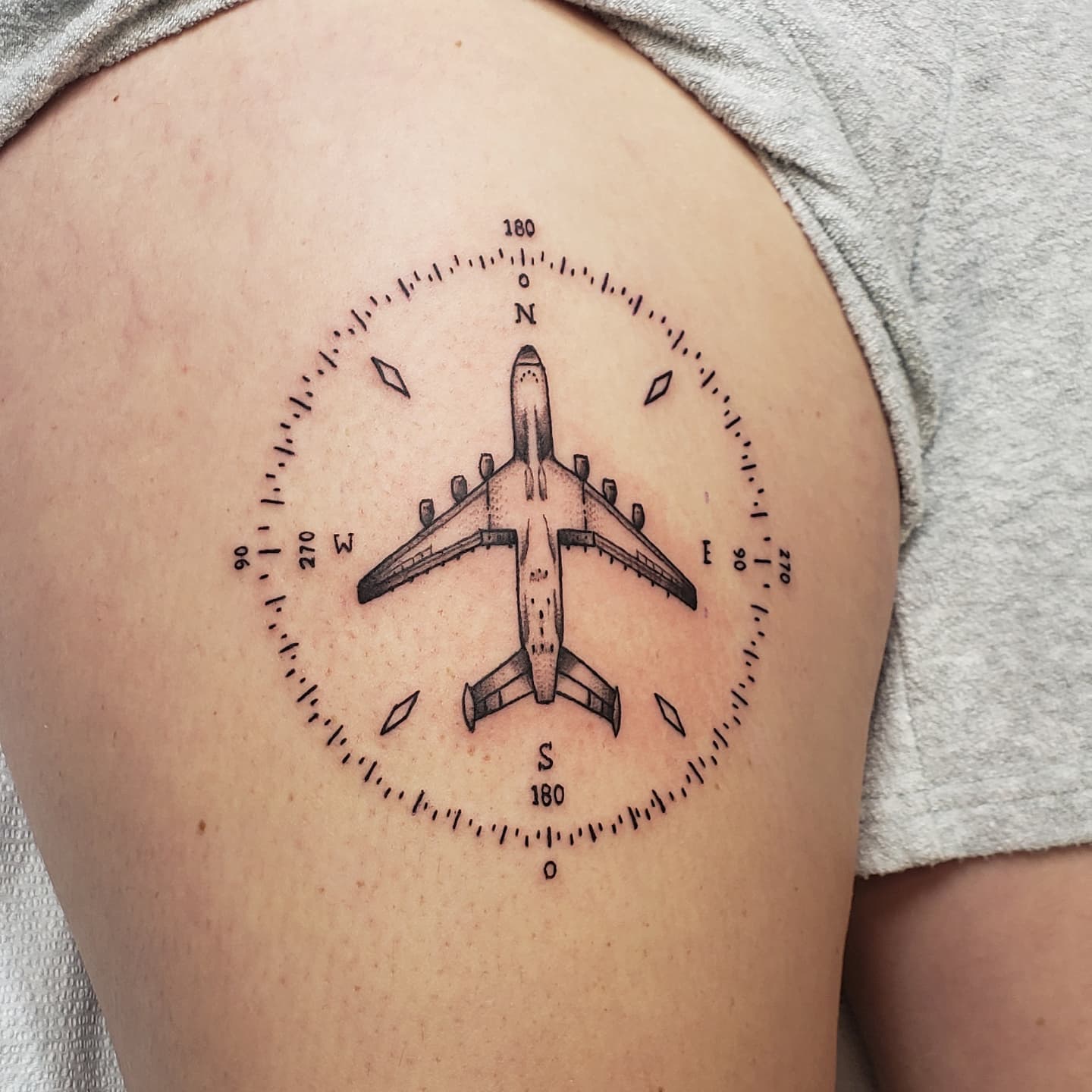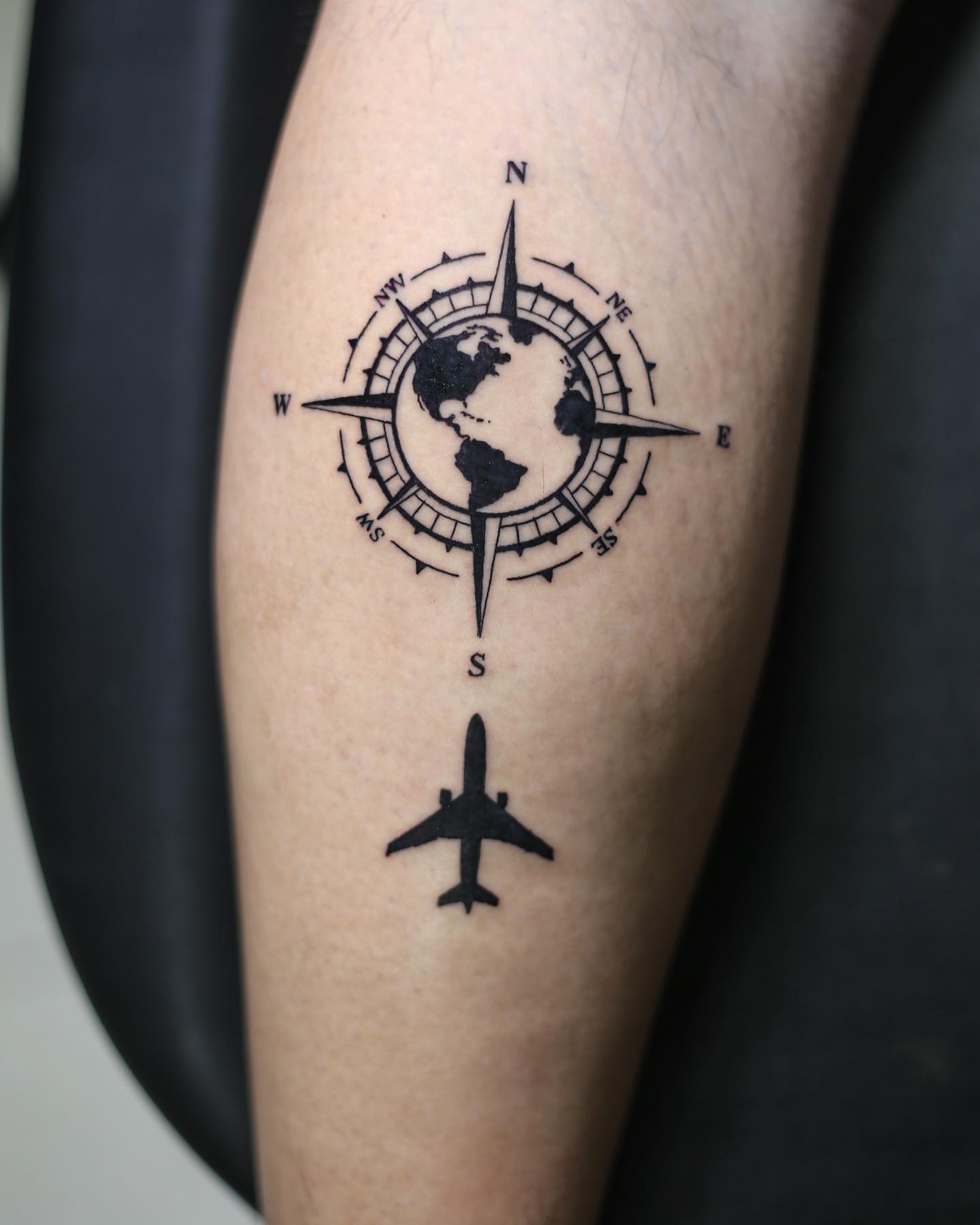 Are you someone who travels a lot? Do you prefer to go on warm and comfortable journeys across the world? This tattoo is a must-have for your collection if you live for the summer months. It represents your enthusiastic personality, as well as your plans and aspirations for the future.
What level of loudness and visibility do you want to make a statement with? You can show off your individuality and your affinity for warmer climates across the world. So, are you a world traveler with a strong sense of purpose?
4. Leg Bright Blue Airplane Tattoo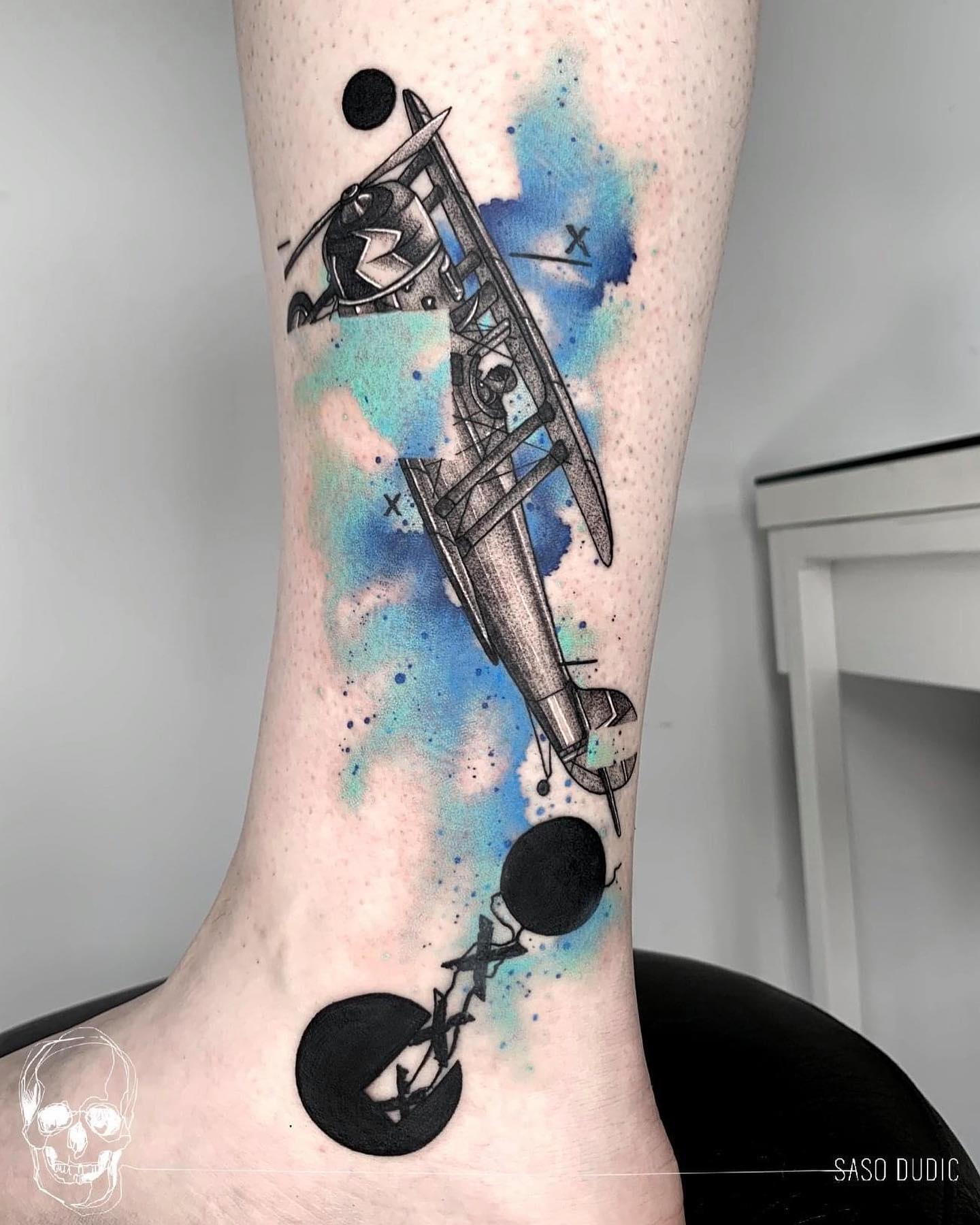 There's nothing better than a vibrant blue and green tattoo idea for your thigh or calf that will make you smile. This tattoo will fit you if you're someone who enjoys being the center of attention and who appreciates spectacular and beautiful tattoos.
Both the positioning of this airplane and the pattern of its colors represent your difficulties. If you find yourself losing your bearings regularly and are unsure of how to get back on your feet, tell yourself that it will take time. If you give yourself enough time, you'll be there before you know it!
5. Burning Hot Airplane Tattoo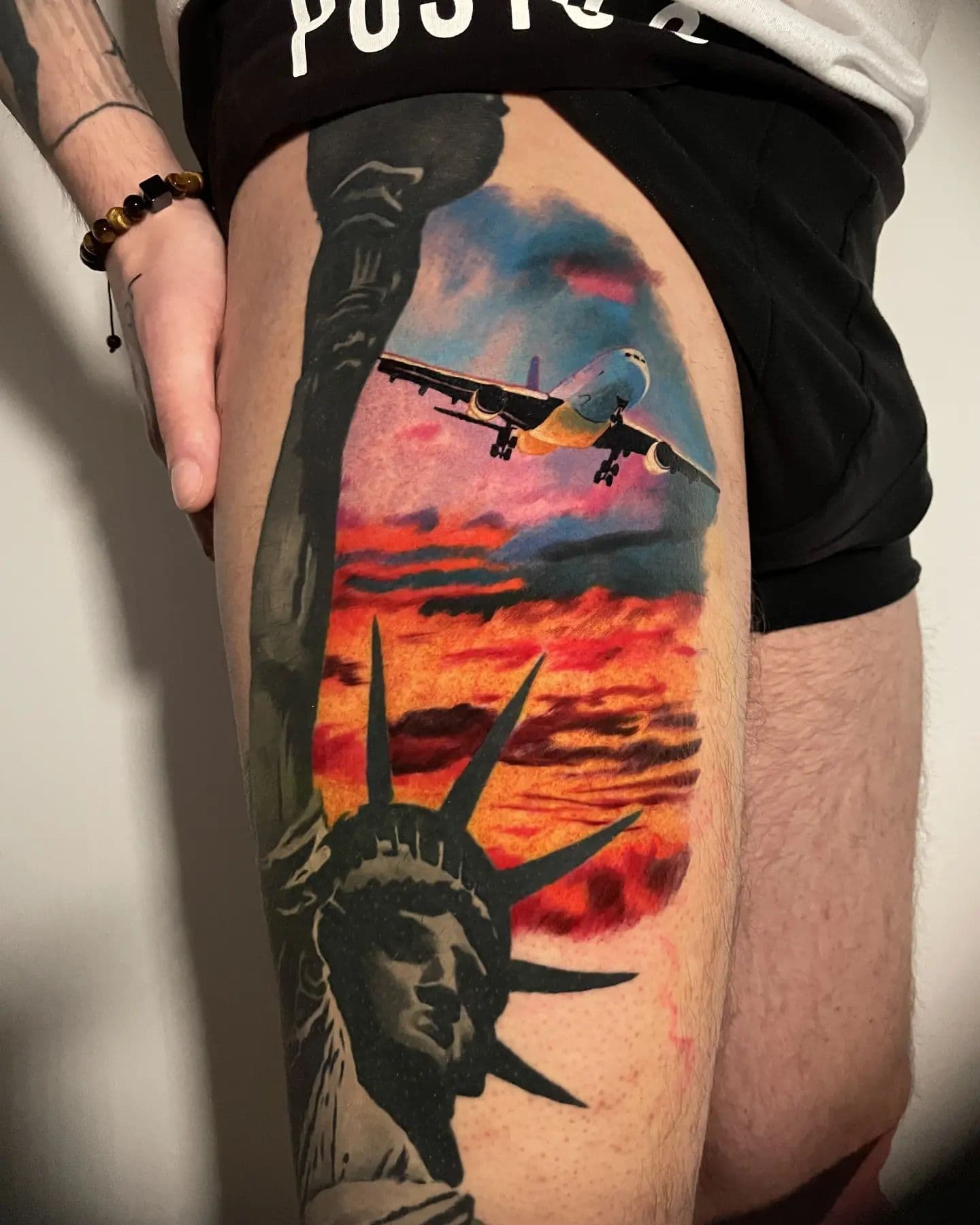 What do you think of this burning airplane tattoo concept? When it comes to representing your actual personality and colors with something uncomplicated, this may be the perfect option for you! It is, without a doubt, the best option for men.
This airplane might represent the ups and downs you have experienced during your life. Fires are constantly around us, so keep your eyes peeled since you never know what's ahead or what you'll be confronted with.
6. Flying Combat Airplane Tattoo
What about a tattoo of a combat jet in flight? Small forearm ideas are popular among those who are drawn to minimalism patterns. Men and women interested in combat airplanes and fast and easy designs will like having this one draped over their bodies.
Smaller planes might demonstrate that you are prepared to embark on a journey and make a modest adjustment to your lifestyle. Remember that, despite their small size, baby steps are sometimes the best course of action!
7. Airplane Window Tattoo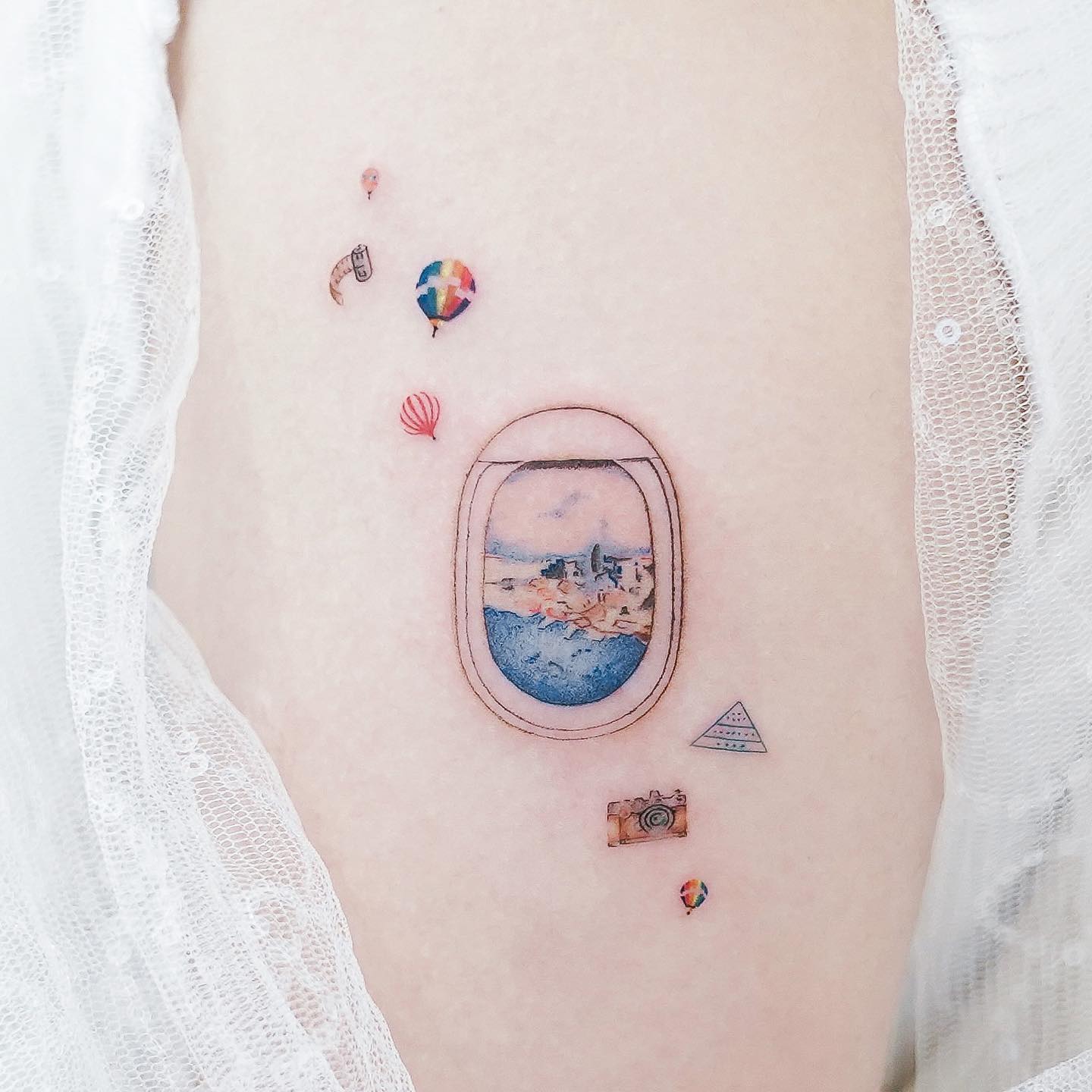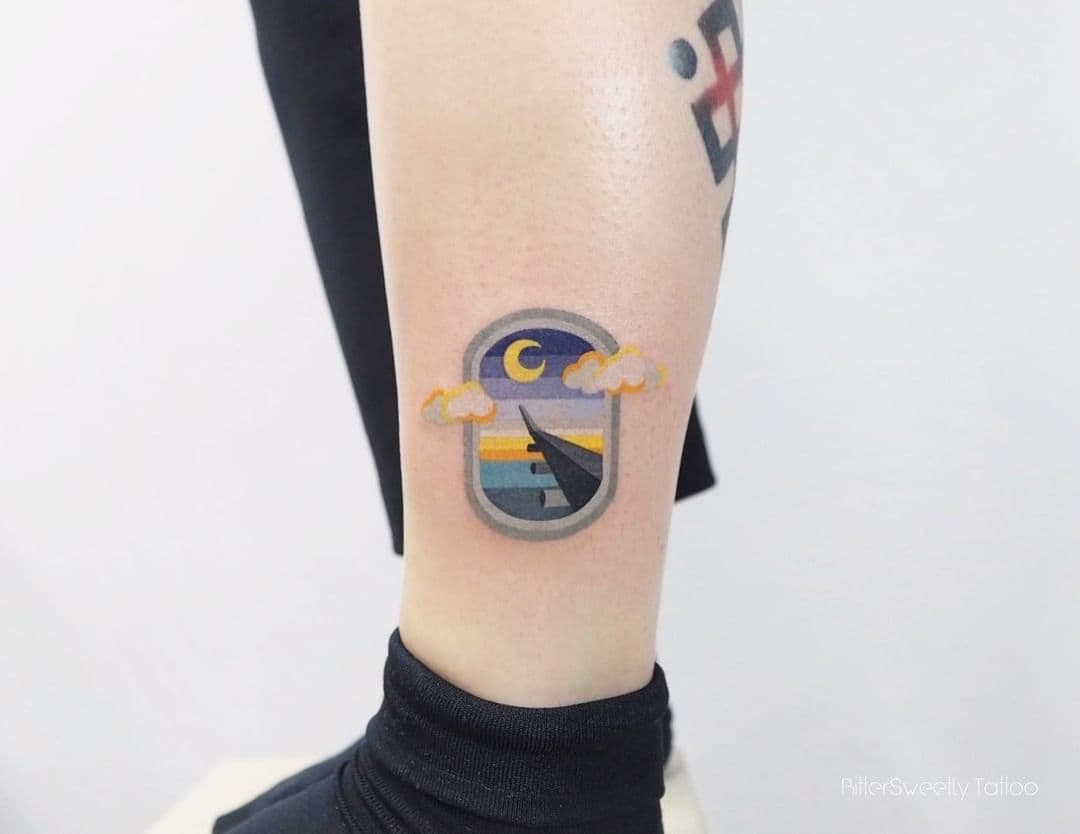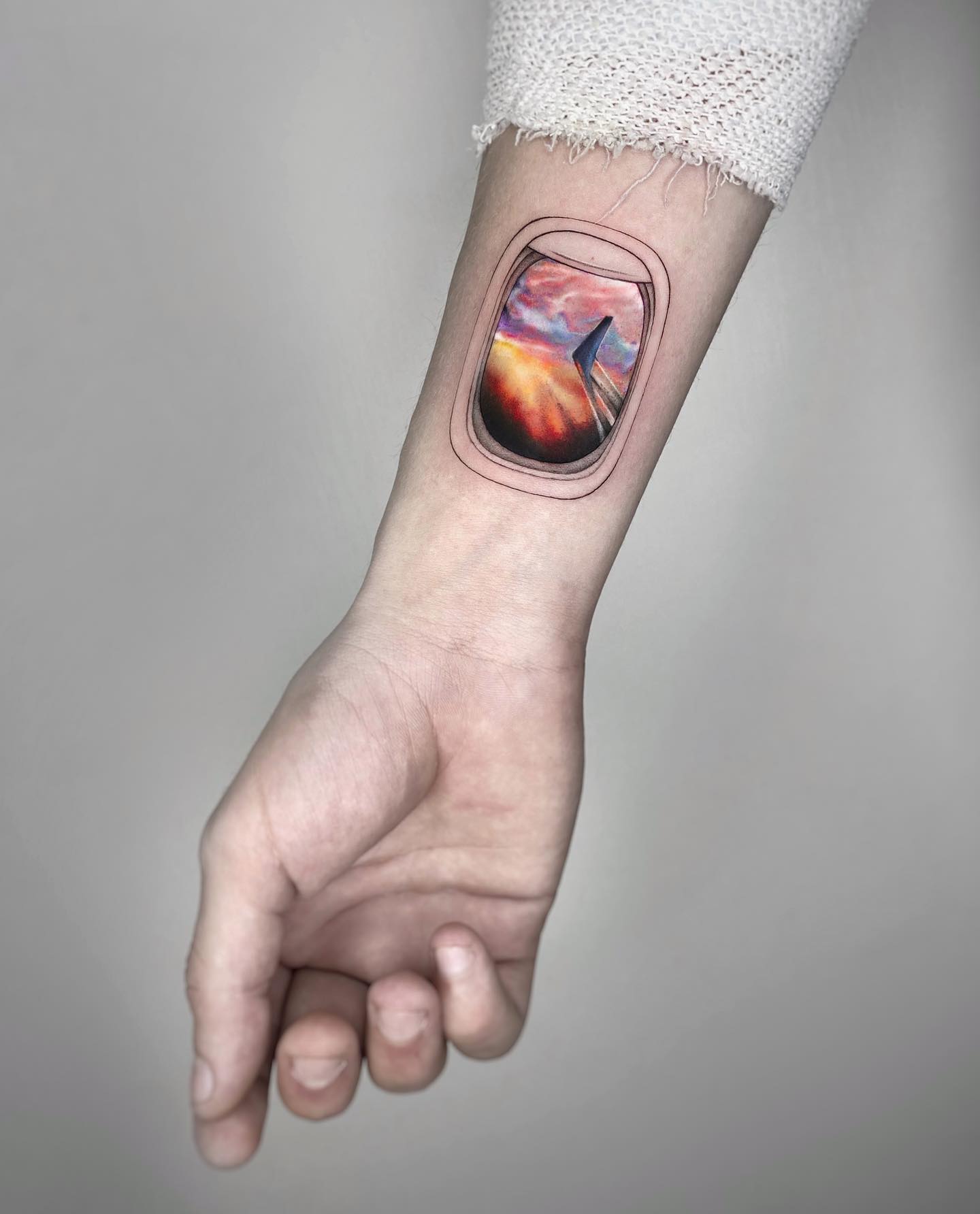 Are you in the mood to go on a trip? Do you prefer seeing sunsets that are brilliant and vivid? If you appreciate vibrant colors and are someone who understands how to take pleasure in their surroundings and behaves gently, this tattoo is for you!
This forearm tattoo design represents your passion for travel and sunsets. If you believe in the power of hope, this aircraft window tattoo is for you!
8. Dramatic & Large Airplane Tattoo Stomach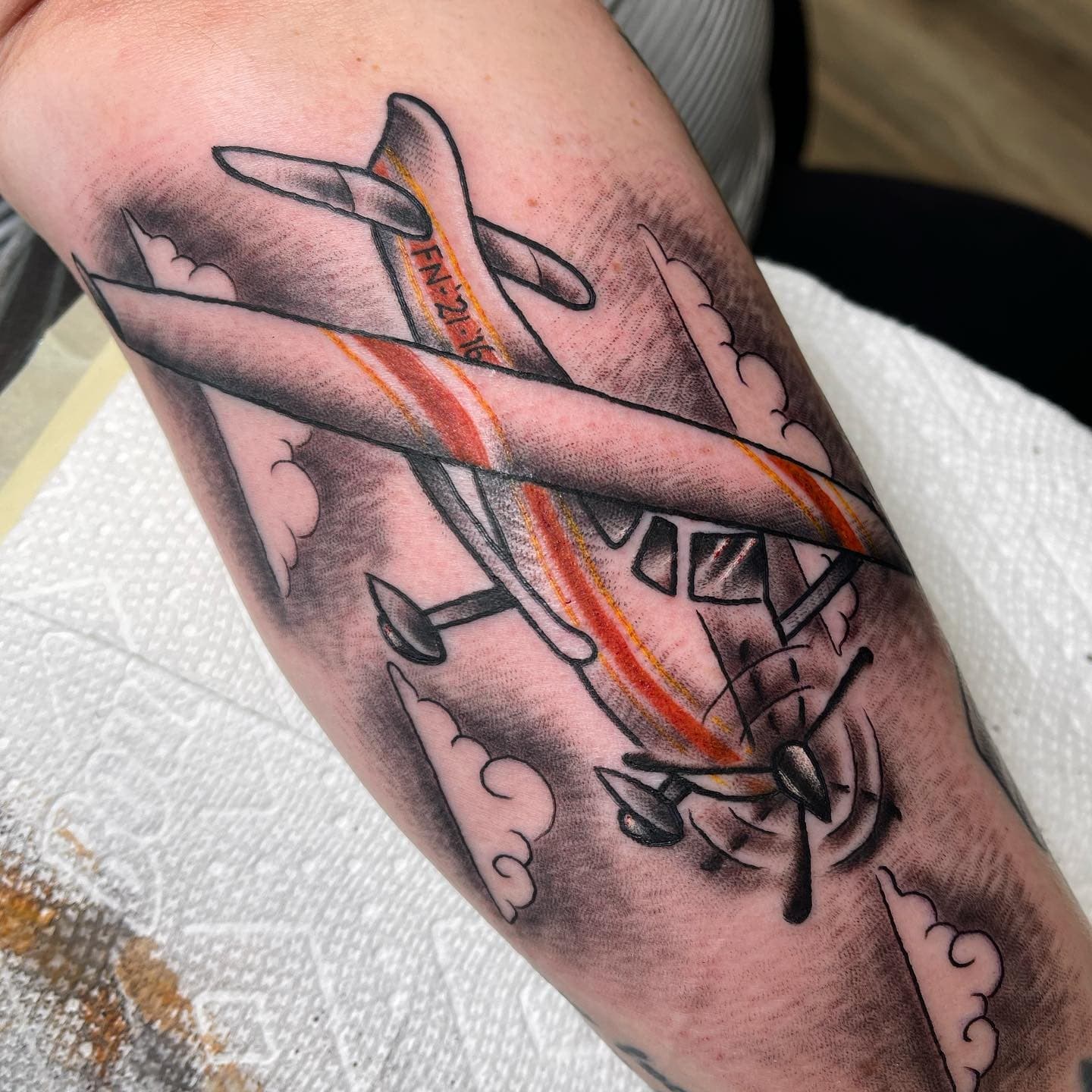 Another stomach tattoo that you might be interested in is this one. Fans of vibrant colors and eye-catching patterns will like this feminine concept. Even though it is rather unpleasant, it will fit ladies with a lot of fat in this region (the tattooing process will be practical).
This concept represents your beliefs, desires, and aspirations. It is synonymous with excellence and a one-of-a-kind attitude towards almost everything in life.
8 Small Airplane Tattoos
1. Simple Airplane Tattoo Red Ink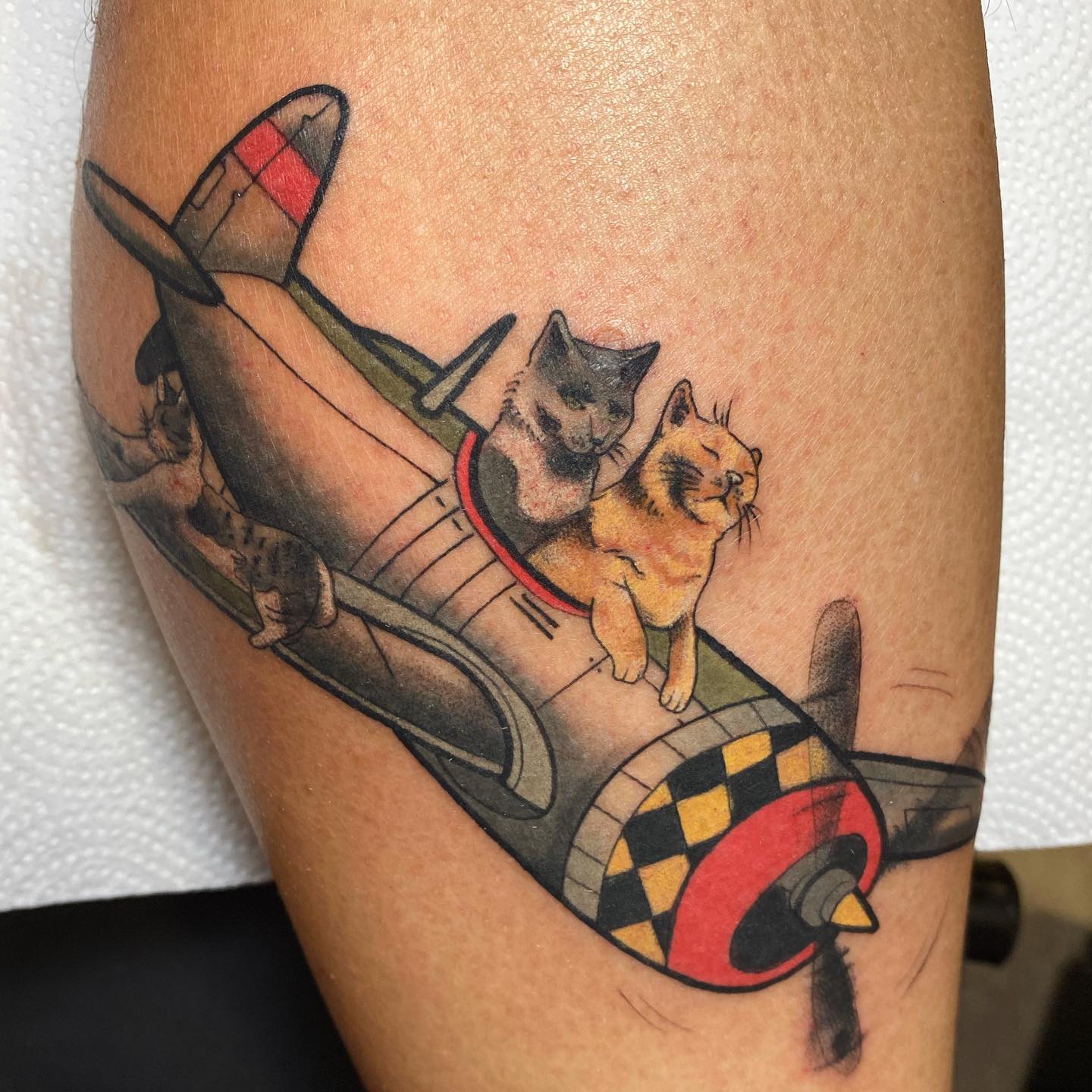 Do you have a fear of needles and the tattooing process in general? Are you looking for a quick and straightforward airplane tattoo idea? If so, look no further. This one is perfect for those with sensitive personalities!
A red aircraft will represent your sincere goals as well as your burning nature. It will show your deep and passionate side, as well as your surge of adrenaline when you wear it.
2. Heart Of Airplanes Tattoo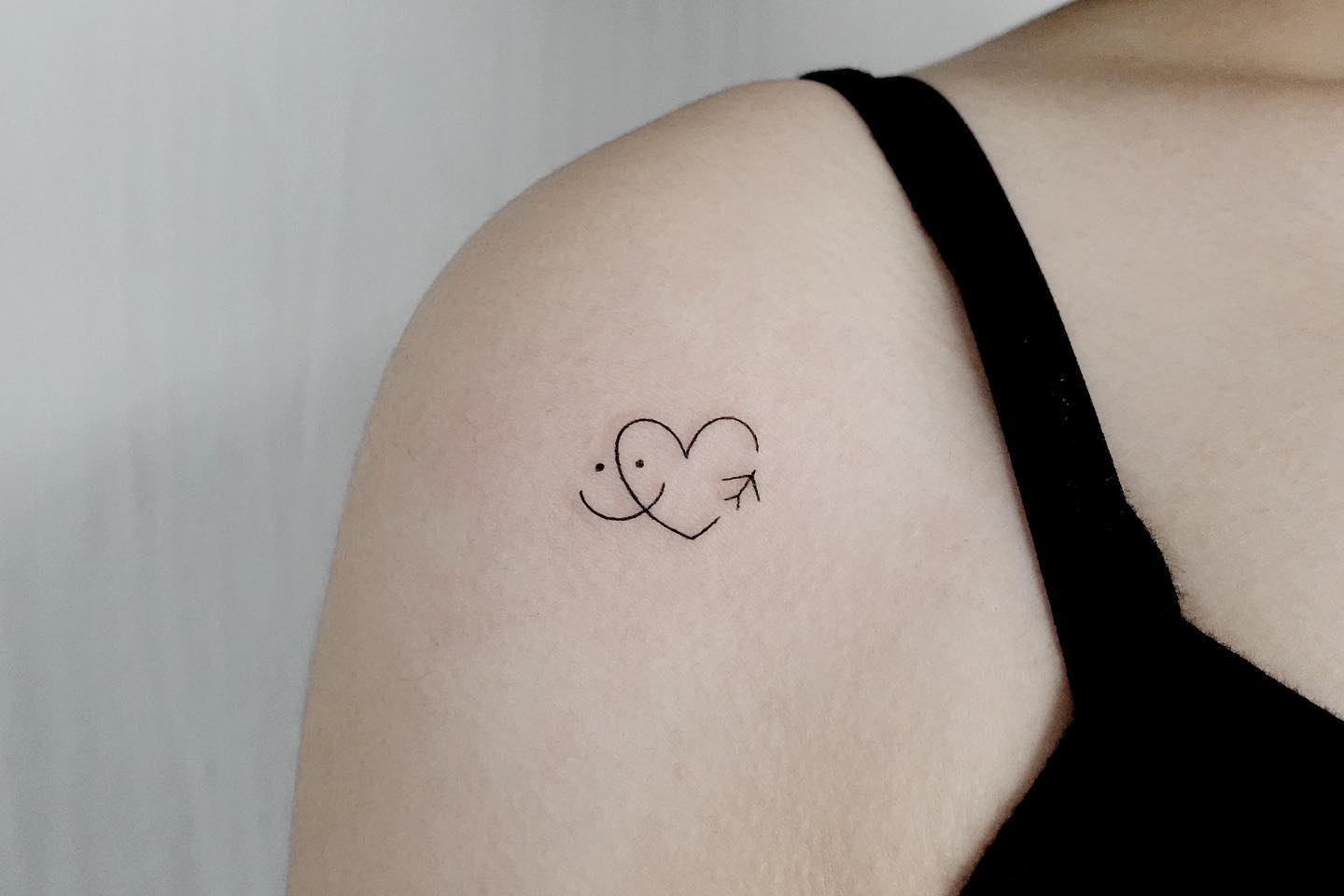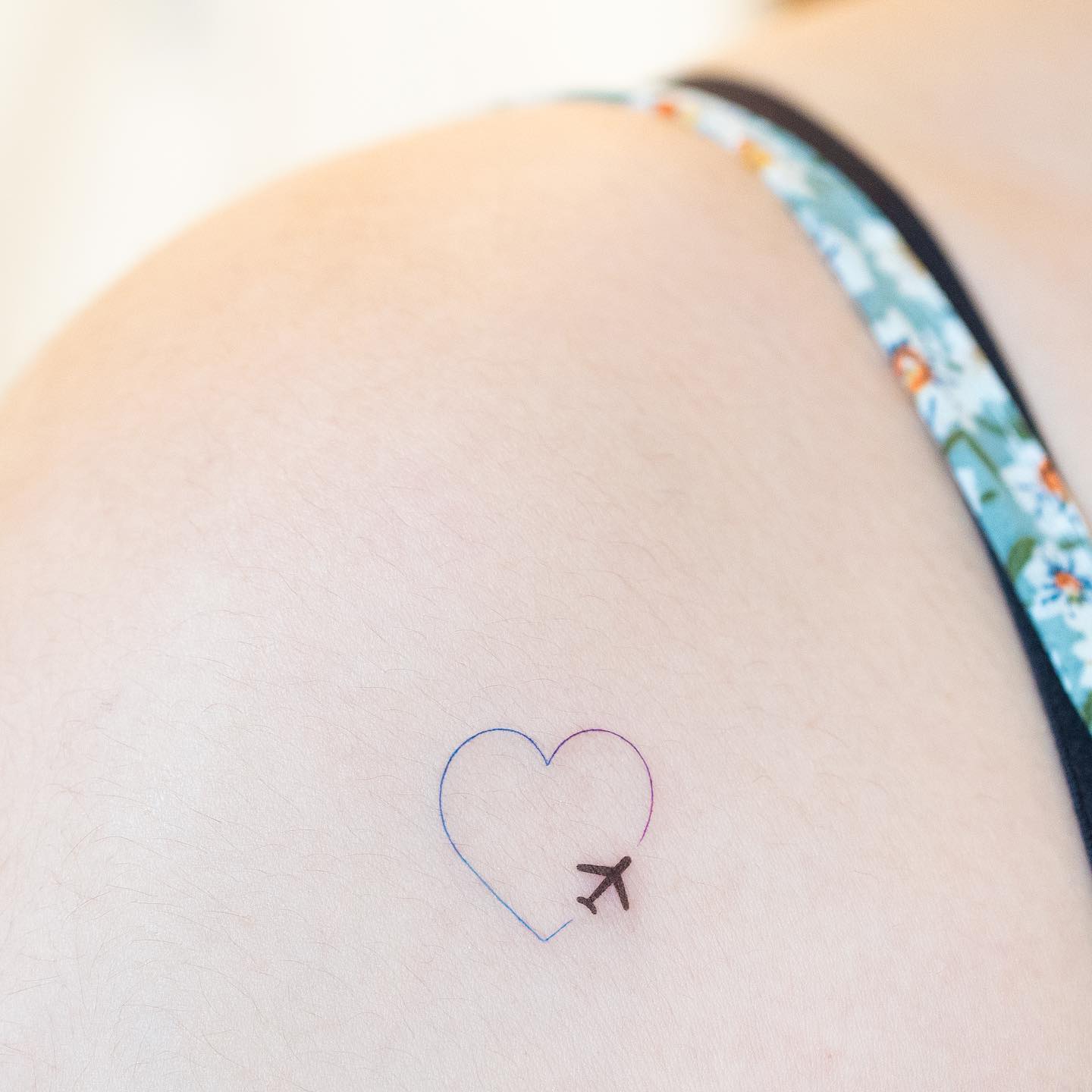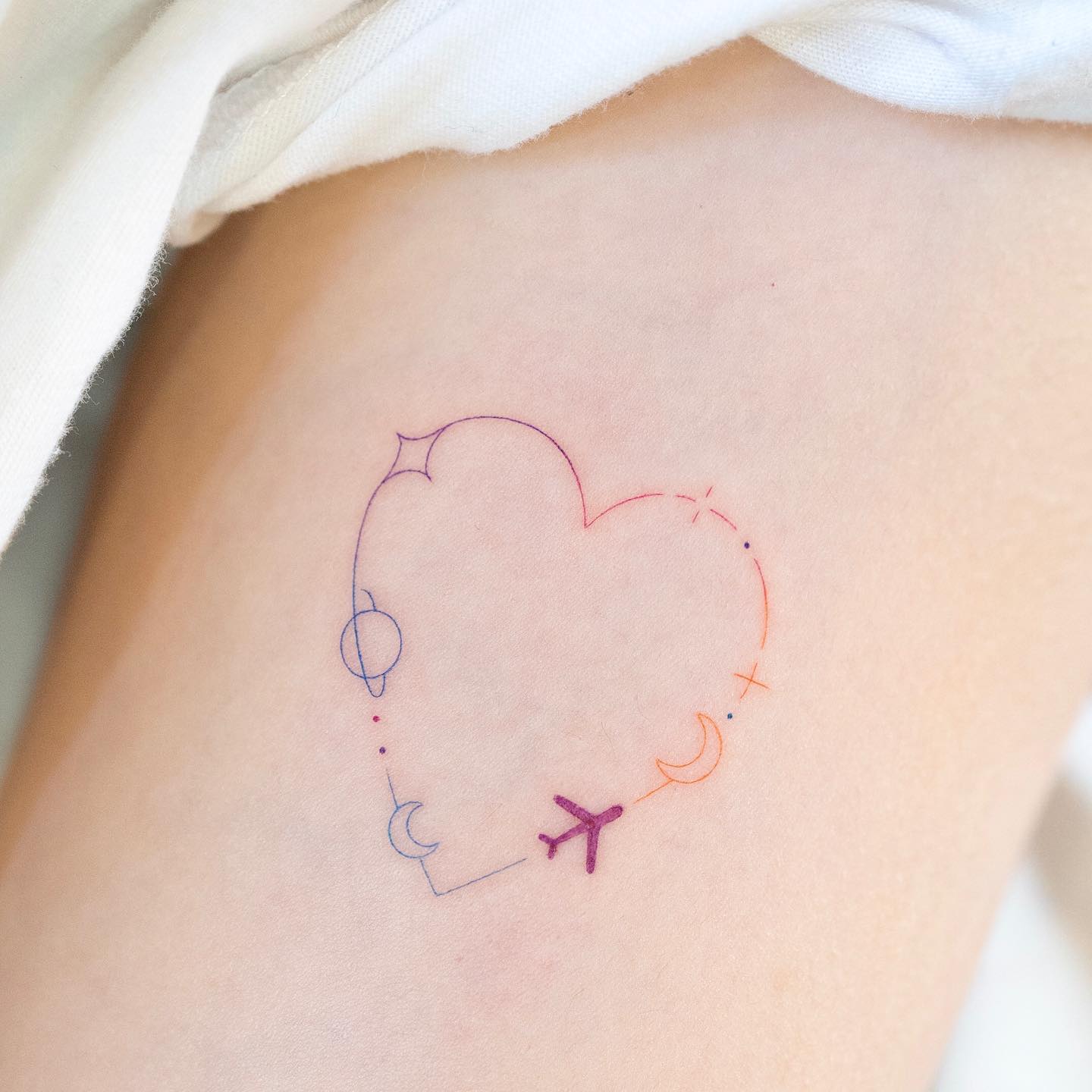 What about a tiny little heart of planes that is light in color and stands out from the rest of the collection? Do you consider yourself a feminine person who appreciates simple tattoos? This one is ideal for women and people who want to express themselves creatively.
This heart graphic may represent any of the pathways and roads you choose to travel along. Wouldn't you agree that you'll have a good time getting on the road and loving the journey?
3. Pop Of Color Artsy Airplane Tattoo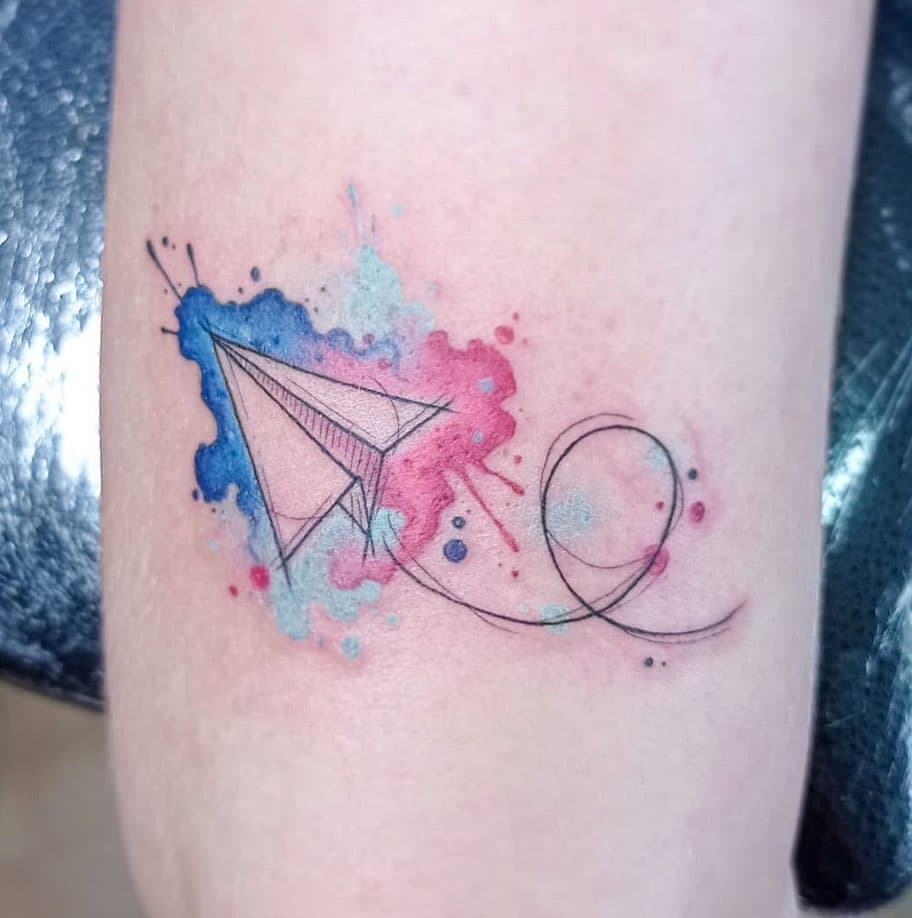 What do you think of color-blocked watercolor tattoos and a burst of color? This forearm tattoo is ideal for those who are perfectionists as well as those who enjoy big tattoos. As a precaution, make sure you have some additional money on hand because this tattoo might be rather expensive.
When done correctly, this airplane tattoo will serve as a representation of your journey and the various possibilities for which you might select to go. It also symbolizes your ability to respond quickly and reliably.
4. Small & Delicate Airplane Tattoo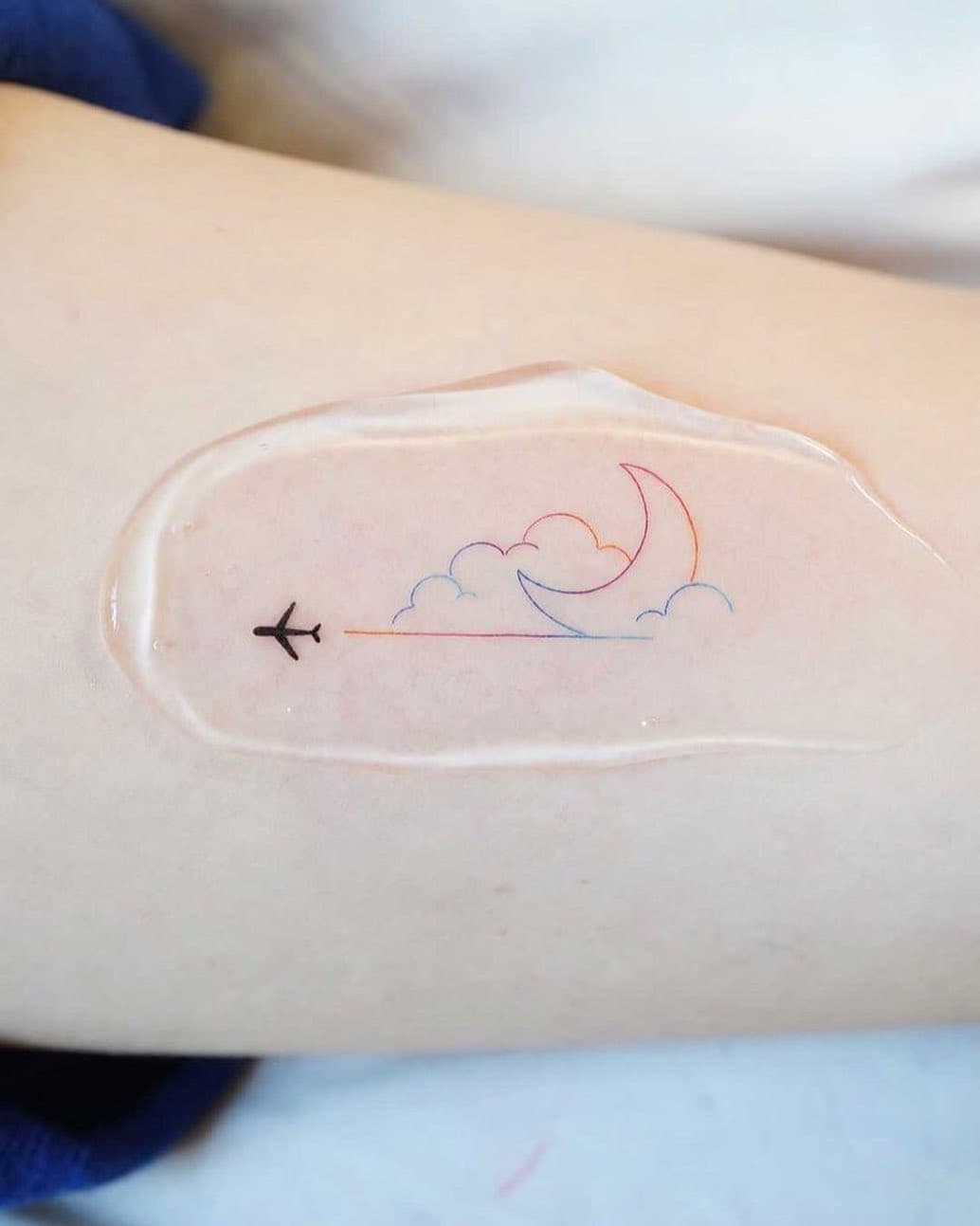 Why not consider the most petite, most delicate, and delicate tattoo design you can come up with? The following item is perfect if you're afraid of needles but want something compact and functional. It is appropriate for both men and women.
A smaller plane might better represent your travel and your personality on board. You could be concerned about taking a risk with a huge shot. Don't be concerned, since we all have to start somewhere.
5. The idea of a tattoo design of an airplane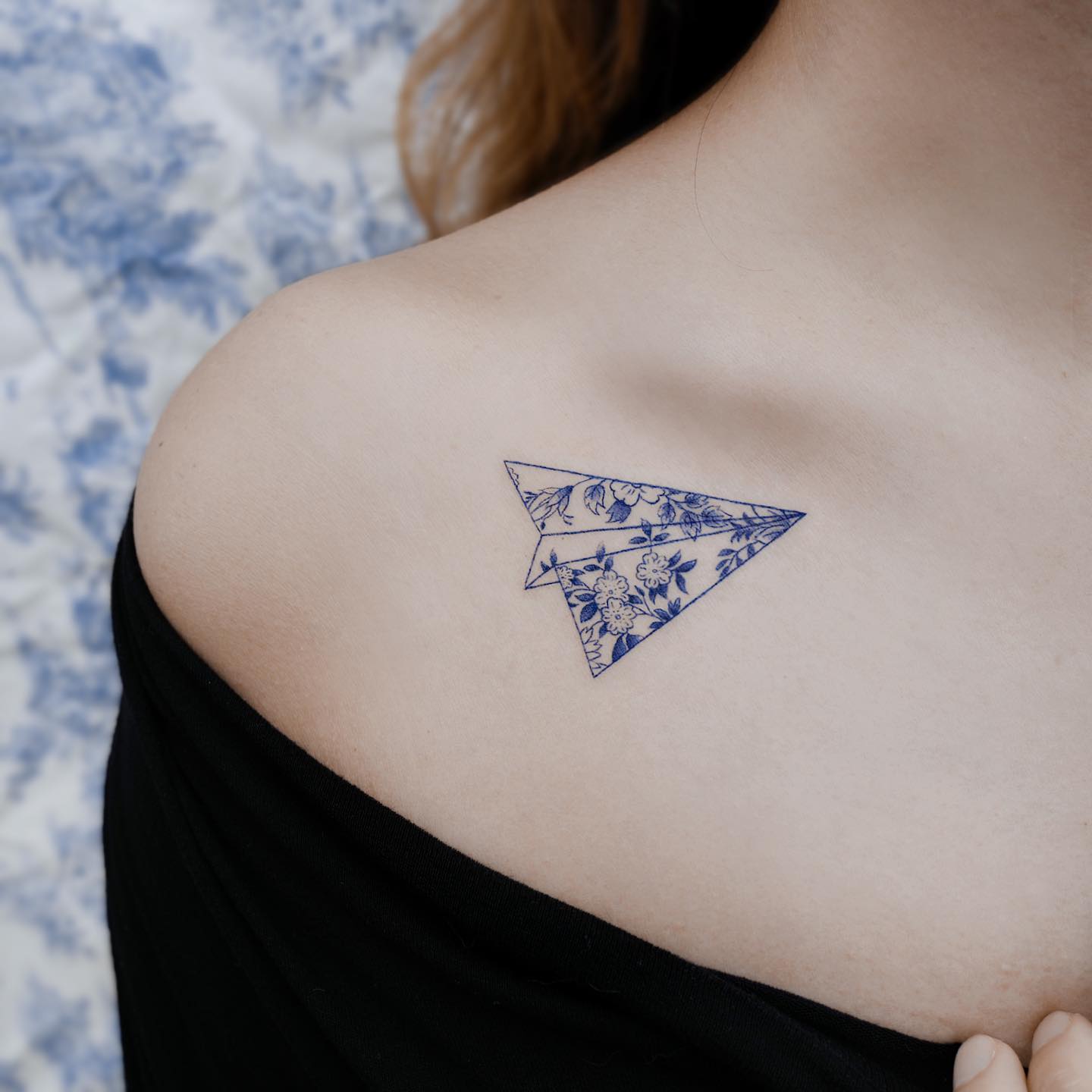 Do you want to get a tattoo of a paper airplane? If you're looking for something a little different, this tattoo will look great on your forearm. Its black and white color scheme is sleek and straightforward, and it is appropriate for both men and women.
This flying plane will demonstrate to people that you can aim for and obtain some of the essential things in your life. Allow the rest of the world to see your realistic approach as well as your layers.
6. Airplane Finger Tattoo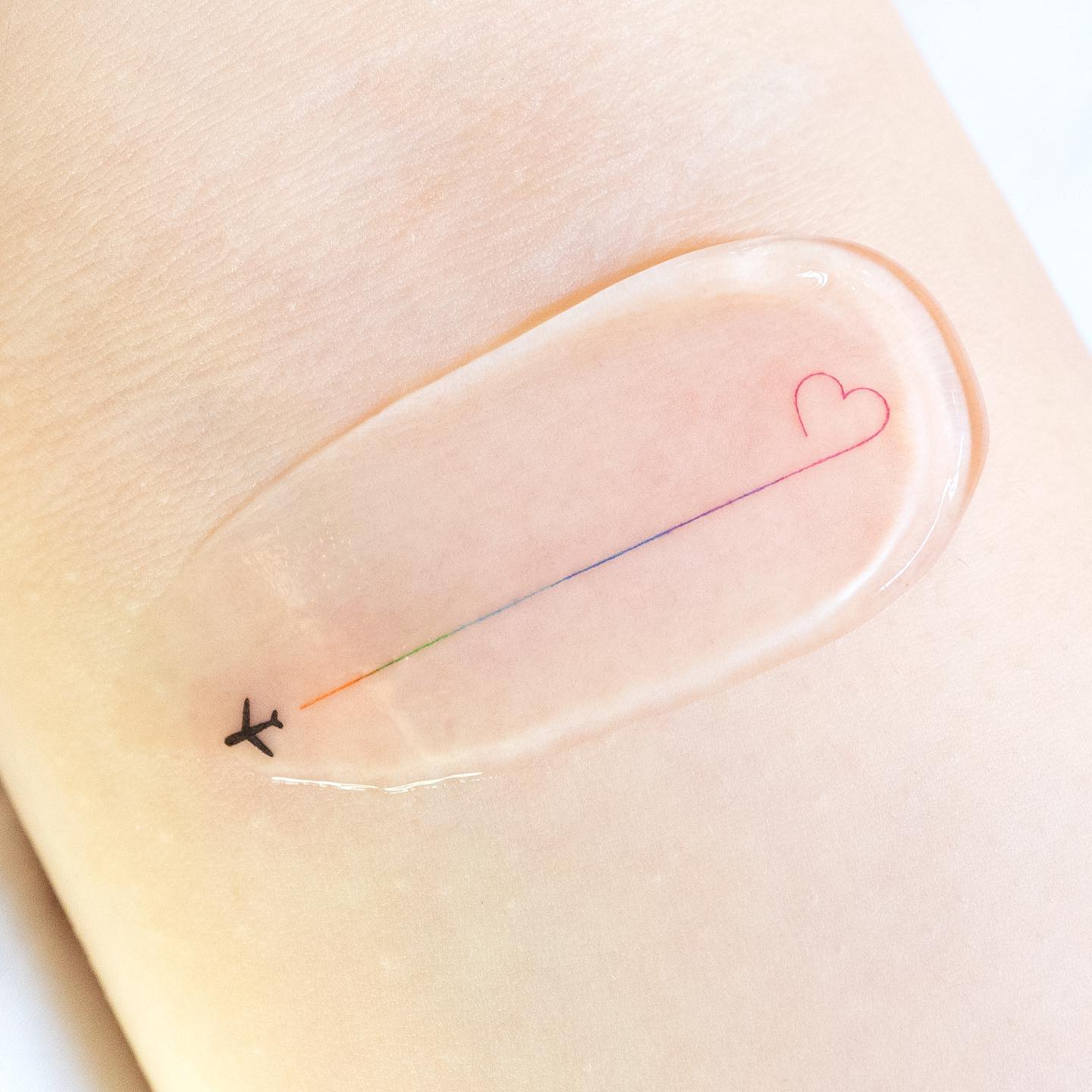 Is traveling the most important aspect of your life? Is it something that you consider a high priority in your life? If this is the case, you may inform others by using this print. It will look stunning on your arm.
This arm and fingerprint will demonstrate your self-assured and fearless side. When traveling, make it known to everyone that you are aware of where your heart is at.
7. Matching Airplane Tattoo Over Wrist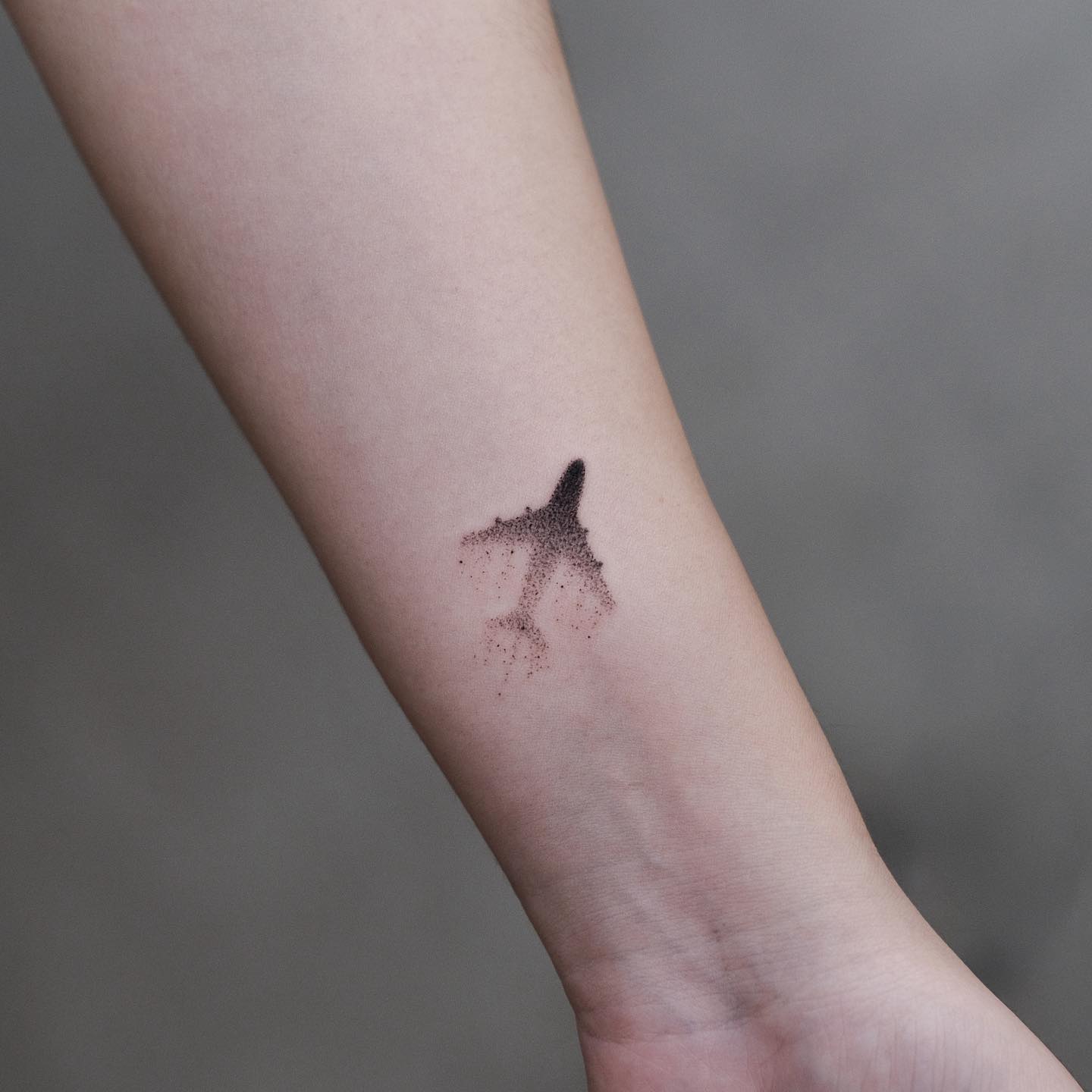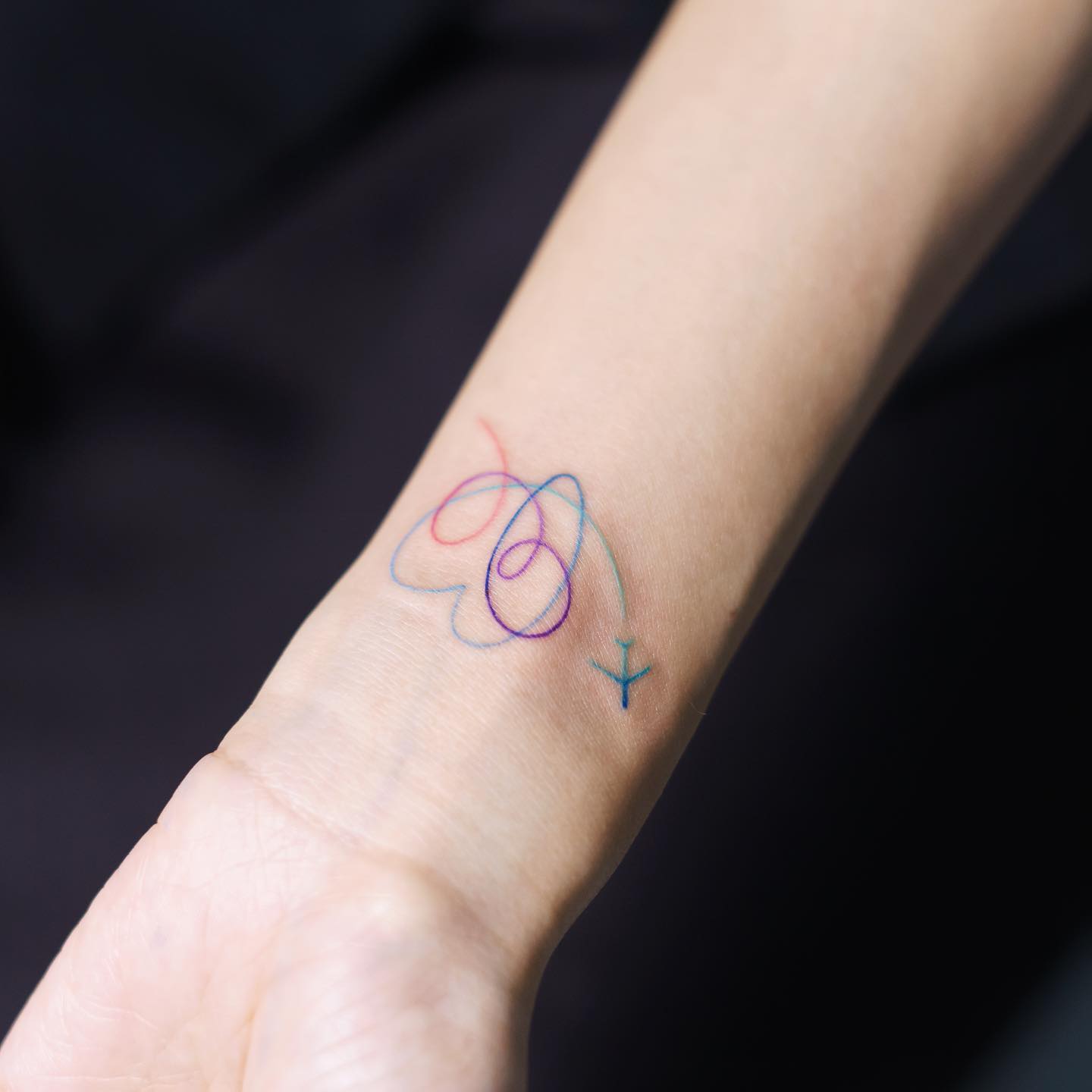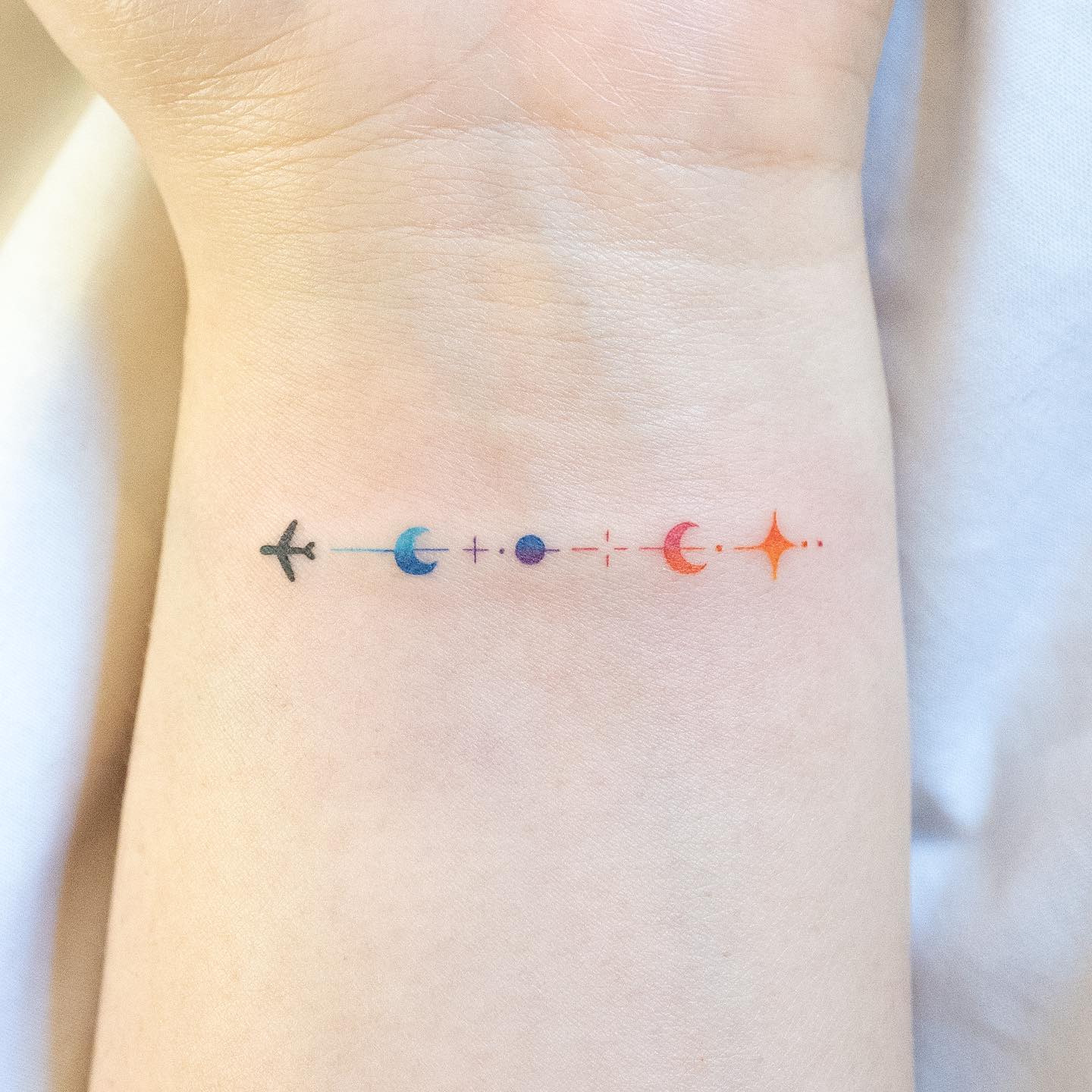 You can get contrast tattoos if you want to show off this beauty in black and white print. This forearm tattoo design may interest you if you favor forearm tattoos over other methods.
This pair represents the highest and lowest standards, respectively. What degree of alignment do you have with your life and your ideals?
8. Small Airplane Finger Tattoo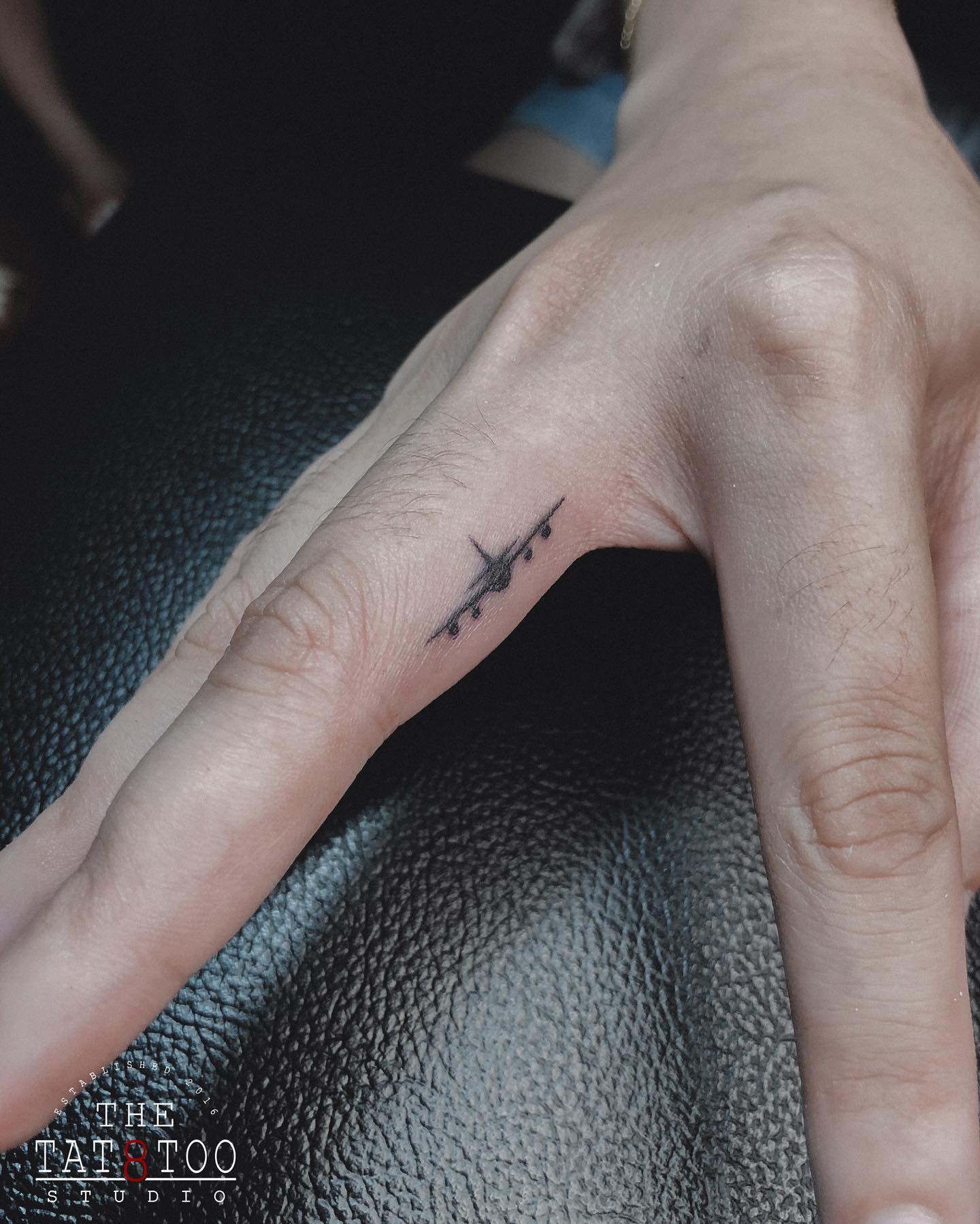 For women or men who prefer smaller tattoos or something charming to put on their hands, this middle finger tattoo and this airplane design are great options. Even though it is not a time-consuming piece, it is perfect for anyone who understands how to sport finger tattoos well.
This tiny airplane tattoo symbolizes your laid-back demeanor and desire to unwind and relax. Suppose you're the type of person who doesn't desire a lot of attention but values their inner serenity. In that case, this tattoo is the perfect choice for you to display.
8 Unusual Airplane Tattoos
1. Unique Travel Inspired Airplane Tattoo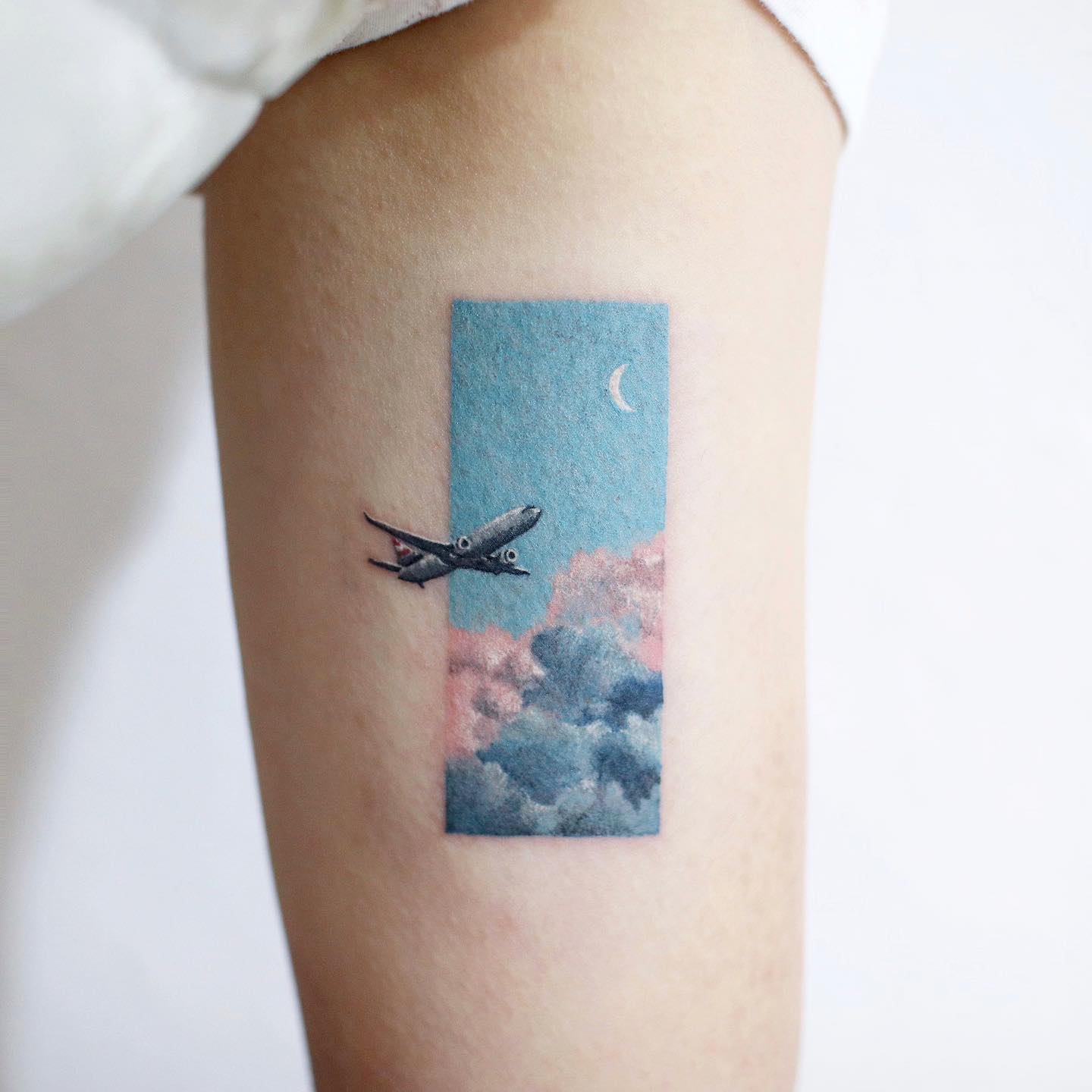 The ideal girly and feminine tattoo is suitable for most women, regardless of their age. This is an excellent option for real travelers and do-it-yourself enthusiasts, as well as anybody looking to express their lively personality through a tattoo.
Beautifully colored planes are often used to represent the turbulence within us. What is the level of turmoil in your life, and how do you want to portray it?
2. Tattoo Design for an Airplane with a Splash of Color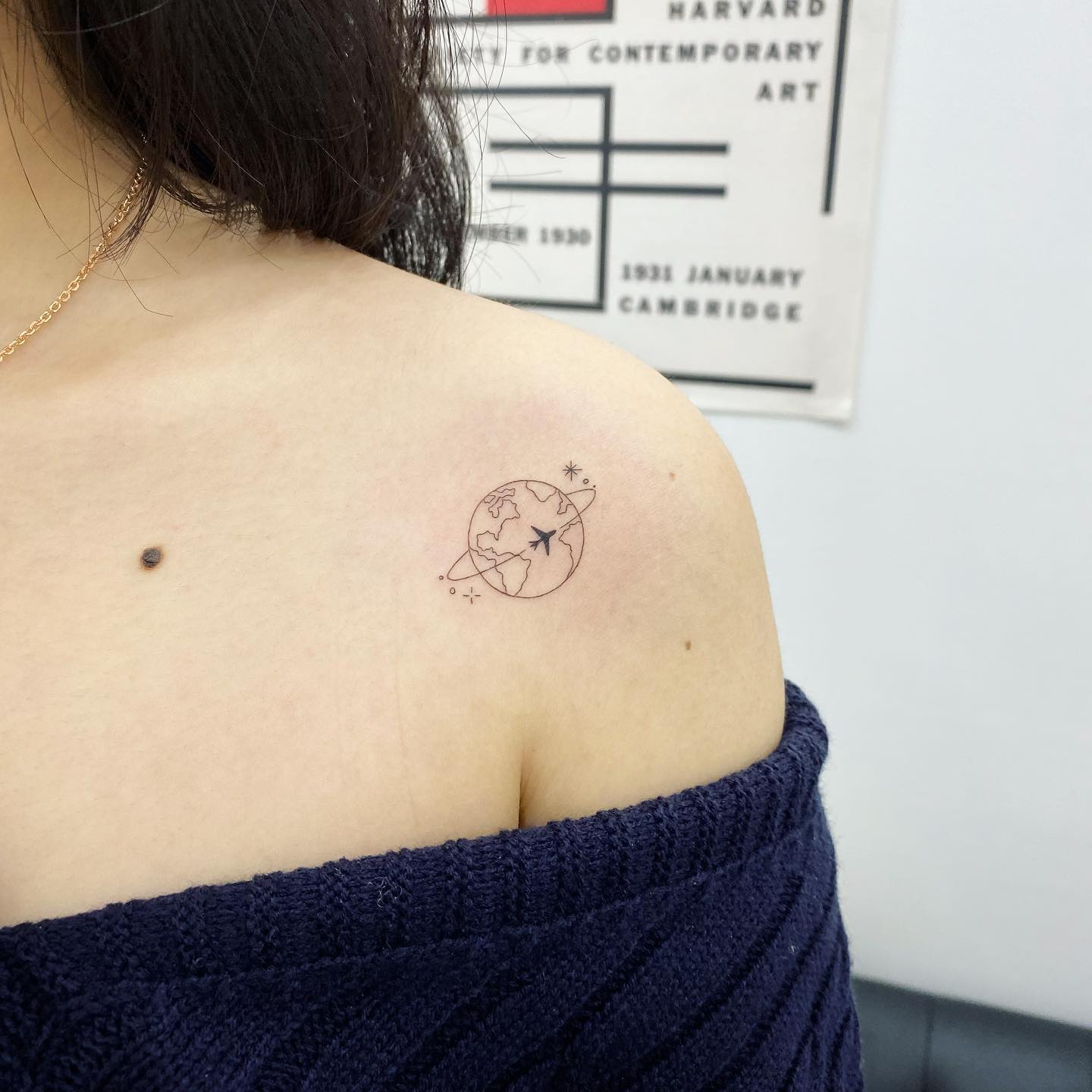 An aircraft crash tattoo may be frightening in its own right, but this one might be an exception! If you use the proper technique to color this tiny pair, you will like them after they are completed.
An aircraft falling can represent your soul and all of the problems you will face in the future. Even though you may feel that you have no control over your life at times, you are most likely a pleasant young lady who understands how to keep her affairs in order.
3. Artsy Shoulder Airplane Tattoo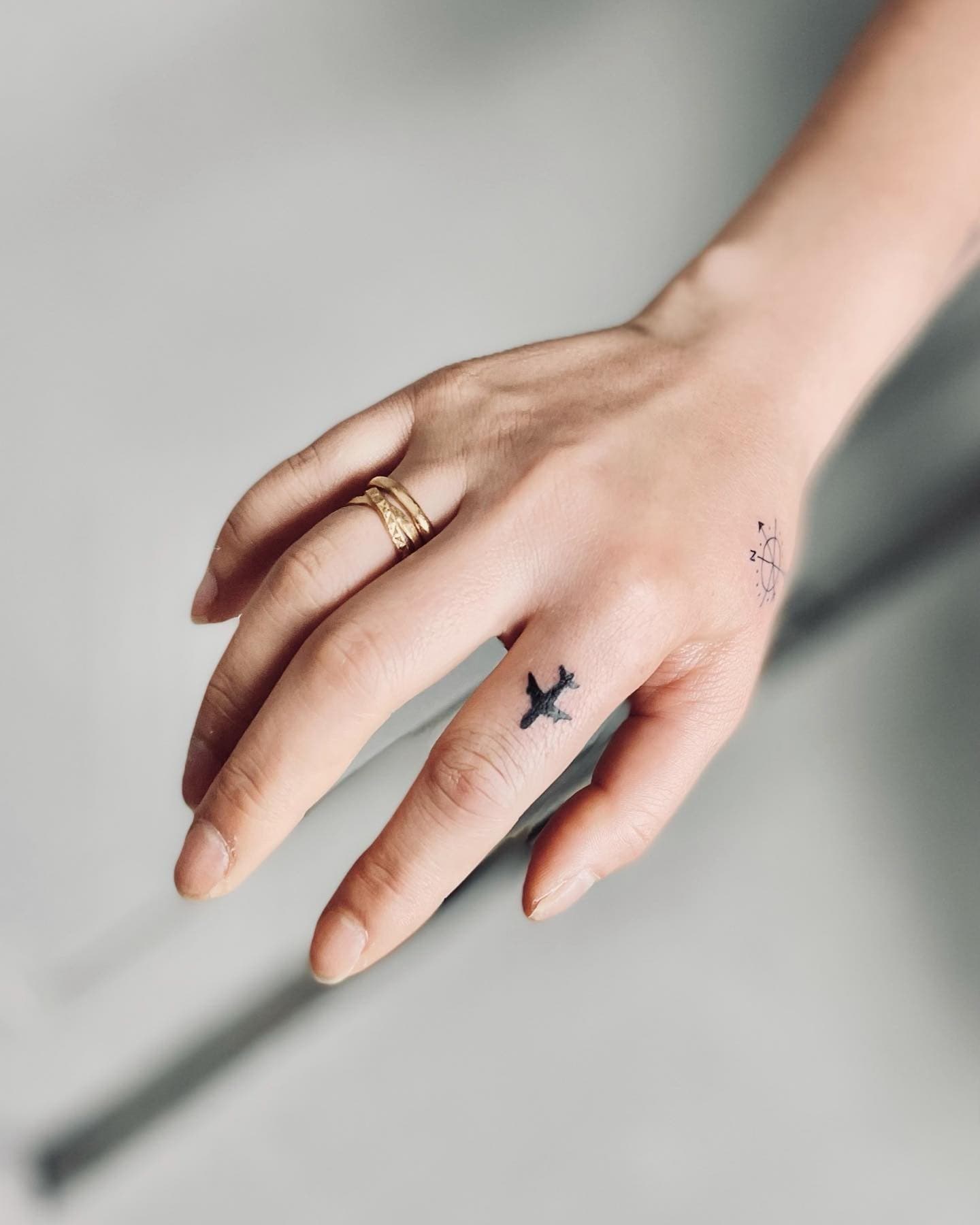 Do you like artistic tattoos and a splash of color in your designs when it comes to your tattoo ideas? This amusing yet realistic design is perfect for anybody looking for something unique and distinctive. It is especially suitable for people who enjoy heart-melting designs.
This couple represents and signifies your passion for what you do. Do you have a collection of them? Who doesn't want that?! With this beautiful collection of airplane and dog photos, you may embrace your most romantic and loving side.
Also Read : Best Fox Tattoo Designs and Meanings Ideas For 2022
4. A Tattoo of an Airplane on the Arm with a Cartoon Theme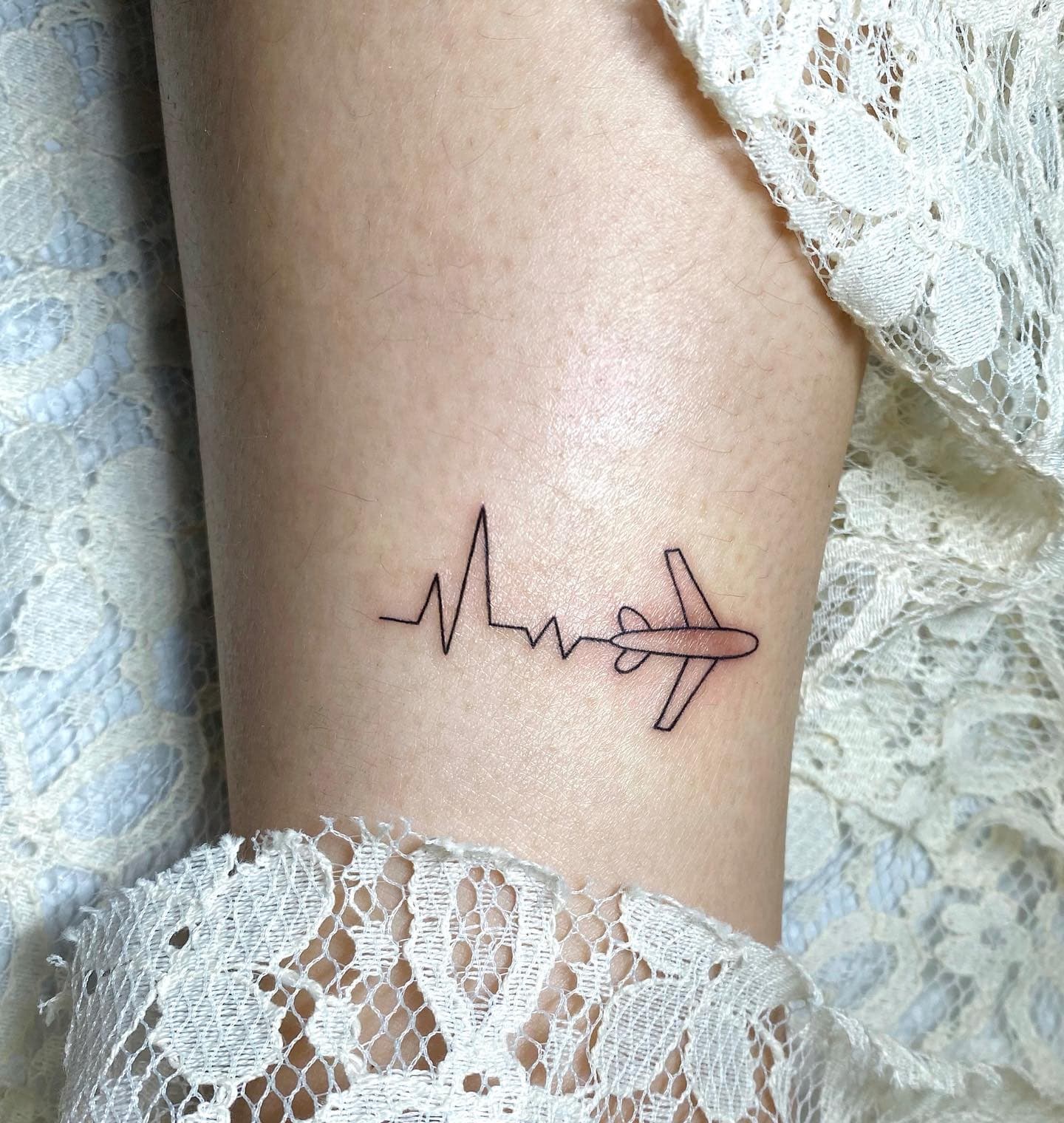 Do you want something bright, feminine, charming, and creative simultaneously? Do you enjoy anime and cartoons as much as I do? Many young ladies would appreciate having this distinctive old-school vintage airplane draped over their arms. Are you a member of this group as well?
This tattoo is a representation of youth and unadulterated enjoyment. If you're still a kid at heart, you can show it off with this one-of-a-kind plane tattoo that will stand out from the crowd.
5. Black Window Airplane Tattoo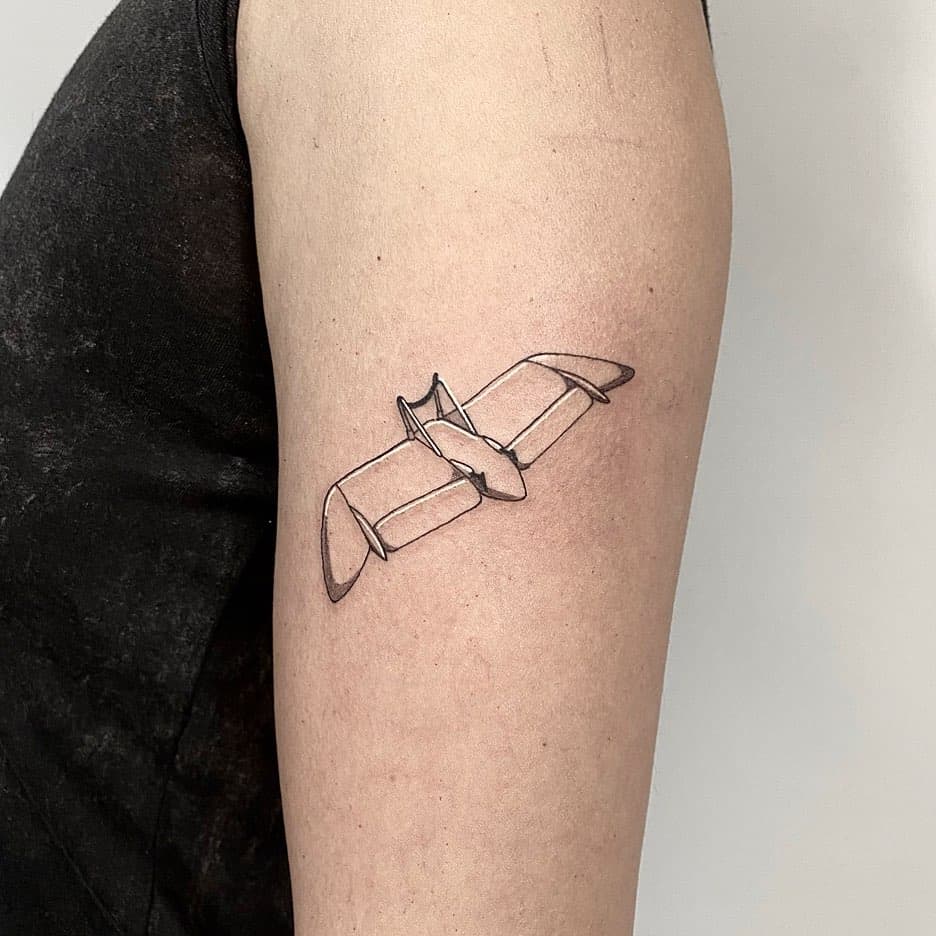 Is your mind constantly wandering to the prospect of traveling and hitting the open road? If you're the type of person who readily connects with their environment and experiences complete calm and joy when in the air, this is an absolute must-have in your collection!
This ink represents a promising future, as well as your undying love and enthusiasm for what you do. With this ink, you can make it clear to everyone that you are serious about your next significant move.
6. Map Of The World Airplane Tattoo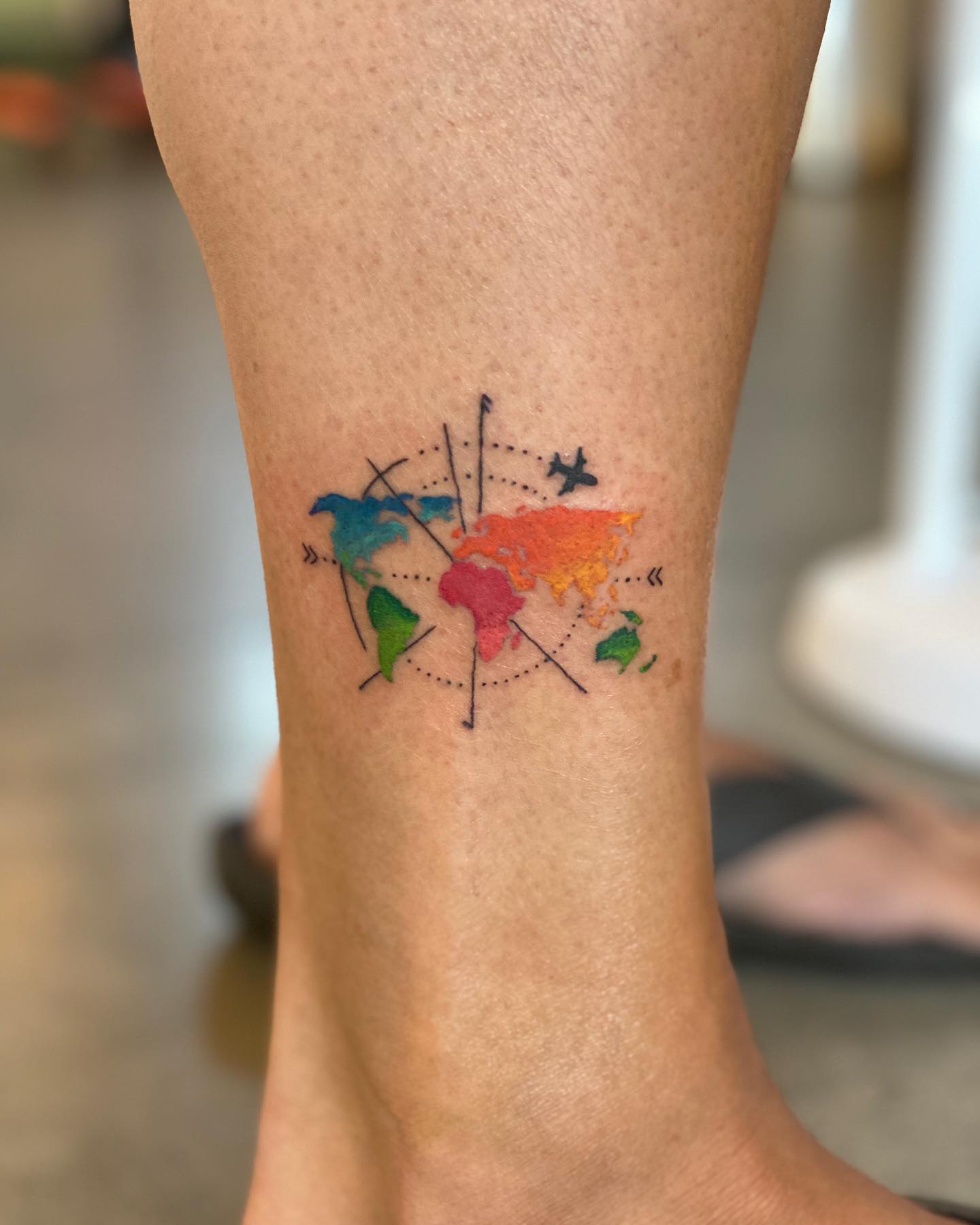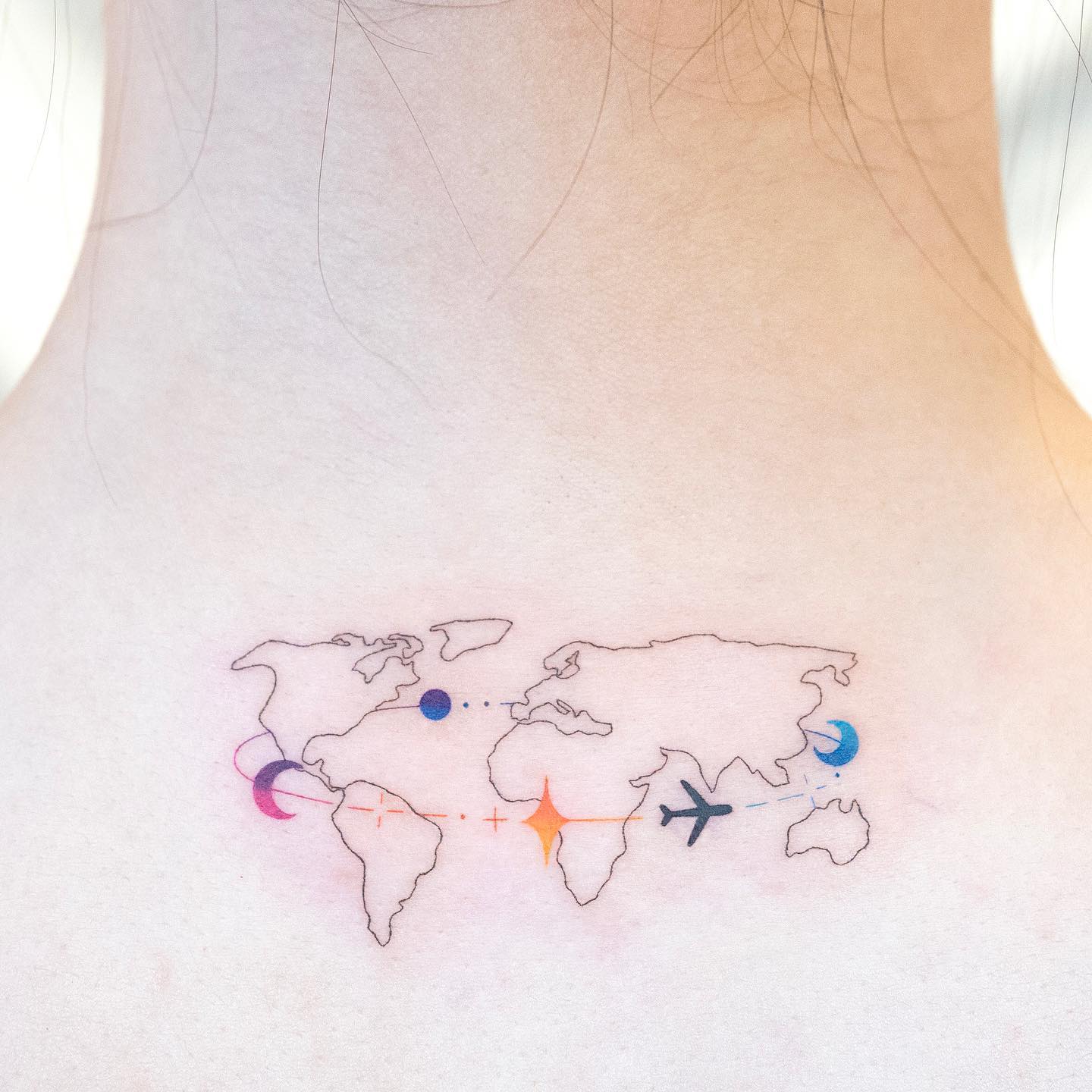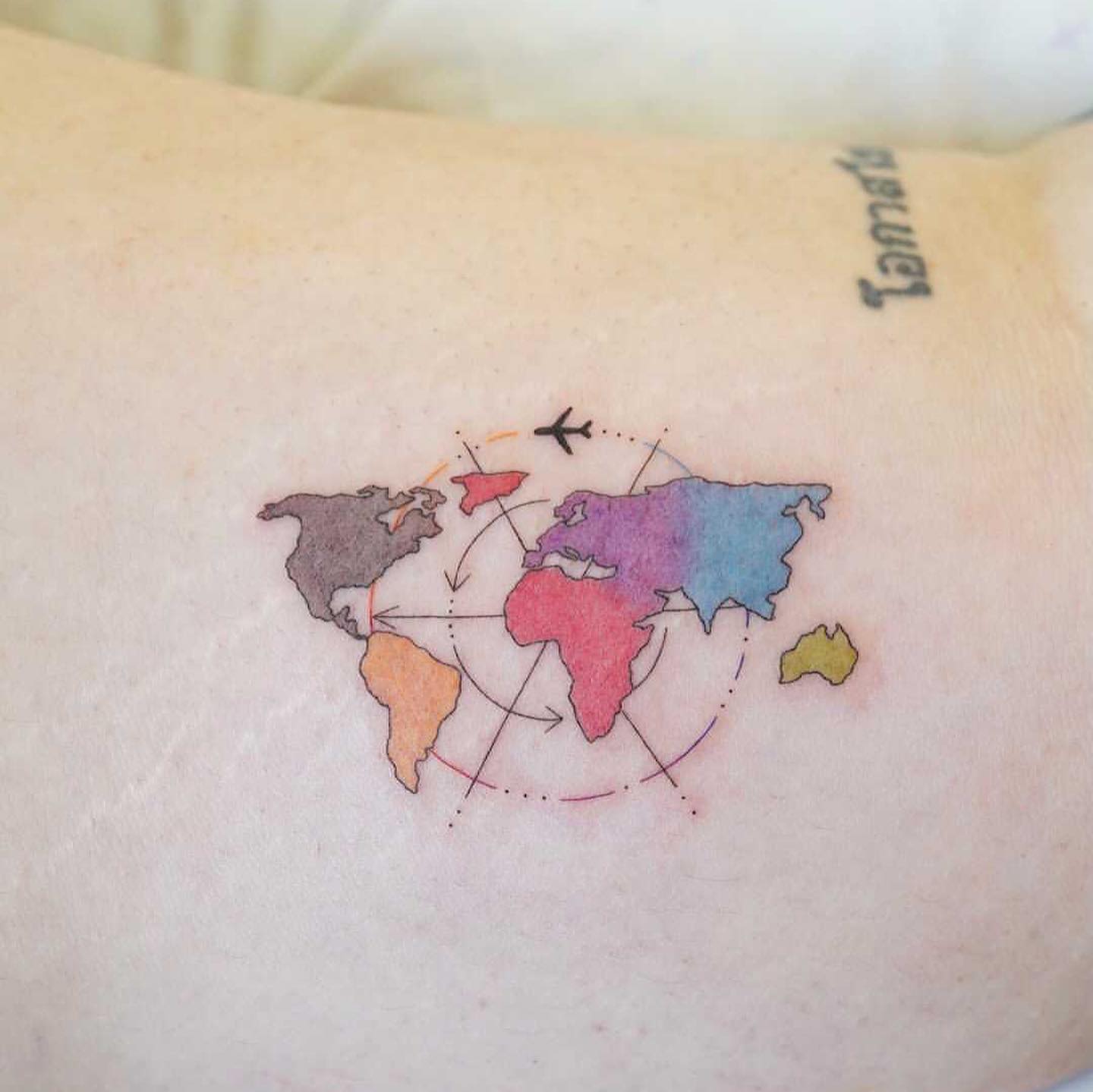 Some people have a strong desire to travel the world. If so, do you consider yourself one of those people as well? Consider the following scenario: you are a huge travel enthusiast.You have many destinations in mind for your next trip. Rather than just decorating them, why not use this tattoo concept specifically?
An airplane tattoo, in this context, represents impromptu journeys, good times, and the resolve to succeed. Demonstrate to everyone how wild you can be, as well as where you stand on the subject of your upcoming adventures.
7. A tattoo of an airplane compass on the chest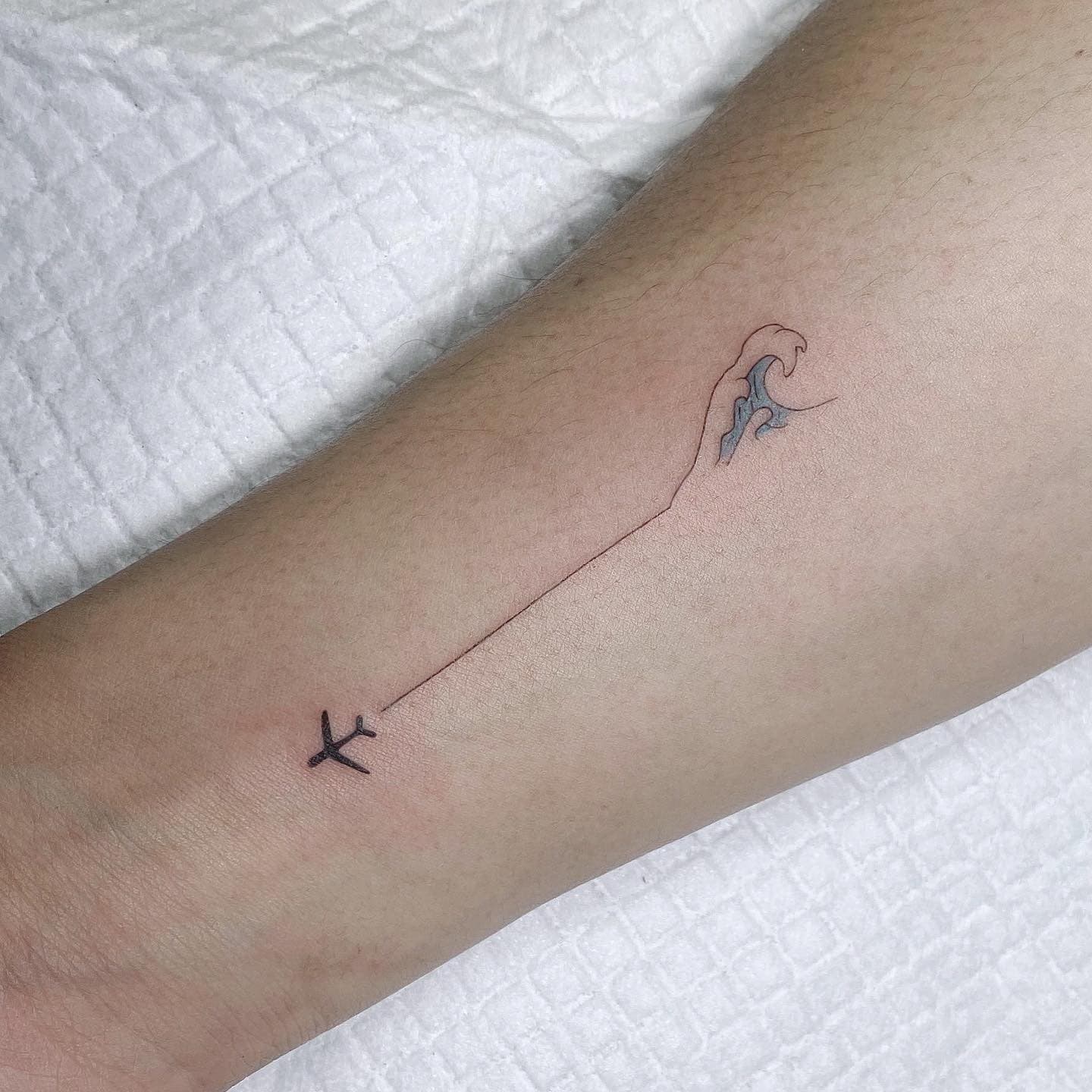 A chest plane tattoo, which is also a compass in its own right, is a beautiful and simple concept. It is also quite affordable. Guys with a manly chest will appreciate this tattoo design over some of the other tattoo designs available to them. Soldiers will also benefit from this product.
This plane and compass print might alert others that you're disoriented and in need of assistance. Not everyone can make the best decision at any given time, and that is perfectly OK! You will eventually find your path. Just make sure that you have the appropriate guardian with you at all times.
8. Travel Airplane Tattoo Colorful Idea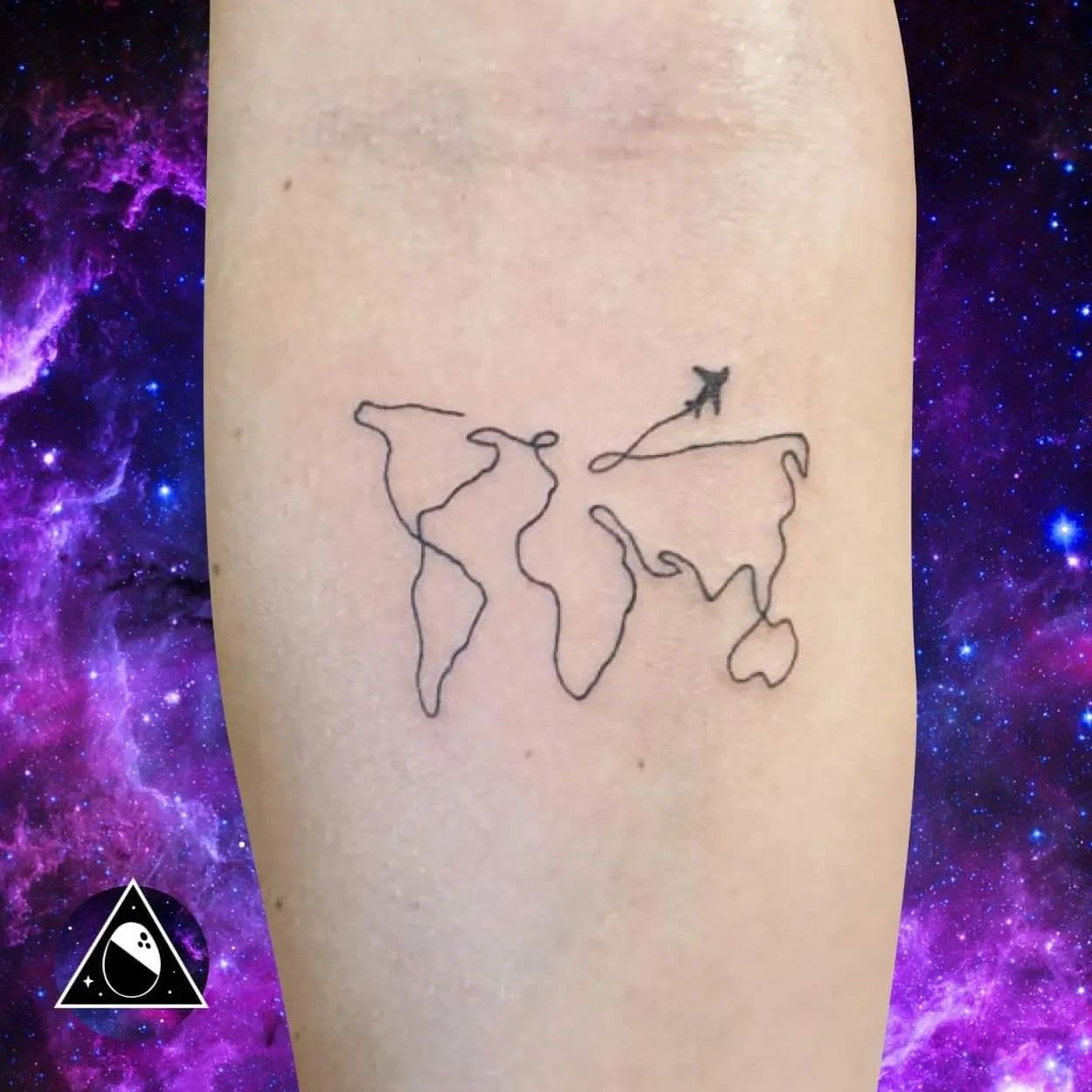 Finally, but certainly not least, how about this airplane ribbon tattoo design? It looks fantastic on your forearm and is the ideal unisex tattoo design to have on hand.
These hues represent your feminine and masculine aspects, respectively. If you enjoy having a good time in your own way, why not show the rest of the world by getting this tattoo idea?
Other Airplane Tattoo Design Ideas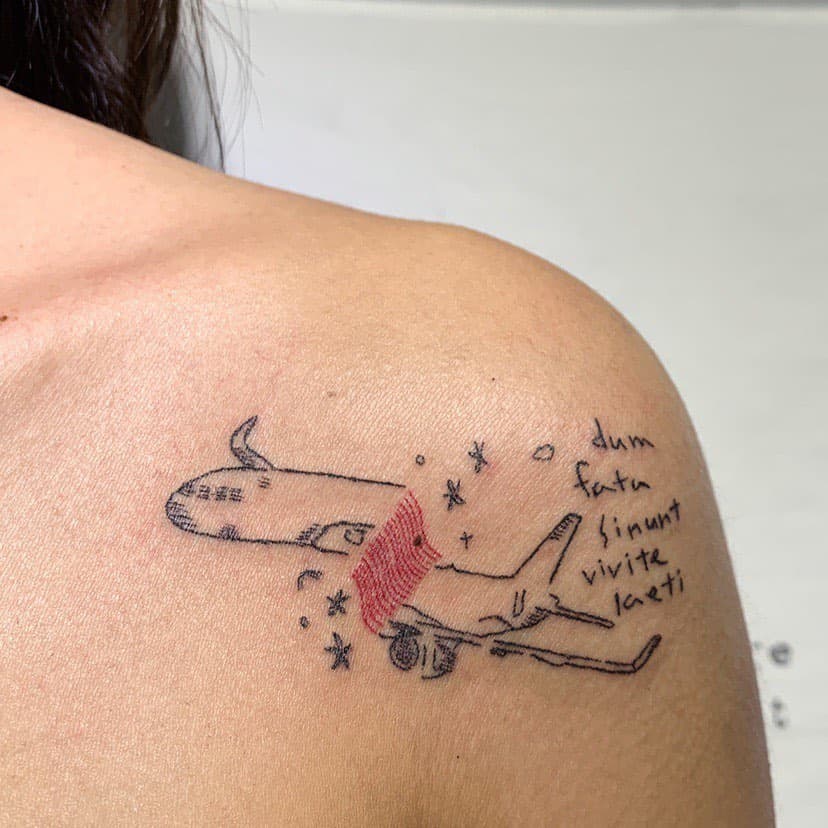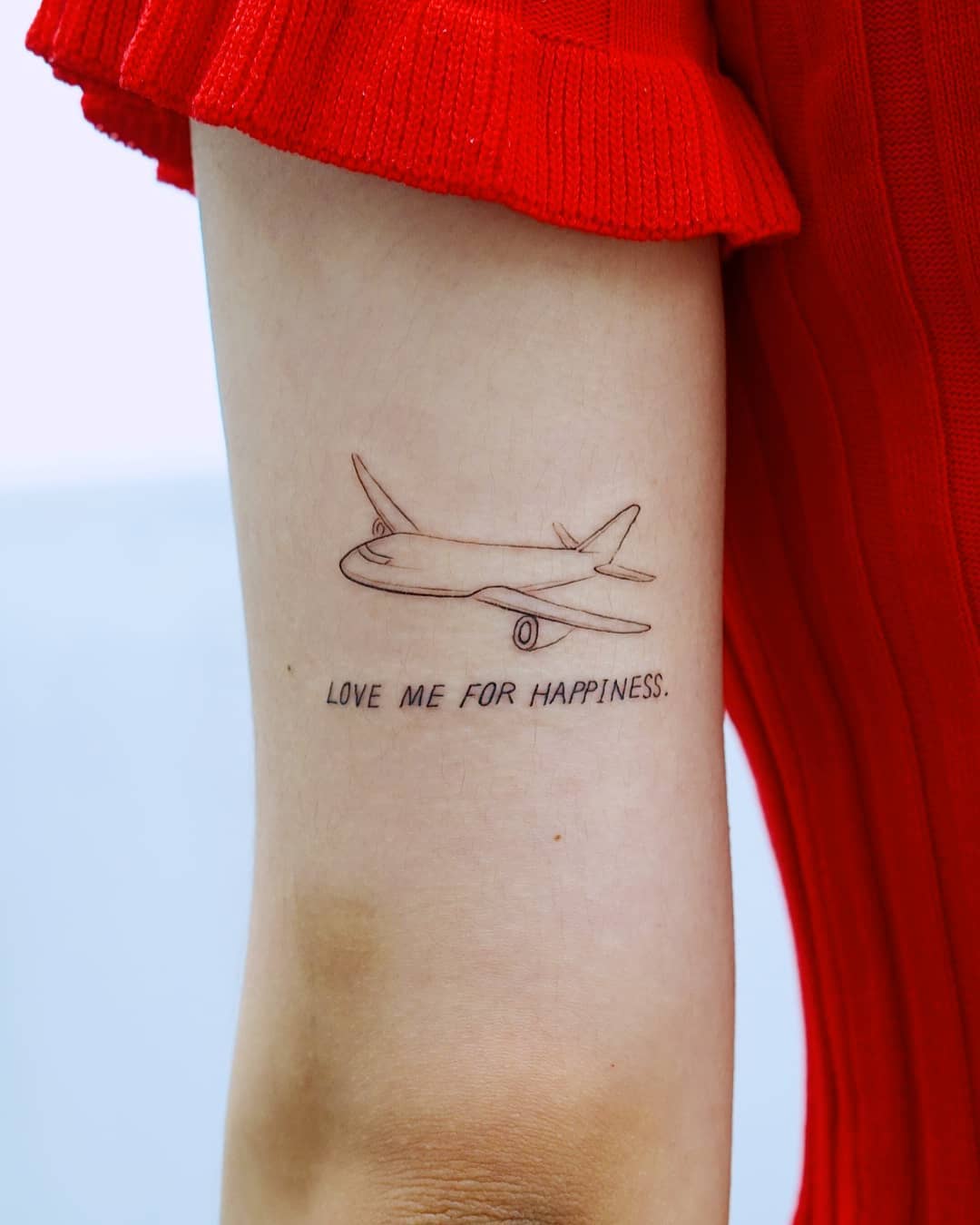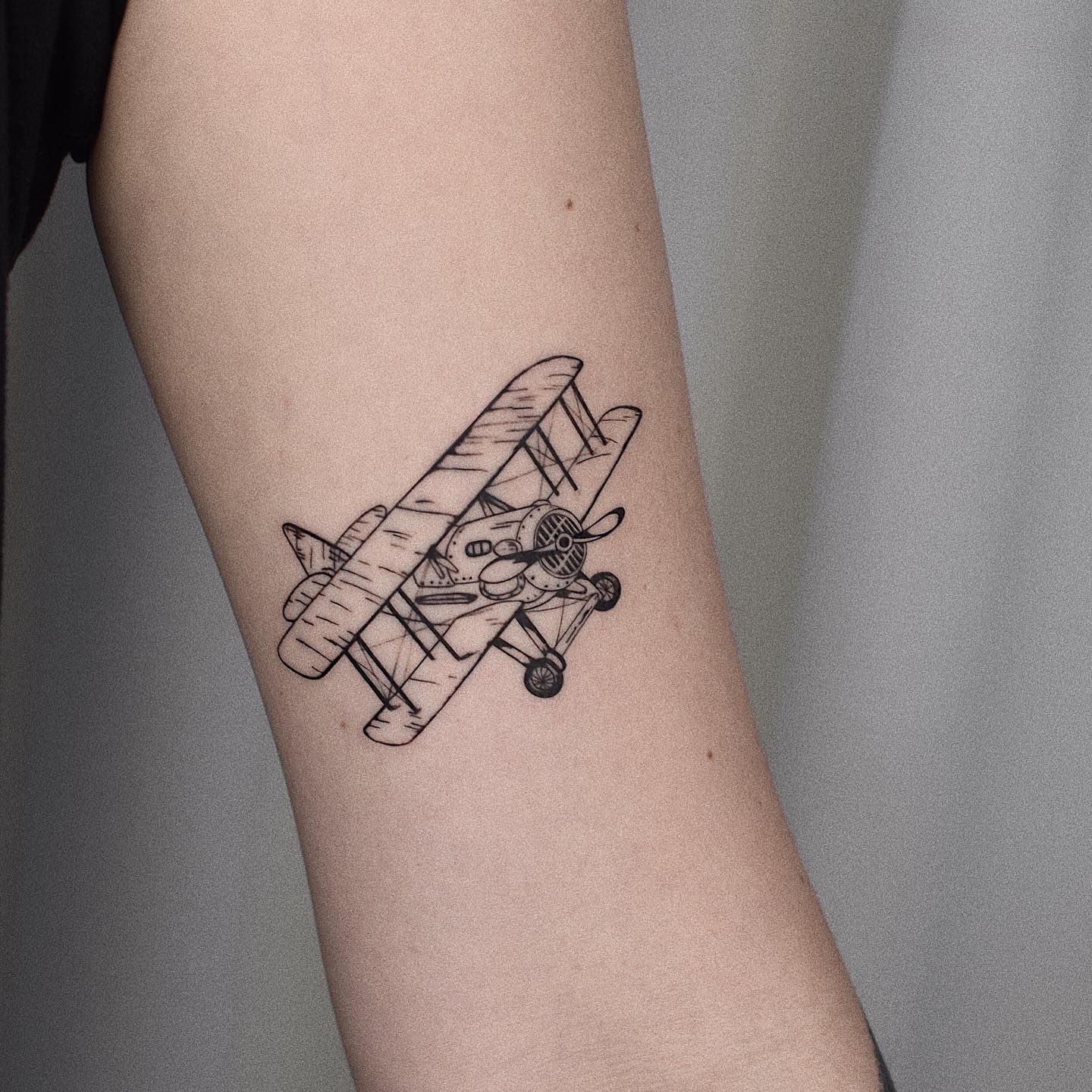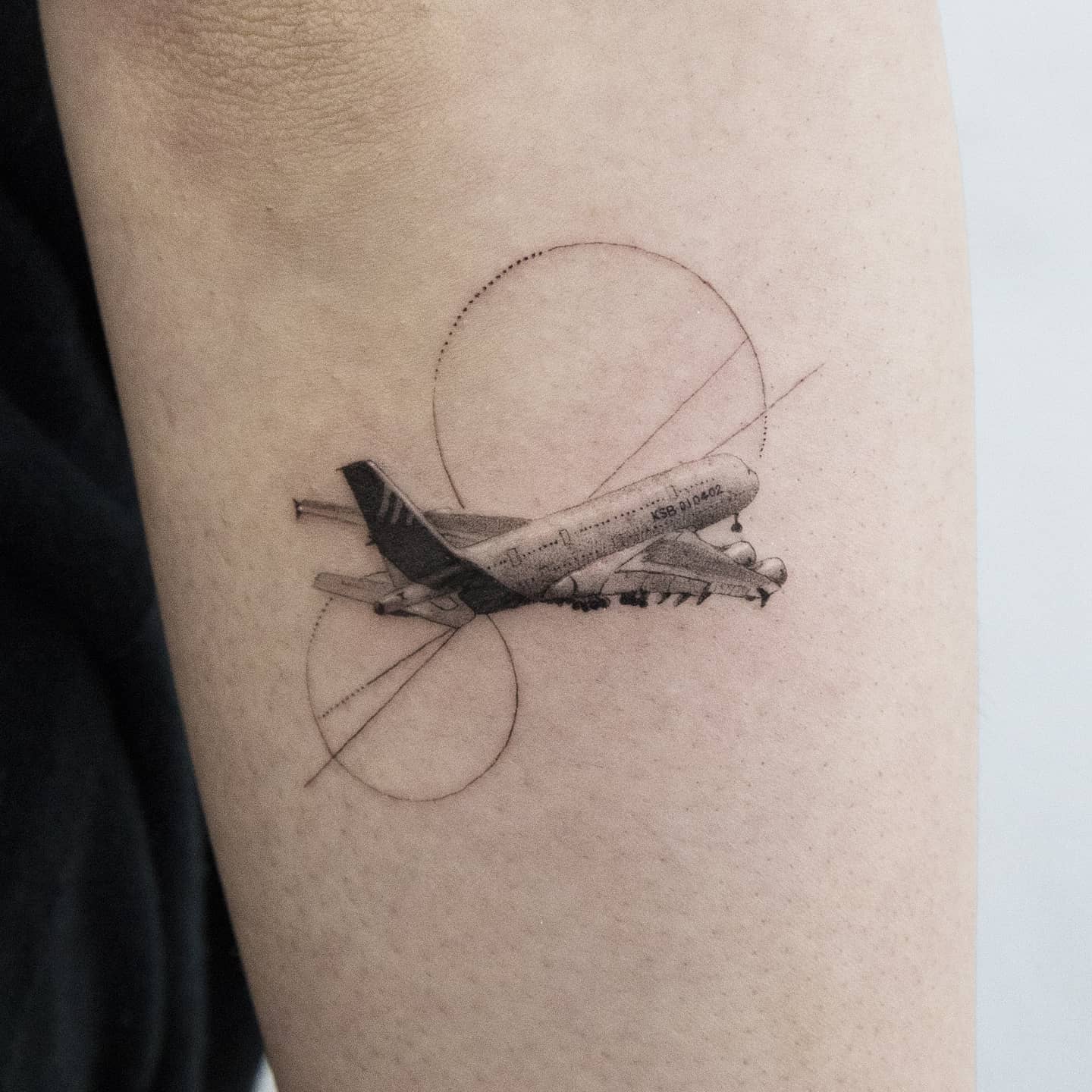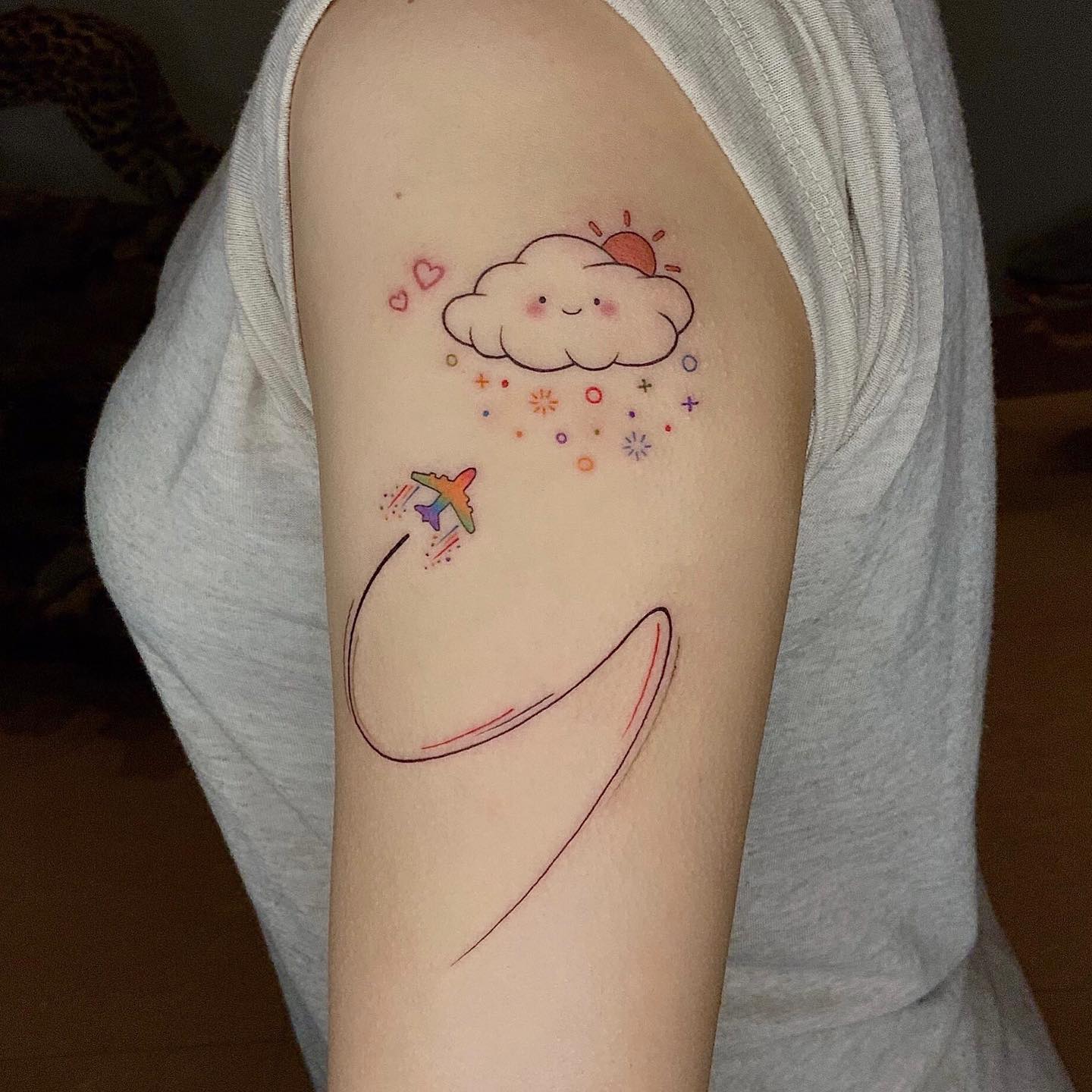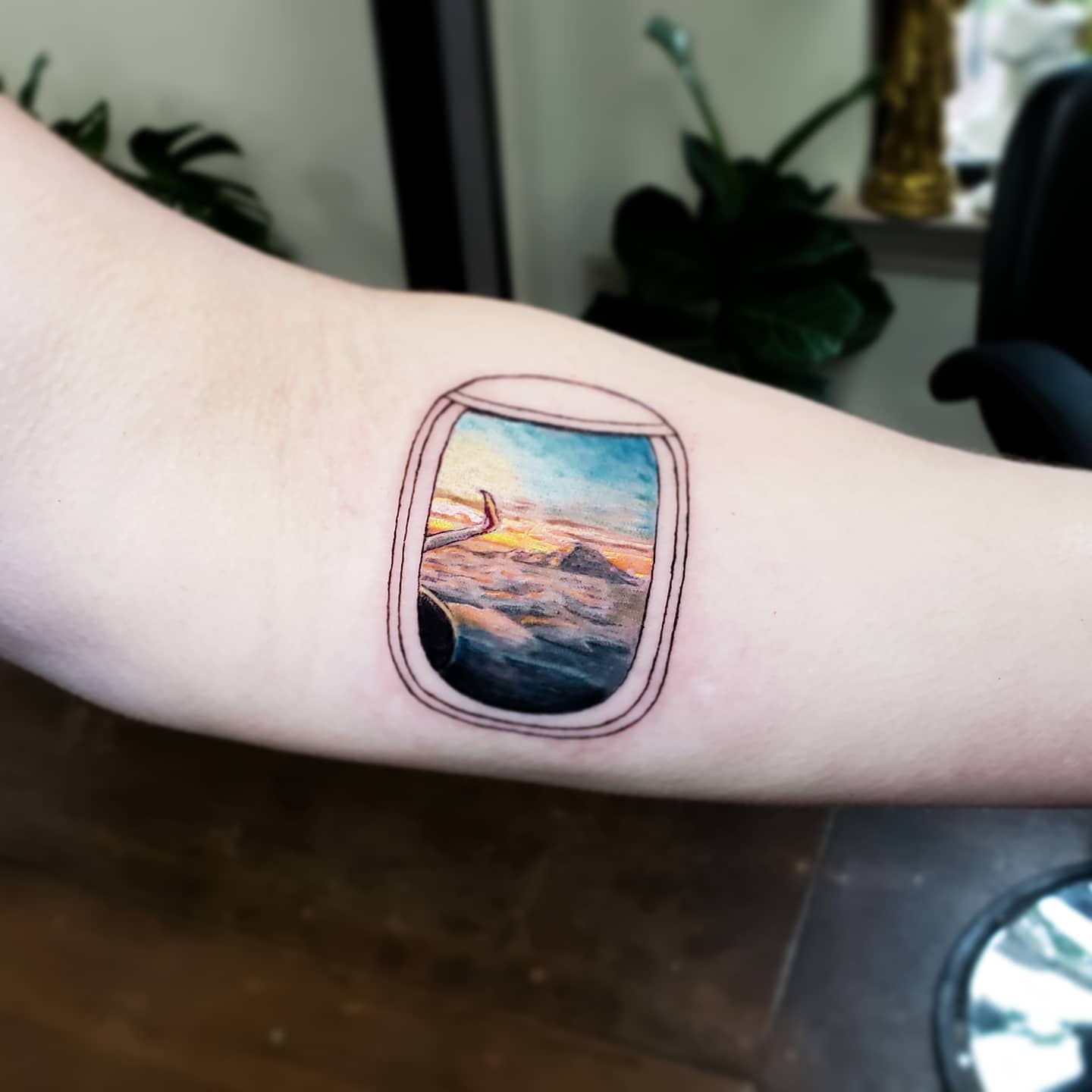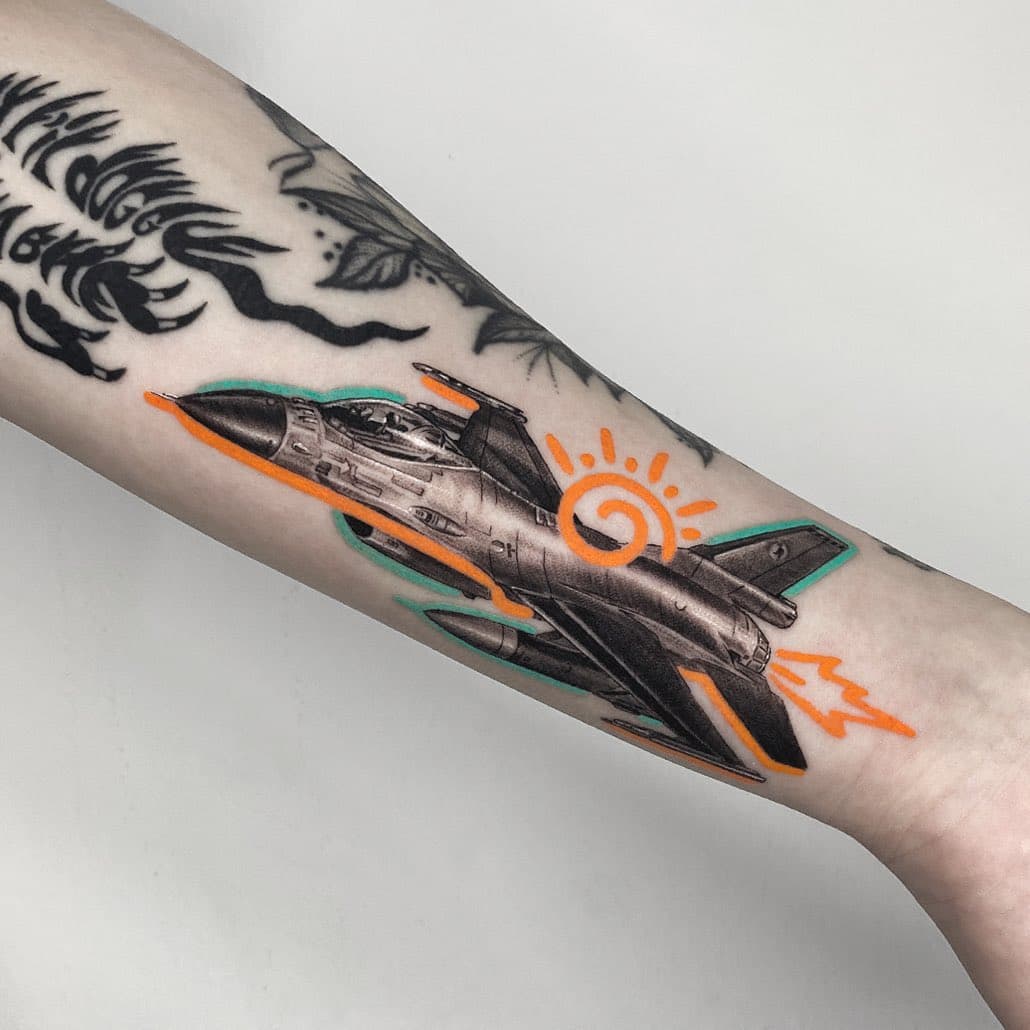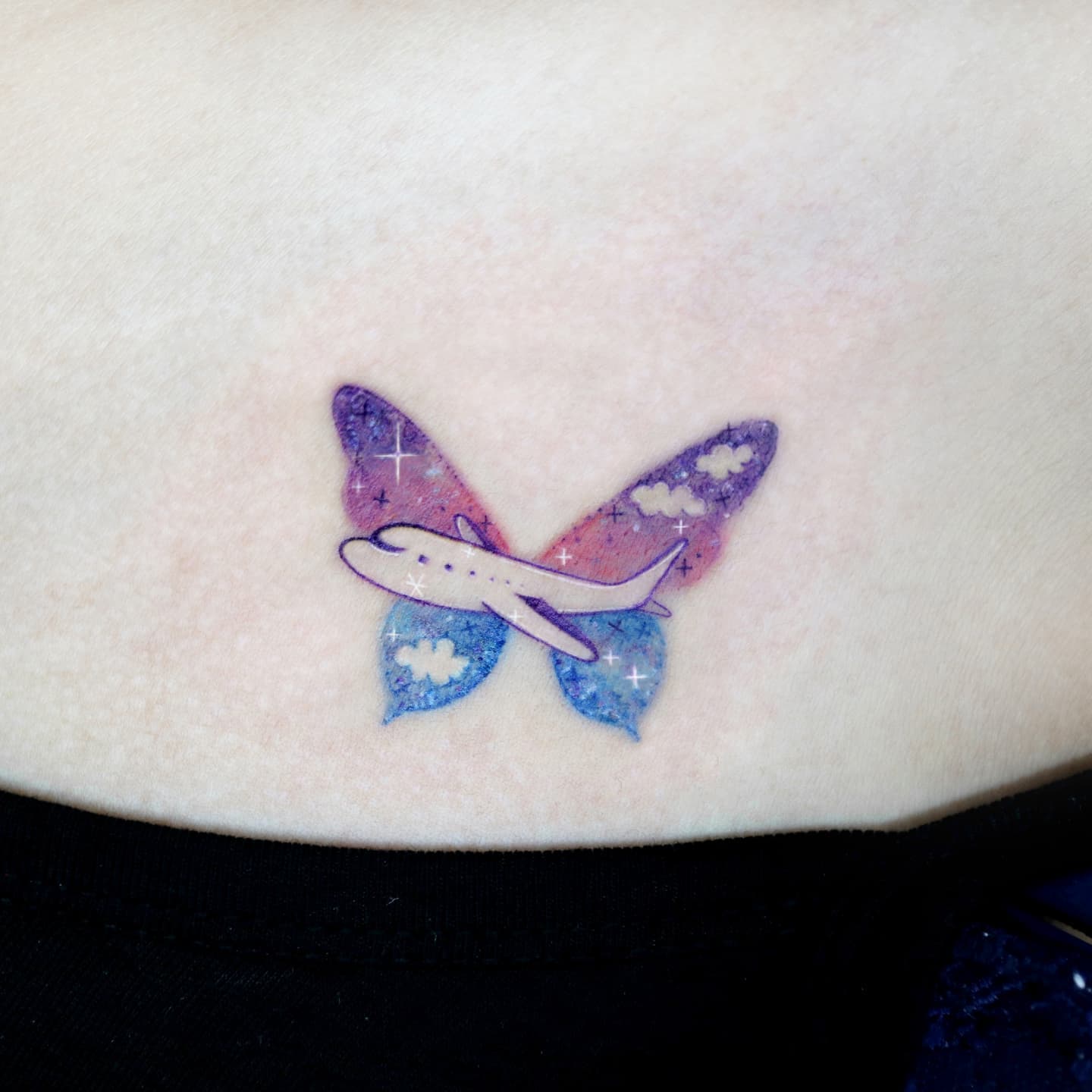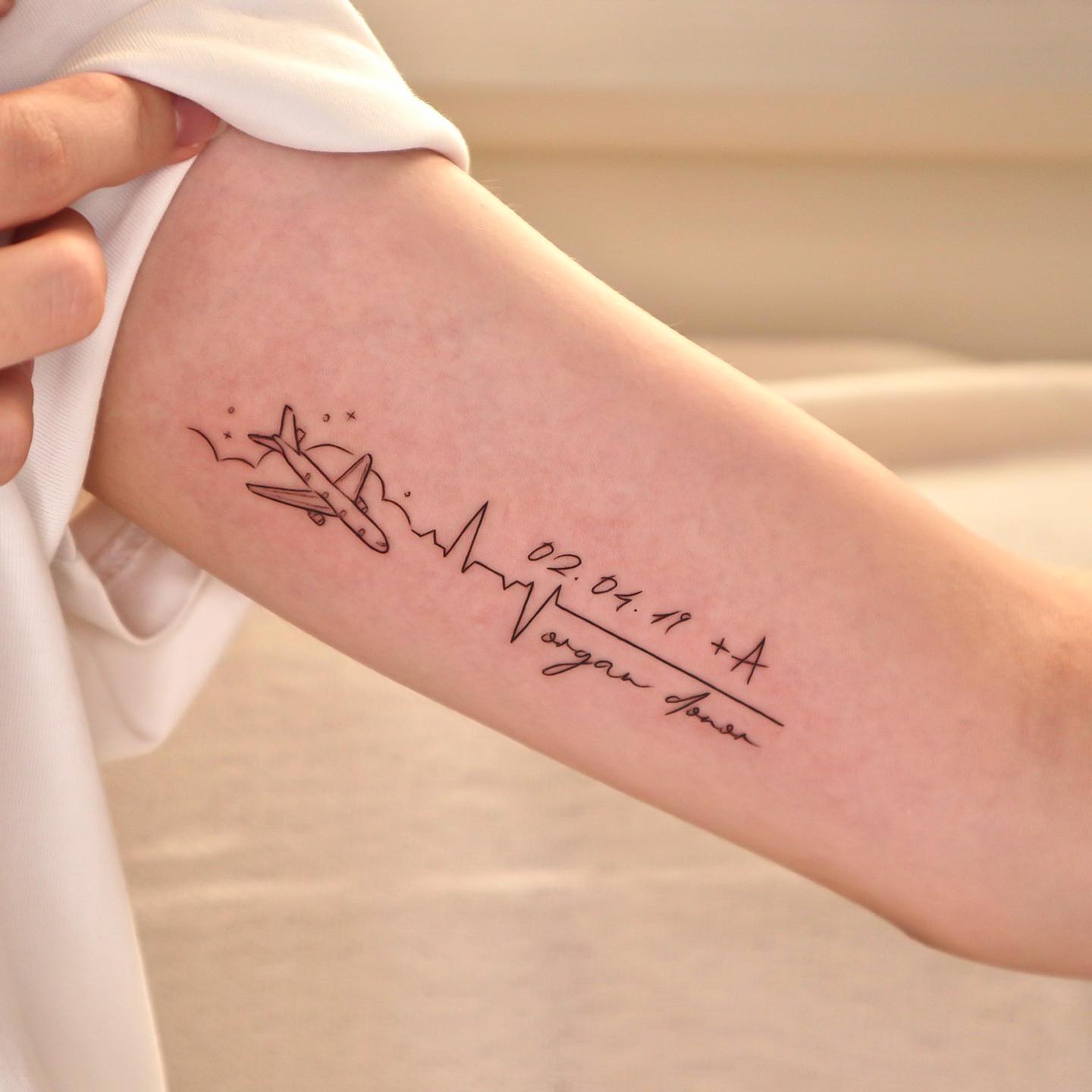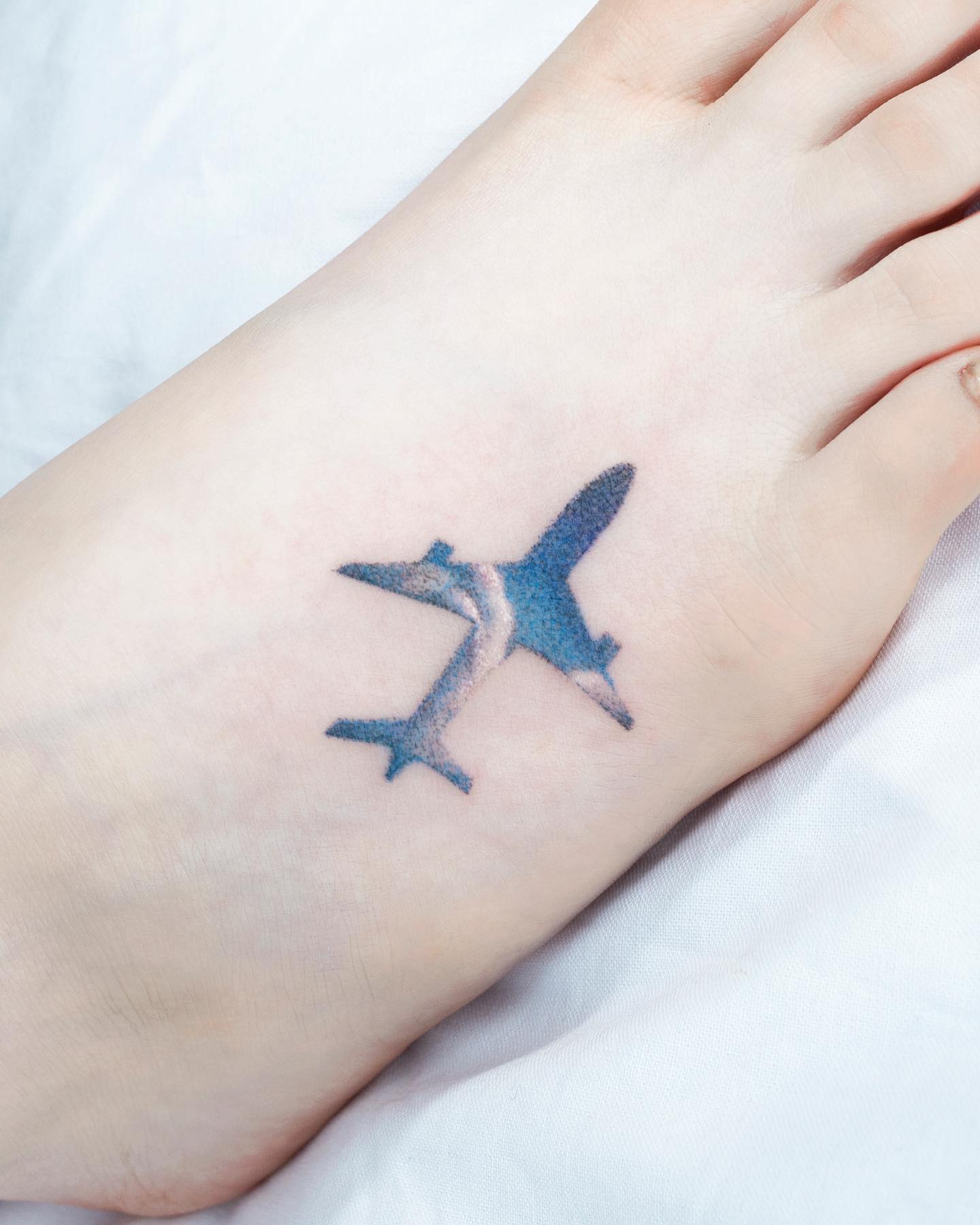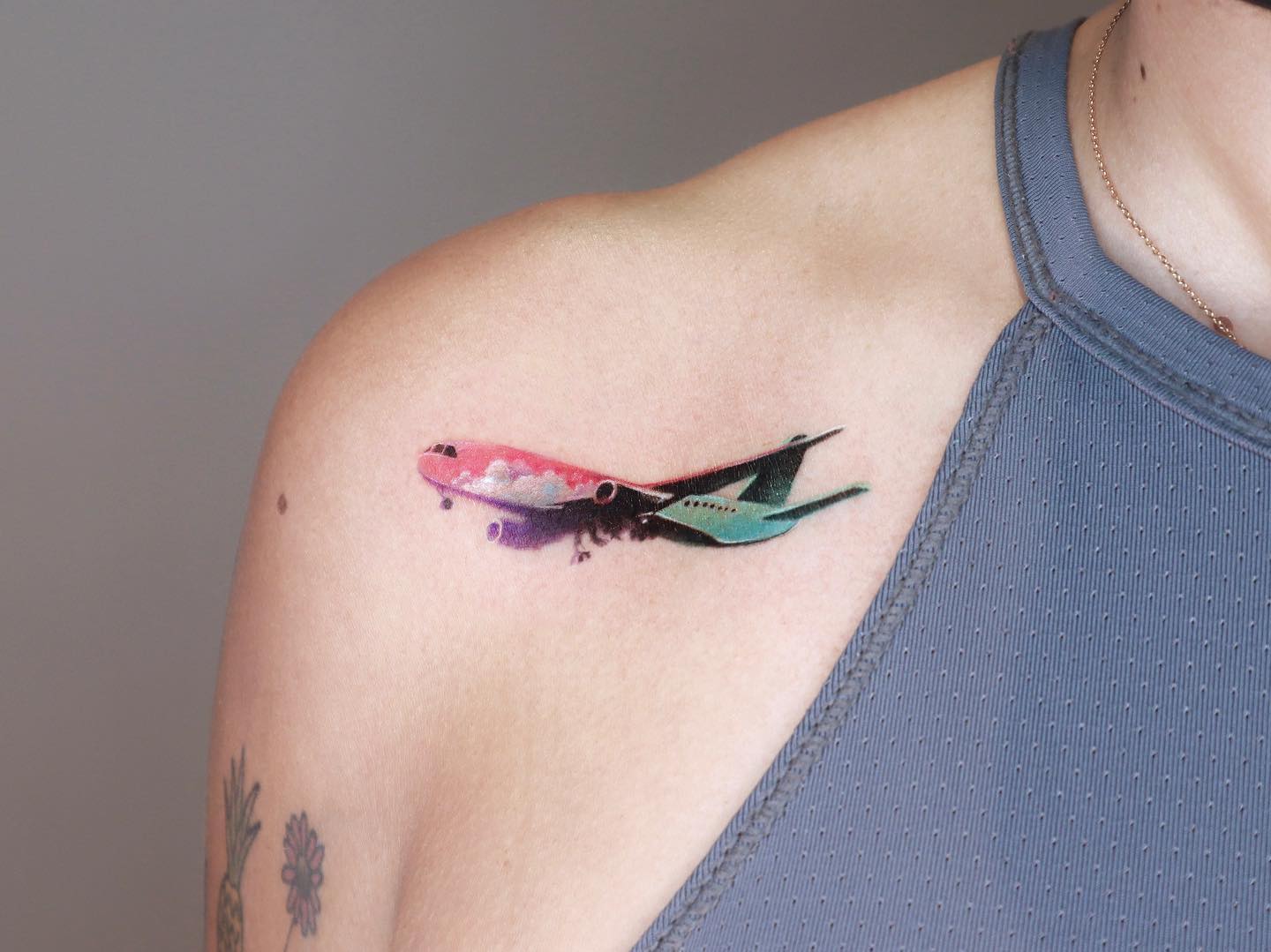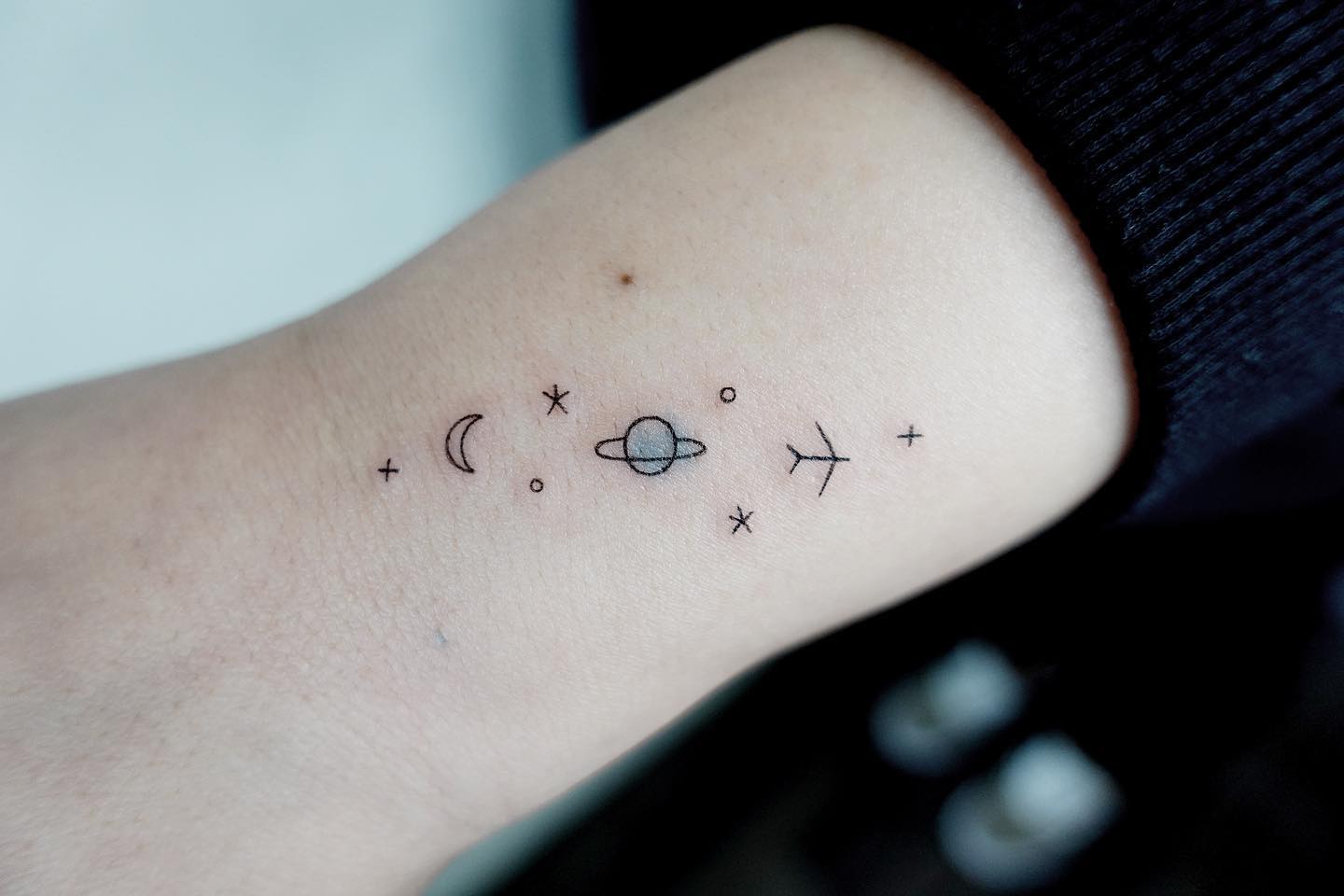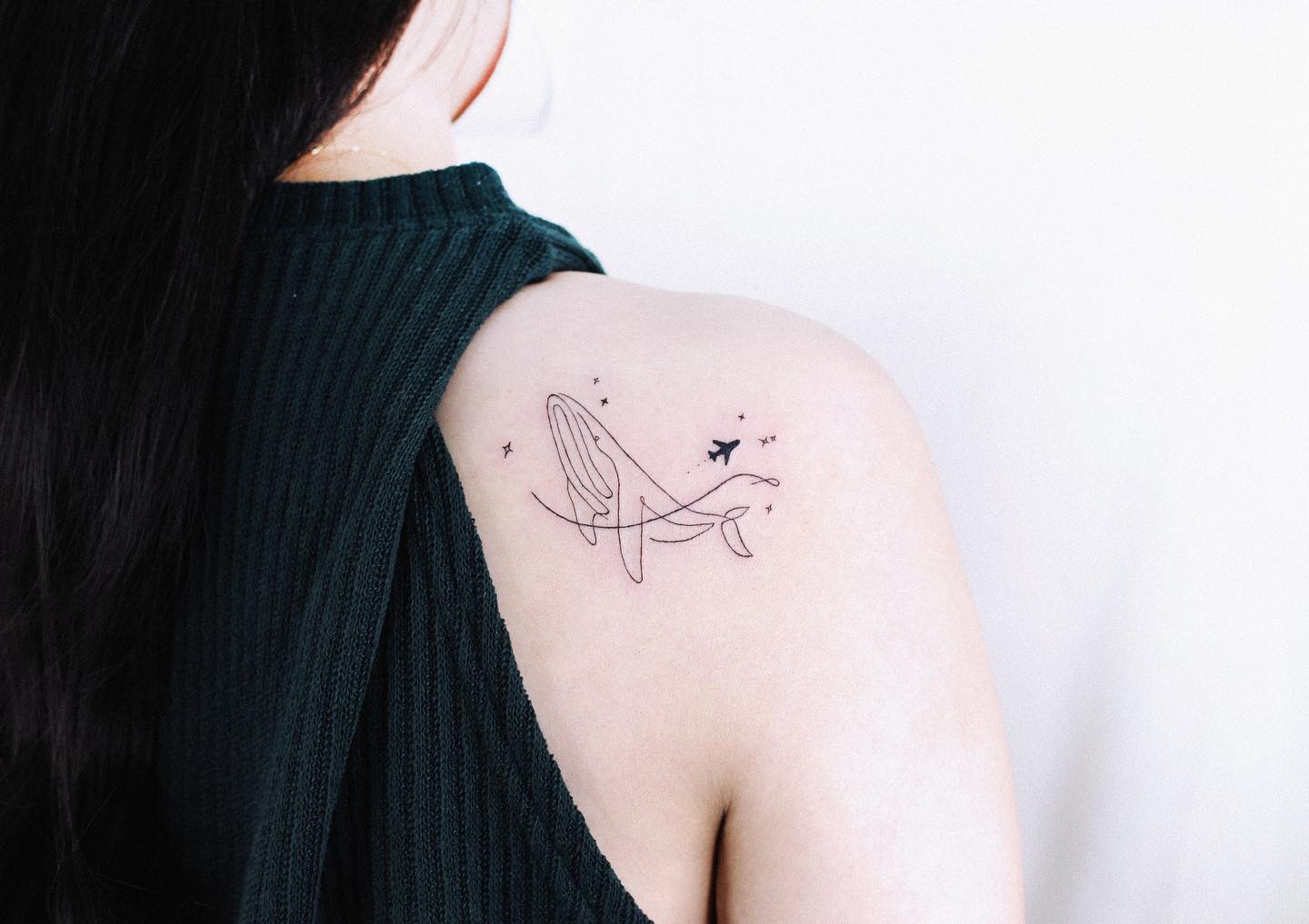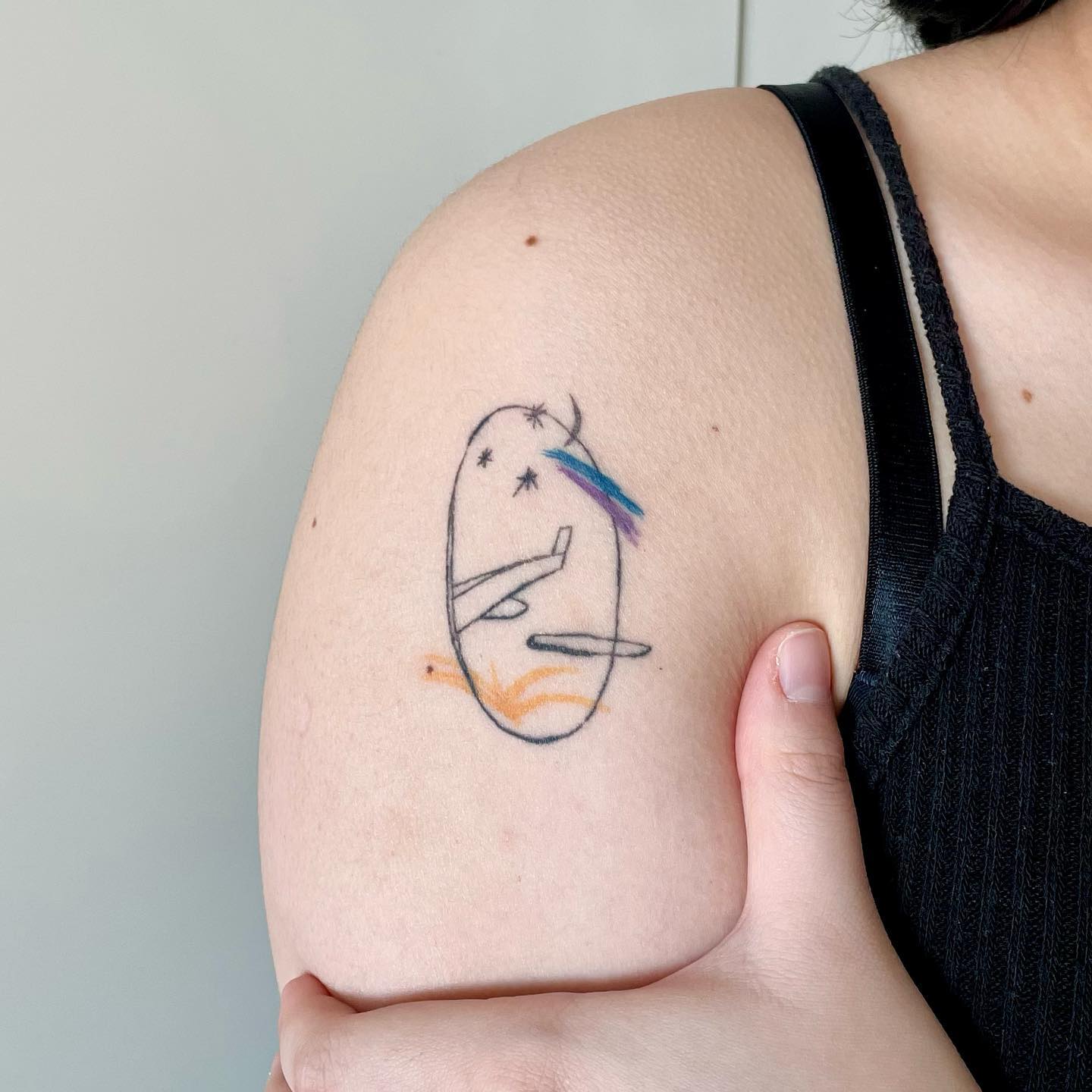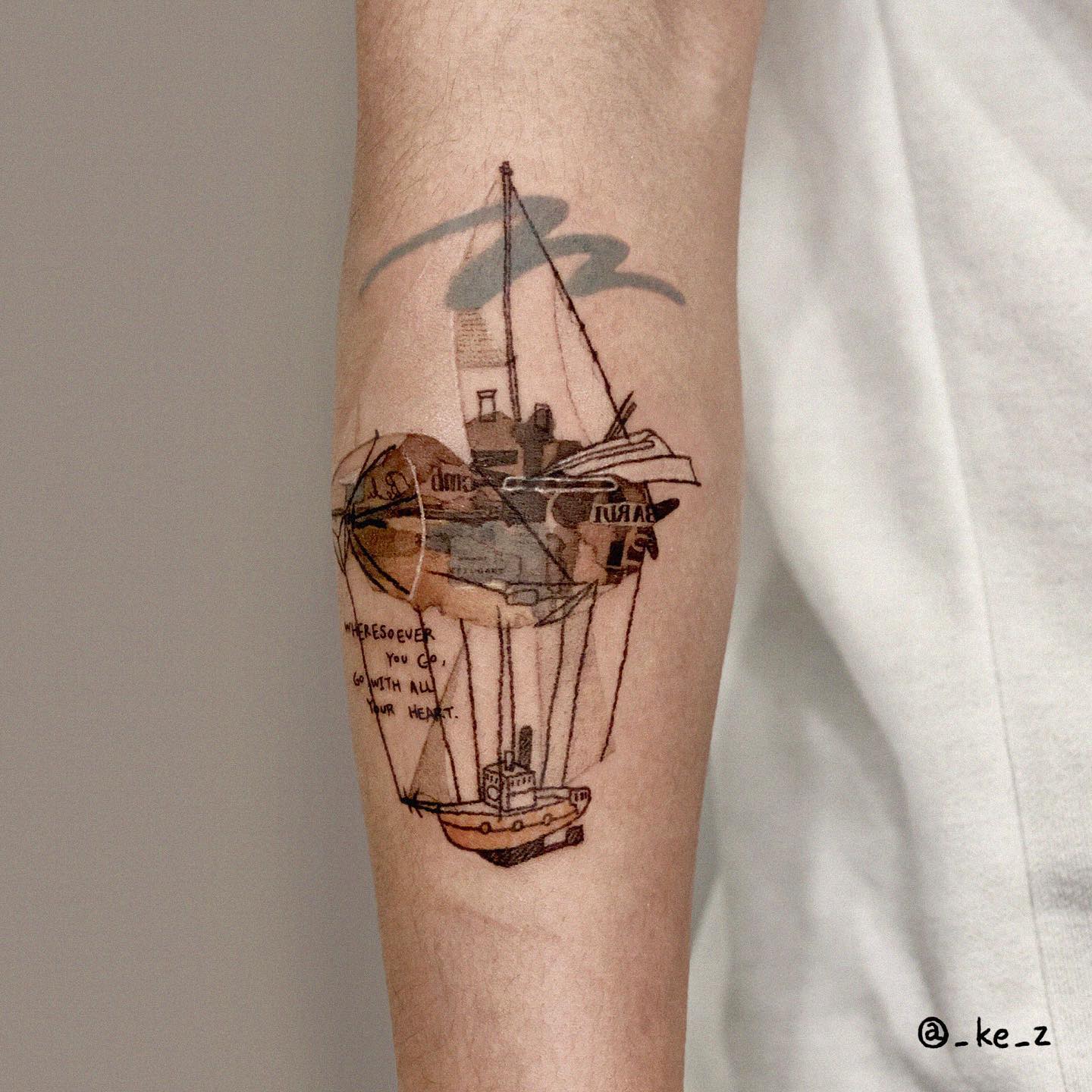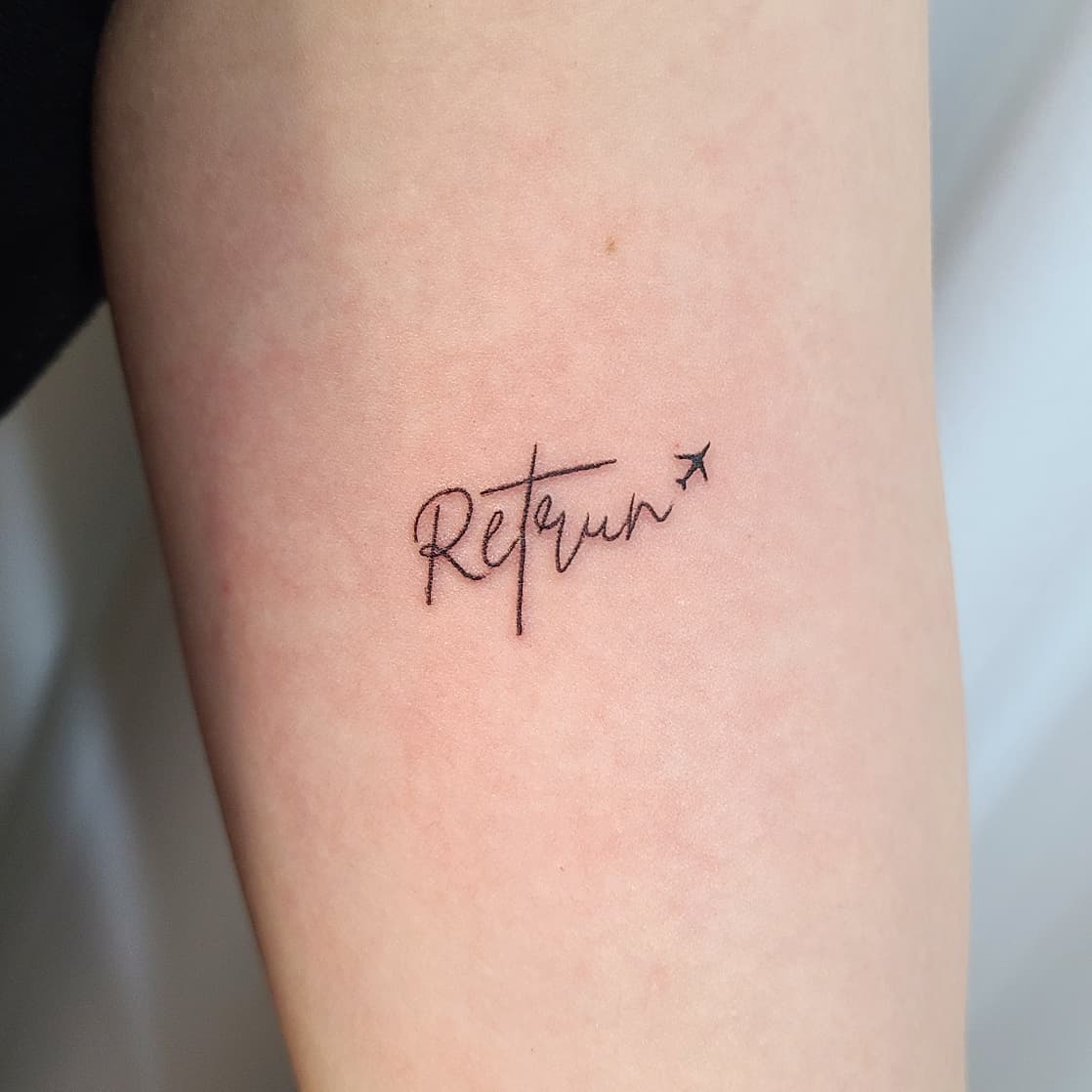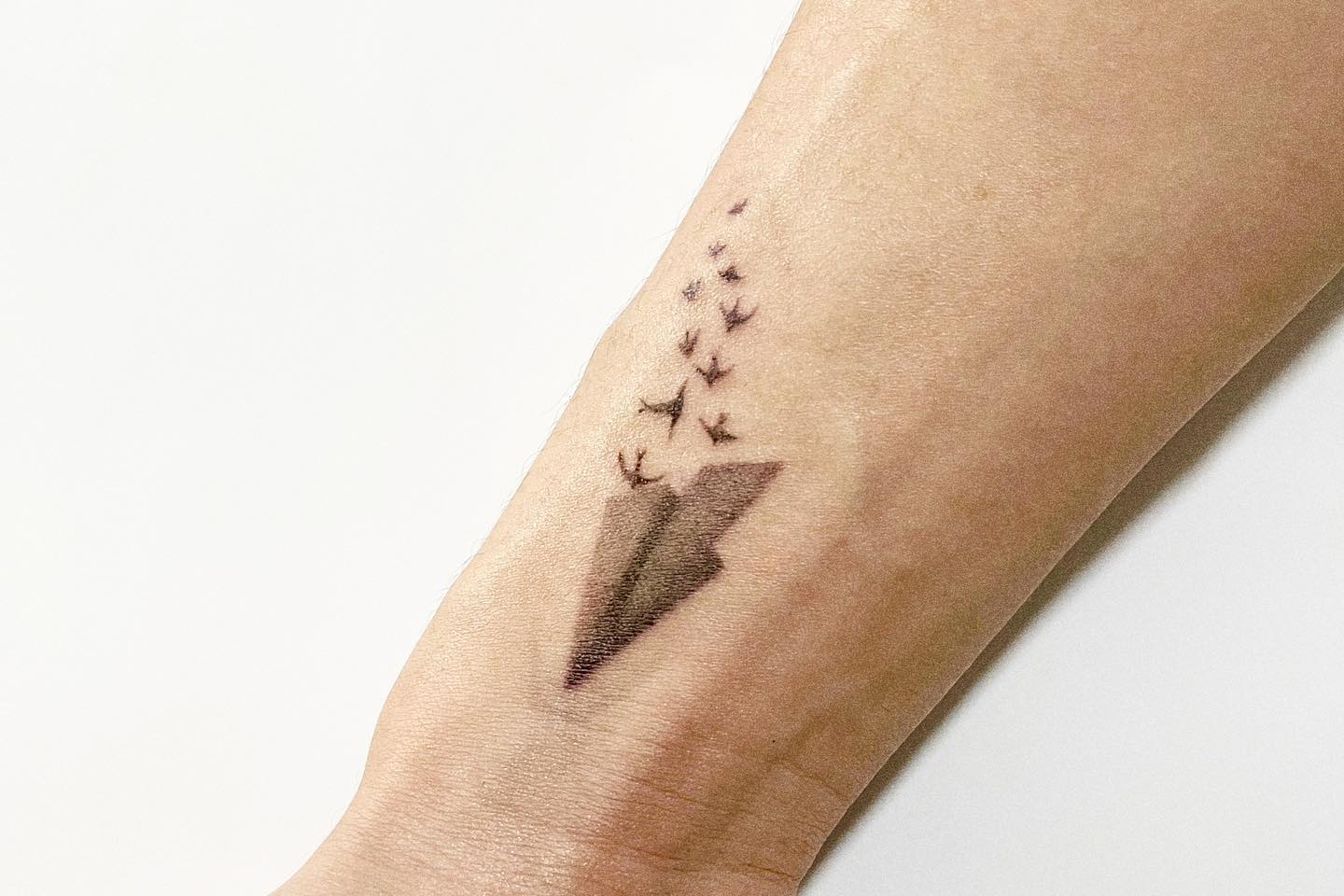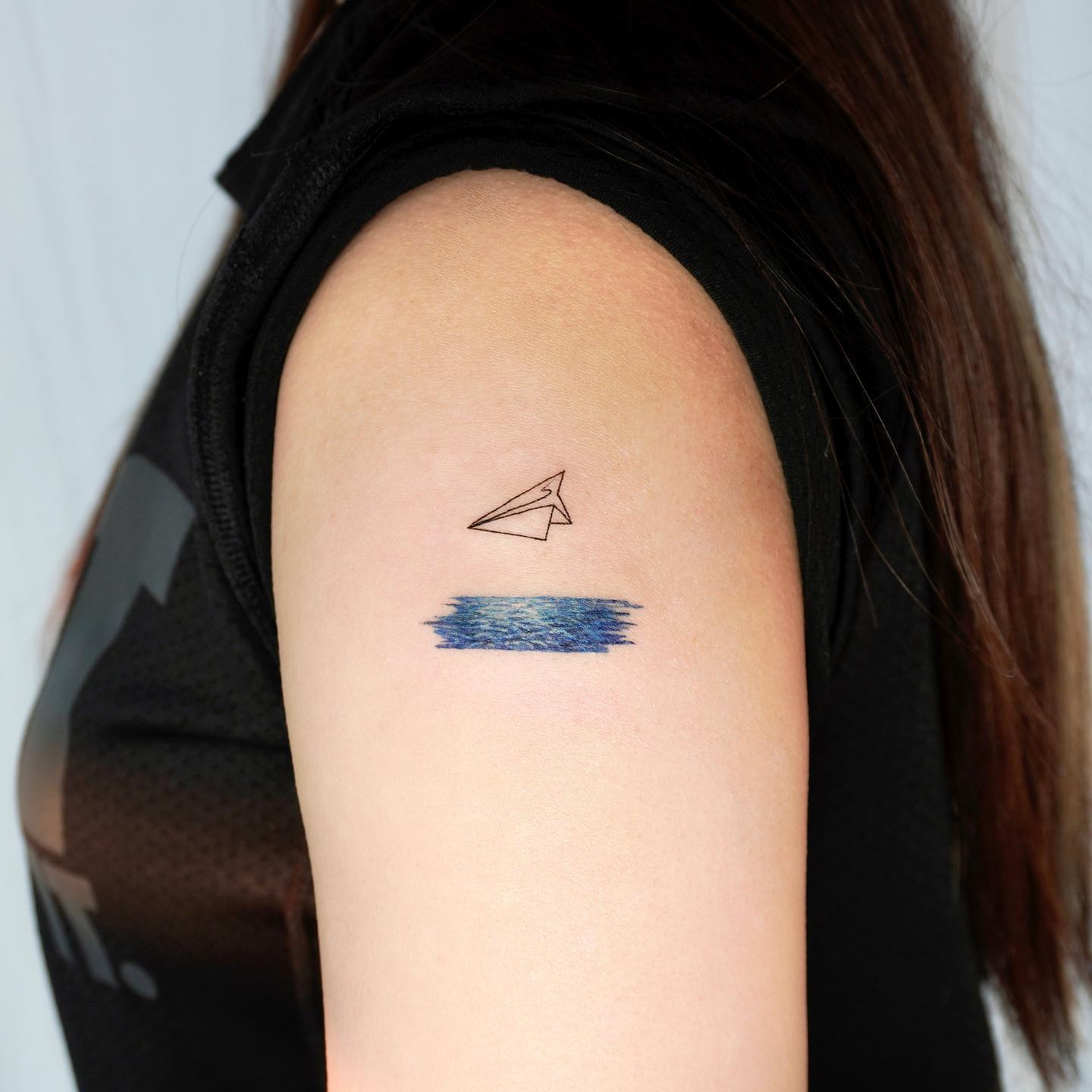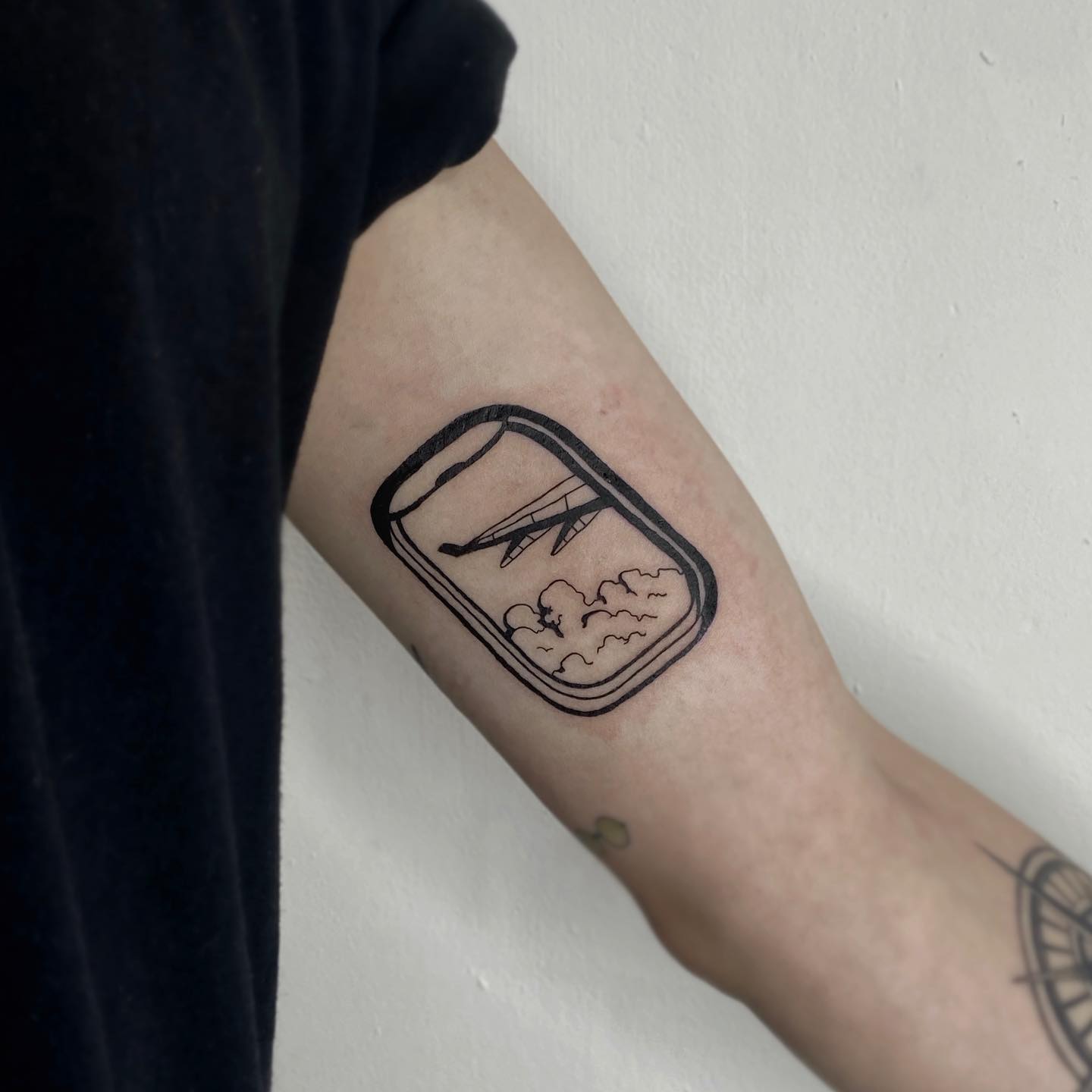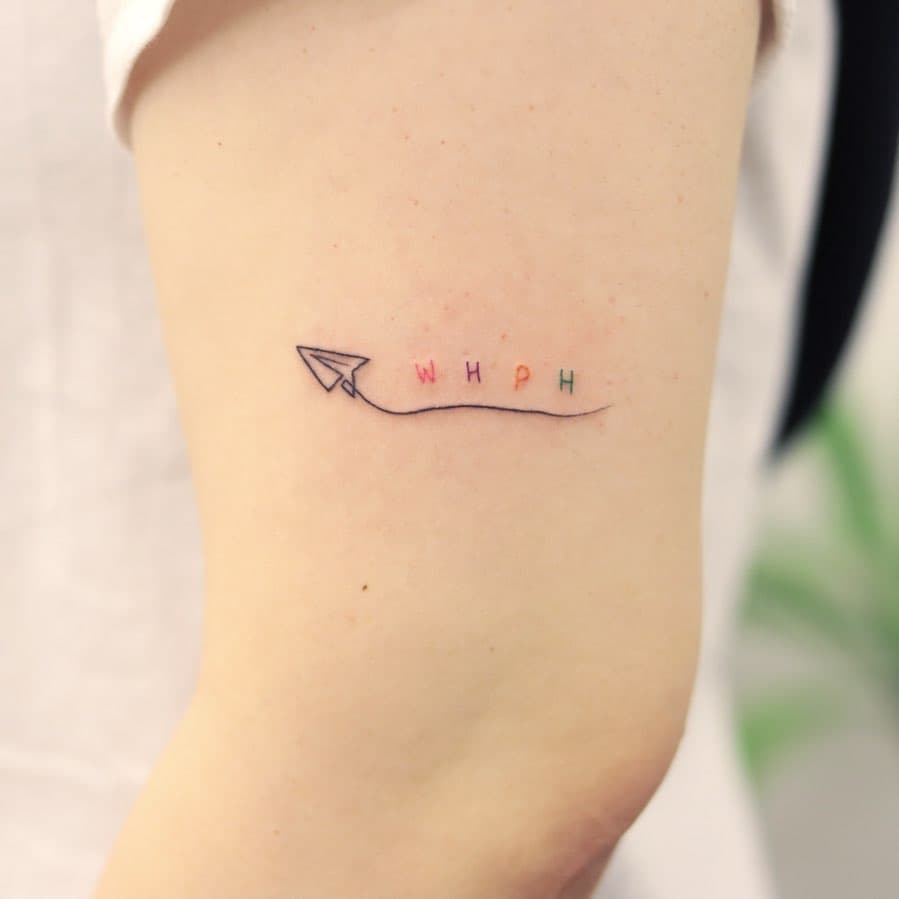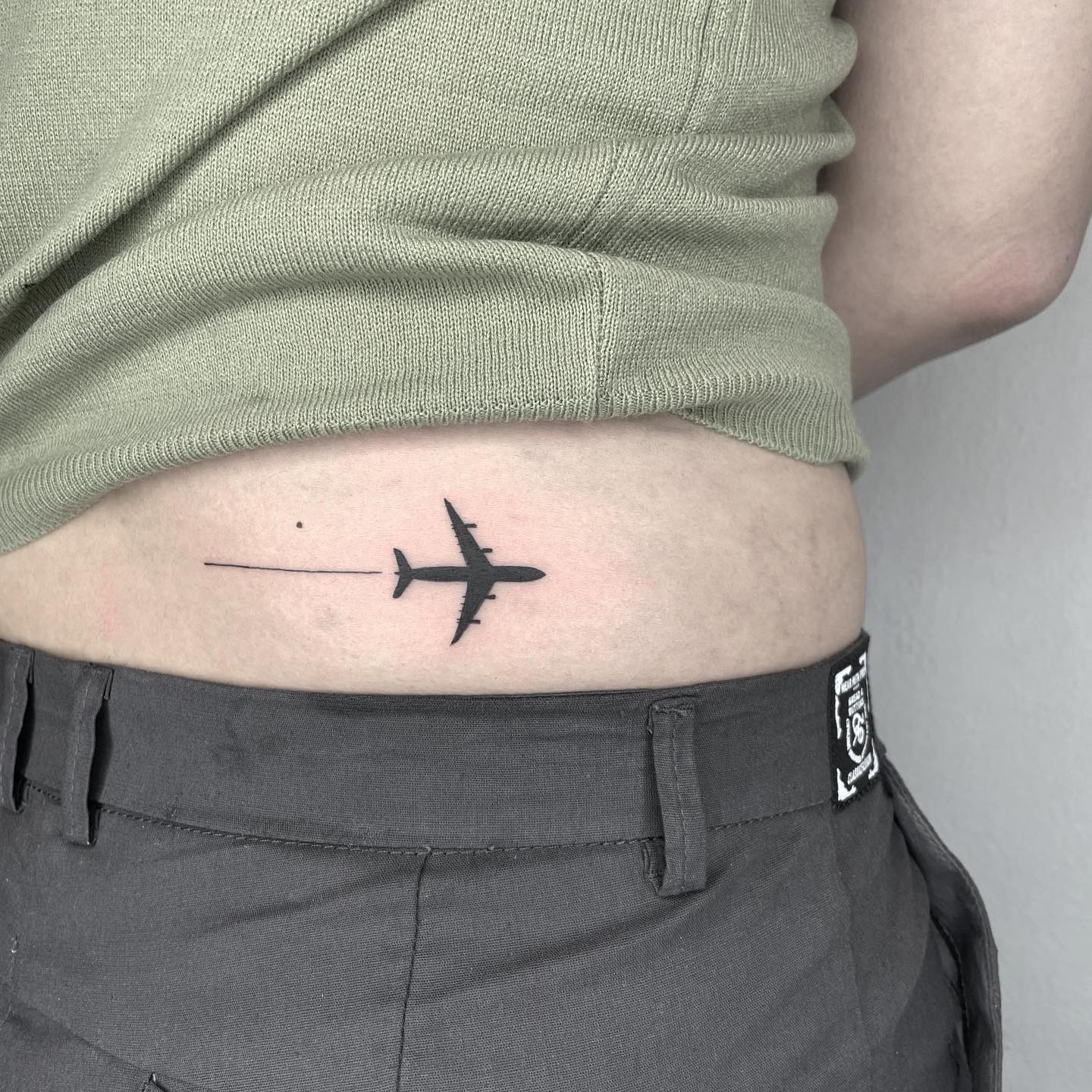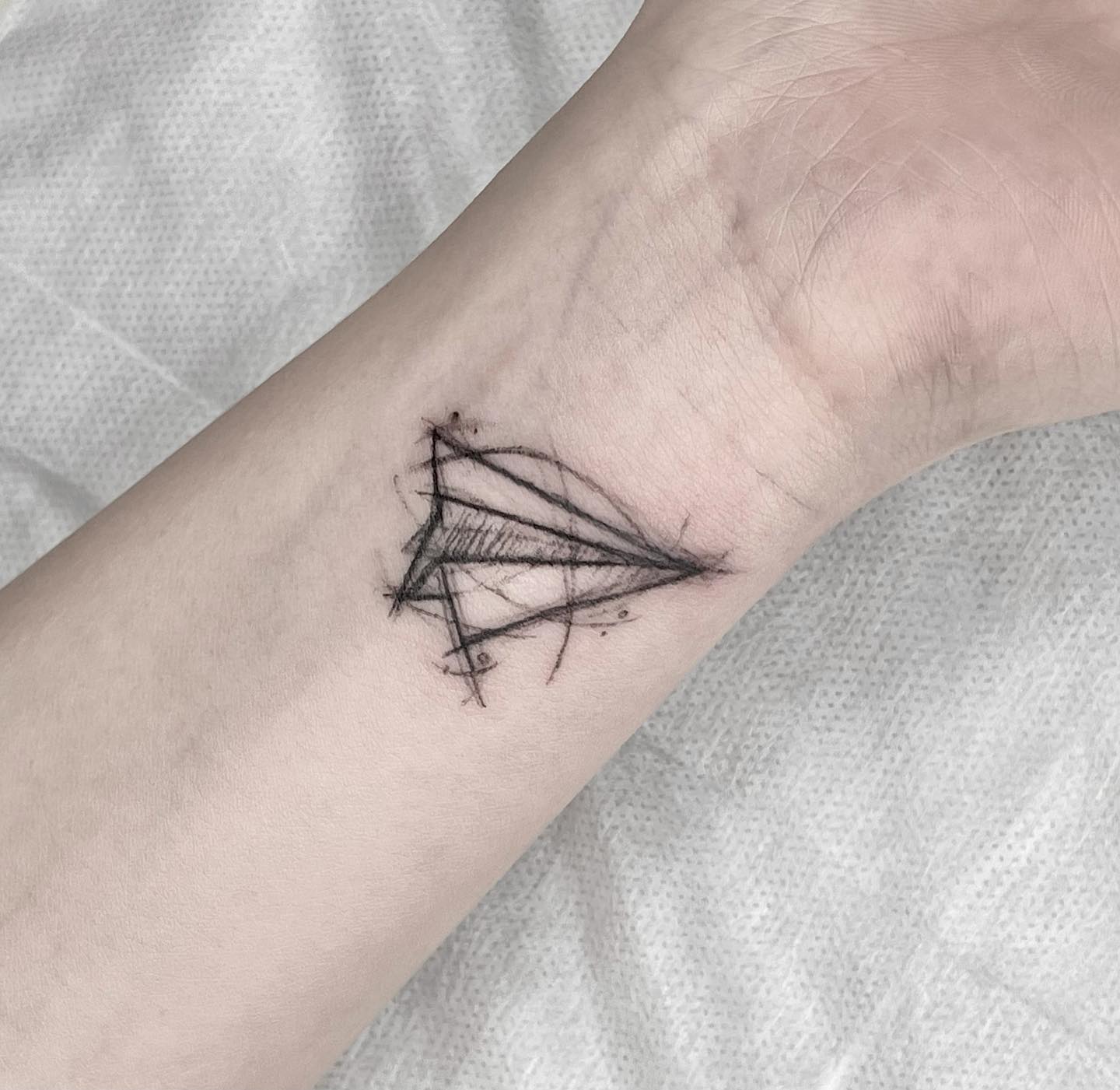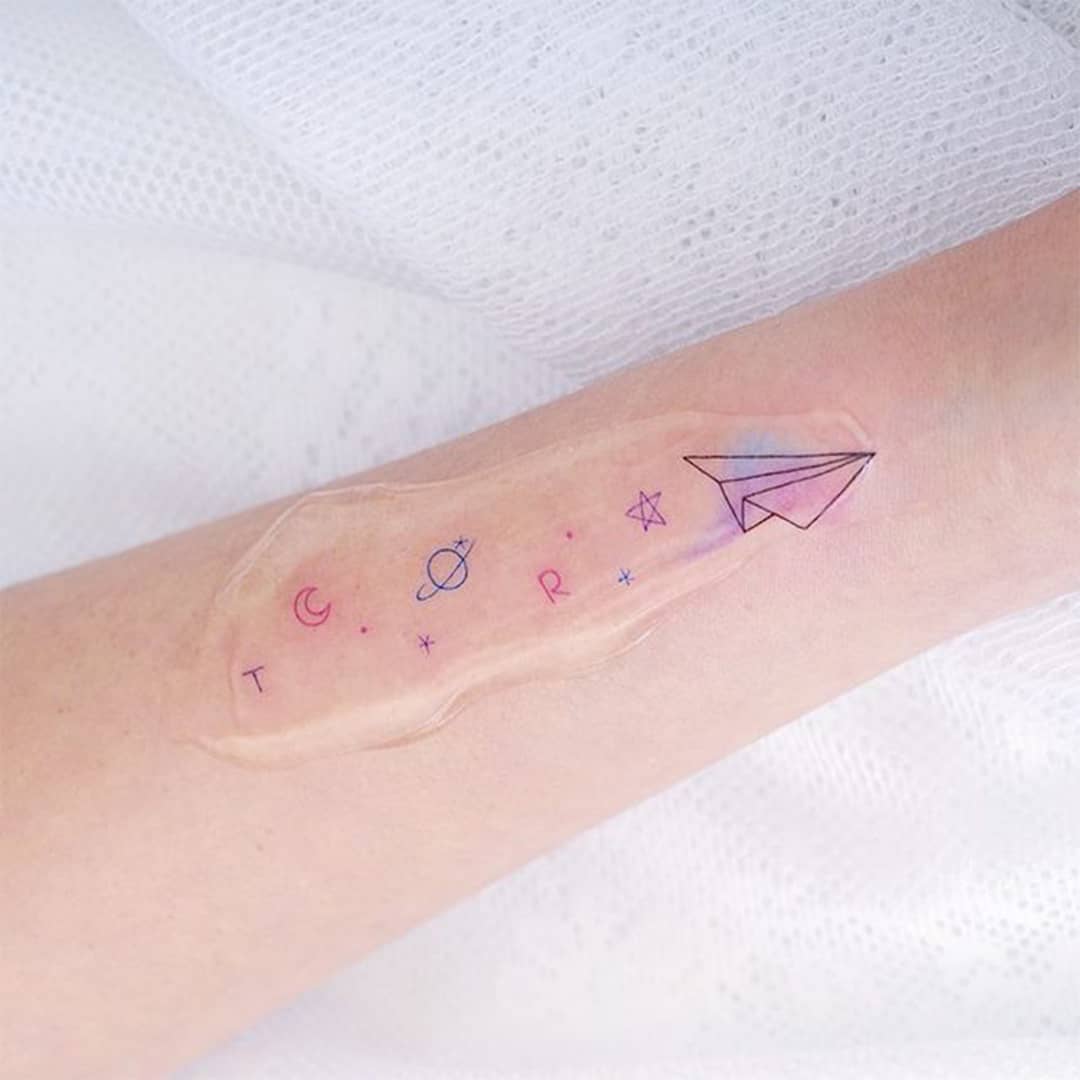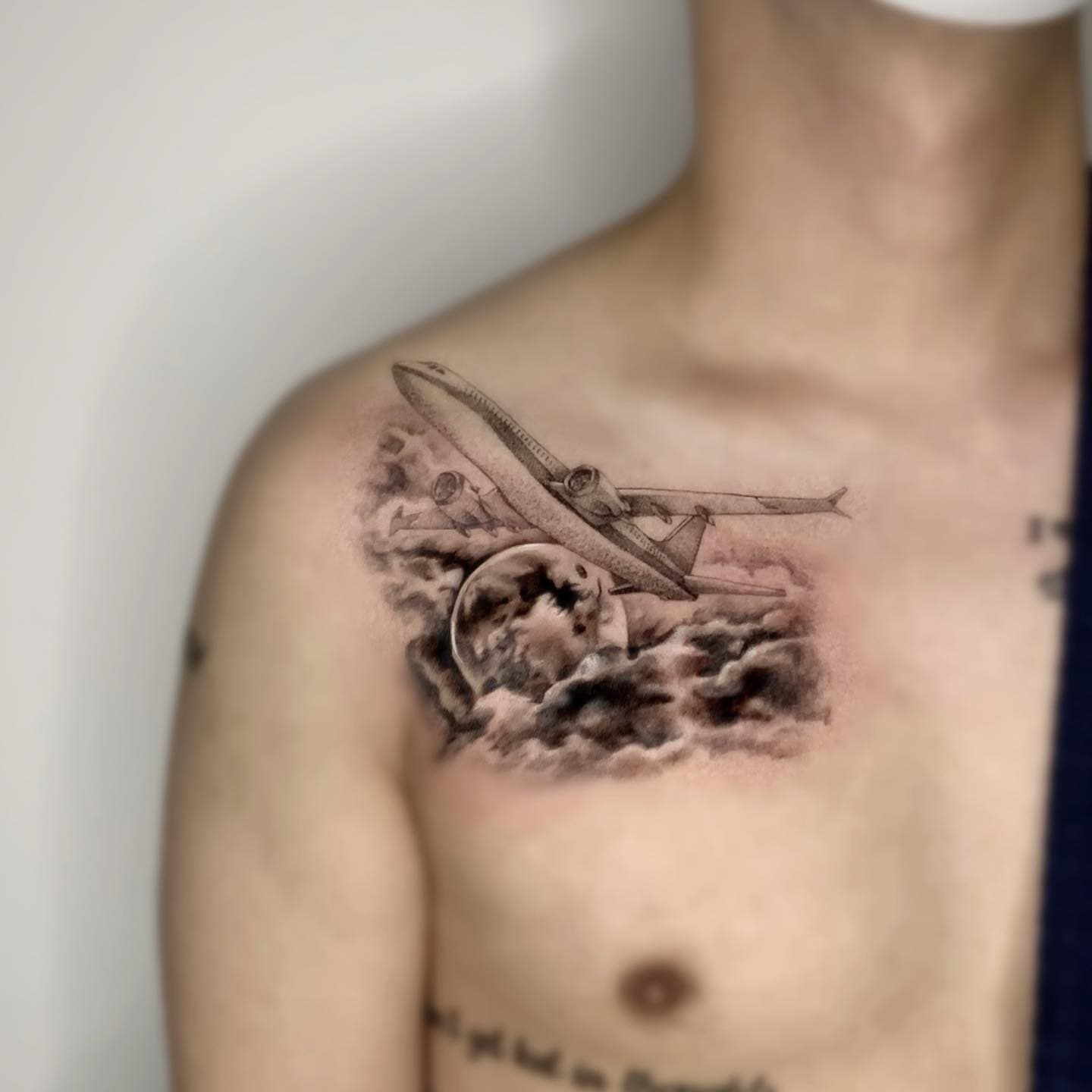 Also Read : How To Sleep With A New Tattoo: 8 Tips From Expert
Are You Prepared for Your Airplane Tattoo?
Are you prepared to take pleasure in your new tattoo? Which one of these designs, in your opinion, is a must-have, and which one did you enjoy the most while wearing it? This list is ideal for both men and women, and it truly has everything!