In comparison to other tattoos, compass tattoos stand out for their singularity, playfulness, and overall distinction. This is because various trajectories and phases of your life might be represented by them. If you're feeling stuck or lost in the present, they can assist you and point you in the appropriate direction to get unstuck.
This article, its variety, and its unique alternatives will appeal to you if you are interested in discovering and looking at a variety of compass tattoos (specifically, 30 of them). Find a compass tattoo concept that suits you below; these suggestions are good for both men and women.
15 Different Designs for a Compass Tattoo
1. Compass Tattoo Design Black & White Print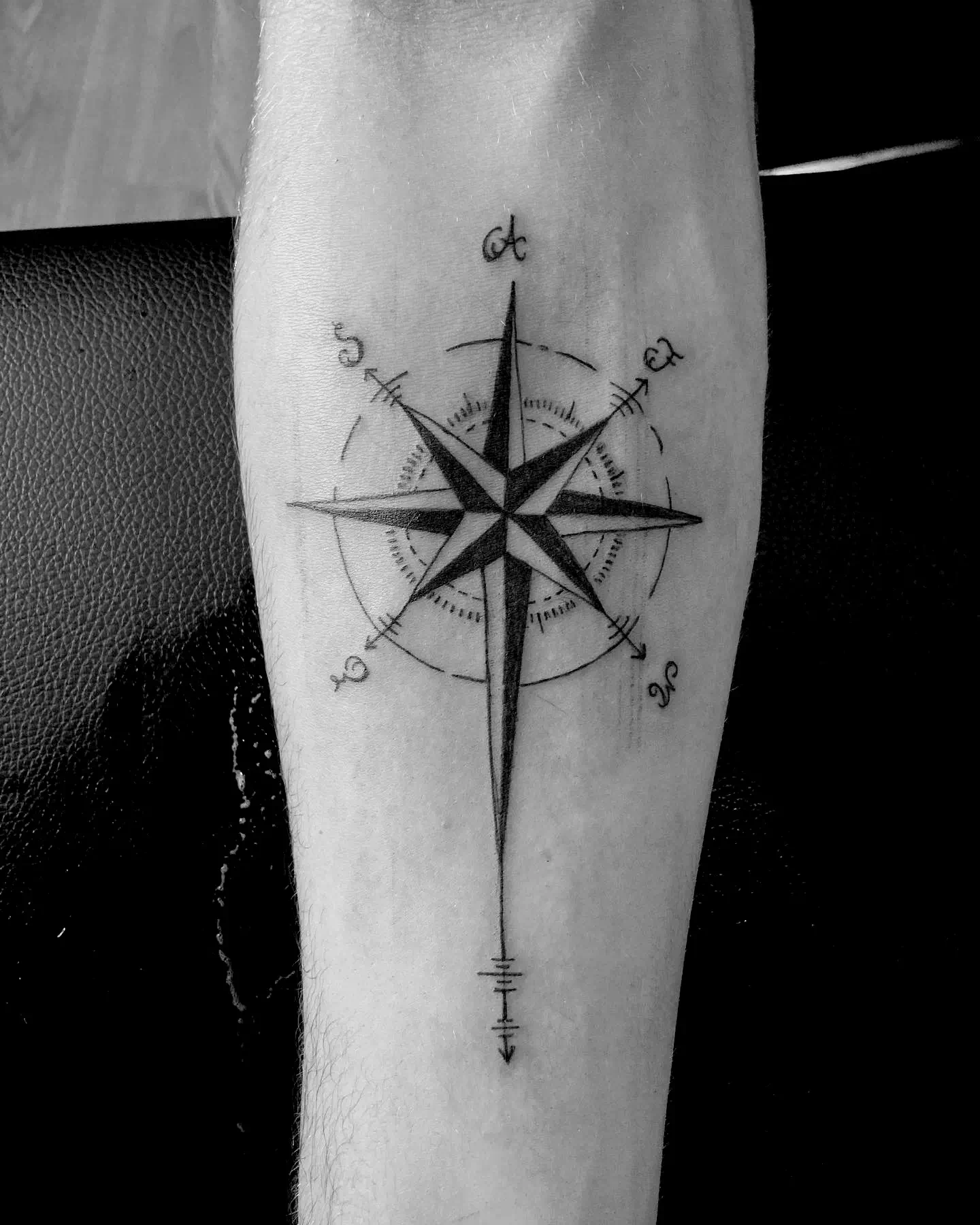 People who want something magnificent and dramatic, like this one, should get a large tattoo like this one. It is a design that takes a lot of time, so ensure you are prepared.
This tattoo is meant to reflect steadfastness and consistency in one's goals. This is the place to be if you do not know how to face new challenges and are yearning for something enormous and beautiful.
2. Compass Tattoo Ideas Over Arm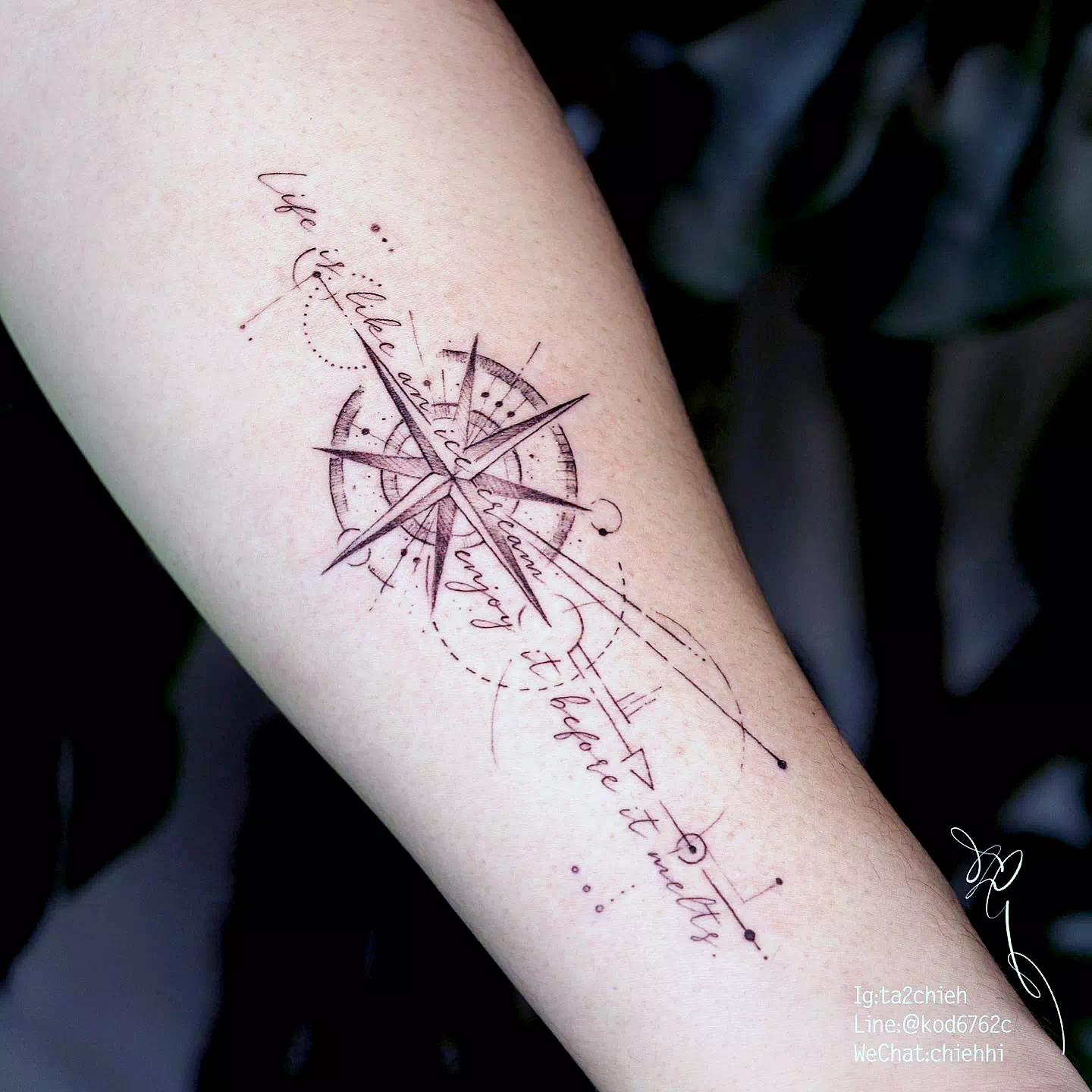 Those who prefer to capture and grab people's attention should have this tattoo on their arms or forearms. It features a subtle hue. Use this compass to show how much you like both traditional and unusual ways of thinking.
It will serve as a sign of both your desire to change and your new direction. Stay committed to getting this tattoo if you are prepared to take on a new task; time is important.
3. Compass Tattoo On Hand & Shoulder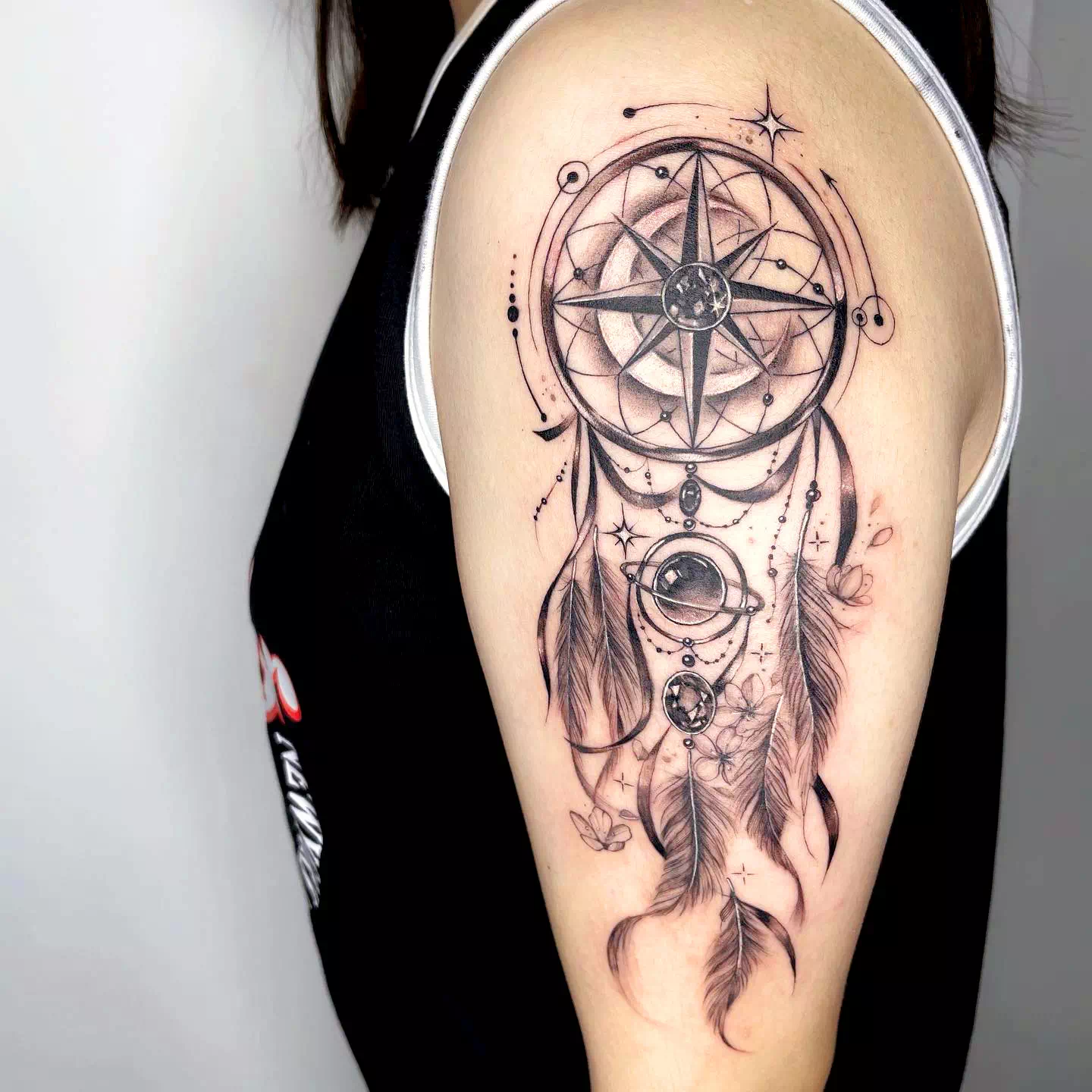 Getting a tattoo that covers your forearm and shoulder like this is a wonderful design to consider if you want to project an image of strength and glory.
This Viking compass tattoo is for anyone who sees themselves as a Viking or a warrior but can also manage and pull through any scenario that may arise at any given moment.
An interesting tidbit is that the compass was first developed in ancient China.
4. Compass Watercolor Tattoo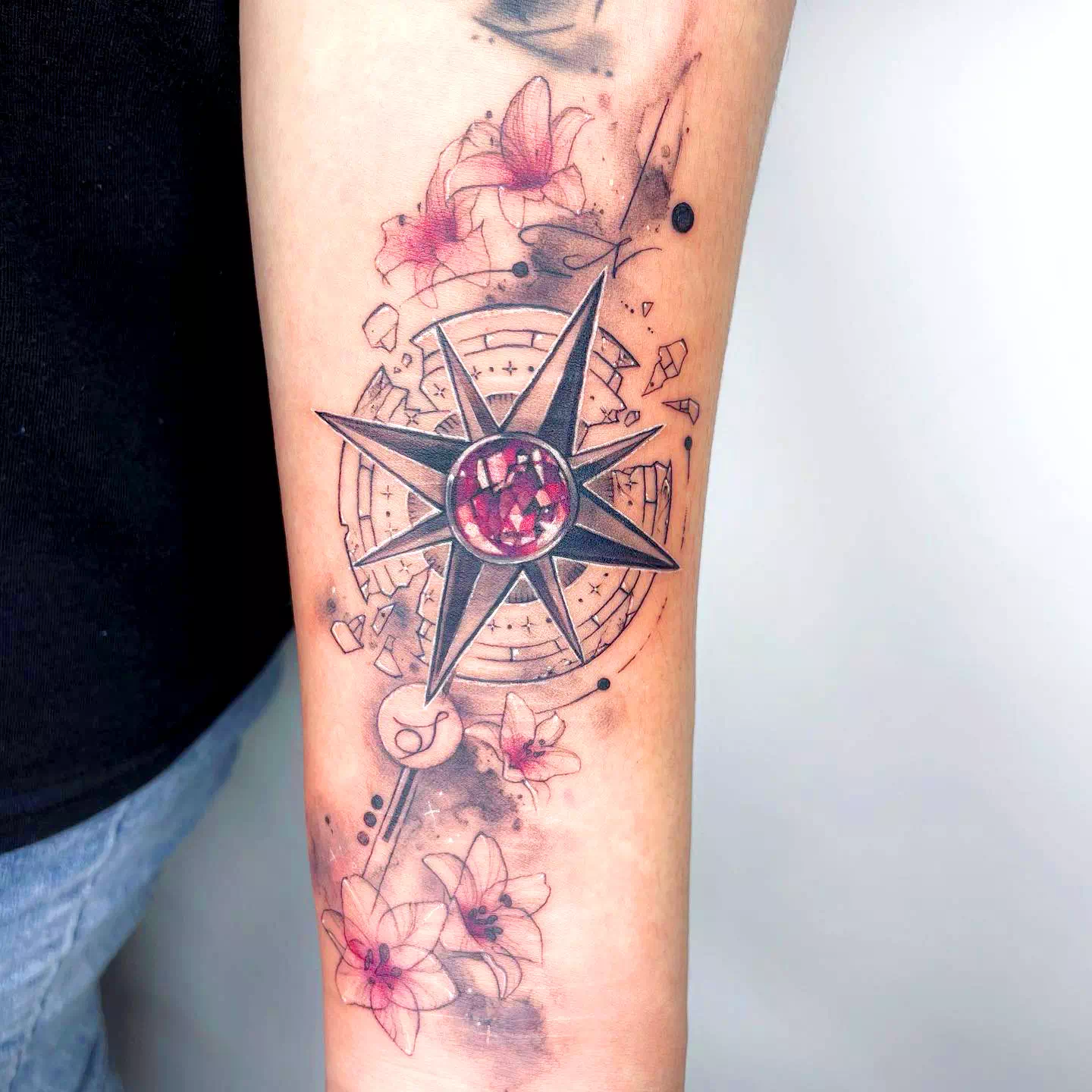 This one is for you if you're a fan of color, especially if you like watercolor splashes or images that really pack a punch.
The watercolor reflects both your eccentric personality and your capacity to quickly adapt and change in response to changing circumstances. Your dynamic and ever-evolving personality will be represented by a compass.
5. Compass Tattoo Forearm Colorful Idea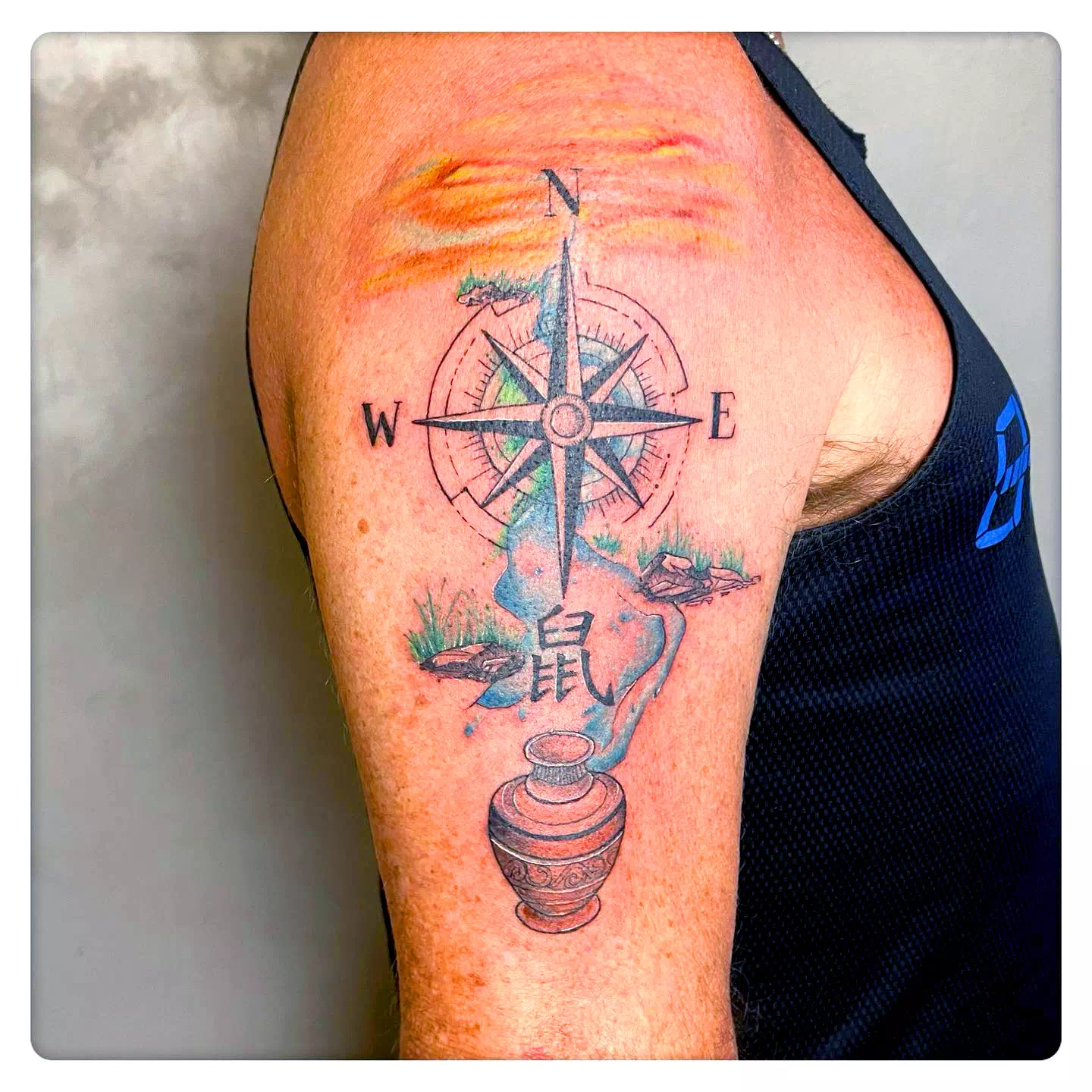 Another watercolor splatter that exemplifies your dogged determination and your carefree nature is shown here. It will take five to eight hours to complete this tattoo.
This beautiful combination of colors will show how your mood can change at any time and how it can adapt to new situations as you grow up.
6. Compass Watercolor Tattoo Colorful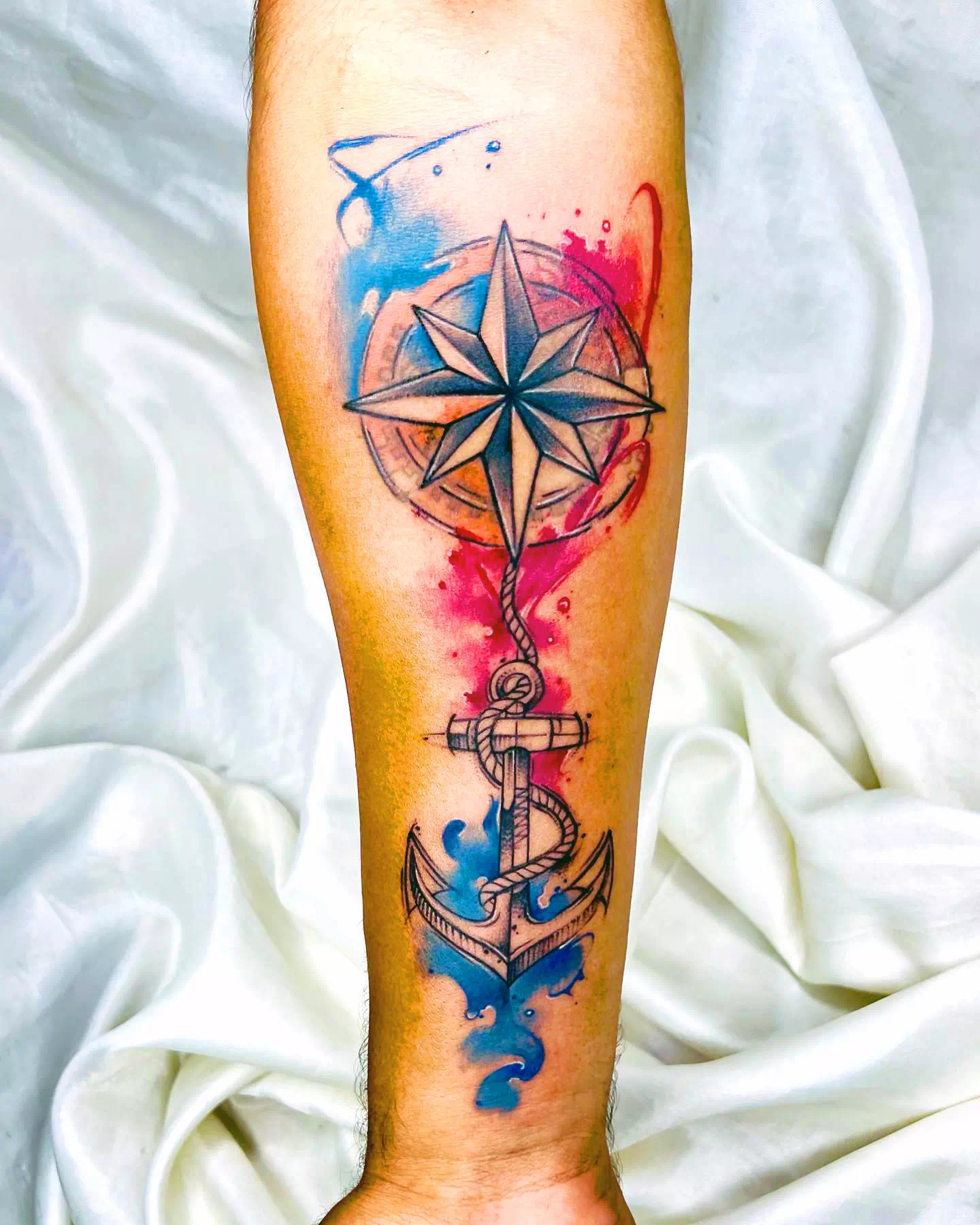 This picture was made for you if you're a big fan of tribal tattoos and you're attempting to accept that your life is a colorful journey. Before you commit to this design, you must make sure that your tattoo artist is skilled in doing both exact and tribal tattoos.
This color scheme conveys your sense of optimism and the belief that you can triumph over any feeling that brings you down. If you have the impression that you are being led in the correct direction, you should get this tattoo.
Did you know that a magnetic compass can never point to the north or south poles of the Earth?
7. Nordic Compass Tattoo Arm Idea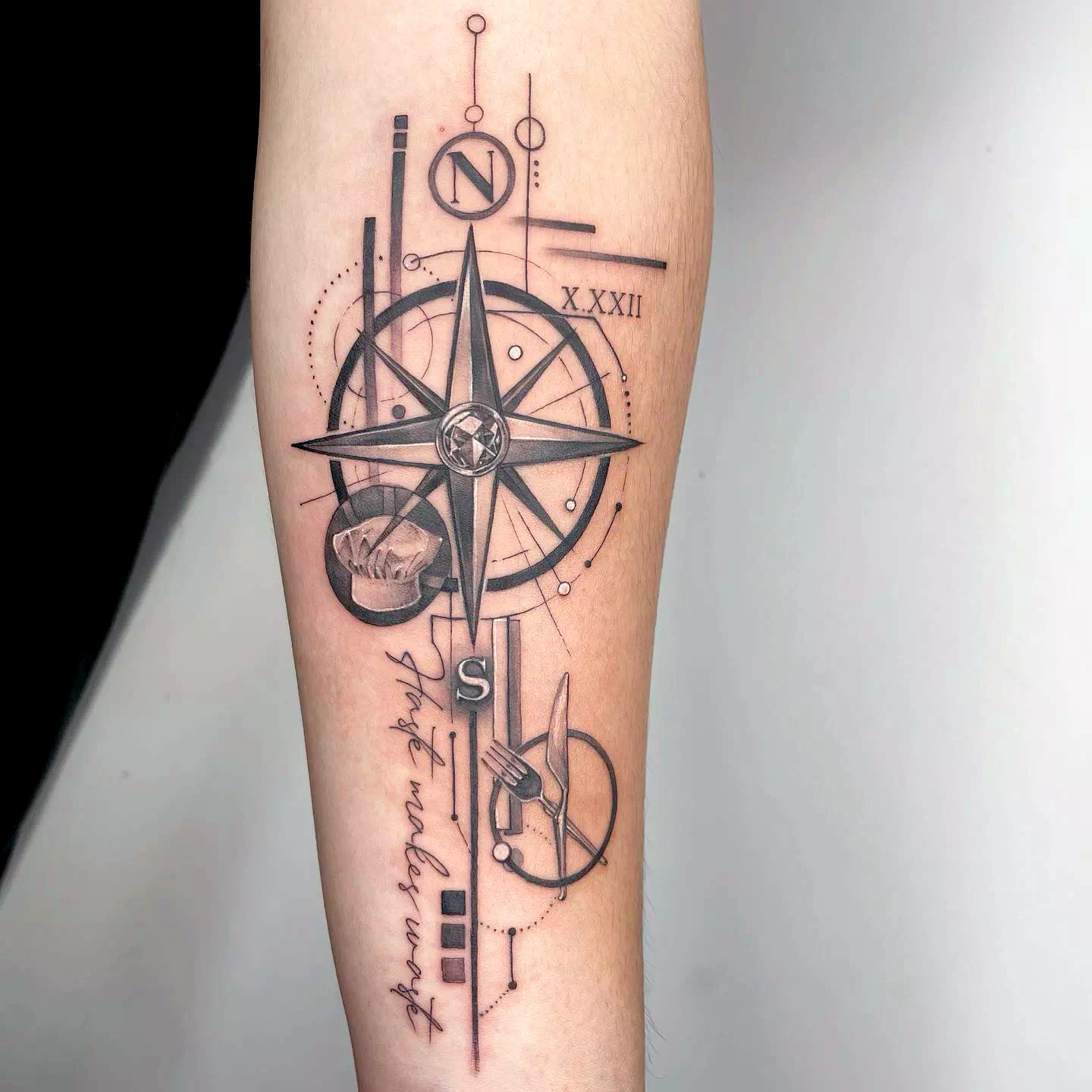 If you don't want your tattoo to look like it's taking over your appearance, stick to solid colors like black and red for your ink. Mounting this compass on top of your body should take three hours.
It symbolizes one's creative individuality and a possible absence of presence. If you find that you cannot go forward in life or in time, you will appreciate this tattoo because it so clearly portrays your situation.
8. Viking Compass Tattoo Leg Design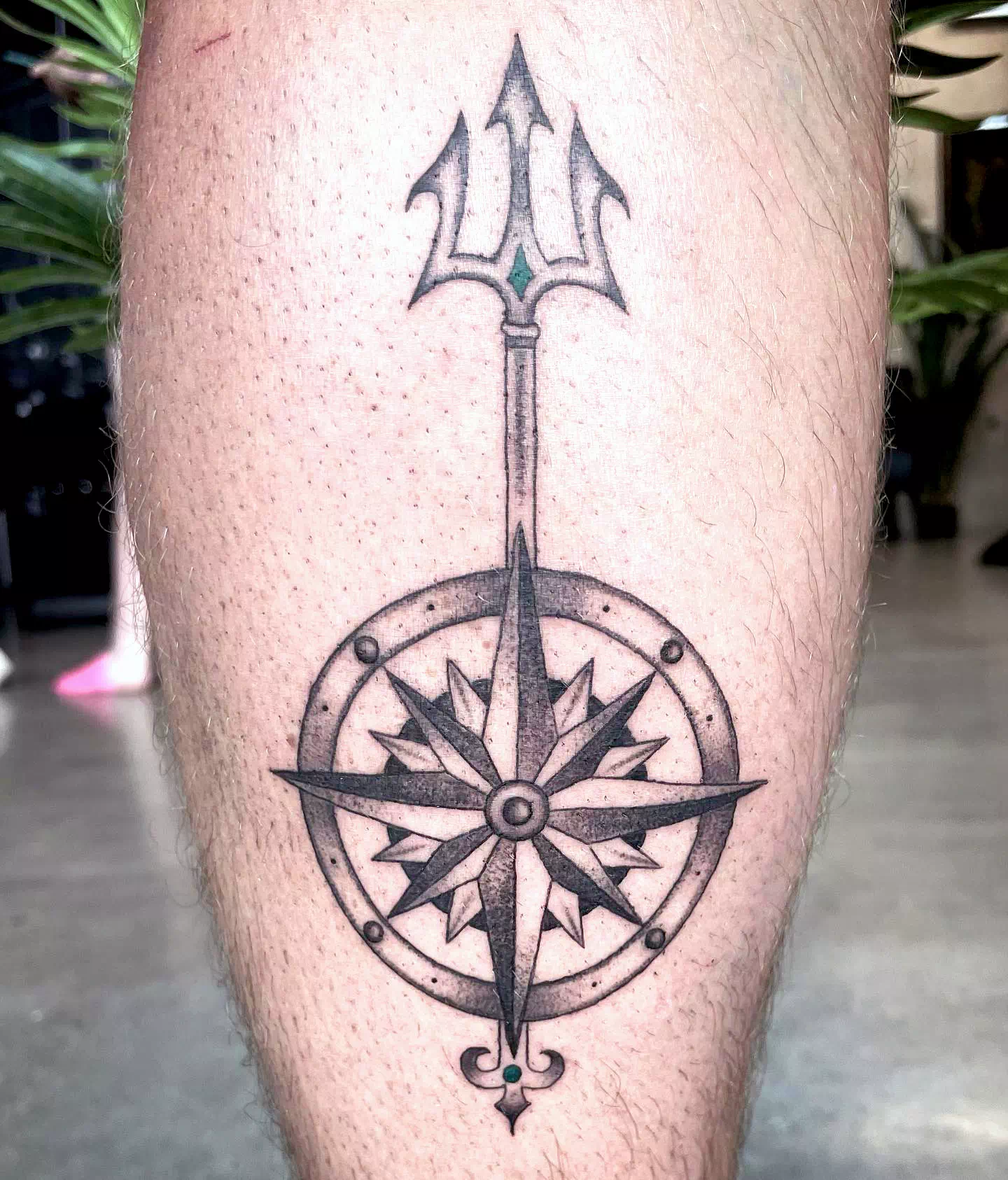 Ink on the thighs or legs is a popular choice for males who want to project an image of strength and masculinity. If you're a seductive woman who adores drawing attention to herself at all times, consider getting this tattoo on the upper part of your thigh.
You will act as a representation of both your personality and the part of you that is always going to be searching for significance.
9. Nautical Compass Tattoo With Black Details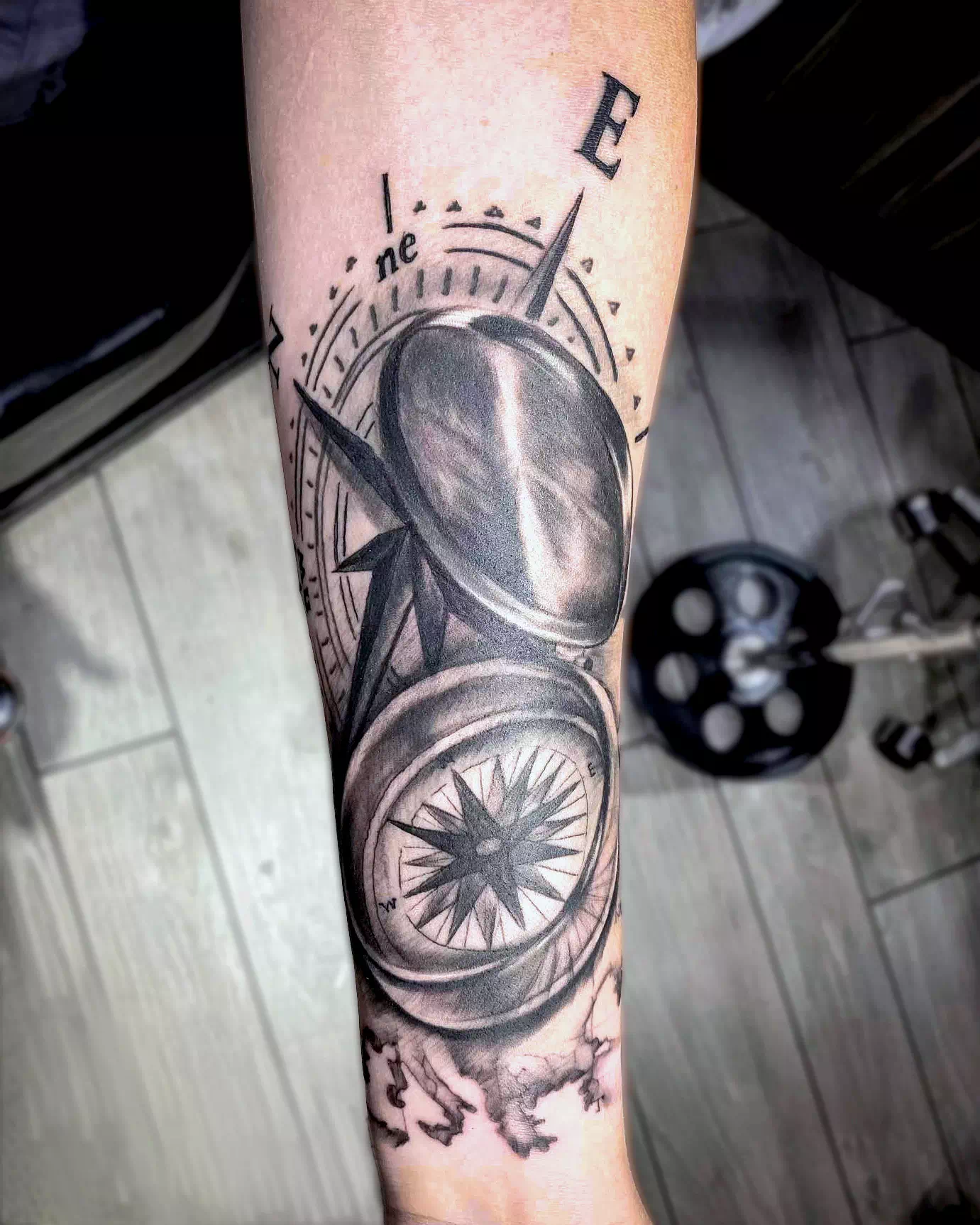 Spiritual and creative people should use this compass with an image of a feather. It enables you to share your full potential and the trip you've been on with others.
The elegance of this tattoo will speak to you if you are struggling to triumph over challenging circumstances and could use some direction in your journey. It will demonstrate to others around you that you can always rely on the authentic you.
Fun fact: a liquid compass uses lamp oil and mineral oil.
10. Side Stomach Arrow Compass Tattoo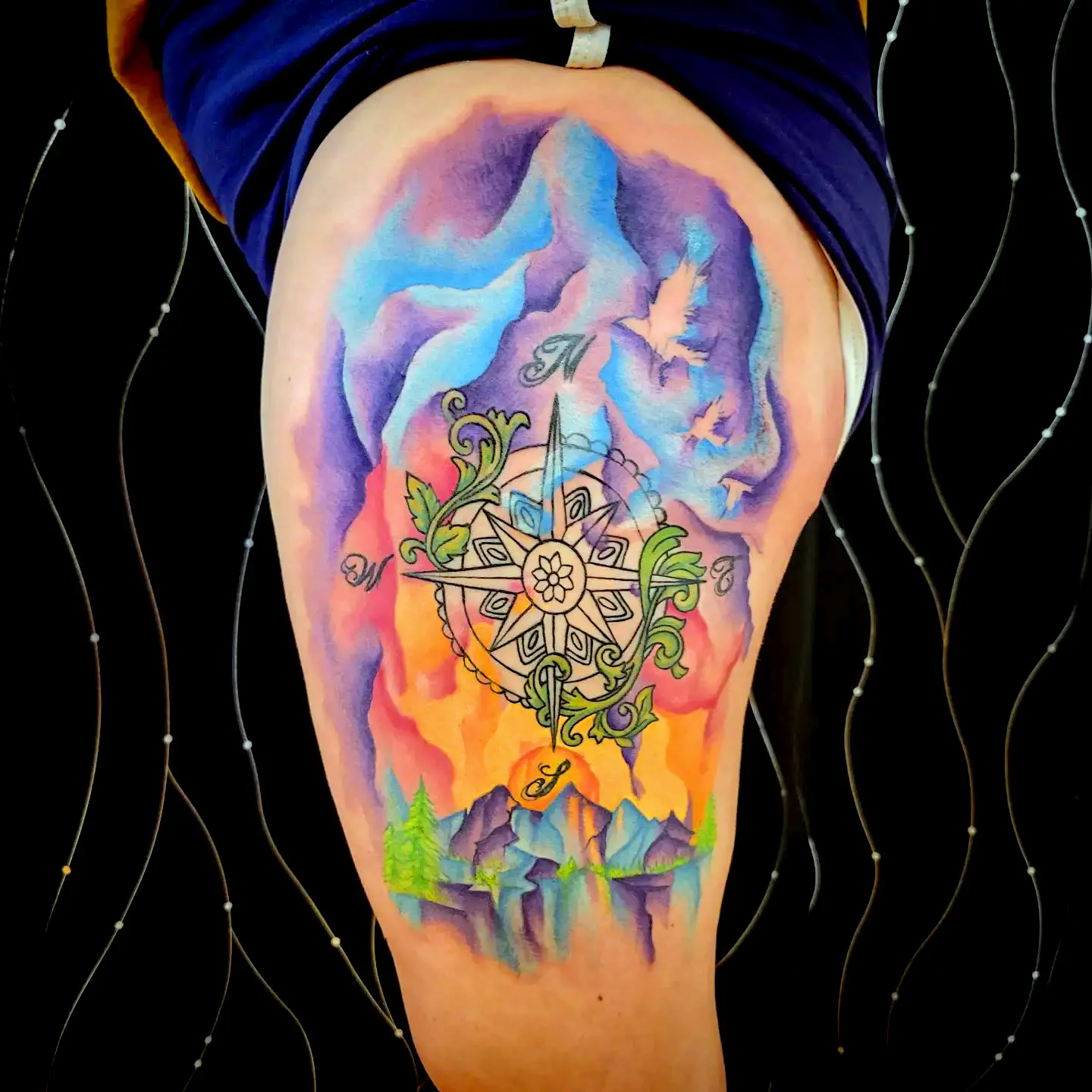 Be sure to brace yourself before getting this tattoo on your side stomach, since it will be painful. Even though it is a stunning piece, it may cause discomfort when you first put it on.
It will serve as a representation of your strength and your capacity to adjust to new circumstances. You will give the impression of being a kind person who knows how to defeat evil.
11. Realistic Compass Geometric Tattoo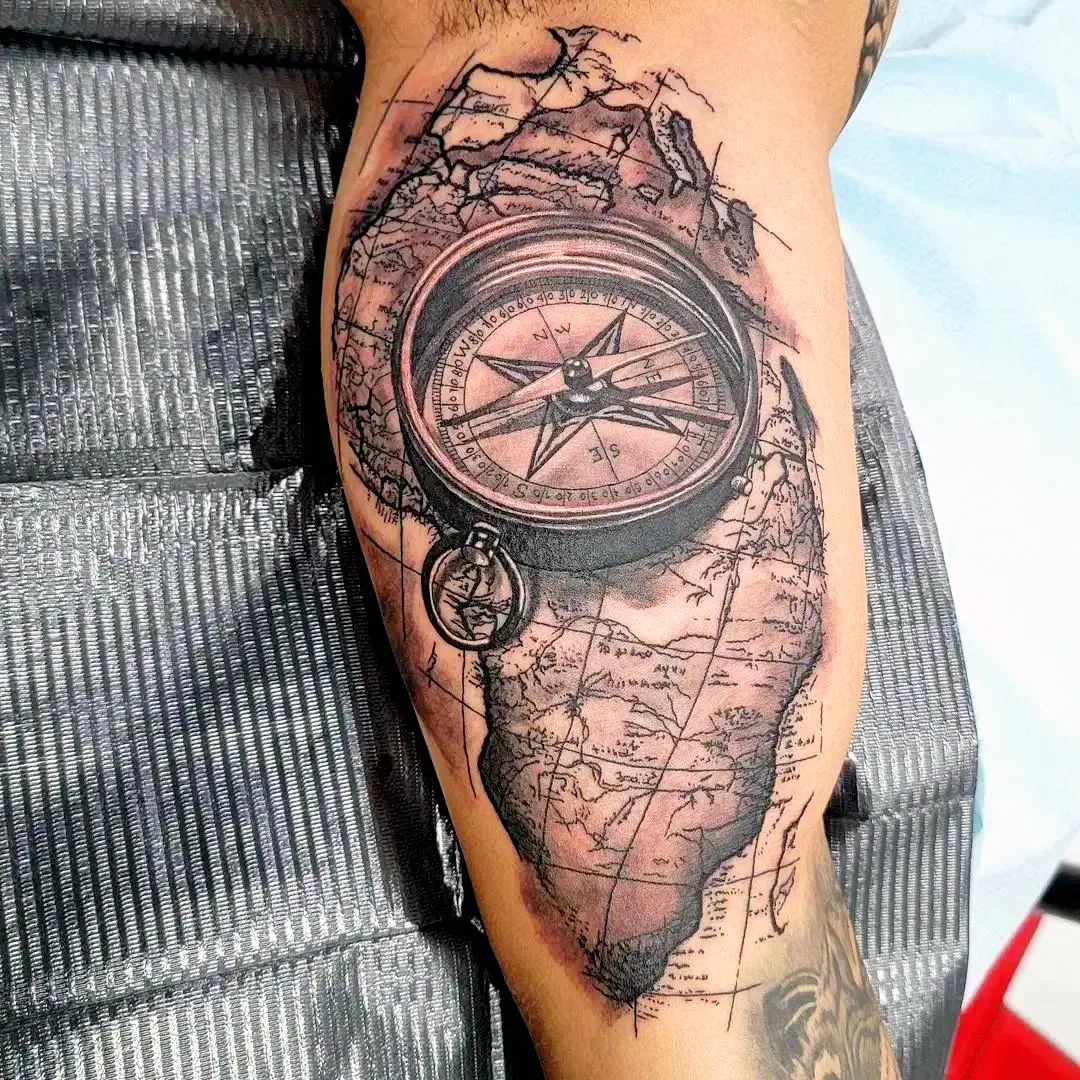 This tattoo is perfect for you if you are someone who does not enjoy seeing a lot of different colors combined together. It is for individuals looking for something inexpensive, straightforward, and easy.
Black is a hue associated with tenacity and doing things for unknown reasons. It will also make you appear beautiful on the outside as well as the inside.
12. Giant Shoulder Compass Tattoo Design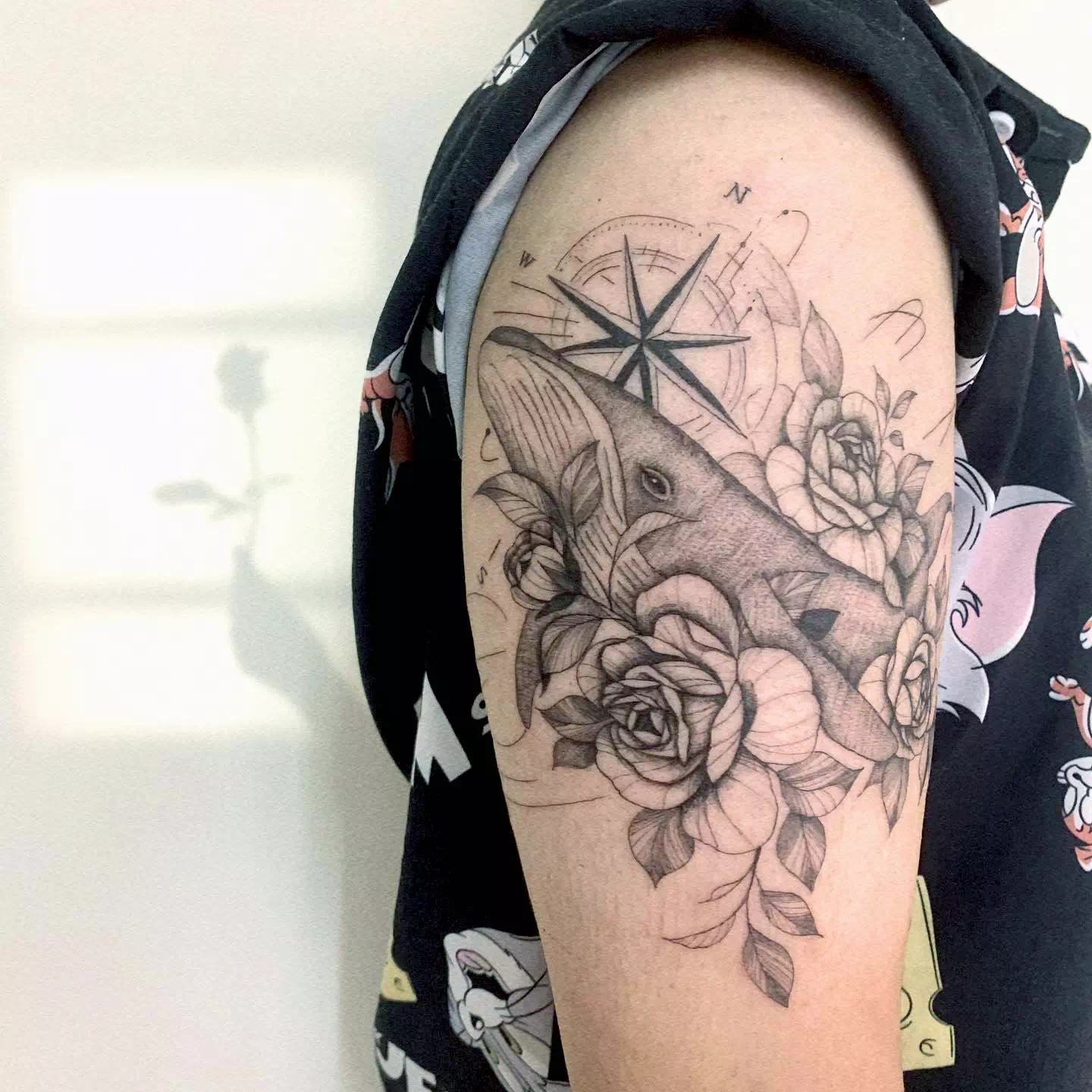 Do you want something beautiful to drape on your shoulder and something with a dash of blue in it? This shoulder item is perfect for someone who enjoys drawing attention to themselves. Putting this sign into a tattoo will take you approximately five hours.
The color blue is associated with sophistication and aristocracy. Are you someone who can change and develop yourself? Let the compass lead you.
Did you know that, on a compass, the direction corresponding to the fleur-de-lis is considered north?
13. Nautical Compass Tattoo On Leg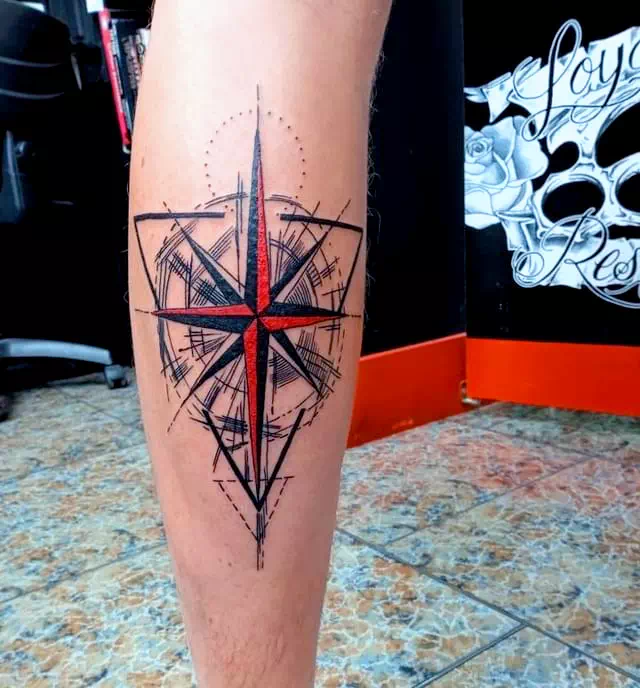 If you want tattoos on the smaller or more moderate side, this compass is the one for you. It is for everyone attempting to rock and show off the real beauty of a compass.
This tattoo concept is meant to symbolize honest motives and honorable actions. With this compass, you'll be able to get the detailed tattoos you want while also showing off your artistic side.
14. Compass & Anchor Tattoo Over Chest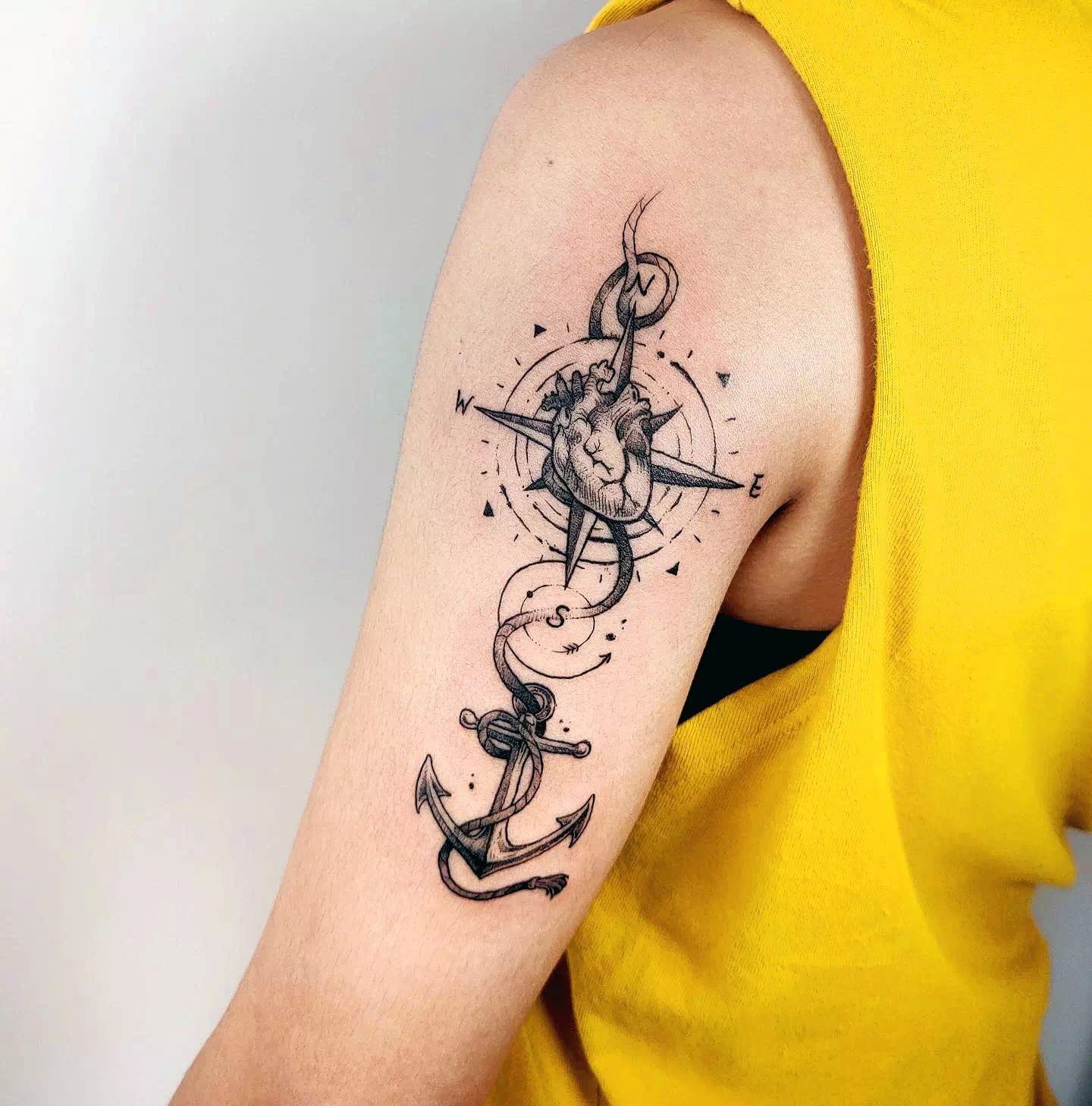 People who know how to get the most enjoyment out of their dramatic ink might consider getting chest tattoos. This one will take you anywhere from four to six hours to finish if you regularly exercise and are open to trying out new things in life.
Tattoos on the chest and compass are symbols of strength, and throughout history, people have looked for their moment to shine. This idea is perfect for someone who is good in front of an audience.
15. Forearm Blue Compass Arrow Tattoo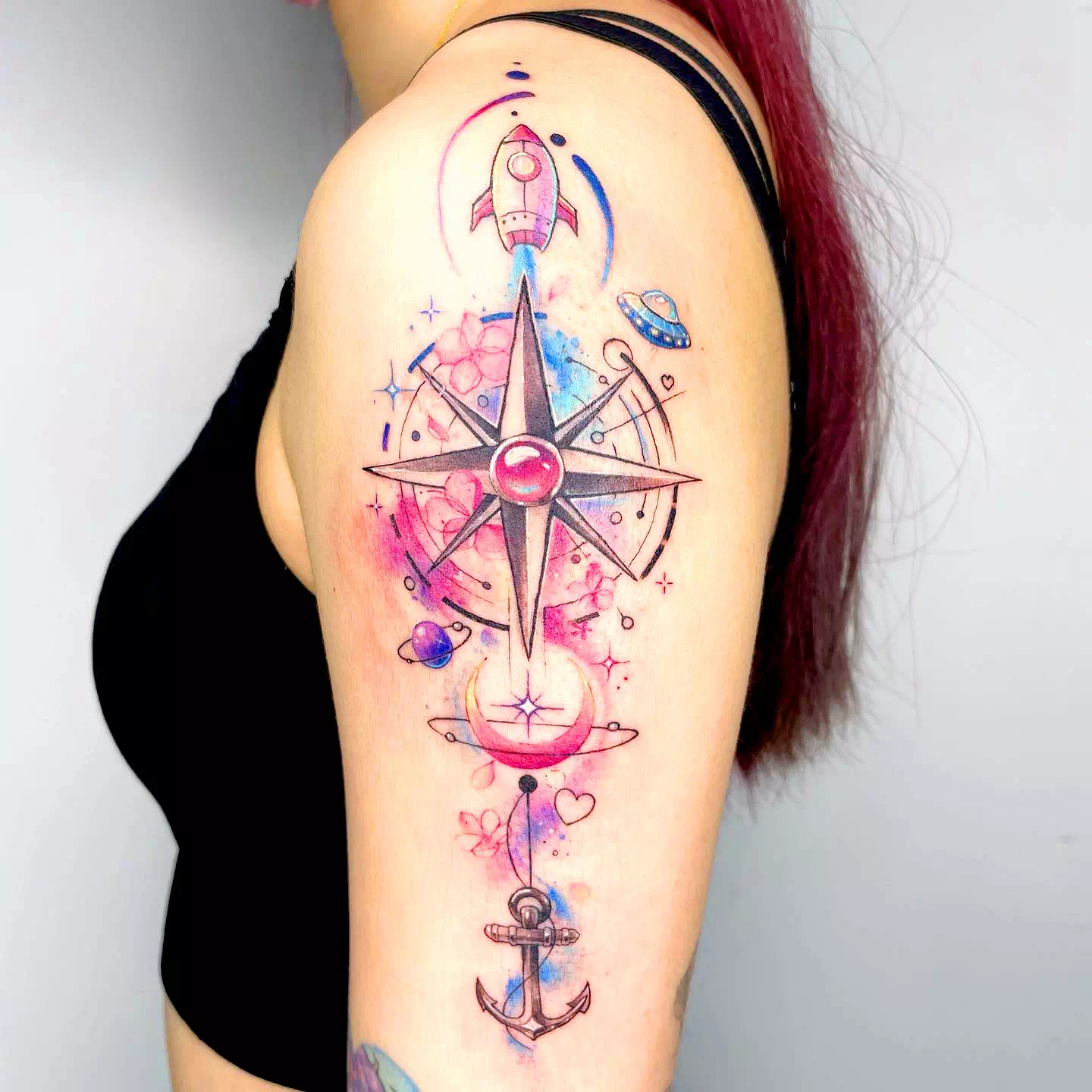 Is blue your favorite color? Get yourself this work of art if you think it fits the bill for you. It's a brilliant concept that doesn't take much time or effort to execute.
You will appreciate the elegance of this tattoo if you frequently feel as though you are trapped in both time and space. It will serve as a representation of your character as someone who is constantly looking out for what is right and just for others who are around you.
A magnetic compass uses the Earth's magnetic field, which is an interesting fact.
15 Small Compass Tattoo Design Ideas
1. Small Compass & The Sea Tattoo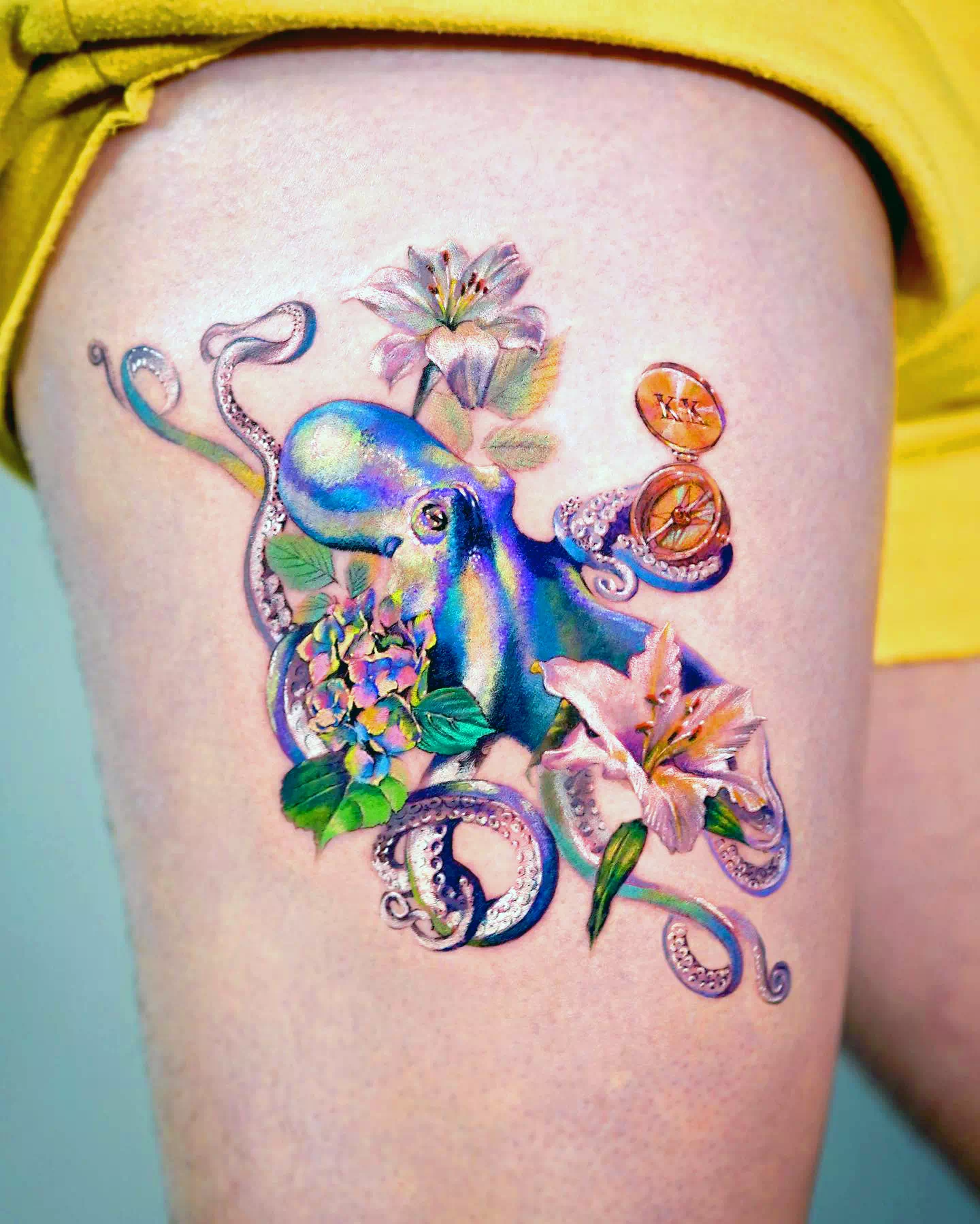 This is an excellent option for you if you are nervous about getting a tattoo and are looking for something speedy and simple. As a result of its advantageous location, it won't be a problem either.
Your bravery in weathering the storm and emerging victorious will be represented by the wave symbol included within your compass. You can get this tattoo if you continuously seek a solution to save yourself.
2. Black Ink Compass Tattoo Realistic Idea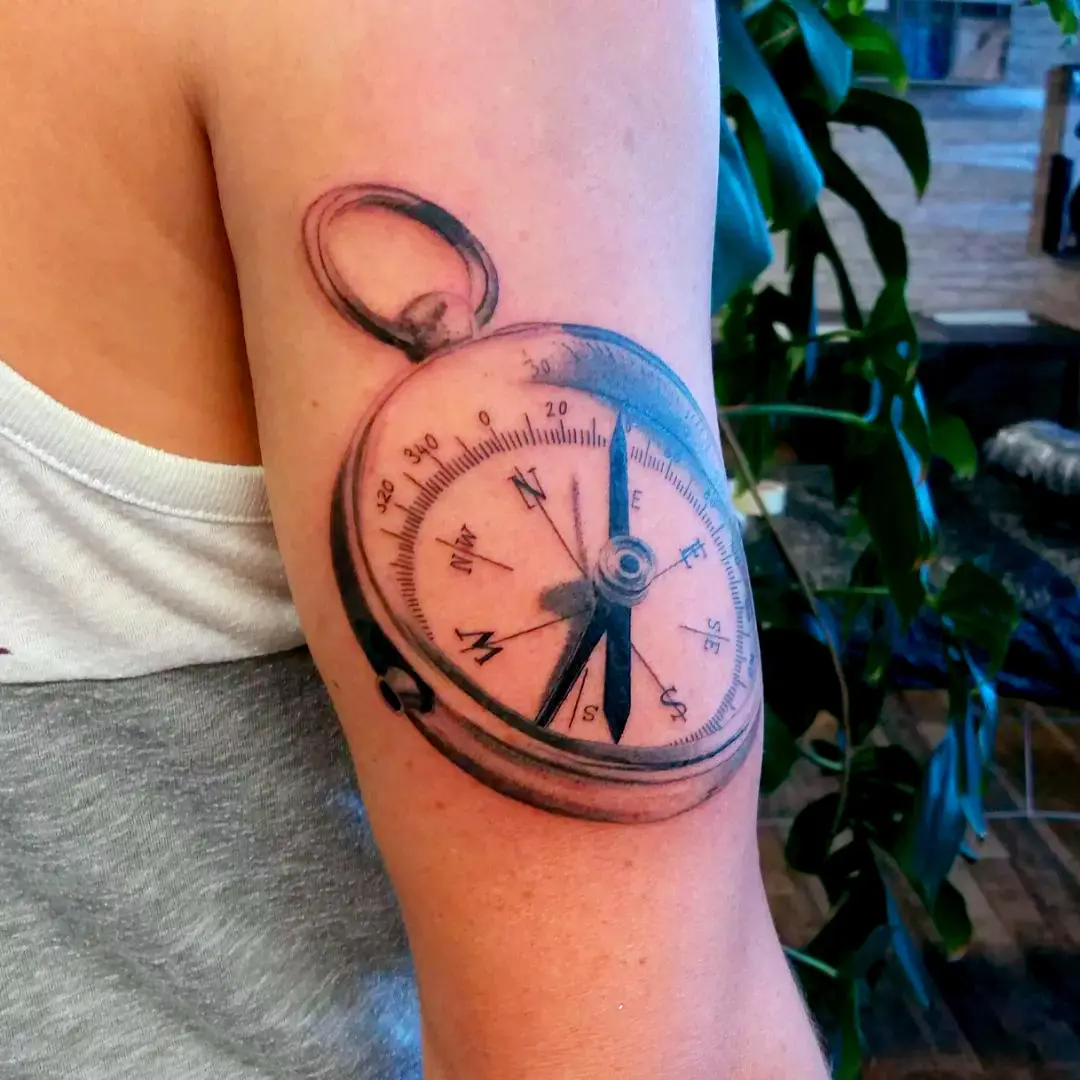 This is the best and most unique concept for a compass yet. If you prefer more realistic concepts and want to rock something common and not too difficult to execute, this is for you.
It represents someone who is constantly on the move and searching for fairness. Additionally, it clearly represents your determination to discover a solution.
3. Compass Nature Inspired Tattoo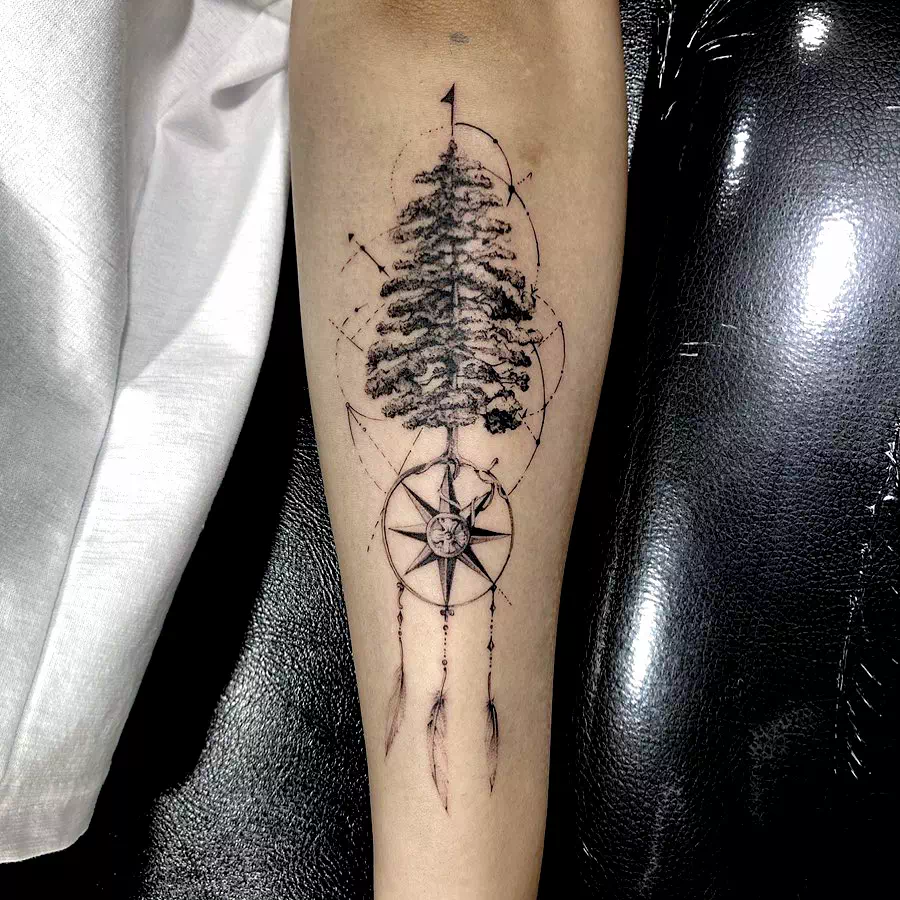 Are you a nature lover? What about a person who recognizes the wonders that exist in this world? This compass is for you if you have a deep respect for the natural world and are actively working to protect it.
The color green is associated with prosperity. It will allow the world to regard you as a person who has been groomed and is realistic.
Did you know that people of different sexes walk around in distinct ways? While males move about based on direction, women navigate using landmarks and recollections of things they have seen.
4. Blue Forearm Compass Tattoo Spiritual Print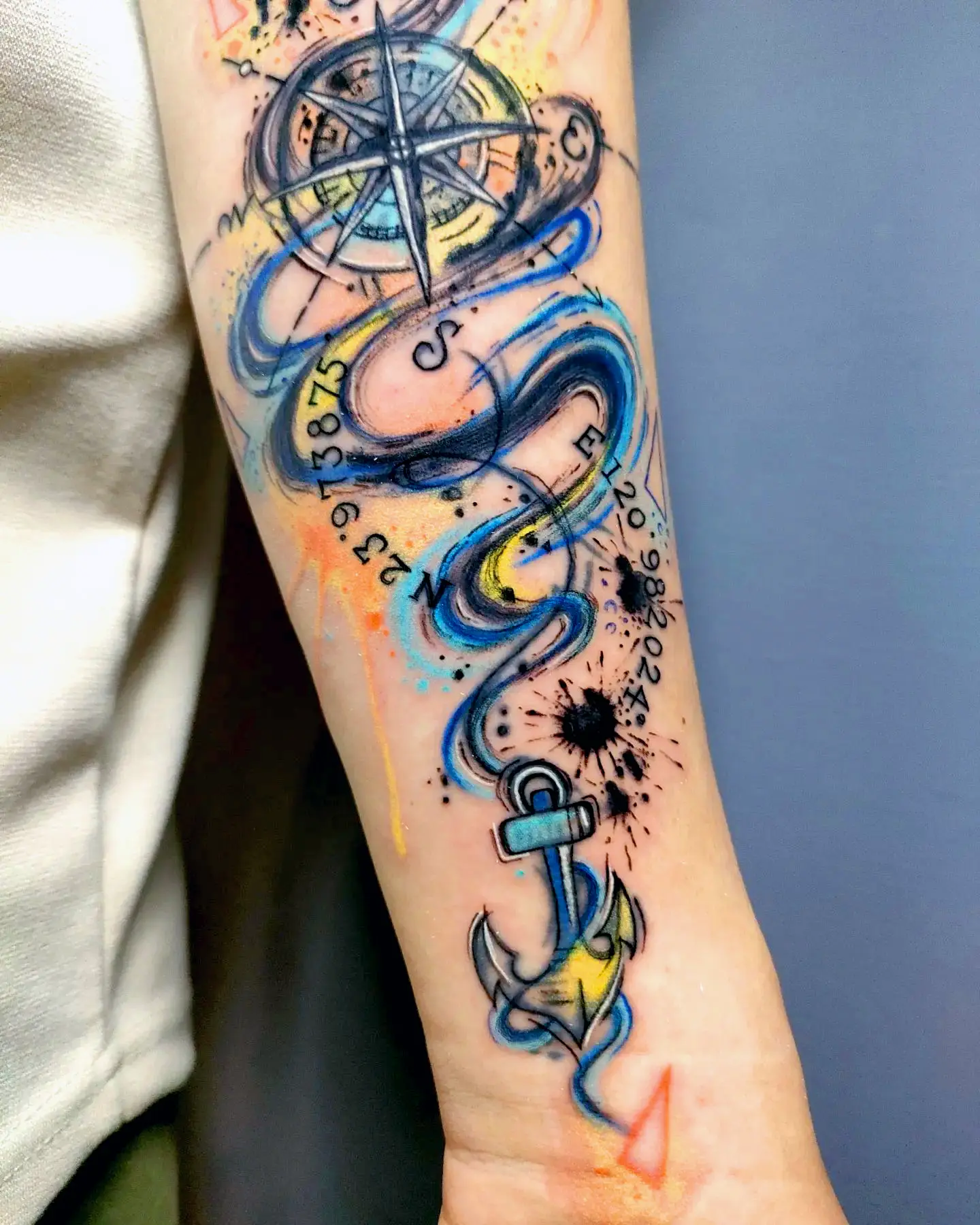 Those who favor medium-sized designs might consider getting a tattoo on their forearm. This one is not very difficult to accomplish and does not cost much money.
Regardless of where you are in the world, it will demonstrate that you never stop working toward returning home. What's the silver lining? Your next journey will undoubtedly provide you with numerous chances to take in the wondrous sights that Mother Nature has to offer. Your home should probably be the destination of your next journey.
5. Back Simple Compass Tattoo On Back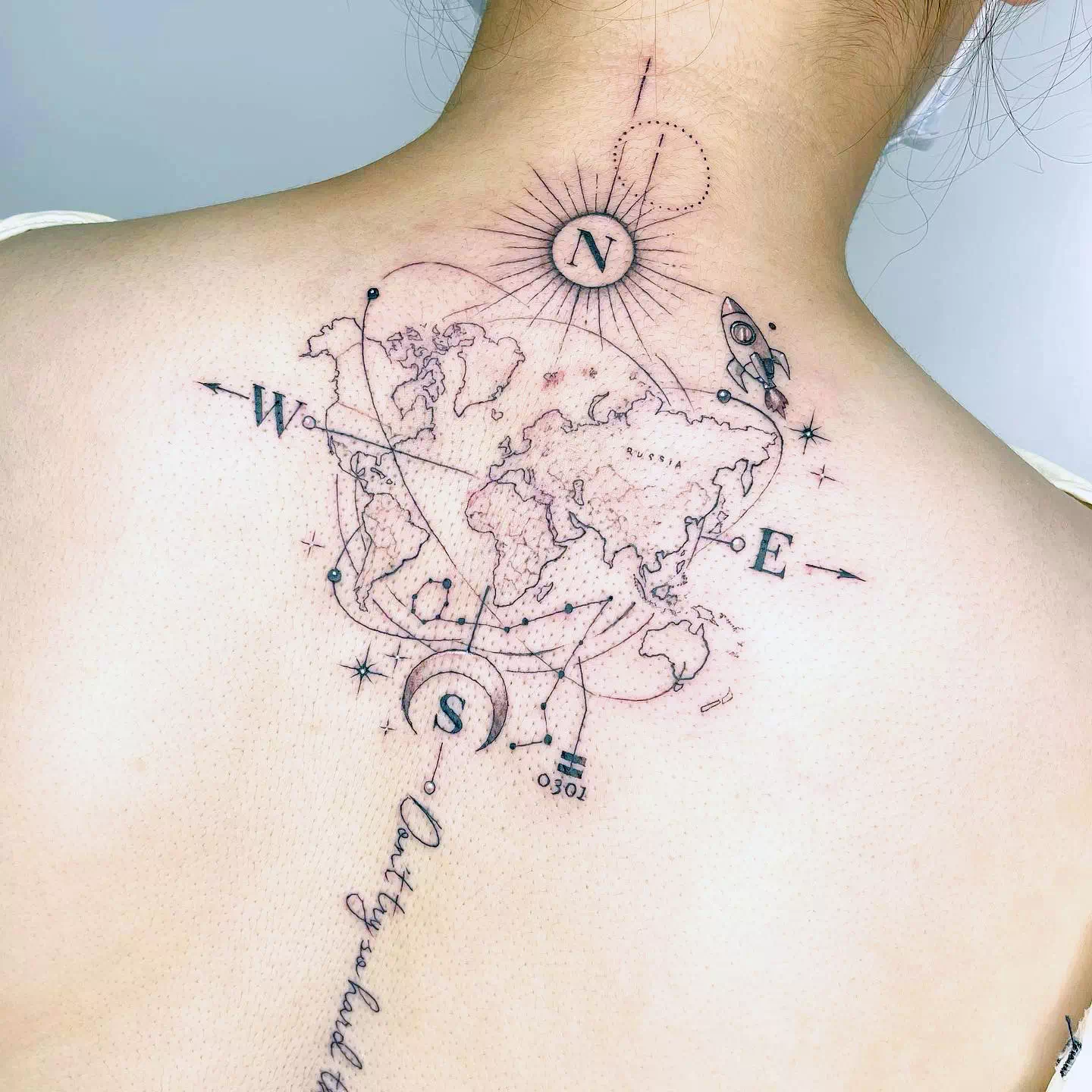 Tattoos on the back of the neck are not for everyone. On the other hand, they might be for you! This tattoo is perfect for you if you want to show off your minimalist side but are terrified of getting one because it has a simple line drawing.
It represents your innately feminine side and your drive to discover who you are. This compass will serve as a wonderful guide for your life if you feel as though you have no direction in life and need some inspiration.
6. Forearm Compass Tattoo Black Ideas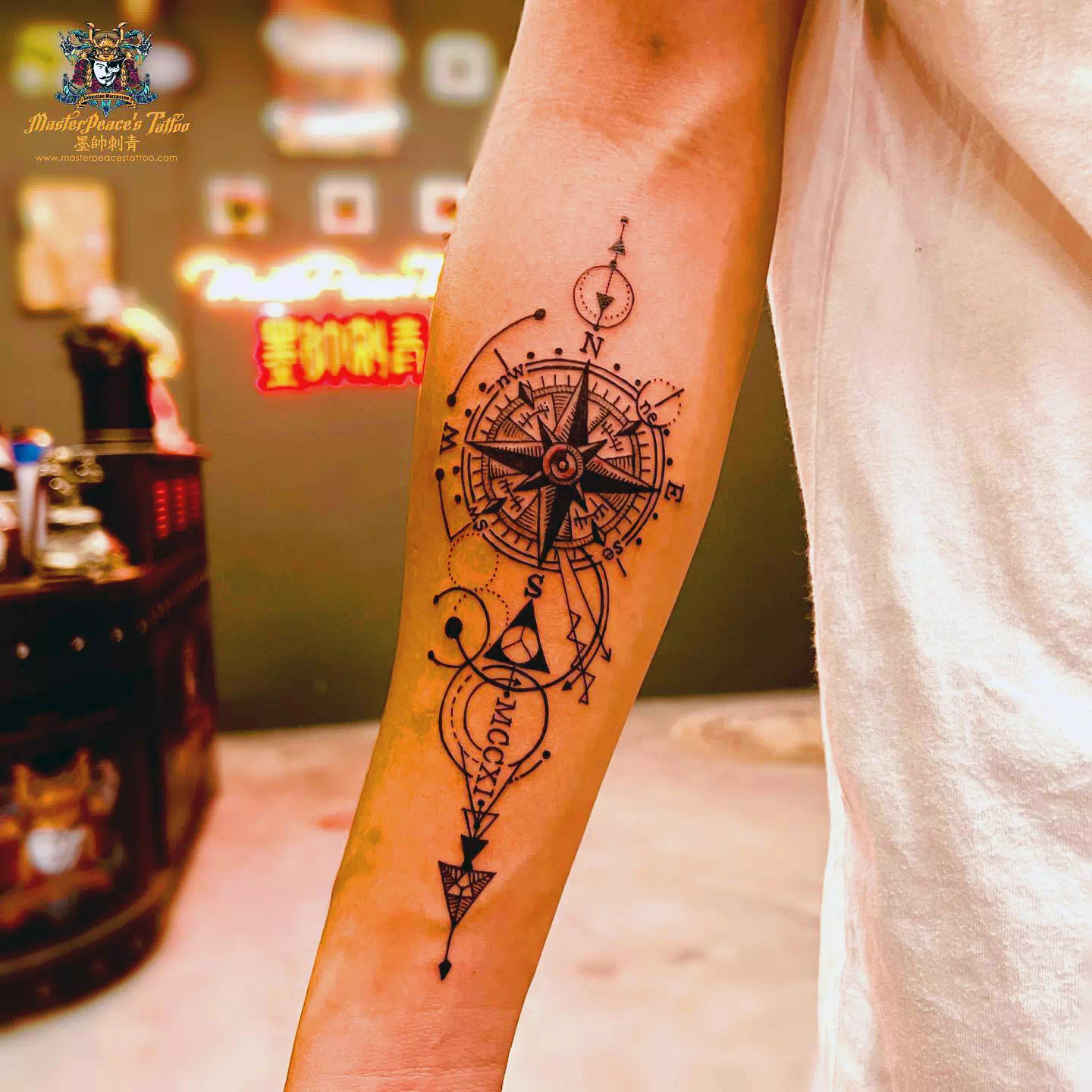 You are the type of person who is able to appreciate the beauty of effortless tattoos, and as such, you will find this piece to be enjoyable and that it results in a cute tattoo. In this scenario, positioning the forearm is the most effective option.
In a literal sense, where do you place yourself in relation to the rest of the world? Thanks to this compass, everyone will be able to see themselves in the true light and evaluate their capacity to adjust to new circumstances.
A fun fact is that in the past, people told one another's futures using compasses.
7. Compass Arrow Tattoo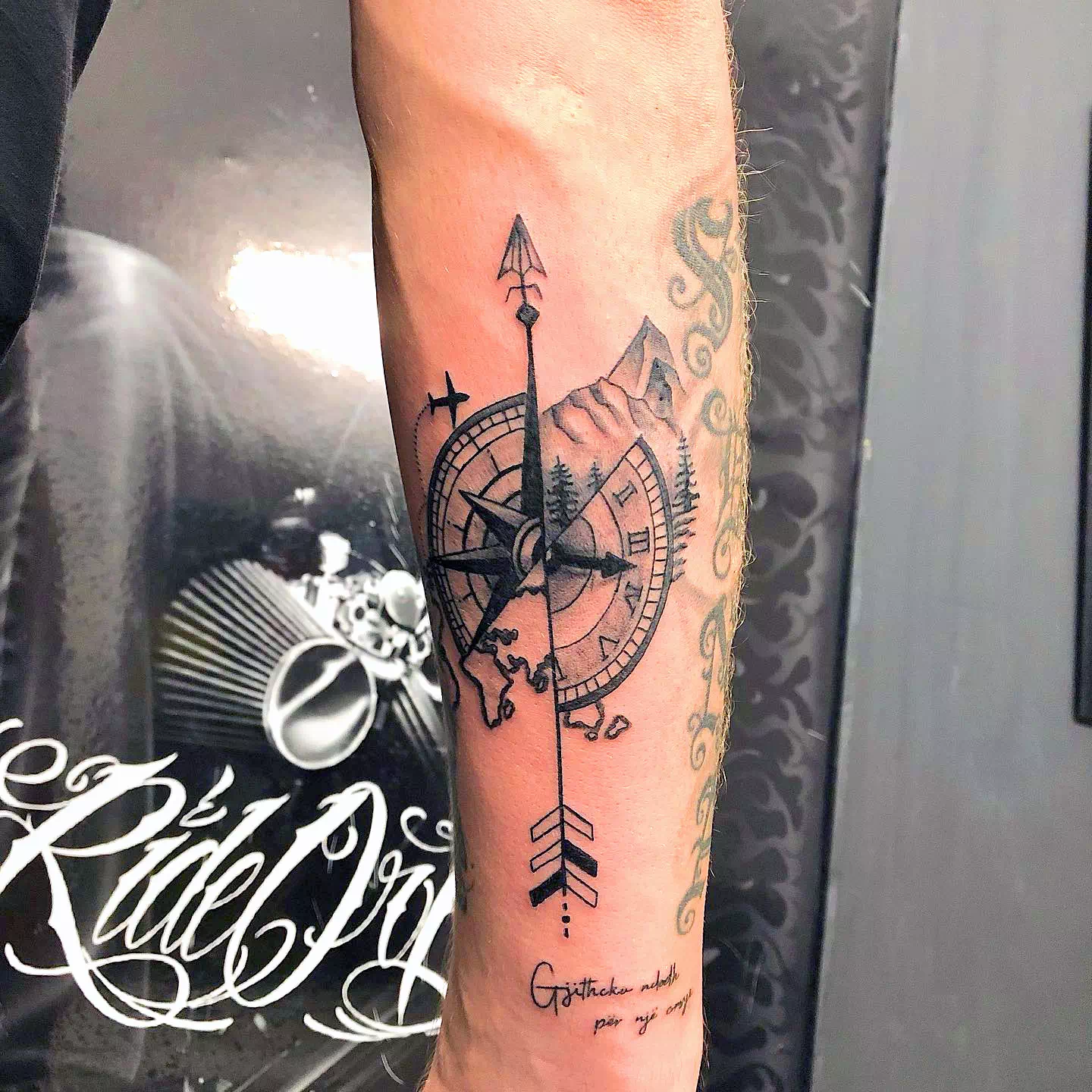 You do not always need to use black ink. There are other options. You might add a splash of color in red if you want to make it unique and fascinating. Anyone who adores feminine and lovely tattoos on their forearms might consider getting this design.
It represents your persuasive nature and your desire to enjoy creativity and new opportunities that reveal themselves to you. It is intended for both males and females.
8. World Of Map Compass Tattoo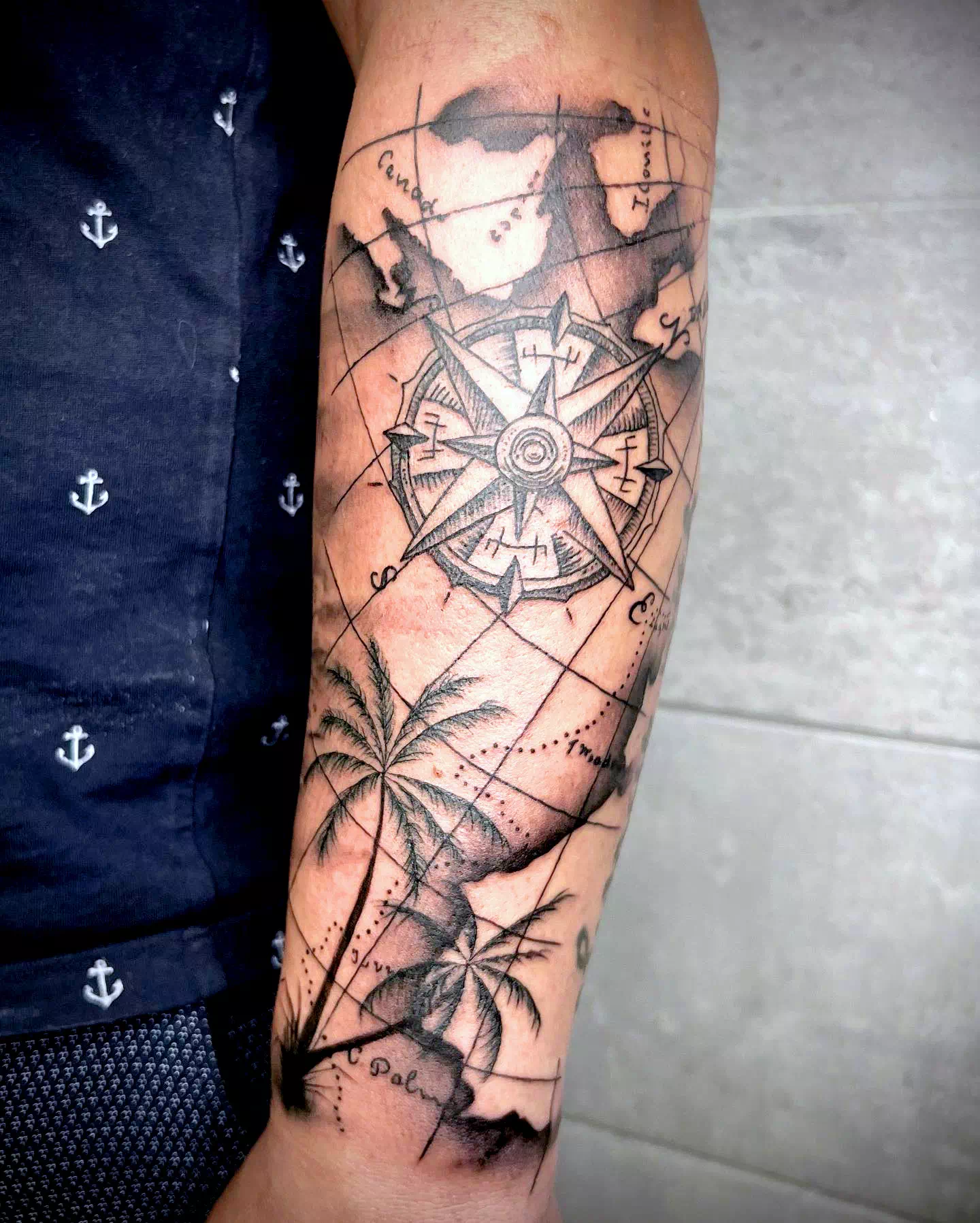 How badly do you want to go out of the country? Are you attempting to take over the entire world? This is the option to go with if you're looking for a beautiful and geometrical design to symbolize the start of your new trip.
This picture illustrates your determination and power to take over the world and embrace change. Show that you are easily adaptable to changing circumstances and are always looking for your next adventure by getting this tattoo of a map of the world and a compass on your body.
9. Leg Compass Unique Tattoo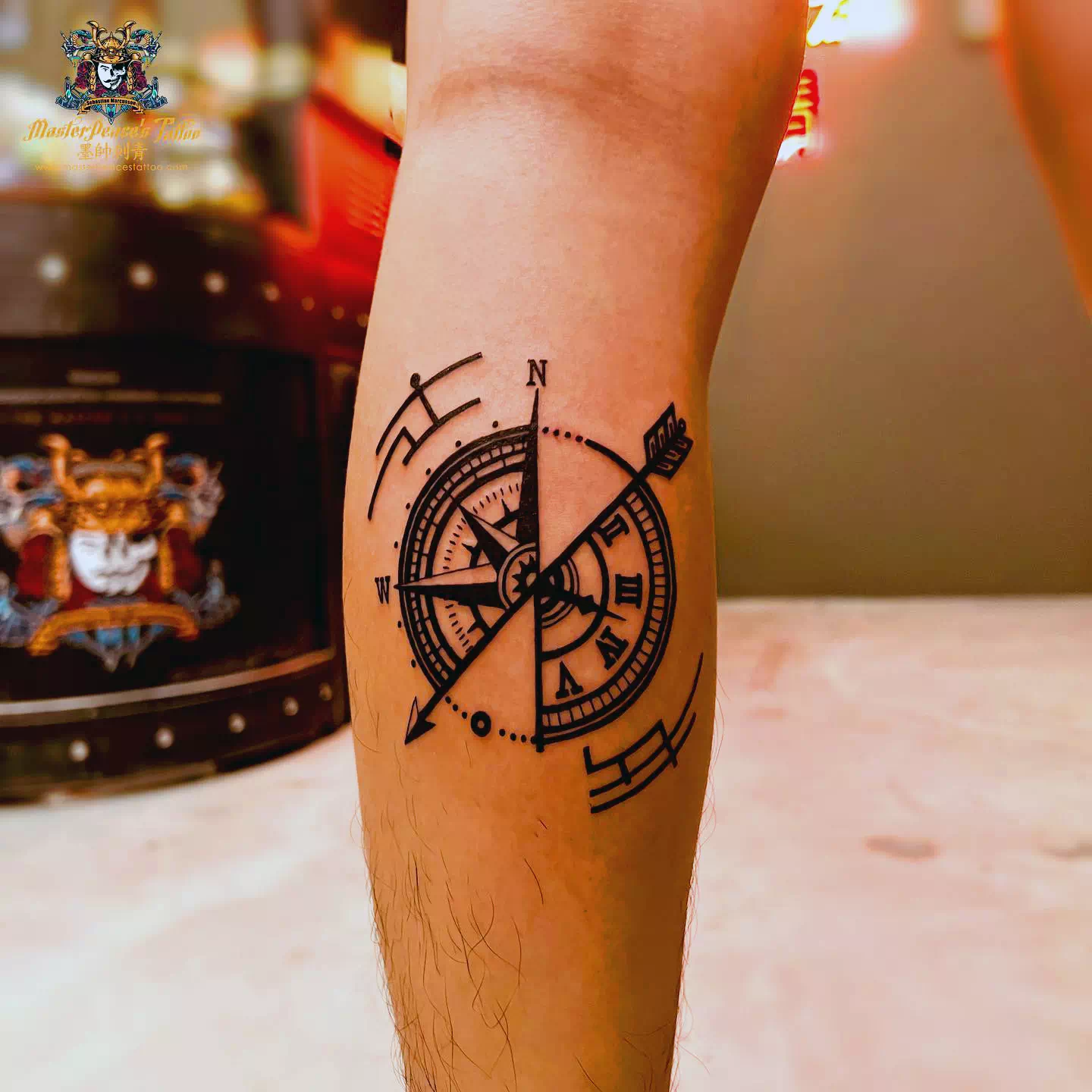 When you're showing off your compass, leg tattoos can also look quite great. This cute design is great for men who like both koi fish and compass prints, since it combines the two.
This dynamic combination will serve as a representation of your willingness to adjust and transform during each adventure. You will also give the impression of someone who is open to new experiences and moving on with their life.
You probably weren't aware of this, but sailors used to remagnetize the needle.
10. Small & Delicate Compass Back Tattoo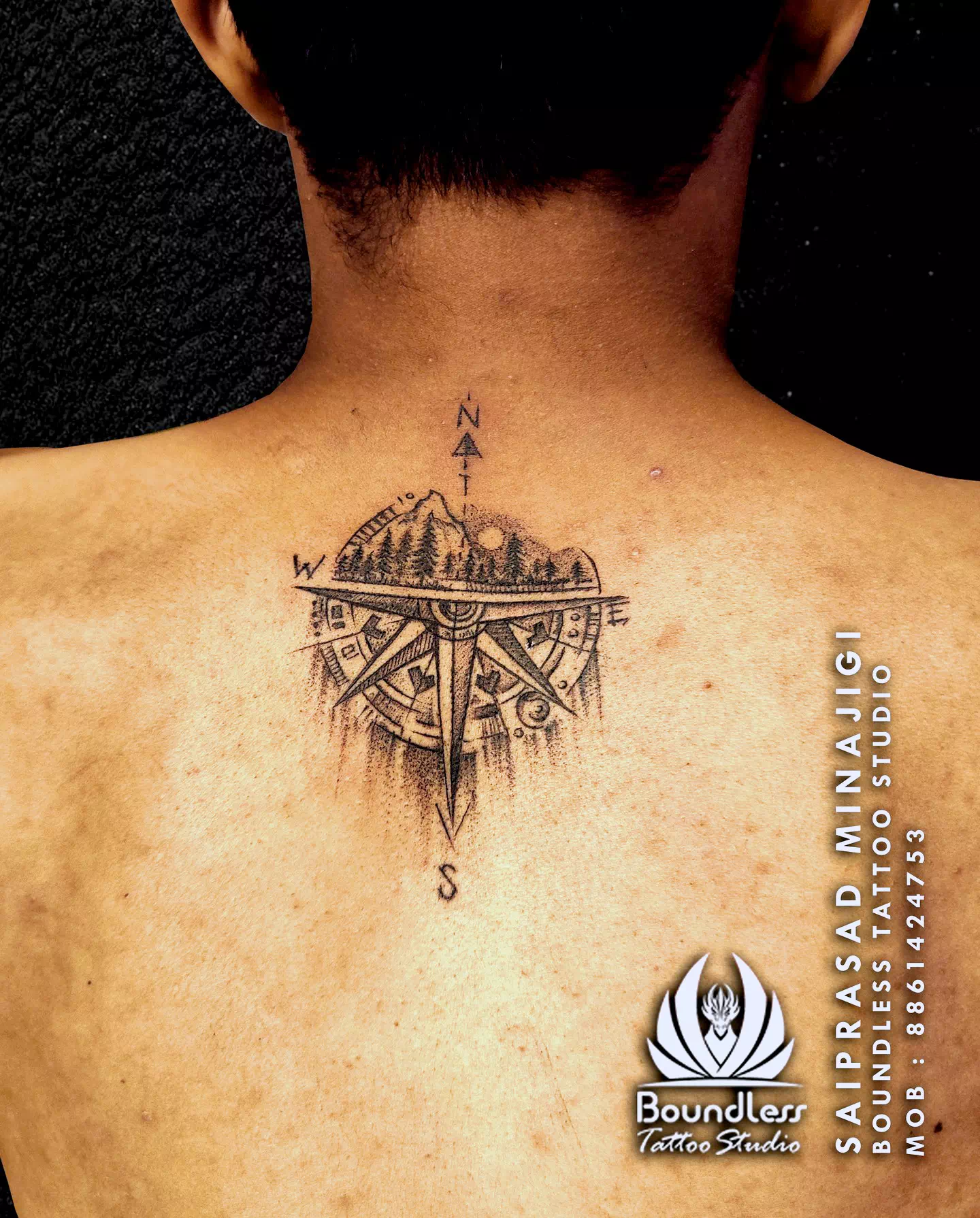 Do you appreciate back or neck designs? This one is for you if you are a queen of subtlety and someone who appreciates charming artsy prints that are complex and intricate.
This compass exemplifies the perfectionist that resides within you. It also demonstrates that you are constantly attempting to please and satisfy other people while being true to who you are at heart.
11. Blue Compass Tattoo Over Forearm Design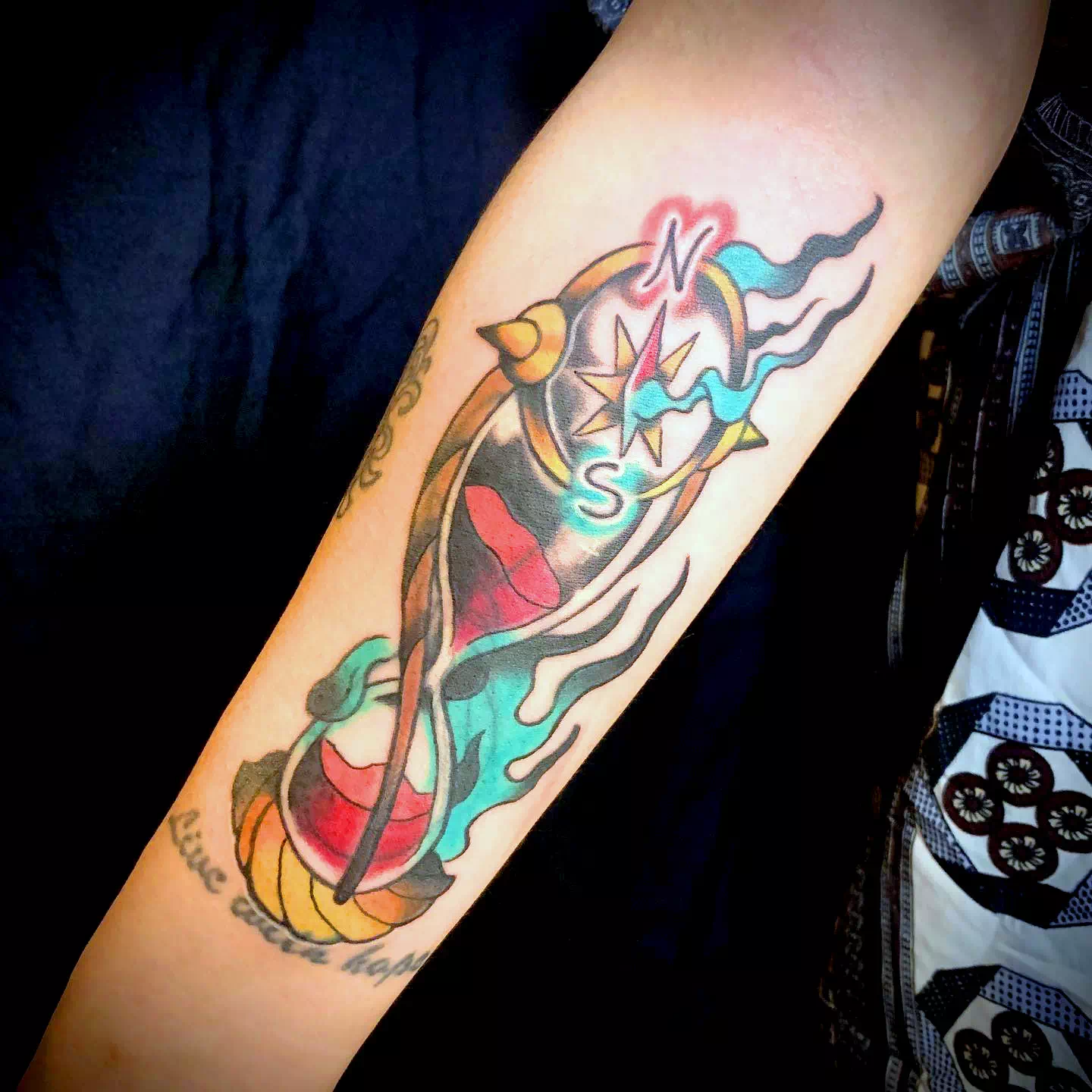 The color blue is associated with sophistication, prosperity, and even grandeur. This tattoo on the side of the arm will take three to four hours to complete and can be quite expensive.
Remind yourself that you are never going to be on your own and that the rest of the world is always going to be there with you. Make an effort to take pleasure in both the major and the tiny steps and the journey that leads to them.
12. Neck Compass Tattoo For Guys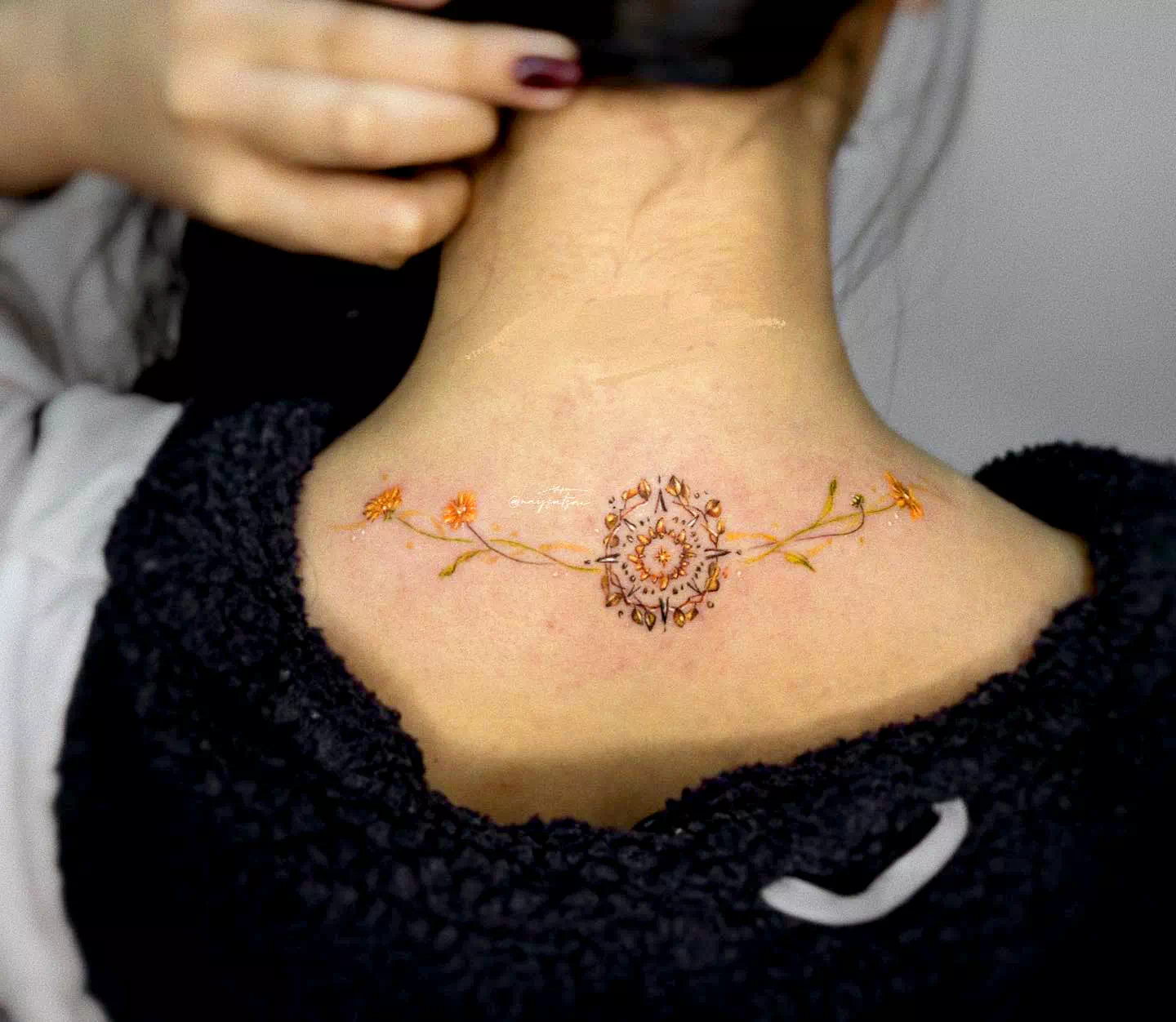 When done correctly, tattoos on the neck have a really seductive appearance. This graphic will be right up your alley if you're the type who can get away with wearing anything comparable to their profession.
Placing this compass in a location that is highly visible and easy to find will symbolize the inner will and power you possess to win and have it all. Once you have the right information, you will not only be able to overcome any hard or easy problems that stand in your way.
An interesting tidbit is that the Qin dynasty was responsible for creating the very first compass (221 B.C.).
13. Wrist Compass Tattoo Idea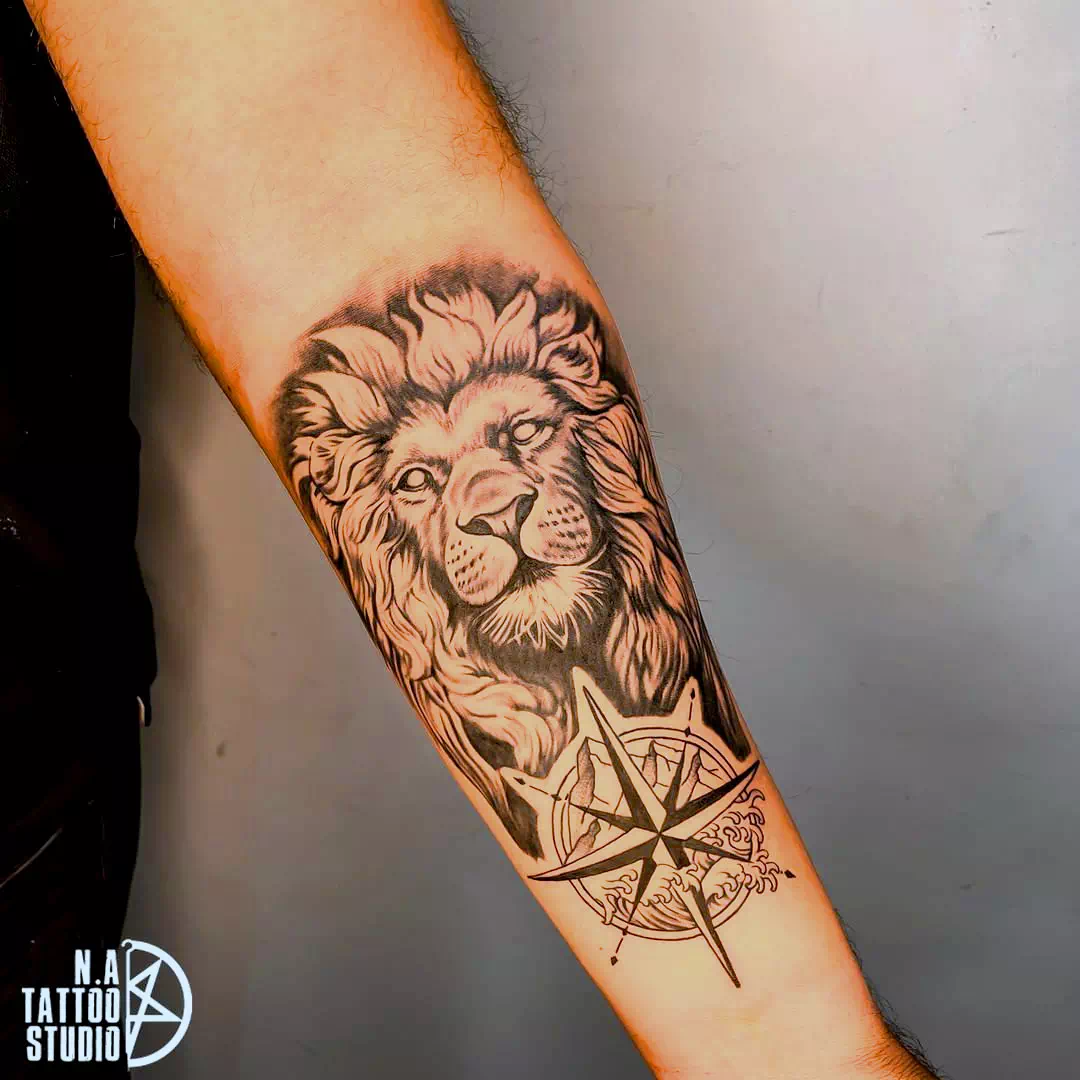 Wrist tattoos are perfect for anyone who wants a smaller, more whimsical piece of permanent body art. You will desire this heavenly notion, a quick and easy two-hour tattoo. You will want this idea if you are into beautiful and exact ink.
This is the standard and common compass tattoo, and it will serve as a representation of both your personality and the goals you have for your life. Give this a shot if you're a fan of cute and spectacular thoughts that have the potential to assist you in life and with your guidance.
14. Chest Masculine Compass Tattoo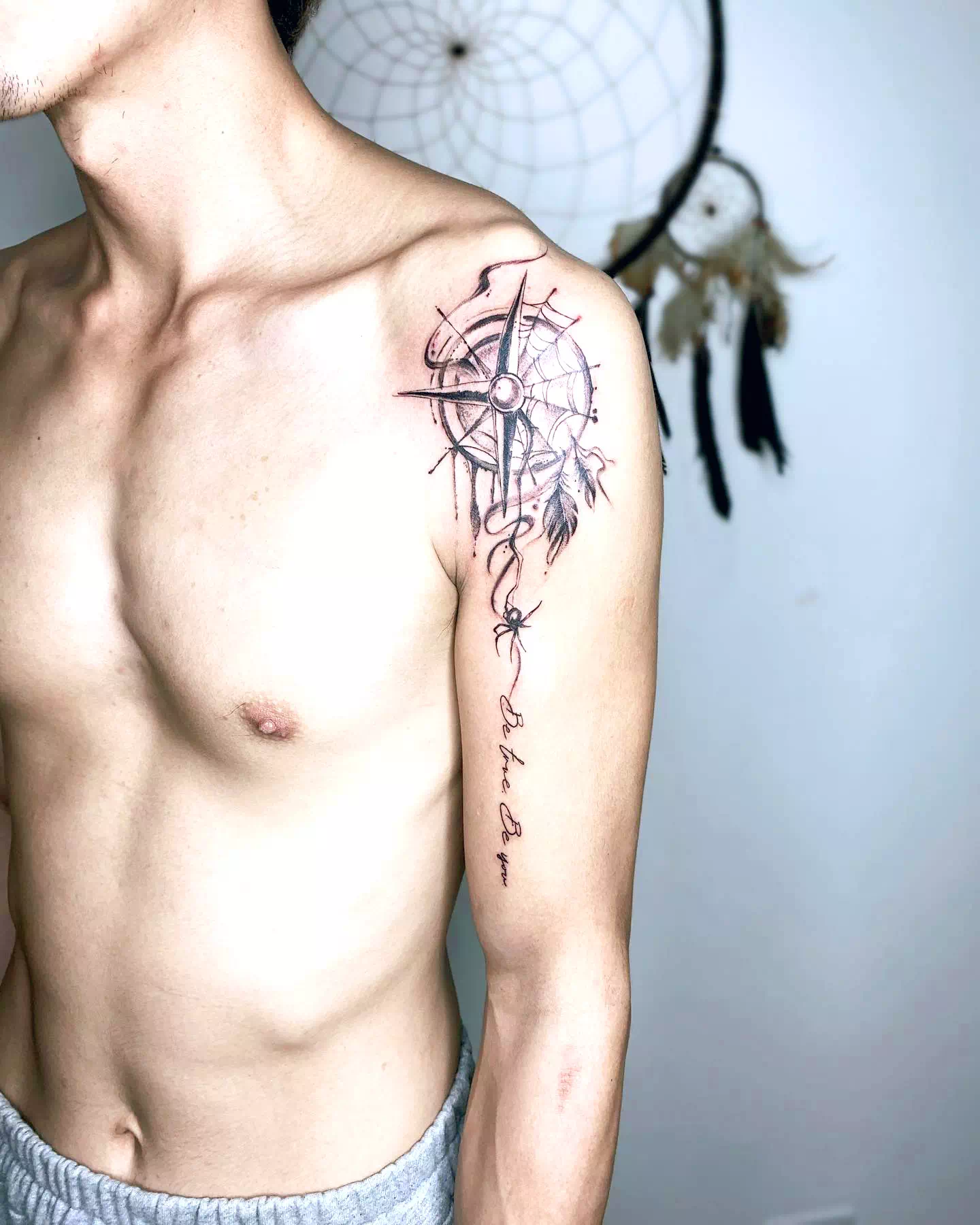 This is wonderful and exactly what you need if you regularly search for chest designs or exercise. This will appeal to those who take pride in their macho appearance and are fans of authentic tattoos.
A compass placed above the heart can be seen as a symbol of challenges and a challenging love life.
We'll certainly all find ourselves in challenging romantic circumstances at some point, but what's important is that we learn how to navigate them and emerge victorious.
15. Unique Palm Wrist Compass Tattoo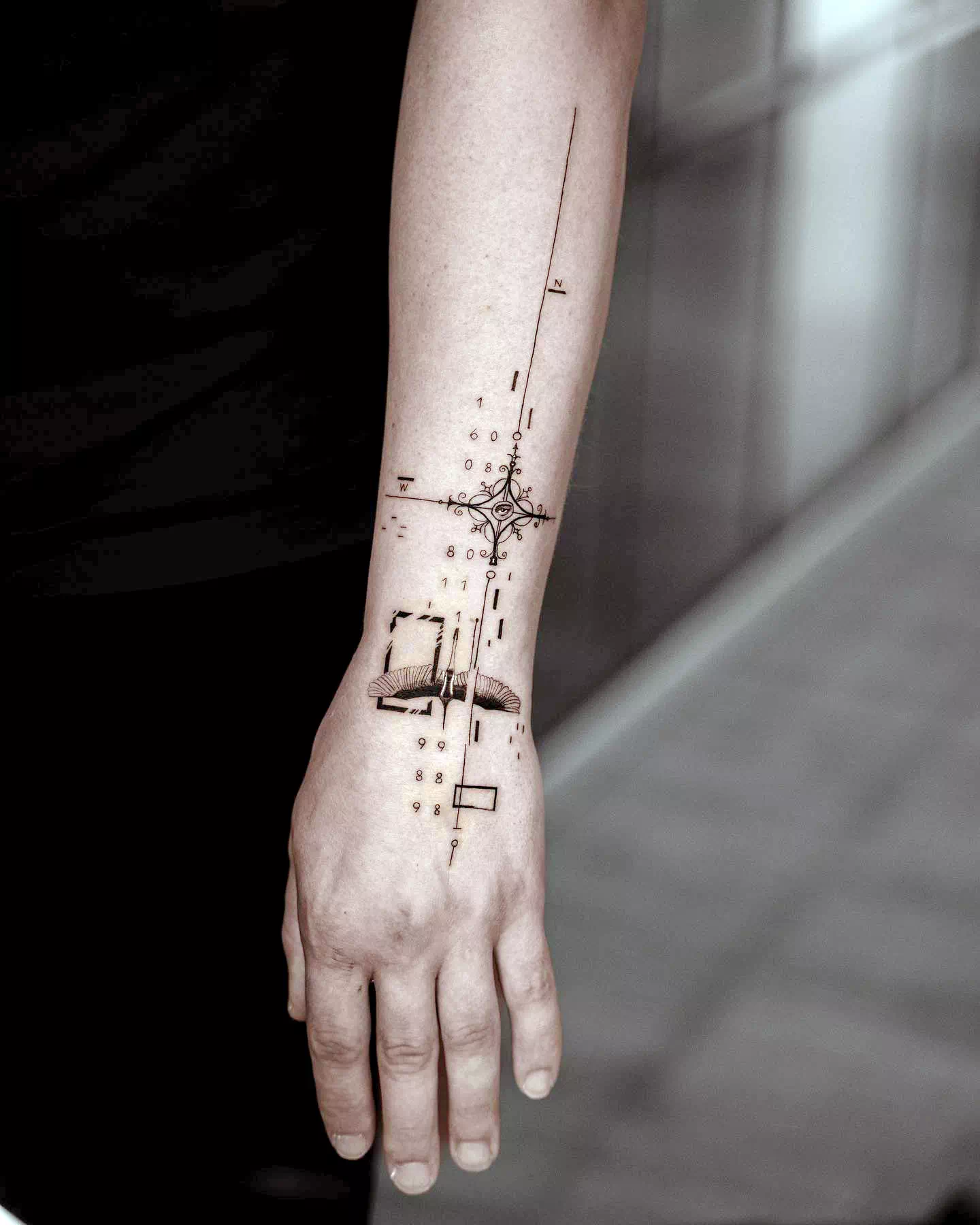 Lastly, you can either slay or adore arm or palm tattoos. Try getting a black and white compass tattoo if you're the kind who likes to stand out with their thoughts and who also wants to appear eccentric.
Make this design more emotionally impactful by including the word "never" and a phrase containing it. You will tell yourself that it is never too late for a change and that it is also never too late to begin a new path. This is something you need to keep telling yourself.
Did you know that honeybees use the sun as a compass to help them find their way?
Additional Questions and Answers About the Compass Tattoo
What Does It Mean to Have a Tattoo of a Compass?
If you wish to have a compass tattoo, you are more than welcome to do so. This design is not only beautiful and meaningful but also one of a kind, and it can have a wide variety of connotations. It is commonly used as a sign of direction for anyone struggling to find their way through life, whether lost in time, stalled in a process, or in need of a little guidance.
Who Is Eligible to Get a Tattoo of a Compass?
You may benefit from getting a compass tattoo if you are experiencing feelings of stagnancy or seeking significance in your life (for example, spiritually). There are a variety of compass selections that both guys and females will like.
Where on the body should one get a compass tattoo?
The best location for this tattoo is typically somewhere that is both visible and functional. This is so that you are constantly reminded of the journey you are currently on and the road that lies ahead. In most cases, the forearm or the wrist is the best place to start.
Does the procedure of getting a tattoo, does it hurt?
In most cases, getting a compass tattoo will not be painful. The only exception to this is if you decide to get a very large print of the design, which can take many hours to complete.
Are compass tattoos pricey?
Not really, and thank goodness for it! Most tattoo artists will charge about $200 for a simple black-and-white compass tattoo that is about the size of a middle finger.
When getting a compass tattoo, how big should it be, and what color should it be?
Regarding your tattoos, do you lean more toward simplicity or want to make a bold statement? A black-and-white compass is the best choice in most situations since it is uncluttered, simple, and gets right to the point. You might also choose a brown or red color because those shades go well with the pattern.
Also Read:
The Time Has Come To Get Tattoos
Be sure to let us know which one of your tattoos is your favorite once you have it. No matter a person's age or gender, getting a compass tattoo is always a good idea. So, out of these thirty tattoos, which one do you want to have first?
It's more fun to share!