The wedding ceremony is one of the most significant events in our lives. Most guests view weddings as more than just fun celebrations with a formal dress code, enjoyable music, and delicious food.
Weddings are symbolic of the spiritual connection two people vow to share for the rest of their lives and the bonding between them.
The exchange of wedding rings signifies these vows in a manner that is considered to be conventional. These flawlessly spherical finger diamonds symbolize an unbreakable link shared by two individuals.
However, for other couples, these rings do not hold a lot of significance, and they would rather have something a little more long-lasting than a basic piece of gold or silver. As a result, they like getting tattoos that symbolize their love for one another.
An increasing number of people are opting to tattoo themselves with one-of-a-kind finger designs rather than wear wedding bands, which is a trend that is gaining momentum in the tattoo business. So, people get wedding ring tattoos to show that they want to be with their partner for the rest of their lives.
These tattoos are available in various styles and designs, giving them an appealing appearance. It's easy to see why wedding band tattoos are becoming the best way to remember something important.
I gathered the greatest ideas I could find for the real wedding ring, which included anything from conventional tribal knot designs to alphabetical and numeric combinations. These tattoo ideas are perfect for loving couples who don't mind putting up with a little pain to show how much they care about each other.
The Best Designs for a Wedding Ring Tattoo
Let's get down to the nitty-gritty of wedding rings, shall we? This remarkable jewelry is available in many styles, each with a unique combination of colors, sizes, materials, and textures. If you look on the Internet, you can find literally hundreds of different idea boards.
However, none of these fulfills your goal, nor have they aroused your curiosity.
Or, you may prefer a particular model, but the price is so high that you must immediately block it from your mind.
Why not reduce this worry and look for a more creative and stunning approach to express your love for the one who has been chosen rather than add significantly more strain to an already stressful event? Take, for example, the tattoos on wedding rings, even though they are not typical wedding bands.
However, this tattoo on your body will last a lifetime. When I say a lifetime, I mean a lifetime.
The most exciting part? Whether you prefer simpler designs or want to flaunt a more intricate finger tattoo on your next big night out, it makes no difference.
The examples that are provided here will cater to anyone's preferences. Continue reading to find the perfect wedding ring tattoo to complement your unique character and how you feel about your partner.
Initials That Are the Same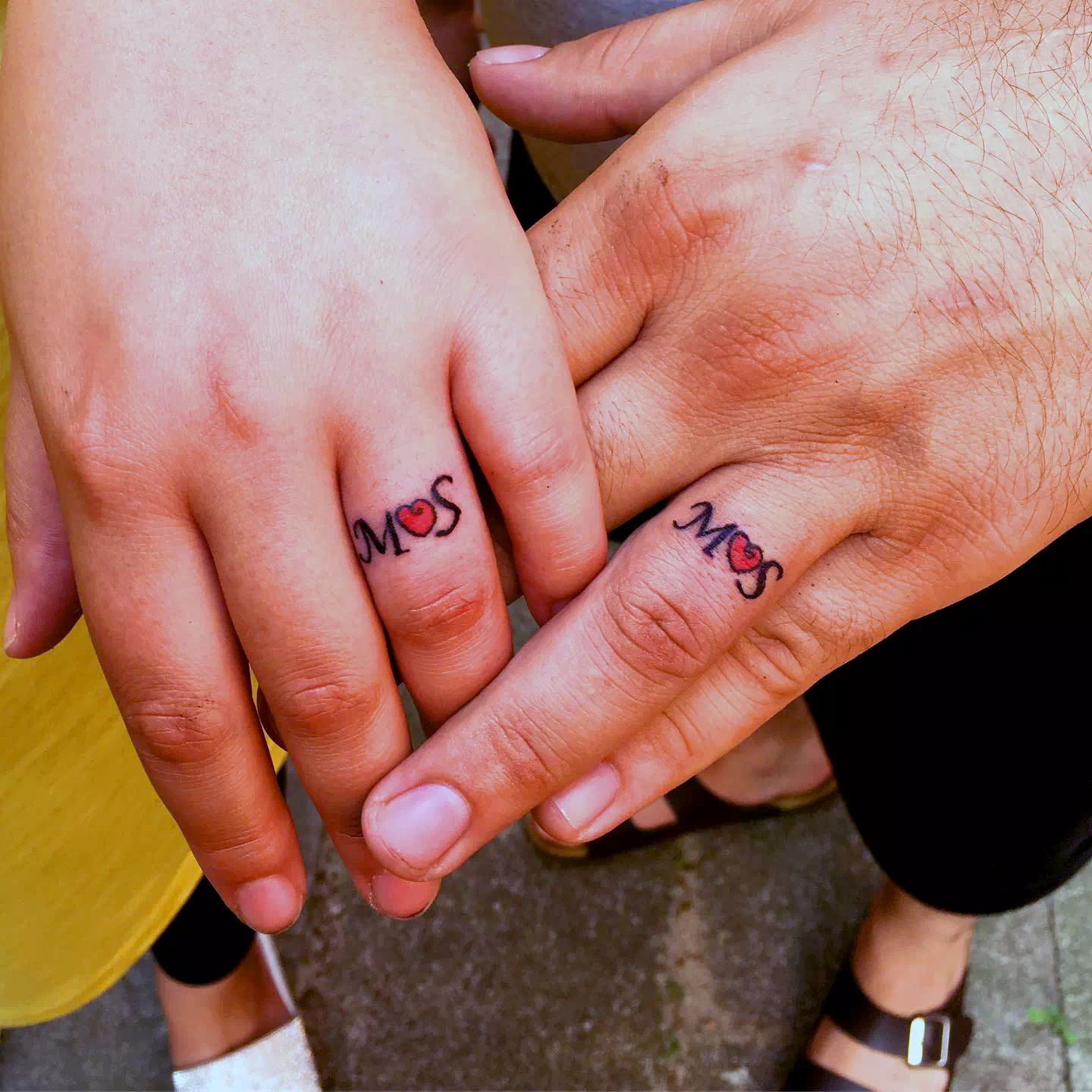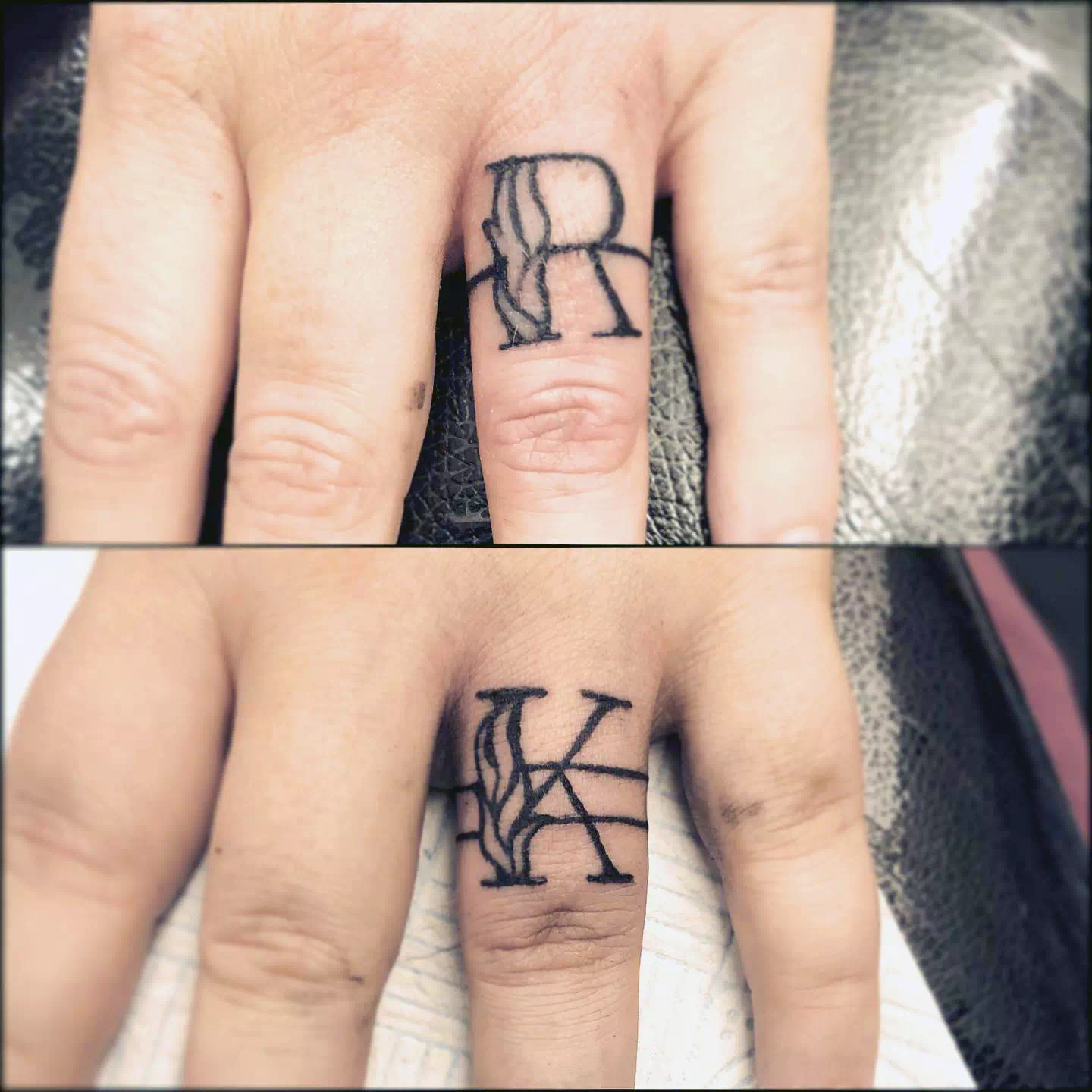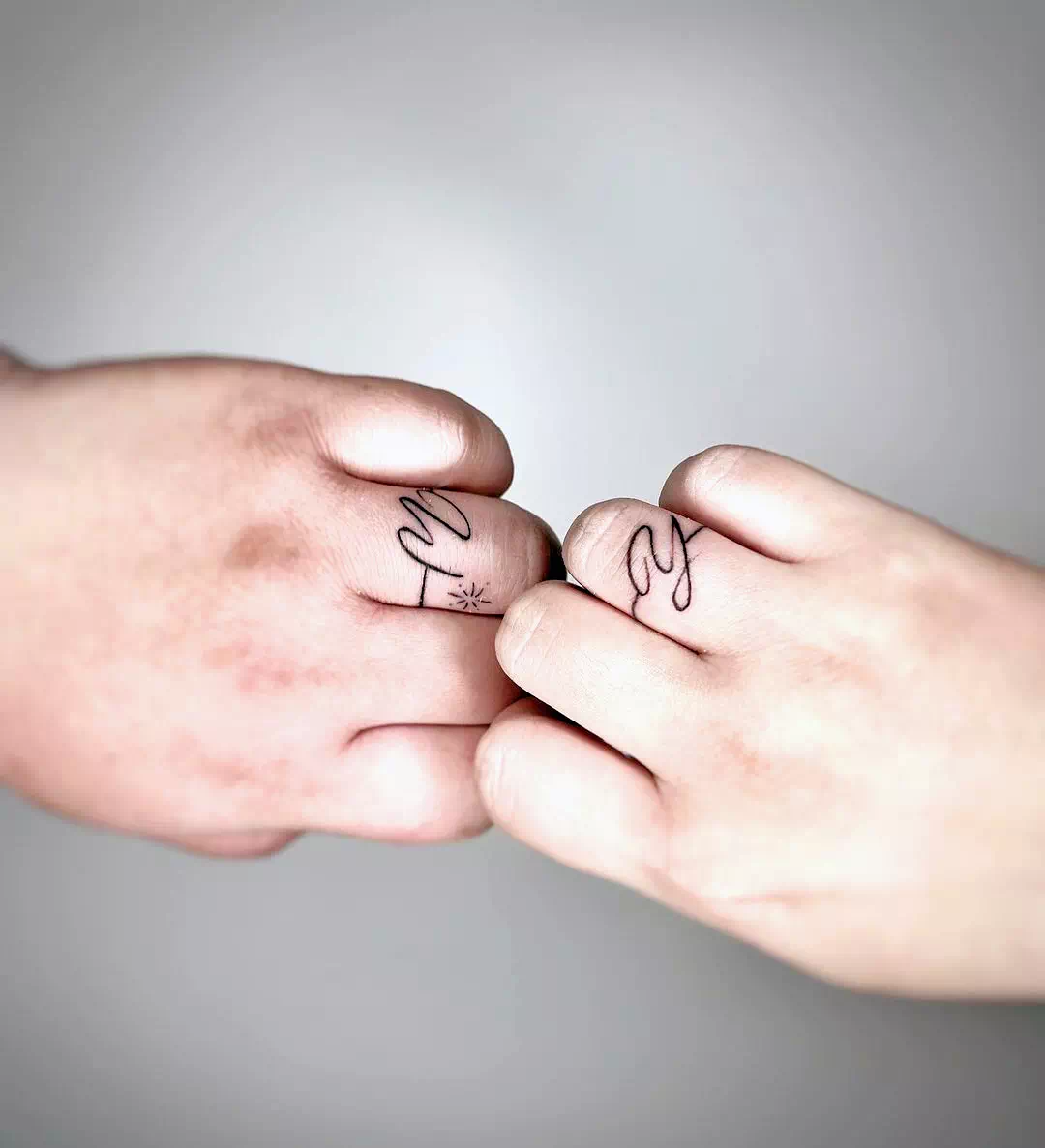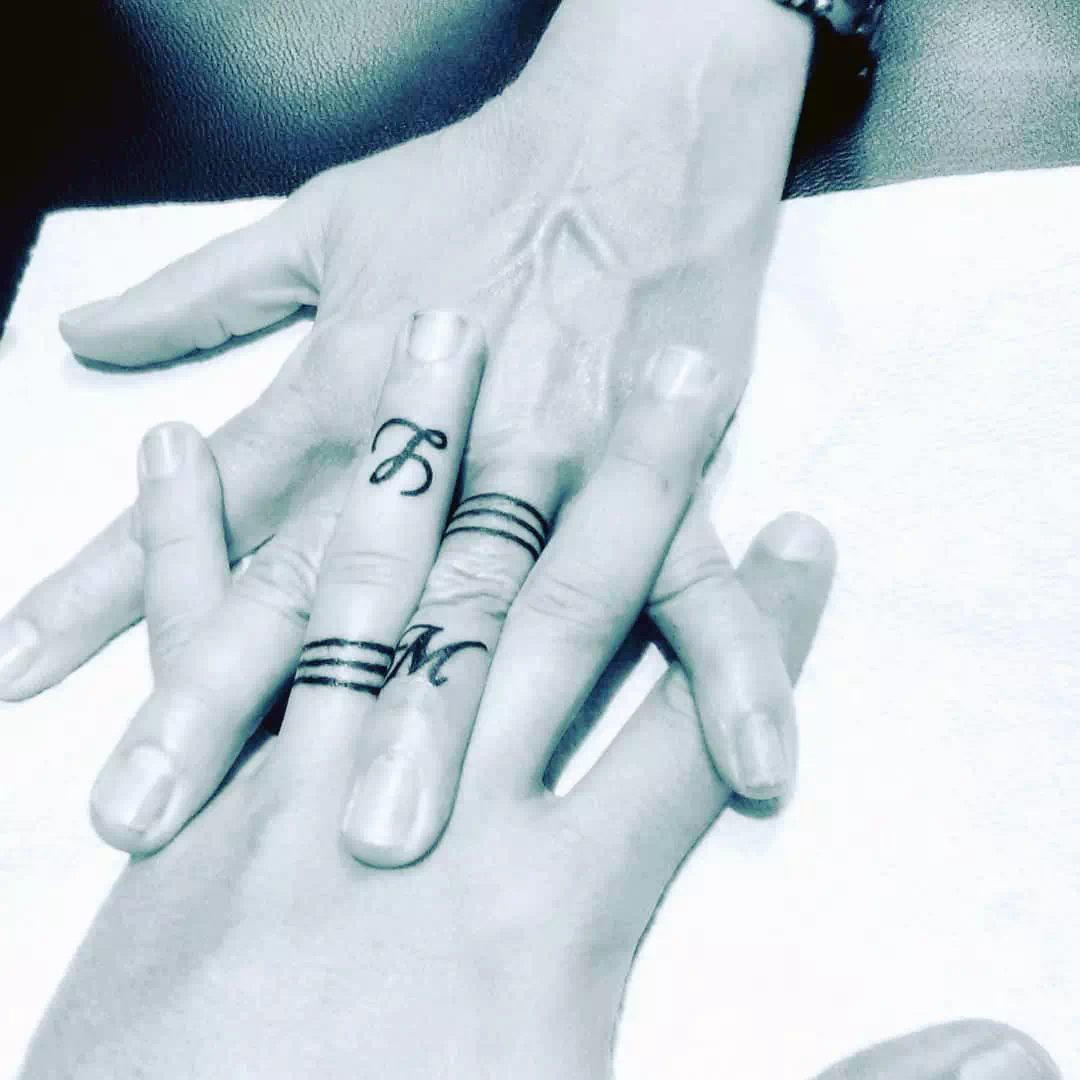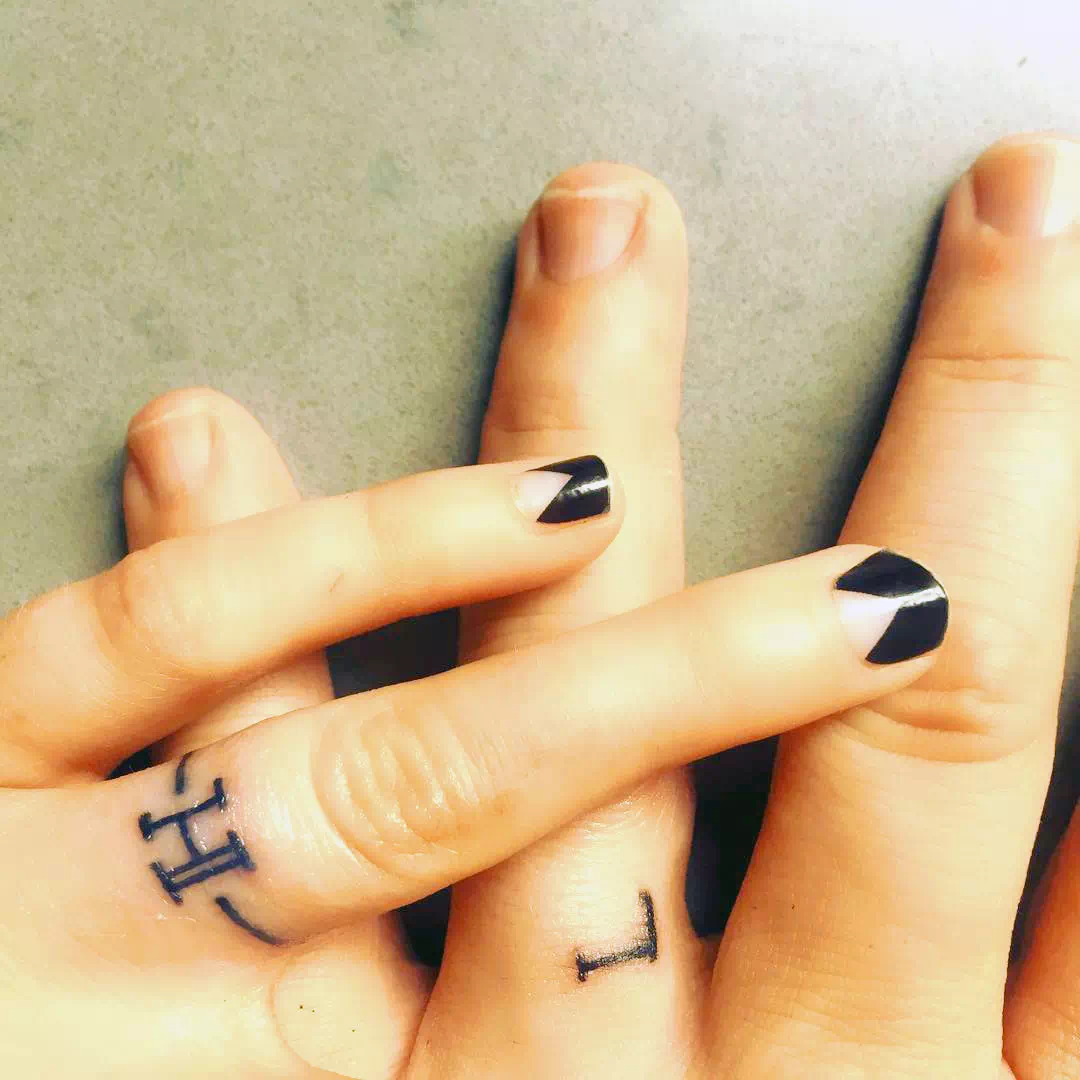 One of the most popular ideas for a wedding ring tattoo is to ink the initials of the person to whom the ring will be given permanently on the finger. This is a really individual concept—a unique facet of the ring that will remain in your possession forever.
It is entirely up to you to choose the format of the letter and the font you wish to use. You can get ideas from a wide variety of different designs. For instance, if you want your ring tattoo to be more noticeable, you might make the script and the initial letter bold. This will help your tattoo stand out more.
Obviously, you can add different things to the letter, like flower petals or a small heart, if you want to.
Tip: you should make it as personal as you possibly can.
Words That Have Meaning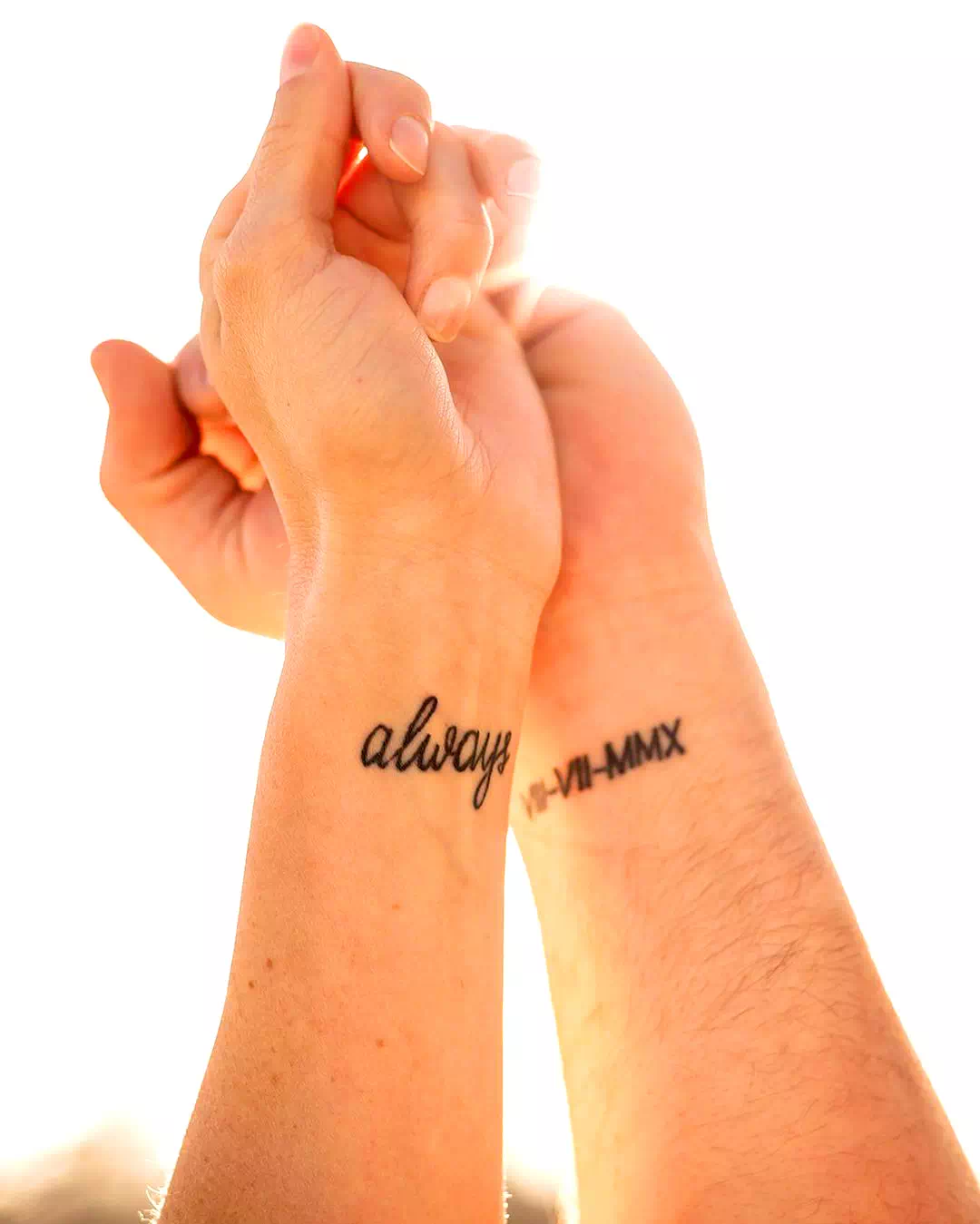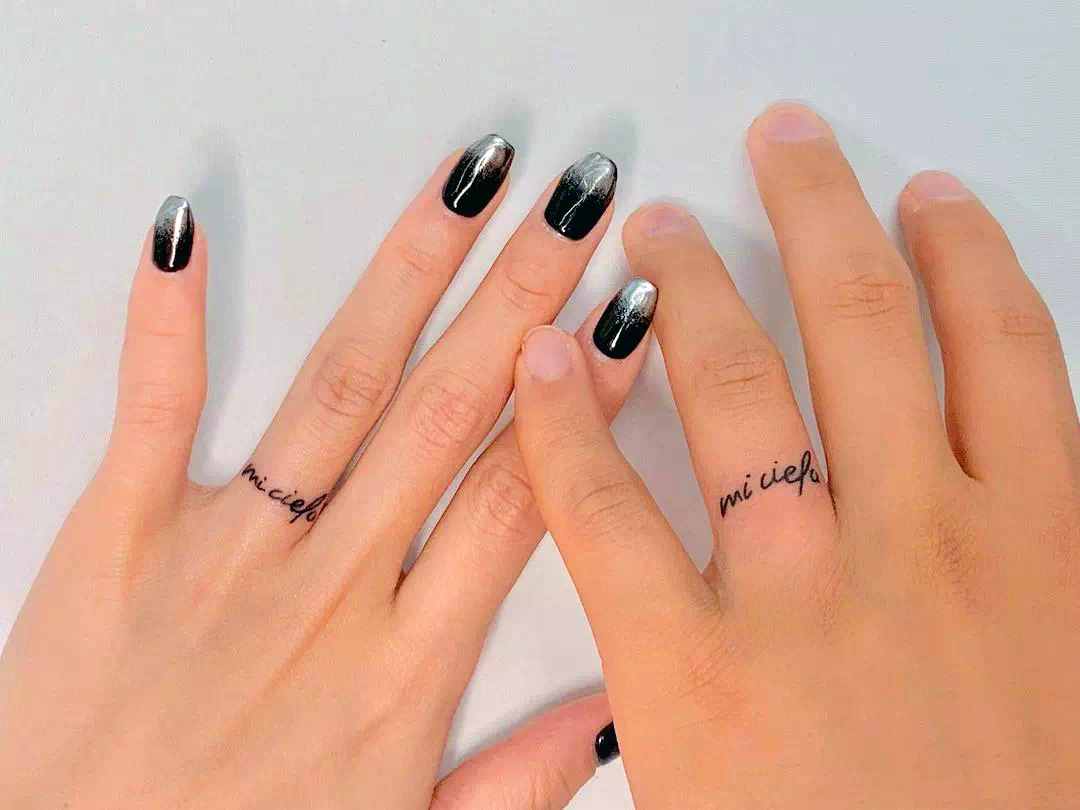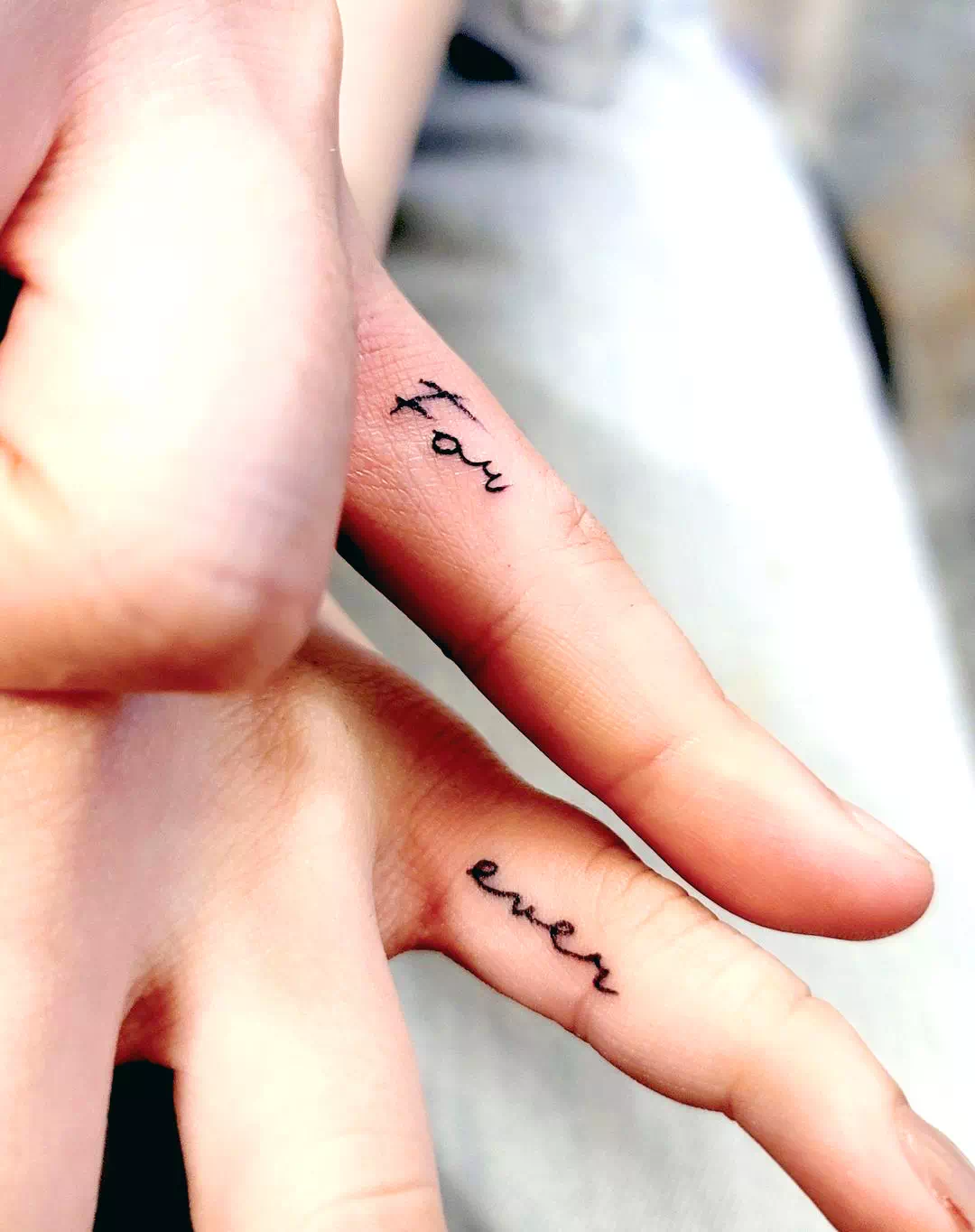 Do you have a favorite quote that you share with one another? Perhaps one, two, or even three adjectives best describe your connection. This could be a great concept for the tattoos on your wedding rings.
Have a conversation with the tattoo artist and ask them to etch those profound words around your fingers.
You must choose a comment that is symbolic of your marriage or a time in your life that is tied to that comment.
Full Names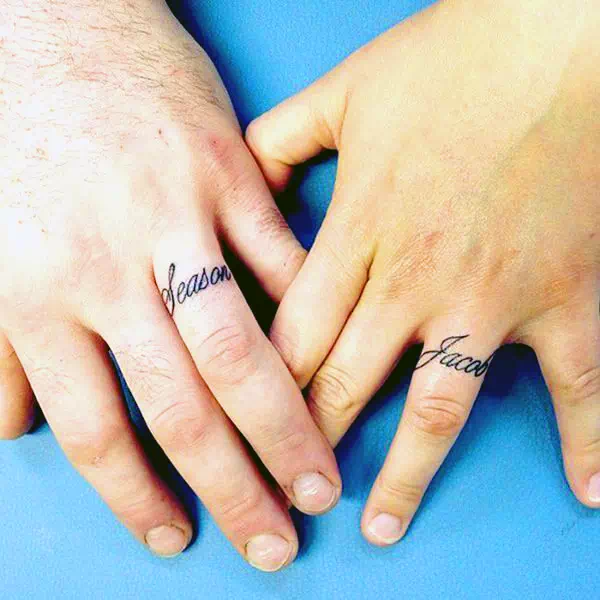 You can have a tattoo of the whole name of the script if you want something more permanent than some basic initials of your spouse.
As soon as you make it appear so personal, it becomes an excellent piece of body art and one of the most personal touches you can add to your marriage.
Tip: you should use a typeface that is important to you very much.
Astrological Indications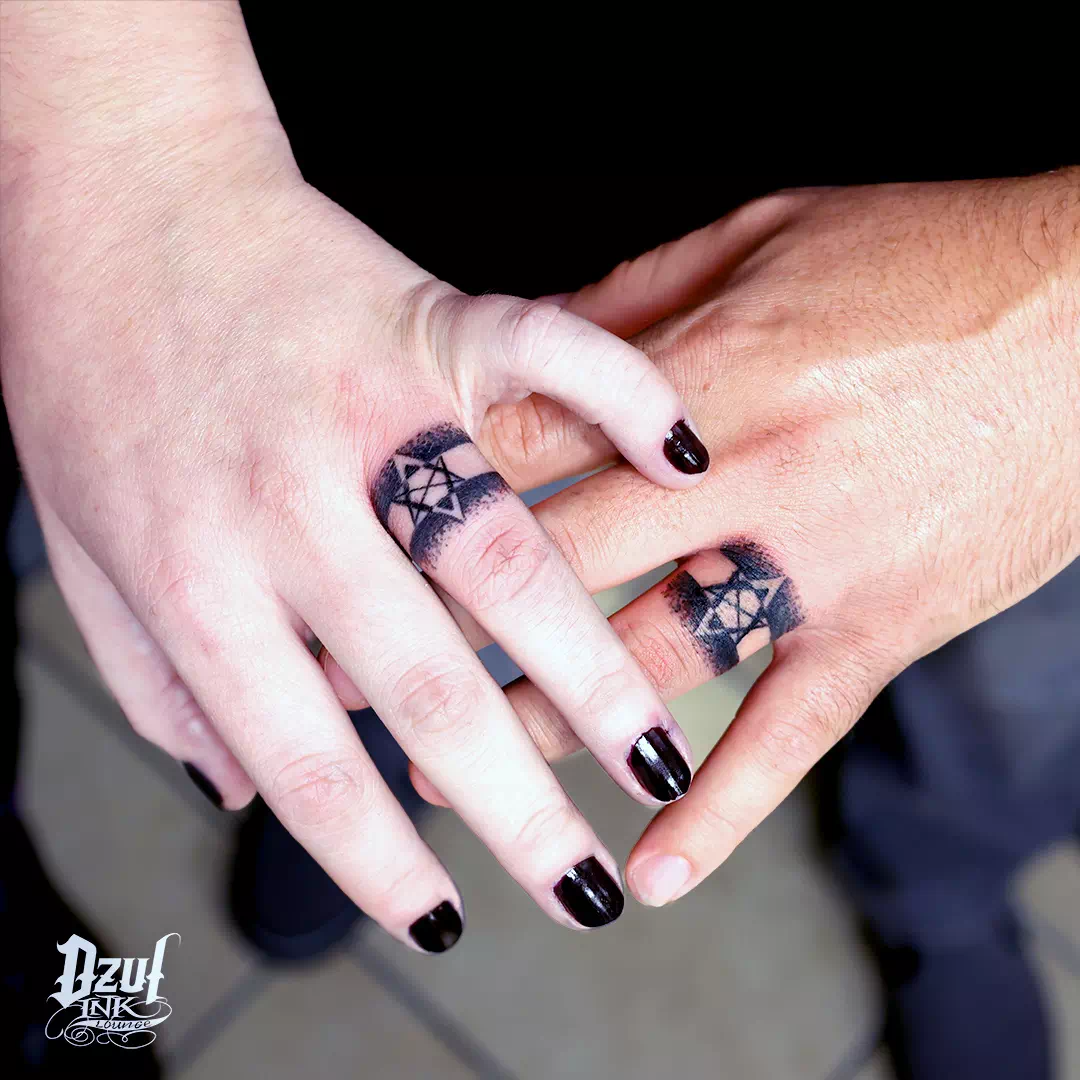 How often have you assured her that you would make the moon appear at her feet? Even if this existence is not enough to respect your goals, at least you have the option of slipping the moon onto her ring finger. These are tattoos for those who are enthusiasts of the moon and stars.
Instead of typical wedding bands, you might have tiny stars that match each other placed on your fingers if you are interested in astrology or find significance in the cosmos.
Tip: may the cosmos shower you with all the love and light it can muster.
Dainty Symbols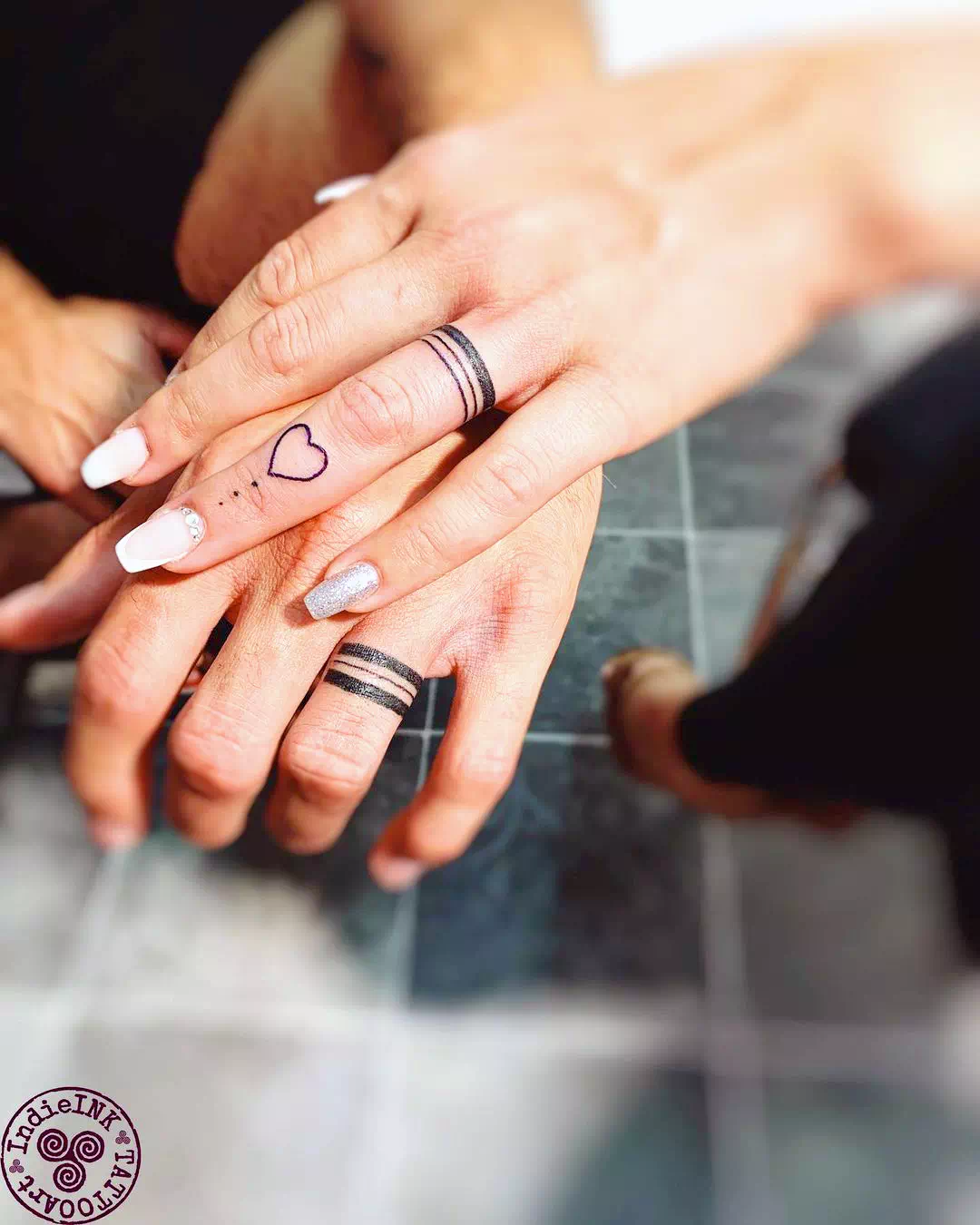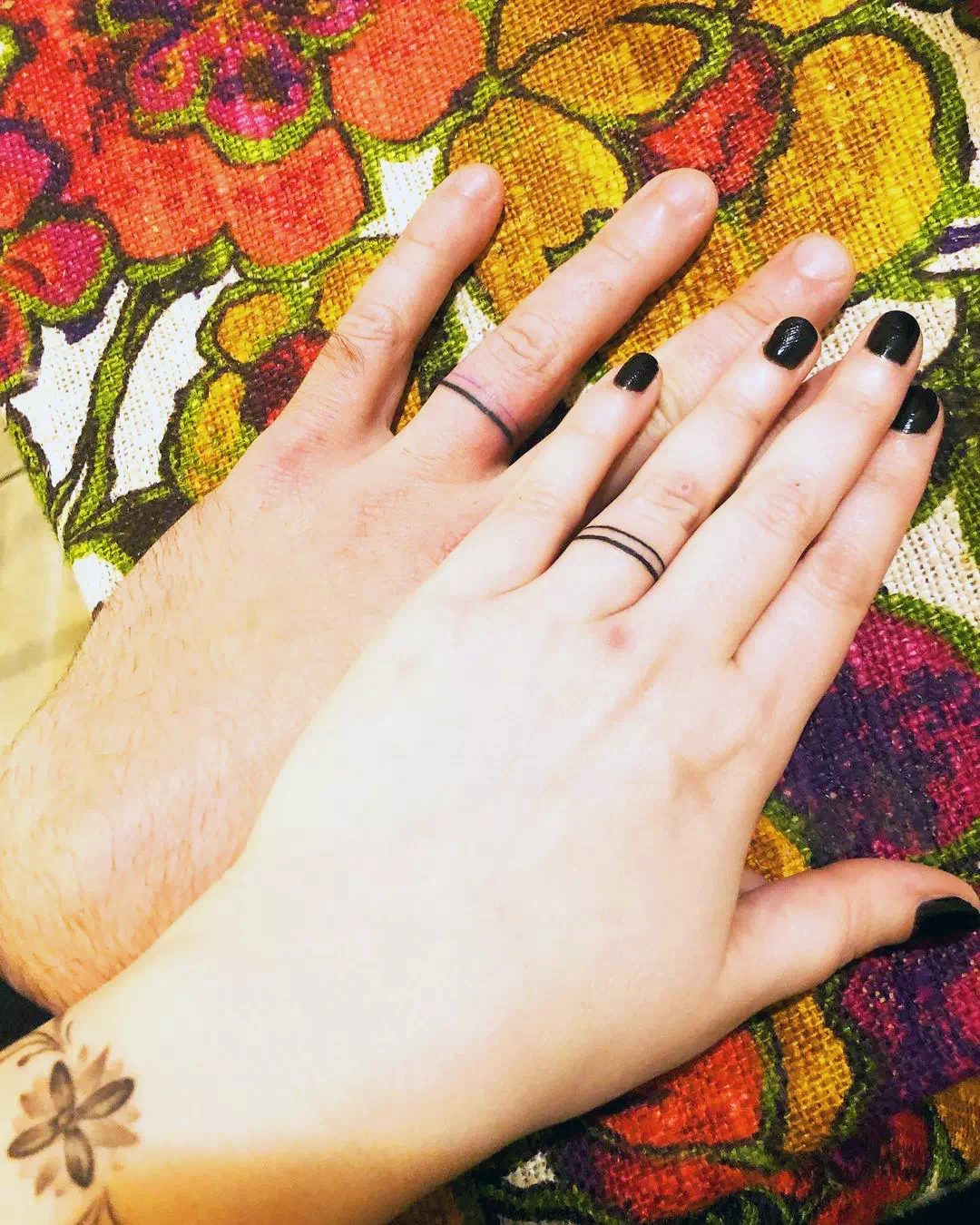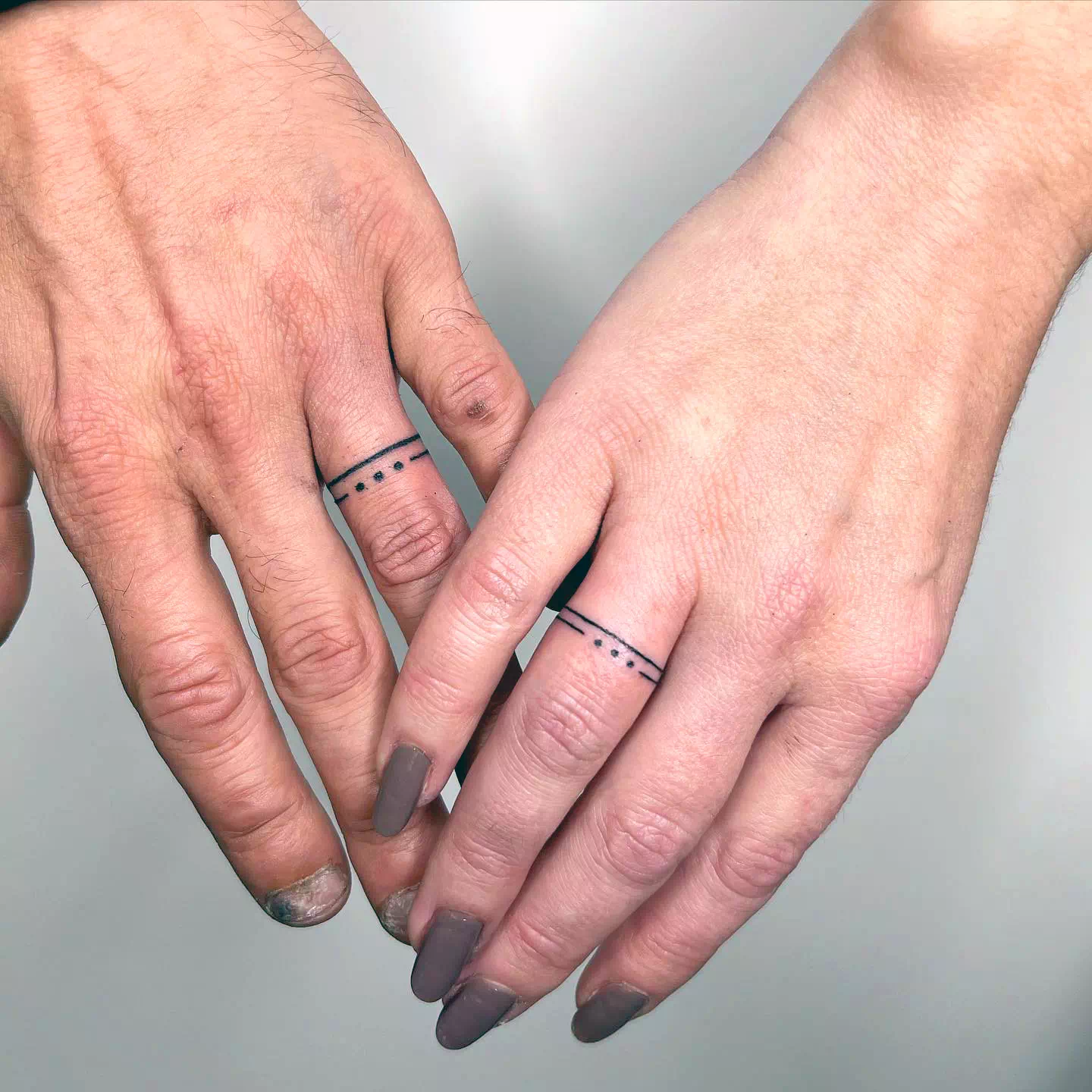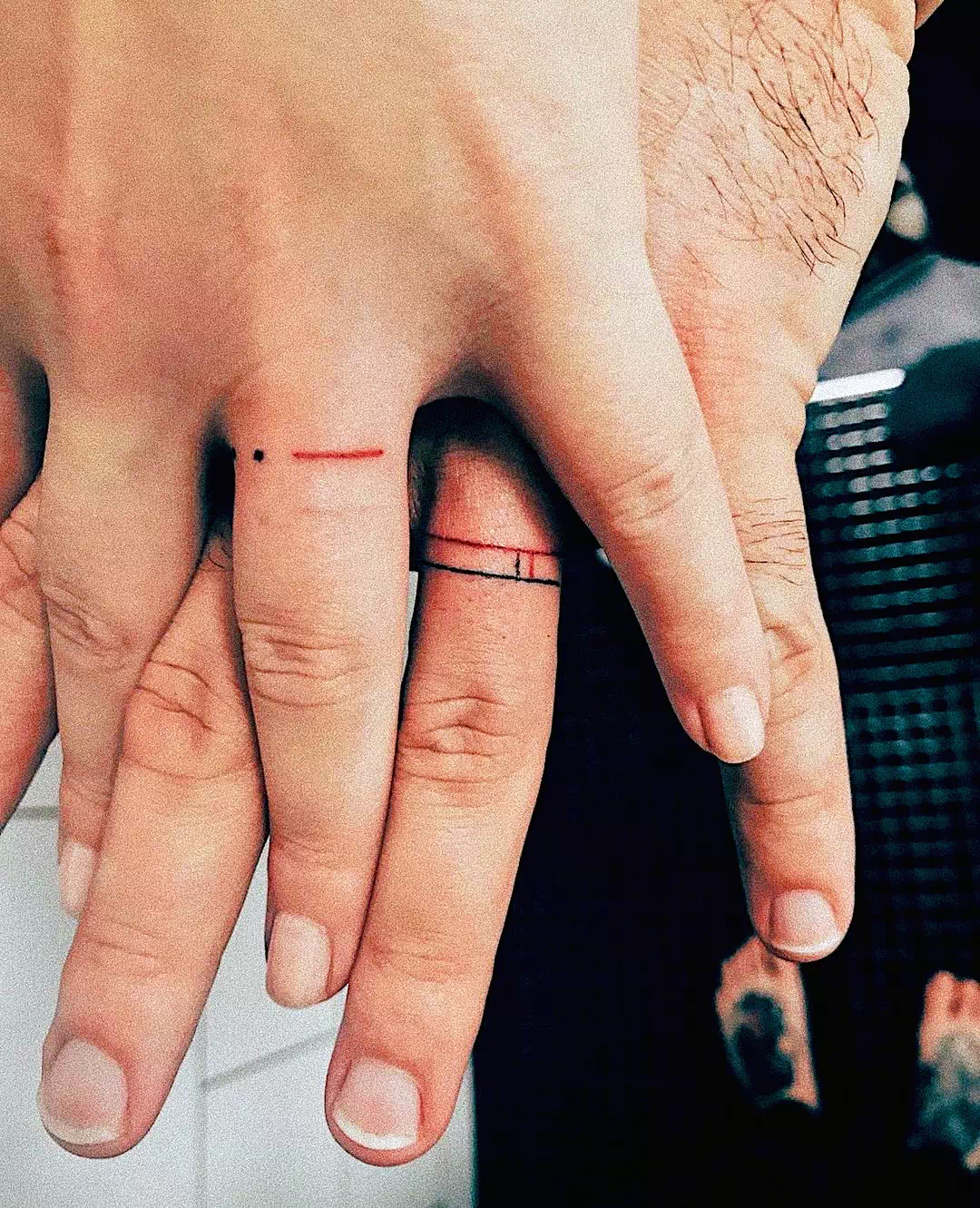 If you want less flashy and more understated tattoos, you can opt to have some delicate motifs inked onto your fingertips. These outlines are thin and black, and the shapes they make are sure indicators that mean a lot to the two of you.
Even if you decide that wedding bands aren't for you, I think you'll agree that these delicate symbols look best when stacked on top of each other's ring fingers.
Floral Patterns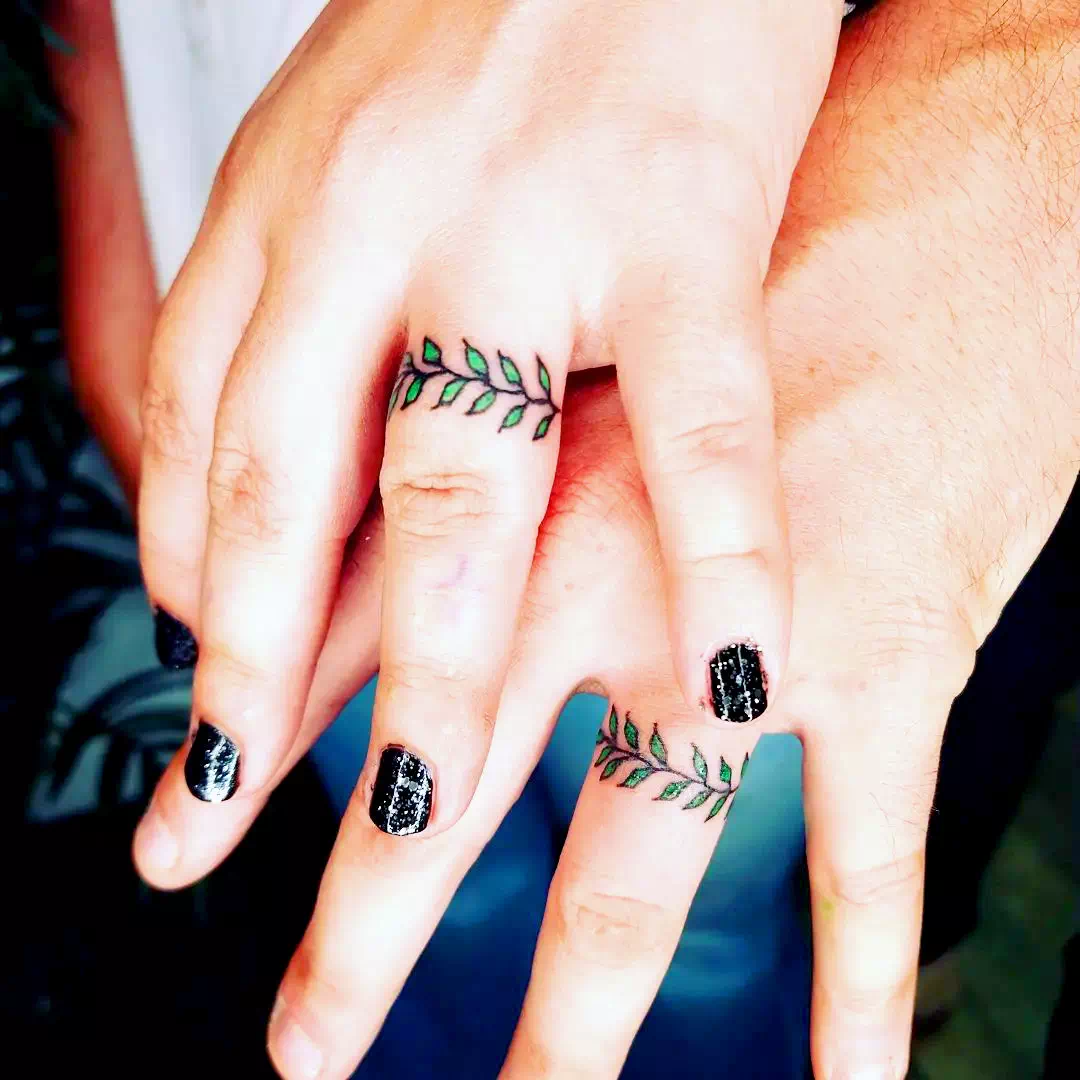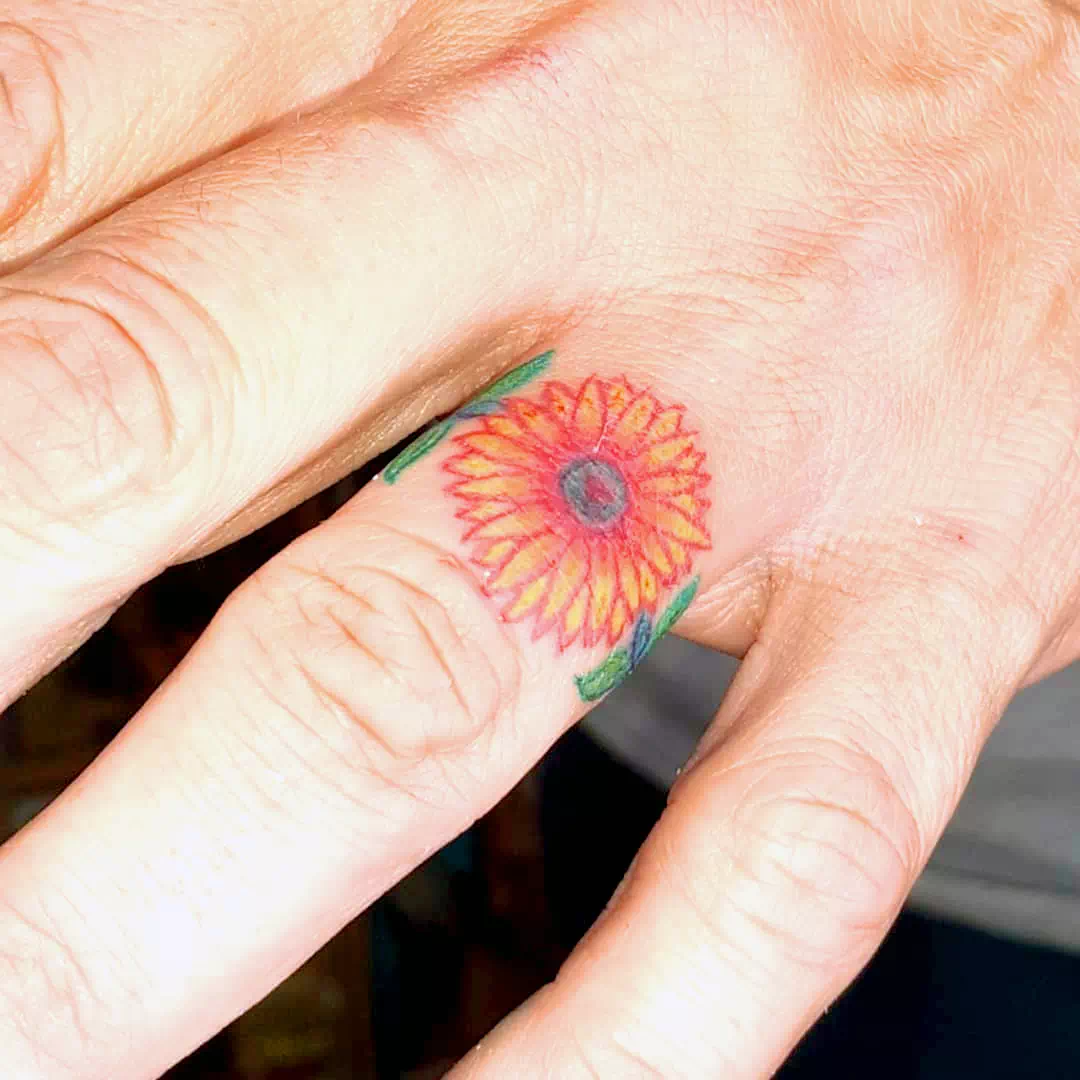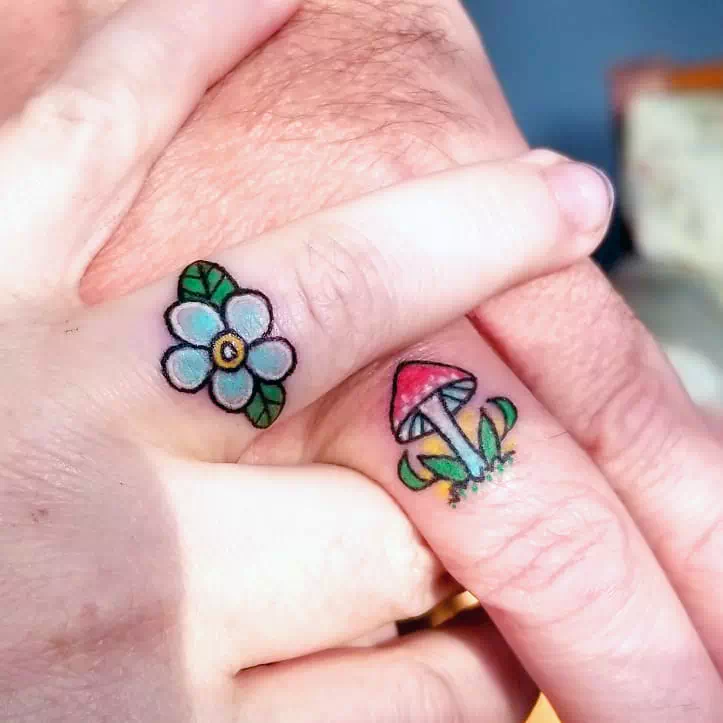 If you have a passion for flowers, there is no better way to express your passion than by surrounding yourself with blooming plants. If your passion is tied to the natural world, you might like to get a matching tattoo band that features designs that are inspired by flowers.
it doesn't have to be a flower at all, but the floral design on the ring that you get tattooed on your finger can at least have some floral features.
Designs Derived from the Natural World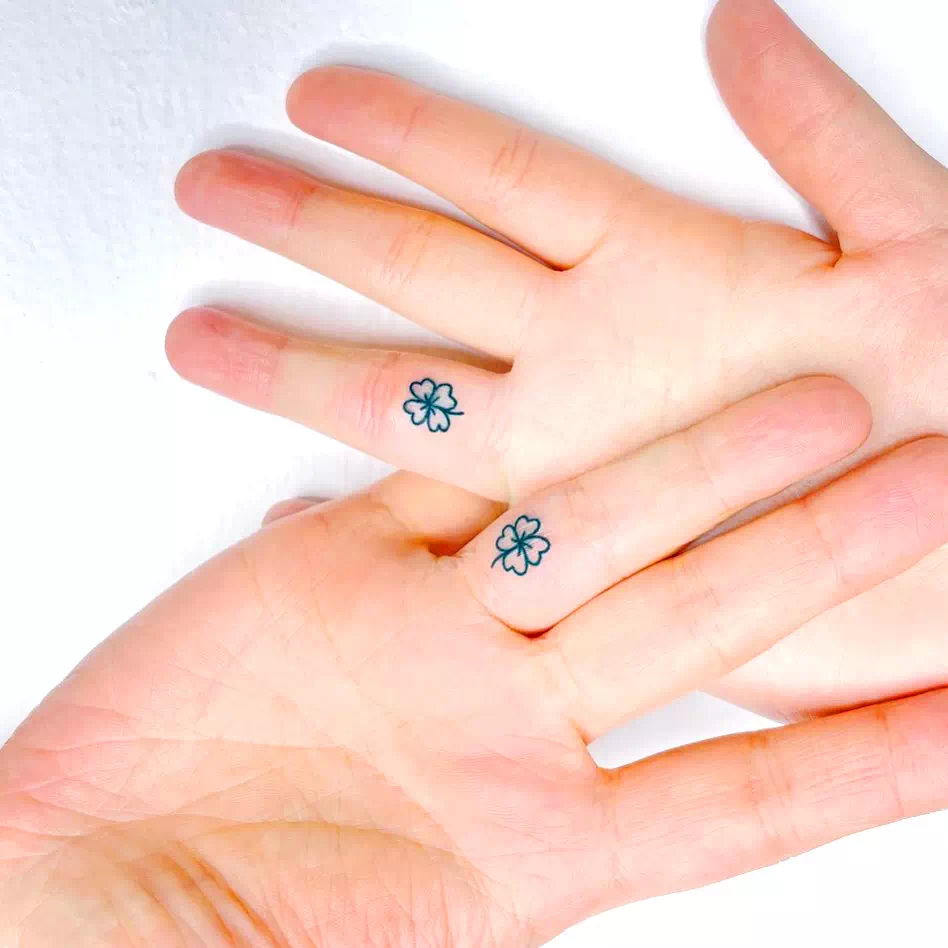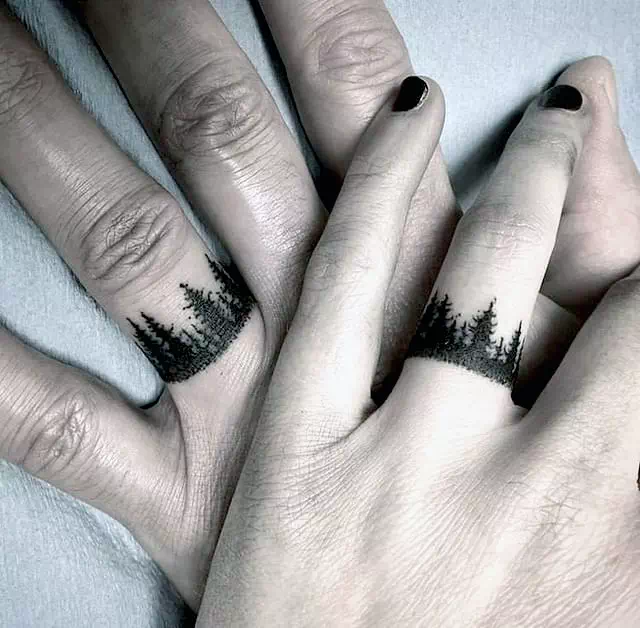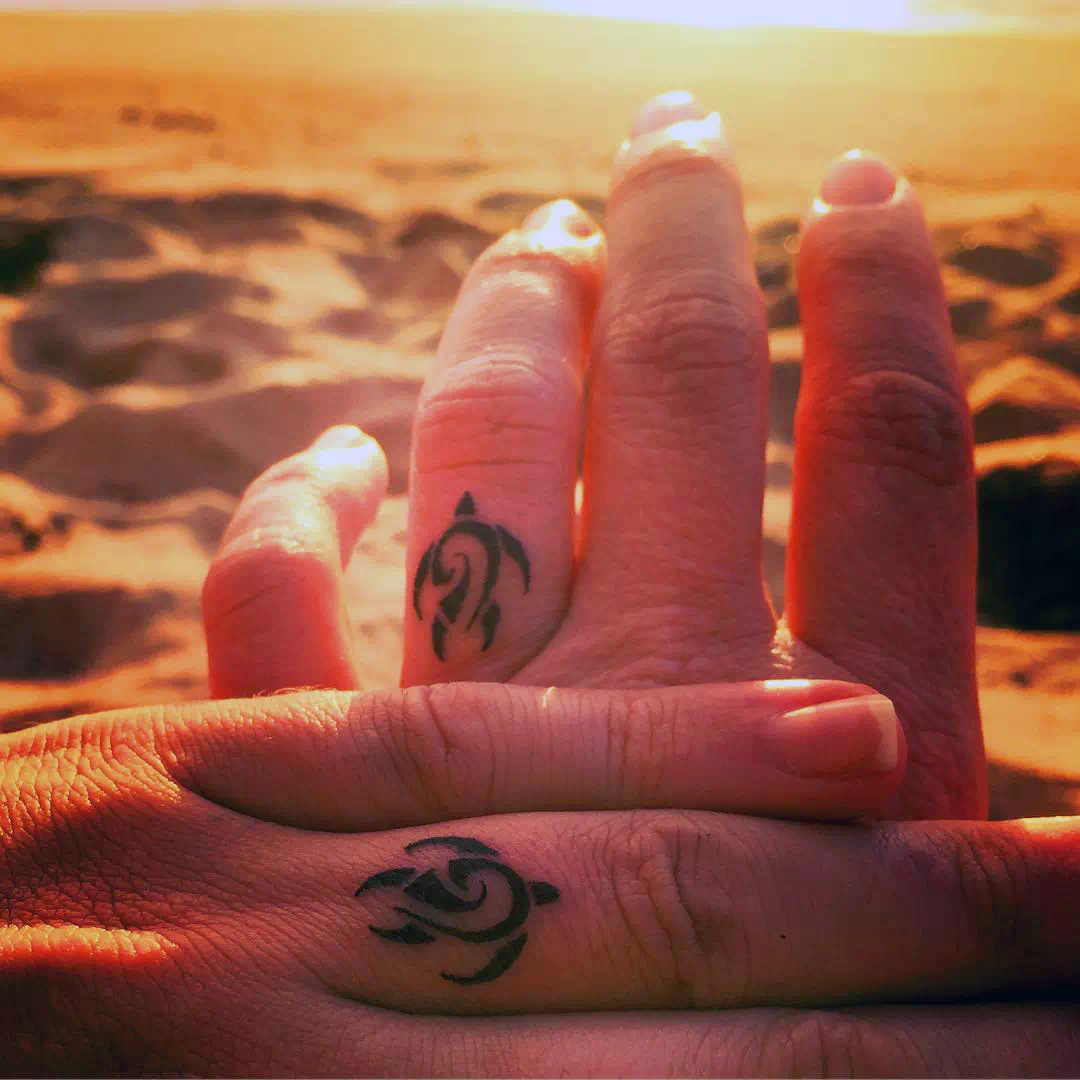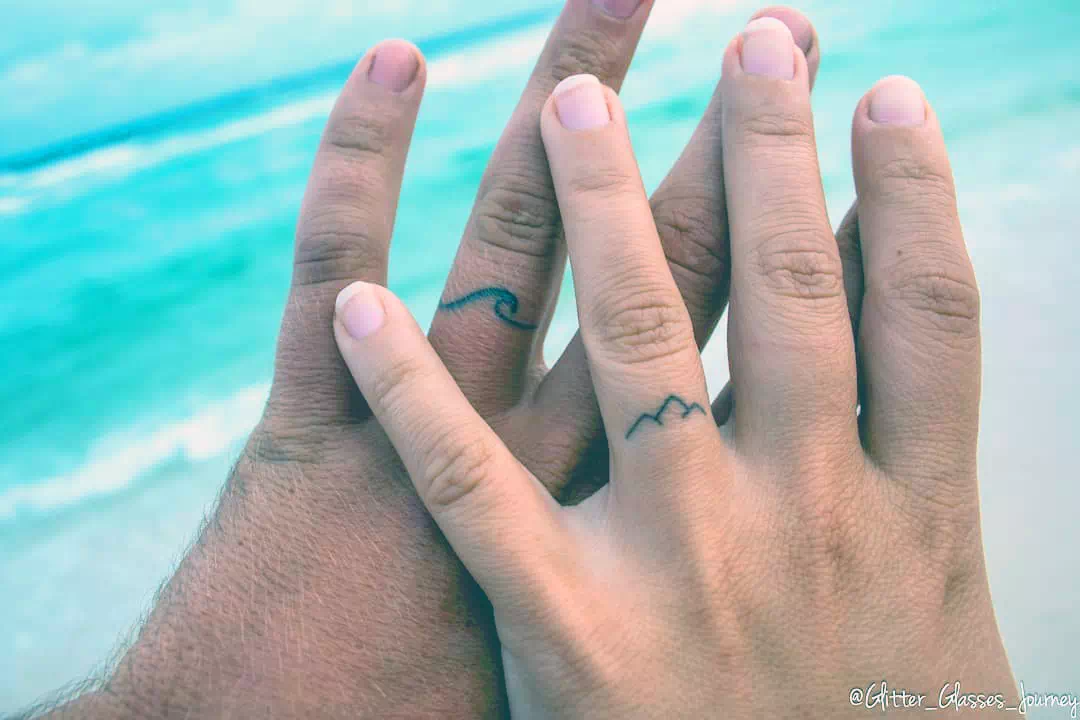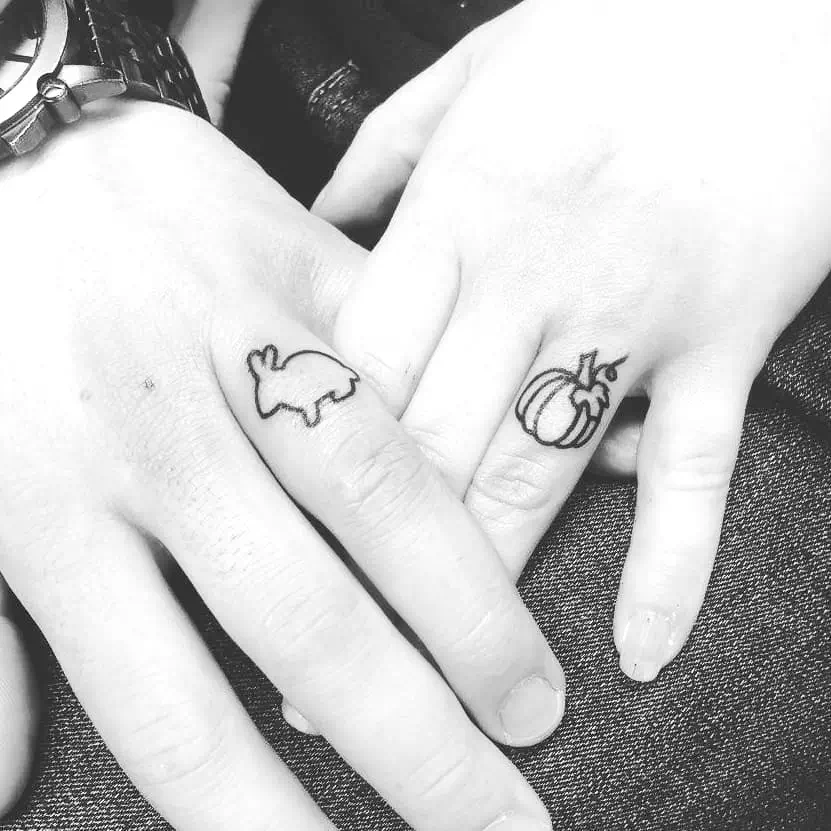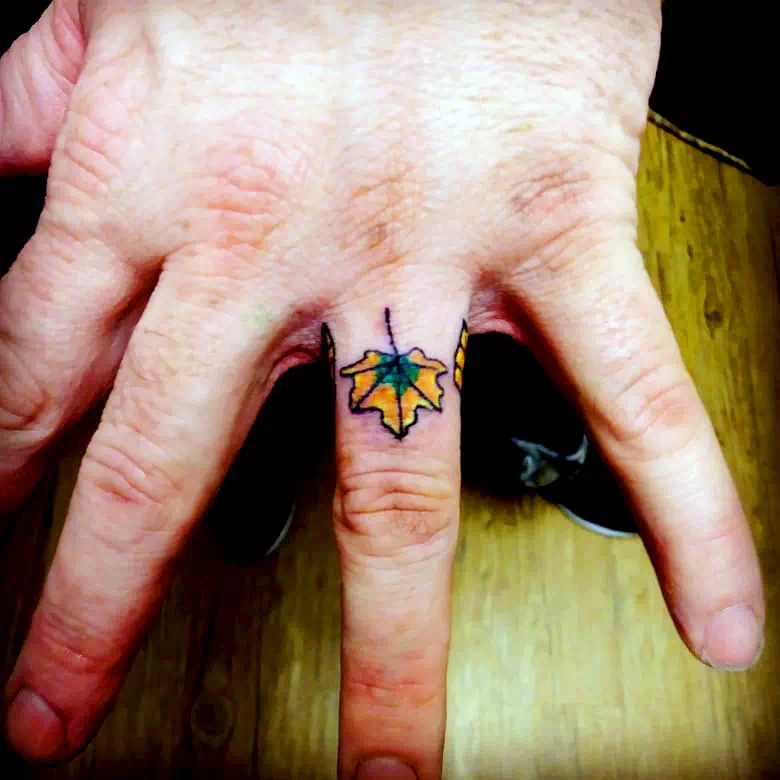 Do you sense a growing connection to the natural world around you? Why not demonstrate your devotion to it by tattooing a meaningful symbol on your ring finger? You can select any symbol you like, whether a lovely pine tree, flowers, an animal, or a specific plant you favor.
You each have the option of picking a certain model or character that can work well in conjunction with the others.
Tip: You should cultivate your creative soul.
Ideas for Anime-Inspired Wedding Tattoos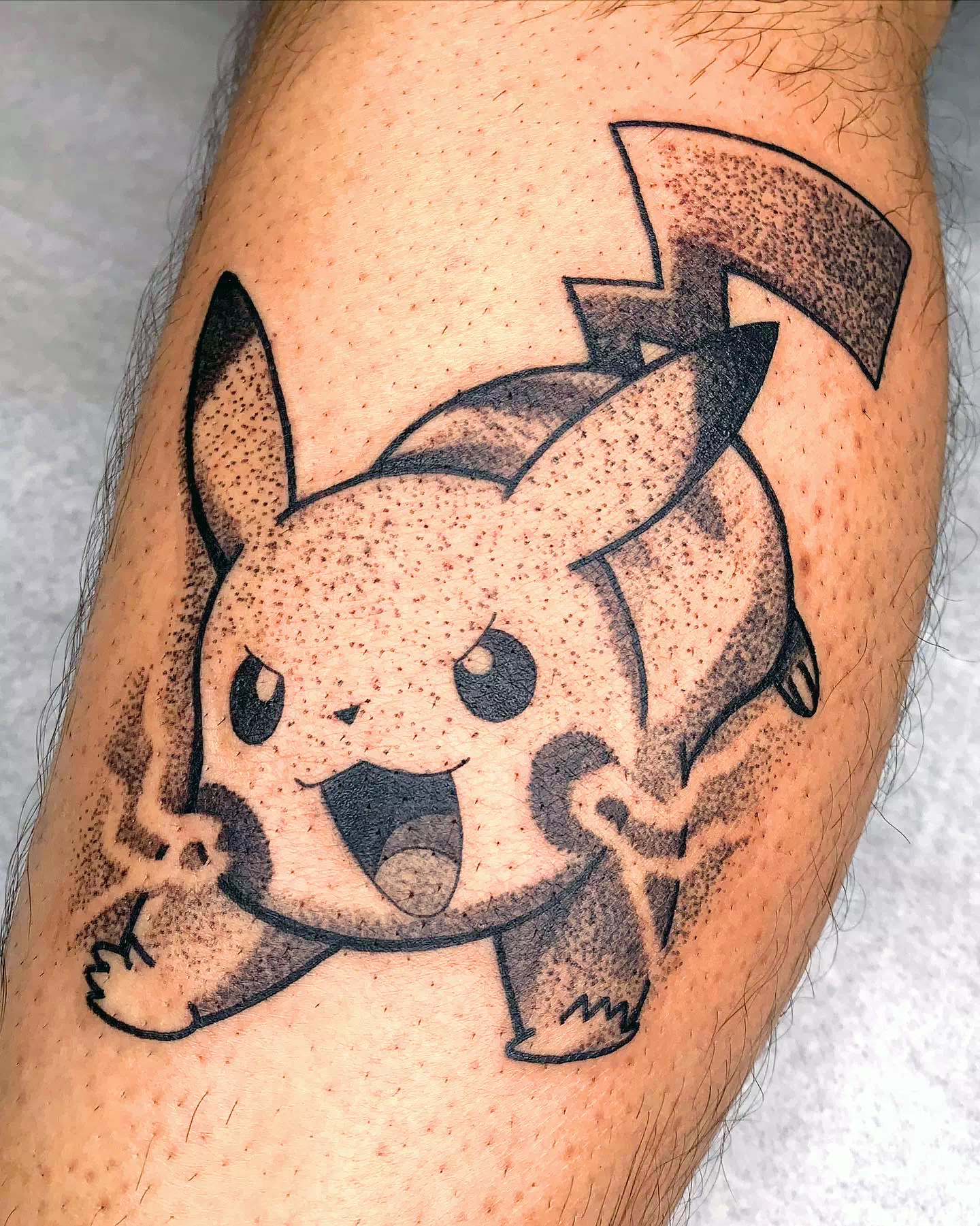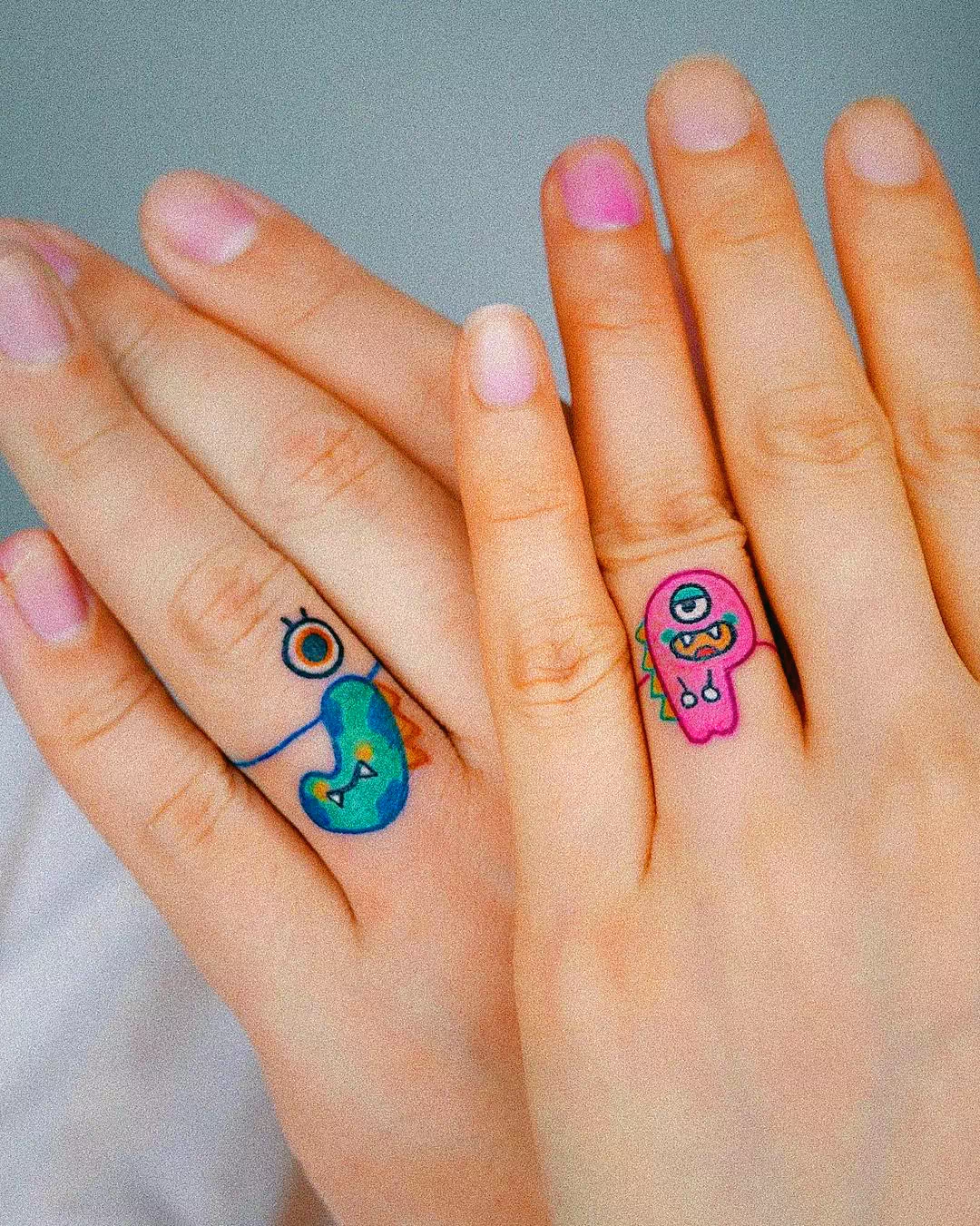 How awesome would it be to complete the aesthetic of this piece of body art with a matching tattoo finger? Relationships are unique, and people express their affection for one another in various ways.
It is an amazing experience to connect with loved ones in this way. People can connect with one another through cartoons and animated films.
The idea that various anime characters would never forget certain unforgettable occasions for some couples is a good place to start for a wedding ring tattoo because it is so straightforward.
Tip: This is an interesting and fitting way to show how two people will always be connected.
Wedding Band Tattoo Body Art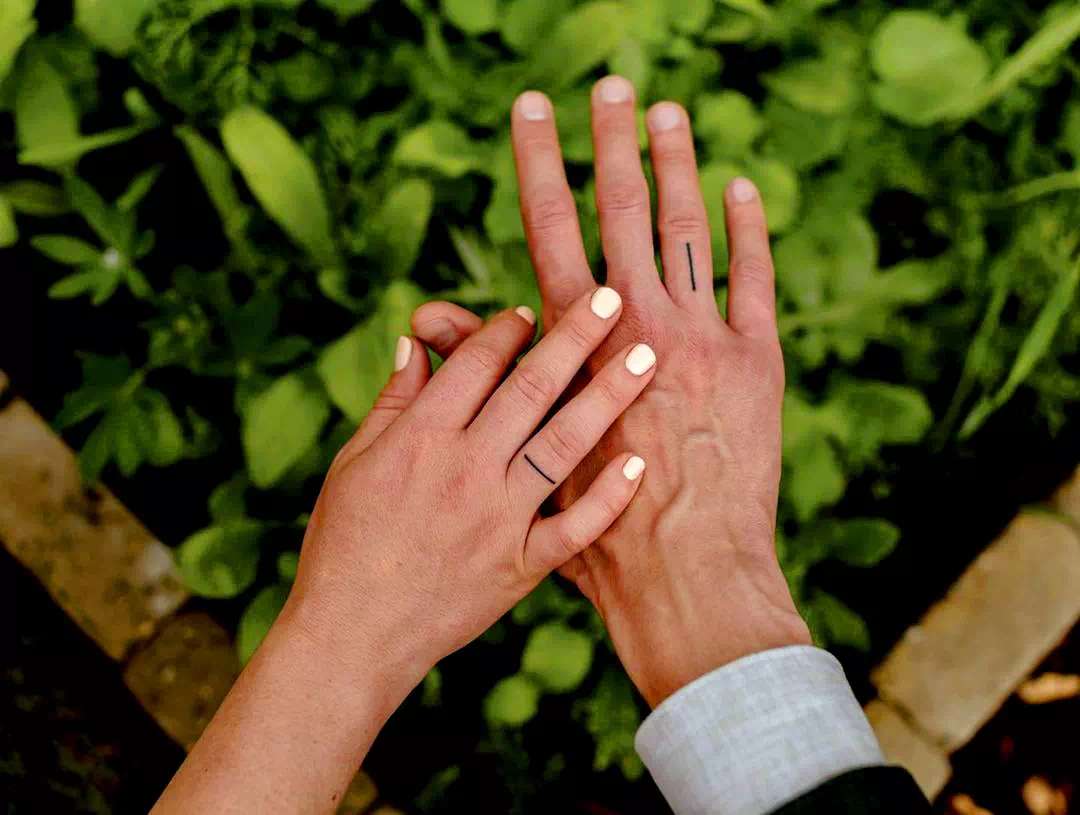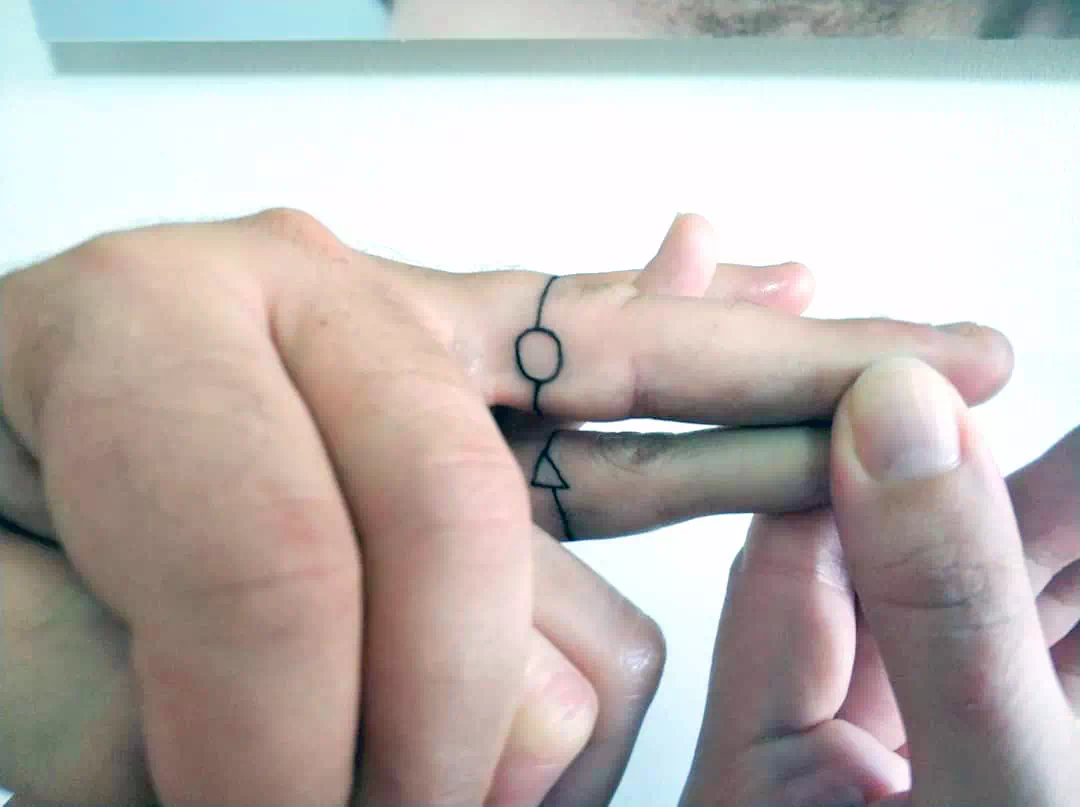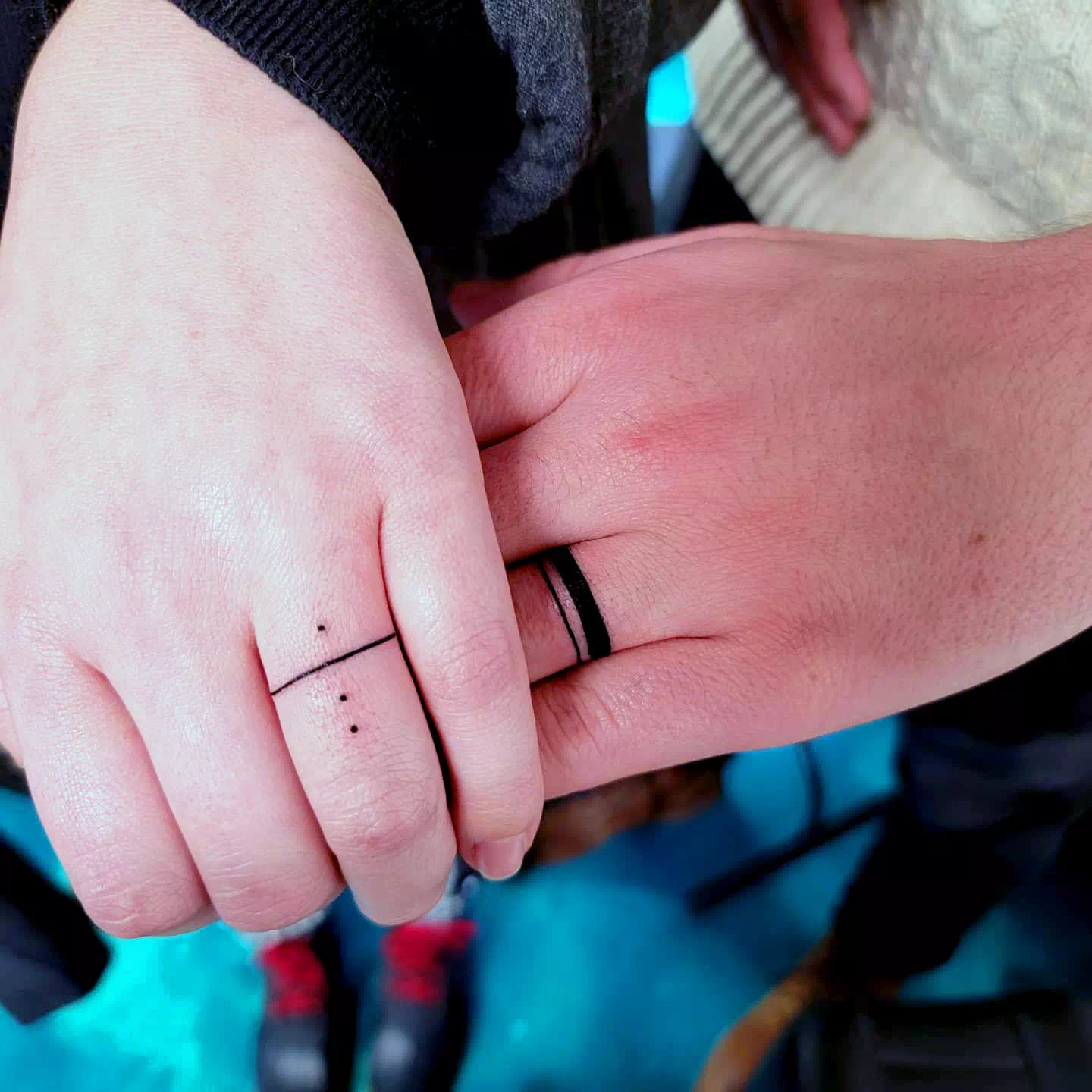 Some people might opt for more intricate patterns for their wedding ring tattoos, but others would prefer a more plain approach that is more likely to fit their personal style. Wedding ring tattoos have become increasingly popular in recent years.
These wedding bands are sophisticated, uncomplicated, and understated; they are also excellent imitations of wedding rings.
The tattoo body art of various wedding bands produces that ideal life cycle and symbolizes the wearers' love for one another. The tattoo artist has to do a perfect job, with perfect stipple shading and the most accurate line work.
You can go with a line, a dot pattern, or a continuous band for the design.
Tip: using black ink packed very densely is the best way to make something appear as exact as possible.
Crown Wedding Ring Tattoo Ideas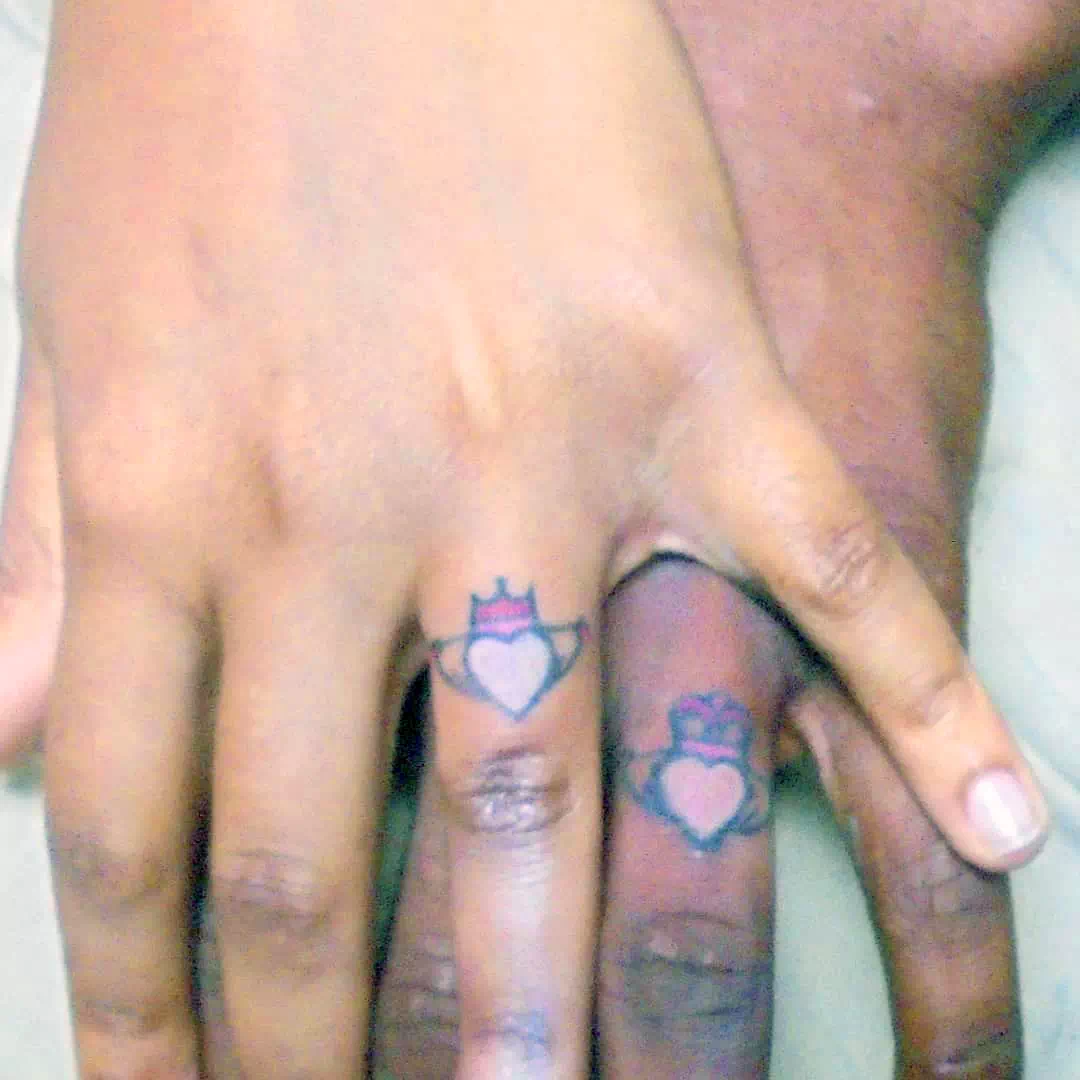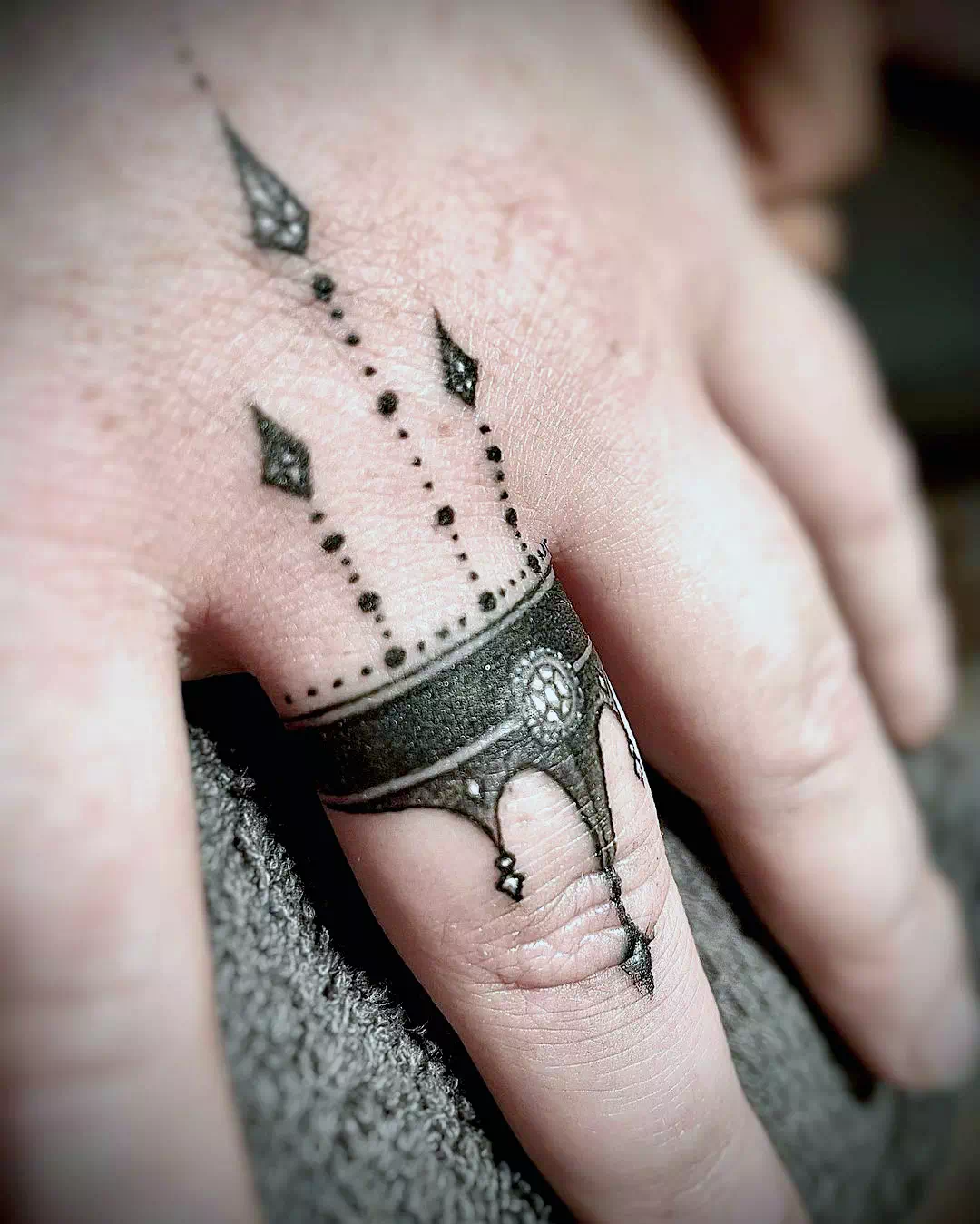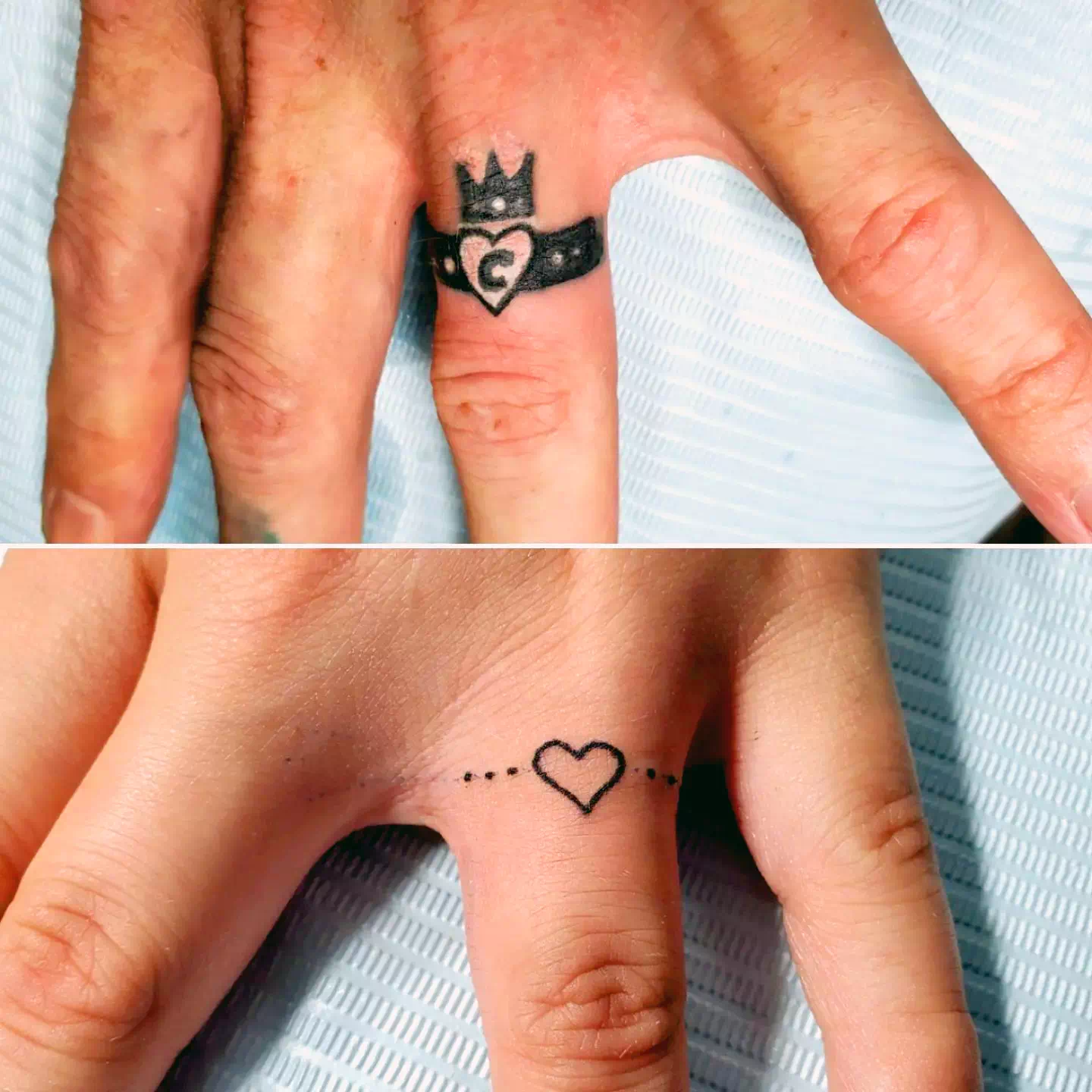 Designs for wedding ring tattoos that feature the concept of having a crown on one's finger are quickly becoming one of the industry's most popular and exciting trends. Considering that you are his queen and that he is your king, one way that you can demonstrate your love for one another is by getting matching finger tattoos that feature regal motifs.
A portion of a script will also be incorporated into a few of these pieces. Either your initials are engraved on the crown, or you can rethink the traditional designs of the king of hearts and the queen of hearts as playing card motifs.
Tip: When your love for one another is like a fairytale, there is no better way to mark the wedding than to get matching crown tattoos on each other.
Infinity Traditional Wedding Ring Tattoo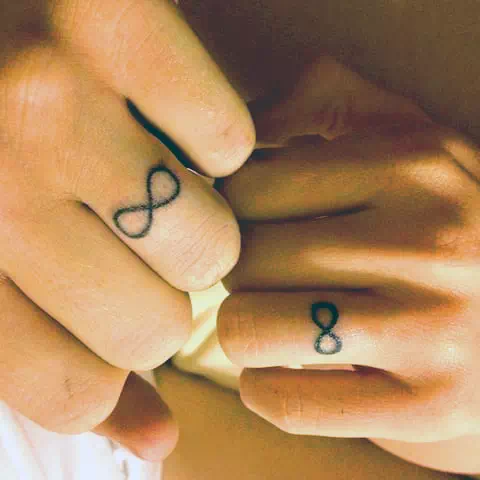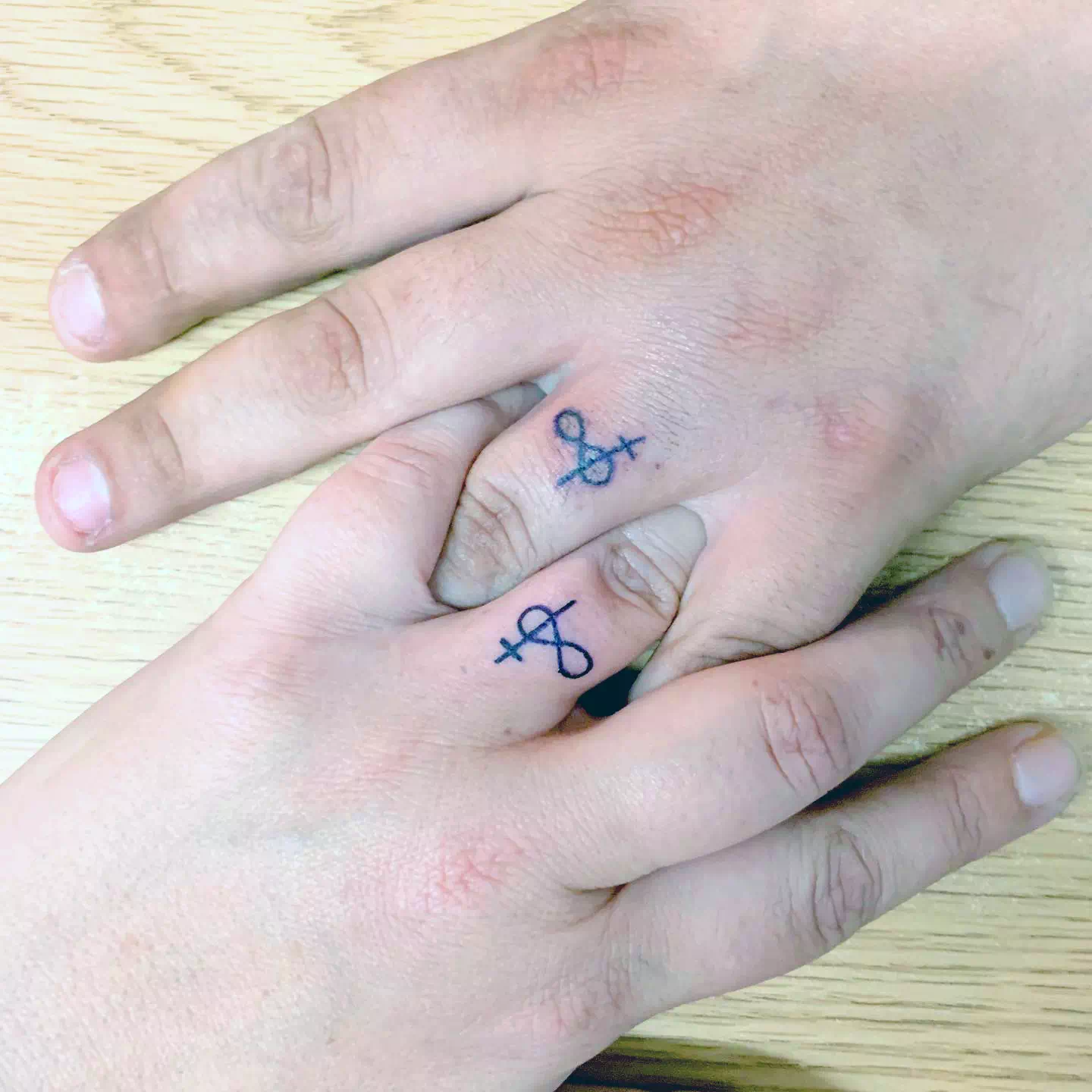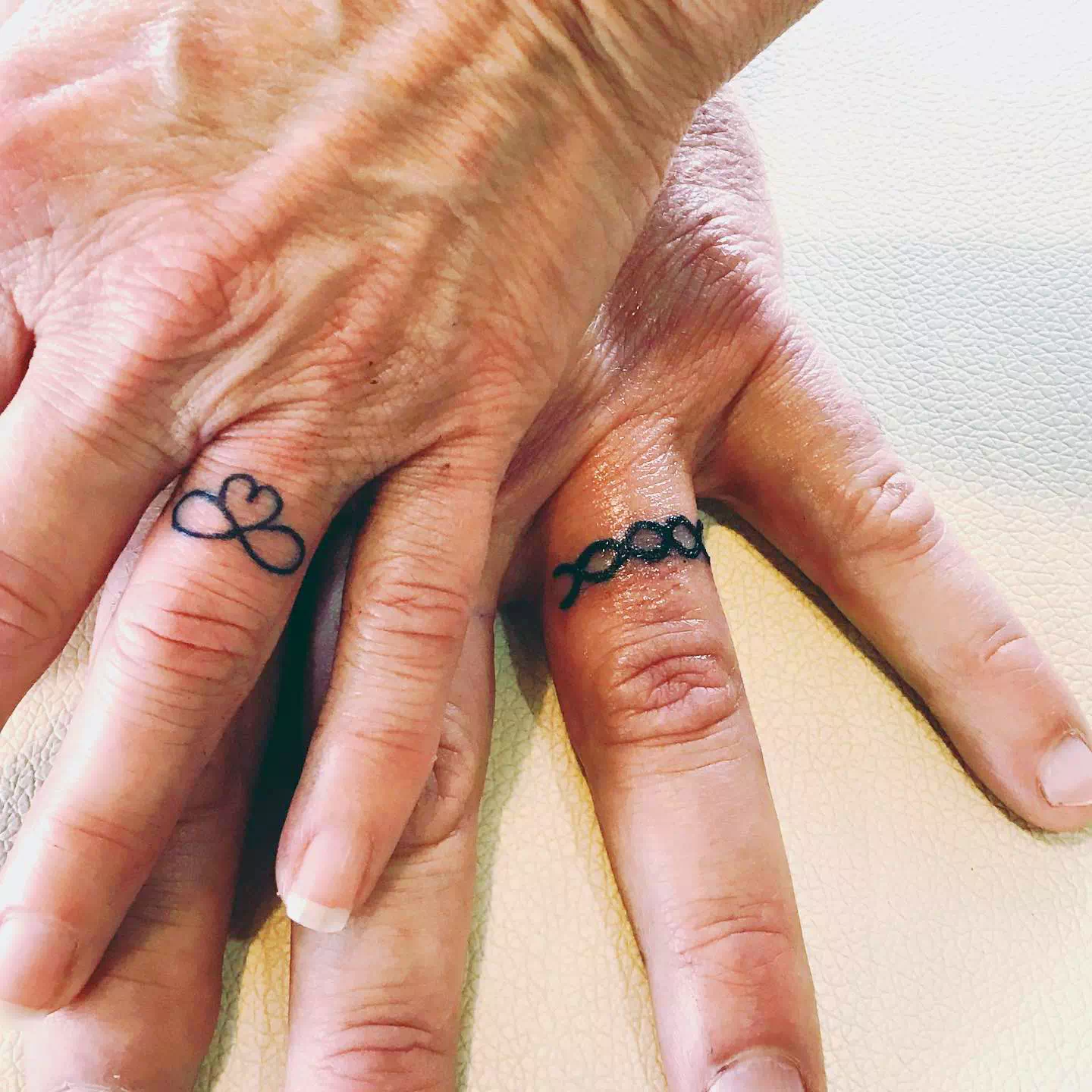 Common mathematical symbols can be used to express our love for one another and build a one-of-a-kind design that symbolizes the unbreakable link that exists between lovers. The infinity symbol is always fashionable and appears in various designs.
The infinity symbol carries a great deal of weight in contemporary tattoo art and design.
Tip: You should ask the tattoo artist if you can add other things, like tiny hearts, crosses, or flower petals.
Matching Couple Tattoo Wedding Ring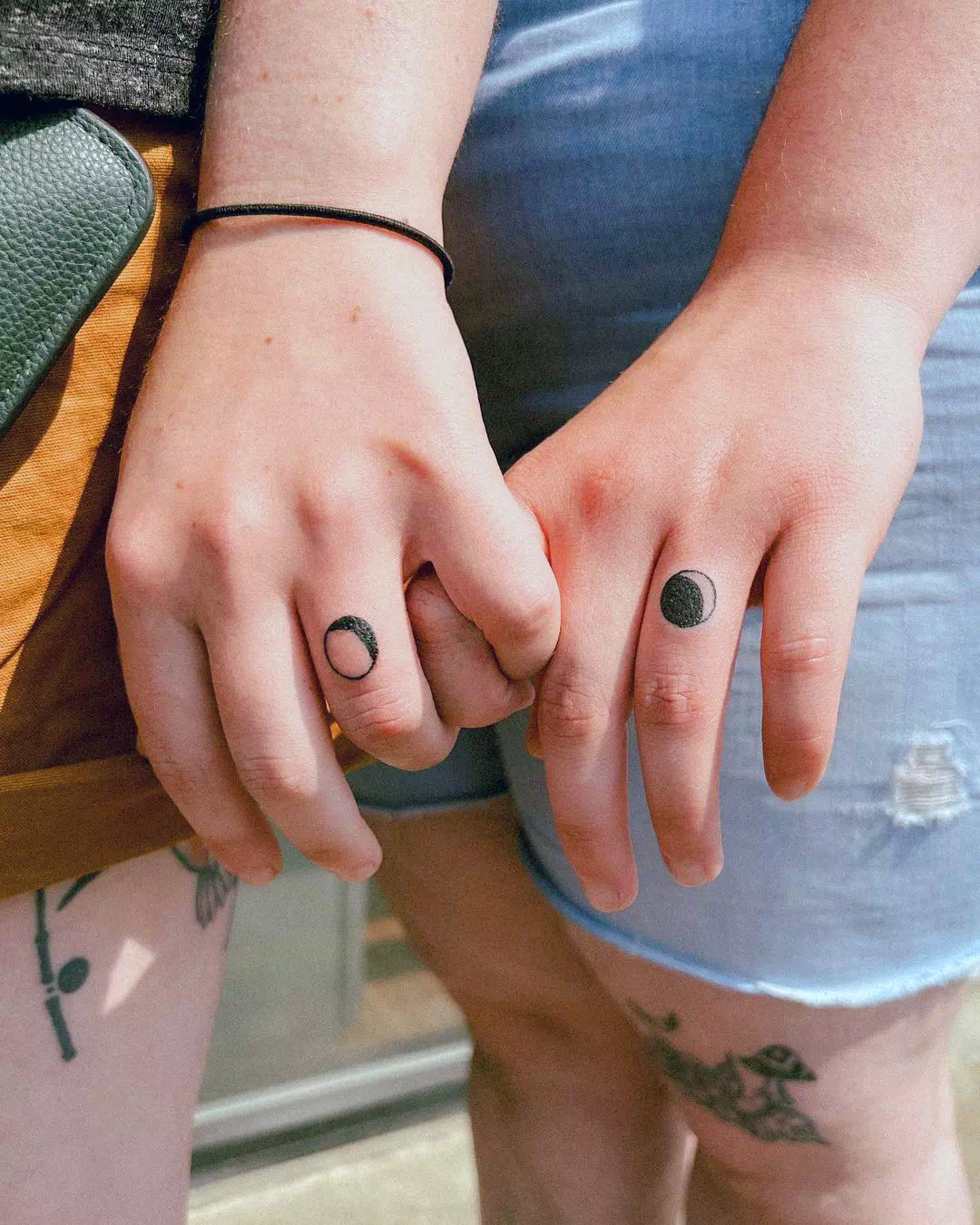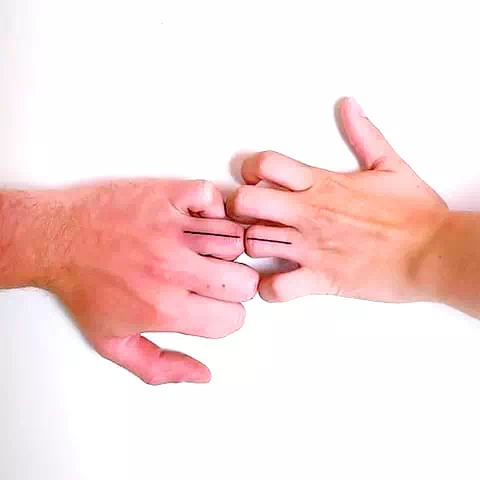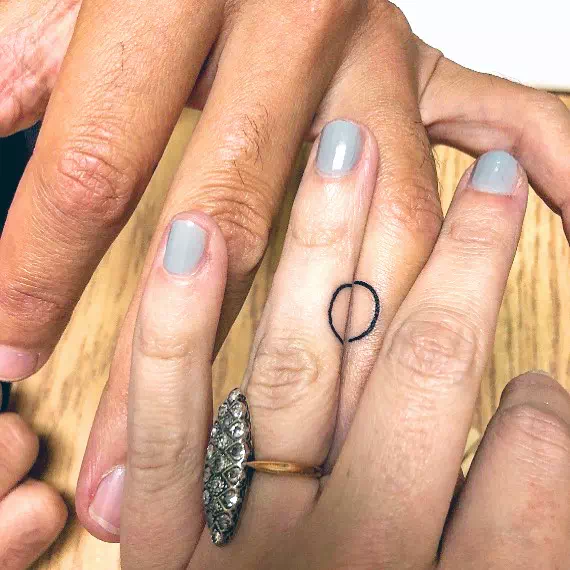 Even though it's not usually required, a couple might decide to get matching tattoo wedding rings to show that their love and connection will last forever.
Since matching ring tattoos are available in various designs and styles, choosing the appropriate body art to symbolize your connection should be based only on your individual preferences.
I have compiled a list of simple suggestions and wonderful illustrations to serve as a source of motivation for you, but you are free to design your very own distinctive wedding ring tattoo. Choose a tattoo concept that reflects the two of you, whether it be meaningful phrases, a symmetrical Celtic design, some cat paws, or just a heart. These are some examples of ideas.
Tip: Having tattoos that match one another will show the world that a couple is committed to each other for life and isn't afraid to flaunt their affection.
Music Themed Wedding Ring Tattoos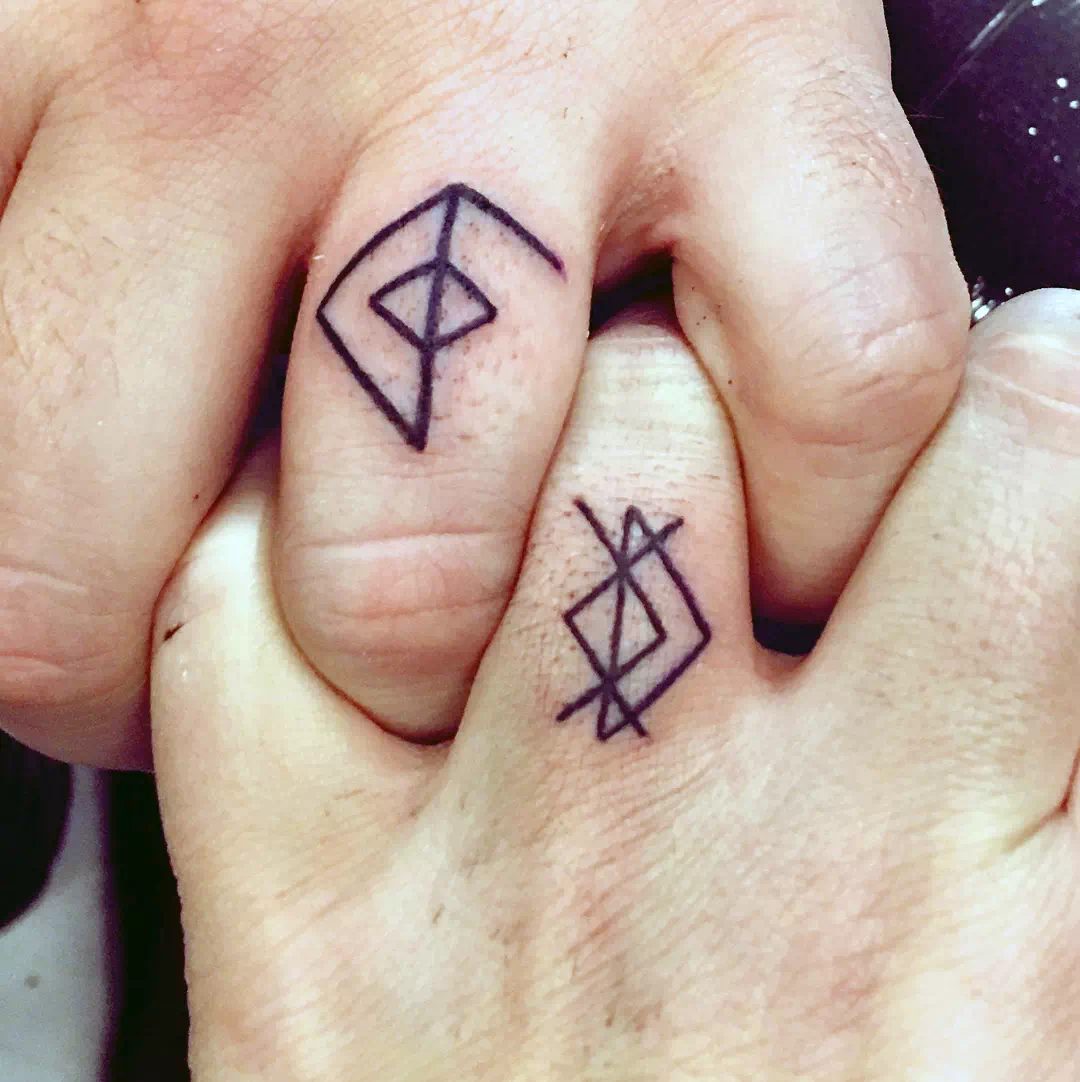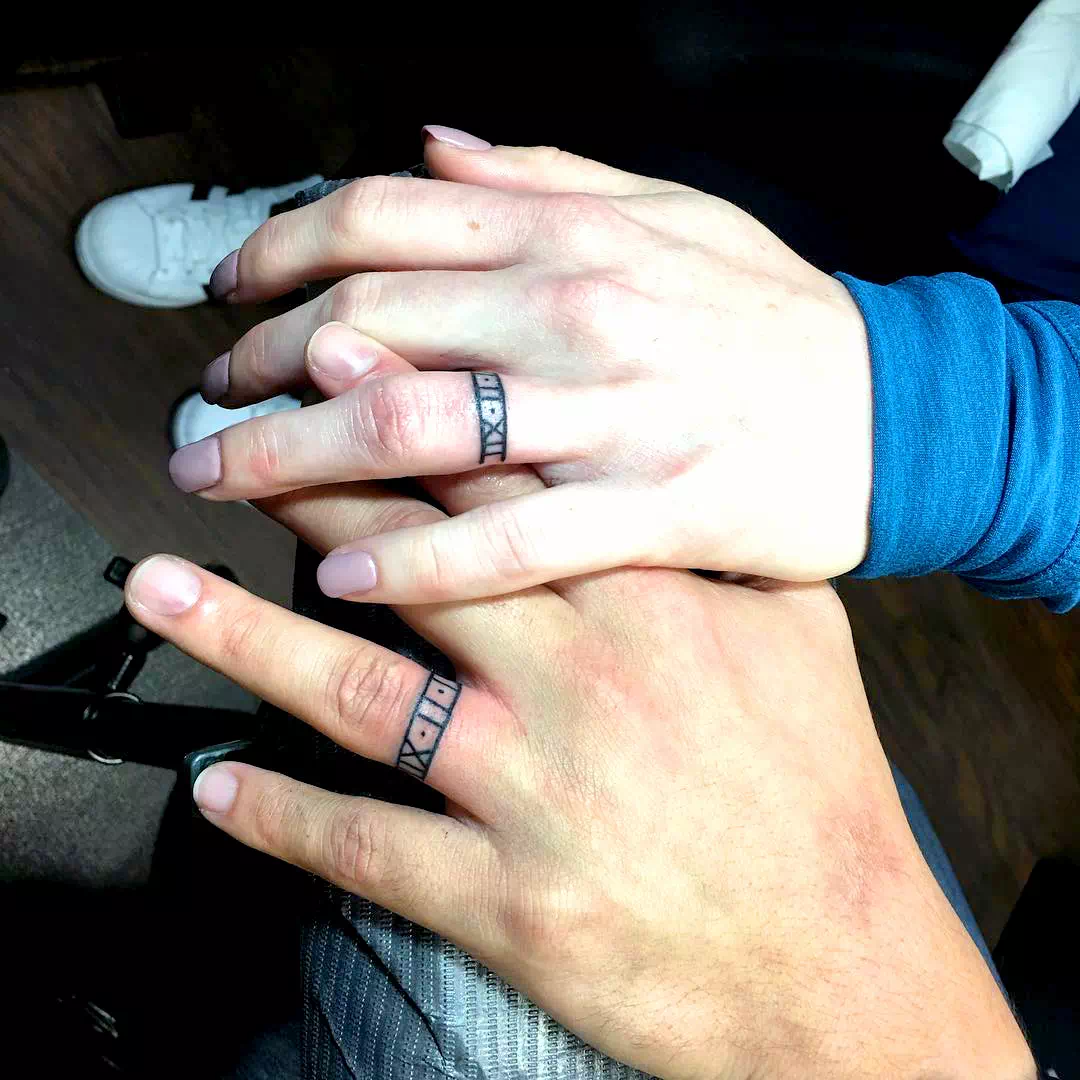 Sometimes the beginning of a relationship can be traced back to the first dance, a certain song, a concert, or an artist that is unfamiliar to both parties. Pick a tattoo that symbolizes your love of music and goes well with your other ink.
Regardless of the motivation behind getting this kind of tattoo, choosing a design inspired by music is a good idea because it will highlight the importance of music in your life.
Right above, you can see two straightforward illustrations of intricate line work and musically inspired tattoos that will be a permanent reminder of a bond between two people.
Tip: Being a musician is not necessary to select this tattoo as an option. Simply having a passion for music is not enough.
Date Wedding Ring Finger Tattoo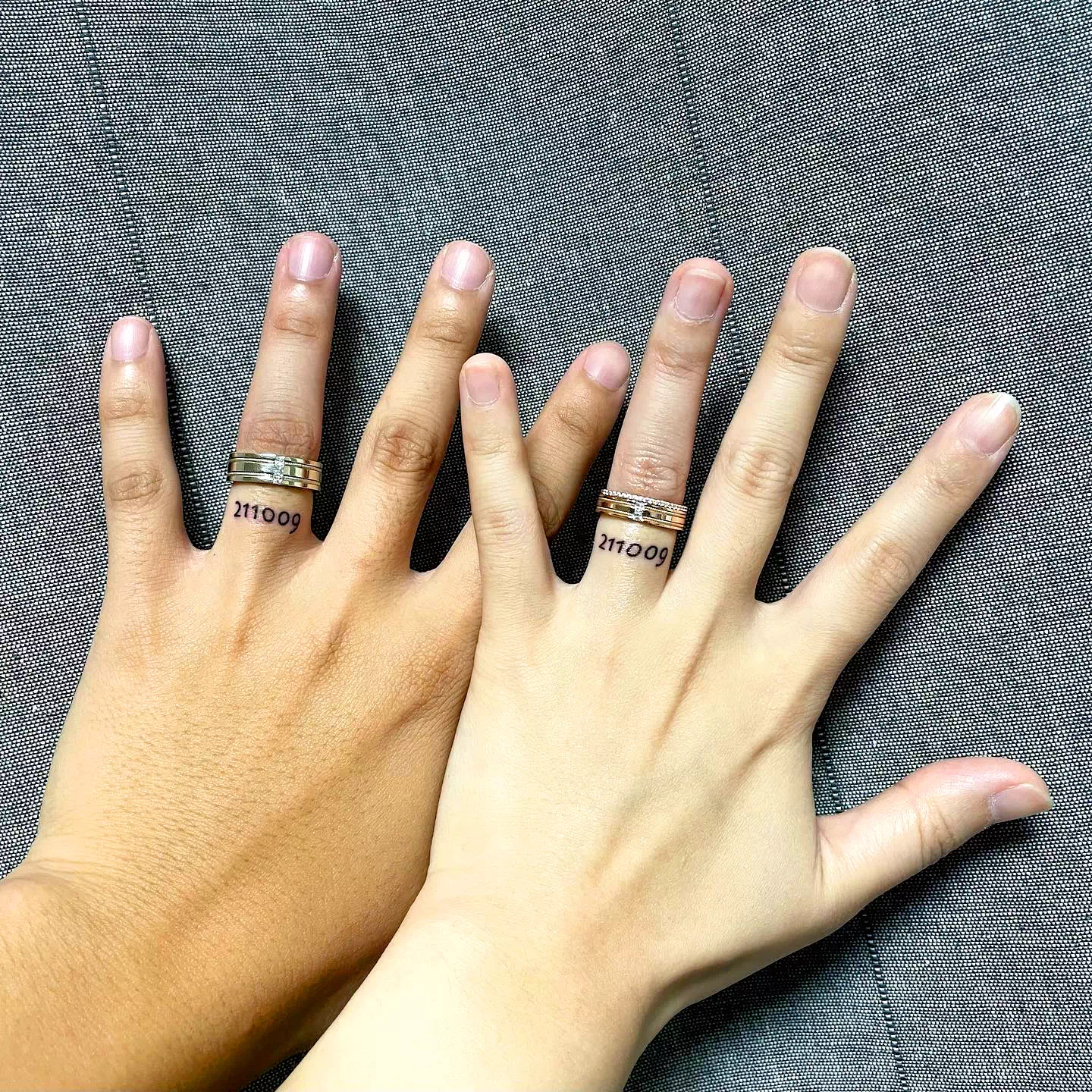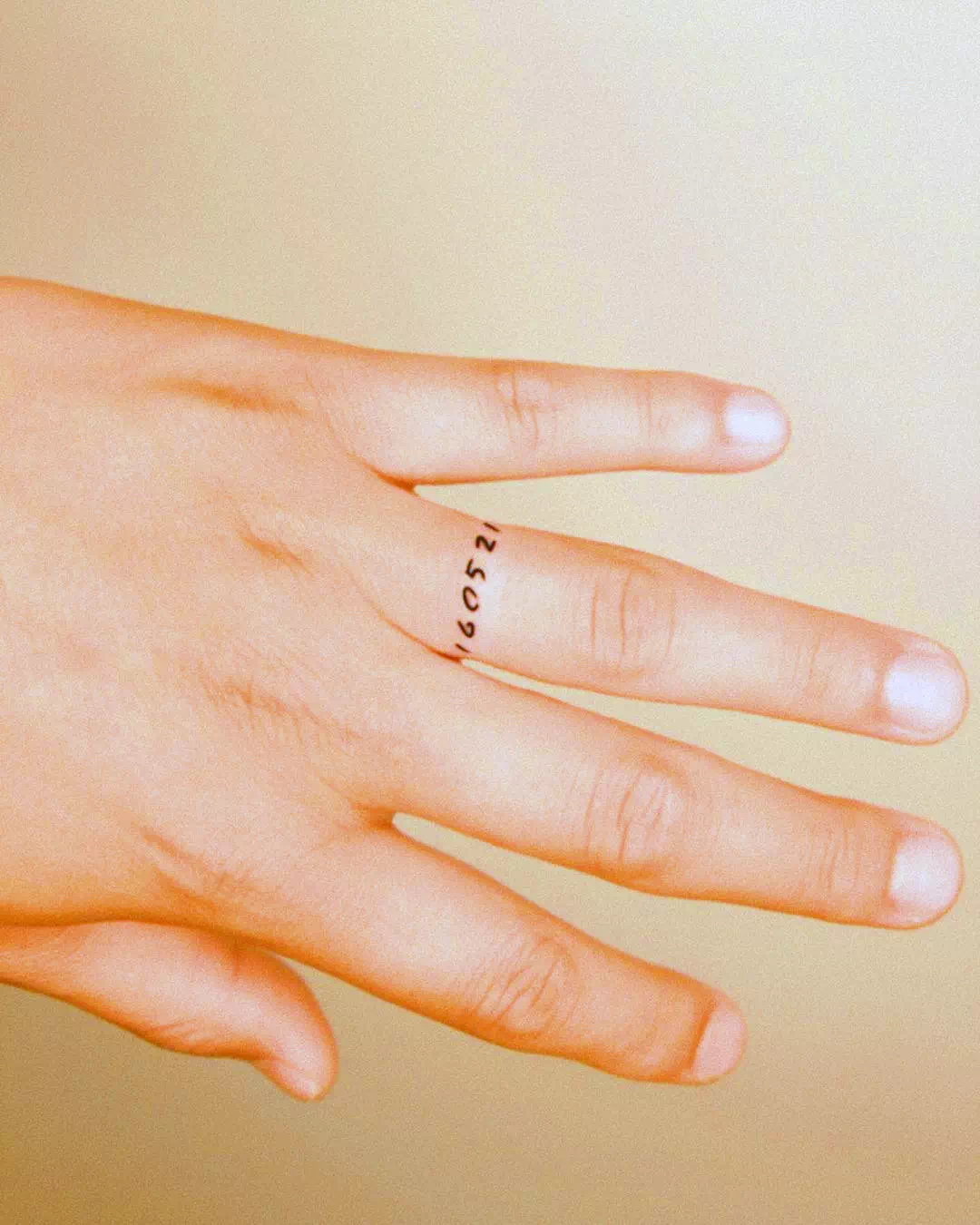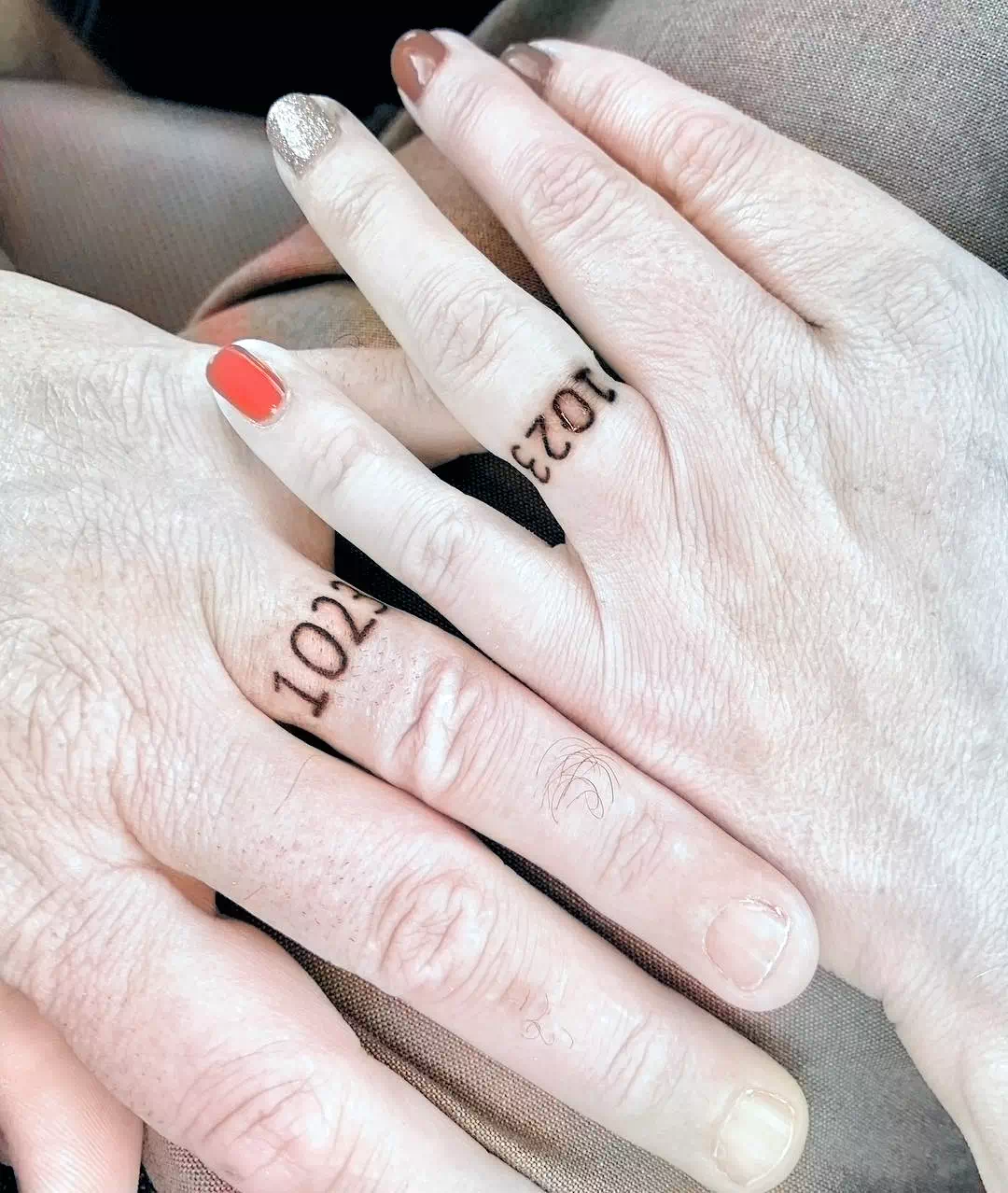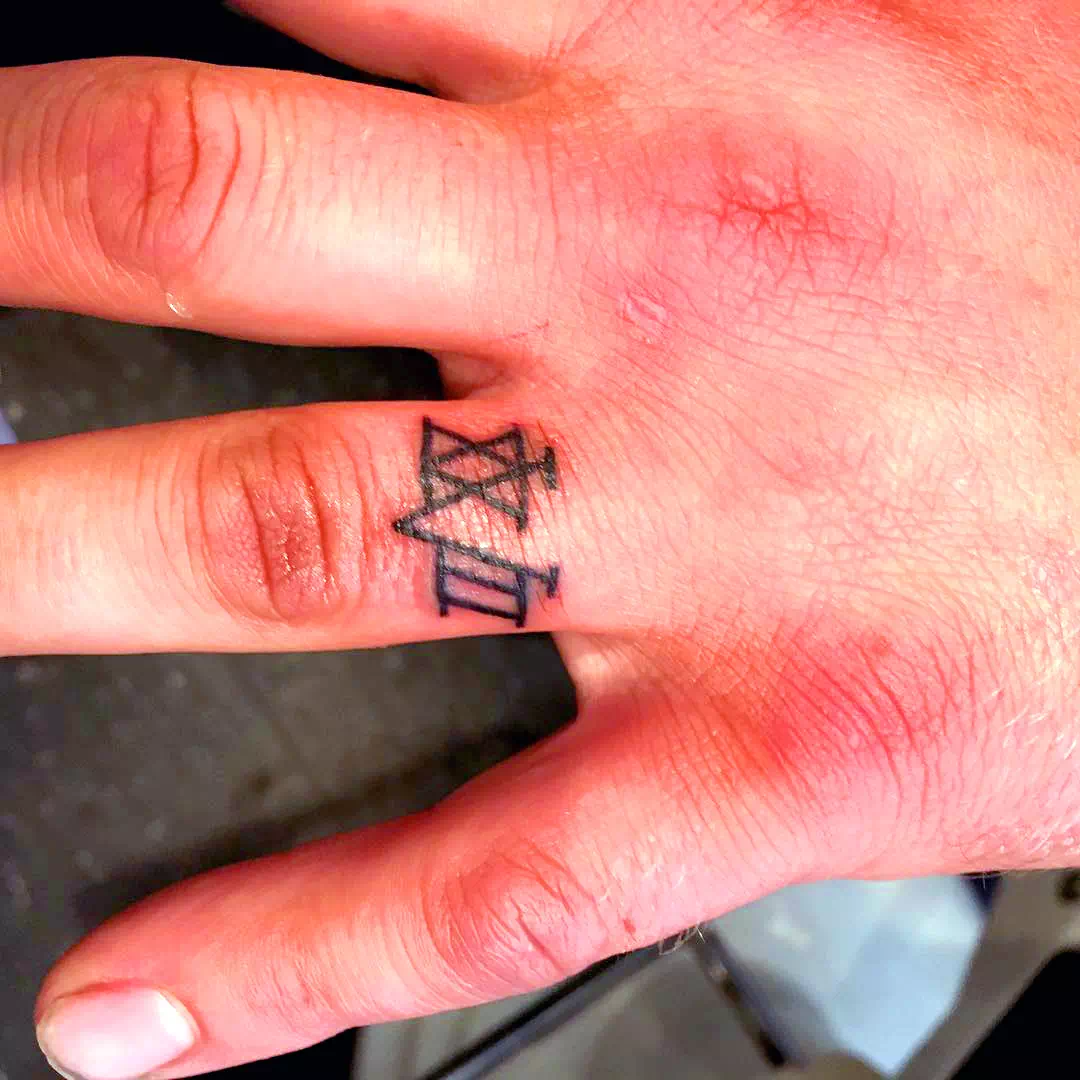 Inking the wedding date on your fingers as a lasting memory of the roller coaster of emotions you experienced on one of the happiest days of your life is another noteworthy trend in the field of wedding ring tattoos. This trend has become increasingly popular in recent years.
You can have the date written in hand lettering, italics, a more calligraphic style, or Latin numbers when you have it inked.
Tip: If you want a tattoo to be less noticeable, you should position it directly on the ring finger or on the side of one of your fingers.
Script Ring Tattoo Designs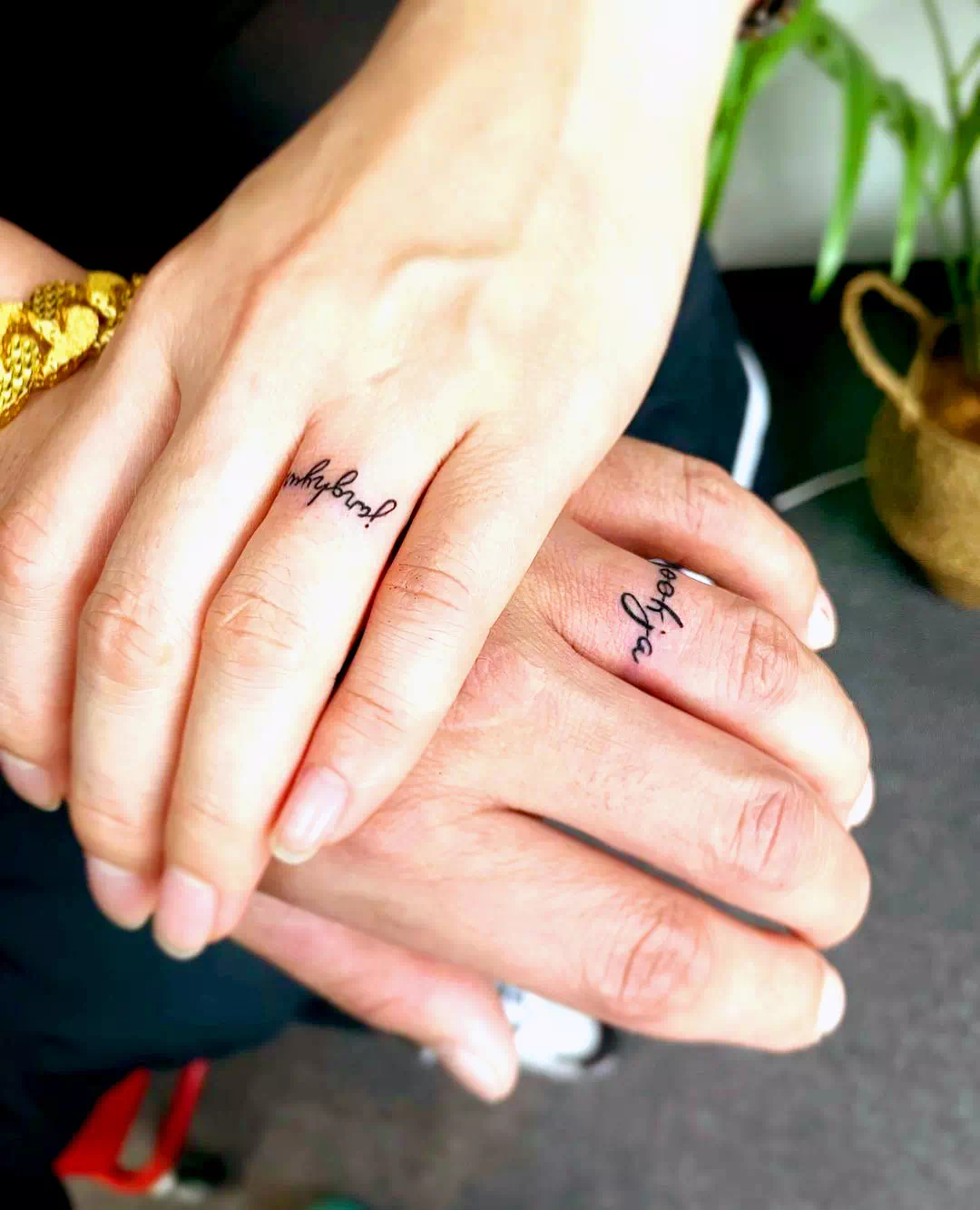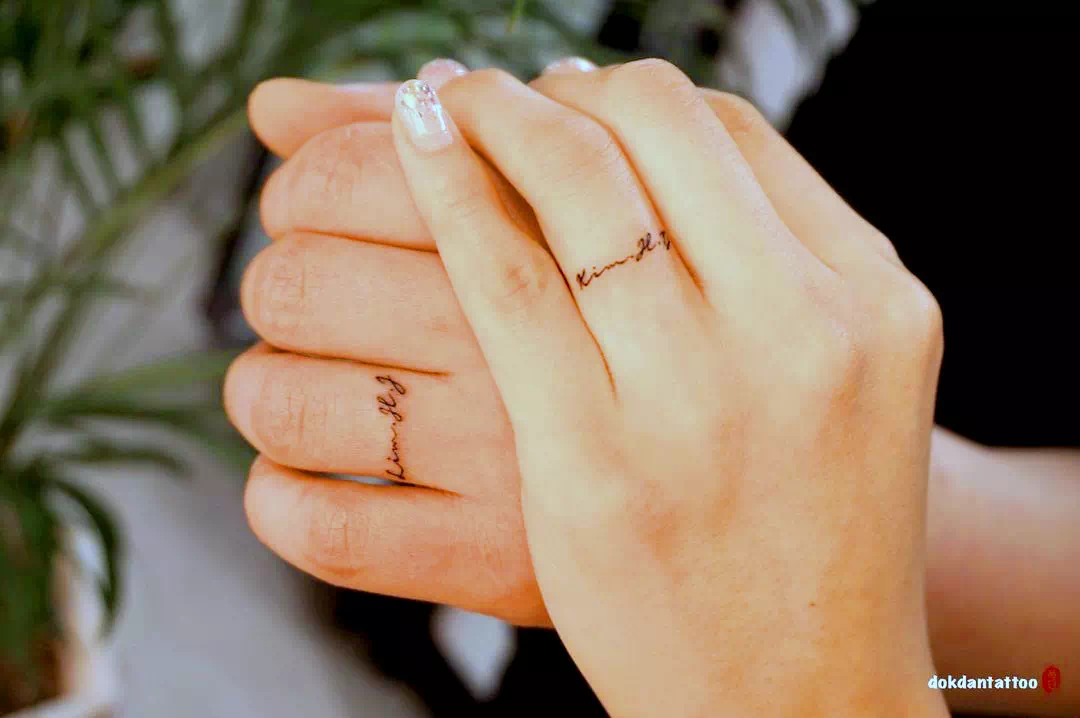 Although some of the tattoo ideas I discussed are more symbolic and have deeper meanings, the designs for the script ring tattoos remove any doubt about the subject matter.
Getting these tattoos done will ensure that everyone understands exactly what you are trying to convey and what the ink stands for.
People have already begun discussing an intriguing trend: tattooing one another's initials.
So long as you seek the services of a skilled artist capable of producing work with great lines. You can get a tattoo that conveys an inspiring message and is written in a very captivating manner so that anybody can read it.
Body Art Consisting of a Simple Wedding Ring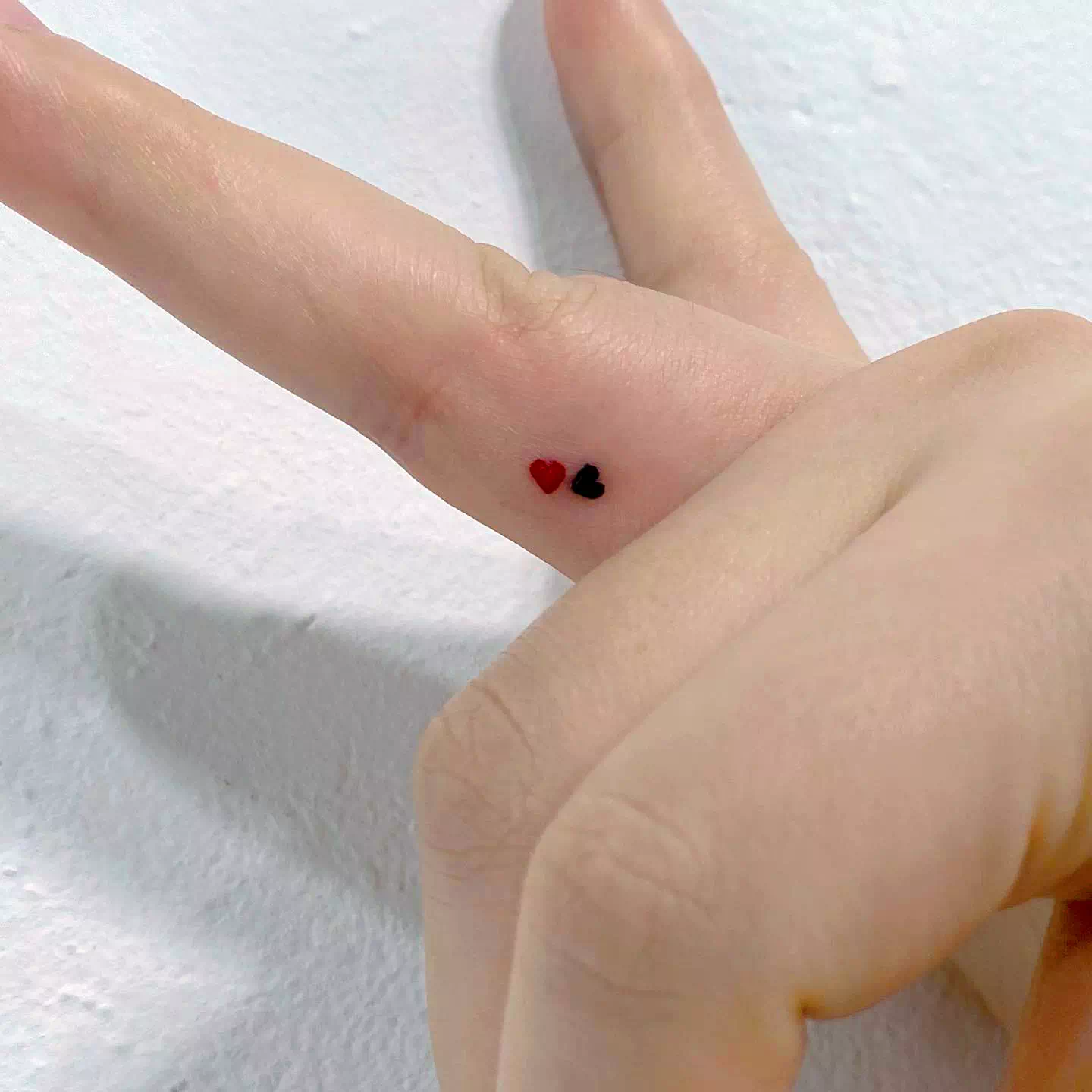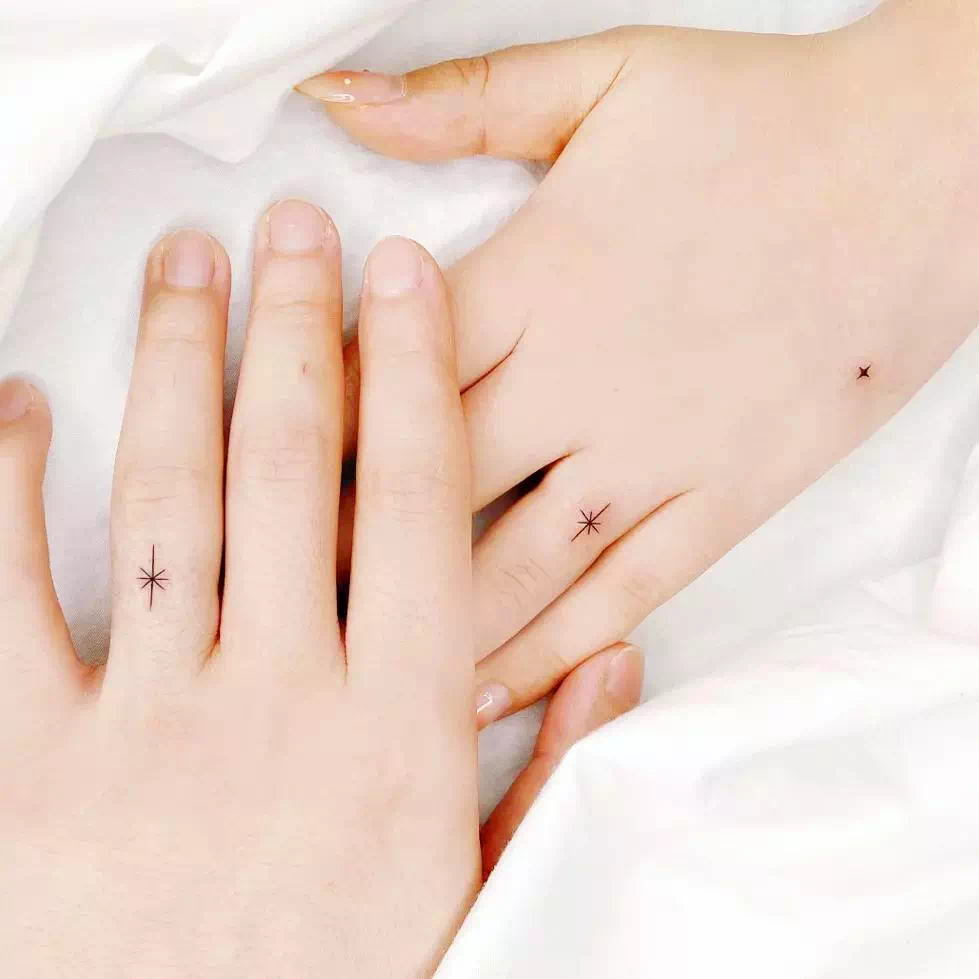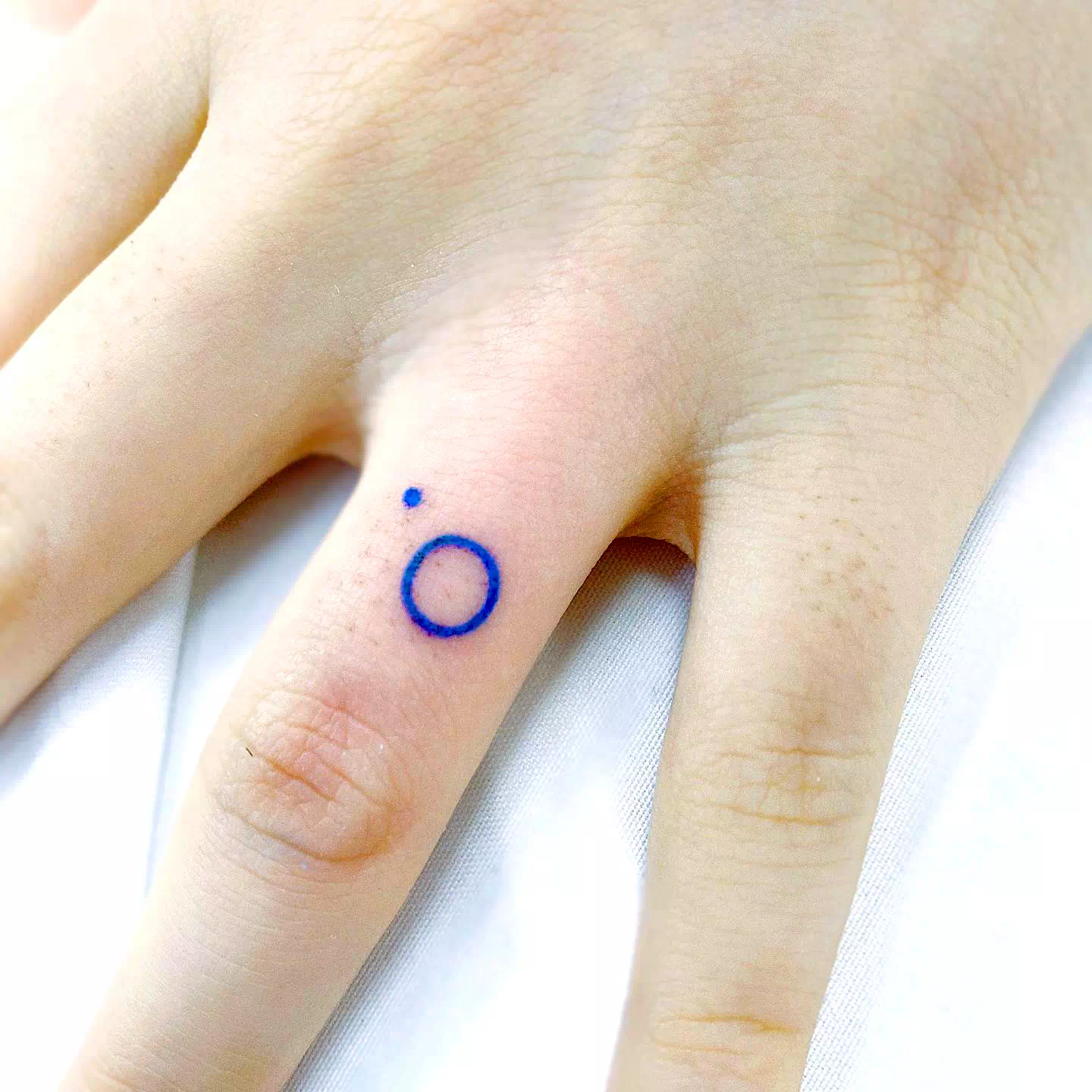 This hypothesis of life, which also pertains to body art, states that there are times when less is more impressive. A tasteful and elegant way to demonstrate that you and your partner will spend the rest of your lives together is to get a tattoo in the shape of a wedding ring.
Here are some ideas for tattoos, from traditional pictures of celestial bodies to simplified pictures of a butterfly, a few diamond rings, or simple flower patterns.
In my opinion, you can get a tattoo that matches the other one you already know as a matchy-match tattoo, or you could get a tattoo of your preferred minimalist sign.
Zodiac Symbols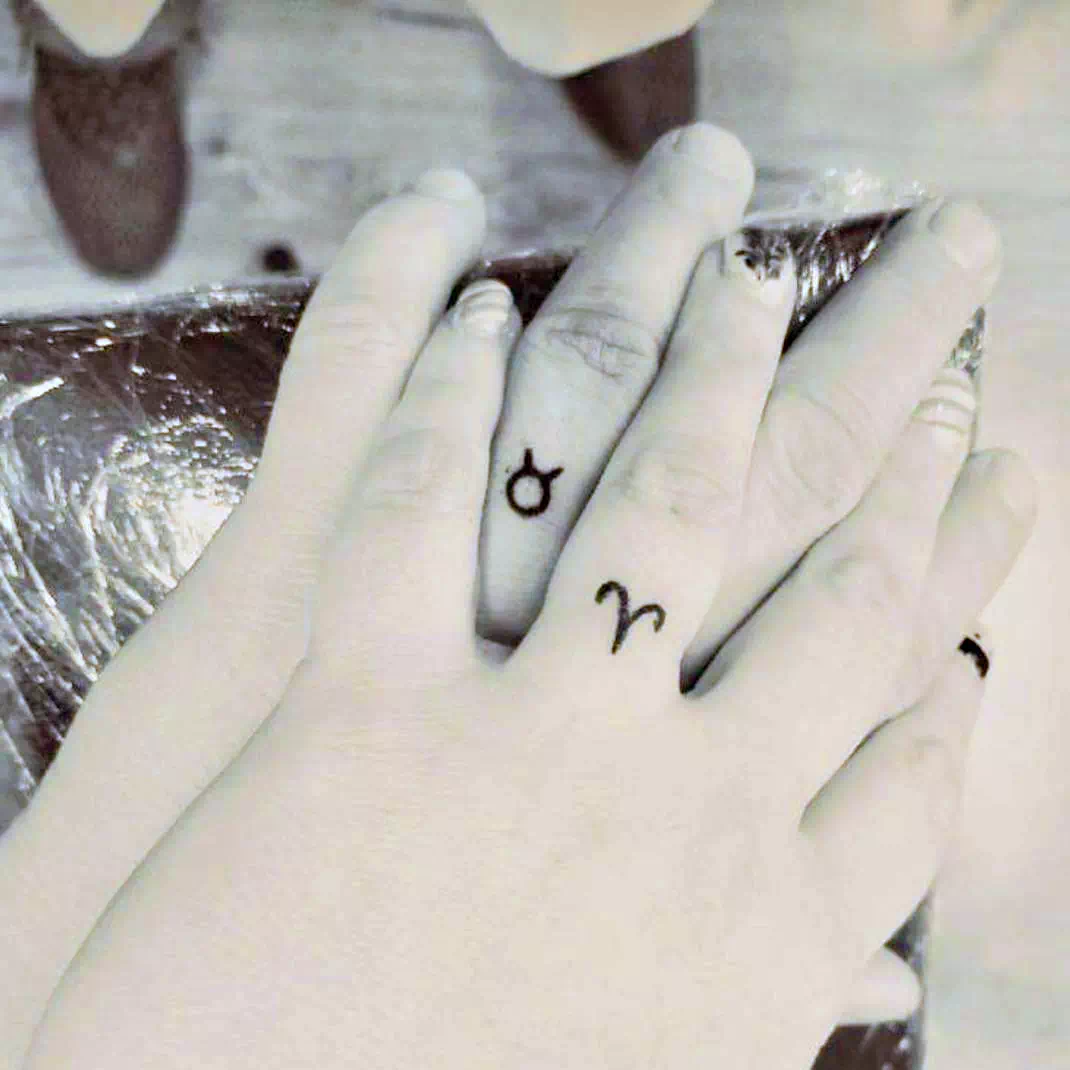 An old proverb states that some star signs are more compatible with others in the zodiac world than others. If you and your significant other discover that your zodiac signs are an exact match, you might want to consider getting matching tattoos on your wedding day.
Tip: This style of tattoo design is simple, unique, and attractive, and that it will always be in style.
More Questions and Answers About Wedding Ring Tattoos
Let's go through a few things you need to consider before getting a tattoo.
How long do tattoos of wedding rings typically last?
A: The tattoos might look good on you, but it depends on where you decide to get them done on your body.
Consequently, various regions of the body will have varied responses to the process of getting a tattoo. For instance, the fingers and palms are two of the most challenging areas to tattoo because of their shape.
Why is that the case? The fact that the skin is utilized repeatedly makes the task more complicated for the artist. It is no surprise that the ink in this area tends to "slip out" and fade more rapidly.
As a result, you risk waking up one day to discover that the tattoo design has become less visible after some time has passed. Some artists will attempt to counteract the effects of this phenomenon by inking more heavily than they typically would. Because of this technique, their tattoo designs may not be as precise as they had hoped.
Let's pretend for the sake of argument that the artist is exceptionally gifted and can easily traverse the initial application. However, because our hands are the areas of our bodies that are the most exposed, and because we constantly use our fingers, tattoos on our hands tend to fade more quickly. Consider the number of times you wash your hands each day and the amount of time the sun spends in direct contact with the skin of your hands.
Remember all of these things before getting your ring tattoos inked, as they will affect the longevity of the tattoos as well as their overall appearance. Also, keep in mind that you may have to redo them at some point in the future.
Could someone get away with getting a tattoo of their wedding ring?
A: Tattoos on wedding rings are not appropriate for all couples.Considering that this is the most obvious portion of your body, it is important to have an initial conversation about the idea.
In addition, some people's personalities work well with tattoos, but if you don't like the concept of getting a tattoo but still want to demonstrate your love for someone, you can find yourself in a predicament.
Over the past few years, attitudes toward tattoos have significantly shifted. This kind of body art is frowned upon by those of a more mature generation, whereas those of a younger generation have varying points of view on the subject.
Also Read: Family Tattoo Ideas : Popular Designs (2022)
Should I get a wedding tattoo even though I have no idea how long it will stay in place?
A: There's an old proverb that says you should put yogurt on your body after you've roasted yourself with soup.
Although it is obvious that this is a metaphor, it is interesting to consider in the context of love vows and marriage. Think about how much of a fight a couple would ordinarily put up against getting a wedding ring tattoo before you get one.
At a wedding, the thought of a future apart is the last thing anyone wants to consider. However, given that we live in contemporary times, a wedding promise should not be regarded as an eternal commitment. Create the tattoo with love as your compass, and enjoy the experience; do it for your unique spirit.
If, for whatever reason, you decide that you no longer desire that ring tattoo, you can get some assistance from the process of removing tattoos. Still, you can either try to make it again or keep it as a nice reminder of the experience.
Also Read:

99+ Best Oni Mask Tattoo Design Ideas (2022 Updated)

Top 30 Designs for Death Eater Tattoos (Colorful, Black & White)
A Few Parting Thoughts
Wedding ring tattoos are an unforgettable and lovely way to express your love for the person who is most important to you in your life. There is a wide variety of artwork to choose from when planning a tattoo, and you should pick a design that reflects your identity, how you live your life, and the significant moments in your past.
I hope that today has given you some ideas and that this article has given you some important information about this tattoo idea.
It's more fun to share!