Star tattoos are one of the most popular and distinctive tattoo designs available. They are also one of the most difficult to replicate. This is because there are so many different kinds of stars to choose from! The possibilities are virtually limitless when you factor in the size, color, and positioning.
Choosing a star tattoo design is an exciting undertaking – but don't limit yourself to what appears to be attractive. Are you aware of the hidden meanings and symbolism that may be found in star tattoos?
The following are our top 16 favorite tattoo designs for inspiration (which includes some celebrity tattoos), as well as a complete list of star tattoo meanings that we've analyzed over the years:
60+ Star Tattoo Design Ideas
Need some ideas for your next star tattoo? Look no further. Please look at our 60+ top designs and learn more about their representation.
Simple Star Tattoos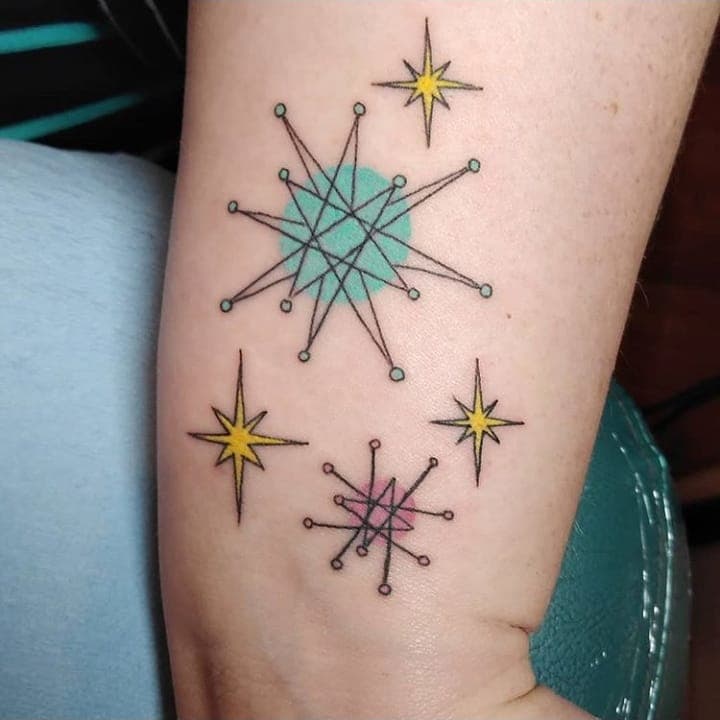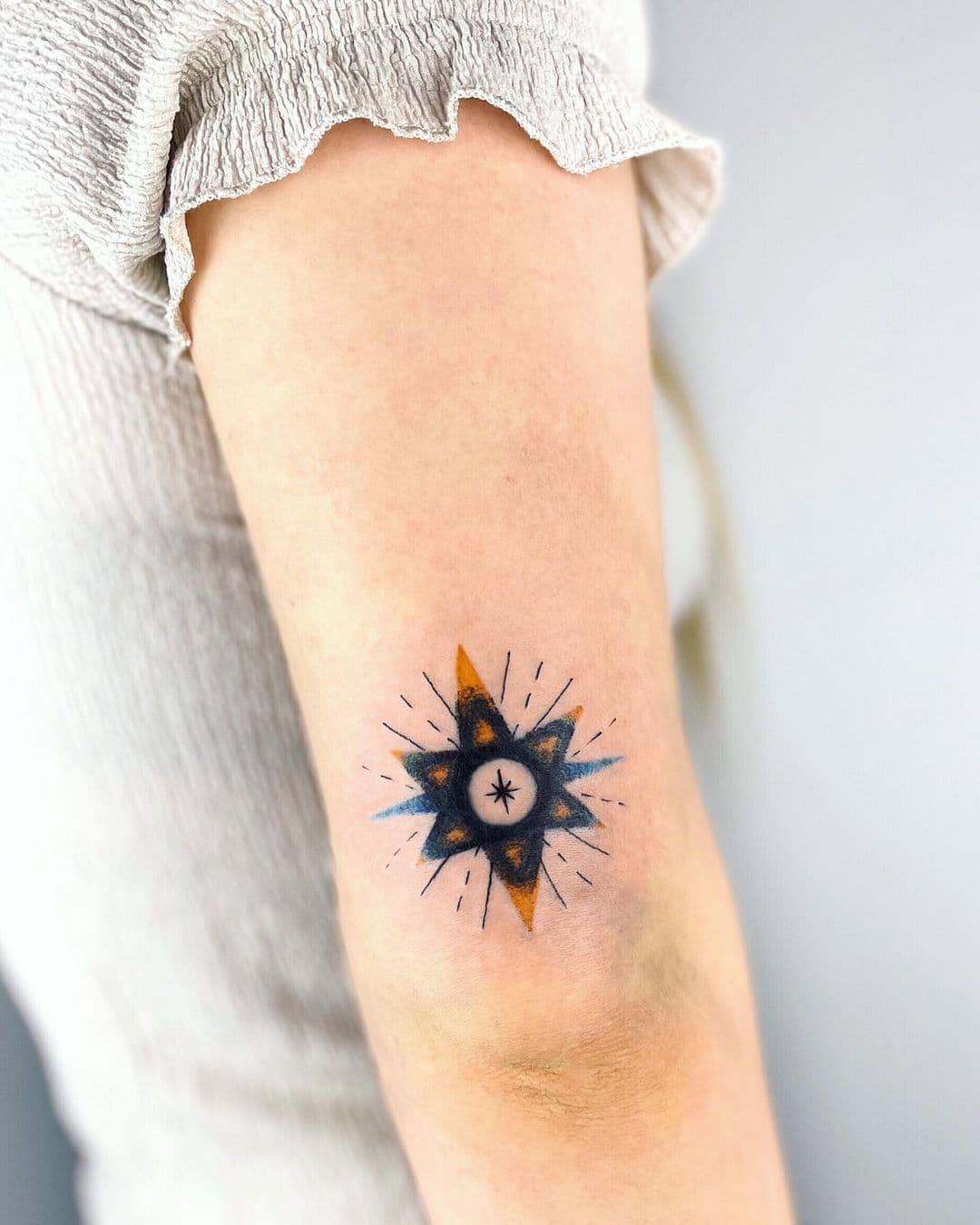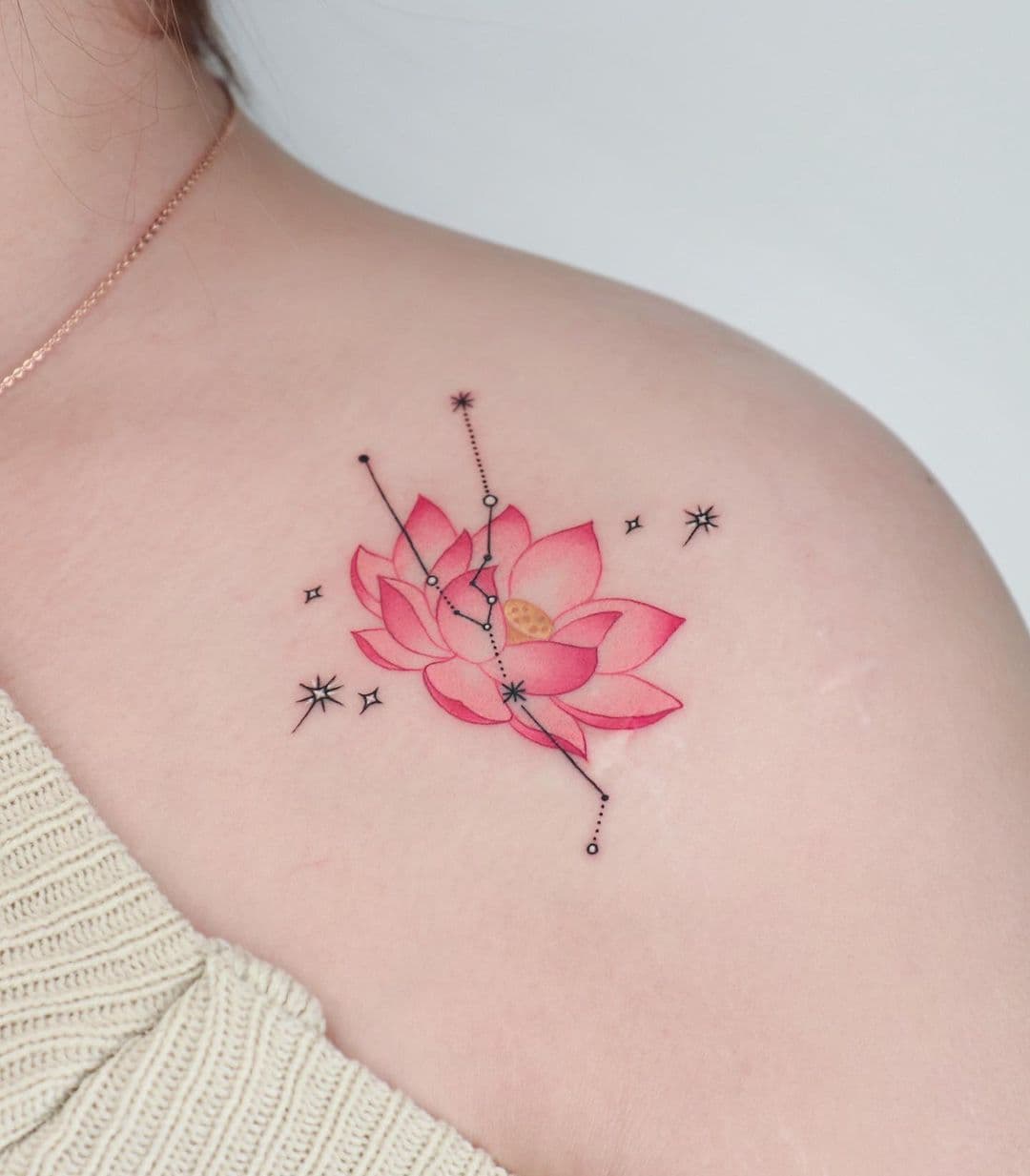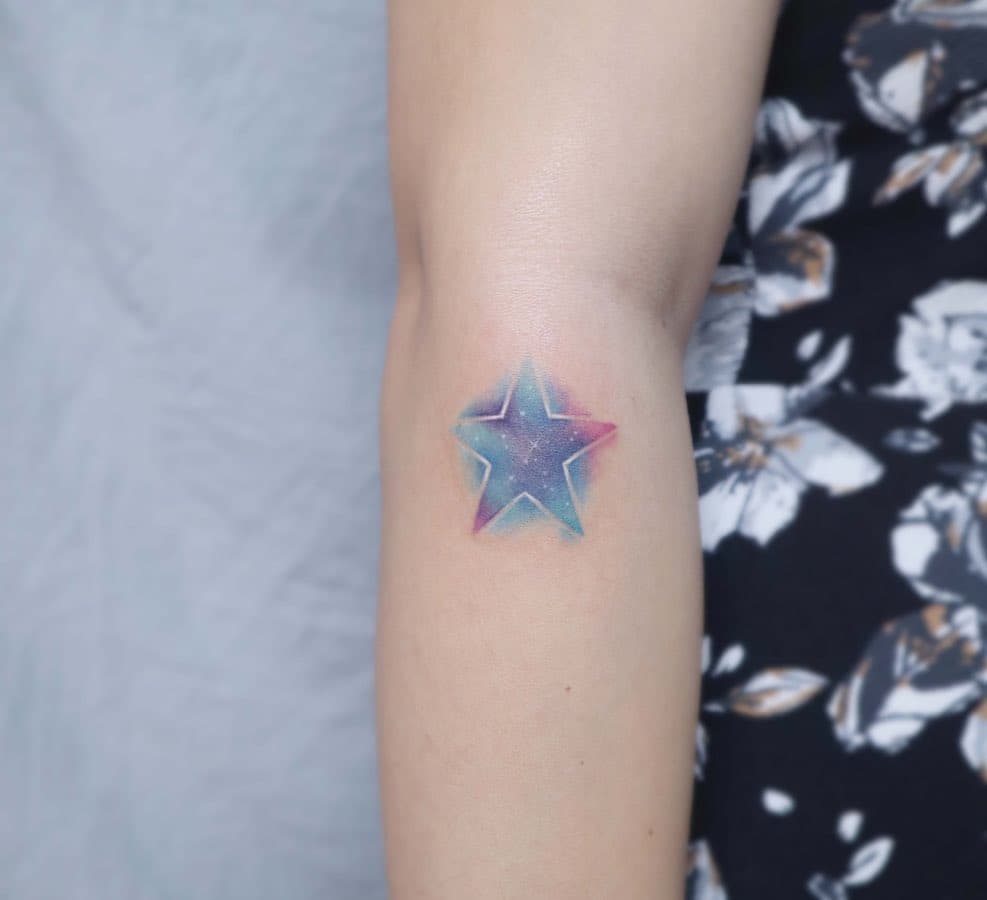 With a basic star tattoo, there's nothing wrong with being creative! Indeed, you might argue that they age more gracefully and that you are less likely to learn to resent them. Simple designs may convey complex concepts just as well as complicated patterns, but they are more flexible. Tattoo designs for small body areas have been discovered on the wrist and ankle, but they may be placed elsewhere on your body. You could tattoo simple stars anywhere on your body since they are so tiny. You could put them inside your hip, behind your ear, at the back of your neck, or anywhere else you like. Men and women alike will appreciate these sorts of star tattoo designs.
Tattoos of Minimalist Stars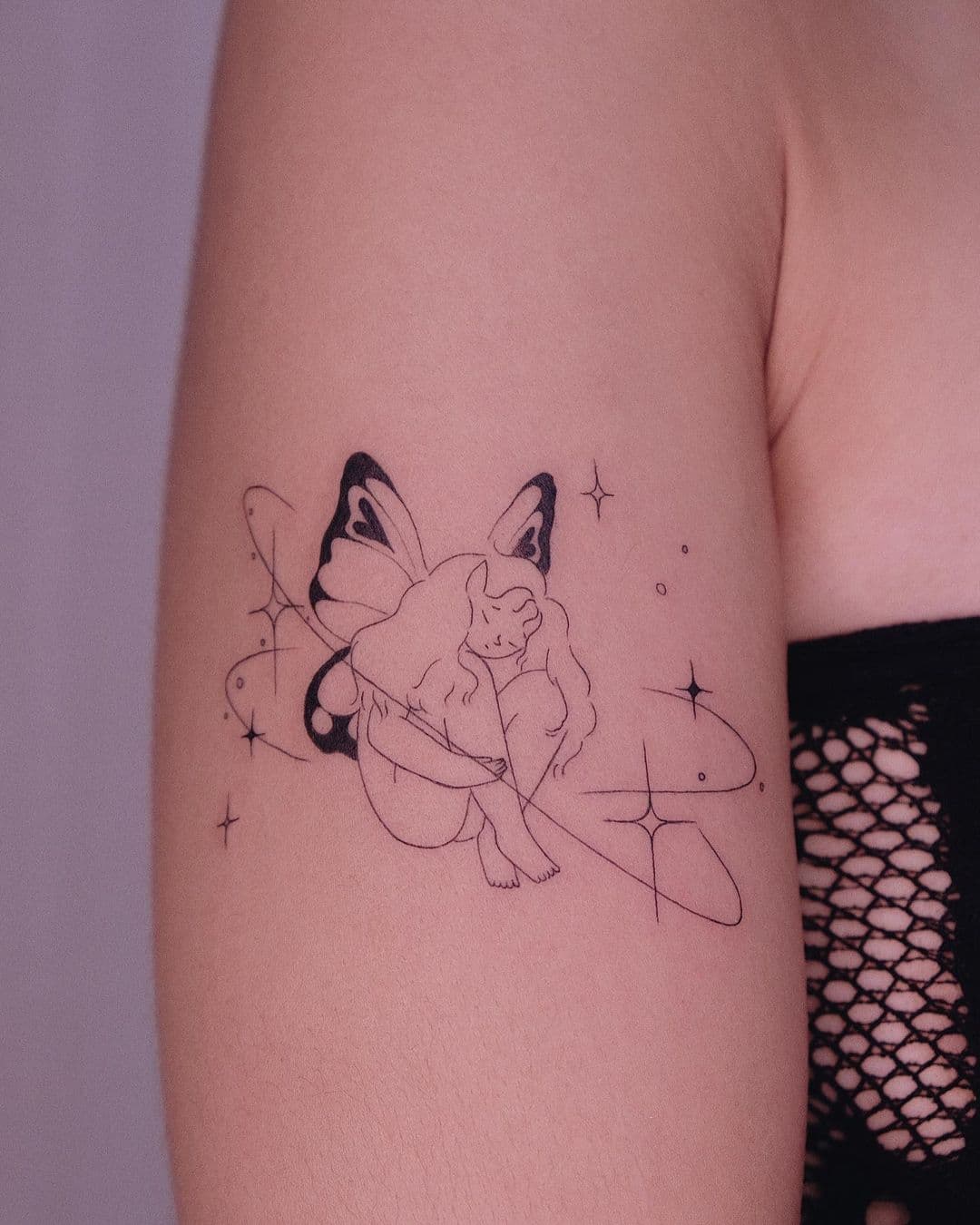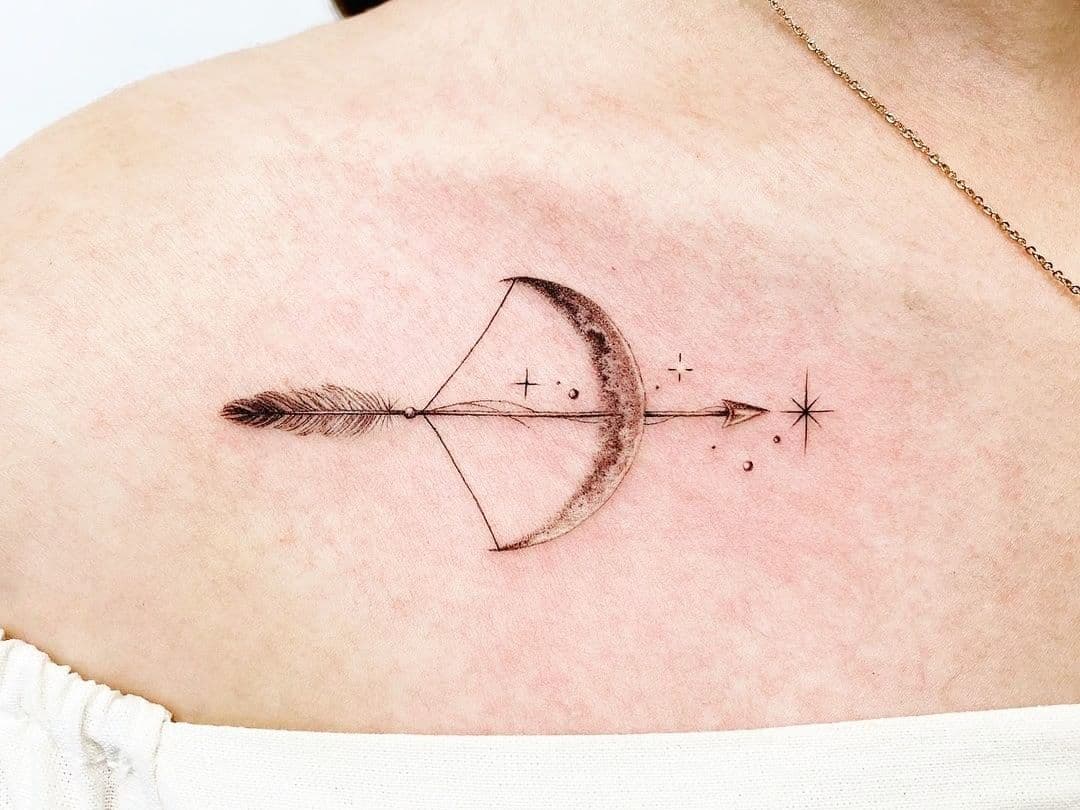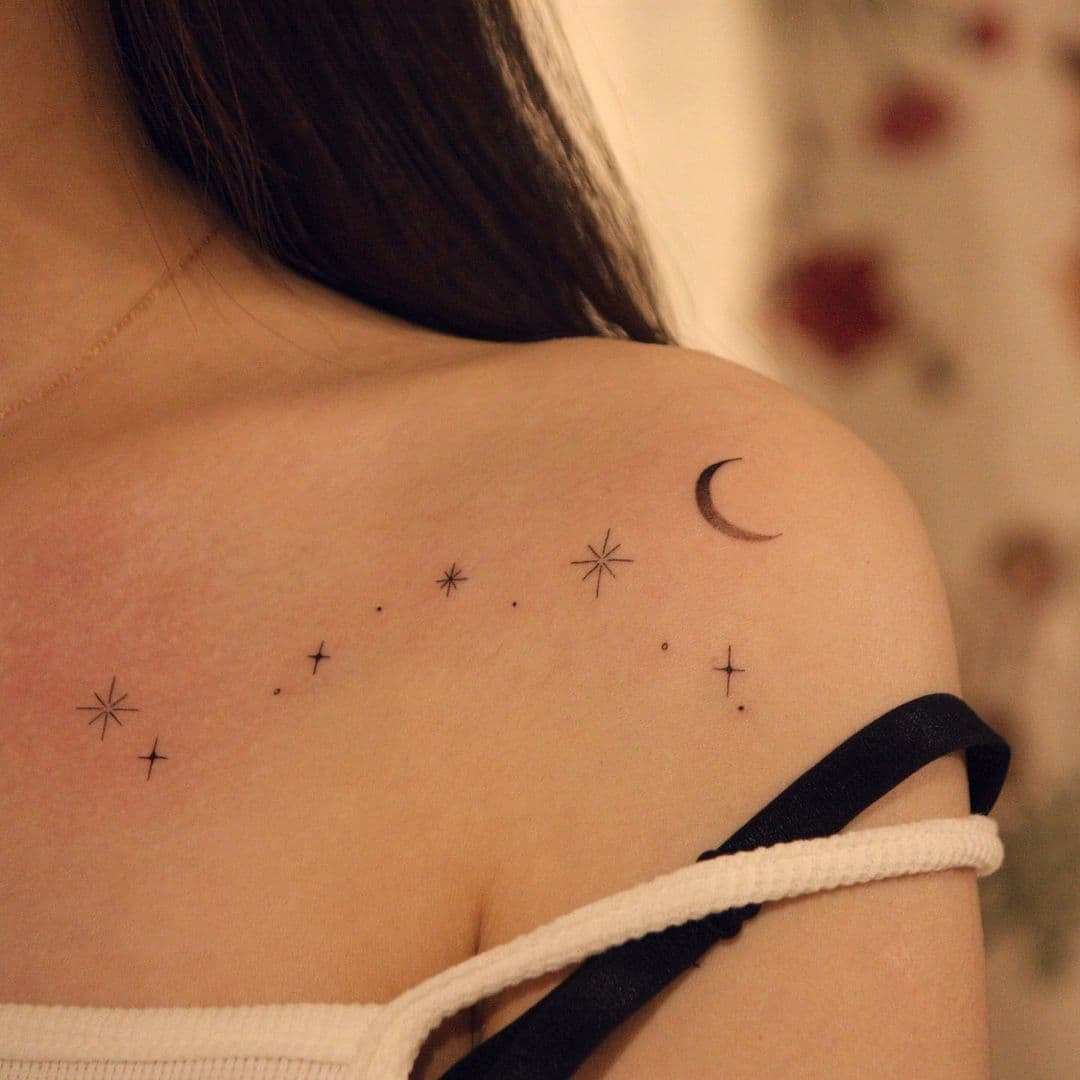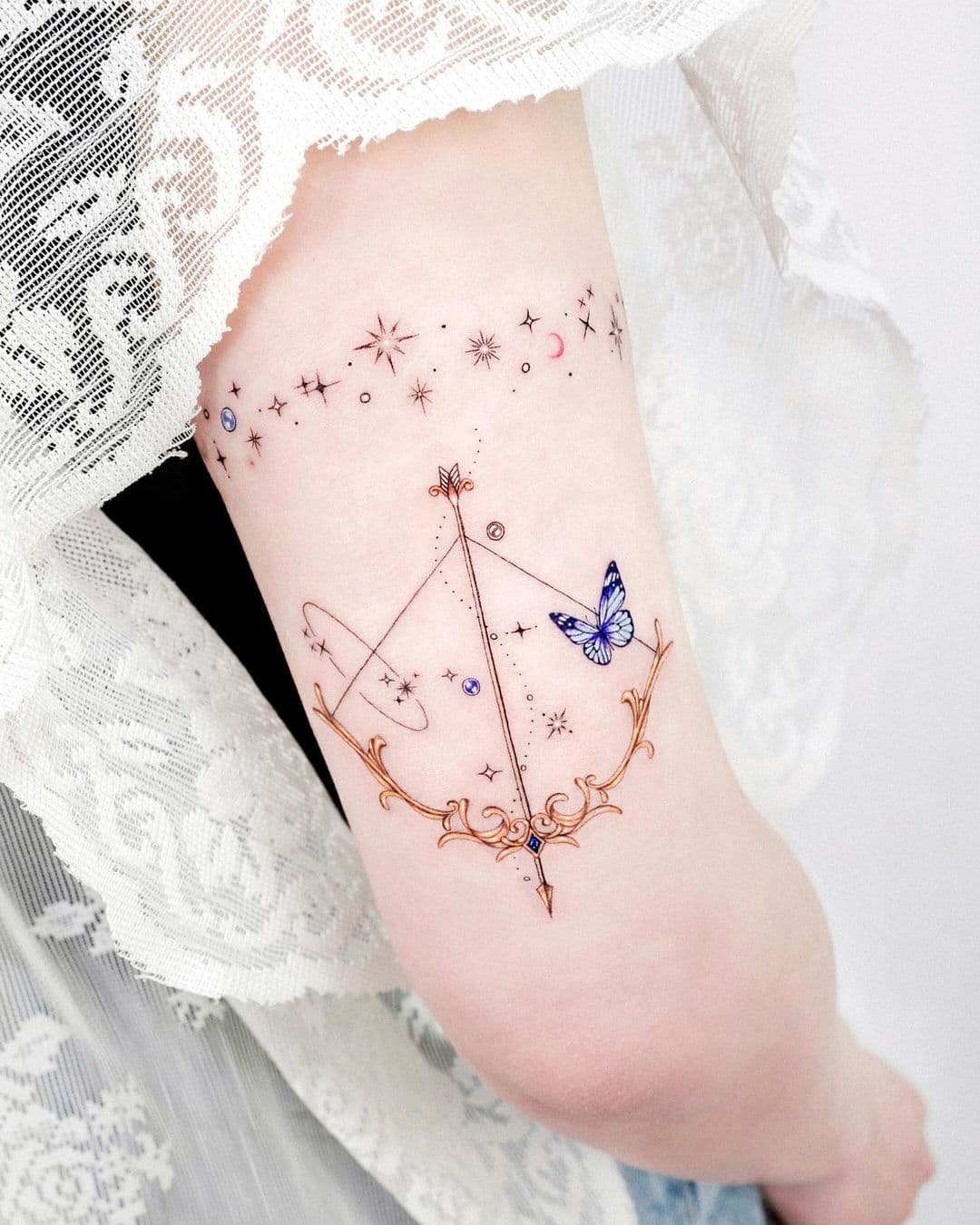 Star tattoos with a minimalist design are trendy right now. They are usually relatively tiny and straightforward, consisting of straight black lines that do not always intersect! Northern pointed stars and essential five-point stars, as well as moons, constellations, and even little phrases, look fantastic in this style of illustration.
Even though its starry design is popular among ladies, it will not seem out of place on a man. Several people prefer these little patterns, mainly because they are simple to conceal with makeup if desired. Additionally, they're commonly seen on the wrists, ankles, backs, and collar bones — all of which may be hidden by clothing, watches, and jewelry if necessary.
Trailing Stars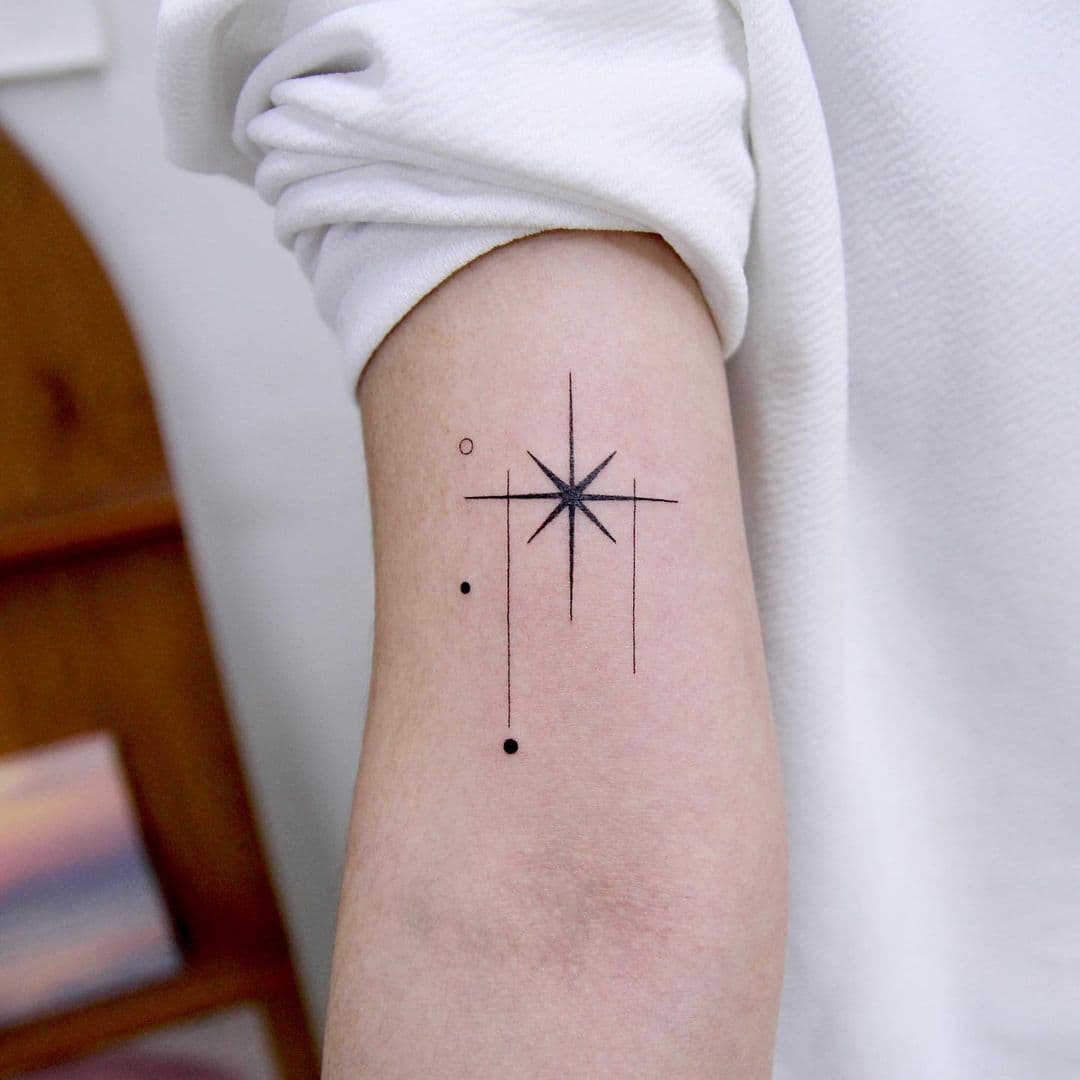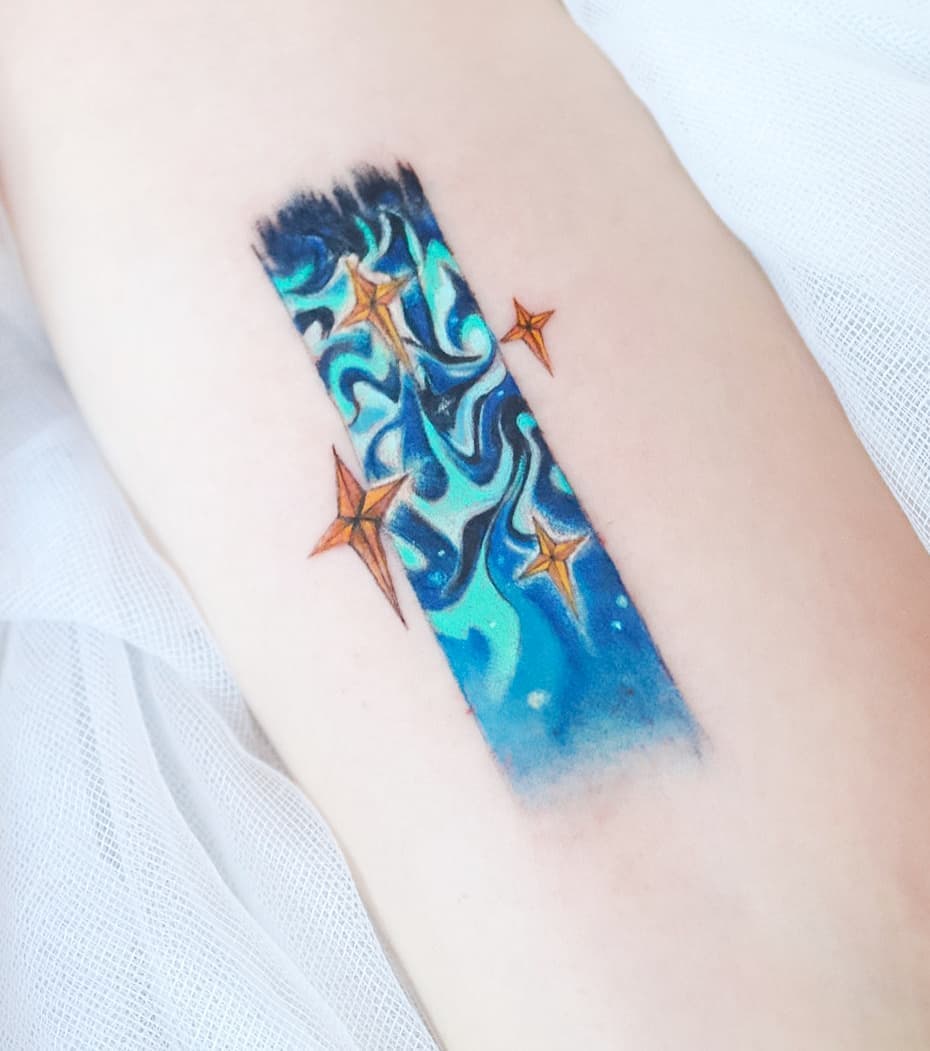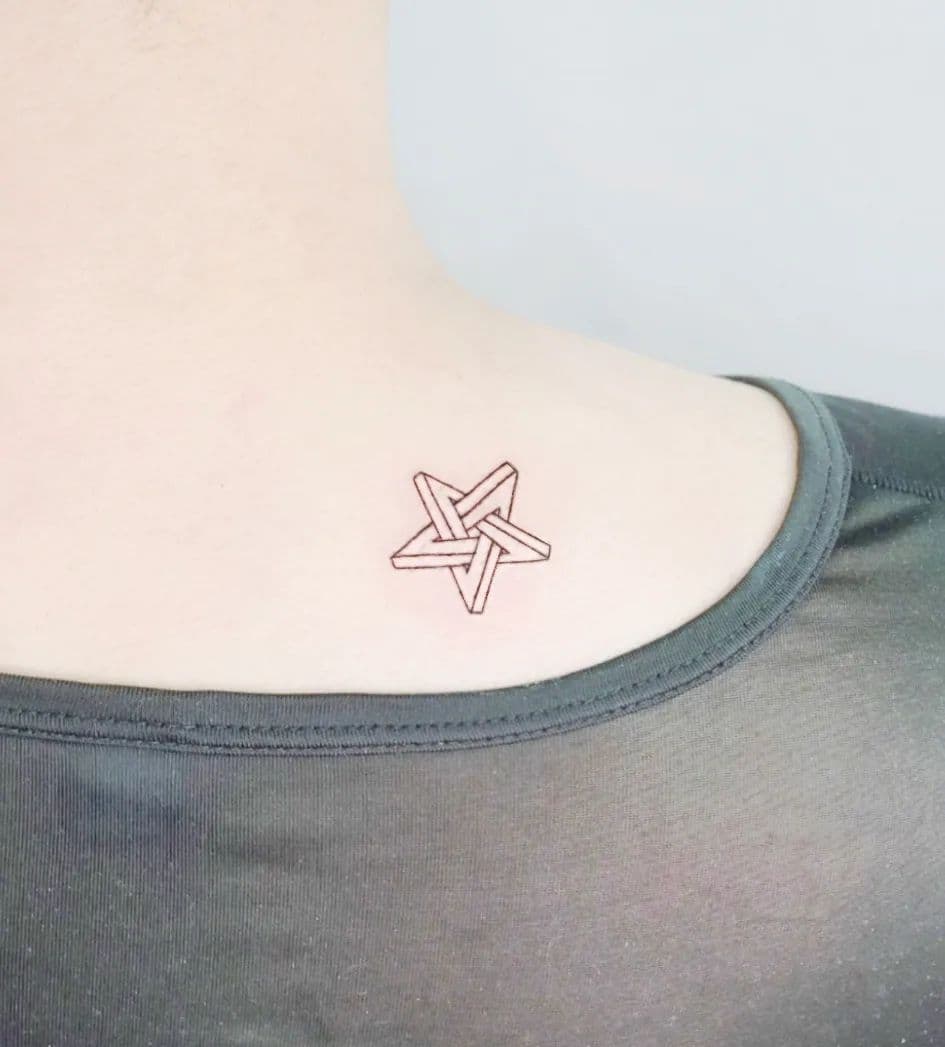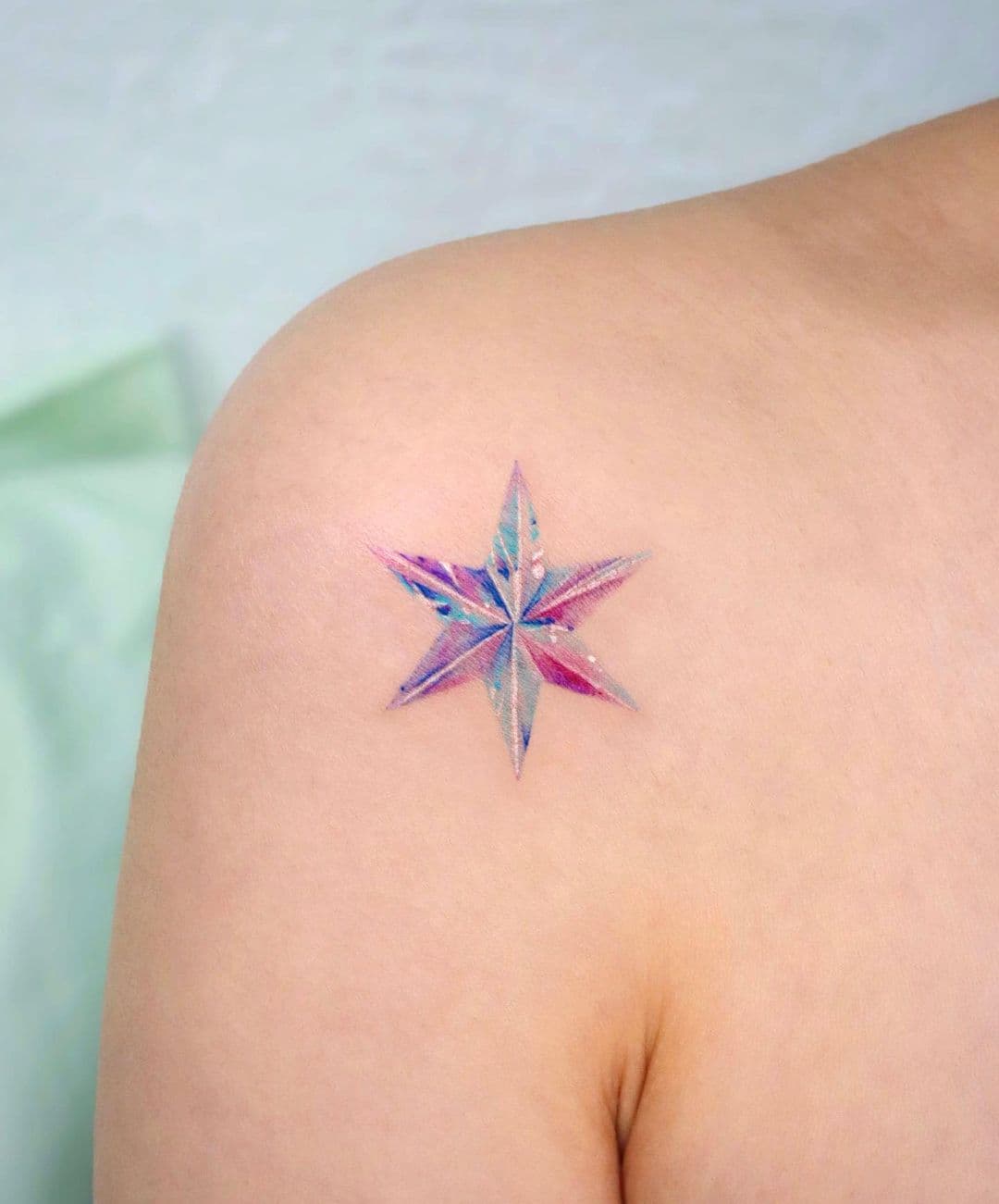 Do any of these look familiar? That's Rihanna, right there! Trailing stars are beautiful when a large number of tiny stars are clustered together. This star tattoo design looks fantastic when trailing and curving gracefully around your entire body. You, too, may have stars trailing up your back and neck, twirling around your collar bones, or twisting around your forearm or calf, just like Riri.
Trailing stars are beautiful on women, but they may also be attractive on males—mainly when used as a sleeve tattoo design.
Because there are so many stars in these trailing tattoos, it's best to stick with a minimalist or straightforward star pattern that may be repeated in slightly varying sizes and placements to create a pleasing appearance over some time.
Tattoos of the characters from Inside Out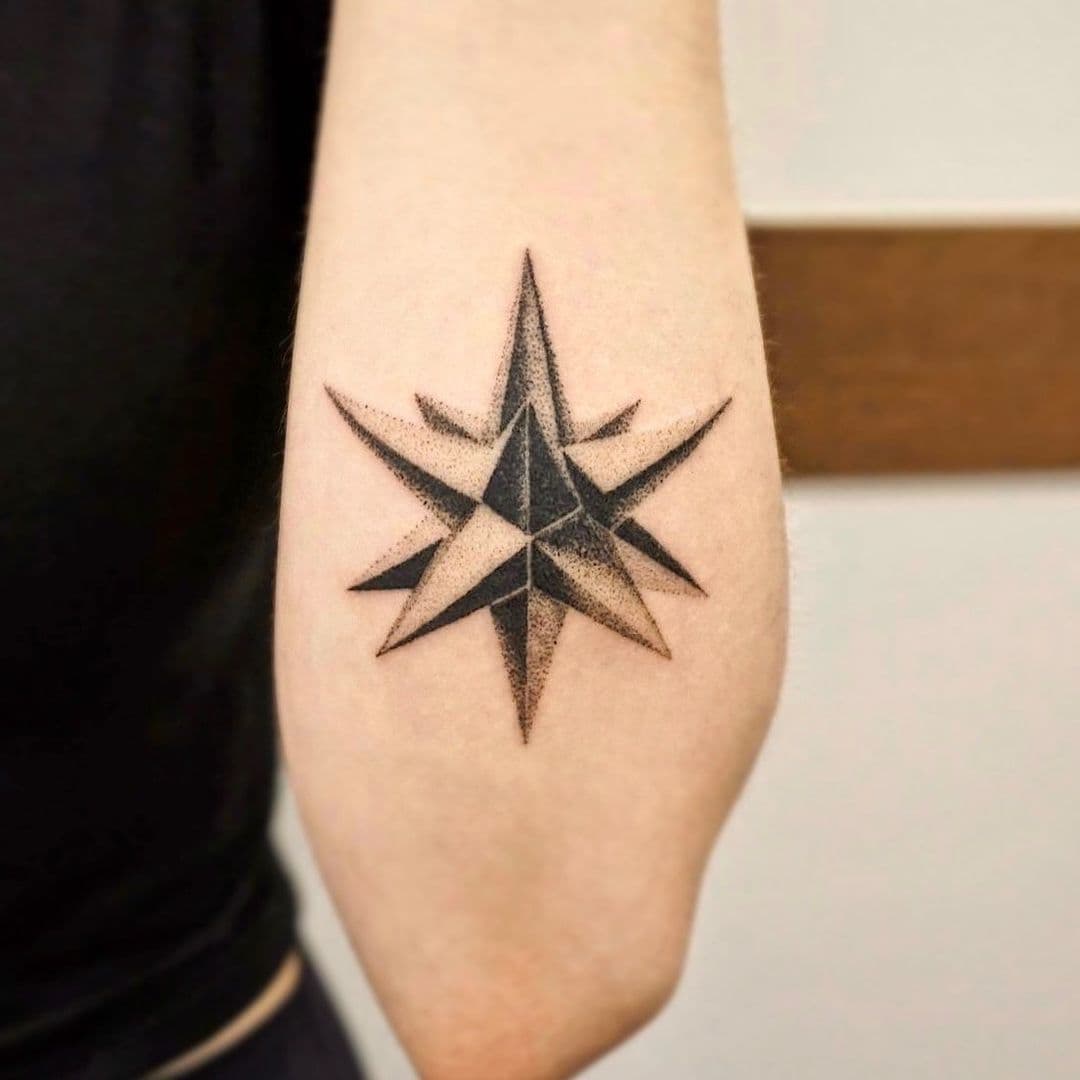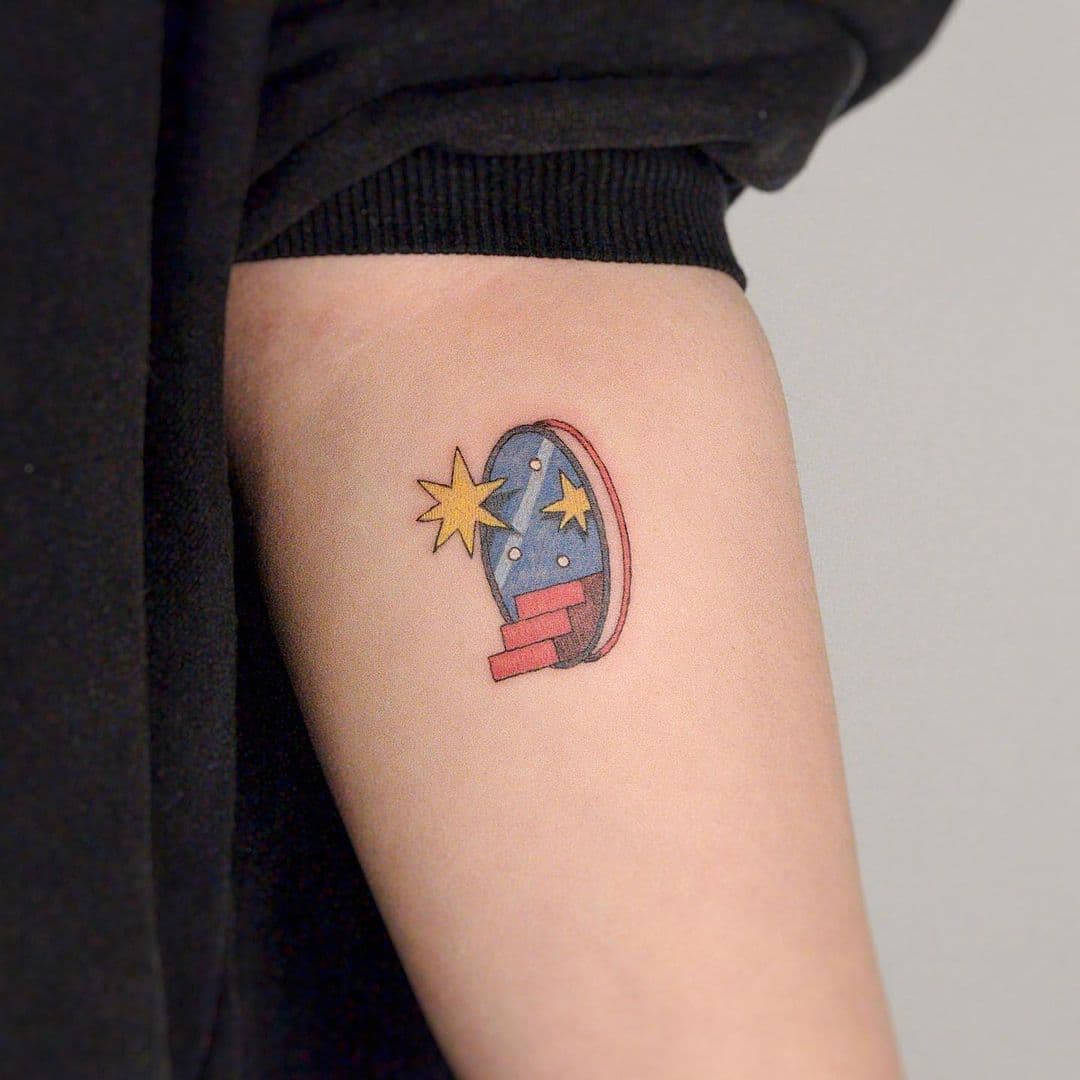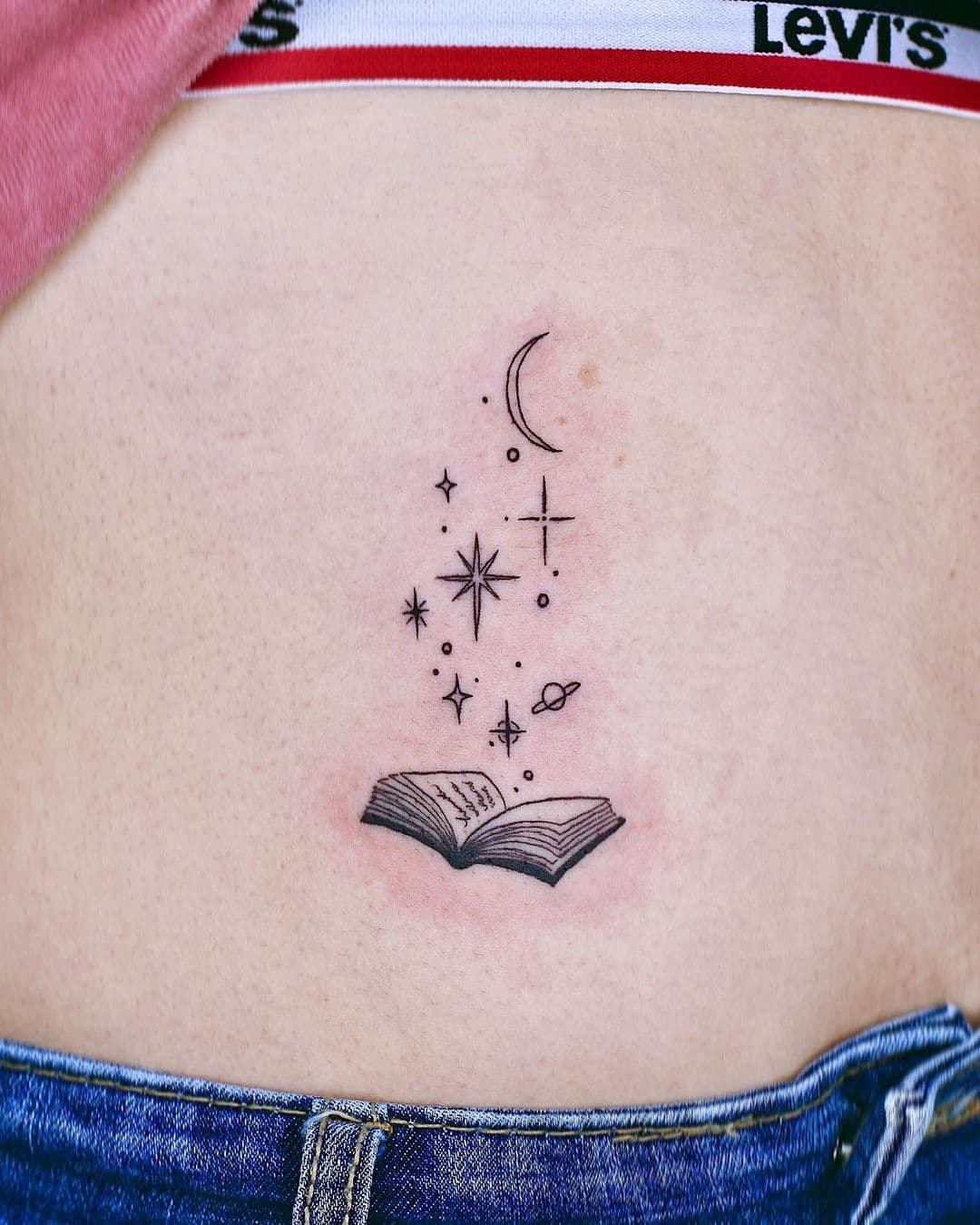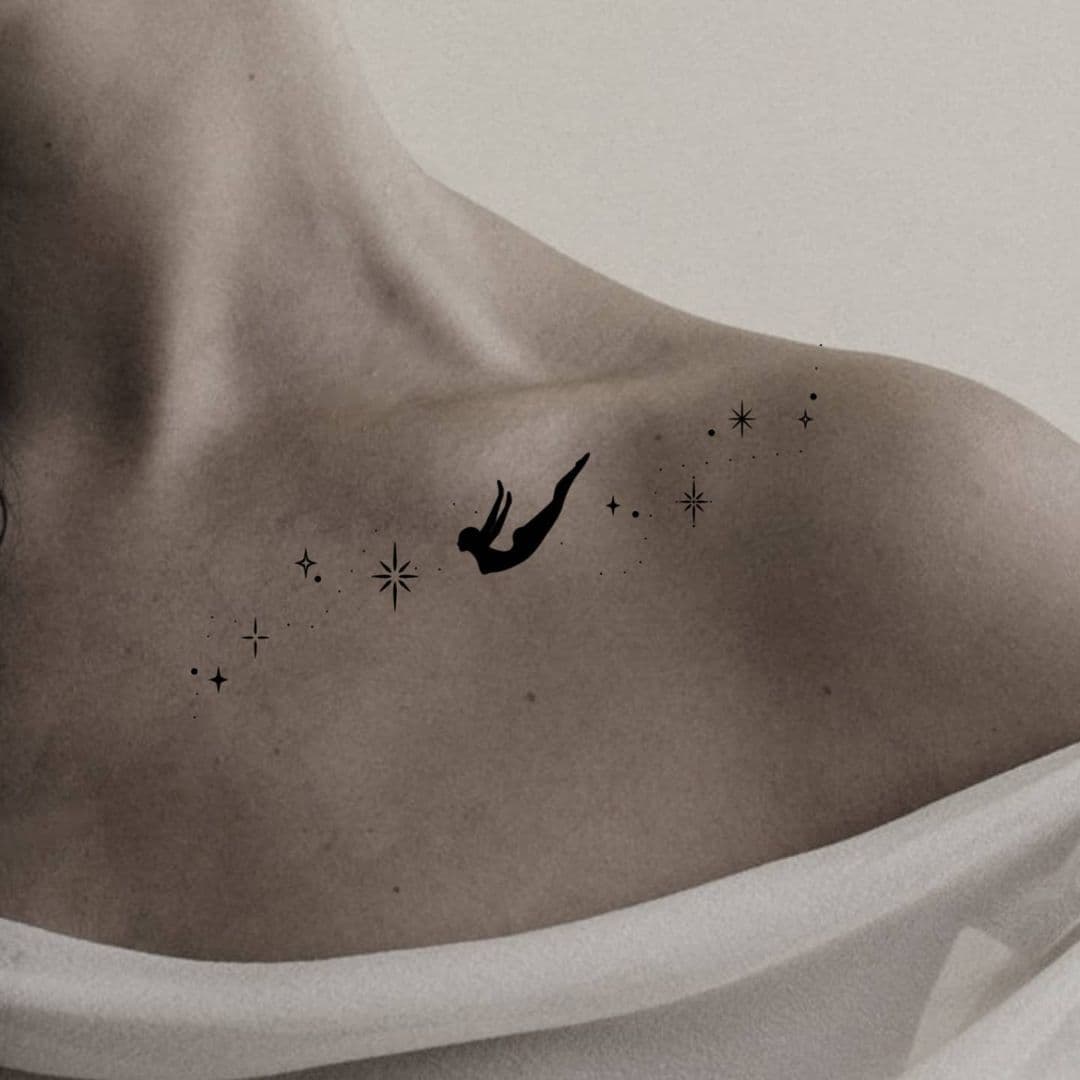 Using sophisticated shading methods, these "inside-out" tattoos create blank spaces in the pattern of stars! Rather than using straight lines to construct the picture, small dots and shadows are employed to create depth and dimension. This star tattoo design is bold and aesthetically detailed, indicating that more significant is better for tattoos. Even though it would be able to tattoo a little star in this pattern, all of the small details would be difficult to see – so what would be the purpose, right? It is always preferable to be bigger! Try wearing these stars as a trail down your torso or as a decoration on your arms and legs where they will be seen. This tattoo pattern is more prevalent among males than women, yet it may still be considered feminine and delicate if done correctly.
Designs Inspired by the Moon and Stars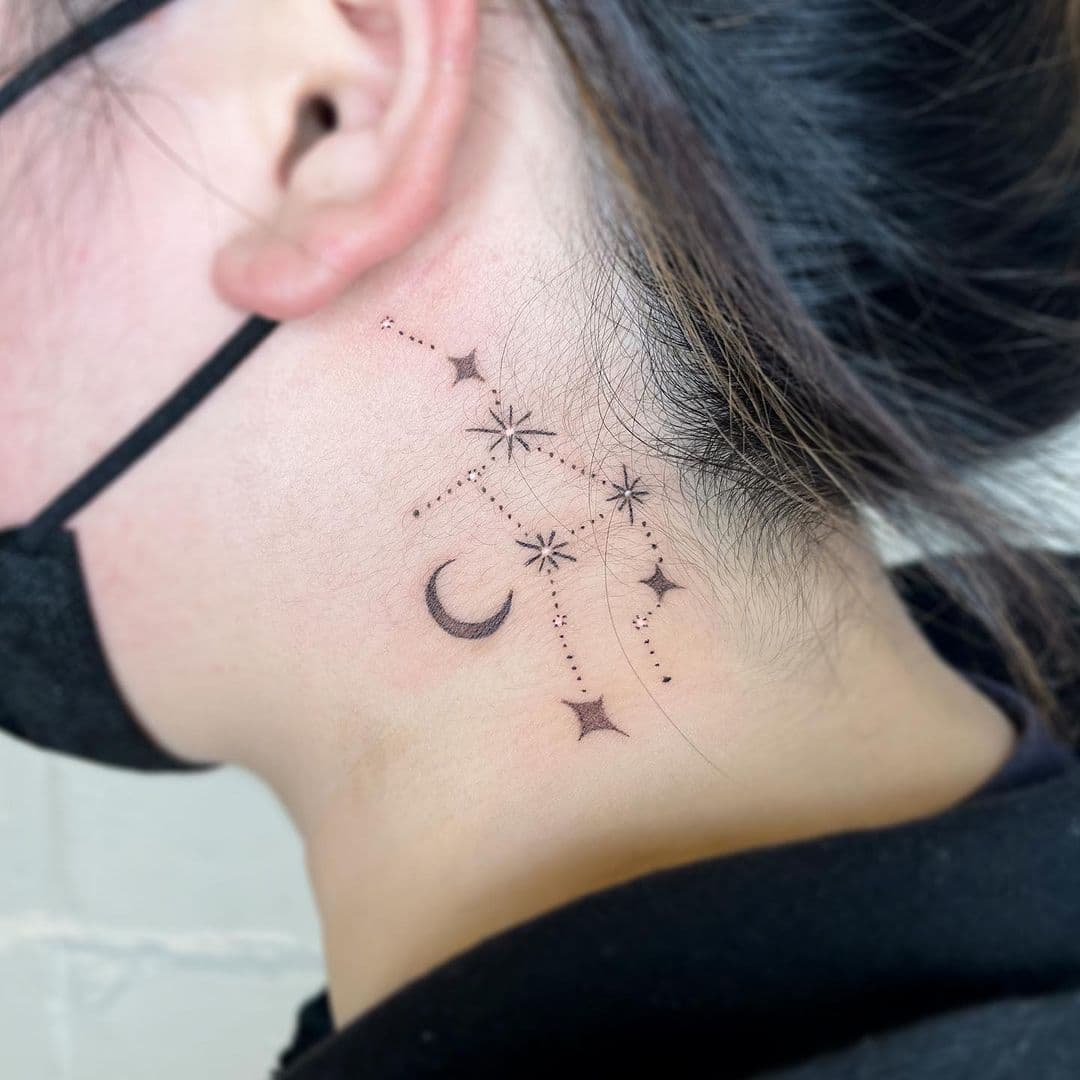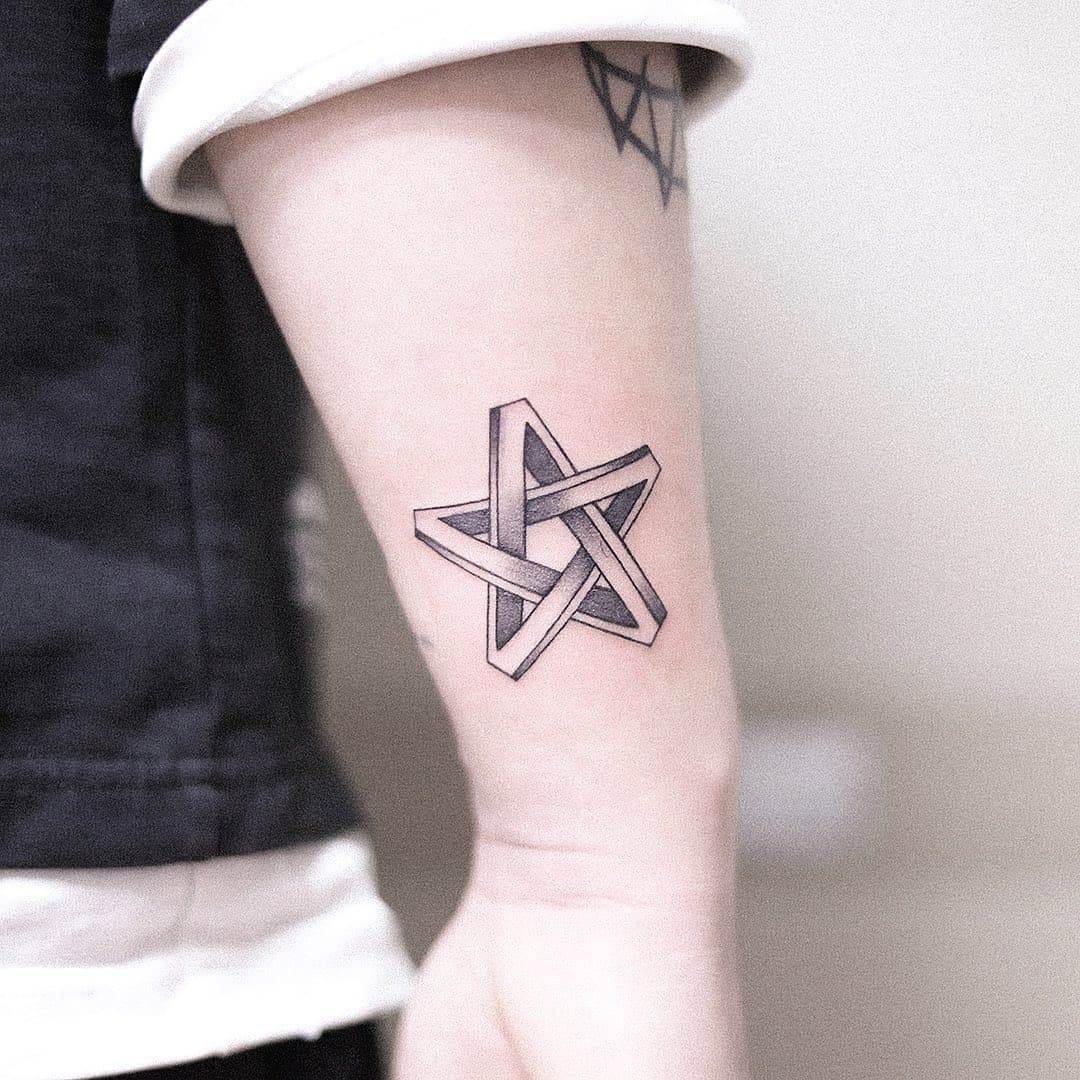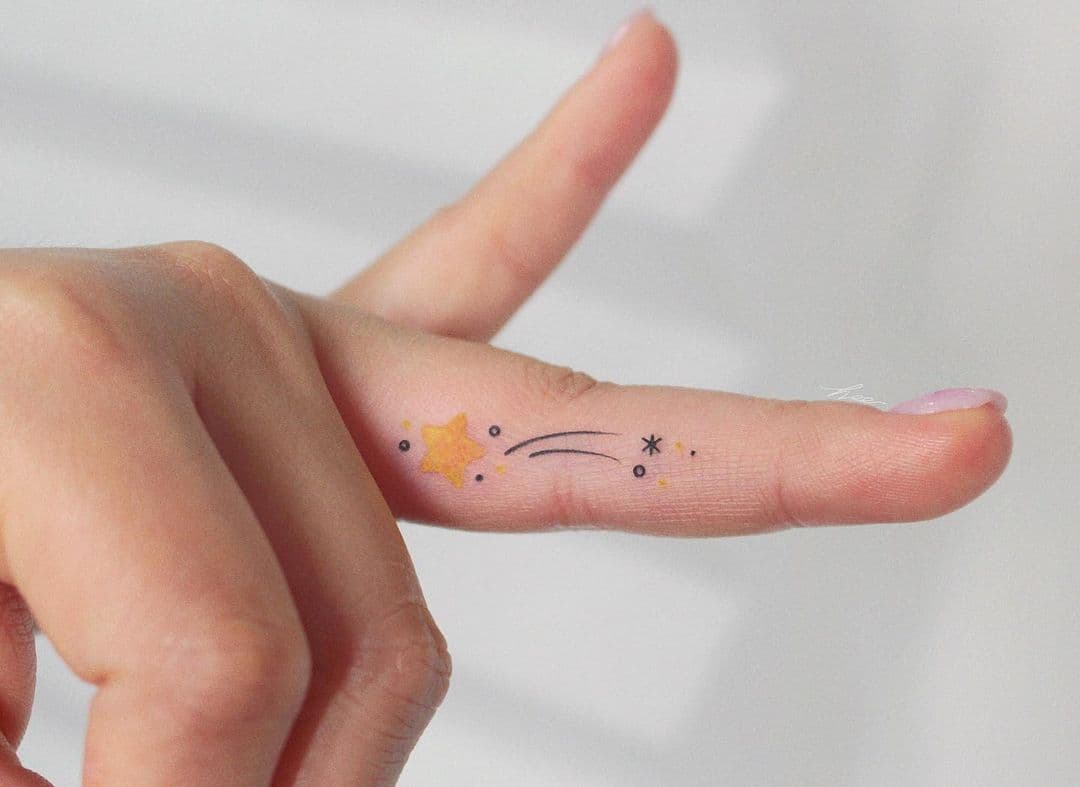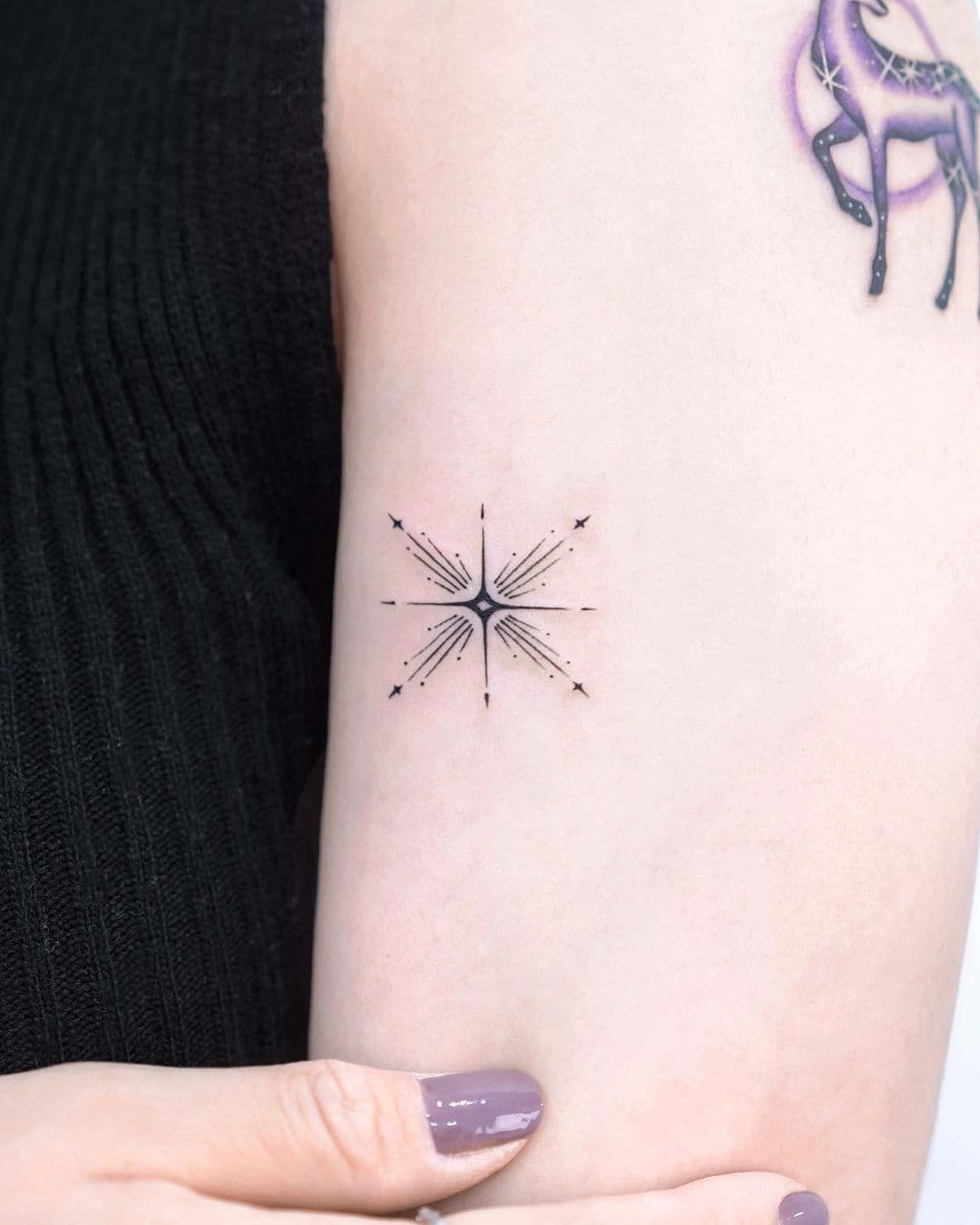 In addition to being visually appealing, using a crescent moon and stars enhances the mood created by the design rather than simply using stars alone. Complex features inside the crescent moon or floating clouds across the area add to the magical feel of the composition. This tattoo design is most effective when applied to medium and enormous tattoo sizes. In addition to the inner wrist, the ankle and shoulder are excellent locations for this tattoo. The stars and the moon (see solar system drawings below for further ideas) may all fit on one finger!
This star design has a lot of potential because of its adaptability. The tattoo's design may be worn by both men and women of any age and look stunning. Some individuals believe that the moon represents knowledge.
Northern Stars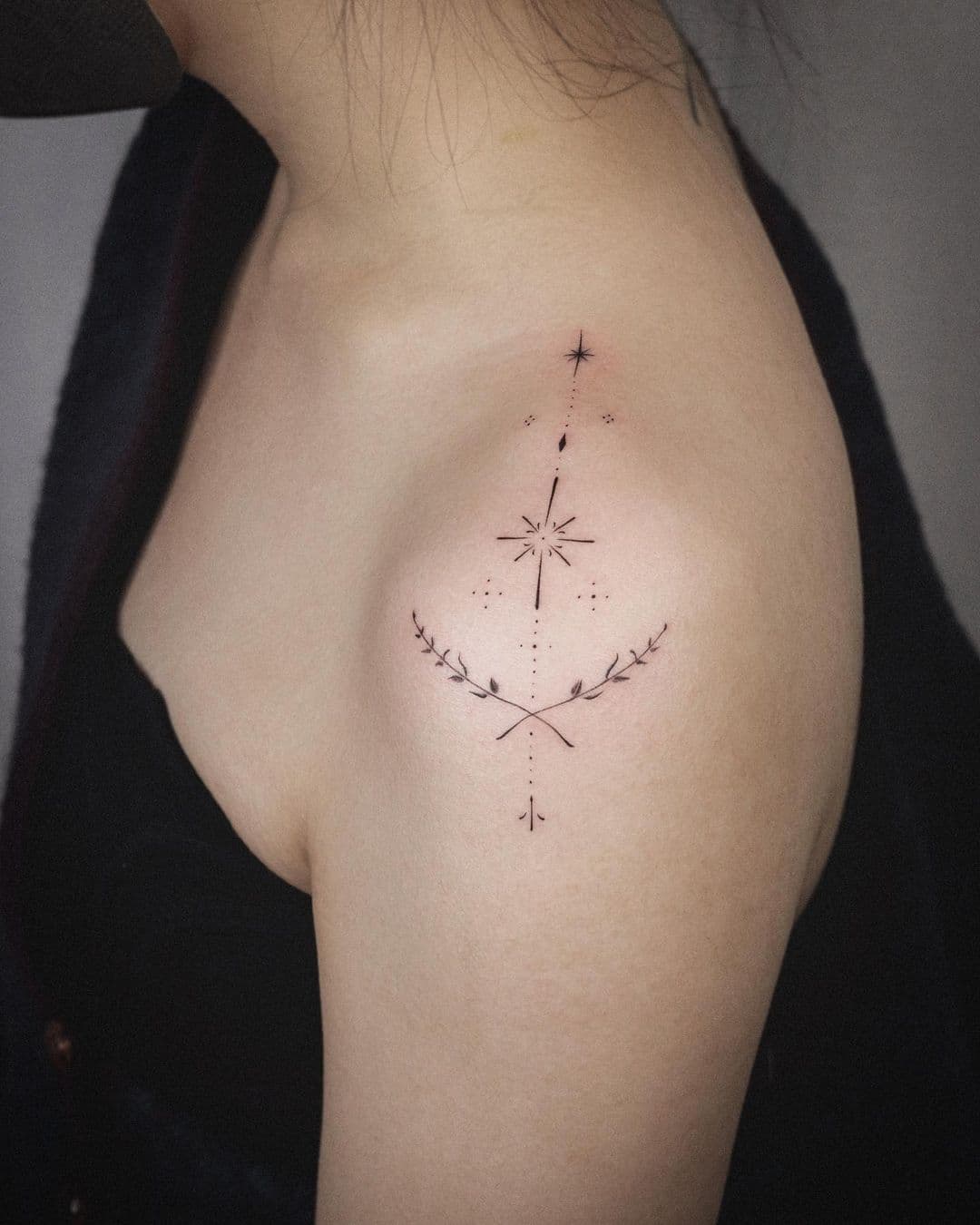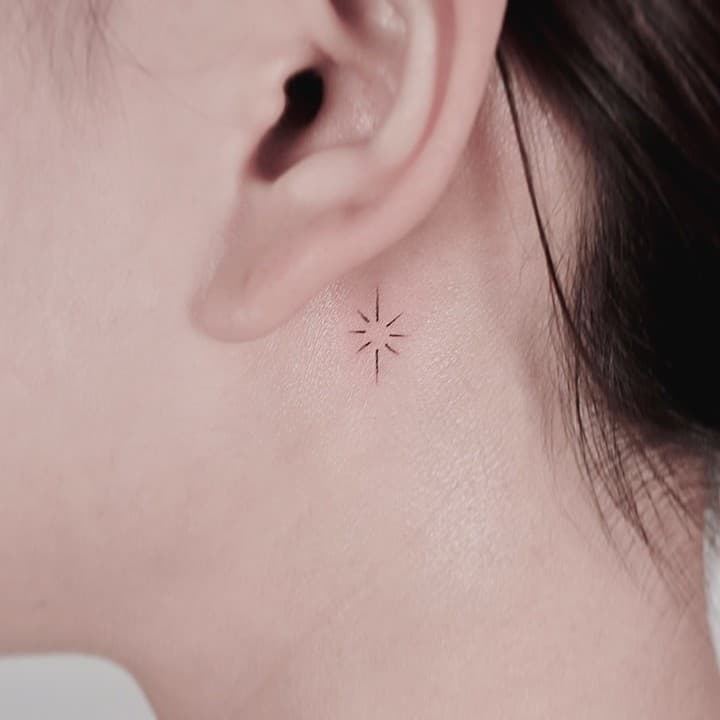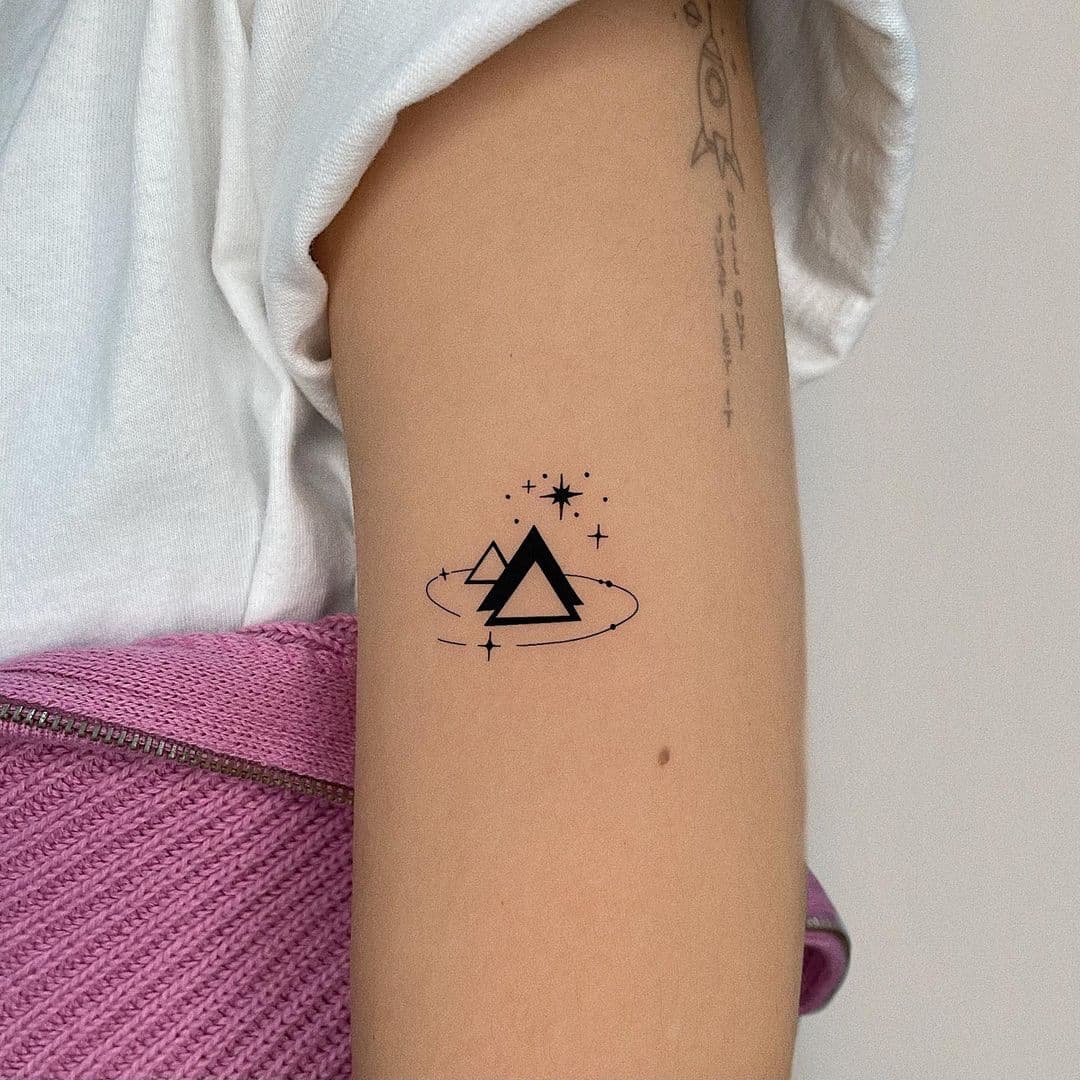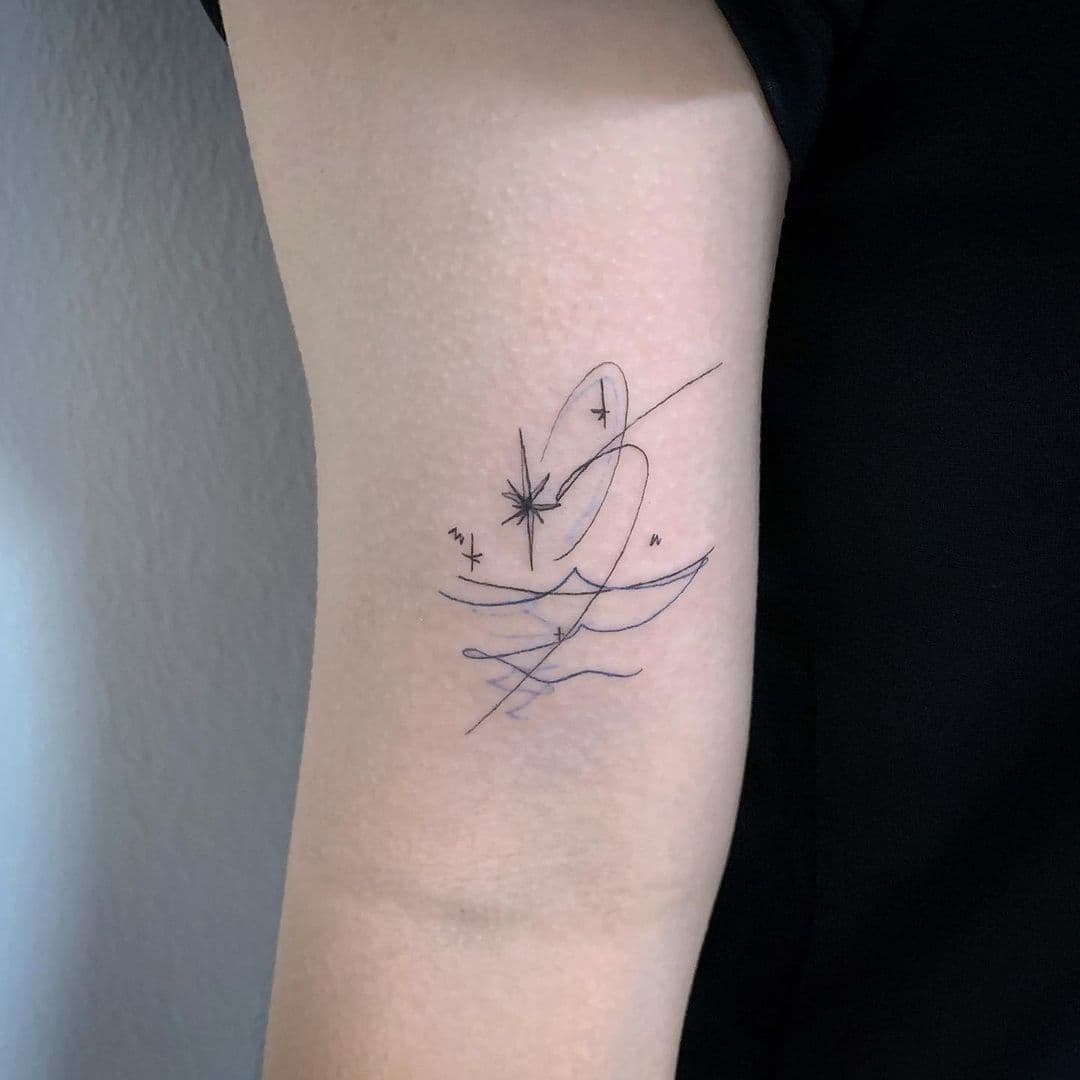 Northern-style stars with two longer points than the others form an oblong tattoo that's great for regions like the wrist/forearm, behind the ear, or along with a finger. For this star style, you may go for bold lines and uncomplicated designs (for example, a diamond shape), but the minimalist form is typically more popular, especially among ladies.
Incorporating dots or additional lines gliding out from the centre of the star creates a shimmering or glittering look that is very attractive. Like the nautical stars, this motif may also represent travel or a voyage. This star is sometimes depicted in depictions of the nativity scene, directing people to the town of Bethlehem.
Astrological Constellations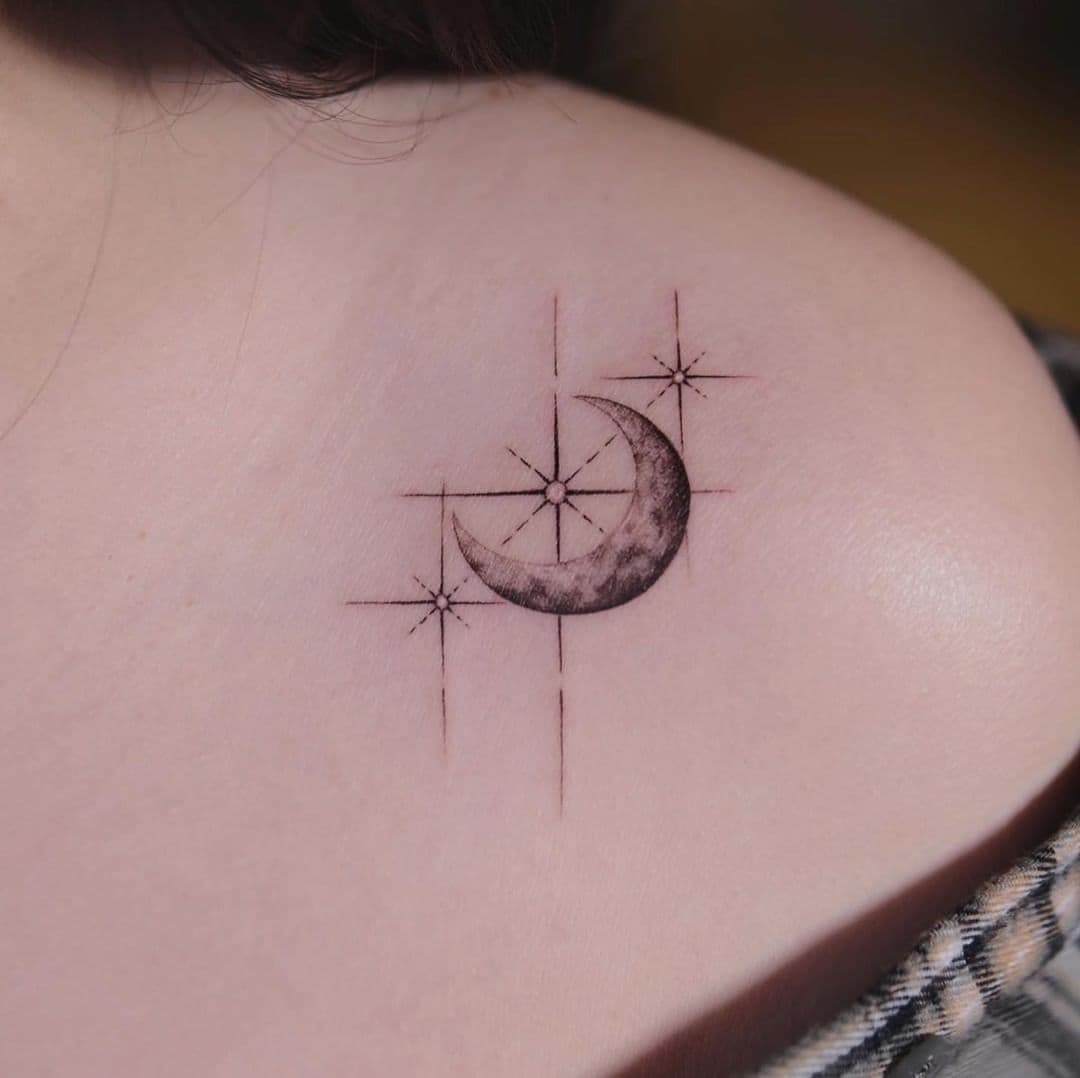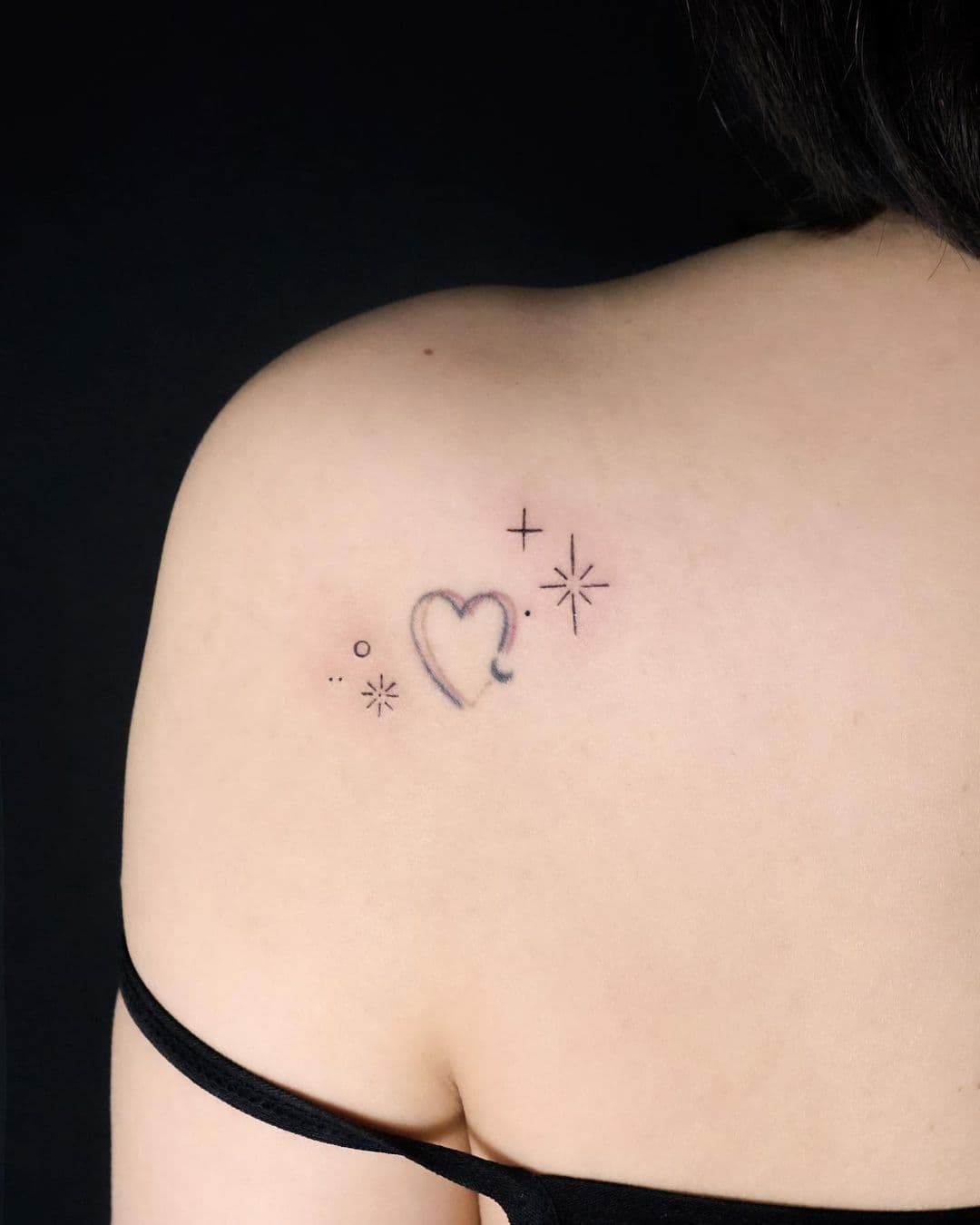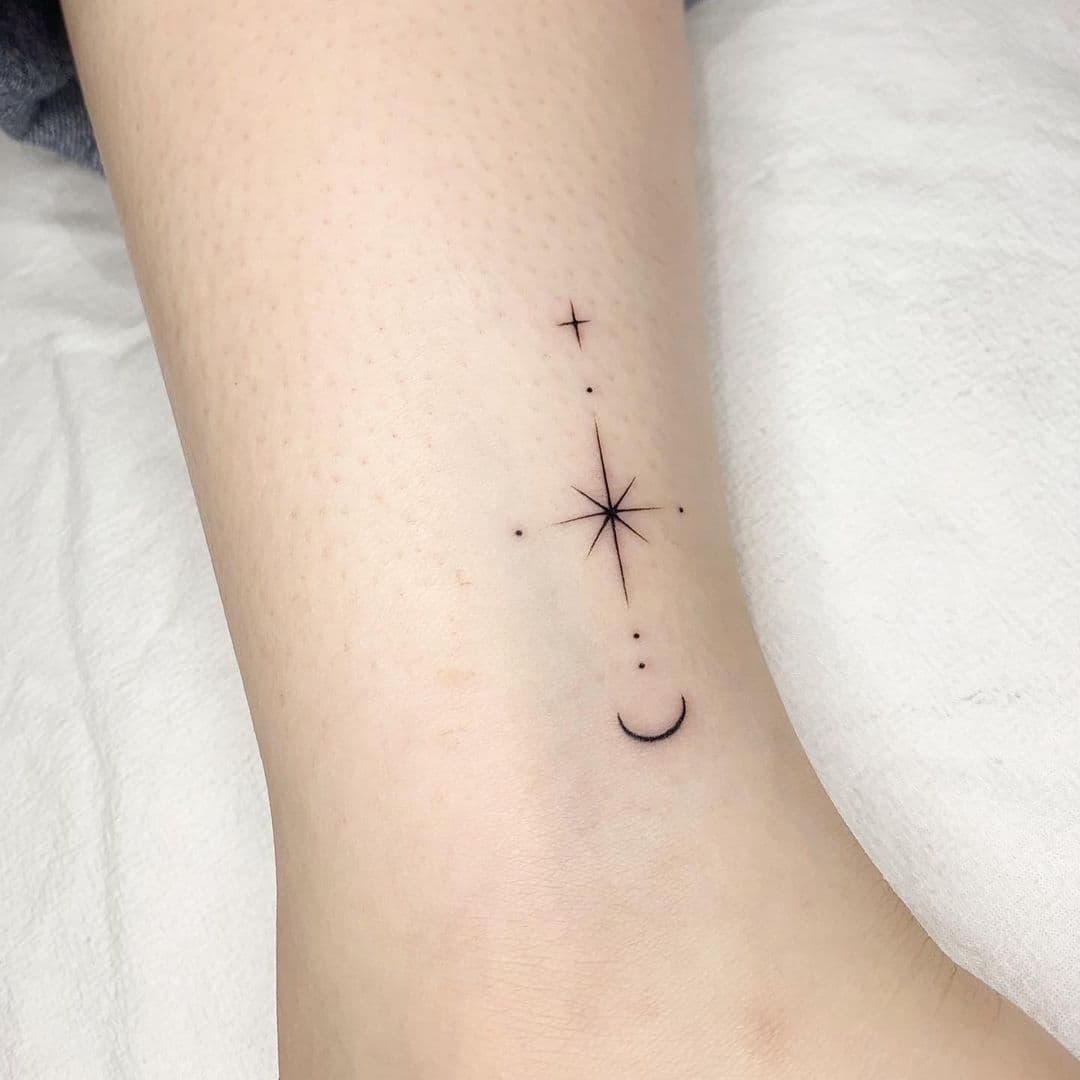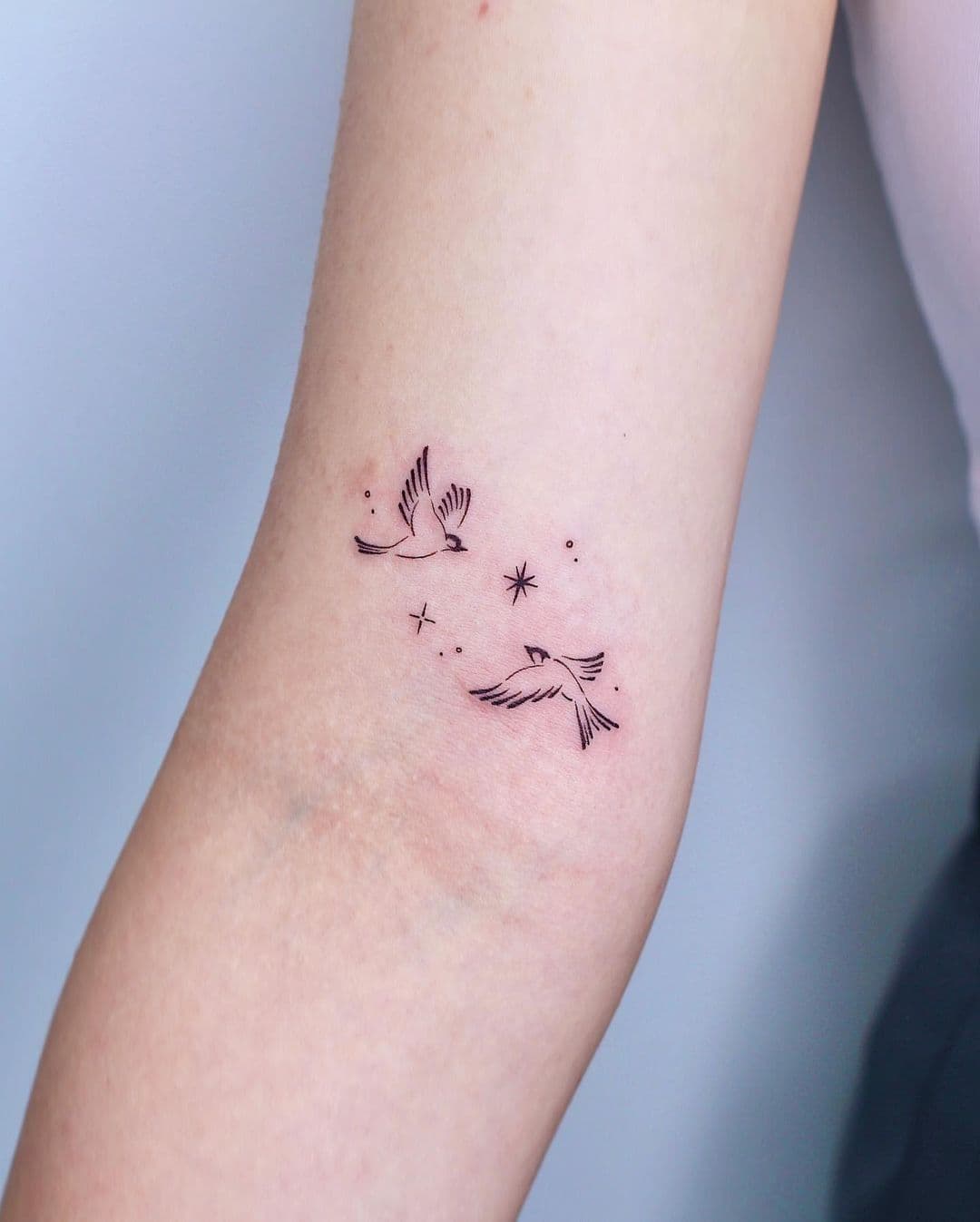 Tattoos depicting constellations are made up of numerous dots (or extremely tiny stars) linked together to form a picture of the constellation. They are more adaptable than you may think-the constellation alone might have a symbolic significance, but including flowers and other symbols in the design adds a little additional flare.
What if I told you that your zodiac sign is represented by a constellation?Some signs, such as Cancer and Aries, are pretty straightforward, whilst others, such as Gemini, Sagittarius, and Virgo, are complicated! Because constellation tattoos are a relatively recent fad, you'll often see them on younger individuals (including hipsters). Still, they're pretty adaptable in size (they may be big or microscopic) and look great on both men and women. If you choose a thin design, these constellation tattoos can be far less painful than other types of tattoos.
Tattoo Designs with Colorful Stars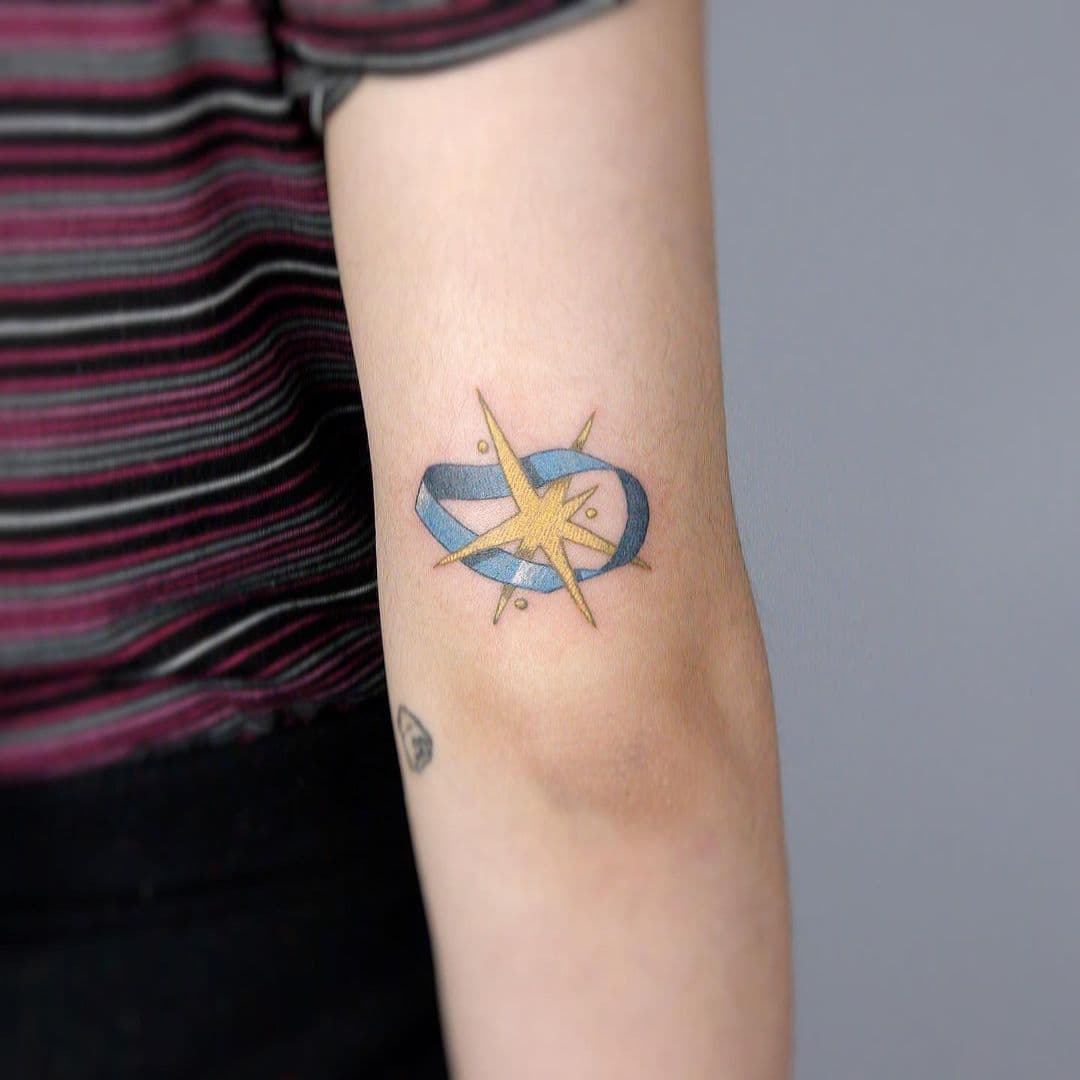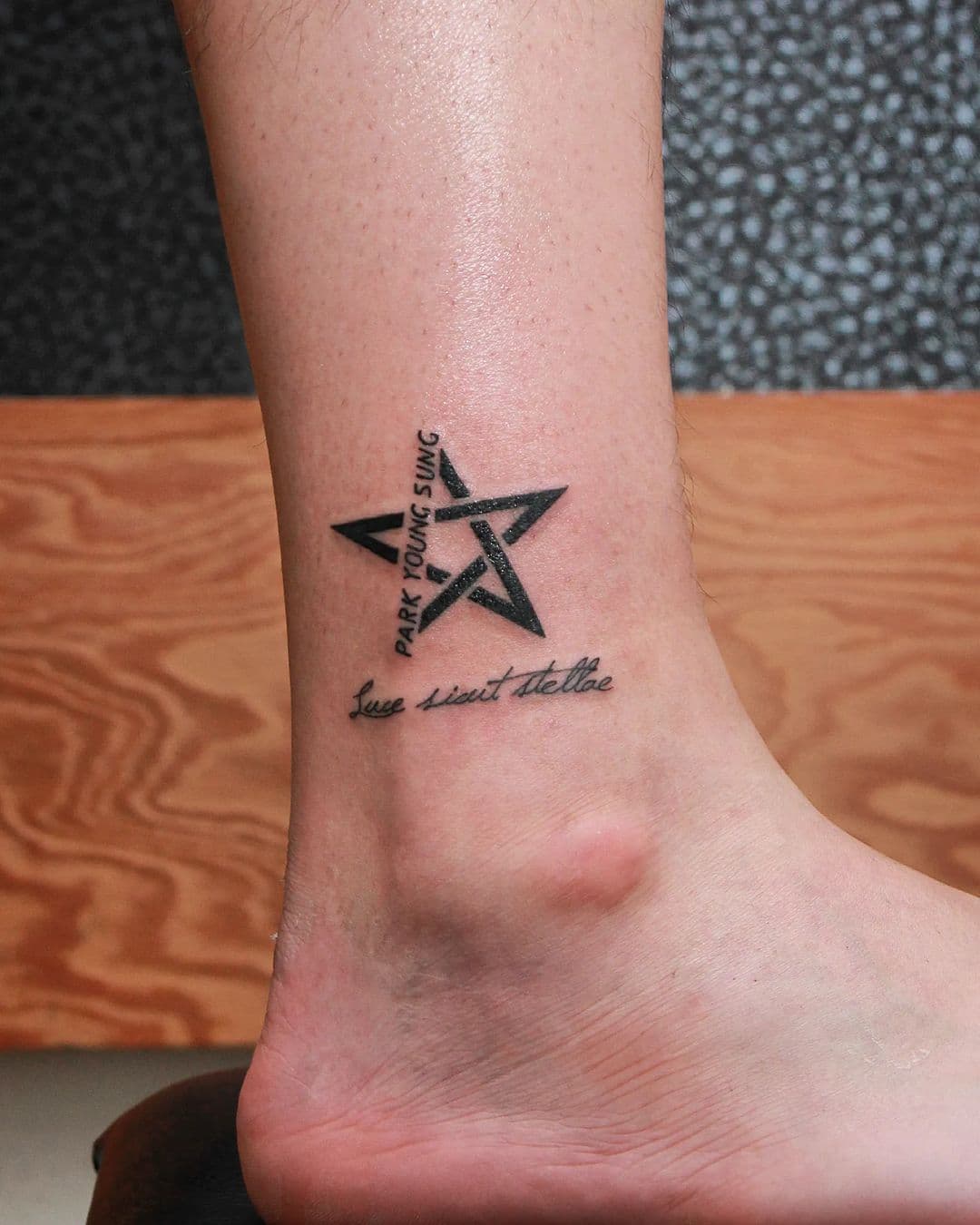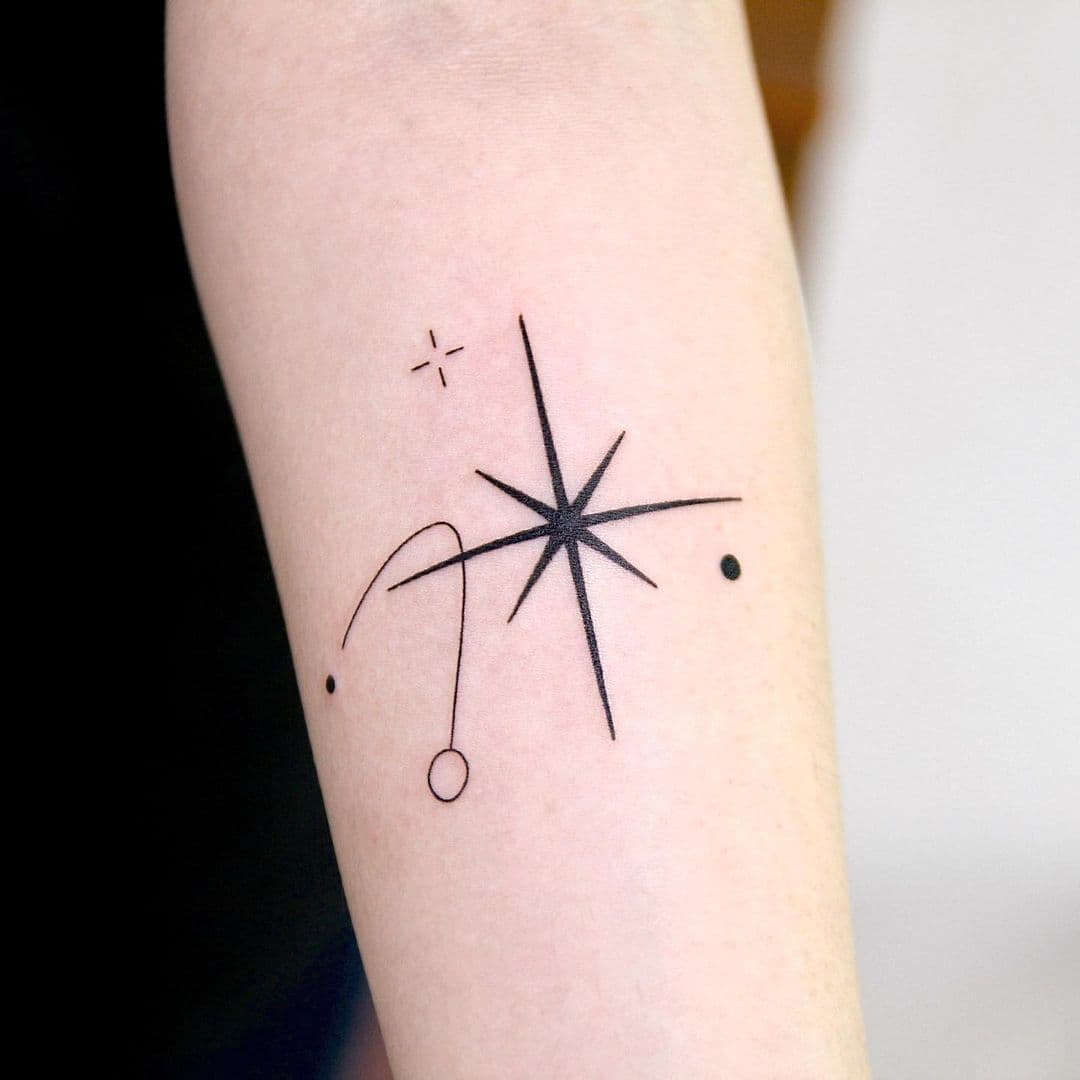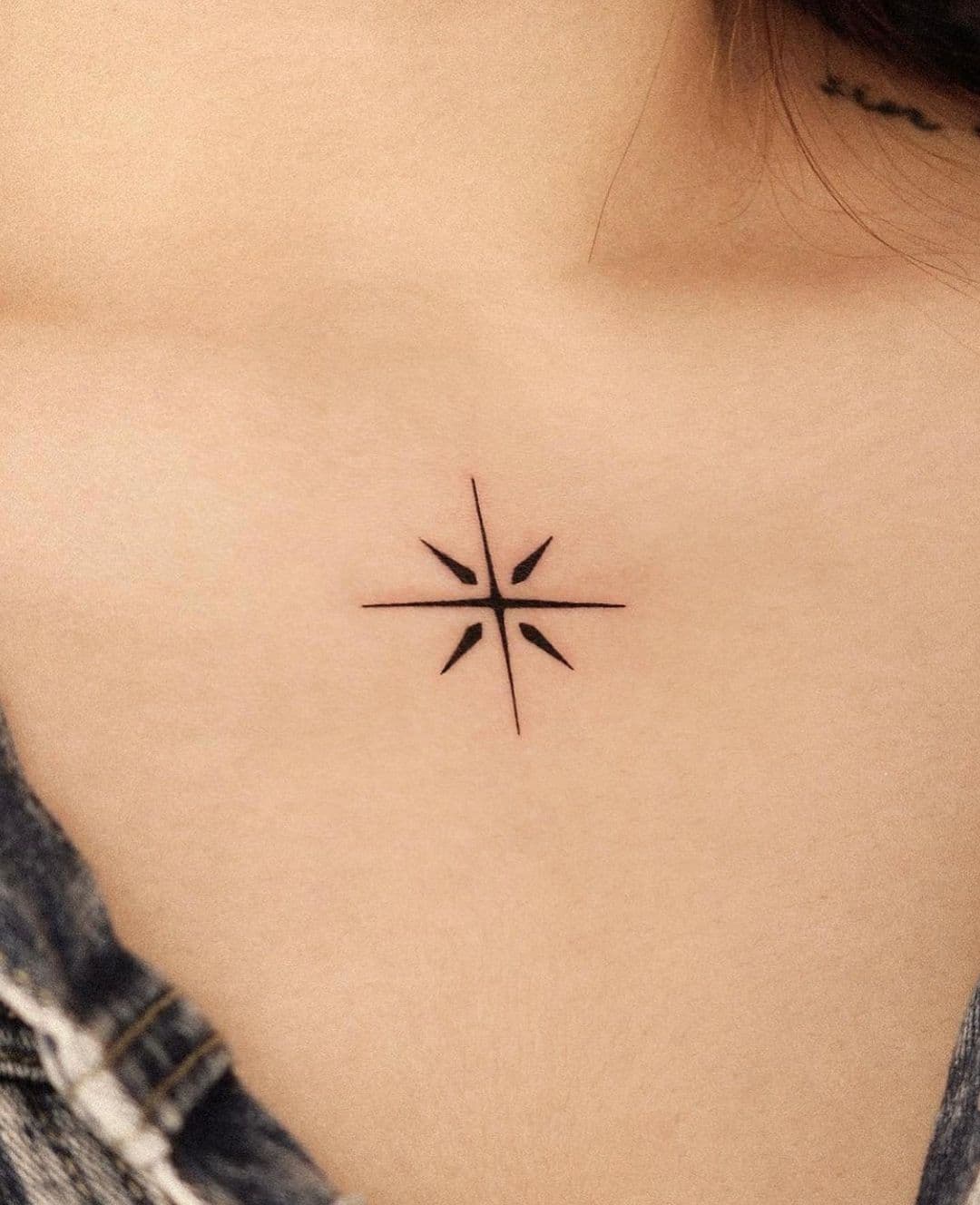 You've undoubtedly noticed by now that most tattoo designs are black and white, but some are colorful! The hue of the stars may be used to signify a variety of different things. For example, the colour pink is associated with surviving breast cancer. Alternatively, a rainbow of colours might be used to express LGBT pride. When shown, these tattoos are more eye-catching than basic black tattoos and look particularly lovely – ankles, arms, necks, and other exposed parts of the flesh are perfect sites for this type of tattoo. The bright hues are typically more popular among younger generations of any gender, regardless of their gender.
Star Portraits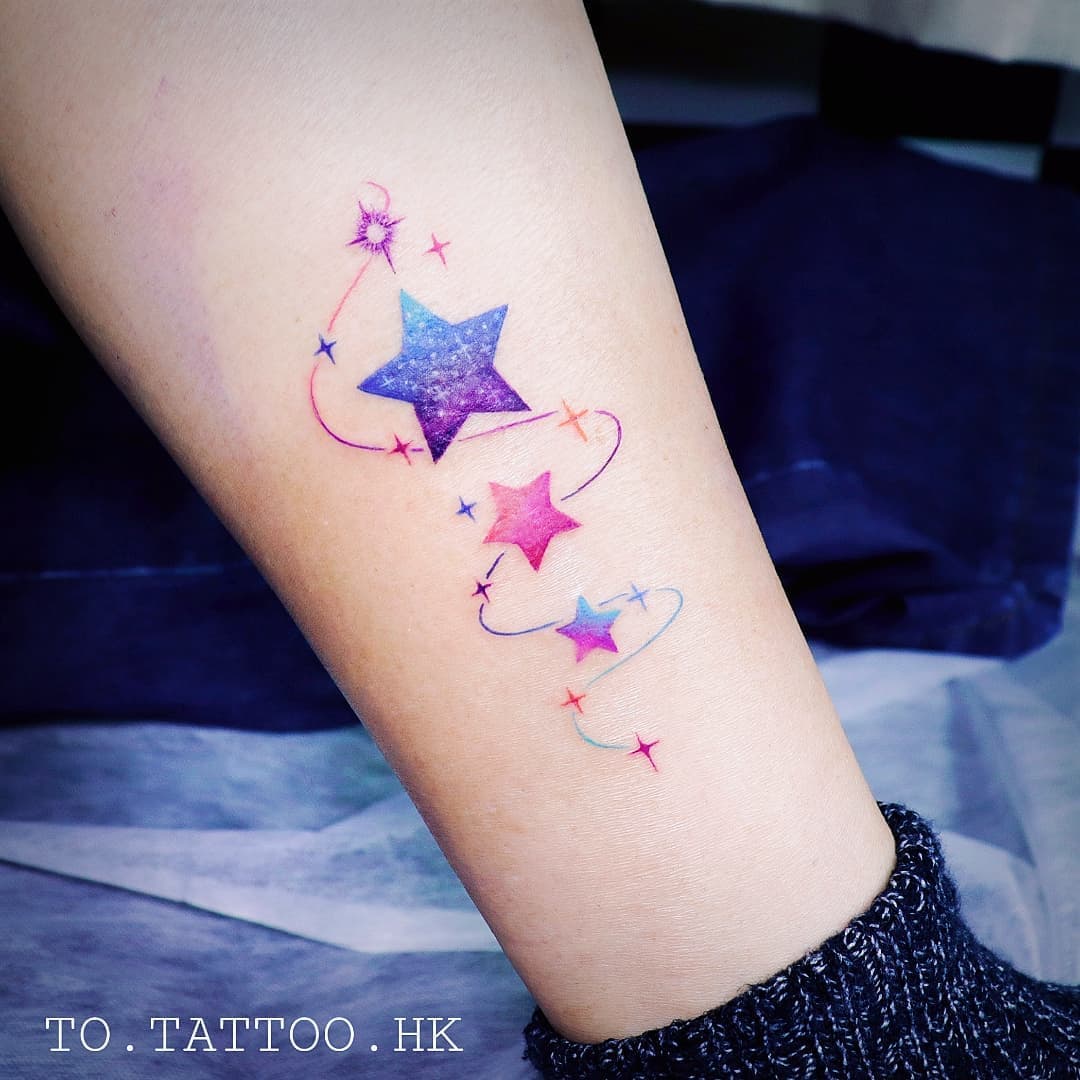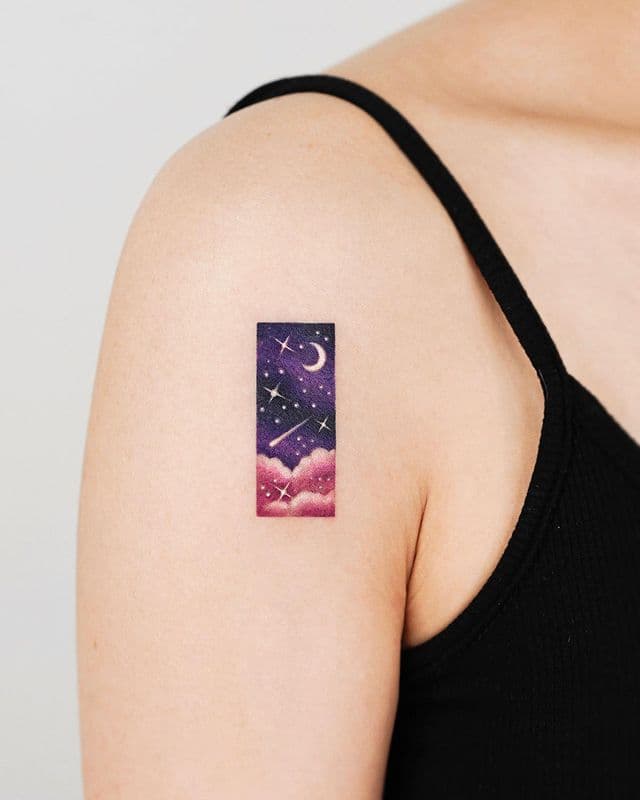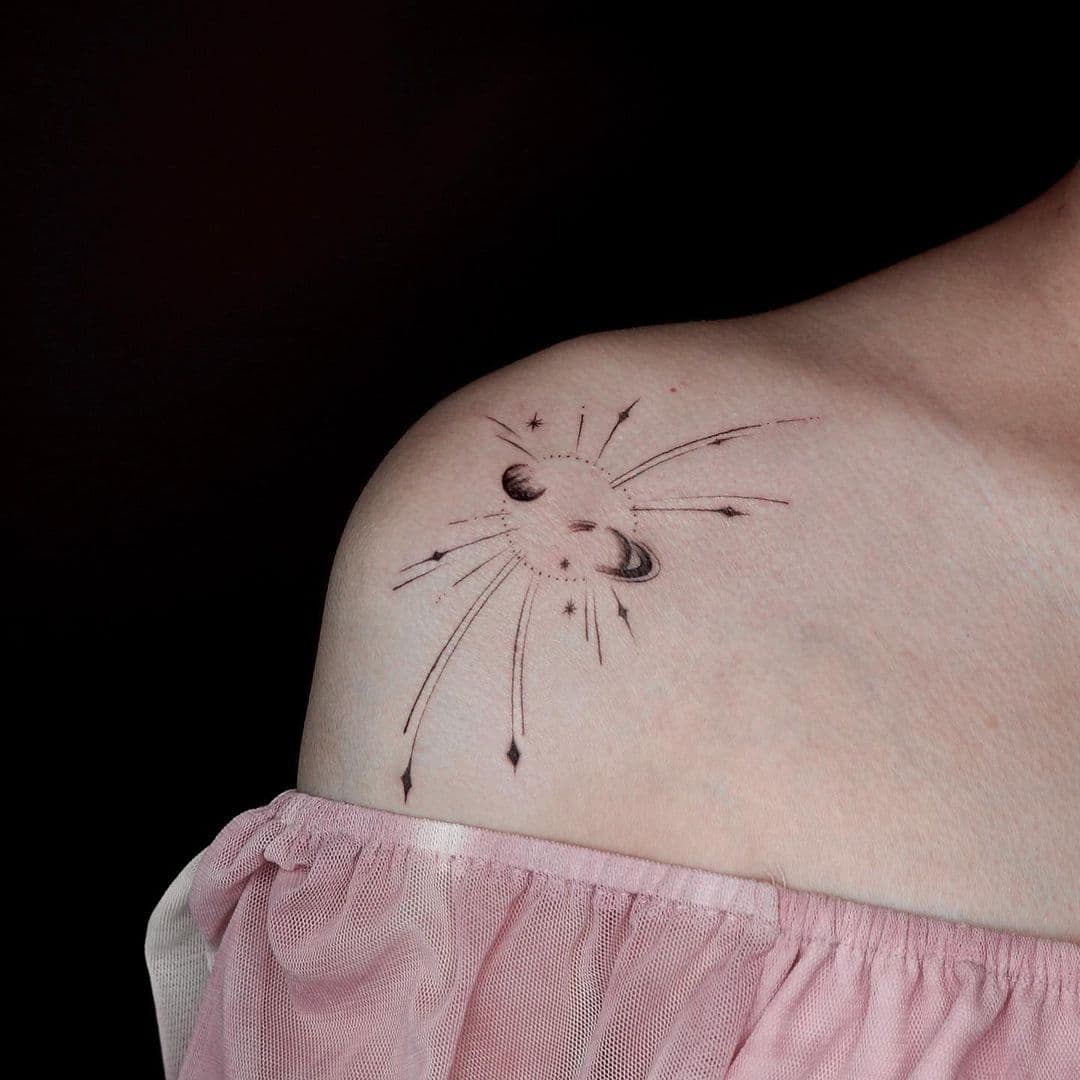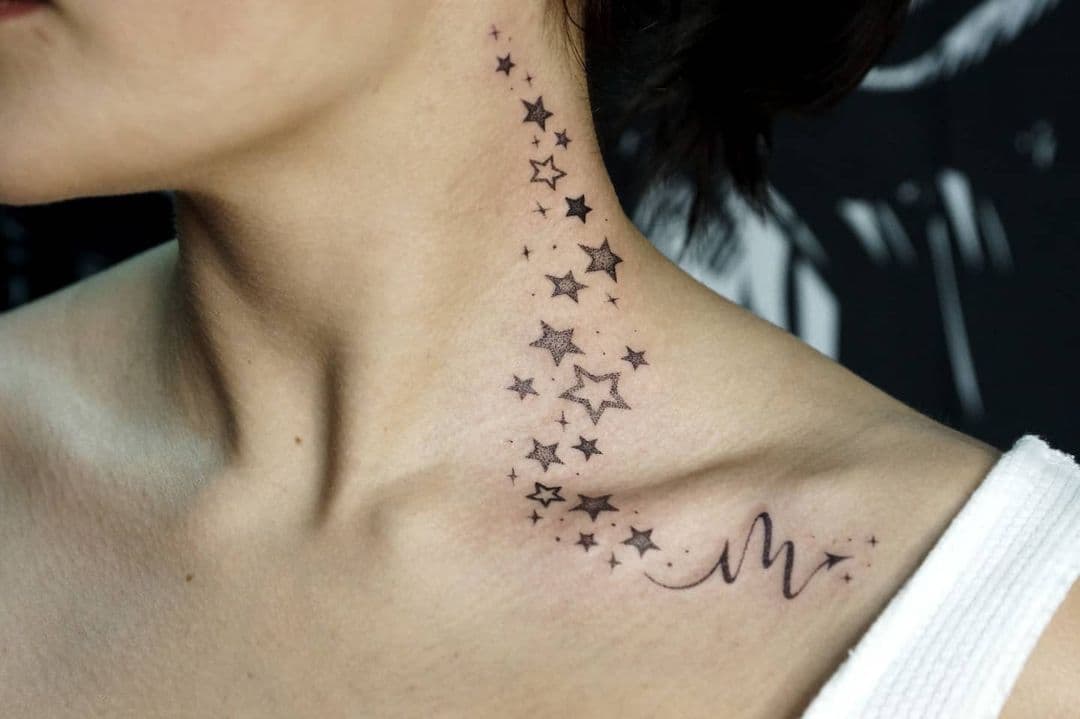 With your star tattoo, you may include an image of someone you care about or have lost. This can be a beautiful way to remember someone you love or someone who has passed away. It's also an excellent time to upgrade your star tattoo to a more prominent position. These enormous tattoos look fantastic on the back, ribs, upper arm, or even leg (especially on women) since they provide a broad canvas on which to work. Angels, fictitious characters, and members of one's own family are all common subjects for celebrity pictures. Tattoos in either monochrome or bright colours go well with this style. However, before committing to this tattoo design, make sure that you genuinely want the picture of another person on your body.
Designs in the Tribal Style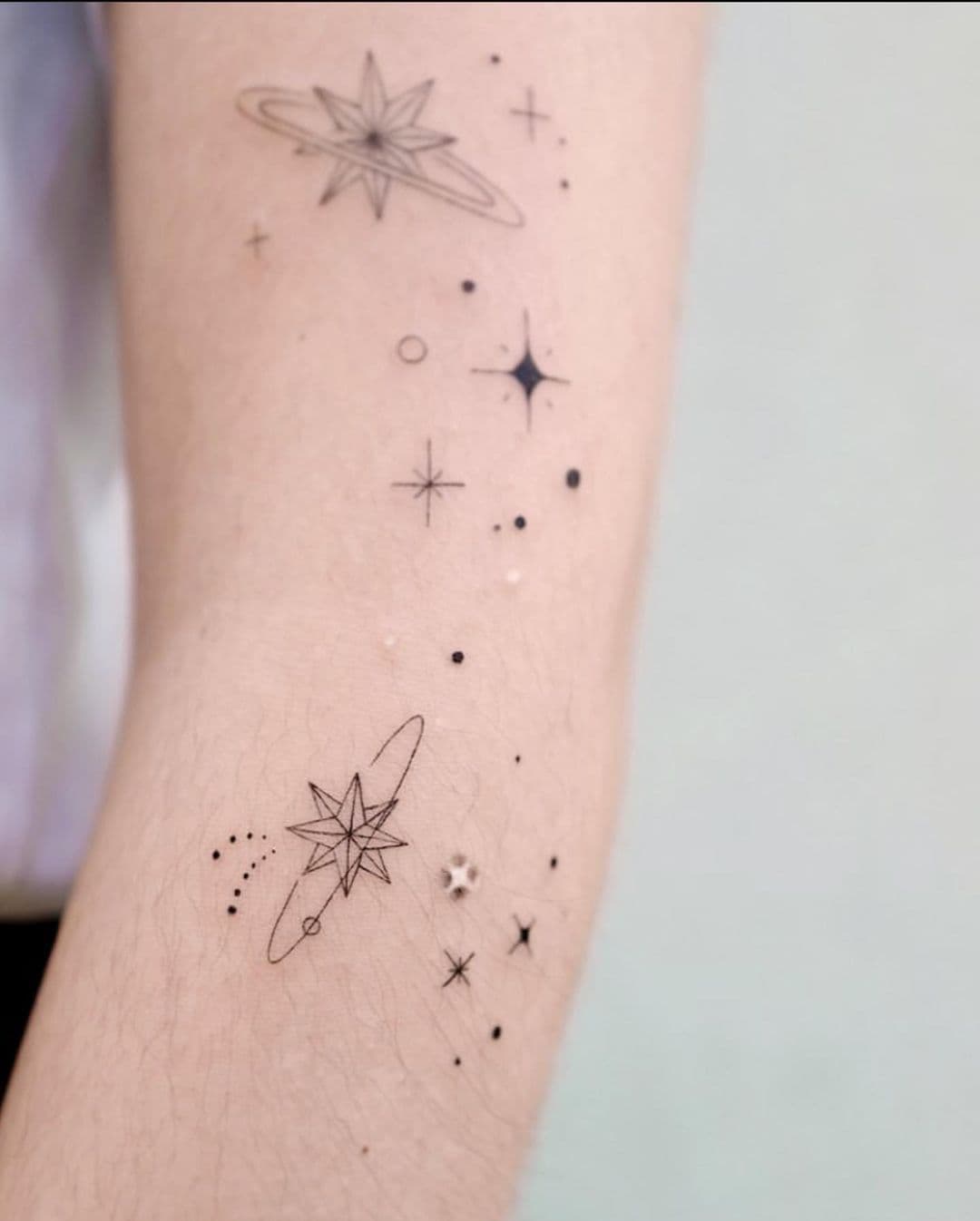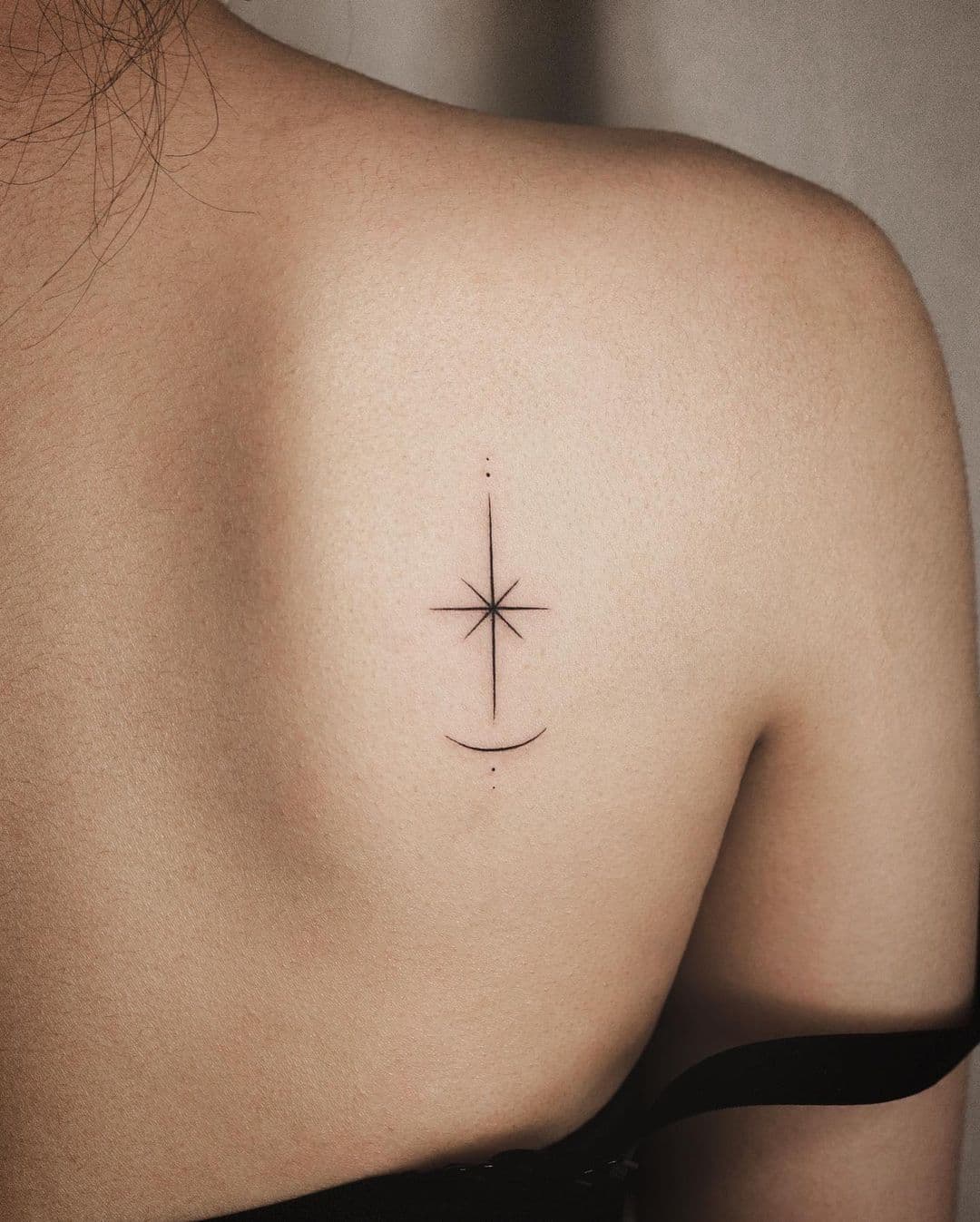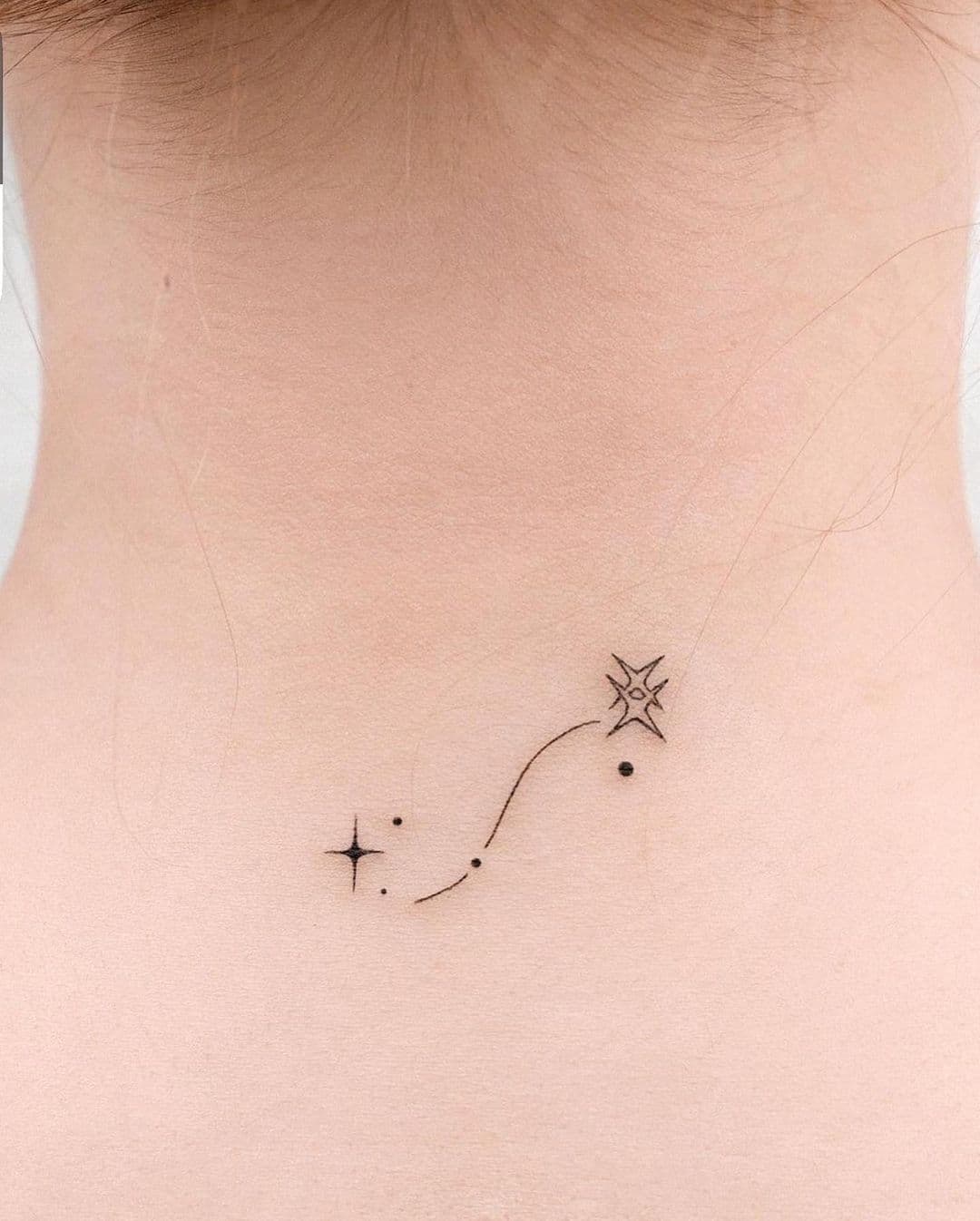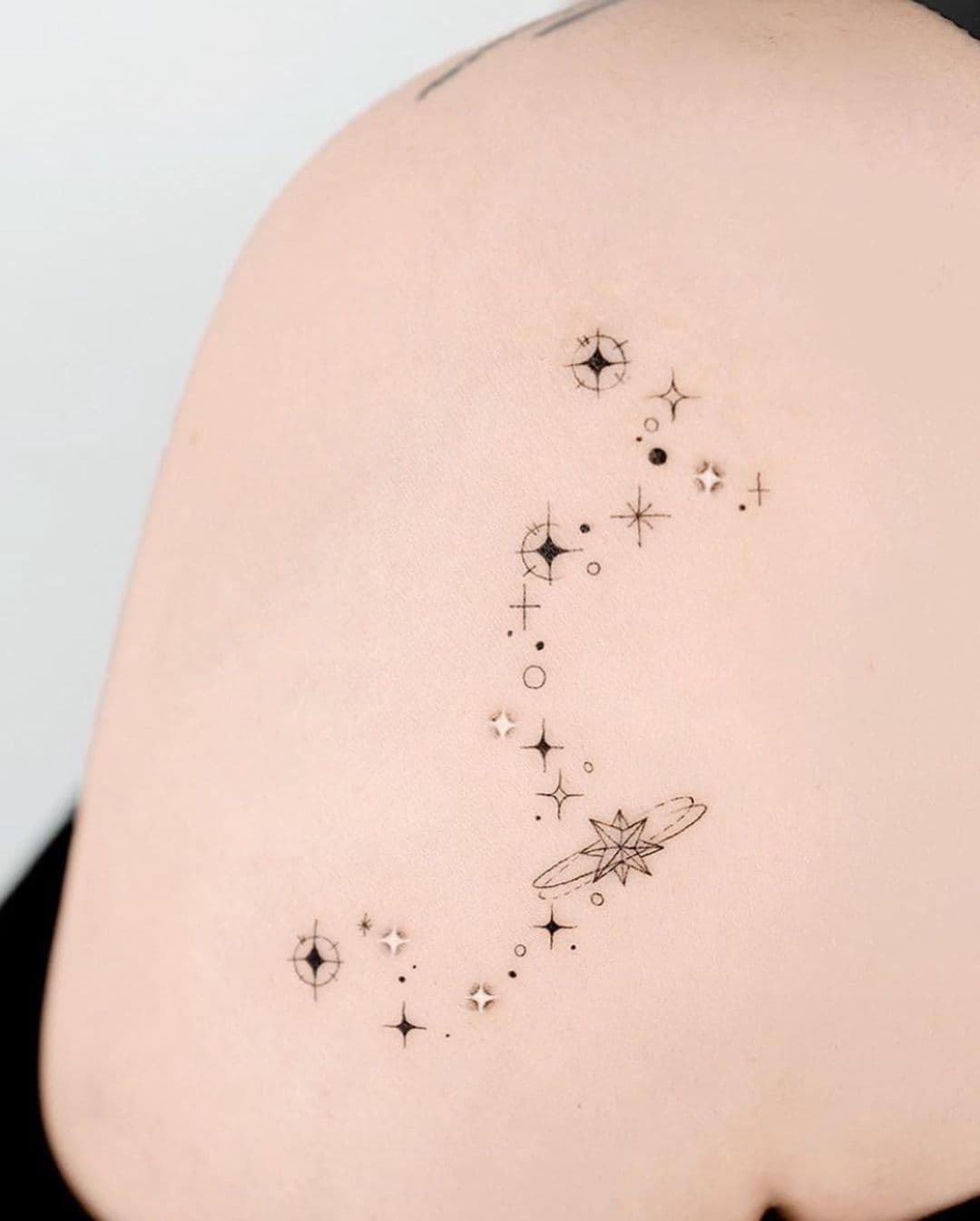 The use of stars in specific tribal designs is logical. They reflect elements essential to that culture. However, some tribal designs employ the tribal style (thick black bands) to produce visually appealing tattoos. The methods of tribal stars are no exception. These enormous or extensive tribal tattoos look fantastic when applied to the upper arm, sleeve, or rear shoulder blade, which are the usual locations for tribal tattoos in the first place. These tattoo designs are far more prevalent among males than among women.
Designs with Geometric Stars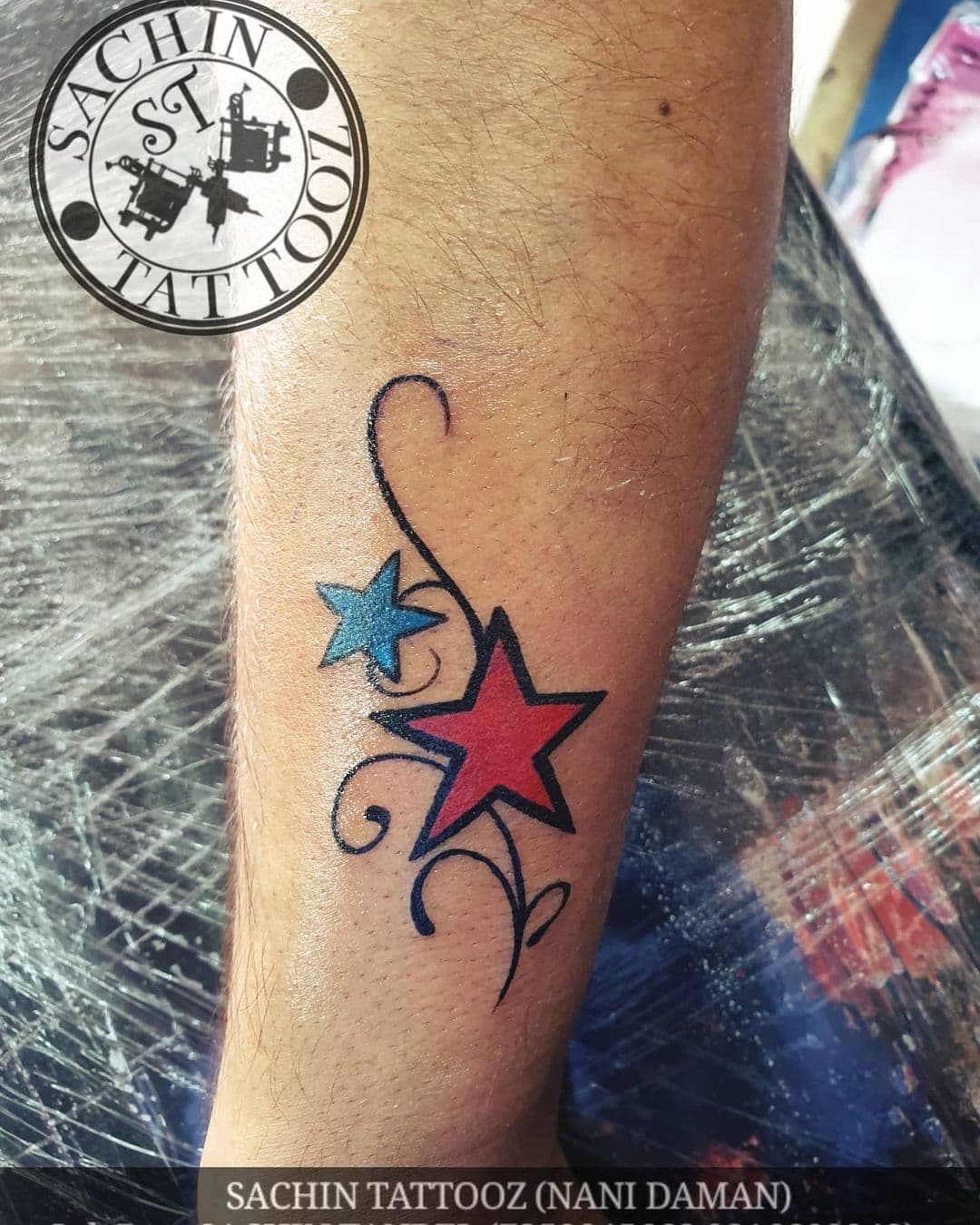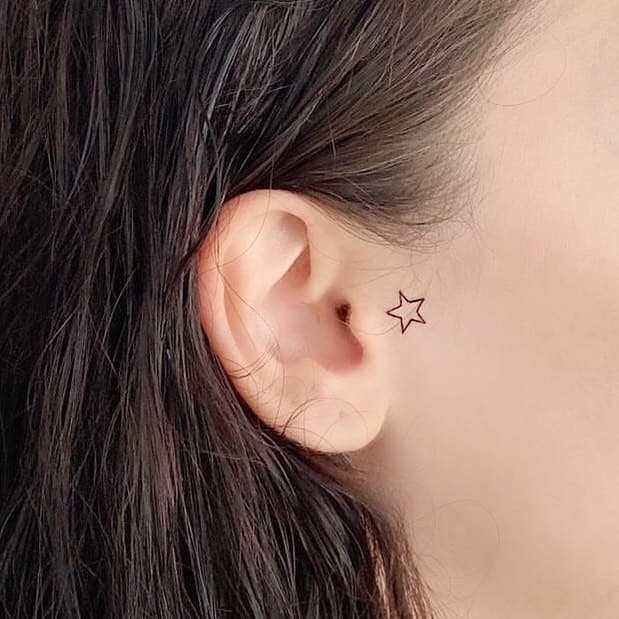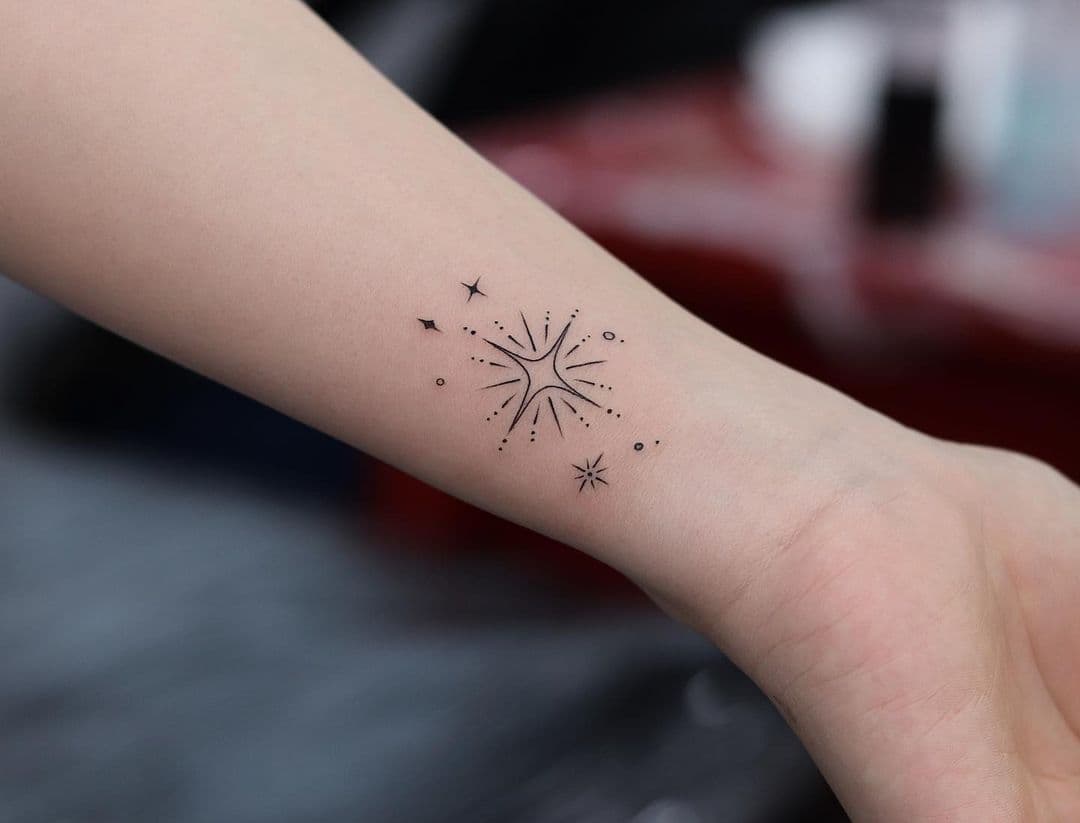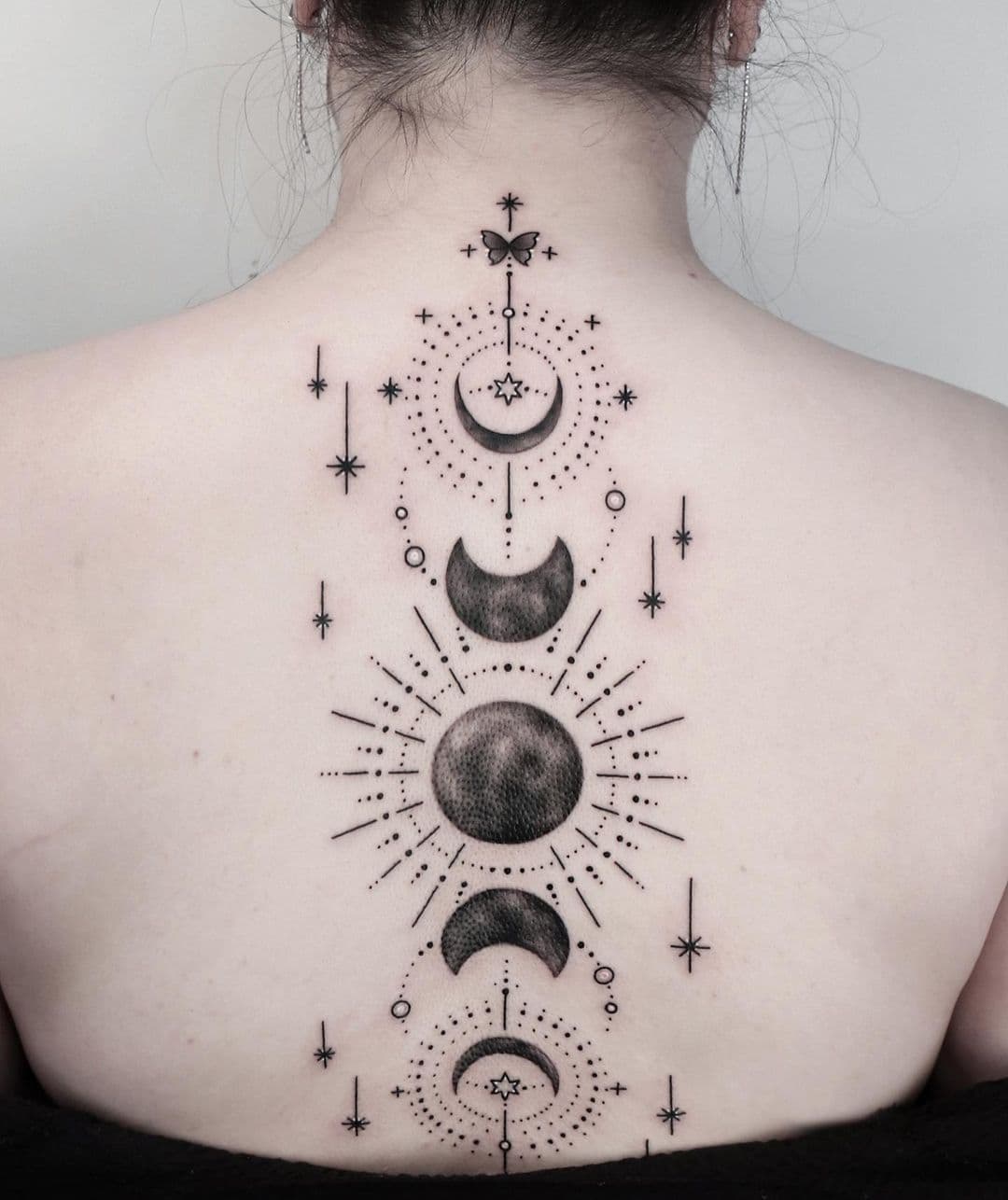 These star tattoos look wonderful on people of all ages, as well as on men and women alike. Sharp lines and geometric angles give off a minimalistic impression, but they can also be more significant than other star tattoo designs due to their geometric nature. Pentagrams, or simply mathematical angles and computations, are popular in this style to represent a fascination with the sciences and mathematics. Geometric star designs look great in medium-small tattoo sizes suitable for the wrist or ankle. For example, it is possible to shrink them to fit behind your ear or on a toe.
Nautical Stars in a Variety of Designs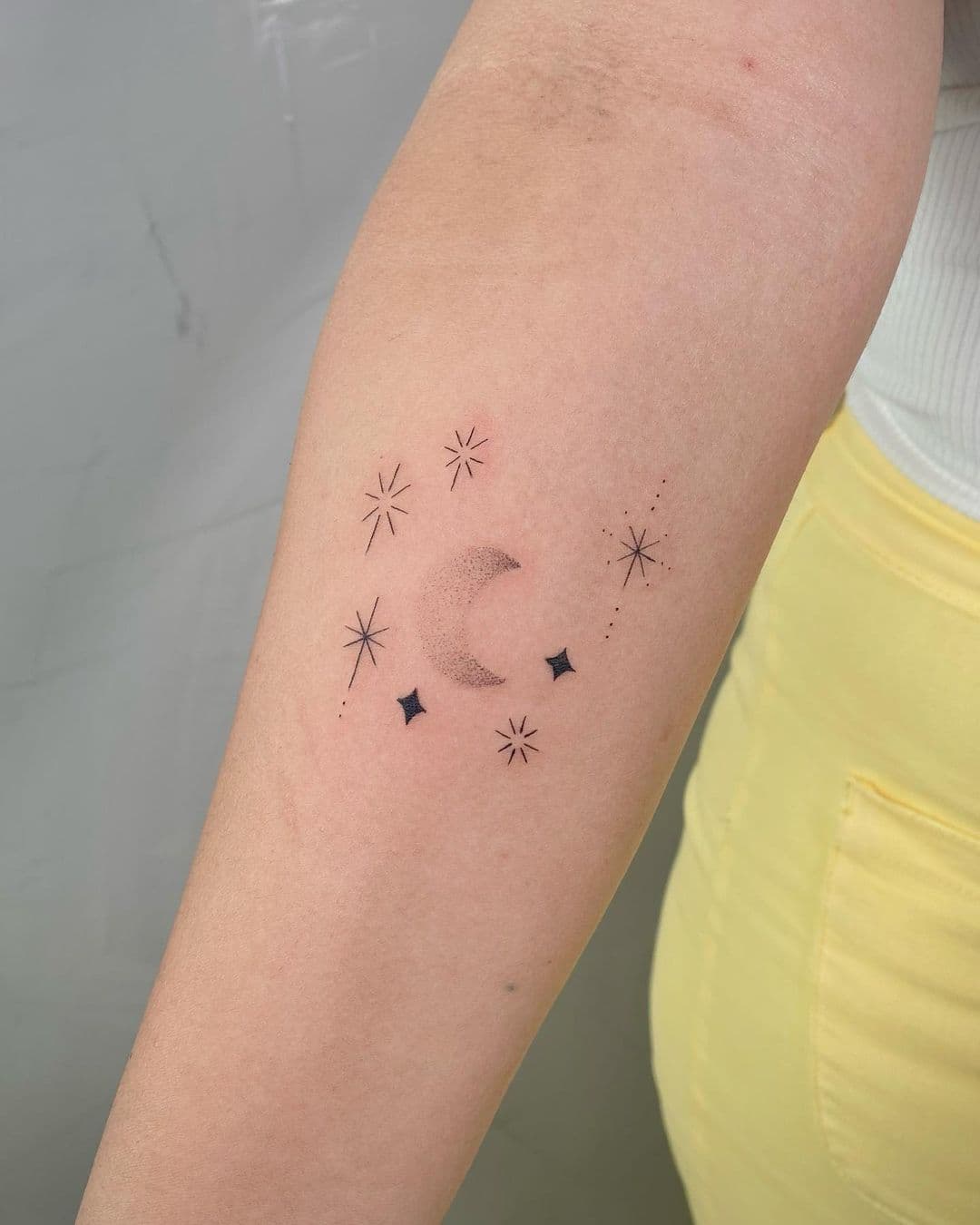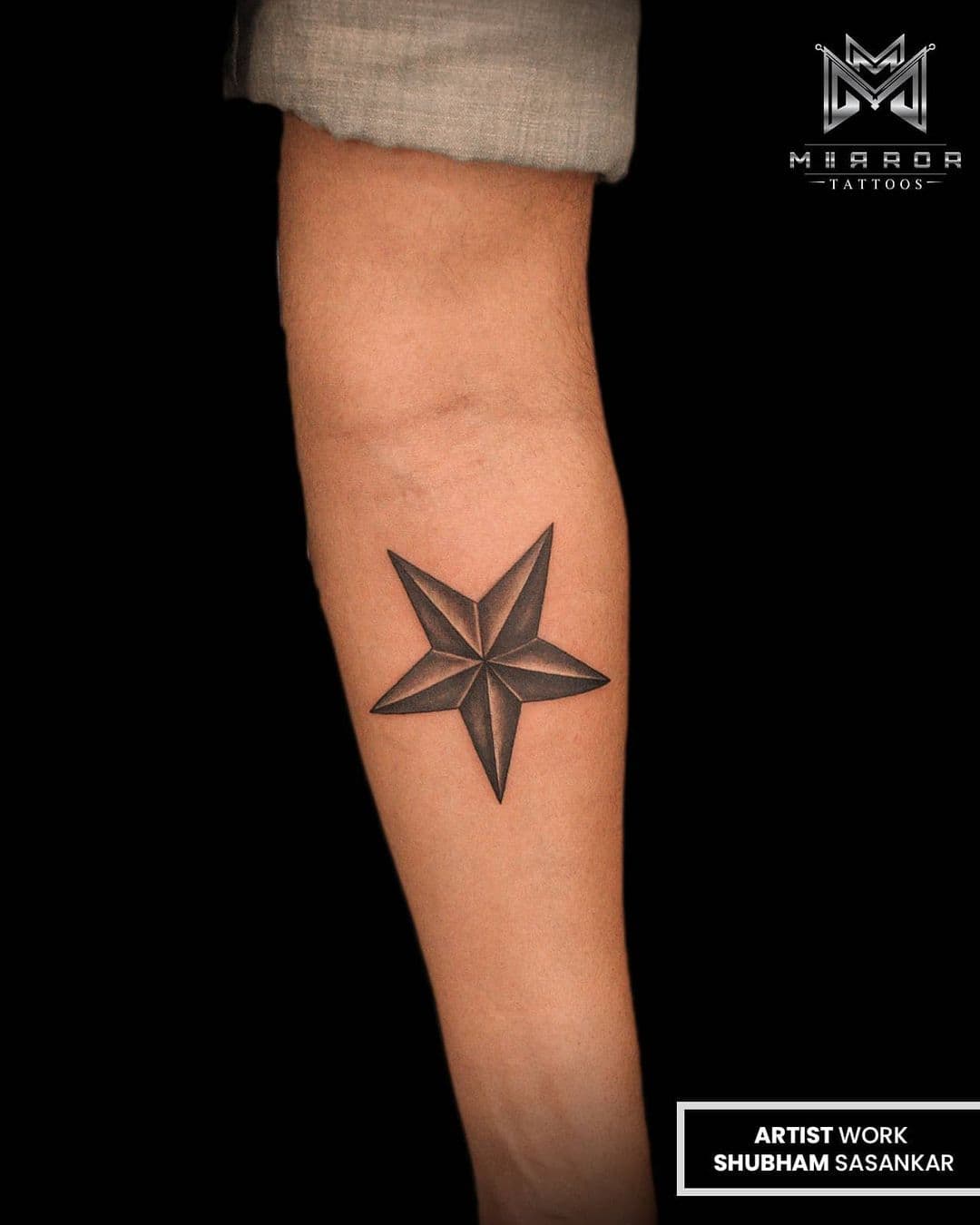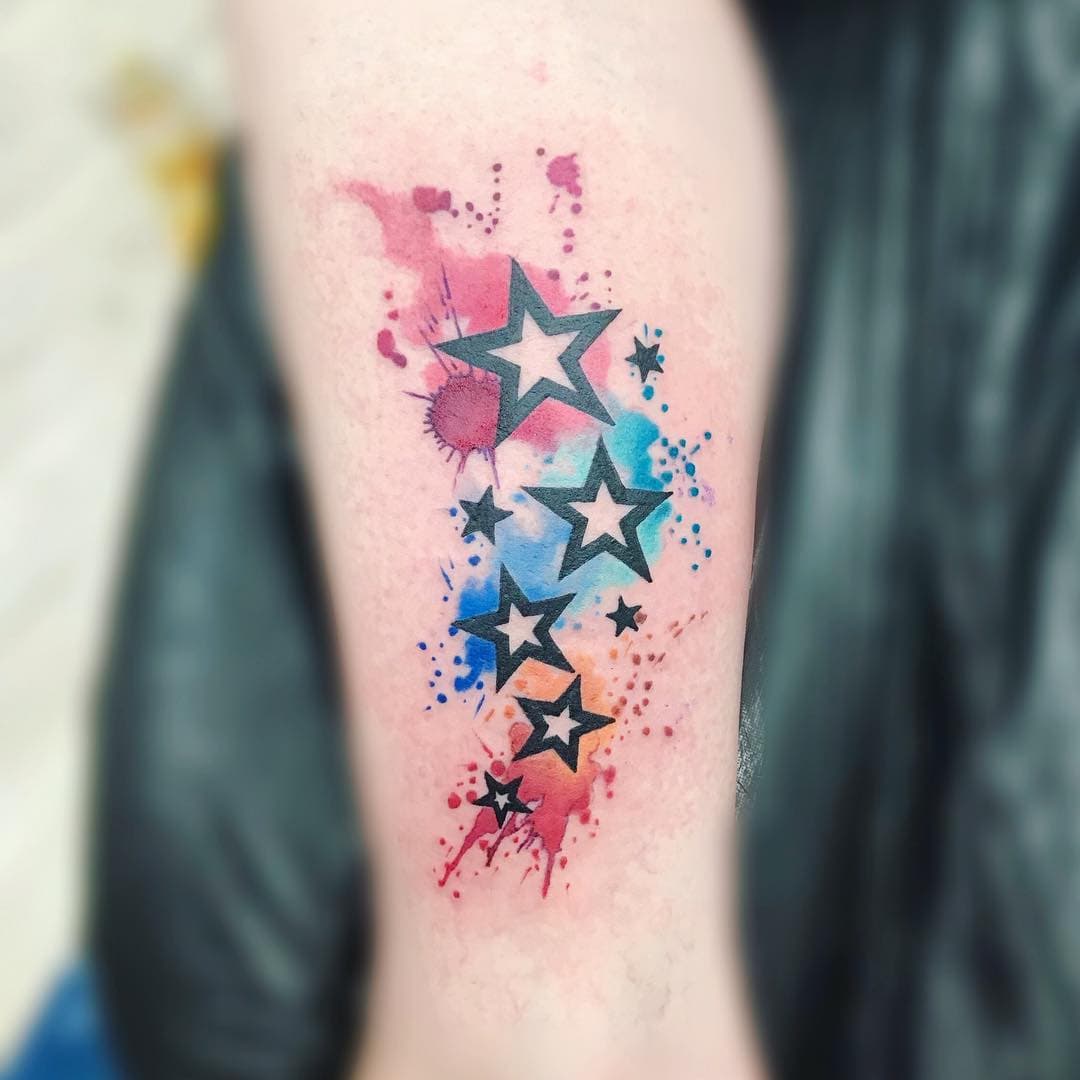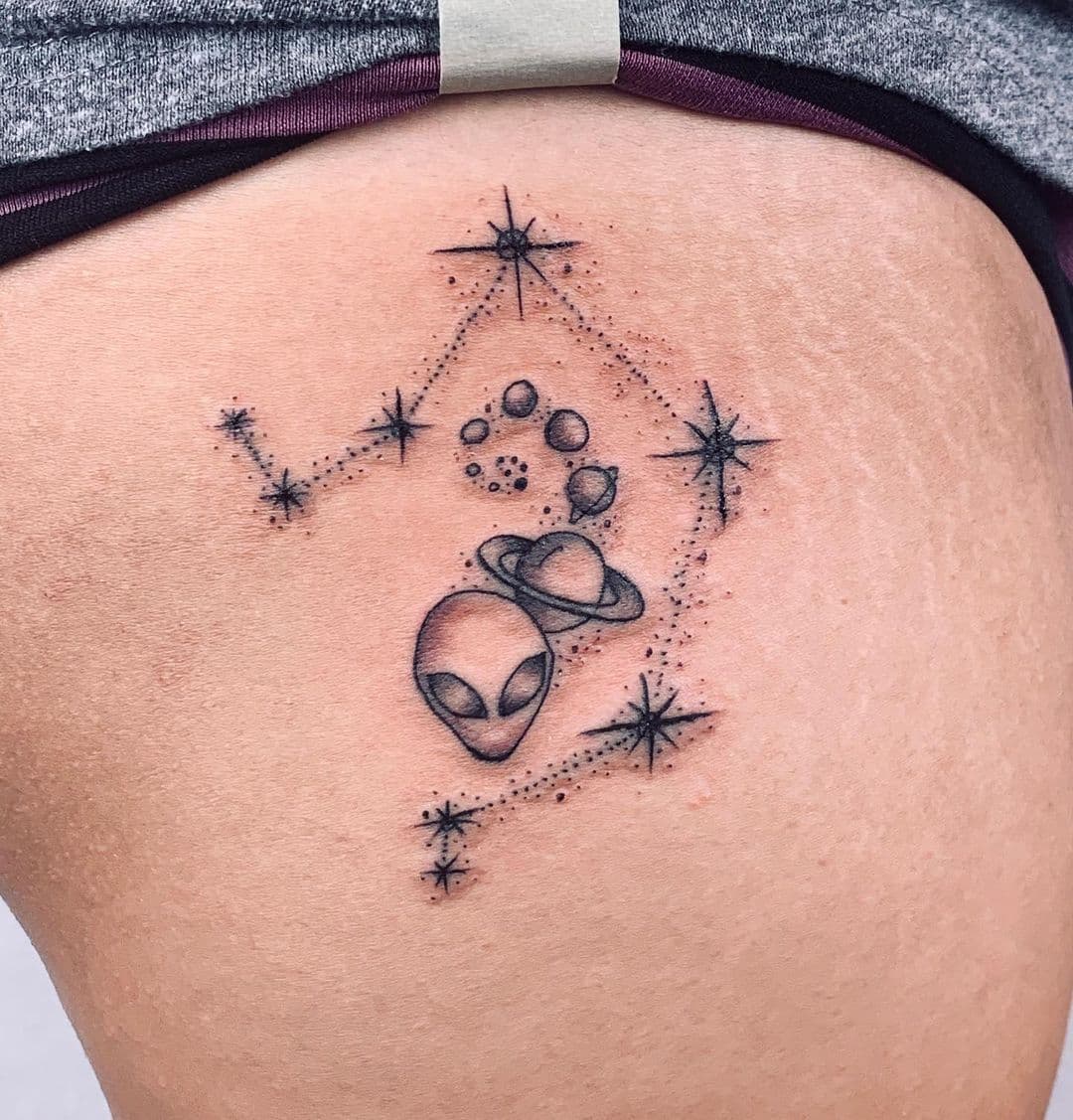 It is popular among explorers, tourists, sailors, and members of the navy because of its simplicity. Traditionally, the nautical star has been used to represent the compass rose, which was used to navigate ships at sea. To produce the famous sign, each star point is divided and filled in with a different hue. This tattoo can be found on both men and women and is most commonly found on the wrist, arm, or ankle. Unlike extremely few or huge tattoos, medium-sized tattoos tend to look better.
Traditional hues of black and white are OK, but other solid colors are also acceptable. Choose dark colours such as blues, purples, reds, and different deep shades that will contrast effectively with the bright blocks of the star.
Designs for a Starry Night Sky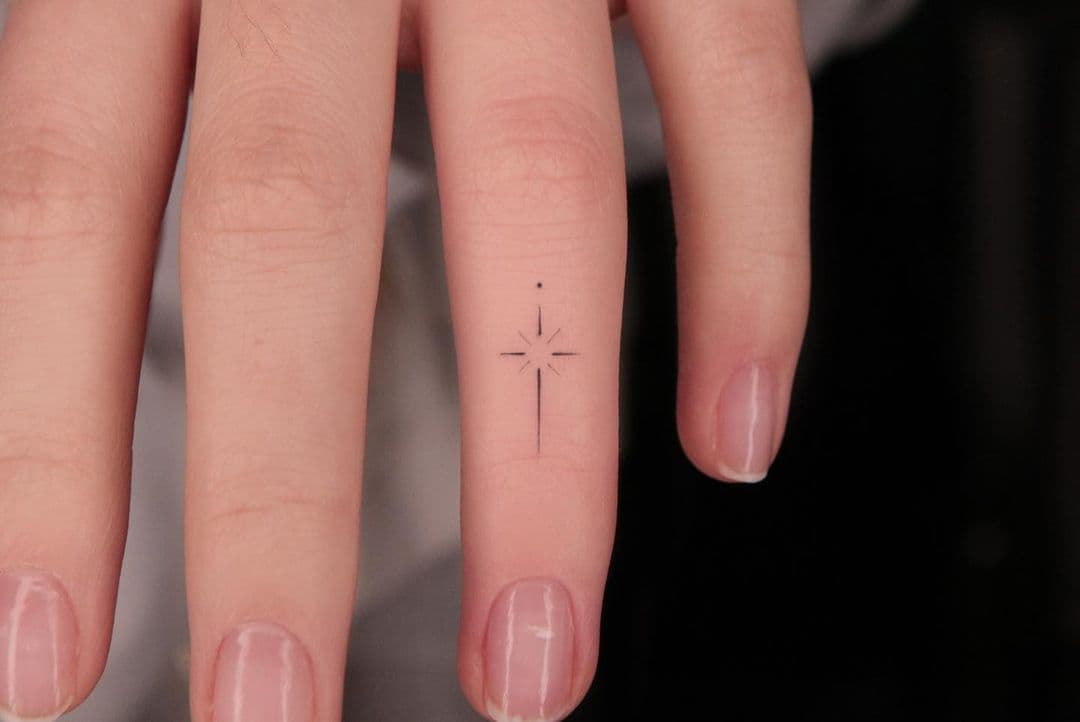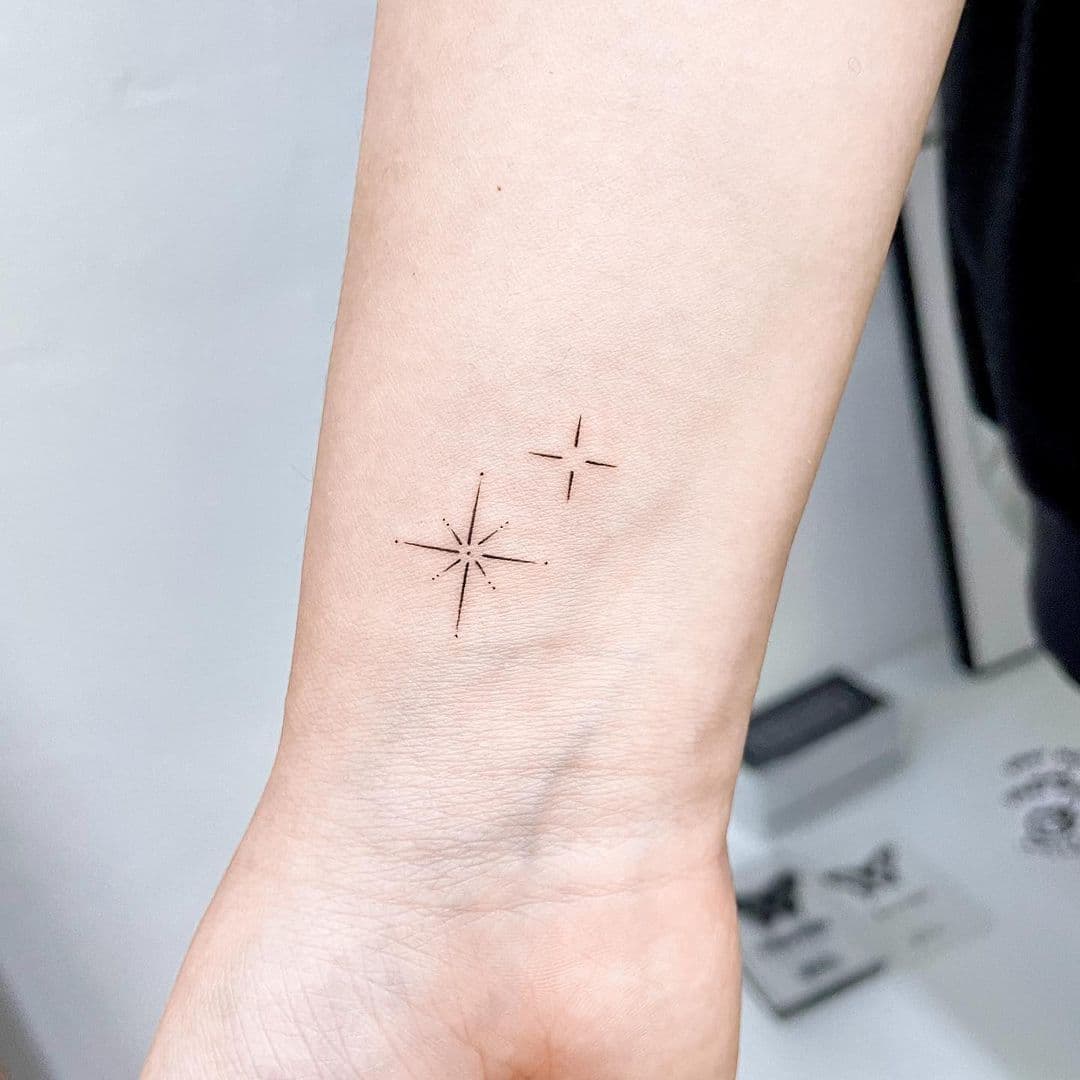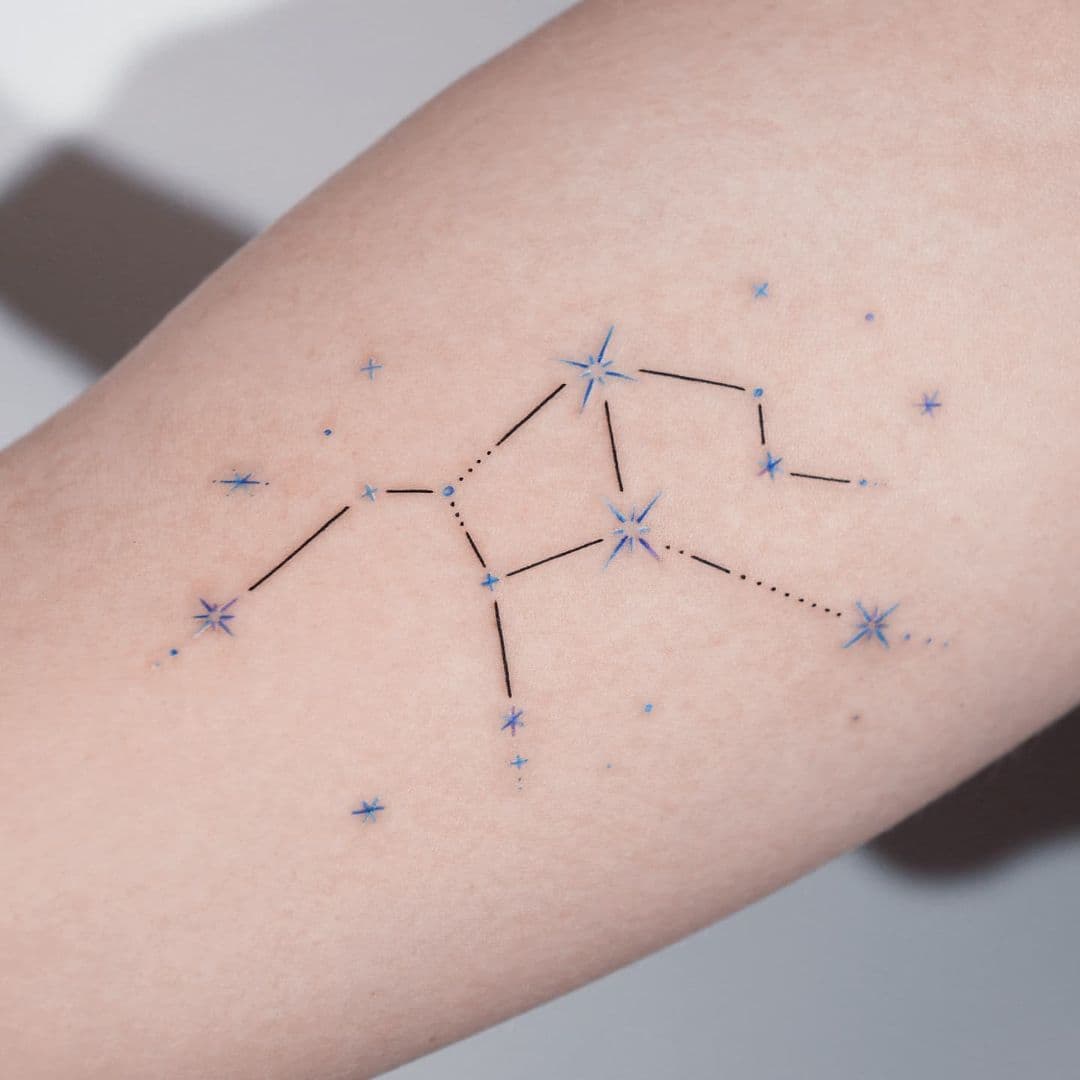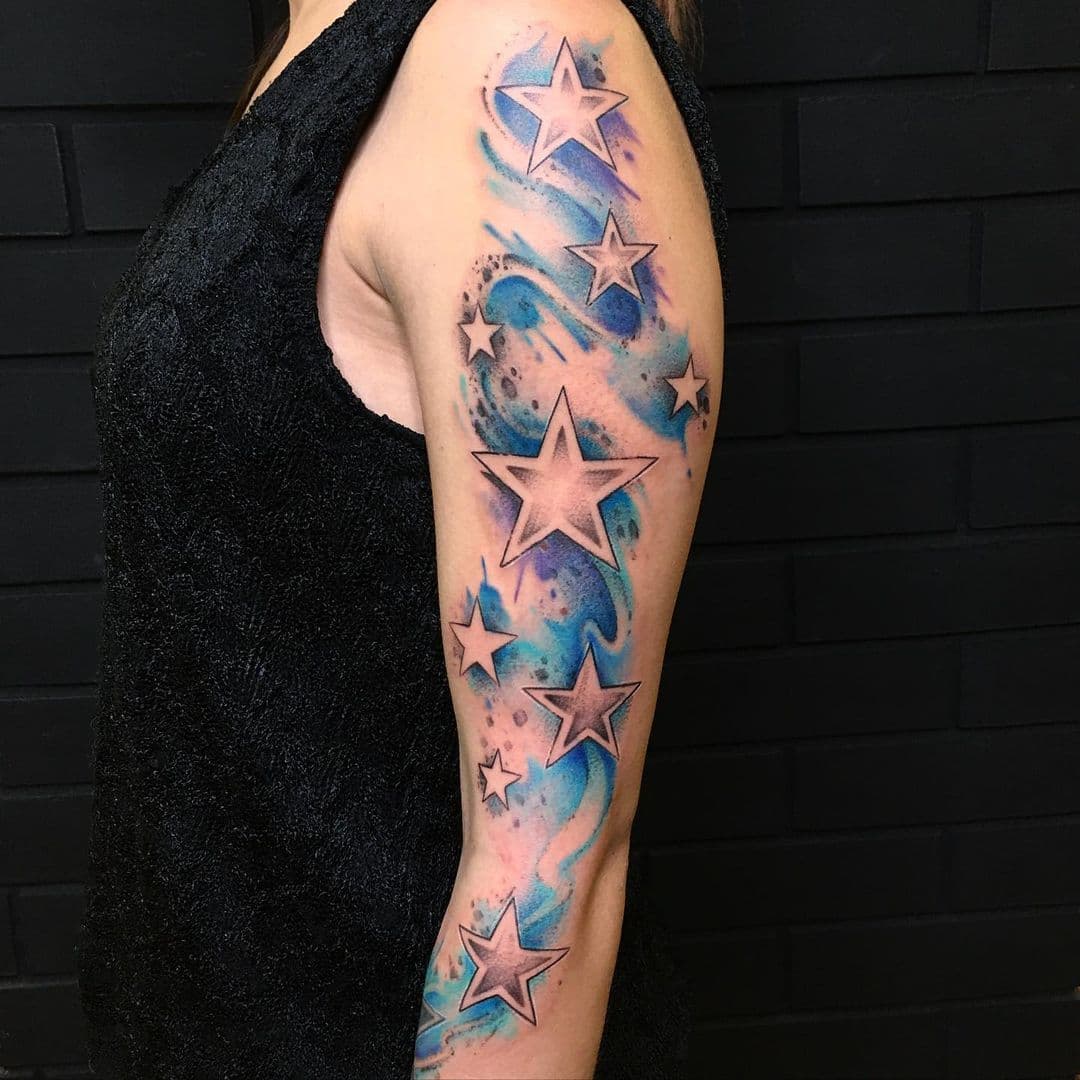 These starry-night images, usually inked down the forearm, are viral, especially among older ink junkies who like to keep things simple. Designs for either vertical or horizontal stars in orientation often show the night sky (sometimes with a moon, sometimes without) and other scenic elements. To depict an area meaningful to you, you might add trees, animals, or an iconic skyline to your design. For example, it may be the place where you were born or your favourite location on the planet. This tattoo is popular with both men and women since the scene may easily be interpreted as either macho or feminine.
Star Sleeves and Bands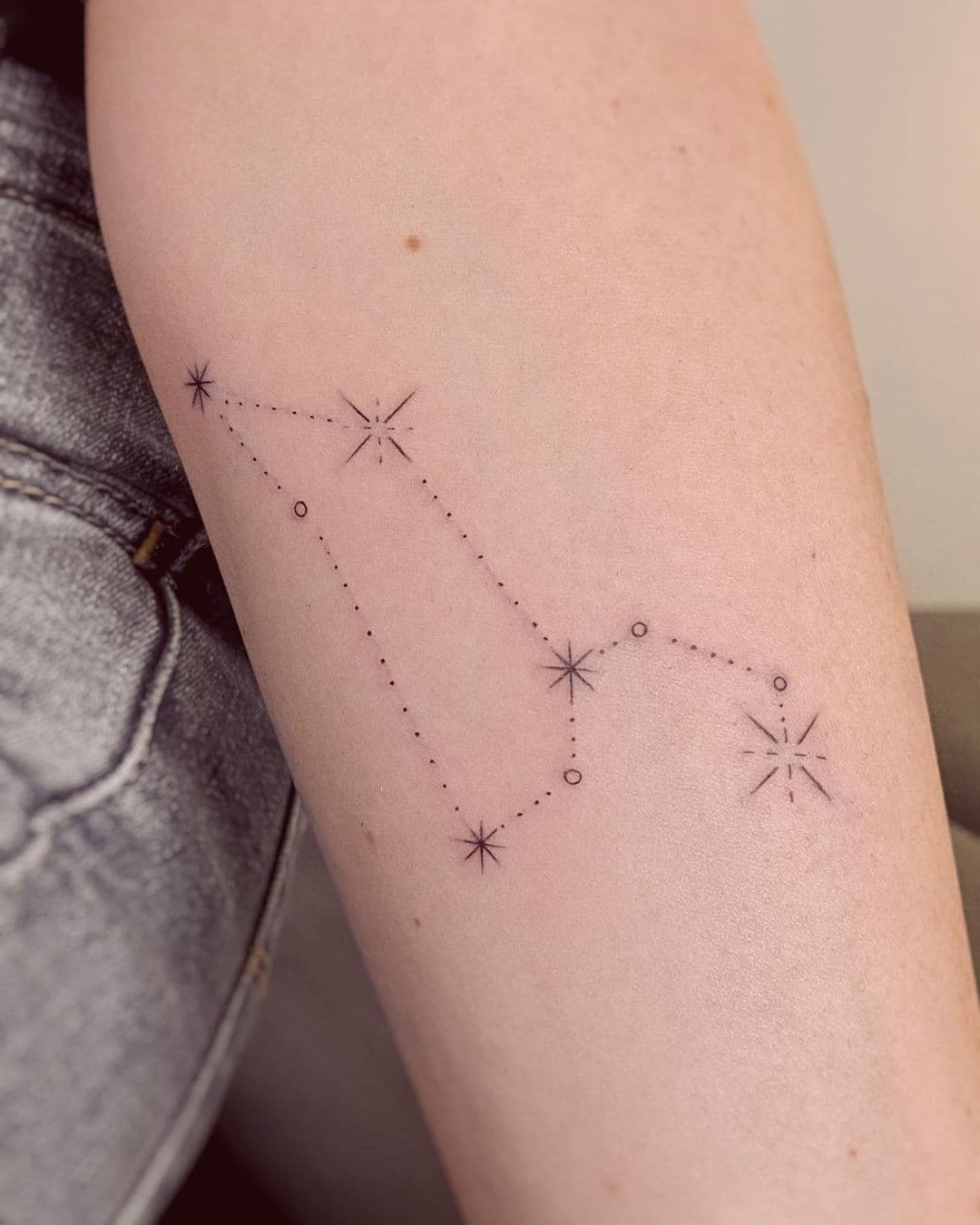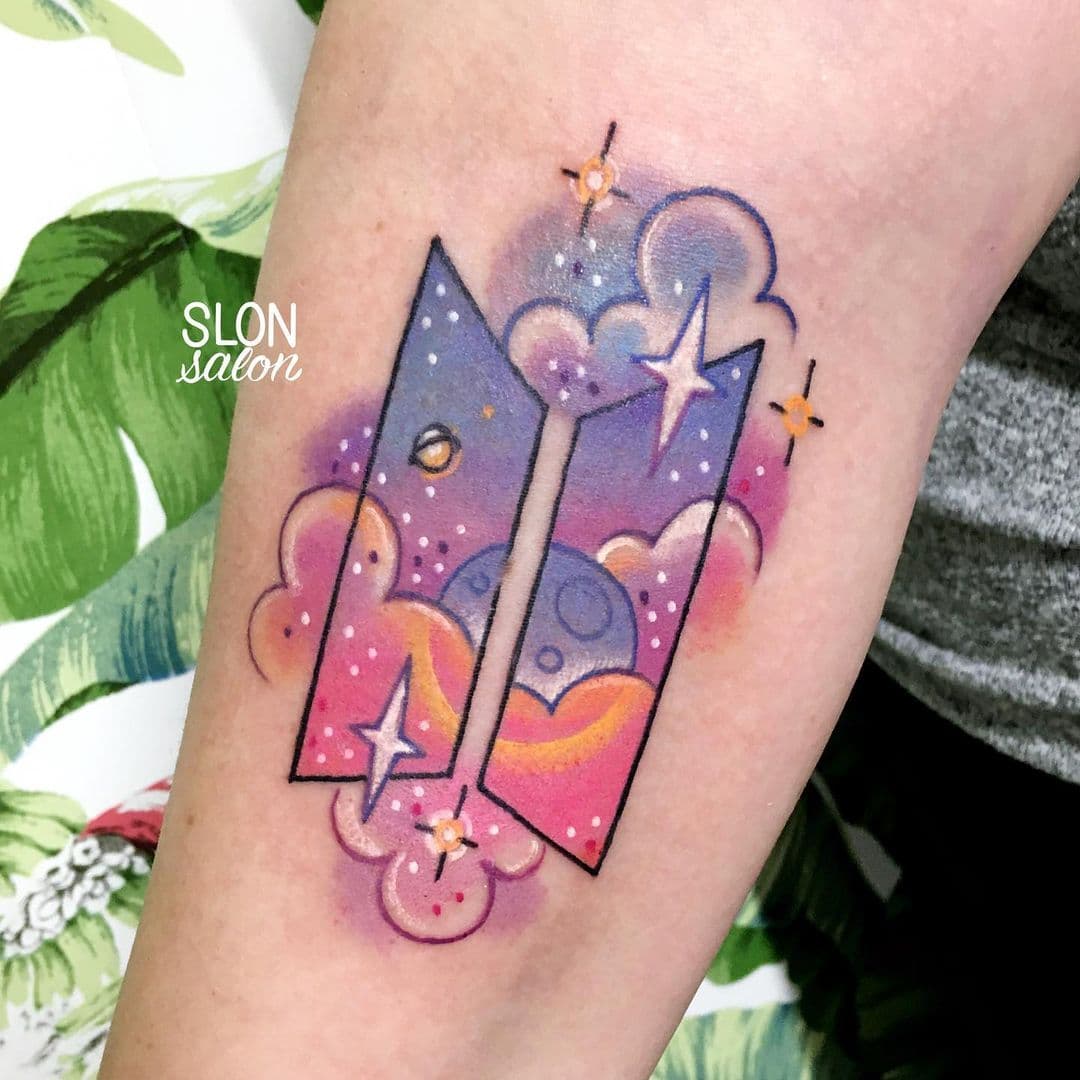 These tattoo patterns may also be used to form a delicate band around your upper arm, wrist, or ankle, similar to how a string or trail of stars might look on your forearm. Generally speaking, women like fine lines and little stars, whereas men prefer broad sleeves and solid and massive stars. However, this isn't always the case. The key to this design is choosing a primary star that can be repeated repeatedly while being coherent but not overwhelming.
Star Solar System Designs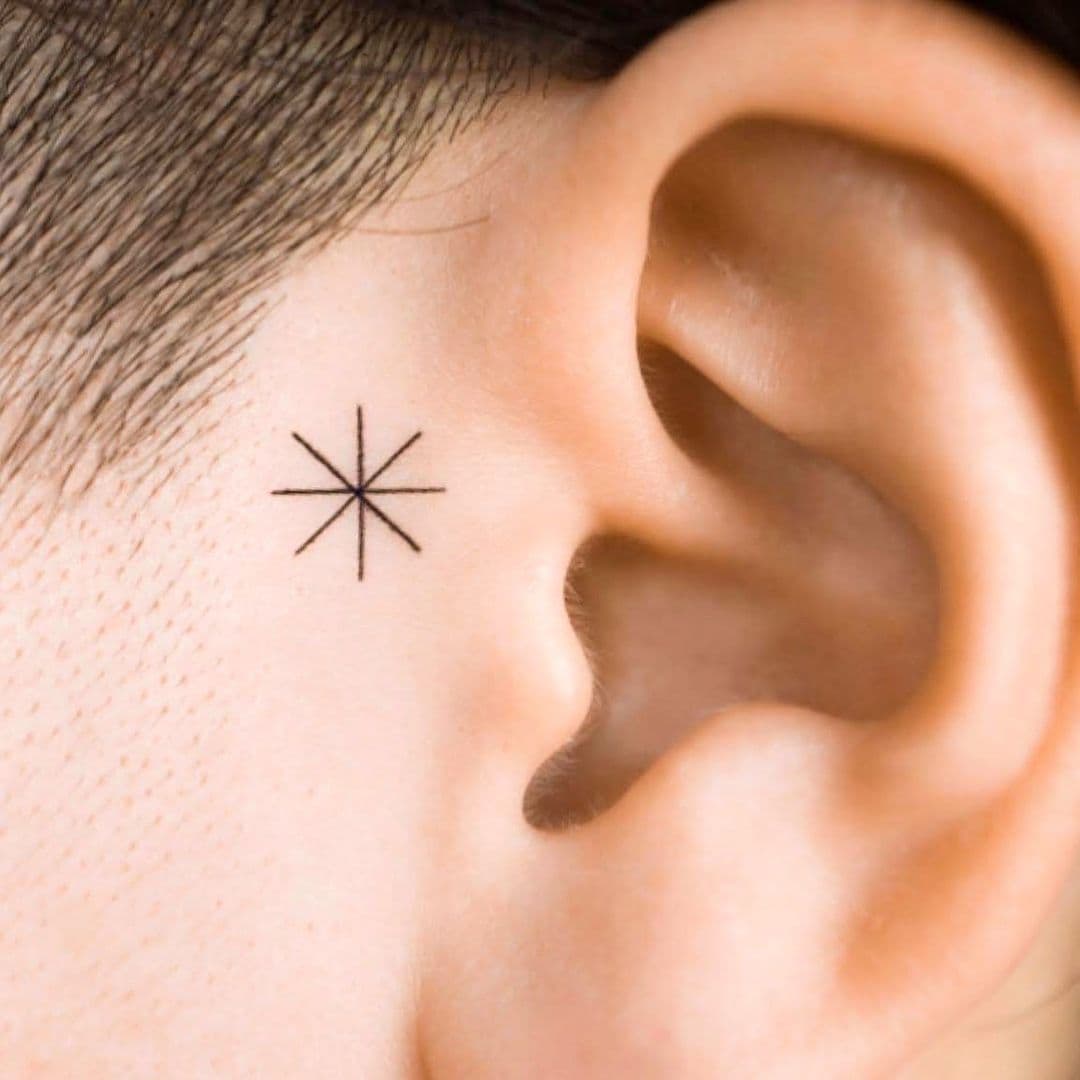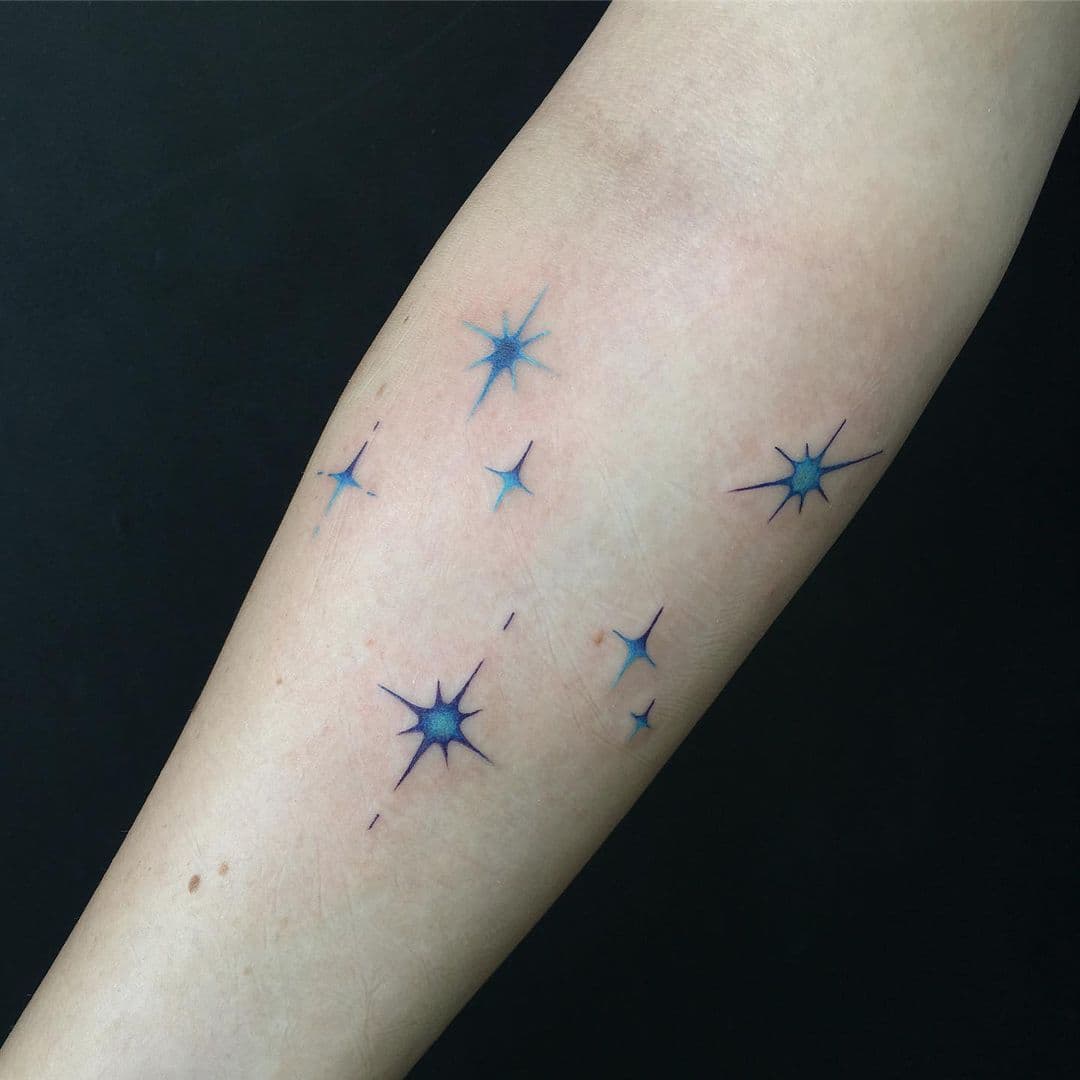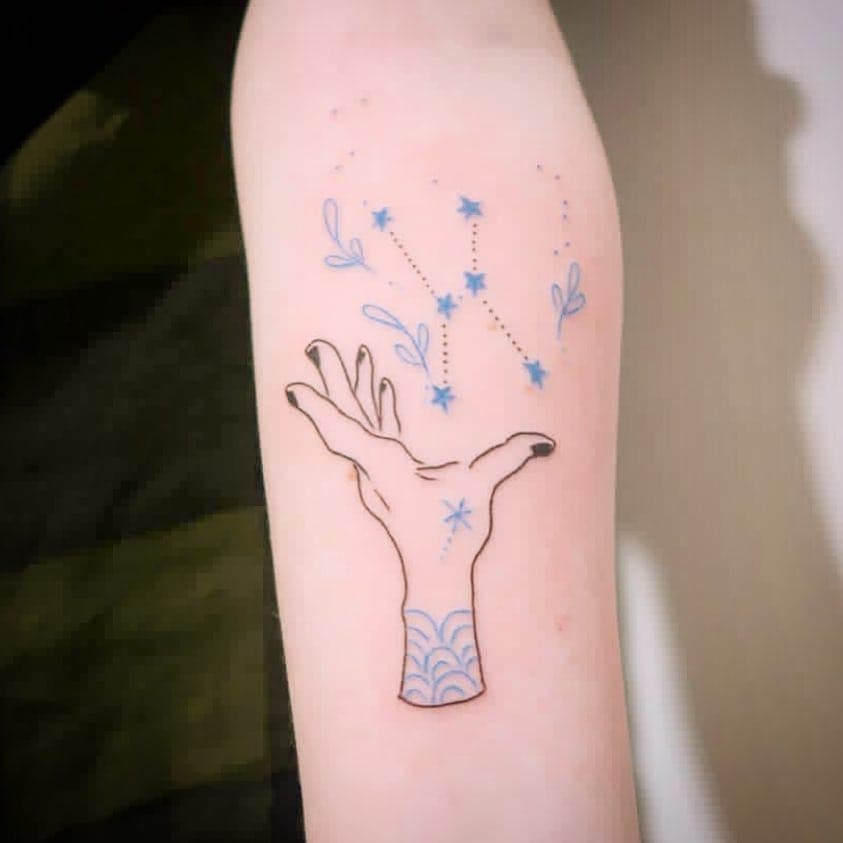 While solar system star designs are similar to constellations in that they mix the moon, planets, and other astrological symbols with stars to create a sleek tattoo, constellations are more complex. In most cases, the pattern is in a straight line, with the constellations of the stars, moon, sun, and planets aligned down your forearm or finger or even along your collarbone. However, it looks equally as good when placed in a group, such that it may be worn on your upper arm or shoulder blade. Both men and women look great in this outfit.
Cute Cartoon Stars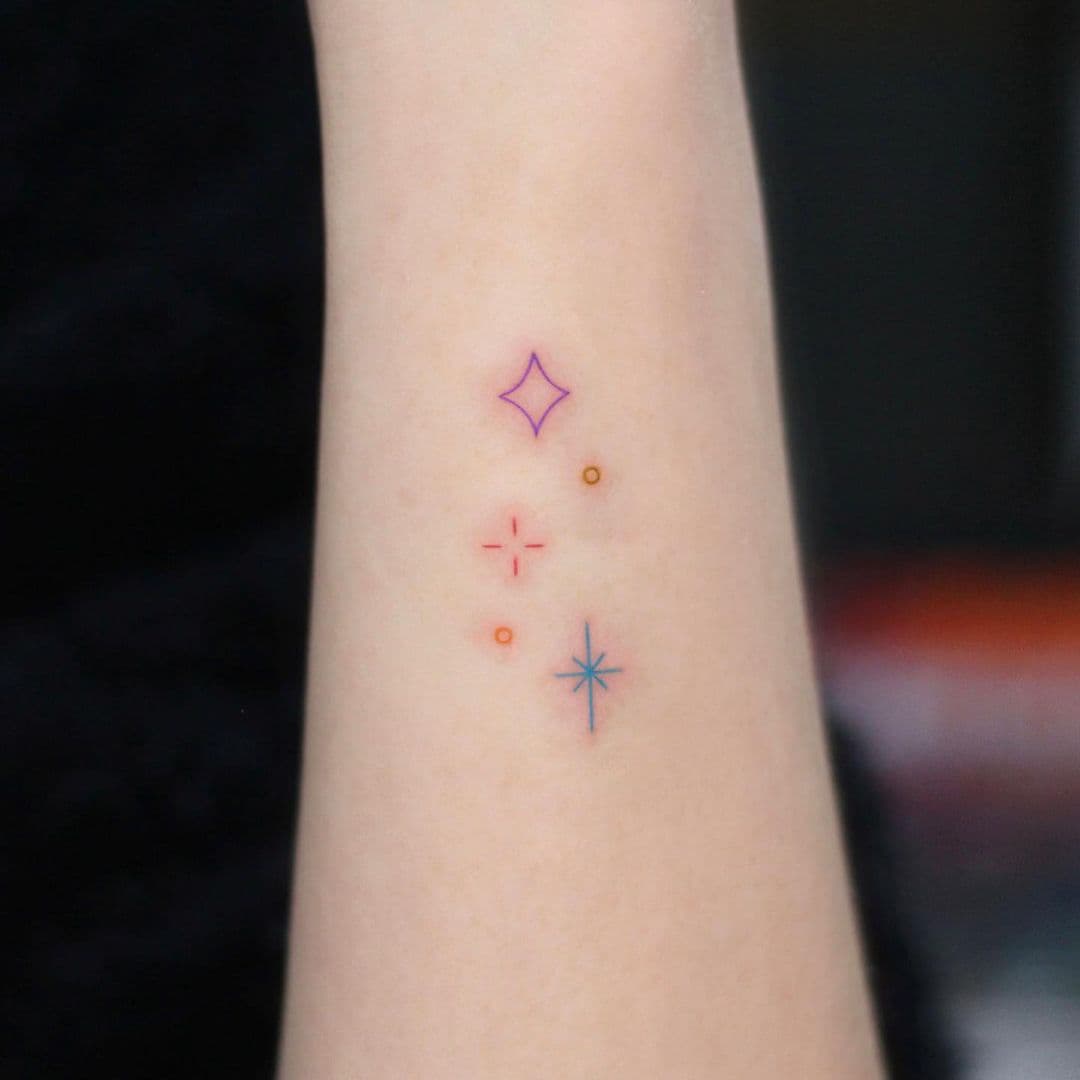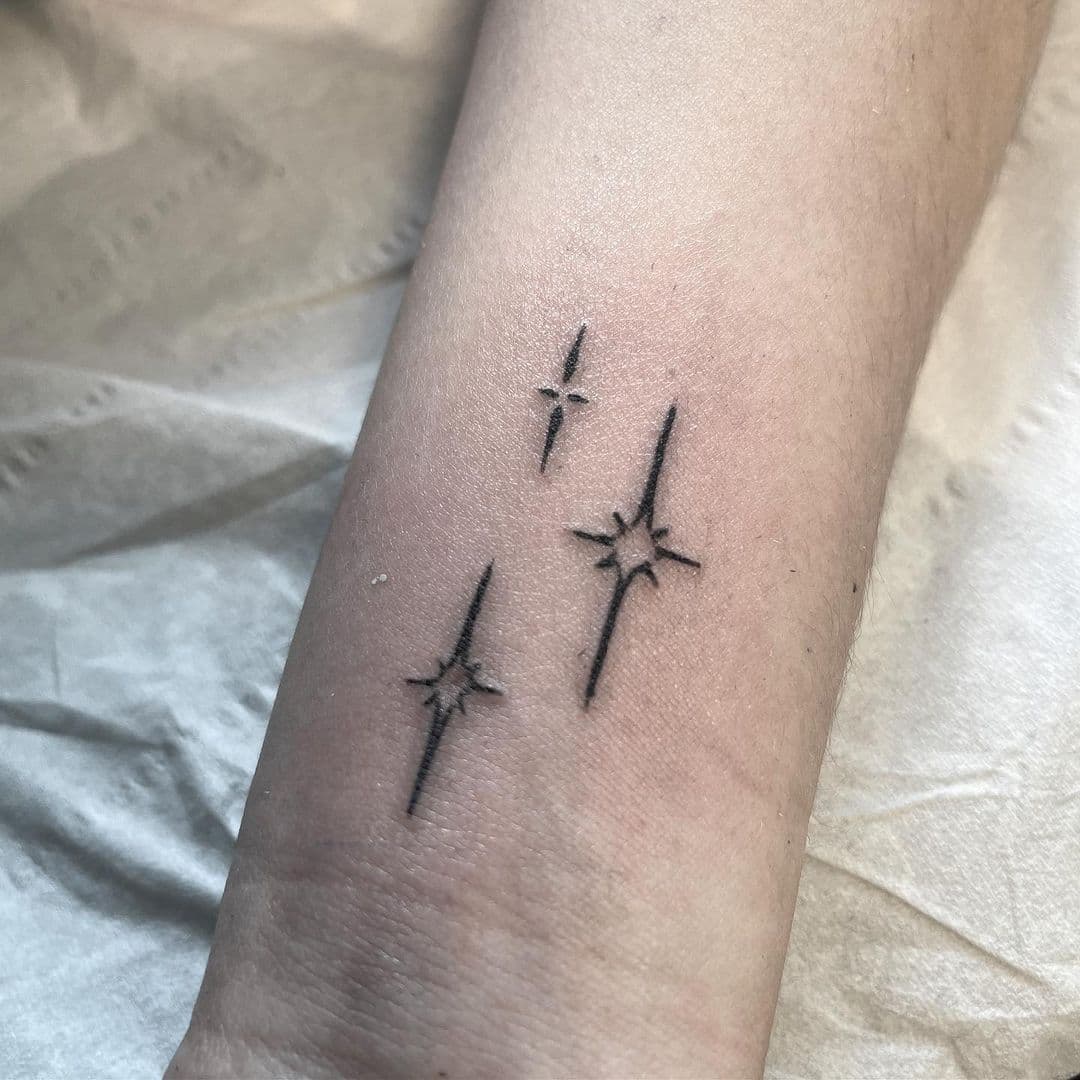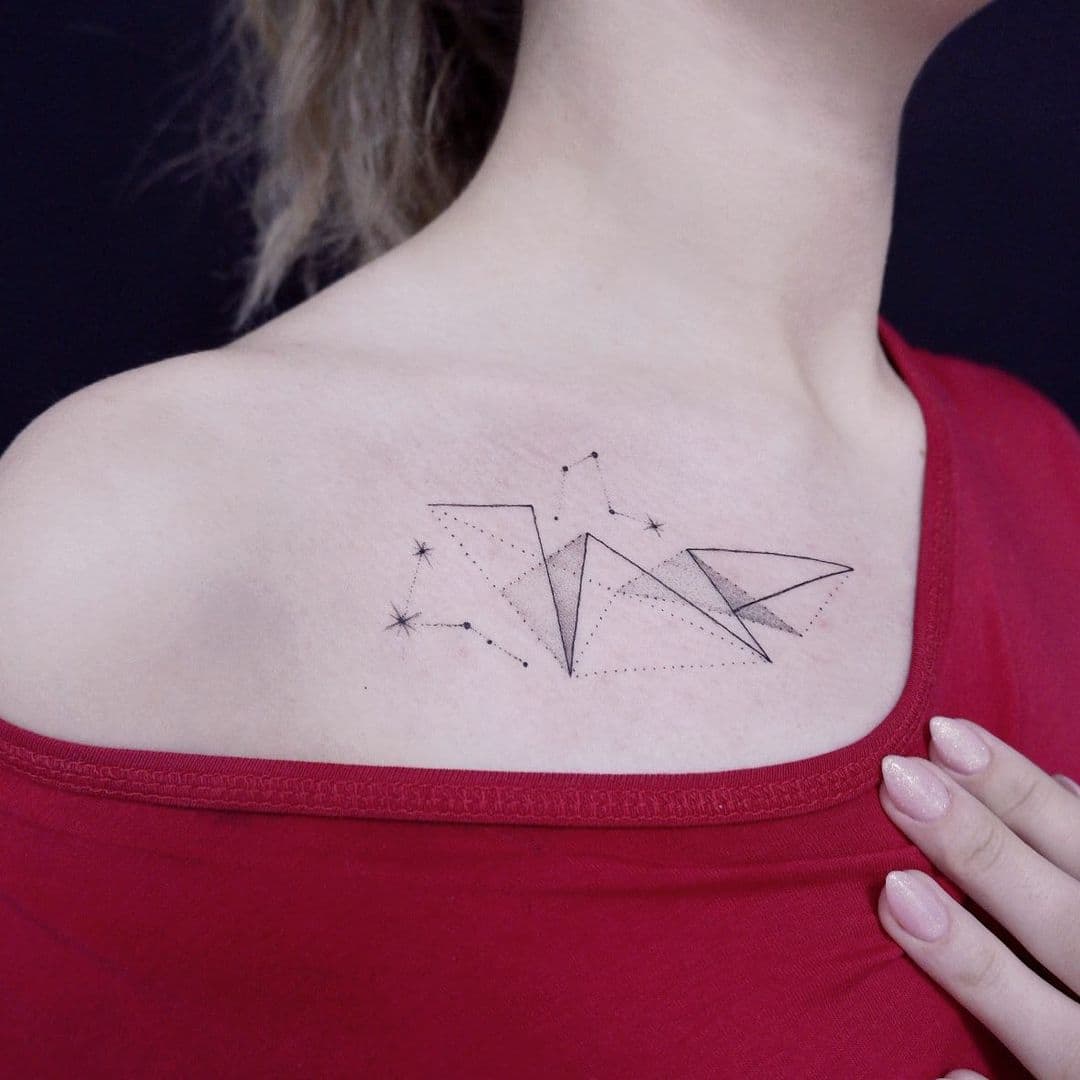 Last but not least, check out these adorable cartoon star designs! These tattoo designs give your tattoo more personality and a more humorous attitude. The soot sprite grasping the star from Studio Ghibli's Spirited Away is an example of how they may be utilized to commemorate a beloved artist or television show. Usually, these tattoos look fantastic in bright colors and are usually between medium and enormous. This tattoo is trendy among youthful men and women, and it is most often seen on the wrist, hip, or lower back of the body. Make sure you genuinely adore the design before you tattoo it on your body, as cartoons do not age as well as simple techniques and may fade over time.
The Meanings Behind Star Tattoos
Star tattoo designs may be found in various styles, which is fantastic! Create your star tattoo, and you can be confident that no one else on the face of the planet will have the same tattoo as you. Totally one-of-a-kind.
However, in general, star tattoos are a symbol of desire and accomplishment (you're a star!) as well as honour and optimism (you're a star, after all) (looking up at the night sky). It can also serve as a navigational aid, similar to how explorers navigated by the stars in the olden days. Your star tattoo might serve as a reminder to stay on track with your objectives, or that fate will lead you in the right direction.
Also Read:
A lucky star may bring you good fortune or may shield you from harm as well.
A star tattoo can also serve as a memorial to a loved one who has passed away and is now residing among the universe's constellations. Beautiful.
Many people have special meanings associated with their star tattoos. The ink must be permanently implanted in their flesh to represent anything with a personal message or significance symbolically. Or they may enjoy the aesthetics of a stunning star tattoo. There's absolutely nothing wrong with that at all!
Here's a collection of all the many sorts of star tattoo designs, as well as what each of these star tattoos represents, to assist you in making your decision.
Types of Star Tattoos (and What They Mean)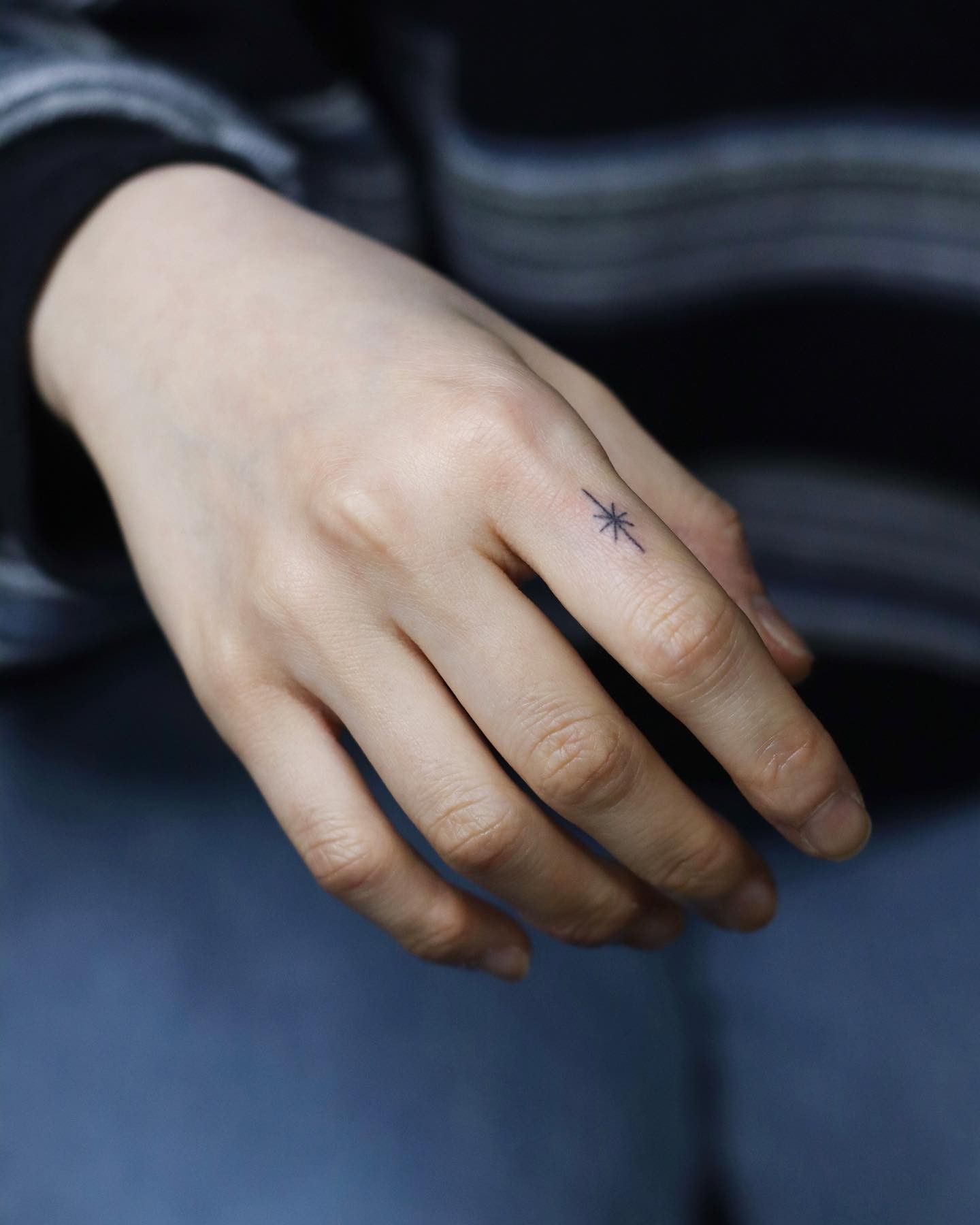 The Nautical Star, which depicts a compass rose, denotes direction, finding the correct way, and being faithful in the face of adversity and difficulty.
A shooting star is a wishing and dreaming companion.
If you see a shooting star and make a wish, you will have good luck!
The Russian Star is a fictional character created by Russian author Vladimir Nabokov (commonly used by Russian criminals and prisoners). Depending on where it is placed, it conveys power and status.
The Geometric Star's strong lines may represent structure and order, or they may reflect balance… or we may simply prefer the more eye-catching patterns!
The Minimalist Star is an essential and contemporary design.
A star tattoo in the minimalist style can be huge or modest in size. It may be used to convey a range of different meanings.
The String of Stars tattoo design is another star tattoo design representing pursuing a path or receiving advice. It may also describe accomplishments, with an additional star for each milestone reached.
According to others, the pentagram is linked with Wicca, yet it is also associated with evil.
Tribal Stars, the designs of which vary from one culture to another.
Protectiveness, strength, and honor are typically associated with this star.
The Celtic Star (also known as the Celtic knot) is a three-pointed star found in many cultures. It can have religious implications or symbolize various things, such as the mind, body, and spirit, among other things.
You should consider getting American Flag Stars, a patriotic star tattoo design!
With its constellations and moons, the night sky can serve as a symbol of family in tattoos. The moon represents the mother, while the small stars represent her offspring.
A Winged Star is a beautiful way to represent a star that has been lost. Pay tribute to a loved one who has passed away.
Stars in a Linked Constellation or Zodiac Sign: These stars indicate the significance of the constellation or zodiac sign they are linked to!
Growth and accomplishments are represented by three stars, especially if the three stars are aligned in a line. Three stars creating a triangle might signify the circle of life or express power and solidarity in a group of people.
The Significance of Star Points
The four-pointed star can signify the Star of Bethlehem or the four points of a compass, among other things. This is an excellent pattern for filling lengthy sections such as the toes and fingers of the hands.
The five-pointed star is the most frequent star tattoo, and it is connected with a wide range of religious beliefs, including Freemasonry and American patriotism.
A star with six points is used for conjuring and communicating with spirits. It is also linked with the occult and the Pentagram (see above).
Christians believe that the seven-pointed star represents the seven days it took God to construct the world (according to Christian belief) or the seven planets God created. A heptagram is a type of diagram.
The eight-pointed star has been associated with various meanings throughout history, including the goddess Ishtar and Venus in Babylonian iconography. This star pattern represents passion and sexuality in the eyes of women.
Take placement into consideration.
Although the tattoo's meaning is usually associated with the design of a star, the tattoo's placement on your body may also have significance. It is possible that a lead on your foot or hand represents you being guided someplace, whereas a star over your heart or on the back of your neck might represent you remembering someone you have loved or lost.
Small tattoos can be placed on the following body parts: fingers, wrists, ankles, feet, toes, neck, collarbone/clavicle, hip, under the eye, and behind the ear.
For medium tattoos, the following areas should be considered: wrist, forearm, elbow, ankle, foot, calve, neck, shoulder, lower back, and hip.
For large tattoos, the following areas should be considered: upper arm, forearm, calf, shoulder, back of the shoulder, lower back, and hip.
FAQs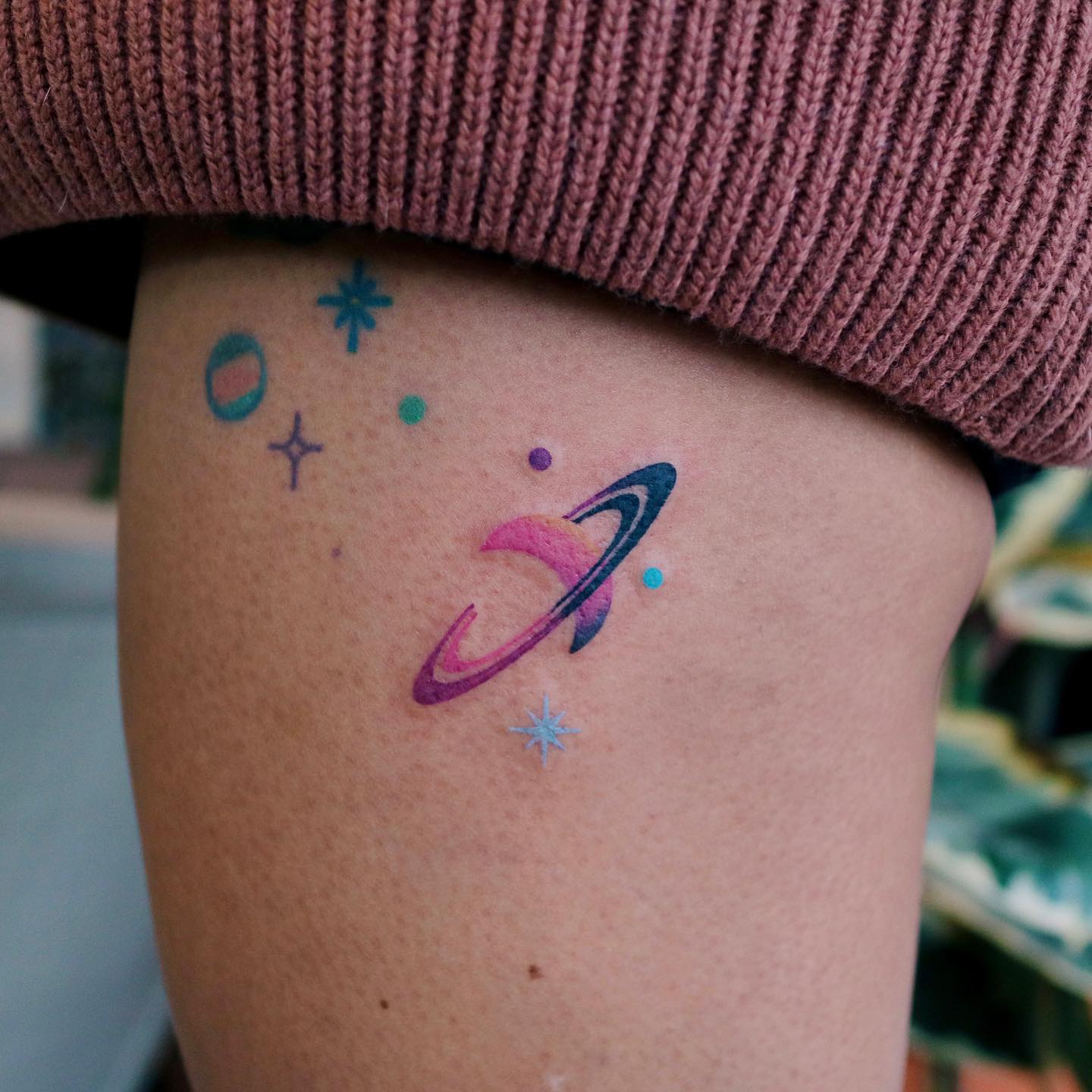 Where is the most appropriate place to get a star tattoo?
Different locations can convey a variety of other messages. Having a star tattooed on your foot, for example, may represent the fact that you're heading somewhere significant and using the star as a guide. If you want the most comfortable experience possible, choose a fleshy area with plenty of cushioning between your skin and bones–calf muscles, outer thighs, and forearms are all beautiful choices.
Are star tattoos an unpleasant experience?
Star tattoos are no more or less painful than any other tattoo, regardless of their design. The placement (closer to the bones on thin skin) and setup (thick, broad outlines) of a tattoo might make it more uncomfortable to have one. There have been several reports of people reporting that the shading of the tattoo (i.e., filling it in and colouring it once the outline has been completed) is less painful than the outline!
Which well-known celebrities have star tattoos on their bodies?
Even though Rihanna has one of the most well-known star tattoos, did you know that Kelly Osbourne also has a star tattoo on her neck, in addition to her other 18 tattoos? Others that have a star tattoo design inscribed on their bodies include Megan Fox (pictured), Lil Wayne (pictured), Justin Bieber (pictured), Sophie Turner (pictured), and Sienna Miller (pictured).
What is the cost of a star tattoo in a small area?
In the United States, a tiny star tattoo will typically cost between $50 and $100 from an essential tattoo artist. It is necessary to use a new needle, ink, cleaning tools, and other supplies, even for a tattoo. This is why the prices begin at this level. Star tattoos that are a little larger will not be significantly more expensive because the equipment required will be the same (just more ink is needed).
Does it make a difference what colour the star tattoo is?
The hue can indicate a variety of meanings; for example, a rainbow star could represent pride, while a gold star could represent fame and achievement. The majority of star tattoos are either black or white with a black outline, making them stand out. Unless you choose a hue with a specific goal in mind, the color doesn't have to imply anything.
So, what does a star tattoo symbolize for a man?
Star tattoos are typically associated with masculine traits such as bravery and adventure. A guiding star will assist you in navigating the path of your life. As a result, the nautical star tattoo design is a popular choice among guys. Of course, some guys just like the aesthetics of having a star tattooed on their body with no underlying significance.
Was it ever explained to me what a star tattoo meant for women?
Female star tattoos may be chosen solely based on their aesthetic appeal. They can also represent other emotions like hope, love, and direction. A star tattoo can serve as a reminder to be loyal to yourself or allow fate to lead your path.