Close your eyes and imagine yourself on the most fantastic vacation of your life. You can almost taste the glistening sun, the fresh breeze blowing through your hair, and the glittering sea. Aside from a few aesthetically pleasing palm trees, what else could I possibly want from this landscape?
What more could you want than their quivering leaves, the shade they cast, and you reclining beneath their canopy of leaves? Given that you cannot go on vacation all of the time, at the very least, you can tattoo the shape of a palm tree onto your skin to stimulate it.
In recent years, the popularity of palm tree tattoo designs has grown and spread among those who like body art. There are no points for guessing. The majority of its success can be attributed to people's desire to keep in touch with their favorite vacation places.
There are various reasons why these ink forms give off those incredible Christmas sensations, like the cool shade of a palm tree and the lovely evergreen leaves.
However, not all palm tree tattoos are appropriate for every part of the body. As I shall explain below, each design is better suited to a specific part of the skin. Nevertheless, the result should be an artistically pleasing tattoo.
Continue reading about the best palm tree tattoo ideas and their meanings, design variants, and ink application methods.
You have come to the right place if you consider getting a palm tree tattoo. Before you look at the most popular designs, think about the meanings and symbols of palm tree tattoos.
The Meanings of Palm Tree Tattoos
Palm trees have a deep symbolic significance beyond their gorgeous, holiday-like appearance. On the other hand, others would see eternity and immortality in the magnificence of the palm trees, which they associate with the sun, beaches, tropical vacations, and the sea.
The presence of these two values characterizes the Palm Tree Look. Even though, when it comes to additional palm tree tattoo meanings, the symbolism might differ depending on where you live and how you live.
If, on the other hand, you decide to tattoo simply the leaves, the outcome will be a representation of the God sign. [1]
Those who believe that palm palms symbolize the Garden of Paradise, where men were formed, agree. The benevolence and wisdom represented by these tropical trees result from this.
Palm trees, on the other hand, are not universally seen as being beneficial.
These plants may represent loneliness and abandonment in the minds of some. This is most common when the tree in your tattoo design is left alone and has many branching options.
The idea is that the meaning of a palm tree tattoo can vary significantly based on the parts that are included in it. Here are a few illustrations:
If you want to represent loneliness or death, a palm tree with a skull is the perfect emblem.

People who get a palm tree tattoo say that some of its blossoms show a connection with the divine, while others show a connection with themselves.

The sun and palm tree tattoos work together to make a tropical paradise.

Flowers growing close to palm trees represent happiness and optimism; they signify happiness and positivism.
Finally, getting a palm tree tattoo represents a return home for many people. Yes, you read that correctly.
People who live in California, Hawaii, the Bahamas, or other places with clear beaches often have palm trees in their homes.
Tattoo Designs for Palm Trees That Are Beautiful
Do you need some inspiration? Here are some of the most popular patterns.
Small Palm Tree Tattoos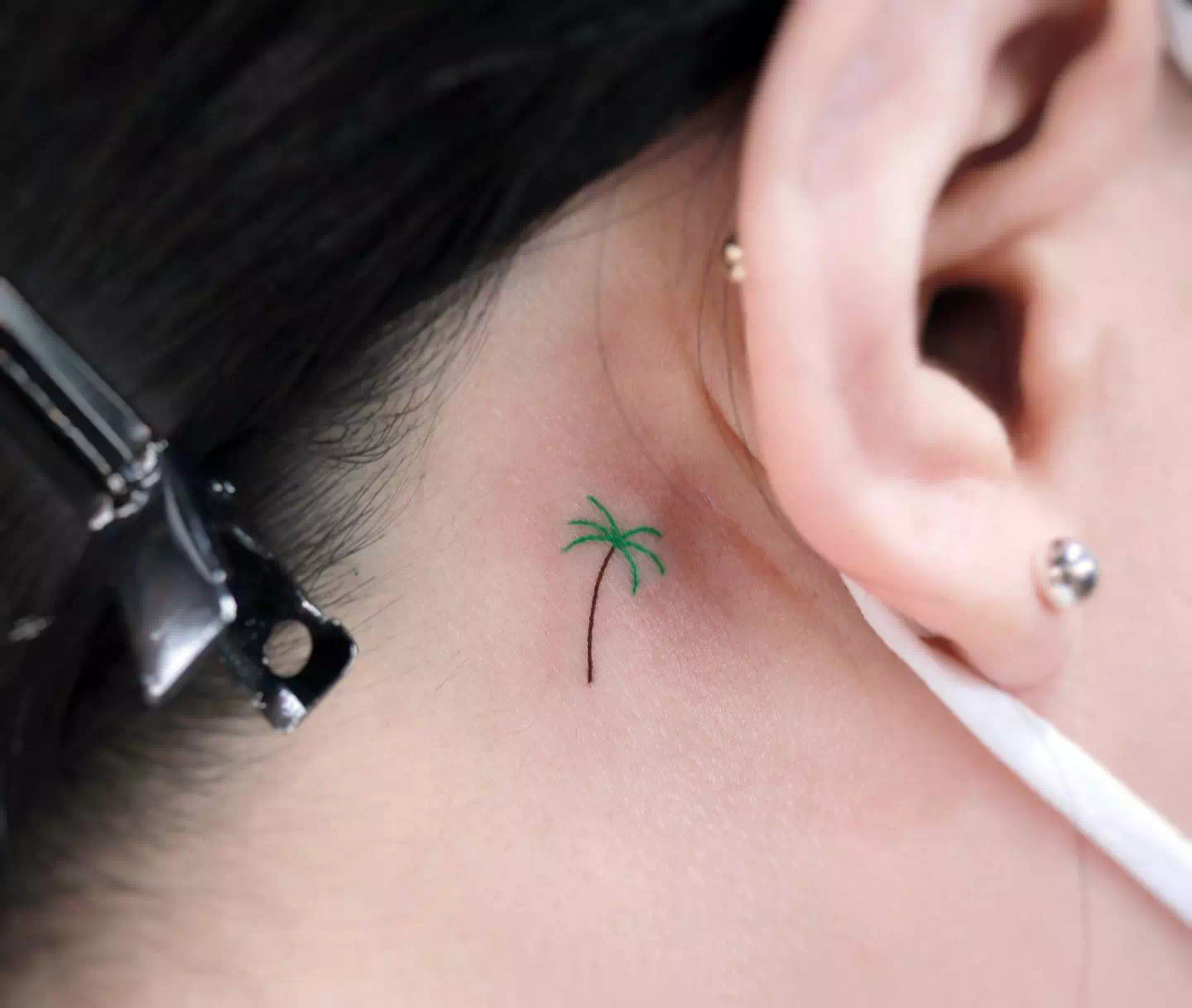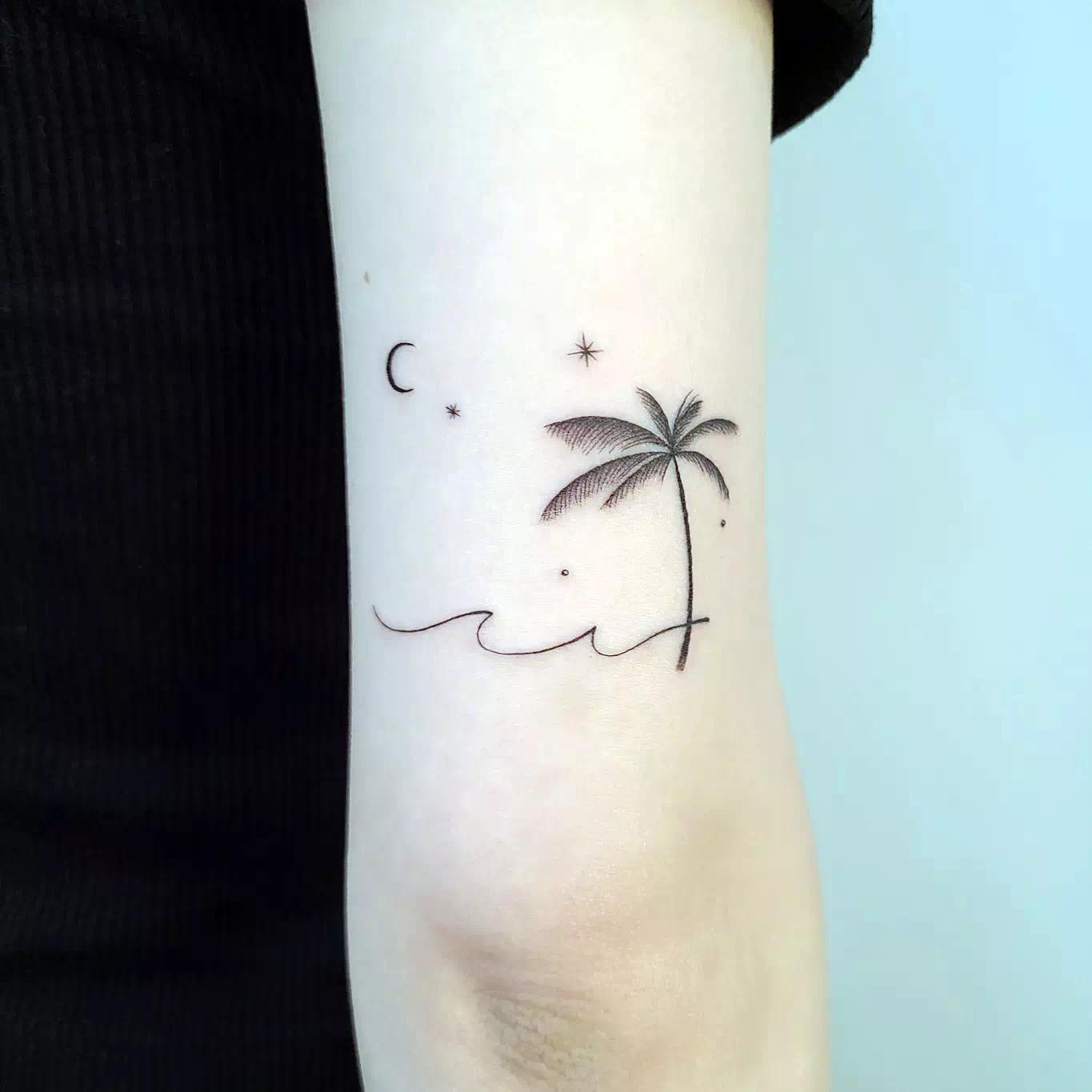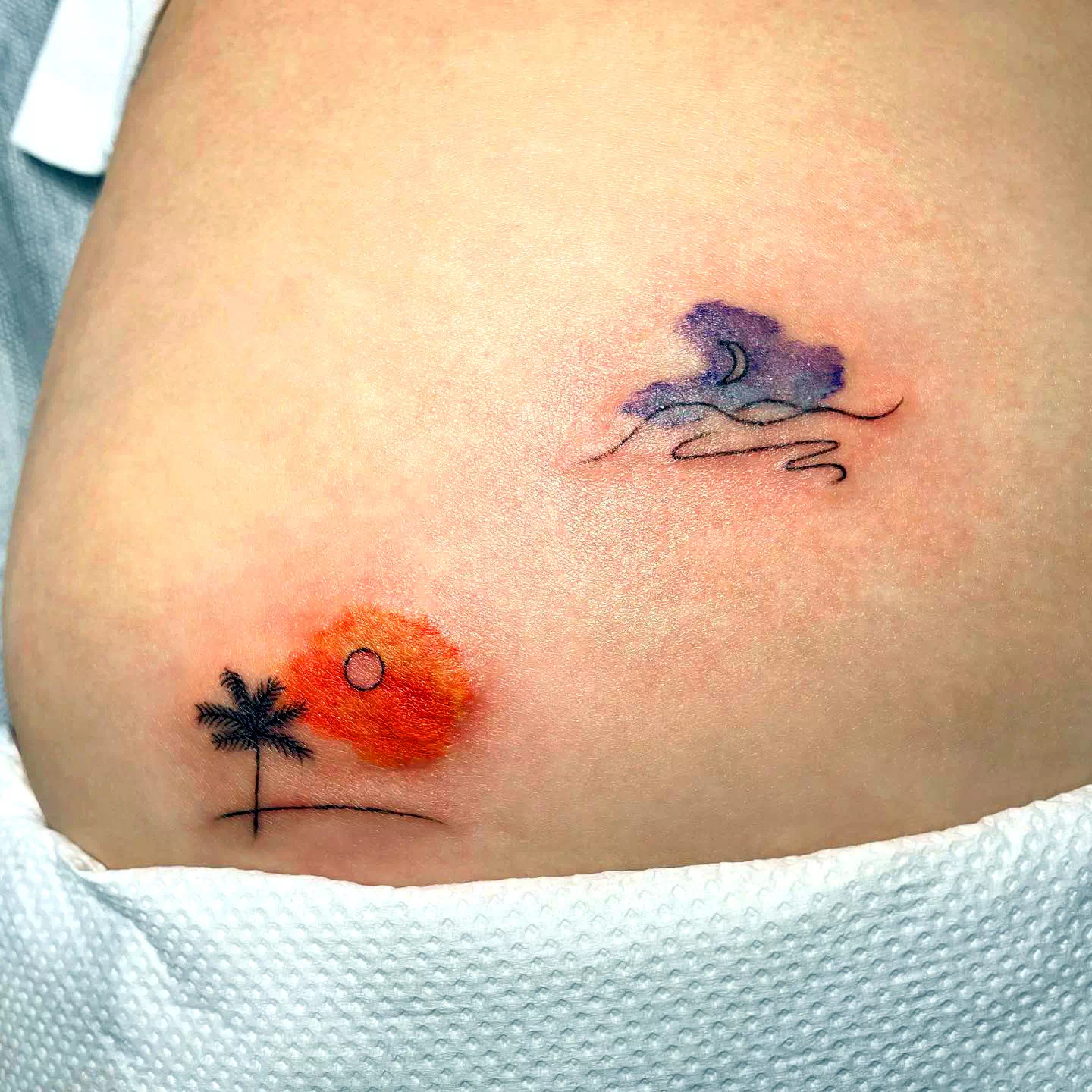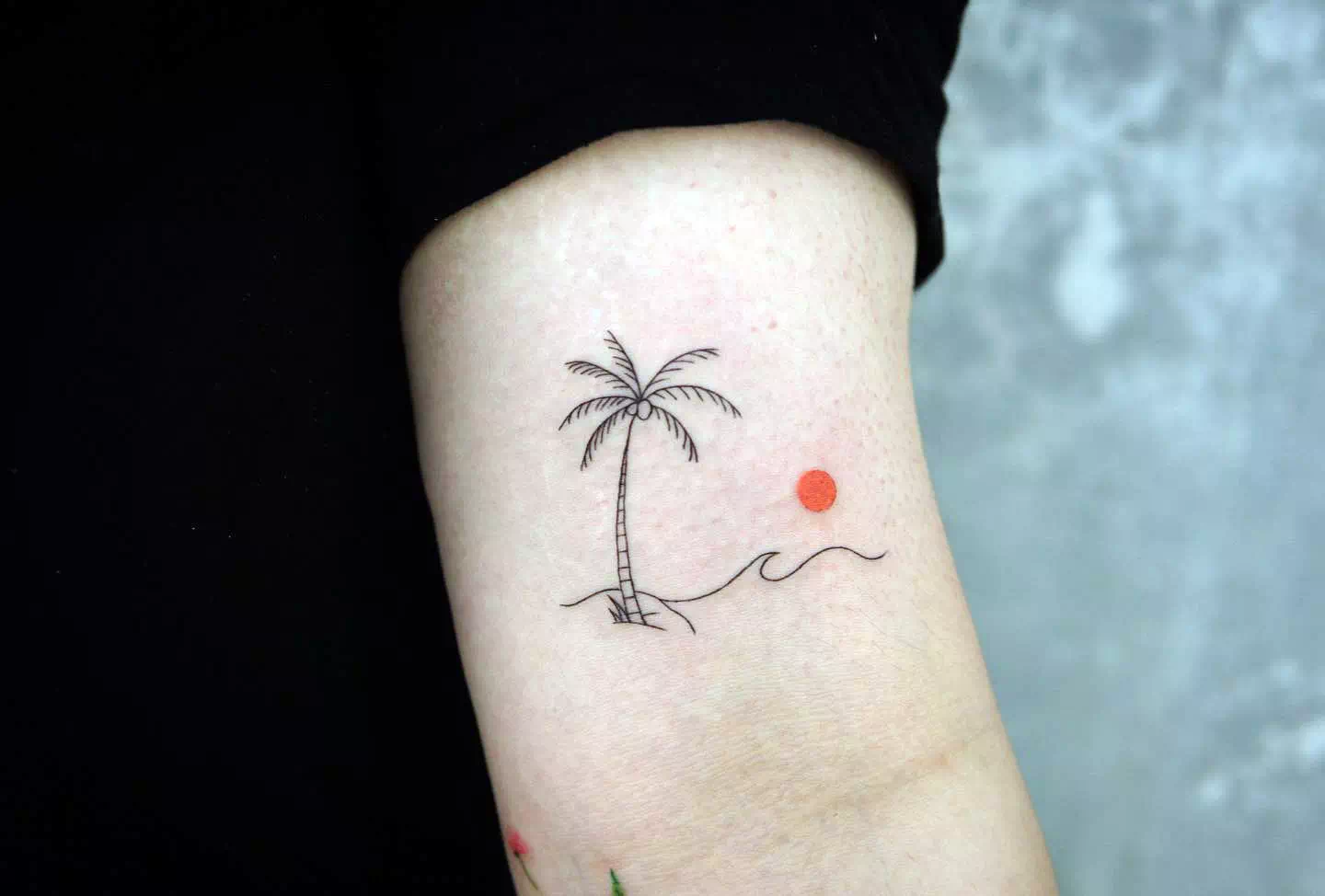 Because of their simple lines and exquisite placements, palm tree tattoos in tiny sizes are some of the most popular patterns, especially among women.
Some people, however, may find this tiny palm tree tattoo too basic in appearance. However, this seems to be the best choice for people who want to keep their body art pieces small.
Tiny palm tree tattoos are perfect for the wrist, ankle, or shoulder because they are small.
Alternatively, putting them on the sides of the hand may also be effective. So if you are thinking about getting tiny palm tree tattoos, get them in shades of green or black and marvel at the wonders this design will bring about.
Tip: I believe that this model is particularly well suited to young women.
Traditional Palm Tree Tattoo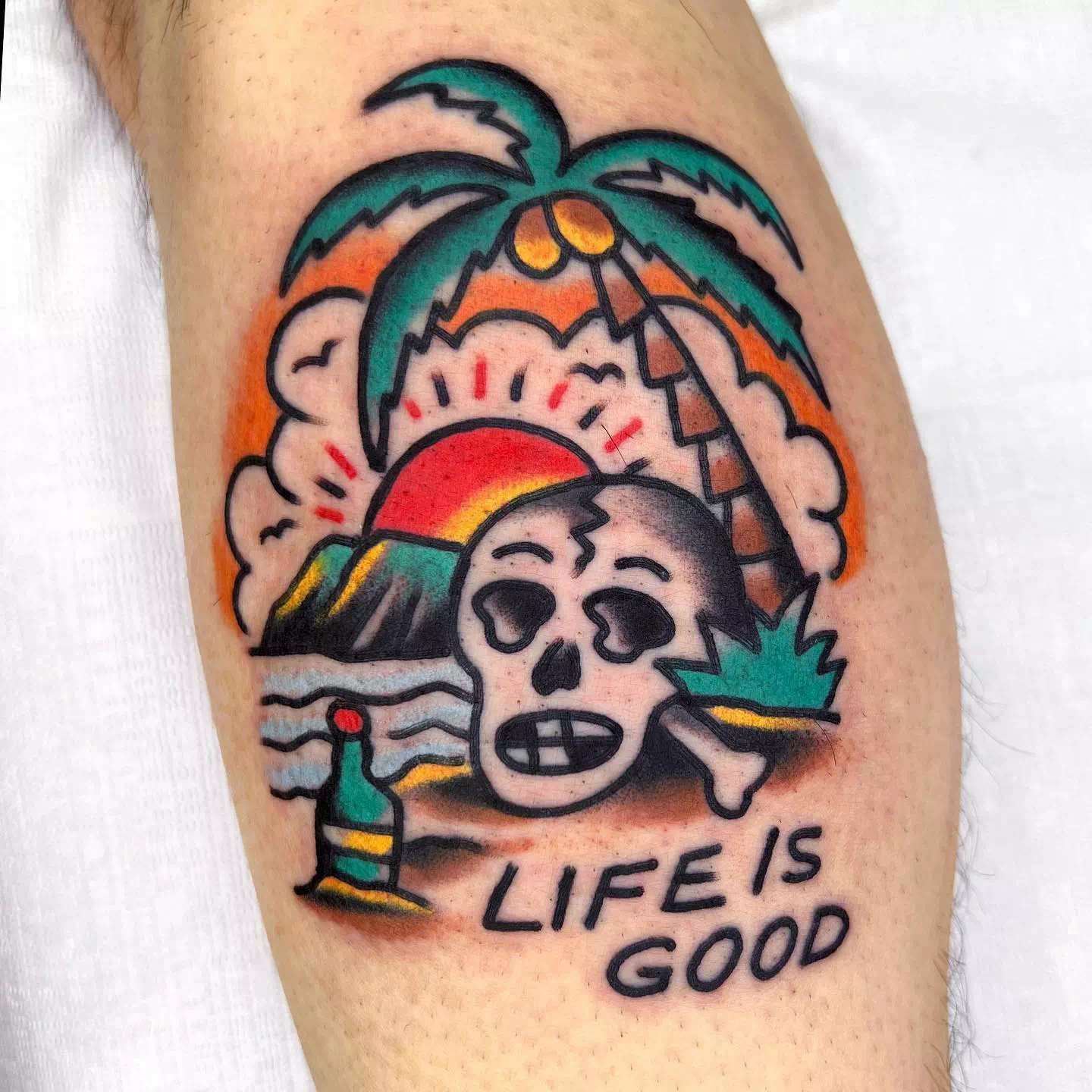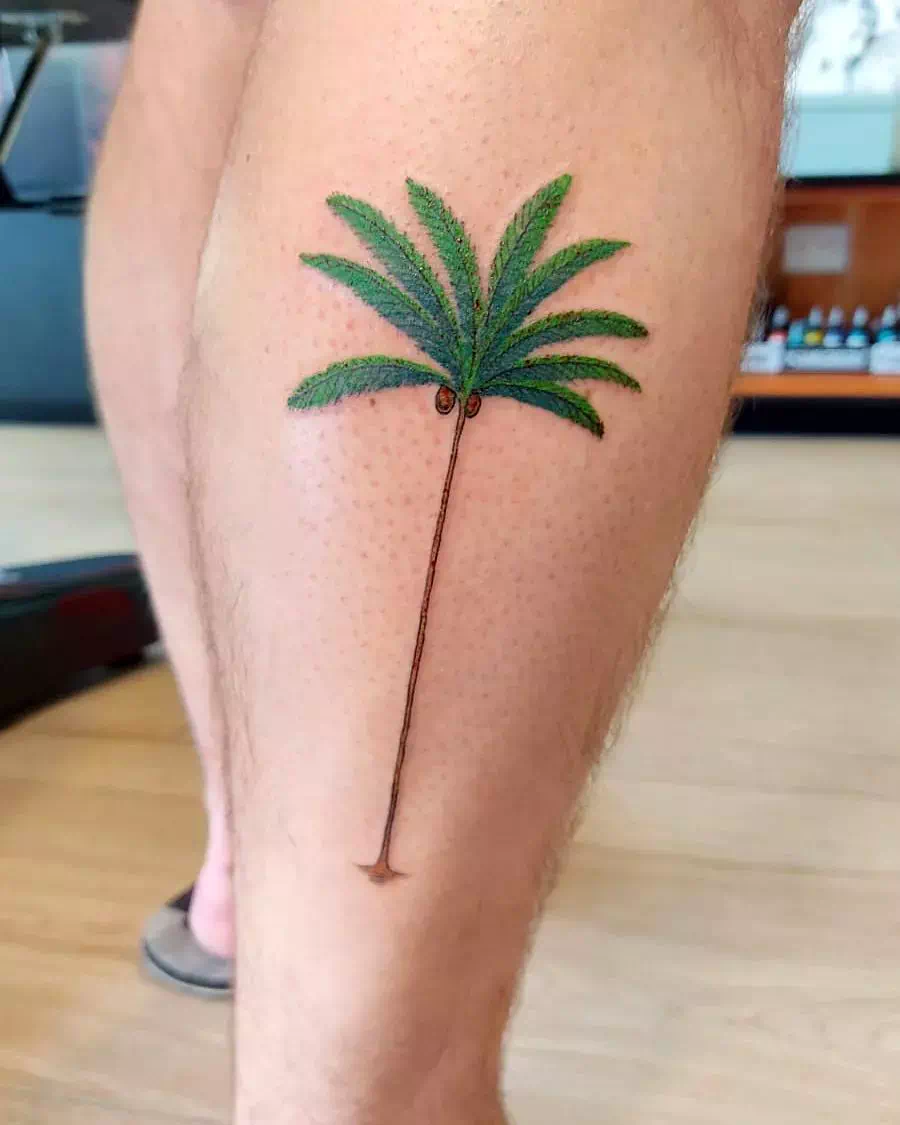 Tattoos of palm trees have profoundly influenced people's lives. Even though these ideas do not have many visual features or creative lines, the project is full of great things like truth, peace, glory, ethics, etc.
On the other hand, traditional palm tree tattoos have become very popular in recent years because they have a lot of good things to say about vacations.
In reality, for many people who enjoy body art, classic palm tree tattoos have a particular and unique relaxing impact on their minds and bodies.
As a brief hint, request that the palm tree be etched in vibrations and primary colors such as green and black by the tattoo artist. Additionally, try to have inked with beach-related features in the backdrop, like the sun rising in the sky.
Tip: that a classic palm tattoo is a model that can be worn by either a man or a woman. Furthermore, it may be tattooed on any body region that you like.
Palm Tree With Sunset Tattoo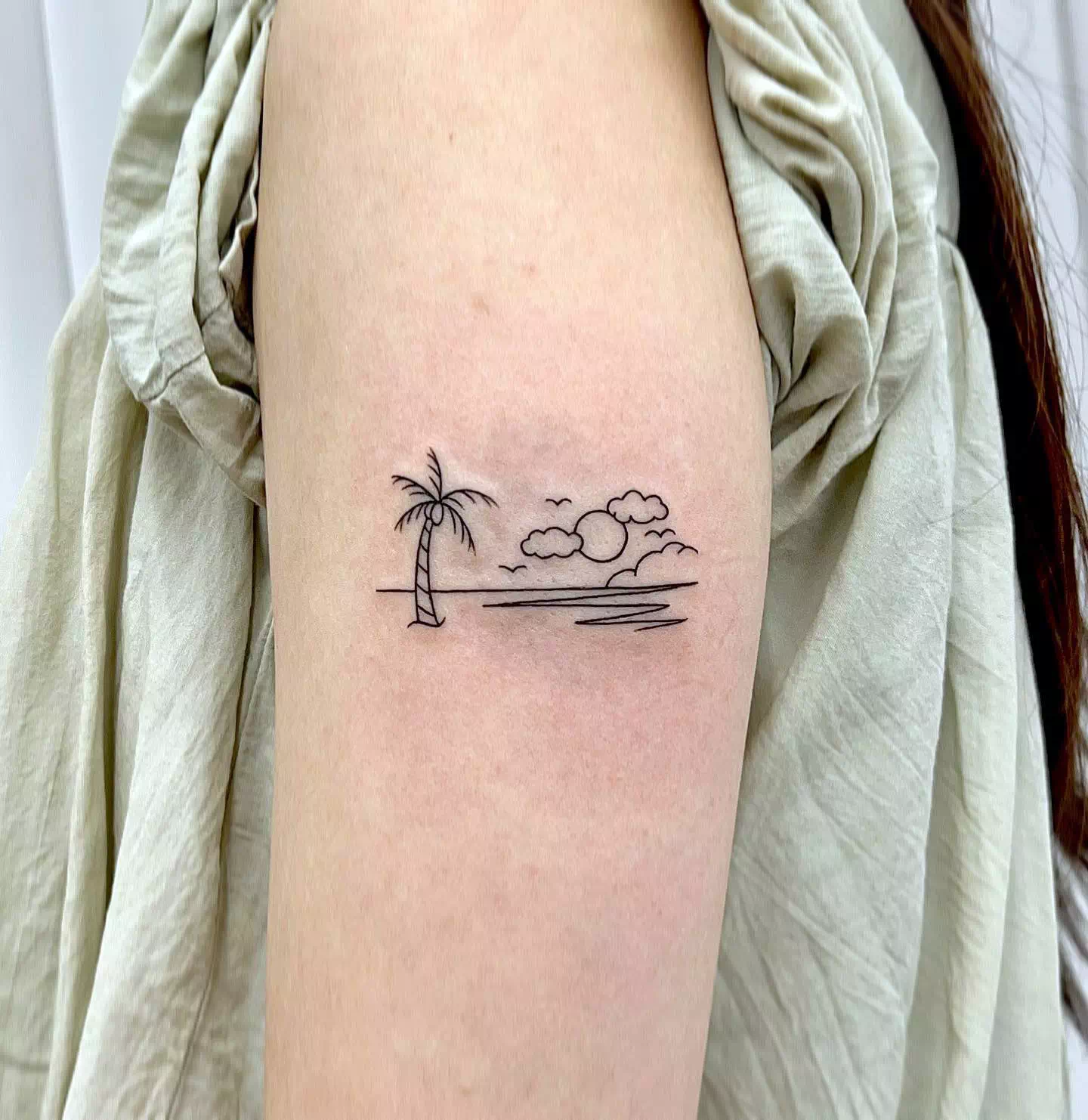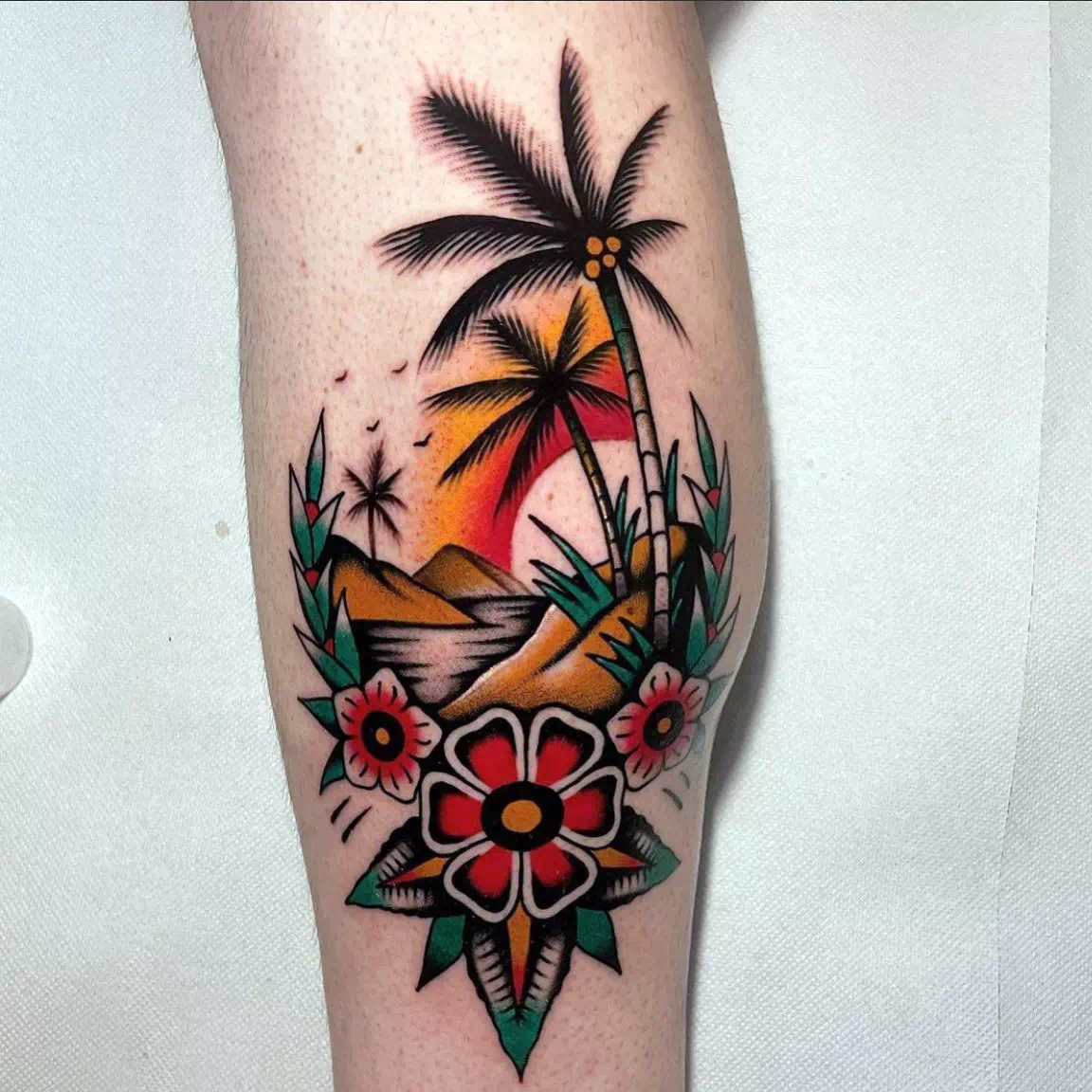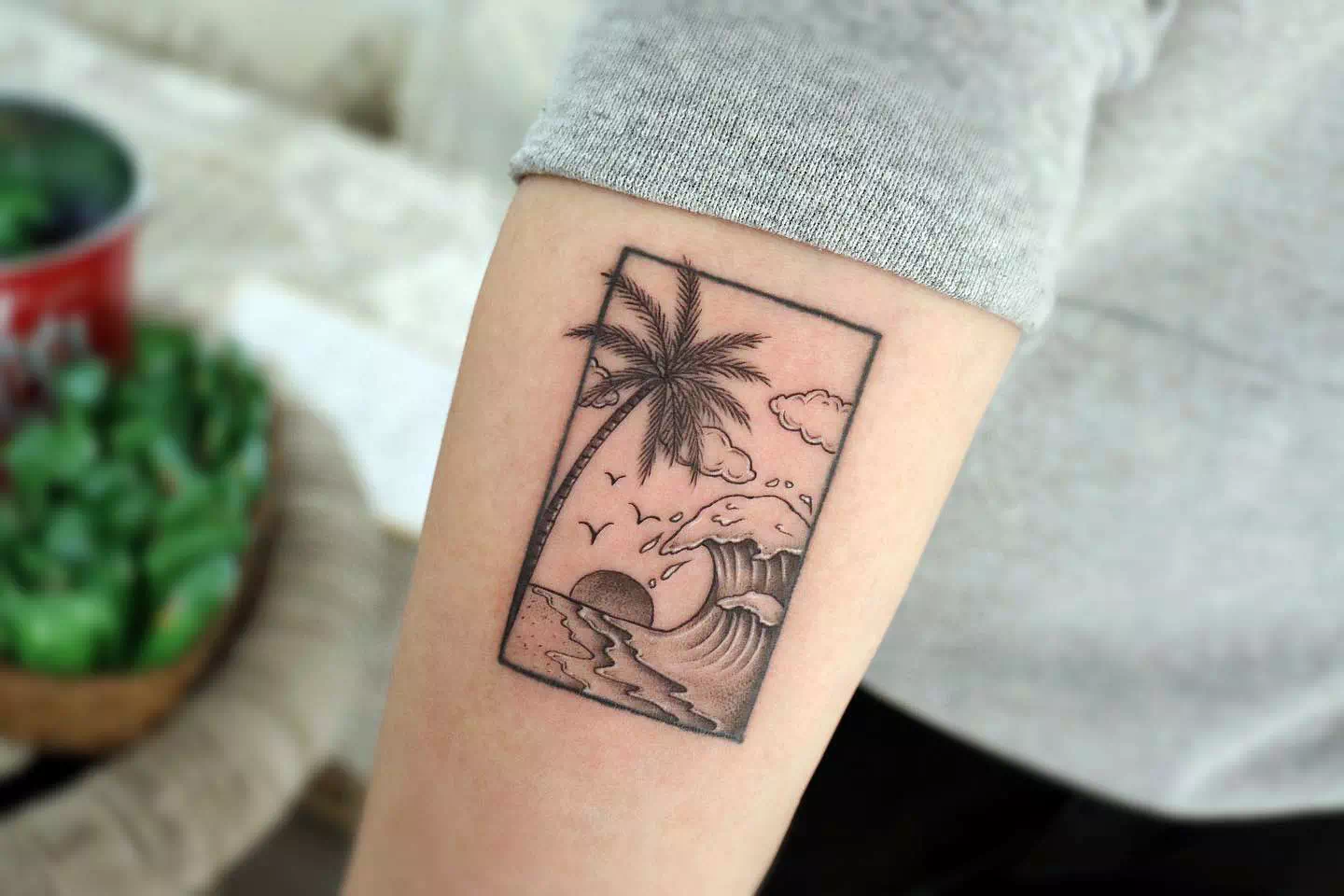 Nothing could be more peaceful than a breezy beach with a gorgeous sunset and a setting sun that reaches the earth directly behind a palm tree in the distance. You may apply this trio now to the skin and tattoo it on a body part that you adore.
The color of the leaves will be the icing on the cake, of course.
The tropical sunset will provide the warmth and aesthetic satisfaction that everyone is looking for once it has been tattooed into their flesh.
For some, who prefer a more philosophical approach, sunsets serve as a constant reminder of the never-ending circle of life. In addition, sunsets represent eternal beauty, life, death, hope, love, inspiration, and love, among other things.
Tip: This tattoo looks best when done in bright colors, so do not be afraid to go overboard.
Watercolor Palm Tree Tattoo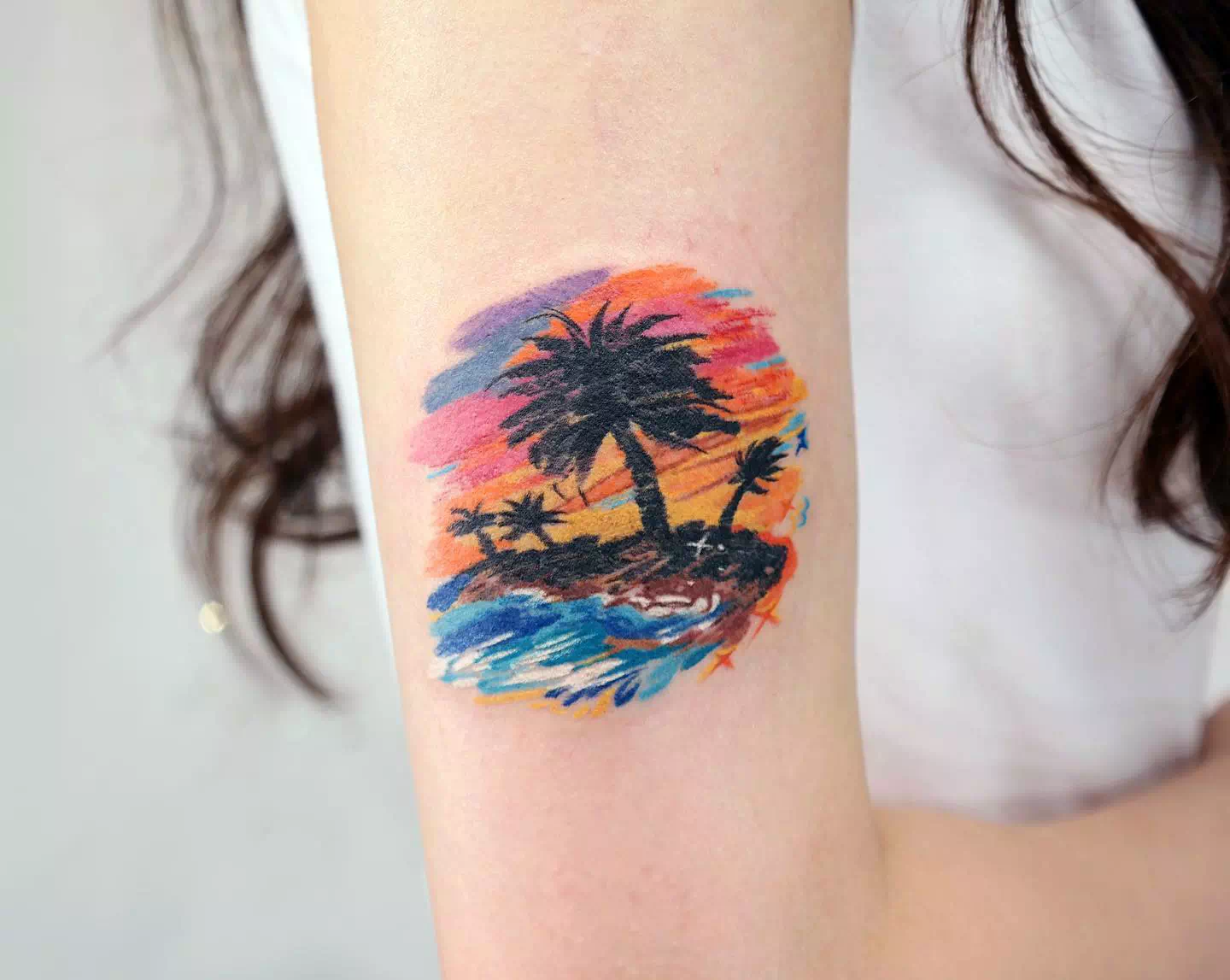 You cannot go wrong with a watercolor palm tree tattoo as a starting point when it comes to eye-catching tattoos. Once you have had it done on a large region of skin, the vibrant texture of the finished tattoo will draw much attention to itself.
If you want the most satisfactory results, select a body part that is large enough, such as the shoulder or an arm, so that all of the colors may be presented nicely.
Watercolor palm tree tattoos are often pretty straightforward in their design. However, their beauty depends on the colors you choose for them to be shown.
Tip: These models are particularly well suited for young women like the miniature palm tree versions.
The Heart-Shaped Palm Tree Tattoos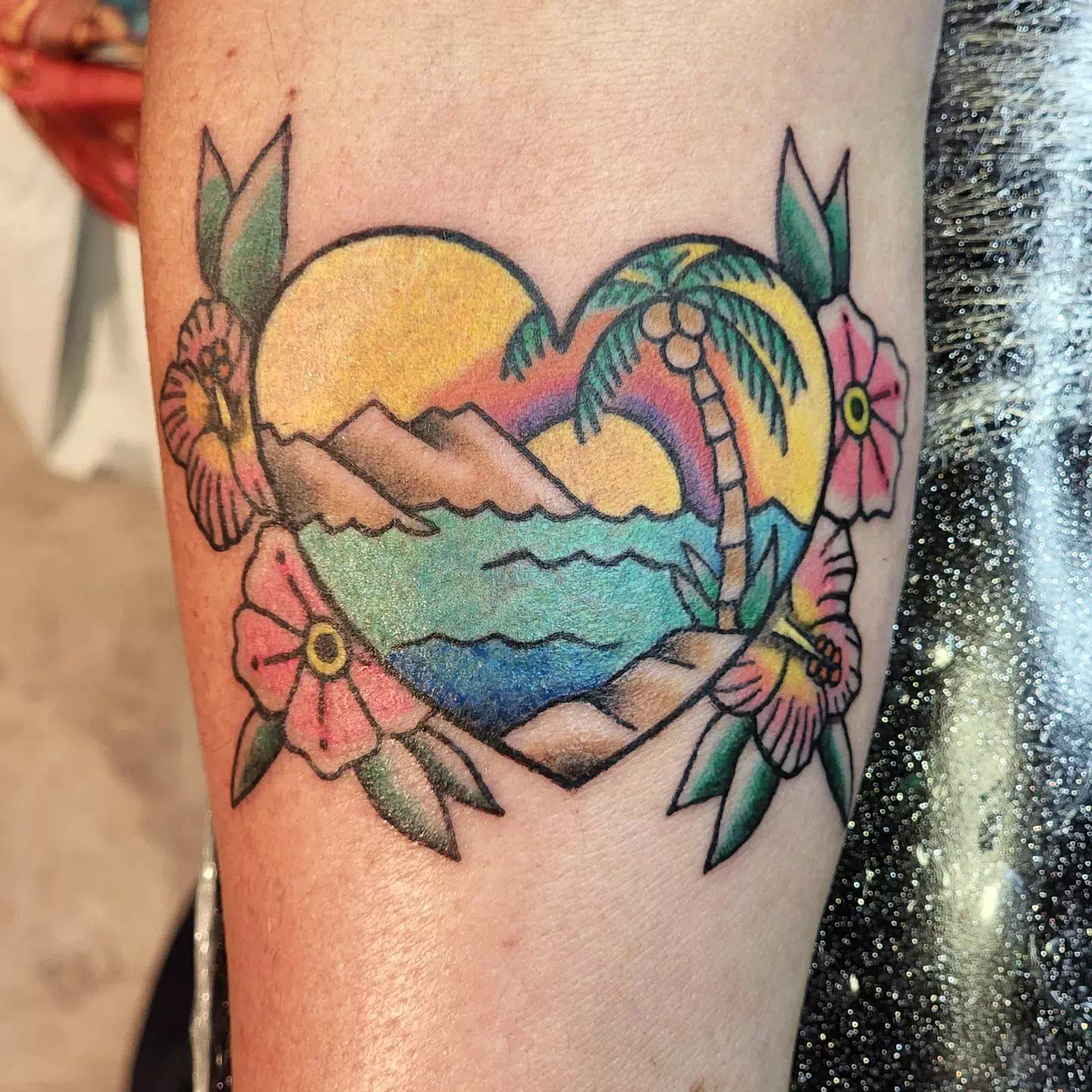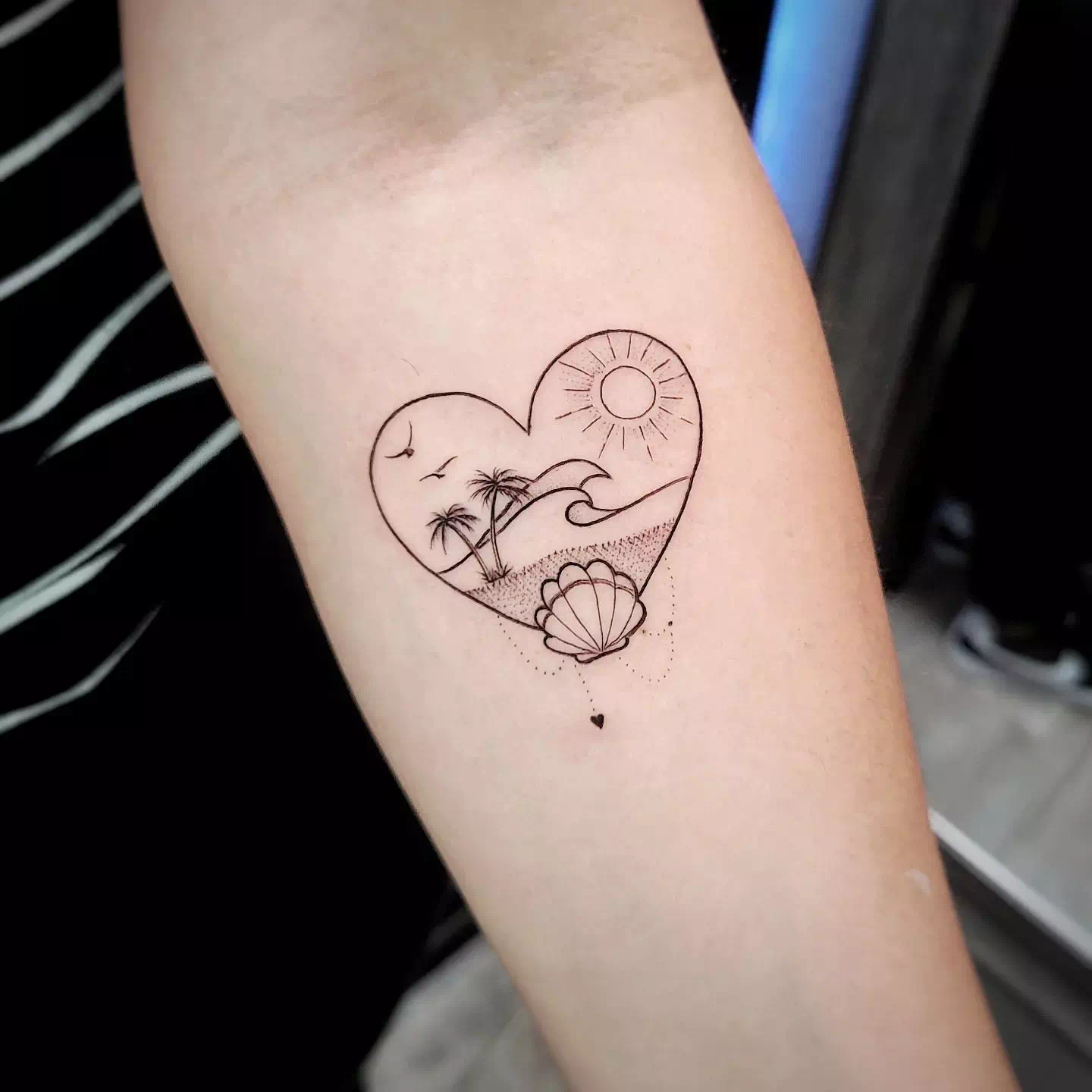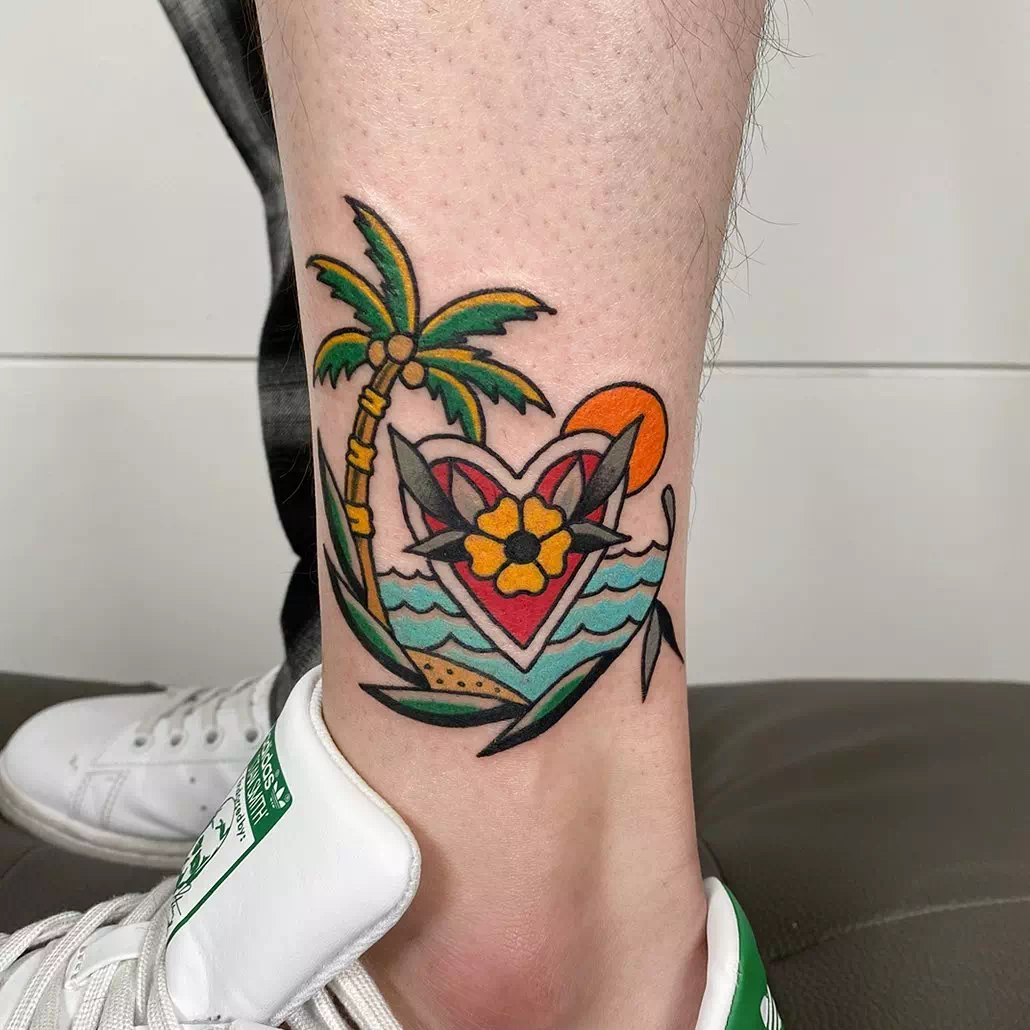 The heart-shaped palm tree tattoos represent positivism and love, essential values in one's daily life. As a result, the tattoo design means the holy hearts of the palm tree and Christian beliefs.
Aside from representing religious motifs, heart tattoos also represent compassion, unconditional love, and courage.
Furthermore, getting a heart-shaped palm tree tattoo is one of the most effective ways to express sadness or remember loved ones who have passed away. If you can, try to pick a design that fits your needs and enjoy the feeling of well-being that comes with it.
Tip: These tattoos are bright and beautiful, and they may be placed in any region of your body.
Circular Palm Tree Tattoo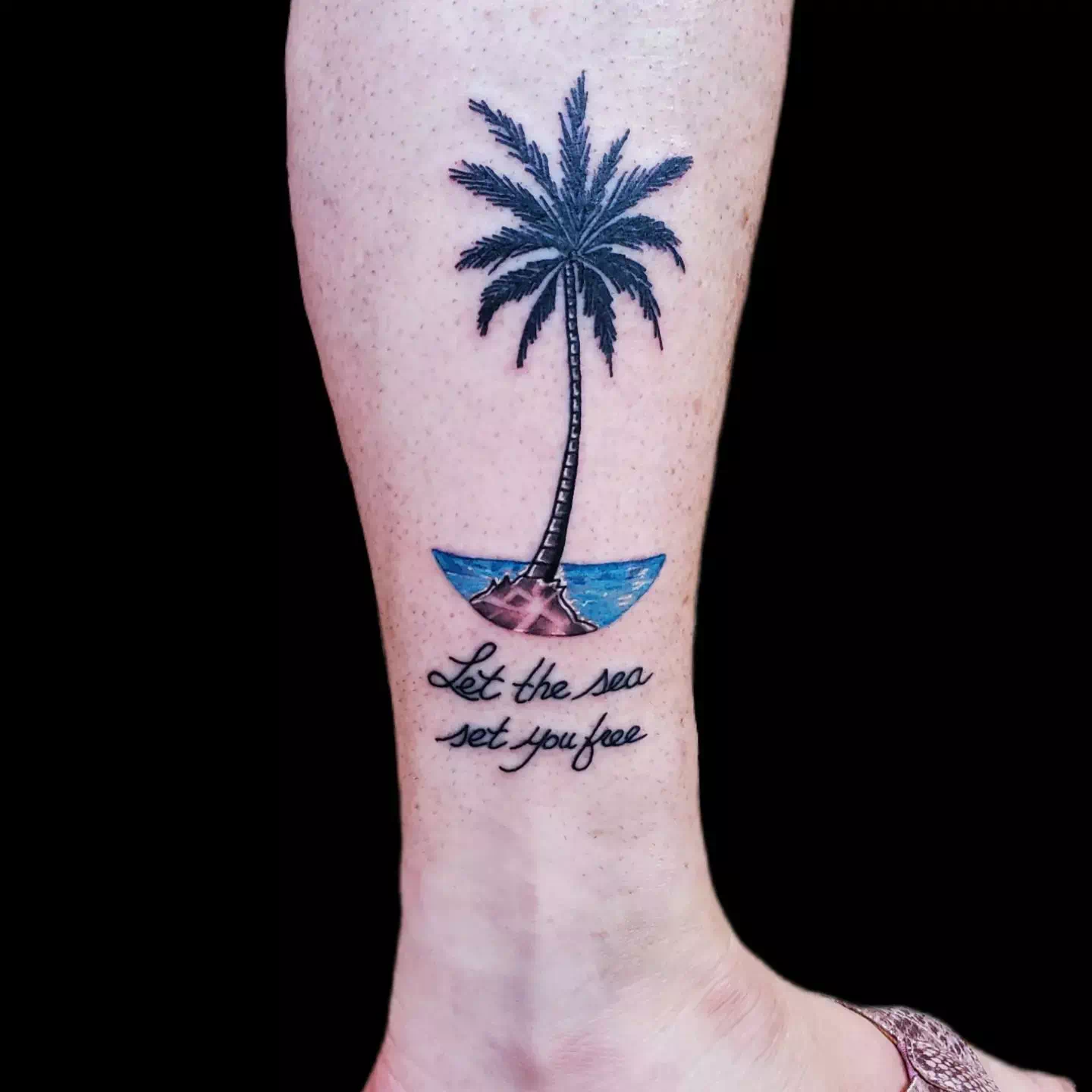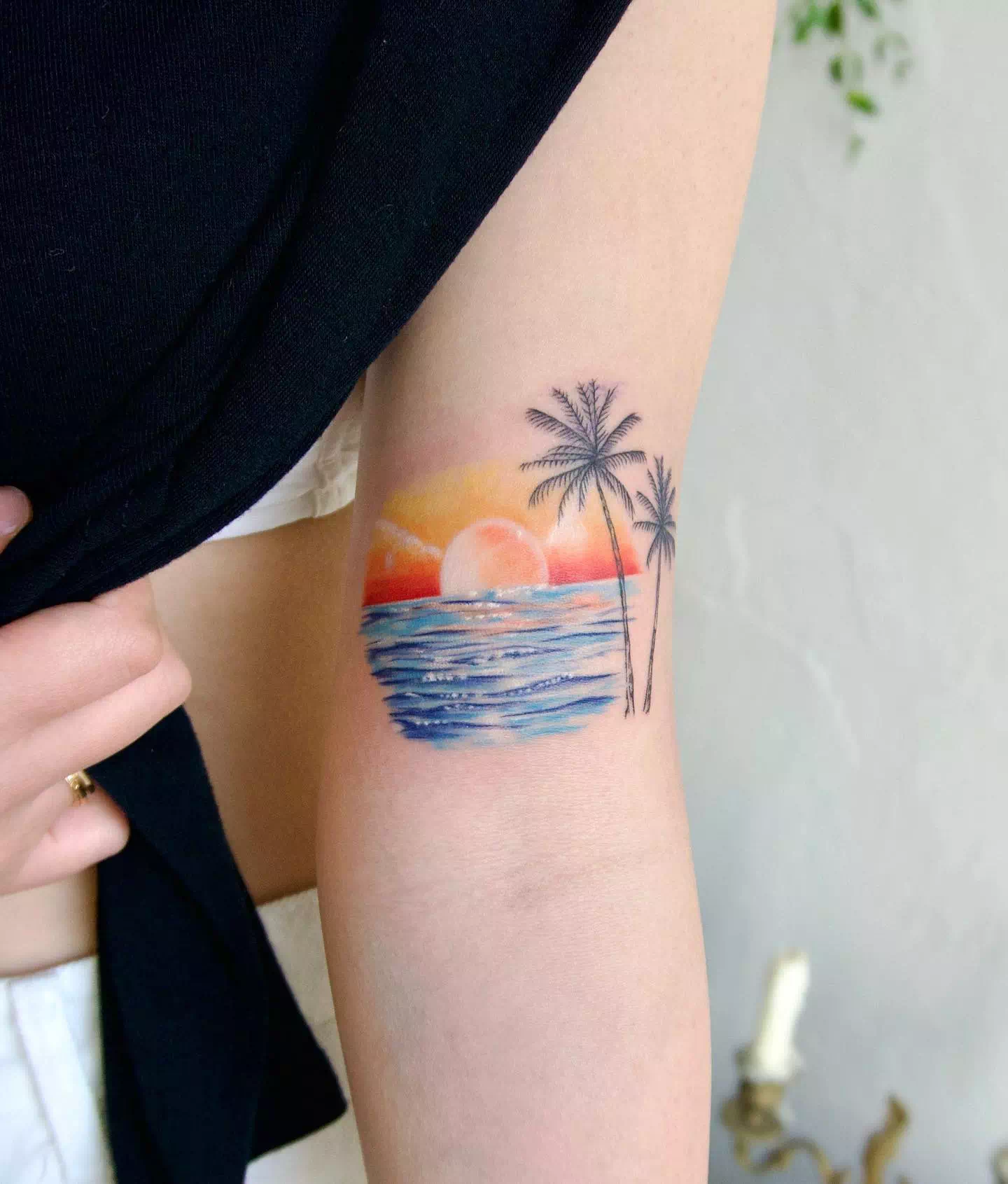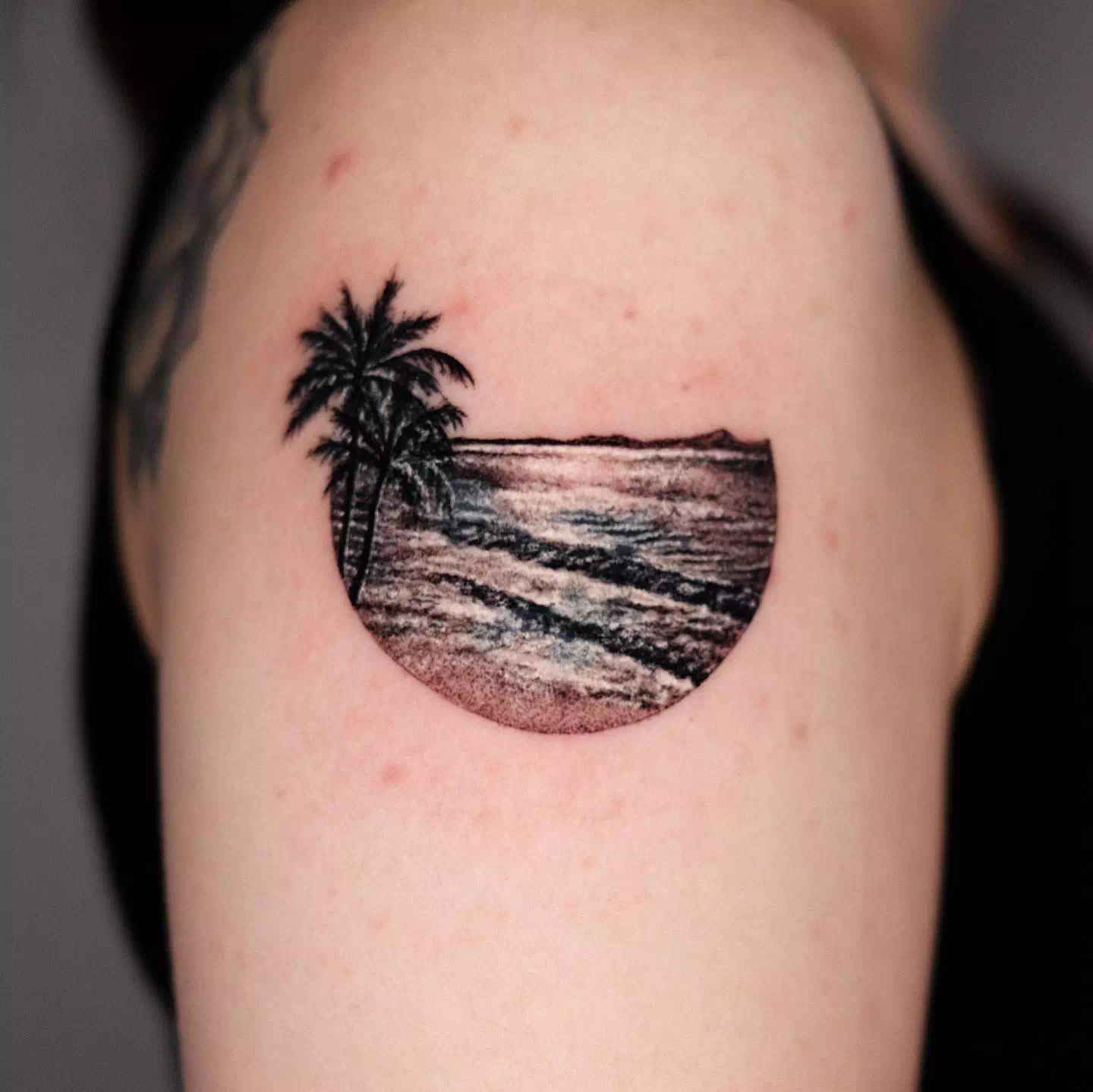 The circular pattern distinguishes this tattoo design as being one of a kind. This is a more contemporary take on the traditional palm tree tattoo.
Once you have had your circular palm tree tattoo, pick a skin region that is large enough for the artist to experiment with colors, forms, and lines.
To make things appear more lifelike, draw the branches in circular patterns rather than straight lines. You will be able to demonstrate the effect of the wind moving the units in this fashion.
The shading of ink is the technique that has been employed. As a result of its true adaptability, this is the most acceptable suggestion from the pros.
Tip: Add as many specifics as you like, based on your lifestyle and the message you want to convey. Personal opinion
Palm Tree Beach Tattoo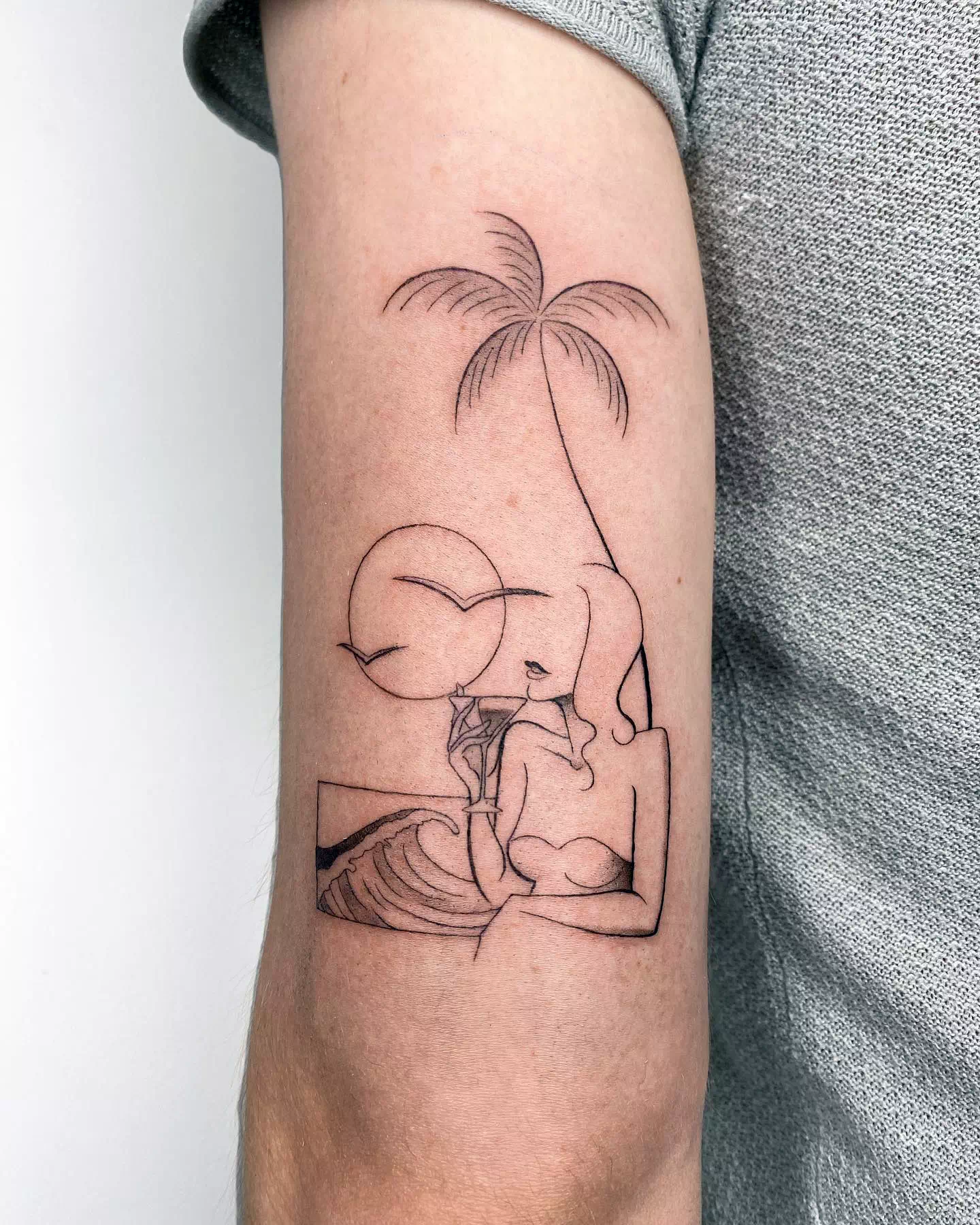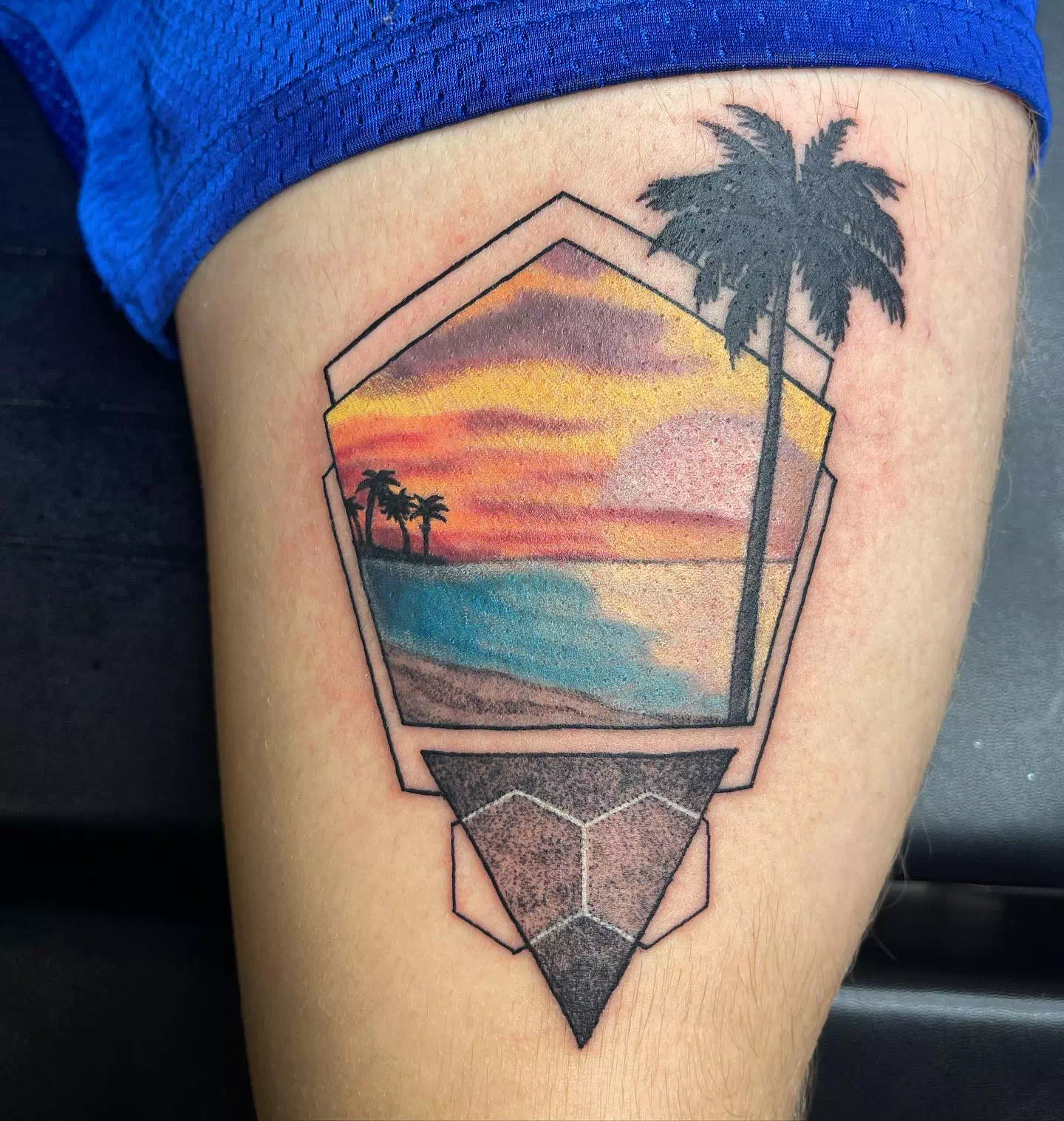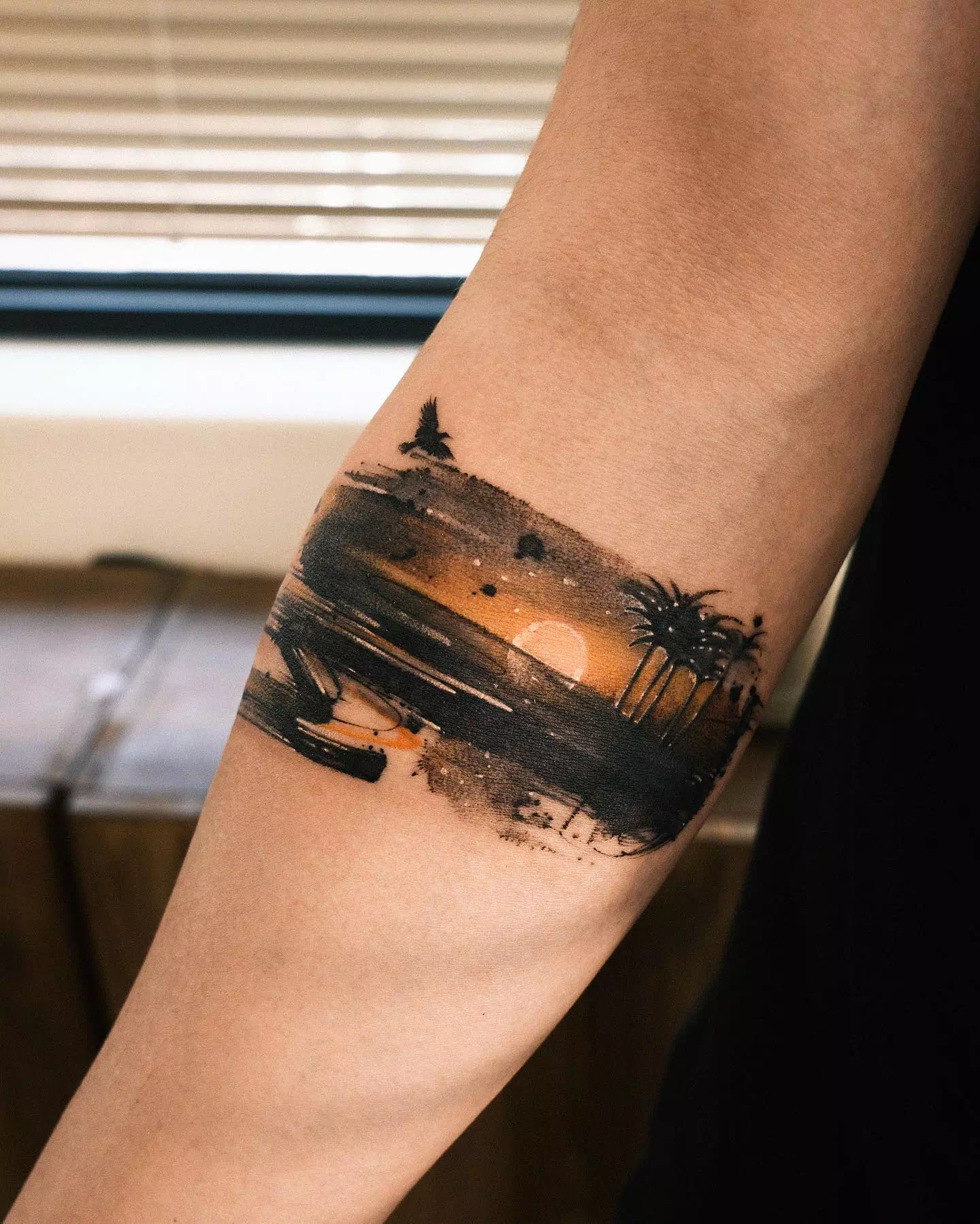 Do you have a constant desire to go on a beach vacation but do not have the financial means? What do you think about getting a beach tattoo done just for you?
Palm trees are an integral element of sunny beach scenes, and they help to complete the warm breezes and holiday emotions that are there.
The palm tree beach tattoos are pretty stunning, especially if they are tattooed in a circle around the sea waves surrounding you. The finished body art piece will look better if it has a watercolor finish.
If you choose to have a palm tree beach tattoo, you will spread happiness, optimism, fun, and love with the rest of your family and friends. As a result, if you want to be reminded of your vacation all year long, consider getting a palm tree beach tattoo.
Body Areas To Have A Palm Tree Tattoo Design
You have already decided on the palm tree tattoo design you will have, but now comes the difficult decision of where to get it done.
There is no right or wrong answer here; instead, it is all up to you and your desires.
Whether it is a butterfly or a California palm tree, a tattoo can be placed anywhere on your body.
Some people like their tattoos to be concealed and undetectable, while others prefer to have them on full display. The flamboyant among us would get their inked body art pieces in strange areas, such as the lips, the face, or fingers, while others would stick to more traditional spots.
It is now necessary to think about where you want your fresh new palm tree tattoo to be placed. It would be best to choose a skin area that fits your lifestyle and age over time.
Furthermore, it will impact the overall appearance of your ink design.
Some of the most significant body parts for getting your preferred palm tree tattoo design are the following areas:
Palm Tree Back Tattoo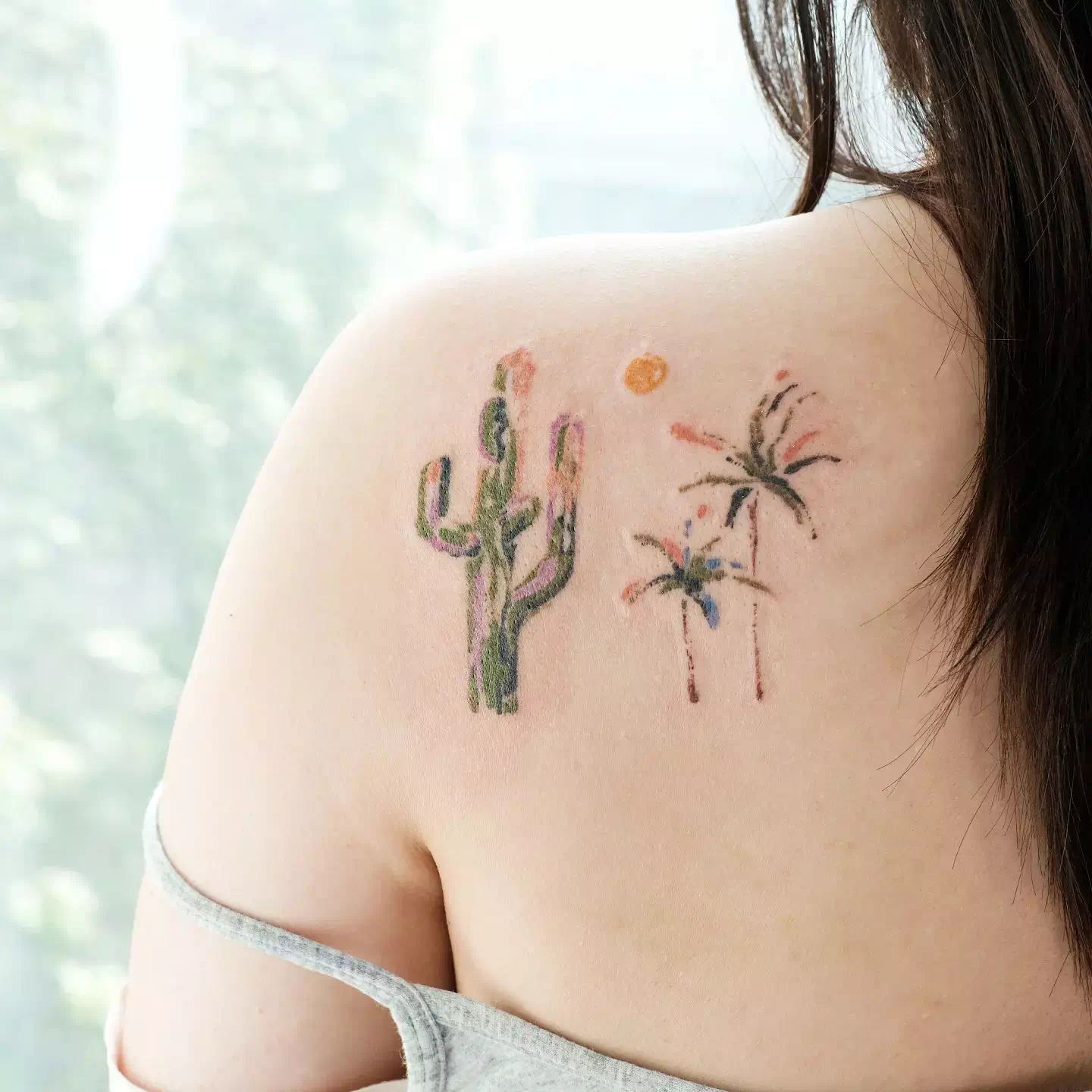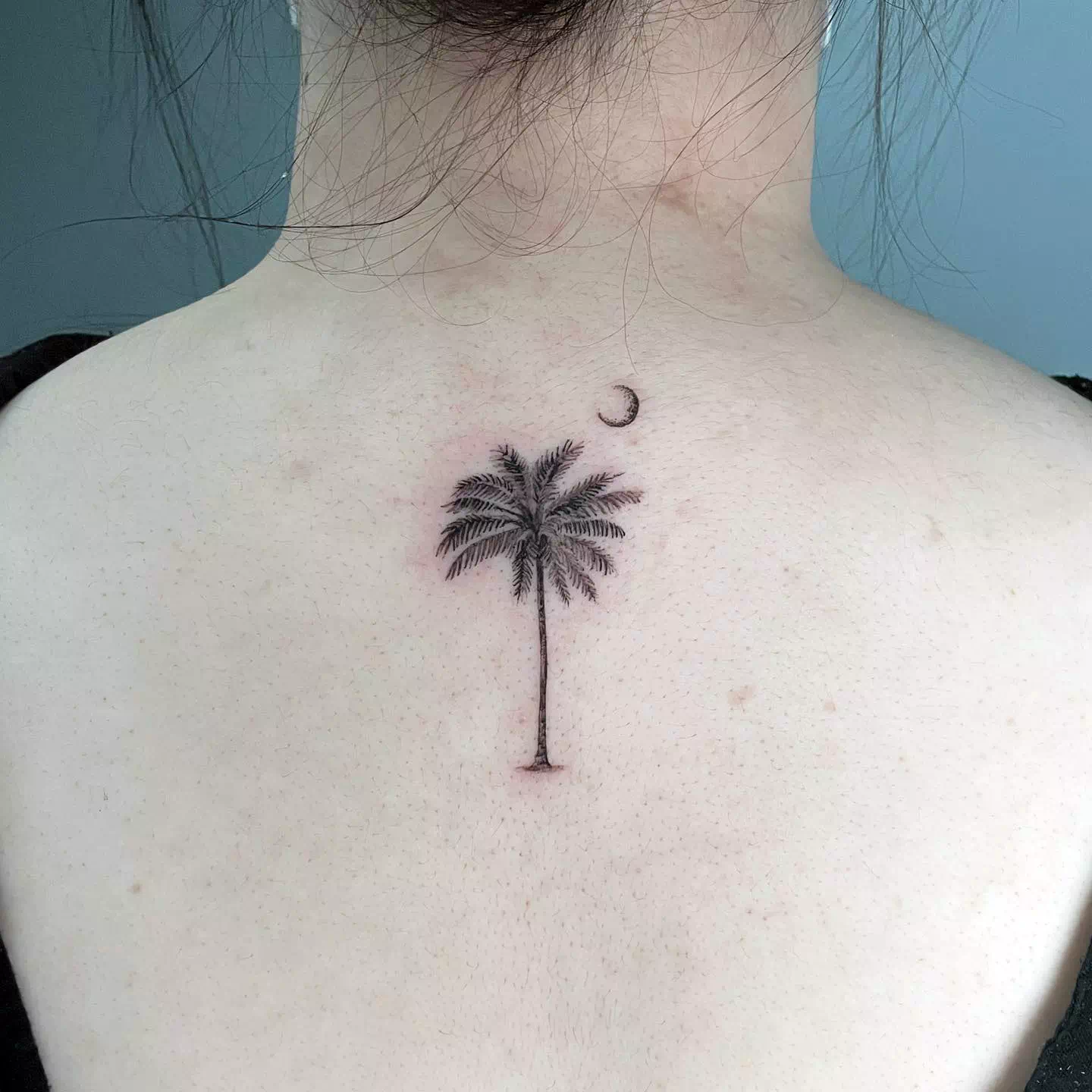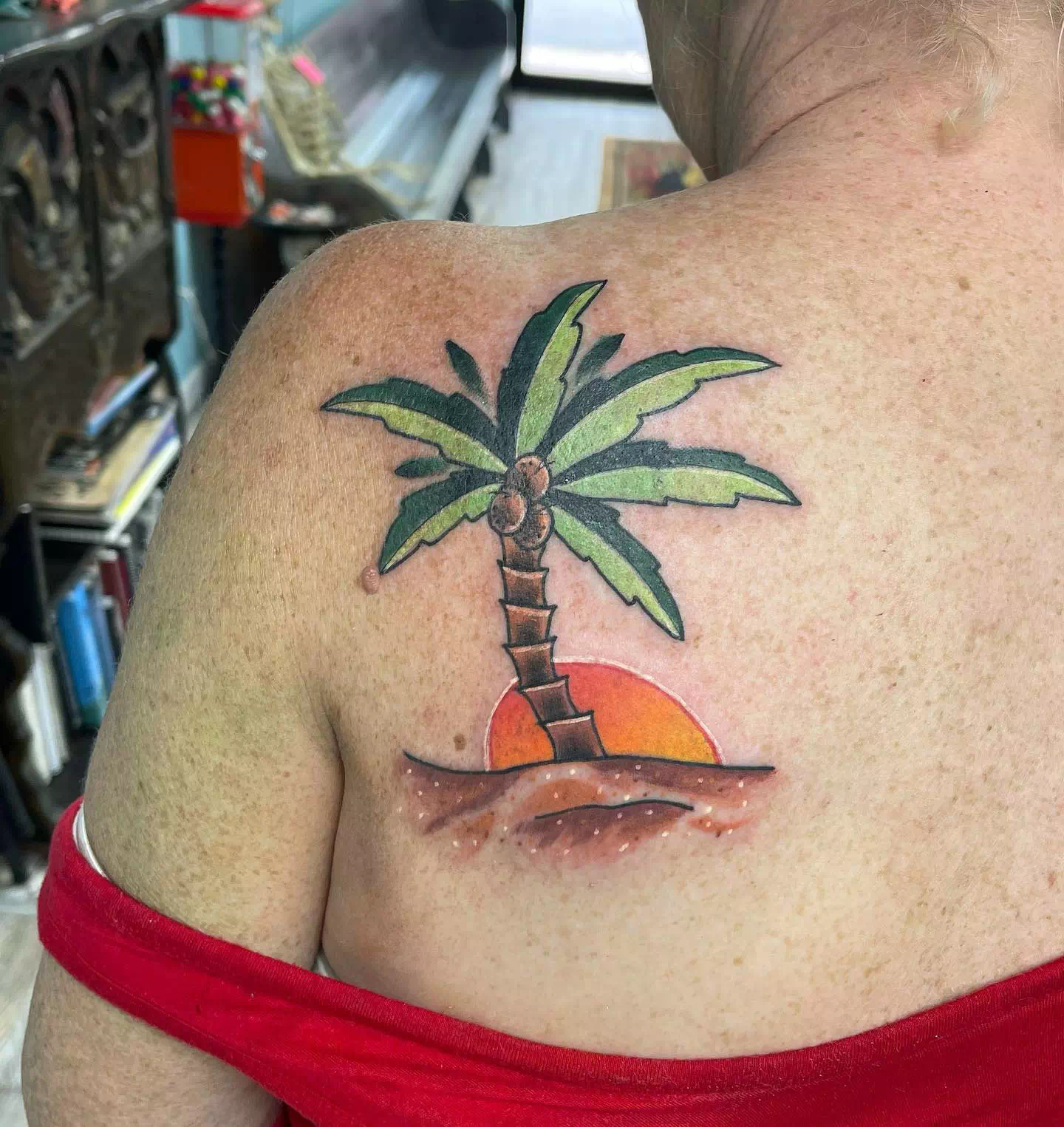 A palm tree on your back will give you a stunning and creative finish that raises your style quotient.
I like to think that only the bravest of hearts would dare to ride on the back of a palm tree, growing in size and spreading its leaves in hues of black and grey.
The end product will be a stunning piece of body art that you will be proud to display for the rest of your life.
Even while palm trees on the back appear to be essential, when done correctly, they provide elegance, flair, and refinement to the person who wears them. So get a skilled artist to complete it, and start collecting the compliments.
Palm Tree Tattoo On Ankle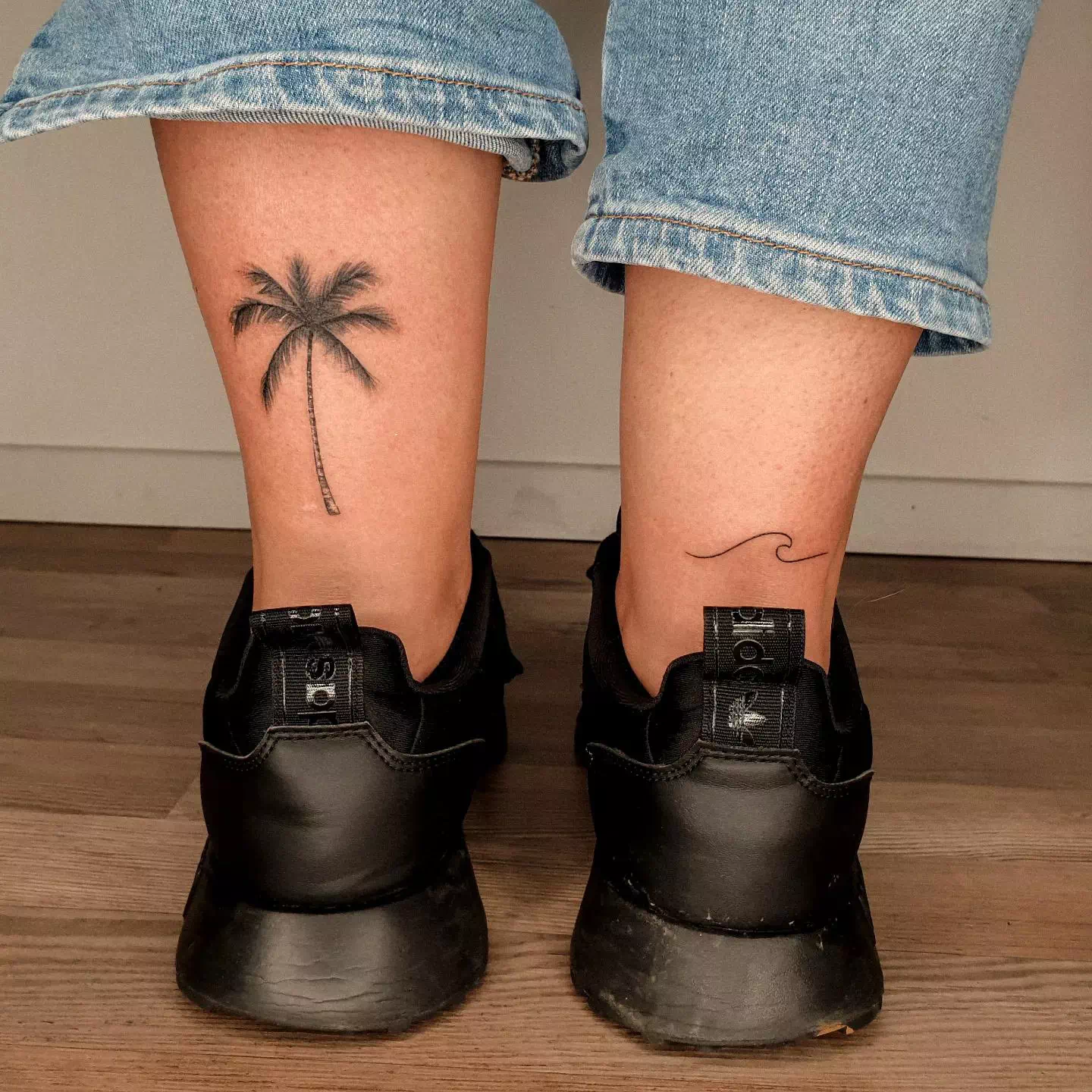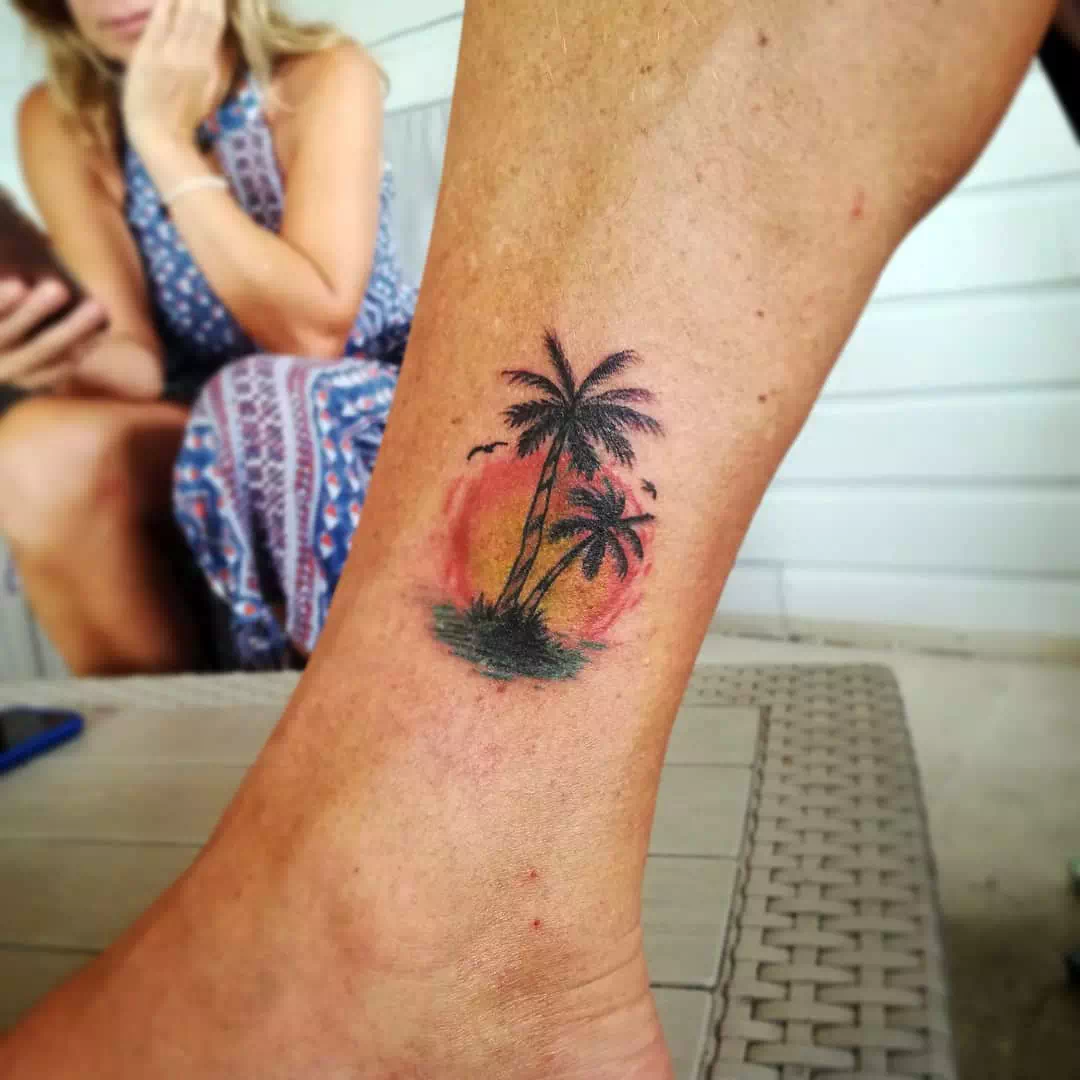 Do you enjoy traveling and want to have a piece of body art that reflects your personality and natural surroundings?
You should then prioritize the palm tree tattoo on the ankle and place it at the top of the list. Once again, this body part is well suited for a tiny palm tree tattoo.
Palm palms, also known as the "tree of life," are associated with travel and, for some, with idyllic Caribbean beach vacations. However, aside from that, the palm tree tattoo on the ankle would look fantastic when strolling along the beach.
Getting a tattoo of the sun setting behind a palm tree will complete the travel theme and remind you of your future trips and beach vacations.
Before going on your next beach vacation, think about getting a palm tree tattoo on your ankle to remember it.
Palm Tree Foot Tattoo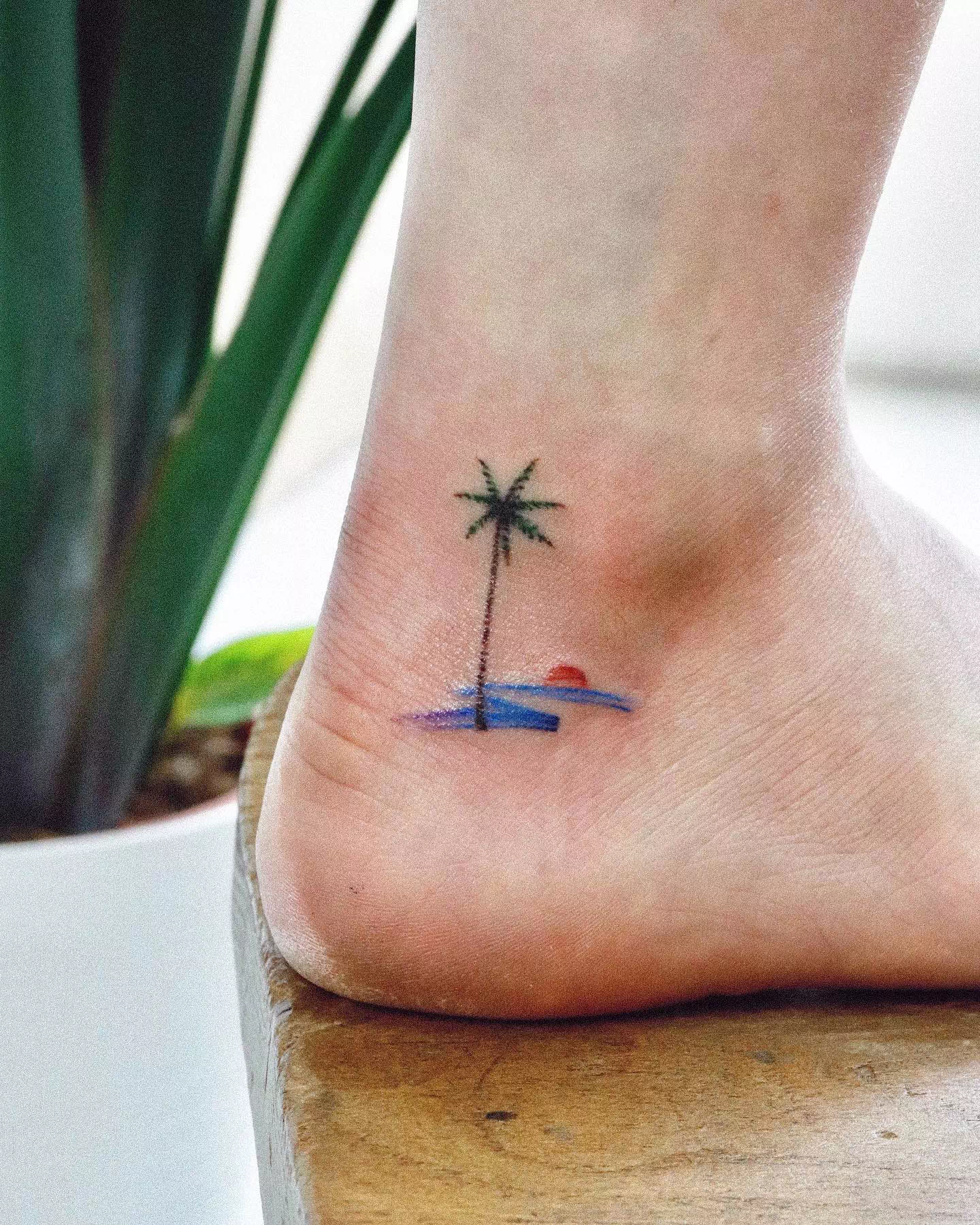 Looking at the palm tree's biblical meaning, this represents victory over death, according to specific interpretations.
It is well known that palm trees have a long history with the beach, both in nature and how strong and significant these plants are.
People who enjoy travel and the summer wind are attracted to this tattoo design, which they choose to have in prominent places, never to forget why they enjoy traveling.
A palm tree foot tattoo symbolizes the traveler's lifestyle of the person who has it on their foot. You may choose to have it entirely in black and grey, or you can add some colors to give it a more vibrant appearance and give a more holiday-like impression.
Palm Tree Tattoo Sleeve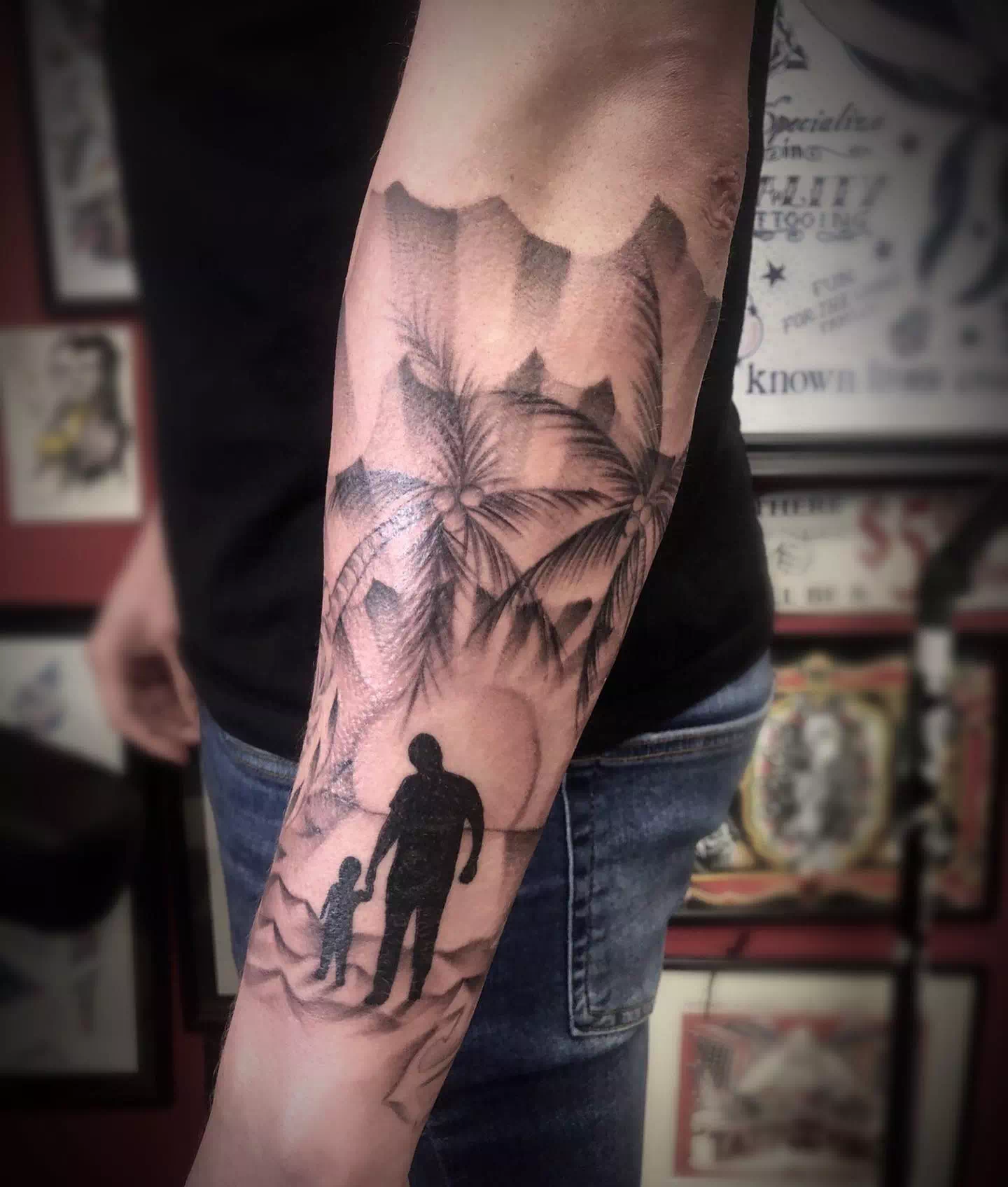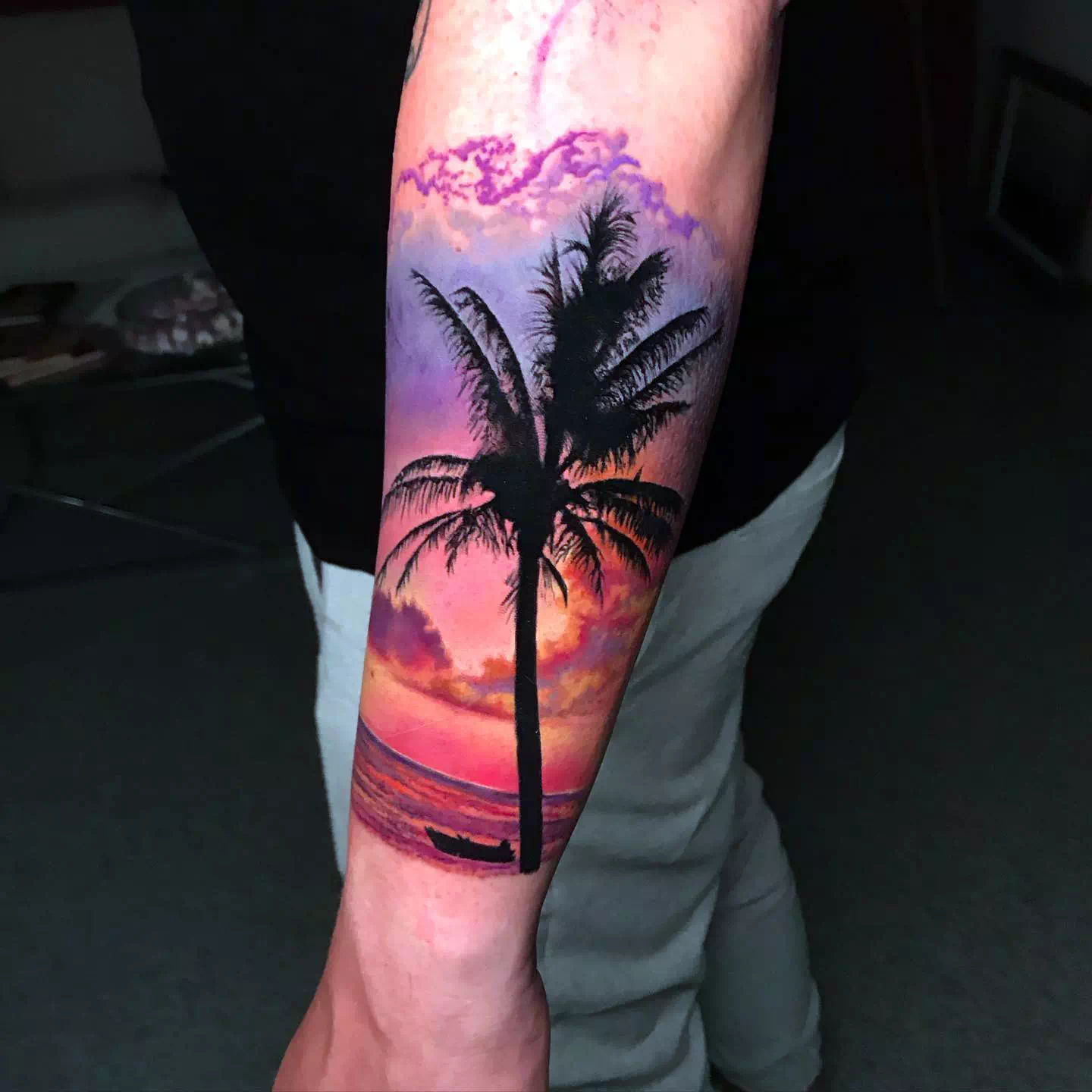 Palm tree tattoos are usually done in simple and beautiful designs, but they can also have significant meanings and symbols.
However, if you have a little imagination, you can transform their patterns and locations into genuine works of skin art.
Instead of wasting a vast piece of skin canvas, such as the arm, why not get some palm trees tattooed on the sleeve?
Some people like getting sleeve tattoos now because they let them include essential things to them, their lives, or the world at large.
Use merely a few palm leaves, black and green ink, and positively create the palm tree sleeve tattoo, or utilize the ink lines to express your deepest emotions.
Wrist Palm Tree Tattoo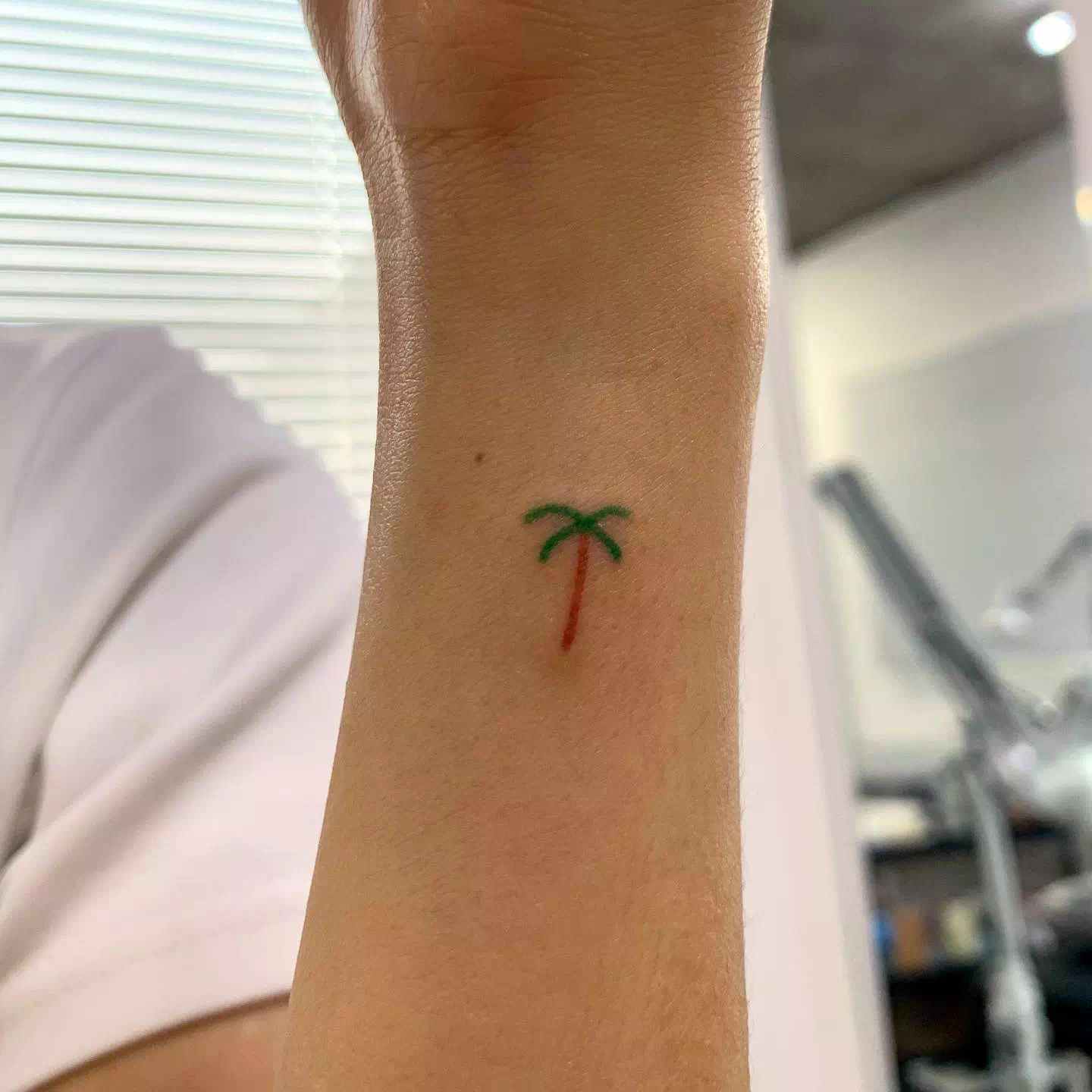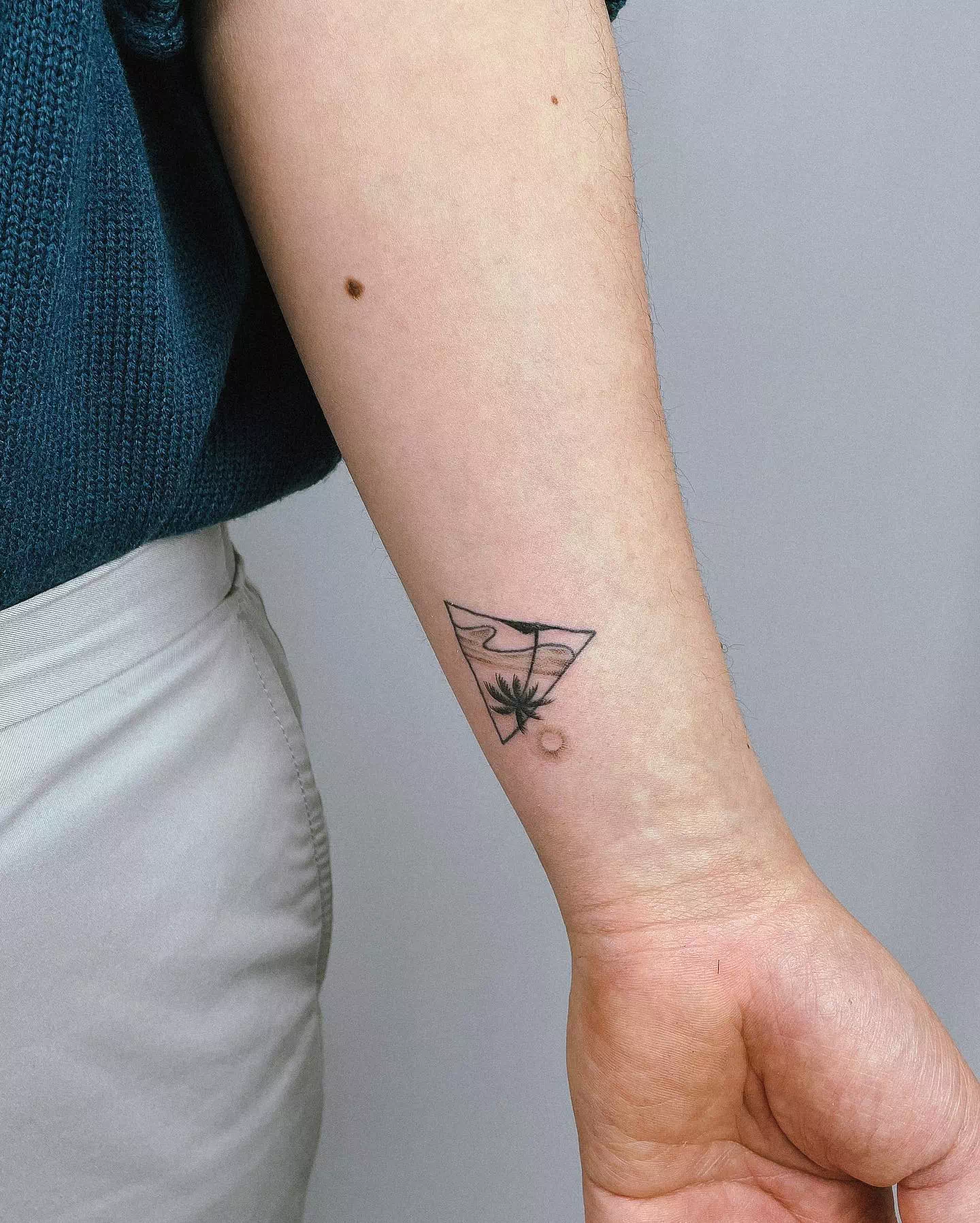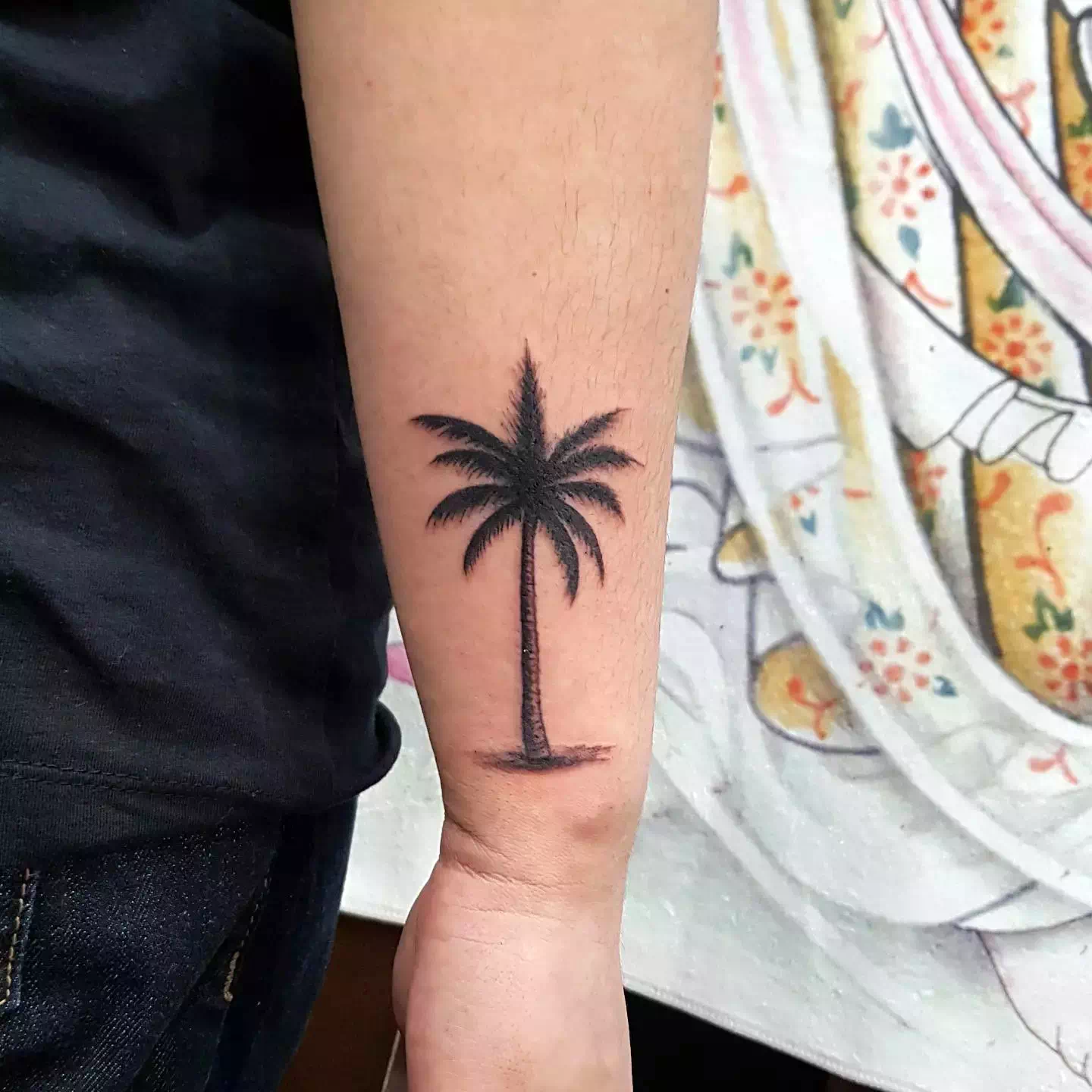 If you want a tiny palm tree tattoo, the wrist is an excellent place to start. This skin area is visible; however, it should not be too noticeable if you choose a tiny palm tree tattoo.
With a palm tree tattoo on your wrist, you do not have to cover much space to show your confidence, happiness, and holiday spirit.
Palm Tree Tattoo On The Shoulder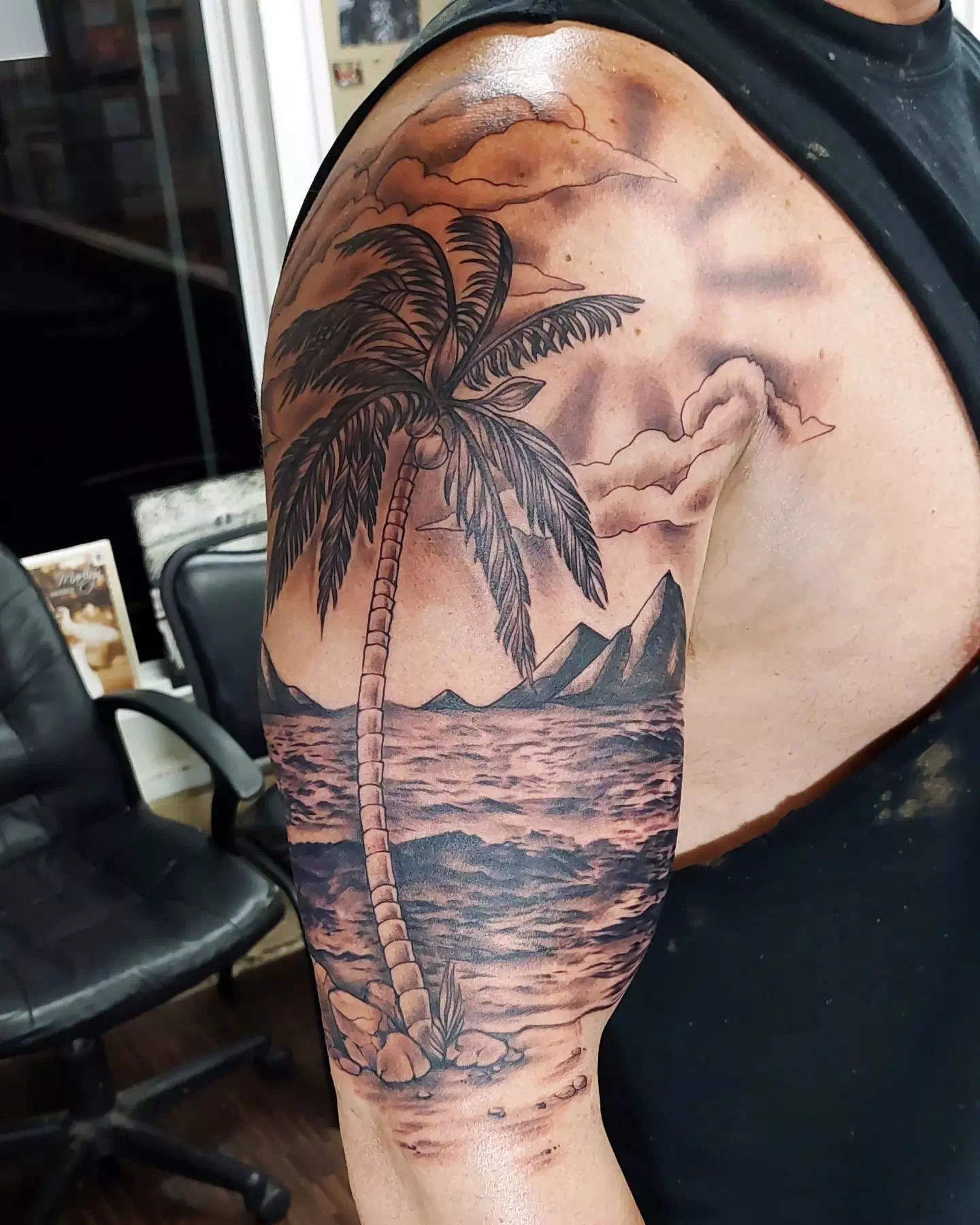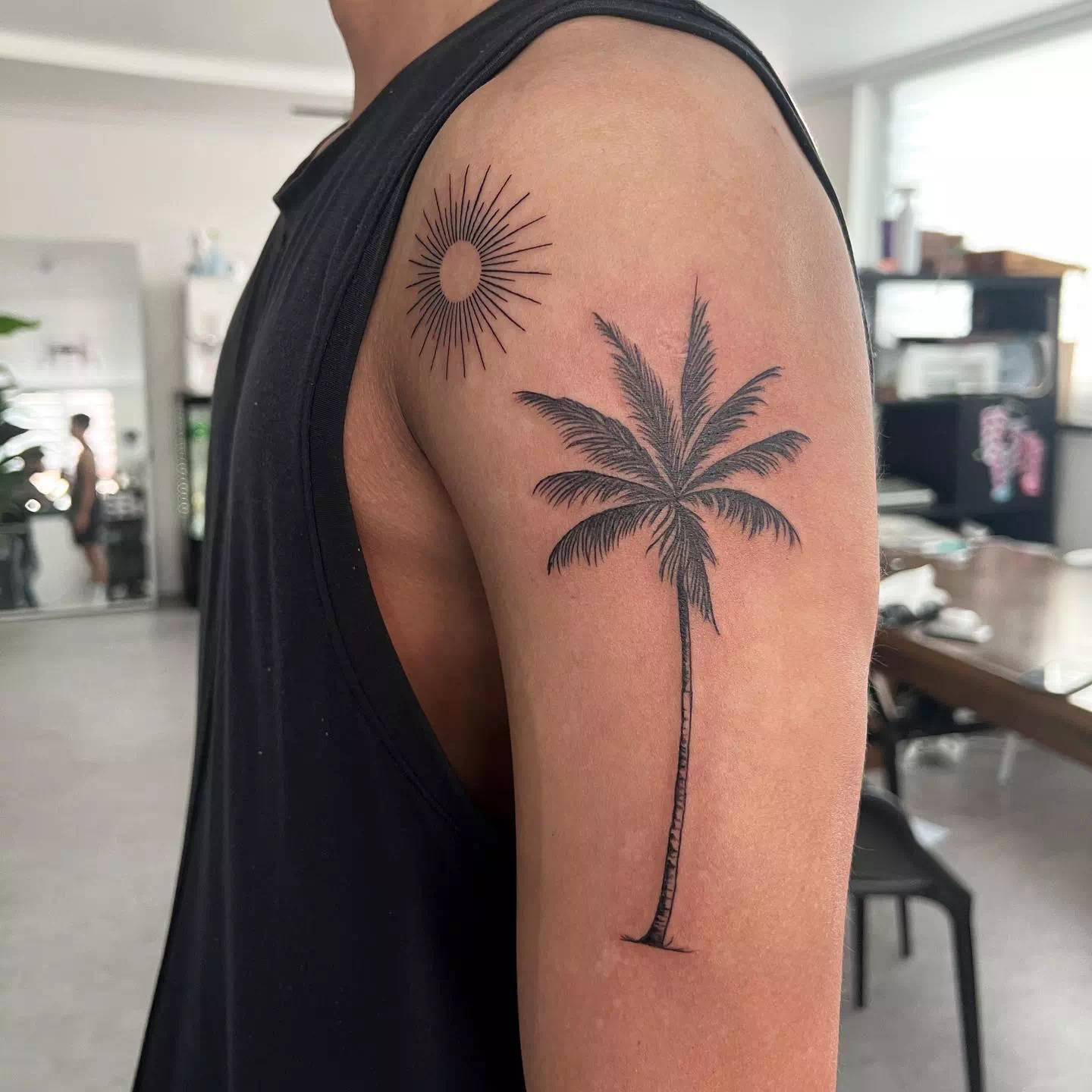 Tattoos of palm trees on the shoulder are beautiful, especially if they contain numerous intricate details. Furthermore, you may include dates, names, and a variety of colors.
Instruct the tattoo artist to place the tattoo on the front portion of the shoulder to make the body piece art appear even more positive.
If you are not afraid of displaying your genuine self, you may have the tattoo placed on the front area of your shoulder to demonstrate the risk-taking attitude of your lifestyle.
Forearm Palm Tree Tattoo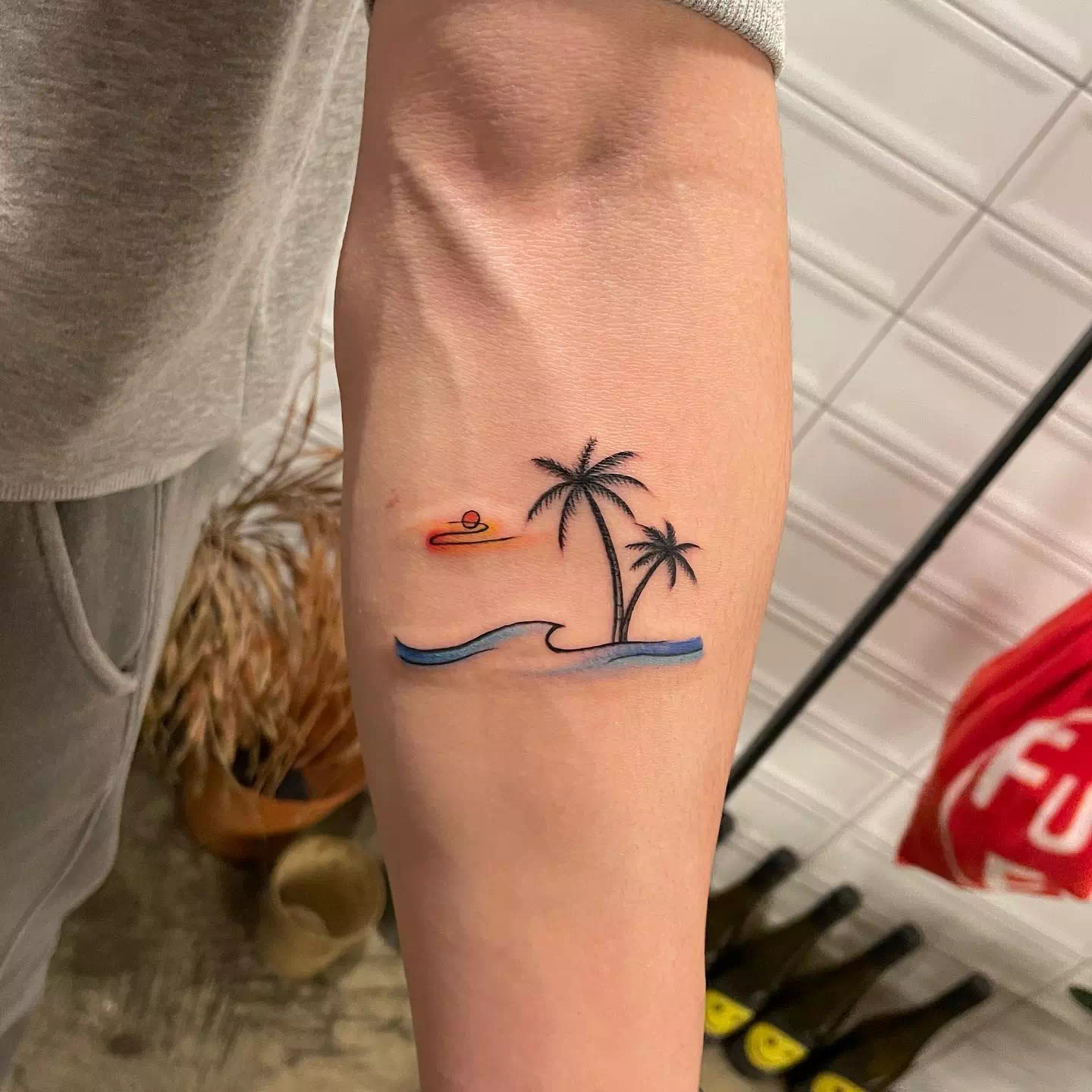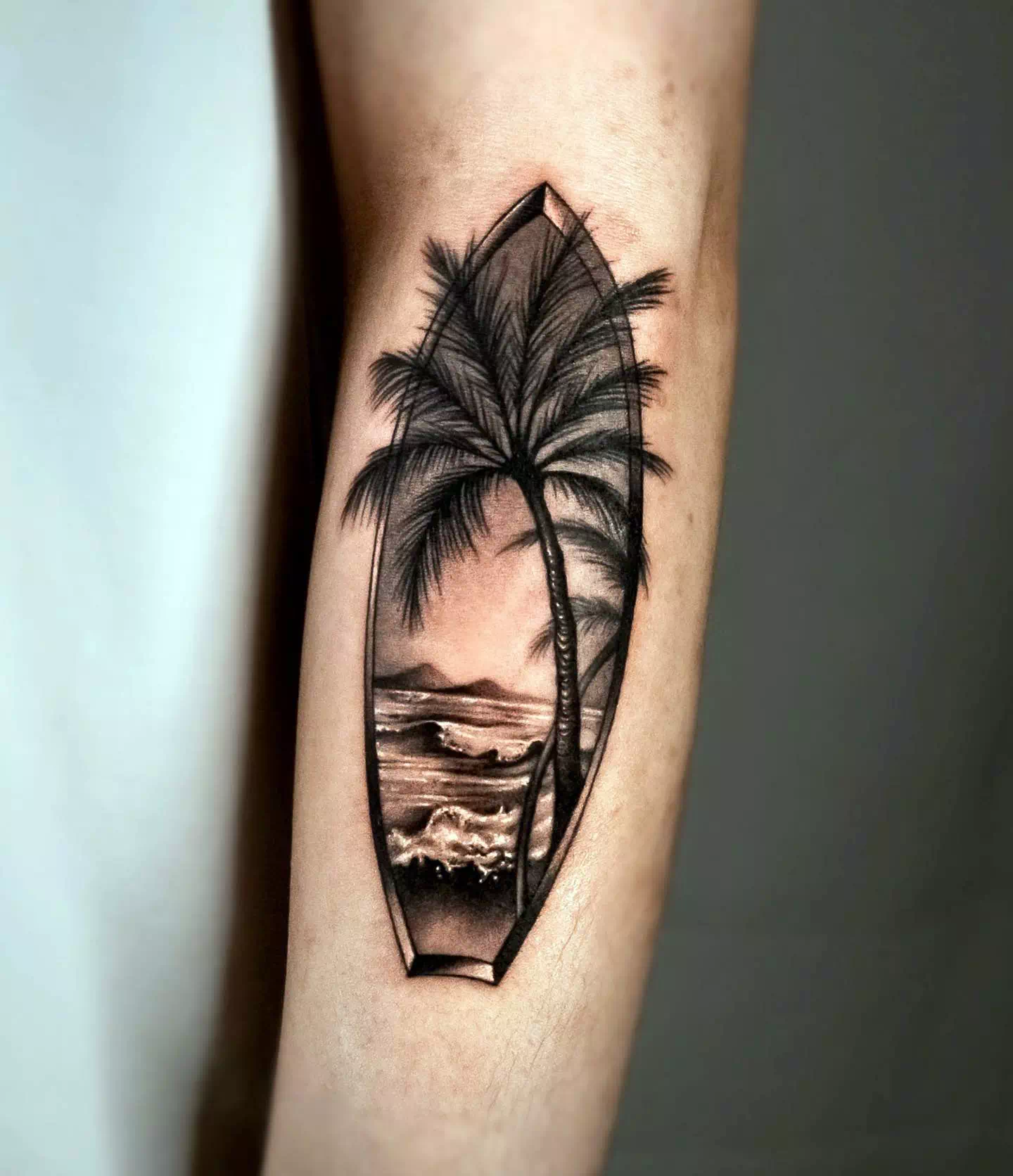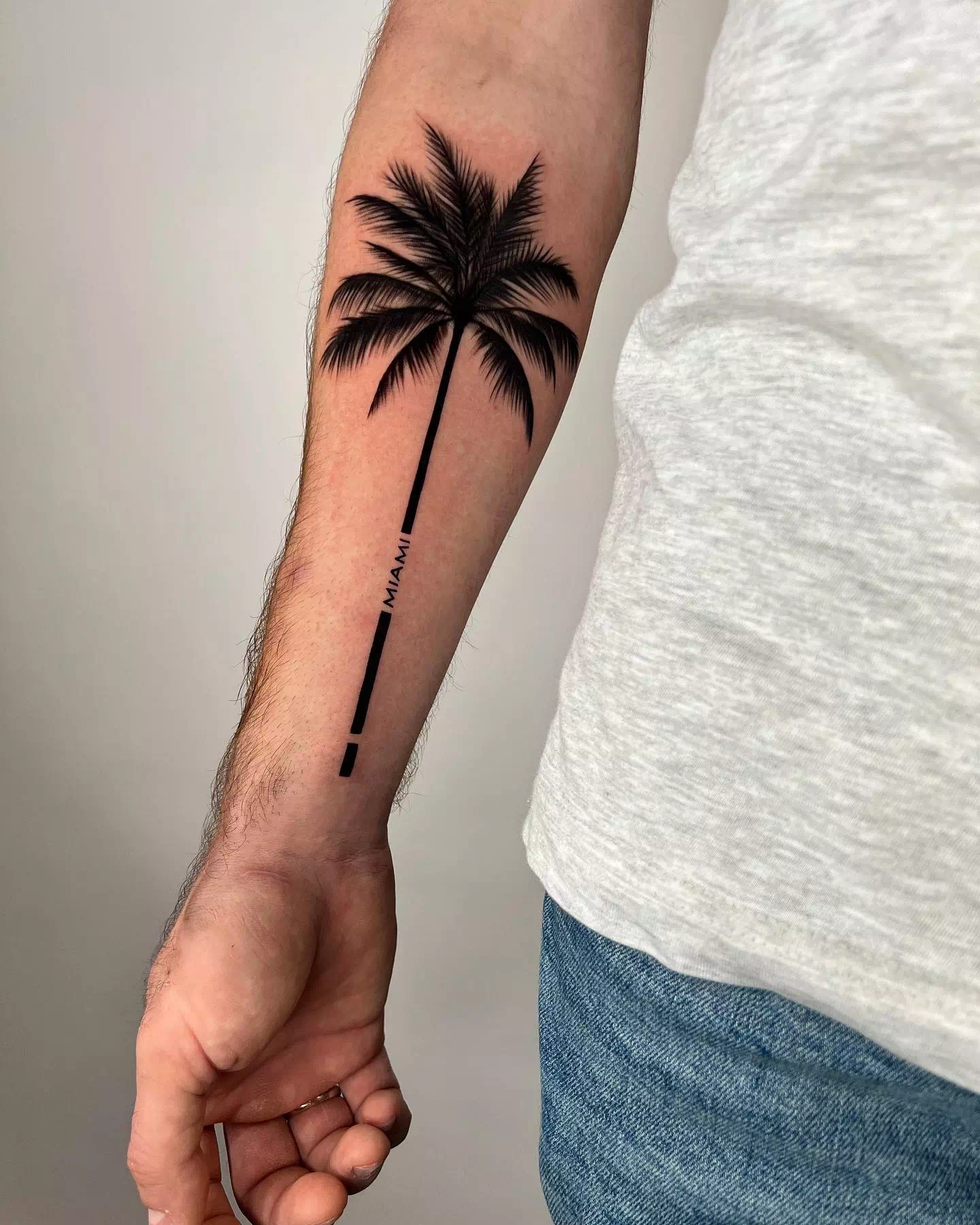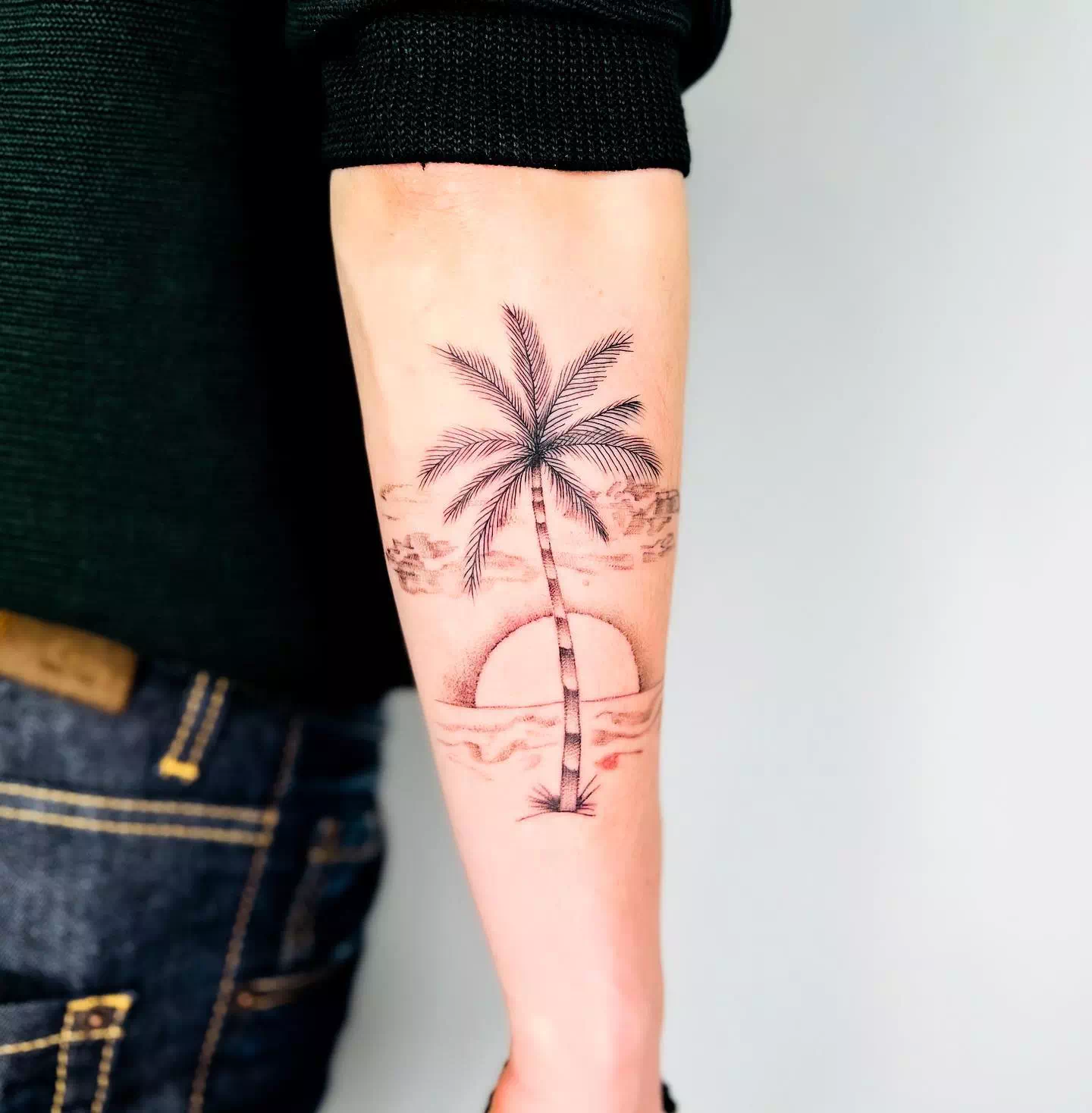 The forearm is one of the top body parts that millennials often select since it is functional and attractive. Some people believe that this body part may cause them difficulties when searching for employment, but others think this is the best spot to show off their tattoos.
Forearms are a great place to show off a tattoo since they are flexible. Whether you desire a simple palm tree tattoo or a more intricate design, this region will provide the ideal canvas for your ink masterpieces. In addition, forearm tattoos are the best option if you want to keep your tattoo a secret.
In a nutshell,
Okay, that gets us to our last views on palm tree tattoo designs for today's post. As previously noted, palm tree tattoos represent positivity most directly and fundamentally.
As a result, if you decide to get your first palm tree tattoo, you will only radiate happiness and positivity and your passion for summer, the beach, and the sea wind.
You may have decided on your favorite palm tree tattoo design at this point, which is fantastic. However, remember to get it done in your favorite style and on the part of your body that you are most comfortable with.
It is better to give than to receive!