You have recently gotten a new tattoo, and it looks stunning. You will, however, begin to notice that the tattoo is becoming more and more smeared and that it is even beginning to expand after a few days of use. When faced with such a predicament, the first thing that comes to mind is terror (understandably). However, there is no requirement for this. First and foremost, you must educate yourself about the dangers of tattooing and the indicators of tattoo healing.
The term "blowout" refers to the process through which a tattoo becomes smeared, obscured, and spreads over the body. However, suppose the tattoo is becoming dry, scabby, and itchy. In that case, this is only the result of the healing process taking its course. Lastly and most importantly, if the tattoo is always red and swollen, you suffer a tattoo infection, requiring immediate medical care and treatment.
With that in mind, let us look at the indicators of a blowout and the healing process of a tattoo. Also included will be the methods for mitigating, controlling, and treating each of the conditions listed above.
5 Things You Should Know Before Getting a Tattoo Blowout
1. What Is a Tattoo Blowout and How Does It Work?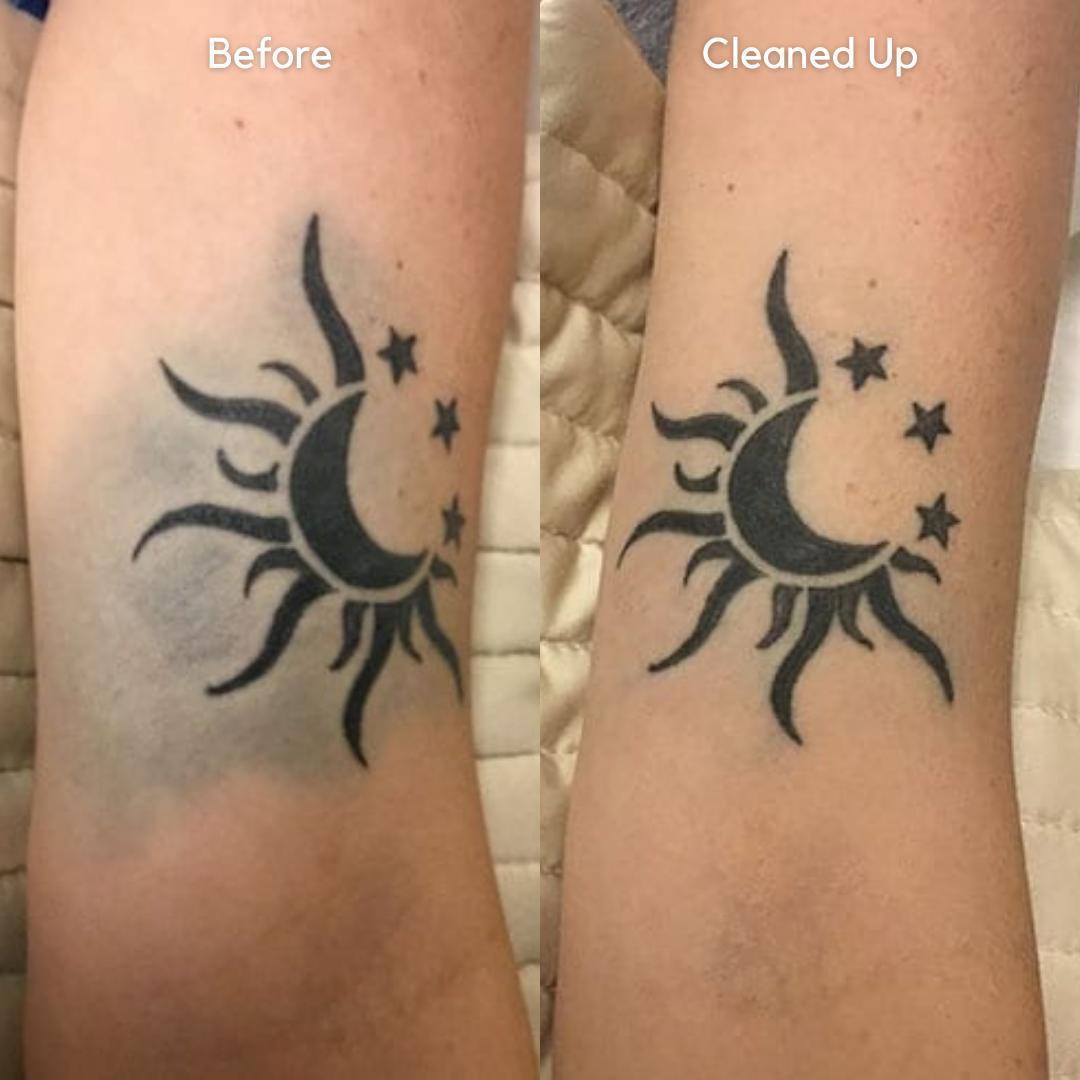 Suppose you find that your tattoo is beginning to seem hazy, smeared, or spreading. In that case, you are most likely in a tattoo blowout situation. Please understand, however, that this is not a life-threatening or even life-threatening situation. There are several options for treating or covering a blowout, especially if the condition is moderate.
2. What Causes It to Take Place?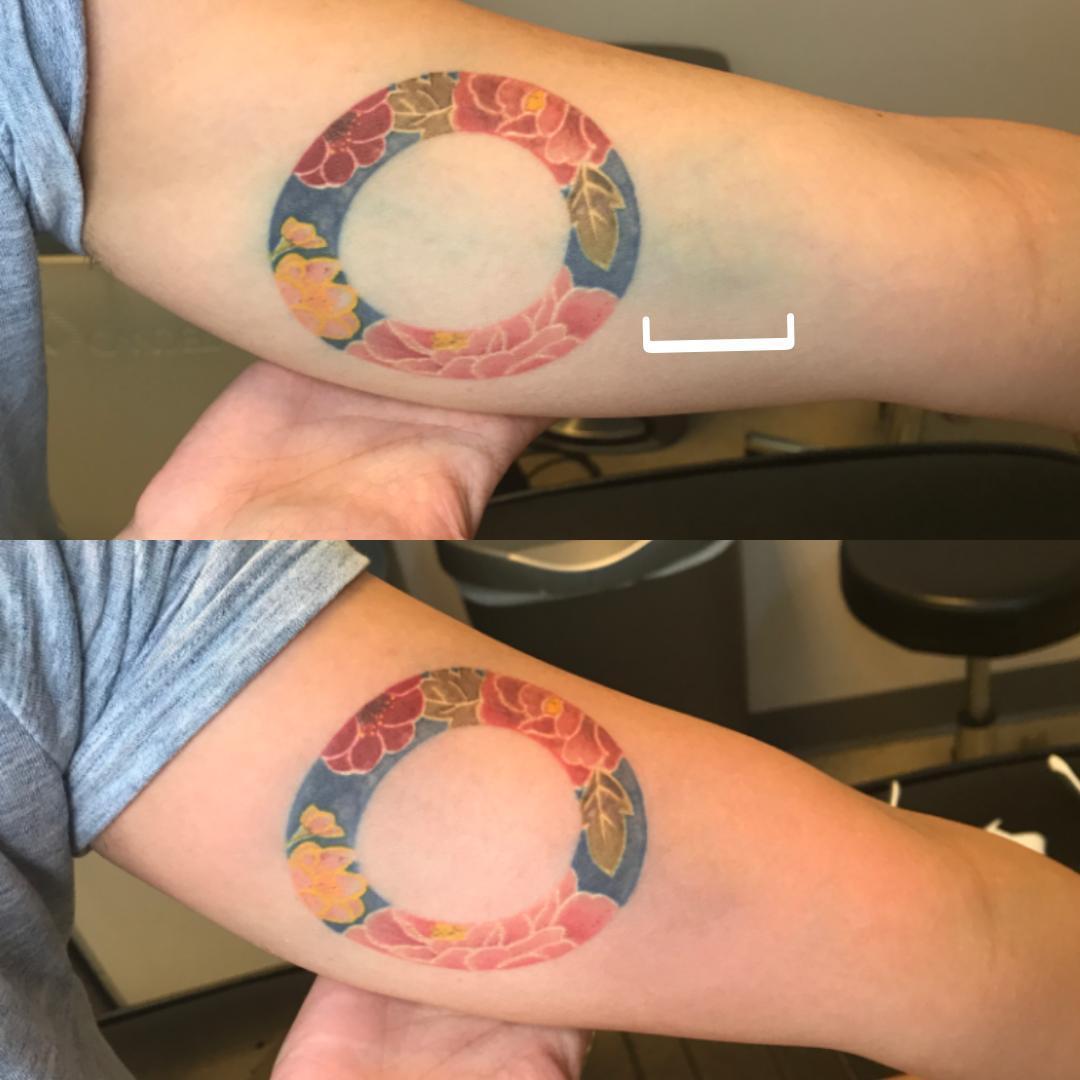 Tattoo blowouts are seldom examined for various reasons, including the fact that people rarely report such incidents. However, what we know so far is that they occur due to the tattoo needle going too deeply into the skin, burrowing under the surface layer and into the fat layer beneath the surface layer of the skin. Because the fat beneath the tattoo creates an unregulated environment for the ink, the ink begins to expand and extend beyond the surface lines of the tattoo, causing the tattoo to fade. The following is a list of the most common reasons for blowouts:
The tattooed region is bony, and the skin is thin on top of it.
During the tattooing process, the skin was stretched excessively.
The tattoo needle was placed into the skin at an odd and slanted angle, making it difficult to see the tattoo.
The tattoo artist sunk the needle too far into the skin during the procedure.
During the tattooing process, there was considerable movement.
Consequently, after several days, your once-perfect tattoo begins to blur, and the borders begin to expand, even if it was previously flawless. The entire image might be moderately or severely deformed, depending on the degree of distortion. When it comes to blowouts, they tend to occur more commonly in older individuals since their skin is more stretched, less elastic, and brittle; however, they can also occur in younger people with more elastic skin.
3. Is it the tattoo artist's fault if a tattoo blows up?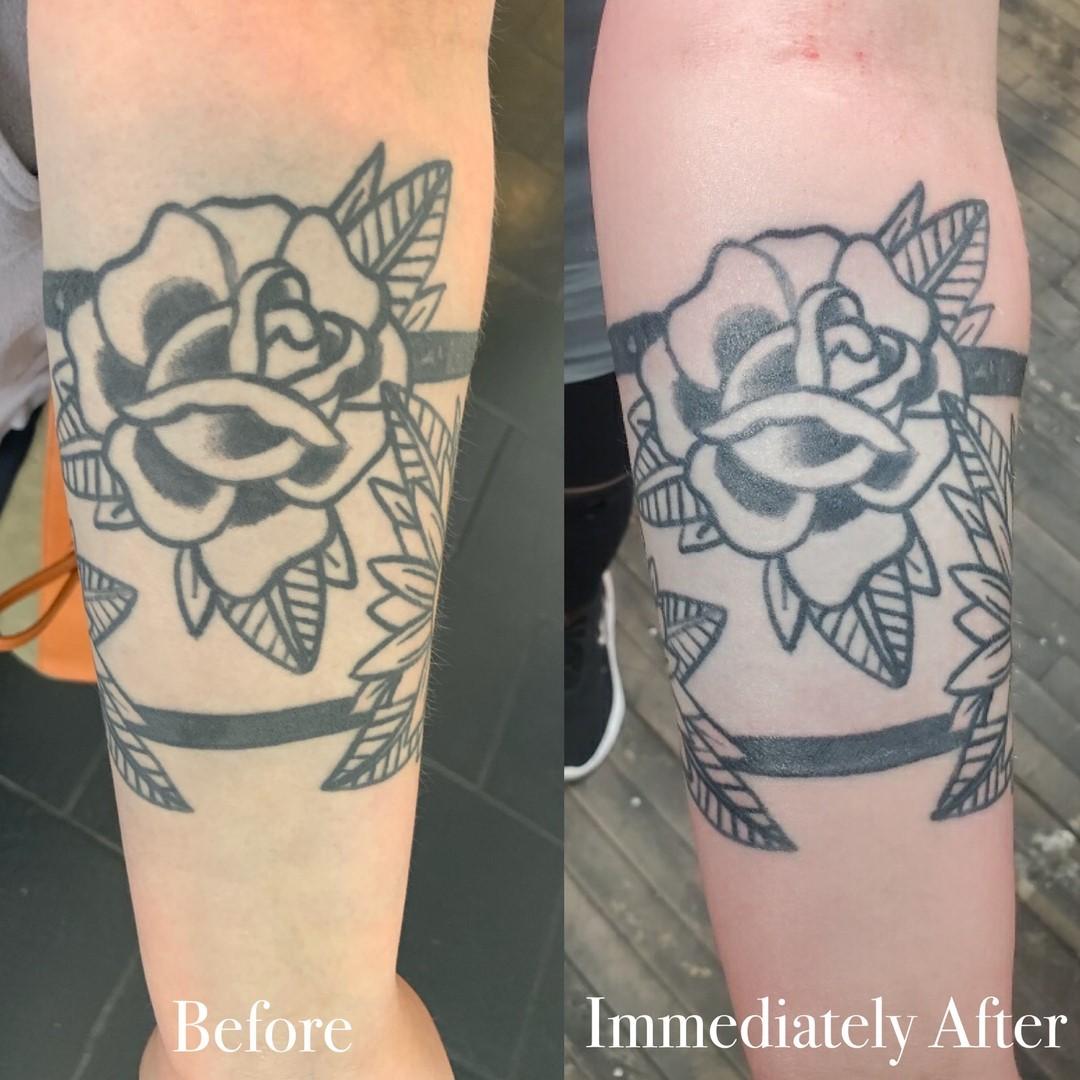 Tattoo blowouts can be caused by a lack of skill on the artist's part or by just doing a poor job in most instances. Because the tattoo artist was not paying attention, the needle penetrated too far into the flesh. Furthermore, it is likely that the artist never even mentioned the prospect of anything like this occurring to you, let alone what to do in such a situation.
Before getting a tattoo, your tattoo artist must explain everything about tattoos to you, including the benefits and drawbacks of getting one. They must clarify that they either lack knowledge or do not know how to do a specific tattoo procedure. As a result, individuals are forced to deal with tattoo blowouts, which may be a costly and long-lasting problem to cope with.
4. What Can You Do to Make It Better?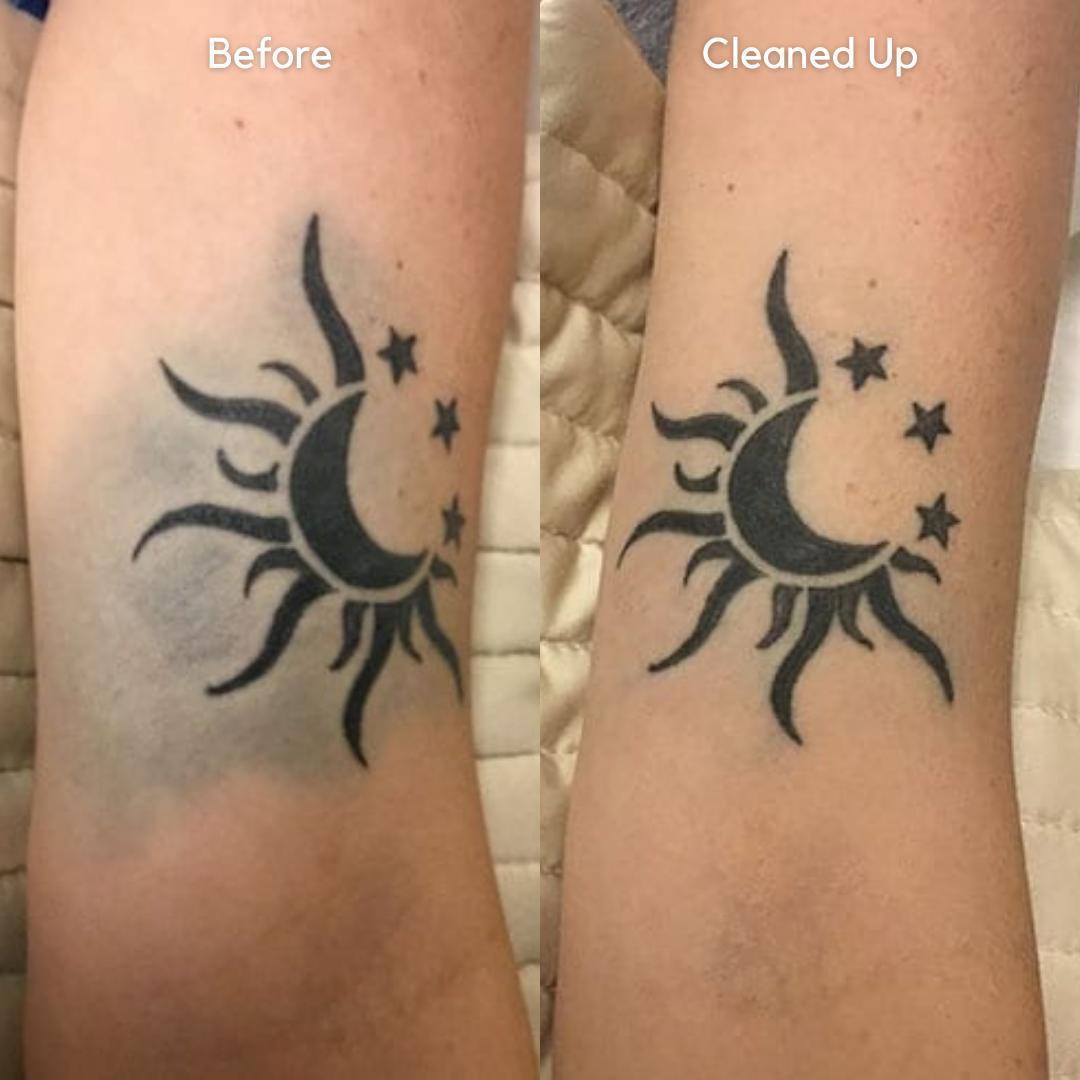 The blowout is covered with tattoos.
Let us begin by stating that fixing a blowout with another tattoo is the least expensive method of rectifying such an error. A tattoo will cost you anywhere from $50 to $400, depending on the tattoo's size, type, and location. The severity of the blowout and the degree to which it has spread are other factors determining the price. A tiny tattoo can sometimes suffer a significant blowout, which increases the tattoo's size by double and raises the expense of "healing."
Your tattoo artist will likely have to make the covering tattoo far darker than the original tattoo if there is an extensive tattoo blowout on your body. It will also be designed in an entirely new manner. The tattoo artist may likely attempt to incorporate the blowout tattoo into the new design to make the transition as smooth as possible.
Note: The decision to cover up the blowout with another tattoo will have to be made after you have waited for up to 2 months. However, even if the tattoo blowout appears to be a severe problem that demands immediate attention, you must allow the tattoo to heal fully before being tattooed in the exact location again.
Even though laser correction is more expensive, it is one of the most successful methods of repairing a blowout and eventually leaving you with a tattoo that is precisely the way it was intended to be. As the name implies, Q-switched lasers are meant to shoot out energy beams that diffuse ink into the deeper layers of the skin, therefore eradicating any surplus ink that remains after the blowout has been completed.
This strategy will be pretty successful in fading blowouts, but it may not be helpful in all fading blowout situations. Furthermore, it may take numerous laser correction sessions to get the desired results. In some situations, sessions, depending on how the laser interacts with the ink in the First Place. Another factor to consider is that, as previously said, laser correction is an expensive surgery; you may expect to pay up to $500 for each session or treatment, and the majority of insurance companies do not cover these sorts of cosmetic treatments.
Tattoo Removal Through Surgical Procedure
In difficult situations involving tattoo blowouts, surgical tattoo removal may correct the problem. This is a highly intrusive way of correcting or getting rid of a blowout, which is why it should only be used as a last resort in extreme cases. It is necessary to take away the tattooed skin and suture the remaining skin back together throughout the process to complete it.
In addition to being invasive, the surgery is also costly. Most insurance companies do not cover these sorts of cosmetic or aesthetic surgeries. We do not advocate this technique because it has many unfavorable side effects and some positive ones. Scarring, a more extended healing period, and overall discomfort are all possible side effects of getting a tattoo instead of a blowout, especially if the blowout was extensive. It spreads out over a large area of your body.
5. Why does a tattoo blowout happen, and how can you avoid it?
A professional tattoo artist should be sought out since a tattoo blowout is almost always the consequence of the artist's lack of expertise or sub-par work. So, if you want to avoid a blown-out tattoo, work with a highly competent and experienced tattoo artist. The artist should be appropriately licensed, and his or her shop and equipment should be clean and sterilized. Yes, you will almost certainly spend more on a tattoo done by a professional. However, it will be less expensive than dealing with a blowout.
Consider where you want your tattoo to go on your body; having a tattoo in a region where the skin is thin increases the likelihood of obtaining a blowout. The thinner the skin, the simpler it is to go too far into the skin and ink beneath its surface, increasing the risk of infection. Because of this, it is advised that tattoos be applied to thicker skin areas and the fat layer rather than thinner skin parts. Upper thighs, calves, buttocks, abdomen, and other parts of the body that are affected include:
Keep the tattooed area free of any scratched.
Immediately after getting a tattoo, refrain from straining or tugging the inked skin. Using your muscles to stretch and strain on your tattoo can encourage the spread of ink beyond the tattoo lines, resulting in the "blowout effect." Furthermore, it will cause the healing process to be prolonged and the danger of infection to be increased, especially if you touch the tattoo before washing your hands.
Tattoo Healing: A Quick Look at the Process
So, now that we have explained the phenomenon known as "tattoo blowout," you are probably feeling a little better about yourself. In order to ensure that you fully understand the difference between a tattoo blowout and the healing process, we will also go through some of the indicators of tattoo recovery for good measure.
1. Tattoos as Symbols of Healing
Bleeding, Swelling, and Inflammation – During the first few days after getting your tattoo, it will respond as if it is an open, new wound, which will result in bleeding, swelling, and inflammation. There will be slight bleeding, leaking, edema, and a small amount of irritation after the procedure. Even though these may not appear to be healing indicators, your body and skin are dealing with the skin damage in a way that requires things to grow worse before they can get better. You should seek medical assistance immediately if any of these symptoms continue for more than one week.
Icing, scabbing, and pain are all actual signals that the tattoo has begun to heal properly. The tattooed region is quite itchy; there is scabbing, and, of course, the area is delicate to the touch. Your aftercare regimen must step up because you have reached this phase; thus, wash the tattoo and moisturize it immediately after washing your hands with soap and water. Make sure not to scratch, peel, or pick at the tattoo while itching. As a result, the healing process will be dragged out for longer.
Drying Out – It has now been many weeks after your tattoo was applied, and the ink is beginning to dry off. This indicates that the scabs are peeling off, that the skin is not irritating, and that the region is minimally painful to the touch. Starting to see your real tattoo and the freshly developed skin brings it to life and makes it vibrant and fantastic. Maintain your aftercare regimen and apply sunscreen to your tattoo if you plan to be outside; exposure to the sun might dull your tattoo and cause it to fade quicker than you expect.
2. Do you know how long it will take for the tattoo to heal?
Tattoo healing, on the other hand, is dependent on various factors. As an illustration,
The extent to which you adhere to the aftercare regimen.
Whether you scrape and peel the tattoo or not, the results are the same.
Whether you are eating right and exercising regularly, your health is essential.
Whether you cover the tattoo with clothing or apply sunscreen to keep it safe from the sun,
Whether you dress in relaxed clothing or formal attire,
In the end, analysis, where exactly is the tattoo located?
However, taking all of these factors into mind, your tattoo should be healed in one to two months (on the surface of the skin) and up to six months (in the deeper layers of the skin) (thoroughly and in-depth). Following the tattooing process, adequate aftercare and diet can help speed up the healing process; thus, be sure to take good care of the tattooed region and yourself.
3. Is it possible to confuse healing with a tattoo blowout?
Based on our comparison of the tattoo blowout and the healing symptoms, we can conclude that it would be challenging to confuse one for the other. A tattoo explosion and a merely healing tattoo are two very different things that express themselves differently and occur for entirely different reasons. If you are still not sure, here is how to tell the difference between a blowout and the indications of healing:
Blowout for Tattoos
There is no harm to one's health.
Laser correction or tattooing can be used to remedy the problem.
It does not harm or produce irritation in any way.
Is the consequence of a mistake or a lack of skill on the tattoo artist's part.
Tattoo Rejuvenation
When used correctly, it poses no health risks.
A bacterial infection might occur if the procedure is not followed correctly.
It can last for many weeks or even up to six months.
Tattoo aftercare and correct tattoo management are required.
It is a very routine procedure.
Healing problems and infections are caused by a person's failure to follow through with aftercare.
Finally, remark that
Tattoo blowouts are not as prevalent as they once were, mainly because tattoo artists now have to undergo significant training to obtain a license. However, there is no assurance that you will not suffer a tattoo blowout due to this. In any case, it may be readily corrected using laser correction, or it can be covered with another tattoo if necessary. Overall, tattoo blowouts are vastly different from tattoo healing in terms of their effectiveness. So, we think we have cleared things up on that front at the very least.
Just keep in mind that if you want to avoid a tattoo blowout, you should always work with highly competent tattoo artists, even if it means spending a little more money. In addition, if you want your tattoo to heal correctly, take excellent care of it and leave it alone; avoid scratching, picking, or peeling the tattoo.— If this is not done, the healing process will take significantly longer.