This article is for you if you want your body art to have a starry feel and an awesome tattoo that expresses your love of the cosmos, both of which you can find in this article. The topic for today is some energizing and thought-provoking alien ink representations that will make you look remarkable.
People are going completely bonkers over the worlds of the supernatural, and they have always been captivated by the worlds that exist beyond our own. In addition, they researched the planets, stars, and other heavenly bodies in the hopes of discovering some unexplained life. What else could be stranger than the realization that we are not alone in this vast universe?
Why do people find the concept of alien tattoos so appealing?
Many films and comic books have included aliens in leading roles at various points. The authors who have written about these otherworldly beings have presented them in various ways. You might remember the scary ones from "Little Green Men" or "The Toy Story Saga."
In addition, other fantastic universes, such as Star Wars or Star Trek, have significantly impacted people's imaginations and creative processes. It is not hard to understand why some people are captivated by extraterrestrials, given each planet's variety, unique characteristics, and personalities.
There are millions of different ways to execute this alien ink design; therefore, if you choose to get some alien tattoos, you will complement your current body art scheme.Since no extraterrestrial life has been seen or found, tattoo artists have no limits on how they can put their ideas into practice.
As a result, there are an infinite number of ways that one could go about designing an alien tattoo. You may vary and improve the look of the neon green variants by adding vivid blues and metallic tones of silver. Naturally, the neon green varieties are the ones that are the most popular.
On the other hand, mother ships are usually depicted in alien tattoo designs, which means that these magnificent spaceships represent life from other worlds.
There are various concepts to draw inspiration from, such as aliens, spacecraft, UFOs, and scary-cute alien designs. Choose the unusual tattoo design that speaks to you the most from the options below.
Alien Tattoos That Are Out Of This World, Featuring 70+ Of The Best Designs To Choose From
There are a wide variety of options available for alien tattoos on the body, ranging from the ordinary but traditional green alien with enormous eyes to other variations of alien tattoos. Put your spin on the species you want to wear on your skin for the rest of your life, and then permit us to kidnap your attention so we can look for fantastic ideas involving extraterrestrials.
Tiny Alien Tattoos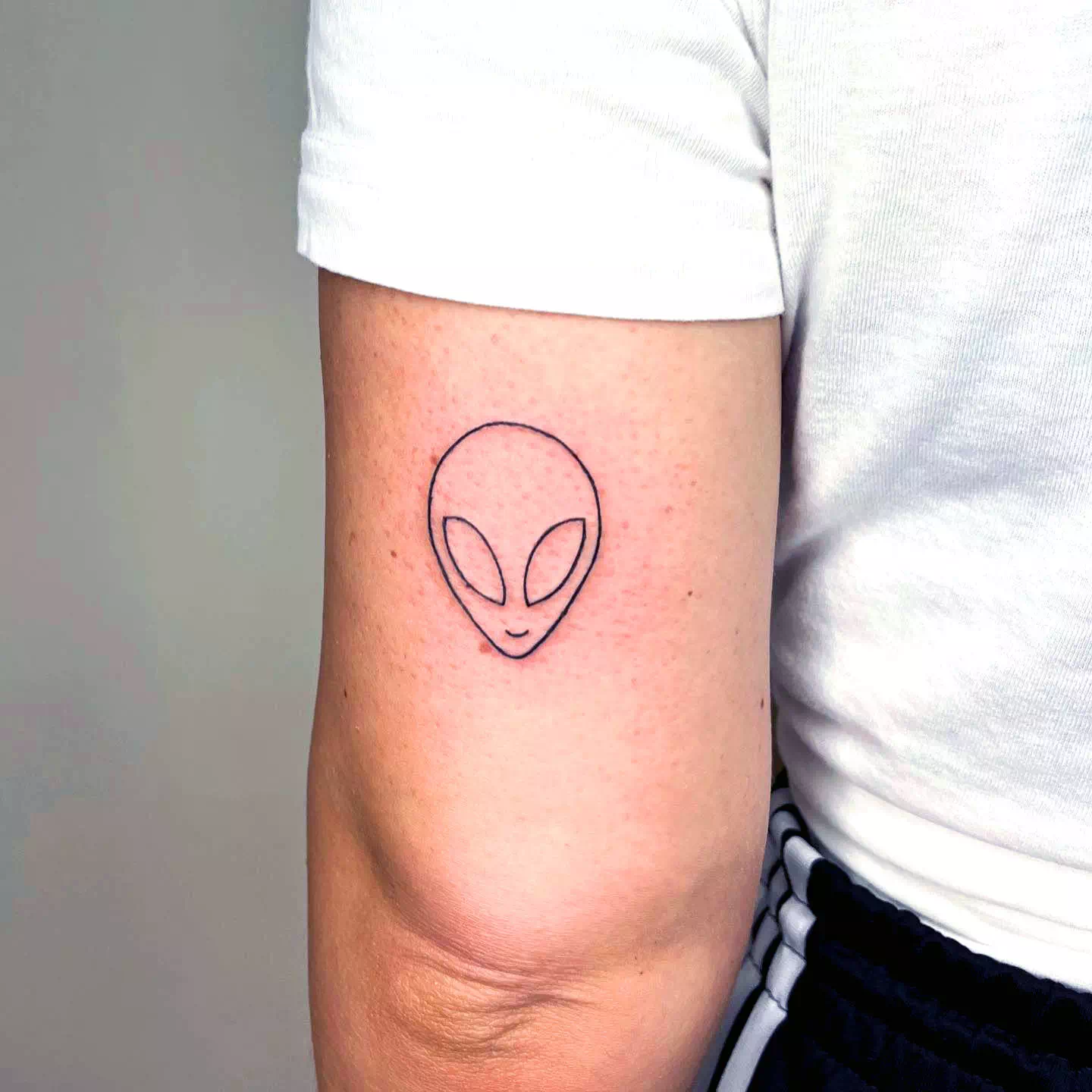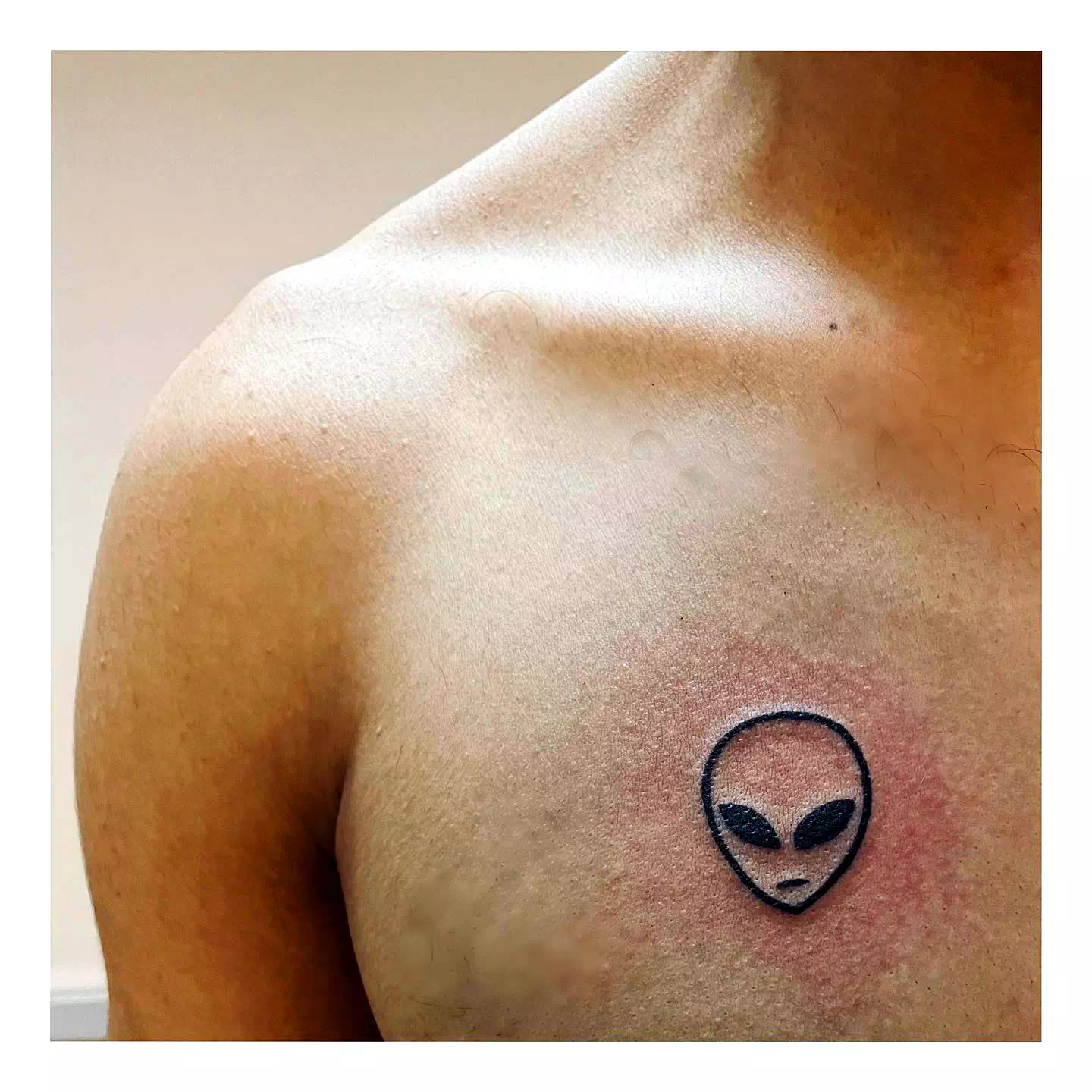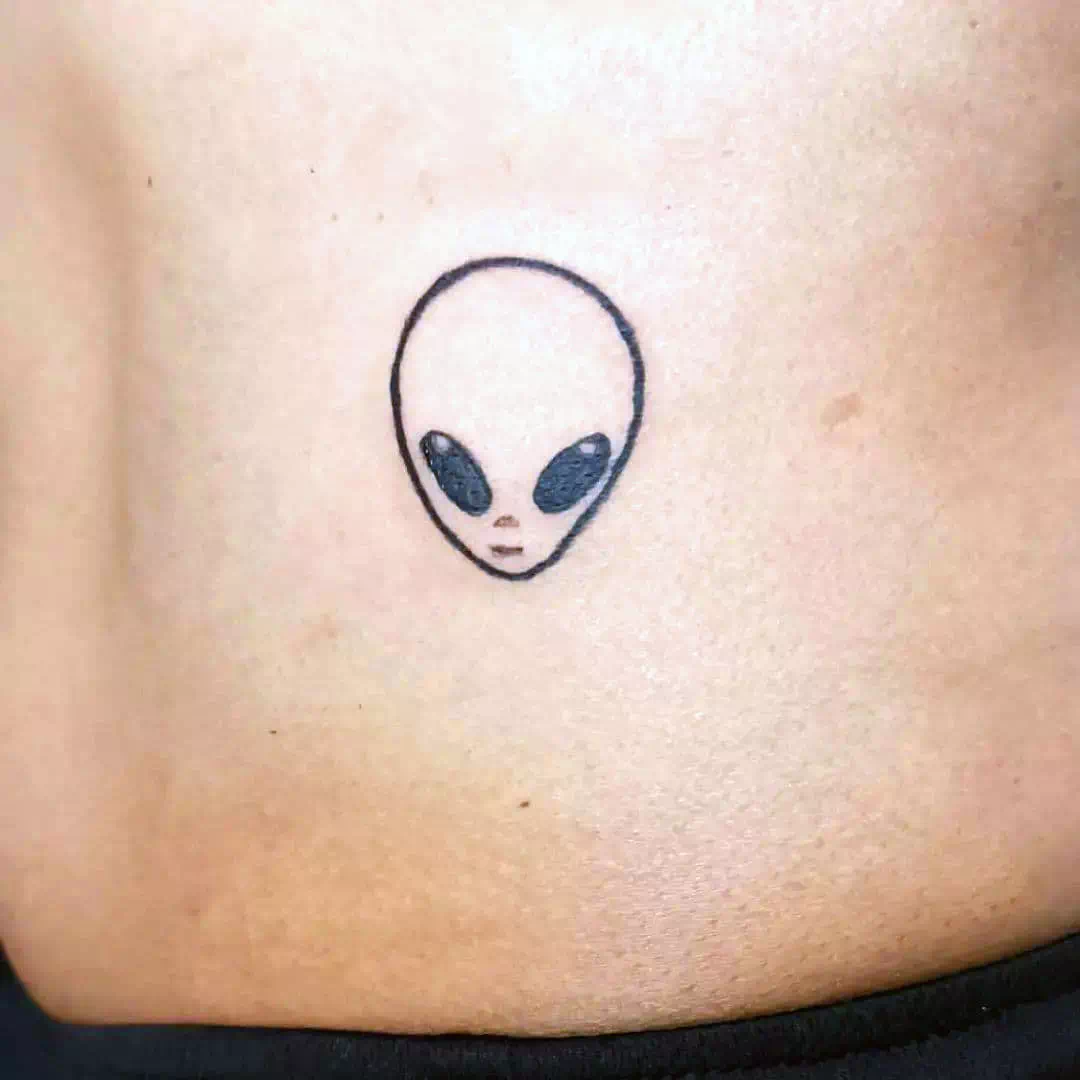 There is nothing cuter or more unique-looking than the smiling face of an alien. This clean and simple style works best for a tattoo on your finger or a piece of body art placed behind your ear. Request that the tattoo artist use only thin black lines since this will produce a design that is not only straightforward but also adorable. You have the option of filling in the alien's eyes to make the design more straightforward and easily recognizable.
Personal opinion: these are beautiful layouts for those who favor keeping things to a bare minimum.
Alien Head In A Sky Full Of Colors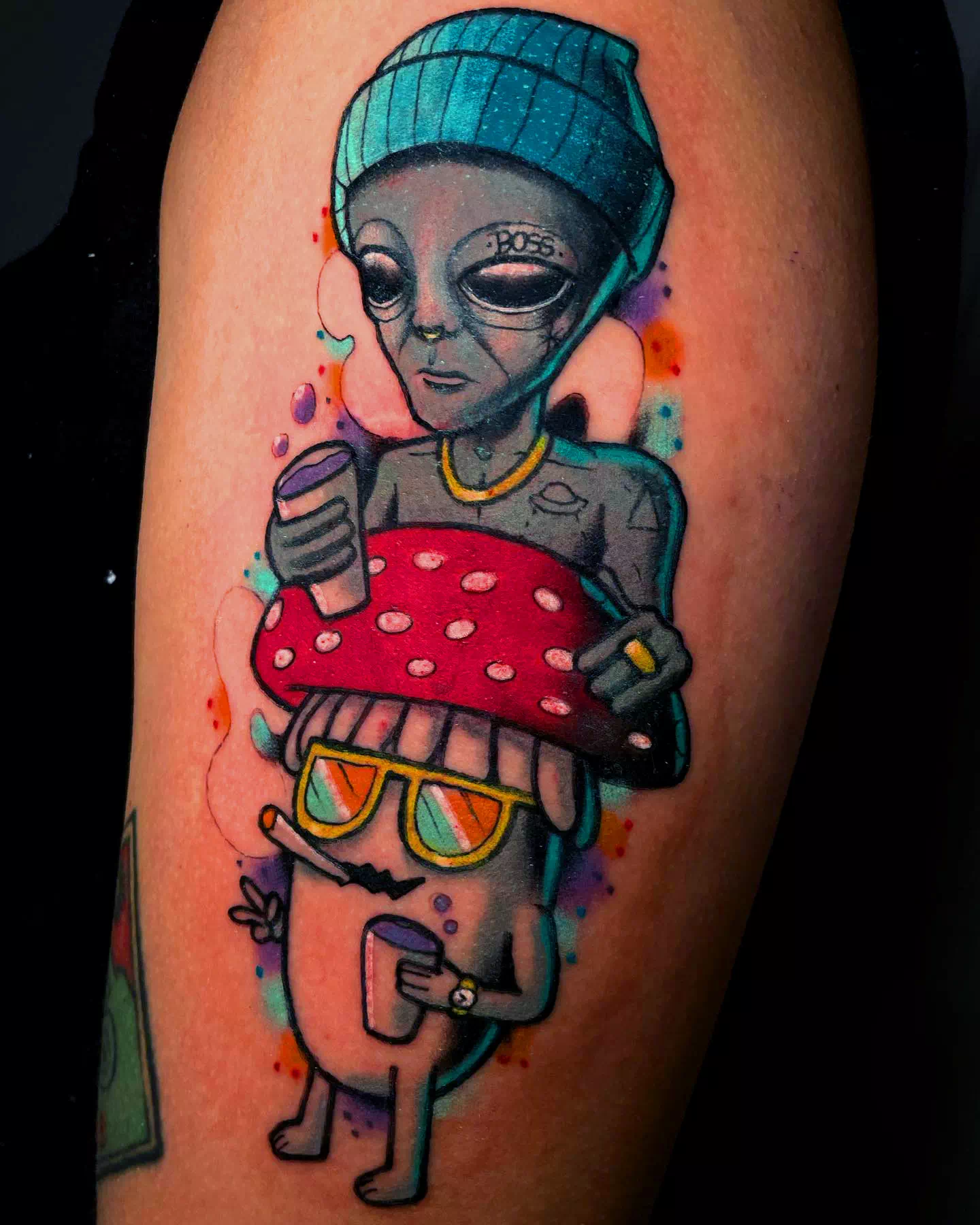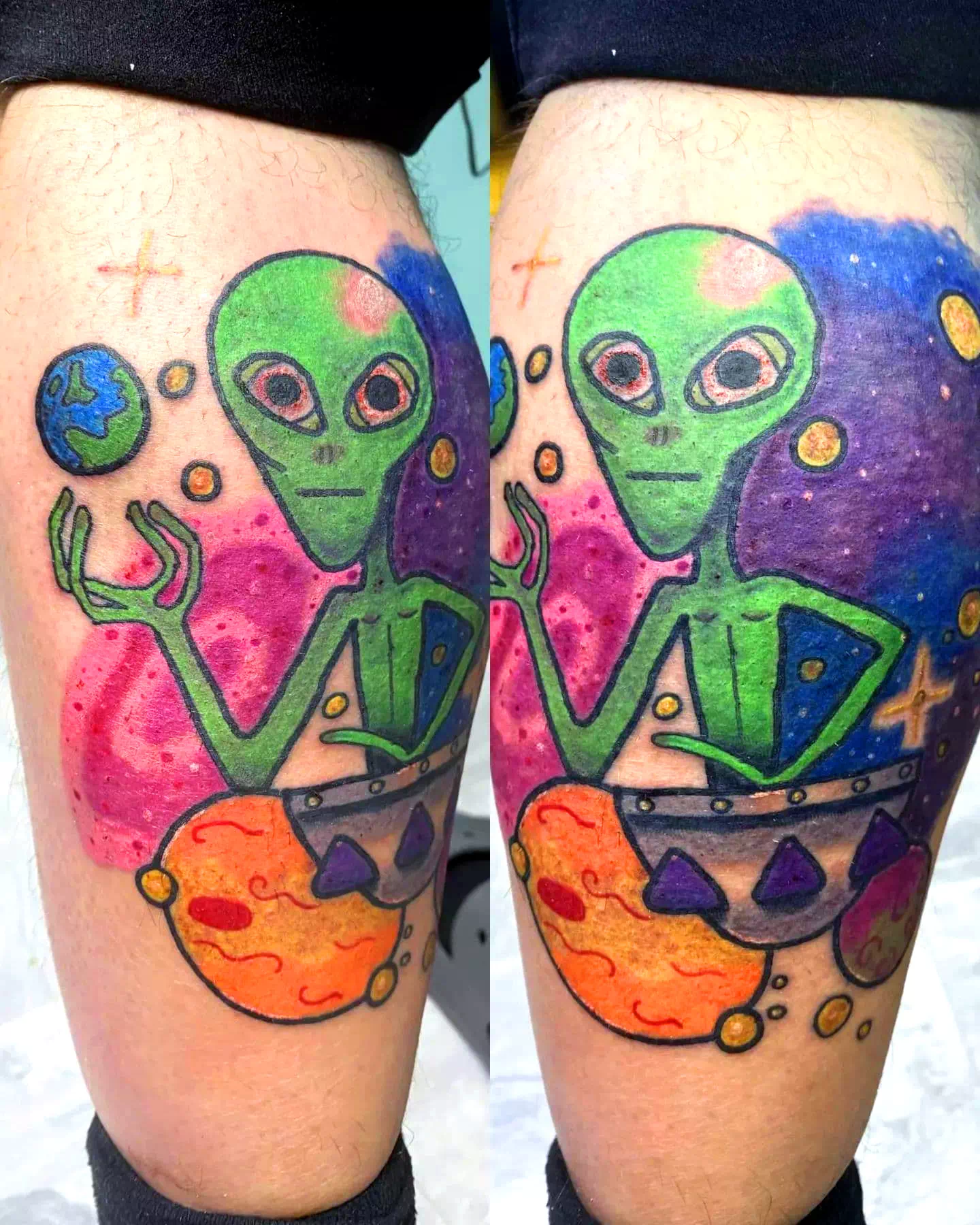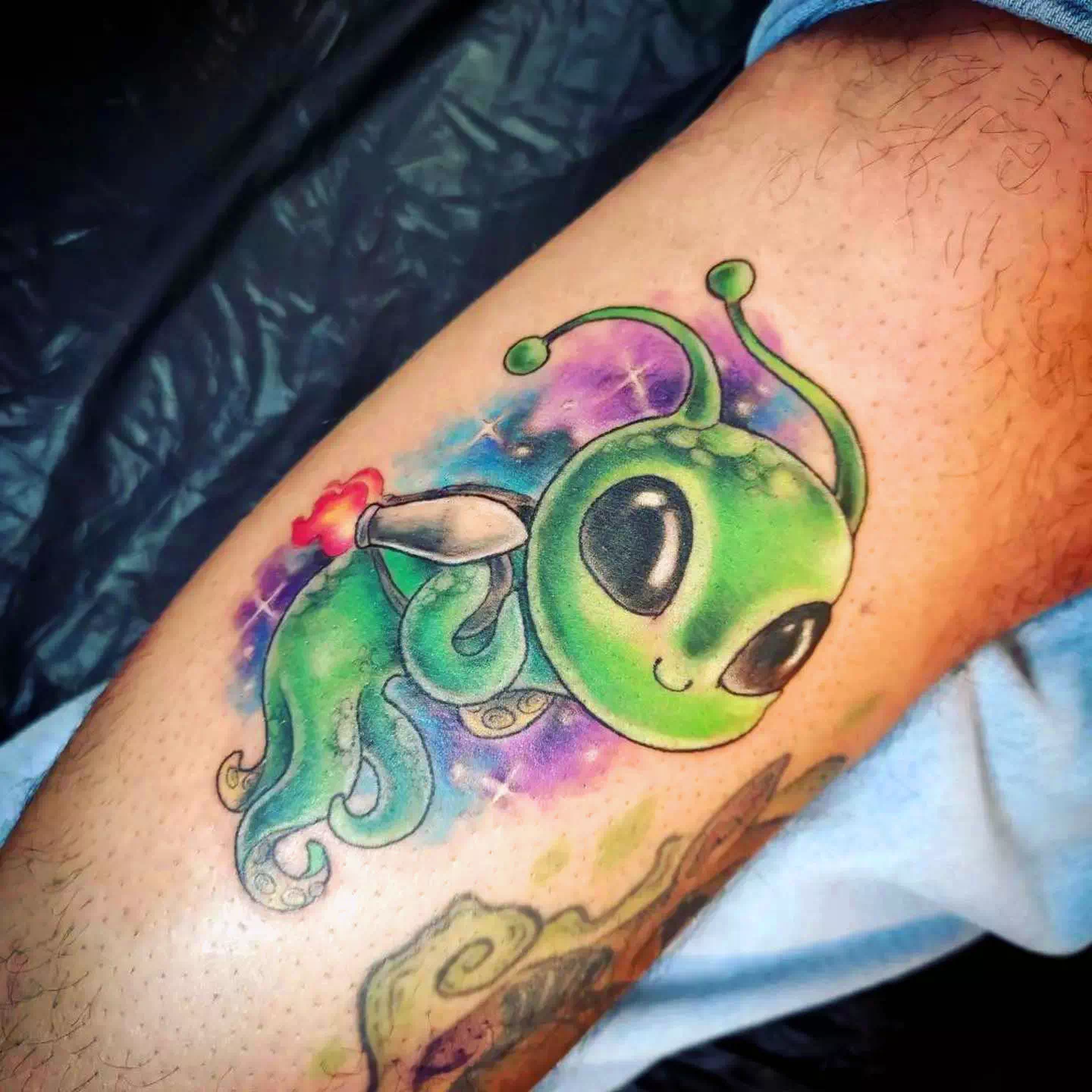 Do you desire an alien head as well as a rainbow of colors all at the same time? Perhaps you're familiar with the concept of watercolor tattoos. These patterns primarily represent what people picture in their heads when they think about the realm of aliens.
In the 1950s, when the green alien heads and splattered colors made the picture look like it came from another world, a lot of people started to notice it.
While the brilliant green gives the finished product a hilarious appearance, the whirling colors in the background connect the simple lines with the unknown planets and the spaces between them.
Personal opinion: Placing this watercolor alien tattoo anywhere on the ankle, forearm, or shoulder would be a fantastic choice to show it off.
Expressive Minimal Alien Tattoo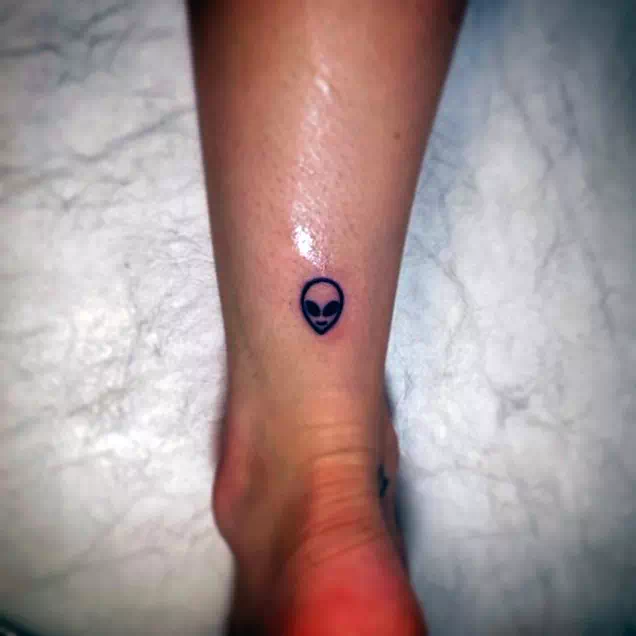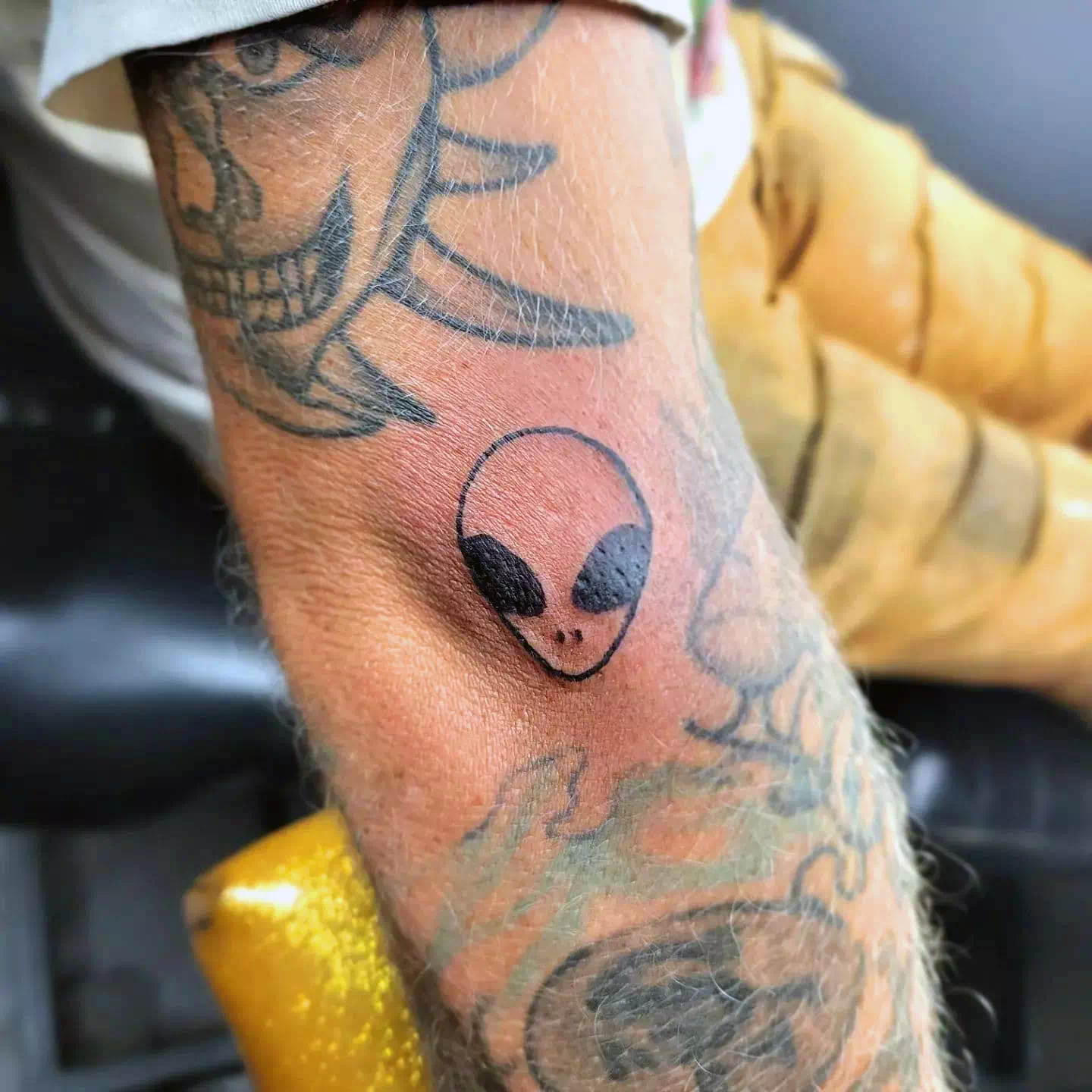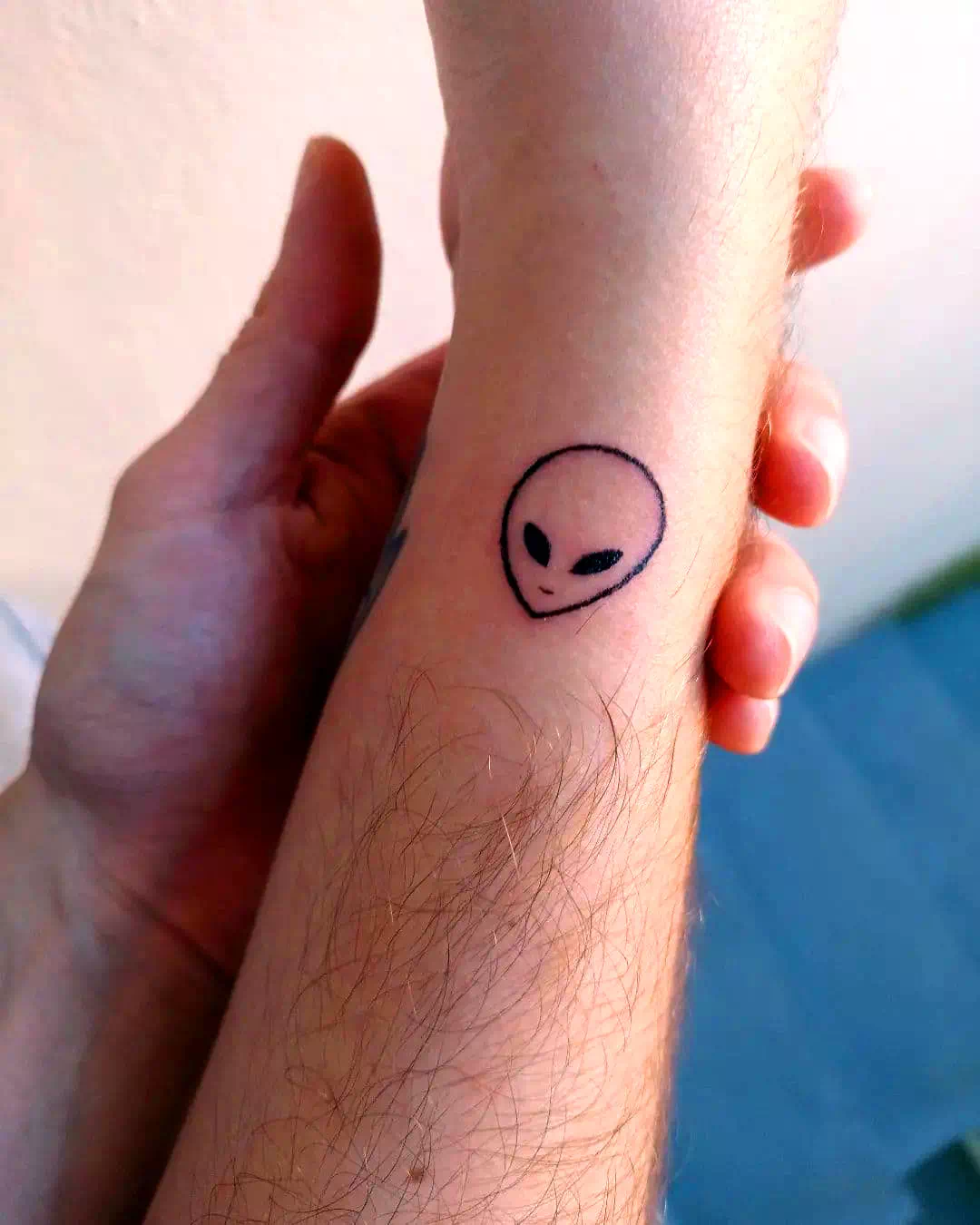 When I talk about minimal alien tattoos, I'm referring to those fine-lined works of body art that are not only unobtrusive but also have the capacity to reflect a person's love for life beyond Earth.
In addition, if you do not want to show off this tattoo at every opportunity, you have the option of having it done on a less prominent part of your body.
Personal opinion: One of the best things about minimal alien tattoos is that the person with them can go almost anywhere and still look awesomely alien.
Humans, be at peace!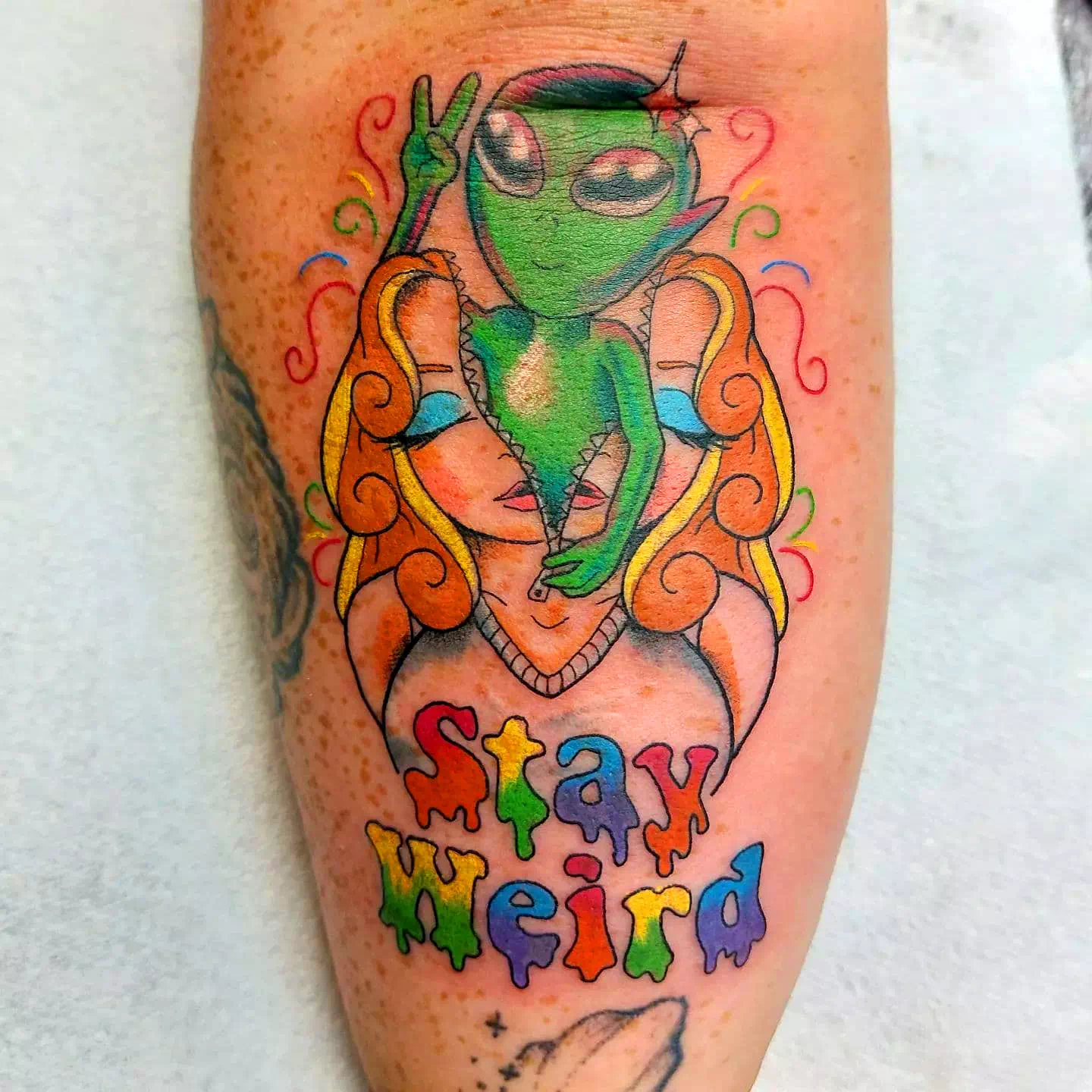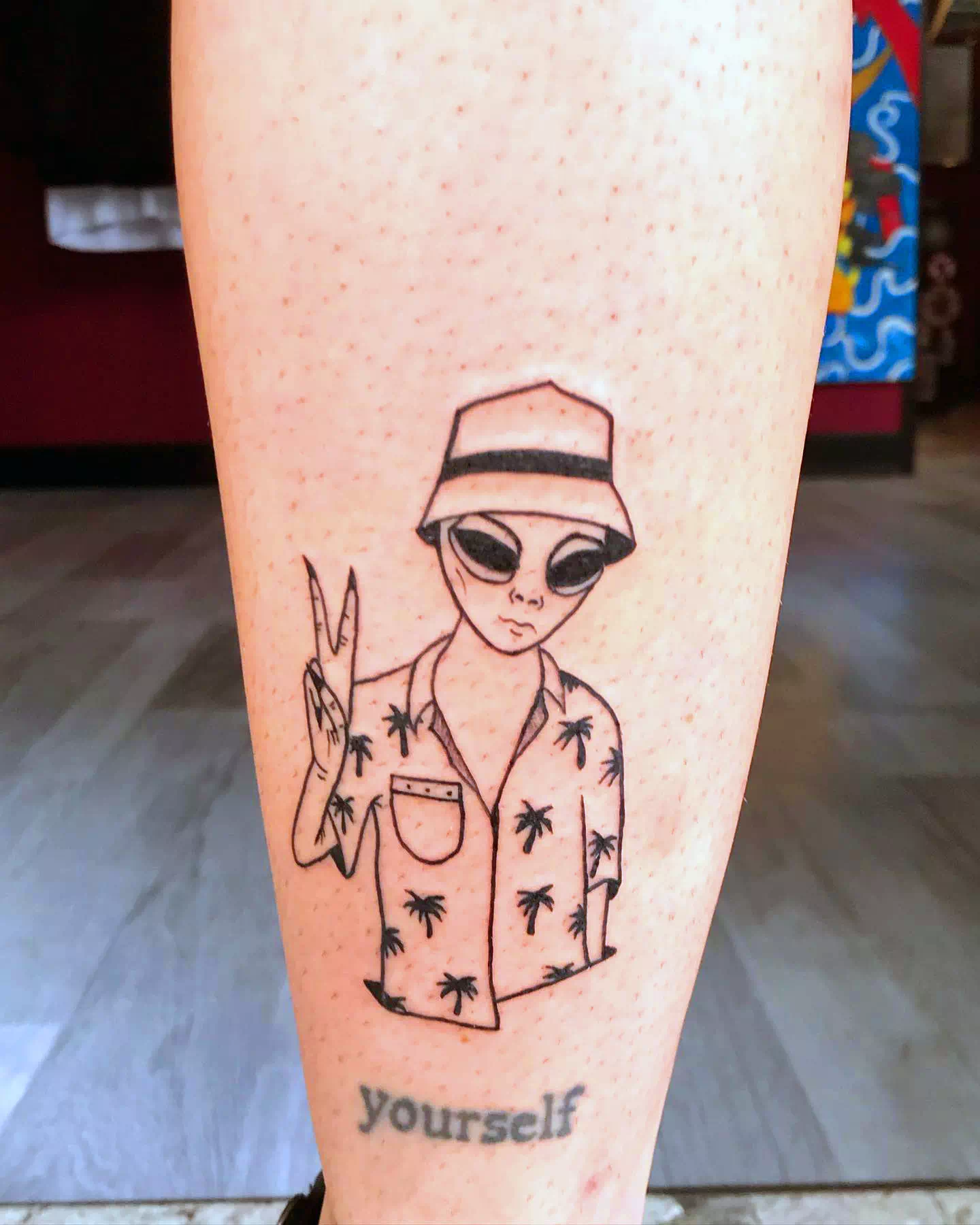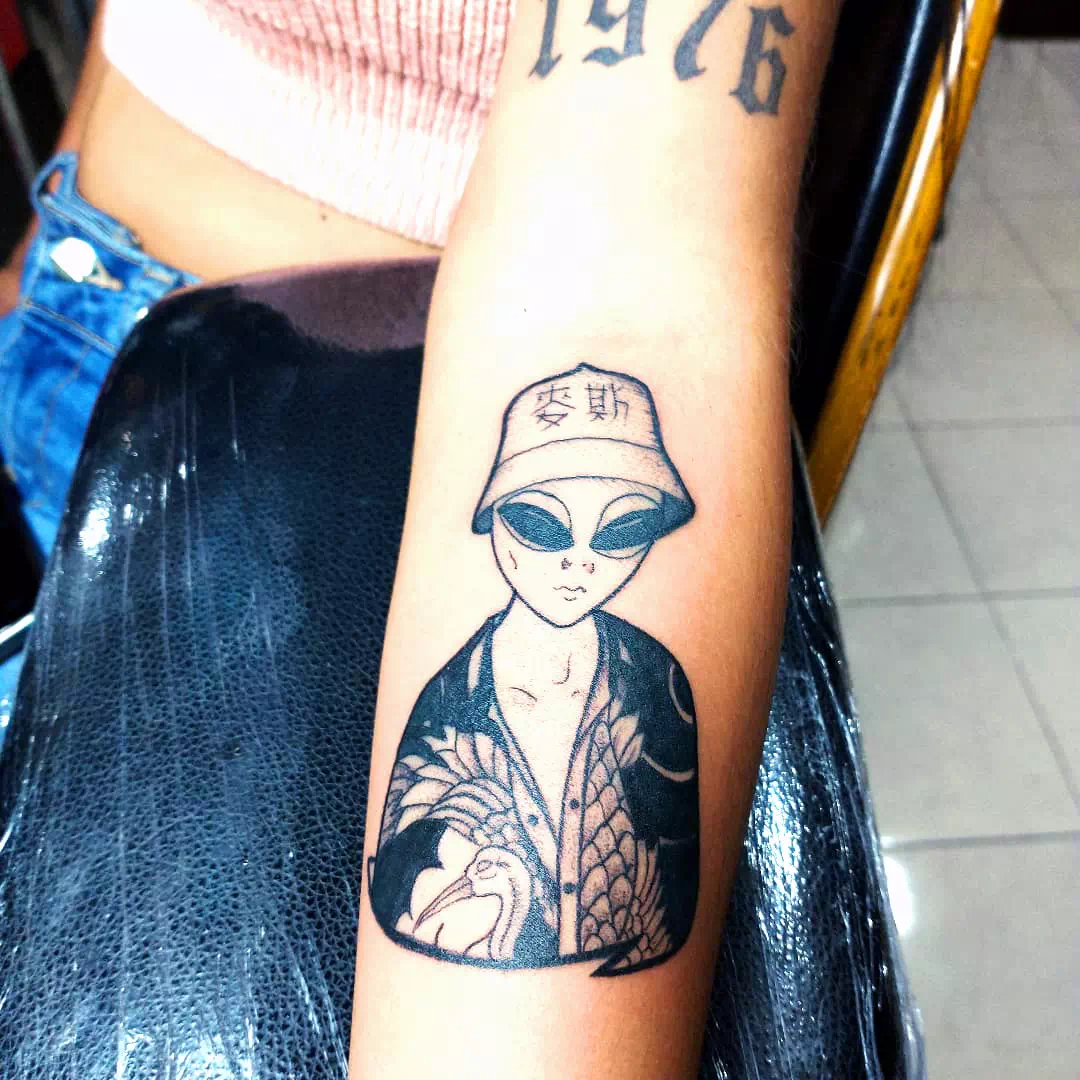 Who said that aliens couldn't have a sense of humor? What do you think about tattooing a hippy alien on your body?
You can pick any message to make the tattoo idea as amusing as possible. The alien is flipping its wish to make peace and thinking about the possibility that humans exist at the same time.
Personal opinion: the words you chose can be interpreted in two different ways.
The Depth In Alien Tattoo Design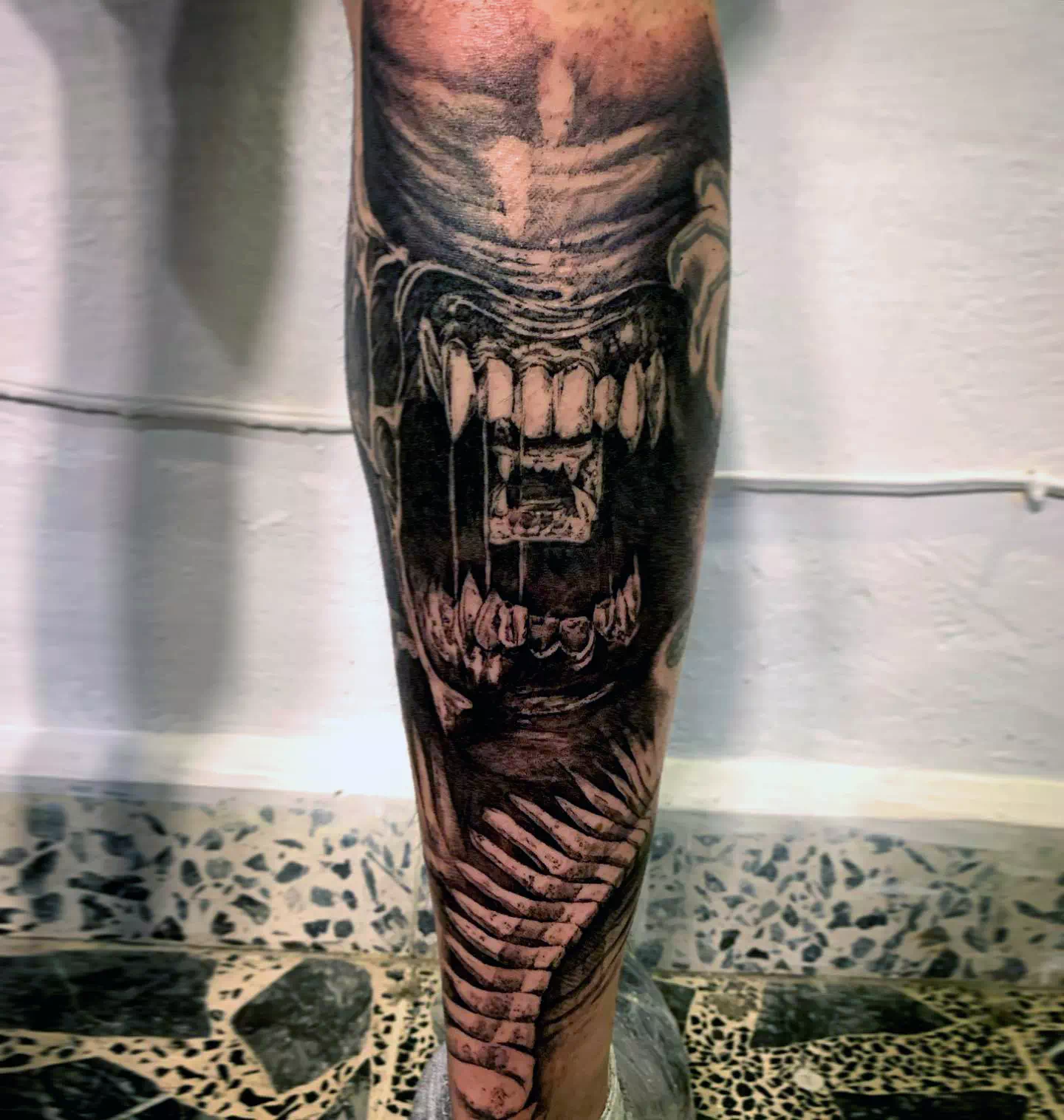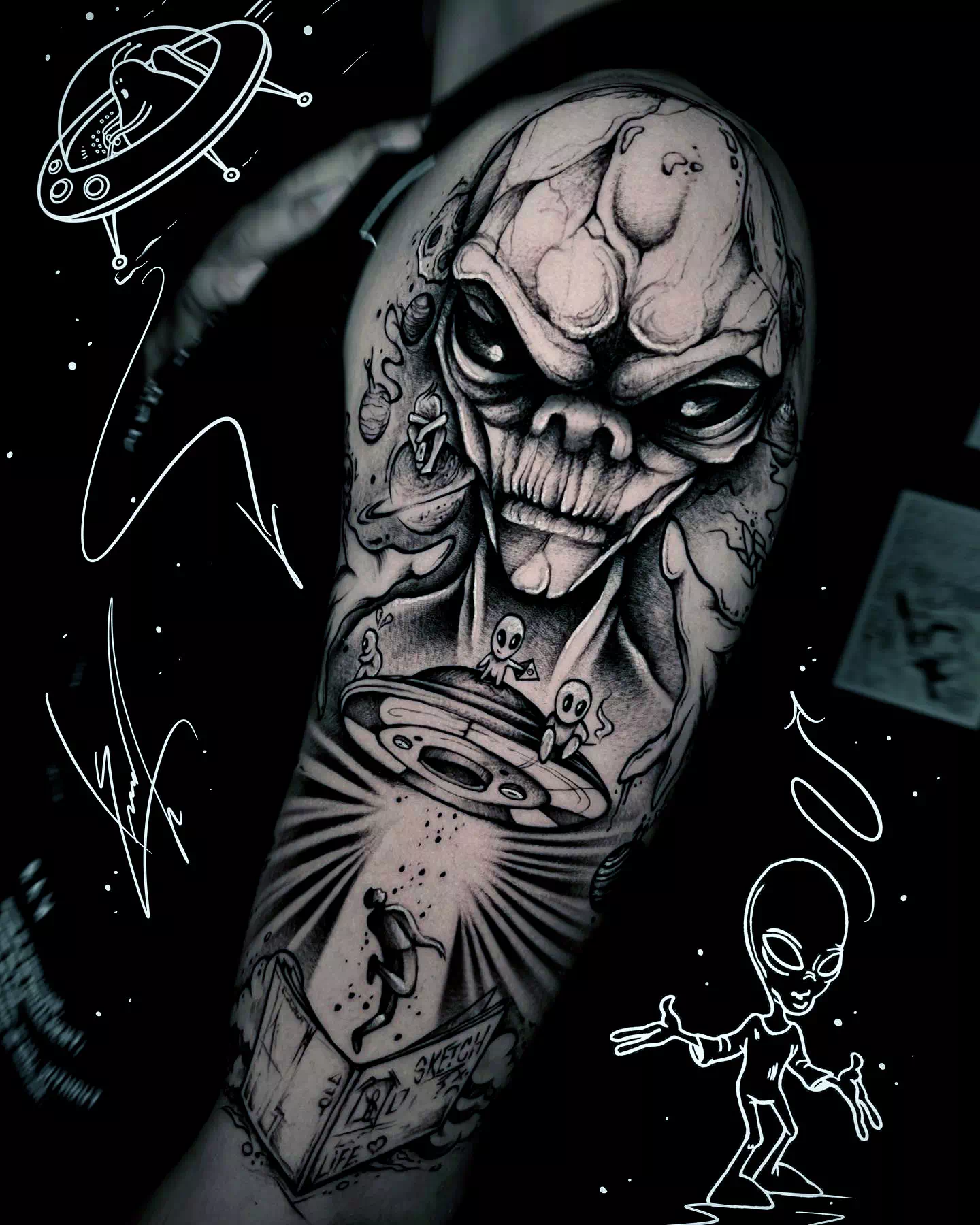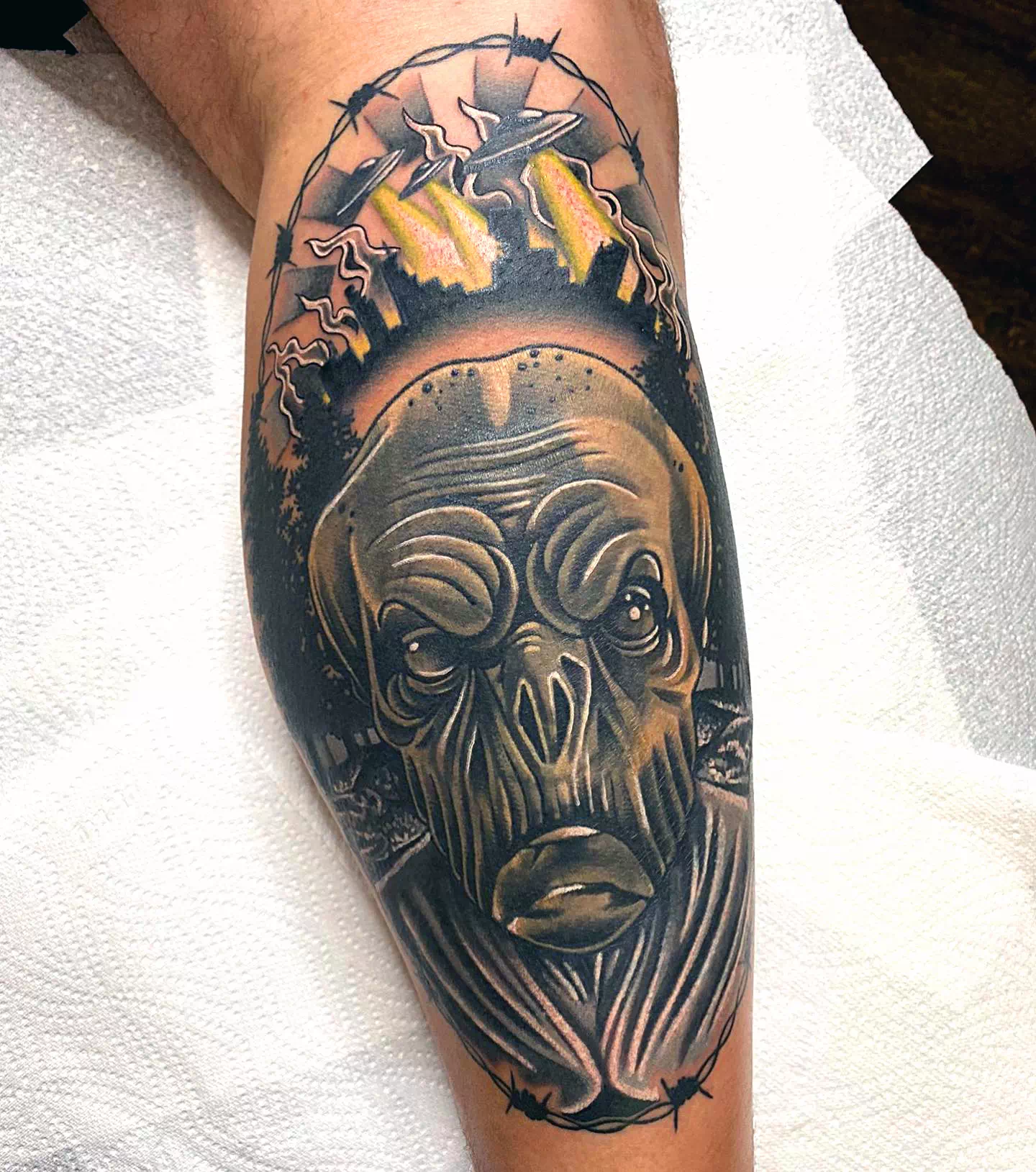 The stunning and menacing facial expressions of these mysterious beings are one of the fascinating aspects of alien tattoo designs. When drawing a beautiful ink piece of art, the responsibility naturally falls on the artist's creative shoulders.
The standard depiction of a little alien head has the potential to become an adorable image. The alien design has a lot of depth because of the shading done in the eyes.
Personal opinion: If you want to add more colors to these tattoos but don't want to go with the traditional black, some bright greens or blues would be a better choice.
Aliens Do Exist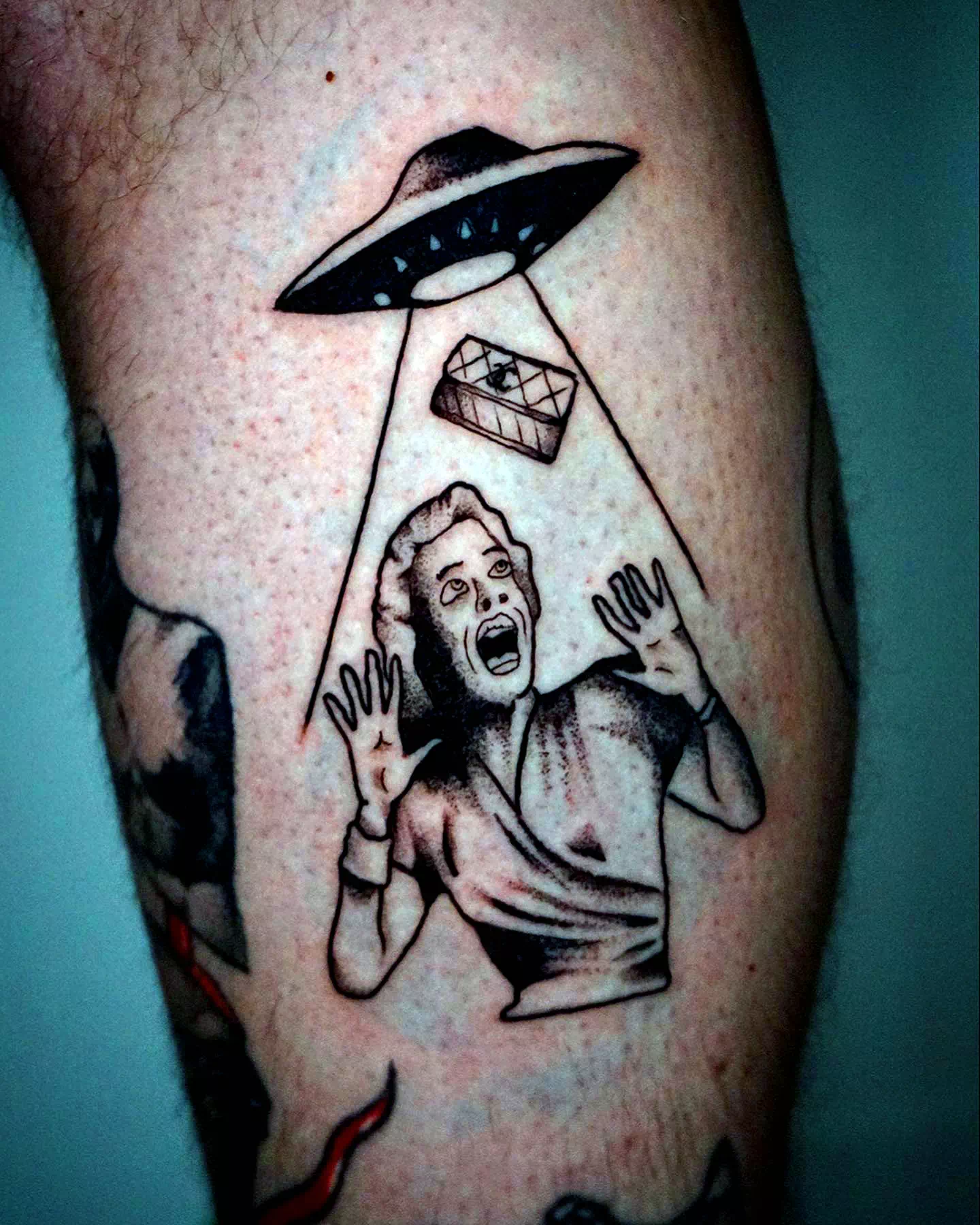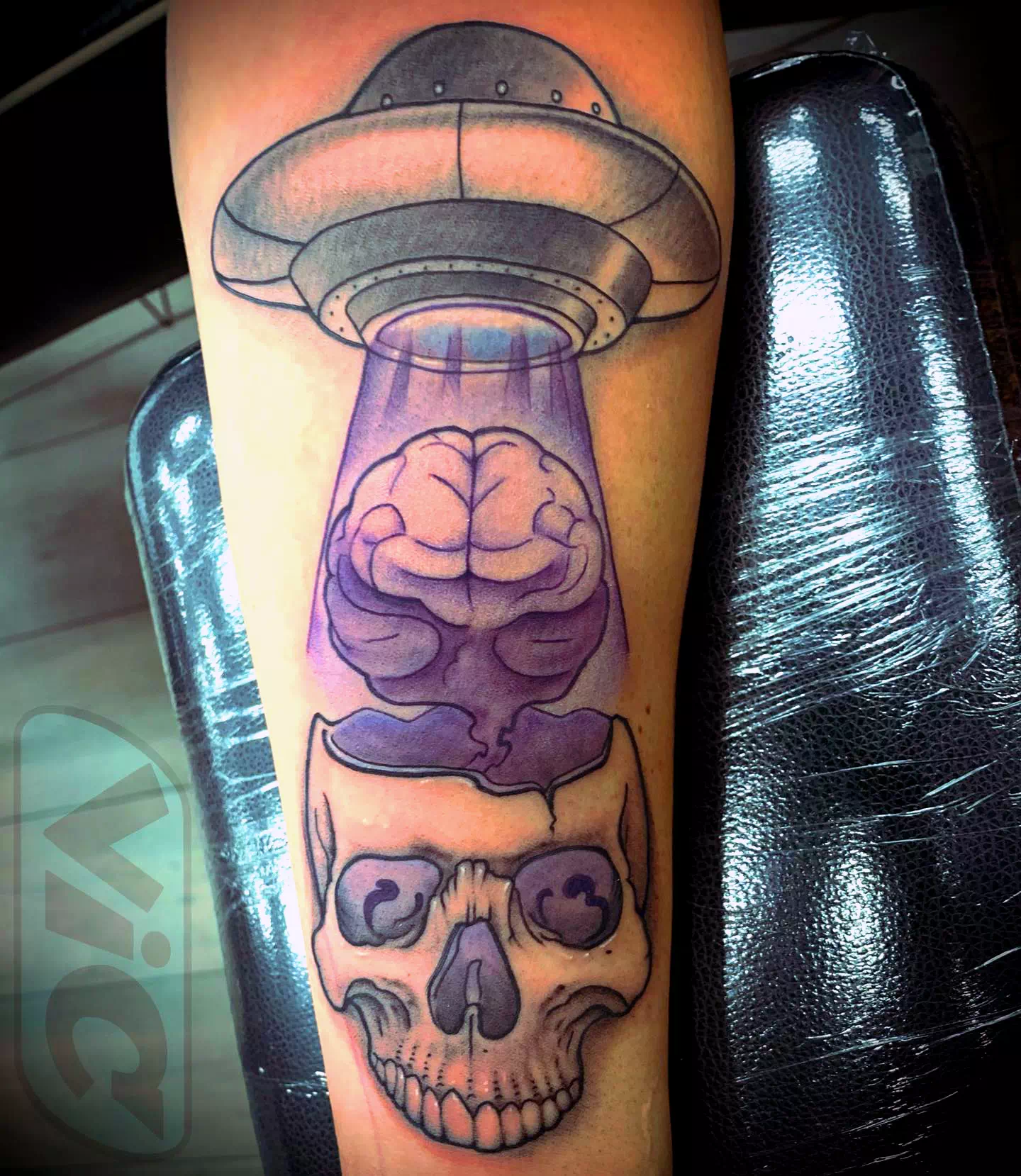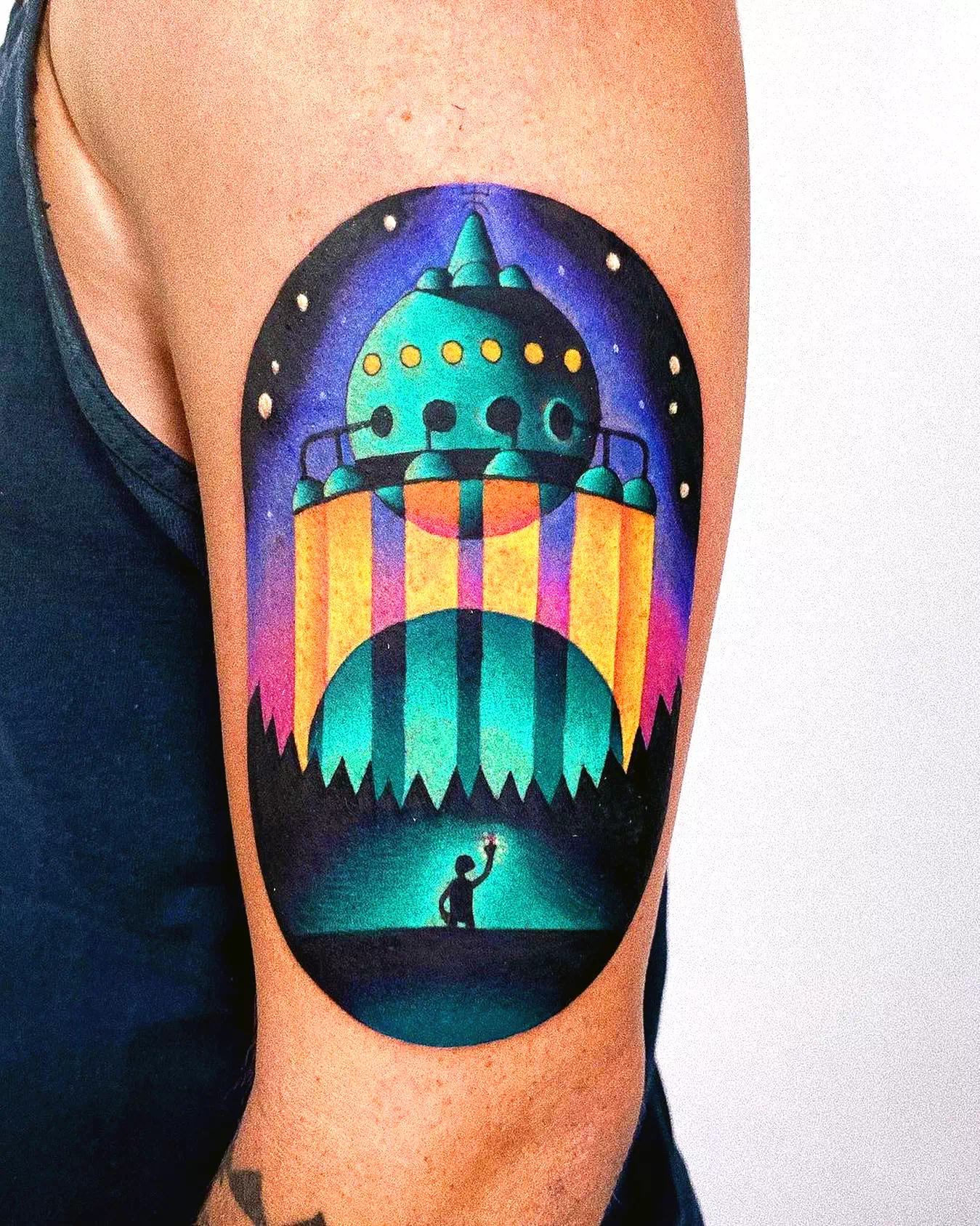 Kang and Kodos are two well-known aliens who play important roles in the TV show The Simpsons.
Personal opinion:  whether you keep everything simple or add some bright colors to match the style of the program, you should include a message that references the presence of aliens to make your body design more intriguing and captivating.
Prometheus and Alien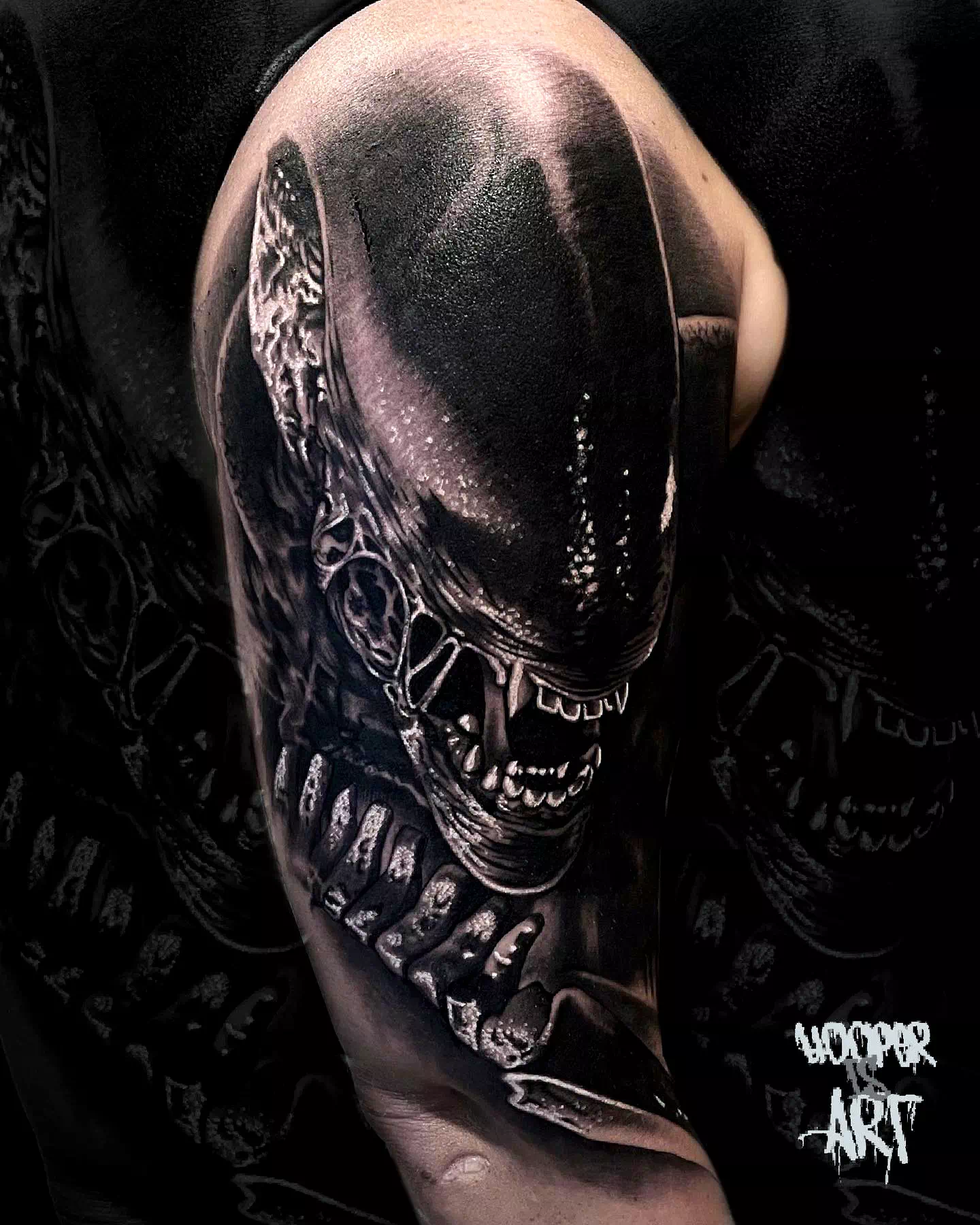 If you are interested in taking a more creative approach, you should think about drawing ideas from the universe of the Alien film series.
The aliens and Prometheus look like dragons, and the tattoo will be a work of art once it is permanently inked on the skin.
Those who are not aware of the film's backstory will have a novel experience due to the design of these characters, which features a swirling pattern that makes them look like a hybrid of dragons and aliens.
Personal opinion:  This makes the alien tattoo appear like your personal concealed nod and makes the design slightly more covert.
Cute Alien Designs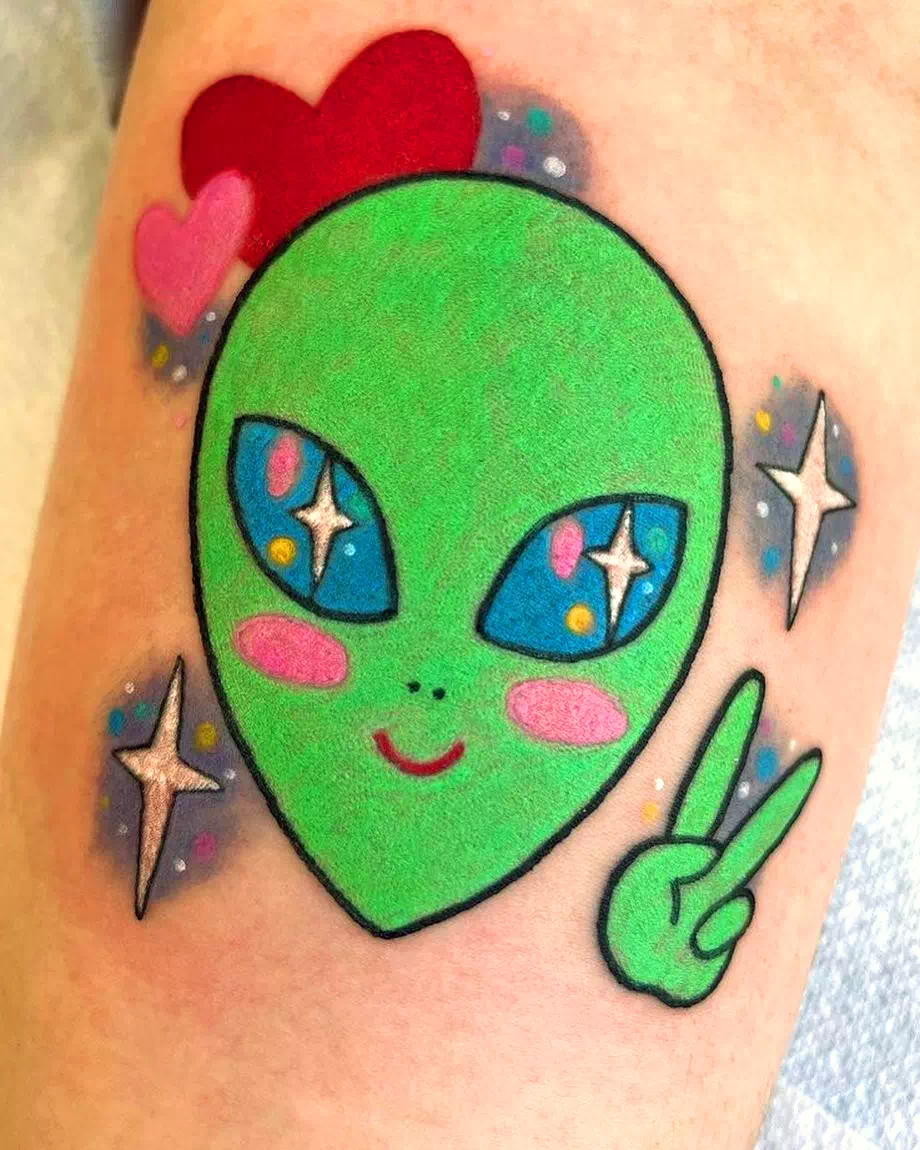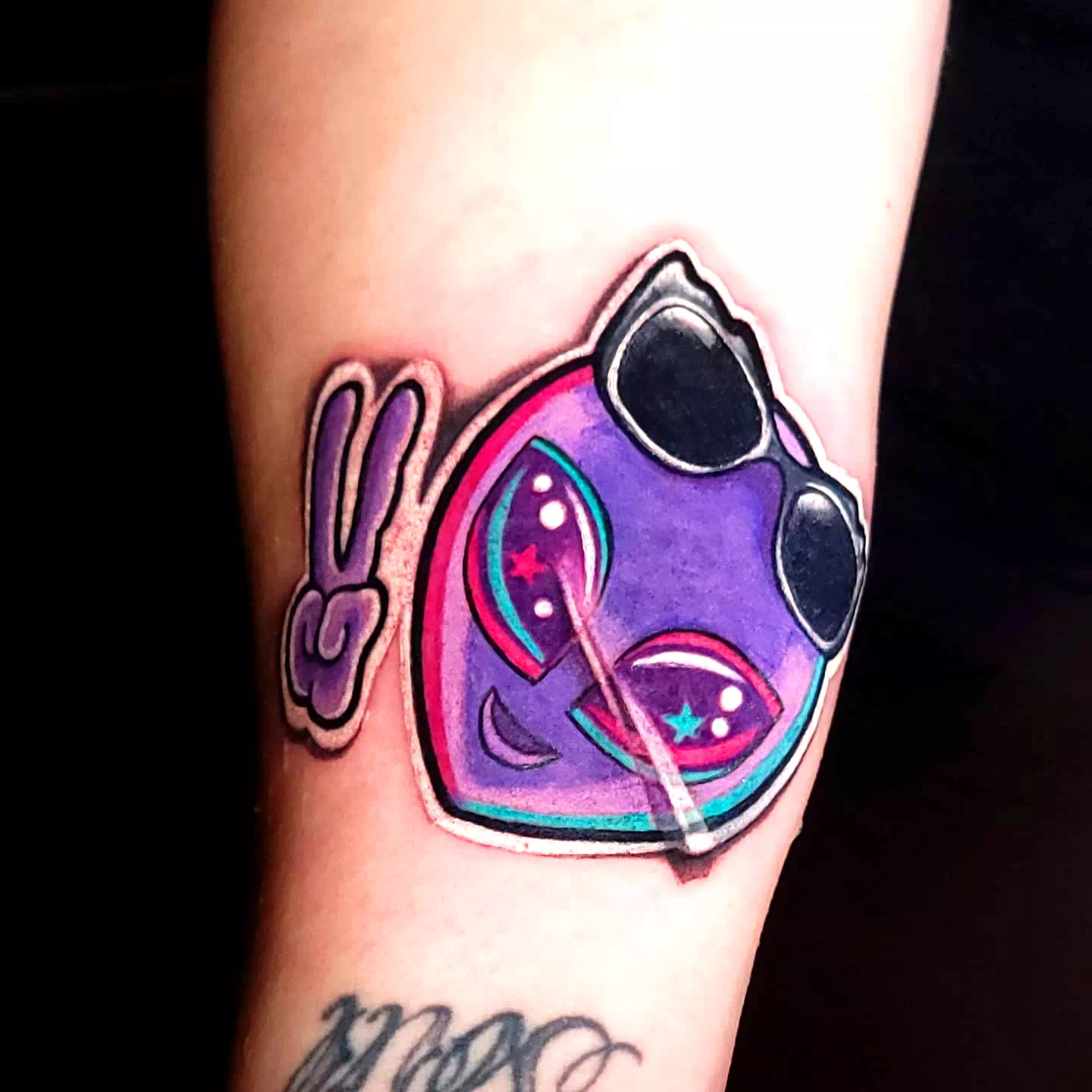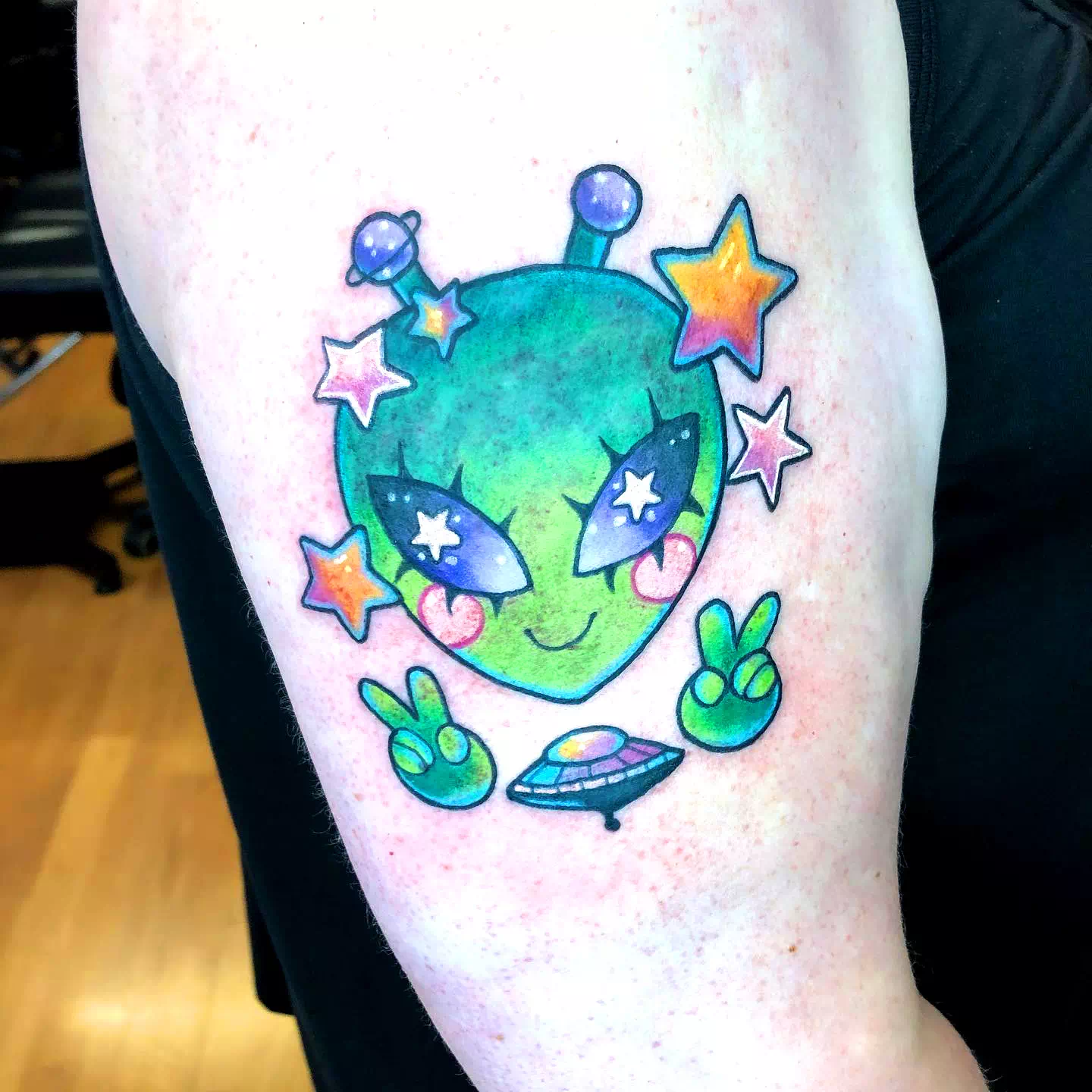 Why do people put so much stock in alien tattoo designs? What if you gave these animals more personality and turned them into endearing works of body art that they could wear?
For example, the peapod references fit the green alien archetype perfectly.
Personal opinion: I think a more feminine feel might be achieved by incorporating some pink highlights or red hearts into the background.
Aliens And Cats? Yes, Please!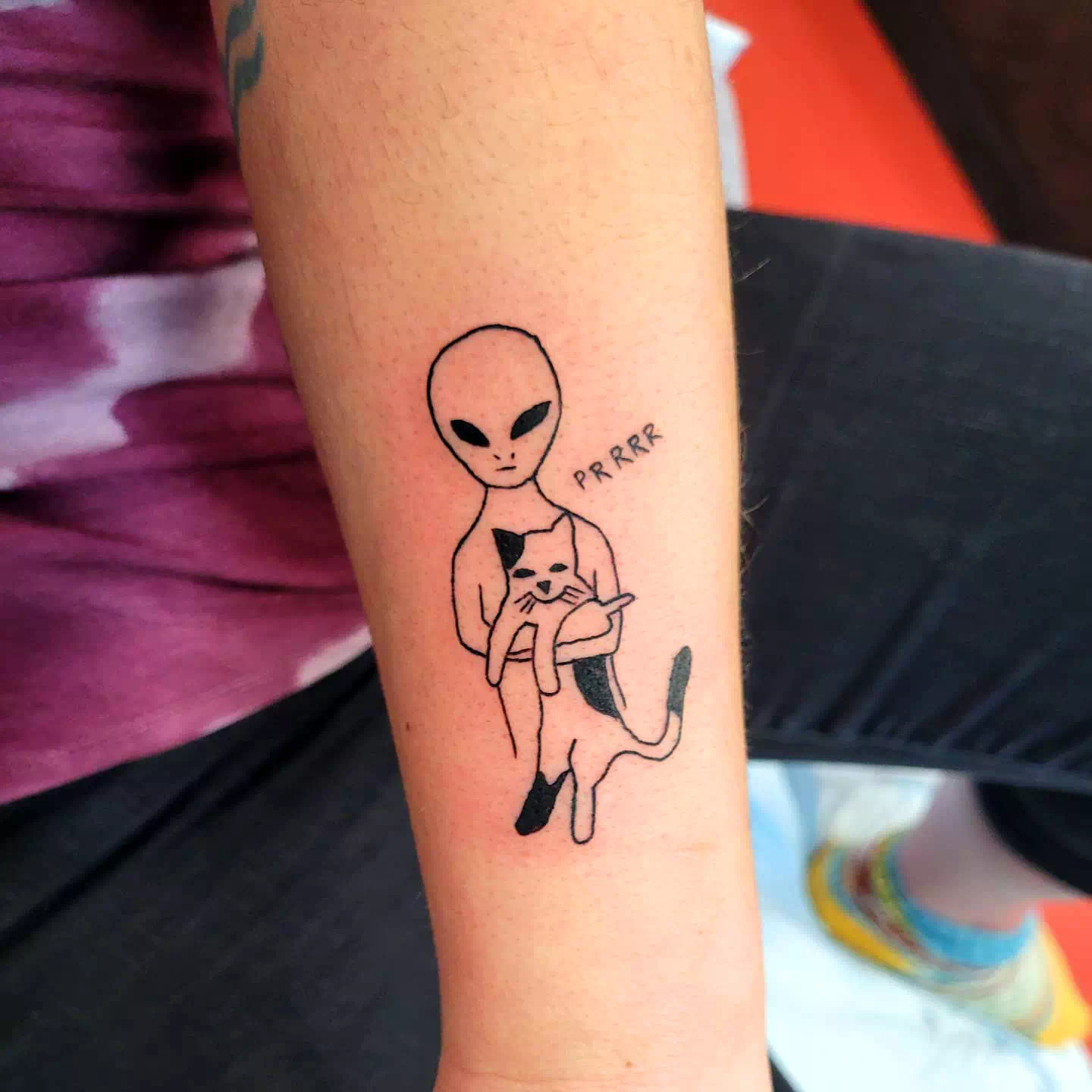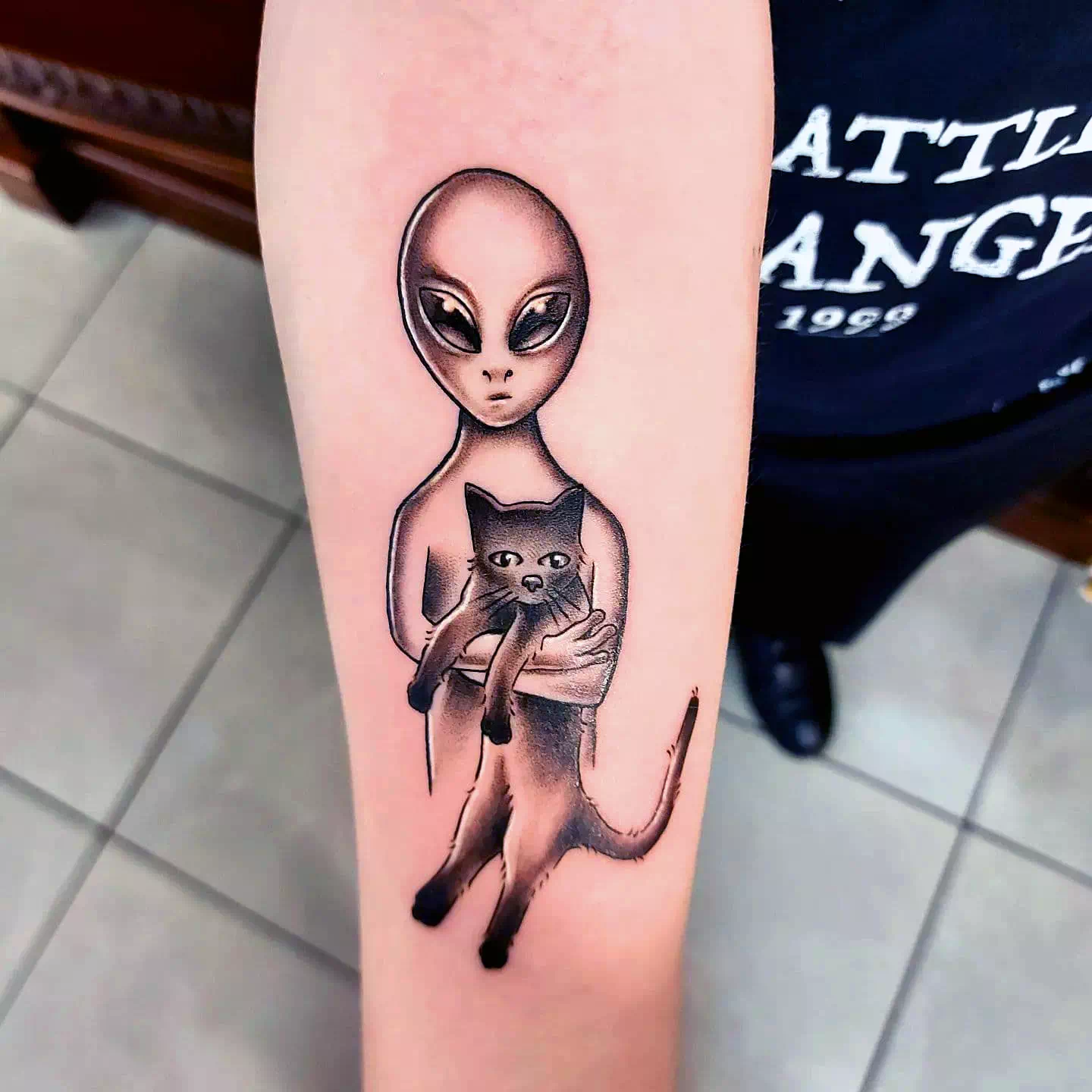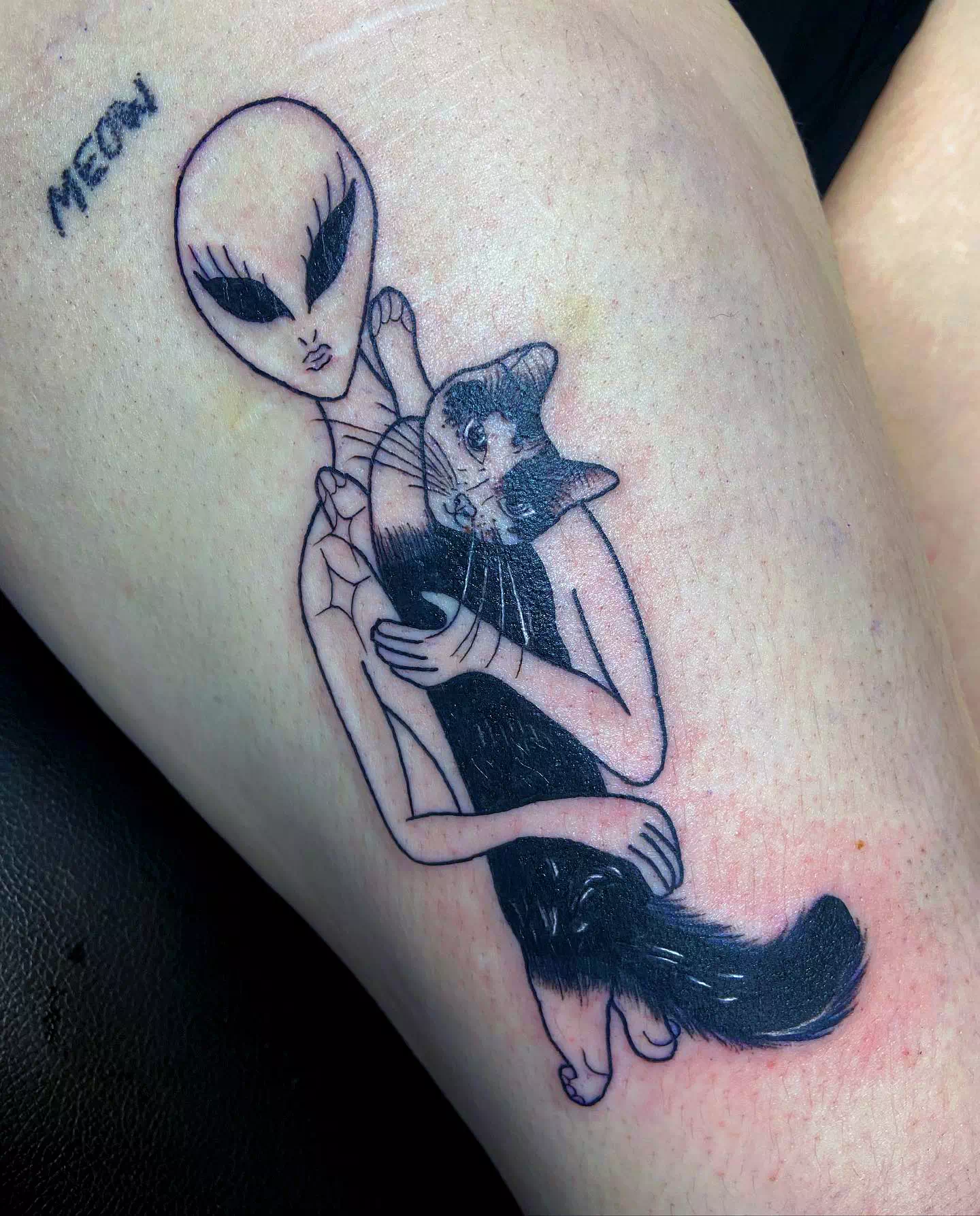 Do you adore cats but cannot give up alien tattoo designs? What about getting a mashup tattoo as a relaxed and creative way to show off your style? Aliens and cute kitties coexist in these illustrations, which you can see above.
Make sure that your tattoo shows how the alien and the cat interact, whether you choose to make it all black or use different shades of orange and yellow as the main colors.
This is a fantastic way to combine your passion for aliens with your affection for your four-legged companion.
Also Read: 99+ Best Ideas for Mother of Two Tattoos
Personal opinion: the animal being kept as a pet does not have to be a cat.
Tiny Alien Spaceship Tattoo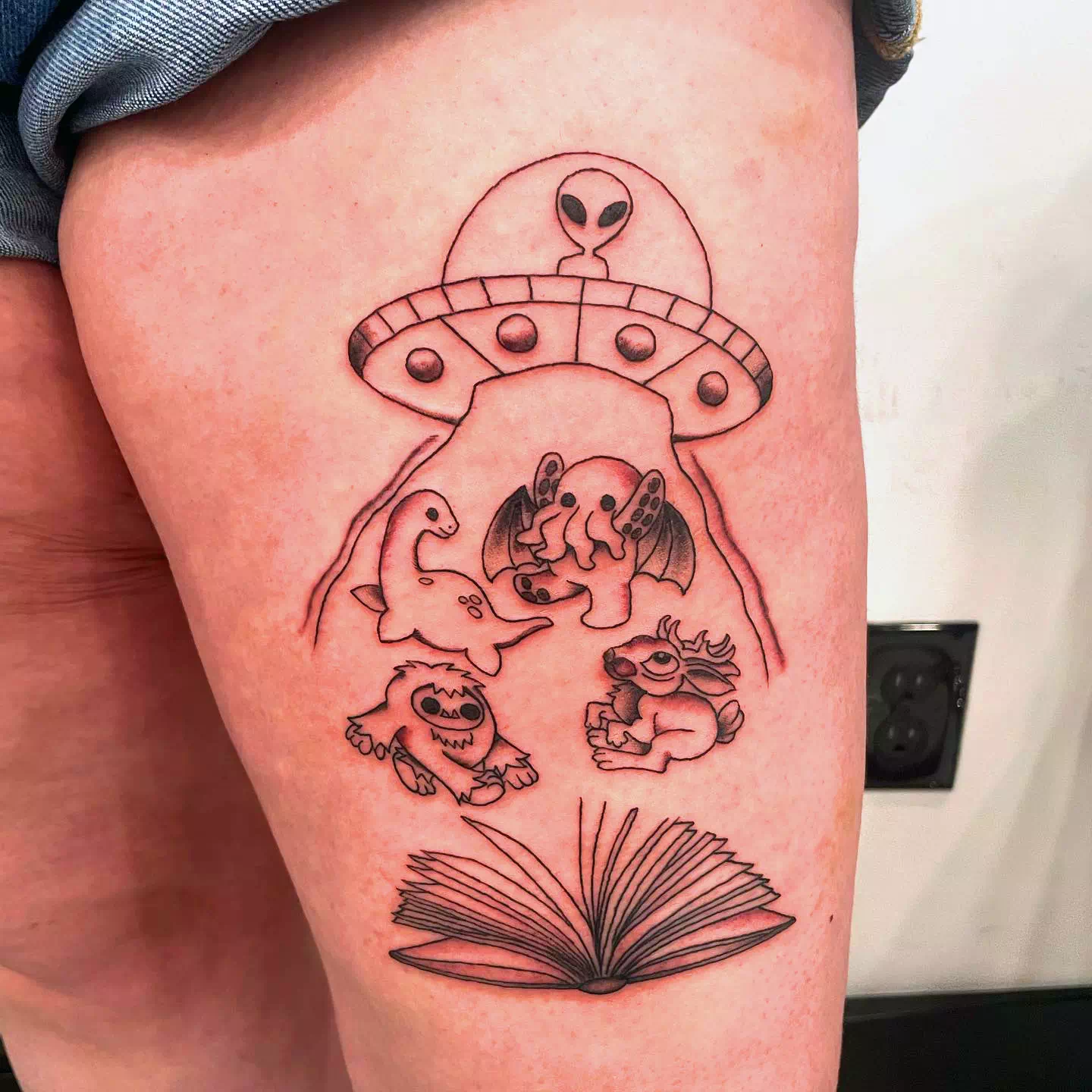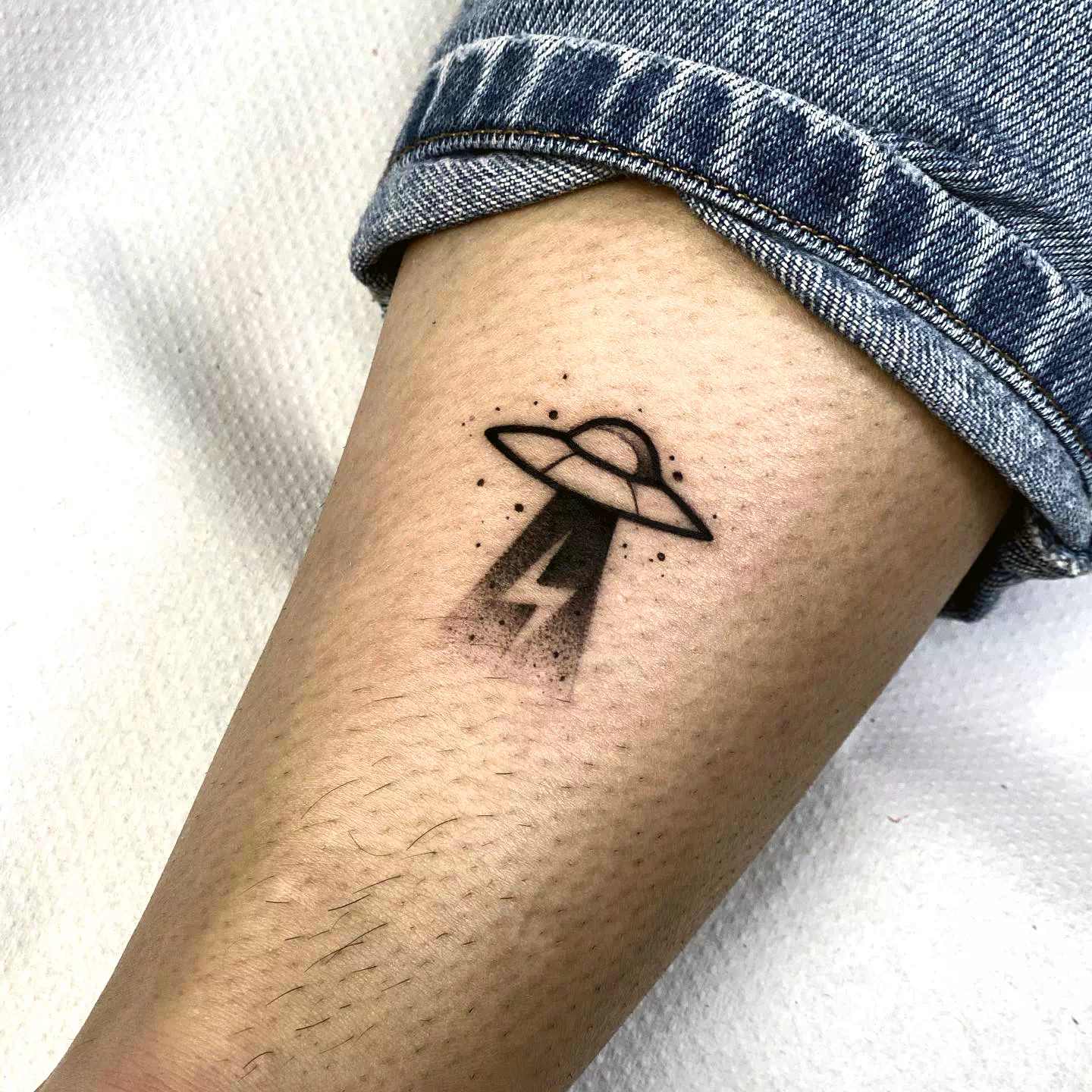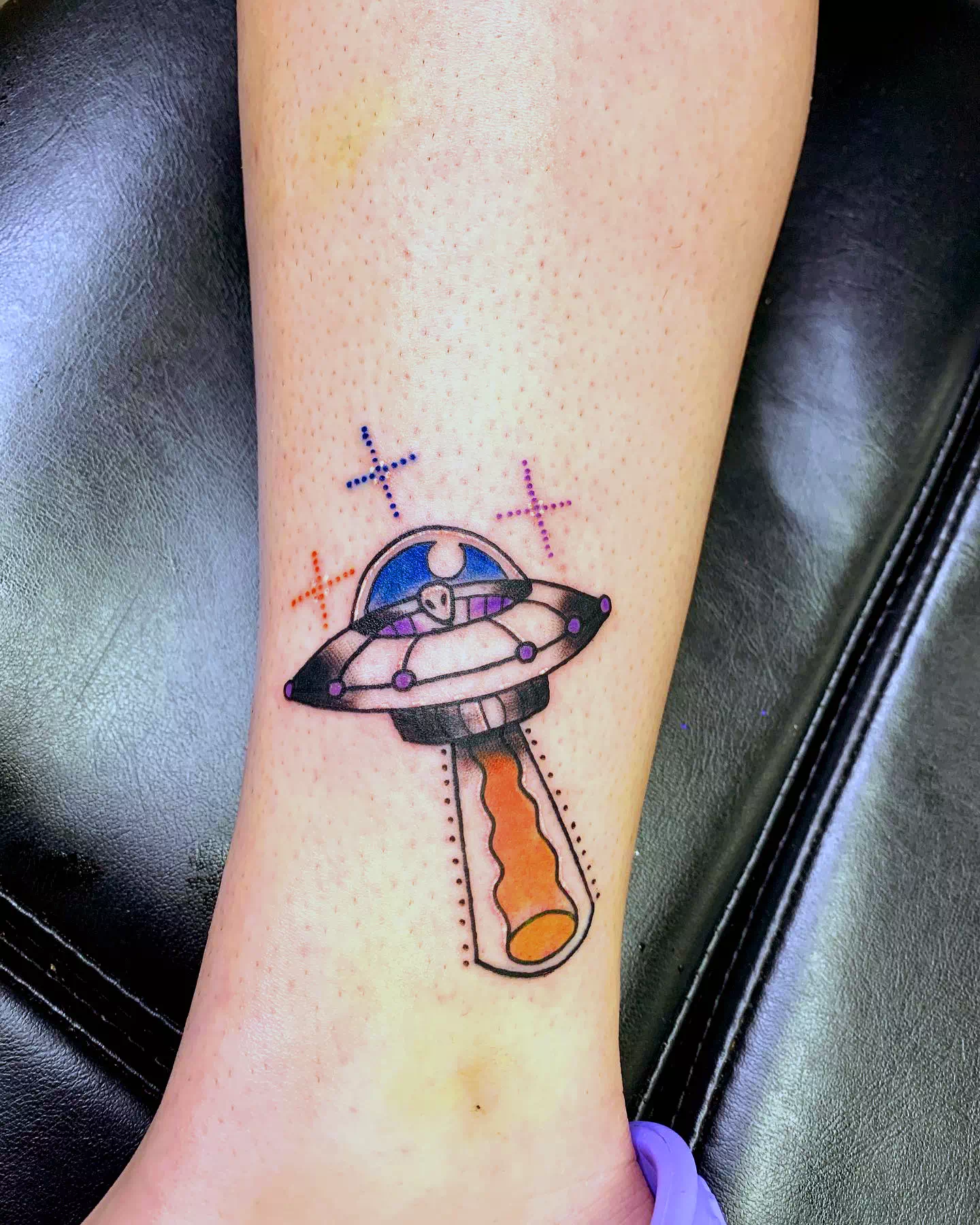 If you are looking for the perfect small alien tattoo on your wrist, the back of your neck, or your wrist, the tiny extraterrestrial spaceship tattoo will look wonderful no matter where you have it.
This tattoo's exact contours and lines will look great in a confined area, whether filled with solid black ink or colored shades of various hues.
Personal opinion: You might put a bit of an alien sticking their head out of the spaceship to give it more personality and make it seem more enticing.
UFO Stories In Alien Tattoos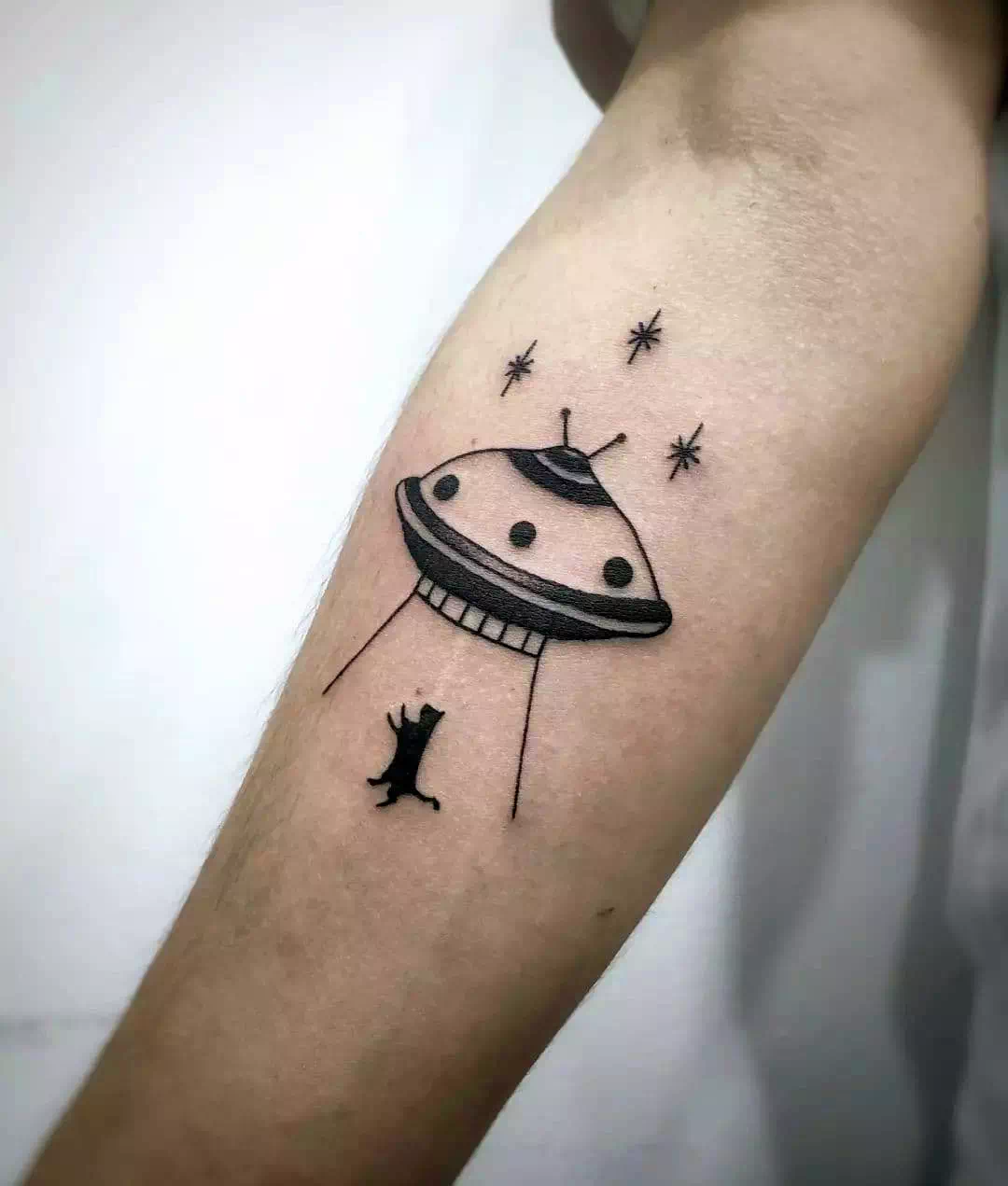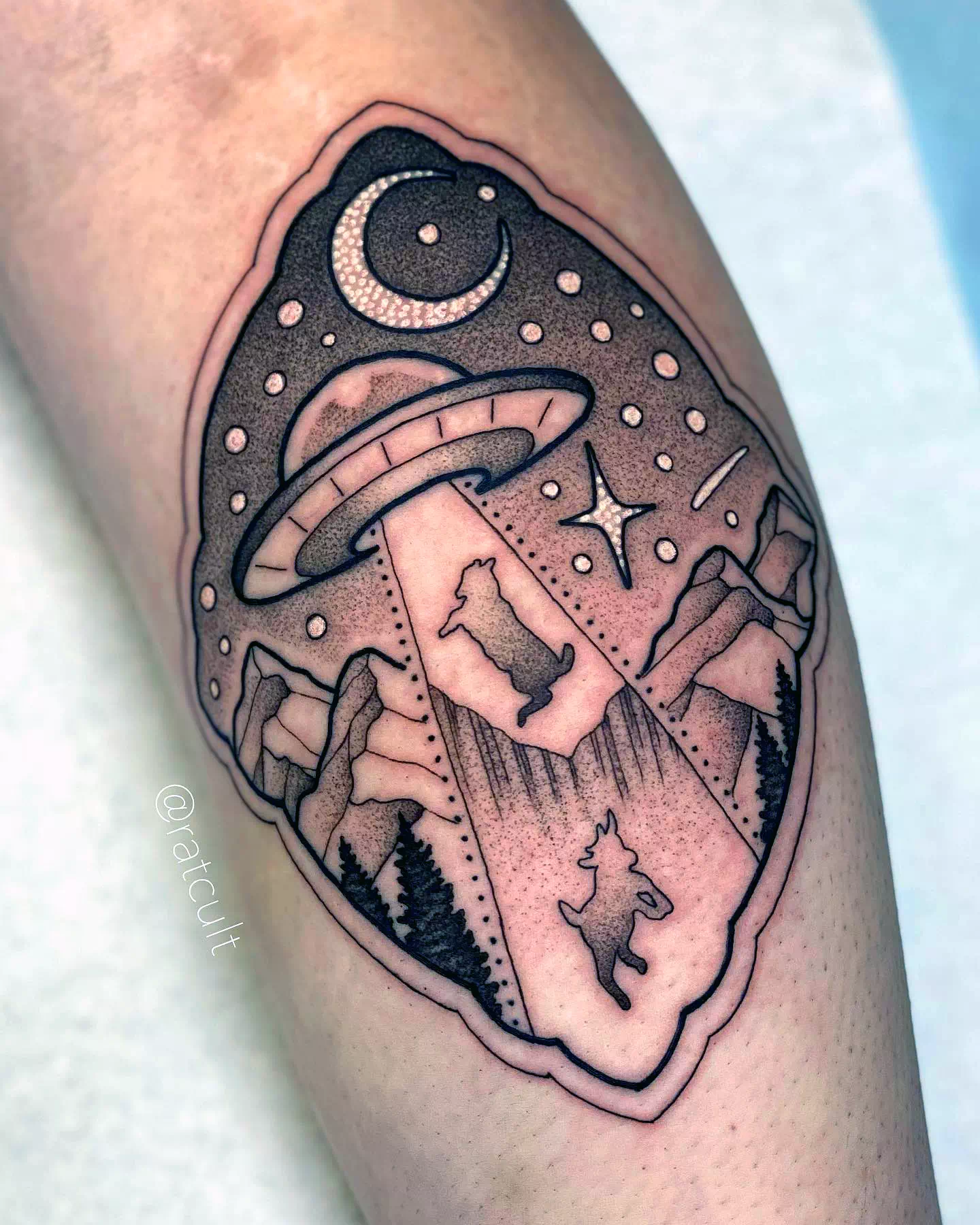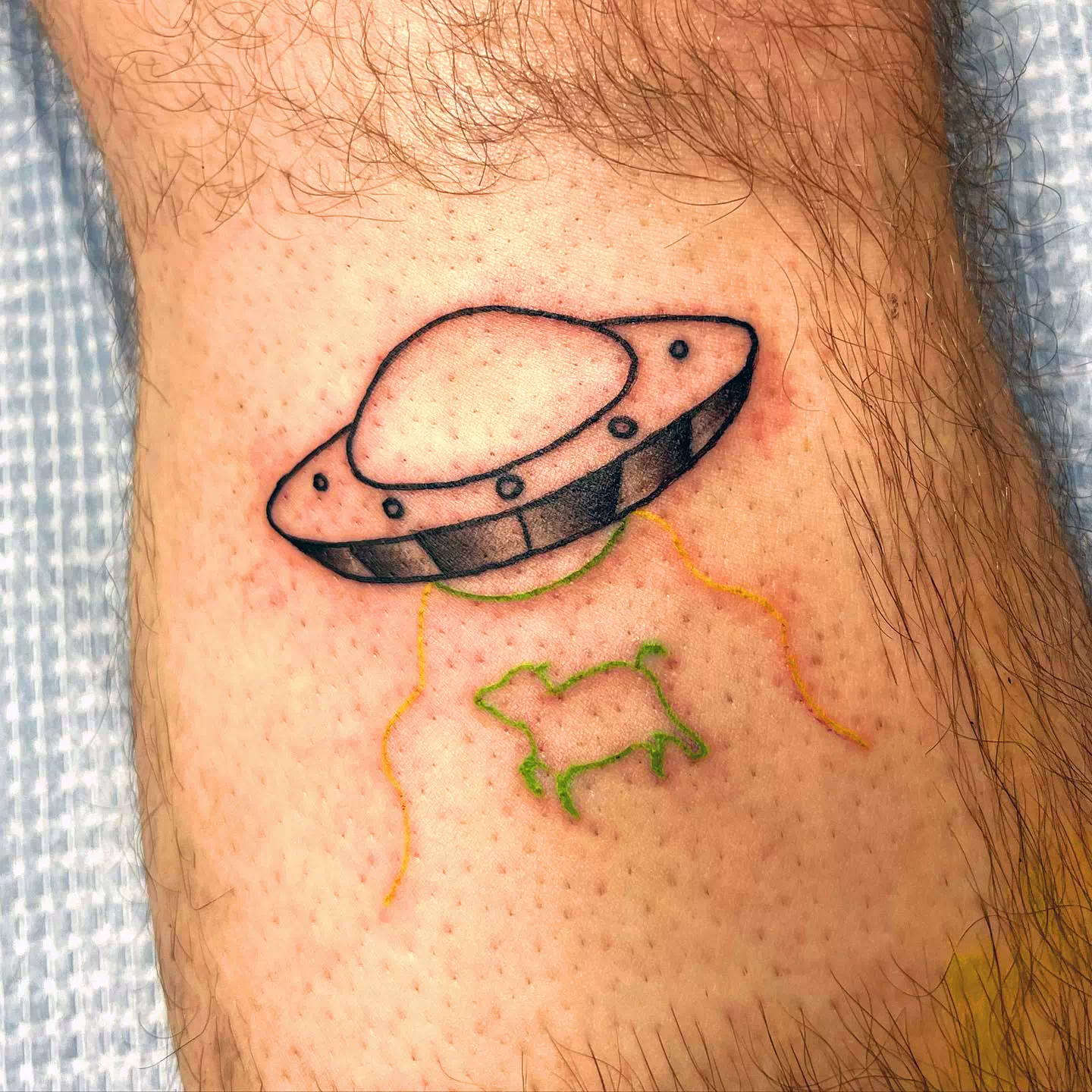 The UFO phenomenon is one of the stories about alien spaceships that is considered one of the most mysterious. Back in the day, some farmers were confident that their dead cows were the result of an attack by aliens.
Whether you choose to believe it or not, the story itself can serve as an intriguing source of inspiration for tattoo artists.
Personal opinion:  if you choose this design, you will be able to tell a humorous alien story every time you look in the mirror, right?
Aliens And Humans Going For A Ride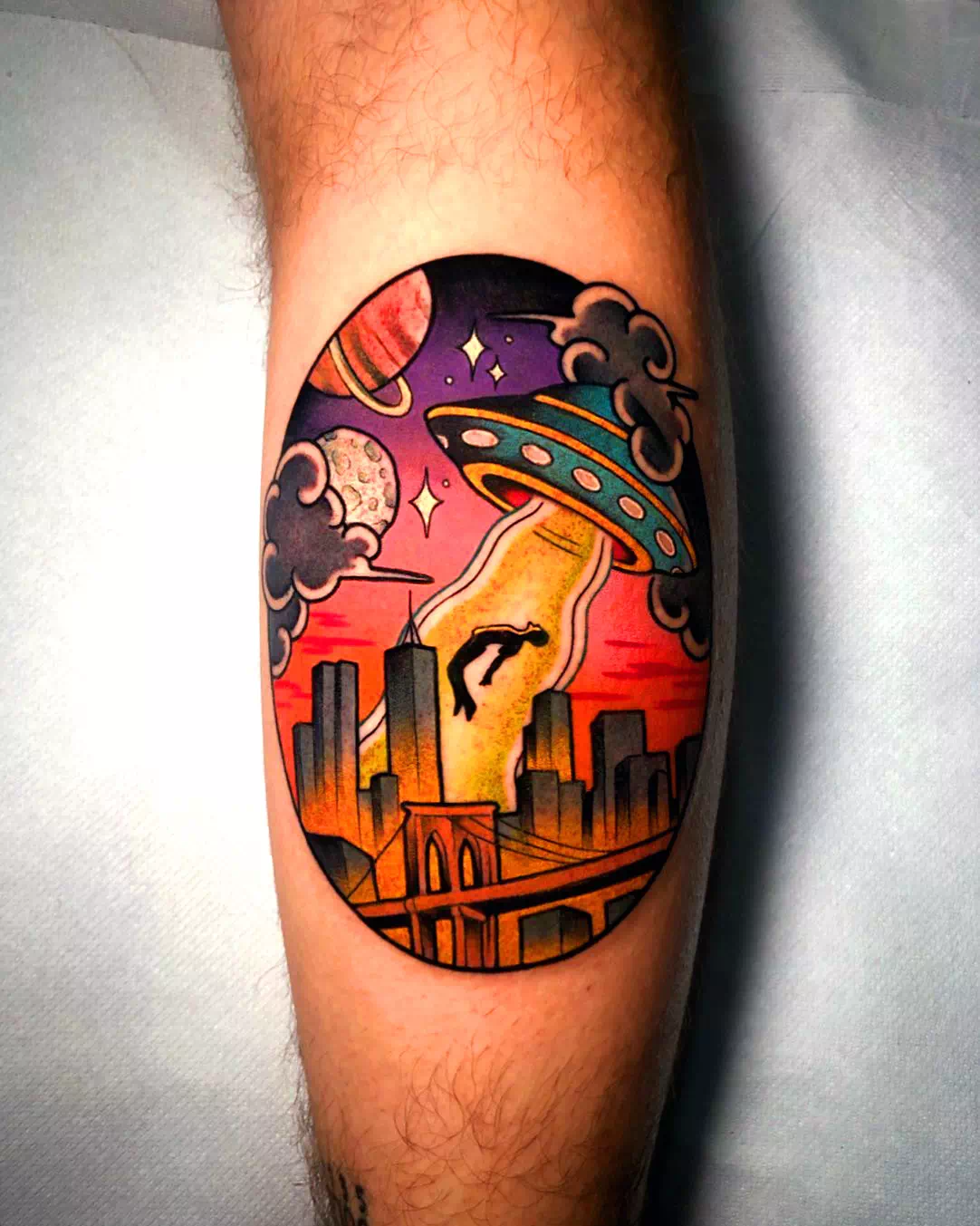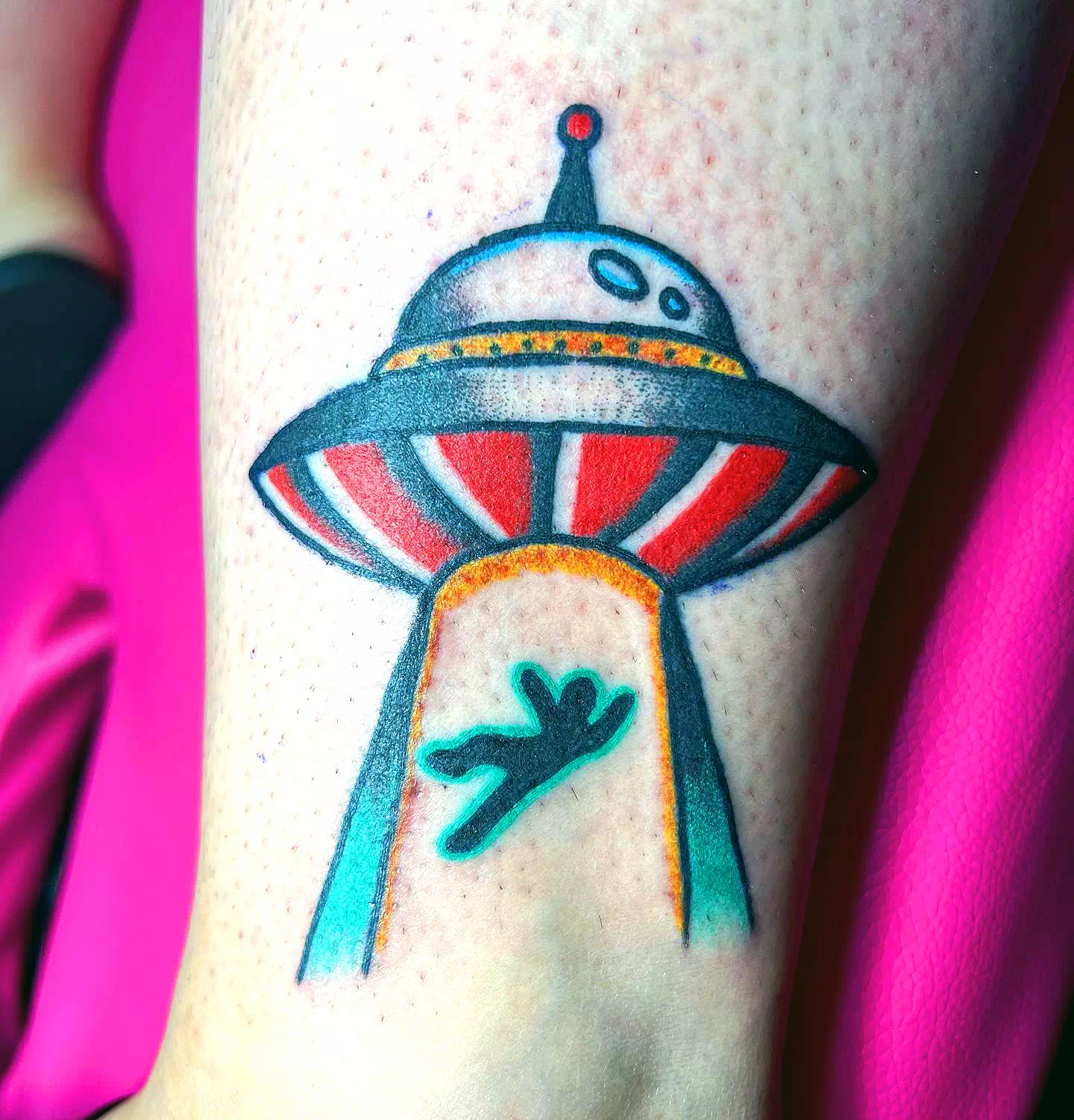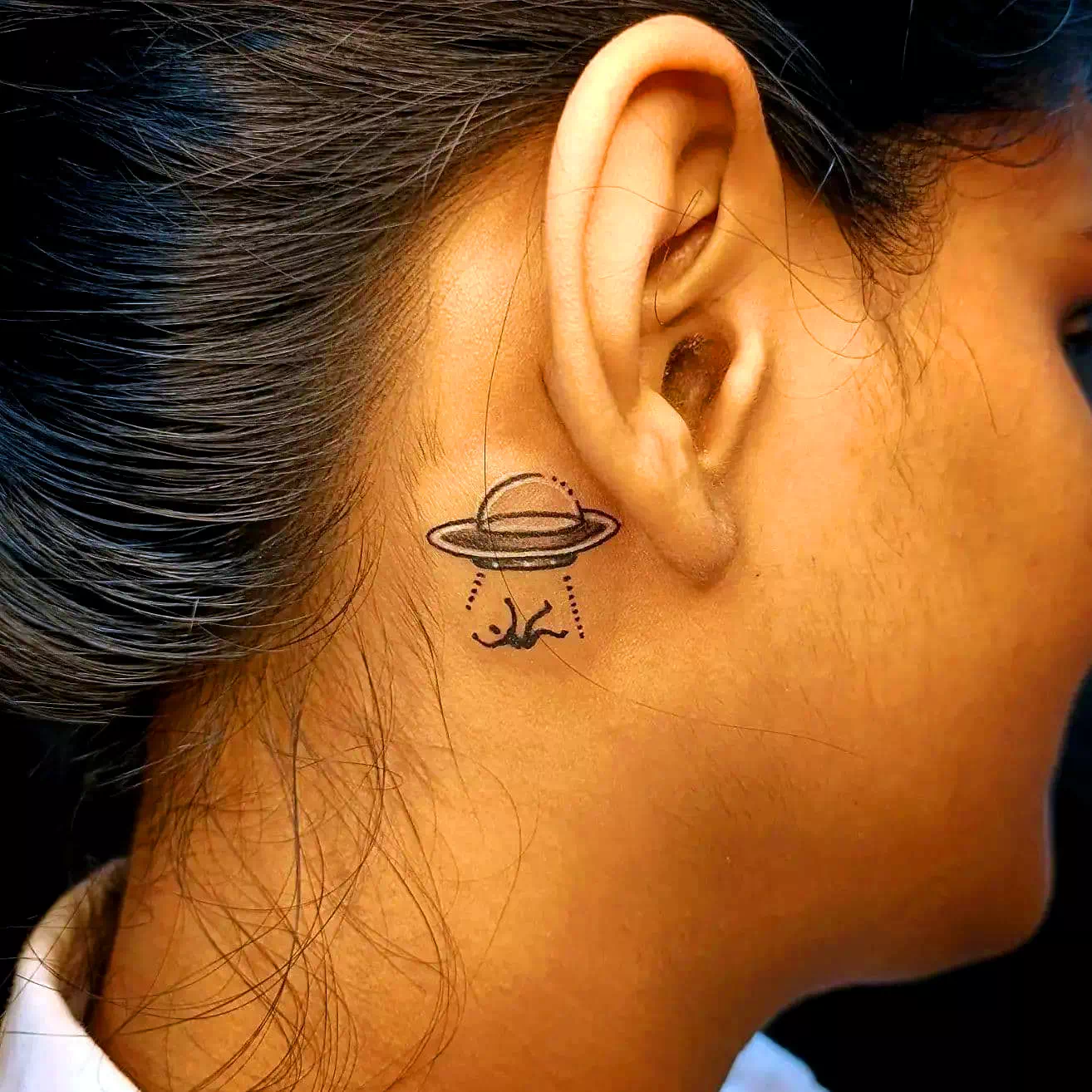 If you want a small tattoo with a lot of detail, you should consider getting another alien tattoo with a UFO motif. This strange idea for a tattoo shows what happened right after a few unfortunate people were taken.
This design is almost perfect. It has all the important information about the spaceship and a shape that makes it look like it has some shine.
Personal opinion:  if things are too straightforward for you and you crave some color, a more laid-back appearance can be achieved by employing shades of green and yellow.
Spaceship Landing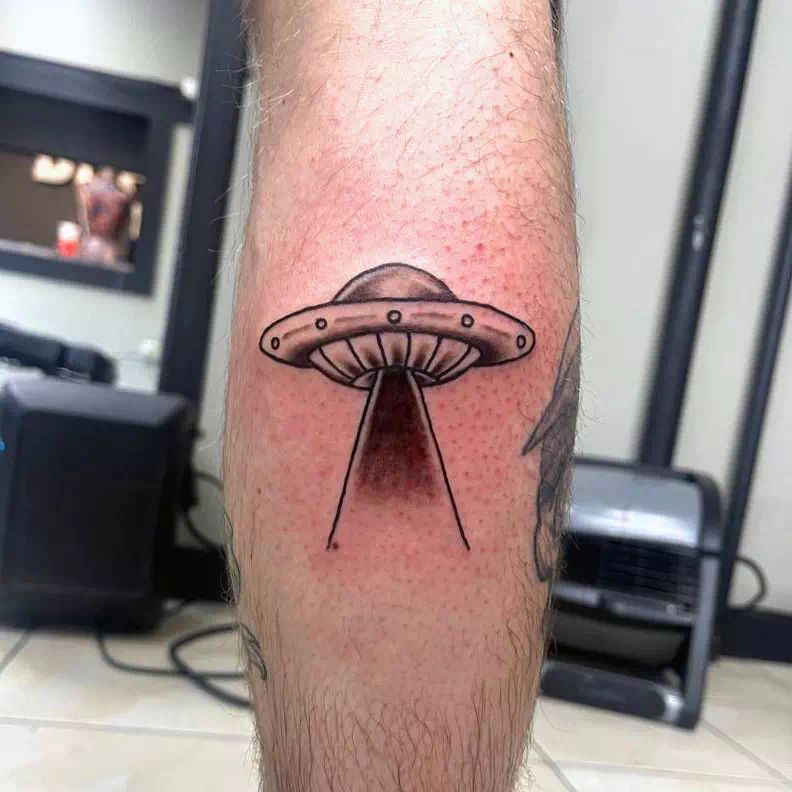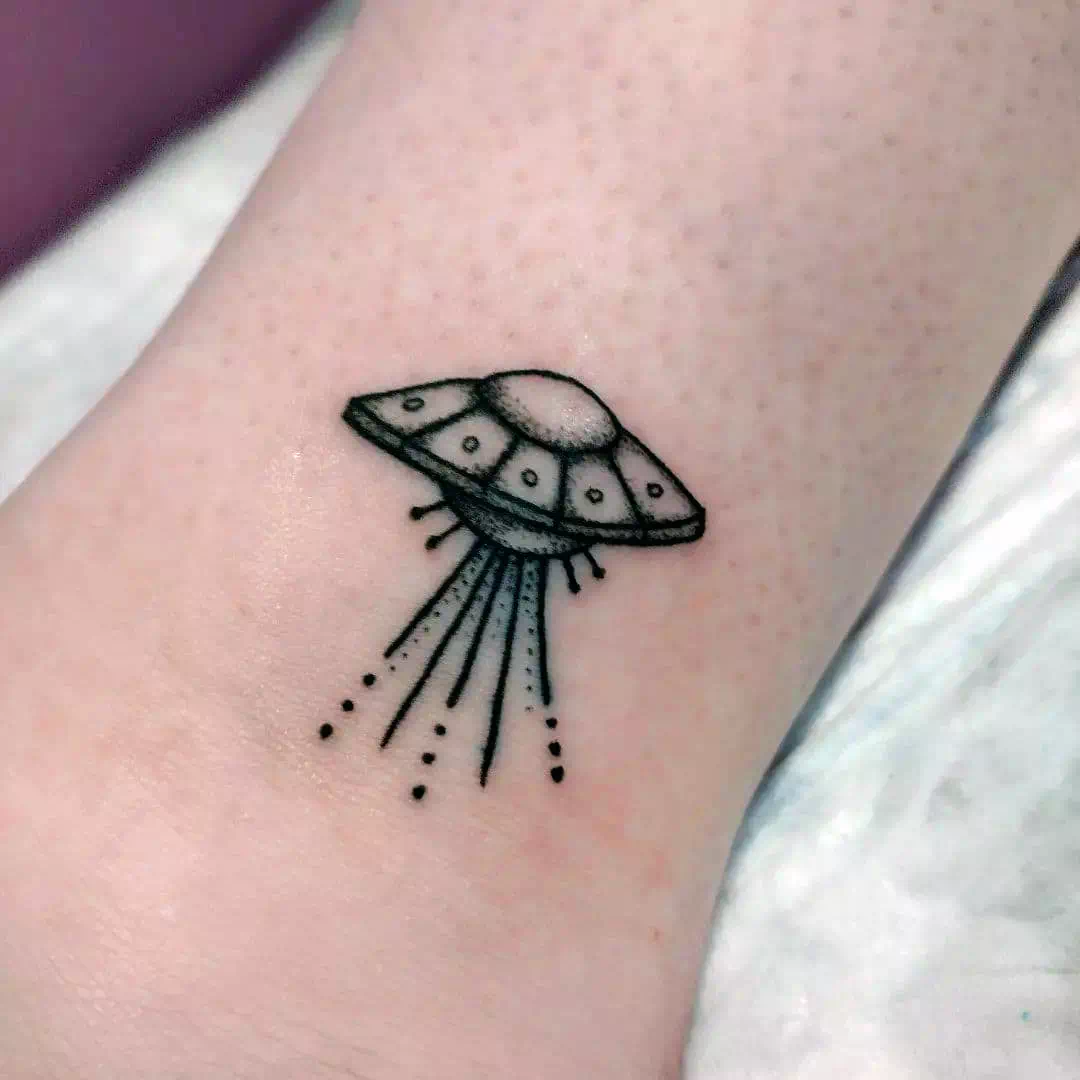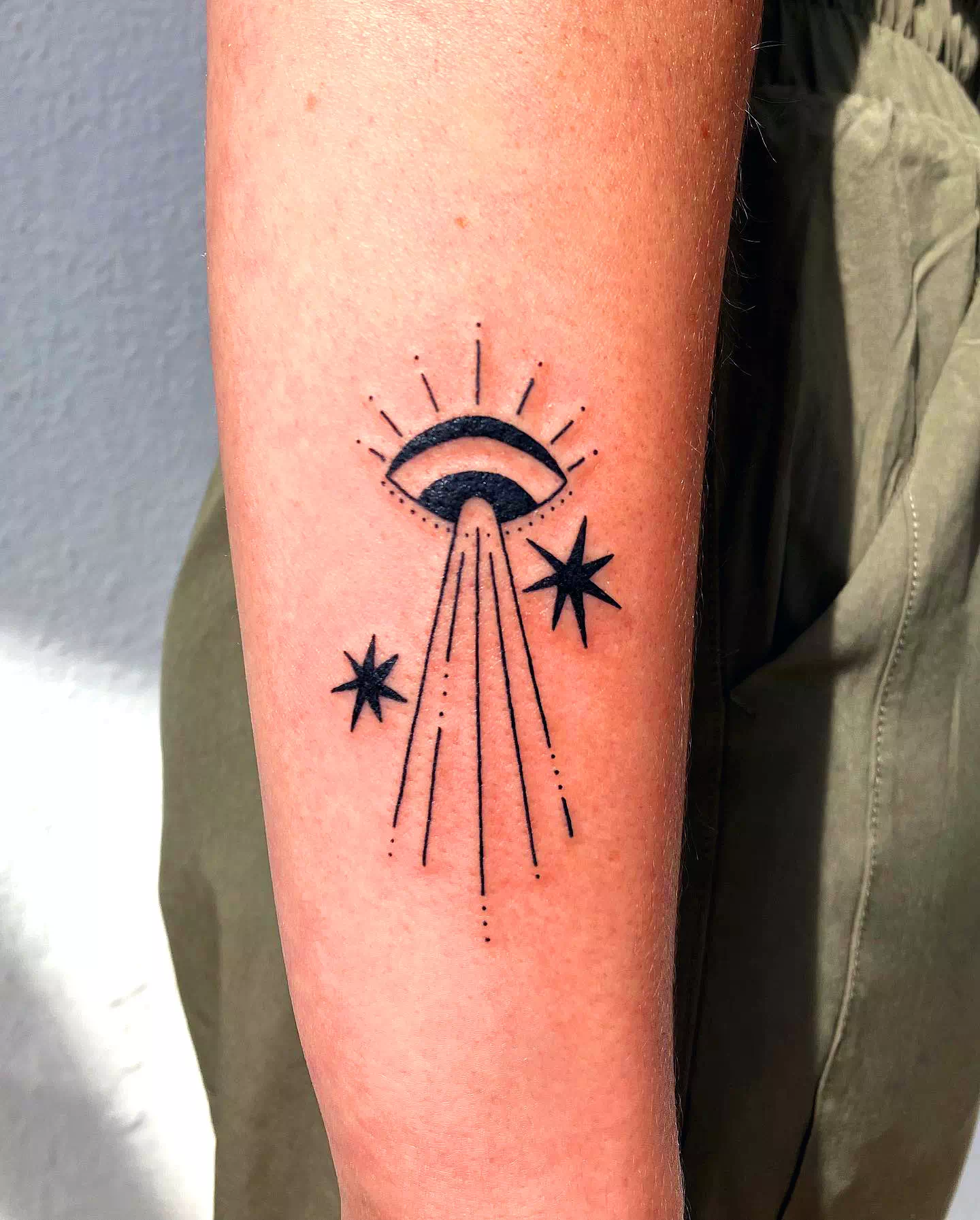 The landing of the spaceship is typically the first thing that comes to people's minds when they consider flying saucers. If you want an alien tattoo, you should consider getting one of these designs because they are unique and easy to recognize.
I think the shadings work well and add to the color contrast and darker parts that make this picture what it is.
Aliens and Rockets Tattoos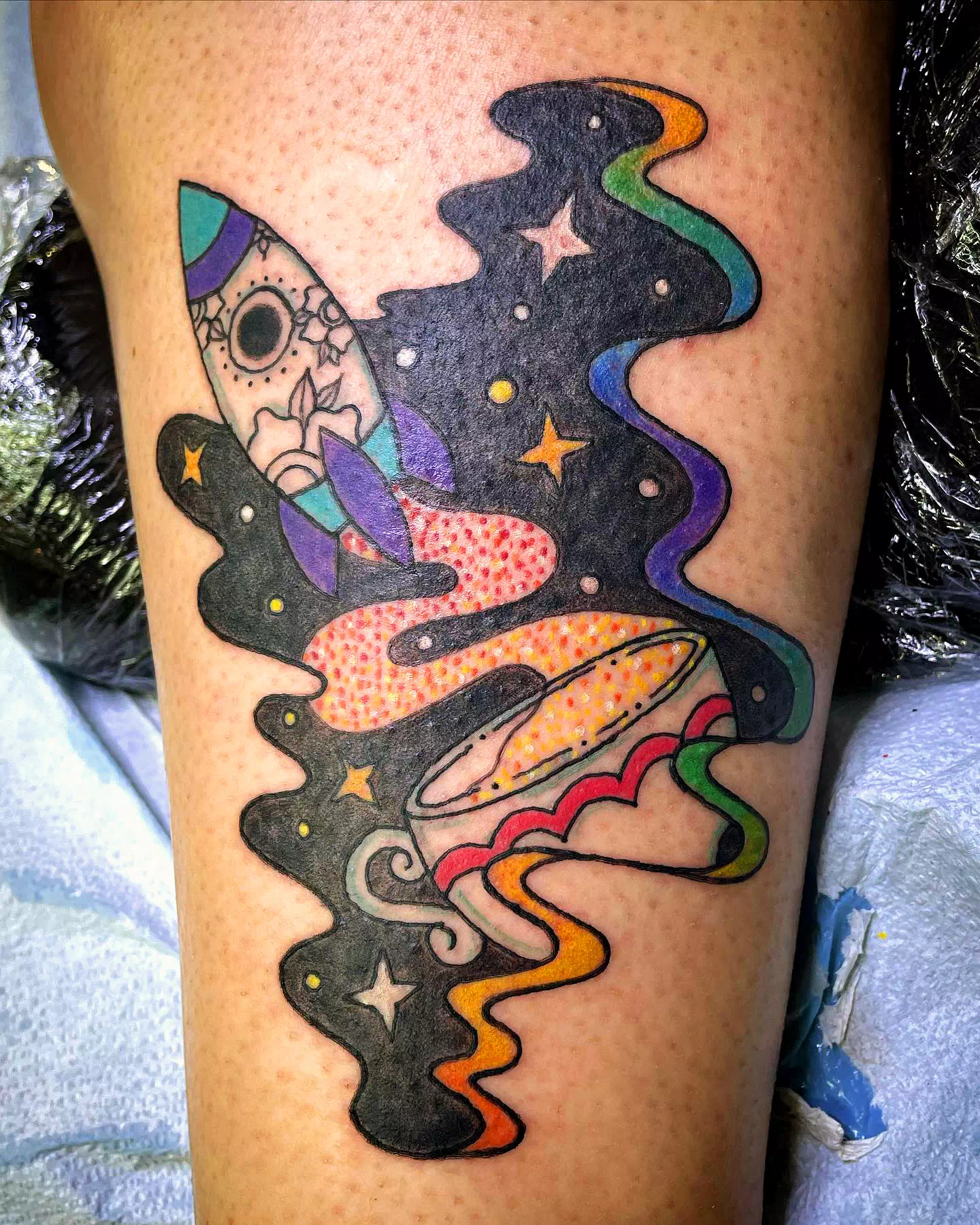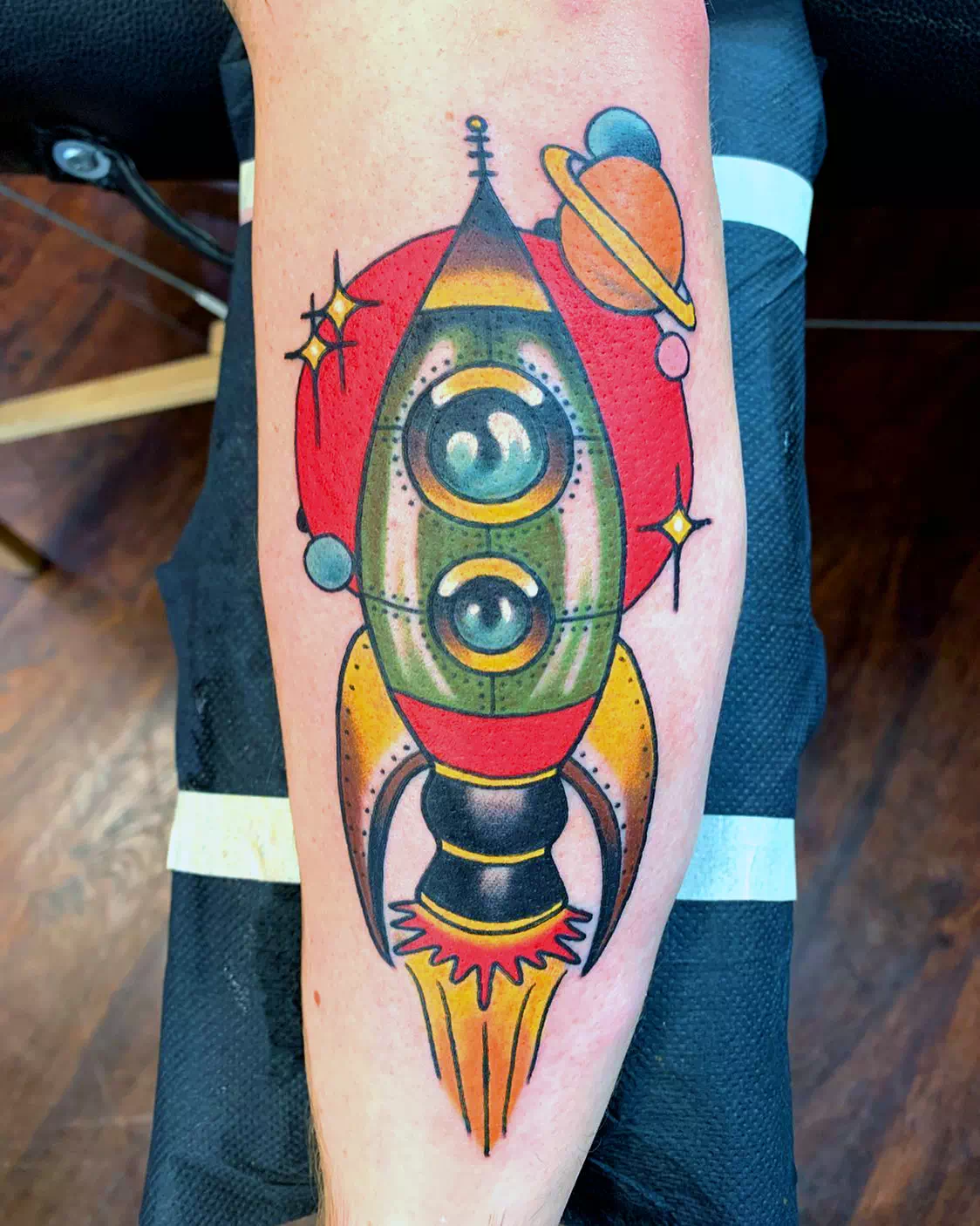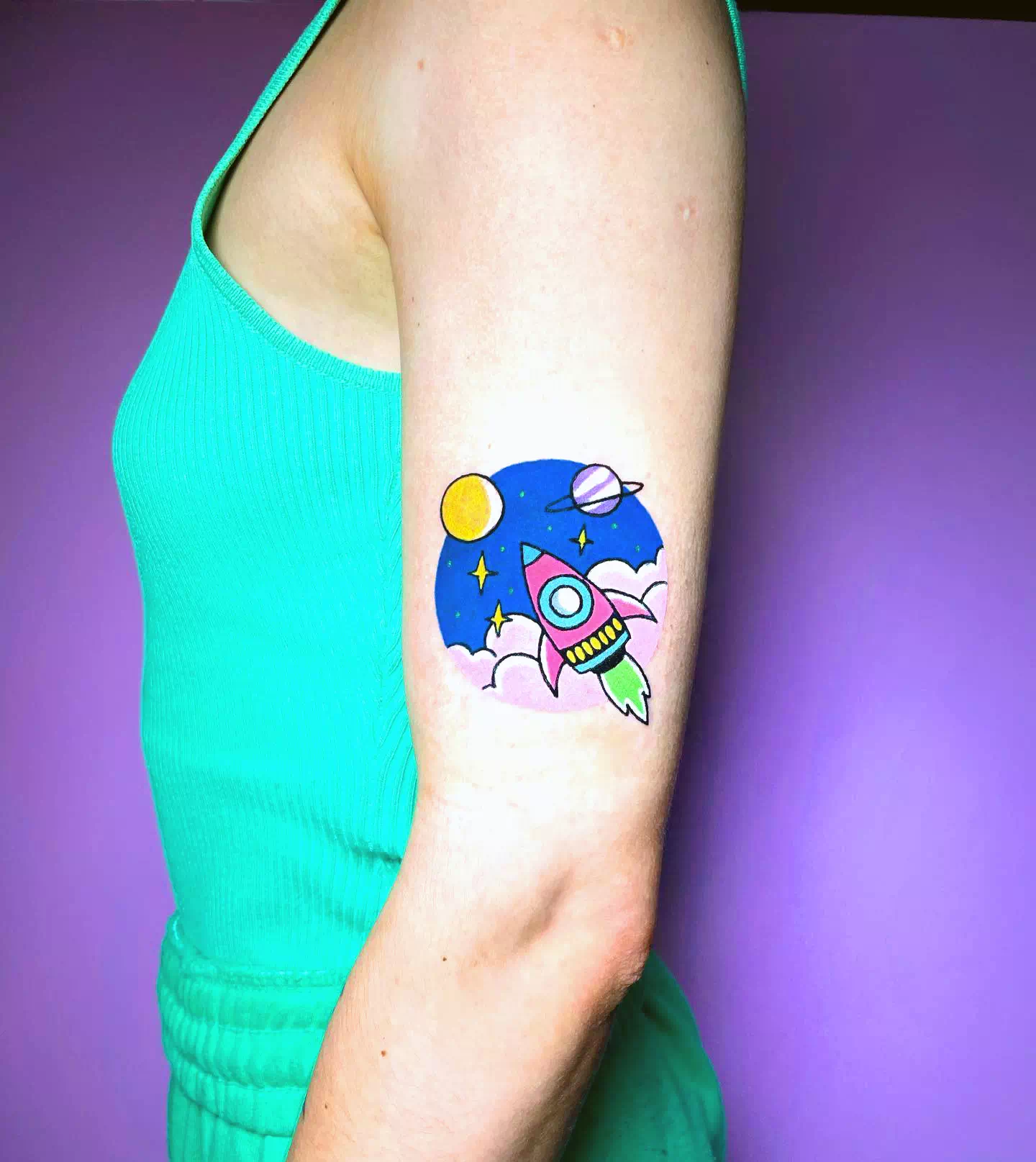 How about approaching the subject of alien spaceship tattoos from a whole other angle? You do realize that extraterrestrials are perfectly capable of piloting rocket ships, don't you?
Personal opinion:  the best way to make the rocket look excellent is to give it some vibrant colors and a streamlined design.
The Alien Attack Tattoo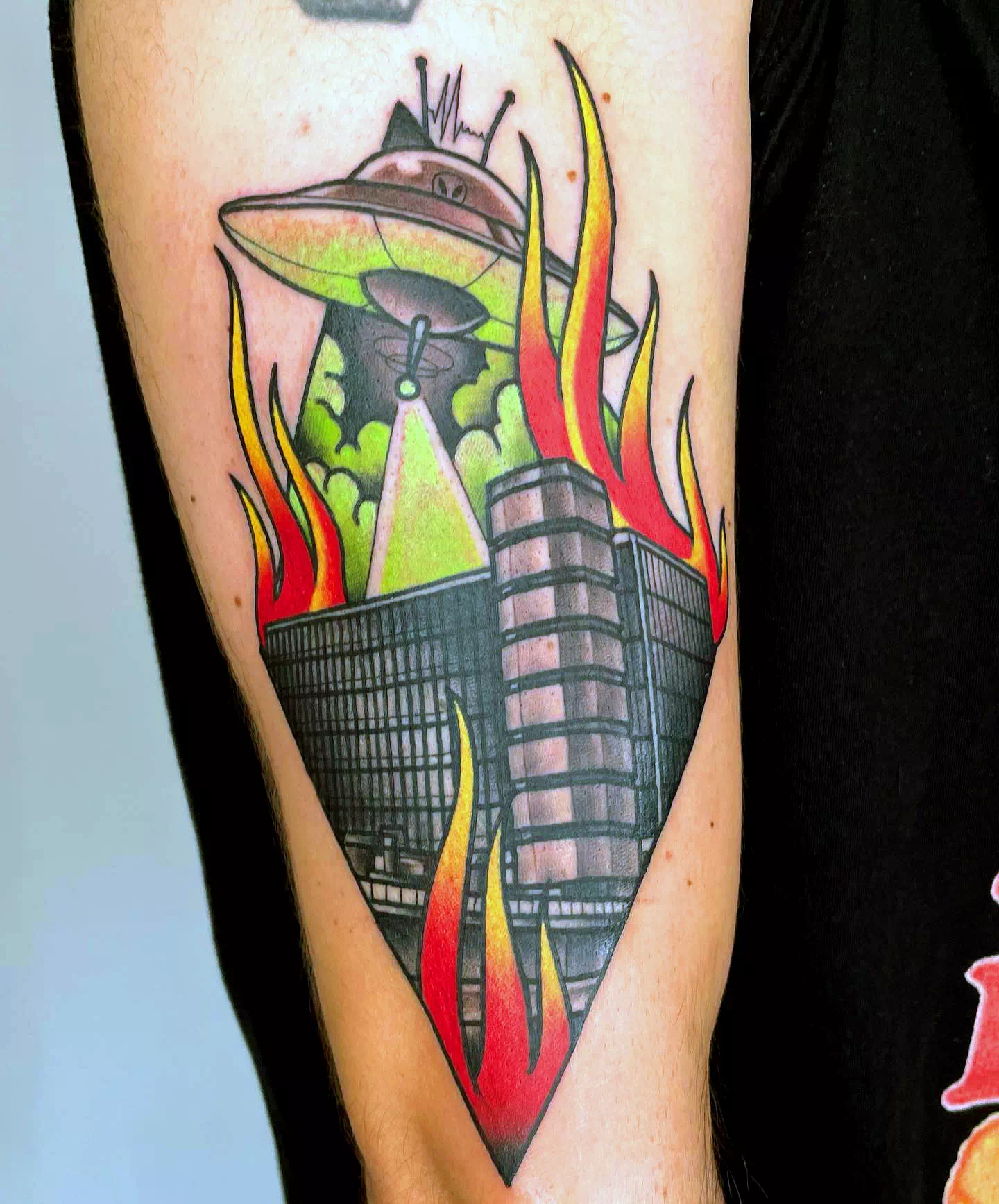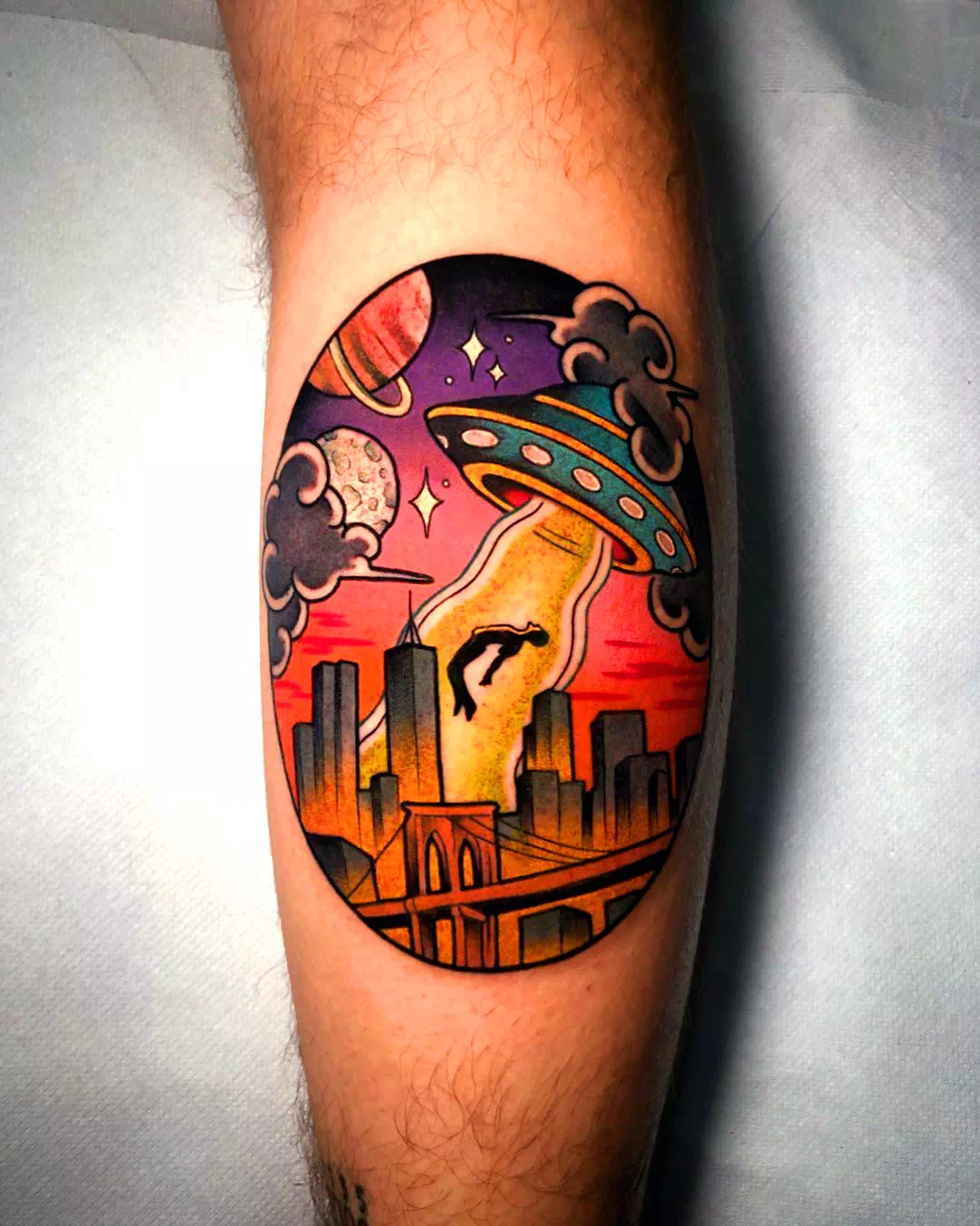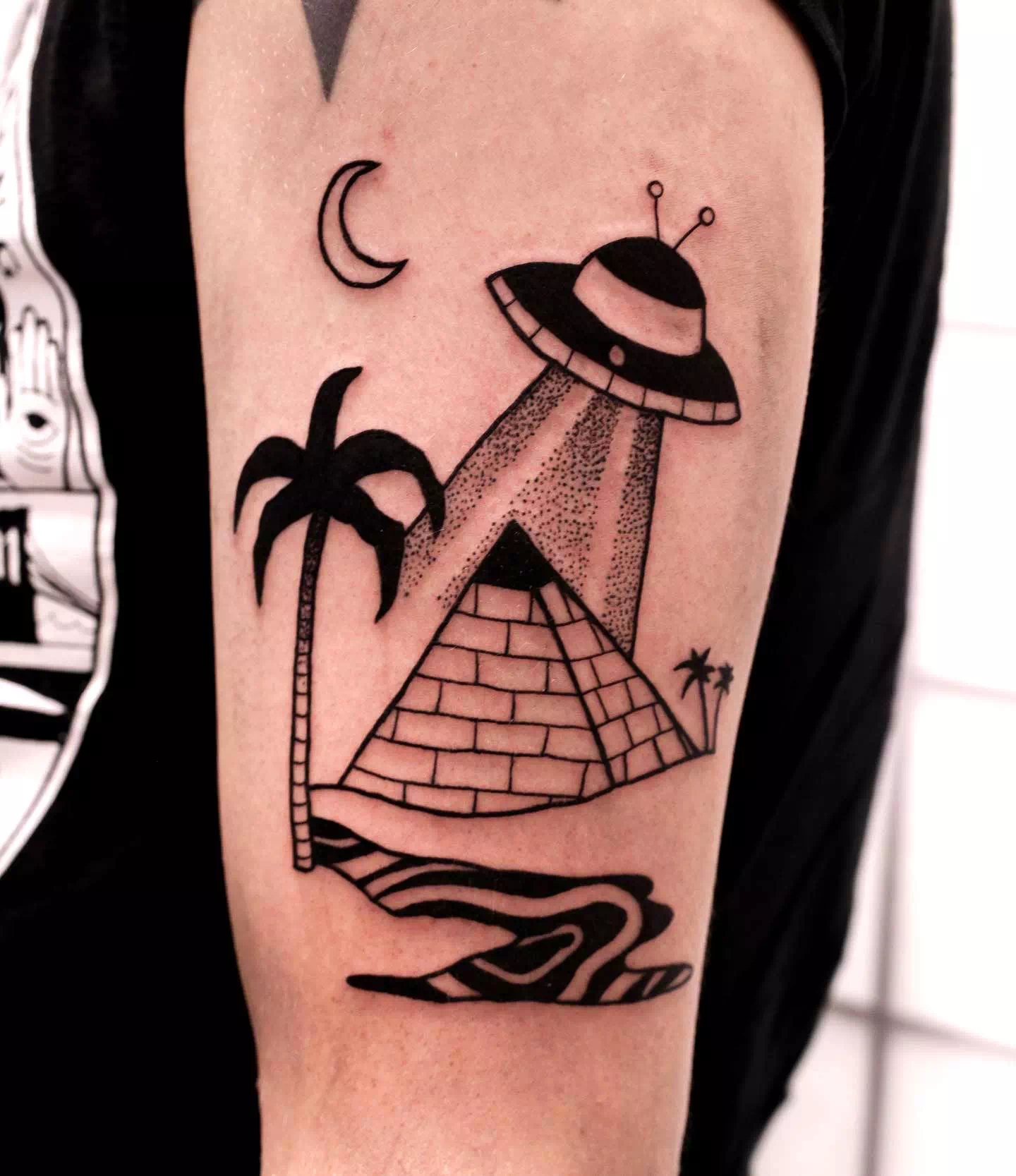 If simple tattoos bore you and you'd rather have a more intricate design, your only option is to get a large tattoo or cover it up completely. The image of an alien works particularly well as a concept for a leg tattoo, but it also looks great on the chest or the sleeve.
I recommend going to a professional tattoo artist if you want the finer details of these designs to look their best.
As a result, you need to ensure that every component is in its correct location so that the alien takeover can be completed successfully.
Aliens Having Human Habits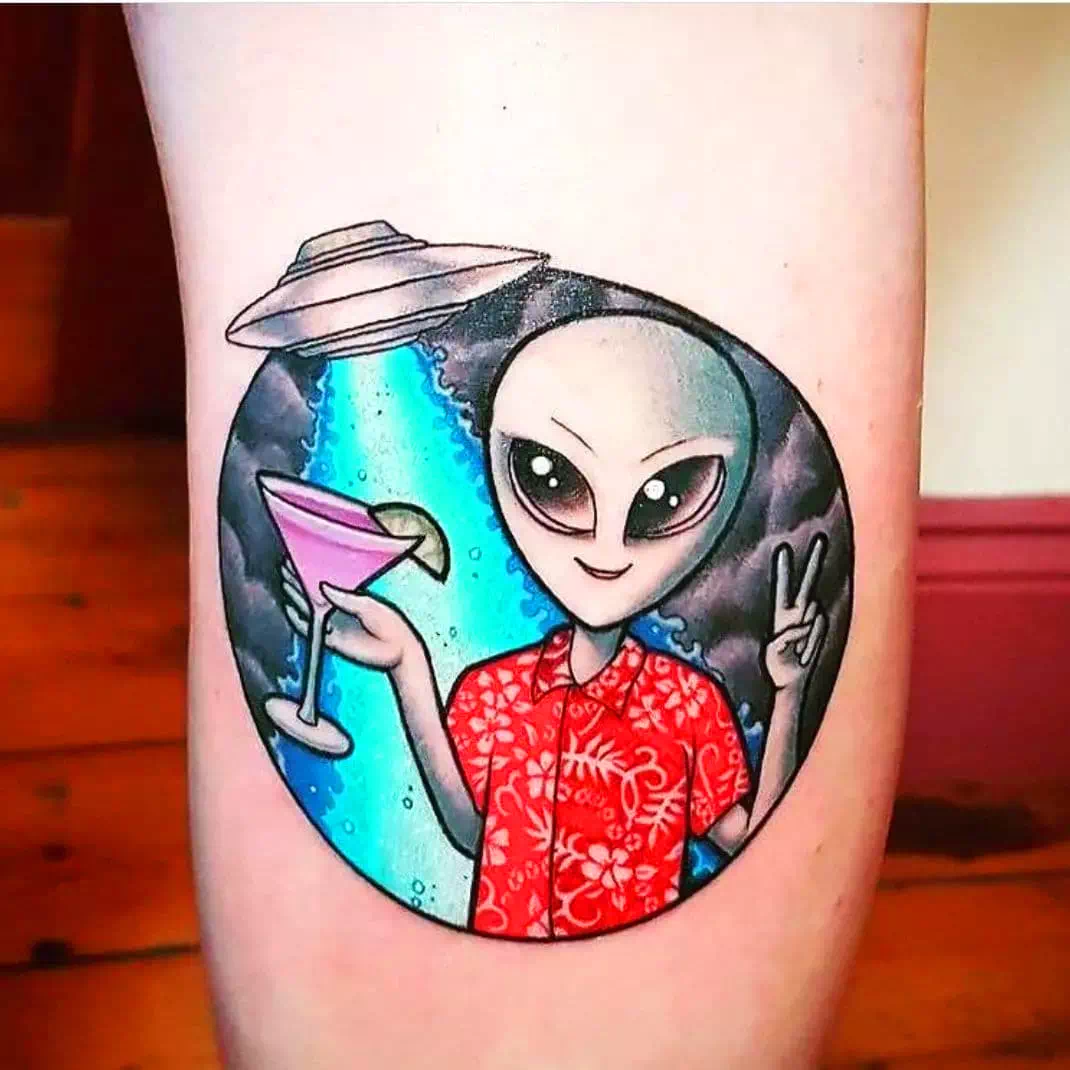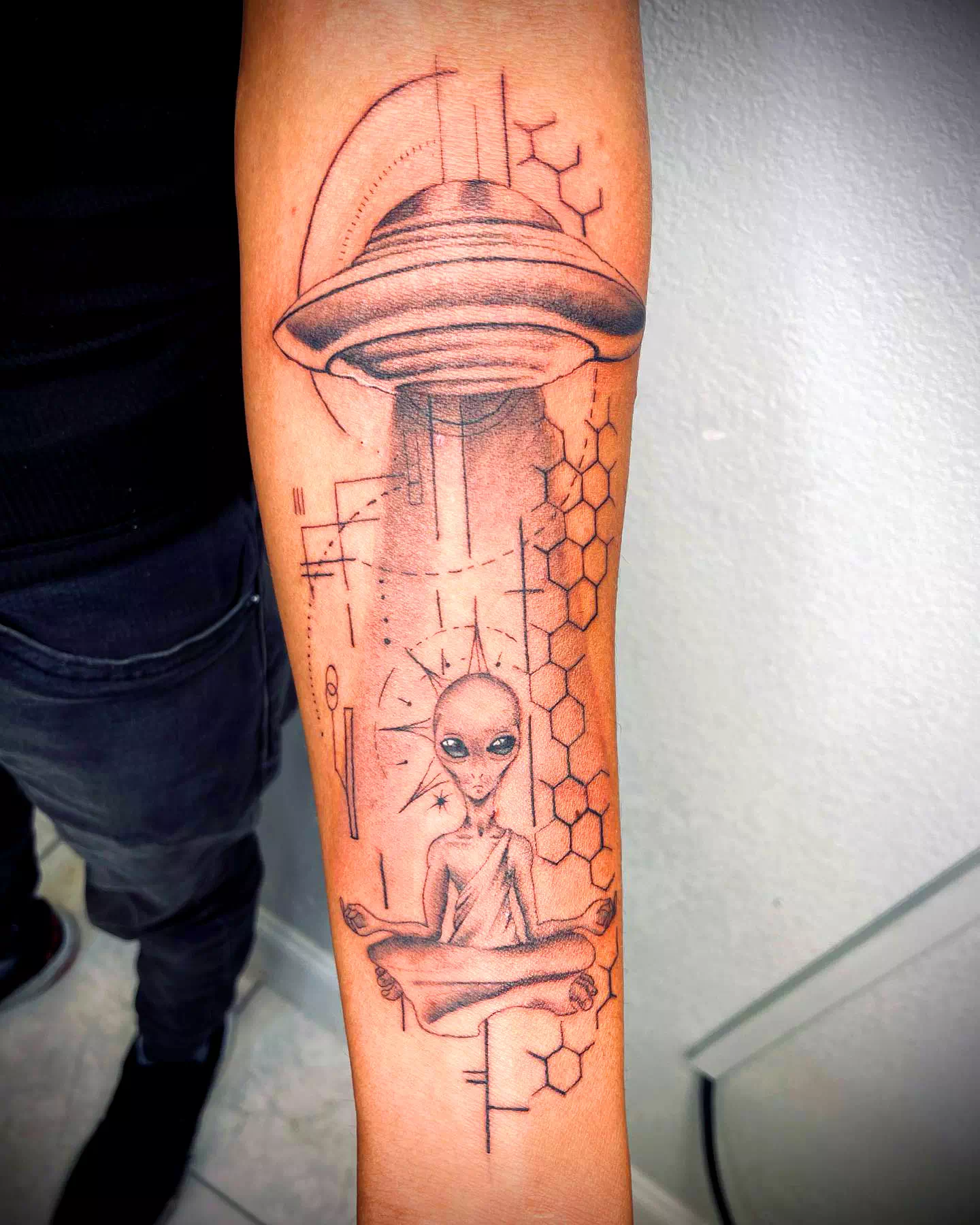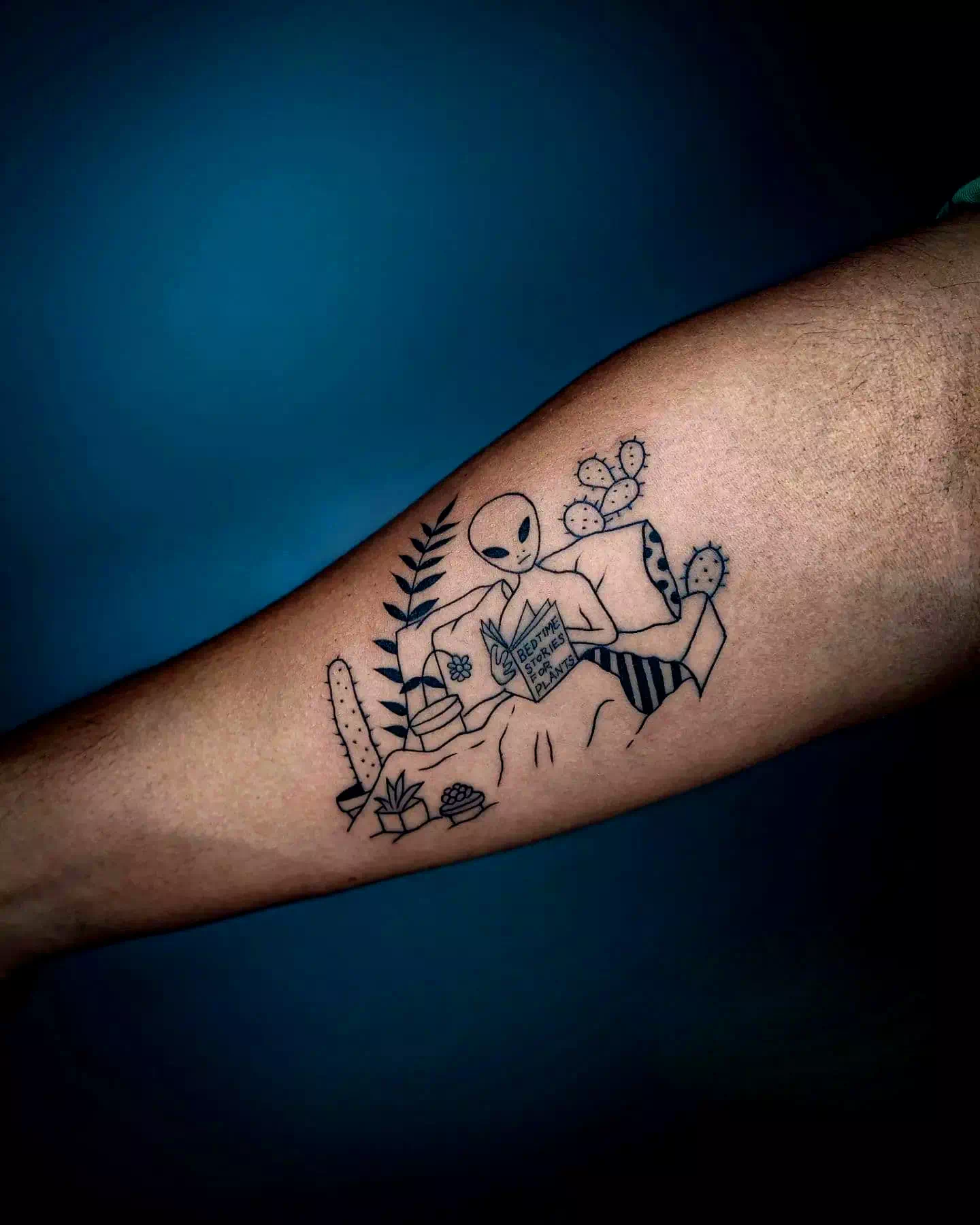 Although we don't have a lot of information regarding aliens, we can make some educated guesses about them. What would extraterrestrial beings look like if they adopted our customs? Funny pictures such as aliens devouring pizza, reading literature, or tending to plants make for excellent inspiration for original tattoo designs. Which one do you think is the best?
The Tiny Abduction Alien Tattoo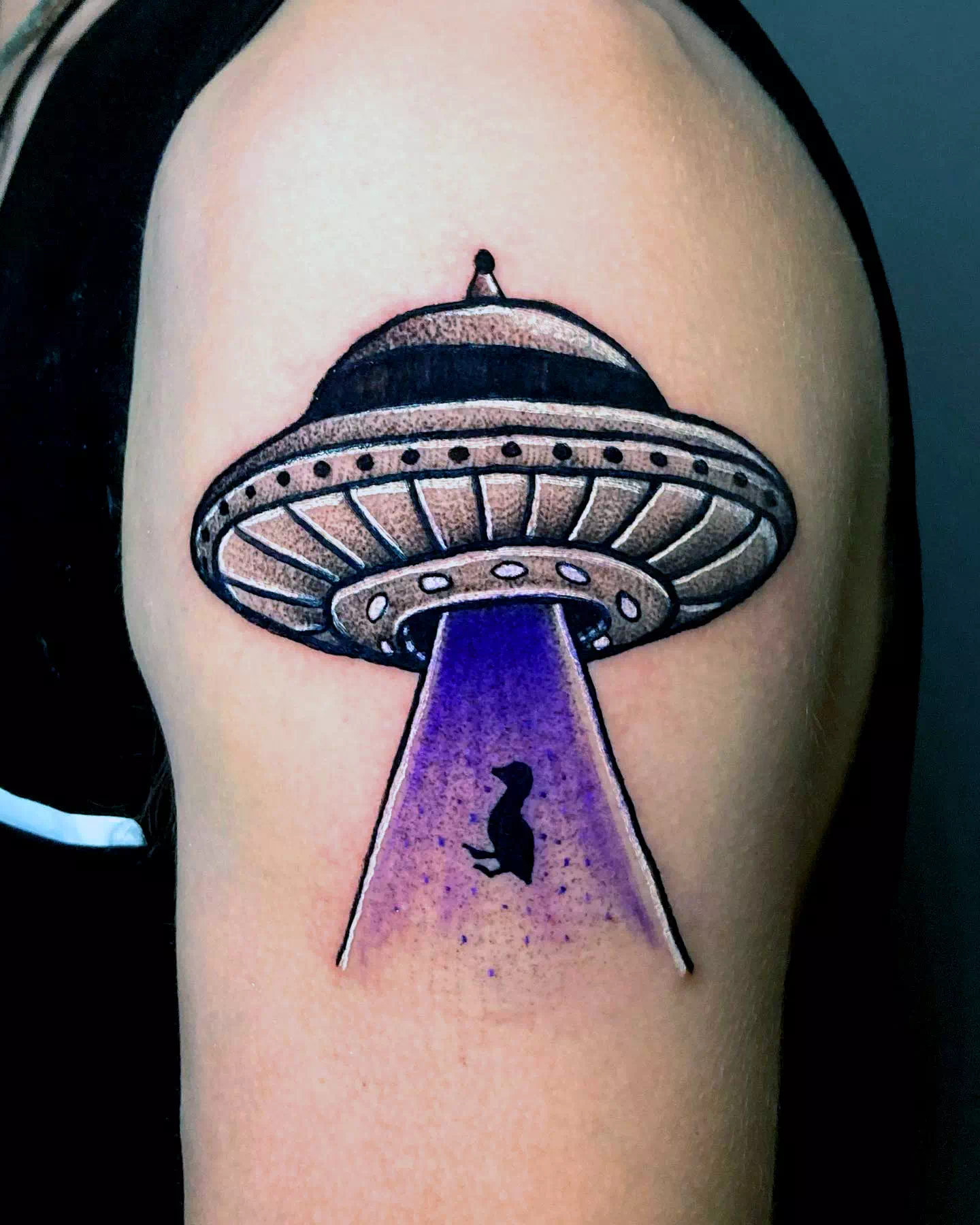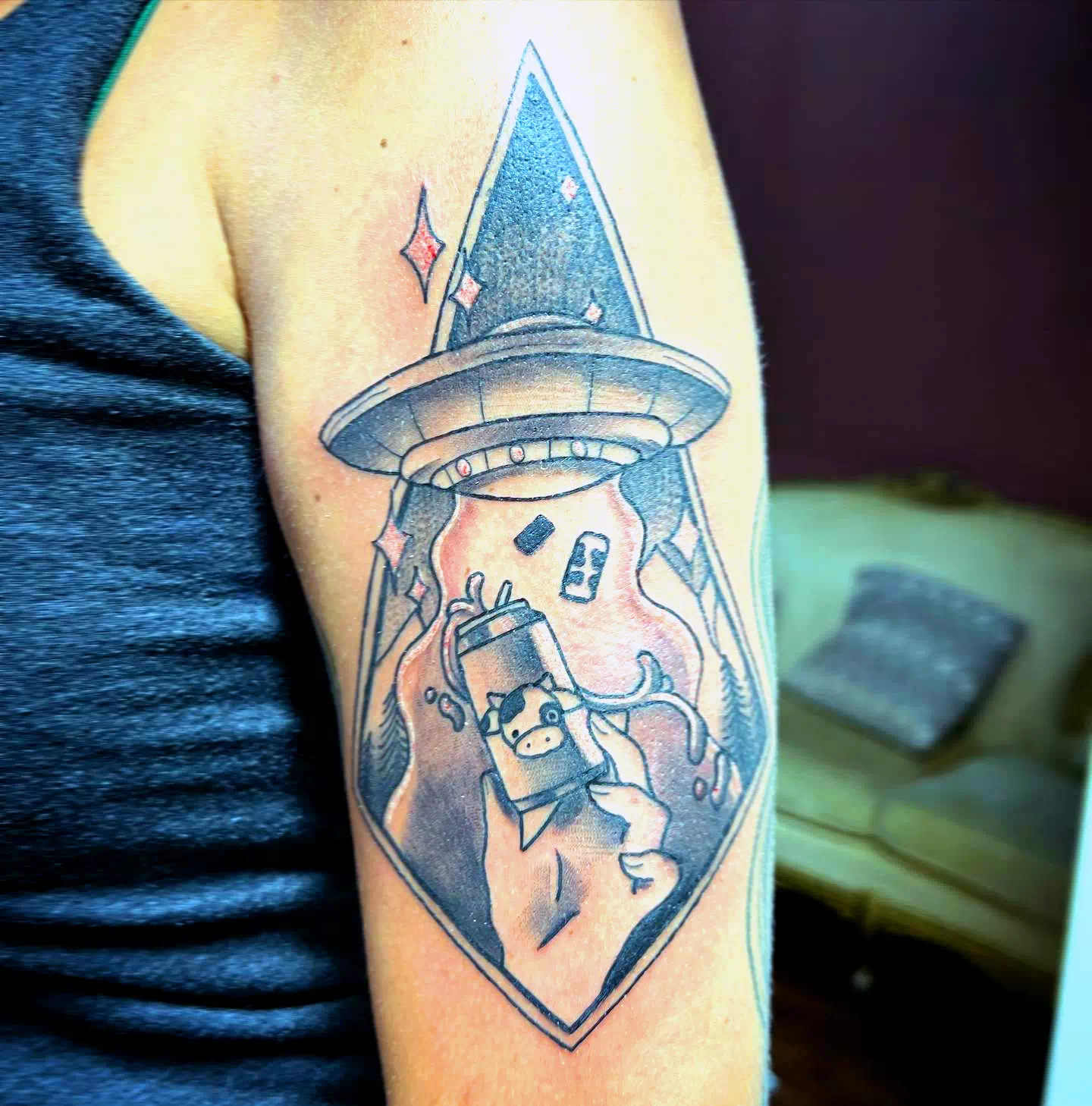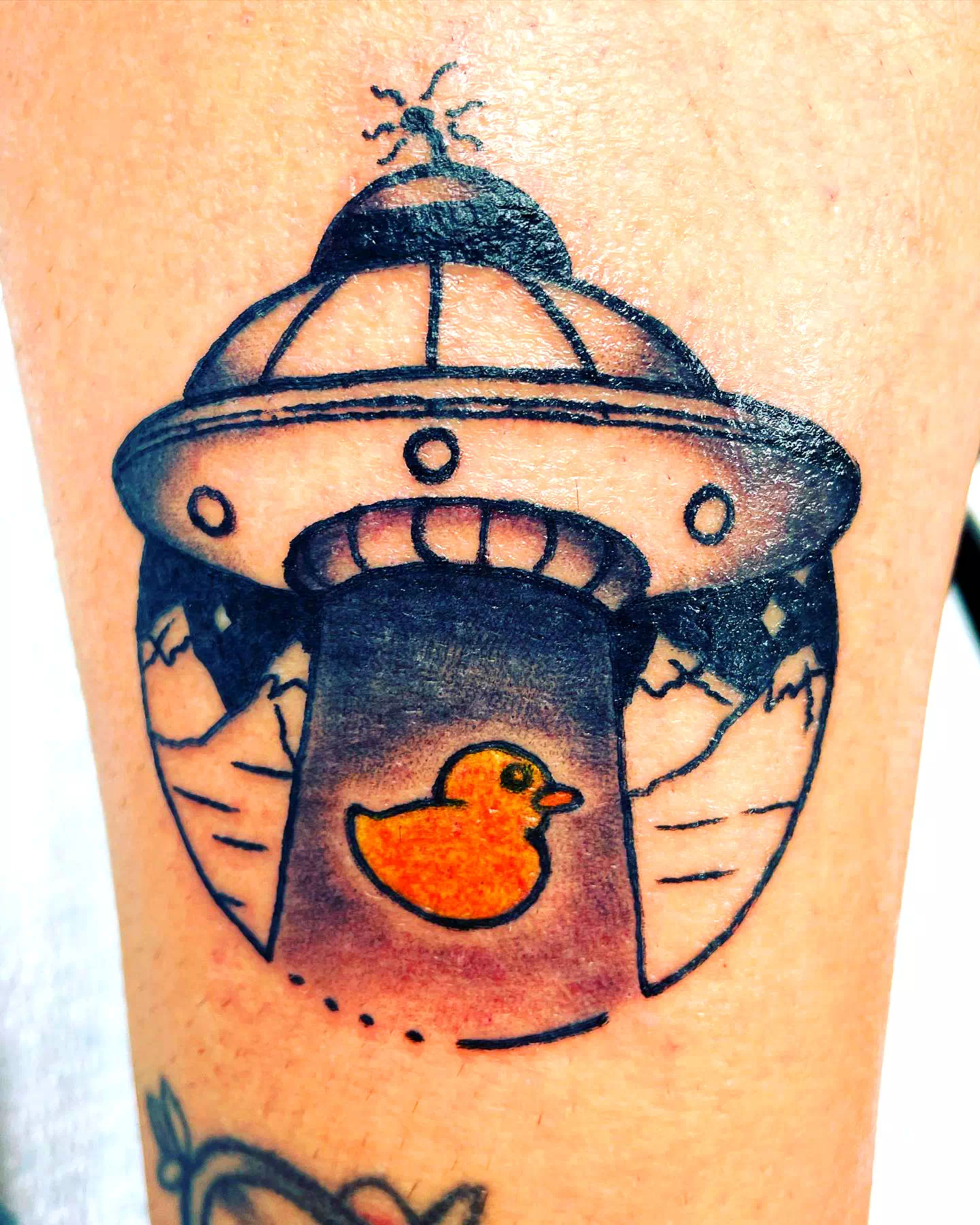 Some of you might be interested in getting a less obvious alien tattoo. One of the most notable illustrations is that of the little alien abduction concepts. The details, all of which are tiny, such as the flying saucer, the little alien contained within it, and the tractor beam, will look fantastic when worn on the neck or the wrist.
Personal opinion:  the design would benefit from using plain black rather than any other color to see the intricacies more clearly.
ET Alien Tattoo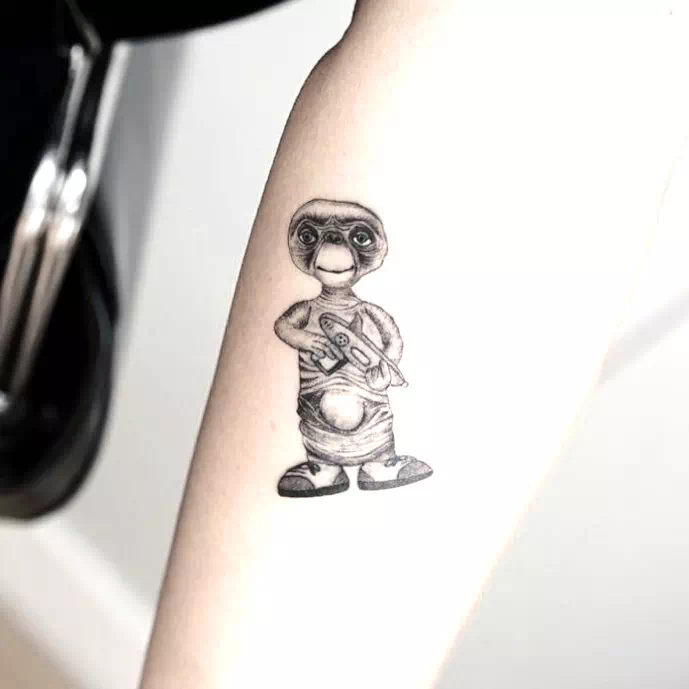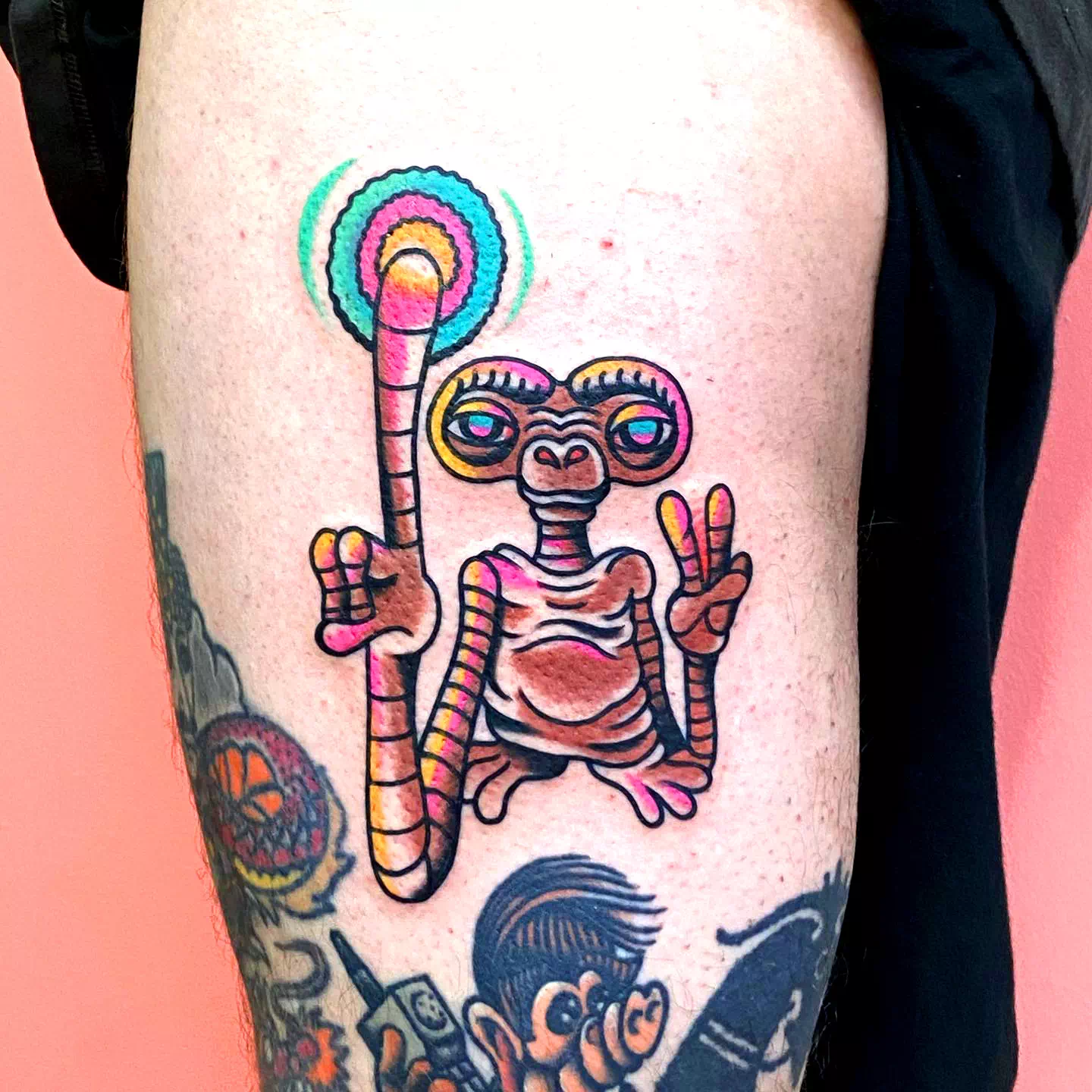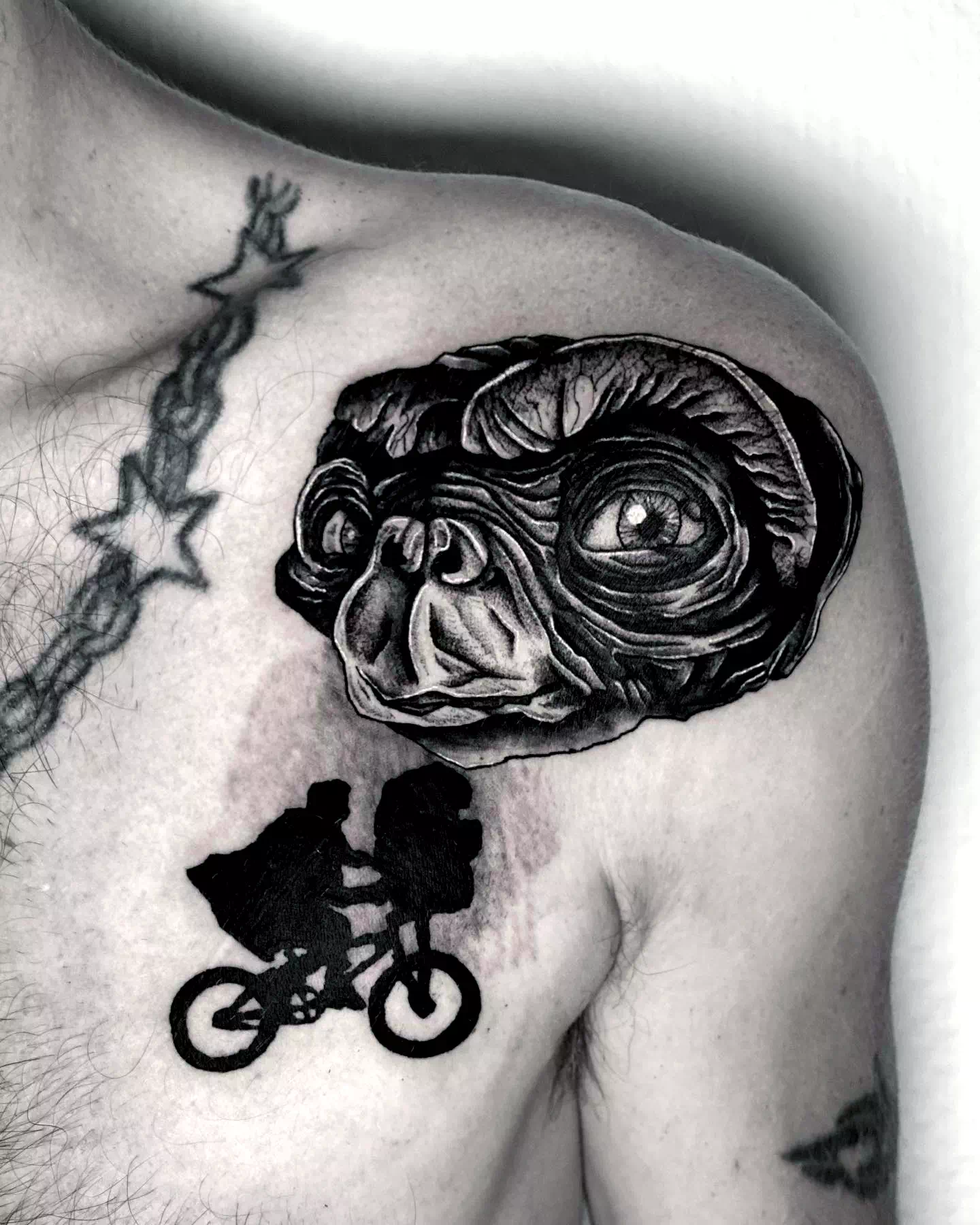 The design quality is essential regardless of whether you plan to tattoo yourself with a memorable scene from the E.T. movie or opt to have the adorable E.T. face permanently etched into your skin.
This funny alien abduction tattoo combines "normal" alien abduction with a scene from the classic movie "E.T.", in which Elliott is taken by aliens.
Personal opinion: Working with a geometric design helps define the space allocated for the tattoo and makes the spaceship stand out more.
Aliens From A Far Off Planet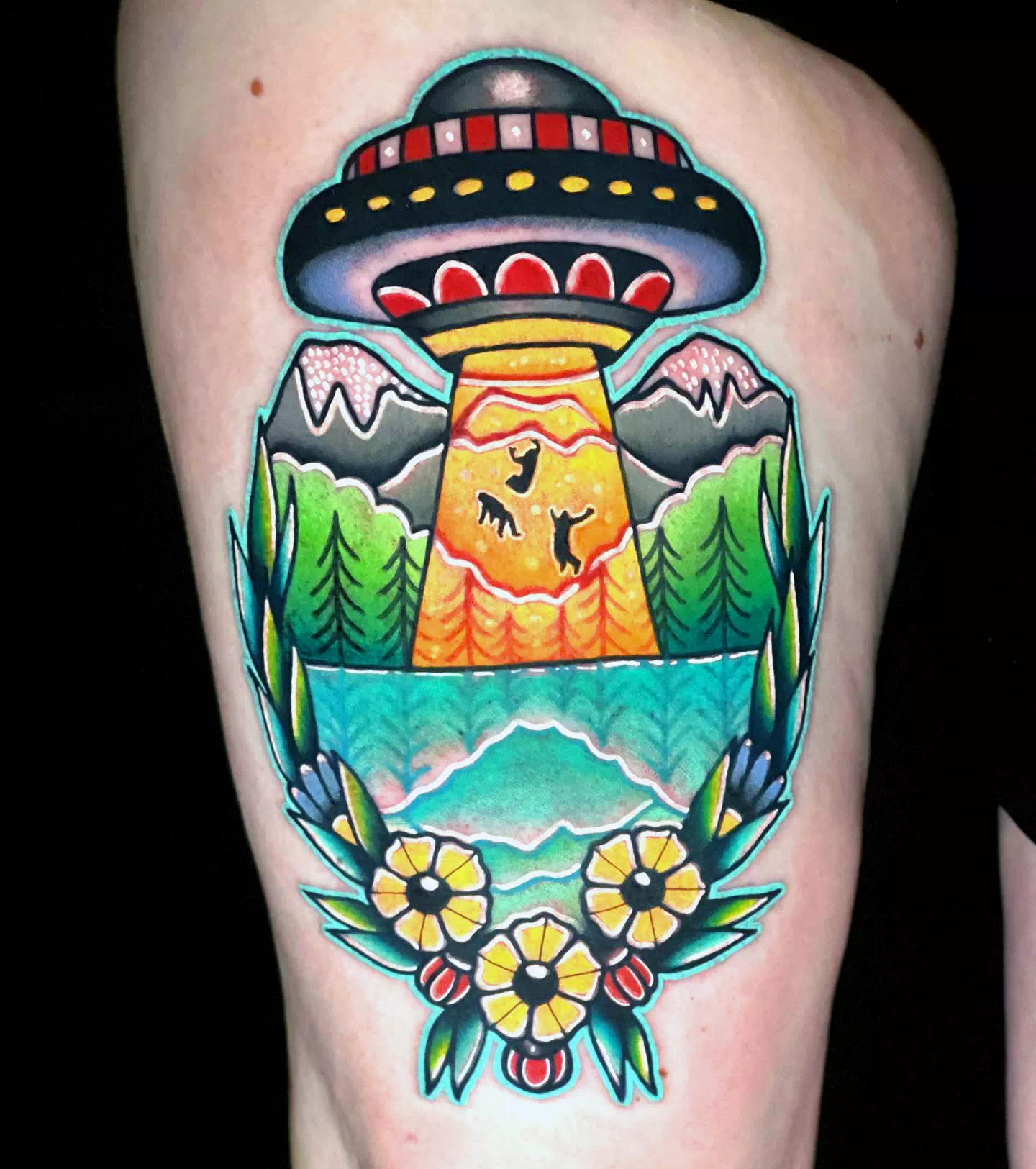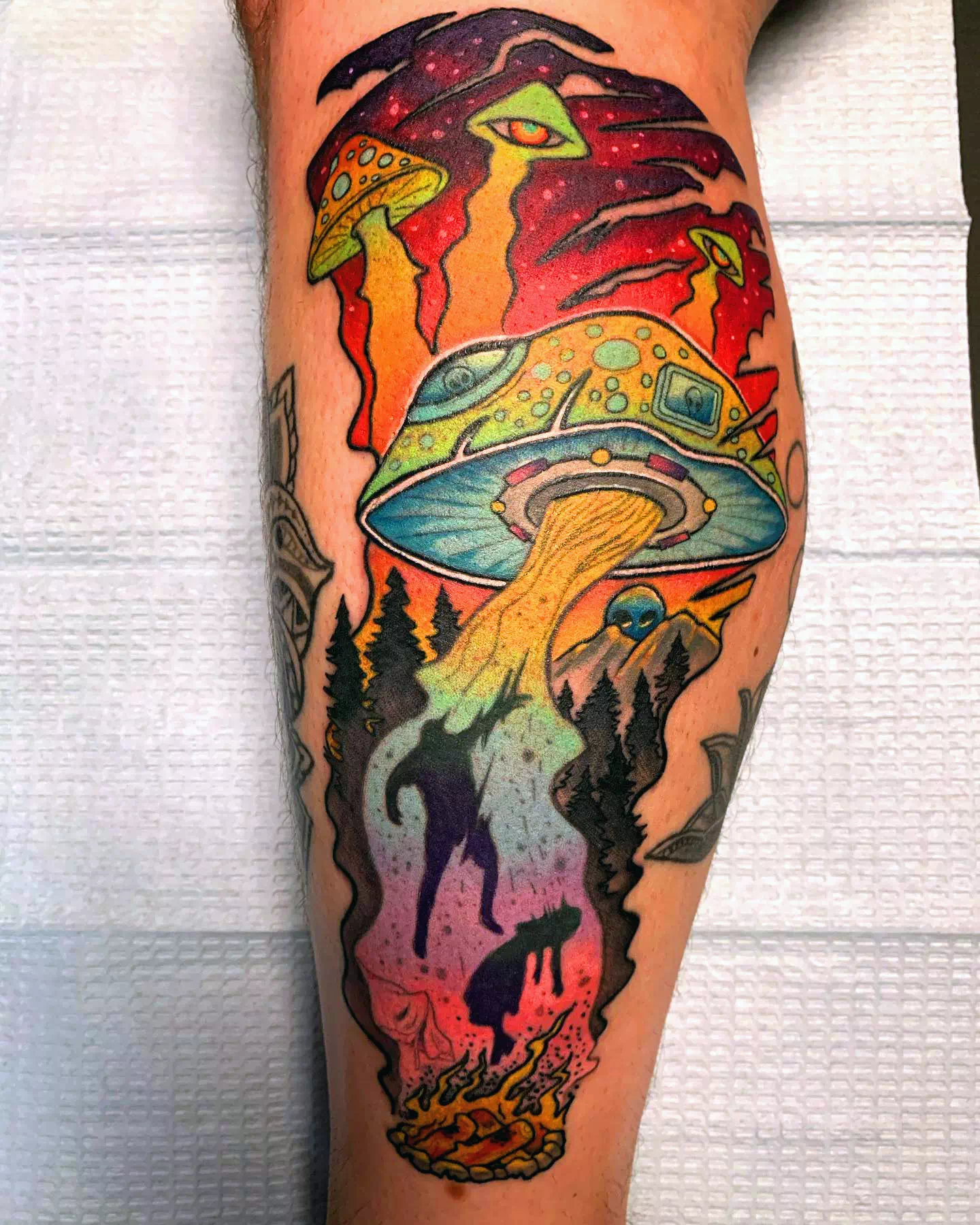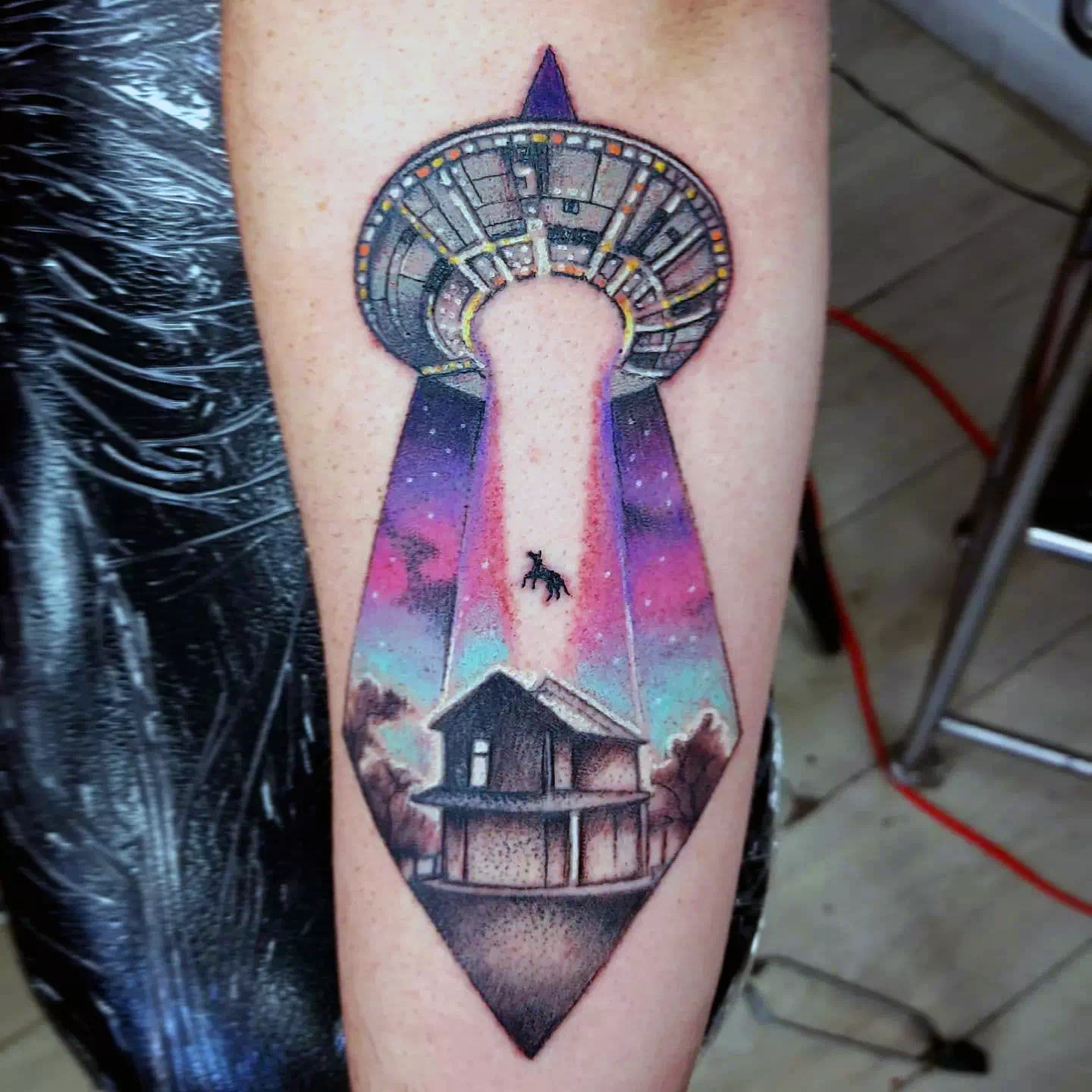 An excellent idea for a small alien tattoo would be to combine an alien's head with several planets. This concept will make perfect sense.
Because the species you are drawing come from other places, planets are the best parts to use in your body art.
Once additional planets are included with the alien, a picture of the likely habitat of this creature can begin to take shape.
Personal opinion: I believe this tattoo design will look fantastic on any part of your body that you choose to have it inked on, including your wrist, ankle, or elbow.
What is Better Than One Alien? Lots of Aliens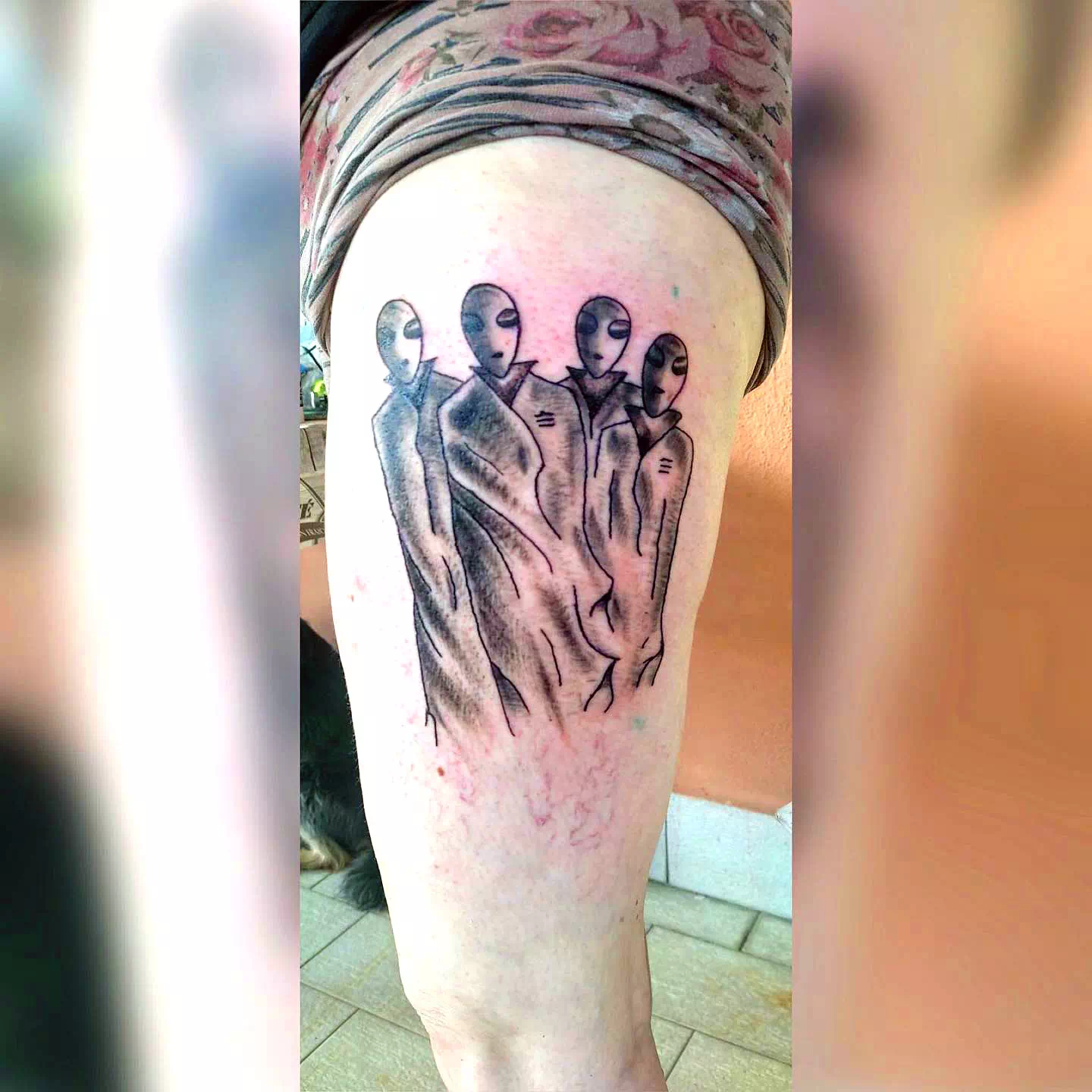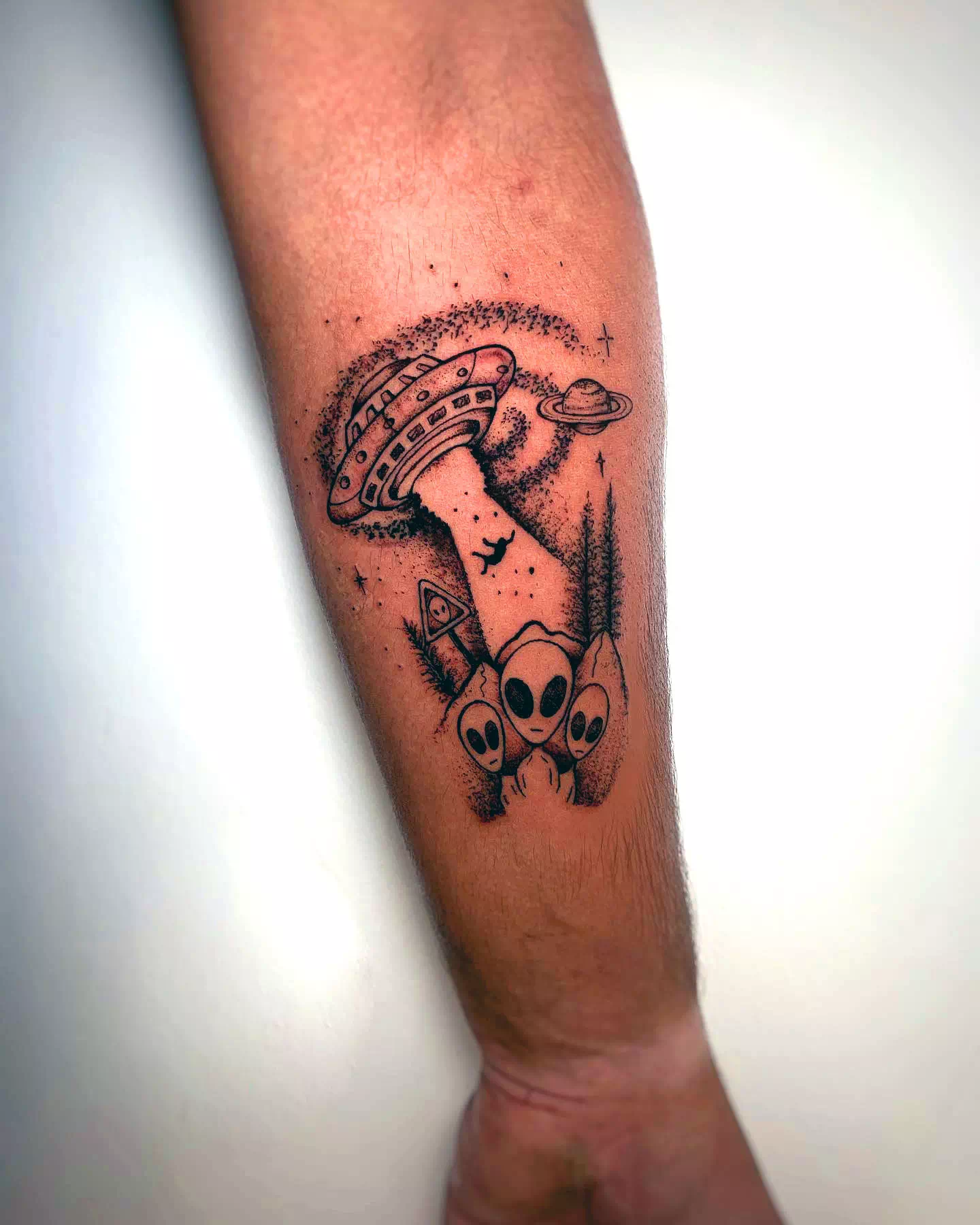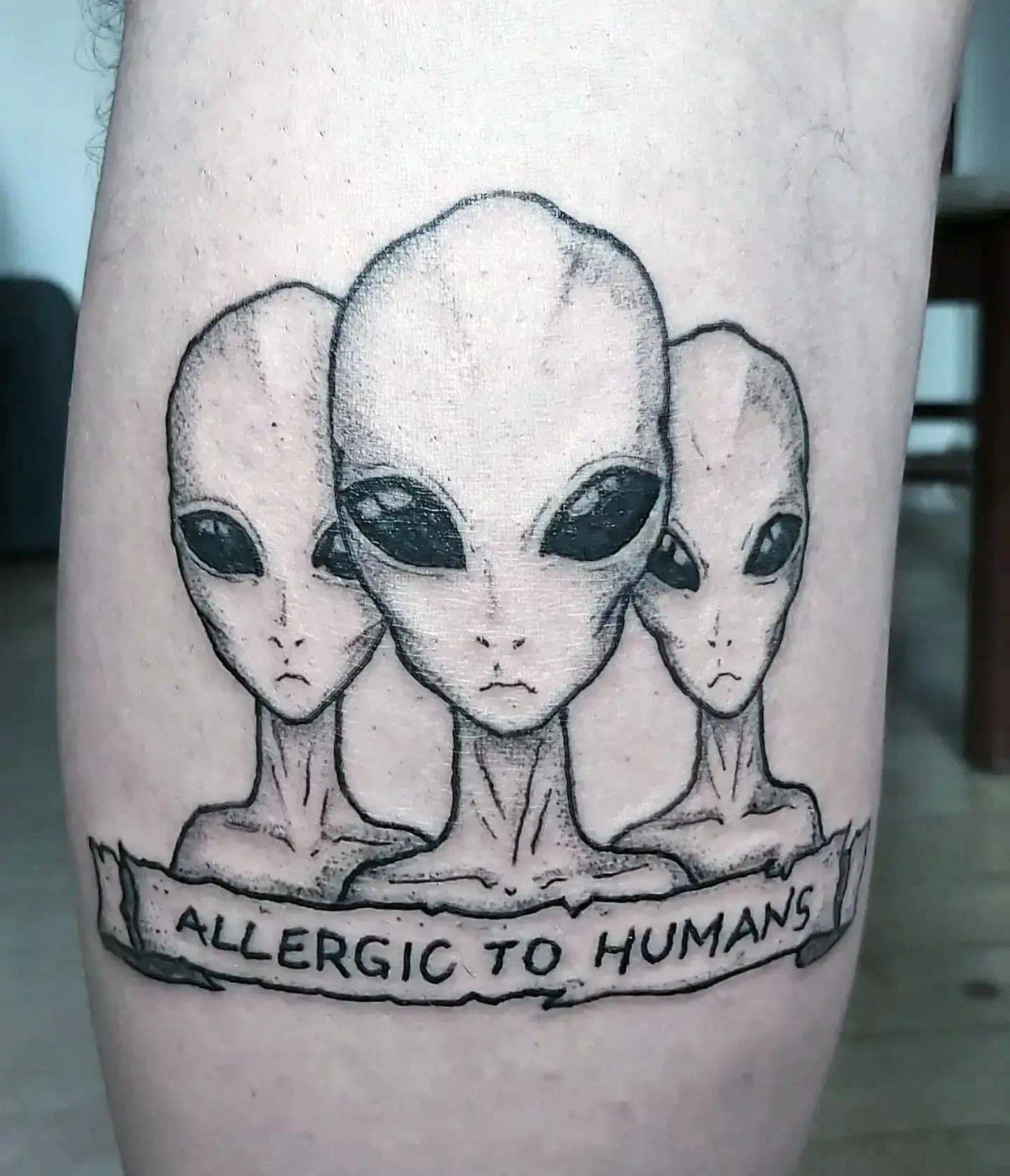 Make some alterations to the basic design and put more thought and originality into it if you want to add a little spice to the mix and find an original alien tattoo. What about getting a bunch of aliens tattooed all over your body? Perhaps a race of extraterrestrials?
Personal opinion: you should consider this design seriously if you are looking for something more than a simple ink piece of art and do not mind having a significant portion of your flesh covered.
Alien Tattoo from "The X Files"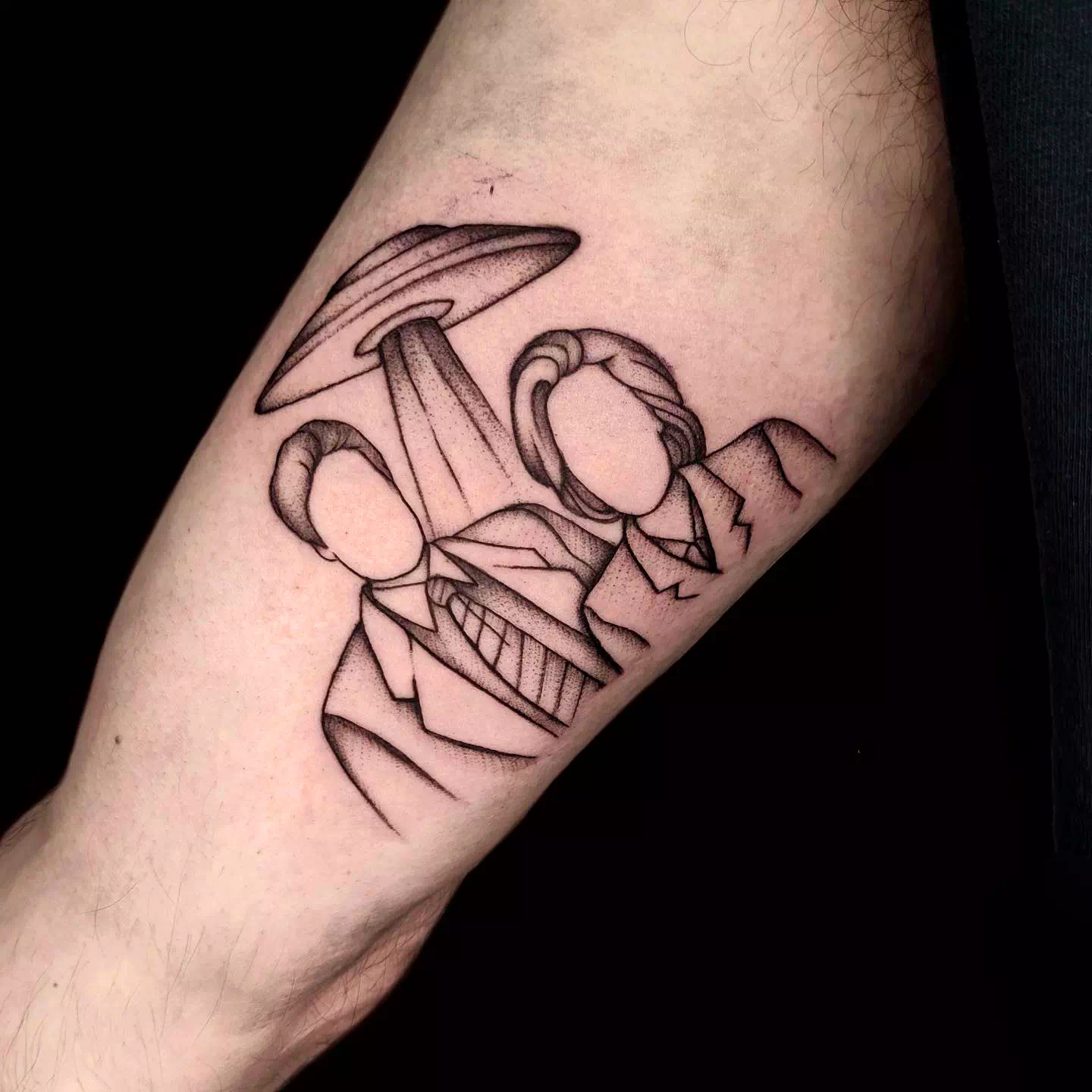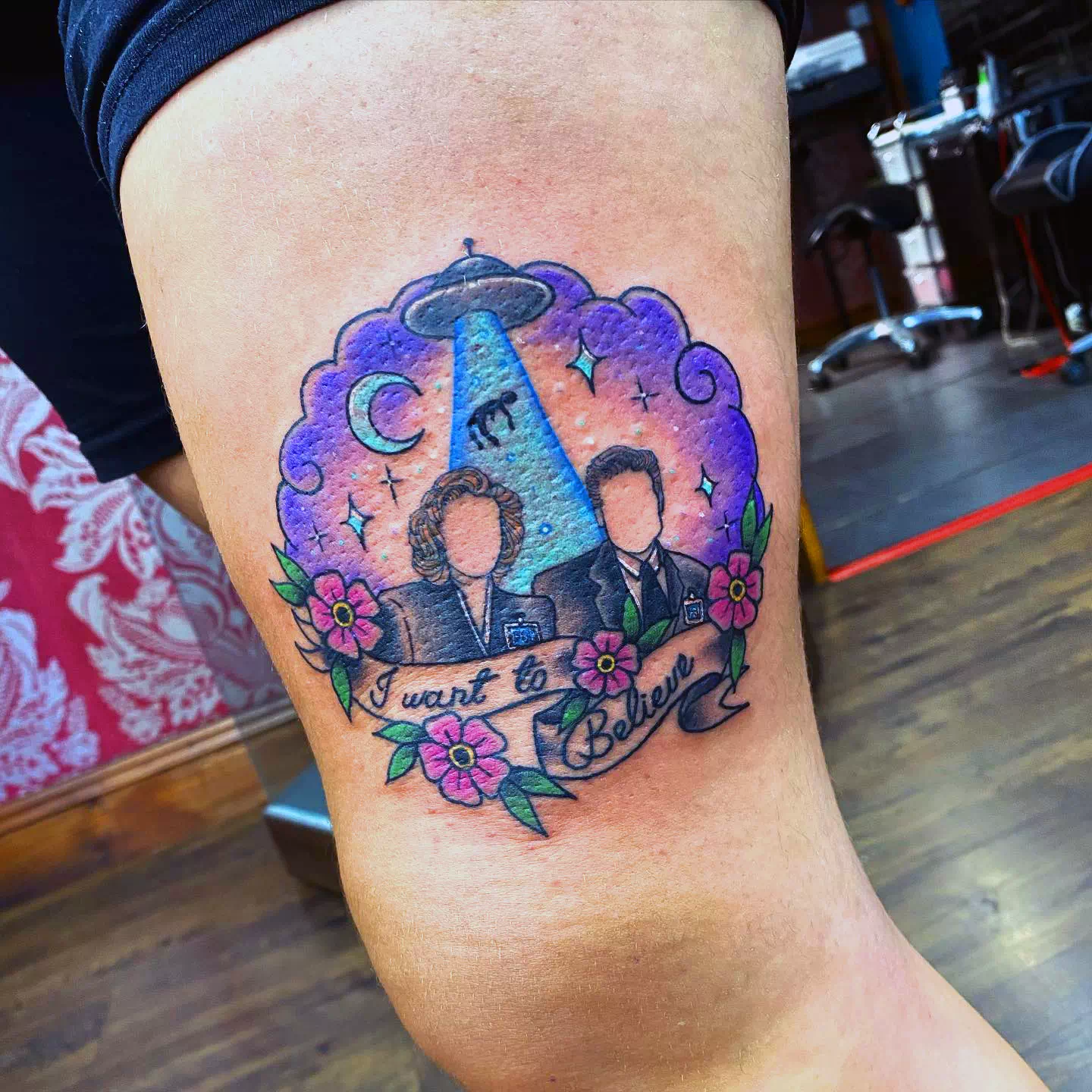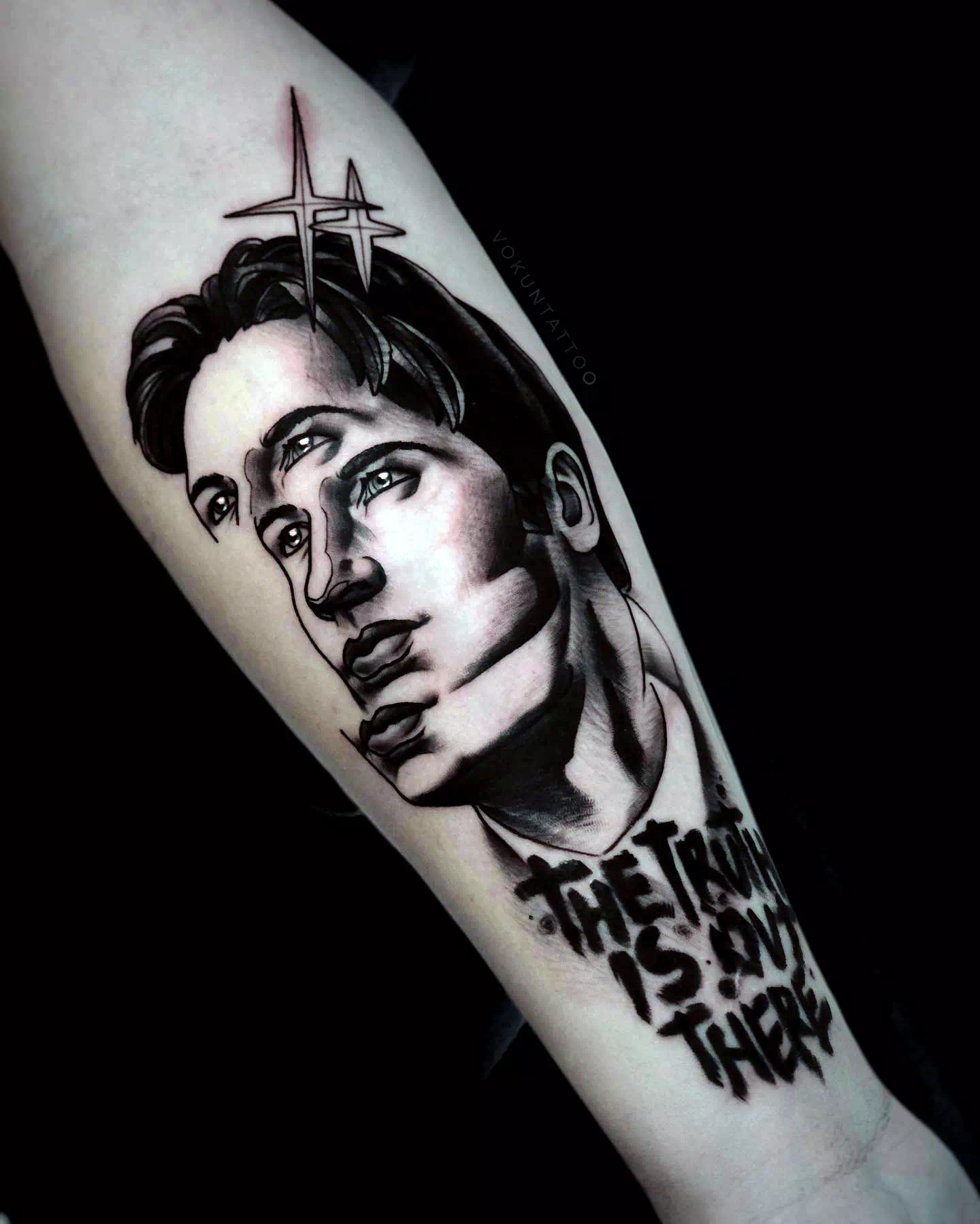 Some individuals wish to have tattoos of the traditional alien design, but others would be more interested in a piece of ink art that is less obvious but has more than one meaning. If you get a tattoo inspired by one of the X-Files movies, you may connect with the aliens' universe even if you're unfamiliar with the original stories.
Although a significant amount of time has passed since The X-Files was initially broadcast on television, the show continues to have a devoted fan base, making it one of the most popular shows ever to be inspired by the mysterious world of aliens.
Personal opinion:  the solution to the problem of coming up with an innovative approach to getting a tattoo is to get a tattoo that says "The Truth Is Out There."
The All-Seeing Eye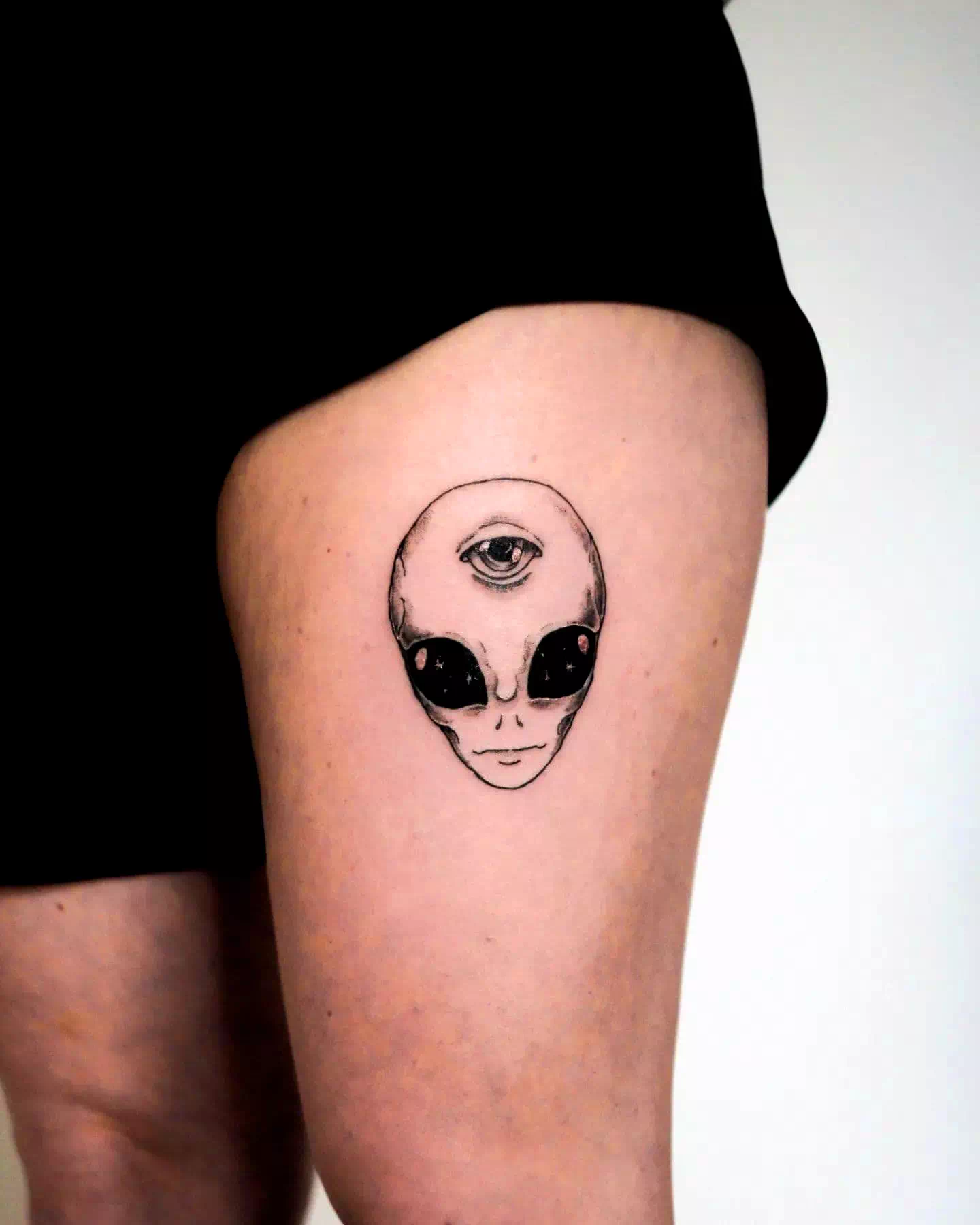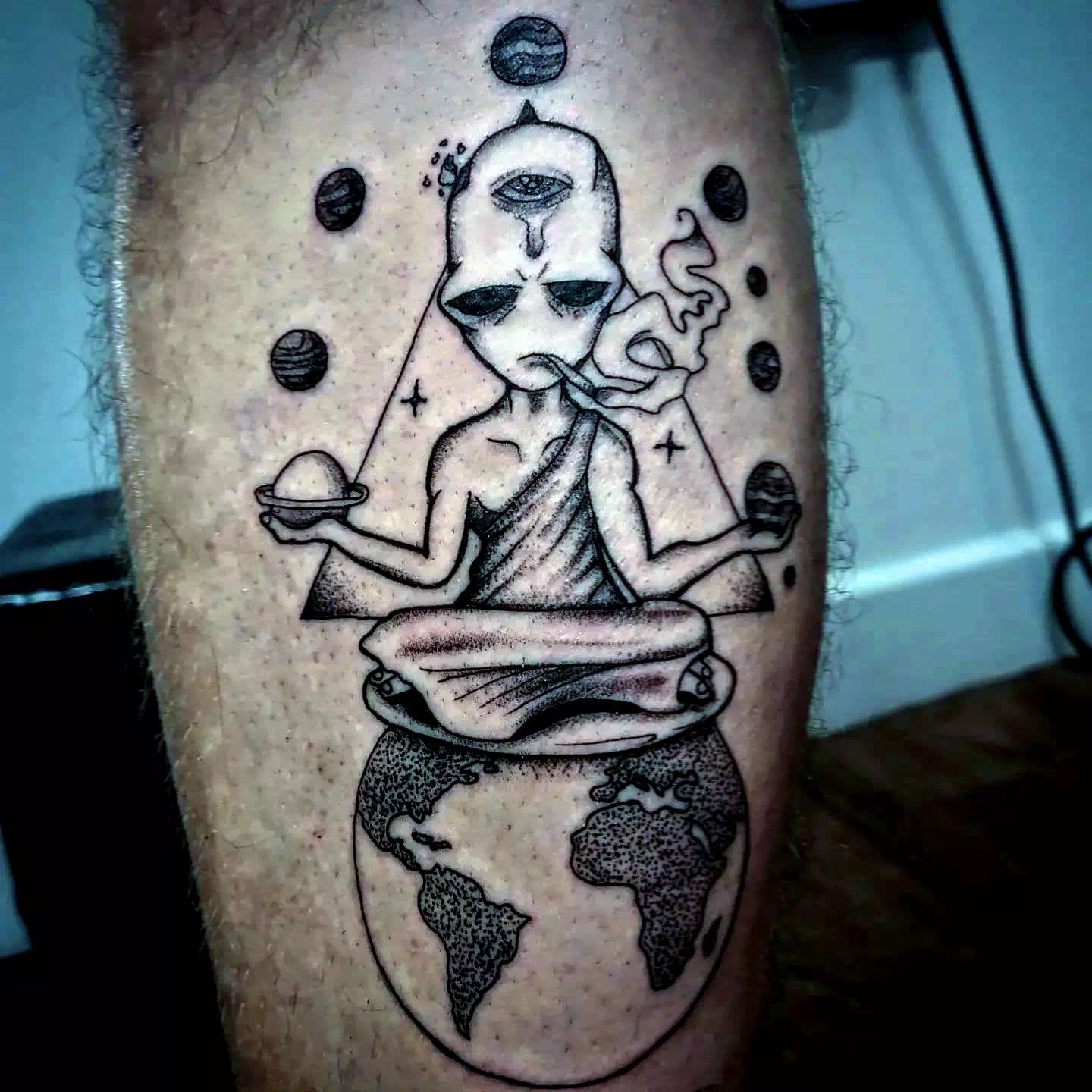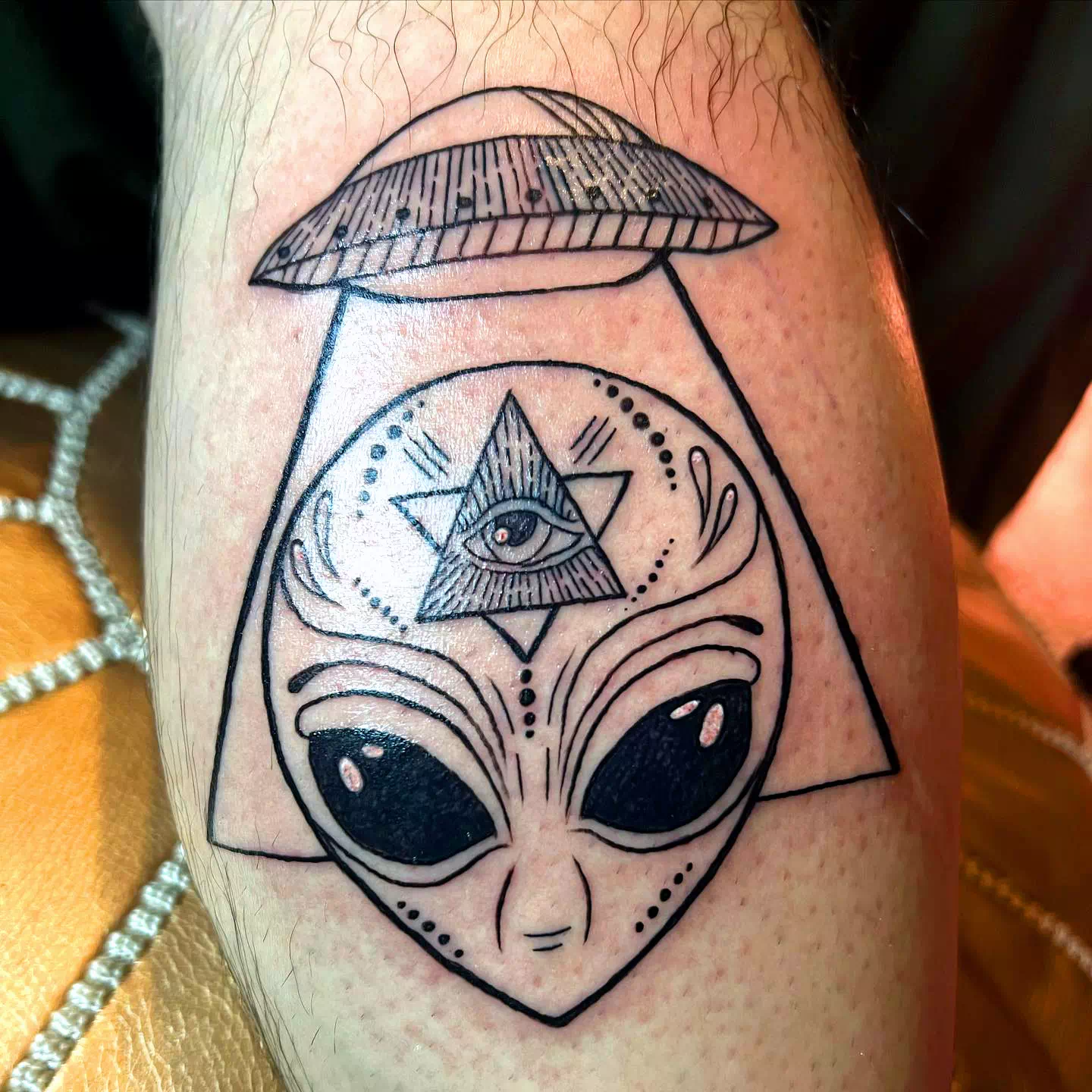 Layer on extra specifics to give the impression of a more enticing and sinister atmosphere with the alien tattoo. The all-seeing eye is a symbol of protection while also providing oversight. You can't get that mysterious feeling without the heavy use of shading in these ink paintings.
Personal opinion: Let's offer a big thumbs up to the exact lines because symmetry is the most important thing here.
The Pizza Planet Aliens Tattoo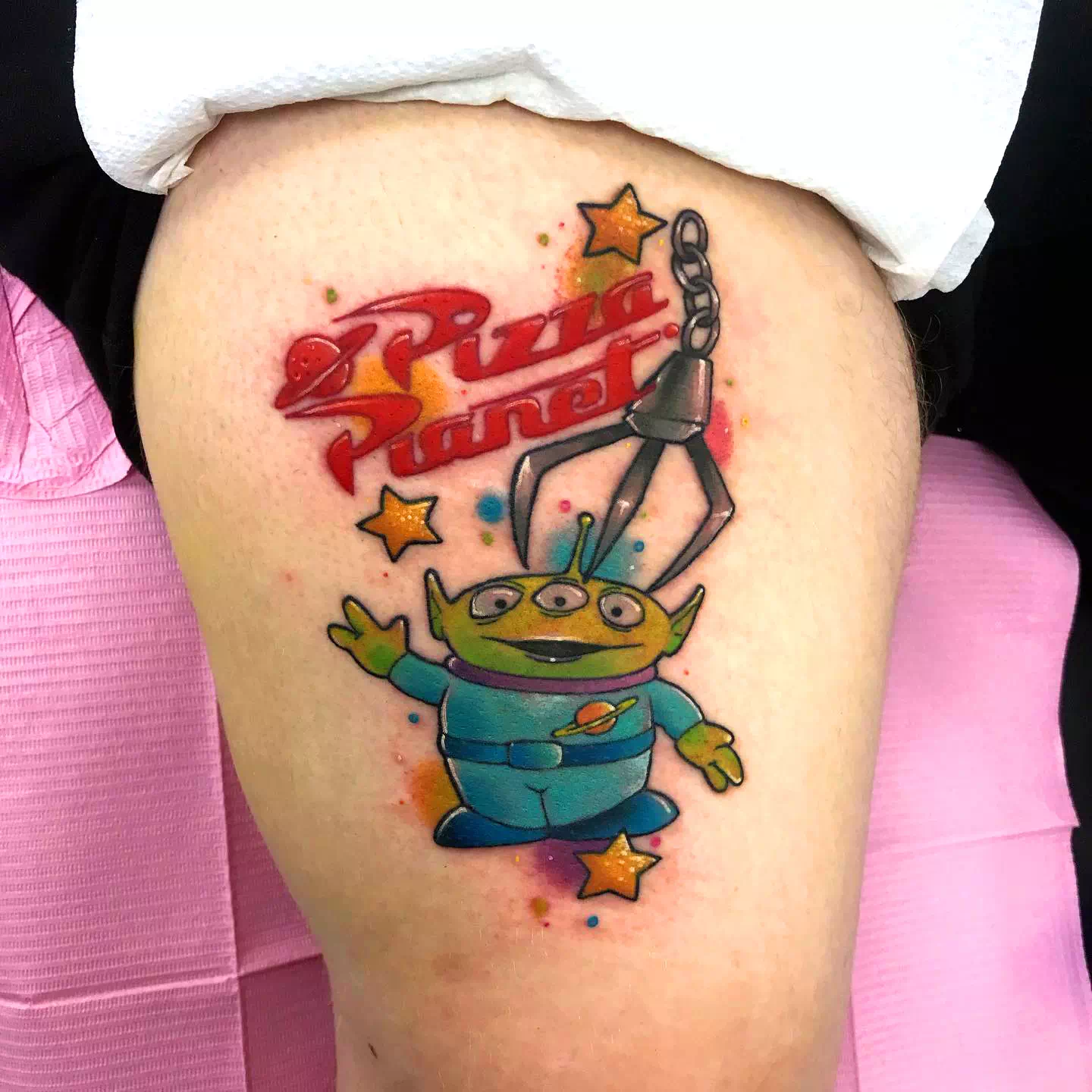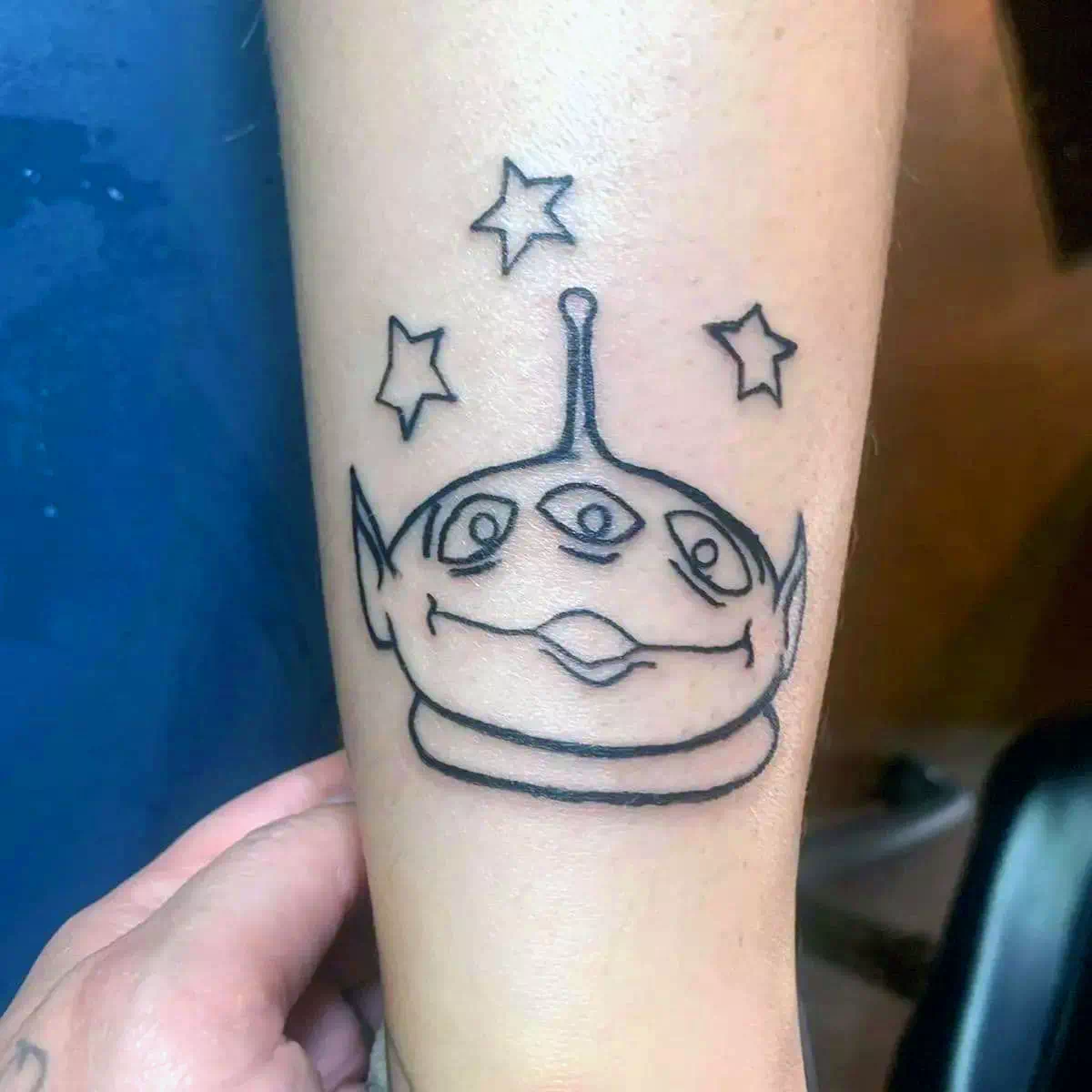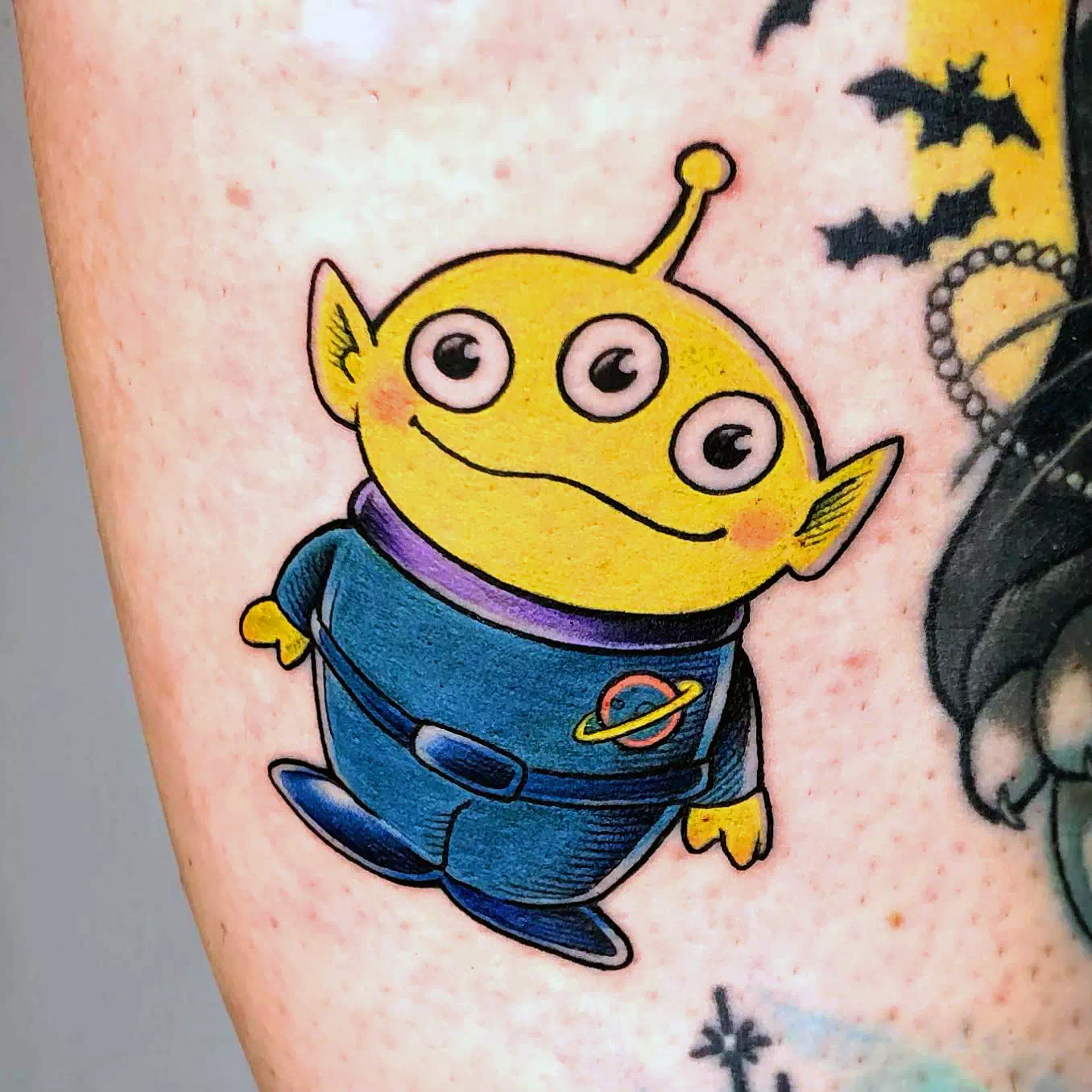 Everyone carries a child within them. Regarding cartoon aliens, the figurines from Pizza Planet are among the most well-known and well-liked characters ever created. This charming take on the alien tattoo is just what the doctor ordered.
Personal opinion:  you should not be afraid to incorporate vibrant colors into the design of the tattoo to make it appear friendlier and more sociable. By adding more designs from the Toy Story franchise, you can turn a single-piece Toy Story tattoo into a full-sleeve set.
Simple Spaceship Tattoo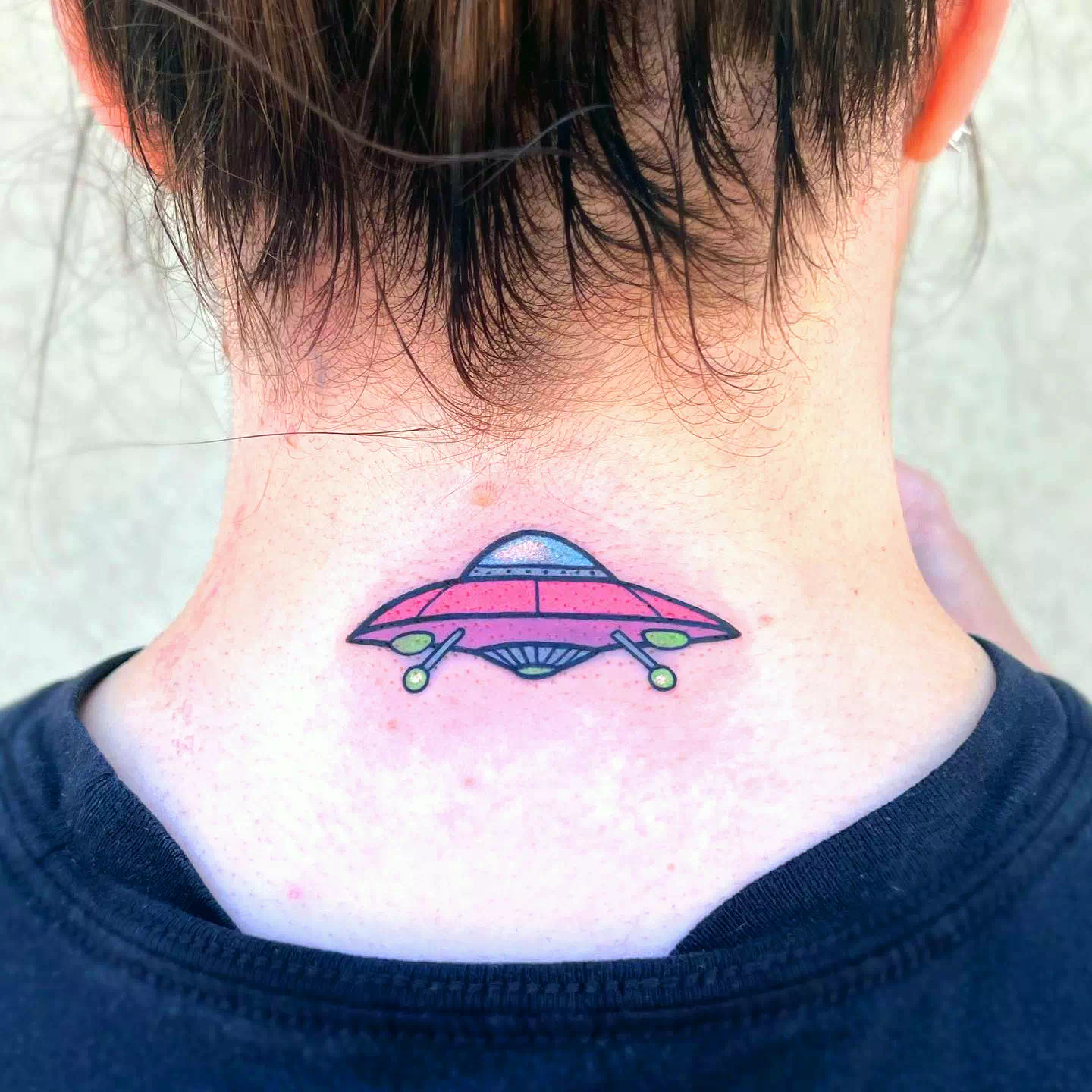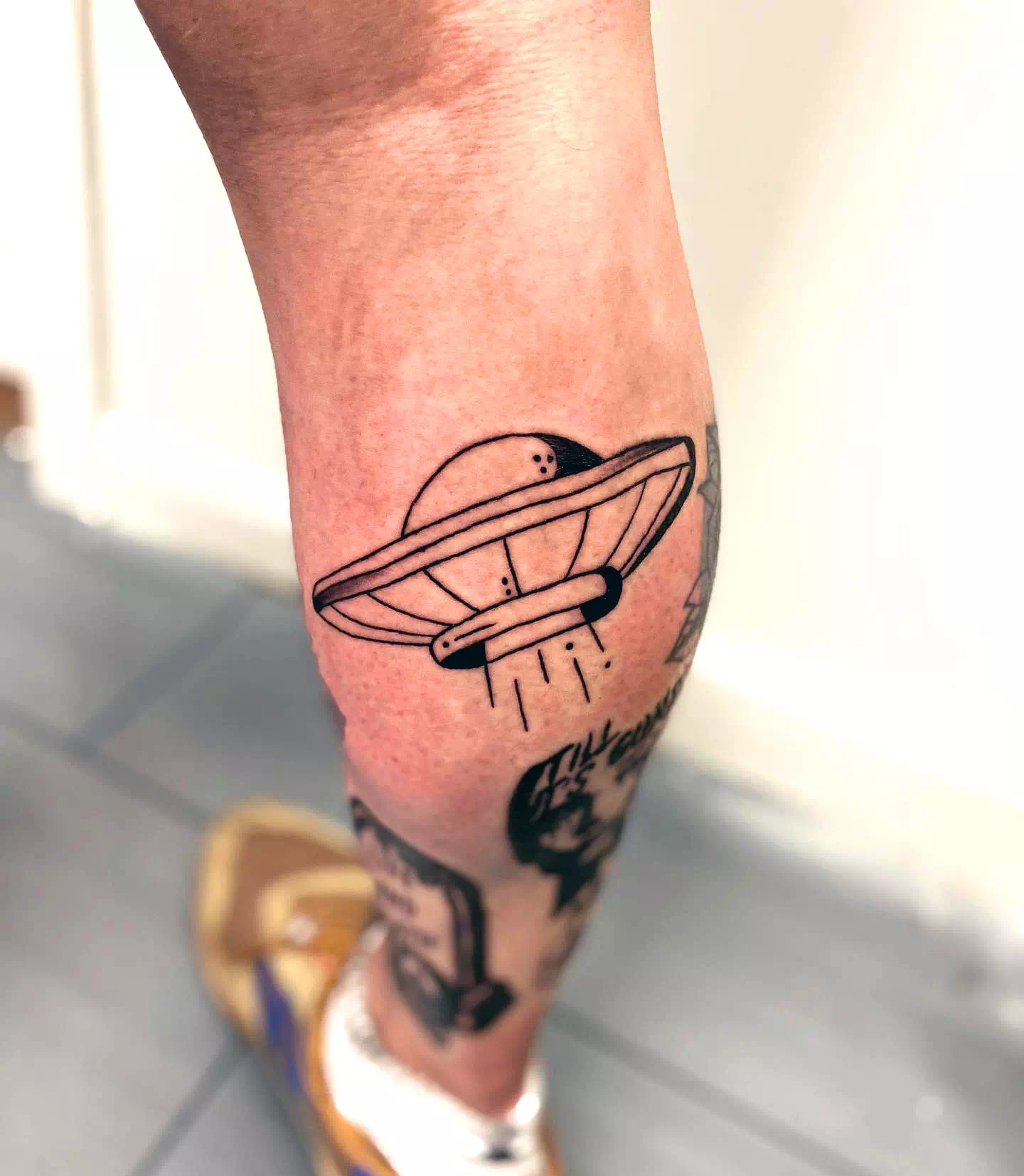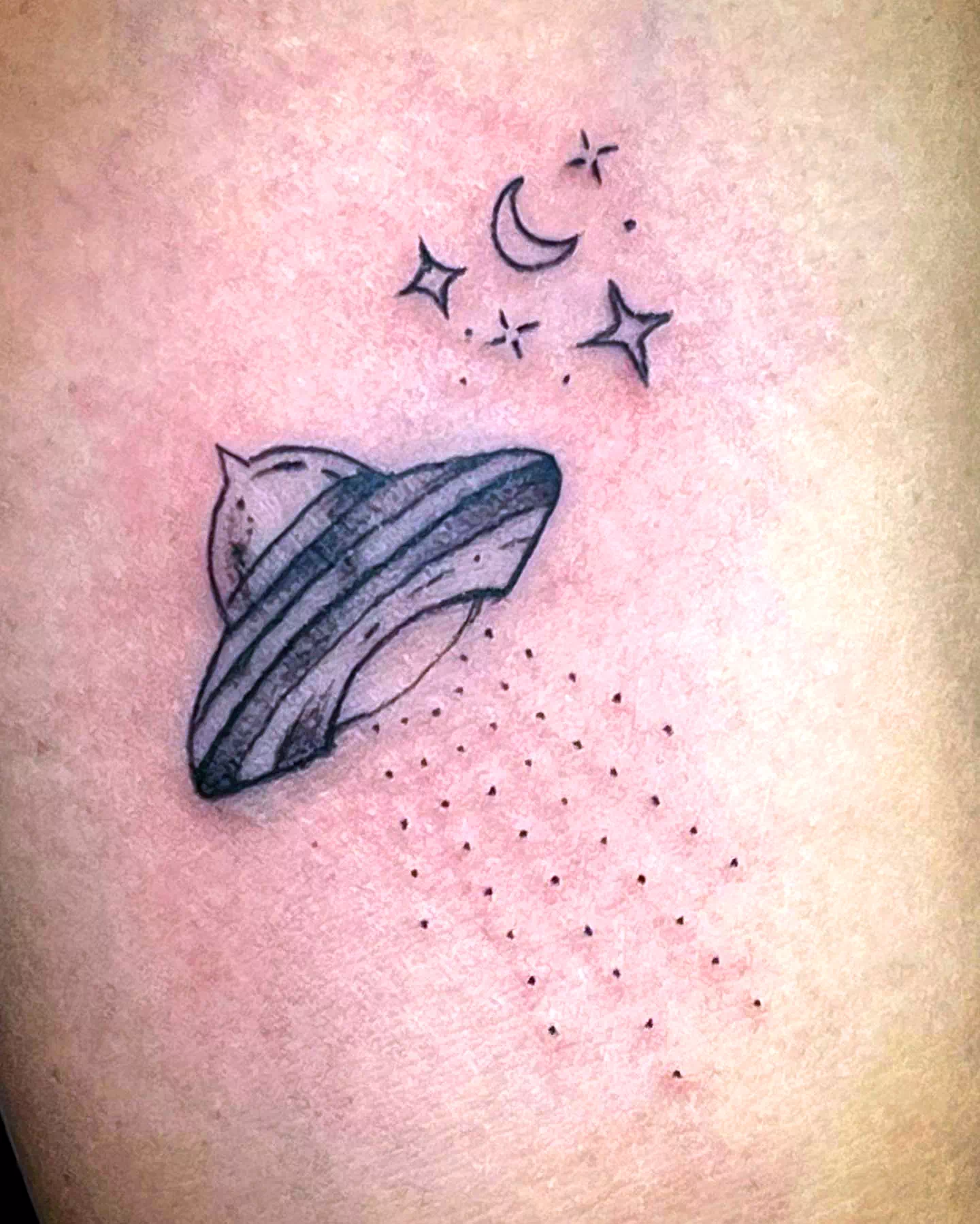 There are times when the best course of action is to keep things as straightforward as possible. Consider getting a tattoo of a primary line drawing of a spaceship if you can identify with the phrase "keep things simple."
Personal opinion:  The best spot for a tattoo of this size would be on the forearm, the shoulder, or some other small location.
A Few Parting Thoughts
Whoever thought that the potential appearance of extraterrestrial travelers would improve the body art you now have is an idiot. There are a lot of ways to make and change the tattoos on your favorite aliens. Choose the method you like best from the ones listed here.
Also Read:
Sharing is caring!